Disclaimer: Traveling Ness contains affiliate links and is a member of the Amazon Services LLC Associates Program. If you make a purchase using one of these links, I may receive compensation at no extra cost to you. See my privacy policy for more information.
Exploring The Best La Jolla Attractions
Located just 13 miles north of San Diego is the beach community of La Jolla and the La Jolla Cove referred to as the "Jewel of the Sea". Keep reading and explore the best La Jolla attractions to make it a memorable trip to the sunshine state!
Many associate it with gorgeous beaches and a resort town that visitors flock to when coming to San Diego. Not hard to see why, as it boasts incredible views of the California coastline.
La Jolla's weather is pretty great averaging between 60 – 72 F year-round so there really isn't a bad day to visit this gem of San Diego. That is a huge reason why there are so many fun things to do in La Jolla no matter the month!
Best Hotels In La Jolla
The best locations to stay during your trip to La Jolla are near La Jolla Cove or La Jolla Shores Beach. Staying in these two areas will ensure that you are within walking distance to the beach, restaurants, shopping, and top attractions in La Jolla. 
The three hotels that I recommend staying at are:
La Valencia Hotel 
Grande Colonial Hotel
La Jolla Shores Hotel
Fun La Jolla Tours
La Jolla Sea Cave Kayaking Tour – Explore the coolest sea caves along La Jolla in a guided kayak tour!
La Jolla Surf Lesson – Always wanted to learn how to surf? San Diego is one of the best places to learn.
Go San Diego Pass – If you plan to see many sights in La Jolla and the rest of San Diego, consider getting this pass to several attractions including the Birch Aquarium near the Scripps Pier, bike and kayak tours.
Things To Do In La Jolla
1. La Jolla Cove
La Jolla Cove is home to the charming cove, beach, sea caves, top restaurants, and upscale shopping. The Cove is a protected marine reserve that is popular with swimmers and the local residents (sea lions) that bask on the bluffs, rocks, and shoreline.
And yes, you might get to see one of these playful animals while in the water! They are harmless but as always don't touch or get too close to them.
Because the water in and around the cove is calmer, getting in some laps is common among swimmers. There are two buoys to help guide you on your swim that mark the ¼ and ½ mile mark. Keep in mind that most of the year a wetsuit is needed!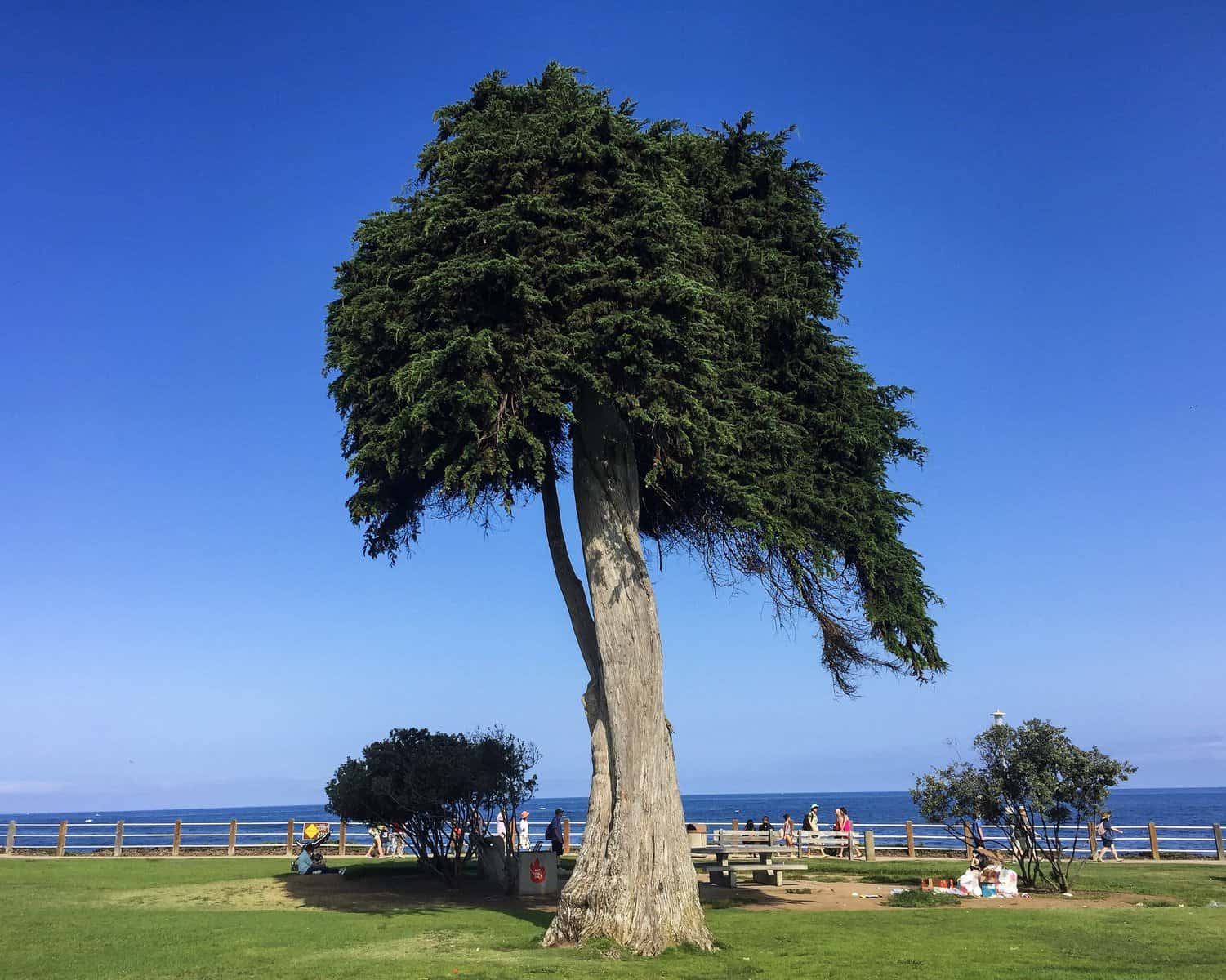 The Ellen Browning Scripps Park borders the cove and is a great spot to have a picnic outdoors. Make sure to take notice of the lone Monterey Cypress tree that was the inspiration for Dr. Seuss's "Lorax" tree. The author wrote "The Lorax" while he lived in La Jolla. It is such an odd yet beautiful tree!
Update:  I heard that in a storm the Lorax tree fell down this year (2019). Even with it gone, it is a beautiful park and views to see.
Tip:  Parking in and near the La Jolla Cove can be a challenge especially in the summer, so get there early to nab a spot or give yourself time to find a parking spot.
2. Sunny Jim's Cave
The entrance of Sunny Jim's Cave is inside of the Cave Store, a touristy souvenir shop right on the cliffs of La Jolla. From La Jolla Cove, walk north along the waterfront up to the Cave Store and pay a $5 entrance fee to walk down the 145 steps of this manmade tunnel to the large sea cave opening up to the Pacific Ocean.
Most likely you will get to see a kayak or two passing by! Visiting Sunny Jim's sea cave from inside and kayaking on the outer entrance is definitely one of the coolest La Jolla attractions to experience.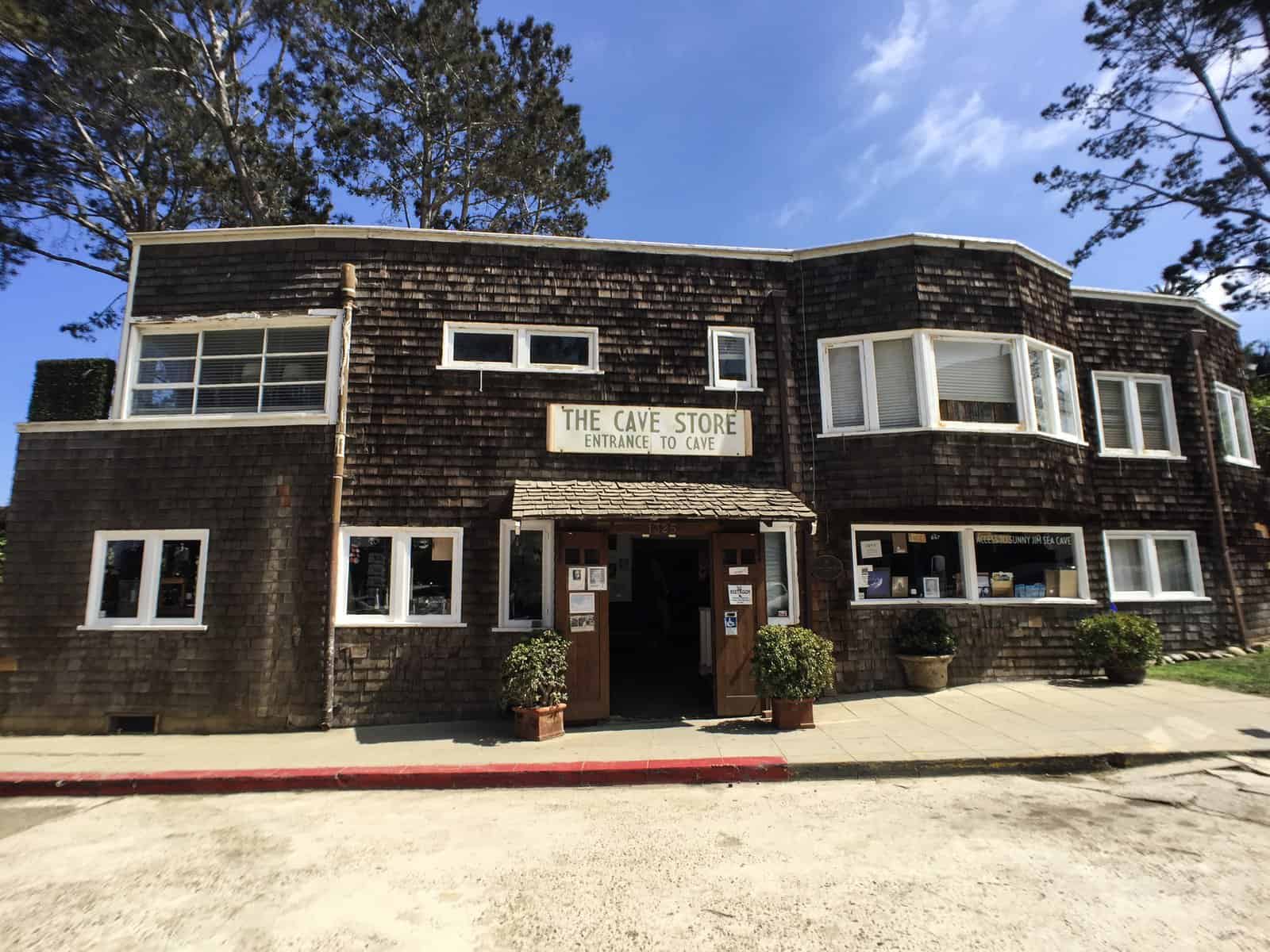 I was surprised to learn that the cave has been opened since 1903, that's over 100 years! The hike back up to the top will get your heart rate going and possibly count as your cardio for the day.
In the early days, people visiting didn't have the luxury of steps but rather had to use a rope to get in and out. Let's just say I am grateful for the steps.
Interesting Fact:  The Sunny Jim Cave is the only sea cave that can be visited by land in California.
Location: 1325 Coast Blvd, La Jolla (opened daily 10am to 5pm)
3. Kayaking In La Jolla
After exploring La Jolla by land, hop into a kayak and explore the coastline and the 7 sea caves scattered between La Jolla Cove and La Jolla Shores Beach. You can rent a kayak on your own or sign up for a sea cave kayaking tour to explore this beautiful coast.
Depending on your interests, there are sunset, snorkel, and leopard shark tours offered.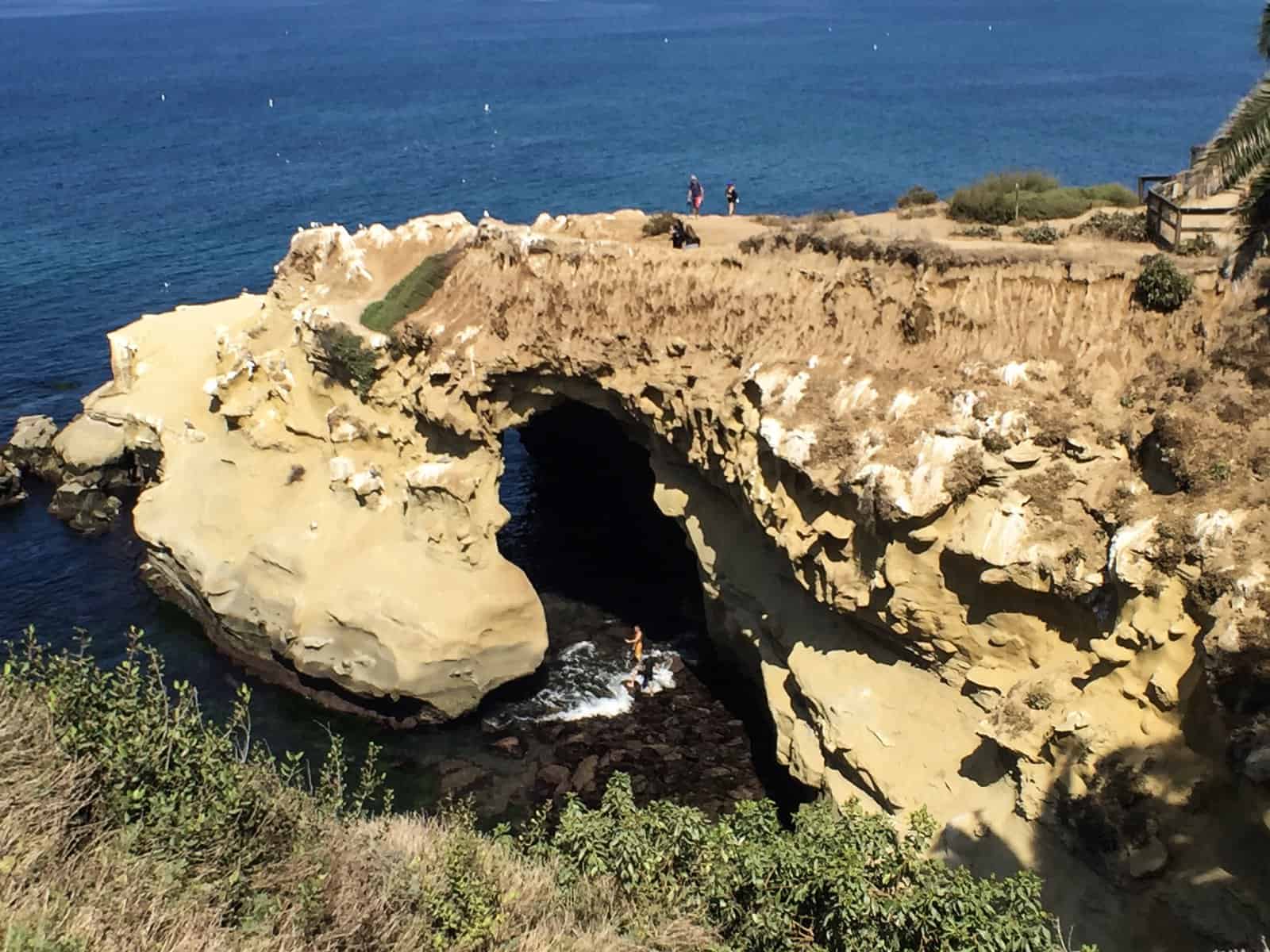 Leopard Sharks are quite harmless to humans so don't hesitate to swim with these beautiful animals. The peak season to see Leopard Sharks is from June to September where thousands migrate to give birth in the waters off of La Jolla Shores. As with all sea life, look but don't bother or touch them…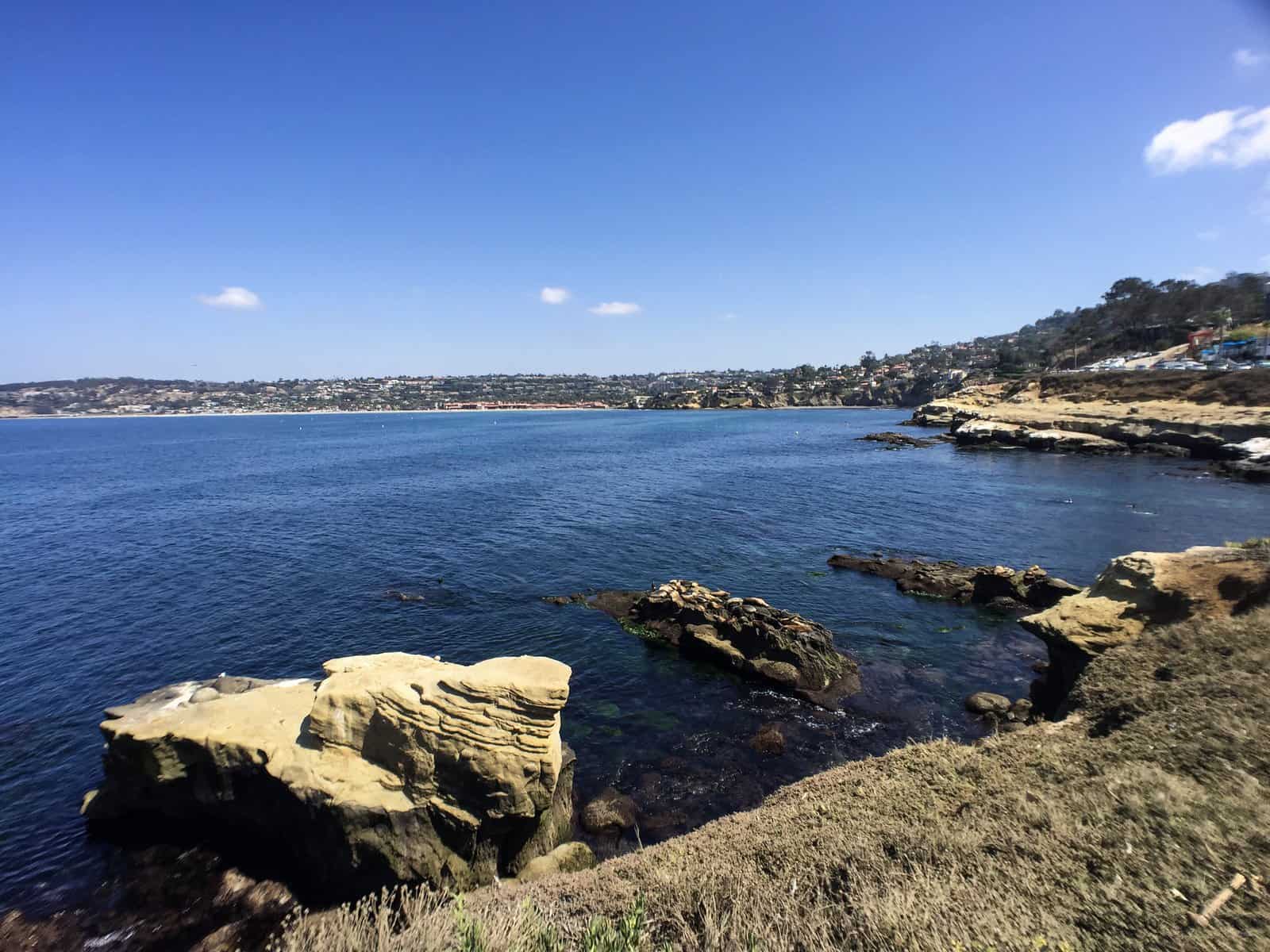 Kayak tour operators to choose from are La Jolla Kayak, Bike & Kayak Tours of La Jolla and Everyday California.
4. La Jolla Shores Beach
La Jolla Shores Beach is a stunning 1 mile stretch of sandy beach that runs a little north of the Cove to Black's Beach (Torrey Pines State Park). This is the best beach in La Jolla so get there early to get a parking spot in the lot. Otherwise it can be a challenge to find street parking.
There is a lot of activity in the water ranging from surfers, divers, snorkelers, and swimmers. On land, beach volleyball and lounging in the sun is a favorite. An added bonus is that there is a lifeguard on duty, bathrooms, showers, and fire pits.
If you have a dog, keep in mind dogs are only allowed on the beach if on a leash from 6 pm to 9 am (4 pm in the winter).
Tip: Want to visit additional stunning beaches in San Diego? Find out where the best beaches are in my post 15 Most Popular Beaches In San Diego.
5. Dive (Snorkel) in an Underwater Park
Head out for an adventure by exploring the underwater ecosystem of the marine protected areas in La Jolla. You will have the opportunity to dive through giant kelp forests that is unique to this area. Don't be surprised if you see a sea lion swimming past, lobsters, sand dollars, and even sharks!
The orange Garibaldi fish (also the California State Fish) is likely the most common fish you will encounter as it stands out with its bright color!
The two most common sharks to be spotted is the Sevengill Shark and the Leopard Shark. The best chance to see a Sevengill Shark is in the spring months and the summer months for the Leopard Sharks.
The female Leopard Sharks migrate to the warm waters of La Jolla ready to give birth and it's why they are seen in very shallow waters off of La Jolla Shores (in front of the Marine Room Beach). Don't worry, they are harmless to humans but do respect these beautiful creatures and keep a distance.
La Jolla is a popular diving spot from both La Jolla Cove and La Jolla Shore Beach. Both sites are shore dives making it pretty easy to get in and out. The underwater marine park's terrain consists of giant kelp forests, reefs, sandy bottoms, and a canyon.
Tip: Snorkeling is the best way to see the Leopard Sharks as they are in such shallow waters.
Dive Shop: If you are local looking to rent gear or even buy your own, head over to Ocean Enterprises that is an excellent dive shop. They offer certification classes, trips, and such great and knowledgable staff.
6. Scripps Pier
Scripps Pier is one of the world's longest research piers and an iconic to La Jolla Shores. The pier is also known as the Ellen Browning Scripps Memorial Pier. It was named after Ellen Browning as she was the biggest donor to the Scripps organization.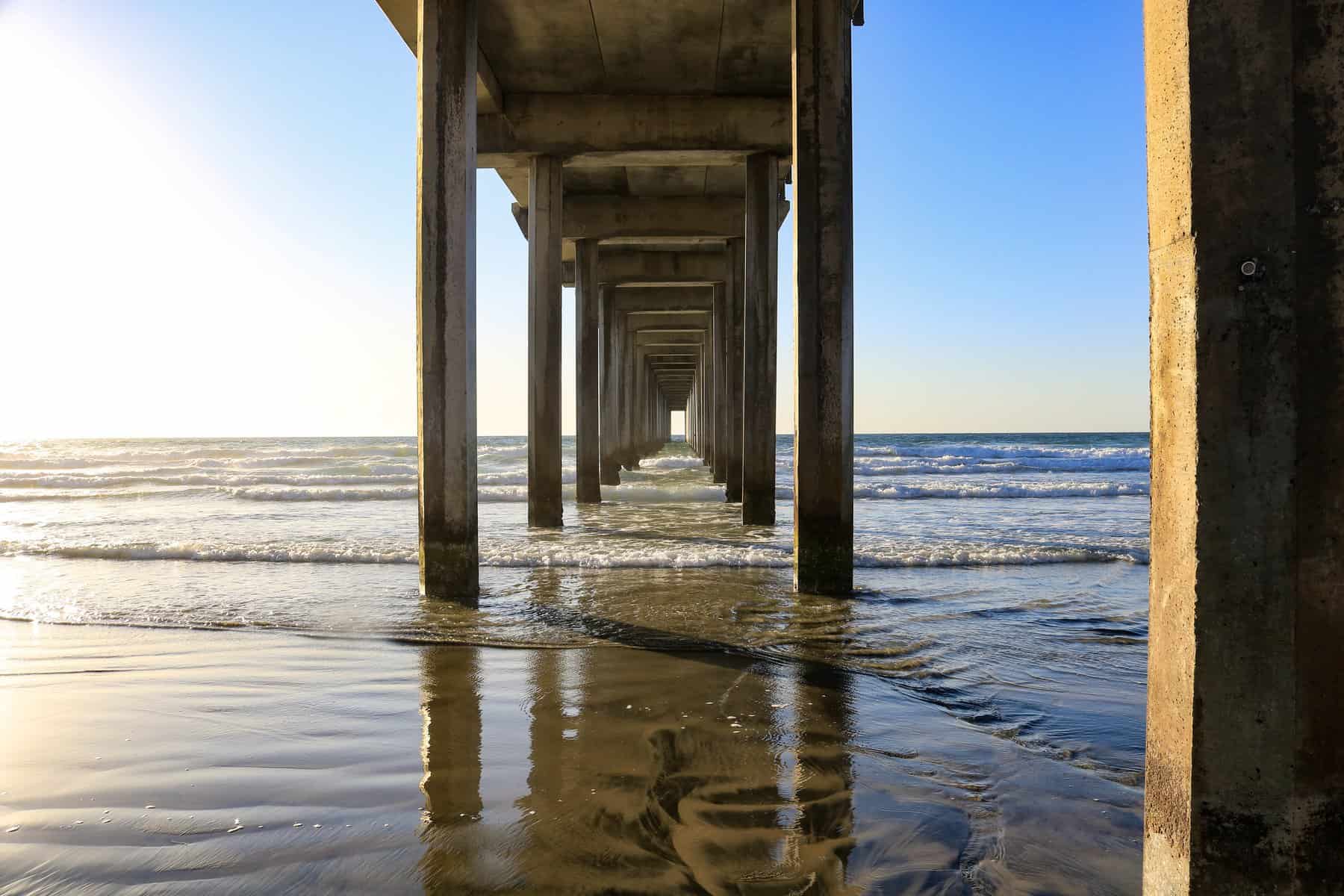 It is only accessible for researchers associated with Scripps Institution of Oceanography. But if you really want to walk this impressive pier, you can get the chance with Birch Aquarium's Pier Walk. The Pier Walk takes place on a full moon exploring the pier, learning about its history and collecting plankton.
Any time of the day, the pier is a hot spot for photographers but sunsets here are especially spectacular! If looking for an awesome spot to take in one of Southern California's prettiest beaches, look no further than Caroline's Seaside Café which is just south of the pier. Caroline's has excellent breakfast and lunch selections and is quite yummy!
Pier Location: 8650 Kennel Way, La Jolla
7. Hiking In La Jolla
Best way to get in some exercise while on vacation is to go on a hike to work up a sweat and see the local scenery. If you are looking for the best hike in La Jolla with a view, search no more than Torrey Pines State Natural Reserve.
There are various smaller trails if you are looking for a quick hike but I enjoy combining a number of the trails for a 5.6 mile hike.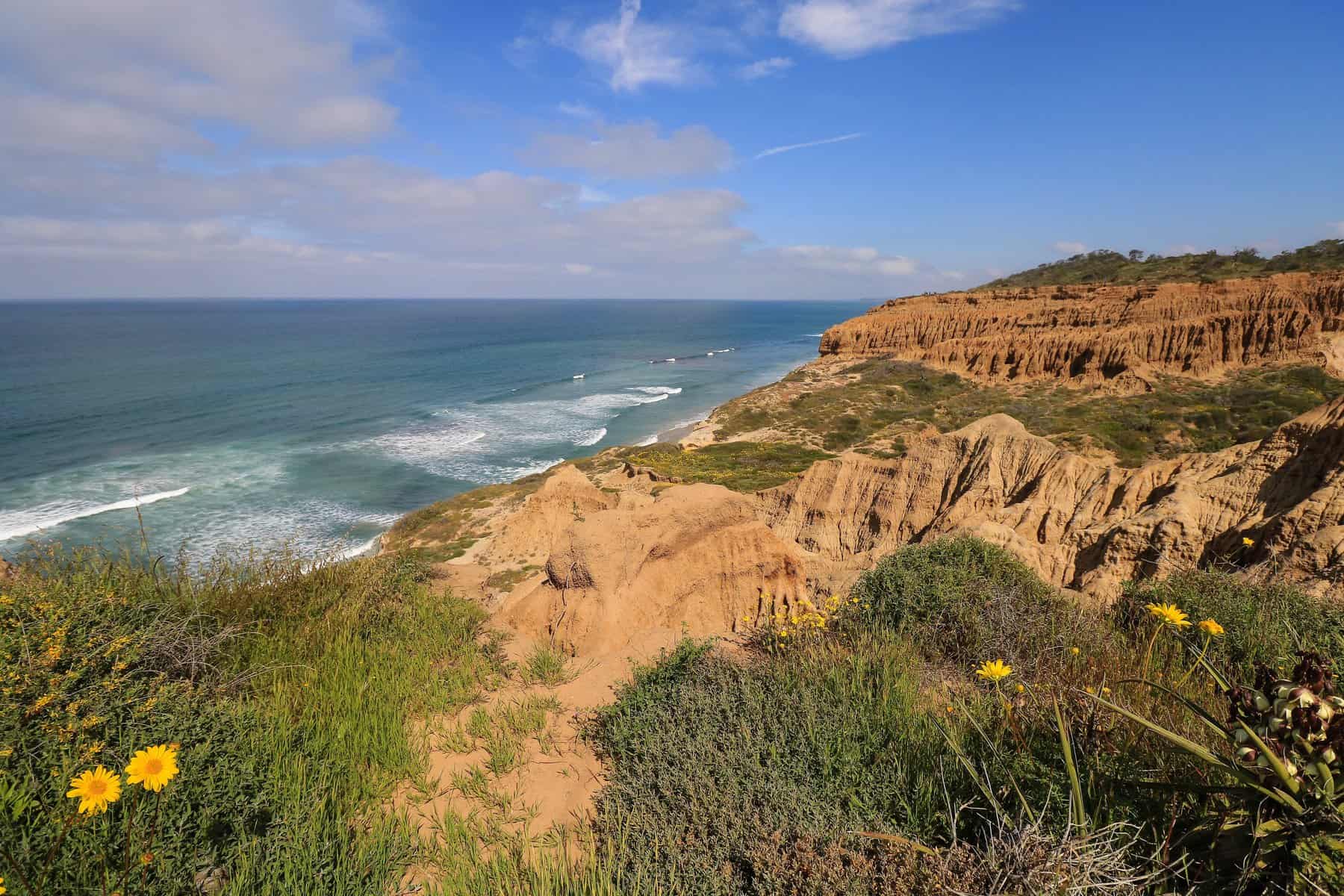 Starting at the parking lot, take the Torrey Pines Park Rd to the Parry Grove Trail. Next take the Razor Point Trail to Beach Trail then Broken Hill Trail, to N Fork Trail until getting back onto Torrey Pines Park Rd.
Trailhead Location: 12600 N Torrey Pines Rd, La Jolla, CA 92037
8. Torrey Pines Gliderport
Sitting high above the cliffs of Torrey Pines is the Gliderport where you can soar out over the Pacific Ocean via paragliding and hang gliding. For almost 100 years, the Torrey Pines Gliderport has been the go-to spot for flight lessons and a bird's eye view of San Diego's gorgeous coastline.
What better way to see La Jolla than from the air? Of all the things to do in La Jolla, this might be the most adrenaline-packed activity!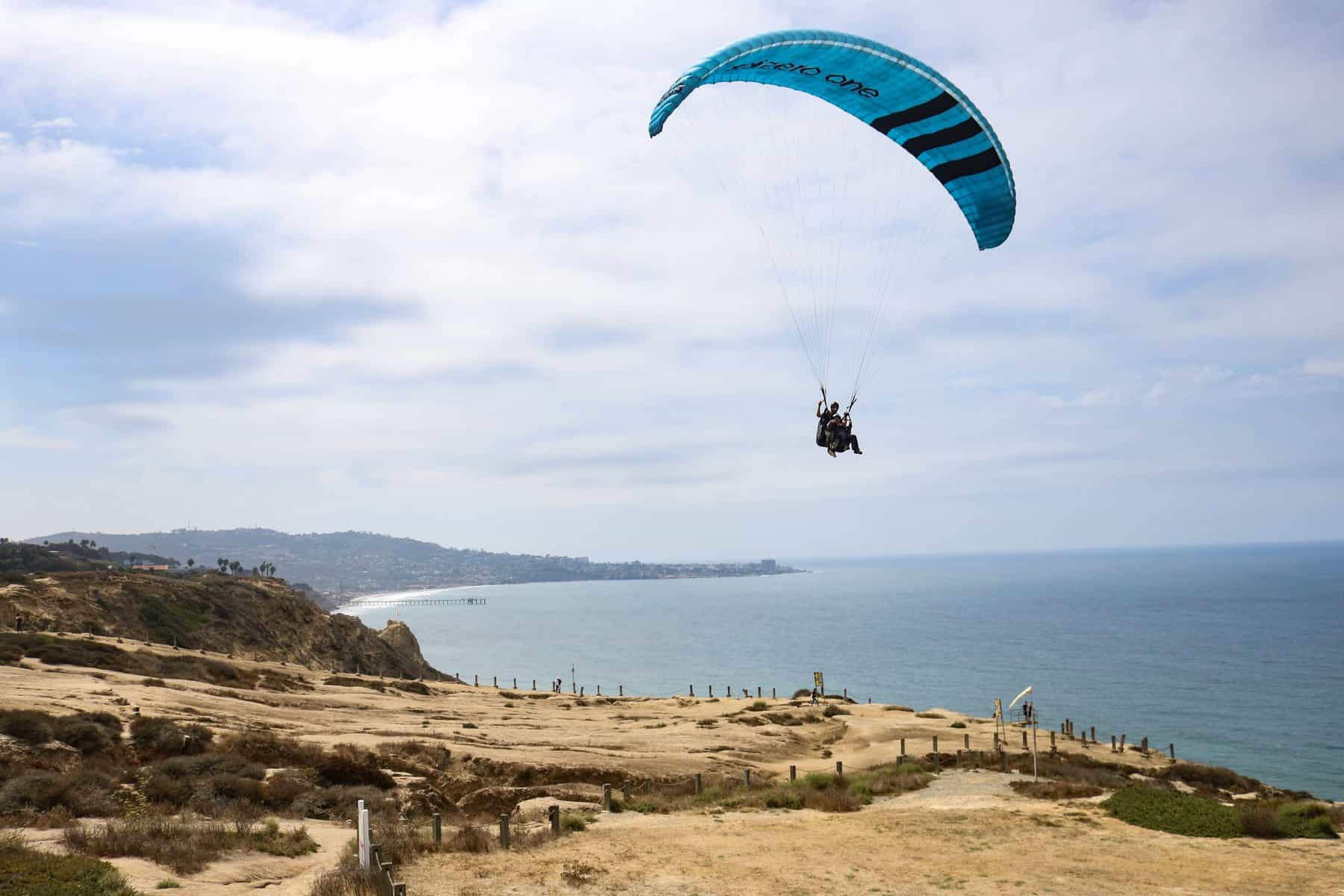 If you aren't feeling adventurous enough to take to the sky, the views from the cliffs are absolutely worth visiting and picture perfect. To get a glimpse of Black's Beach, walk down the path south of the gliderport and make it a full day!
Beware, Black's Beach is a nude beach so don't be surprised to see men doing naked yoga! All joking aside, it is a stunning beach to wander.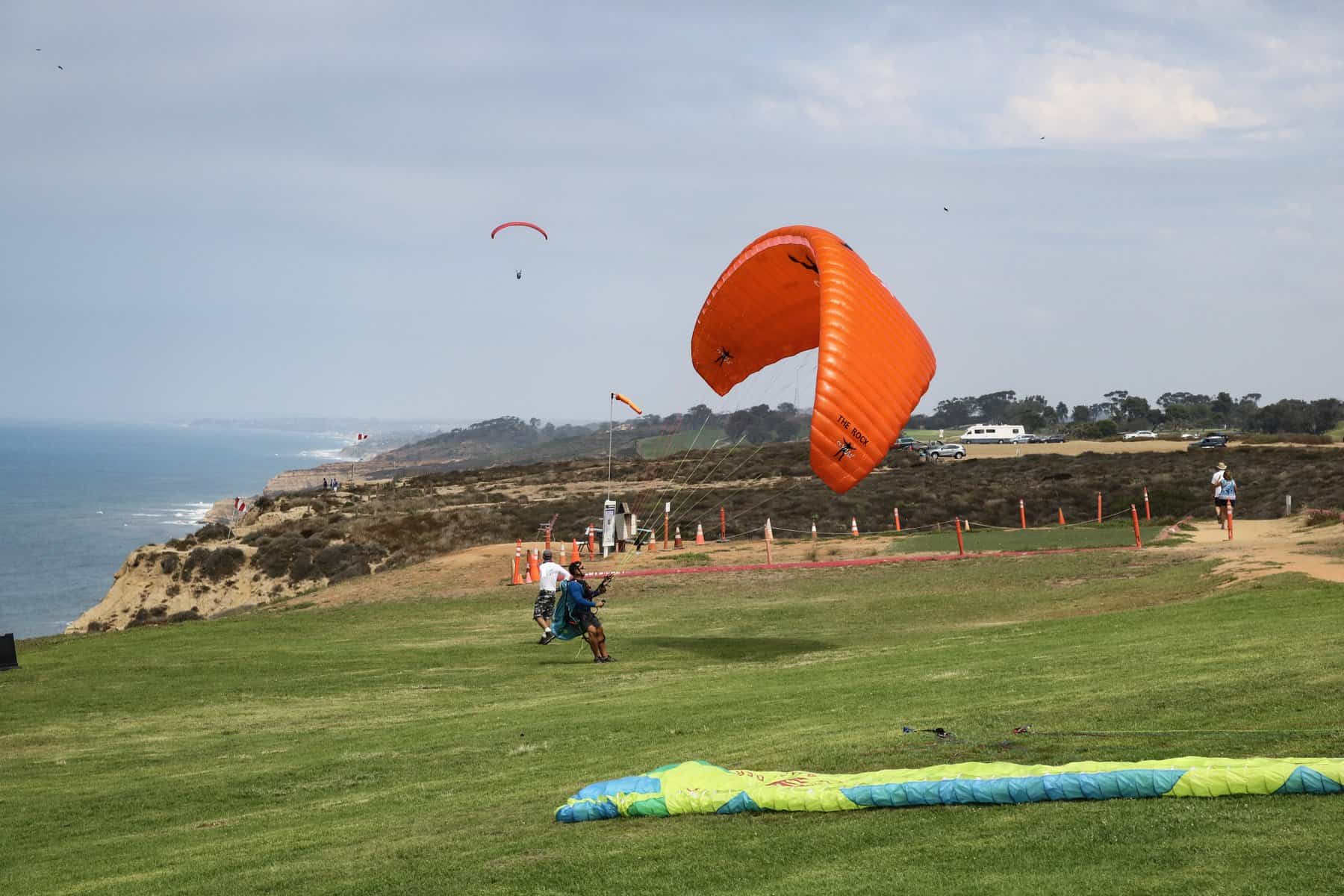 After working up an appetite, grab a bite at the Cliffhanger Café. Its open daily from 9am to 4pm and the best seat to watch paragliders and hang gliders flying by.
If you are lucky to be visiting on a Saturday, live music is played 1pm to 4pm from April to October. Parking is free but it can get quite busy during peak summer times so go early if possible.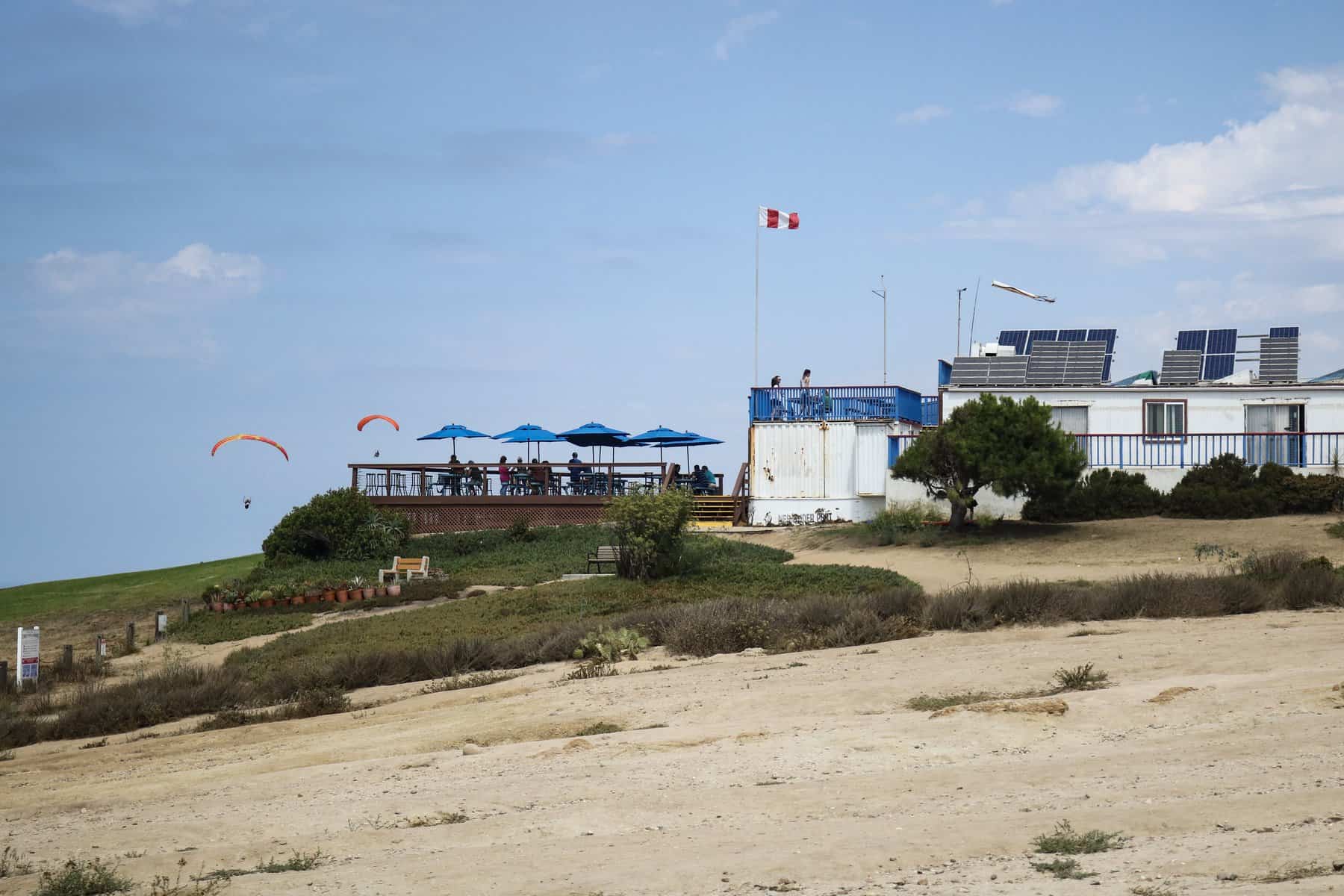 Location:  2800 Torrey Pines Scenic Dr, La Jolla
9. Windansea Beach
South of La Jolla Cove is Windansea Beach that is popular with swimmers, surfers or those just wanting to enjoy the view.
At low tides, tide pools are accessible and a hit with kids. Windansea Beach may be recognizable for its "Surf Shack" which has been designated as a historical landmark.
10. Mount Soledad
Up on the hillside sits Mount Soledad and has become a landmark in La Jolla. It can be seen from far off in the distance in all areas surrounding La Jolla.
The cross was erected in 1954 and has since become a war memorial. For several years there was a lot of heated debate over having a cross or religious symbol on government land. This was resolved in 2016 after a private group purchased the land from the government and made it private property.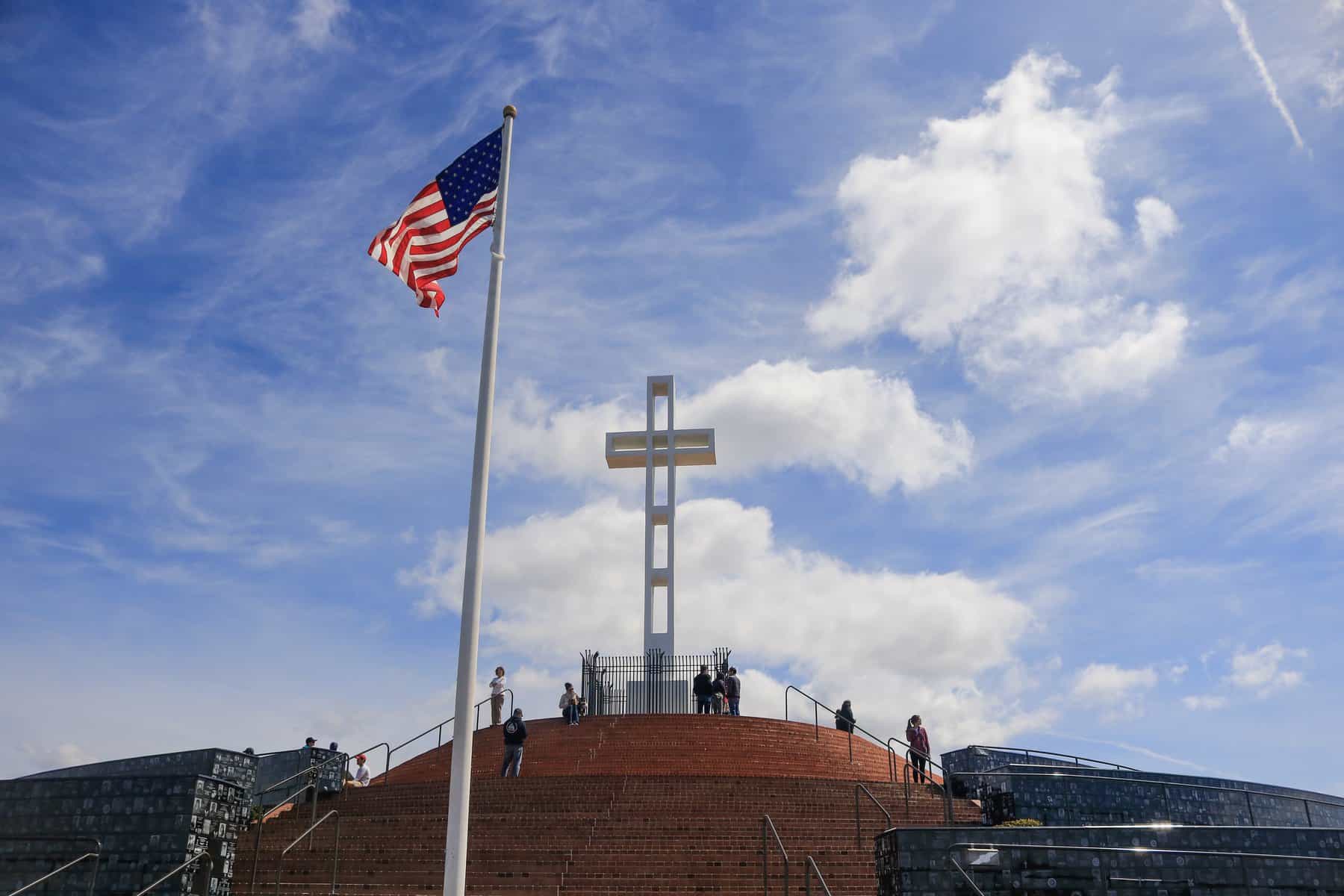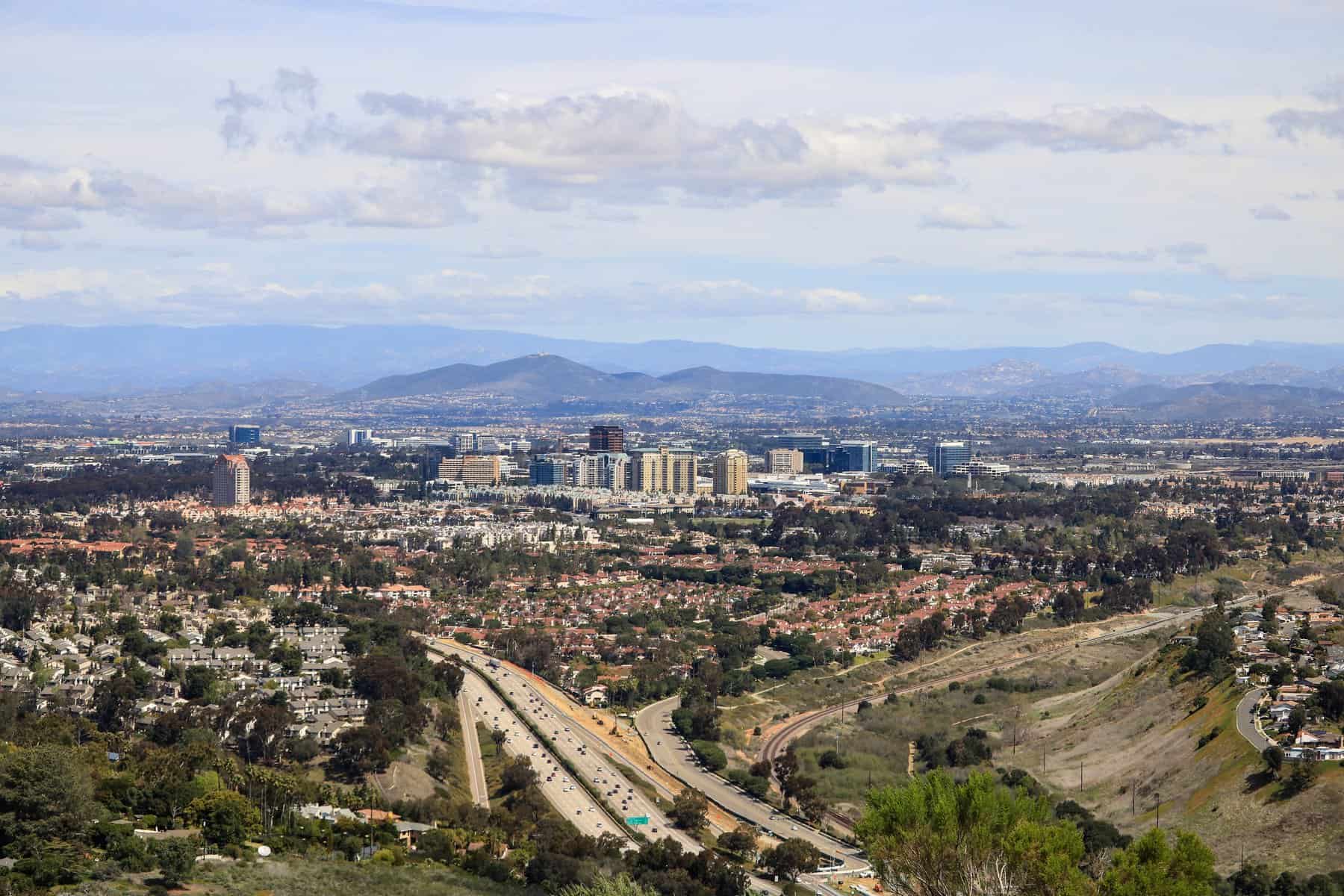 The 360-degree panoramic views of the Pacific Coast and surrounding areas of San Diego are breathtaking on a clear day! Even on a sunny and hot day, it can get very windy and cold so bring a jacket.
Location: 6905 La Jolla Scenic Dr South, La Jolla
San Diego Airport Info
The nearest major airport to La Jolla, is in San Diego, California. The airport is the San Diego International Airport (SAN) that is in downtown San Diego. To book your airfare to San Diego, go to Skyscanner and find the best flight deals available!
From the airport, it is approximately a 25 – 30 minute drive. Find the best rates on a car rental here and get ready for your trip today!
Enjoy exploring the best attractions in La Jolla!
Got Travel Insurance?
Don't leave home without travel insurance as you never know what might happen on a trip! It is always when you least expect it that something can go wrong like getting sick, in an accident or cancellation of some sort. Get a no-obligation quote from two trusted travel insurance companies for peace of mind on your next trip!
Looking For More Travel Inspiration?
15 Best Things to Experience in San Diego
15 Most Popular Beaches In San Diego
5 Ways to See California's Imperial County
Ultimate Guide To The Best Tacos In San Diego
The Flower Fields In Carlsbad: The Ultimate Guide
How To Spend The Best Day Apple Picking In Julian
25 Fun Things To Do In Carlsbad, California
The Best Ways To View The Hollywood Sign
The Best Guide To Maui Whale Watching

Disclaimer: My post may contain affiliate links, which means I may receive a small commission if you click a link and purchase through that link. It won't cost anything to you to use these links but is very much appreciated. Thank you!