Disclaimer: Traveling Ness contains affiliate links and is a member of the Amazon Services LLC Associates Program. If you make a purchase using one of these links, I may receive compensation at no extra cost to you. See my privacy policy for more information.
10 Best Things To Do In Trogir, Croatia
Visiting Trogir is something you can't miss out on seeing when in Croatia. It has all the charm, romantic and medieval touches that will win you over the minute you step foot in its Old Town. One of the best things to do in Trogir is to wander the cobblestone streets and waterfront in awe of its beauty!
Trogir is located along Croatia's Adriatic Sea and is a prime location to take day trips from. Most likely nearby Split is included in your plans while visiting Croatia along with some other notable places like Dubrovnik and Plitvice National Park.
Oh, and it goes without saying, there are several Trogir attractions to see, so make sure you include a few days here!
Many might wonder how many days are needed to see everything in Trogir and I would say two days. That is enough time to take in all the sights primarily in the Old Town section.
But if you are to include many day trips, I would recommend longer to really explore this region of Croatia.
Trogir Old Town
I spent a full day in Trogir but oh how I wish I had planned to stay for a few days. It is a town that I will definitely go back to one day. It is a gorgeous location on the Dalmatian Coast just 30 minutes from Split which makes it easy to get to.
The Old Town section of Trogir is on a tiny island that is connected by bridges to the mainland on one side and on the opposite side, another larger island that is Ciovo Island.
In every way, Trogir is a magical town with its marble streets, grand promenade, palm trees, yachts, and sailboats!
What I really enjoyed about Trogir, is that it is a smaller and less touristy area compared to Split. You still get the beautiful seaside Old Town with medieval walls but without the crowds. You can easily spend a few days or more here if you are looking to unwind.
It is quite impressive how so many of the buildings from the 13th and 15th centuries are so well preserved today. In 1997, Trogir became a UNESCO World Heritage Site.
With its sea access, Trogir is an excellent base if you are interested in sailing the nearby islands for a day excursion or even a week. If you are wondering what to do in Trogir, keep reading for the best Trogir attractions to see.
Accommodation In Trogir
The best spot to stay when visiting is in the Old Town area which is on the island of Trogir. That way you can be in walking distance of everything and to numerous yummy cafes nearby! The best places to stay in Trogir's Old Town are:
Brown Beach House– this hotel is a little further out and on the island of Ciovo next door. But if you are looking for a luxurious place to stay and relax more than a few days this might be the spot. Especially with their gorgeous pool!
Trogir Tours
If you plan to spend a few days in Trogir, I'd recommend giving yourself time to explore the town and take a few phenomenal day trips!
Trogir Walking Tour with Guide – Go on a guided 1.5-hour walking tour of Trogir's Old Town and fall in love with the architecture and history in this idyllic town!
Blue Lagoon & 3 Island Tour – Be whisked away to explore the breathtaking islands and turquoise waters of nearby islands. This is a full-day tour where you get to relax, wander, and play in the Adriatic Sea!
Krka Falls & Sibenik Tour – This tour takes you to Krka National Park which is known for its beautiful waterfalls and lush park. You will also get to visit Sibenik and see its top sights!
Best Things To Do In Trogir
1. St. Lawrence Cathedral
In the main town square of Old Town Trogir, sits the prominent St. Lawrence Cathedral and Bell Tower. St. Lawrence Cathedral was built between the 13th and 15th centuries and is architecturally stunning.
As you admire the incredible craftsmanship that went into carving and building of the church, you can see the Gothic, Venetian, and Romanesque styles throughout.
Inside the church is beautiful with sculptures and artwork including the baptistery. After viewing the inside of the cathedral, exit and turn around to notice the detail in the front entrance and statues. The talent that went into the carvings is unbelievable.
From the entrance, walk a few steps to the entry of the Bell Tower. Be aware that there are a number of steps so make sure you are up for the challenge. It might be a little bit of a workout, but it is completely worth it for the views!
I am scared of heights and there were sections of climbing up that I got a little nervous but I'd do it again for the great photos I got.
Standing at 47 meters (155 feet), the Cathedral Tower offers spectacular views of the Old Town, Ciovo Island, and the Adriatic Sea.
2. Clock Tower & City Loggia
Directly across the square from St. Lawrence Cathedral, is the Clock Tower and City Loggia. The Clock Tower stands out in the main town square as the star with its pale blue face and its red-tiled dome top.
It is the first thing I noticed as it might be the prettiest clock tower I have seen. Built in the 15th century, the clock tower was once part of St. Sebastian's Church.
Connected to the Clock Tower is the City Loggia with a Venetian architecture style. It is a covered gallery or what you might recognize as a porch.
You might be wondering what a loggia is? Many cities had loggias which were meeting places in the main area of the town and political life.
Think of it much like our present-day city halls where there are courtrooms, judges, etc… But back then it was noblemen and leaders of the community.
3. Cipiko Palace
Right next to St. Lawrence Cathedral is the Cipiko Palace which was the home to Trogir's wealthiest and most well-known family during the 15th century.
As with the cathedral next door, you will notice the Gothic, Romanesque, and Renaissance architectural styles. The majority of the Cipiko Palace was built in the between the 13th and 15th centuries.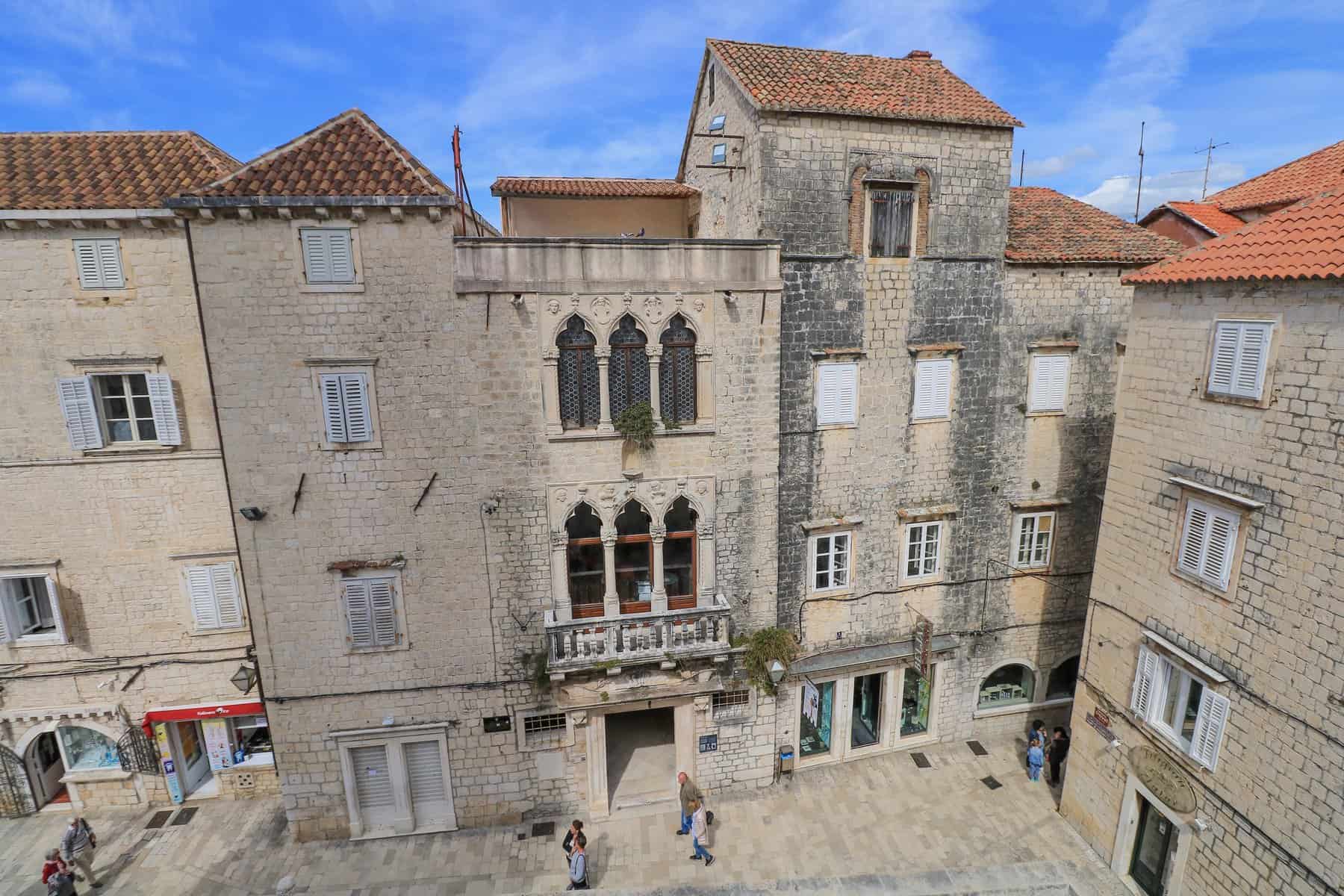 The palace was actually two palaces that joined once two prominent families came together. Unfortunately, the Cipiko Palace is not open to the public. But maybe it is more fun anyways to imagine how grand it must be inside…
4. Town Hall, aka Duke's Palace
Before I even knew it was the Town Hall, I wandered into the courtyard and was met with the most pleasant surprise! It really is the most idyllic and beautiful courtyard that looks fit for a princess.
The staircase alone looks like the perfect opportunity for a photoshoot, all I needed was a long flowy dress…
At first, I thought that the building and courtyard looked too fancy for a town hall but then learned that it had been the Duke's Palace from the 13th century. Later the palace was renovated in the 19th century in Renaissance style.
You can clearly see the coat of arms of the Venetian Dukes that once resided here on the front of the palace. Today it serves as the Town Hall where all business administration for the city takes place.
5. Museum of Sacred Art
Sitting next to the Clock Tower is the Museum of Sacred Art. The small museum has artwork from the 13th century Venetian period and notable pieces from the famous painter, Bellini.
Previously, the museum used to be a parish house from the 18th century. I absolutely love how the vines frame the museum and match the door and windows perfectly!
6. Wander Old Town's Streets
Trogir's Old Town is quite small and could be walked within a few hours if you were in a rush but that would be a shame. Trogir is one of those towns that you want to let yourself wander and get a little lost in.
Granted you won't actually get lost but there are so many pretty streets, cafes, and courtyards that shouldn't be missed.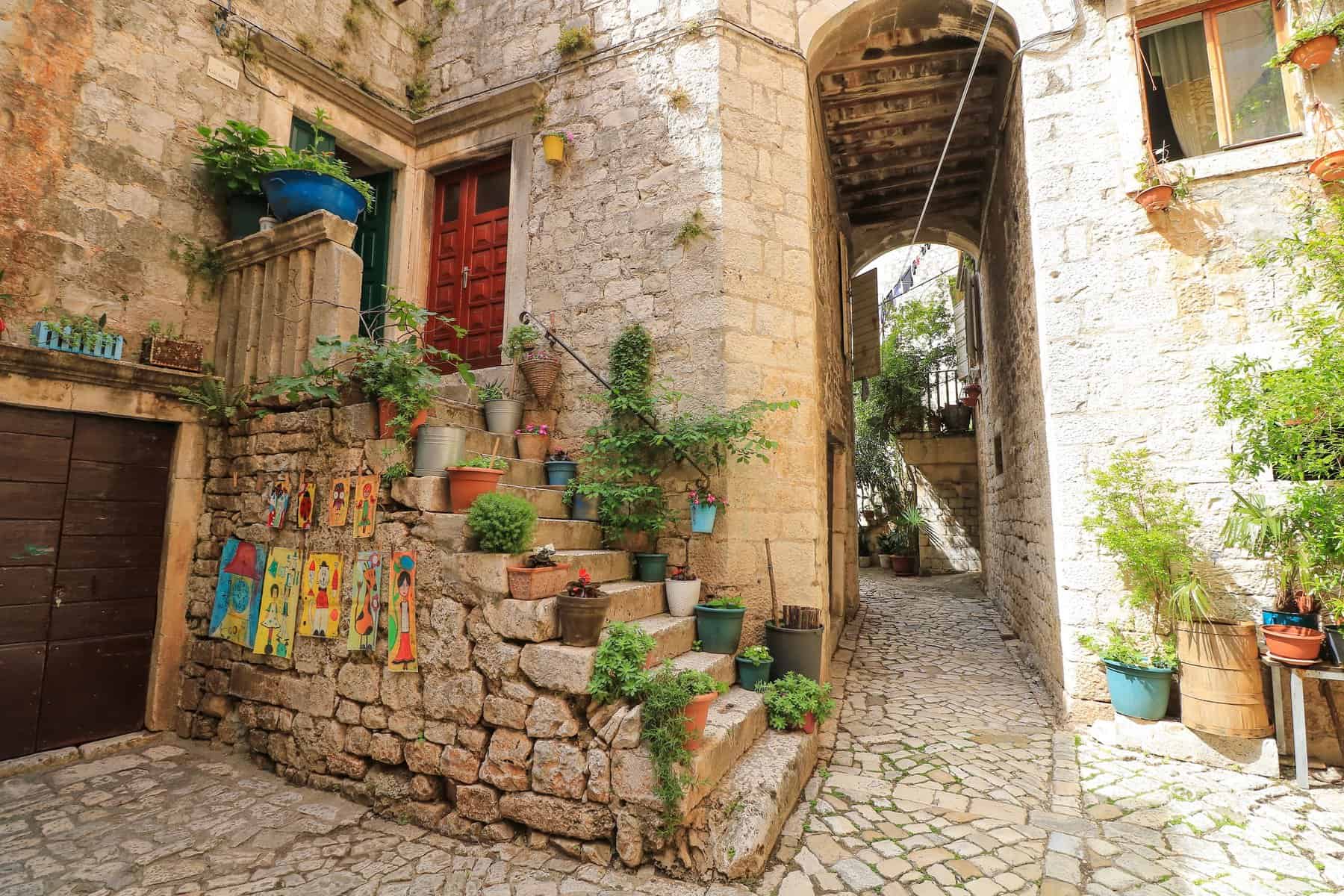 Trogir might be one of the most photogenic towns in Croatia as it packs in a whole lot of charm. Anyone that is into photography could easily spend a few days really capturing the town's atmosphere.
As you wander the cobblestone streets, you will quickly realize why it is protected as a UNESCO World Heritage Site.
One of the things that I loved about walking in Old Town is that much of the time I felt like I had the place to myself.
There are so many adorable cafes, that sitting down to have a coffee will be calling your name once or twice! Wandering the Old Town is definitely one of the best ways to experience Trogir…
7. The Promenade
Similar to Split, Trogir has a wide and elegant promenade or "riva" along the waterfront. It is a splendid place to take a stroll as you pass restaurants, cafes, and plenty of palm trees.
On the waterfront side, you will see numerous yachts and sailboats docked in what looks like the most perfect water.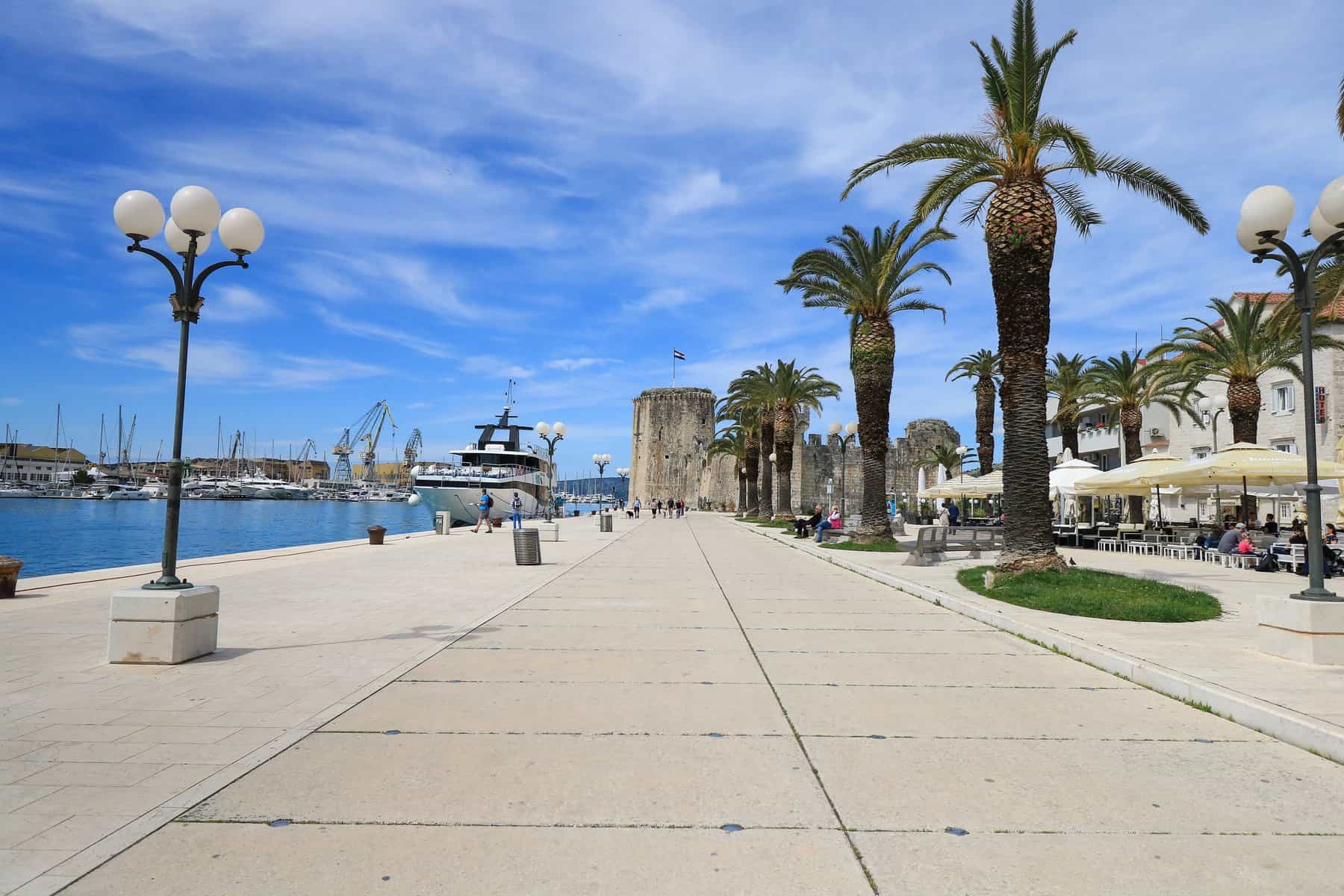 There is definitely more of an energy and life out on the promenade and is a great place to sit and people watch. And if you are lucky enough to stay the night, it is a wonderful place to watch the sunset.
8. Kamerlengo Fortress
At the end of the promenade or "riva" is the Kamerlengo Fortress that looks quite striking among the palm trees and sea. The fortress is also referred to as a "castle" but it looks more like a fortress to me.
At one point, the fortress was attached to the city walls but as you can see that is no longer the case.
Built in the early 1400s, there is not much left of the Kamerlengo Fortress on the interior but it is very much worth a visit inside.
In the 15th century, the Kamerlengo Fortress served to house the Venetian troops but today it is used as a place to host concerts in the summer months.
What makes going inside worth the entry fee is the opportunity to climb up the stairs to the top of the fortress!
The views of Trogir and the surrounding Adriatic Sea are breathtaking. Make sure that you climb all the way to the top of the tower for the best vantage point!
9. Town Gates
After you park your car and cross over the bridge into Trogir's Old Town, you'll enter via the North Gate.
The North Gate was built in the 17th century and up on the top used to be a statue of the patron saint of Trogir, St. John. From photos and everything I read, it was there but on this visit, I saw no statue…
On the opposite side of Trogir's Old Town is the South Gate. The South Gate leads out to the bustling promenade and the sea.
10. Beaches
Although I didn't get the chance to get in any beach time in Trogir, the two best beaches nearby are Okrug Gornji and Medina Beach. Okrug Gornji is on Ciovo Island which is about 2 miles from Trogir's Old Town.
You can reach Okrug Gornji by boat or over the bridge from Trogir. There are also plenty of restaurants and bars to choose from if you need a bite or a cocktail!
Medina Beach is located in a small village called Seget Donji that is a few miles from Old Town. Here you will find restaurants, bars, water sports, and the Hotel Medina.
Restaurants In Trogir
Pizzeria Mirkec – Not too far from the promenade and has great pizzas (Pizza, Mediterranean and Italian food).
Konoba Trs – located a short distance from the main central square next to the St. Michael's Bell Tower and Palace Cipiko (Mediterranean, Seafood and Croatian food).
Piccolo Ponte – Located in the center of Old Town and has a lovely ambience (Mediterranean, Italian and Pizza).
Restaurant Kamerlengo – Located on an adorable cobblestone street in the center of Old Town (Mediterranean, Seafood and Croatian food).
Restaurant Sv Dominik – perfect for drinks along the promenade!
Getting From Split To Trogir
The closest airport to Trogir is the Split International Airport (SPU), also known as Resnik Airport. The airport is actually closer to Trogir than Split and is about a 10-minute drive.
If you are coming from the town of Split, it is about a 30-minute drive and you can get there by bus or car.
When To Visit Trogir
Situated on the Adriatic Sea, Croatia experiences a Mediterranean climate much like Italy and Greece. Visiting Trogir is pleasant any time of the year with the best months from April to October.
The winter months are known to have mild temperatures and a lot of rain whereas the summer months can get pretty hot and humid.
To get the best weather and avoid the crowds, the shoulder seasons are ideal, May/June and September/October.
Enjoy experiencing the best things to do in Trogir!
Got Travel Insurance?
Don't leave home without travel insurance as you never know what might happen on a trip! It is always when you least expect it that something can go wrong like getting sick, in an accident or cancellation of some sort. Get a no-obligation quote from two trusted travel insurance companies for peace of mind on your next trip!
Looking For More Travel Inspiration?
15 Top Things To Do In Split, Croatia
Visiting Plitvice Lakes: How To Have The Best Experience
12 Top Things To See In Zadar, Croatia
15 Ultimate Things To Do In Dubrovnik
What To See On A Dubrovnik Day Trip To Kotor
How To Spend 48 Hours In Mostar
7 Best Filtered Water Bottles For Travel And Hiking
The Best Way To Spend 3 Days In Bruges
Guide To The Best Christmas Markets In Belgium
10 Fantastic Places To Visit In Transylvania
Disclaimer: My post may contain affiliate links, which means I may receive a small commission if you click a link and purchase through that link. It won't cost anything to you to use these links but is very much appreciated. Thank you!