Disclaimer: Traveling Ness contains affiliate links and is a member of the Amazon Services LLC Associates Program. If you make a purchase using one of these links, I may receive compensation at no extra cost to you. See my privacy policy for more information.
7 Amazing Waterfalls In Alabama That Will Take Your Breath Away
Waterfalls in Alabama are beyond captivating to see and make you take pause and question if you are dreaming… Can there really be this many enchanting waterfalls in one region? Visiting the following Alabama waterfalls are some of the most spectacular waterfalls I have ever seen!
How did I never get the memo that Alabama has not only gorgeous but numerous waterfalls?
By the time I visited Northern Alabama I had already fallen in love with this awesome state. And after seeing all of these waterfalls I can't help but love it even more!
Each waterfall alone is awe-inspiring to see and after seeing one after another I was dumbfounded at the sheer beauty of these spectacular Alabama falls!
I have to say that overall, as states go in the United States, Alabama has some of the best waterfalls…
Note: I will be updating with new locations as I visit them so save this post and reference back! I visited all of these waterfalls from Birmingham at the end of June, but you could visit via Huntsville too.
Where Is Alabama?
Alabama is located in the southern region of the United States also known as the South. Its southern border runs along the Gulf Coast of Mexico with the spectacular beaches of Orange Beach and Gulf Shores.
Mississippi borders Alabama to the west with Florida and Georgia bordering the eastern side of Alabama. And finally, to the north of Alabama is Tennessee.
The capital of Alabama is Montgomery which is located in the southern part of Alabama about 2.5 hours northeast of Mobile.
In the north, the two major cities are Birmingham and Huntsville, Alabama.
Where Are Alabama Waterfalls Located?
The majority of the waterfalls are located in Northern Alabama including all of the falls mentioned in this post.
The two main cities that have the easiest access to the Alabama waterfalls are Birmingham and Huntsville.
You could choose either one as your base but I would recommend Birmingham as it has a little closer proximity to most of these.
The distance between Birmingham and Huntsville is about 100 miles or 1.5 hours, with the waterfalls in between these two metro areas.
The farthest northeast waterfall on this list is minutes away from the state border to Georgia. So, if you are coming from Atlanta, Georgia, this would be a great weekend getaway just 2 hours away!
And if you are coming from Chattanooga, Tennessee then you are only 1 -2 hours away from the northeast waterfalls.
As you can see there are many cities you can base your trip to see the waterfalls in Alabama but for the most part, I'll assume you are in Alabama.
Note: If you are limited on time, you can see the first four waterfalls listed in one day as long as you get an early start. But it isn't possible to see the entire list in one day, but rather over a few days.
How To Get To Alabama
If you live in a nearby area of Alabama or a neighboring state, then you can easily drive. But if you are coming from out of state you can fly into either:
Birmingham Shuttlesworth International Airport (BHM)
Huntsville International Airport (HSV)
Look at both cities when booking a flight to see which airport has better prices. Overall, I would say that there is more to do and see around Birmingham if you are wondering which city to choose from.
Note: Both airports are about a 10 – 15 minute drive to the downtown areas.
Do I Need A Car?
Yes! The beauty of the Alabama waterfalls can all be found in nature outside of the city areas. Luckily most of the waterfalls are within a 1 – 2 hour drive but that means you do need a car.
None of these waterfalls are close enough to take public transportation or an Uber/Lyft. And since you are out in the stunning wilderness, you can't count on having cell reception to request a ride!
If you have a car great, but if you don't, check rental car rates ahead of your trip to find the best deals and secure your booking.
Driving to all of these waterfall locations is incredibly scenic as you cruise through lush forests and very easy to do!
Best Time To Visit The Waterfalls In Alabama
The best time to visit the waterfalls in Northern Alabama would be spring through early summer or after any heavy rainfall.
For most of these waterfalls, you can enjoy in the summer months especially if you want to go for a swim. But as with anywhere, the flow of water might be less in late summer or early fall.
But don't overlook the fall months of September and October as you may see some fall foliage which will add to the already stunning beauty!
Although there would be good water flow during the winter months, I would only go if you had nice weather. If there is heavy rain, avoid going until it subsides as it could make it dangerous to go during a storm.
Note: All of these photos were taken at the end of June for reference on the amount of water flowing. Of course, the amount of water will vary with the amount of rain each season. A few of the waterfalls didn't have much but a trickle so I don't have good shots of those.
Where To Stay
Although I think basing your stay in Birmingham would be a little better, I will list options for both Birmingham and Huntsville.
Birmingham
Elyton Hotel, Autograph Collection – in downtown Birmingham
Courtyard by Marriott Birmingham Homewood – in a great neighborhood south of downtown.
Grand Bohemian Hotel Mountain Brook – next to the Botanical Gardens and the Zoo.
Redmont Hotel Birmingham, Curio Collection
Huntsville
AC Hotel by Marriott Huntsville Downtown
106 Jefferson Huntsville Curio Collection, Hilton
Embassy Suites by Hilton, Huntsville
Tips For Visiting Northern Alabama Waterfalls
The best time to see the most water flow is spring, late fall, and winter.
During the summer months bring your swimsuit and travel towel if you want to take a swim.
Bring lunch and snacks in a travel cooler that is great for day trips!
Make sure to bring shoes that are made for walking and function well in wet or possibly muddy terrain.
Bring a map or download one before you go as cell service is spotty in most of these areas.
Make sure to bring plenty of water to drink or carry a filtered water bottle that you can fill up!
During the summer months, be prepared to ward off pesky mosquitoes with mosquito spray or wipes.
Watch your step when walking along the trails to avoid twisting an ankle or worse!
Consider bringing a pair of water booties if you plan to get in the water.
Unless it is designated to swim, follow rules and regulations, and stay out of the water.
Keep away from the edge of any waterfall or cliff as no photo is worth an accident.
To capture great video or photos without worrying about it getting wet, bring a GoPro!
Please take your trash with you and leave any area as untouched as you arrived.
If you want a little more stability walking on a trail or on slippery rocks consider using trekking poles.
Check the weather before you head out to make sure it will be a great day for chasing waterfalls.
Use the AllTrails app to help with navigating any of the trails mentioned.
Dogs are allowed on a leash at each of these waterfalls except for inside Noccalula Falls Park.
Map Of Alabama Waterfalls
Best Waterfalls In Alabama To See
1. Noccalula Falls
Noccalula Falls was the first waterfall in Alabama that I laid my eyes on and wow! It is a stunning 90-foot waterfall that has a fascinating story of how it got its name.
Originally Noccalula Falls was called Black Creek Falls. The legend goes that princess Noccalula, the daughter of a Chief Cherokee Indian was determined to have his daughter marry a wealthy chief of another village.
But Noccalula's heart was in love with a strong warrior from her own village.
Her father forbid it so with a broken heart, Noccalula jumped off at the top of the falls on what was supposed to be her wedding day.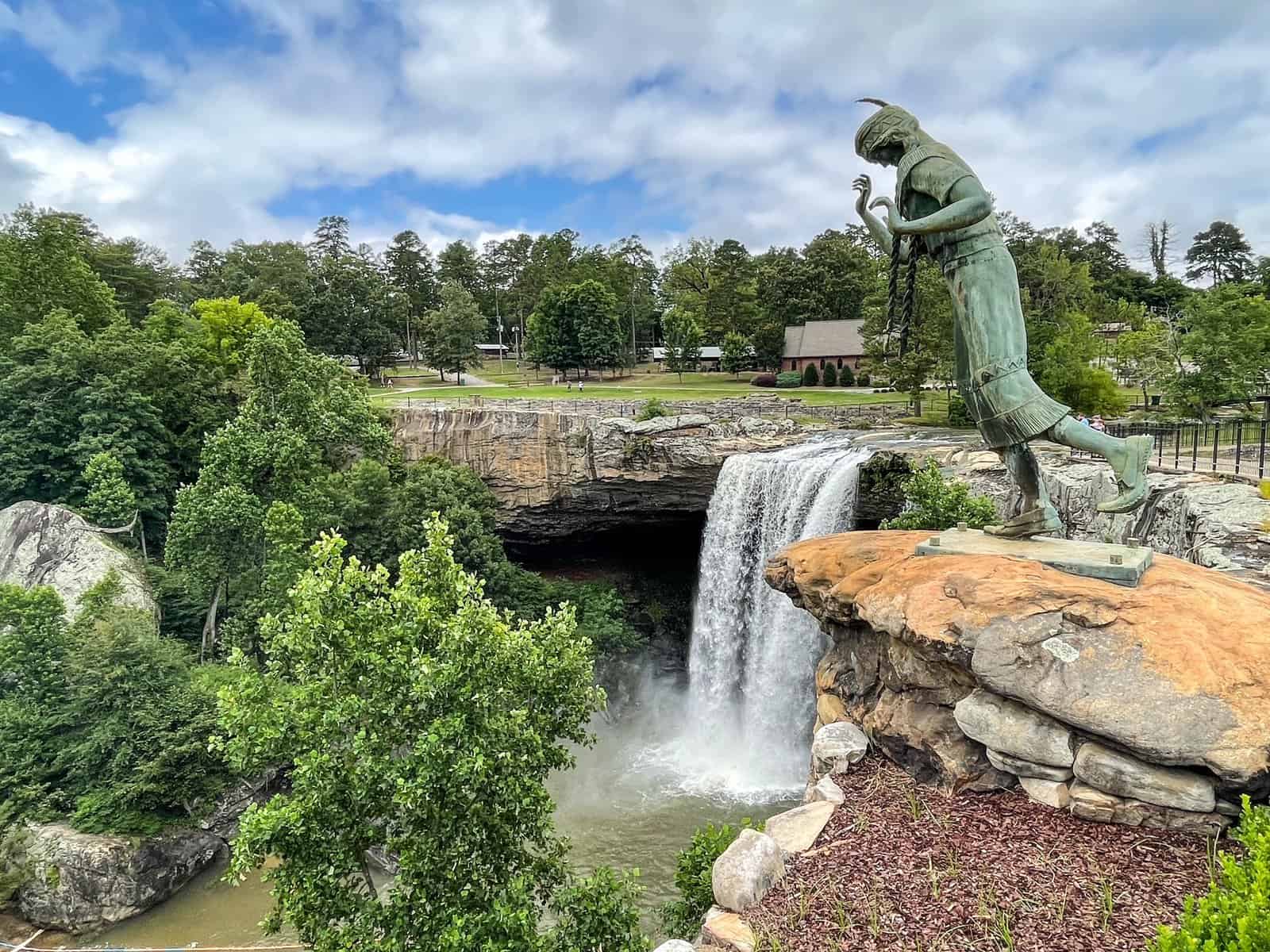 With sadness, her father renamed the falls to Noccalula Falls in remembrance of her. Today, there is a statue in the exact place where she supposedly jumped to her death.
There are two ways to see the breathtaking Noccalula Falls. If you park near the top of Noccalula Falls where the statue is, you can get a side view or view from the top looking down (free).
This is also the only view for those with strollers or wheelchairs and can be accessed next to Jack's fast food.
But if you would rather get a view from down at its base and walk underneath it (highly recommend), then park and enter through Noccalula Falls Park ($6.00 fee).
In the park, you have access to restrooms, botanic gardens, Pioneer Village, and a fun train ride to get around.
The trail to walk down to the base of Noccalula Falls is through the park via the Gorge Trail entrance. Or if you are camping at the park, you can enter the trail through the campground too.
Noccalula Falls Park Address: 1500 Noccalula Road, Gadsden, Alabama 35904
Note: For a detailed post on how to hike down to see the falls from the bottom, read Ultimate Guide To Visiting Noccalula Falls Park in Alabama!
2. Little River Canyon Falls
Of all the waterfalls listed here, Little River Canyon Falls is the easiest one to visit and accessible for everyone.
Little River flows along Lookout Mountain, the southern portion of the Appalachian Plateau. It is part of the deepest canyon and gorge system in the eastern part of the United States.
You can view Little River Canyon Falls on each side of the river and I recommend visiting both!
From Noccalula Falls, take the 59 Highway to Fort Payne, driving east through the town of Fort Payne, and then hop onto Wallace Ave NE.
Stay on Wallace Ave NE for about 8 miles. Right after you pass the Little River Canyon National Preserve on your left, turn right onto Little River Canyon Pkwy.
After a short distance, you will see a parking lot on your left where you can park and walk out to the viewing platform. The falls will be more in the distance, but it is a quiet and nice view from this spot.
Now, drive back the way you came, and instead of turning left towards Fort Payne, turn right onto Wallace Ave NE (35). Cross over the river and turn right into the large parking lot.
This is the main trail and platform for up-close viewing of Little River Canyon Falls. There are restrooms near the parking lot and a nice, paved trail down to where you can see Little River Canyon Falls.
At the platform, gaze in awe of the 45-foot waterfall known as Little River Canyon Falls. Not so little but rather grand to see the water cascading down!
On top of the waterfall, people are welcome to swim and sit in the shallow water on top of the rocks. But do make sure to stay 50 feet away from the edge of the waterfall.
Note: If you happen to visit during the fall months, this would be a great spot to photograph fall foliage on each side of the river!
3. DeSoto Falls
After leaving Little River Canyon Falls continue heading north to reach DeSoto Falls in the town of Mentone, Alabama.
From Little River, drive back towards Fort Payne turning right onto Desoto Pkwy NE and stay on this road until you see the Country Store on your left.
At this point, there will be some signs directing you to the falls but it can be a little confusing. I suggest stopping at the country store to get drinks, snacks, and a detailed map of how to get to DeSoto Falls.
From the Country Store, continue straight, and turn left at the stop sign on Wester Rd. There will be a few turns here and there but signs will keep directing you.
There are two stops to see the breathtaking De Soto Falls. The first stop will be in a dirt parking lot off of Comer Scout Rd.
This trailhead leads you on two short hikes, one to an overlook with a direct view of DeSoto Falls and the other one will take you down to the basin where you can get in the water to swim.
Both of these trails are not accessible for strollers, wheelchairs or those that have difficulty walking on dirt trails with some rocks and tree roots.
Hiking the Overlook Trail is shorter than hiking down to the basin and only took about 30 minutes out and back with time for photos.
At the overlook, you have a front-row seat looking straight ahead at the staggering beauty of the 107-foot DeSoto Falls!
DeSoto Falls is the tallest and one of the most visited waterfalls in Alabama…
After you are back in your car, continue on the road until you reach a parking lot with a parking attendant ($4 per car).
From here you can walk down the steps to a rocky platform area to view DeSoto Falls from the top and side! And if you want, this is a great area to have a picnic and go kayaking as there is a rental shop available.
4. High Falls Park
Once you have enjoyed your time at DeSoto Falls, head southwest for about an hour to reach High Falls Park in Groveoak, Alabama.
There are a few ways you can reach the falls but I would recommend putting into your GPS, High Falls Park or 969 CR-144, Groveoak, Alabama 35951.
Like many of the waterfalls in Alabama, you could spend a whole day at High Falls Park! There are areas to have a picnic, sunbathe and swim in the warm months.
High Falls is a 35-foot waterfall and a very wide waterfall at around 300 feet in girth! I think they should rename it as it isn't the highest waterfall in Alabama but the widest…
Once you park, it is a pretty steep yet short walk down to the falls on a paved trail.
When you reach the bottom, you will notice you are in a wooded area with a bridge. You can walk across the bridge to enjoy the awesome views in each direction of the river and the top of the falls.
In the summer months, you will see many people swimming, sitting, and wading in the shallow water that forms pools on the slabs of rocks.
Right before the bridge, make your way down the rocky slope to get a close-up view of the top of High Falls. It is here on the smooth slabs of rock that you can lay out in the sun or take a dip in the water!
Going back up the path a little you will notice a slim path that leads out towards the side and partial front of High Falls.
From this view, you will be welcomed to a jaw-dropping scene of a massive waterfall, where people are jumping off at the top and climbing back up via a rope to do it all over again!
And if you let your eyes finally take it all in, you will notice a rock formation that has created a natural bridge in front of the cascading waterfall.
Although I think it seems insane, there were people jumping off the top. I am too much of a chicken for that and will simply admire from afar…
5. Peavine Falls
Of all the waterfalls in Alabama, Peavine Falls is the closest one to Birmingham located in Oak Mountain State Park.
Peavine Falls is a spring-fed waterfall and differs in that regard from all the waterfalls mentioned so far.
There are several trails that you can hike or mountain bike within Oak Mountain State Park but the trek to Peavine Falls is the most popular. In fact, Oak Mountain is the largest state park in Alabama!
From downtown Birmingham, it is about a 30-minute drive to the trailhead. From the trailhead, the hike is 1.6-miles (about 1 or 1.5 hours) to reach the 65-foot Peavine Falls.
Even though it isn't a long hike, it is somewhat steep so that adds to the challenging feel of it.
Yes, you can get in the water and cool off at Peavine Falls when the weather is nice! But I would recommend having shoes that can go in the water or bring along water booties.
Depending on the time of year (mid-late summer), you might not see much water flowing and instead see a trickle of a waterfall if that. Going after it rains will get you the best photos.
Either way, it is still a nice scenic hike and you can add on loops to make the hike longer and more difficult if you want.
Tip: The easiest way to reach the trailhead is to enter in your GPS, "Peavine Falls Parking".
Note: If you are using the AllTrails app, you can reference the Peavine Falls via Green and/or White Trail Loop. The White Trail will be easier than the Green Trail.
Admission: To enter Oak Mountain State Park is $5.00 per adult and $2.00 for both seniors and kids.
6. Rainbow Falls & Secret Falls
Rainbow Falls and Secret Falls are the furthest northwest waterfalls on this list located in Dismals Canyon near the town of Phil Campbell.
If you are driving from Birmingham, it is about 1 hour and 45 minutes and somewhat on your way to Memphis, Tennessee.
Since Dismals Canyon is an epic place to visit all by itself, I will be writing a post dedicated to it later. So, save this post to reference back!
Overall, Dismals Canyon is a natural wonderland where you feel like you could be Indiana Jones exploring an untamed and wild forest.
Walking down a series of steps into a sandstone gorge or canyon you will be greeted immediately by Rainbow Falls.
Depending on the time of day and the lighting, you can see a rainbow arc across the waterfall, hence its name!
A small pool is formed at the base of Rainbow Falls making it a great spot to take a dip or just sit on one of the rocks and admire its tranquil beauty…
The total distance of the trail in Dismals Canyon is 1.5-miles, going down one side of the creek, crossing, and coming back up the other side.
When you are walking back and are halfway back to the start, you will see Secret Falls. It is much smaller but a charming waterfall that is nestled among the trees and rocks.
The entrance fee to Dismals Canyon for adults is $12, $11 for seniors, and $8.75 for kids 12 and under.
Note: There is a third fall, Phantom Falls along this same trail. But is it really a waterfall? 😊
Address: 901 Hwy 8, Phil Campbell, Alabama 35581
7. Caney Creek Falls
If you visit Rainbow Falls in Dismals Canyon, I would add on to see Caney Creek Falls on the same day. Caney Creek Falls is about 40 – 50 minutes east of Dismals Canyon in Bankhead National Park.
Located near the town of Double Springs, you can view Caney Creek Falls by hiking 1.2-miles on an out and back trail.
Walking down to see the falls means on the way back expect an incline that will make it a little challenging!
It is beautiful to wander through the forest and along the creek until you come upon the absolutely stunning Caney Creek Falls.
The falls cascade over a ledge and wall of the prettiest rocks falling about 20 feet into a shallow pool at its base. The scene before you is quite idyllic, to say the least.
If you have shoes that allow for walking on wet rocks and mud, you can walk behind the falls. Or consider bringing a pair of these water shoes that are easy to slip on quickly.
There is no actual designated parking and if you park in the wrong spot, you could get towed. If you follow my note below, you will reach what looks like a logging road.
You will see that it is blocked and cars are not able to go down the road/trail. You used to be able to park here but no longer.
Instead, continue west on County Road 2 and turn right onto Jim Brown Road. At the end of this street, you are allowed to park at the time of this post.
But it is private property so ask or verify other cars are parked for the hike too. Use common sense, be respectful, and know that parking can change.
Tip: To Caney Creek Falls, type into your GPS, Caney Creek Falls Trail to get there. Or at least in very close proximity.
Note: If your GPS does not seem to get you there, I would highly recommend having a map. The falls are a short drive from the town of Double Springs. From the town, take Haleyville Rd (Highway 195) to Jim Brown Road on your right.
Have an amazing time viewing the best waterfalls in Alabama!
Got Travel Insurance?
Don't leave home without travel insurance as you never know what might happen on a trip! It is always when you least expect it that something can go wrong like getting sick, in an accident or cancellation of some sort.
And when out hiking or visiting waterfalls, a slip can quickly become a twisted ankle or possibly worse. Get a no-obligation quote from two trusted travel insurance companies for peace of mind on your next trip!
Looking For More Travel Inspiration?
Ultimate Guide To Visiting Noccalula Falls Park in Alabama
25 Best Things To Do In Birmingham, Alabama You Don't Want To Miss
21 Fun Things To Do In Mobile, Alabama On A Weekend Getaway
17 Fun Things To Do In Orange Beach, Alabama On Your First Visit
15 Best Things To Do On Dauphin Island, Alabama
23 Cool And Fun Oklahoma City Attractions That Are A Must To See
Perfect 3 Day Weekend In San Antonio Itinerary For First Timer's
11 Best Wineries In Fredericksburg, Texas That Are A Must To Try
7 Best Filtered Water Bottles For Travel And Hiking
Disclaimer: As an Amazon Associate and a participant of other affiliate programs, I may earn from qualifying purchases in this post. This means that if you make a purchase through one of these links, I might receive a commission at no extra cost to you. Thank you and it is greatly appreciated!