Disclaimer: Traveling Ness contains affiliate links and is a member of the Amazon Services LLC Associates Program. If you make a purchase using one of these links, I may receive compensation at no extra cost to you. See my privacy policy for more information.
5 Best Memphis BBQ Restaurants That Are A Must-Try When Visiting
If you are visiting Memphis, Tennessee then one of the first things you want to do is eat some mouthwatering BBQ! Luckily, there are many fantastic Memphis BBQ restaurants that will more than satisfy any craving you might have.
There are more BBQ places in Memphis than in any other city I have visited in America and no question a top BBQ destination.
In fact, due to the high volume of BBQ joints, Memphis has earned the title of "the barbecue capital of the world".
In my quest to find the best Memphis BBQ, I was overwhelmed with how many places there are to choose from.
I did some research beforehand and over a week period, I tried several BBQ places that came highly recommended.
By no means are my selections the only good BBQ places in Memphis but it is a great starting point if you want to know which ones are the best to try first.
If you aren't salivating yet, get ready to try the best BBQ in Memphis!
Tip: If you are looking for more activities to see and do during your stay, explore 19 Cool Things To Do On A Weekend In Memphis, Tennessee!
Where is Memphis?
Memphis is in the southwest corner of Tennessee along the Mississippi River which is the border between Tennessee and Arkansas.
Tennessee is bordered by Arkansas and Missouri to the west, Mississippi, Alabama, and Georgia to the south, Kentucky to the north, and North Carolina to the east.
On the Arkansas side of the Mississippi, there is a town called West Memphis. But when I refer to Memphis in this post, I am referring to Memphis, Tennessee.
How To Get To Memphis
There are a number of states surrounding Tennessee with the distance from the following cities below.
Little Rock, AR: 135 miles
Jackson, MS: 210 miles
Nashville, TN: 213 miles
Huntsville, AL: 216 miles
Birmingham, AL: 238 miles
St. Louis, MO: 283 miles
If you are flying into Memphis, you want to book your flight to arrive at Memphis International Airport (MEM).
The airport is 13 miles from downtown Memphis. You can either rent a car or take an Uber/Lyft to your hotel.
Search For The Best Car Rental Rates Today!
Tips: If you know you want to see Memphis attractions outside of downtown that will require a car, book a car rental just for a day or the last portion of your trip. Or you can take an Uber/Lyft as well!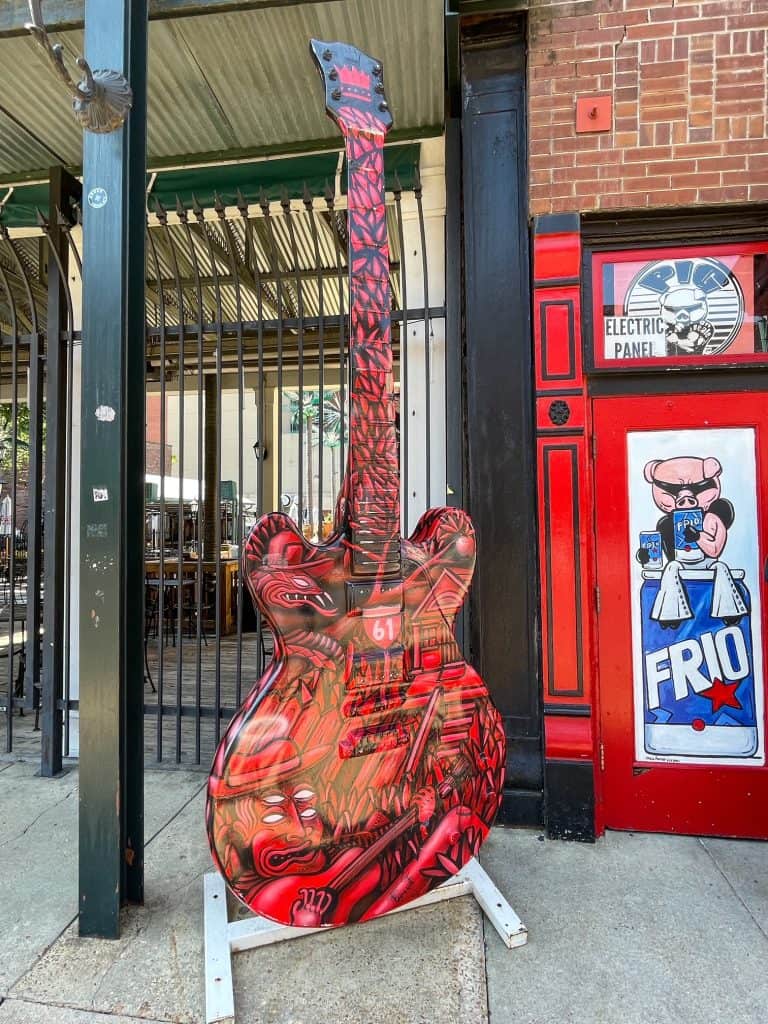 Best Memphis Hotels
The best place to stay in Memphis is in the downtown area around Beale Street and Main Street.
Each of these hotels is within walking distance or a short trolley ride from most attractions and some of the Memphis BBQ restaurants.
Sheraton Memphis Downtown Hotel – if you are in town for a convention, Renasant Convention Center is across the street
Hyatt Centric Beale Street Memphis
Top Tours In Memphis
I think I went on more tours in Memphis than I have in any other city. There are seriously so many great tours from history, museums, food, beer, and of course a haunted one!
Hop-On Hop-Off Bus Tour – For attractions that are too far to walk, this hop-on hop-off bus takes you around the city to 9 major attraction stops!
Memphis City Tour – Take a tour with a local guide t to the top Memphis attractions and the option to add on a riverboat cruise and Sun Studio.
Historical Tour of Beale Street – Learn all about the most famous street in Memphis and in America. Beale Street is brimming with history!
Food Tour Of Downtown Memphis – No better way to become familiar with a city than by going on a food tour!
Local Breweries Tour – Ready to taste awesome craft beer from local breweries? Nothing goes better with BBQ than a cold beer!
Memphis Rock n Soul Museum & Music Hall of Fame – Music lovers will enjoy this combo ticket to visit two music museums!
STAX Museum of American Soul Music – Grab a ticket in advance to the museum that is a must for anyone that has an appreciation for music and is one of the top museums in Memphis!
What Is Memphis Style BBQ?
Memphis-style BBQ is known for its "dry rub" that can include between 10 to 20+ spices with garlic, paprika, and pepper must-have staples.
Now when I say dry, I don't mean the meat is dry! Not at all… I am referring to how the meat is cooked.
The dry rub process involves rubbing the spices and herb mix into the raw meat before it is cooked, then cooking the meat in a pit over hickory wood slowly over time.
The person manning the pit? That is the pitmaster, the one that takes pride in cooking dry rub BBQ to perfection.
The choice cuts of meat most commonly seen?  The star attraction in Memphis-style BBQ is pork ribs and pulled pork.
Pork reigns as king when it comes to eating barbecue in Memphis!
Memphis has a distinct way of doing BBQ that differs from the other notable BBQ regions in the United States.
And that is what makes a trip here special for those that have a true love of BBQ…
Tip: No matter which BBQ restaurant in Memphis you eat at, always pick a meal that involves pork and you can't go wrong!
Why Is Memphis Famous For BBQ?
Memphis was put on the map as far as BBQ goes in the 1920s specifically for its BBQ pork ribs and pulled pork.
BBQ had become the top late-night meal of choice on Beale Street with much credit given to John H. Mills for making it famous.
Leonard's Pit Barbecue came on to the BBQ scene also known for its slow-cooked pulled pork and ribs.
Then in the 1940s, a few more popular barbeque joints popped up such as Charlie Vergos Rendezvous where again the focus was on slow-cooked pork ribs using the dry rub method.
Slow-cooking pork using a dry rub became the style of Memphis BBQ from that point on. You can find all kinds of meats at each BBQ restaurant in Memphis, but pork will always be front and center.
Ok, now that we have gone over the essentials on what style of BBQ you will find in Memphis, let's dive into the best places to eat BBQ in Memphis!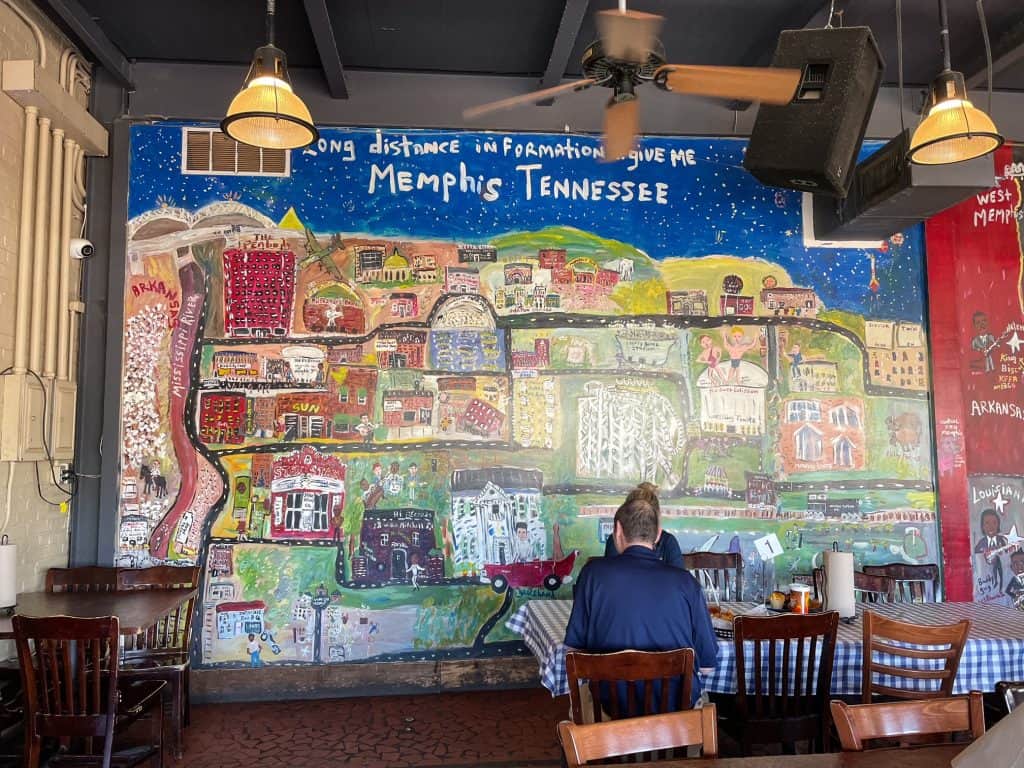 Map Of Best Memphis BBQ Restaurants
Best BBQ Places In Memphis, Tennessee
1. Central BBQ
Central BBQ is a beloved spot for both locals and tourists for good reason usually ranking at the top for most people.
They make exceptional BBQ and have been doing so since 2002 with their motto, "smoke is our sauce".
The founders Craig Blondis and Roger Sapp connected while competing on the barbecue circuit during the mid-80s and decided to go into business together. Thank goodness they did!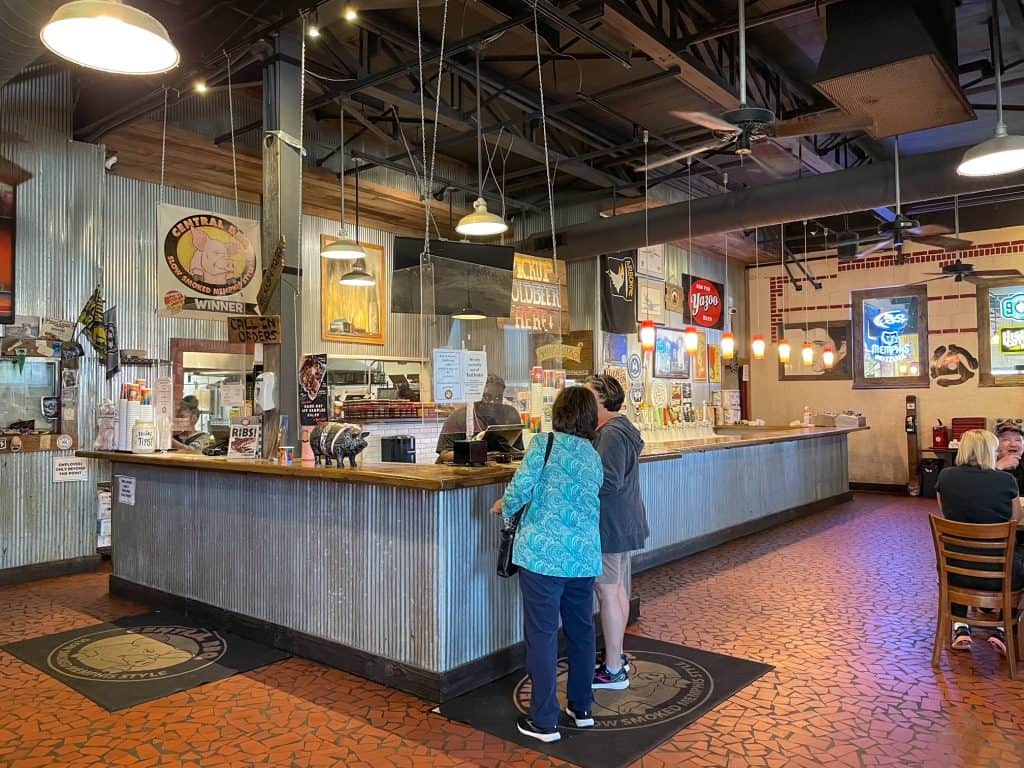 As with other BBQ restaurants in Memphis, smoking the meat slow is essential to creating that mouthwatering taste.
Central BBQ smokes their meats with their special dry rub mix over hickory and pecan woods for 24 hours to capture the perfect tenderness and flavor.
I decided to get a pulled pork sandwich that comes with slaw aka coleslaw on it and a side of their zesty sauce.
Everything from the bun to the tender pork and the sauce was absolute perfection…
Other menu favorites are ribs, beef brisket, and pulled chicken all of which are excellent choices.
I thought Central BBQ was so good that I might have gone back a second time… I couldn't resist their pulled pork!
Note: Four locations in Memphis but I recommend eating at the Butler Avenue location as you can look out at the Lorraine Motel (National Civil Rights Museum) and visit before or after!
2. Charlie Vergos Rendezvous
Charlie Vergos Rendezvous opened its doors in downtown Memphis in 1948 serving up its famous dry rub pork ribs.
Originally, Charlie Vergos sold beer and ham sandwiches in the basement of the building, smoking the ham in an old coal chute onsite.
It was in the 1950s that he expanded the menu and added pork ribs using a dry rub combining flavors from his Greek heritage and Cajun spices.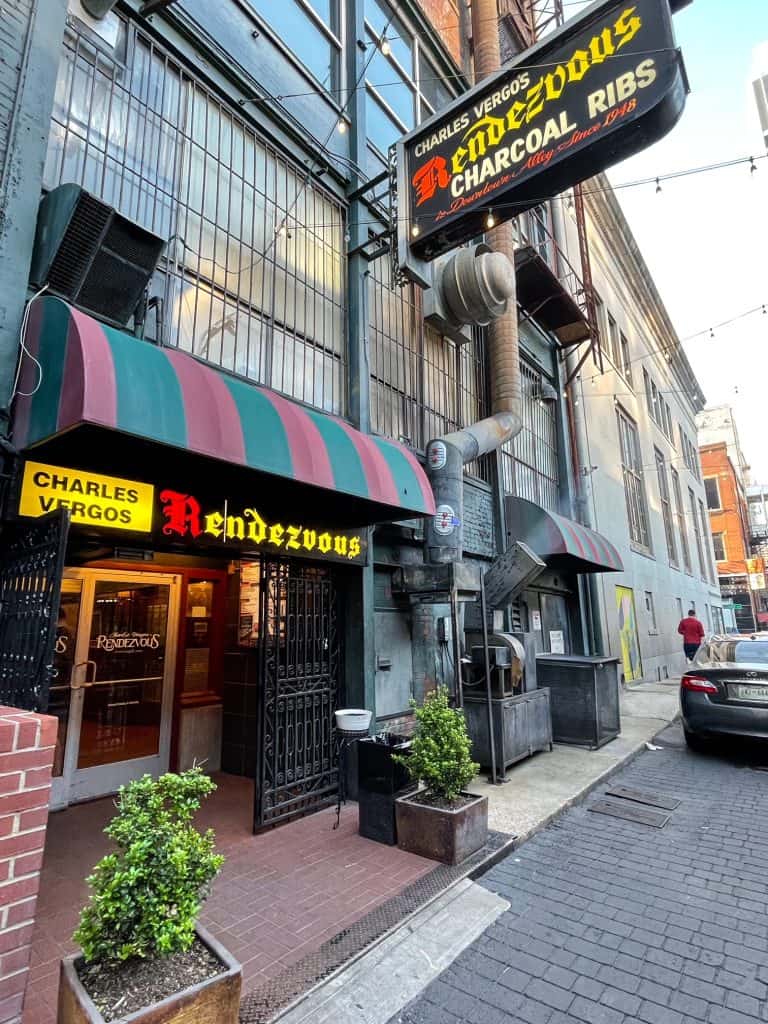 Since then, he expanded opening up dining on the upper floors with the basement not changing much over the years. This definitely adds to its history.
The entrance to Rendezvous is at the back of an alleyway and even before I rounded the corner, I could smell the BBQ goodness…
It was like it was inviting me in. The smokiness of the pork cooking was intoxicating and I knew by the smell I'd probably enjoy eating the ribs.
Immediately I was impressed with the friendly staff, many of which have been working at Rendezvous for years. Some as long as 20, 30, and 40 years!
Countless musicians, actors, celebrities, and presidents have been frequent visitors for good reason.
I ordered a plate of BBQ pork ribs with a side of coleslaw and baked beans. Full disclosure, I've never been a fan of ribs but oh how that has changed… Yum!
First off, the meat is super tender, with the awesome dry rub flavor. I added some BBQ sauce to top it off but you don't need it as the meat is so tasty.
Biting into each rib was simple as the meat just falls off the bone… The coleslaw and beans might be the best I've ever had with great distinct flavors.
You can also order sandwiches, pork shoulder, beef brisket, and chicken but the ribs are the star here.
Note: I was fortunate to get a tour of the restaurant by Charlie's grandson seen in the photo.
3. The Bar-B-Q Shop
The Bar-B-Q Shop has a great BBQ menu but what makes this Memphis BBQ restaurant stand out is its famous BBQ spaghetti!
Yes, you heard that right. BBQ spaghetti is a thing and it not only originated in Memphis but at The Bar-B-Q Shop!
As much as it didn't sound very appetizing to me, I knew I had to try it…
The dish comes with spaghetti slathered with BBQ sauce instead of regular marinara sauce. It has been smoked to give it that awesome smoky BBQ flavor.
Topped on top of the plate of BBQ spaghetti is tender pulled pork.  All together in one bite, I was pleasantly surprised that I liked it.
The sauce is obviously sweeter than a typical marinara sauce but the pulled pork helps mellow it out.
On the side, I got two slices of Texas toast and made a small pulled pork sandwich that was dynamite!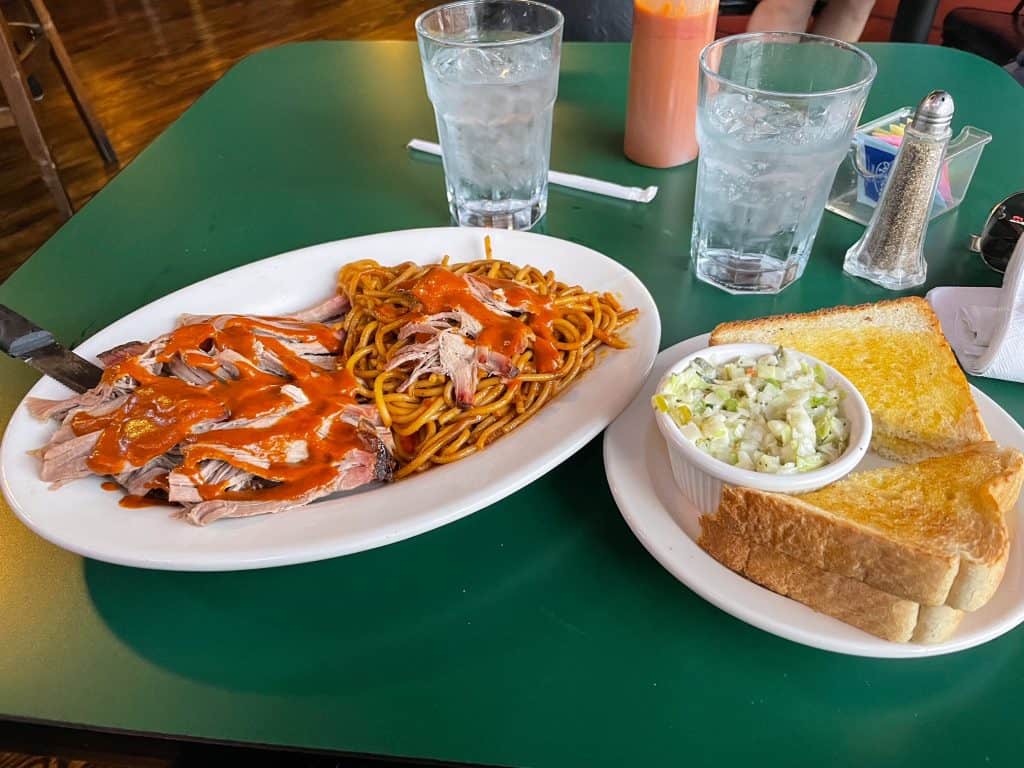 They are well known for their pork ribs that have been rated as some of the best ribs in America by the Food Network.
Inside, The Bar-B-Q Shop has more of a pub-like atmosphere than you would expect from a typical BBQ joint but it's cozy.
Tip: You can even take home their seasoning and BBQ sauce branded as the "dancing pigs".
4. Corky's Ribs & BBQ
Although they have your staple BBQ selections on the menu, the top choice to order on your first visit to Corky's Ribs & BBQ is the pork ribs.
They have been smoking pork ribs, pulled pork, and more for over 30 years over a hickory and charcoal pit.
And they have continuously been voted at the top when it comes to the best BBQ in Memphis. Even by local standards, Corky's is known for mastering the art of making epic ribs.
As with other Memphis BBQ restaurants, the key to making lip-smacking ribs is to use a dry rub mix.
Or if you prefer them wet, they add a glaze of their special BBQ sauce that really is quite delicious… And if you can't decide, you can get half dry and half wet.
Of course, no order of ribs is complete without pairing with some sides of coleslaw and baked beans.
If you want to try something other than ribs, you won't be disappointed by eating pulled pork, chicken, BBQ spaghetti, catfish, or beef brisket.
Note: There is one location in Memphis, about 18 miles east of downtown on Poplar Ave. There are other locations in Tennessee, Mississippi, and Arkansas.
5. A&R BBQ
In 1983, Andrew and Rose Pollard opened up the first A&R Bar-B-Que which was initially a quick take-out spot serving only a few BBQ items and burgers.
Eventually, they expanded the menu focusing on BBQ and added tables for dining in the first location on Elvis Presley Blvd in South Memphis.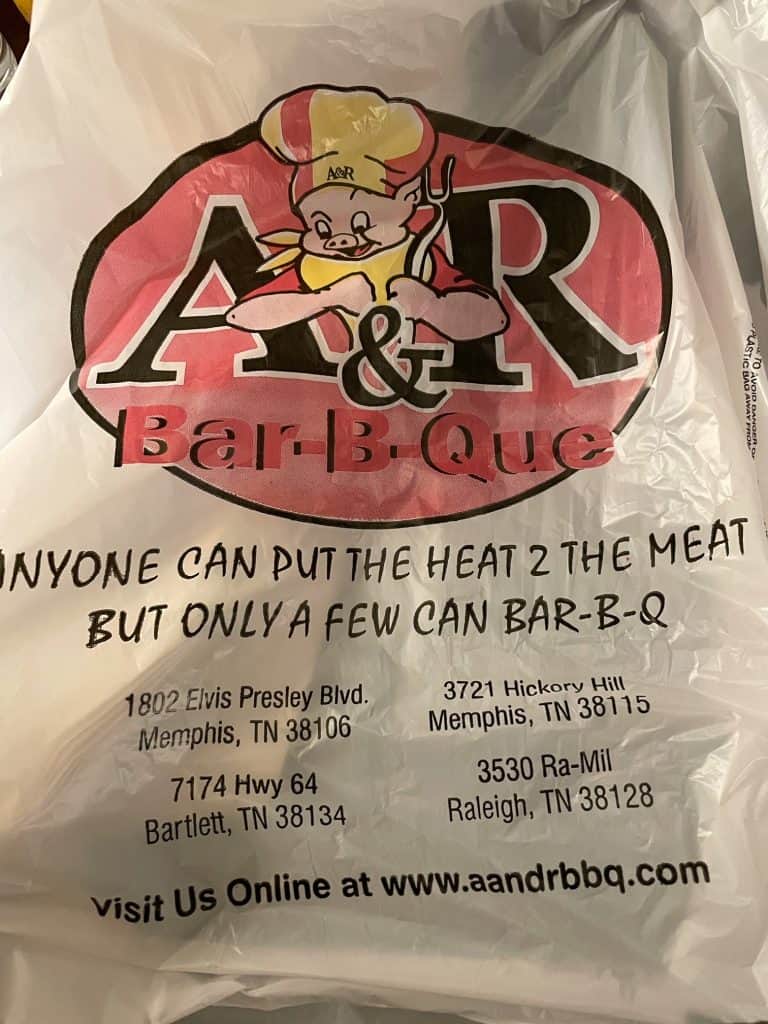 In fact, it is only three miles from Graceland, so you can always grab a bite to eat after visiting.
Later they added a second location in the Hickory Hill neighborhood of East Memphis. But the location on Elvis Presley Blvd is the closest to downtown Memphis.
You can find Memphis BBQ classics such as ribs, pulled pork, beef, chicken, turkey, bbq bologna, and sausages all smoked and cooked slowly to perfection.
I had heard that A&R had excellent BBQ but it was recommended to try the pulled pork sandwich.
It was messy but oh so good! The pulled pork comes with coleslaw on top tucked between a soft bun and drizzled with their signature BBQ sauce…
Bonus Memphis Food Tips
Even though this is a BBQ in Memphis post, I'll assume that you enjoy great food if you are reading this.
It's not BBQ but don't miss out on visiting Gus's Fried Chicken as it is the best fried chicken I've ever had…
You can read more about it in my post 19 Cool Things To Do On A Weekend In Memphis, Tennessee!
Tips For Eating The Best BBQ In Memphis, Tennessee
Eat with your hands! No forks and knives when eating ribs or sandwiches.
Carry plenty of travel wet wipes to use as your hands and mouth will enjoyably get messy!
Rendezvous, Central BBQ, and Corky's can ship tasty BBQ to you overnight in the United States!
You might notice that BBQ is spelled many different ways in Memphis such as barbecue, barbeque, and bar-b-que.
If you are getting takeout, carry these reusable utensils set that is great for throwing into your bag.
Stay hydrated eating all the awesome BBQ in Memphis with this reusable water bottle!
If you aren't sure what to order, you can't go wrong with pork ribs and pulled pork.
FAQ On Visiting Memphis, Tennessee
When Is The Best Time To Visit Memphis?
Memphis is a town that you can visit any time of the year but if you want to be able to walk around and enjoy outside venues, the spring through fall months are the best.
Always carry a small travel rain jacket or umbrella just in case it rains!
The summer months will get up into the '90s so if that is too hot for you then stick to the spring and fall months.
What Is Memphis Known For?
Memphis is known for many things, most notably great hospitality, awesome BBQ, Beale Street, home of the blues, and Elvis Presley's Graceland.
How To Get Around Memphis?
If you are staying in downtown Memphis, you can get around by foot, the trolley, or even an Uber/Lyft.
Some of the attractions listed in this post are too far to walk, so you would need to take an Uber/Lyft. Or you can rent a car for the day and see all the places outside of downtown in one day.
Is Memphis Safe?
The quick answer is yes, but there are pockets of Memphis that I would not feel comfortable visiting.
I traveled solo and did not have any issues feeling completely safe at all times.
For areas that I was unsure about, I took an Uber/Lyft as the status of a neighborhood can change quickly.
And like any big city, trust your intuition and don't go out alone at night in areas you aren't familiar with.
Is Memphis Worth Visiting?
Yes! There is so much history, culture, incredible food, great music, and things to do in Memphis that it is worth adding to your bucket list.
Have fun eating at the best Memphis BBQ restaurants during your stay!
Got Travel Insurance?
Don't leave home without travel insurance as you never know what might happen on a trip! It is always when you least expect it that something can go wrong like getting sick, in an accident or cancellation of some sort. Get a no-obligation quote from two trusted travel insurance companies for peace of mind on your next trip!
Looking For More Travel Inspiration?
19 Cool Things To Do On A Weekend In Memphis, Tennessee
17 Fun Things To Do In Hot Springs, Arkansas For First Timers
15 Top Reasons To Visit Garvan Woodland Gardens in Hot Springs, Arkansas
25 Best Things To Do In Birmingham, Alabama You Don't Want To Miss
23 Cool And Fun Oklahoma City Attractions That Are A Must To See
Ultimate New Orleans Bucket List: 35 Fun Things To Do In NOLA
Disclaimer: As an Amazon Associate and a participant of other affiliate programs, I may earn from qualifying purchases in this post. This means that if you make a purchase through one of these links, I might receive a commission at no extra cost to you. Thank you and it is greatly appreciated!