Disclaimer: Traveling Ness contains affiliate links and is a member of the Amazon Services LLC Associates Program. If you make a purchase using one of these links, I may receive compensation at no extra cost to you. See my privacy policy for more information.
The Best Northern California Coastal Road Trip
Whether or not you have ever heard of the term California Dreamin, going on a Northern California Coastal Road Trip will quickly give context to that phrase. It has become synonymous with a certain laid-back and fun way of living in this sunshine state.
Officially known as the Golden State, California seems to have that glow of being kissed by the sun…
California is frequently photographed for its stunning beaches and dotted with the most charming coastal towns along the Pacific Coast Highway 1.
Northern California in particular has a much more rugged and wilder coast with its dramatic sheer cliffs and crashing waves.
It is more isolated and less populated than Southern California making it the perfect retreat!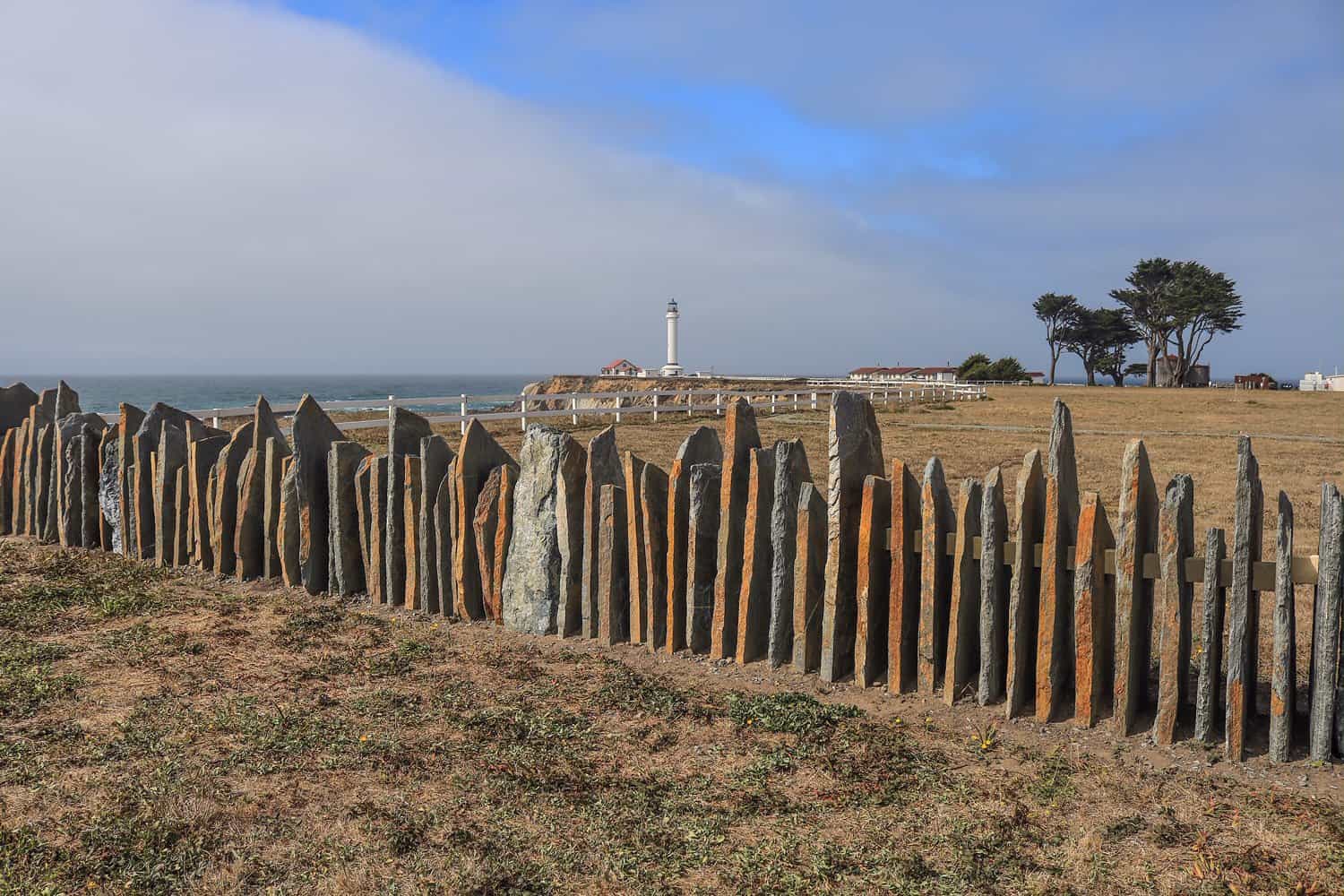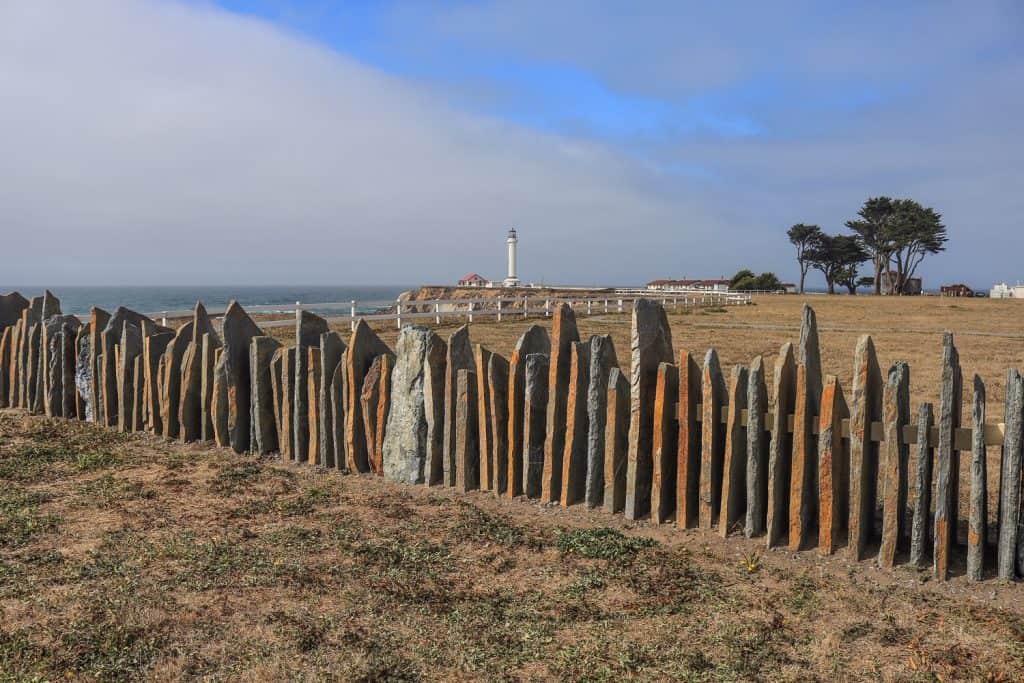 This road trip guide up the coast of Northern California is one where you can pick and choose stops at your leisure. Although I think all of these stops are a must-see, select the ones you want to explore based on your time.
Get ready to be blown away with sweeping vistas over a 250-mile stretch of coastline that will leave you speechless.
Whether you are on your honeymoon, with your family, or driving solo you will fall in love with these idyllic beach towns in Northern California!
There is no way to cover every hidden treasure on one trip and gives you an excuse to plan your next trip back before you even leave…
Note: If you have always dreamed of walking among the massive coastal redwoods, add a few days to explore further north for 7 Amazing Places To See Giant Redwoods In Northern California!
Where To Start The Road Trip?
You can start your Northern California coastal road trip from either direction going north to south or vice versa. Because I was driving from the south, I started out in Capitola and made my way north.
If you are flying into California, then the most convenient airport would be at San Francisco International Airport (SFO) and Norman Y. Mineta San Jose International Airport (SJC).
I personally like flying into San Jose over San Francisco as it is easier to get in and out of but would choose whichever you can get a better deal into. Both are located along the San Francisco Bay (30-minutes apart) and make for great places to start your road trip.
Start planning your trip and search for the best flight deals to Northern California!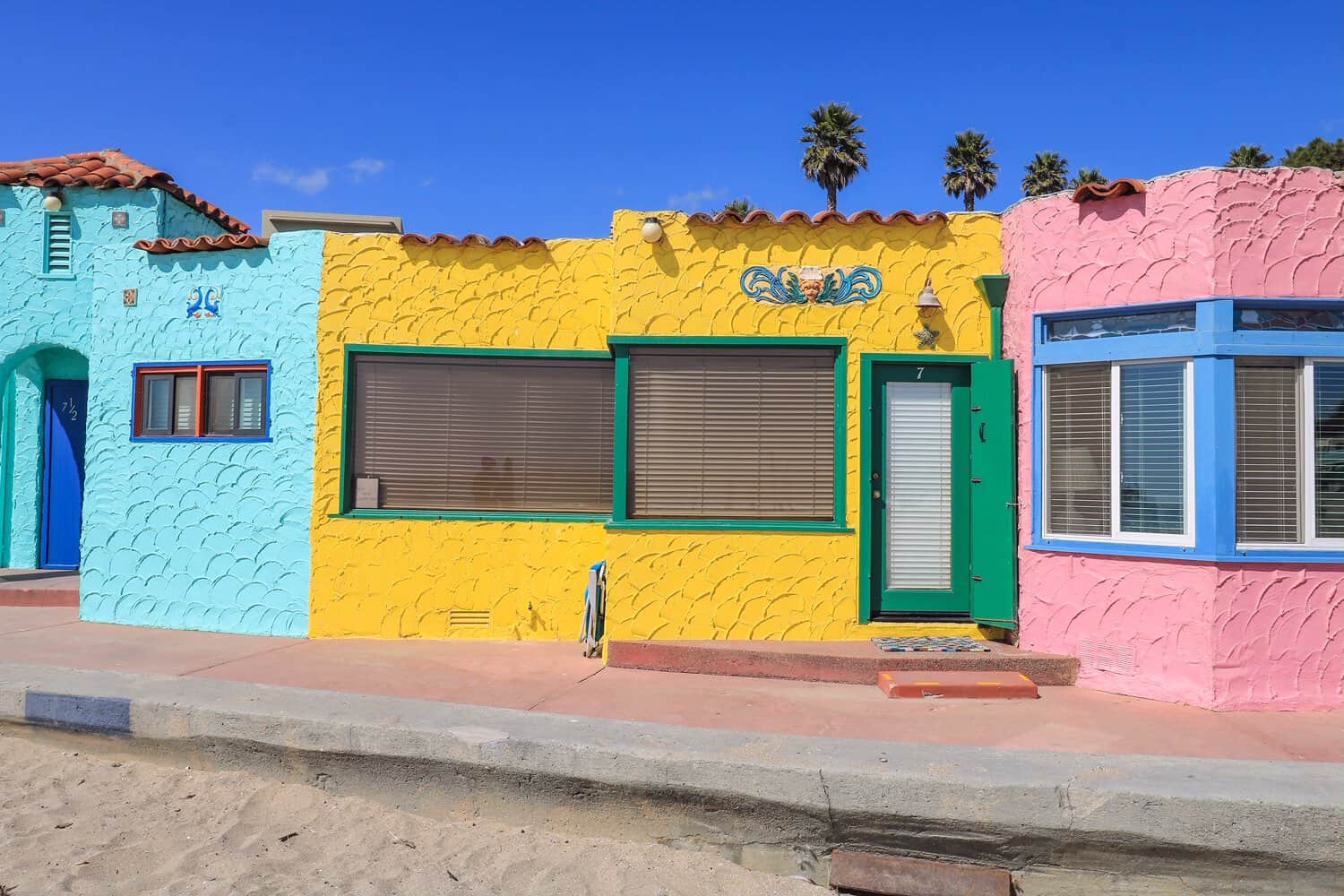 Head south along the coast to Capitola and begin your journey in this charming beach town.
If you happen to be driving from Los Angeles, then check out my posts, The Epic California Big Sur Road Trip and the 17 Mile Drive By Bike for incredible things to see on your way traveling to Capitola.
For the majority of the coastal road trip, you will be driving on the famous California Pacific Coast Highway 1 that is primarily one lane each way.
That means don't expect to drive fast! Plus, the whole point is to take your time and enjoy the gorgeous views of the Pacific Ocean and the California coast.
Tip: If you are flying into California then you will need a car to begin this awesome road trip adventure! Reserve yourself a car rental ahead of time especially during the summer or on holiday weekends.
How Many Days Does It Take?
The time you want to allow really depends on the time available and how long you want to spend in each area. You could quickly plow your way through each town but that wouldn't be much fun.
Overall, I would give yourself no less than 7 days to be able to see many things and relax a bit. Ideally, you could stretch this out to 1 – 2 weeks to fully enjoy this magnificent coastline!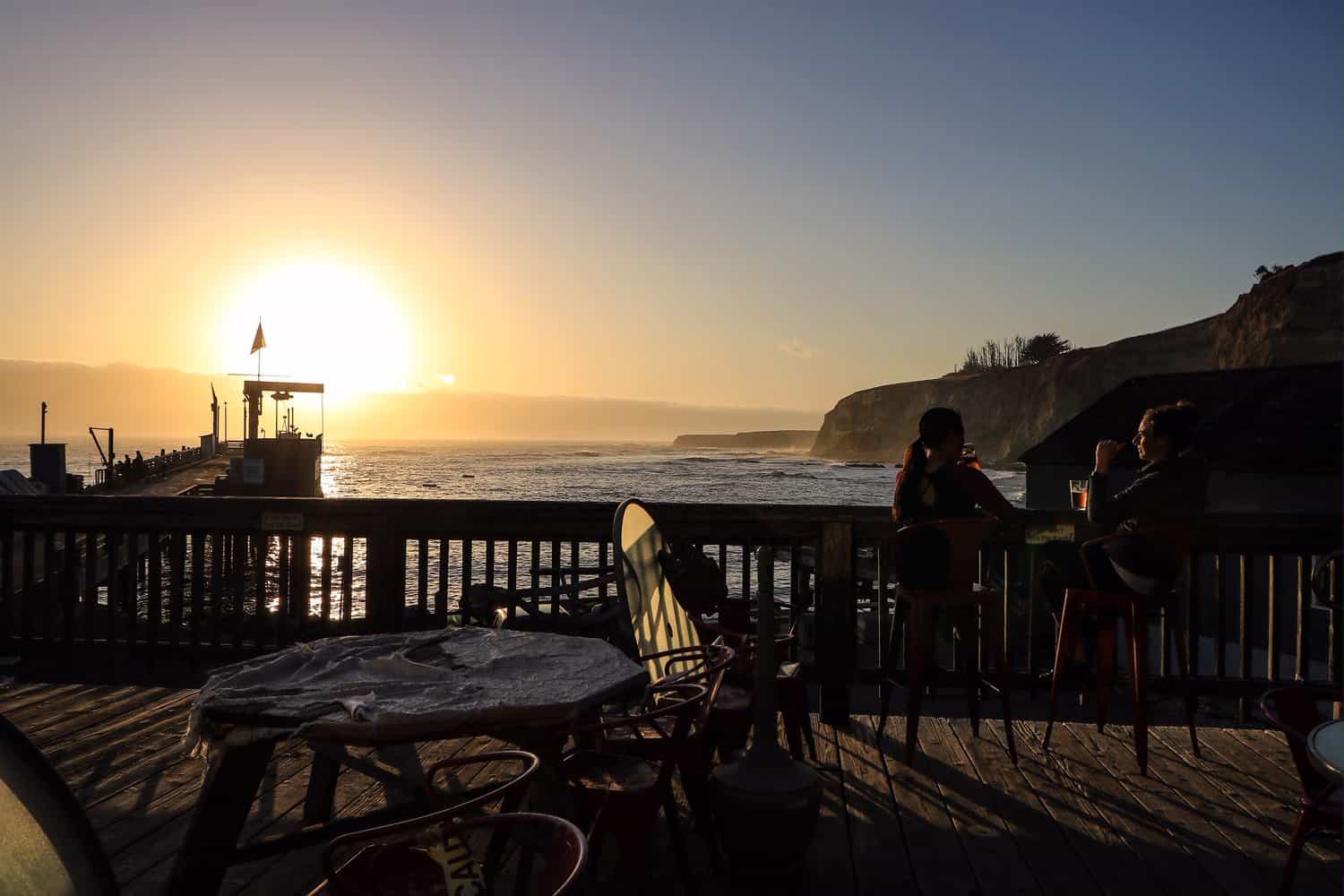 In this post, I will be focusing on the smaller beach towns rather than the big cities. That means I will not be including things to do or time allocation for Santa Cruz or San Francisco. If you are interested in seeing these areas then add another few days.
Where To Stay
You really can't pick a bad place to stay along the coast as each town has its own charm with stunning coastal views. I've listed a few towns that I think are excellent places to spend the night throughout the road trip along the Northern California coast.
Capitola
Muir Woods Area
Point Arena
Mendocino
Tip: If you are wondering what there is to do in Mendocino County, explore 23 Top Things To Do In Mendocino County For A Weekend Getaway!
And if you choose to spend some time in SF, find out why this historic property in downtown San Francisco is a great hotel to stay at.
Best Time To Visit The California Coast
Most people think that California has perfect weather year-round and compared to the rest of the country we do.
But having said that, I would stick to the summer and fall months as the best time to visit the coastal towns of Northern California.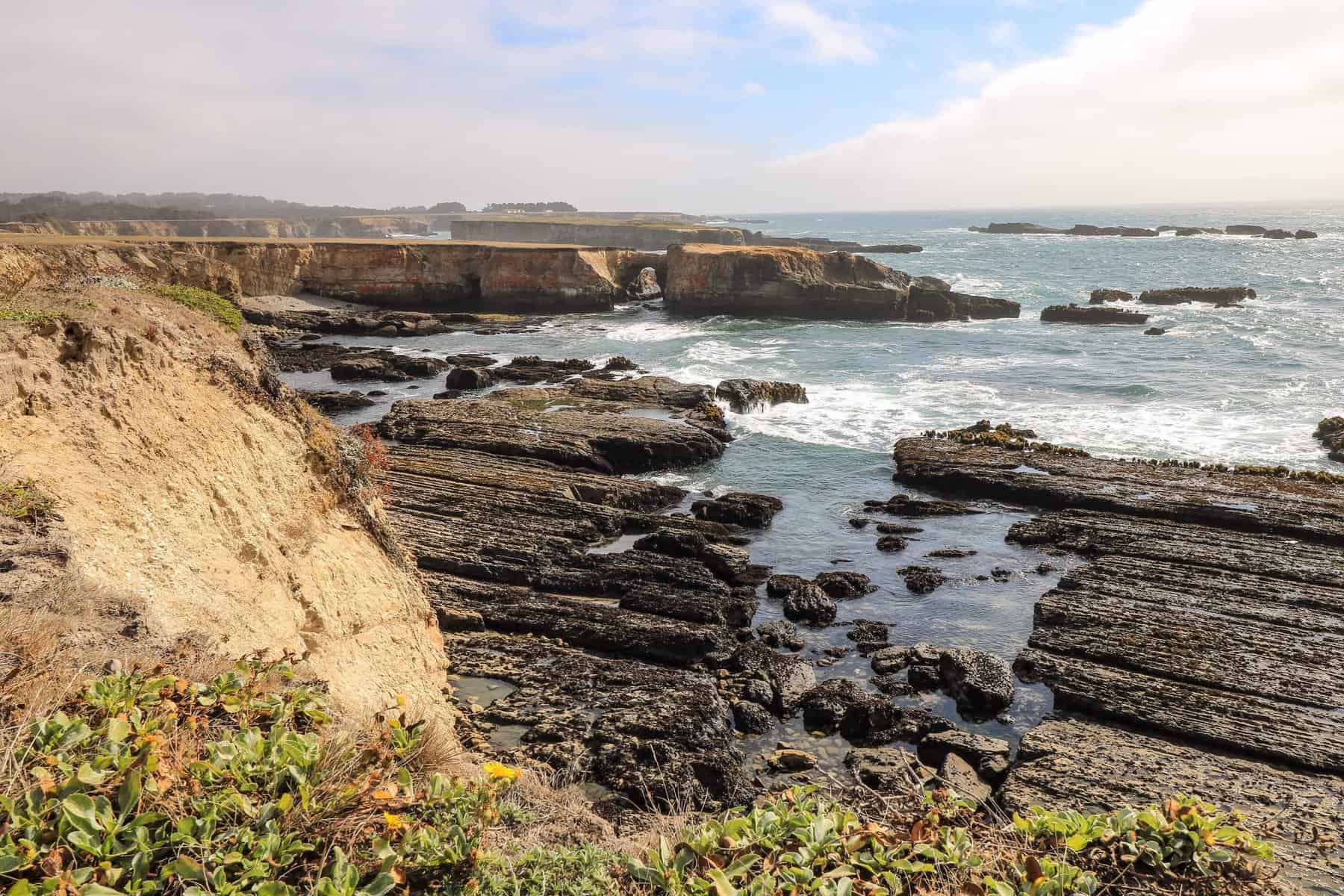 In California specifically along the coast, there is a lot of fog or heavy mist that is very common in the winter, spring, and early summer months. Most days during that time the fog burns off around noon but sometimes it hugs the coast all day.
As this road trip is to primarily enjoy the epic views and coastline, I would recommend going in July through November to have the best chance of having no fog or rain.
General Road Trip Tips
Best Coastal Town Stops
Capitola
Capitola is a ridiculously charming and chill beach town about 15-minutes south of Santa Cruz.
I like Santa Cruz but prefer the quaint and relaxed vibe of Capitola and its beaches. Capitola is an excellent place to spend one or two nights as there is a lot to see in the area.
There are numerous shops, restaurants, and art galleries to wander around in Capitola Village at your leisure. Or bask in the sun on the beach.
Right along the beach and practically on the sand are some great places to grab a drink and a bite to eat as you enjoy the beach views up close. A few favorites that have good food, atmosphere and views are: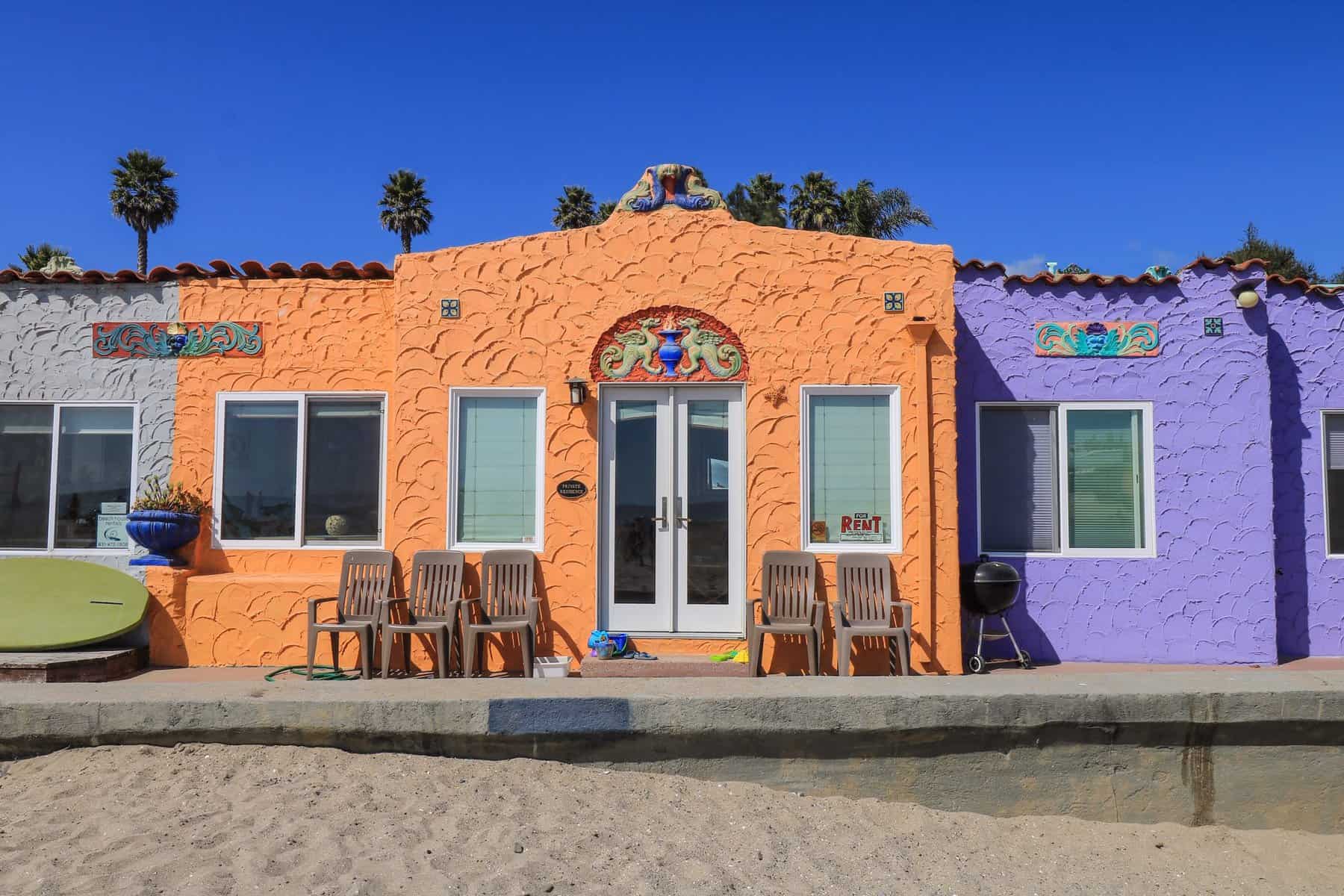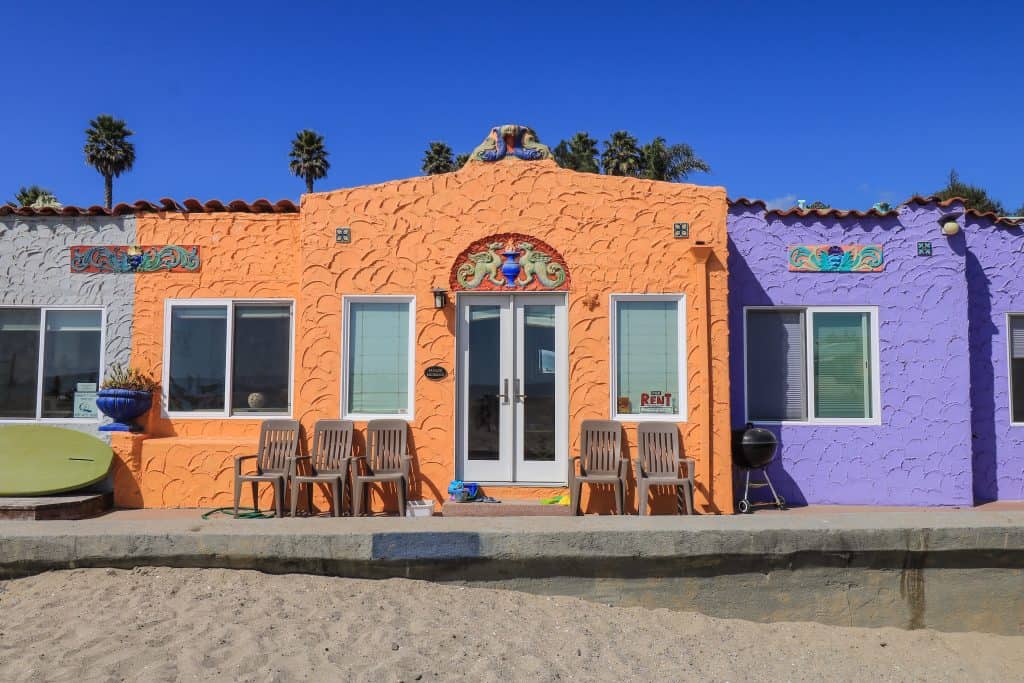 Zeldas On The Beach – right on Capitola Beach with excellent views of beach and pier.
The Sand Bar – located where the Soquel Creek flows into the Pacific Ocean with a prime spot to view the beach, pier, and colorful Capitola Venetian Hotel. It is also an excellent place to enjoy the sunset.
Wharf House Restaurant – perfect for having brunch on the water as it is located at the end of the Capitola Wharf Pier.
Pizza My Heart – grab a slice of pizza to go and enjoy it on the beach!
Kayaking, SUP (paddle boarding), and surfing are some of the fun water activities you can do. Overall, Capitola has a very European or Mediterranean feel to it which is partly why I find it so appealing.
One of the biggest photography draws is the 1920s Capitola Venetian Hotel or Venetian Court.
They are super vibrant beach cottages that are in the brightest colors and are very whimsical. For the best location, rent out one of these beauties with steps to the shoreline. You won't find a better spot with an ocean view!
Natural Bridges State Beach
After you leave Capitola behind, continue north up along the coast and past Santa Cruz to Natural Bridges State Beach.
Natural Bridges State Beach is located on the northern edge of Santa Cruz and has a beautiful beach that has unique rock formations.
The main attraction is to see the photogenic "natural bridge" that is a rock formation along the shoreline that forms a natural arch.
In the past, there was one long rock bridge that had 3 separate arches. The one that attached to land and the one farthest to the sea collapsed.
Today you are viewing what was the middle arch. It is more of an arched rock than a bridge but not worth changing the name, I guess.
If there is a low tide, you can explore the tide pools that are a hit with kids. You can spend a few hours or all day depending on your schedule.
Address: 2531 W Cliff Drive, Santa Cruz, CA 95060
Admission Cost: The fee is $10.00 per vehicle to enter and park. There are bathrooms and picnic facilities along with a visitor center/museum.
Shark Fin Cove
After you enjoyed some beach time at Natural Bridges State Park, continue north on Highway 1 to Shark Fin Cove in Davenport.
This is a little tricky to find as there is no obvious sign or parking lot. From Natural Bridges State Park, drive 9.1-miles and park at a dirt pullout area on the western or ocean side of the street.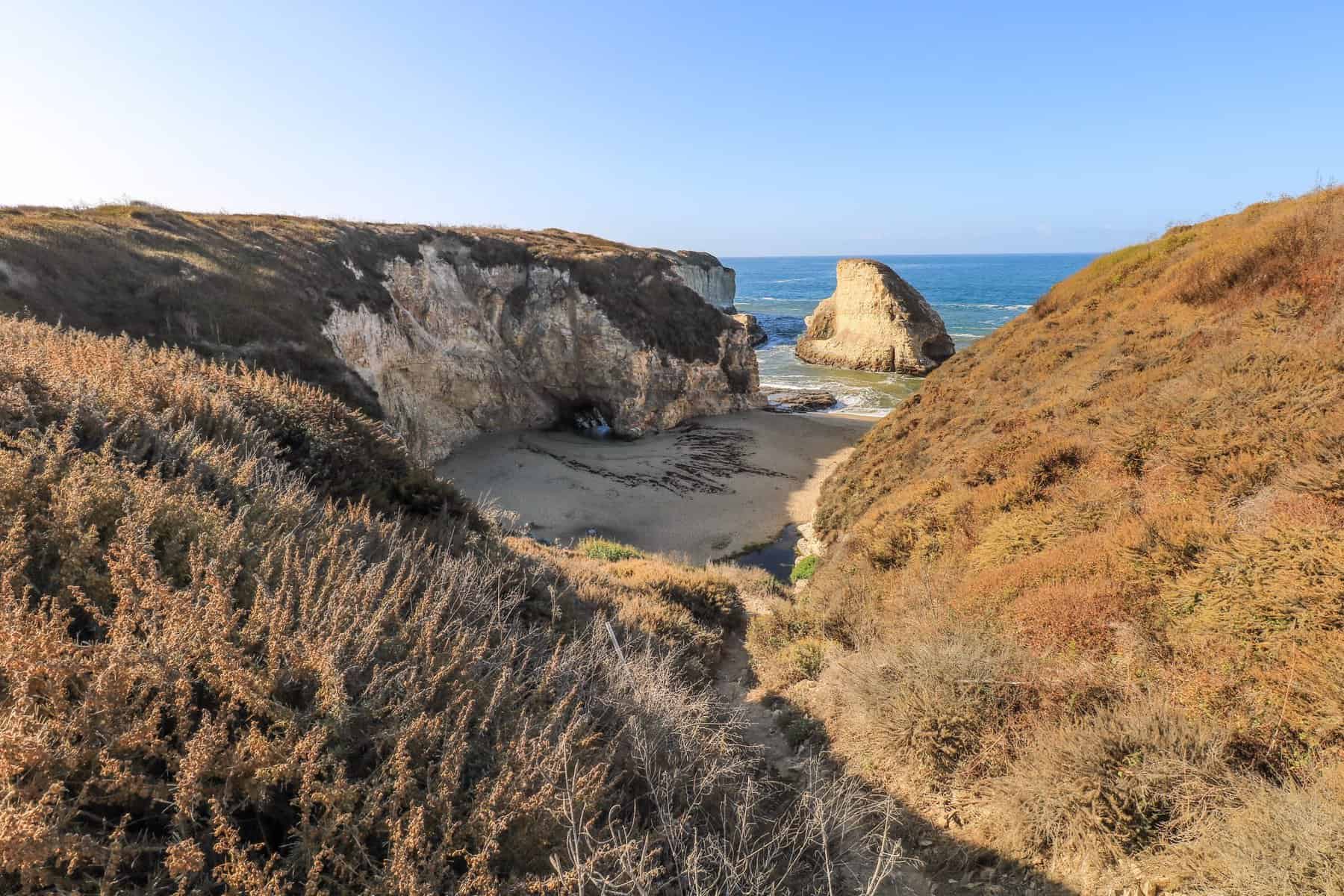 If you reach the town of Davenport then you passed Shark Fin Cove. The town of Davenport is 0.7-miles north of the cove. Once parked, walk across the railroad track and you will see a sign stating the beach rules.
Be aware that you should have closed-toe shoes on to make your way down the cliffside on a dirt path that is pretty rugged. At the end of the trail, you have to drop or jump onto the beach as there are no steps or ladders.
So why the name Shark Fin? Well, as you walk to the cliff's edge and gaze down, you will see a gorgeous beach with a large rock formation jutting up tall like a skyscraper. This rock formation looks exactly like the shape of a shark's fin.
Between the surrounding cliffs, idyllic beach, and cove, this might be one of the most beautiful spots along the California coast.
Depending on the tide, there is a small beach cave that you can see too. I could've spent all day here but as I wanted to see other places, I kept moving on…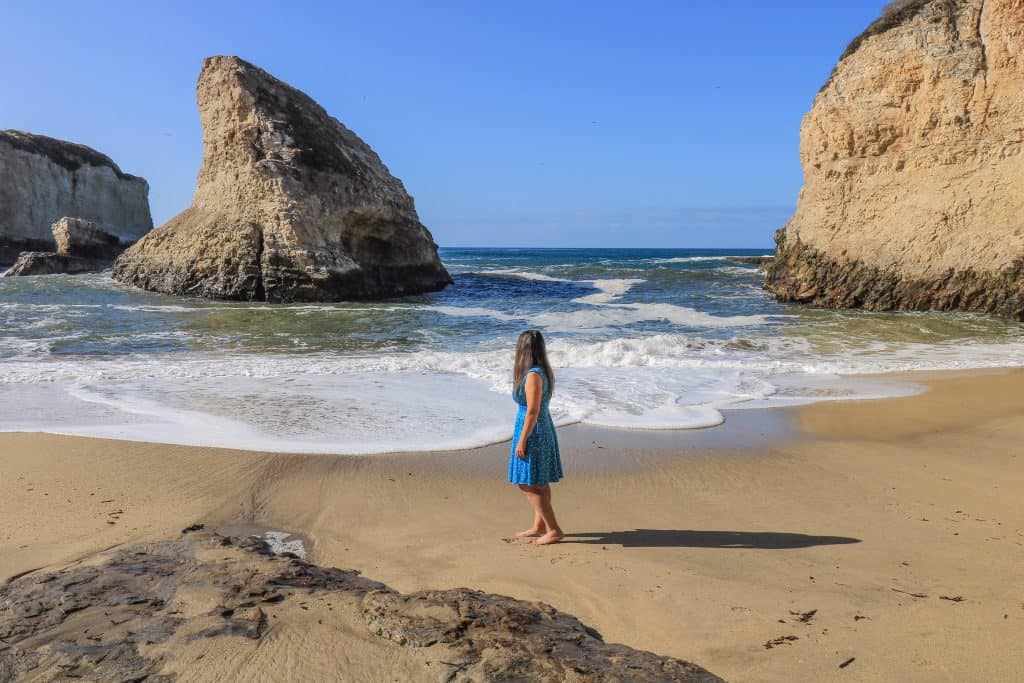 Note: It is free to park but there are no restroom facilities here. The waves and currents can be quite strong so take caution to not go in too far or turn your back to the ocean.
Crossing The Golden Gate Bridge
If time isn't an issue, continue up the coast on Highway 1 stopping in Half Moon Bay as you make your way up to the Golden Gate Bridge in San Francisco.
But if you need to shave off some time, then after leaving Davenport, head back towards Santa Cruz and hop on the Santa Cruz Hwy 17 to the 280 North Freeway.
Take the 280 North Freeway into the city of San Francisco that will merge into Highway 1 and continue on to the Golden Gate Bridge to cross over the bay heading north.
There is no toll fee to cross the Golden Gate Bridge northbound but when you come back there is a fee coming back.
There are no toll booths, so within 48 hours of crossing southbound, you can type in your license plate number and pay the fee online.
Battery Spencer
Interested in getting epic views of the Golden Gate Bridge? Then head up to Battery Spencer for 360-degree views of the San Francisco Bay and the city of San Francisco.
As you are driving across the Golden Gate Bridge and after you have crossed over it, exit onto Alexander Avenue.
Take the first left onto Bunker Rd and continue until you see McCullough Rd. Take a left onto McCullough Rd and continue as the road will change to Conzelman Rd.
There are a few places to pull off on the side of the road for stunning views of the bridge and city behind it.
As you continue down, you notice a larger parking area near the top that is Battery Spencer.
Battery Spencer was a concrete gun battery used in the early 1900s to protect San Francisco and entry into its bay.
The old fort was used up until World War II and you can still see it today as you walk past it to the viewpoint of the Golden Gate Bridge. If you are lucky, you can get a shot of a boat crossing underneath the bridge.
From your car, the walk is 0.5-miles roundtrip so you do need to walk a little bit to get the awesome views.
For an idyllic beach with a different vantage point of the Golden Gate Bridge, head over to Kirby Cove. It is about a 1-mile walk down to Kirby Beach from the parking area of Battery Spencer.
Note: It gets extremely windy at the viewpoint, so hold on to your hair and pull it back if you don't want it whipping your face for a photo!
Address: Conzelman Rd, Sausalito, CA 94965
Point Bonita Lighthouse
This is one stop that I am bummed I didn't get to see as it was closed for maintenance. I do plan on going back to see this 1855 lighthouse just north of San Francisco that juts out over the Pacific Ocean one day.
If you would like more detailed information on visiting the Point Bonita Lighthouse, read this wonderful post by Land Of Travels.
Her post Point Bonita Lighthouse: San Francisco Bay Area's Best-Kept Secret has all the info you will need to visit!
Muir Woods National Monument
Planning a night or two in Mill Valley (14 miles north of San Francisco) is a great spot to see the nearby Muir Woods and Sausalito.
The Mountain Home Inn is close with incredible views and hiking trails from it. I was most excited to see the California Coast Redwoods in Muir Woods.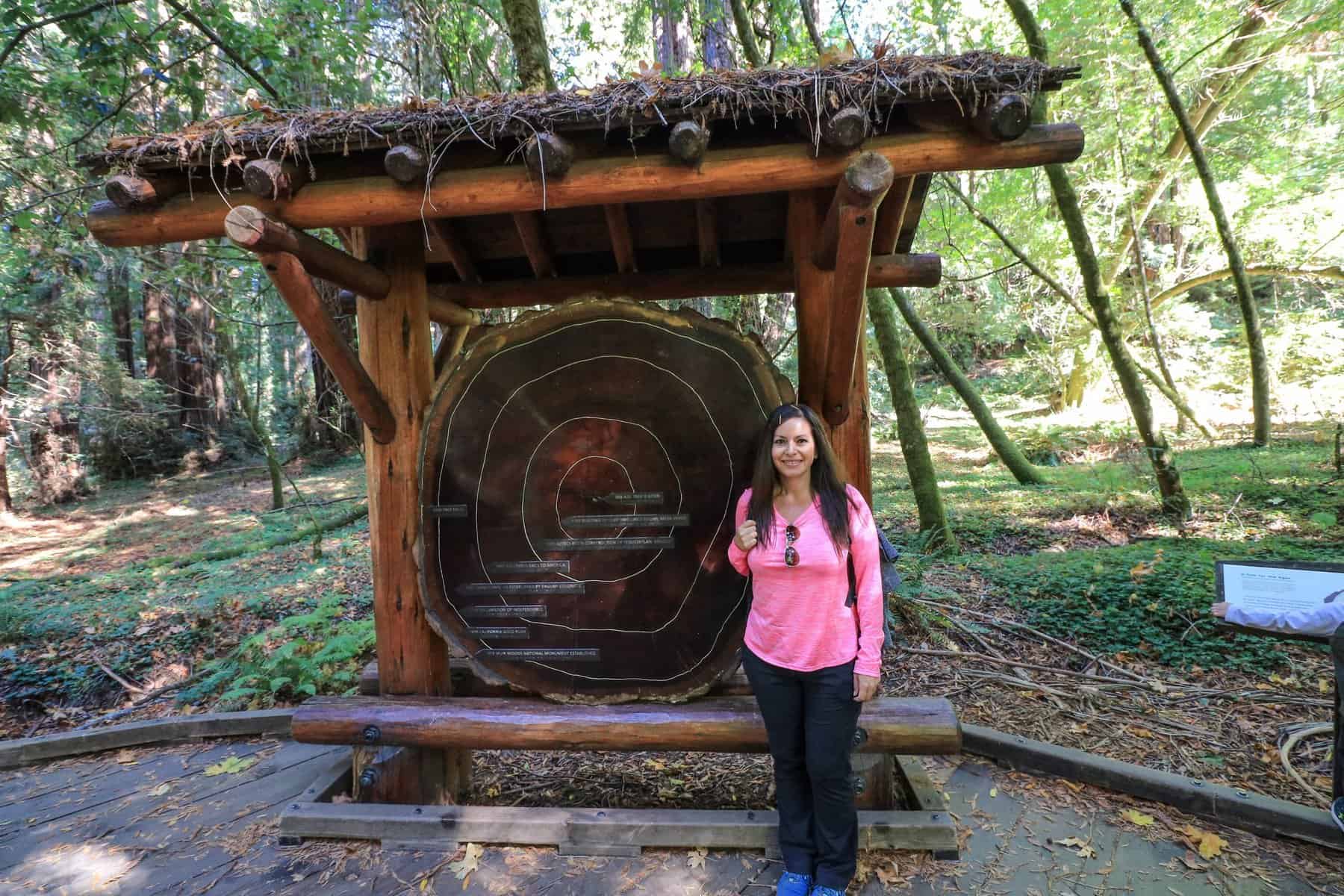 The California Coast Redwoods should not be confused with the Giant Sequoia trees that are also located in California. The difference between the two?
California Redwoods are only found along the Pacific coast of Northern California. The Coast Redwood flourishes in a coastal climate, especially with fog.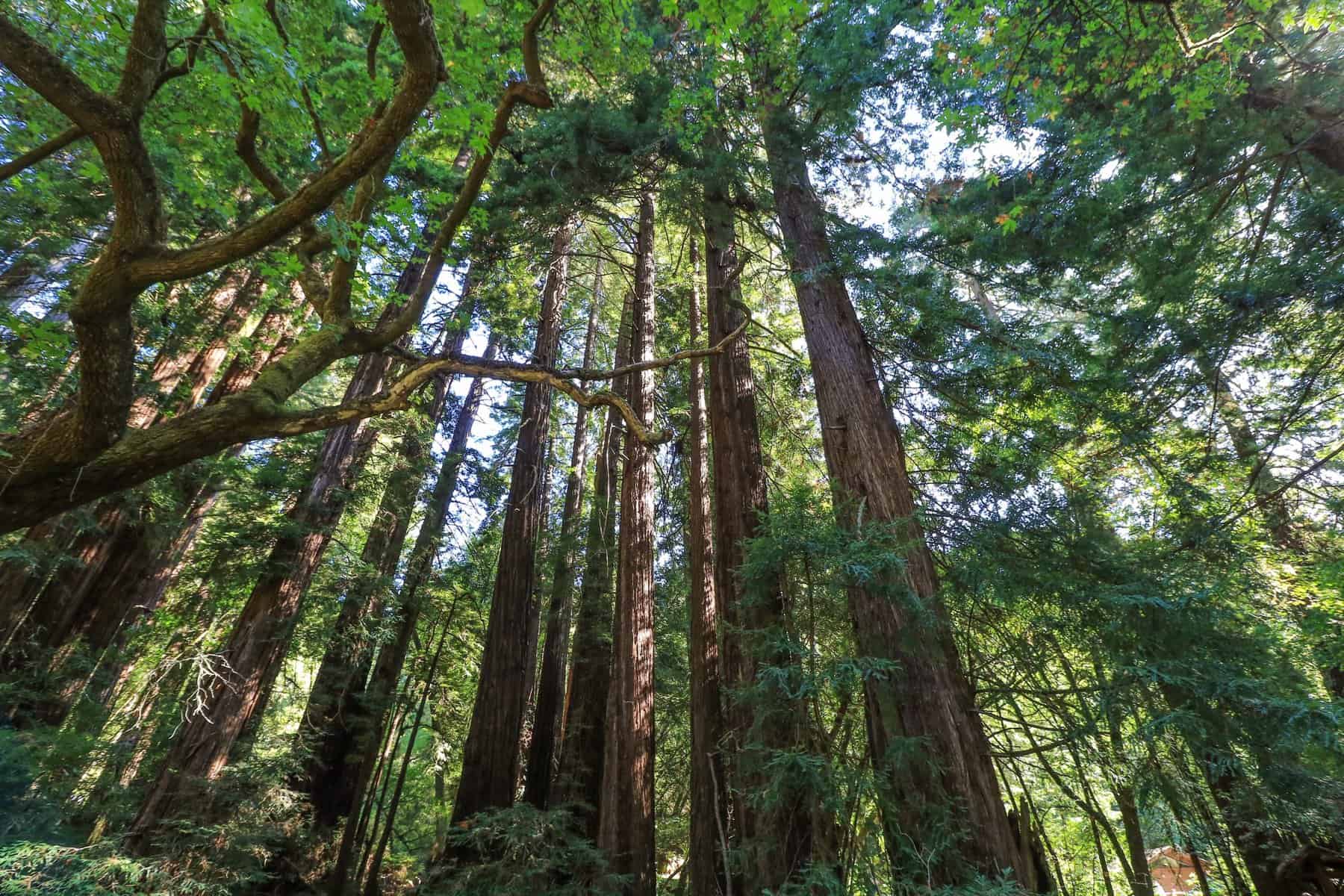 The California Redwoods are the tallest tree on the planet at heights of 379 feet and thinner in diameter than the Giant Sequoias.
Although I say thinner, they are still gigantic! In comparison, the Giant Sequoia's are thicker in diameter, shorter than the Redwoods, and only found inland.
In Muir Woods, you can walk through a forest of Coast Redwoods that are around 600 years old. Wander on a 2-mile loop trail that takes you through the prettiest wooded forest.
There are three loop options with the 2-mile loop the longest so if you would rather take a smaller loop you can. Since there are only a few parking spots at the entrance, the two options to getting down to the Visitor Center are to hike down or take a shuttle.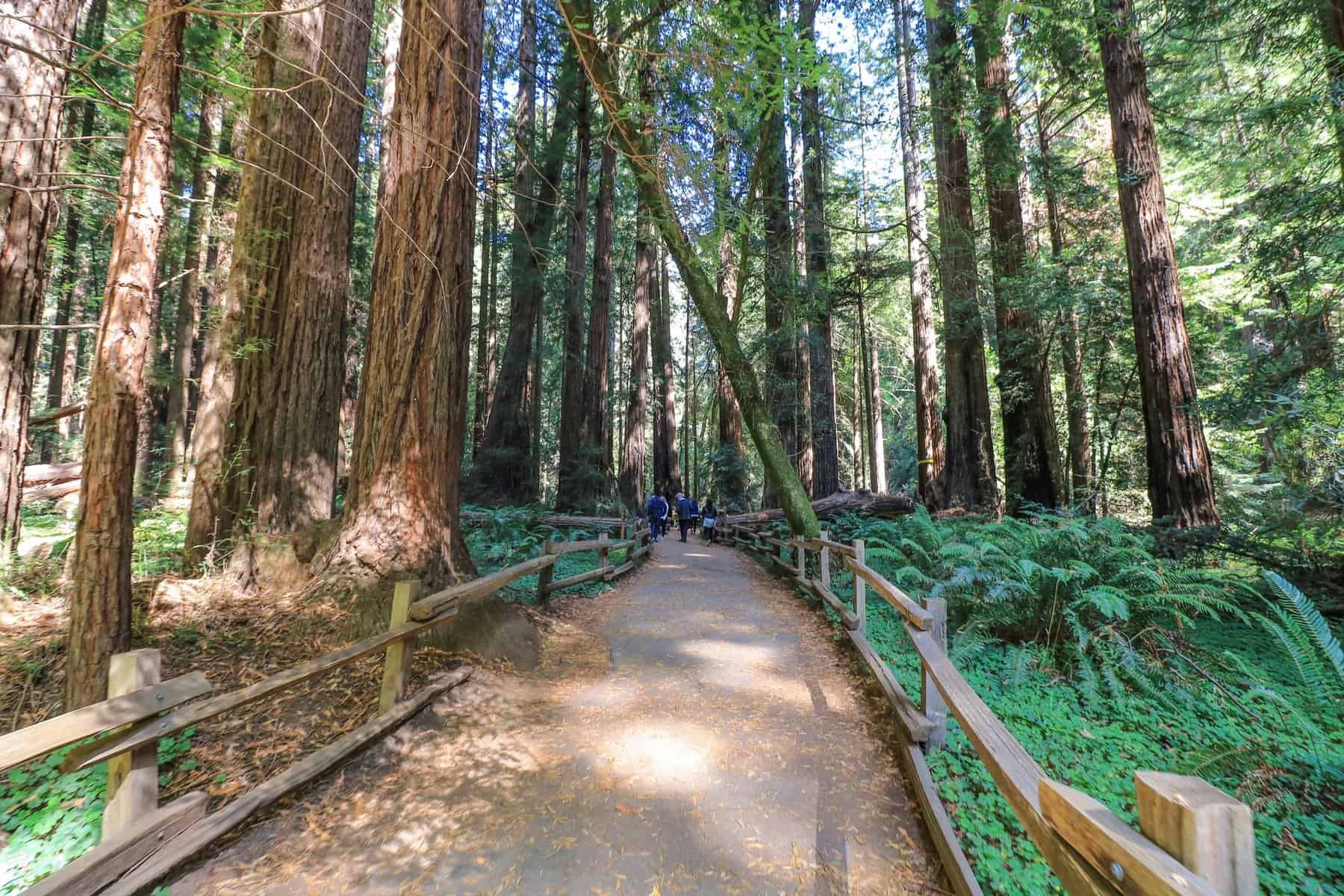 If you don't want to hike down (and back up) the 2-miles each way to the entrance, book ahead of time online to book a shuttle ride.
I parked at the top along the side of the road and hiked in and out to the entrance. It wasn't bad going down but coming back up I was out of breath. Consider it your workout for the day…
Note: You will not have any wifi or cell service available while down in the woods.
Tip: If you plan to visit several of the U.S. National Parks during the year, consider purchasing the America Is Beautiful Pass.
It gives you access to 2,000 National Parks and Monuments in the U.S. including Muir Woods National Monument!
America Is Beautiful Pass is good for one year from purchase and also includes 3 other adults that are in your car. If you just visit 3 or more national parks or monuments it is worth buying and pure savings after that!
Tip: For more information on the national park pass, what it covers, and how to use it, read America The Beautiful Park Pass: Is It Worth Getting For Your Trip?!
Muir Beach Overlook
Down the hill and along the coast from Muir Woods is Muir Beach which is about a 10-minute drive. This is a great beach to visit and a beautiful place to watch the sunset before you continue on to Muir Beach Overlook.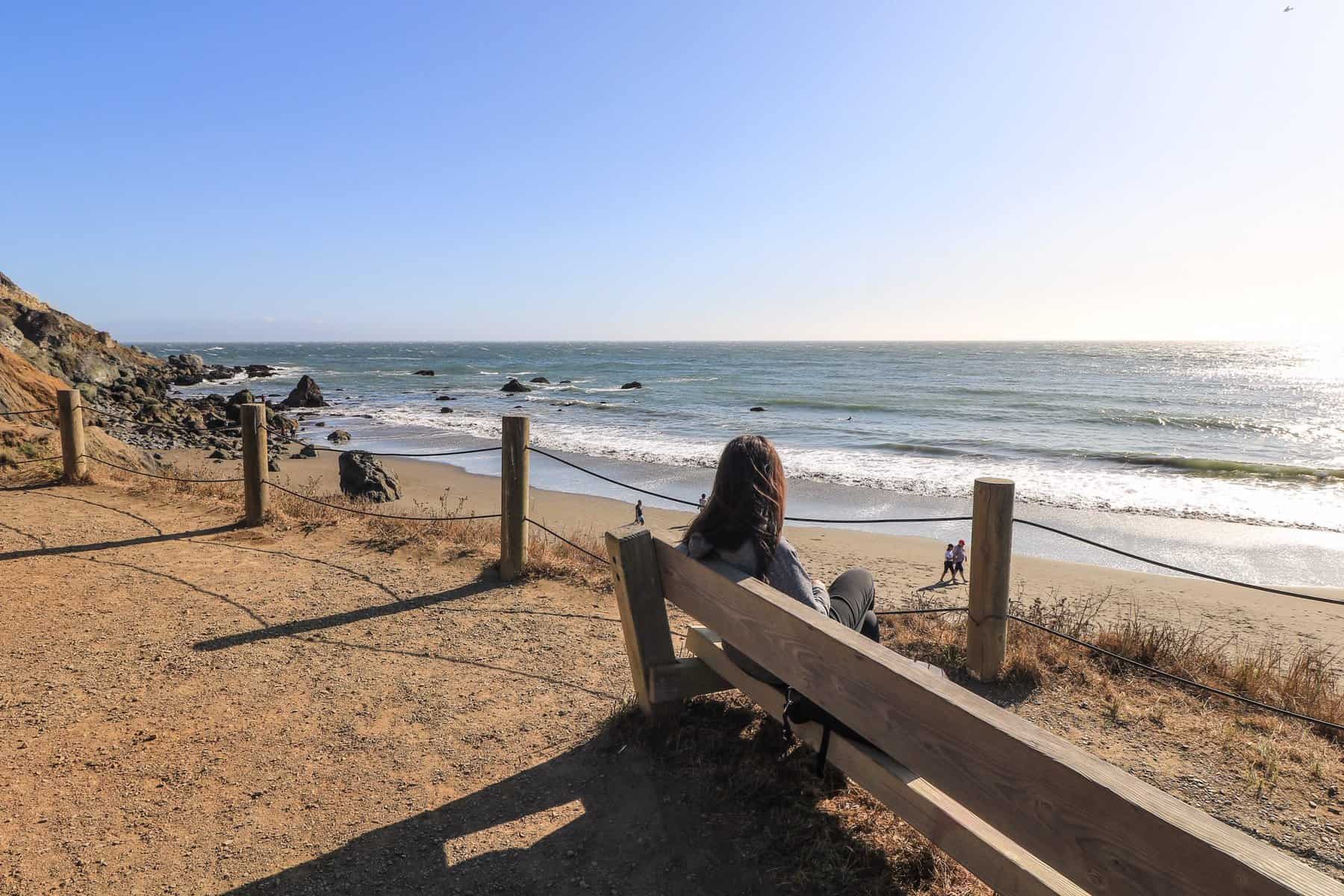 After leaving Muir Beach, continue north along the coast on Highway 1 for about 1.5-miles and turn left onto Muir Beach Overlook/ Seascape Dr.
From the parking lot, walk down the steps and out to the point known as Muir Beach Overlook that sits high up on a rocky cliff above the sea.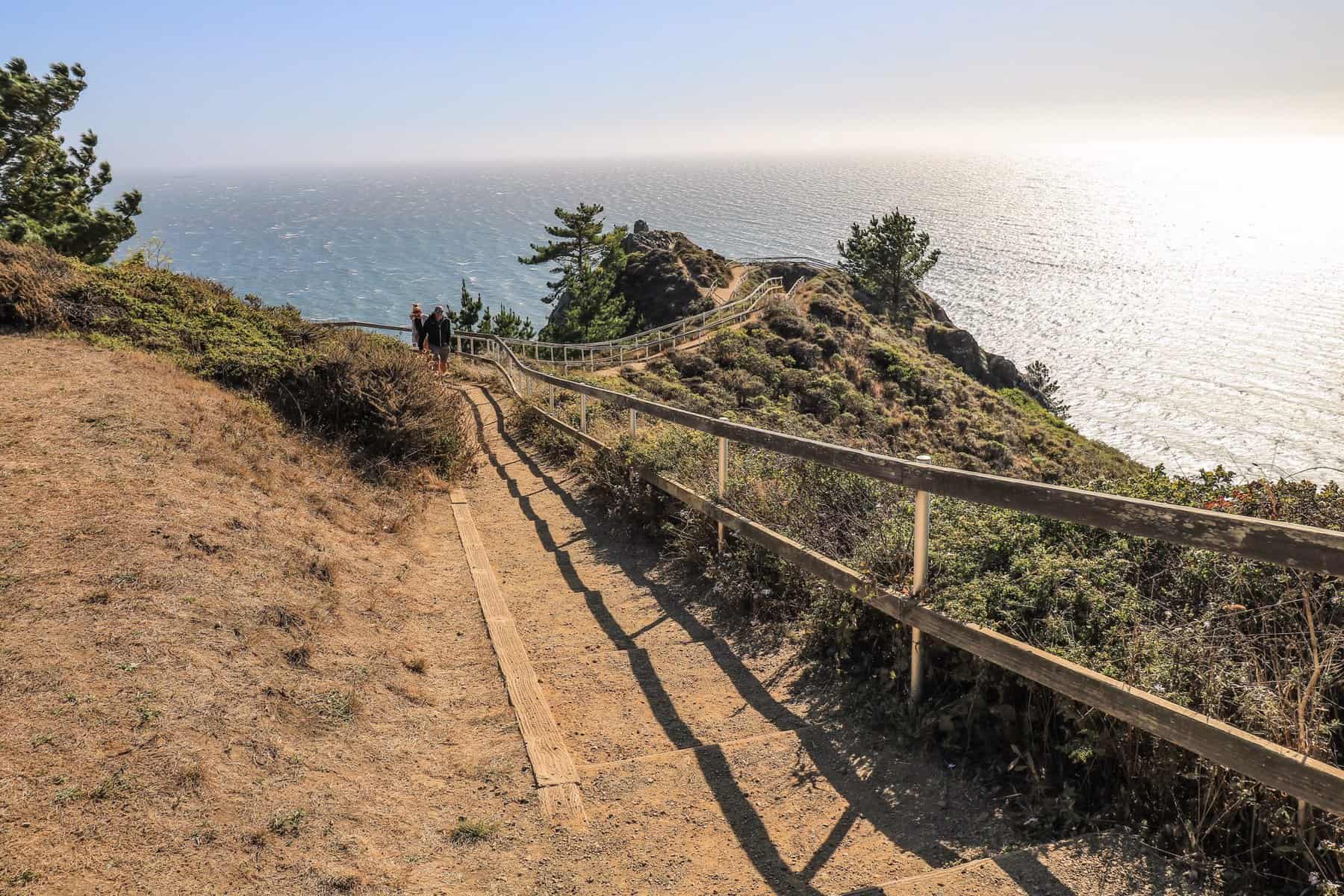 The vantage point of the Pacific Ocean and coastline are absolutely breathtaking. Keep in mind that it is extremely windy here.
I'm not exaggerating when I say the wind was so strong that it was pushing me. My hair was whipping me so much I had to tie my hair and put my hoody on to tame it!
With your hair tucked away, enjoy the spectacular views that are jaw-dropping. On the south side of the overlook, you can look down at Muir Beach where you were just at.
The overlook was occupied by soldiers as a lookout for any potential ships that were deemed a threat after the bombing of Pearl Harbor during World War II.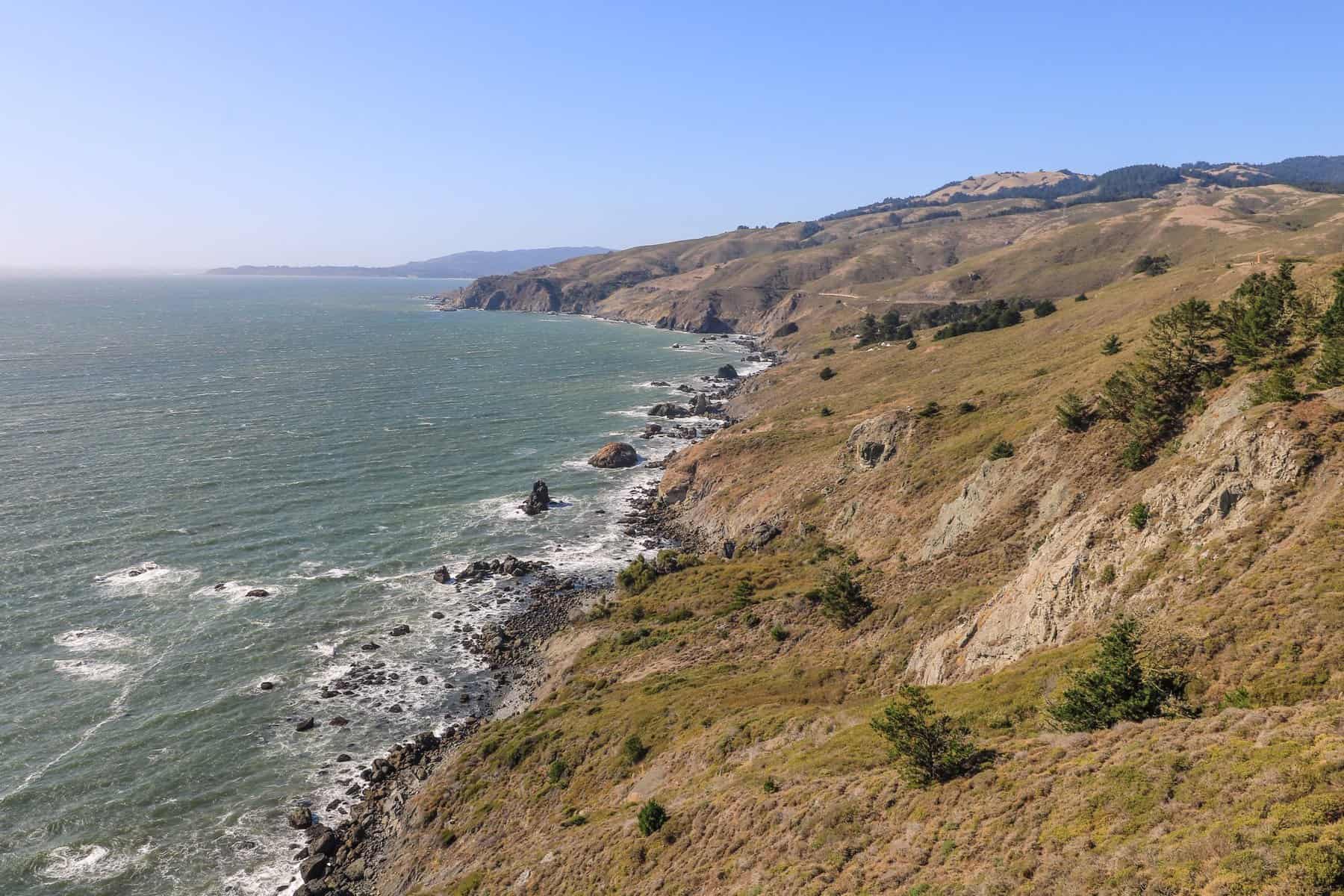 At that time there was unease because it was thought that cities such as San Francisco and Los Angeles could be targeted next after Honolulu.
Thankfully, that never happened but the soldiers stationed here definitely had awe-inspiring vistas as long as the fog didn't come in…
Address: Muir Beach Overlook, Muir Beach, CA 94965
Stinson Beach
From Muir Beach Overlook, continue north on Highway 1 for about 20-minutes until you reach Stinson Beach. Stinson Beach is a great little getaway for those that live in San Francisco as it has so much visual appeal.
I would imagine that it doesn't look very different 20 or 30 years ago keeping its small beach town atmosphere. This is an excellent stop for lunch and if time allows you to, lay out and enjoy the wide sandy beach.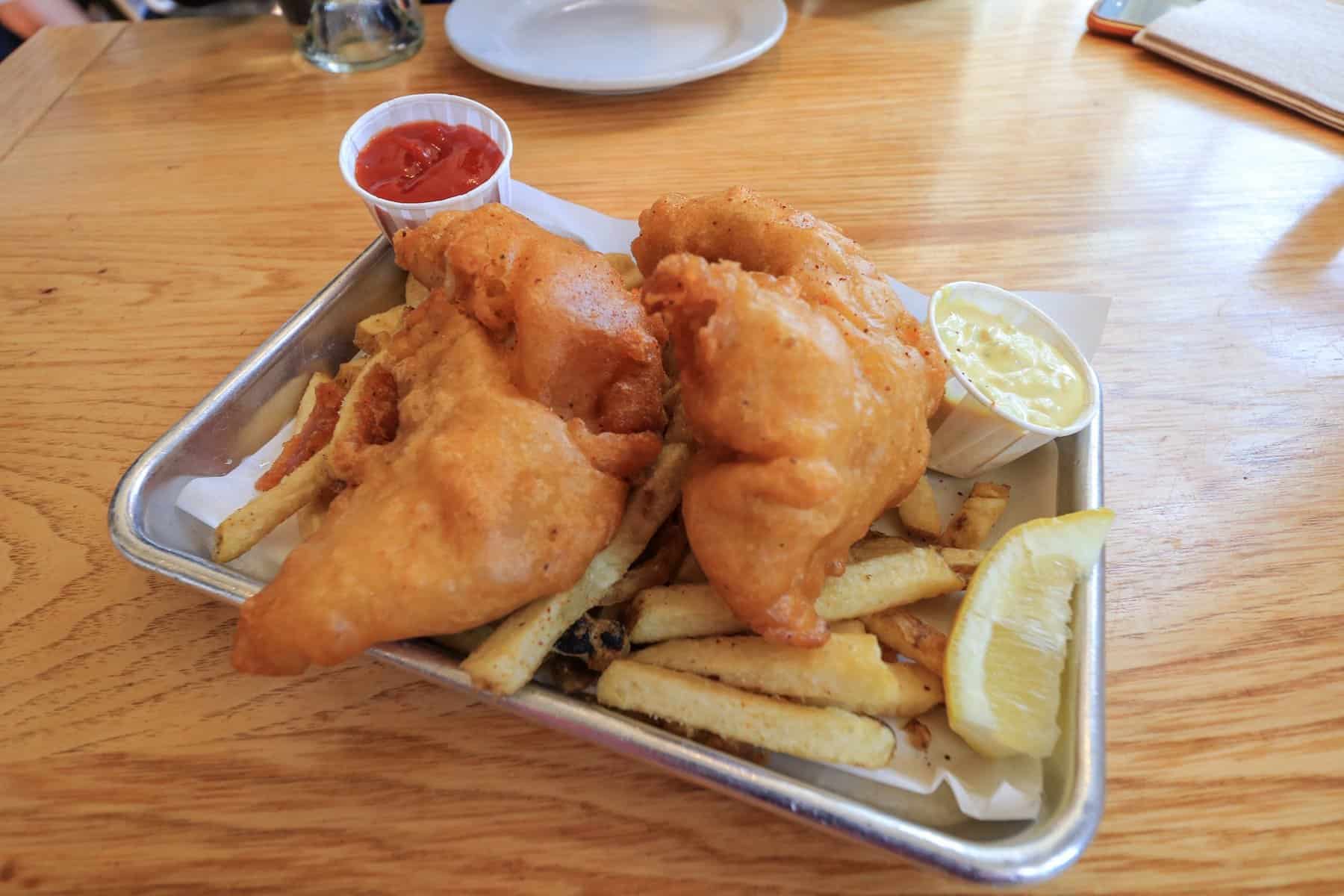 Or if you already ate, then grab an ice cream to cool you off on a hot summer day. I came here with my mom and she hadn't been since her honeymoon with my dad. Back then they didn't have a lot so they took a road trip along the California coast.
Driving along California's coast is so magnificent that it would make for a wonderful romantic road trip such as a honeymoon. A few good places to get something to eat is at the Sand Dollar Restaurant, Parkside Café or Siren Canteen.
Address: 43 Arenal Ave, Stinson Beach, CA 94970
Inverness
About 50-minutes north of Stinson Beach is the town of Inverness. The draw to driving out to this remote area is the spectacular row of Cypress trees that form a tunnel to the Historic RCA Coast Station Building.
You can enter the Historic RCA Coast Station into a GPS or veer left onto Bear Valley Rd off of Highway 1 at around 30 minutes from Stinson Beach. Bear Valley Rd will turn into Sir Francis Drake Blvd.
Continue on Sir Francis Drake Blvd for about another 15 – 20 minutes and turn right onto the enchanting tree-lined road.
As you go down the road there park in the parking lot and then walk back through the canopy-covered Cypress trees taking photos.
When I visited there were only two other cars taking photos like I was. I waited until they left so that I could take my photos before the next car came. There are outhouse facilities but nothing else other than gazing at the pretty row of trees.
After you leave the Cypress trees behind, continue further onto Sir Francis Drake Blvd towards the coast to Point Reyes National Seashore.
Out at the point is the Point Reyes Lighthouse and views of the stunning coastline. When I visited this area was closed for maintenance but I plan to visit again one day.
Tip: Before you take off to your next stop, stop at Marshall Store or Hog Island Oyster Co. for some yummy fresh oysters!
Bodega Bay
Have you ever watched the old black and white horror movie "The Birds" by Alfred Hitchcock?
The 1963 movie is a classic and after watching it, you will never look at birds the same. I won't give away the ending but the general plot is that the birds in the community of Bodega Bay become violent towards people.
The movie was filmed in Bodega Bay but also in the town of Bodega. I didn't realize there were both until I visited with the two only being about a 10-minute drive apart.
There isn't a ton to see or do in Bodega Bay but if you are a fan of the movie it is cool to see where it was filmed.
It is a lovely little bay to see and if you are hungry, stop at the Spud Point Crab Company that has great clam chowder and crab sandwiches.
For that sweet tooth after, head over to Patrick's Salt Water Taffy and a fun photo with its bright-colored décor.
The two buildings that are the original and used in the movie can be found in Bodega. It is the small white steeple church and the schoolhouse. They are right next to each other so once you find one you can't miss the other.
Take the Bodega Highway from Bodega Bay to Bodega and turn right onto Bodega Lane. You will see the schoolhouse (Potter School House) on the right and the church (St. Teresa of Avila Church) within view of it.
Note: Bodega Bay is about 1-hour and 15-minutes north of Inverness along Highway 1.
Bowling Ball Beach
Continuing north on Highway 1 and about 1-hour and 45-minutes from Bodega Bay is Bowling Ball Beach.
Nope, there isn't any bowling at this beach! But if you are fortunate enough to visit on a low tide then there are round rocks that resemble bowling balls along the shore.
Sadly, when I visited, there wasn't a low tide so I didn't bother stopping. Next time I pass this way I will make sure that I'm passing by during low tide. In order for the rocks to be visible, the tide needs to be less than +1.5 feet.
To see what the ocean tide schedule is when you visit, you can plan ahead with information to time it right. There has been speculation on how so many of these rocks formed uniform spheres but the most likely is over many years and not by aliens or other theories!
Address: 28000 Shoreline Highway, Point Arena, CA 95468. Bowling Ball Beach is about 10-minutes south of the town of Point Arena. Or you can look for mile-marker 11.41 to park on the west side of the highway.
Point Arena Lighthouse
How cool would it be to stay overnight at a working lighthouse? Well, you are in luck as spending a night at the Point Arena Lighthouse is possible.
When I found out you can stay in the rooms where the lighthouse keepers use to live, I knew I had to stay here!
Even if you are not staying here, you can take a tour up to the top of this 115-feet tall working lighthouse.
The Point Arena Lighthouse has been running since 1870 and is the tallest lighthouse on the West Coast of the United States.
At the top, you will be greeted with a stunning 360-degree panorama of the Pacific Ocean and the coastline around you. You can spot many sea lions laying on the rocks as the waves crash that is a beautiful sight.
I might have said "wow" a number of times as I took in the breathtaking views… There are no elevators so you will need to climb a spiral staircase but the views are worth the climb!
The Keeper's rooms and apartments are located just steps from the lighthouse entrance. I can't say enough good things about staying in a Keeper's Room as it was cozy and such a unique experience.
In the evening, the fog came in strong and the only sound you could hear is the waves crashing against the bluff below. It was the most peaceful night's sleep!
Address: 45500 Lighthouse Rd, Point Arena, CA 95468
Admission Fee: There is a $5.00 entrance fee to the grounds, museum (open 10 am to 3:30 pm) and a tour up to the top of the lighthouse. The fee is waived if you are staying overnight.
Tip: Enjoy dinner and sunset in the town of Point Arena at Pier Chowder House & Tap Room (4 miles from the lighthouse).
Elk
As you make your way to Mendocino, stop off to see Greenwood State Beach in the tiny town of Elk.
You will pass it in a blink if you aren't looking. You can park at the Elk Visitor Center. I stumbled on this little gem of a place by accident looking for a restroom.
I went inside to the Visitor Center (across from the Post Office) and was pleasantly surprised to find a little museum with incredible photos and information of how important the logging industry was in this area of California during the late 1800s.
It was a serious lumber town that had developed a way to log and get the lumber onto the ships there. There was no one else there so the woman working there gave a personal little tour of the town's history.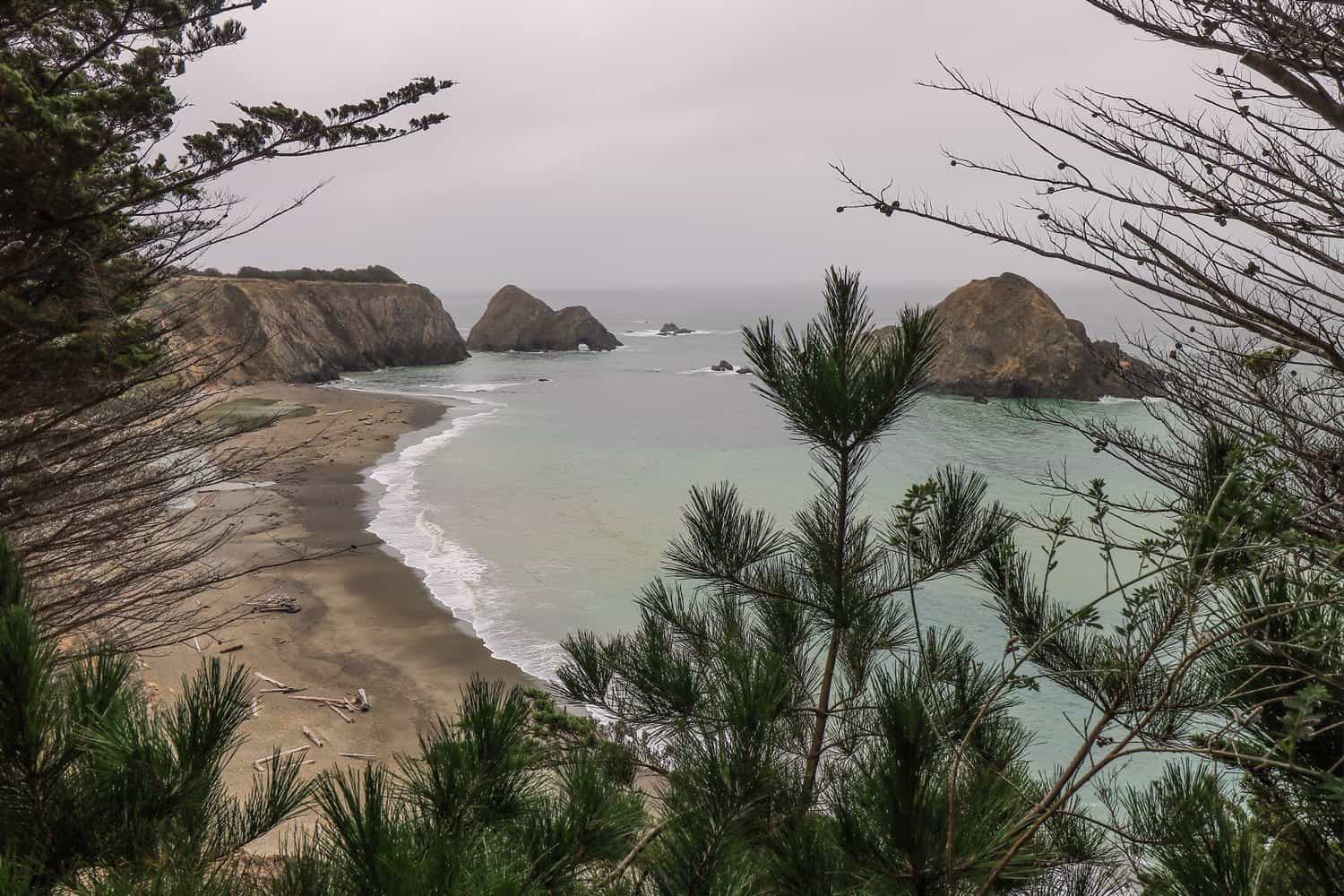 Afterward, we walked over to the cliffs of Greenwood State Beach and I was stunned to see such a beautiful beach down below. That was the best restroom pit stop that I hadn't expected to see!
Address: 5980 Shoreline Hwy, Elk, CA 95432
Mendocino
Mendocino is another great spot to spend a few nights especially if you want to do some hiking, exploring beaches, kayaking, and indulge in some wine tasting.
There a number of wineries within Mendocino county that could keep you here for at least a few days.
If you take Highway 128 that is also referred to the Wine Road, you will encounter many winery options to try. Some great wineries are Lula Cellars, Navarro Vineyards & Winery, Goldeneye Winery, and Nelson Family Vineyards.
Not too far from Navarro Vineyards is the Philo Apple Farm that is a fun self-service stop for apples, jams, ciders, and vinegar. It is also a great base if you plan to go further up north to the Lost Coast, Ferndale, and Eureka.
I didn't go to these northern towns on this road trip but plan to spend more days next time. Mendocino is an adorable beach town or rather village that oozes charm with its cute shops, restaurants, and cafes.
Some great places to stay are:
MacCallum House
Agate Cove Inn
Alegria Oceanfront Inn and Cottages
Andiron Seaside Inn & Cabins
Tip: If you are wondering what there is to do in Mendocino County, explore 23 Top Things To Do In Mendocino County For A Weekend Getaway!
Russian Gulch State Park
Located about 5 minutes north of Mendocino is Russian Gulch State Park. The Russian Gulch State Park is most well-known for Devil's Punchbowl and the striking and photogenic Frederick W. Panhorst Bridge.
The Devil's Punchbowl is a large sinkhole in the rocky edge and when waves crash into it, an echo sound can be heard. Next, follow the map you get at the entrance and drive down below to the base of the bridge.
From this stunning small beach underneath the bridge (100 feet tall) allows for a tranquil spot to take some photos. If you happen to scuba dive and don't mind cold water then this is a great site to go diving.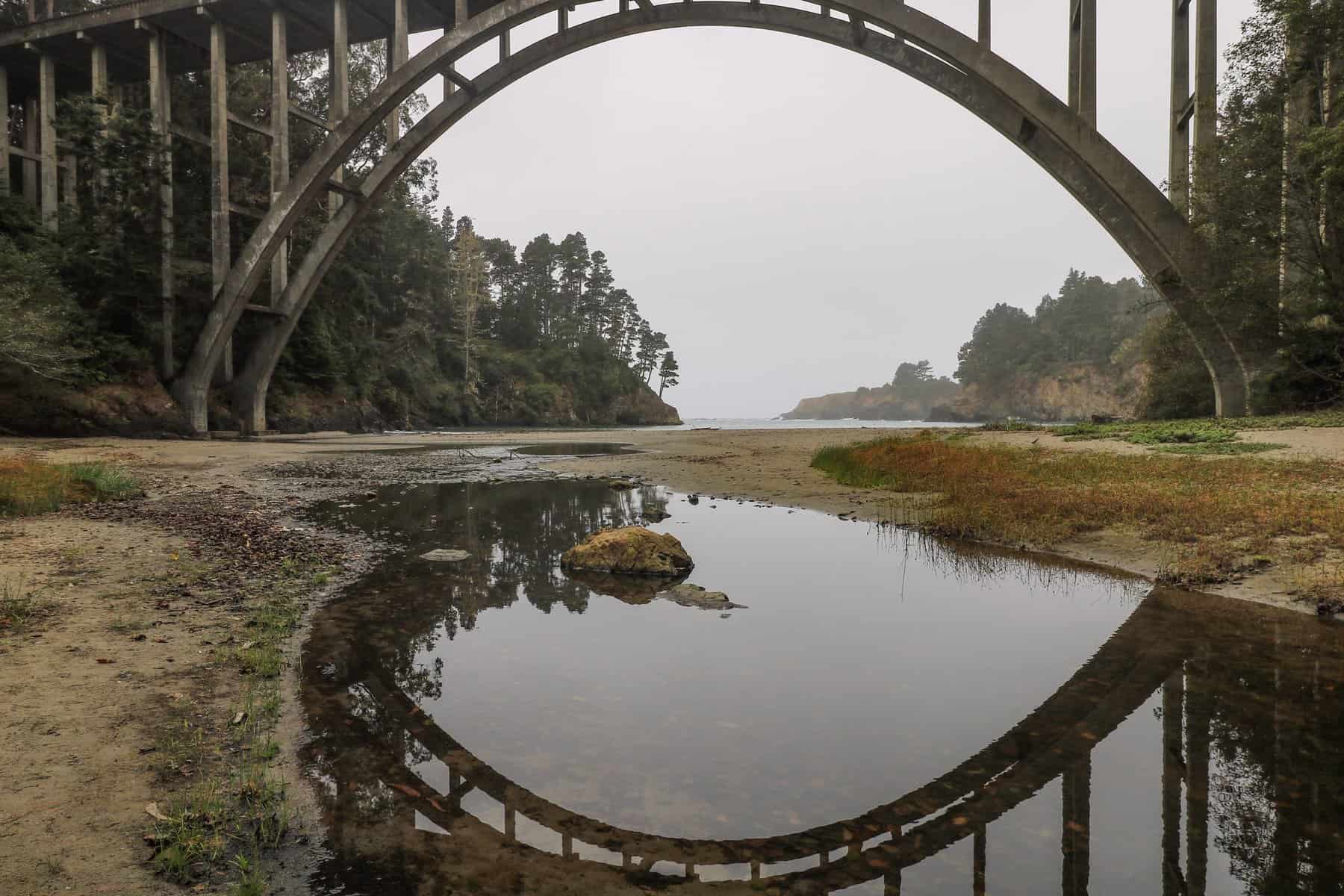 There was a diver getting ready to go out the day I was there. Personally, I tend to stick to warm water diving!
The water in this cove is a protected marine area which makes for an interesting place to dive. It is also known as a spot for finding abalone.
If diving isn't your thing, then hike one of the trails that follows the Russian Gulch Creek inland from the beach area.
Tip: There is even a waterfall at the end of the Fern Canyon Trail.
Admission Fee: The entrance fee is $8.00 per car. You will also get a map of the location for the trails, bridge and Devil's Punchbowl.
Glass Beach
About 15 – 20 minutes north of Russian Gulch State Park is Glass Beach in the town of Fort Bragg.
There isn't a fort or base here and not to be confused with the Fort Bragg in North Carolina. When I had seen photos of Glass Beach I was in awe and excited to see this for myself.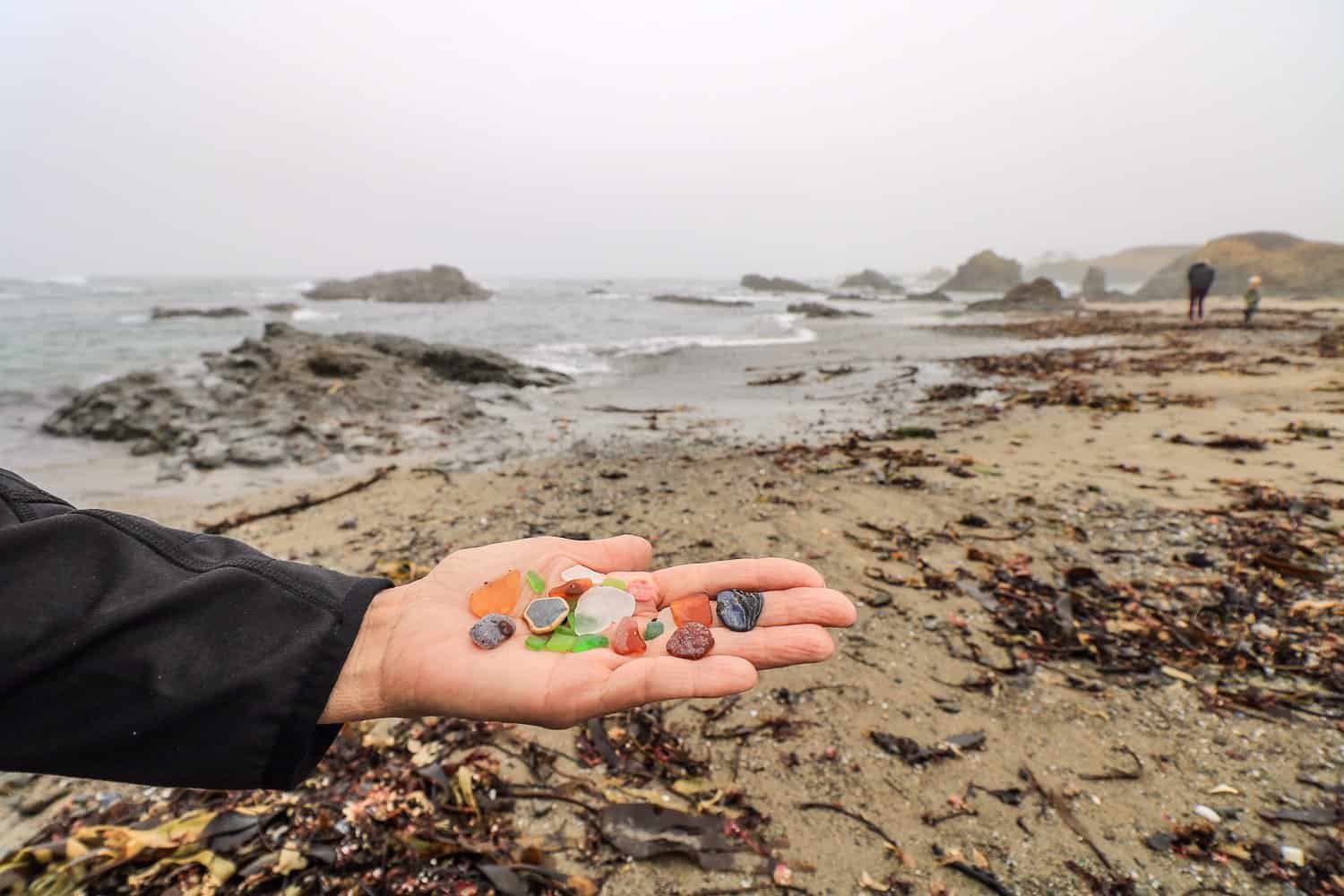 This is probably the most disappointing stop along the California Coast road trip because the beach didn't look anything like the photos I'd seen. I stood there thinking that maybe I had gone to the wrong beach.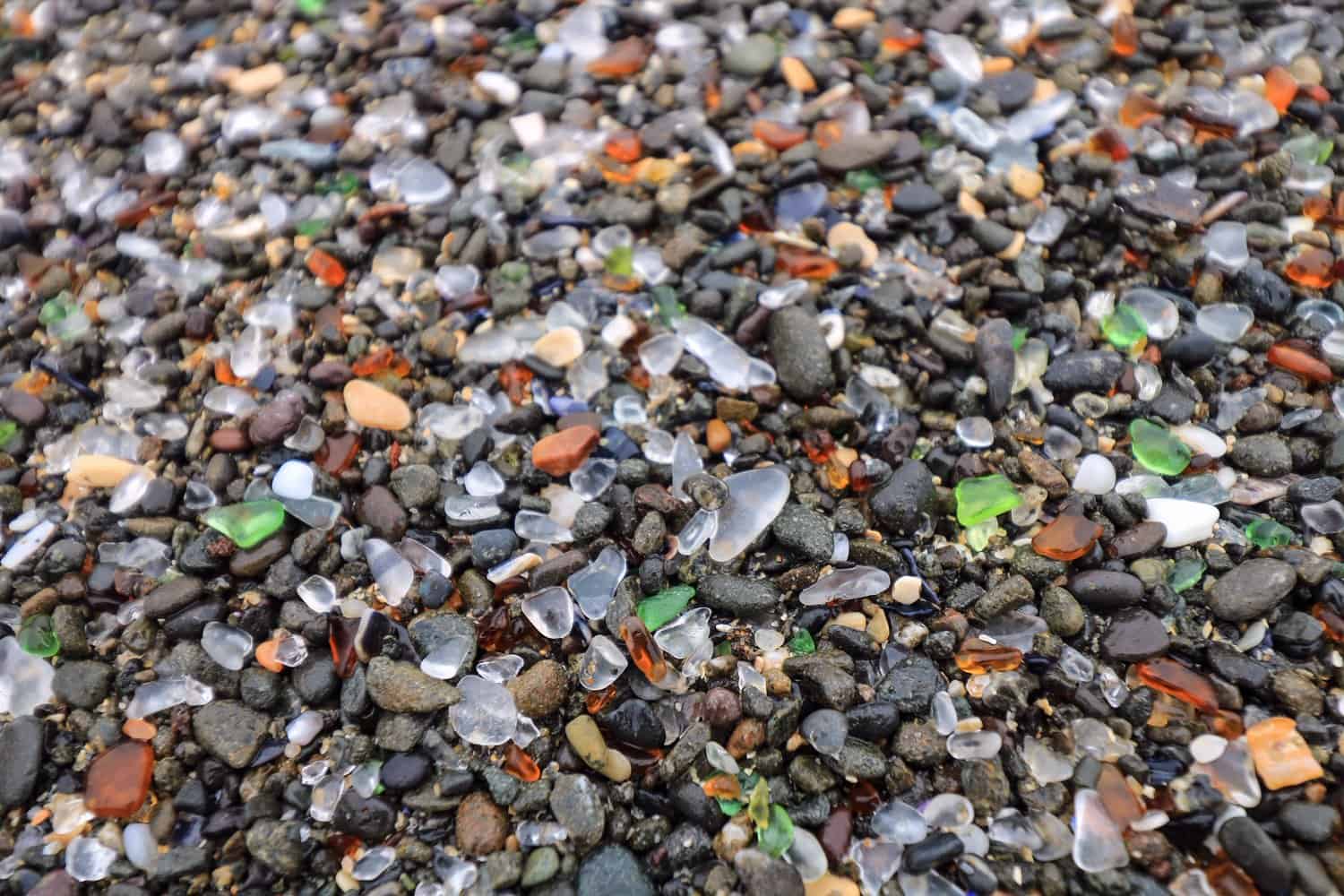 Having said that, it is still a beautiful beach but there are not tons of colorful pieces of glass-like there used to be.
Unfortunately, over the years people decided to "take-home" the pretty and colorful pieces of glass.
The pieces of glass are like smooth pebbles that have been polished by the constant pounding of the ocean waves.
Years ago, for a reason I can't fathom, the city used this beach as a dump. A ton of glass from bottles broke down over time into small pieces and resulted in a beautiful and vibrant pattern of tiny rocks.
Note: Please do not take any of the glass pebbles as there will be nothing left for others to see. The bright reds and blues are rare to find. I saw a few parents giving their kids bags to collect as a souvenir setting a horrible example…
Tip: There are a number of facilities in Fort Bragg and it is a good place to gas up your car and get more snacks.
Address: Glass Beach is at MacKerricher State Park or at the end of Elm Street off of Highway 1 in Fort Bragg.
Happy travels and enjoy this epic California Coast Road Trip!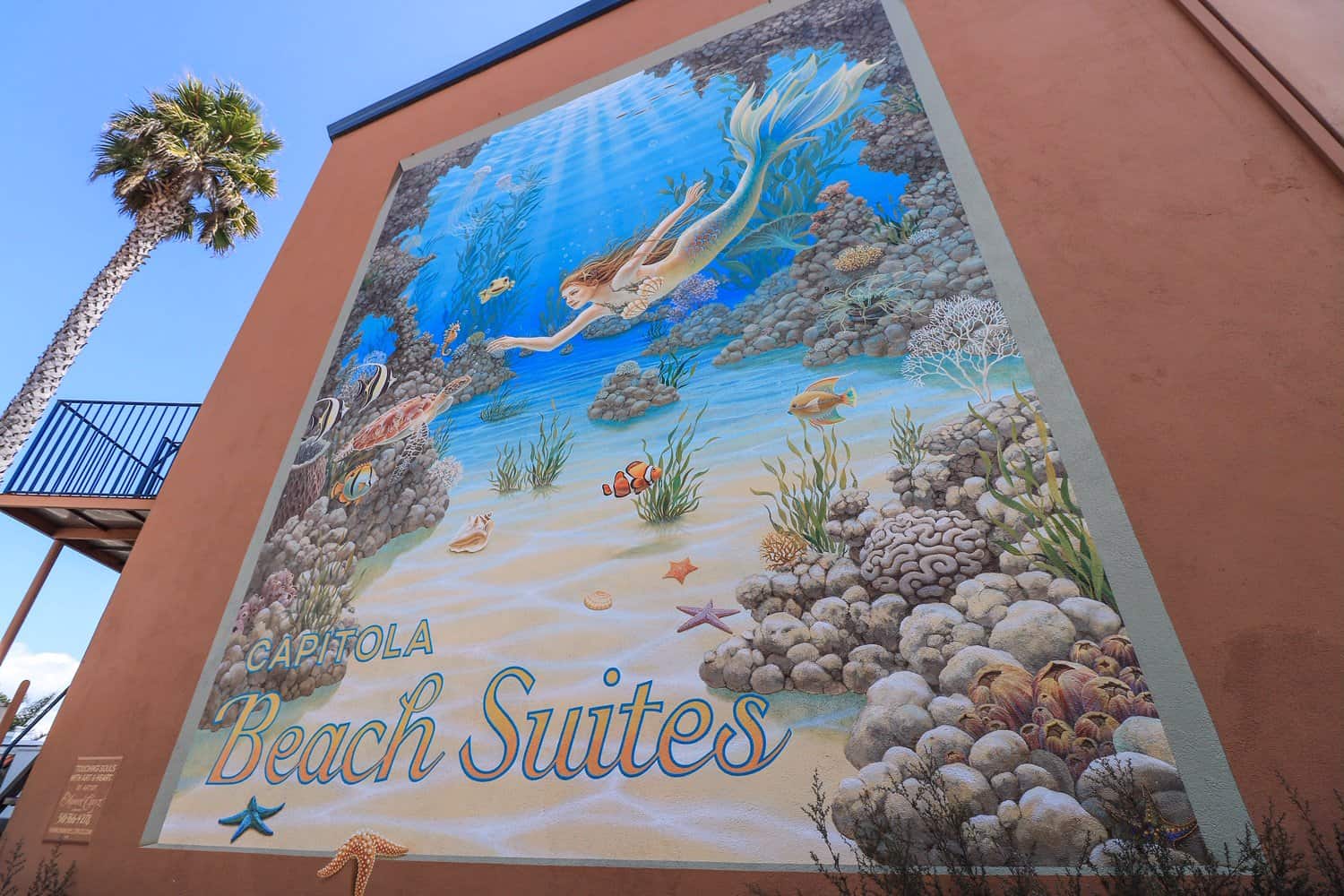 Got Travel Insurance?
Don't leave home without travel insurance as you never know what might happen on a trip! It is always when you least expect it that something can go wrong like getting sick, in an accident or cancellation of some sort. Get a no-obligation quote from two trusted travel insurance companies for peace of mind on your next trip!
Looking For More Travel Inspiration?
23 Top Things To Do In Mendocino County For A Weekend Getaway
7 Amazing Places To See Giant Redwoods In Northern California
America The Beautiful Park Pass: Is It Worth Getting For Your Trip?
17 Mile Drive By Bike: The Best Places To Stop
15 Best Things To Do In San Diego
The Epic California Big Sur Road Trip
10 Ways To Explore Catalina Island
A Guide To The 5 Most Beautiful Beaches Of Malibu, California
17 Fun Things To Do In Orange Beach, Alabama On Your First Visit
7 Best Filtered Water Bottles For Travel And Hiking
Disclaimer: As an Amazon Associate and a participant of other affiliate programs, I may earn from qualifying purchases in this post. This means that if you make a purchase through one of these links, I might receive a commission at no extra cost to you. Thank you and it is greatly appreciated!