Disclaimer: Traveling Ness contains affiliate links and is a member of the Amazon Services LLC Associates Program. If you make a purchase using one of these links, I may receive compensation at no extra cost to you. See my privacy policy for more information.
25 Best Things To Do In Birmingham, Alabama You Don't Want To Miss
Birmingham, Alabama has that true Southern charm combined with a big city feel. If you are thinking about visiting this "Magic City" then keep reading to find out the best things to do in Birmingham that you don't want to miss!
Birmingham got the nickname "Magic City" due to the exponential growth of the city in the 1870s because of the plentiful iron and steel industry. The city appeared to pop up overnight like magic! In a short time, Birmingham became the most industrial city in the entire South.
The city of Birmingham is also the birthplace of critical events that inspired the civil rights movement and eventually led to the Civil Rights Act of 1964.
Today you can take in the history, enjoy plenty of outdoor spaces, hiking, vibrant street art, and craft beer to name a few!
And if you are always on a hunt to find the next best foodie town, Birmingham is it! Dine on excellent meals from delicious Southern comfort food to Modern American, BBQ, and everything in between.
Previously I lived in Portland, Oregon and although it is completely different from Birmingham, two things I found common in both. An incredible food scene and gorgeous, lush hills and mountains for endless outdoor fun.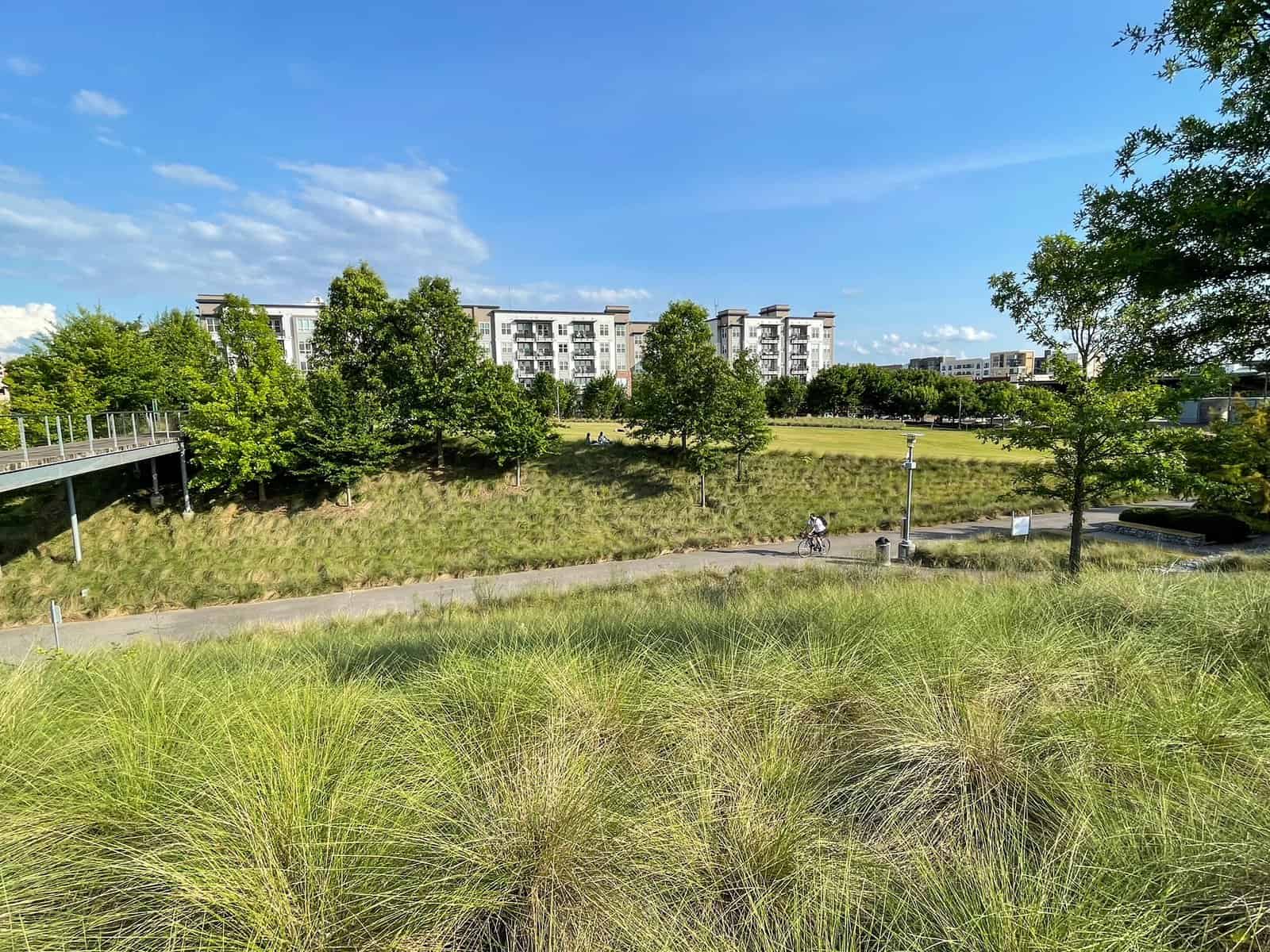 If Birmingham wasn't on your radar before, it should be now as it is evolving into an awesome weekend getaway destination!
Note: For your first visit to Birmingham, I would suggest three days. But you could easily do 4 – 5 days if you want to explore nearby hikes and waterfalls.
Where Is Birmingham Located?
The city of Birmingham is located in Northern Alabama and is one of the largest cities in the state. The largest tends to be between Birmingham and Huntsville depending on the year.
Birmingham is 2 hours southwest of Huntsville, 1.5 hours north of Montgomery, and 4.5 hours north of the Gulf Coast.
Alabama is located in the Southern United States referred to as The South. Alabama is bordered by the Gulf Coast to the south, Florida and Georgia to the east, Tennessee to the north, and Mississippi to the west.
If you plan to explore more of Alabama, each of these destinations should be on your list!
7 Amazing Waterfalls In Alabama That Will Take Your Breath Away
21 Fun Things To Do In Mobile, Alabama On A Weekend Getaway
17 Fun Things To Do In Orange Beach, Alabama On Your First Visit
15 Best Things To Do On Dauphin Island, Alabama
How To Get To Birmingham
When searching for a flight into Birmingham, book your ticket into Birmingham-Shuttlesworth International Airport (BHM).
Start planning your trip and search for the best flight deals now!
The airport is conveniently located just a short distance from downtown, about 10 to 15 minutes away. If you are driving in from a nearby state, the drive time is:
Nashville, Tennessee – 3 hours
Chattanooga, Tennessee – 2.5 hours
Memphis, Tennessee – 3.5 hours
Atlanta, Georgia – 2.5 hours
Jackson, Mississippi – 3.5 hours
New Orleans, Louisiana – 5 hours
Do I Need A Car?
You could get away with not renting a car but I recommend renting a car if you want to be able to do all the Birmingham attractions on this list.
If you are just staying in the downtown area, then you could rely on walking or using Uber/Lyft. There are a lot of things to see that are in surrounding neighborhoods that are just easier to reach if you have a car.
Plus, if you want to drive to nearby hikes or go chasing waterfalls having a car is a must.
Begin searching for the best car rental rates today!
Where To Stay In Birmingham
There are a few areas including downtown Birmingham that are great locations to stay at. Here are the top picks for hotels in Birmingham:
Elyton Hotel, Autograph Collection – in downtown Birmingham with a rooftop bar.
Redmont Hotel Birmingham, Curio Collection – a historic boutique hotel in downtown.
Hampton Inn & Suites Birmingham – used to be the Tutwiler Hotel now a National Historic Landmark.
Grand Bohemian Hotel Mountain Brook – next to the Botanical Gardens and Zoo with a rooftop bar.
Courtyard by Marriott Birmingham Homewood – in a great neighborhood south of downtown.
Best Time To Visit Birmingham, Alabama
Birmingham is a city you could visit any time of the year but for optimal weather to include outdoor activities, spring and fall are ideal.
The months of April, May, September, and October are great months as you have good weather and can enjoy the parks, hiking, and outdoor dining.
I visited at the end of June and although it was really hot with some humidity, I still had a great time. In the summers, temperatures can range from 70 F to 94 F.
The spring and fall months will typically range from 50 F to 90 F with the least rain of the year.
Overall, Birmingham has a mild winter with maybe only a day or two of snow if that. January, February, and March will get the most rain but temperatures aren't bad ranging between 33 F and 71 F.
Note: Summer is peach season, so plan to take a drive 50 minutes south to Clanton, the peach capital of Alabama! At Peach Park, you can get the sweetest peaches, best peach cobbler, peach ice cream, and more…
Brief History Of Birmingham
The city of Birmingham, Alabama was founded in 1871 by the Elyton Land Company amidst the period post-Civil War. Prior to that time, a few large farm towns occupied the area now known as Birmingham.
The merging of the three largest farms was referred to as Elyton. As the industrial revolution hit Birmingham, the town grew at an extremely fast rate.
With iron, steel, and the railroad industry supplying plenty of work for any that wanted it, the city boomed.
Not long after, its name changed to Birmingham after Birmingham, UK that was also a major industrial city. And as many of the early people who settled in Birmingham, Alabama were from England it wasn't a surprising choice for a name.
Birmingham became known as a huge producer of steel as it is one of only a few places in the world where the three main ingredients to make steel is in one location. Those three materials are iron ore, coal, and limestone.
By the early 1900s, Birmingham grew so fast that it got the nickname, "Magic City". It was as if the city had appeared overnight just like magic!
By the 1950s, the coal markets had dwindled a lot and many of Birmingham's coal mines had closed. Eventually, all iron and steel plants closed during the 1970s.
Since then, a diverse number of industries are present in Birmingham ranging from banking, medical, university, transportation, and telecommunications.
Get A PDF Of This Guide For Your Trip
For your convenience, you can download a copy of this Best Things To Do In Birmingham, AL guide or print it to take with you. It includes pictures and links within the article. It's ad-free and handy for on the go.

Tips For Visiting Birmingham, Alabama
Plan to rent a car so that you can easily navigate Birmingham attractions in downtown and farther out.
Summer is peach season, so grab buckets of sweet peaches or incredible peach cobbler!
Have a comfortable pair of walking shoes as you will be doing a lot of walking.
Make sure you try Alabama's white BBQ sauce!
Many shops and restaurants tend to be closed on Sunday and Monday so plan accordingly.
Carry a reusable water bottle to stay hydrated as you are exploring Birmingham or on a nearby hike.
Just in case the weather decides to shower you with some rain, pull out this compact travel umbrella or rain jacket!
This handy travel clip will secure your jacket to a bag or backpack when you're not using it!
Need an awesome backpack that is perfect for both travel and day use?
Map Of Birmingham Attractions
Best Things To Do In Birmingham, Alabama
1. Take A Birmingham Tour
One of the best ways to get a feel for a city and learn more about its history is to take a tour! Let locals guide you through some fun and interesting sites in making your trip more memorable.
Birmingham Civil Rights Tour – This tour takes you to the most famous locations in Birmingham that are very important in the United States civil rights history.
Birmingham Ghost Walk – This tour leads you to the most haunted places in Birmingham providing captivating bits of history at churches, graveyards, historic hotels, and more!
Historical Highlights of Birmingham – Let a guide take you to visit the most historic places in Birmingham that are must-see!
2. The Vulcan
The Vulcan is an impressively large statue standing 56 feet on top of a tall column that you can easily identify atop Red Mountain! In total the statue and pedestal are 180 feet tall.
For those that are not familiar with Roman Gods, Vulcan was the god symbolizing fire and forge.
In the 1930s when the Vulcan statue was created by Giuseppe Moreti, Birmingham was known for its industrial success in forging steel. The region had an abundance of iron, limestone, and coal.
So, in essence, Birmingham was truly a city built by fire and forge just like Vulcan!
Although the mining heydays are long gone, the Vulcan is a symbol of Birmingham's strength and forging history.
At the time of its creation, it was also a way to advertise and greet people coming to the city. And in a way, it is still doing that today.
There is a really well-done museum next door to the base that gives details into how Birmingham got its start and the name "Magic City".
After you have visited the museum, walk over to the base of the Vulcan tower, and take the elevator up to the top.
You can get a much closer view of the Vulcan and his spear which represents a piece of his forged work.
The views of Birmingham are outstanding but if you are nervous about heights just look out, not down…
Fun Fact: The Vulcan is the largest cast-iron statue in the world!
Hours: Open 10:00 am to 10:00 pm daily. Free parking at the park.
Address: 1701 Valley View Dr, Birmingham, AL 35209.
3. Railroad Park
One of the first things I did when arriving in Birmingham is to go for a walk in Railroad Park and it surpassed all expectations!
Railroad Park is a beautiful and awesome greenspace covering 19 acres in the heart of downtown.
The park was created jointly with the City of Birmingham and the Railroad Park Foundation to create this oasis in 2010.
Given the nickname of "Birmingham's Living Room", Railroad Park has several trails for walking or running, a lake, boardwalks, benches, and grassy areas for a picnic. You might even attend a concert, a yoga class, or other events in the park spaces.
In an attempt to bring life to downtown and improve the area along the railroad, Railroad Park mixes perfectly both nature and the industrial railroad touches.
On the eastern end of Railroad Park, walk east a few blocks to the Magic City Sign which is next up on the list of best things to do in Birmingham!
Tip: If you are looking for a caffeine fix and a snack, head across the street to Red Cat for an awesome cup of coffee!
Address: 1600 1st Ave S, Birmingham, AL 35233.
4. Magic City Sign
As previously mentioned, Birmingham got the nickname "Magic City" for the speed at which it grew from 1870 to the 1920s.
The huge Magic City Sign is not only a nod to the fast birth of Birmingham but also marks the start of the Rotary Trail.
At the time it was built in 1926, the sign was the welcome sign greeting people as they arrived at the terminal train station in downtown Birmingham.
By the early 1950s, the sign was in need of a lot of love and a renovation but funding wasn't available. The city didn't think it was worth spending the funds and so it was taken down.
Fast forward to 2008, the city decided to make a replica of the original but it wasn't until 2016 that a replica was returned to the same spot.
Even though there is no longer a train station here, the Rotary Trail is a great pedestrian green space for both locals and visitors to enjoy. The ½ mile linear park is a beautiful path for walkers and runners to use.
Imagine a similar and smaller style to the High Line Park in NYC but instead of being elevated, the Rotary Trail is below street level. You can find benches, tables, and beautifully landscaped.
Note: The Rotary Trail is nestled between Railroad Park and the Sloss Furnaces on the other side.
Address: 106 22nd Street S, Birmingham, AL 35233.
5. Alabama Peanut Company
The Alabama Peanut Company has a long history of serving up the best roasted boiled peanuts!
I had never tasted boiled peanuts and wasn't expecting them to be that great but wow, they are so so good!
The peanuts at the Alabama Peanut Company are boiled the same way they have been doing it for over 110 years! And they are doing so in the same roasters that have been used for over 3 generations.
The roaster does indeed look its age but still makes the tastiest Southern snack around! The peanuts are roasted fresh daily and taste like it. Very Southern and salty!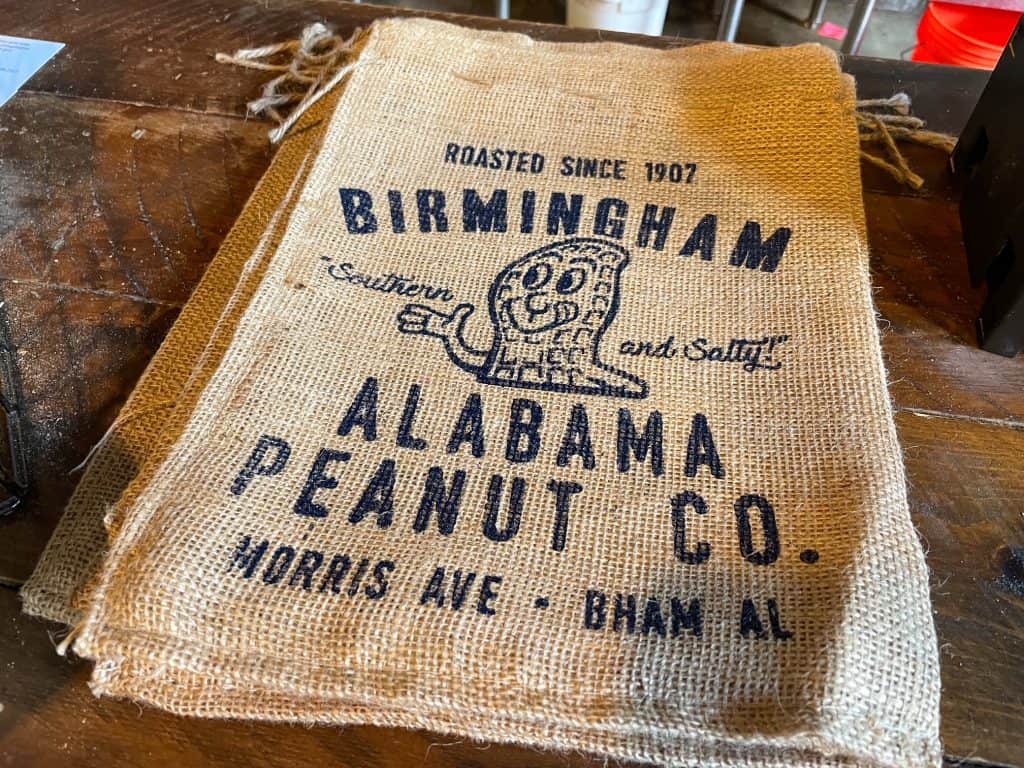 A few flavors I tried and loved were the Cajun and the Salty Dill Pickle boiled peanuts! The shells are slightly wet and warm breaking open easily to start popping them into your mouth.
Based in the historic Peanut District in downtown Birmingham, you can buy boiled peanuts in various flavors that change on a daily basis. To see the flavor schedule, visit the Alabama Peanut Company site.
Tip: They also have great peanut brittle too! Boiled peanuts are meant to be eaten fresh lasting a day or refrigerate to last several more days.
Hours: Open 10:00 am to 5:00 pm Tuesday – Friday, until 4:00 pm on Saturday, and closed Sunday and Monday.
Address: 2016 Morris Ave, Birmingham, AL 35203.
6. Heaviest Corner On Earth
The Heaviest Corner On Earth? When I first heard this, I was a little confused as to how any corner in any city could be that heavy…
Well, it isn't literal as its name suggests. The corner of 20th Street and 1st Avenue in downtown Birmingham was labeled the Heaviest Corner on Earth because of the unusually large high-rise buildings on each corner.
Today that might not seem like a big deal but in the early 1900s, all buildings were just one or two stories.
So, when a building on each of the four corners was built at around the same time ranging from 10 to 21 stories, they stood out big time!
Constructed with marble and limestone added to the appearance of being a "heavy" corner. During the period of the early 1900s, these four buildings were the tallest in all of the South.
As you walk around to each of the four corners, look up and appreciate that these buildings are still impressive to see today with beautiful architecture.
The four buildings are the 10-story Woodward Building (southwest corner), 16-story Brown Marx Building (northeast corner), 16-story Empire Building (northwest corner), and 21-story John A. Hand Building (southeast corner).
Note: All four of these early skyscrapers were built between 1902 to 1912.
7. The Alabama Theatre
When you first get a glimpse of the Alabama Theatre, you immediately know it is historic and majestic.
The vertical sign and marquee with the huge letters spelling out "ALABAMA" is not only eye-catching but has a classic nostalgia…
Originally the Alabama Theatre was built in 1927 by Paramount Studios to provide a place in Alabama to show Paramount films. For 55 years with the exception of the Miss Alabama pageants, only Paramount films were shown.
Since being bought in 1998 and renovated to its old glory, it has been home to playing movies, live performances, pageants, and concerts.
The Alabama Theatre seats 2,500 people and from photos of the inside, it looks gorgeous. I'm hoping on my next visit I can see a movie or performance there!
Although it does not show movies anymore, the Lyric Theatre a block over is another classic theatre that today holds live music and dance performances only.
Fun Fact: The Alabama Theatre is considered to be a "movie palace" which is a glamorous and elaborately decorated theatre built from 1910 to 1940. The movie palaces boomed as movies and television became popular elevating the ambiance of watching a movie.
Note: Check the Alabama Theatre website for a schedule of events in preparation for your trip!
Address: 1817 3rd Ave N, Birmingham, AL 35203.
Get A PDF Of This Guide For Your Trip
For your convenience, you can download a copy of this Best Things To Do In Birmingham, AL guide or print it to take with you. It includes pictures and links within the article. It's ad-free and handy for on the go.

8. Eat Some Alabama BBQ
I had heard Birmingham had good BBQ, and boy they sure do! Alabama has the traditional style of BBQ that I love, but what they are known for is their white BBQ sauce.
Prior to visiting Alabama, I had never heard of white BBQ sauce. I quickly learned that white BBQ sauce is a mayonnaise-based BBQ sauce instead of a tomato-based that has a tangy and peppery flavor.
Originally created in Decatur, Alabama by Big Bob Gibson, the white BBQ sauce started out as "the sauce" for chicken. But in reality, it goes great with any and all BBQ.
In Birmingham, the best place to try the white BBQ sauce is to head over to Saw's Soul Kitchen to order the Sweet Tea Fried Chicken Sandwich.
I was in complete white BBQ bliss after eating that chicken sandwich! But don't worry, if you are looking for pulled pork, smoked chicken, or a burger Saw's has you covered.
Saw's is also known for its variety of tater tots that look incredible. I'm adding the Stuffed Taters next time. Oh, and if you save room, get the banana pudding!
And if you aren't eating the white BBQ sauce, you are likely eating a BBQ sauce that is similar to Memphis-style BBQ in most places.
Another awesome BBQ spot, Jim 'N Nicks Bar-B-Q is so tasty! I got a beef brisket sandwich with red BBQ sauce and couldn't have been more pleased.
An on top of fantastic BBQ, they bring a basket of their cheese biscuits that are so yummy! Jim 'N Nicks has been a staple in Birmingham since 1985 with several locations in Alabama and other states.
Saw's Soul Kitchen: 215 41st Street S, Birmingham, AL, 35222. Closed Sunday. I recommend this location next to Avondale Brewery!
Jim 'N Nicks Bar-B-Q: 1908 11th Ave S, Birmingham, AL, 35205 in Five Points South.
9. Kelly Ingram Park
With such a huge civil rights history, there are important locations in Birmingham to visit and learn about.
The Kelly Ingram Park (4 acres) is one of the main stops along the Civil Rights Trail and isn't your average park. You will feel your emotions pull as you walk and view the various sculptures that tell a story.
A horrific story but a story that needs to be told and never forgotten…
The park is located in what is known as the Civil Rights District, diagonally across from 16th Street Baptist Church and across from the Birmingham Civil Rights Institute (museum).
In 1963 Reverend James Bevel organized protests with the goal of ending segregation and ridding racism against African Americans. Most of the protestors were just young children.
The Birmingham police in an attempt to suppress the protests, arrested, released police dogs, and opened up firehouses on these young students.
Images of what happened that day were seen across the country and brought to light the severity of segregation. You will notice a statue of Dr. Martin Luther King Jr. and other notable civil rights movement figures here.
The sculpture that gets the most attention in Kelly Ingram Park is that of the "Four Spirits". I'll talk more about Four Spirits and what it represents in the next section.
Note: Take notice of the Horse Chestnut tree that is referred to as the Anne Frank tree. It is the same type of tree mentioned in "The Diary of Anne Frank" as Anne saw the tree daily as a symbol of hope.
The tree is a reminder of the devastation resulting from hate and segregation. The tree is for the "victims of intolerance".
Address: 500 17th Street N, Birmingham, AL 35203.
10. 16th Street Baptist Church
In the last section, I mentioned the sculpture of the Four Spirits. The Four Spirits is a statue of four young girls playing, representing the four girls who were killed by a bombing the Ku Klux Klan (KKK) planted.
On Sunday, September 15th, 1963 members of the white supremacy group planted dynamite to a timing device beneath the steps of the 16th Street Church.
The bombing killed 4 innocent young girls and injured around 20 people. As Dr. Martin Luther King Jr. stated, "one of the most vicious and tragic crimes ever perpetrated against humanity".
If standing on the church steps, turn around and look across to see the Four Spirits sculpture at Kelly Ingram Park as a reminder of how hate took the lives of defenseless children.
Shockingly, three of the four men responsible for the bombing were not convicted until 1977, 2001, and 2002. The fourth one died before being charged.
In searching for some positive that came out of this ugly act is that it became a critical point in the civil rights movement leading to the Civil Rights Act of 1964. This act officially outlawed any form of discrimination based on race, color, sex, or religion.
Tip: If you are interested in learning more about the civil rights movement, the Birmingham Civil Rights Tour is one of the best.
Note: The church is still in use today and has been added to the Alabama Register of Landmarks and Heritage. Since then, it has also been added as a National Register of Historic Places.
Address: 1530 6th Ave N, Birmingham, AL 35203.
11. Birmingham Civil Rights Institute
The Birmingham Civil Rights Institute (2017) presents in a powerful way how the lives of Blacks and Whites lived in Alabama from the 1800s to the present.
In a very informative and educational delivery, it goes in-depth showing the reality of how hard life was for Blacks in Alabama and all of the South.
Once you enter, there is a short film that plays before you can walk at your own pace reading the various exhibits or watching videos from the past.
You enter one way and continue until you reach the end. If you have ever been to IKEA, you know what I mean!
The museum is made up of four galleries, the Human Rights Gallery, Movement Gallery, Confrontation Gallery, and Barriers Gallery.
You will learn why Birmingham sadly became known as "Bomingham" for the excessive violence against Blacks in the 1950s and 1960s.
One exhibit you don't want to miss is the "Letter from a Birmingham Jail" written by Martin Luther King Jr. when he was locked up after a nonviolent march in 1963. The jail cell he wrote it in is next to the letter you can read.
It is the best museum that I have been to that respectfully and thoroughly explains what really happened, the birth of the civil rights movement, and where we are at today.
By the time I left the museum I was moved emotionally and a little angry that most of what I had learned I was never taught in school. I seriously hope that has changed…
Hours: Open Tuesday – Saturday from 10:00 am to 5:00 pm, Sunday from 1:00 pm to 5:00 pm, and closed on Monday.
Address: 520 16th Street N, Birmingham, AL 35203.
12. Eat At The Pizitz Food Hall
Looking for a bite to eat but not sure what you are craving? Or with a group and no one can decide what type of food to eat?
No problem! The Pizitz Food Hall has many fantastic places to eat all in one location. Think of it as a food court but with top-quality food.
Inside the food hall are 11 food stalls surrounding a central bar in the middle, The Louis. The 11 food stalls are:
Ashley Mac's – Quality and homestyle sandwiches and salads
Birmingham Candy Co. – Get handcrafted candy that will satisfy your sweet tooth!
Broad Street + NOLA Ice – Cajun-inspired food such as Po Boys and several crawfish items.
Edolyn's Pies – Save room for dessert with delicious pies.
Ono Poke – Mix of Hawaiian and Japanese cuisine such as poke.
Pho Pho – Vietnamese Pho, ramen bowls, and Korean appetizers.
J Wings – Everything chicken from fried wings, fried chicken sandwich, and fries.
Silver Kati – Grab some kati rolls which are a popular street food from Kolkata, India.
Mo:Mo: Serving Himalayan/Nepalese dumplings and Vietnamese Banh Mi sandwiches.
The Standard – Traditional burger and hot dog spot.
Unos Tacos – Mexican tacos, quesadillas, and tostadas.
And if the weather is nice and you don't feel like eating inside, take your food to a table on the outdoor patio.
For those that are driving, park in the Pizitz parking deck on the corner of 1st Avenue North and 18th Street North. The first 2 hours are free so this is a great spot to park if you are spending the day in downtown.
Hours: Open Monday – Saturday from 11:00 am to 7:00 pm. Closed on Sunday.
Address: 1821 2nd Ave N, Birmingham, AL 35203.
13. Birmingham Museum of Art
The Birmingham Museum of Art has an outstanding array of art spanning over 4,000 years and is the largest museum in the Southeast region of the United States!
The Birmingham Museum of Art has a top collection of art from different eras and regions of the world with more than 27,000 paintings, sculptures, drawings, and more. Much of the art consists of Asian, American, African, European, Pre-Colombian, and Native American pieces.
The museum always has a temporary exhibit so check the schedule to see what might be on view during your trip. Most exhibits last between three and six months.
As you are touring the museum, check out the digital screens called the smartguide. You can choose from a variety of categories or info on a particular piece of art that you want to learn more about. And you can even access this info via your smartphone.
As a bonus, visiting the Birmingham Museum of Art is FREE! So, there are no excuses to not visit.
Tip: One famous painting to keep an eye out for is the 1865 Looking Down Yosemite Valley by Albert Bierstadt.
Hours: Open Tuesday – Saturday from 10:00 am to 5:00 pm, Sunday from 12:00 pm to 5:00 pm, and closed on Monday.
Address: 2000 Reverend Abraham Woods Jr. Blvd, Birmingham, AL 35203.
14. Sloss Furnaces National Historic Landmark
The Sloss Furnaces produced pig iron in its blast furnaces from 1882 to 1971 in Birmingham. What is pig iron you might wonder?
Pig iron is made when iron ore and coal go into a blast furnace, a blast of hot air melts the ore flowing into molds that resembled piglets suckling a sow.
The original owner and one of the founding members of Birmingham, Colonel James Withers Sloss grew his company to be one of the top producers of quality iron.
After he sold Sloss Furnaces, it continued to grow and accrue fortunes with a huge part due to using slave labor. The area around Sloss Furnaces was commonly referenced to as "Sloss Quarters".
Since the furnaces stopped producing iron, it became the first industrial site in the United States to be preserved and open to the public. In 1981, Sloss Furnaces was added as a National Historic Landmark.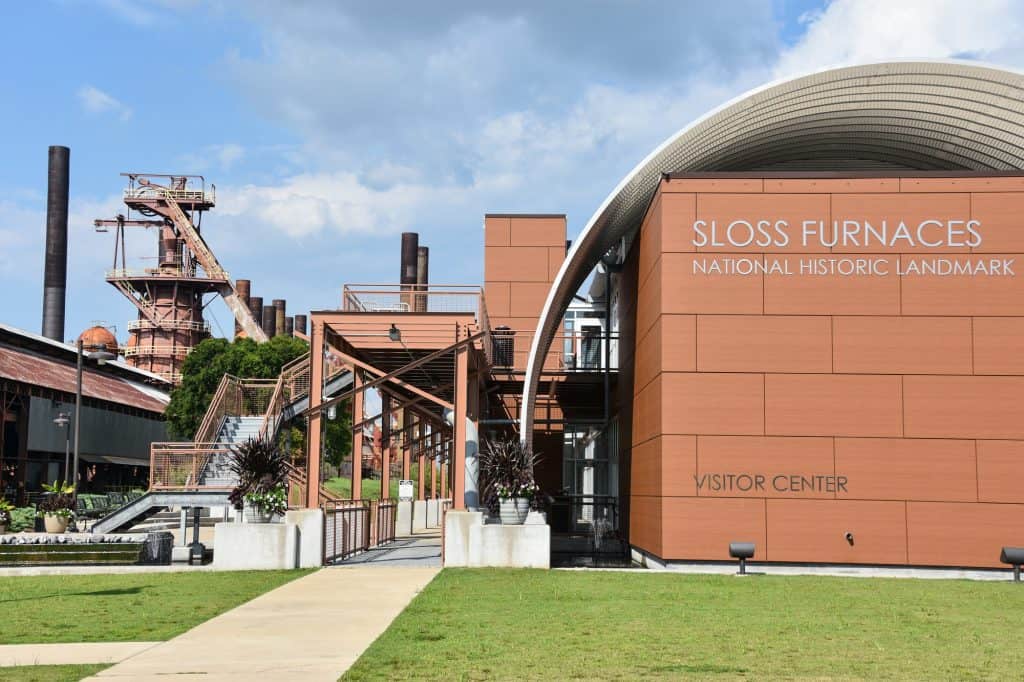 Today you can visit the Sloss Furnaces, learn about its history, and take a tour making it one of the most unique things to do in Birmingham. The guided tours need to be booked in advance or you can take a self-guided tour anytime they are open.
If you visit in October, the Sloss Furnaces turns into a Haunted House! It is said that the Sloss Furnaces is one of the most haunted places in Birmingham!
Note: The Haunted House known as Fright Furnace will not open for 2021 but check back for 2022.
Fun Fact: At the time of WWI, Sloss Furnaces was one of the largest producers of pig iron in the world!
Hours: Open Tuesday – Saturday from 10:00 am to 4:00 pm. Closed on Sunday and Monday.
Address: 20 32nd Street N, Birmingham, AL 35222.
15. Grab A Beer At Back Forty Beer Company
If you happen to have just visited the Sloss Furnaces, Back Forty Beer Company is next door at the Sloss Docks.
Back Forty Beer Company is a Birmingham local brewhouse that brews both American and European craft-style beers. In fact, don't be surprised if you see up to 25 beers on tap!
The name Back 40 comes from the 40 acres of land furthest from the barn that was considered the most overlooked land to work.
Alabama as a whole was seen that way too when it came to making microbrews. But Back Forty has clearly proved that the soil in Alabama can produce top beers.
Once you have your beer, head out to the outdoor beer garden or inside at one of the many tables. While you are sipping your beer, you can look out and see the Sloss Furnaces or a passing train!
If you have worked up an appetite from exploring, Back Forty serves up some great gourmet sandwiches, salads, and pizza to pair with your beer.
Hours: Open Monday, Wednesday & Thursday from 11:00 am to 9:00 pm, Friday & Saturday close at 10:00 pm, Sunday close at 8:00 pm, and closed Tuesday.
Address: 3201 1st Ave N, Birmingham, AL 35222.
16. Birmingham Botanical Gardens
I've visited several Botanical Gardens and the Birmingham Botanical Gardens is one of my favorites! It is immaculately laid out and manicured with lovely flowers and foliage.
If you are a nature lover, then you will enjoy visiting the Birmingham Botanical Gardens as it is one most beautiful places in the city!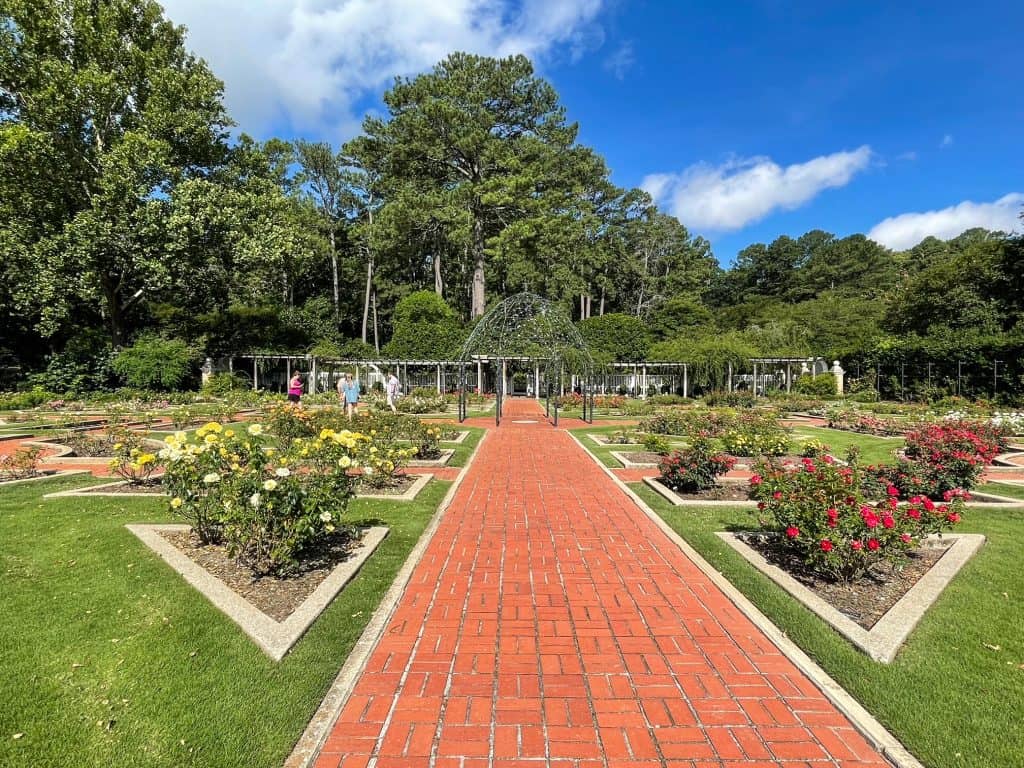 Covering 67 acres, the garden is Alabama's largest living museum and hosts 25 themed gardens and over 12,000 unique plants.
There are several paths that can take you to a number of different themed gardens. I recommend seeing them all but a few that stand out are the rose gardens, iris garden, Alabama woodlands, and the Japanese gardens.
There is even a garden café and garden shop to visit. The garden shop is adorable with plenty of garden-inspired gifts and souvenirs. And if you are looking for another nearby activity, the Birmingham Zoo is next door.
Fun Fact: It has the only public horticultural library in the United States!
Hours: Open daily from dawn to dusk. Visiting the gardens is absolutely FREE!
Address: 2612 Lane Park Rd, Birmingham, AL, 35223.
Get A PDF Of This Guide For Your Trip
For your convenience, you can download a copy of this Best Things To Do In Birmingham, AL guide or print it to take with you. It includes pictures and links within the article. It's ad-free and handy for on the go.

17. Arlington Antebellum Home & Gardens
The Arlington Antebellum Home & Gardens is an old plantation house in Greek revival-style architecture. The house started to build in 1845 and was completed in 1850.
This two-story mansion is just a few minutes west of downtown Birmingham and covers 6 acres of beautifully landscaped gardens.
Today, the historic house is a museum that you can visit and tour. You will get the chance to see up close the furniture, artwork, and items used in the 19th century. It is also the only antebellum mansion in Birmingham still around.
In 1970 the Arlington Antebellum Home was added to the National Register of Historic Places.
Hours: Open Tuesday – Saturday from 10:00 am to 4:00 pm. Closed on Sunday and Monday.
Address: 331 Cotton Ave SW, Birmingham, AL 35211.
18. Go For A Hike
Birmingham has a lot of parks, preserves, and lush forests within a short distance of the downtown. It makes for a perfect escape into nature for any outdoor lover.
Plus, there is a trail distance or difficulty for everyone no matter your physical abilities. A few top locations to go for a hike in Birmingham are:
Red Mountain Park
Red Mountain Park has 15 miles of hiking and biking trails and 2 miles of easy/flat walking trails for walkers or strollers.
On top of plenty of trail options, you can find a dog park, a few treehouses, and overlooks. To figure out which trail is for you, visit the Red Mountain Park site for a map.
Ruffner Mountain Nature Preserve
Ruffner Mountain Nature Preserve has over 1,000 acres of a nature preserve in the South East Lake neighborhood of Birmingham.
There are a number of trails ranging in easy, moderate, or difficult depending on your physical capabilities. Distances range from 0.3 miles to 1.8 miles, but you can easily combine a few or more to make a more challenging hike.
Hours: 7:00 am to 7:00 pm or in the winter months to 5:00 pm Tuesday – Sunday. Closed Mondays. Admission is a $5 parking fee.
Oak Mountain State Park
Oak Mountain State Park is about 35 minutes south of downtown in an area of Pelham. Oak Mountain has over 50 miles of trails for hiking, running, or cycling.
And if you want to spend a few days in the outdoors, there is camping and fishing too! But if RV or tent camping isn't your thing, there are a few cabins to rent.
There are many trails to choose from, but the hike to Peavine Falls is the highlight. For more info on getting to Peavine Falls read my post, 7 Amazing Waterfalls In Alabama That Will Take Your Breath Away.
After you have enjoyed a hike, grab your swimsuit for a swim in the lake and dry off in the sun on the lake's beaches.
Note: Dogs are allowed on leash at each of these hiking destinations. At the dog park at Red Mountain Park, dogs can run free.
19. Search For Street Art
Over recent years, more and more vibrant street art has been popping up in and around downtown Birmingham. I wouldn't be surprised to find an increase in the colorful and bold art murals on my next visit.
As you are walking around exploring the city, keep your eyes open for murals! You never know when you might see one around the corner…
A few of my favorite murals in Birmingham are the "It's Nice To Have You In Birmingham" and the multi-mural located on 1st Avenue near Rotary Trail.
At the 1st Ave and Rotary Trail wall are multiple panels with one for Magic City, Bham, and other colorful works.
Or on the corner of 19th Street and Third Ave N in downtown, you can see various artists and a ballerina celebrating the arts of the Theatre District.
20. Go Chasing Waterfalls
Upon visiting Birmingham, it had never occurred to me that there would be a large number of waterfalls within a day trip away.
Surrounding the city and areas outside of Birmingham are lush mountains, lakes, rivers, and plenty of waterfalls to see.
Not many cities have so many great trails and waterfalls so close making Birmingham a great destination. The two closest waterfalls to Birmingham are Noccalula Falls and Peavine Falls, both within an hour away.
Peavine Falls is located in Oak Mountain, south of the city, and Noccalula Falls is in the town of Gadsden 1 hour northeast. Or visit DeSoto Falls, the tallest waterfall in Alabama!
If you can, I recommend spending at least one day dedicated to seeing some of the best waterfalls in Alabama.
To find out where all the best Alabama waterfalls are located with tips on visiting, read my post, 7 Amazing Waterfalls That Will Take Your Breath Away.
And if you are looking for a detailed guide on visiting Noccalula Falls, read Ultimate Guide To Visiting Noccalula Falls Park in Alabama!
21. Drinks At A Rooftop Bar
One of the best combos is sitting back to relax with a drink and take in a gorgeous city view. I'm always on the hunt to find a cool rooftop bar to enjoy a cocktail or two at! A few rooftop bars to check out the next time you are in Birmingham are:
The Roof at The Redmont Hotel – 2101 5th Ave N, Birmingham, AL 35203
Moon Shine at Elyton Hotel – 1928 1st Ave N, Birmingham, AL 35203
Carrigan's Public House – 2430 Morris Ave, Birmingham, AL 35203
Habitat Feed & Social Bar (Grand Bohemian Hotel) – 2655 Lane Park Rd, Birmingham, AL 35223
22. The Market At Pepper Place
If you happen to visit Birmingham from April through December, the Pepper Place Saturday Market is held each Saturday.
From 7:00 am to noon, you can explore the many different vendors selling fresh fruit & vegetables, baked goods, salsa, honey, cheese, coffee, and peanuts.
For non-food items, shop candles, jewelry, soaps, art, spoons, and leather goods that are all made local in Birmingham and nearby areas of Alabama.
The Market is located at Pepper Place that used to be a Dr. Pepper bottling plant where it was used until 1982. The building and those around it have been restored and now house great restaurants and stores.
Having the Saturday Market here seems the perfect setting combining both history and modern touches to share the fresh goods and produce to the community.
Address: 2829 2nd Avenue S, Birmingham, AL 35233.
23. Dine At Ovenbird
Birmingham is fast becoming a foodie destination will an array of awesome restaurants, including farm-to-table, seafood, fine dining, American, and Southern food.
Ovenbird is a rustic yet upscale casual restaurant that serves up a live-fire style of cooking with roots from Spain, Portugal, Uruguay, Argentina, and the South.
The food is served by small plates so whether you are dining solo or in a group, small-plate eating is perfect. I personally loved it as I could order a handful of plates in an attempt to try more than one dish.
I'm salivating just thinking back to my meal at Ovenbird… This will definitely be one of the first restaurants that I eat at on my next visit!
Even before I ordered any food, I loved the ambiance and décor both inside and out on the outdoor patio. It has a very cozy and welcoming feel that adds to the enjoyment of each delicious bite.
Ovenbird is located in the Market at Pepper Place complex where you can also find the Farmer's Market.
I more than enjoyed the Empanada dish, Grass-Fed Filet with chimichurri, and the Beef Fat Candle. And with a couple glasses of wine, I left full and satiated…
Hours: Open Monday – Thursday from 4:30 pm to 10:00 pm, Friday & Saturday from 4:30 pm to 11:00 pm, and closed on Sunday.
Address: 2810 3rd Ave S #200, Birmingham, AL 35233.
24. Five Points South Fountain
In a neighborhood known as Five Points South, south of downtown are a number of great restaurants and bars. It is fast becoming a popular place to hang out and live.
In the center of Five Points is a beautiful and playful water fountain known as the Five Points South Fountain – The Storyteller.
The Storyteller fountain by Frank Fleming sits in front of the Highlands United Methodist Church. A number of animal statues surround the fountain with a ram-headed man that appears to be telling a story to the other animals.
The sculpture fountain was commissioned as a memorial to Malcom McRae, an artist that had been killed nearby in 1983. With the help of Cecil Roberts, a local humanitarian, the fountain was eventually completed in 1992.
Address: Where 20th Street S meets Magnolia Ave, Birmingham, AL 35205.
25. Rainbow LED Tunnel
One Birmingham attraction that I am bummed I missed is the Rainbow LED Tunnel. The tunnel is located running parallel to Railroad Park in downtown Birmingham.
The Rainbow LED Tunnel is a fun and funky art installation using colorful LED lights. The lights are in the underpass of the historic viaducts.
The tunnel is the length of 4 blocks from 14th Street to 20th Street. The rainbow tunnel is a fun art installation created in 2013 by the artist Bill FitzGibbons. He named it "LightRails".
The tunnel is not only an entertaining place to take playful photos but it also serves as a happy place to encourage walkers and bikers to use.
The LightRails art project is one of many things the city of Birmingham has added to draw people to visit downtown.
Address: 1 14th Street N, Birmingham, AL 35203.
Is Birmingham A Safe City?
Overall, I felt very safe exploring Birmingham but as with many cities, there are neighborhoods I would avoid especially at night.
I visited practically every neighborhood in Birmingham as I was searching neighborhoods to buy a house and had never visited. In doing so I did go to neighborhoods that I wouldn't spend too much time in or go to at night. But again, I did this intentionally so no surprise.
Most of these areas would not be neighborhoods a tourist would ever venture to anyways but a good rule of thumb, is anywhere in downtown Birmingham is safe. But of course, like in any city don't go out late at night in any neighborhood you don't know.
The neighborhoods south of Birmingham are very nice such as Homewood, Mountain Brook, Hoover, and Vestavia Hills.
The neighborhoods to the east and west of downtown tend to be a little rougher but as they are strictly residential, you don't need to go there.
Birmingham is a growing city and many areas that were once not the nicest parts of town are being revitalized to attract both locals and visitors which is a great thing to see!
Is Birmingham, Alabama Worth Visiting?
Yes! Birmingham is a really awesome city and way better than I had ever expected! Upon arrival, there are tons of trees and forests surrounding the downtown area making it visually beautiful.
The city has been working to improve and revitalize many neighborhoods to draw in visitors. And if you are a bit of a foodie, you will be delighted to find incredible restaurants from very casual to fine dining.
In recent years, the Birmingham food scene has taken off making it a budding foodie destination!
And if you are an outdoor lover, there are an endless amount of hiking trails, waterfalls, lakes, rivers, and mountains just a short distance away…
Have a fun time exploring the best things to do in Birmingham, Alabama!
Get A PDF Of This Guide For Your Trip
For your convenience, you can download a copy of this Best Things To Do In Birmingham, AL guide or print it to take with you. It includes pictures and links within the article. It's ad-free and handy for on the go.

Got Travel Insurance?
Don't leave home without travel insurance as you never know what might happen on a trip! It is always when you least expect it that something can go wrong like getting sick, in an accident or cancellation of some sort. Get a no-obligation quote from two trusted travel insurance companies for peace of mind on your next trip!
Looking For More Travel Inspiration?
7 Amazing Waterfalls In Alabama That Will Take Your Breath Away
Ultimate Guide To Visiting Noccalula Falls Park in Alabama
21 Fun Things To Do In Mobile, Alabama On A Weekend Getaway
17 Fun Things To Do In Orange Beach, Alabama On Your First Visit
15 Best Things To Do On Dauphin Island, Alabama
19 Cool Things To Do On A Weekend In Memphis, Tennessee
17 Fun Things To Do In Hot Springs, Arkansas For First Timers
Ultimate New Orleans Bucket List: 35 Fun Things To Do In NOLA
15 Fun Things To Do In Lafayette, Louisiana's Cajun Country
23 Cool And Fun Oklahoma City Attractions That Are A Must To See
Allbirds Review: The World's Most Comfortable Shoes?
Disclaimer: As an Amazon Associate and a participant of other affiliate programs, I may earn from qualifying purchases in this post. This means that if you make a purchase through one of these links, I might receive a commission at no extra cost to you. Thank you and it is greatly appreciated!