Disclaimer: Traveling Ness contains affiliate links and is a member of the Amazon Services LLC Associates Program. If you make a purchase using one of these links, I may receive compensation at no extra cost to you. See my privacy policy for more information.
12 Best Things To Do In Bucharest, Romania
Bucharest or the Paris of the East is still under the radar when it comes to being a travel destination but I found there are so many things to do in Bucharest! A long weekend in Bucharest is the perfect amount of time to experience the attractions and explore the many hidden gems.
I had never thought about visiting Romania and knew nothing about it other than it being the home of Transylvania and Dracula! Yes, I know that is horrible but oh is it so much more than that.
My cousin had moved to Romania and after hearing about how he was enjoying being an expat there, I started doing a little research about Romania. Before I knew it, I had booked a flight and was on my way.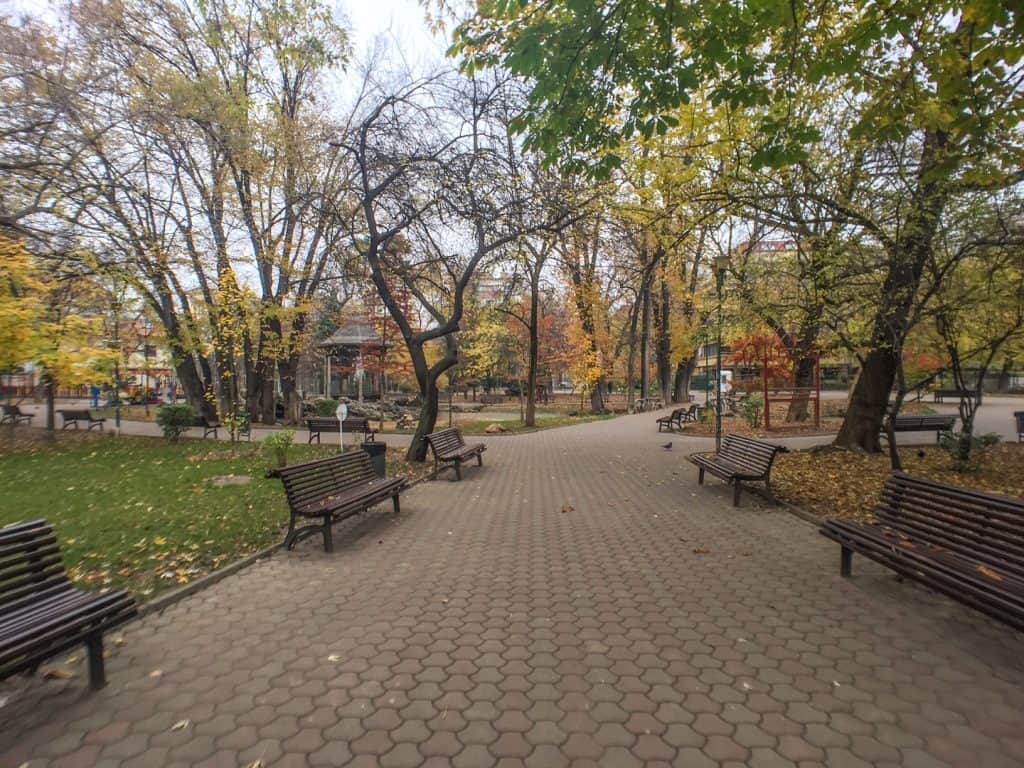 The capital city of Bucharest was the first stop on my adventure through Romania and to my delight I quite enjoyed getting to explore all the Bucharest attractions, learning about its budding culture and fascinating history.
Bucharest is a city and culture that is still finding its identity after a post-communist era. But don't underestimate this up and coming city. Get ready for your trip and explore hotel options in Bucharest now!
Bucharest has taken its Romanian traditions and blended with the architecture, pop culture, food, and language from other countries around the world.
No one building has the same style and there is always a local happy to share a bit of their city with you. Here are 12 of my favorite things to do in Bucharest but of course this isn't all!
Where Is Bucharest?
Bucharest is the largest city and the capital of Romania making it the main center of industry and culture. Romania is considered to be in Southeastern Europe and one of the Balkan countries. The country of Romania is bordered by 5 countries and the Black Sea which is about 2 hours from Bucharest.
Bucharest itself is located in the southeastern portion of Romania with the city comprised of 6 sectors. Most of the attractions in Bucharest are located in Sector 1, 3 and 5 that includes Old Town too.
Although I think the region of Transylvania deserves several days, you could make a day trip from Bucharest. 
Exploring the Best Coffee Shops in Bucharest
12 Ultimate Things To Do In Brasov, Romania
10 Fantastic Places To Visit In Transylvania
If you are flying into Bucharest, then you want to book your flights into the Henri Coanda International Airport (OTP). The airport is about 25 minutes by car to reach the center of Bucharest.
Where To Stay In Bucharest
Looking for where to stay in Bucharest? I recommend staying in the Old Town part of Bucharest, also known as "Little Paris" as it is centrally located for so many attractions. It is a charming place to grab a bite to eat at a cafe or grab a drink without having to wander far.
Do look at reviews of hotels, as there are some spots in Old Town that can get loud. For me, that is huge as I value my sleep! I stayed at two locations during my stay in Bucharest.
The first is the Europa Royale Bucharest and it was a nice place to stay, quiet and with a perfect location. An added bonus of staying here is the Luka location across the way from it!
I can also recommend staying at the Athenee Palace Hilton Bucharest which is a very elegant hotel that is brimming with so much history. It is located next to the Romanian Athenaeum and a short walk from Revolution Square.
Its history is one of intrigue as it was home to plenty of espionage where rooms were bugged and undercover spies would meet. I'd imagine this would be a place where one might see James Bond…
And if for some reason both of these hotels are booked, the Radisson Blu Hotel Bucharest is a great pick too!
When To Visit Bucharest
Bucharest is a wonderful place to visit any time of the year with each season offering a different appeal. I visited the beginning of December and the weather was great as long as I was bundled up.
Don't get me wrong, it was quite cold but no different than the weather when I lived in New York at that same time. It also explains why the sky seems overcast in most of my photos!
Weather averages between 29 F and 50 F in the winter with some rain and snow throughout the season. Although I loved getting to see areas of Romania in the snow, I would most likely go back in the spring or fall next time.
That way I can tackle more outdoor activities like hiking. The fall tends to be a little warmer than the spring averaging 76 F which is a plus and the summer crowds have dwindled.
Map Of The Top Bucharest Attractions
Trip map courtesy of
Wanderlog
, a journey planner
Best Things To Do In Bucharest
1. Take A Tour
Tours are a great way to dive into a destination to learn the layout of the city, the culture, history and of course the best places to eat. I booked two different tours in Bucharest and both ended up being the highlight of my time in Bucharest!
I was able to learn and understand the history of Bucharest which included life post-communism, superstitions, culture and above all spending time with locals. 
The first tour I took was the Alternative (Graffiti) Tour where you get to discover amazing street art, hidden gems and Buchrest's history. My guide Lala was so knowledgeable and really made me feel welcome like I was seeing the city with a friend. The tour consisted of walking throughout Bucharest to the various locations to see stunning graffiti art.
I won't spoil the tour, but you get to learn about why graffiti art is strongly tied to the ending of the communist era and about finding a voice of independence. It is a photographers dream tour (or an amateur like me)…  
The second tour was the Garlic Themed Workshop with My Secret Romania and my guide was the lovely Ioana! Ioana along with Gabriella both run My Secret Romania delivering a personable and knowledgeable travel service. Tours range from a few hours up to several days taking you to areas outside of Bucharest. 
I happened to be their first one on one workshop and am so grateful that I was able to dine with Ioana as she shared the Romanian history tied to superstitions, traditions, spirits, Dracula and of course garlic.
Both the meal and the company of Ioana were unforgettable during my stay in Bucharest. If you like garlic and learning about Romania, this shouldn't be missed!
Tip:  Book tours in advance to make sure there are no issues with getting the date you want, especially if you have limited time.
Additional Tours
Bucharest Old Town Walking Tour – This is a great walking tour that will take you through Bucharest's lovely Old Town to see the best and unique sights along with learning about Bucharest's history. This is a great tour if you want an overview of the best things to see in Bucharest.
Transylvania Full Day Trip From Bucharest – I highly recommend you spend more than a few days in Transylvania including Brasov but if you are short on time this tour is awesome! You will get to see two castles including the one associated with Dracula and the medieval town of Brasov.
Bucharest Parliament Palace – Skip the line and get your ticket ahead of time with a guided tour of the magnificent palace included!
History & Communism Walking Tour – Visit major landmarks and learn all about Bucharest's history and the role communism played in it. Perfect for those that enjoy history!
2. Palace Of Parliament
In the center of Bucharest up on a slight hill, sits the Palace of Parliament that seats the Parliament of Romania. It is such a stunning building with over the top grandeur filled with lavish ballrooms, chandeliers, art and tons of marble for what seems like it will never end.
Construction of the Palace of Parliament began in 1984 under the vision of the former communist leader Nicolae Ceaușescu. But he was later overthrown and executed before the completion of it. 
Did you know that the Palace of Parliament is the second largest building in the world after the Pentagon (US)? And the heaviest building in the world?
I recommend taking the full tour if possible. But unfortunately, at the time I visited, only the standard tour was available.
Tips: You must have a passport to get in and that is held onto during your tour. Buy tickets in advance with the Parliament Skip The Line Tour to make sure you get the day and time of your choice. Bonus is that you don't need to wait in any line!
It's worth paying an additional 30 lei to use your camera (mobile phone use is no charge). If you are staying in Old Town, it is just a 20-minute walk and worth skipping a taxi for.
3. Village Museum
If you are interested in seeing how Romanians lived in various parts of Romania, the Village Museum is a unique experience. It is an outdoor museum on the edge of Herăstrău Park and not too far from the Arc de Triomphe.
There are a few hundred structures ranging from homes, windmills, churches, and workshops that you can explore from every region in Romania (Transylvania, Oltenia, Dobrogea, and Moldavia). 
It is interesting to see how the various regions of village life in Romania lived, all in one location! Wandering through the Village Museum, one feels transported back in time to rural village life…
Tip: I recommend taking an Uber or the Metro M2 line (Aviatorilor stop).
4. Herăstrău Park
Herăstrău Park is the largest park in Bucharest, named after Herăstrău Lake which is in the middle of the park and quite beautiful to see. 
Weather permitting, Herăstrău Park is perfect for taking a stroll, riding bikes, renting a boat on the lake or grabbing some lunch.
During your visit don't forget to see the Village Museum which occupies a section of the park. Two other parks in Bucharest that are worth visiting are Cișmigiu Park and Tineretului Park.
Tip: I recommend taking an Uber or the Metro M2 line (Aviatorilor stop).
5. Arc de Triomphe
Originally built in 1878 in celebration of Romania's independence, the arch was built in stone looking very much like the style of the Arc de Triomphe in Paris. It is a bit smaller than the one in Paris but a striking sight to see.
Today it represents a symbol of independence and on December 1st which is Romania's National Day (end of communism), a military parade proceeds underneath. 
Tip: I recommend taking an Uber or the Metro M2 (Aviatorilor stop).
6. Enjoy Bucharest's Specialty Coffee
Over the past few years, the specialty coffee scene has taken off in Bucharest. To my delight, I have had the opportunity to taste the most delicious cups of coffee I have ever sipped right here in Bucharest.
The baristas all take pride in their coffee brewing and are quite knowledgeable about everything coffee related.
Who would have guessed? There are many great coffee shops, but my favorite is Origo Coffee. If you are on the hunt for finding more of Bucharest's best coffee shops, check out my post Exploring the Best Coffee Shops in Bucharest.
7. Bucharest Old Town
Old Town is centrally located in the heart of Bucharest and a great location to stay when visiting. Old Town has so much charm and one can easily see why it is called "Little Paris" with all the cafes, bars and cobblestone streets.
It is definitely the place to go if you are looking for nightlife. Bucharest's Old Town has many restaurants and bars including sky bars like Nomad Skybar that has great views of the city. 
Looking for some ancient ruins? Look no further than Curtea Veche (Old Court Church) built in the 1400's during the reign of Vlad the Impaler (aka Dracula). A church still stands among the ruins of the palace and is the oldest monument in Bucharest. 
If you're like me and love books, then head over to Cărturești Carusel which may be the most picturesque bookstore I have ever seen! Cărturești Carusel has a stark white design with spiral staircases connecting the floors.
There is more than plenty of photo opportunities to take advantage of here. Take a break at the café on the top floor as you decompress and find your next read.
Tip: If you are interested in a guided tour of Old Town, then the Bucharest Old Town Walking Tour is an awesome choice! This is tour takes you through Bucharest's lovely Old Town to see the best and unique sights along with learning about Bucharest's history. This is a great tour if you want an overview of the best things to see in Bucharest.
8. Stavropoleos Church
In the heart of Old Town, the Stavropoleos Church sits as a tranquil oasis within the loud and buzzing restaurants and cafés of Old Town. It was built in 1724 as a monastery and church but today, only the church remains.
The small church has beautiful architecture and a charming courtyard that you can visit within 20-30 mins. It is definitely worth seeing as the paintings inside are ornate and lovely. Services are at 8:00 am and 6:00 pm, so best to avoid those times if you want to go inside. 
Tip:  Free to enter, suggest going early before or after the morning service to avoid the crowds.
9. Feast On Local Romanian Food
Looking to try some authentic and delicious Romanian food? My favorites are Caru' cu Bere and Hanul lui Manuc which are both located in Old Town. Caru' cu Bere is about a block from Stavropoleos Church (heading towards Victorei Avenue) and is one of the best places to eat in Bucharest.
Hanul lui Manuc is located across from the ruins of Curtea Veche (Old Court), originally serving as an inn, opening in 1808.  
My favorite Romanian dish is Sarmale which is cabbage rolls stuffed with minced meat, served with polenta and sour cream. I am in no way a fan of sour cream but the sour cream in Romania is outstanding! Most likely because it is fresh unlike what I am used to.
For a quick and quite yummy to-go breakfast, find a Luka location to get haiducesc and covigel. The haiducesc is with melted cheese, onions, and ham that really warms you up on a cold morning. The covigel is more of a treat as it is like a pretzel filled with warm chocolate. Enough said…
10. Walk Along Calea Victoriei
Calea Victorei is a historic main street in the center of Bucharest that is a charming street to walk and see many sights. Strolling along it, you will see incredible buildings that range in various styles of architecture that provide a glimpse into Bucharest's history.
Among the eye-catching architecture and history, check out the following passages off of Calea Victorei:
Macca-Villacrosse Passage – A passage between Calea Victorei and Strada Eugeniu Carada. It is covered in yellow glass and shaped like a "U" with a passage on each side of the Pesht Hotel that sits in the center. 
The glass-covered passages were built in 1890 and have a similar resemblance to the glass covered passages in Milan and London. Along each side of the passages are lined cafes, hookah lounges, and Turkish coffee. 
Passage Victorei – You may have seen this beautiful and bright colored passage made famous by its whimsical hanging umbrellas. It seems like more and more cities are adding these cheerful hanging umbrellas to brighten up a passerby's day.
One can't help but be drawn in to take more than a few photos here. To find the location, plug into your phone the destination to Colosseum Pizza Café Ristorante and you won't miss it! 
11. Revolution Square
Walking along Calea Victorei you will come across Revolution Square. As its name implies, it is the site of the revolution and a large square that faces the Royal Palace (now the National Art Museum). It was built in the early 1930's to serve as protection surrounding the Palace in times of revolution. 
In more recent history (December 22, 1989), Revolution Square is where the former communist dictator, Nicolae Ceaușescu gave his last speech. His speech was followed by a bloody massacre of the Romanian people revolting against communism. 
He fled only to be caught a few days later and executed. December 22nd, 1989 marks the day that Romania took back its independence from communism and gained a new sense of freedom.
It is both sad and eerie to see bullet holes still present in the surrounding buildings. It is a reminder of the bloodshed that occurred that day. 
Tip: There are many buildings surrounding the square that shouldn't be missed both for the architecture and history.
12. Therme Bucharesti
Located just 20-30 mins north of Bucharest's city center, is an inviting tropical paradise! I was floored to see how big and elegant the Therme Bucharesti spa and wellness center was.
It is considered the largest spa and wellness center in Europe. This is by far one of the most fun and unique things to do in Bucharest! It consists of underground thermal water supplying 9 pools (indoor and outdoor), 6 saunas, 4 wet saunas, and 16 water slides. 
The wellness center consists of three areas: Elysium, The Palm, and Galaxy. I highly recommend getting the Galaxy Pass as it gives you access to all three areas. Get a full day pass, as time goes by way too fast with any less time!
What I like about Therme Bucharesti and what makes it stand out from other spas is that each of the pools and saunas have distinct minerals and/or essential oils that are highlighted for a particular health benefit.
To improve your experience, check the daily schedule as soon as you arrive to see the times for all activities and fitness classes.
Tip: You can go into any of the saunas at any time. But if you go at the times on the schedule, you get to experience a scrub or specific instruction from a staff member which is a bonus!
How To Get Around Bucharest
The easiest way to see all of the Bucharest attractions? Walking around Old Town is the best way to see so much beautiful architecture and daily life that would otherwise be missed.
The Metro is also quite easy to navigate and very cost effective. There are four metro lines with 53 stations to get you everywhere you need.
For areas that are a little further out, Uber is by far the easiest and cheapest way to get around if in a hurry. Just remember Uber can only be used as long as you have wifi access on your phone.
The taxi's tended to be more expensive and not consistent in pricing. Plus, programming in a destination into the Uber app is easier when someone may not speak the same language.
Although Romania is part of the European Union, almost everywhere only takes Romanian Lei. Some of the bigger hotels will take Euros, but make sure you have plenty of lei on hand.
No need to exchange before your trip, as there is an exchange at the airport as you exit customs. You can also find small exchanges in Bucharest.
Have fun exploring the best things to do in Bucharest!
Got Travel Insurance?
Don't leave home without travel insurance as you never know what might happen on a trip! It is always when you least expect it that something can go wrong like getting sick, in an accident or cancellation of some sort. Get a no-obligation quote from two trusted travel insurance companies for peace of mind on your next trip! World Nomads Travel Insurance SafetyWing Travel Insurance
Looking For More Travel Inspiration?
Exploring the Best Coffee Shops in Bucharest
12 Ultimate Things To Do In Brasov, Romania
10 Fantastic Places To Visit In Transylvania
15 Ultimate Things To Do In Dubrovnik
15 Top Things To Do In Split, Croatia
19 Amazing Things To Do In Ghent
The Best Way To Spend 3 Days In Bruges
Guide To The Best Christmas Markets In Belgium
7 Best Filtered Water Bottles For Travel And Hiking
Disclaimer: My post may contain affiliate links, which means I may receive a small commission if you click a link and purchase through that link. It won't cost anything to you to use these links but is very much appreciated. Thank you!