Disclaimer: Traveling Ness contains affiliate links and is a member of the Amazon Services LLC Associates Program. If you make a purchase using one of these links, I may receive compensation at no extra cost to you. See my privacy policy for more information.
15 Best Things To Do In Petrified Forest National Park: One Day Guide
Petrified Forest National Park might be one of the most unique and out-of-this-world National Parks. Spectacular views of mountain formations in a range of intense colors will cause you to say "wow" too many times. Use this guide for everything you need to know about visiting and the best things to do in Petrified Forest National Park!
As you are driving and walking to various areas of the park, you might question if you are on another planet.
Over time erosion of the different sediment layers has resulted in incredible rock formations in varying hues of color. The terrain is unlike any other area of the United States and beyond.
In fact, the Petrified Forest has the highest concentration of petrified wood in the world. So, when I heard that the Petrified Forest National Park was one of the least visited National Parks, I was quite shocked.
I would say that the Petrified Forest is very underrated and just as beautiful as the more popular parks but in a different way.
Petrified Forest National Park is one of those places where I attempt to capture the beauty of this remarkable landscape but pictures just don't do it justice. You have to see it in person to fully appreciate it.
You will find that there are countless turn-offs to park, jump out, and take a few photos. But below I list the top places to see in Petrified Forest National Park that are camera shot-worthy!
Where Is The Petrified Forest National Park?
The Petrified Forest National Park is located in the northeast corner in the state of Arizona.
Arizona is located in the Southwest region of the United States with Mexico bordering the south, California and Nevada to the west, and New Mexico to the east. Then north of Arizona, you have Utah.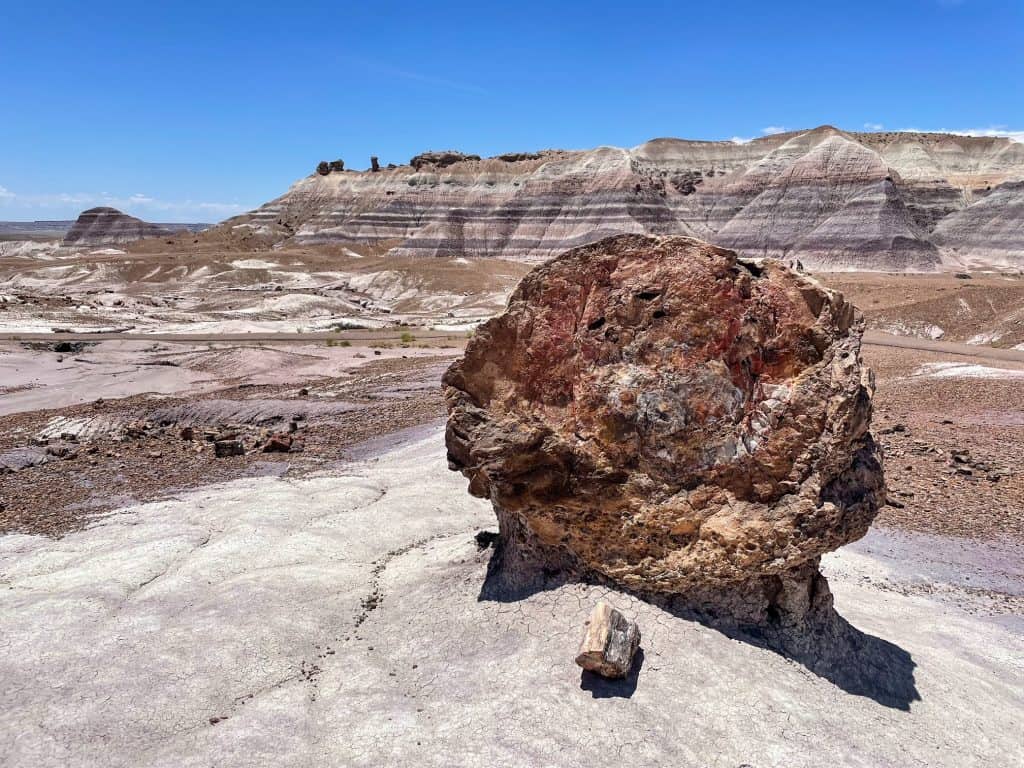 Most associate extreme heat and an arid desert but in the northern part of Arizona, it is quite beautiful with tons of forests and red rock.
The Petrified Forest is about an hour from the border of New Mexico, 3.5 hours from Phoenix, and 2.5 hours from Sedona.
Tip: If you are heading south, make a stop and explore 7 Best Ways To Spend A Perfect Day In Tucson, Arizona!
How To Get To Petrified Forest?
This is one location that you MUST have a car as it is a good distance from any major city. I visited while on an 11 state road trip passing through from New Mexico and continuing on towards California.
I stayed in Gallup, New Mexico and it took a little over an hour to reach. Below are the distances from cities you will likely be traveling from.
Gallup, New Mexico – 71 miles (114 km) or about 1 hour
Albuquerque, New Mexico – 208 miles (335 km) or about 3 hours
Flagstaff, AZ – 116 miles (187 km) or 1 hour 45 mins
Sedona – 147 miles (237 km) or 2.5 hours
Phoenix – 212 miles (341 km) or 3.5 hours
For those that are flying in from out of the area, you would want to book your flights into one of these two major airports:
Albuquerque International Sunport (ABQ)
Phoenix Sky Harbor International Airport (PHX)
Check ahead of your trip to book the best car rental rates so that you guarantee a car once you land!
How Much Time To Spend At Petrified Forest?
I recommend spending a full day but at least give yourself 4 hours at a minimum. When I visited, I got there right at opening time (8:00 am) and left in the late afternoon.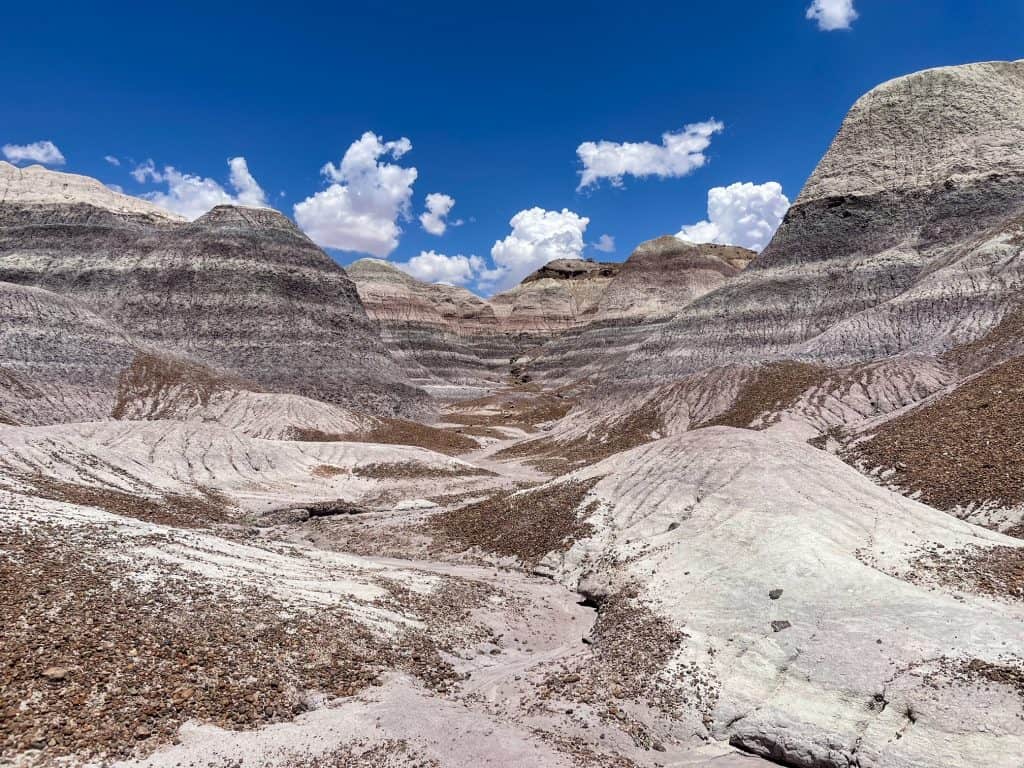 I felt spending a full day was perfect for seeing all the main attractions in the park. There are a few longer hikes that I didn't do because of the heat but if I had done them, it would have been nice to do another half day.
I did hear other visitors trying to see as much as they could in 1 – 2 hours which is hard to do. There is no way to see more than a few highlights during that timeframe.
How Old Is Petrified Wood?
You first might be wondering what the heck is petrified wood? Petrified wood is in simple terms fossilized wood.
When a fallen tree trunk gets buried, covered by water, and sediment void of oxygen the log soaks up the water and silica.
Over time this process turns the fallen tree into quartz and depending on the minerals present will reflect what colors you see. Quartz is a hard crystallized mineral made of silica.
The pieces of petrified wood you see in the Petrified Forest are from the Late Triassic Period (225 million years ago). Petrified wood doesn't happen overnight taking millions of years to occur, so when you do see it, it is old!
Yep, a time when dinosaurs roamed! Now you might not be able to imagine it standing in the hot desert but this region of Arizona was a lush tropical region ripe with nutrients for dinosaurs, fish, reptiles, and more!
Note: Please DO NOT take any pieces of petrified wood from the national park as it is illegal and subject to a fine. But you can buy a piece of petrified wood from the gift shop at the visitor center.
When Is The Best Time To Visit?
Any time of the year is great to visit Petrified Forest National Park as long as you are prepared!
Overall, the best months to visit are in the spring and fall when it isn't too hot or cold. The park is in a desert so the winters can be very cold and the summers extremely hot.
The month I would definitely avoid is August as it gets the most rain of any month and it is VERY hot!
I visited at the beginning of July and the heat made it a little challenging to enjoy myself but having tons of water was key. Plus, a cooler with plenty of ice!
In July the temperature was about 98 F, so walking out in that level of heat can tucker you out quickly.
That said I tried to see as much as I could right when the park opened to avoid the heat. I still had a great time and loved seeing this rather unique landscape!
The low and high-temperature ranges for each season are:
Winter (Dec, Jan & Feb) – From 21 F to 49 F with some chances of snow.
Spring (Mar, Apr & May) – From 30 F to 72 F.
Summer (Jun, Jul & Aug) – From 52 F to 98 F with July and August having the most rain.
Fall (Sep, Oct & November) – From 30 F to 85 F.
Petrified Forest National Park Hours
The Petrified Forest National Park is open every day of the year except Christmas (Dec. 25th) from 8:00 am to 5:00 pm.
Before and after that time, the gates are closed. The Painted Desert Visitor Center is also open from 8:00 am to 5:00 pm.
When passing through the gates, you will be required to pay $25.00 per vehicle and $20.00 per motorcycle, both good for 7 days.
Or if you have an America The Beautiful Pass, then your entry is free!
America The Beautiful Pass is good for 1 year and includes admission into over 2,000 federal recreation sites including national parks, national forests, and national monuments.
If you know you will visit at least three parks or forests in a year it is more than worth getting America The Beautiful Pass. On this one road trip, I was able to use it at 6 different locations and plan to use it the rest of the year!
Note: Remember to check the time as Arizona does not observe Daylight Savings Time. All year they are on Mountain Standard Time (MST).
Tip: If you are looking for more info on getting a pass, what it covers, and how to use it, read America The Beautiful Park Pass: Is It Worth Getting For Your Trip?!
Hotels Near Petrified Forest
There are no hotels or accommodations within Petrified Forest National Park itself. The closest cities that have good hotel options and allow you to get an early start for visiting the park are:
Wigwam Motel (Holbrook, AZ) – I would love to stay here next time, only 30 mins to the park! See the photo above for the cute tepee accommodation!
Springhill Suites Gallup – I stayed here and would recommend it!
DoubleTree by Hilton Hotel Flagstaff
Courtyard by Marriott Flagstaff
Camping Near Petrified Forest National Park
There is no camping via a tent, RV, or trailer in Petrified Forest National Park. You can get a permit to do backcountry camping but it must be at least a mile from the parking area.
So, unless you really don't mind not having any amenities, water, or restrooms, I wouldn't advise this option. The closest campground to the Petrified Forest, is the Holbrook/ Petrified Forest KOA campground which is about 30 minutes west.
A few other campground options are:
Canyon de Chelly National Monument – 1.5 hours away
Blue Water State Park – 1.75 hours away
El Morro National Monument – 2 hours away
Tips For Visiting Petrified Forest National Park
Number one thing to remember is that this is a desert and you want to stay hydrated, carrying plenty of water!
Keep your water cold in this reusable water bottle or in a filtered water bottle.
Temperatures in the summer months can reach well above 100 F so go very early or late in the day on hot days.
Make sure to wear comfortable shoes as you will be doing a lot of walking.
Carry a backpack with your water, snacks, and other hiking essentials.
Use a collapsible travel cooler to keep water and any food cold! Another cooler I like for road trips but not for plane travel is this rockstar cooler that keeps things cold for days.
Upon entering the National Park, you will get a map of the area to use while visiting.
If you have an America The Beautiful Pass, your entry is free!
As tempting as it might seem, DO NOT remove any petrified wood or anything else from the park.
Stay on designated trails and avoid walking on or damaging in any way structures or petroglyphs.
In case you encounter a sudden rainstorm, carry this compact travel rain jacket.
Pull out this awesome light travel tripod to assist in capturing your photos!
Map Of Petrified Forest National Park Stops
Things To Do In Petrified Forest National Park
1. Painted Desert Visitor Center
The Painted Desert Visitor Center is the first thing you will see right before you enter the gates to Petrified Forest National Park.
I highly suggest you pull in for a few reasons. The first is that they have rangers at the visitor center that can answer any questions regarding the park or its history. You can also grab a map to take with you and watch the 18-minute film.
Or you can shop the gift shop area for any souvenirs and books you want to take home with you. Next door to the visitor center is a restaurant and the second main reason you should stop here.
Throughout the national park, there is no water, food, or gas. So, if you didn't plan ahead grab some food, snacks, and plenty of water.
After leaving the visitor center, you will enter the gate where you can either pay a one-time fee or show your America The Beautiful Pass to enter for free.
Tips: I would recommend getting gas before you reach the Petrified Forest as even though there is a tiny gas station you will likely pay more.
Once you enter the park, there is only one road which makes it easy to navigate. You can go as far as you want and then turn around and return the same way.
2. Tiponi Point
As you leave the visitor center behind and enter the Petrified Forest, one of the first places you can stop is Tiponi Point.
Tiponi Point has a wonderful view and is a nice welcome to this rugged yet captivating Painted Desert landscape. Here you will look out to catch your first glimpse of what makes this National Park so popular.
Off in the distance are mounds or hills in various shades of red, brown, orange, and pink looking as if they were painted.
The different colors are due to varying sediments and whether they were exposed to oxygen or not.
For example, the rust-colored segments are from dry periods where the minerals were exposed to oxygen. Whereas areas that were wet with a lack of oxygen will display blue, grey, and purple colors.
You will likely see people pulled over but expect to see the Tiponi Point overlook ½ mile from the entrance. The Hopi Indians refer to "tiponi" as a sacred object held on to by a leader such as a chief.
3. Tawa Point
Continuing on from Tiponi Point, the next place to park is Tawa Point. Tawa Point has much of the same landscape as the previous stop but from a different vantage point and richer shades of colors.
You will notice more sections in a deep rust color and two different trailheads if you feel like stretching your legs.
You can take the 1-mile roundtrip Painted Desert Rim Trail that leads through a pinon-juniper shrubland on a volcanic rock to the Painted Desert Inn.
The other trail is the Tawa Trail that is 2.0-miles roundtrip taking you through grasslands. The Tawa Trail connects to the Painted Desert Rim Trail.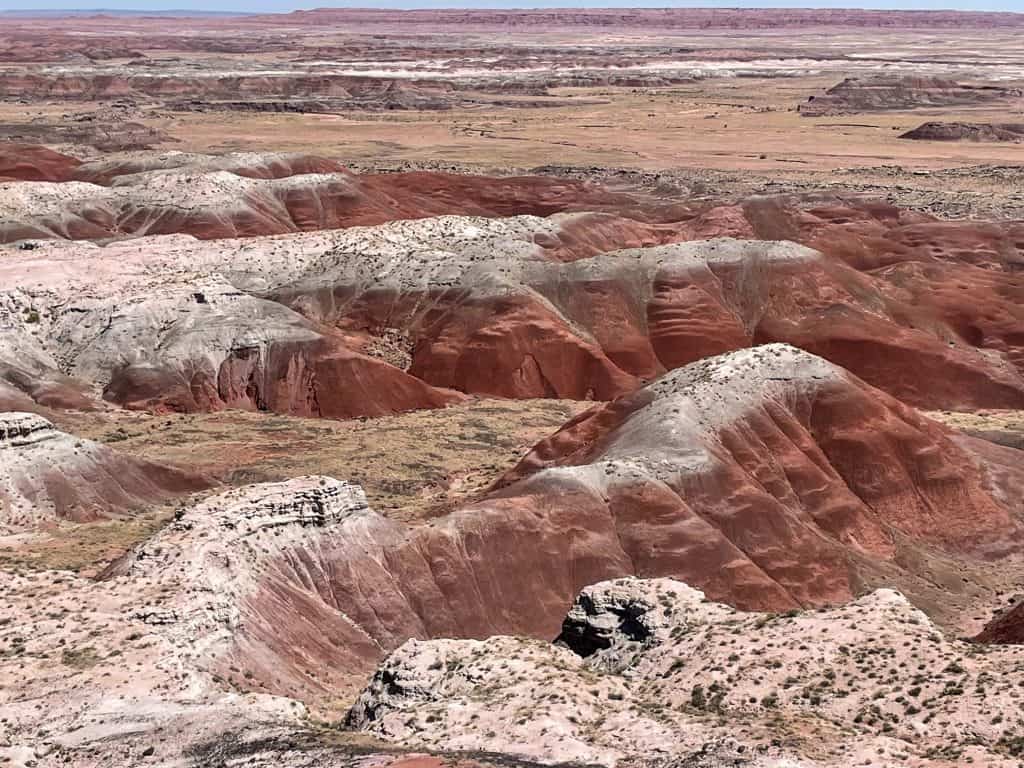 If you look in the direction opposite from where you came, you will see the Painted Desert Inn out in the distance on a beautiful point.
Note: The Hopi Indians believe that Tawa represents the Sun Spirit or the creator of the world.
4. Painted Desert Inn
So contrary to its name, the Painted Desert Inn is not an inn. Years ago, it did have some accommodations but today the Painted Desert Inn is actually a museum.
The original building of the Painted Desert Inn in the 1920s was made of petrified wood with updates to it in the 1930s.
At one point in the 1940s and 1950s, there were rooms and food for travelers passing through on Route 66, but not anymore. In 1987, it became designated a National Register of Historic Places and a National Historic Landmark in 2006.
Today the Painted Desert Inn preserves its history with a museum, exhibits, and a bookstore for visitors.
If you walk down the path past the inn, you will be looking out from Kachina Point. As with the previous stops, you get sweeping views of the Painted Desert in shades of light to dark red that is incredible to see.
Note: At the time of my visit and date of this post, The Painted Desert Inn is temporarily closed.
5. Pintado Point
As you make your way to Pintado Point, you will be able to take in a 360-degree view of the Painted Desert and the surrounding landscape.
The name is Pintado means "painted" in Spanish and is quite appropriate for the vibrant shades of red and orange colors that look freshly painted.
Looking way out into the distance from Pintado Point you can see Pilot Rock (6,234 feet), the highest point in the national park. Where you stand is one of the higher elevation points and why the views are so good.
After leaving Pintado Point, you will gradually begin to drop in elevation towards the next stops on the list.
6. Painted Desert Overlooks
Next up after Pintado Point are three smaller places to pull over that are close together and are known as the Painted Desert Overlooks.
The three overlook points are Nizhoni Point, Whipple Point, and Lacey Point. All of these have similar viewpoints but if you love to take photos, you will appreciate the slightly different view from each!
At each stop, you can clearly see where the Bidahochi Formation and the Chinle Formation meet. Each formation represents a different time period and unique sediments from that time.
The Bidahochi Formation sits above the Chinle Formation and ranges in age of sixteen to four million years old.
The Chinle Formation on the other hand is between 205 and 227 million years ago. Over time volcanic eruptions displaced basalt layers on top of each formation preserving them.
Most of what you see at the Painted Desert Overlooks is from the Chinle Formation with the top section from the Bidahochi period.
7. Route 66 & Old Studebaker
The famous Route 66 went right through the Petrified Forest National Park. That was when it was the main and only road from Chicago, Illinois all the way to Santa Monica, CA running through eight states.
Once you see the old 1932 Studebaker car, that marks the section where Route 66 crossed through.
The lone car may show signs of its age including missing tires and windows but it is still a classic nod to the iconic Route 66 in its heyday.
Route 66 introduced road travel to people that might never have had the opportunity to visit another state along this route. It was considered the "main street of America".
What makes this stop interesting is that this is the only National Park where Route 66 passed through. At one point there was even a tower you could climb and a small zoo with lions but those are both long gone…
8. Puerco Pueblo
After leaving Route 66 behind, the road continues down past I-40, and right after the Puerco Riverbed, and on your left is Puerco Pueblo.
Puerco Pueblo is the first set of structures or remains you will see in the park that are remnants of a village from the 14th century.
Today, you will see outlines or bases of structures rather than completed homes. All homes and kivas (underground rooms) were made of sandstone blocks around a large plaza.
The only way you could get into the village was up a ladder and over the wall. At its peak, it is estimated that around 200 people lived here.
Due to changes in the climate, they were forced to move to other areas that had a more viable environment.
Another piece of evidence of those that lived here many years ago is petroglyphs. Petroglyphs are primitive drawings or rock carvings using a chisel or hammerstone.
There is a short 0.3-mile loop trail that takes you past a number of rocks with petroglyphs and remains of housing structures.
9. Newspaper Rock
A few minutes after Puerco Pueblo and on your right-hand side is the next turnoff to Newspaper Rock. I was originally wondering how in the world is there a rock shaped like a newspaper.
But I was wrong, it isn't named after its shape or even one rock but for the hundreds of petroglyphs that cover many rock faces.
These petroglyph images reflect the Puebloan people's hunting, farming, and all ways of life.
Although there were no newspapers or writers back then, you could see that with so much writing in one area, it could read like a newspaper. You get all the info you need in one place!
There is a good-sized parking lot and a walkway that leads you out to a point where you can look down and see the ancient petroglyphs. Of any area, Newspaper Rock has the most petroglyphs to be found within Petrified Forest.
10. The Tepees
I'm not sure why but The Tepees are one of my favorite things to see in the Petrified Forest National Park. That is after the Blue Badlands that are coming up next!
The huge mounds of sediment look like tepees and it is the first glimpse of the blue and purple hues along with red and grey colors.
These tepee-like mountains are a treat to see after driving through the previous flat section. The sediments that you see here are from the Chinle Formation that is a little over 200 million years old.
Years of erosion left these tepee-shaped mounds that make for the perfect photo backdrop. There is a pullout where you can park and take photos of this incredible stretch of road.
Note: A tepee is a conical-shaped tent made of canvas, cloth, or buffalo skins that served as housing for Native American Indians.
11. Blue Badlands
Officially this stop is known as the Blue Mesa but most will refer to it as the Blue Badlands for its vibrant blue, purple, and grey hues that are mesmerizing!
If you have visited South Dakota, then you are familiar with the Badlands there that are in shades of reds and oranges.
From the Tepees, continue until you see a road on your left. Take this road to the jaw-dropping Blue Mesa. If you are very short on time, make this stop the one you don't miss!
The blue and purple colors you were introduced to at the Tepees was just a taste of what is to come! I thought I couldn't be more impressed after seeing the Tepees but the Blue Badlands has a wow factor times ten!
The road to Blue Mesa is about 5 miles roundtrip forming a loop and taking you up along the top of Blue Mesa. Because you are high up, every place you pull over to take a photo is a prime viewpoint.
In every direction, you see striations of various colors primarily in blue, purple, and grey. It is unreal to see these colors on such a large scale and 360-degrees around you.
Blue Mesa Trail
There are several spots to stop and take in the breathtaking views before rounding the loop. As you come around, you will see parking for the Blue Mesa Trail which is a 1-mile loop down among the Blue Badlands or Blue Forest.
Of all the trails, the Blue Mesa Trail is the best hike in Petrified Forest National Park!
Due to the heat, I thought this hike was challenging mainly the first and last section because you start off heading down a steep incline. And that means at the end, you have to hike back up a steep hill to get to your car!
There is no shade, so bring plenty of water and know your own physical abilities. Once the trail flattens out, it is fairly flat as you make your way around admiring the different conical formations in blues and purples.
You will also notice large pieces of old tree stumps that are now petrified wood. Once you get back to your car, there is a turn-off a little further that gives you a birds-eye view of where you just walked!
Note: Dogs are welcome on the trail but must be on a leash. Also, make sure to clean up after your dog.
12. Agate Bridge
Once you are back on the main road, you will reach Agate Bridge shortly on the left-hand side. The Agate Bridge is a piece of petrified wood that has fallen and looks like a natural bridge.
Spanning 110 feet (34 m) long and 4 feet in diameter it crosses over a gully to form a bridge. It is one large piece of petrified wood that now has concrete support to aid it.
If you see old photos, you will notice that people used to stand out on it. You can no longer do that in an attempt to preserve it for several more generations. Once parked, it is a short walk to see the Agate Bridge!
13. Jasper Forest
Jasper Forest is close by to Agate Bridge but on the opposite side of the road. As its name alludes to, Jasper Forest was indeed a forest!
Although hundreds of years have passed since trees stood tall, you can see a high concentration of fallen trees in the form of petrified wood.
If you are up for some walking, you can take the 2.3-mile (4 km) roundtrip Jasper Forest Trail through countless pieces of petrified wood.
The trail takes you on an old 1930s road where the road is barely evident today. This was the only stop I skipped as the heat was kicking my butt, but you can easily add this into a one-day visit.
If you are wondering why all the petrified wood you see looks as if someone took a chainsaw and cut smaller segments of one big tree?
Although petrified wood feels as hard as granite, it is very brittle. Over time due to weather and erosion, the large tree trunks would snap resulting in several smaller pieces scattered about.
14. Crystal Forest
In contrast to Jasper Forest, Crystal Forest has a paved and well-defined 0.75-mile loop trail that takes you through a "forest" of petrified wood sprinkled all around this one area.
There are plenty of signs explaining in detail what the terrain looked like millions of years ago. The lush forest that once stood here would be comparable to the lush forests found in Costa Rica.
There would also be several types of animals roaming including dinosaurs! Although it would be cool to see a dinosaur, I think I would be too freaked out to leave the car…
When looking at some of the petrified wood, you can feel the hard quartz the wood has turned into and see the different minerals present sparkling.
Fun Fact: If you were wondering whether all the petrified wood you see is of one type of tree, they aren't. There is a diversity of trunks from about a dozen types of trees.
15. Long Logs & Agate House
At Long Logs and the Agate House, you can take a 2.6-mile roundtrip trail to see both of these sites.
As you make your way onto the trail, you first encounter the section known as Long Logs. As its name implies, there is a high concentration of long logs of petrified wood here.
After you have viewed the Long Logs, keep going until you reach the Agate House. The Agate House is an ancient Pueblo estimated to be around 700 to 1000 years old.
What makes the Agate House so interesting to see is that the house is made of petrified wood! It makes sense that Puebloans would use resources that were near them.
It is believed that this was once a home of eight rooms likely for one family. The house is partially reconstructed to provide a visual of what it once looked like when in use.
Note: Only the first ½ mile of the trail is paved. After that, it is a slightly rough surface not really suitable for strollers and wheelchairs.
Is It Worth Visiting Petrified Forest?
Yes! I am still shocked that until this trip I had never heard of the Petrified Forest. And yet it is one of the coolest National Parks I have ever visited.
It is a little further out to get to but so worth the drive. If you are ever passing through Arizona or anywhere near here, make the stop as you won't regret it!
Have an incredible time exploring the best things to do in Petrified Forest National Park!
Got Travel Insurance?
Don't leave home without travel insurance as you never know what might happen on a trip! It is always when you least expect it that something can go wrong like getting sick, in an accident, or cancellation of some sort.
And when out hiking, a slip can quickly become a twisted ankle or possibly worse. Get a no-obligation quote from two trusted travel insurance companies for peace of mind on your next trip!
Looking For More Travel Inspiration?
7 Best Ways To Spend A Perfect Day In Tucson, Arizona
America The Beautiful Park Pass: Is It Worth Getting For Your Trip?
7 Amazing Places To See Giant Redwoods In Northern California
How To Spend The Best Weekend In Albuquerque
15 Best Things To Do In Santa Fe, New Mexico
11 Top Things To Do In White Sands National Park For First Time Visitors
10 Best Things To Do In South Dakota
7 Best Filtered Water Bottles For Travel And Hiking
Perfect 3 Day Weekend In San Antonio Itinerary For First Timer's
Disclaimer: As an Amazon Associate and a participant of other affiliate programs, I may earn from qualifying purchases in this post. This means that if you make a purchase through one of these links, I might receive a commission at no extra cost to you. Thank you and it is greatly appreciated!