Disclaimer: Traveling Ness contains affiliate links and is a member of the Amazon Services LLC Associates Program. If you make a purchase using one of these links, I may receive compensation at no extra cost to you. See my privacy policy for more information.
15 Best Things To Do On Dauphin Island, Alabama
Dauphin Island is the perfect island getaway lined with ivory white sand and azure waters of the Gulf Coast. For a small island, there are more than enough things to do on Dauphin Island, Alabama to keep you busy!
If you are like me, you most likely had no clue that Alabama has gorgeous beaches let alone a number of barrier islands off of its coast.
Although there are several Alabama barrier islands, most of them you can't visit. Dauphin Island is the largest one you can travel to and has the most activities on it.
Whether you visit for the day or a long week, there are many fun Dauphin Island attractions to discover with most outside in nature!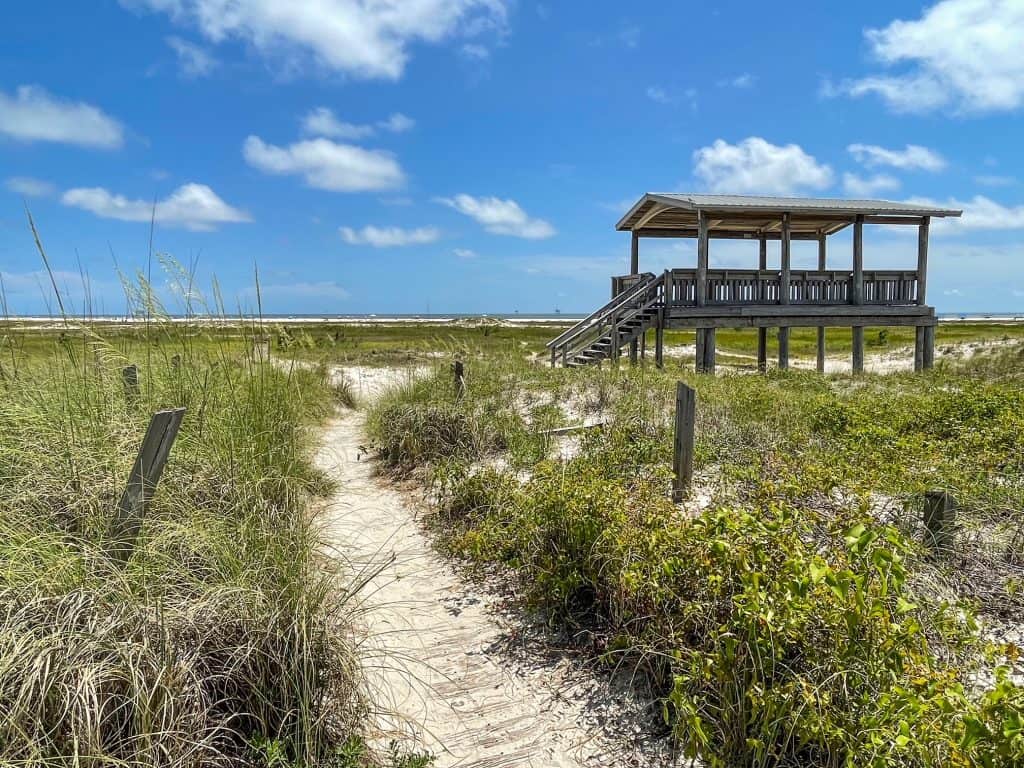 Dauphin Island is a tranquil and quiet escape in paradise where you can completely unwind away from the hectic pace of the mainland. Imagine powder white sand and plenty of space to yourself…
And in case you were wondering, I did not misspell Dauphin! It is the French spelling for "dolphin" and was named after the "dauphin" or heir to Louis IV of France when it was established in 1699.
Today it is a quaint beach community with rows of elevated beach houses, nature walks, golf, camping, and ancient oak trees.
It is an easy and fun island to explore with almost everything off of the main road of Bienville Blvd that runs the full length of Dauphin Island. Ready to explore this Alabama hidden gem?
Where Is Dauphin Island?
Dauphin Island is a barrier island off of Alabama's Gulf Coast and part of Alabama in the United States. Located just 3 miles off of mainland Alabama, Dauphin Island is a fabulous destination to visit.
Directly 45 minutes south of Mobile, Alabama is Dauphin Island separated by Mobile Bay. On the other side of Dauphin Island is the Gulf of Mexico.
Dauphin Island is a long and skinny island stretching 14 miles long and a little less than 2 miles at its widest section. Most of the attractions on Dauphin Island are in the center and eastern side of the island.
Before or after your stay on Dauphin Island, head over to nearby Orange Beach! You could easily visit Dauphin Island from Orange Beach on a day trip too.
Read: 17 Fun Things To Do In Orange Beach, Alabama On Your First Visit!
And if you plan to head up to Northern Alabama, discover:
7 Amazing Waterfalls In Alabama That Will Take Your Breath Away
25 Best Things To Do In Birmingham, Alabama You Don't Want To Miss
How To Get To Dauphin Island
Yes, you can drive or take the Dauphin Island Ferry depending on which direction you are coming from.
If you are coming from Mobile, Alabama or the coast of Mississippi, the easiest way to get to Dauphin Island is to drive over on the 3-mile Dauphin Island Bridge.
I took the bridge when I left the island and the drive was so beautiful and scenic! On the flip side, I took the ferry to Dauphin Island as I was coming from Orange Beach, Alabama.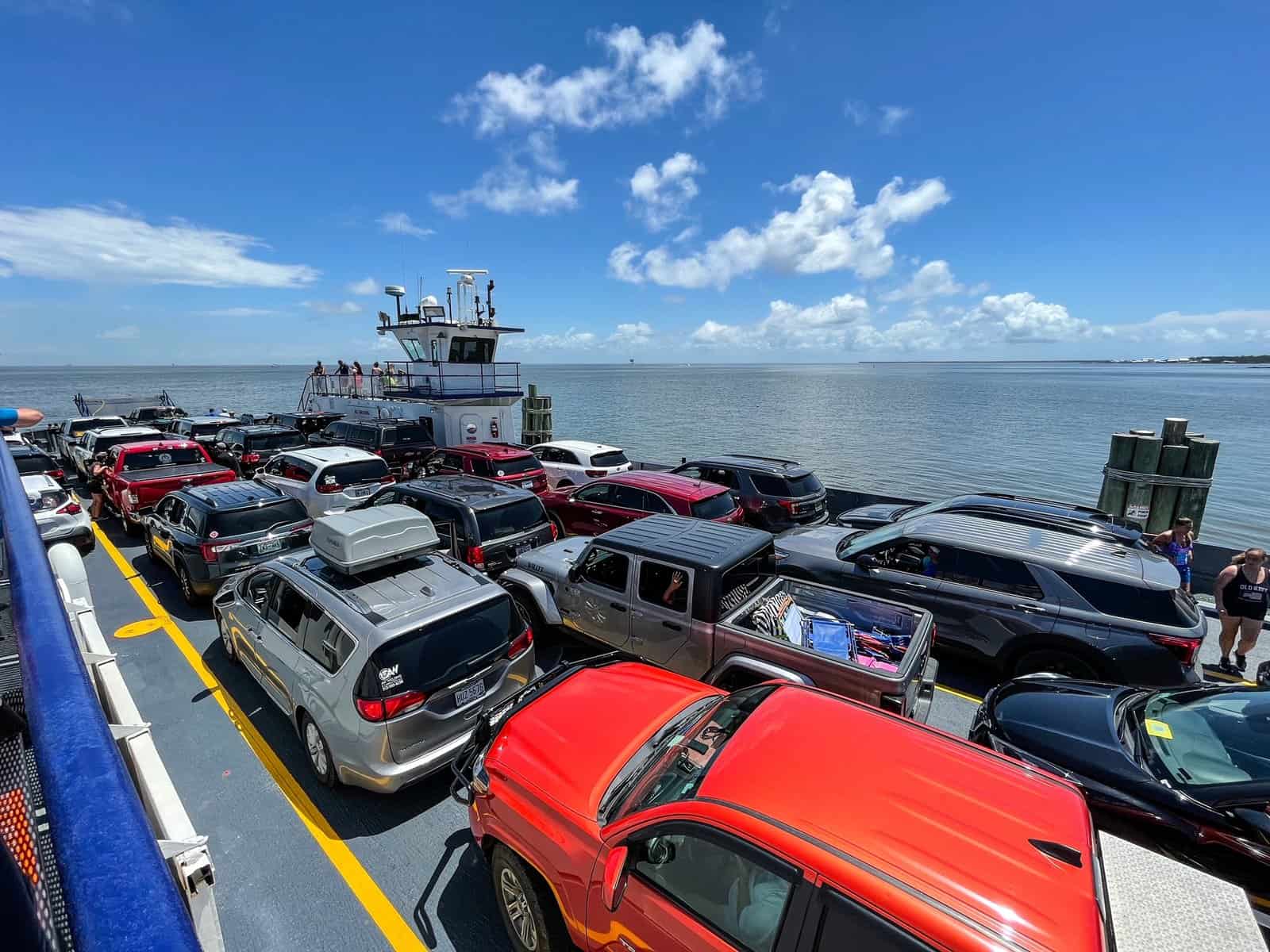 After visiting Orange Beach, I toured Fort Morgan and took the ferry from Fort Morgan over to the ferry dock on Dauphin Island. It was super cool to drive my car up and onto the ferry.
Once all the cars and people walking onto the ferry were loaded, I was free to exit my car and go to the top of the ferry to enjoy the ride with the ocean breeze in my face…
The ferry between Fort Morgan and Dauphin Island takes about 40 minutes. You can take the ferry in either direction but during peak summer days the wait can get long so get there about 30 minutes before the ferry is scheduled to take off.
Note: The Dauphin Island ferry schedule will vary depending on the time of year and weather conditions so check ahead to get the current ferry times.
Cost: Once you get to the ferry dock there is a booth where you can buy your ticket. Vehicles with driver are $18.00, additional persons in a car are $6.00, pedestrians are $6.00 and kids under 6 are free.
Tip: If you are thinking of visiting Mobile but not sure what to do, explore 21 Fun Things To Do In Mobile, Alabama On A Weekend Getaway!
Hotels on Dauphin Island
You won't find huge resorts or chain hotels but there are a handful of charming hotels and B&B's along with beach rentals to stay at on Dauphin Island. Here are a few to choose from:
Camping on Dauphin Island
Taking your RV or tent out on a road trip with you? And like to slow down for a few days or even a week? There are some great camping options on Dauphin Island where you can wake up steps from the beach!
The Dauphin Island Campground is on the eastern side of the island in a small forest between the ferry docks and Pelican Point Beach. The Audubon Bird Sanctuary is steps away too!
Pelican Nest RV Resort & Campground
The Pelican Nest Campground is located across from the Dauphin Island Public Beach and doesn't have as much as far as trees go but a good location close to the beach.
Best Time Of Year To Visit
You can visit Dauphin Island year-round but if you are looking for optimal weather then plan for March through the end of October.
From spring through fall the temperatures will be warm to really hot allowing for great beach days and swimming in the ocean.
During the summer months of mid-June through August will have the hottest months and lots of humidity. But if you are near or in the water it isn't too bad!
Be aware that during the summer months there are chances of tropical storms and hurricanes but most of the time the weather will be great. Since you never know when storms can hit, check the weather in advance and consider getting travel insurance.
During the winter months, the temperatures are much cooler but still pleasant to take advantage of and there are fewer people on the island!
Winter temperatures will range from 48 F to 63 F (9 C to 17 C) and in summer you can expect temperatures to be anywhere from 83 F to 90 F (28 C to 32 C), plus humidity…
Is There Parking On Dauphin Island?
When I was planning my trip to Dauphin Island, I wasn't sure if there were ample places to park my car if I drove it over. Being that it is a smaller island I didn't want to get there and not have places to park as I was touring the island.
Luckily there is parking at the beaches, at restaurants, and all the attractions on Dauphin Island that I list here. So, if you are driving don't worry about bringing your car!
In fact, the best and easiest way to get to Dauphin Island will require having a car whether you come by bridge or ferry. If you will need a car, search for the best car rental rates and book it today!
Note: At some places such as Dauphin Island Public Beach you do need to pay for parking. Most places are free thankfully.
Beach Trip Essentials
Map Of Dauphin Island Attractions
Best Things To Do On Dauphin Island
1. Dauphin Island Beaches
Being an island, there is no shortage of beaches on Dauphin Island! In total there are 17 miles of beaches to choose from but there are a few that stand out and are worth visiting.
If you are arriving by ferry, you are just a short drive or bike ride over to Pelican Point Public Beach. Sometimes referred to as the East End beach as it is the most eastern point of Dauphin Island.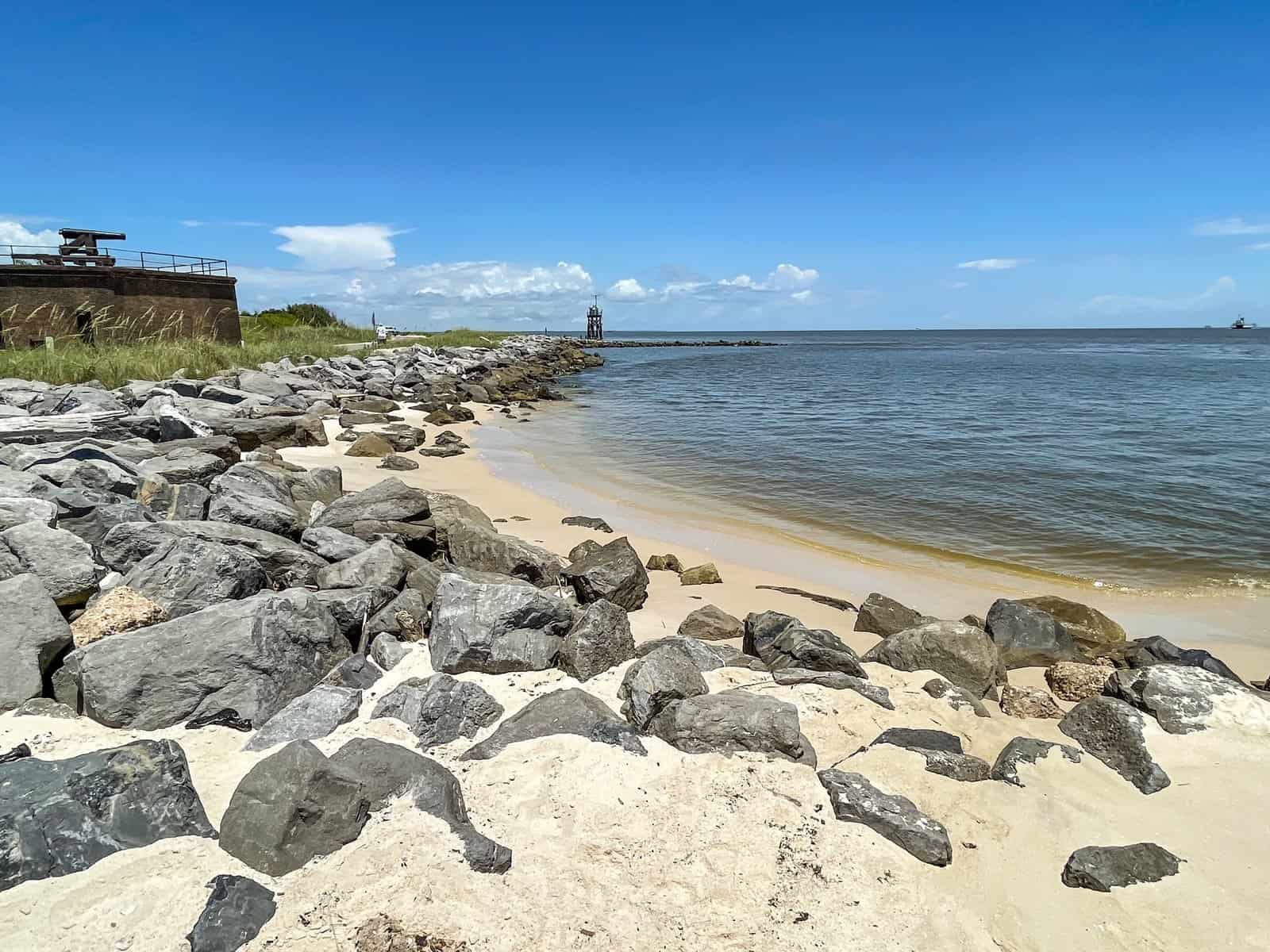 The water is crystal clear and so inviting with its warm temperatures requiring a swim!
The main beach to visit and the biggest is Dauphin Island Public Beach. It sits on the southern side of the island facing the Gulf of Mexico. There is a fee of $5 to park but if you plan to spend the day at the beach it's not bad.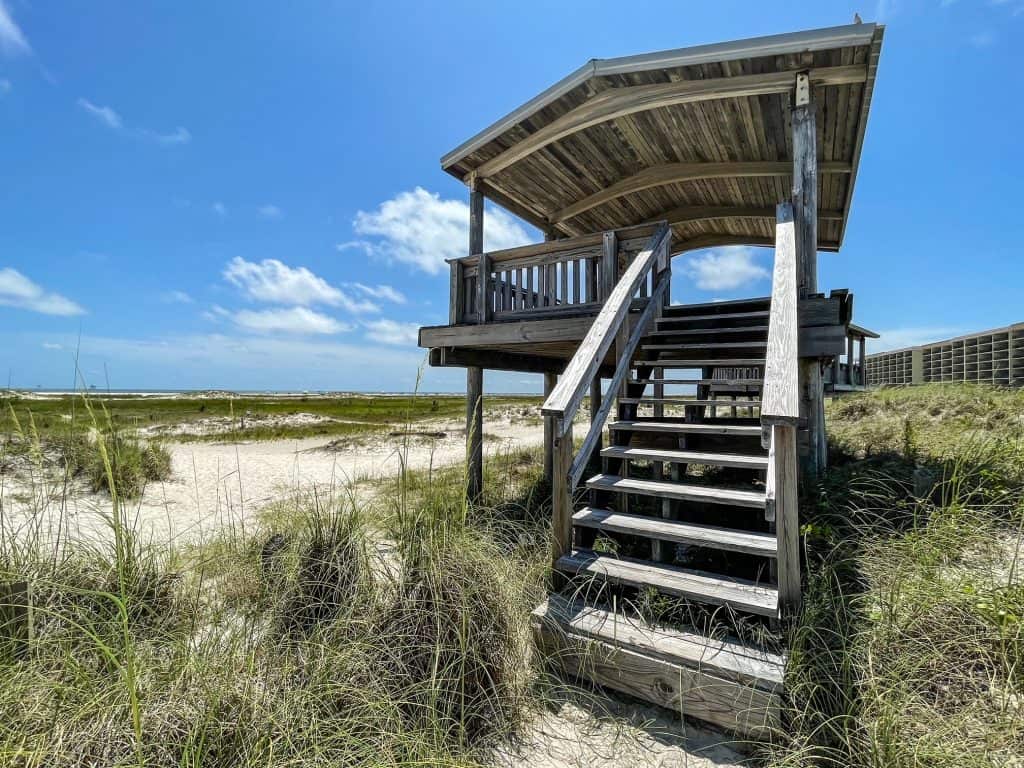 To access Dauphin Island Public Beach from the parking lot, you do need to walk about 5 – 10 mins before you are on the actual beach. But it is a pretty walk out along the pier boardwalk, then down the steps at the end, finally reaching the beach.
There are a few other trails you can take but most head out using the elevated boardwalk of the Dauphin Island Pier.
Another gorgeous beach is the West End Beach located yes at the west end of the island! It is a gorgeous beach that has picnic tables, beach chair rentals, and a pristine coastline.
Even though the beaches on Dauphin Island don't get too crowded most of the time, you will see fewer people at West End Beach.
There are several other beaches around the island but these three stand out and are the most accessible for visitors.
2. Dauphin Island Pier
As mentioned above, the Dauphin Island Pier is located at Dauphin Island Public Beach and is an 850-foot pier or boardwalk. Typically, when you think of a pier, it is out over the water…
But the Dauphin Island Pier is more of a boardwalk than a pier as it is currently elevated above land. Well, a combination of sand and a marshy area really.
Previously a fishing pier, the area is now dried up and leads out to the beach due to changes in the shoreline.
It makes for a scenic walk out to the beach with spots to sit down and enjoy the ocean views. At the end of the pier, steps have been added to lead you out onto the beach.
Keep that in mind if you have a wagon or stroller as you will need to get it down the steps! To access the pier, you use the same parking lot as the Dauphin Island Public Beach which is $5 for the day.
Address: 1551 Bienville Blvd, Dauphin Island, Alabama 36528.
3. Explore Fort Gaines
At the eastern tip of Dauphin Island and facing Fort Morgan on the mainland peninsula is Fort Gaines. For over 150 years, Fort Gaines has protected Alabama and the entrance to Mobile Bay up until 1946.
The fort played an important role in the Battle of Mobile Bay in 1864 along with Fort Morgan across the way. Both Fort Morgan and Fort Gaines served to shield the entrance to Mobile Bay from any potential attacks.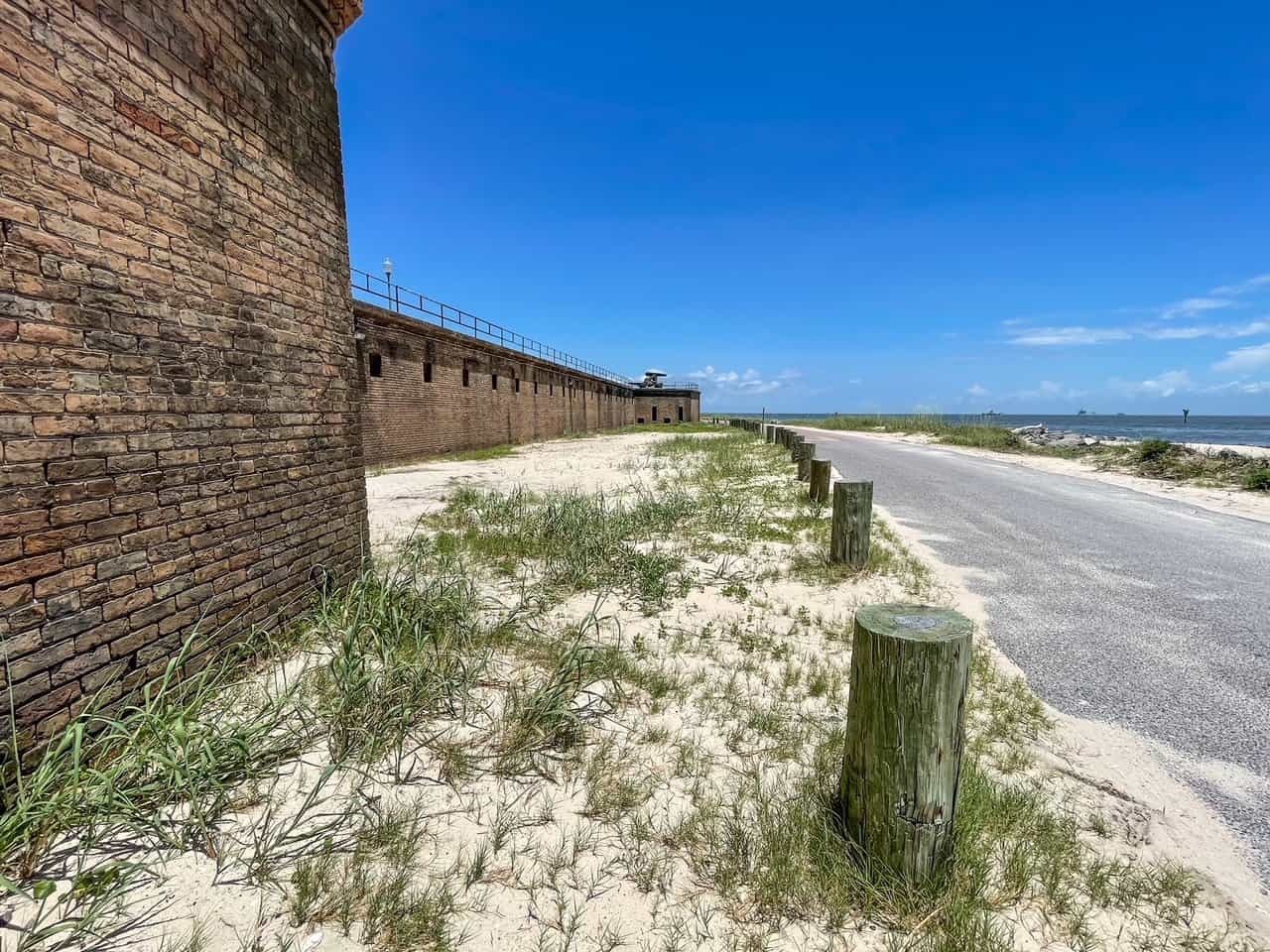 Fort Gaines may be most widely known for the quote of Union Admiral David G. Farragut "Damn the torpedoes! Full speed ahead!".
Of any fort I have seen, I think Fort Gaines might have the prettiest location just steps away from an idyllic beach that has water so clear and refreshing.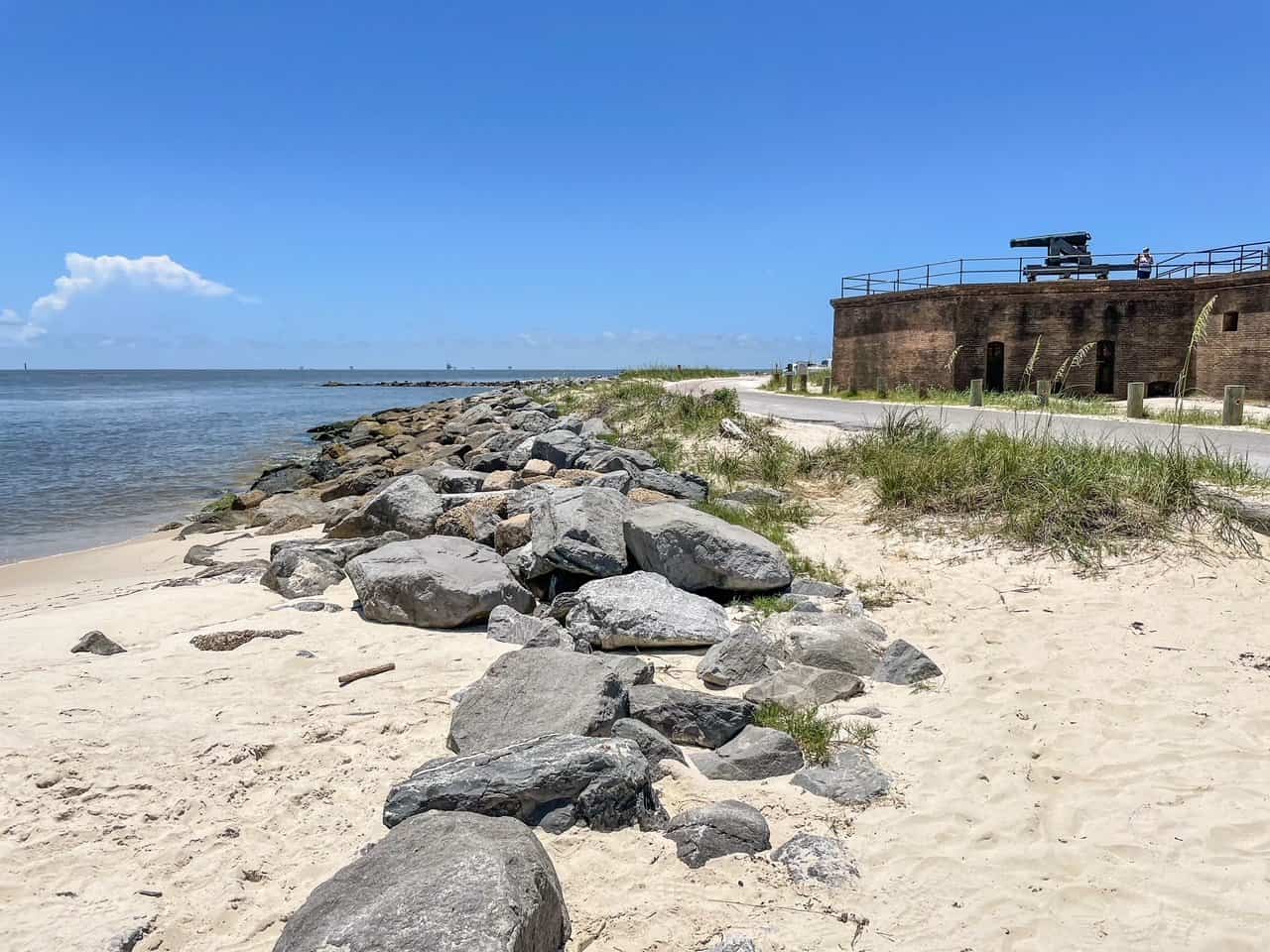 I enjoyed the views on the outside of the fort the most. Capturing the cannons sitting high up on the walls looking out over the Gulf of Mexico is an impressive sight!
Sadly, the receding shoreline over the years has made Fort Gaines under the category of an endangered historic site.
Address: 51 Bienville Blvd, Dauphin Island, Alabama 36528
Hours & Admission: Open daily from 9:00 am to 5:00 pm. Admission is $9.00 for adults and $5.00 for kids (5 – 12).
4. Estuarium At Dauphin Island Sea Lab
Across from Fort Gaines on Bienville Blvd is the Estuarium at Dauphin Island Sea Lab. The Sea Lab is an aquarium, research, and education center that focuses on the four main habitats found in coastal Alabama.
The four habitats are the Northern Gulf of Mexico, the Barrier Islands, Mobile Bay, and the Mobile Tensaw River Delta. These four habitats make up the 4th largest estuary system in the United States.
The various aquarium exhibits offer views on how local species live in their natural habitats. There is a stingray touch pool and living marsh boardwalk in addition to the many ways to learn about the fascinating habitats surrounding Dauphin Island!
Address: 102 Bienville Blvd, Dauphin Island, Alabama 36528
Hours & Admission: Open daily from 9:00 am to 5:00 pm. Recommended to purchase tickets ahead of time online. Adults are $12.00, Kids (5 – 18) are $6.00 and Seniors are $10.00.
5. The Lighthouse Bakery
If you are staying overnight, get a morning start with a great cup of coffee and an awesome breakfast, or pastry at the Lighthouse Bakery.
From cinnamon rolls, Danishes, and muffins there is a sweet baked good that will likely put a smile on your face.
The inviting bakery is inside an old 100-year-old house that feels very cozy and what you might see in your own gramma's house!
If you would rather have a savory breakfast than sweet pastries and cinnamon rolls, you can order up an omelet on Sundays. For lunch swing by and pick up a hoagie sandwich to go and take for a picnic at the beach!
Address: 919 Chaumont Ave, Dauphin Island, Alabama 36528
6. Audubon Bird Sanctuary
I've never been a big bird watcher but when I heard there are a number of scenic trails, I knew I would enjoy wandering the Audubon Bird Sanctuary.
For those that love to go bird watching, then visiting Audubon Bird Sanctuary will be a joy to walk through. The sanctuary consists of a wooded trail, a lake, and a marshy area where you might even see an alligator or two!
After making my way along the boardwalk trail, I stopped at the lake and was delighted to see numerous small turtles.
They kept popping up to the surface and then back down. I couldn't time the photo when they popped up so you will just have to see them for yourself!
If you follow the boardwalk trail over the swamp area, it will turn into a dirt trail that wraps around close to the sand dunes and beach. Here you can take a short trail out to the captivating and quiet beach or continue on.
As you make your way back to the start of the trail you may pass an idyllic setting of a bench next to the lake shoreline.
But with the sign posted about alligators, I don't think I could relax being inches from the water! I didn't see any but I wasn't going to take any chances…
There are a few trails that add up to 4.3-miles but you can take the main Lake Loop Trail that is only 0.6-miles. And then add on other sections of trails as you desire.
This is definitely one of the best things to do on Dauphin Island for its diverse landscape!
Address: 211 Bienville Blvd, Dauphin Island, Alabama, 36528.
Hours & Admission: Open sunrise to sunset. And this nature oasis is free to visit!
8. Dauphin Island Bird Houses
If you are driving over on the bridge to Dauphin Island, then you won't miss seeing the very colorful Bird Houses. Right as you are coming off the bridge, you will see the row of vibrant and tall bird-like houses on your right.
There are six of these "birdhouses" painted in eye-catching colors that are right up against the marina dock. If you look at these houses from the side you will notice that they don't go far back at all!
The skinny houses each have a dock for boats that is ideal for fishing. Originally, they served as a place for fishermen to sleep and get up at dawn raring to go fishing with quick access to their boats.
They weren't meant to be large houses but convenient places to sleep before or after a long day of fishing. Either for fishing early or a super cute beach rental, they are an uplifting sight to see!
8. Play A Round of Golf
If golfing with gorgeous views and an ocean breeze sounds inviting then you will jump to play golf at Isle Dauphin Golf Club.
The golf course is on the southern side of the island facing the Gulf of Mexico with the beach just steps away.
I personally don't golf so I can't rate this course but it would make for a fun activity while on the island. For tips on improving your golf game, check out this guide on how to hit a golf ball.
Note: It also happens to be next door to Pirate's Bar & Grill mentioned in #10 below.
Address: 11 Orleans Dr, Dauphin Island, Alabama 36528
9. Rent A Bike
Need a break from the beach? Consider renting a bike from Dauphin Island Kayak & Bicycle where you can hop on a bike and take off on your own tour of the island!
There isn't a lot of traffic on the island which is a plus when going for a bike ride. And it's pretty hard to get lost while navigating around Dauphin Island so it will be a fun adventure wherever you roam.
But if you feel more comfortable taking a guided tour, they offer that too. The rental shop also rents kayaks and gives kayak tours if you would rather explore the island by water.
As a bonus, they bring the bikes or kayaks to wherever you are on the island!
10. Lunch With A View
One of my favorite things when on a beach or an island is to eat a meal with a view. Located in between Dauphin Island Public Beach and the golf course is Pirate's Bar & Grill.
It has an upstairs indoor and outdoor patio where you can enjoy views of the beach and the lulling waves of the Gulf of Mexico in the distance…
Not only do they have a great view of the beach but they have awesome food and drinks! Cool off with an iced cold drink and choose from a variety of Southern dishes, fresh seafood, and burgers.
And if you want to try a Bushwacker, order an original Dauphin Island Bushwacker that is basically an adult milkshake with loads of rum!
Address: 100 Orleans Dr, Dauphin Island, Alabama 36528
11. Indian Shell Mound Park
Indian Shell Mound Park also known as Shell Mound Park is a National Register of Historic Places site. It is on the eastern side of Dauphin Island facing the mainland of Alabama.
The 0.3-mile loop is a beautiful place for a walk and is known for watching migrating birds during peak spring and fall migrations. Even if you aren't visiting during a bird migration period it is still a lovely trail in nature to enjoy.
Besides the large number of birds that migrate here, you can see mounds of seashells that are remnants of prehistoric indigenous tribes that lived here on Dauphin Island well before it was named that.
You can see shell ring mounds formed mainly of oyster shells that are estimated to be from 900 and 1500 B.C.!
When you look around and see the abundance of oak trees and plants, it's not surprising that people chose to settle here.
Note: There isn't a lot of space to park other than on the shoulder so this would be a great place to walk or bike to.
Address: 780 Iberville Dr, Dauphin Island, Alabama 36528. The trailhead starts off of Iberville Dr close to where the road ends. The address given will get you steps from it. Or you can just enter Indian Shell Mound Park into your GPS.
12. Go Fishing!
Anywhere along the Gulf Coast and including off of Dauphin Island has great fishing! You can always practice catch and release or catch enough to eat for the day.
On Dauphin Island, you can do some surf fishing or fishing straight from the shoreline on the beaches. From the surf, you will likely catch Amberjack, Bluefish, Cobia, Snapper, Redfish, Tuna, and Seatrout just to name a few.
Or you can go on a deep-sea charter boat for a little more action and catch some of the bigger fish. Fish you might catch are Wahoo, Yellowfin Tuna, Snapper, Amberjack, Mahi Mahi, and many more!
You do need to get a fishing license which can be bought at any bait and tackle shop or online from the Alabama Department of Conservation & Natural Resources.
Boat charters will take off from the marina near the Dauphin Island Bridge. Two fishing boat charter companies to book with are:
Tip: If you are doing surf or pier fishing, dawn or dusk tends to be the best time to catch fish.
13. Take Ferry To Fort Morgan
As mentioned above, you can take a ferry between Dauphin Island and Fort Morgan on the peninsula of mainland Alabama.
Even though Fort Morgan isn't technically on the island, I like to include it as one of the must-see attractions when visiting Dauphin Island.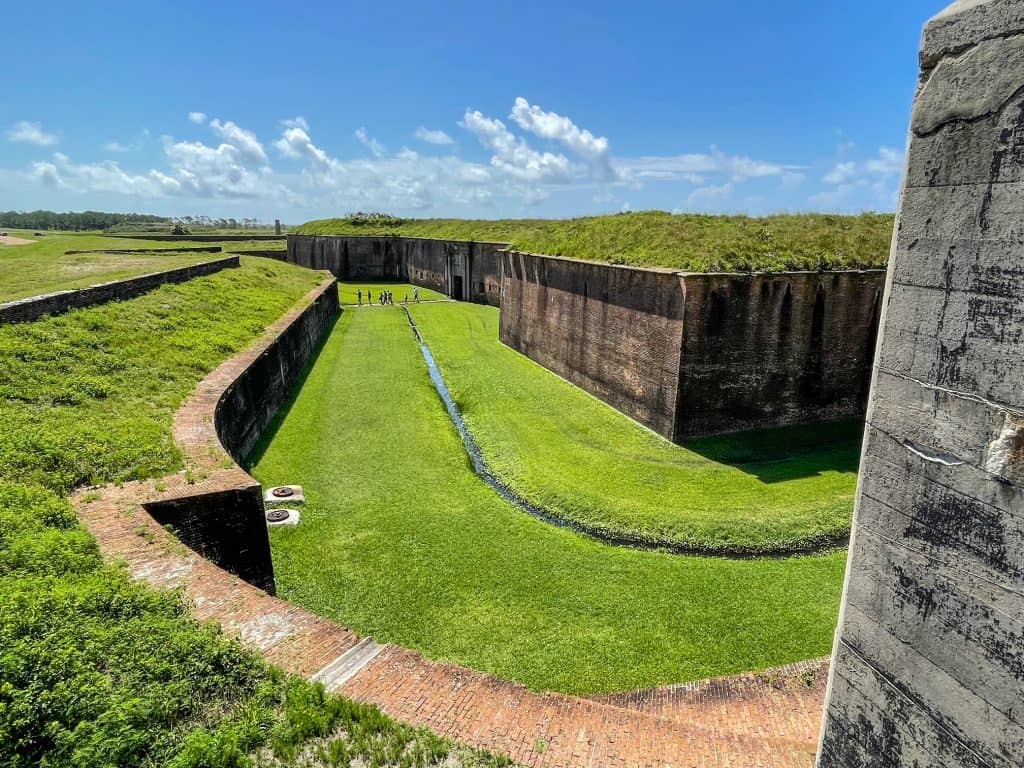 The ferry ride between Dauphin Island and Fort Morgan takes about 40 minutes and is a fun attraction in itself!
It is a large fort that was originally Fort Bowyer in the War of 1812. It was officially named Fort Morgan in 1833 after the Revolution War hero General Daniel Morgan. The fort served as a strategic location on Mobile Point to protect Mobile Bay.
Fort Morgan was used until the end of WWII and is now an Alabama state historic park. You can take a self-paced tour spending as much time as you want.
Wander around the huge protective walls, up on top of the battery with ocean views, and the tunnel within the fort.
Fort Morgan is directly across the channel from Fort Gaines and easily visible when looking across.
There is a gift shop and museum with exhibits to learn the history of Fort Morgan and the role it has played over the years.
Tip: If you are planning to take the ferry over and back, it is cheaper to buy a roundtrip ticket.
Note: The ferry schedule varies by season and weather conditions. So, check ahead on the ferry schedule to plan your trip. During peak summer days, ferries usually run every 45 minutes.
Dauphin Island Ferry Address: 112 Bienville Blvd, Dauphin Island, Alabama 36528.
14. Dinner At Miguel's Beach'n Baja
If you like Mexican food, Miguel's Beach'n Baja has a selection of great tacos (fish, shrimp, pork, chicken, and steak) to choose from. Or grab a quesadilla, burrito, or burrito bowl with your choice of protein.
All items come with homemade salsa and their motto of "West Coast flavor with a Gulf Coast Soul"!
Miguel's Address: 202 Lemoyne Dr, Dauphin Island, Alabama 36528
Note: If you are not big on Mexican food, try Skinner's Seafood less than a block away! Being a seafood market, they only do takeout meals so call ahead and place your order.
15. Watch A Sunset
After a long day of playing at the beach, fishing, or exploring forts on Dauphin Island, taking in a sunset is the perfect way to end the day.
Everything just seems to slow down as you watch the sun setting, giving birth to an array of colors. Much like a painting, there are vibrant colors in diverse shades of orange, pink, purple, and blues.
Anywhere on the southern side of the island facing the Gulf of Mexico will provide a front-row seat to a sensational sunset!
Tip: Pirate's Bar & Grill or Dauphin Island Public Beach are a few prime spots to watch from.
Have a wonderful visit exploring the best things to do on Dauphin Island, Alabama!
Got Travel Insurance?
Don't leave home without travel insurance as you never know what might happen on a trip! It is always when you least expect it that something can go wrong like getting sick, in an accident or cancellation of some sort. Get a no-obligation quote from two trusted travel insurance companies for peace of mind on your next trip!
Looking For More Travel Inspiration?
17 Fun Things To Do In Orange Beach, Alabama On Your First Visit
21 Fun Things To Do In Mobile, Alabama On A Weekend Getaway
7 Amazing Waterfalls In Alabama That Will Take Your Breath Away
25 Best Things To Do In Birmingham, Alabama You Don't Want To Miss
15 Fun Things To Do In Lafayette, Louisiana's Cajun Country
11 Best Wineries In Fredericksburg, Texas That Are A Must To Try
10 Awesome Things To Do On Catalina Island
7 Best Filtered Water Bottles For Travel And Hiking