Disclaimer: Traveling Ness contains affiliate links and is a member of the Amazon Services LLC Associates Program. If you make a purchase using one of these links, I may receive compensation at no extra cost to you. See my privacy policy for more information.
The Best Ways To See Yosemite In The Fall
Yosemite National Park is one of the most visited and loved national parks in the United States for good reason. The vistas and abundance of breathtaking landscapes will leave you speechless. Yosemite is a unique place to visit any time of the year but Yosemite in the fall is a favorite for the fall foliage and excellent hiking.
Whether or not you are an outdoor lover, there is no question that Yosemite has the most beautiful mountains, granite rocks, valleys, and waterfalls. It is also home to the Giant Sequoia trees that are a rare sight to see.
Yosemite became a national park in 1890 and has since been added as a World UNESCO Heritage Site in 1984.
For hiking buffs, about 70 miles of the Pacific Crest Trail runs through Yosemite National Park (2,650 miles from Mexico to Canada).
Talk about a hike! The 211-mile John Muir Trails happens to begin in Yosemite and continues down to Mount Whitney.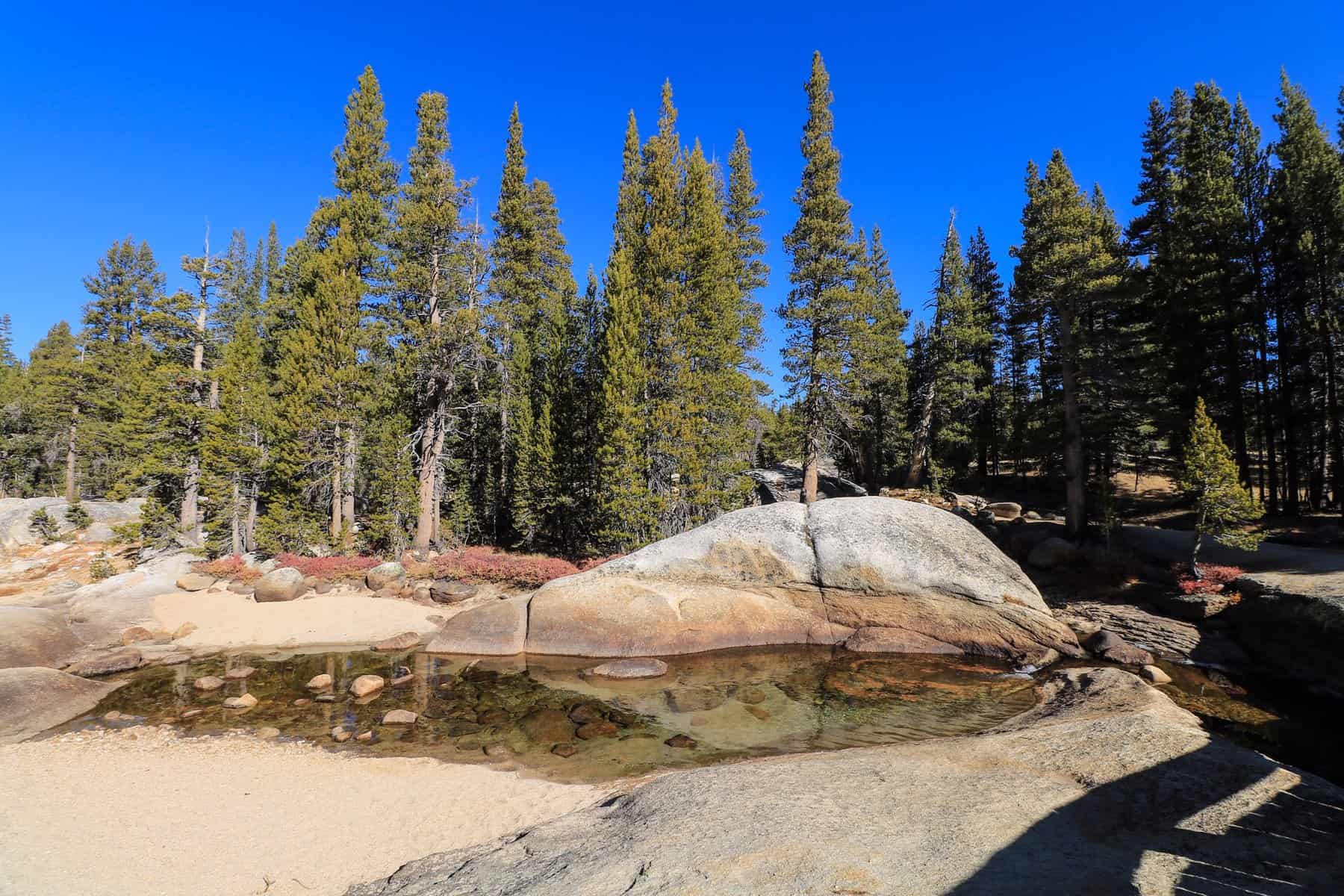 I was fortunate enough to housesit in Mammoth Lakes for 3 weeks which was awesome as I hadn't been up in this area of California for about 22 years.
On this trip, I only focused on sights to see on Tioga Pass Road and am not covering Yosemite Valley.
If you do plan to head into the Yosemite Valley, The Unending Journey has a great post and tips on Hiking Yosemite Falls you should check out!
In this post, I will be focusing on all the best things to see and do along the Tioga Pass Road in Yosemite. The fall weather makes exploring this section of Yosemite optimal and not to be missed!
Where Is Yosemite?
Located in Northern California, Yosemite National Park is in the central region of the Sierra Nevada Mountains.
It sits on the eastern side of the state directly inland from the San Francisco Bay area. Covering the four counties of Tuolumne, Mariposa, Mono, and Madera, Yosemite covers a big area!
Yosemite is 95% pure wilderness and a retreat to nature that many coming from bigger cities look forward to.
If you are traveling from the following cities, expect the following time and distance to get to Yosemite.
Mammoth Lakes: 41 miles or about 45 minutes to the entrance of Tioga Pass
San Diego: 405 miles or about 7.25 hours
Los Angeles: 279 miles or about 4.75 hours
If you are flying into California then you will need a rental car to reach Yosemite and enjoy its sights! The three airports that are the closest are:
Fresno Yosemite International Airport (FAT)
Ontario International Airport (ONT) – in LA county
Oakland International Airport (OAK) – in SF Bay area
Start exploring the best flight deals and get ready to visit Yosemite!
Tip: Want to visit a spooky and cool ghost town nearby? Find why you should include Bodie into your trip in my post, 11 Best Things To See In Bodie Ghost Town.
How Big Is Yosemite National Park?
Let's just say that Yosemite National Park is enormous… In total, the park covers about 1,189 square miles and is the second biggest national park behind Yellowstone in the United States.
There are 5 entrances into the park and depending on which direction you are driving from will determine how you access the park.
Because the park is so large, it is important to map out what you want to see to make the most of your time.
That can also determine which entrance you use. I will list all the entrances below but the entrance to access the eastern part of Yosemite is Tioga Pass.
Everything I list below I completed in two days with the Cathedral Lakes hike taking up most of one day.
Give yourself time to explore and enjoy what Yosemite in the fall has to offer with spectacular weather and minimal crowds.
This is one place you don't want to feel rushed as it is better to see less and appreciate nature's splendor!
5 Yosemite Park Entrances
Tioga Pass: This is the only eastern entrance and the one that you would use if coming from Mammoth Lakes, June Loop or Mono Lake.
The Tioga Pass is also known as Hwy 120 which is off of the Hwy 395 near Mono Lake. This entrance is usually only open from spring through the fall season.
South Entrance: As its name implies, this is the southern-most entrance and usually the entrance used if coming directly from San Diego or Los Angeles.
On Hwy 41, you will drive through the town of Fish Camp which is before the entrance. The South Entrance is also the closest to Mariposa Grove (Giant Sequoia's).
Arch Rock Entrance: This entrance is likely the most popular and direct if you are driving from the San Francisco Bay area. It enters in on Hwy 140 on the west side of the park.
Big Oak Flat Entrance: Another popular entrance coming from the San Francisco Bay area is on Hwy 120 a little bit north of the Arch Rock Entrance.
Hetch Hetchy Entrance: This is the most northern entrance of the ones on the western side and probably the least used. That means fewer crowds!
Yosemite Park Pass Info
You don't get to see Yosemite and all its beauty for free but trust me it will be worth it! To enter via one of the 5 entrances, you need to pay $35 for a Yosemite Park Pass that is per vehicle.
The good news is that the pass is good for 7 days which makes it perfect to explore the park over multiple days.
If you plan to visit several of the U.S. National Parks during the year, consider purchasing the America Is Beautiful Pass.
It gives you access to 2,000 National Parks and Monuments in the U.S. including Yosemite National Park and nearby Devils Postpile in Mammoth Lakes!
America Is Beautiful Pass is $80, good for one year from purchase, and also includes 3 other adults that are in your car. If you just visit 3 or more national parks or monuments it is worth buying and pure savings after that!
Tip: For more information on getting the national park pass, what it covers, and how to use it, read America The Beautiful Park Pass: Is It Worth Getting For Your Trip?!
Important Note!
No matter which direction you are entering into Yosemite National Park, make sure that you have a full tank of gas, snacks, and plenty of water. In the eastern part of Yosemite park, there are no gas stations or restaurants.
If coming from Mammoth Lakes, gas up there as it is usually cheaper than in Lee Vining/Mono Lake area.
Yosemite In The Fall
1. Tioga Pass
The Tioga Pass is the main mountain pass coming off of Highway 395 near Mono Lake and the town of Lee Vining. As mentioned above, there are no facilities to get gas or food in the eastern part of Yosemite along the Tioga Pass so come prepared.
There is an excellent place to get gas, food, drinks, and access to a bathroom on the corner turning off of Hwy 395 to Tioga Road (Hwy 120).
It is Whoa Nellie Deli and you can't miss it right after you turn onto Tioga Pass Rd. It is the perfect place to get fresh and delicious sandwiches to take with you into the park.
The Tioga Pass is one of the most breathtaking mountain pass drives and probably the prettiest in the United States. It is also the highest mountain pass in California at 9,943 feet above sea level.
The curving Tioga Pass cuts through enormous granite rocks the size of mountains, along many hiking trails, lakes, and stunning vistas.
There are several places that you can pull off to the side to take photos and enjoy natural wonders besides all the things I will list below.
Because of the potentially harsh and dangerous road conditions in bad weather, the Tioga Pass is shut down during the winter.
The pass usually opens up in May/June (sometimes as early as late April) and is open through mid-November.
But every year can vary so check ahead to make sure it is open before heading out, here.
Note: Before you reach Ellery and Tioga Lakes, you will notice a stunning waterfall on your left-hand side of the road. There are a handful of areas to pull off, park, and take some photos.
2. Tioga Lake
Driving along the Tioga Pass from Hwy 395, you will come across Tioga Lake on your left. You will notice that unlike sites in and around the Yosemite Valley, there are much fewer crowds at this small glacial lake.
Also, note that you are technically not in Yosemite National Park quite yet!
The entrance to Yosemite National Park is just after Tioga Lake coming from the direction of Mono Lake/Lee Vining. It is a pretty location to stop and take some photos or have a picnic.
If you are into fishing, there are rainbow trout to be caught here during the late spring and summer months.
Tioga Lake is also a nice place to camp (13 sites) during the summer if you want to stay close but not quite in the heart of the park.
If you happen to be sensitive to altitude sickness, then I would pass on camping here and go to a lower altitude campsite. The altitude of Tioga Lake is 9,646 feet, so it is really high up!
Note: A few minutes before Tioga Lake is Ellery Lake that is a tiny but pretty lake you can pull over to take photos of.
3. Tuolumne River Loop
The easiest way to get to the Tuolumne River Loop trailhead is to enter into your GPS "Tuolumne Meadows Lodge".
This will have you turn left off of Hwy 120 and onto Tuolumne Meadows Lodge Road. Before you actually get to the lodge, there is parking and the start of the trail across the road from it.
This is a great 3.6-mile loop hike because it is easy and super scenic. The loop will take you through a wooded forest, along the Tuolumne River and out into idyllic meadows.
Eventually, you will come to another wooded area and through the Tuolumne Meadows Campground before turning to head back to where you started.
Walking back, you will get awesome views of Lembert Dome and some great photo opportunities.
There is a minimal 183 feet elevation gain so it is fairly flat and easy making it a very relaxing trek. There are no dogs allowed on this trail just like the Cathedral Lakes and Tenaya Lake hikes.
4. Lembert Dome
Within minutes of leaving the parking area for the Tuolumne River Loop and continuing along the Tioga Pass, turn off to your right into the parking lot. The parking lot is at the base of Lembert Dome and has some picnic tables too.
Lembert Dome is a large granite dome rock formation that is probably the most well-known and visited after the famous Half Dome.
To get the best views of Lembert Dome, I think seeing it from a distance (and being able to fit the entire thing into your camera frame) is from Tuolumne Meadows.
But if you are looking to get in a hike and would rather see the meadows from above then climb to the top of Lembert Dome!
This is a moderate hike that is great to add on to the Tuolumne River Loop which would add an additional 1.8-miles to that hike. If you choose to go this route then you can stay parked at the Tuolumne Meadow Lodge.
It will take you to the top of the dome, 800 feet up to enjoy panoramic views of Tuolumne Meadows.
There is no correct way to hike it. You can hike around the dome, up to the top or just admire from the bottom.
Note: It can get windy at the top so make sure to hold onto your hat and sunglasses!
5. Cathedral Lakes Trail
Even before you get near the trailhead for Cathedral Lakes, you will be in awe when you see the sharp and distinct peak of Cathedral Lakes that resembles that of a rhino's horn.
It is not like any mountain peak I have ever seen which is why I probably love it so much.
The hike is an 8.6-mile out and back trail that will take you to Lower and Upper Cathedral Lakes.
Although there are two gorgeous lakes to see, most people don't seem to be aware of Upper Cathedral Lake.
Or they are too tired to keep going, lol. I say keep going and see both lakes! In my opinion, Upper Cathedral Lake is much better and less crowded.
I did this hike at the end of October and the weather was perfect for hiking, cool temps but sunny.
The first 30-minutes are the toughest as it is steep but after that, it isn't as bad.
Once you get to the junction, go right to head to Lower Cathedral Lakes or veer left and go to Upper Cathedral Lakes.
Although you can see the sharp rhino peak from both lakes, you can get a more closeup view from Upper Cathedral.
Upper Cathedral Lake left me speechless with its beauty and a hike you shouldn't miss!
Note: According to AllTrails app, the hike to Cathedral Lakes is considered moderate. But I think it is closer to difficult because of the elevation gain of 1,551 feet.
The elevation at the start of the hike is 8,502 feet, so when you get to the top you are a few hundred feet short of 10,000 feet!
6. Tenaya Lake
Continuing on Tioga Pass Road from the Cathedral Lakes trailhead, Tenaya Lake will be on your left. Tenaya Lake is an alpine lake that is one of those picture-perfect landscapes!
You have crystal clear water, surrounded with pine trees and a granite mountain backdrop to top it off.
Tenaya Lake is a beautiful spot to go for an easy hike, have a picnic, go for a swim or go boating. Of course, the last two are best in the summer months when it is warmer.
Since Tenaya Lake is one of the largest lakes in Yosemite, it draws many people but with much fewer crowds than in the Yosemite Valley.
If you like to fish then you can find both rainbow and brook trout that call Tenaya Lake home. There are large flat boulders along the water's edge that make it nice to sit (or sunbathe on) and take in the serenity of this alpine lake.
The hiking trail at Tenaya Lake is a flat and easy 3.4-mile roundtrip walk that goes along the right side of the lake and back. Exploring Yosemite in the fall is so nice as there are not a lot of people.
This makes connecting to nature even better! There are not any campsites at Tenaya Lake but camping at nearby Tuolumne Meadows is a great option.
7. Olmsted Point Nature Trail
After leaving Tenaya Lake, drive two miles to Olmsted Point that has a parking lot off of Tioga Pass Rd. There will likely be a lot of other people parked here so you won't miss it.
Once you get out of your car, get ready to be blown away with sweeping views out over Tenaya Canyon, Tenaya Lake, Clouds Rest, and Half Dome.
You can walk around near the parking area to get different vantage points of the valley. If you are up for exploring a little more, there is a quick and easy 0.4-mile roundtrip hike to take.
Yes, it is a quick one! It's nice to do but you can get just as good a view from the top if you are debating it.
If you walk over to the far right side of the parking area, you can wander onto the huge granite rock that is slanted. This is also the start of the Olmsted Point Nature Trail.
Even if you don't jump onto the trail, walk out onto the granite slope and enjoy the fascinating rock formations on top of this slope.
8. Tuolumne Grove Trail
Tuolumne Grove Trail is the furthest site to see along Tioga Pass Road before heading south into Yosemite Valley.
The drive is 30-miles or about 45-minutes from Olmsted Point but it is an incredibly scenic drive and won't disappoint.
So why go on another hike? You get to see ancient Giant Sequoia trees that are a rare sight to see! This is a 3.2-mile hike that is on a mostly paved road and considered moderate.
You start the hike walking down an incline losing about 734 feet in elevation which is easy. The tougher part if you aren't in shape is coming back up!
I've heard many criticize that there aren't that many Giant Sequoia's here and it's not worth it. I don't know about you, but why would you pass up the opportunity to see these majestic and beautiful trees?
Yes, there are not as many as in Mariposa Grove (by the south entrance) but they are still impressive to see.
In the fall, many trees are bursting in vibrant red, yellow and pink colors that add to the hike's appeal.
After you park, the start of the trailhead is marked with signs and a map. It provides a tidbit of the Giant Sequoia tree history and what you will see.
Once you get to the bottom, there is a loop you can follow to see the Giant Sequoias. You can even walk through one that years ago, cars actually drove through.
The only area of the United States that ancient Giant Sequoias can be found is in the Sierra Nevada mountains of California.
These massive trees range from 500 – 3,000 years old, so they have survived the test of time.
Their girth can get up to a massive 32 feet wide and something everyone should see one day!
Where To Stay
To explore the eastern part of Yosemite, I recommend staying in Mammoth Lakes, June Lake or Yosemite. Here are some hotels in each of those areas that are both nice and in good locations.
Mammoth Lakes:
The Village Lodge – this is right next to the Mountain Center in town.
The Westin Monache Resort– next to both the Village Lodge and Mountain Center in the Village.
June Lake:
Yosemite Valley:
When To Go
Deciding when to visit Yosemite National Park really depends on your interests and what activities you want to do.
Visiting Yosemite is possible year-round but as far as hiking and chasing fall foliage, the fall season is the best.
These photos are all from late October with the temperature high for the day ranging from 35 F to 75 F. So, be prepared and have layers on!
If you are looking to do some fishing and camping, then late spring and summer are ideal. In contrast, the winter offers up tons of snow and a peaceful winter wonderland.
Just be aware that in the winter many areas might be closed or limited access due to weather.
Summer has amazing weather but it is also the most crowded. My favorite time is May/June or September/October because you have great weather and can do pretty much any activity.
If your primary goal is to go chasing waterfalls, then the spring and summer are best as there is more water flowing.
Must-Have Gear
Before I mention any must-have gear to take with you when visiting Yosemite in the fall season, I gotta remind you to always pick up your trash.
Don't leave anything behind and leave no trace! Most of the trailheads will have trashcans at the start but don't count on it and bring your own bag.
Be aware that there are a number of wild animals in Yosemite National Park such as black bears. The majority of the time they will leave you alone if you make a little noise.
To avoid an encounter with them, make sure you have all food or anything with a scent (lotion) in a bear-proof container.
For hiking or day use the easiest is to use these bear-proof odorless bags that are like heavy-duty Ziploc bags.
They are perfect for packing a lunch in a daypack without the worry that a bear might want to enjoy it too!
TO make sure you are hydrated and can fill up water anywhere knowing it is safe to drink, consider using a filtered water bottle.
In the fall season, it's important to wear layers as the weather can change drastically within a day. The day can start out sunny and then snow the next minute.
Checkout athletic wear, tops, and jackets from Prana that are super comfortable and awesome for visiting Yosemite in the fall.
For the best gift ideas for yourself or another hiker lover, check out the ultimate hiking essentials in my post 45+ Awesome Gifts For Hikers & Adventurers! Below are some basic essentials that I love to have with me.
[col-md-4]


[/col-md-4]
[col-md-4]


[/col-md-4]
[col-md-4]


[/col-md-4]
[col-md-4]


[/col-md-4]
[col-md-4]


[/col-md-4]
[col-md-4]


[/col-md-4]
Got Travel Insurance?
Don't leave home without travel insurance as you never know what might happen on a trip! It is always when you least expect it that something can go wrong like getting sick, in an accident or cancellation of some sort. Get a no-obligation quote from two trusted travel insurance companies for peace of mind on your next trip!
Looking For More Travel Inspiration?
17 Best Things To Do In Mammoth Lakes
America The Beautiful Park Pass: Is It Worth Getting For Your Trip?
7 Best Filtered Water Bottles For Travel And Hiking
45+ Awesome Gifts For Hikers & Adventurers
21 Epic Hikes In Mammoth Lakes
11 Best Things To See In Bodie Ghost Town
7 Amazing Hot Springs Near Mammoth Lakes
15 Ultimate Solo Hiking Tips For Women
9 Natural Wonders In The Alabama Hills Of California
How To Have The Perfect Weekend In Big Bear
Disclaimer: My post contains affiliate links including being an Amazon Associate. I may receive a small commission if you click a link and purchase through that link. It won't cost anything to you to use these links but is very much appreciated. Thank you!