Disclaimer: Traveling Ness contains affiliate links and is a member of the Amazon Services LLC Associates Program. If you make a purchase using one of these links, I may receive compensation at no extra cost to you. See my privacy policy for more information.
The Best Ways To View The Hollywood Sign
Hollywood is often referred to as "Tinseltown" for its shiny and bright allure of the movie industry. When thinking of Hollywood, images of glamour, fame and movie stars pop into your mind instantly. No visit to Los Angeles is complete unless you explore Hollywood. The first thing to do once you arrive? View the Hollywood Sign from the best vantage points in town!
There is nothing more iconic with California and Los Angeles than Hollywood. Well, maybe the beaches but Hollywood is a major draw for visitors to the sunshine state for its weather and movie nostalgia.
Whether you plan to hike to the Hollywood Sign or view it from a distance there are plenty of places where you can get a view of the Hollywood Sign!
There are so many attractions to see in Hollywood such as a walk in the shoes of a star on the Walk of Fame or hang with the waxed versions of your favorite celebrity.
But looking up to see the huge letters that spell out "H-O-L-L-Y-W-O-O-D" is a must-see favorite.
Tip: If you want to spend a beach day in LA, look no further than this Guide To The 5 Most Beautiful Beaches Of Malibu, California!
Where Is Hollywood?
Hollywood is located in the county of Los Angeles (LA) in Southern California. It is pretty centrally located in Los Angeles with a 20-minute drive to downtown LA or a 40-minute drive to the beaches of Santa Monica.
The Hollywood neighborhood has three main sections known as the Hollywood Hills, West Hollywood, and East Hollywood. The Hollywood Hills is predominantly residential and has hills that are great to take hikes on. The sign is located up on Mount Lee that is above the Hollywood Hills.
And if you are flying in, reserve a rental car and find the best rates here!
Hollywood Name Origin
So how did Hollywood get its name? Apparently, back in the late 1800s, a man asked H.J. Whitley (Father of Hollywood) what he was doing and he said he was "I holly-wood", meaning he was "hauling wood".
His accent may have distracted from the true meaning but the new version stuck! As he bought 480 acres and began building the new town, he decided to call it Hollywood.
Fast forward to the early 1900s, movie or motion picture companies began setting up shop in Los Angeles. The draw to form companies in LA was the ability to avoid enforcement of the Thomas Edison Movie Picture patents.
Being so far from the east coast, movie picture companies were able to evade patent laws and soon LA became the main hub of the movie industry in the United States.
The four big motion picture companies were Warner Bros, Paramount, Columbia, and RKO with the first three still thriving strong today.
The first movie filmed in Hollywood was in 1910 featuring the 17-minute long In Old Hollywood. The first film where you could hear people talk was in 1927 with the movie, The Jazz Singer.
The funny thing is, prior to the birth of the movie industry, movie theaters and alcohol were both illegal. Obviously, both of those rules did not hold thankfully!
Tip: If you want to take a movie studio tour at either Warner Bros or Sony studios, grab yourself the Go Los Angeles Pass which includes admission to both!
History Of The Hollywood Sign
Many think that the Hollywood Sign is perched up on the hills of Hollywood because of Tinseltown's movie history. But it wasn't in fact. In 1923, a real estate developer built a new housing development in the area of the Hollywood Hills.
In order to promote the new homes for sale, he decided to put gigantic letters that spelled out "HOLLYWOODLAND". It was basically an ad or billboard in the beginning.
The intent was to only leave the sign up for 18 months until all the homes were sold but it ended up staying put. In the 1940s the sign began to show a lot of deterioration and was restored in 1949 to what we see in present-day minus the "land" on the end.
The newest version of the sign was redone in 1973 with donations from some very generous actors and celebrities. The sign was not illuminated from 1949 until the 1984 Olympics in LA. From that point, the sign can be seen lit up every night.
Each letter is 45 feet (13.7 meters) tall and ranges from 31 to 39 feet (9.4 to 11.9 meters) wide so that it can clearly be seen for miles around LA. Now that you know a little bit about the history, keep reading to find out the best spots to view the Hollywood Sign!
Where To Stay In Hollywood
Looking to spend a few days in Los Angeles exploring Hollywood and the surrounding area? Staying in or near Hollywood is an ideal spot so that you are a quick walk or drive to many attractions including all the places to view the Hollywood Sign.
There are so many places to choose from with but these are some top picks:
When To Visit
You can't beat the weather in California as it stays almost the same year-round with some variations depending on the season.
The temperatures are close to perfect ranging from 67 F to 80 F throughout the year. As a California native, my personal favorite time of year to view the Hollywood Sign is from July to December.
During those months, you have the sunniest and warm days that are usually clear with no fog or smog. LA can get really hazy or foggy the rest of the year so to get great photographs the fall (September, October & November) are excellent.
The months that will see the most rain are from January to April. I know you might be laughing at this point as California doesn't get much rain. But if we do, those are the months that it is likely to appear! Lol.
The months that I would avoid are May and June. The temps are great but it tends to be the most overcast which is not great for those photos.
With all that said, there can be extreme days such as the day I visited that got up to 110 F! It was the first week in September and a heatwave with higher than normal temperatures. Always dress in layers and you will be good to go!
Tip: If you are looking to cool off and have some fun at the beach visit:
Venice Beach to Santa Monica: A Fun One Day Itinerary
A Guide To The 5 Most Beautiful Beaches Of Malibu, California
So if you are wondering how to get to the Hollywood Sign then keep reading to find out!
Best Ways To View The Hollywood Sign
1. Hike To The Hollywood Sign
The best way to view the legendary Hollywood Sign, in my opinion, is to get walking and hike to the Hollywood Sign. Along the hike, you will get various viewpoints every time the trail turns and makes the anticipation of getting close to it build.
It is important to note that you can't get super close or even touch it. There is a fence around it and security that monitors to make sure no one trespasses.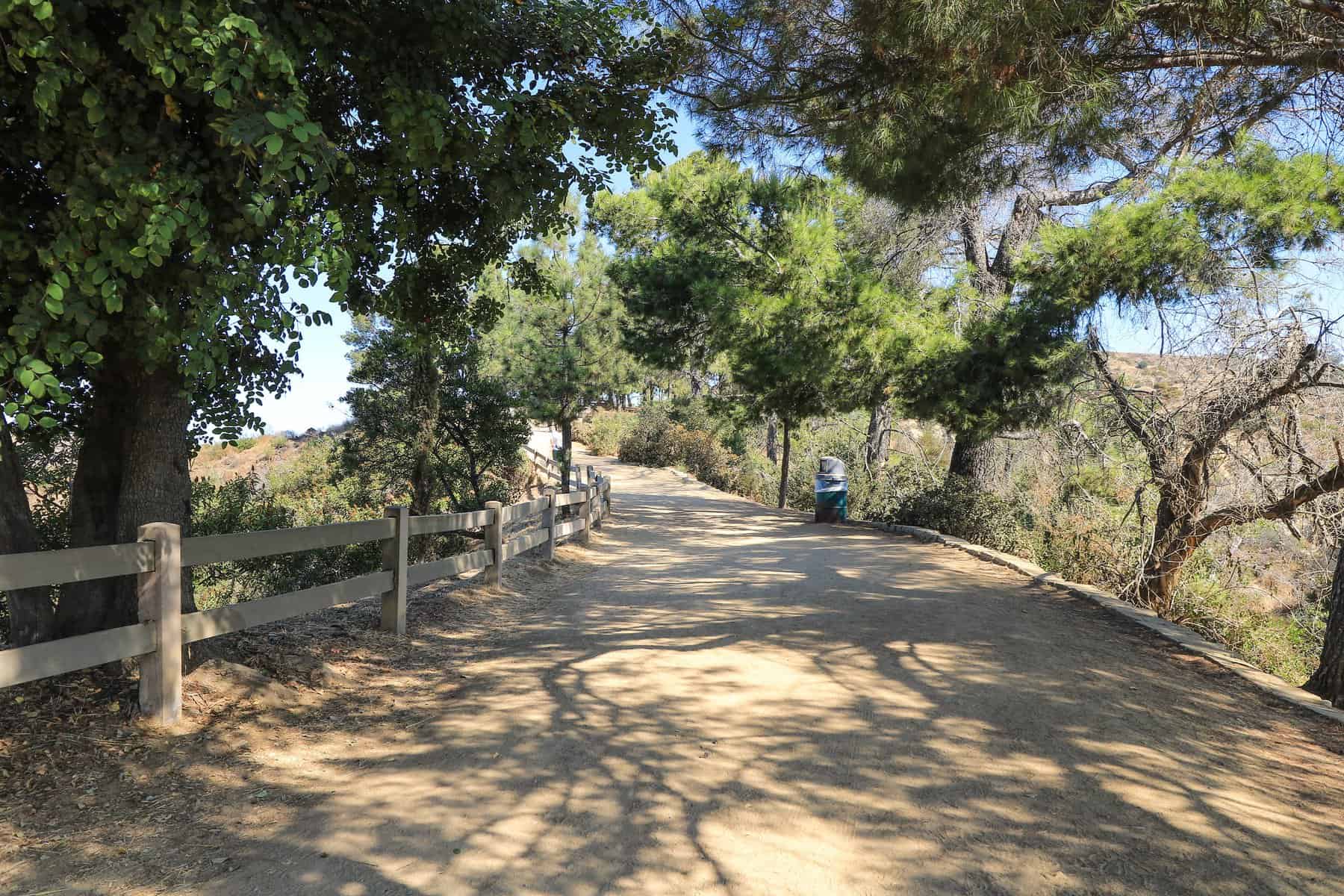 Because of the intense security, you can't get directly below the sign but you can get fairly close via an angle, the side, and up behind it. There are three main trails to the Hollywood Sign that you can hike to with the most popular starting from Griffith Observatory.
Round trip, the hike from Griffith is 6 miles that I would consider easy to moderate. The day I hiked it, it was 110 F which made it difficult (this was a heatwave).
No matter the time of the year, I'd suggest going early to avoid the heat and getting a parking spot up at Griffith Observatory.
From the parking lot at the observatory, turn your back to the observatory and walk through the trees where you will see a dirt path. This is the Charles Turner Trailhead that will lead you to the Mt. Hollywood Trail.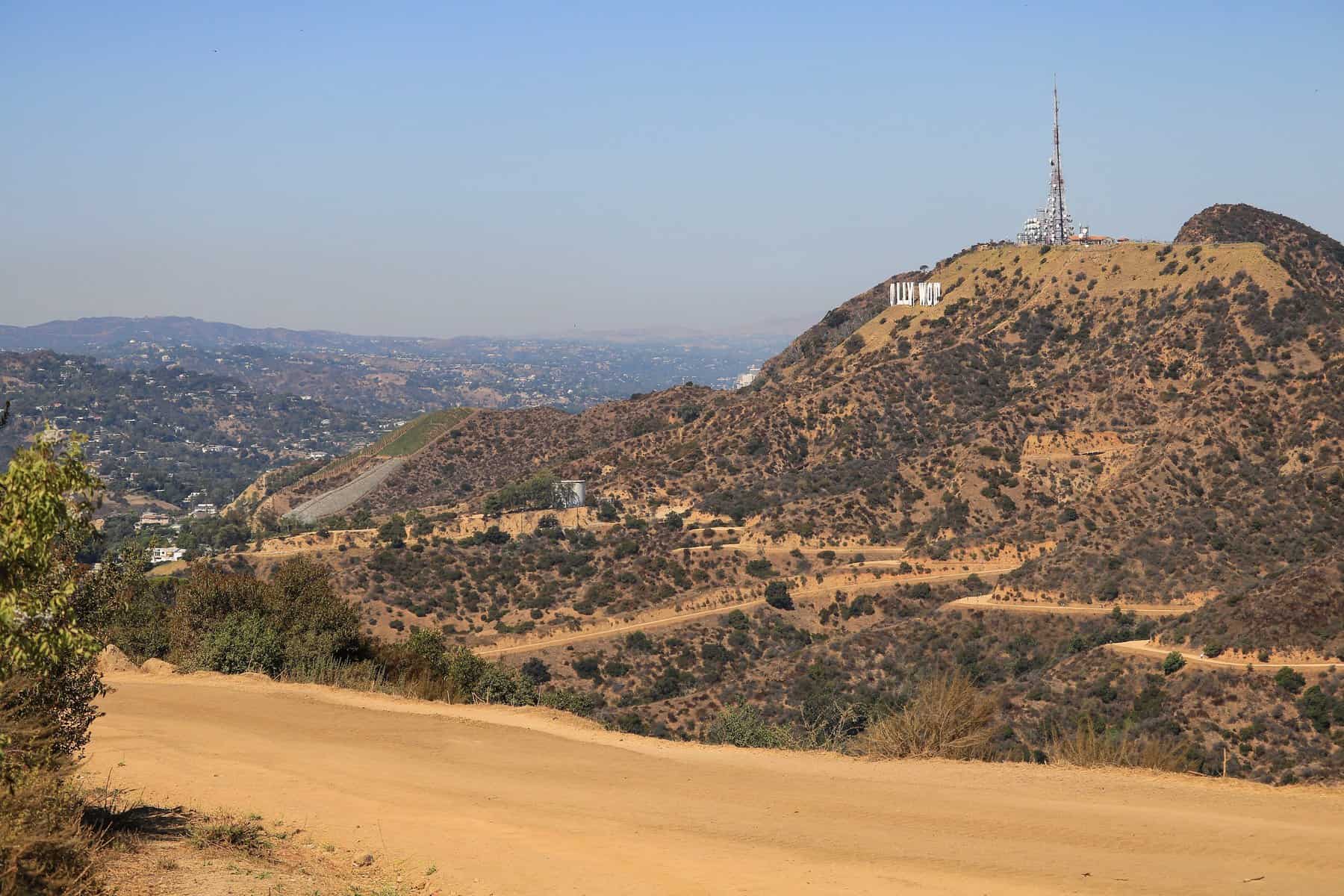 Stay on the Mt. Hollywood Trail which might also be referred to Mt. Hollywood Summit or theHollywood Sign trail.
At about 2 miles of walking, you will encounter a split going either left or right. Go LEFT if you want to get a view of the front and side of the sign.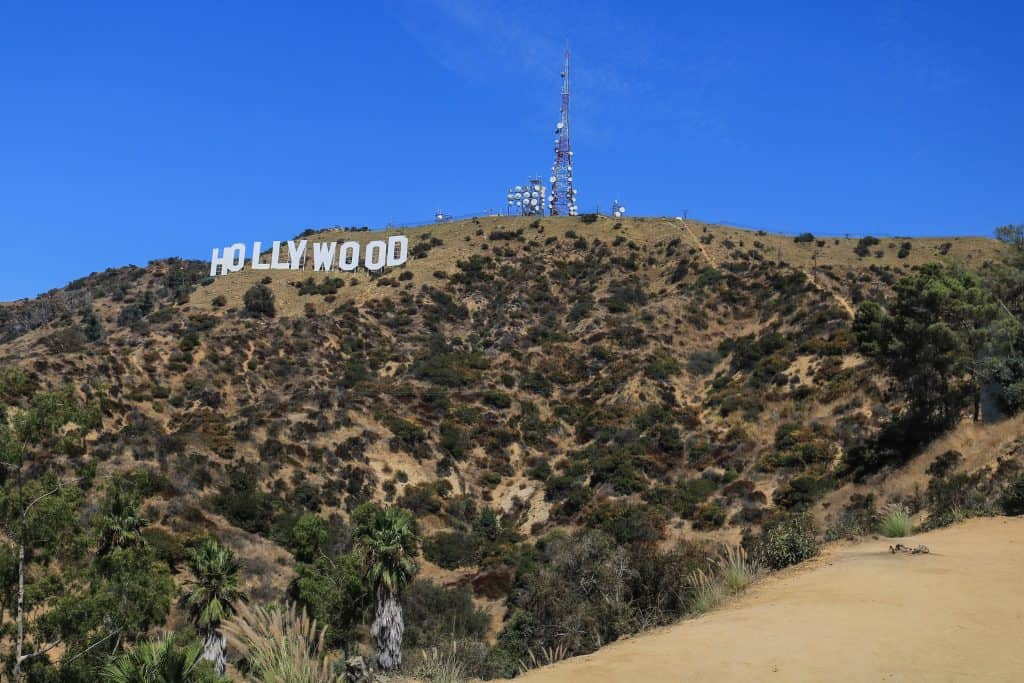 But if you turn RIGHT, it will take you up the hill where you can view the backside of the sign and enjoy views of LA.
The road is paved and points up to Mt. Lee Summit and another 0.9 miles. As you get close, you will see radio towers and wonder if you are in the right spot. You are!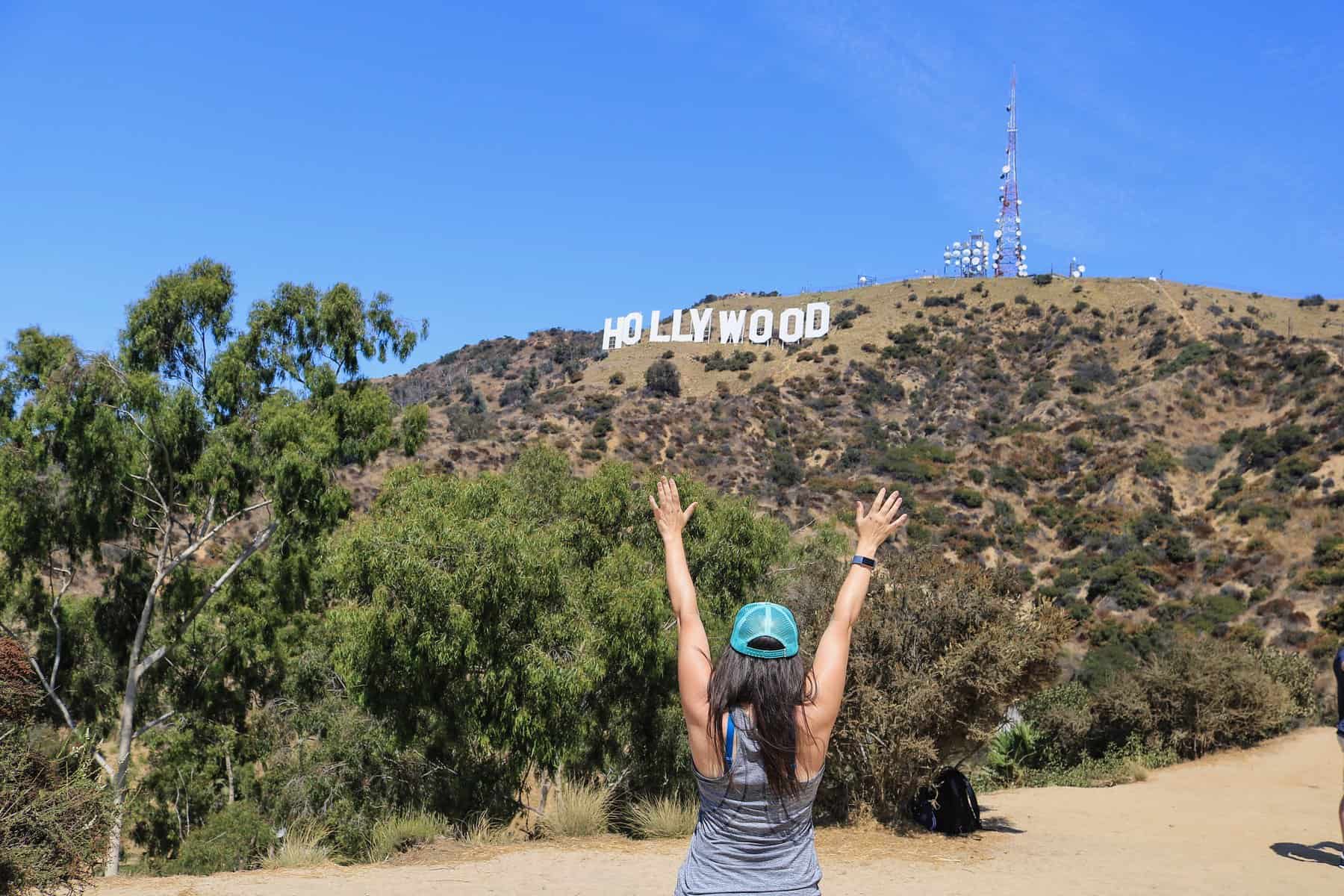 The other two hikes that will also take you to the Hollywood Sign are the Brush Canyon Trail and the Cahuenga Peak Trail. The Brush Canyon Trail is a moderate trail that is part of Griffith Park and is 6.5 miles roundtrip.
It will also take you past the Bronson Caves that are famous for the 1960's TV Show "Batman". These caves were the entrance to the Bat Cave.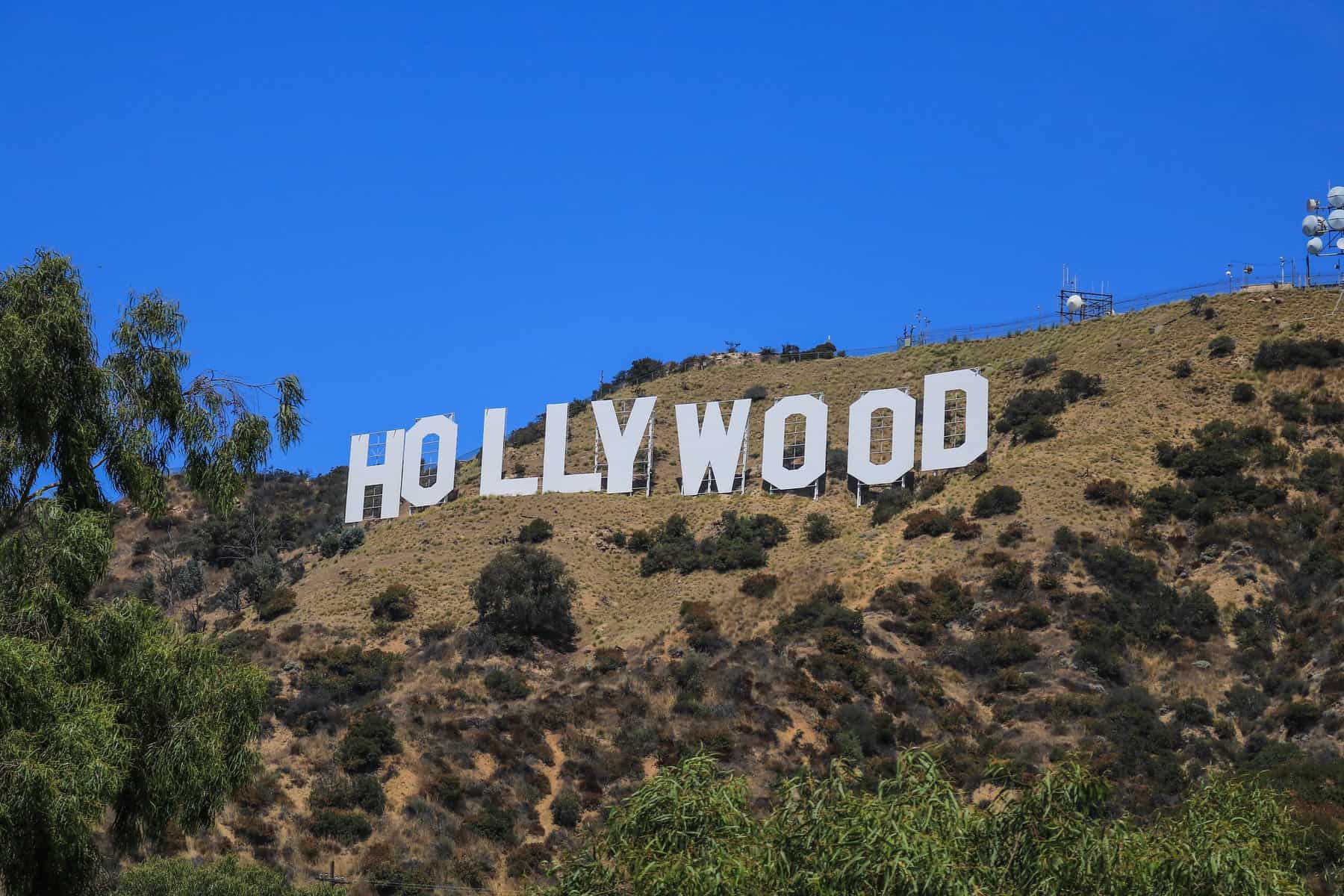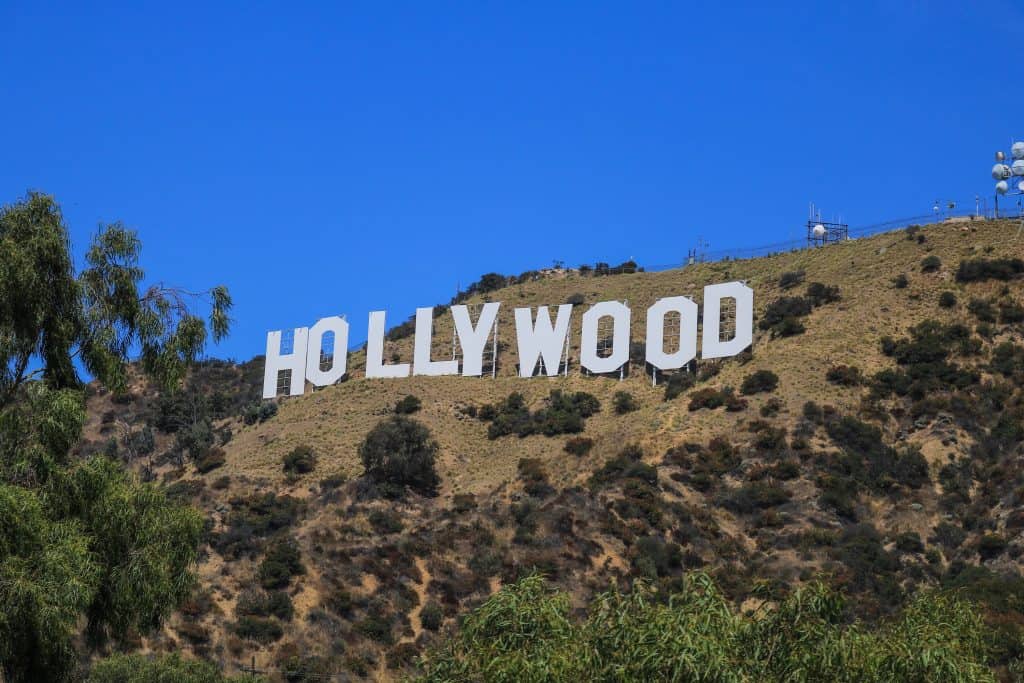 The Cahuenga Peak Trail is considered difficult even though it is only 3 miles roundtrip. Start at the Aileen Getty Ridge Trail which will take you through Cahuenga Peak and drops you right behind the Hollywood Sign. Not only will you get awesome views of the sign but of Griffith Park too.
Tips: Bring plenty of water, as it can get dry and hot on this hike with no shade. If there is no parking up at Griffith Observatory, you can park down the hill at the Greek Theater that offers shuttles to the top every 15-30 minutes.
If you prefer going on a guided hiking tour, then the Hollywood Hills Hiking Tour is a great choice and includes visiting Griffith's Observatory post-hike!
Note: Make sure you have hiking essentials and gear when you hike to the Hollywood Sign using some of these items, 45+ Awesome Gifts For Hikers & Adventurers!
2. Griffith Observatory
No matter which hike you end up doing, you should make your way over to Griffith Observatory. Make a point to give yourself some time to visit the observatory and take in the views of LA.
You not only get amazing views of downtown LA but of California's most famous sign. On a clear day, you can even see the Pacific Ocean!
The Griffith Observatory has been featured in several TV shows, movies, and commercials but one of the most recent that you might be familiar with is the movie, "La La Land". If you are lucky, park up at the top at Griffith Observatory.
I recommend going early especially on summer days as the top parking lot fills up quickly. There is parking along the hill up but that means you will be walking the rest of the way…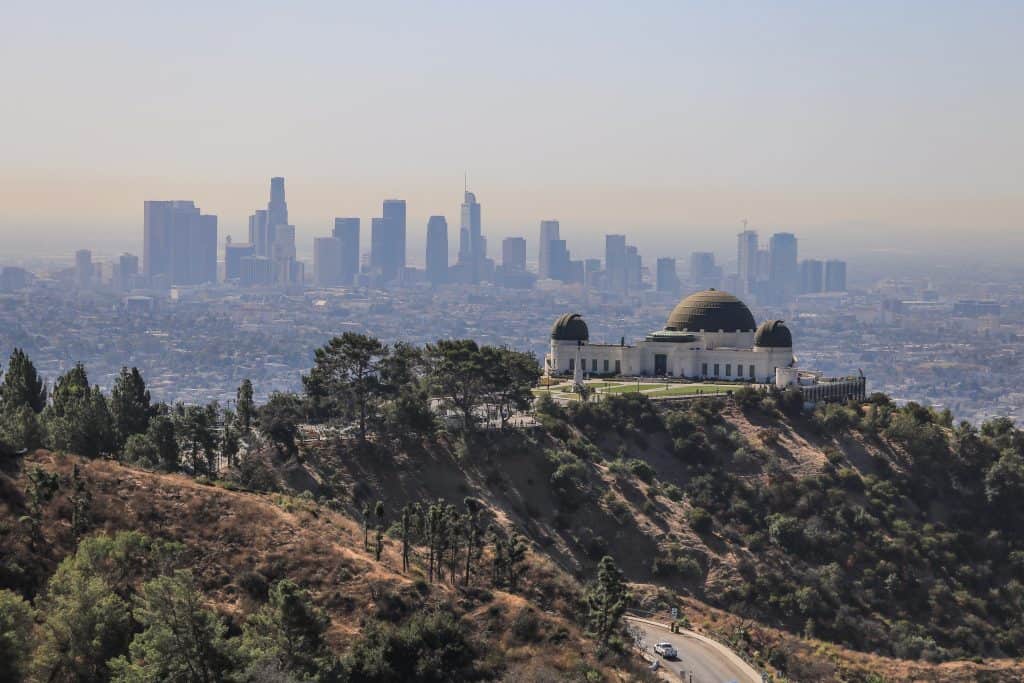 You do have to pay for parking up at the top but admission to the grounds, observatory, and telescopes are free. If you want to see the show in the theater, you do need to purchase tickets for that. Do take a moment to look up and enjoy the lovely murals on the ceiling and the art deco interior.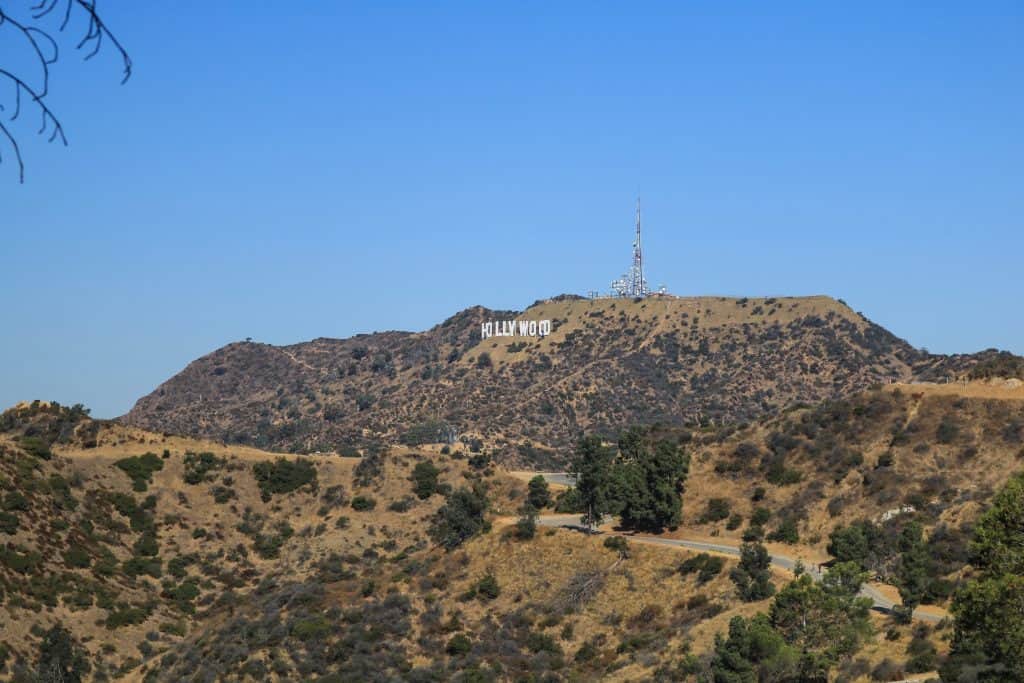 It looks like something that might be seen in Europe! The observatory is closed on Mondays and many holidays, so check their website before your visit.
If you face away from the observatory, you can see the Hollywood Sign off in the distance sitting predominantly with its shining white letters.
Walking around the grounds of Griffith Observatory, you can get different perspectives of the famed sign. There are a few trails that you can venture out onto to get different views of the sign even if you don't hike very far.
Note: As mentioned in #1 above, Griffith Observatory is included in the Hollywood Hills Hike Tour.
Address: 2800 E. Observatory Road, Los Angeles CA
3. Lake Hollywood Park
If you are coming from the Griffith Observatory, Lake Hollywood Park is just 25 minutes away or 5.8 miles. It makes for a convenient next stop after hiking up to the Hollywood Sign.
Located in the Hollywood Hills, Lake Hollywood Park is a grassy park below the sign that gives you a direct view to enjoy.
The park has many trees surrounding it and is a wonderful spot to relax and/or have a picnic. There are no bathrooms that I saw, so plan to find a bathroom before coming.
It is a peaceful park but what makes it such a hot spot is that you can easily see the Hollywood Sign and fairly close up.
As mentioned previously, you can't actually get up close to the sign but this is the closest that is both simple to get to and not breaking the law.
I visited in the afternoon and the lighting was great to photograph it. You can also get some fantastic views while walking around the nearby Hollywood Reservoir.
Address: 3160 Canyon Lake Dr., Los Angeles CA
4. Hollywood & Highland
Another spot that is fun to capture the Hollywood Sign is from Hollywood & Highland. It is a complex at the cross streets with said names where you can see the sign from a distance.
Think of it like a shopping mall that meets entertainment with the feel of a Las Vegas casino. There are plenty of places to eat and even the famous Dolby Theatre where the Academy Awards are held.
In the picture above, go up to the second level bridge and look out to see the Hollywood Sign off in the distance. It might not be a close-up shot but it is directly in front of you and makes for a different viewpoint.
Zoom in with your camera and you can get even a better shot. After you have gotten the photo, head back down and see the Walk of Fame (stars on street) and TCL Chinese Theatre on Hollywood Blvd.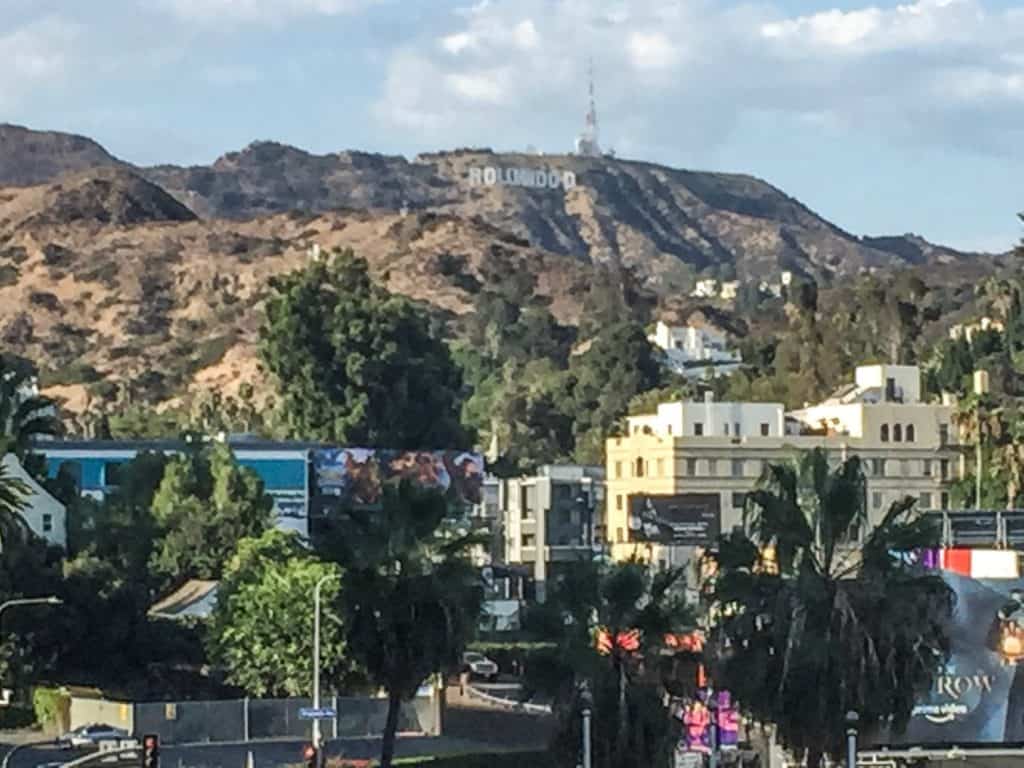 Tip: Want to rest your feet and see some sights in Hollywood? Jump onto the Los Angeles Sightseeing Hop On Hop Off Bus Tour that takes you through the neighborhoods of Beverly Hills, Hollywood, Santa Monica, and the beaches. All while finding out about LA's hot spots!
5. Take a Helicopter Tour
Looking to get an aerial viewpoint of the Hollywood Sign? Hop in a helicopter and take a 15-minute ride to get epic photos of the sign not to mention of surrounding LA. Getting a birds-eye view from the air is especially special since drones are not allowed.
This is not something that I have personally done yet but I plan to hopefully soon. I did see helicopters going by when I was hiking and can only imagine how amazing the view is. As it isn't too expensive for a 25-minute helicopter ride, I plan on taking this Hollywood Helicopter Ride on my next visit!
Where To Eat
My favorite spot to grab a yummy bite to eat post-hike up to the sign is the Beachwood Café. It is located near Lake Hollywood and makes for the perfect place to satisfy your post-hike hunger as you don't need to worry about being in workout clothes.
I had the most amazing burger here and sadly ate it before I realized I didn't capture it with a photo!
Beachwood Cafe Address: 2695 N Beachwood Dr, Los Angeles CA
Other great restaurants to try before or after your hike/exploring the Hollywood area:
Trails Café: 2333 Fern Dell Dr, Los Angeles
All' acqua: 3280 Glendale Blvd, Los Angeles CA
Messhall Kitchen: 4500 Los Feliz Blvd, Los Angeles CA
Alcove Café & Bakery: 1929 Hillhurst Ave, Los Angeles CA
The Oaks Gourmet: 1915 N Bronson Ave, Los Angeles CA
Have fun seeing the different views of the Hollywood Sign!
Got Travel Insurance?
Don't leave home without travel insurance as you never know what might happen on a trip! It is always when you least expect it that something can go wrong like getting sick, in an accident or cancellation of some sort. Get a no-obligation quote from two trusted travel insurance companies for peace of mind on your next trip!
Looking For More Travel Inspiration?
10 Things You Must Do in Downtown Los Angeles
Venice Beach to Santa Monica: A Fun One Day Itinerary
A Guide To The 5 Most Beautiful Beaches Of Malibu, California
45+ Awesome Gifts For Hikers & Adventurers
10 Ways to Explore Catalina Island
The Epic California Big Sur Road Trip
The Best Guide To Maui Whale Watching
15 Best Things To Do In San Diego
Disclaimer: My post may contain affiliate links, which means I may receive a small commission if you click a link and purchase through that link. It won't cost anything to you to use these links but is very much appreciated. Thank you!