11 Best Wineries In Fredericksburg, Texas That Are A Must To Try
The Texas Hill Country in Fredericksburg is the largest wine region in Texas making it an awesome destination for wine tasting. But where to find the best wineries in Fredericksburg along the Texas Wine Trail?
I was shocked to learn that there are over 400 wineries in Texas with over 50 located in Fredericksburg! A wine lover's paradise…
But that can be daunting unless you have days to sip a ton of wine and a liver that can handle it… So, you likely want to know which wineries are worth visiting, right?
I am quite the red wine lover and as I had never tried a Texas wine before, I was on the hunt to find the best! But don't worry, there are plenty of white and red varietals to taste…
And if you couldn't tell by the name, Fredericksburg has a strong German influence on the architecture, food, festivals, and ambiance! Fredericksburg was established in the mid-1800s by German immigrants and the German heritage is still evident today.
Keep reading to find out where to indulge in the tastiest wines along the Texas wine trail in Fredericksburg!
Where Is Fredericksburg Located?
Fredericksburg is located in Texas in an area known as the Texas Hill Country, and/or the Texas Wine Trail. It is pretty much right in the middle of Texas if you are looking at a map.
Fredericksburg is about an hour and 15 minutes north of San Antonio, TX and 1.5 to 2 hours directly west of Austin, TX. So, if you plan to visit San Antonio or Austin, visiting the Texas wine country is a must as it is so close!
The dry climate and an abundance of sunshine make the area of Fredericksburg ideal for winemaking.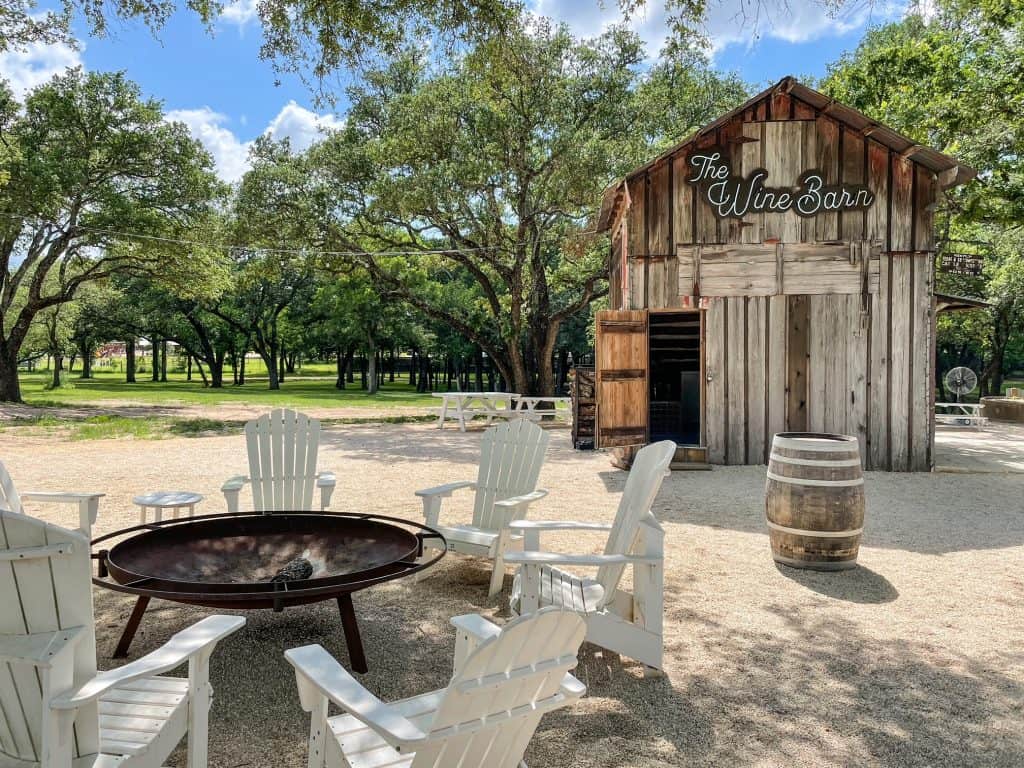 How Do I Get To Fredericksburg?
The two closest big cities to Fredericksburg are San Antonio and Austin.
Get the best deals and book your flights into either San Antonio International Airport (SAT) or the Austin-Bergstrom International Airport (AUS).
To visit Fredericksburg and its surrounding wineries, you need a car to reach the town itself from an airport.
The majority of the wineries will be spread out along the 290 Highway that stretches from Fredericksburg heading east toward Austin.
Once you are in Fredericksburg, you can either drive to each winery yourself or hop on to the 290 Wine Shuttle if you are visiting on a Friday or Saturday.
If you are limited on time and just want a taste of the wines Texas has to offer, consider booking a Texas Hill Country Tour that takes off from either San Antonio or Austin and takes you on a day of wine tasting.
If you are starting your trip in San Antonio, find out the best things to do in my post Perfect 3 Day Weekend In San Antonio Itinerary For First Timer's!
Tip: Begin searching for the best car rental rates for your upcoming trip if you decide to drive!
When Is The Best Time To Visit Wineries In Fredericksburg?
Visiting Fredericksburg and its wineries is something you can do year-round but if you want to enjoy nice weather, I recommend visiting any month other than January and February.
Even though it might be a little cold and rainy, the bonus of visiting in the off months of January or February is that there are fewer crowds and you can get better rates on places to stay.
But if you envision sipping on wines outside in nice weather, late March through November is a great time.
In the fall months, there are a lot of additional activities such as Oktoberfest and a food and wine festival.
July, August, and September will be the hottest months to visit with temperatures ranging from 87 F to 95 F (31 C to 35 C). And due to the high temps, you won't find the wineries as crowded.
In the months of April, May, June, October, and November temperatures will range from 69 F to 89 F (21 C to 32 C). And in December, January, and February you can expect it to be 60 F to 65 F (16 C to 18 C).
So, as you can see it never gets terribly cold but depending on what kind of getaway you are looking for you can plan accordingly.
If you are visiting from mid-March to mid-April, you may be in for a treat and see the famous Texas bluebonnet flowers blooming!
Note: Grape harvesting is early starting in July compared to September for a lot of wine regions such as California and Oregon.
If you are looking to explore another excellent wine country, read 9 Best Wineries In Paso Robles, California !
Tip: If you visit the weekend before or after a holiday like Memorial Day or Labor Day you can usually get a much better rate on your stay.
How Many Days Should I Spend In Texas Wine Country?
If you want to spend some time sipping several wines, I recommend spending 2-3 days. That way you can enjoy a long weekend getaway getting to try 2 – 3 wineries a day and some nice meals too!
Where To Stay In Fredericksburg?
Staying in the heart of Fredericksburg is ideal so that you are close to some of the tasting rooms in town, restaurants, and shops.
A few hotels and B&Bs that are nice and/or with an excellent location are:
Hampton Inn & Suites Fredericksburg
Holiday Inn Express Fredericksburg
Hoffman Haus – adorable cottages and farmhouse with a 10-minute walk to downtown.
Manor Haus B&B – located at the Messina Hof Hill Country Winery.
What Types Of Wine Is Fredericksburg Known For?
Usually, most wine regions I have visited are known for a few grapes that grow best in that particular climate. But I found it interesting that in Texas there are several grape varietals growing!
That makes it great for anyone visiting as you will have no problem finding a wine you like no matter your favorite grape!
Even though there is a large selection of grape types, the most common wines you will see at wineries in Fredericksburg are Cabernet Sauvignon and Tempranillo.
The next most common wines you will likely encounter are Merlot, Chardonnay, Viognier, and Pinot Noir. And there are of course many other varietals to try but these are the most common at wineries in Fredericksburg.
History Recap Of Texas Wine
If you are like me, you are probably wondering when did Texas become known for its wineries? I had never heard any wine being produced in Texas and then what seemed like overnight wineries were popping up all over!
Although the first Texas wineries started in the 1970s, it wasn't until after 2005 that wine production really took off.
A lot of that has to do with a ton of open land and the ideal climate for growing grapes. The climate in Texas has similarities to France, Portugal, and Spain which we know produce spectacular wines.
So get ready as there are several award-winning wines to try during your stay!
Tips For Visiting Wineries In Fredericksburg, Texas
Bring a reusable water bottle to fill up and keep you hydrated all day! Plus, it can help prevent a crazy wine hangover…
Some wineries offer food for sale, but if the weather is nice bring your own lunch in a cooler and have a picnic!
Make sure you eat a good breakfast before heading out as wine tasting on an empty stomach will hurt later.
Bring sunscreen as it can get sunny and hot especially in the summer months.
Check the schedule ahead of time of the wineries you want to visit. Some do require an appointment.
Many of the wineries also have a tasting room on Main Street in Fredericksburg.
If you want to take a tour of a winery or have a large party, book your tastings ahead of time.
If you are new to wine tasting ask questions! That way you can learn what wines you may enjoy the most.
Dress in comfortable clothes and shoes as you may be standing a lot or walking along dirt paths in the vineyards.
Just in case you spill wine, opt for wearing darker-colored clothes that won't be noticed!
If you plan to visit many wineries, consider spitting out or only taking sips. Don't feel the need to finish a wine you don't like. And that way you can last longer…
Hold your wine glass by the stem. If you hold it by the round bowl part of the glass, the warmth of your body may alter the taste of the wine.
Most wineries are small boutique wineries that don't have mass distribution. So, if you try a wine you love, buy it!
Get A Free Printable List Of The Best Wineries & Restaurants To Take With You!
Best Wineries In Fredericksburg
1. Pedernales Cellars
Pedernales Cellars is one of the farthest wineries on this list but only a few minutes drive from Grape Creek and Signor Vineyards.
Of all the wineries, Pedernales Cellars might be my favorite on this list as they have outstanding 100% Texas wines!
Although I prefer red wines, they have many white and red wines to choose from on your visit. I surprisingly loved their Viognier!
Pedernales Cellars is a family-owned winery that sits on a gorgeous property that National Geographic rated as one of the best views of any winery in the world! Even though it was overcast the day I visited, the views were still spectacular.
The wines that Pedernales specializes in are Spanish and Rhone-style wines. Some of the most popular varietals are the Tempranillo and Viognier.
All of the grapes that Pedernales Cellars uses are all grown in the Texas Hill Country and Texas High Plains. Their focus is making handcrafted sustainable and small batches of wine ever since they opened their tasting room in 2008.
If you find yourself wanting to pair some food to go with the wonderful wines, you can order a cheese plate to go with it!
Cost of Tasting: $20 per guest
Hours: Monday – Thursday (10 am to 5 pm), Friday & Saturday (10 am to 6 pm), and Sunday (12 pm to 5 pm)
Address: 2916 Upper Albert Rd, Stonewall, TX 78671
2. Grape Creek Vineyards
Grape Creek is another favorite that has superb wines and a lovely Tuscan-themed vineyard. Located off of Hwy 290, Grape Creek Vineyards covers 22 acres growing a large variety of grapes.
They use grapes grown in Texas High Plains and in the Paso Robles region in California. The wines produced are predominantly wines you would find in France and Italy.
Some of the top wines to taste are Pinot Grigio, Viognier, Port, Pinot Noir, Cabernet Sauvignon, Syrah, and Merlot.
Grape Creek has a very relaxing vibe and is not the winery if you are looking to party it up. If you are interested in taking a tour of the vineyard, then you can sign up ahead of time for the Tour And Wine Tasting experience.
The outdoor patio and restaurant are for wine club members only so if you want to take advantage of these options sign up when you get there!
If you happen to love sparkling wines, then walk over to Heath Sparkling Wines next door! I didn't have a chance to visit but I was told they were quite delightful.
Cost of Tasting: $25 per guest, but the fee is refunded if you join the wine club and buy 3 bottles.
Hours: Open daily from 11 am to 5:30 pm.
Address: 10587 E US Highway 290, Fredericksburg, TX 78624
Note: No children or dogs are allowed unless it is an ADA service dog.
3. Signor Vineyards
Signor Vineyards not only has fantastic wines but it might be one of the prettiest wineries in Fredericksburg for taking photos since opening in 2018.
In every direction, you are greeted with large trees that create the perfect overhang of shade while you sip wines underneath. Or an adorable small barn that serves as a wine bar, a quaint market, fire pits, and flower gardens.
If you want to pair some gourmet snacks and treats with wine, stop by Joanna's Market to grab some!
Signor Vineyards means where Soul Meets Soil and for this family-owned winery, the soil plays an important part in their winemaking.
On their 17 acres, the grape varietals that you may try are Tannat, Montepulciano, Grenache, Petite Sirah, Mourvedre, Tempranillo, and Sangiovese.
And on those hot summer days, they have outdoor fans that help in cooling you off!
Cost: $20 per person for a flight of wine.
Hours: Monday – Wednesday (12 pm to 5 pm), Thursday – Saturday (11 am to 6 pm), and Sunday (11 am to 5 pm)
Address: 362 Livesay Lane, Fredericksburg, TX 78624. It is also diagonally across from Grape Creek.
4. Becker Vineyards
Becker Vineyards has been producing wine since 1992 with its German-style stone barn the center point on the 56 acres of land.
There is plenty of outdoor space to sip your wine under a verandah or enjoy a picnic on the grassy lawn. You can also wander the lavender fields when it is in season (April & May)!
Wines that you can expect to try at Becker Vineyards are Syrah, Petite Sirah, Cabernet Sauvignon, Malbec, Sauvignon Blanc, Chardonnay, and Viognier.
I really enjoyed tasting Becker wines with my favorite being the Cabernet Sauvignon and the red blends.
Depending on availability you can join a tour of the winery just call ahead or ask upon arrival.
Cost of Tasting: $30 per person but can choose all red, all white or a combination. You can also order a charcuterie plate ahead of time which is quite yummy!
Hours: Open Monday – Thursday (10 am to 5 pm), Friday & Saturday (10 am to 6 pm) and on Sunday (12 pm to 6 pm).
Address: 464 Becker Farms Rd, Fredericksburg, TX 78624
5. Bingham Family Vineyards
While wine tasting at Pedernales Cellars, the staff there recommended Bingham Family Vineyards as Pedernales uses grapes grown by Bingham Family in their wines!
In fact, Bingham Family is known for their specialty of growing grapes not only for themselves but other wineries in the area as well. Being one of the biggest grape growers in Texas, you will likely try wines with their grapes!
As with a few others listed, all of the wines produced by the Bingham Family are 100% Texas wines.
Located right along the 290 and closer to the town of Fredericksburg than the rest on this list makes it easier to visit.
Bingham Family produces both white and red varietals of grapes but some favorites are their Chardonnay, Viognier, Tempranillo, Cabernet Sauvignon, Merlot, and Trebbiano.
Their wines even have some fun names paying homage to their organic farm such as the Dirt Farmer!
Cost: $15 for a mixed flight per person, $20 for a red-only flight per person.
Hours: Open daily from 11 am to 6 pm.
Address: 3915 E US Highway 290, Fredericksburg, TX 78624
6. William Chris Vineyards
Although William Chris Vineyards is a little further out than all the wineries listed so far, it is definitely worth visiting. The tasting room is housed in a quaint century-old farmhouse just an 8-minute drive from many of the wineries listed.
Bill Blackmon and Chris Brundrett celebrate their 100% Texas wine and believe that "the best wines are grown, not made"!
William Chris uses old-world techniques to make modern and elegant flavored wines that are world-class.
You have the chance to taste exceptional single grape varietals but plenty of remarkable blends! The most popular wines to sip are Mourvedre, Petit Verdot, Tannat and Malbec.
In combination with their other two locations, there are numerous types of wines to try such as Riesling, Viognier, Cabernet Sauvignon, Cabernet Franc, Sangiovese, and Tempranillo to name a few.
Enjoy your tasting indoors or on their outdoor pavilion seating taking in the stunning views around you…
Cost: $20 per person or $40 per person for a food and wine pairing tasting. You can order a picnic lunch ahead of time to enjoy with your wines for $20!
Hours: Open Monday – Wednesday (10 am to 5 pm), Thursday – Saturday (10 am to 6 pm) and Sunday (11 am to 5 pm)
Address: 10352 US Highway 290, Hye, TX 78635
7. Messina Hof Hill Country Winery
Of all the wineries in Fredericksburg, Messina Hof has the most wines to choose from when visiting. With around 50 different options, you are sure to find something that pleases your palate!
Messina Hof prides itself in offering award-winning 100% Texas wine meaning all grapes are grown in Texas.
Family-owned and operated since 1977, Messina Hof is one of the oldest wineries in the Texas Hill Country. They definitely know their wine and as they grew their mantra became "anything is possible"!
There are too many excellent wines to list here, I rather enjoyed a Pinot Noir and a Cabernet Sauvignon.
Although I enjoyed the wines and ambiance at Messina Hof, I found the staff serving the wine to be very unfriendly. I'm hoping this was an off day as they have a very nice large tasting room and outdoor patio.
Note: There are two other Messina Hof locations in Bryan, TX and in Grapevine, TX.
Hours: Open Tuesday – Sunday (12 pm to 6 pm), closed on Mondays. Happy hour is Tuesday – Thursday (4 pm to 6 pm).
Address: 9996 US-290 E, Fredericksburg, TX 78624
8. Lost Draw Cellars
Lost Draw Cellars is a family-owned winery that opened its doors in 2014 producing 100% Texas wines. Located a few minutes off of Main Street, Lost Draw Cellars is a tasting room, not the actual vineyard at this location.
Enjoy sipping your delicious wine in the cozy indoor tasting room or on their outdoor patio with plenty of shade under the trees.
Known for their warm and friendly service it is an ideal spot to sit back and enjoy an afternoon.
Cost: $20 per person for a flight of wine tasting.
Hours: Open daily from 10:30 am to 5 pm.
Address: 113 E Park Street, Fredericksburg, TX 78624
9. Bending Branch Winery
Bending Branch Winery is about 30 minutes south of Fredericksburg but a spectacular winery to stop at if you are driving from San Antonio.
The winery sits along the Guadalupe River and has been serving old-world winemaking with modern techniques since 2009.
They are known for their Tannat which is a dry red wine that is pleasing to the palate! Other wines available to sample are Picoul Blanc, Tempranillo, Cabernet Sauvignon, Petite Sirah, and Souzao.
Cost: $25 per person for a tasting flight. Reservations are needed in advance, especially on weekends.
Hours: Open daily from 12 pm to 6 pm.
Address: 142 Lindner Branch Rd, Comfort, TX 78013
More For Fun Than The Wine…
These next two wineries are right next door to each other and sister wineries along Highway 290.
Both of these wineries I would recommend for more of a party atmosphere. Plus, they each have a unique theme with plenty of photo opportunities!
Beyond that their wines are ok but not what I would class in the fabulous category. Only visit these if you have the time after visiting the wineries above!
10. Fat Ass Ranch & Winery
I have to admit that Fat Ass Ranch & Winery has a super cute story and theme around well, a fat ass…
The couple that started the winery as with many new relationships gained some weight. And then they coincidentally noticed that their donkey had become the size of a horse. It became obvious to them that they lived on a fat ass ranch!
Their wines tend to be very fruity and a little too sweet for me except for the Frozen Sangria!
If you want you can hop on a tram ride and tour the Fat Ass Winery and the Wine Garage next door. The cost is $30 and includes a tasting and a frozen sangria (Saturday only).
Cost: $10 per person for tasting.
Hours: Open Sunday – Friday (11 am to 5 pm) and Saturday (10 am to 6 pm).
Address: 51 Elgin-Behrends Road, Fredericksburg, TX 78624
11. Wine Garage
If you are in a large group with guys, they will enjoy visiting Wine Garage because they offer wine and an old car collection! Located right next to Fat Ass Ranch & Winery it is easy to visit both.
As with Fat Ass Ranch & Winery, having a cool theme of cars makes it stand out from a traditional winery and more of a fun vibe.
Each of their wines has a car-themed name and artwork adding to the entertainment.
Cost: $15 per person for a flight of wine tasting.
Hours: Open Monday, Thursday & Friday (11 am to 5 pm), Saturday (10 am to 6 pm), Sunday (11 am to 5 pm), and closed on Tuesday & Wednesday.
Address: 11602 E Hwy 290, Fredericksburg, TX 78624
Wine Shuttle and Tours
290 Wine Shuttle
On the 290 Wine Shuttle, you can hop on and off on a section of the 290 Highway where many of the wineries are located.
While you go from winery to winery, you can store your purchases on the shuttle and grab them at the end of the day!
The wineries that I have mentioned in this post that the shuttle will take you to include Grape Creek Vineyards, Heath Sparkling Wines, Messina Hof Hill Country, Fat Ass Ranch & Winery, and Wine Garage. And a number of wineries that I have not discussed here too.
Texas Wine Tours
If you don't want to worry about driving at all and create a customized day of wine tasting Texas Wine Tours is the best bet!
Hill Country Wine Trail
If you are a local or plan to spend a few weeks in the Texas Hill Country then consider purchasing a Texas Hill Country Passport.
There are a few passports to choose from but all range from 26 to 43 days. Each passport gets you free tastings between 35 – 43 wineries in all of Hill Country during the specified time period.
And so you don't go overboard, there is a limit to 4 wineries per day. It's a really awesome deal if you have several days or weeks to use it!
Texas Hill Country & LBJ Ranch Tour
This is a full-day Texas Hill Country tour that picks you up in either Austin or San Antonio and takes you to visit the former home of U.S President Lyndon B. Johnson known as the Texas White House, exploring the town of Fredericksburg and a little wine tasting!
Best Restaurants in Fredericksburg
After a fun day of wine tasting, wind down with a delicious meal and maybe some more wine…
Fredericksburg has some excellent restaurants including many with German roots. All of these are in or very close to the downtown area of Fredericksburg.
Cabernet Grill Texas Wine Country Restaurant (American) – 2805 S State Hwy 16, Fredericksburg
Otto's (German) – 316 E Austin Street, Fredericksburg
Vaudeville (New American) – 230 E Main Street, Fredericksburg
Navajo Grill (New American) – 803 E Main Street, Fredericksburg
Hondo's On Main (Sandwiches) – 312 W Main Street, Fredericksburg
Woerner's Warehouse (New American) – 305 S Lincoln Street, Fredericksburg
Sozial Haus (Pizza) – 107 S Llano Street, Fredericksburg
Old German Bakery & Restaurant (Bakery, Breakfast) – 225 W Main Street, Fredericksburg
Kaffee-Haus (Coffee) – 218 E Main Street, Fredericksburg
Enjoy sipping world-class wine at the best wineries in Fredericksburg!
Got Travel Insurance?
Don't leave home without travel insurance as you never know what might happen on a trip! It is always when you least expect it that something can go wrong like getting sick, in an accident or cancellation of some sort. Get a no-obligation World Nomads travel insurance quote today for peace of mind!
Looking For More Travel Inspiration?
Perfect 3 Day Weekend In San Antonio Itinerary For First Timer's
15 Fun Things To Do In Lafayette, Louisiana's Cajun Country
17 Fun Things To Do In Orange Beach, Alabama On Your First Visit
23 Cool And Fun Oklahoma City Attractions That Are A Must To See
9 Best Wineries In Paso Robles, California To Try On A Weekend Getaway
The Ultimate Guide To The Albuquerque Balloon Festival
15 Famous Things About Chicago You Must See
11 Top Things To Do In White Sands National Park For First Time Visitors
Allbirds Review: The World's Most Comfortable Shoes?
Disclaimer: As an Amazon Associate and a participant of other affiliate programs, I may earn from qualifying purchases in this post. This means that if you make a purchase through one of these links, I might receive a commission at no extra cost to you. Thank you and it is greatly appreciated!