Disclaimer: Traveling Ness contains affiliate links and is a member of the Amazon Services LLC Associates Program. If you make a purchase using one of these links, I may receive compensation at no extra cost to you. See my privacy policy for more information.
19 Fun Things To Do In Encinitas, California
When envisioning the classic California surf town, look no further than Encinitas. Encinitas has that laid-back beach community vibe where you can't resist feeling relaxed immediately upon arriving. There are several fun things to do in Encinitas that make visiting this palm tree-lined town a must-see.
If you are planning a trip to San Diego then heading to Encinitas is perfect for a day trip or weekend stay.
Encinitas is one of those towns that has a chill atmosphere, gorgeous scenery, and a place you could call home.
Where Is Encinitas?
Nestled along the scenic Coast Highway 101 that hugs the Pacific Ocean is the beach community of Encinitas.
Encinitas is located in the northern part of San Diego County and is commonly referred to as North County.
About 26-miles north of downtown San Diego and 15-miles south of the border between San Diego County and Orange County is Encinitas.
You can easily reach Encinitas off of the 5 Freeway but if you want to cruise along the many cool beach towns, then opt to take the Coast Highway here.
The town of Leucadia is now considered to be part of the city of Encinitas so I will include that in this post. Locals will refer to each town as separate but note officially they are one.
When To Visit Encinitas
When visiting any area of San Diego County, there really isn't a bad time of year to visit. San Diegans are blessed with having so many sunny days giving it the nickname "Sunny San Diego".
Each year there are about 266 sunny or partially sunny days which is why people love to travel here year-round.
Being situated along the water, Encinitas like all the coastal towns in Southern California has fog and a marine layer.
The fog and marine layer tend to be the most prevalent in April through the beginning of July. It is common for it to be super overcast and then around noon it breaks off.
If you are particularly interested in spending some time on the beach then July through November tends to be the best.
But you would be surprised that there have been very hot summer-like days around Christmas! Definitely no snow days around here…
And if you want additional information about things to do in San Diego, find out more in my post 15 Best Things To Do in San Diego and 15 Most Popular Beaches In San Diego.
How To Get To Encinitas
There are two airport options when visiting Encinitas that you can fly into. The San Diego International Airport (SAN) is 26-miles south of Encinitas and in the opposite direction (north) is John Wayne Airport (SNA) in Orange County at 61-miles away.
Why not explore the best flight deals today to get your beach vacation started!
No matter which one you choose, be aware that their airport codes are very similar! I usually look for the best deals and make my decision based on that.
From either airport, you will arrive into Encinitas off of the 5 Freeway and exit off of Encinitas Blvd. Head west towards the beach to reach the charming downtown.
Tip: Find the best deals on a car rental here and be set for your trip!
Where To Stay In Encinitas?
There are not many hotel options in Encinitas along the beach area except for a few mentioned below. Other great nearby options to stay at are in Carlsbad or Del Mar.
Encinitas
Carlsbad (9-miles north)
Del Mar (9.5-miles south)
Fun Encinitas Tours To Take
Guided Electric Bike Tour – Hop on an electric bike and ride through Encinitas and its beautiful coastline with a guide!
North County Booze & Cruise Tour – If you are a beer lover, sip some of the best beers in the North County portion of San Diego in a cool ride!
Go San Diego Pass – If you plan to visit the rest of San Diego, get this pass and save on a bunch of top attractions!
Things To Do In Encinitas Map
What To Do In Encinitas
1. Beach Day Moonlight Beach
If you are visiting San Diego then most likely visiting the beach is high up on your list. There are some epic beaches in Encinitas but the one that has the most facilities and easiest access is Moonlight Beach.
You can even walk to Moonlight as it is located just a few blocks from the downtown area of Encinitas.
Moonlight beach is a favorite beach of mine as it has it all with a wide-open sandy beach, restrooms, a lifeguard tower, and a concession stand. There is also a playground for kids, picnic tables, and fire pits available.
Since it has a gorgeous beach and is simple to get to, it tends to get crowded on a summer day, especially with families.
If you aren't a fan of the crowds, just walk left or right and you will have plenty of space to yourself. To the left from Moonlight to D Street is a really nice area to enjoy.
If laying out and swimming in the ocean isn't your thing but you would still like to enjoy the view, there are a number of benches at the top of the bluff to look out onto the Pacific Ocean!
Address: 386 B Street, Encinitas, CA 92024. You can park in the parking lot off of C Street or on a nearby residential street.
2. Surf Some Waves
Encinitas is pretty famous for being a surf town and what makes it an excellent spot for those wanting to learn. If you have always wanted to try surfing it is one of many fun things to do in Encinitas! Both pros and beginners can find the perfect wave to ride along the beaches of Encinitas.
The best beaches to surf in Encinitas are Beacon's Beach, Grandview Beach, Moonlight Beach, and Swami's Beach.
If you already have your board then you can head straight to the beach but if you would like to take a lesson and/or rent a board then there a few options to look at.
Two companies to look at for lessons is Encinitas Surf Lessons and Leucadia Surf School.
If you already know how to surf and just want to rent a board then look at San Diego Surfboard Rental, Hansen's Surfboards or Progression Surf Shop.
With San Diego Surfboard Rental, they will deliver the surfboard to the beach of your choice and with chairs and umbrella if you want! Talk about no hassles…
3. Shopping on the 101
The 101 is officially known as the Coast Highway 101 that is the road that runs along the coast in San Diego County. It is a scenic way to cruise along the beach towns and to feel the Southern California vibes.
There are many great shops, cafes, and restaurants along the 101 between Encinitas Blvd and K Street. Walk up one side of the street and do a loop back on the other side. Some of my favorite shops along here are:
Hansen Surfboards – Everything related to surf, beachwear, sandals, boards, you name it.
Vuori – Is a store that makes the most comfortable lounge and activewear clothing. I wear Vuori when I travel on a plane as the pants and zip-up sweatshirts are both cute and comfy for a long travel day.
Artifact Books – If you are a lover of books and that book smell then Artifact Books is a used book store that is a classic place to roam and find a new read!
Address: Along the Coast Highway 101 in between Encinitas Blvd and West K Street.
4. San Diego Botanic Garden
For anyone remotely interested in botanical gardens or the tranquility of being out in nature then visiting the San Diego Botanic Garden in Encinitas is a treat.
The San Diego Botanic Garden got its start when the Larabee's purchased around 22 acres of land and cultivated it themselves.
Their focus is to include plants from Mexico and South America with a Southwest feel to it.
The land was given to the County of San Diego and in 1970 it opened up to the public for all to visit.
At that time and while I was growing up, it was known as Quail Botanic Gardens. Although renamed as the San Diego Botanic Garden, I still refer to it as Quails…
The main goal initially behind creating the gardens was to preserve and protect the habitat of the quail birds living here.
You can walk among several trails that take you through various themed gardens such as desert landscapes, rain forest, and bamboo forest.
If you happen to visit when the Corpse Flower is blooming, get there quick as this fascinating and smelly flower only blooms every 5 – 10 years.
When it does bloom, you only have a few days to see and smell the corpse-like flower in all of its glory. I have never seen such an unusual and enormous flower like this!
If you want to find out more detailed info on the different plants and flowers then you can opt to take a tour.
If you visit on a Saturday, then you can join the tour led by a docent at 10:30 am and included in your admission.
Tip: Open Wednesday through Sunday from 10:00 am to 5:00 pm (closed Monday & Tuesday). Purchase your ticket ahead of time online at their website. Adult tickets are $18, Seniors are $12.00 and children are $10.00.
Address: 230 Quail Gardens Drive, Encinitas, CA 92024
5. Explore Tide Pools
Swami's Beach might be known as a prime surfing destination, but it is also an excellent spot for exploring tide pools at low tide.
If you aren't familiar, tide pools are shallow pools that form in rocks along the shoreline and when the tide is out you can see all sorts of sea critters living in them.
As in the pictures here, the mussels are easy to see but with patience and a keen eye you may find other sea animals such as sea stars, crabs, octopus, and sea anemones.
When searching for the various life in the tide pools, may sure to not remove anything you might find even if it is tempting.
Swami's is an excellent beach to go for a walk, sunbathe or surf in addition to searching among the tide pools.
The tide pools are mostly found north of the stairs that you come down from the parking area.
To check ahead of the tide schedule for your visit, verify the California tide table. At low or negative tide is ideal to make sure the pools are not hidden in the water.
Address: 1298 South Coast Highway 101, Encinitas, CA 92024
Discover Fun Tours And Bike Rentals In Encinitas!
6. Eat Tacos!
If you love an epic taco, then look no further than the Taco Stand. If you couldn't tell by the name, they specialize in tacos but also have burritos and quesadillas.
All the food is served using fresh homemade tortillas and a variety of tasty salsas.
All of the tacos I have tried are incredible but the Baja (battered fish taco) is amazing and keeps me coming back for this one alone!
Some other taco options are the Carne Asada (beef), Al Pastor (pork), Chicken, Spicy Shrimp, and Grilled Fish.
There are even a few veggie options with the Mushroom taco and Nopal (cactus). These two I haven't tried as I prefer ones with protein but I'm sure they are tasty too. The Taco Stand is in the heart of Encinitas right along the Coast Highway 101.
For those that are connoisseurs when it comes to tacos, The Taco Stand has some of the best tasting and authentic Mexican style tacos that are a must to try. There may be a wait but it is worth it…
Eating tacos is definitely one of the best things to do in Encinitas! Visit this post to find out where the best tacos in San Diego are!
Tip: And they even have delicious breakfast burritos that you can take to go and enjoy eating at Moonlight Beach!
Address: 642 South Coast Highway 101, Encinitas, CA 92024. Open from 10:00 am to 10:00pm.
7. Relax At The Self-Realization Center
Sitting up on the bluffs above the Pacific Ocean in Encinitas is the Self-Realization Fellowship and mediation gardens. The Self-Realization Center is next to Swamis Beach and shares the beach area below.
The Self- Realization Center offers lectures, meditations, and teachings to find one's spiritual practices.
The area that is open to the public and my favorite is the Meditation Gardens that is a peaceful oasis.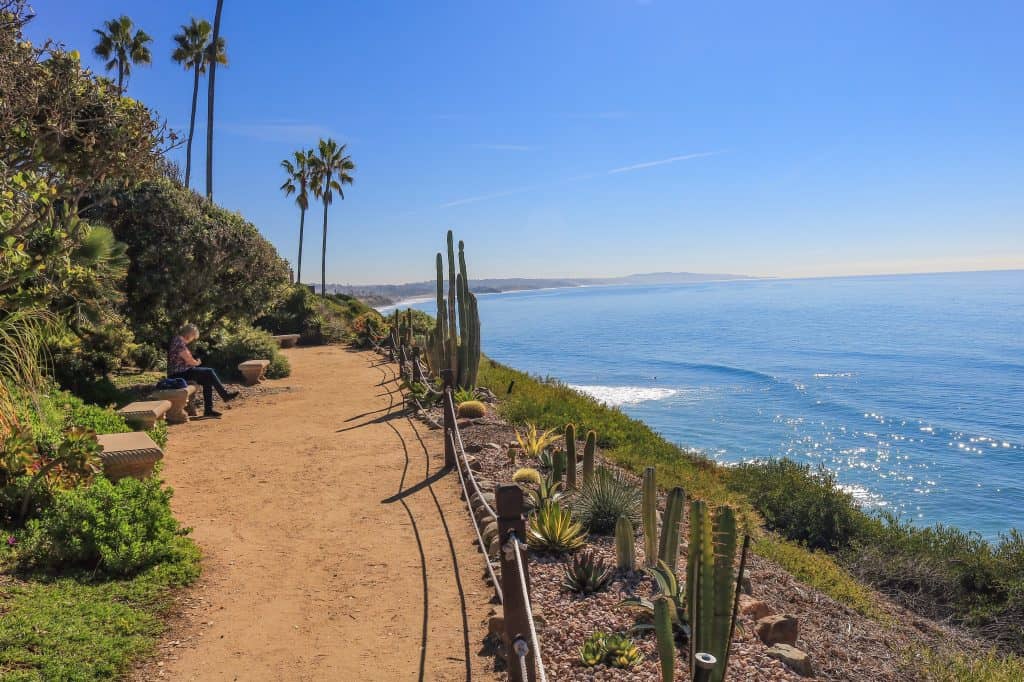 It doesn't hurt that the ocean views from the gardens are breathtaking! There are several sitting areas throughout the lush gardens to sit down and unplug from the chaos of daily life.
You can spend your time gazing out at the ocean or bring a book to enjoy seaside.
Whether you are looking to practice your meditation or commune with nature, the Encinitas Mediation Gardens is a must to visit. You will immediately feel relaxed after spending time in this tranquil gem in Encinitas.
Address: 215 West K Street, Encinitas, CA 92024. This address will give you access to the gardens except for Mondays (closed).
If you love this post, subscribe to get my latest travel inspiration!
8. Visit Butterfly Farms
On many occasions, I have driven past the Butterfly Farms and seen the butterflies fluttering around and been curious about what it was.
One day I stopped and learned that Butterfly Farms is a non-profit that started in a goal of conservation for the declining butterfly population in the area.
The farm opened up in 2012 as a place to educate the community on the butterflies, research, and the vital role of pollinators. The native butterflies primarily Monarch Butterflies fly within the 3,000 square foot vivarium.
The vivarium is basically outdoors but the fence like netting keeps the butterflies inside so that they can be researched and prosper. You can see the different stages of growth a butterfly goes through in real-time here too.
There is a small nursery that you can buy various plants such as Milkweed that attract butterflies. So, you can take one home and recreate your own butterfly farm if you wanted to!
Address: 441 Saxony Road, Encinitas, CA 92024
Cost: There is a $6.00 per person to enter and free for active-duty military ($3.00 for their spouses and kids). Open daily from April through November, 10:00 am to 4:00 pm.
9. Have A Bonfire with Smores
If I can think of one tasty treat that is quintessentially American, I think of a smore.
A smore is a delicious, gooey, and sticky sweet goodness that you make when camping or hanging out at the beach that has a fire pit.
In writing this, it has me curious if other countries make this or something similar?
Ever since I could remember, it has always been a tradition to have smores when having a beach bonfire or sitting around the campfire.
Smores involve roasting large marshmallows on a metal skewer (an old wire hanger back in the day). I personally like it when the marshmallow catches on fire and becomes crispy and blackened.
Before roasting your marshmallow, layout two Graham Cracker squares and a few small squares of a Hershey Chocolate Bar on the graham cracker.
When the marshmallow is ready, make a sandwich in between the chocolate and graham cracker for a blissful bite!
Head to a grocery store to get these items and have your own bonfire with smores at one of the fire pits at Moonlight Beach mentioned in #1. Eating a smore and watching the sunset over the Pacific Ocean is a perfect way to end your day.
Tips: Have some hand wipes as your hands will get quite sticky!
Address: 386 B Street, Encinitas, CA 92024
10. Golf At Encinitas Ranch
I have never played golf that is unless mini-golf counts? For those that play real golf and like to try out new courses when they travel, then visit Encinitas Ranch. Plus, if you need a break from hanging out at the beach then give golf a go.
Encinitas Ranch is an 18-hole golf course with a golf range and ocean views for added scenery. If you are not a local then prices to play on the course are $85 (weekday), $91 (Friday), and $105 (weekend). For more information on booking a tee time, you can visit their website here.
Address: 1275 Quail Gardens Drive, Encinitas, CA 92024
11. The San Dieguito Heritage Museum
Looking to learn a little bit about the local history? Then step back in time as you visit the San Dieguito Heritage Museum to see artifacts, photographs, records, and stories of life pertaining to the communities of the San Dieguito River region.
The San Dieguito Heritage Museum is also referred to as the Heritage Ranch. The area that we know today as being part of the San Dieguito River community are the towns of Leucadia, Encinitas, Cardiff, Solana Beach, Del Mar, Olivenhain, and Rancho Santa Fe.
Tip: The Heritage Museum is located next to the San Diego Botanic Gardens so you can plan to visit both back to back if you want.
Address: 450 Quail Gardens Dr., Encinitas, CA 92024. It is open from 12:00 pm to 4:00 pm Thursday through Sunday.
Explore Fun Tours And Bike Rentals In Encinitas!
12. Sip Wine
What better activity than sipping wine after a day at the beach day or exploring the town. Instead of having to go far out into wine country, Solterra Winery & Kitchen has both excellent wine and food for you to taste a short distance from the beach.
It has a very Mediterranean feel with several wine barrels that decorate the space beckoning you to try some wine.
All of their wines use locally sourced grapes from Temecula, California, and Valle de Guadalupe in Mexico.
Whether you want to kick back and enjoy a glass of wine and/or a delightful meal, this is a stellar place to unwind.
Address: 934 North Coast Highway 101, Encinitas, CA 92024
13. Visit The Farmer's Market
The Farmer's Market in Leucadia is held at the Paul Ecke Central Elementary School every Sunday from 10:00 am to 2:00 pm.
The school is in a residential neighborhood, so you might need to hunt for a street parking spot.
There are over 75 vendors that have booths at the Farmer's Market each week that offer fresh and delicious products to enjoy. Products from produce, yogurt, breads, sauces, flowers, and artisan crafts to name a few.
My primary reason for going is to get the incredibly yummy Frenchy Yogurt that has flavors such as fig, rose, raspberry, and lemon! And if you come hungry there is a small food court where you can get a tasty meal.
Tip: Most of the vendors accept credit card but not all, so make sure you bring cash with you. There are no ATM machines onsite so plan ahead.
Address: 185 Union Street, Encinitas, CA 92024
14. Get a Caffeine Fix
Need a pick me up with an excellent cup of coffee? I'm sure there are many great spots but there are two that I especially love and find to be top-notch when it comes to coffee.
The first is Pannikin Coffee & Tea that is a little less than a mile from the downtown Encinitas area.
At first glance, Pannikin will attract your attention as it is an adorable pale yellow building that looks somewhat like an old house.
But in reality, Pannikin is housed in what used to be an old railroad station from 1888. I love how you get to walk back into history when you sip a coffee here.
Pannikin is family-owned and has been serving freshly roasted coffee to locals since 1968. No surprise there as it is so good. Plus, they have an assortment of teas and baked goods for those that don't drink coffee.
Another coffee shop I enjoy is Better Buzz Coffee that is in the middle of downtown Encinitas on the 101. I enjoy their coffee but I might enjoy their food even more as they have a delicious avocado toast and grilled sandwiches.
The Better Buzz has a cute modern atmosphere that also serves tea, smoothies, and baked goods.
Their motto "life is better buzzed" is both catchy and cute. What I love about these two coffee shops is that they not only have excellent coffee but are local to San Diego.
Note: In total there are four Pannikin locations (Encinitas is original) in San Diego County and 12 locations for Better Buzz Coffee.
Pannikin Address: 510 N Coast Highway 101, Encinitas, CA 92024
Better Buzz Coffee Address: 578 S Coast Highway 101, Encinitas, CA 92024
15. The Boat Houses
The first time I happened to drive down Third Street on my way to the beach, I was like what the heck is that?!
In the middle of a residential street sits two gigantic ships up on stilts that look like they just came to port.
They literally stick out as you don't usually see houses that are a replica of a large ship on land. In the water yes, but never like this.
These huge houseboats, named SS Encinitas and SS Moonlight have a long-running history in Encinitas as they were built in the 1920s.
Known as the Encinitas Boathouses, they were built after the Prohibition Days (1920s) using wood from a bathhouse and hotel that weren't able to survive the dry days.
These two boats have never been out to sea but the 20 feet long and 15 feet tall boathouses are a fun thing to see in Encinitas!
Back in 2008, the Encinitas Historical Society purchased the homes and there are currently tenants living there now. So, make sure you don't trespass up past the sidewalk as people call these boats home.
Once the mortgage is paid off, the Historical Society plans to turn them into a museum that all can visit!
Address: 726 and 732 Third Street, Encinitas, CA 92024
16. Encinitas Historical Society
If you want to get a taste of what life in Encinitas has been like since the late 1880s, then visit the Encinitas Historical Society that is in an old schoolhouse. The 1883 Schoolhouse was built in yep, 1883!
It is a charming small house with a white picket fence and houses exhibits, photos, and artifacts that give you a glimpse back into time. It is free to visit but they do appreciate donations to keep it open to the public.
Address: 390 West F Street, Encinitas, CA 92024. Open on Friday and Saturdays from 12:00 pm to 3:00 pm. The schoolhouse is temporarily closed but you can check ahead of your visit to see if they are open.
17. La Paloma Theater
In 1928 the La Paloma Theater opened in Encinitas and was one of the first theatres to play "talkie" movies.
Otherwise known as movies that had voices or talking in them that was revolutionary for its time. Previous to this, movies were only silent which seems so strange to us today!
The Spanish Colonial Revival styled theater holds 540 seats and is still in use today. The schedule varies but you can catch various shows, movies, and community events at the La Paloma Theater that means "dove" in Spanish.
I love whenever I see old historic movie theatres that have the original marquees hanging with its vintage vibes. Located in downtown Encinitas on Coast Highway 101, you will pass right by it as you enter in town.
Address: 471 South Coast Highway 101, Encinitas, CA 92024
18. Best Viewpoints in Encinitas
When visiting a new city, it is always nice to find out where the best spots are to view what a place has to offer.
These locations are great at any time of the day but even more so if you are looking to watch the sunset over the Pacific Ocean.
At almost any beach in Encinitas is an excellent viewpoint but my favorite beaches to see the ocean are from Grandview Beach, Moonlight Beach, D Street Viewpoint, and Swami's Beach.
A site that is a short distance from the beach and up on a slight hill is at Encinitas Viewpoint Park (404 West D Street, Encinitas, CA 92024). It is a park where you could enjoy a picnic and look out to the Pacific Ocean and coastline of Encinitas.
Another spot that I like is on the corner of Santa Fe Drive and Cornish Drive. There are a handful of benches here so that you can kick back and scan the area of downtown Encinitas, the Fellowship Center, and the ocean.
Tip: If you are taking in the sunset while visiting, keep your eyes out for the "green flash"! I personally have never seen it but it is said it is part luck and part folklore. In the right conditions and rare, is an optical phenomenon that occurs when a flash of green light is seen right after the sunset. You could blink and miss it!
19. Places To Eat In Encinitas
Union Kitchen & Tap (1108 South Coast Hwy 101, Encinitas, CA 92024) – Mediterranean meets California cuisine
Blue Ribbon Artisan Pizzeria (897 South Coast Hwy 101, Encinitas, CA 92024) – Pizza and salads
3rd Corner Wine Shop & Bistro (897 South Coast Hwy 101, Suite f-104, Encinitas, CA 92024) – Seafood and Italian
Trattoria I trulli (830 South Coast Hwy 101, Encinitas, CA 92024) – Italian
The Crack Shack (407 Encinitas Blvd, Encinitas, CA 92024) – Everything centered around fried chicken specializing in breakfast.
In-N-Out Burger (130 Magdalena, Encinitas, CA 92024)– I normally don't include fast food but it seems like everyone is in love with In and Out. I'm not a huge fan but people fly all over to get a burger and fries from here so I thought I'd mention it!
Swami's Café (1163 South Coast Highway 101, Encinitas, CA 92024) – Fresh breakfast and lunch dishes with many vegetarian options.
Fish 101 Leucadia (1468 North Coast Hwy 101, Encinitas, CA 92024) – Seafood and fish tacos
Le Papagayo (1002 North Coast Hwy 101, Encinitas, CA 92024) – Mediterranean and Latin fusion
Beach Trip Essentials
Got Travel Insurance?
Don't leave home without travel insurance as you never know what might happen on a trip! It is always when you least expect it that something can go wrong like getting sick, in an accident or cancellation of some sort. Get a no-obligation quote from two trusted travel insurance companies for peace of mind on your next trip!
Looking For More Travel Inspiration?
15 Best Things To Do In San Diego
Exploring The Best La Jolla Attractions
25 Fun Things To Do In Carlsbad, California
15 Most Popular Beaches In San Diego
A Guide To The 5 Most Beautiful Beaches Of Malibu, California
17 Fun Things To Do In Orange Beach, Alabama On Your First Visit
15 Best Things To Do On Dauphin Island, Alabama
The Best Guide To Maui Whale Watching
5 Ways To See California's Imperial County
The Best Northern California Coastal Road Trip
Disclaimer: As an Amazon Associate and a participant of other affiliate programs, I may earn from qualifying purchases in this post. This means that if you make a purchase through one of these links, I might receive a commission at no extra cost to you. Thank you and it is greatly appreciated!