Disclaimer: Traveling Ness contains affiliate links and is a member of the Amazon Services LLC Associates Program. If you make a purchase using one of these links, I may receive compensation at no extra cost to you. See my privacy policy for more information.
15 Fun Things To Do In Lafayette, Louisiana's Cajun Country
Lafayette is the heart and soul of Cajun country pulsing with music, mouthwatering food, and adventure. In this guide, I'll take you to explore all the fun things to do in Lafayette, Louisiana no matter if this is your first or fifth visit!
Visiting Lafayette is like stepping into one of the most unique places in the United States where French dialects are spoken, Cajun spices and seafood abound, and seeing a gator is pretty common.
Of any area in the United States, Lafayette and Southern Louisiana have the greatest amount of European and Caribbean influence in one spot. That is what makes it an exciting and intriguing destination to travel to.
You will be welcomed by true Southern hospitality as you experience the best of Cajun country. Get ready to have a good time, discover the best Lafayette attractions to see, and before you know it you will be booking your ticket!
Where Is Lafayette?
Lafayette is located in the state of Louisiana in the Southern region of the United States also known as the South.
The southern border of Louisiana meets the Gulf of Mexico and is bordered by land with Texas to the west, Mississippi to the east, and Arkansas to the north!
Most people are very familiar with New Orleans and likely the first place many visit when coming to Louisiana.
Lafayette is 2 hours northwest of New Orleans and right in the middle between the cities of Lake Charles and Baton Rouge.
Lake Charles is an hour directly west of Lafayette and Baton Rouge is  1 hour to the east. As you can see Lafayette has a great location to many other nearby destinations to visit!
Most of the area from New Orleans to Lafayette consists of marshy sections of land and water that are known as the bayou.
A bayou is a region that has slow-moving or stagnant creeks and rivers that are the appearance of what most think of as a swamp.
The largest bayou near Lafayette is the Atchafalaya Basin where you can take both boat and airboat tours!
If you will be spending time in New Orleans, discover some fun and interesting activities in:
Ultimate New Orleans Bucket List: 35 Fun Things To Do In NOLA
5 Best Plantations Near New Orleans, Louisiana That Are A Must To See
How To Get To Lafayette
Although Lafayette has an airport, it is a regional airport meaning it might be hard to find flights into Lafayette directly. The airport is Lafayette Regional Airport (LFT).
For more flight times and likely better deals, I would recommend flying into New Orleans, Louisiana. The Louis Armstrong New Orleans International Airport (MSY) is a 2 hour and very scenic drive.
If you fly into New Orleans, spend a few days exploring the Ultimate New Orleans Bucket List: 35 Fun Things To Do In NOLA before heading to Lafayette!
But I would also check out flights into Chennault International Airport (CWF) in Lake Charles, Louisiana that is a quick 1-hour drive away!
The next biggest airport to fly into would be the William P. Hobby International Airport (HOU) in Houston, Texas.
From Houston, the drive is about 3 – 4 hours but the bonus is you can stop off at a few cool towns along the way.
Since many of the Lafayette attractions are spread out, I do recommend renting a car to experience this region the best. Start searching for the best car rental rates and book your car today!
Where To Stay – Hotels In Lafayette
The best places to stay in a good location and close to all the Lafayette attractions are:
Home2 Suites by Hilton Parc Lafayette
Fairfield Inn & Suites Lafayette I-10
Hilton Garden Inn Lafayette/ Cajundome
What Is Lafayette Known For?
If the title of this post didn't give it away, Lafayette is the epicenter of Louisiana's Cajun country! For most people, when they hear the word Cajun, Louisiana usually comes to mind…
But what exactly is Cajun? I had always associated it with a style of food but upon research and talking to locals I learned that Cajun is both a group of people and a style of food that Cajun's are known for eating.
Cajun's are also known as Acadians who are a group of people that live in Louisiana but originally came from Canada.
The Acadians that migrated to Southern Louisiana were French-speaking and why you may hear and see a lot of French words or expressions.
It has a different dialect from French and is referred to as Cajun French. I heard a local singing in this dialect and it was so pretty to hear!
I also learned that traditionally you find Cajun in the Lafayette region whereas Creole is more commonly found in New Orleans. Previously, I had always thought they were kind of the same thing.
But they aren't! Although a lot of restaurants have blended the two, they have separate origins.
The French known as Acadians who migrated from Canada were classified as Cajuns whereas people born in the "New World" in Southern Louisiana were considered Creole.
So, a Creole could be someone born in Louisiana whose parents were from Spain or France and were Catholic. Those that spoke French or Spanish would fall into the Creole category.
And if that isn't confusing enough, all Cajuns born in Louisiana are by default also Creoles as they are born in the New World. But not all Creoles are considered Cajun.
Best Time To Visit Lafayette
Overall Lafayette is nice any time of the year but the prime months to visit are March, April, May, and then October, and November.
These are the best months to explore Lafayette and the many outdoor adventures in the surrounding area. The driest months will likely be October and November and possibly into December.
The hottest and most humid months will be July and August followed by June. In combination with the high temperatures, there are chances of tropical storms and hurricanes from June through September.
In the winter months, temperatures will be cooler around 45 F to 67 F with some wind and rain but still pleasant compared to other regions of the United States.
I visited in the beginning of June and it was very hot and humid but it didn't prevent me from having a great time!
Tip: If you want to enjoy the peak eating season for crawfish, visit anytime from January to June. The peak months will be March, April, and May.
How Many Days Should I Spend In Lafayette?
I would suggest spending 2 – 3 days in Lafayette to explore and get a feel of this awesome Louisiana city. If you are looking to do a lot of outdoor activities then you could easily extend to 4 – 5 days.
Although some might make it a day trip from New Orleans, I would advise not to as it is a 2 hour drive each way. With less than a day, it would be hard to see much at all and prevent you from appreciating all the things to do in Lafayette!
Fun Lafayette Tours
I will mention in more detail later in the post about each of these tours but here is a short summary of each!
Cajun Food Tour – taste the best Cajun foods and learn about Lafayette's history!
Swamp Tour In Atchafalaya Basin – sit back on an airboat and enjoy the wind in your hair as you go on a swamp or bayou tour!
Kayaking Tour at Lake Martin – take a kayaking excursion on Lake Martin nature preserve.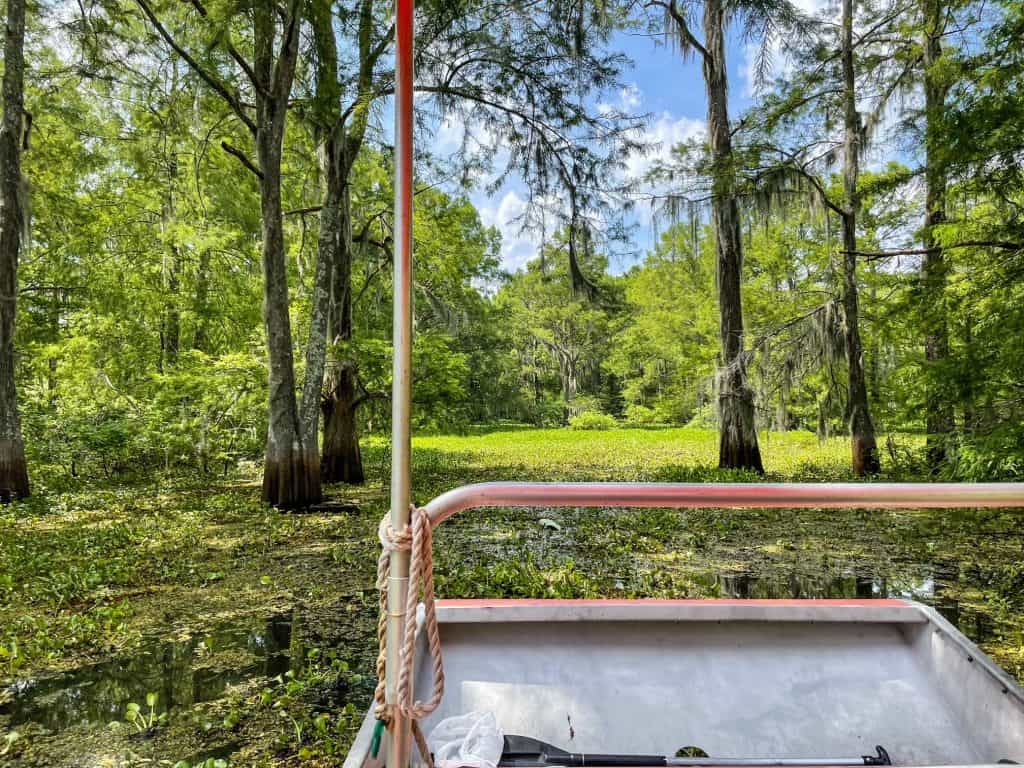 Tips For Visiting Lafayette, Louisiana
Come ready with an appetite to enjoy all the delicious Cajun food!
Crawfish season is from January to June with peak months of March, April, and May.
Make a point to have a Zydeco breakfast during your stay.
Stay hydrated and carry a reusable water bottle or a filtered water bottle especially during the hot months!
If you want to go on a swamp tour, I recommend booking in advance so you guarantee a spot!
In the summer months carry mosquito wipes or spray to keep the mosquitos away.
Carry sunscreen for both your body and this awesome scalp sunscreen spray!
If you are going on a fun swamp tour or kayaking tour, attach a GoPro to capture the adventure!
Map of Lafayette Attractions
Fun Things To Do In Lafayette
1. Park Sans Souci
In the heart of Lafayette's quaint downtown is Park Sans Souci which is a small park area that hosts a number of events and activities. There is a playground, a skate park and places for a picnic.
Visually the highlight in this park is the larger-than-life letters that spell out in vibrant colors the word "LAFAYETTE" minus the Y.
Nope, they didn't forget to include the "Y"! If you stand in the middle putting your arms up, you become the "Y"!
Since I was alone, there was no one to take a picture of me and why my photo might look a little incomplete… 😊
After you have gotten your photos, take a stroll over to San Souci Fine Crafts Gallery which features crafts from the best artisans in the South.
This is a perfect place to pick up a local souvenir or as a gift of jewelry, pottery, metal, wood, and glass items.
After some shopping, head over to Reve Coffee Roasters for a caffeine boost or the Wurst Biergarten for happy hour!
Park Sans Souci Address: 537 Rue Jefferson, Lafayette, Louisiana 70501.
2. Cathedral of St. John
Besides its striking architecture, what makes the Cathedral of St. John special is that it was the first parish in Lafayette Parish.
The building started in 1821 and was completed in 1916, with Lafayette known as Vermilionville at that time. It wasn't until 1884 that Vermilionville became Lafayette.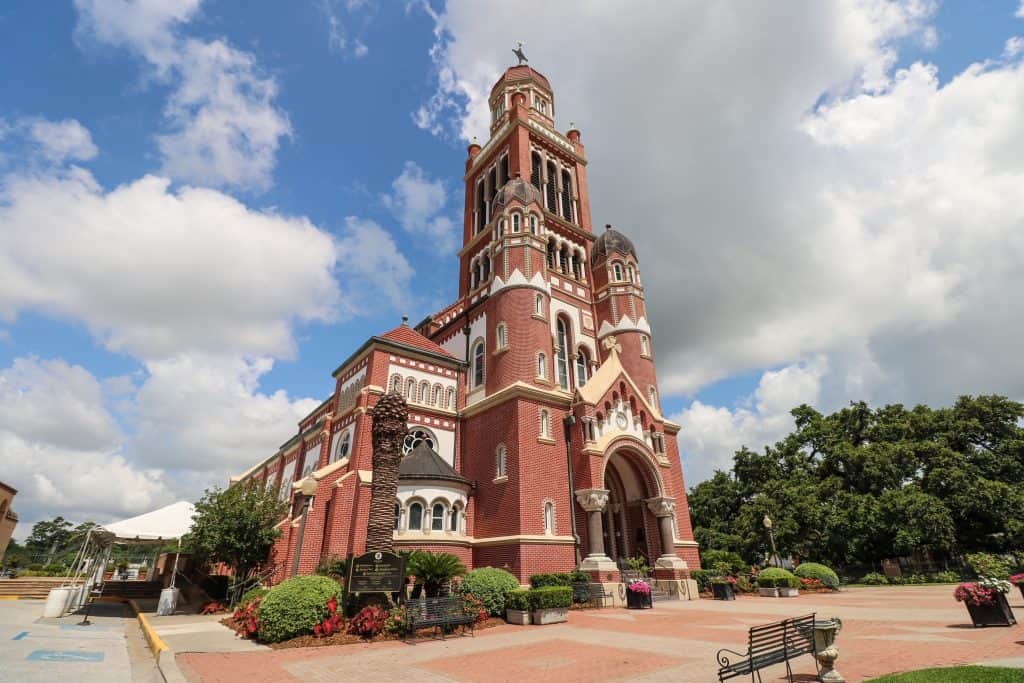 A parish is something heard throughout this region and around New Orleans similar to a county in other states. It began as a community of those faithful to the Catholic Church also known as a Parish.
Each parish covered a different area and is how the area or neighborhood was referred to.
The exterior of the church is made up of red and white bricks in a Dutch Romanesque Revival architectural style. It is quite impressive to view and a historic treasure!
Tip: Notice the huge Oak Tree to the right of the Cathedral! It is enormous and said to be over 450 years old.
Address: 515 Cathedral Street, Lafayette, Louisiana 70501
3. Vermilionville
Visiting the Vermilionville Living History Museum is a really neat way to see how life in the bayou was lived in the 1800s.
You get to experience the history, culture, and natural habitats in this area of Louisiana that covers 23-acres.
I was pleasantly intrigued to find out that Native Americans, Acadians, and Creoles all brought their own cultures together to form what Louisiana's Cajun Country is known for!
I was completely impressed by how Vermilionville is keeping the education and culture alive by sharing how people lived, ate, and spoke.
In one of the houses on the property, there was a girl in period dress singing in Cajun French. The language was so beautiful and so foreign to my ears.
Prior to this trip, I don't think I had heard Cajun French in person. It was a treat to have her singing as I explored the different exhibits in the house.
There are several houses you can walk through seeing various artifacts from 200 years ago and envisioning how life would have been during the 1800s.
In addition, visit the schoolhouse, boat shed, the blacksmith, bayou, and church.  And depending on the season or when you visit, you might get to see a cooking demonstration, dance lessons, or live music.
Everyone that works at Vermilionville is very knowledgeable about the history and helpful in answering the many questions I had!
Tip: There is a restaurant La Cuisine de Maman onsite that serves up some traditional Cajun foods that are a delight to try!
Hours: Open from 10:00 am to 4:00 pm Tuesday to Sunday (closed Monday). Admission for adults is $10.00, $8.00 for seniors, and $6.00 for kids (5-18).
Address: 300 Fisher Road, Lafayette, Louisiana 70508.
4. Frankie's Daiquiris
Are you ready for a daiquiri? It doesn't get much easier than going through a drive-thru and ordering your daiquiri to go!
When I first heard of these drive-thru daiquiris to go places, I immediately thought it seemed so odd and was shocked. And as you can't drink and drive what would be the point, right?
This is definitely one of the more unusual laws, but yes, it is legal to pick up an ice-cold frozen daiquiri to go in a drive-thru in Lafayette since the 1980s.
But to be clear, you can't drink the daiquiri until you get home or wherever your destination is. The lid must stay on and no inserting the straw are the key rules.
Today you can find them in other areas of Southern Louisiana such as New Orleans so keep your eye out for one.
Frankie's Daiquiris are said to have the best and although I didn't try others, it was pretty darn good!
You can pick from a wide variety of flavors from what seems like every flavor under the sun… Luckily that means you will find a flavor you love!
Address: 110 14th Street, Lafayette, Louisiana 70501.
5. Take A Swamp Tour
You can't come to Louisiana and not go on a swamp tour as it is one of the most fun things to do in Lafayette!
There are a variety of swamp or bayou tours that you can take in the Atchafalaya National Wildlife Refuge.
The Atchafalaya Basin is the largest river-basin swamp in the entire United States that is excellent for spotting alligators, birds, and moss-draped cypress trees.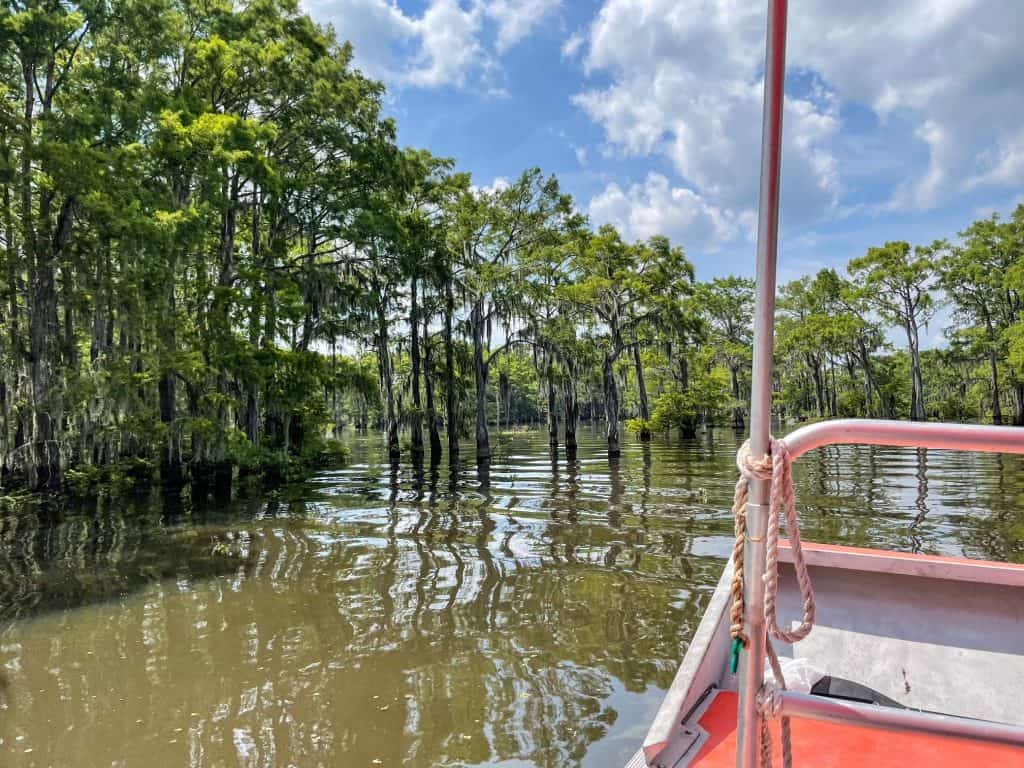 You can go on a boat tour, an airboat tour or a photography tour depending on your interests. I had previously been on a swamp boat tour near New Orleans, so this time I wanted to go on an airboat!
For me growing up, I have always envisioned airboats as synonymous with being out on a bayou and deep in Cajun Country.
So, on this trip, I booked an airboat tour with Atchafalaya Basin Landing and it was FANTASTIC!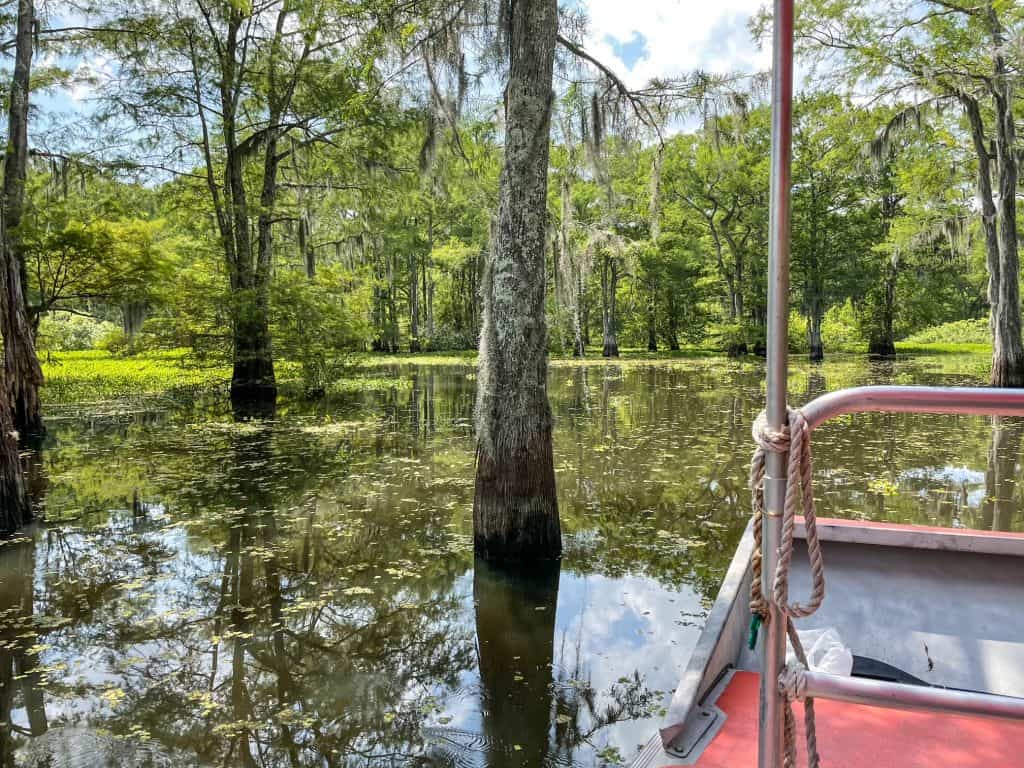 I can't recommend it enough if you want to see a beautiful bayou, gators, learn a ton from a great guide and have fun! It is a bucket list activity everyone should experience.
Tours last about 1.5 hours and you meet at the Atchafalaya Basin Landing to check-in and grab your headphones (hearing protection) and board the boat.
At various spots, the guide will stop and that is when you can take off the headphones to hear him speaking.
The airboat will cruise through the condensed swamp and in the open areas, that's when the excitement begins as it kicks into gear!  It feels like you are flying on top of the water and in the hot summers, it is the perfect air conditioner…
There are a few areas that alligators are known to hang out with the guides recognizing a few by their markings and behaviors.
When a huge gator is less than a few feet away, it is mesmerizing to watch them. I felt both a little fear and awe watching them in their natural environment.
Tips: Listen to your guide when he says keep hands and feet on the boat and do not lean over as a gator can leap up faster than you can blink!
Address: 1377 Henderson Levee Road, Breaux Bridge, LA 70517.
6. Try A Boudin Ball
You can't come to Louisiana's Cajun Country and not try a boudin ball! If you are not from the area, you may wonder what in the world is a boudin ball?
To sum it up, it is a ball of complete yummy goodness! But specifically, a boudin ball (pronounced BOO-dan) is pork sausage with rice, Cajun spices, and possibly cheese in a casing followed by breading and frying it up.
The end result is a slightly crispy outer exterior with absolute comfort wrapped inside the delightful ball!
You won't find better boudin balls outside of the Lafayette area so make a point to stop and try some.
If you go to a meat market, they will likely only have boudin links that you can cook or grill up at home.
There is a fierce competition for who has the best boudin and boudin balls along the Boudin Trail that stretches from Lake Charles to Lafayette.
In a future post, I will go in-depth about the best on the boudin trail, but if you are in Lafayette, the top boudin balls can be found at Billy's Boudin and Cracklin.
You can go in or drive-thru to get the most delicious boudin balls with pepper jack cheese which is my favorite!
Tip: Don't miss out on ordering some homemade fresh cracklins which are basically pork rinds or fried pig skin.
Address: 523 Apollo Road, Scott, Louisiana 70583. Open from 6:30 am to 7:00 pm daily.
7. Kayaking At Lake Martin
If you are looking to spend some outdoors in nature, head out to kayak on Lake Martin previously known as Lake La Pointe.
Located just 20 – 30 minutes from Lafayette, Lake Martin is the most popular spot to kayak in this area.
And for good reason as it has a beautiful swamp with Cypress and Tupelo trees and lovely hanging Spanish Moss.
You can see an abundance of birds, rodents called nutria, turtles, frogs, and possibly an alligator or two that is sunbathing along the banks.
As there are many alligators that nest here, you have the best chance of seeing them along Rookery Road. So do be careful, keep aware of your surroundings and don't go swimming if that isn't obvious!
Lake Martin is part of the Cypress Island Wildlife Preserve, so no matter what type of animal you encounter, avoid bothering it, do not feed it, and enjoy viewing it from a distance.
You can either rent kayaks and go on your own or take a kayak tour with Champagne's Swamp Kayak Tour out on Lake Martin.
Address: There isn't an exact address for Lake Martin but you can reach it at the end of Lake Martin Rd where it crosses Rookery Road. Or you can use the address 1151 Rookery Road, Saint Martinville, Louisiana 70582.
8. Experience A Zydeco Breakfast
Prior to visiting Lafayette, I had heard of the term but really had no idea of what Zydeco was. All I can say is I am now a huge fan and absolutely love it! Fun pretty much sums up Zydeco…
But for those that are not familiar, Zydeco is a type of music that originated in southern Louisiana. It was created by French Creoles who combined a mix of blues, jazz, country, and music of the indigenous people (Creoles).
The main instruments used in Zydeco and add that special sound are the accordion and rub-board (or washboard) that is attached to one's chest, worn as a vest.
I have never been a huge jazz or country music fan but listening to Zydeco music is so good and a joy! It is a bit contagious as you can't help but feel a huge smile light up your face and the strong desire to start moving your body.
There is no better way to introduce you to Zydeco than a true Zydeco Breakfast at Buck & Johnny's. In fact, it might be the best place in all of southern Louisiana to hear it!
They serve Cajun-Italian fusion meals, but time your visit for a Saturday morning where the Zydeco breakfast is held once a week. Upon entering you will pay a cover fee but it is so worth it.
I could hear the music from the parking lot so I knew this was going to be a lively morning! I have to say that I have never had a more loud and energetic breakfast in my life.
By 8:30 am, I was enjoying my breakfast, sipping on Bloody Mary's, and having a blast listening to the music, and watching locals have a good ole time dancing.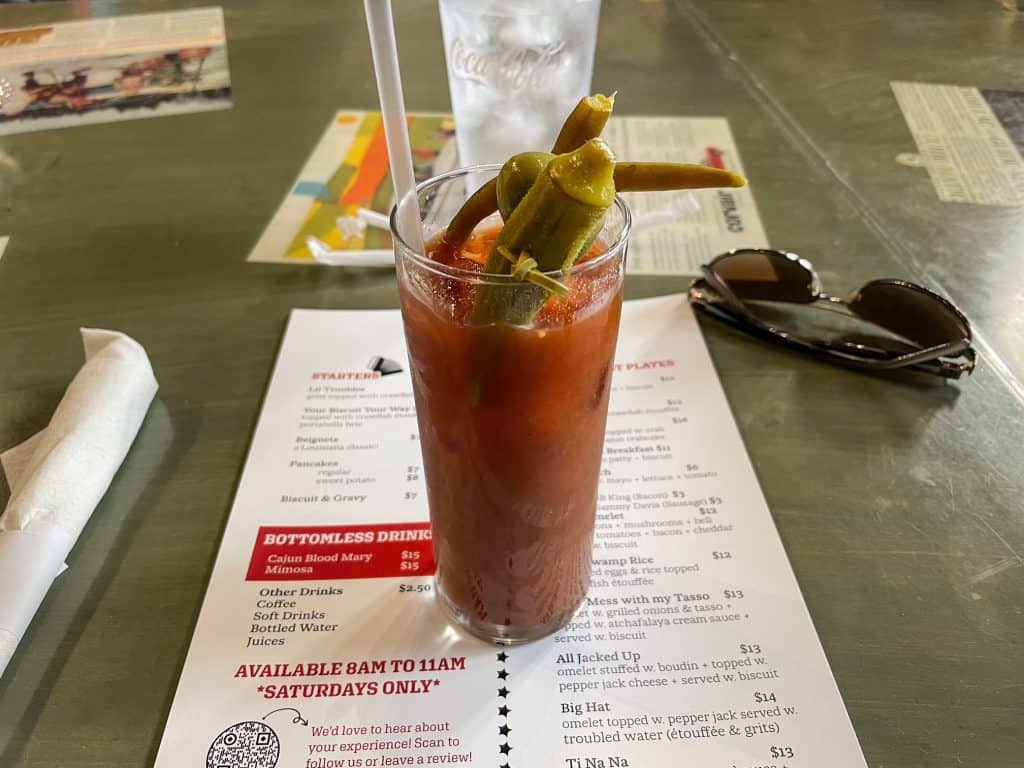 As I was listening to the band and admiring the awesome dance skills of the locals, I was reminded why I love to travel so much.
It's moments like these that really move you emotionally and will stay with you forever. Not only learning about a new place but partaking in an activity that is priceless…
Buck & Johnny's Address: 100 Berard Street, Breaux Bridge, Lousiana 70517.
9. Acadian Village
Stepping into Arcadian Village is like traveling back in time to how Arcadian settlers lived in the early 1800s.
I felt like I should have been in period dress as I visited the many small houses displaying artifacts of daily life.
All of these structures are originals but were in different areas of Lafayette. They were later moved to this location so that people could visit in one spot learning about the heritage of the Acadians.
The homes you see touring the village are homes from the 1800s, where you can learn about each of their owners.
A few of my favorites to visit are the Thibodeaux House, LeBlanc House, Doctor's Museum, and the Bernard House.
You might notice the staircases on the front porch of some of these that seem to lead to nowhere. Well, those stairs previously led to the attic or loft where members of the family might sleep.
It's fascinating to learn that these early settlers used every natural resource around them to survive and make life as comfortable as possible.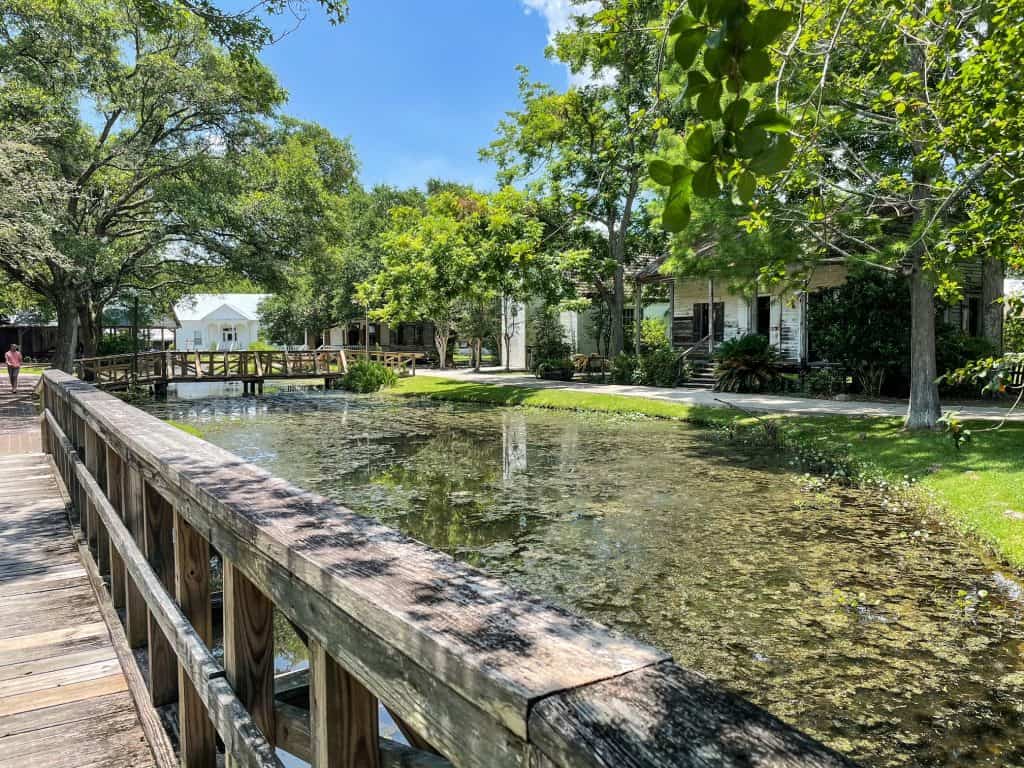 Moss was common as a stuffing for mattresses or used as rope. Corn was not only used for the cornmeal or grits but corn husks were used in making furniture, hats, brooms, and dolls.
Tip: Those looking for a unique wedding venue, can get married at Acadian Village.
Hours: Open 10:00 am to 4:00 pm daily except for Sundays (closed).
Note: Although the address below is correct, your GPS might take you to an entrance that is blocked off. I recommend entering via W Broussard Road to New Hope Road and then turn onto Greenleaf Drive that will take you to the village.
Address: 200 Greenleaf Drive, Lafayette, Louisiana 70506
10. Take A Tasty Cajun Food Tour
If you love trying new foods and are excited to try some true Cajun cuisine, then grab your appetite and hop on the Cajun Food Tours! Or rather allons manger (let's go eat)!
This tour will take you to the top local authentic favorites where you can taste some of the best foods that make Cajun food famous.
There is no better location in the world to eat the delicious bites made with love and of course lots of Cajun seasoning.
Lafayette has been nicknamed the "tastiest town in the South", so going on a food tour is one of the best things to do in Lafayette!
Not only will you get to taste incredible food but learn about the history of Acadiana as Ms. Marie (main guide and owner) used to be a history teacher. Doesn't get any better than that…
To book your tour, visit here and reserve your spot on the tastiest tour in town!
11. Sample Beers At Parish Brewing Company
On any day but especially on a hot summer day, drinking a cold beer is just flat-out amazing…
So, on one of the afternoons while in Lafayette, I stopped by the Parish Brewing Company to try their beers! I'll admit I'm not a connoisseur of beers but I do enjoy one from time to time.
After picking out a beer, I took it outside and enjoyed sipping it at one of the outdoor tables. No better place to reflect on another great day of exploring Lafayette.
Parish Brewing Company has been serving craft beer since 2012 and is one of the largest breweries in the South.
A few of their most popular is the Ghost in the Machine (Double IPA) and Canebrake (Wheat Ale and first beer made by Parish). I really liked the Parish Pilsner!
Tip: If you are lucky enough to visit on a Saturday, you can take a FREE tour at noon, 1:00 pm or 2:00 pm and last about 30 mins.
Note: If you are looking for another great local brewery, visit Bayou Teche Brewing in nearby Arnaudville (30 minutes from Lafayette).
Hours: Open 11:00 am to 7:00 pm (Monday – Wednesday), 11:00 am to 8:00 pm (Thursday – Saturday) and closed on Sunday.
Address: 229 Jared Dr, Broussard, Louisiana 70518
12. The Tabasco Factory
Did you know that Tabasco is made right in Louisiana? The Tabasco Factory is located in Avery Island about 40 minutes south of Lafayette.
For those that aren't familiar with Tabasco, it is one of the most popular hot sauces that is excellent to add to pretty much anything.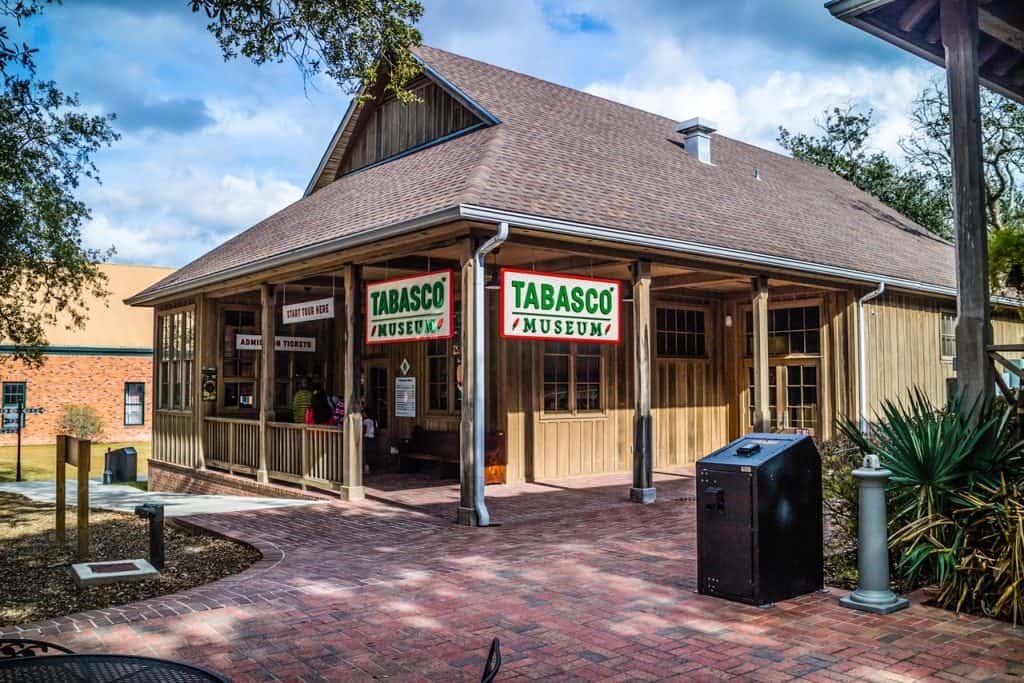 It is also one of the most common condiments you might find in restaurants across the United States. Tabasco got its start way back in 1968 on Avery Island and has thrived since!
To learn all about how Tabasco sauce is made, take an Avery Island Fan Experience tour.
This self-guided tour takes you through the museum, pepper greenhouse, barrel warehouse, country store, and at a later date the bottling line.
And if you have worked up an appetite, you can grab a meal at the Tabasco Restaurant 1868!
Hours: Open daily from 9:00 am to 4:00 pm. Admission is $12.50 per adult and $9.50 for kids (under 4 are free).
Address: 329 Avery Island Road, New Iberia, Louisiana 70513.
13. Jungle Gardens
If you have time, head over to Jungle Gardens after going on a tour at the Tabasco Factory as it is just a few minutes away.
Jungle Gardens covers 170-acres of semitropical beauty on Avery Island and along the Bayou Petite Anse.
It is a tranquil place to wander, taking in the lush flora and fauna including flowers, bamboo, and trees everywhere you look. The bamboo forest here is actually the oldest in the United States!
One of the popular sights in Jungle Gardens is the Buddha statue! Another activity that visitors love is bird watching as there are many birds giving it the nickname "Bird City" primarily for snowy white egrets. You might even spot an alligator or deer!
Tip: If you already visited the Tabasco Factory, save your ticket as it is good for entry into Jungle Gardens. One ticket gets you into both.
14. Bayou Rum Distillery
The Louisiana Spirits Distillery is about 45 minutes west of Lafayette near Lake Charles but if you like rum, you don't want to miss visiting.
Also known as Bayou Rum, this rum distillery is the "#1 Craft Rum in America" and is made using local sugarcane from Louisiana!
At the front entrance, you are greeted by a gift shop with everything rum-related and cool souvenirs. At the front desk, you can book a tour of the distillery to go behind the scenes and learn how rum is made.
These tours are FREE! I would recommend booking a time beforehand if you are on a tight schedule. I didn't and luckily a private group let me join them!
Plus, at the end of the tour, you get the opportunity to do a tasting of various rums discussed. I have to admit that I love rum in mixed drinks but I had never sampled rum neat.
All the rums I tried were great but a few stood out as ones that I could actually sip without mixers. Those two are the Gator Bite Satsuma Rum which has a citrus flavor and the Gator Bite Coffee Rum!
Whether you go on a tour or not, there is a small museum providing an overview of Bayou Rum's history off of the gift shop. At the time I visited, tastings were available only to those on a tour.
Hours: Open 9:00 am to 5:00 pm Tuesday – Saturday. The last tour is at 4:00 pm.
Address: 20909 Frontage Road, Lacassine, Louisiana 70650
15. Go Crawfishing!
Whether you love eating crawfish or are curious to try them, head down to Crawfish Haven/Mrs. Rose's Bed & Breakfast for some crawfish!
In order to enjoy eating and possibly catching crawfish, go during the months of January to June. And the peak months for crawfish season are March, April, and May.
Located about 35 minutes southwest of Lafayette is Mrs. Rose's Bed and Breakfast, where you can stay in 1 of 3 charming guest rooms.
In fact, Mrs. Rose's Bed & Breakfast is the only bed and breakfast in Acadiana (Lafayette area) and where you can catch your own crawfish!
Once I finalized the dates I would be visiting I reached out to book a few nights and was heartbroken to hear that they were booked. I was bummed but still pumped to go on a crawfish excursion with Barry Toups.
He not only is an excellent cook but takes both guests and non-guests on different Cajun experiences usually revolving around crawfish.
Unfortunately, I didn't do enough homework ahead of time and realized I was a few weeks past crawfish season. So don't be like me and time your visit right!
Although I haven't had the pleasure of spending a few days at Crawfish Haven, you bet I will next time!
Especially to wake up to a crawfish omelet or crawfish boil for dinner, yum…
Barry not only offers crawfish excursions but cooking classes and his southern hospitality to welcome you to Cajun Country.
Note: During crawfish season, you can get them at many restaurants in Lafayette but having the experience of catching your own is a unique memory to have!
Address: 6807 LA-35, Kaplan, Louisiana 70548.
Best Places To Eat In Lafayette
One of the best things to do in Lafayette is to eat! So many incredible places to eat Southern and Cajun cuisine. Here are some top picks where you will want to bring an appetite.
Black Café – breakfast and lunch, known for their Scotch egg and sweet potato biscuits. Closed weekends. (518 S Pierce St, Lafayette, LA 70501)
French Press – breakfast and lunch, try the Cajun omelet or chicken & waffles! (214 E Vermilion St, Lafayette, LA 70501)
Rusted Rooster – breakfast only spot serving Southern food. Closed on weekends. (105 St Landry St, Lafayette, LA)
Buck & Johnny's – Zydeco breakfast (see above #8). Only on Saturday. (100 Berard Street, Breaux Bridge, LA 70517)
Johnson's Boucaniere – great lunch spot for BBQ and get a plate lunch with boudin! (1111 St. John St, Lafayette, LA 70501)
Wurst Biergarten – fun outdoor spot for grabbing some beer for happy hour. (537 Jefferson St, Lafayette, LA 70501)
The St. John Restaurant – one of my favorite dinners recommended by a local. (203 N New Market St, Saint Martinville, LA 70582)
Bon Temps Grill – excellent Cajun, Creole, and Seafood for lunch and dinner. (1211 W Pinhook Rd, Lafayette, LA 70503)
Pamplona Tapas Bar – a Spanish tapas-style dinner, wine & cocktails. (631 Jefferson St, Lafayette, LA 70501)
Café Vermilionville – serving Louisiana cuisine for dinner in a restored Acadian cypress house. (1304 W Pinhook Rd, Lafayette, LA 70503)
Spoonbill Watering Hole & Restaurant – a lunch & dinner spot serving a variety of foods in an old Conoco gas station. (900 Jefferson St, Lafayette, LA 70501)
Billy's Boudin & Cracklin –  Incredible boudin balls and cracklins. (523 Apollo Road, Scott, LA 70583)
Best Stop Supermarket – market to get great cracklins, boudin links, and boudin balls. (615 LA-93, Scott, LA 70583)
Note: I'm not sure why but I found it odd that many of the breakfast places are closed on the weekends, so check ahead to see if they are open.
Is Lafayette Worth Visiting?
Heck yes! One of Louisiana's most popular expressions is "Let the good times roll", for a reason! I'll definitely be coming back to enjoy this captivating area of Louisiana.
It is impossible to come to Lafayette aka Cajun Country and not have an incredible time…
Have a great time exploring all the fun things to do in Lafayette, Louisiana!
Got Travel Insurance?
Don't leave home without travel insurance as you never know what might happen on a trip! It is always when you least expect it that something can go wrong like getting sick, in an accident or cancellation of some sort. Get a no-obligation quote from two trusted travel insurance companies for peace of mind on your next trip!
Looking For More Travel Inspiration?
Ultimate New Orleans Bucket List: 35 Fun Things To Do In NOLA
5 Best Plantations Near New Orleans, Louisiana That Are A Must To See
Perfect 3 Day Weekend In San Antonio Itinerary For First Timer's
11 Best Wineries In Fredericksburg, Texas That Are A Must To Try
17 Fun Things To Do In Orange Beach, Alabama On Your First Visit
7 Amazing Waterfalls In Alabama That Will Take Your Breath Away
23 Cool And Fun Oklahoma City Attractions That Are A Must To See
7 Best Filtered Water Bottles For Travel And Hiking
Allbirds Review: The World's Most Comfortable Shoes?
Disclaimer: As an Amazon Associate and a participant of other affiliate programs, I may earn from qualifying purchases in this post. This means that if you make a purchase through one of these links, I might receive a commission at no extra cost to you. Thank you and it is greatly appreciated!