Disclaimer: Traveling Ness contains affiliate links and is a member of the Amazon Services LLC Associates Program. If you make a purchase using one of these links, I may receive compensation at no extra cost to you. See my privacy policy for more information.
21 Fun Things To Do In Mobile, Alabama On A Weekend Getaway
If you are looking for a weekend getaway with some Southern charm then look no further than Mobile, Alabama! There are so many fun things to do in Mobile with spectacular seafood, a darling historic downtown, battleships, beaches, and gators!
Where Mobile Bay and the Gulf of Mexico meet is the port city of Mobile, home to the first Mardi Gras celebration in the United States (yes, before New Orleans) and warm hospitality you can't pass up.
Oh, and if you like oysters, sunsets, and gorgeous oak trees then you have come to the right place…
Keep reading to discover the best Mobile attractions to explore for adventure, culture, and history!
Where Is Mobile Located?
Mobile is a port city located in the southern portion of the state of Alabama where the Mobile Bay Delta meets the Gulf of Mexico.
The area where the Mobile River, Tensaw River, and Apalachee River converge into Mobile Bay prior to flowing into the Gulf of Mexico is known as the Delta.
Mobile is part of the South or the Southern United States with Alabama bordered by Mississippi to the west, Florida & Georgia to the east, and Tennessee to the north.
The city of Mobile is a little over an hour away from the most pristine white sand beaches of Gulf Shores and Orange Beach, Alabama.
If you decide to head to the beach (which I highly recommend), read Fun Things To Do In Orange Beach, Alabama!
A quick 45 minutes away from Mobile is Dauphin Island for another great beach getaway. Yep, Alabama has barrier islands with Dauphin the largest to visit.
Explore my post on what to do on Dauphin Island to plan your island escape!
How To Get To Mobile, Alabama
It is very easy to drive to Mobile from neighboring cities or states but if you are coming from a greater distance or prefer flying, I recommend flying into:
Mobile Regional Airport (MOB) – 40 minutes from downtown Mobile
Mobile Downtown Airport (BFM) – 10 minutes from downtown Mobile
Both of these are regional airports so there are fewer flight options depending on where you are coming from.
The two closest large international airports that would offer more flight booking options are:
Pensacola International Airport (PNS), Florida – 55 minutes from Mobile
Gulfport-Biloxi International Airport (GPT), Mississippi – 1hr, 15 mins from Mobile
Search For The Best Car Rental Rates Today!
The Best Hotels In Mobile
I split up my stay with a few nights at two different hotels and absolutely loved both. They are centrally located downtown with most of the Mobile attractions within walking distance.
The Battle House Renaissance Mobile
I can't recommend staying at The Battle House Renaissance Mobile enough! If you want to stay in a historic and luxury hotel then look no further.
Located in the heart of downtown steps from everything, the hotel is in a beautiful 1851 building that showcases elegance, class, and that wow factor.
After a long day of walking around, I slept like a baby in the comfiest bed, surrounded by excellent décor, and all the charming touches of one of the best hotels in the United States.
Oh, and did I mention they have a spa, pool, and great food?
Staying at The Battle House for a few nights exceeded all my expectations and a place I will without a doubt be returning to again…
Tip: Don't leave before experiencing the whispering arches! As someone that works there and they can help you out.
If you stand facing an arch and someone else is at the other side, you can whisper and hear each other clearly. For those that have been to NYC, it is similar to the whispering arches in Grand Central Station!
Renaissance Mobile Riverview Plaza Hotel
The second hotel I stayed at was the Renaissance Mobile Riverview Plaza Hotel and I enjoyed my stay. I had a spectacular view of downtown and Mobile Bay which made for the perfect sunset-watching spot!
Hampton By Hilton Mobile Downtown
Although I didn't stay here, the location is great within 1-2 blocks of the hotels listed above and the downtown area.
Fun Mobile Tours To Take
If you are a food lover and enjoy exploring new towns, then this food tour of downtown Mobile is perfect. Taste the best bites in Mobile and learn about its history!
Hop in a kayak and explore the Delta led by a guide, seeing wildlife, and learning about the unique wilderness that makes up this region.
Feel the breeze in your hair as you venture out onto Mobile Bay on a sailboat! Plus, you can join in and gain some sailing experience.
Tips For Visiting Mobile, Alabama
Map Of Mobile Attractions
Fun Things To Do In Mobile, Alabama
1. Wander Down Dauphin Street
Dauphin Street is the main drag through downtown Mobile filled with restaurants, bars, and shops to explore.
It is along Dauphin Street where you will find the best eats and many of the Mobile attractions all within walking distance.
Some might even say it has that New Orleans feel resembling a smaller and more chill version of Bourbon Street.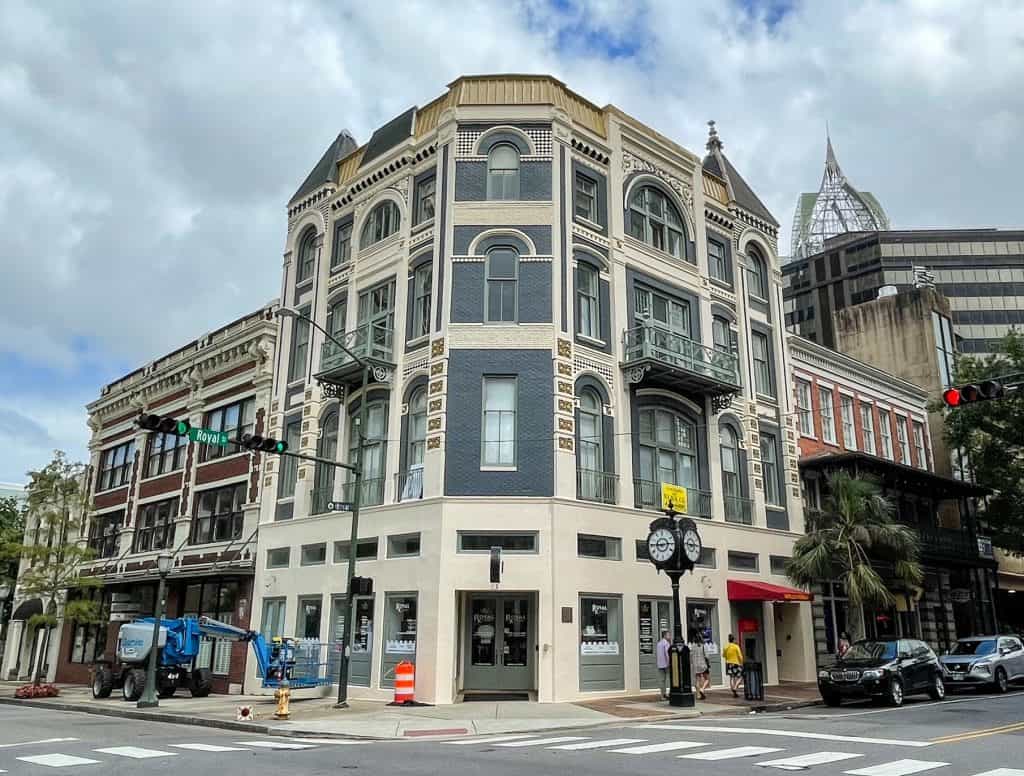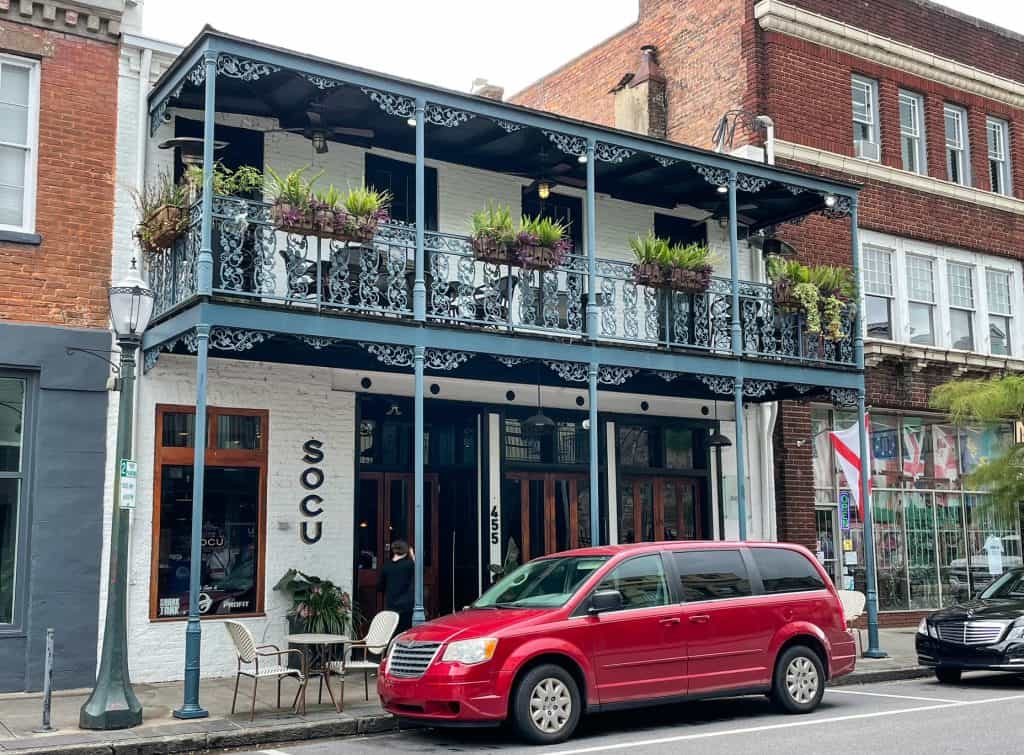 The section of Dauphin Street that is bustling on a weekend is known as Lower Dauphin Street or LoDa.
You will notice similar architecture as the French Quarter in New Orleans with colorful houses and wrought-iron balconies in French colonial style.
The streets running parallel to Dauphin are St. Francis Street and Conti Street where I recommend wandering down too.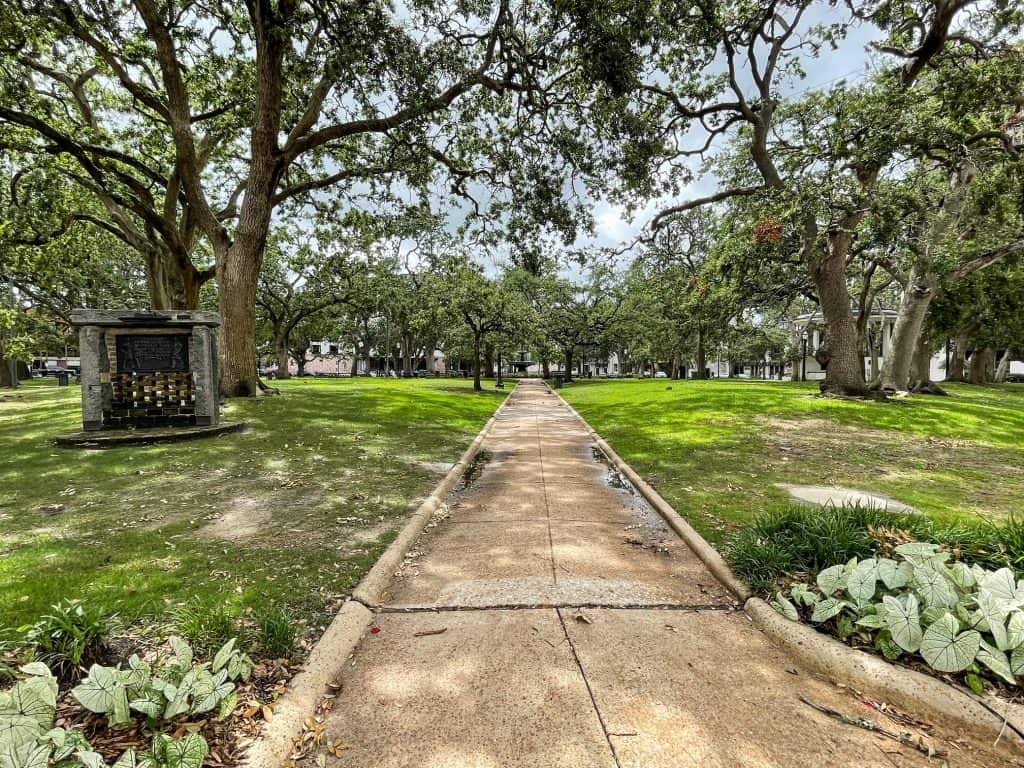 Between Lower Dauphin Street and St. Francis Street is the charming tree-lined Bienville Square Park. There are benches scattered to rest and gather with others.
In fact, since the 1700s it has been the spot for people to come together, attend festivals, and more.
The square was named after Jean-Baptiste Le Moyne de Bienville who founded Mobile and at one time was the governor of French Louisiana during the 1700s.
Another small and idyllic park is Cathedral Square just two blocks away from Bienville Square.
There is a large grassy area, a gazebo, and benches to sit with the Cathedral Basilica of the Immaculate Conception.
The cathedral is one of the oldest Catholic places of worship along the U.S. Gulf Coast and built in 1711.
It stands prominently with its tall columns and inside you can find beautiful stained glass, an impressive vaulted ceiling, and an organ.
2. Hunt Oysters On The Oyster Trail
I know what you are thinking, how do you go oyster hunting on land?
The Oyster Trail is a fun activity for anyone searching the larger-than-life oysters with vibrant colors and scenes of Mobile.
Located in and around downtown Mobile, there are 12 places where you can spot a painted oyster. Now if you are feeling really ambitious you can explore the full 25 stops in and outside of downtown.
This unique scavenger-like search for oysters started in 2013 to promote the education for oyster ecology and its importance to Mobile.
Steps away from downtown lead to the waterfront of Mobile Bay and home to the Oyster Gardening Program.
Their mission is to produce more oysters, restore, and improve the reef system of Mobile Bay for the oysters.
In promoting awareness of protecting the oysters in Mobile Bay, the Oyster Trail was born. You can visit the Oyster Gardening Program's website to download a map of where each painted oyster is located!
3. Taste The Best Oysters In Town
Now if all this talk of oysters has you a little hungry, don't worry as it should be pretty evident that you can find the best oysters in Mobile!
The number one spot in town to get oysters is at Wintzell's Oyster House. I loved the oysters at Wintzell's so much that I might have gone back the next day too…
Remarkably, Wintzell's opened in 1938 during the Great Depression when starting a business seemed like the worst idea.
But Wintzell knew that "folks eat oysters in good times and bad". And right he was to stay open all these years!
Wintzell's is famously known for serving up oysters, "fried, stewed or nude"!
Prior to my road trip through the South, I had no idea there were several ways to eat and enjoy oysters.
There are five ways to eat your oysters at Wintzell's and each is pretty darn tasty.
Raw (nude) – as the name implies, shuck them, and eat them raw with the fresh saltiness from Mobile Bay.
Rockefeller – a classic served with spinach, bread crumbs, seasonings, and butter.
Bienville – covered in creamy goodness with shrimp, crab, and parmesan.
Monterey – topped with jalapenos, smoked bacon, and cheddar cheese.
Chargrilled – oysters chargrilled on an open flame with butter and cheese.
I loved each way, but I think my favorite was Bienville style and raw. Although it was a close tie across the board…
Tip: You can also get an assortment of seafood items, not just oysters for those that don't prefer them. Although I was too stuffed, I was told the bread pudding is pretty awesome.
Hours: Open 11:00 am to 9:00 pm on Sunday, Tuesday, Wednesday, and Thursday. Open til 10:00 pm on Friday and Saturday. Closed on Monday.
4. Dinner & Drinks at Dauphin's
If you are looking for the most spectacular view of Mobile, the Delta, and Mobile Bay then head to the top of the RSA Trustmark Bldg.
Up on the 34th floor is Dauphin's, a casual fine dining restaurant serving up the most delicious French Creole cuisine.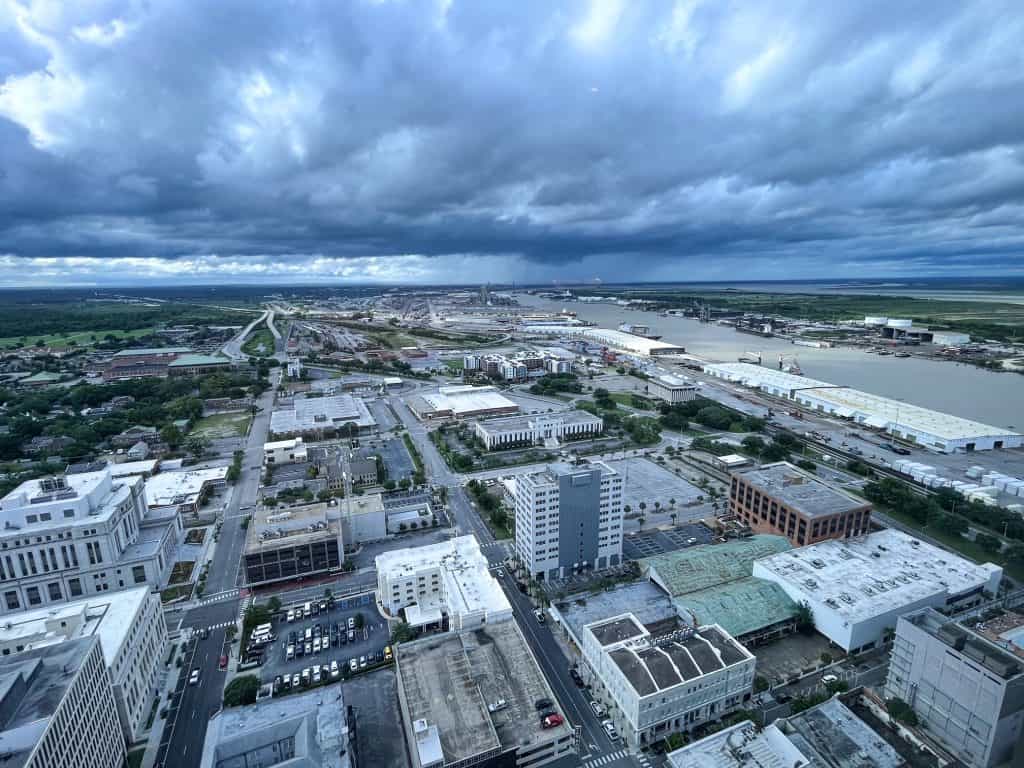 There is no better place in town to get a panoramic view of Mobile all while indulging in a great meal and/or drinks.
I went for dinner as I wanted to time my visit around sunset, but since the tail end of a tropical storm was present, the sun didn't peek out.
Even so, I couldn't help but be in awe of seeing Mobile in each direction from a birds-eye view. For the views alone, it is one of the best things to do in Mobile.
I delightfully enjoyed the Alabama Gulf shrimp and grits with a glass of wine. It was one of the best shrimp and grits I had on my entire trip through the South!
And if you time it right, there is someone playing the piano to accompany an already wonderful evening…
Hours: Open Monday – Thursday from 11:00 am to 9:00 pm, Friday & Saturday from 11:00 am to 10:00 pm, and 11:00 am to 3:00 pm on Sunday.
5. USS Alabama Battleship Memorial Park
Visiting the USS Alabama Battleship Memorial Park is one of the top attractions in Mobile for all ages.
There are not many places where you can go aboard a battleship and a submarine! Plus, exploring the huge hanger with numerous planes used by the military over the years.
The memorial park is along the shores of Mobile Bay with USS Alabama and USS Drum the two main attractions to see.
The USS Alabama was a battleship used between 1942 and 1947 during WWII. It was decommissioned and ready to scrap when kids from Alabama came together to raise $100,000 to buy it in 1964.
And I am so glad they did as it is an incredible experience to walk on and in a massive battleship.
After you are done exploring the USS Alabama, make your way over to see USS Drum, a submarine also used during WWII.
Walking down in the submarine was pretty cool but I can't imagine living in those tight quarters for long periods of time. There is no extra space at all, no privacy, and the obvious lack of fresh air.
Hours: Open daily from 8:00 am to 5:00 pm with the last entry at 4:00 pm. There is a $5 parking fee in addition to your ticket into the park.
Admission:
Ages 6 – 11 – $6.00
Ages 12 – 55 – $18.00
And Ages 55+ – $15.00
Active Military – Free
6. Fort of Colonial Mobile
Located a few blocks from downtown and across from Mardi Gras Park is Fort of Colonial Mobile also referred to as Fort Condé.
You don't always see a historic fort with high-rise buildings of a city as the backdrop!
Colonial Fort Condé was built in 1723 by French settlers and protected the people of Mobile for 100 years against the British and Spanish.
Mobile was an important port city so protecting it was vital. Inside the fort, you can view several exhibits, artifacts, and info on the early settlers of Mobile.
If you love history, particularly that of the military then you will quite enjoy exploring Fort Condé!
Hours: Open Monday – Saturday from 9:00 am to 4:30 pm and Sunday from 1:00 pm to 4:30 pm.
7. GulfQuest National Maritime Museum
If you are looking for a fun and interactive museum filled with tons of awesome Gulf of Mexico history then GulfQuest National Maritime Museum should be on your list.
GulfQuest is one of the newest Mobile attractions opening up in 2015 providing all kinds of cool facts and info.
For example, did you know that container ships were invented right here in Mobile? That is why GulfQuest is housed inside a building to resemble a huge cargo ship SS McLean to celebrate that history!
Unlike some museums that can be boring, you can get a hands-on experience at GulfQuest! There are 90 exhibits, simulators, and theaters to explore.
With multiple decks (replica) on a cargo ship, you can discover how one functions and the large economical impact the cargo ship has in history.
If you find yourself hungry there is a museum café and a gift shop to visit before you leave.
Tip: There is free parking in the GulfQuest parking lot.
Hours: Open Wednesday – Saturday from 10:00 am to 4:00 pm. Closed Sunday – Tuesday.
8. Explore Mobile's Delta By Kayak Or Boat
Mobile has a unique location situated where Mobile Bay flows into the Gulf of Mexico. The area where the river flows into the bay is known as the Mobile-Tensaw River Delta.
It is the largest river delta and wetland in Alabama and the second biggest in the United States behind the Mississippi Delta.
The wetlands provide a habitat for countless species of birds, fish, alligators, turtles, and plants. That means exploring this area is a treat to see wildlife!
The two fun ways to experience being out on the Delta are to take a kayak or an airboat tour.
A guided kayak tour through the wetlands and swamps of Mobile's Delta is a great way to learn about the diverse ecosystem, plants, and wildlife that call it home.
The kayak tour is great for all ages and a tour I had booked but unfortunately, due to a storm, it was canceled. But I do plan to go back and experience it myself!
Have you ever been on an airboat? It doesn't get more thrilling and fun to glide through the wetlands and bay to see a larger area than by kayak.
You might associate venturing out on an airboat with Florida or Louisiana but you can take an exciting ride with Airboat Adventures in Mobile.
Tip: Bring a pair of travel binoculars to help spot a gator!
Note: For those that are experienced kayakers, you can rent your own kayak and wander the various sections of the Bartram Canoe Trail.
9. Mobile Carnival Museum
When most people think of Carnival or Mardi Gras in the United States, New Orleans usually comes to mind first.
But did you know the birth of Mardi Gras started out in Mobile, Alabama? And it is a first that many in Mobile take pride in their lively heritage.
Whether you have attended a Mardi Gras celebration or not, you can learn the fascinating history of how it came to be and why it originated in Mobile of all places!
The Mobile Carnival Museum is located in a charming pale yellow historic mansion that offers 14 galleries showcasing costumes, jewelry, other items to view.
So how far back does celebrating Mardi Gras go? The first Mardi Gras celebration was observed in 1703 and is going strong ever since!
Hours: Open Monday, Wednesday, Friday. and Saturday from 9:00 am to 4:00 pm. Closed on Tuesday, Thursday, and Sunday.
10. Attend Mardi Gras In Mobile!
Even though New Orleans is known for the biggest Mardi Gras festival in the country, don't overlook celebrating it where it all began.
As previously mentioned, Mardi Gras originated in Mobile back in 1703 and is still holding a big celebration today.
Mardi Gras started out with the French Catholics preparing for Lent on Ash Wednesday. To put it simply, the day before (Fat Tuesday) was a day to pretty much be a glutton when it came to food, drinks, and rowdy fun.
It slowly evolved to masked costume balls and over-the-top parades slinging beads in every direction.
The appeal to attending Mardi Gras in Mobile is that it is a lot less crazy and more of a family affair where anyone can attend.
And although there will be some bead throwing, the most popular thing to throw is a Moon Pie!
If you haven't ever tried one, they are a sweet sandwich of graham crackers with marshmallows in between and covered in chocolate.
As you walk around Mardi Gras Park in downtown, you will notice various statues reminiscent of Mardi Gras year-round. Mardi Gras Park is a central spot for many of the Mardi Gras festivities.
Tip: If you are planning to attend in 2023, Mardi Gras will be held on Tuesday, February 21st, 2023.
11. Avenue Of The Oaks
Minutes from downtown Mobile is one of the prettiest streets! It is a street less than a mile long that is lined with large, beautiful oak trees, hence the name, Avenue of the Oaks.
This whimsical street is located at Spring Hill College where the ancient oak trees form a tunnel or canopy as you walk or drive through.
These moss-covered oak trees are estimated to be around 170 years old with Stewartfield (an antebellum home) at one end that is now an event space.
Avenue of the Oaks is by far the grandest entrance to a college and the oldest college in Alabama in fact.
If you happen to visit in spring, you will likely see flowers blooming at the base of the oak trees too!
12. Explore Art Murals
Stumbling upon cool and vibrant street art is fast becoming a part of any downtown city whether it is small or large.
In the past, street art wasn't usually a positive thing being associated with unappealing graffiti. But today art murals are created by talented artists displaying bright and intriguing scenes.
As Mobile isn't a huge city, I wasn't expecting many art murals but was pleasantly surprised to come across a number of them!
All of these murals can be found on Dauphin Street or within a few blocks of the Lower Dauphin Street area.
The Mobile mural was created in 2019 by the Mobile Arts Council and Jake Peavy Foundation depicting Mobile Bay and the USS Alabama.
On the outside of LoDa Bier Garden is a whimsical mural of sea life by the artist Joe Hobbs.
The huge Ant mural honors that of the naturalist E.O. Wilson and the awesome quote, "There is no greater high than discovery".
A few other fun murals are the series of street art against the pale green hues and a downtown view of Mobile.
The fun element is that murals are always being added or updated so there is something new to see each visit!
13. Mobile Historic District
Within walking distance of downtown Mobile and Dauphin Street is the De Tonti Square Historic District.
The De Tonti Square Historic District is a neighborhood that has several beautiful homes from the 1820s – to 1860s.
Each street in this idyllic district is lined with large oak trees and feels like you are walking in another era.
There is a small De Tonti Square Park but it is lovely to take a stroll admiring this revitalized neighborhood that is now on the National Register of Historic Places.
The styles of architecture you will see throughout the nine blocks of De Tonti Square District are Federal, Greek Revival, Victorian, and Italianate.
One house you can visit on the weekends is the Richards-Dar House Museum. This house was built in 1860 in Italianate architectural style by Captain Charles G. Richards.
You will notice the decorative iron lace fencing on the exterior that you can't miss!
While you are wandering De Tonti Square District hop into a really cool and cozy brewery, Iron Hand Brewing. I wasn't expecting to see a brewery in this neighborhood but it was an awesome find!
I especially love their motto that says "If you don't have a friend in the world… You'll find one here".
Richards-Dar House Museum Hours: Open Saturday from 10:00 am to 4:00 pm and Sunday from 1:00 pm to 4:00 pm.
Iron Hand Brewery Hours: Open Wednesday & Thursday from 4:00 pm to 9:00 pm, Friday & Saturday from 11:00 am to 9:00 pm, Sunday from 11:00 am to 5:00 pm, and closed on Monday & Tuesday.
14. Old Church Street Graveyard
I'm not sure what it is, but I love visiting old cemeteries wherever I go. Maybe it is the spooky vibes they have and in an odd way their beauty.
In 1820, the city of Mobile created the Church Street Graveyard to replace the original one located by the Cathedral.
The front gate with wrought iron adds to the historic feel and adds an elegant touch to the entrance.
Covering four acres, the cemetery has residents going back as far as 1819 (yes prior to the completion) with many losing their lives to Yellow Fever at the time.
Several people buried at Church Street Graveyard include the founders of Mobile. The most famous person buried here is Joe Cain.
Joe Cain (1832 – 1904) is known as a founder and father of Mardi Gras in the United States. It was his organization and planning that led to how Mardi Gras is celebrated in modern-day involving balls, parades, and elaborate costumes.
Two other notable people buried here are Eugen Walter and Julian Lee Rayford both of whom were authors.
It is said that Church Street Cemetery is the most haunted cemetery in Alabama. I visited during the day so I didn't experience anything unusual but I'm sure if I had gone at night my experience might have been different…
15. Visit Nearby Dauphin Island
Yep, Alabama does have islands in the Gulf of Mexico! What is better than an island getaway that is super easy to get to?
If you have the time, spend a few days relaxing on Dauphin Island, where time slows down and there are plenty of outdoor activities to keep you busy.
If you would rather stay in Mobile, Dauphin Island makes for an excellent day trip. From Mobile, the quickest way to get there is to drive across via the bridge taking 45 minutes.
If you happen to be coming from Orange Beach, Gulf Shores, or Fort Morgan then taking the ferry across would be the quickest. And yes, your car can go on the ferry too!
The top activities to do on Dauphin Island are lounging on the beach, going for a nature walk in a swampy forest preserve, visiting a fort, camping, and more.
For an in-depth list of what to do on Dauphin Island, read my post 15 Best Things To Do On Dauphin Island, Alabama!
16. History Museum of Mobile
The History Museum of Mobile is located right across from Mardi Gras Park and steps away from Fort Condé.
The museum building itself is both beautiful and historic as it used to be the Old City Hall. During the 1800s, this is where the mayor, city council, and militia units were located.
It also happened to house the Southern Market similar to what we know today as a Farmer's Market.
Inside you can view over 100,000 artifacts that makeup Mobile's history. With the goal of preserving that history and educating visitors of the unique heritage that makes Mobile special.
The permanent exhibits that you can explore at any time are the Faces of Mobile, CSS Alabama Cannon, The Mary Jane Slaton Inge Gallery, and the Aaron & Sarah Friedman Miniature Gallery.
Although always changing, the current exhibits are A History of Mobile in 22 Objects and The Vikings Begin.
Tip: Take a look at their calendar of events for fun and interesting experiences such as Free Sundays, Learning Lunch, and a Viking Mead Tasting. Will vary by month of course.
Note: If you are looking for a unique venue for that next event or wedding, consider having it at the History Museum of Mobile!
Hours: Open Monday – Saturday from 9:00 am to 5:00 pm and 1:00 pm to 5:00 pm on Sunday.
17. See Some Gators!
If you have always wanted to see an alligator then you are in luck as there are two places close to Mobile where you can catch a glimpse of them!
The closest to downtown Mobile (10 mins) is the Gator Boardwalk which is a ½ mile boardwalk over D'Olive Creek. Even better is that it is free to walk!
You can not only spot gators hanging out but other wildlife such as birds, fish, turtles, and butterflies in their natural habitat. The optimal time to see an alligator is in the spring and fall months.
A little further out from Mobile in the town of Summerdale (30 mins) is Alligator Alley. It is about halfway between Mobile and Gulf Shores/ Orange Beach.
Alligator Alley is an alligator swamp sanctuary where you can see a few hundred alligators relatively close.
There is a boardwalk and viewing platforms where you can safely from distance watch alligators of all sizes live, interact, and sunbathe in their natural environment.
All of these alligators have been rescued and are brought here to live in an environment where they won't be harmed or do harm to humans.
Alligator Alley Hours: Open daily from 10:00 am to 4:00 pm. Feeding times are at 11:00 am, 1:00 pm, and 4:00 pm.
Gator Alley Boardwalk Hours: Open 24 hours.
18. Beach Fun At Orange Beach!
Before I spent time in Alabama, I had no clue that there are not only beaches in Alabama but absolutely stunning ones!
Imagine powdery white sand and the turquoise clear water of the Gulf of Mexico kissing the shoreline.
I spent a week lounging on the beaches of Orange Beach and enjoying the long days of summer as I explored the area.
Orange Beach is a top beach destination to visit during any season and just a little bit over an hour from downtown Mobile.
Of course, the obvious main activity is to grab a beach lounger and chill on the beach enjoying the stunning views and warm waters.
But if you want to be more active, go for a bike ride, a walk, kayaking, fishing, or snorkeling to name a few! Plus, there is no shortage of mouthwatering seafood to satisfy your cravings…
Tips: If you are looking to venture to other great beach spots, check out Gulf Shores to the west and Pensacola (Florida) to the east.
To learn more about what to do in Orange Beach, explore 17 Fun Things To Do In Orange Beach!
19. Fort Morgan
Depending on which way you go, Fort Morgan is about 1.5 hrs from Mobile. The two ways to reach Fort Morgan are to take a ferry over from Dauphin Island or drive coming from the direction of Gulf Shores.
Fort Morgan sits at the end of a peninsula pointing out where Mobile Bay meets the Gulf of Mexico.
If you choose to take the ferry ride between Dauphin Island and Fort Morgan expect it to take about 40 minutes and enjoy the scenic ride!
Fort Morgan is a large fort that was originally Fort Bowyer in the War of 1812. It was officially named Fort Morgan in 1833 after the Revolution War hero General Daniel Morgan.
Its location on Mobile Point served to protect Mobile Bay as a vital port in the South. Fort Morgan was used until the end of WWII and today it is declared an Alabama state historic park.
Take a self-tour as you wander around the huge protective walls, up on top of the battery offering ocean views, the gun mounts, and the tunnel within the fort.
After you have explored Fort Morgan go for a walk out on the beach that lies along Mobile Bay and directly across from Dauphin Island.
Before you leave, stop in to visit the gift shop and museum that has more exhibits on the history of Fort Morgan and the role it played over the years.
Note: The ferry schedule varies by season and weather conditions, so check ahead on the ferry schedule to plan your trip. During peak summer days, ferries usually run every 45 minutes.
Hours: Open daily from 8:00 am to 5:00 pm. Admission is $8 for adults and $5 for seniors. Expect to spend about 1 – 2 hours here.
20. Start Your Day At Spot Of Tea
You might have already noticed Spot of Tea while on a stroll down Dauphin Street in downtown.
Spot of Tea is the classic place for breakfast or brunch when in Mobile with its circa 1836 building serving up traditional American options to British High Tea!
Since 1994 when they opened their doors, Spot of Tea has welcomed locals and visitors to Mobile's Flagship restaurant.
Their friendly motto is "everyone needs a Spot of Tea in their life" and how true that is!
I had the right start to my day with getting a hearty and filling breakfast of a waffle, scrambled eggs, and black coffee.
Another great dish is the Eggs Cathedral which has eggs, crab, and a creamy sauce over an English Muffin. Or if you crave something a little sweeter try the Bananas Foster French Toast!
From omelets, pancakes, and sandwiches you are bound to find something delicious to enjoy. Oh, and don't forget to grab yourself a cuppa before you leave!
If the weather is nice, opt to sit outside on the sidewalk for the perfect spot to people watch and view Cathedral Square across the way.
Hours: Open Monday – Friday from 7:00 am to 2:00 pm and Saturday & Sunday from 7:00 am to 3:00 pm.
21. Indulge In Beignets
Did somebody say beignets? I never turn down a blissfully sweet beignet covered excessively with powder sugar…
I know what you might be thinking, aren't beignets a New Orleans thing? Well, they are sort of a Mobile thing too!
I've had my fill of beignets in the Big Easy which makes the best beignets. But I was pleasantly surprised to try excellent beignets at Mo'Bay Beignets.
If you are looking for an afternoon pick-me-up or a post-dinner dessert, make a point to visit Mo'Bay Beignet Co.
You can get a bag of beignets to go or enjoy them in the adorable café with a cup of coffee or milk whichever you pair sweets with.
They make them fresh to order so it's worth the wait. Choose from 3 or 12 and pick a sauce to add for extra.
I chose the traditional with no sauce and liked them so much I realized I never took a photo of them… Oops!
Hours: Open Monday – Thursday from 8:00 am to 8:30 pm, Friday from 8:00 am to 11:00 pm, Saturday from 9:00 am to 11:00 pm, and Sunday from 9:00 am to 9:30 pm.
Bonus Mobile Attractions To Experience
If you run out of things to do in Mobile, I've added a few other activities to your list below. I did not get a chance to experience these myself but plan to on my next visit!
Mobile Botanical Gardens
Mobile Museum of Art
Meaher State Park
Best Places To Eat In Mobile
I already mentioned a few awesome places to eat in Mobile but here are a few more in case you work up an appetite…
Southern National – Open Thursday – Saturday
The Noble South – Closed Sunday and Monday
Dumwaiter (Southern) – Closed Sunday and Monday
Moe's Original BBQ
Ruby Slipper Café (Breakfast & Brunch) – Open only on the weekends. I've been to the one in New Orleans.
Half Shell Oyster House – I've been to the location in Gulfport, MS and loved it!
Firehouse Wine Bar & Shop – Closed on Monday
Noja (Mediterranean & Asian) – Closed on Sunday and Monday
FAQ On Visiting Mobile, Alabama
Is Mobile, Alabama Worth Visiting?
Yes! Mobile has that small-town feel mixed with an abundance of Southern charm. From delicious food, historic buildings, a fort, battleships, Mobile Bay, and home to Mardi Gras you will enjoy your time exploring Mobile.
When Is The Best Time Of Year To Visit Mobile?
Mobile is a city that you can visit any time of the year and have a great time. For the absolute best time of the year to visit Mobile, I would recommend the spring and fall months.
After that, the winter is pretty nice with mild temperatures (48 F – 68F) for winter and dreamy beaches not too far away.
The summers will be hot, humid, and see the most rain. That said I visited in June and had some rain but it came and went usually before I noticed.
I was very surprised to learn that Mobile is the rainiest city in the United States! I had always assumed it would be Seattle and Portland but no…
Unlike the Northwest, the rain doesn't tend to linger which is awesome as you can go about your day without it affecting you too much. But carry an umbrella or a rain jacket just in case.
What Is Mobile Best Known For?
Mobile is best known for being the birthplace of Mardi Gras in the United States. It is also the place to visit if you love Southern food, oysters, and beignets.
Or if you want to explore Mobile by water, take a boat or kayak tour on Alabama's Delta!
Are There Nice Beaches In Mobile?
Not in Mobile but a short distance away there are gorgeous beaches that make for an ideal day trip. The closest beaches are 45 mins away on Dauphin Island or the beaches of Gulf Shores and Orange Beach a little over an hour away.
All of these beaches have white sand and warm turquoise water along the Gulf of Mexico…
Is Mobile Safe For Solo Travelers?
I traveled to Mobile as a female solo traveler and felt completely safe with no issues. As with any city, there is crime but from my experience, if you stay in the downtown area where it is the most populated then you are good.
I did notice that during the week the downtown area was much slower than on the weekends. So, if you feel more comfortable, time your travel around the weekends so that you won't feel as alone.
I personally try to get back to my hotel or close to it around sunset in any city I visit when traveling solo.
Have a wonderful time exploring all the fun things to do in Mobile, Alabama!
Got Travel Insurance?
Don't leave home without travel insurance as you never know what might happen on a trip! It is always when you least expect it that something can go wrong like getting sick, in an accident or cancellation of some sort. Get a no-obligation quote from two trusted travel insurance companies for peace of mind on your next trip!
Looking For More Travel Inspiration?
17 Fun Things To Do In Orange Beach, Alabama On Your First Visit
15 Best Things To Do On Dauphin Island, Alabama
25 Best Things To Do In Birmingham, Alabama You Don't Want To Miss
7 Amazing Waterfalls In Alabama That Will Take Your Breath Away
11 Best Things To Do In Gulfport, Mississippi For A Beach Getaway
Ultimate New Orleans Bucket List: 35 Fun Things To Do In NOLA
15 Fun Things To Do In Lafayette, Louisiana's Cajun Country
Disclaimer: As an Amazon Associate and a participant of other affiliate programs, I may earn from qualifying purchases in this post. This means that if you make a purchase through one of these links, I might receive a commission at no extra cost to you. Thank you and it is greatly appreciated!