Disclaimer: Traveling Ness contains affiliate links and is a member of the Amazon Services LLC Associates Program. If you make a purchase using one of these links, I may receive compensation at no extra cost to you. See my privacy policy for more information.
17 Fun Things To Do In Orange Beach, Alabama On Your First Visit
If you didn't already know, Alabama has some of the most beautiful and pristine beaches in the United States! Orange Beach in particular has a stunning coast lined with white sand and turquoise clear waters. There is no shortage of fun things to do in Orange Beach, Alabama that makes for the perfect beach destination.
Prior to planning my trip, I had no idea how amazing and gorgeous the beaches of Alabama were! How did I not know this? Let's just say this won't be my last trip to Orange Beach!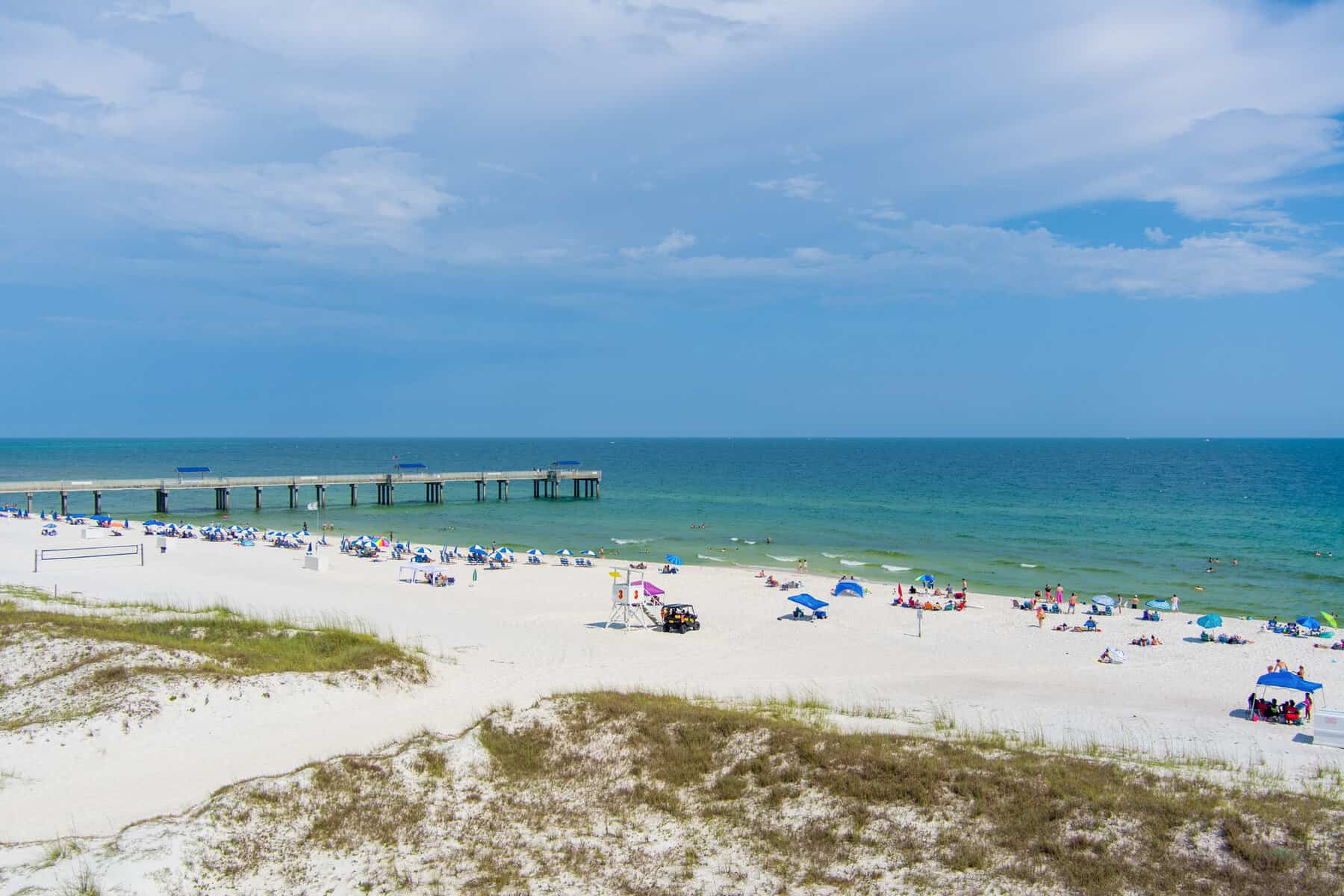 The beaches of Alabama might not get the attention like California and Florida but they are just as spectacular!
Orange Beach got its name from the orange groves that grew in abundance here up until the early 1900s. You won't see any today but the name stuck and adds to the bright and cheery vibes of this cool beach town.
Wondering what to do in Orange Beach beyond the obvious of laying on the beach? Keep reading to find out the best Orange Beach attractions to see during your visit!
Where is Orange Beach?
Orange Beach is located along the Gulf Coast of Alabama in the United States. Alabama's Gulf Coast is 32 miles of beachfront property bordered on each side by Gulf Shores, AL (west) and Florida (east).
And not too far west of Gulf Shores, you have the beaches of Mississippi which also run along the Gulf Coast.
Orange Beach is a little over an hour southeast of the port city of Mobile which is a mini version of New Orleans. Discover 21 Fun Things To Do In Mobile, Alabama On A Weekend Getaway!
Even though the coastline in Alabama isn't incredibly large, it packs a punch for its absolute beauty! The Gulf Coast is a shortened name for the coastline along the Gulf Coast of Mexico.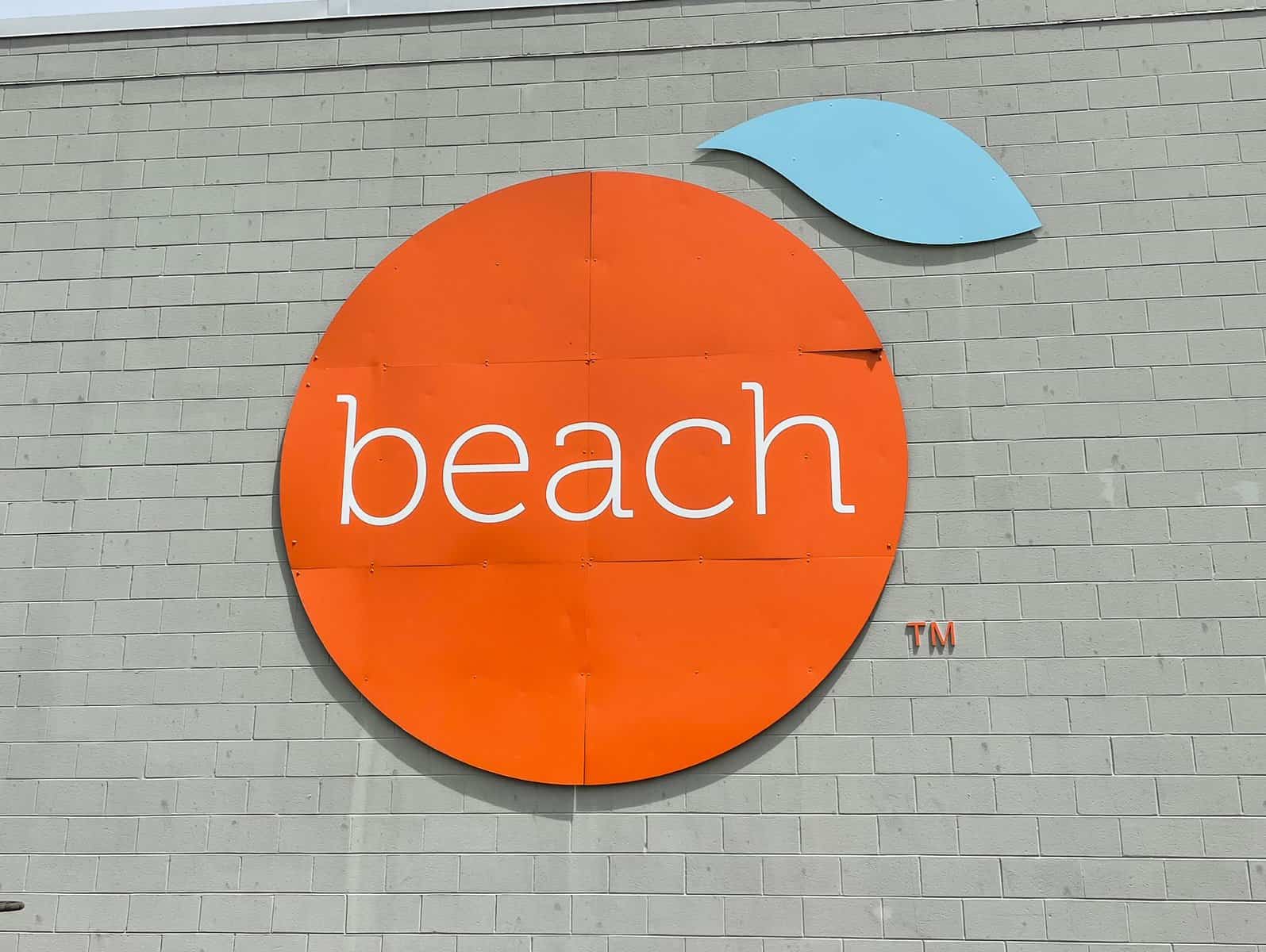 The warm water flowing up from Mexico explains why the ocean water of Orange Beach is so inviting and the perfect temperature for a dip.
Alabama is part of the region in the United States referred to as the South or as one of the Southern states.
After visiting Orange Beach, head over to the hidden gem of Dauphin Island! 15 Best Things To Do On Dauphin Island, Alabama is a perfect island retreat…
And if you plan to head up to Northern Alabama, explore:
7 Amazing Waterfalls In Alabama That Will Take Your Breath Away
25 Best Things To Do In Birmingham, Alabama You Don't Want To Miss
Where To Stay In Orange Beach, Alabama
When traveling to a beach destination, I think the priority is to stay on or as close as possible to the beach! That way you can maximize your time and start and end your day with a captivating ocean view…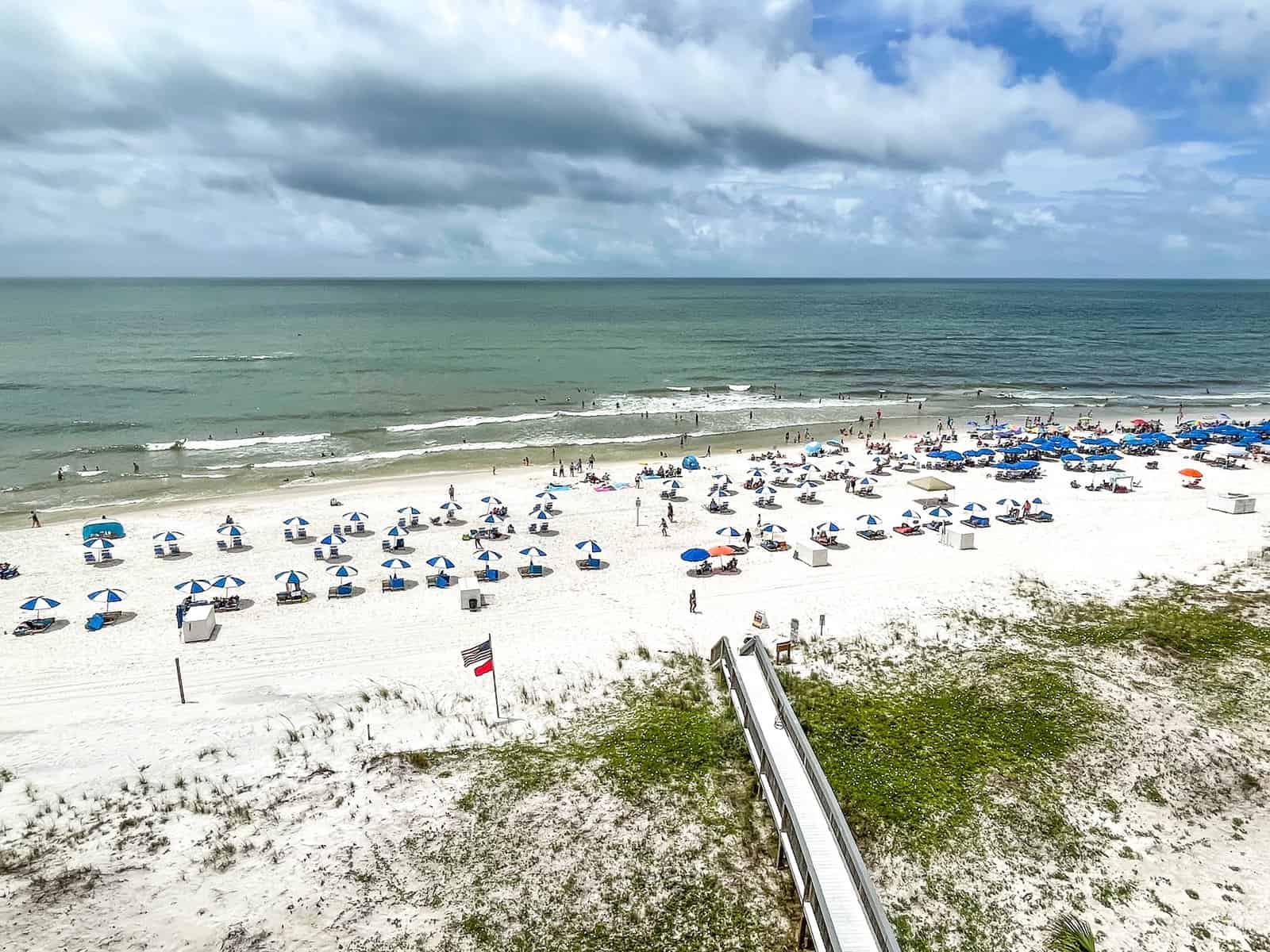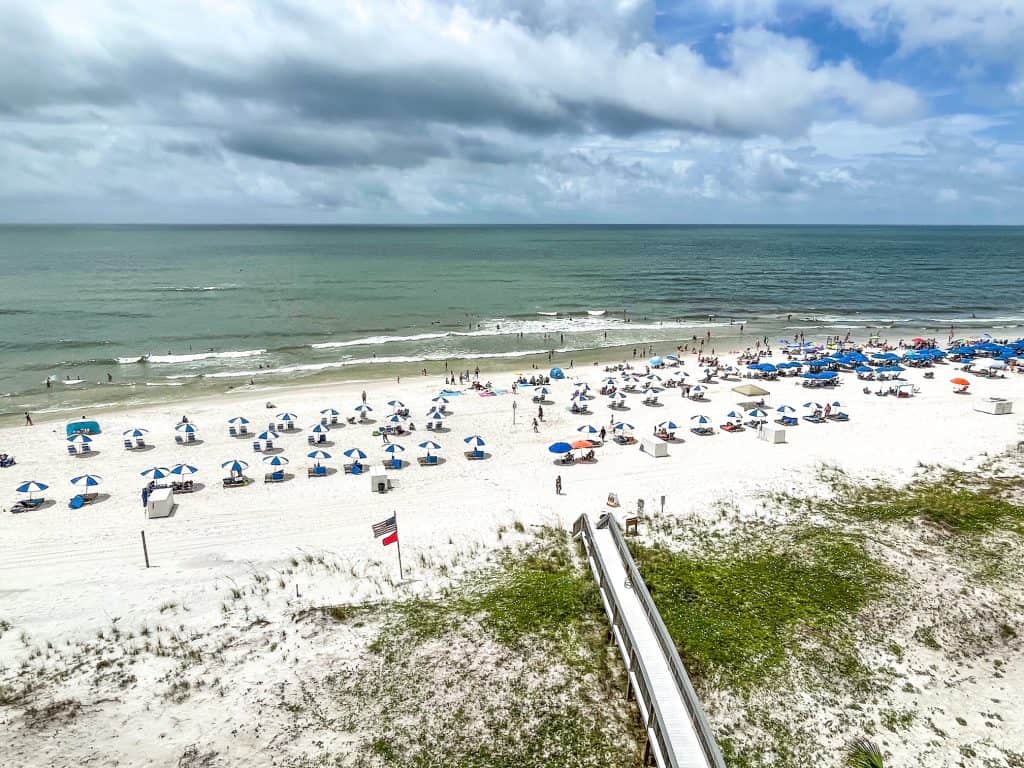 The following hotels have prime beachfront locations in Orange Beach:
The next two locations are also in Orange Beach but a little more west towards Gulf Shores.
How To Get To Orange Beach
If you are traveling to Orange Beach by plane, the closest and easiest airport to fly into would be in Pensacola, Florida. It isn't a far drive into Alabama by the way!
A few other options that are further out are Birmingham (Alabama), Mobile (Alabama), and New Orleans (Louisiana).
Pensacola International Airport (PNS) – A 50-minute drive or 32 miles from this Florida airport to Orange Beach.
Mobile Downtown Airport (BFM) – A regional airport that is 1 hr and 15-minute drive or 57 miles to Orange Beach.
Birmingham Shuttlesworth International Airport (BHM) – A 4 hr and 15-minute drive or 280 miles to Orange Beach.
Louis Armstrong New Orleans International Airport (MSY) – A 3-hour drive or 196 miles to Orange Beach.
From any of these airports, you will need a rental car to travel to Orange Beach. Explore the best car rental rates and book your car today!
Get A PDF Of This Guide For Your Trip
For your convenience, you can download a copy of this guide for visiting Orange Beach, Alabama or print it to take with you. It includes pictures and links within the article. It's ad-free and handy for on the go.

Buy Your Orange Beach PDF Travel Guide Today!
When To Visit Orange Beach, Alabama
On any trip but especially for a beach trip you want excellent weather so that you can take advantage of the beach and pool, right?
In the past, it seemed you could predict pretty accurately how any given month would behave. But these days heat and storms tend to come even when you don't expect them to.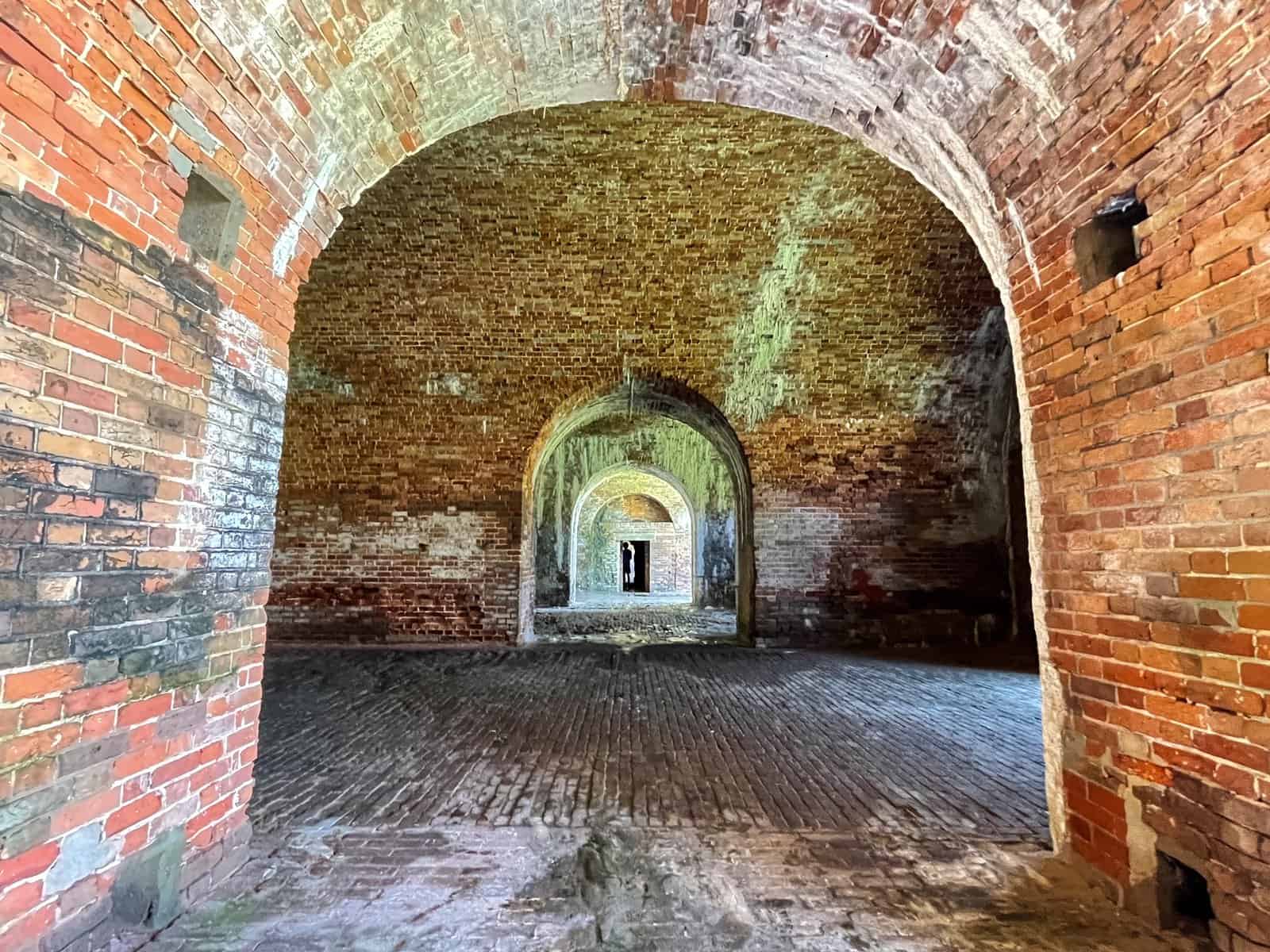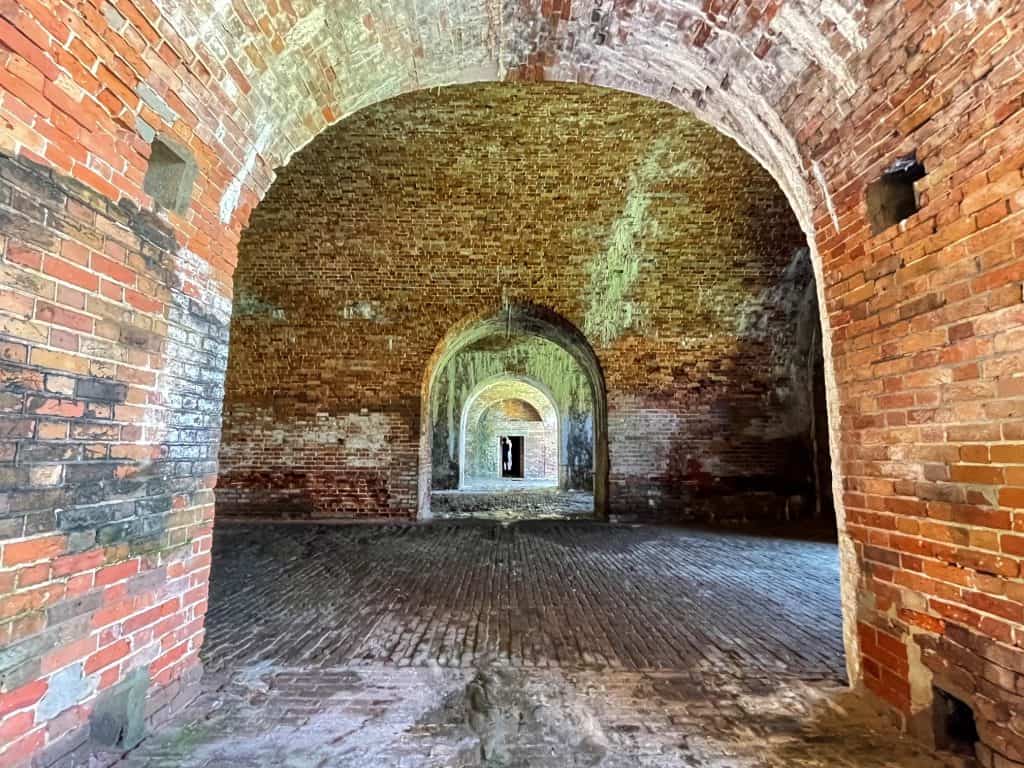 When I visited at the end of June, a tropical storm came in although luckily it wasn't too bad and didn't really alter my stay. Locals said that in combination with the storm, temperatures were much cooler than "normal".
For me, it was still hot and humid but perfect as long as my butt was in a pool or in the ocean!
Overall, the best months where you can enjoy the beach and have nice weather are March through early June and September through November.
The temperatures are hot and perfect in the summer months but you do run a potential risk of a tropical storm or hurricane hitting. If you want to go in late June, July or August I would suggest booking travel insurance or booking last minute to make sure you get a good week.
I have traveled to the Caribbean during hurricane season and had awesome weather. But of course, you can never be 100% sure of what mother nature has planned…
And don't overlook the winter months as you have fewer crowds, better rates, and fairly good weather ranging from 60 F to 66 F on average (16 C to 19 C).
Note: In the summer water temperatures can reach 86 F (30 C) and in the fall months (September, October & November) the water temperature is in the low 80s.
Beach Trip Essentials
Carry a lightweight travel towel that is perfect for the beach or pool.
Have a cute pair of sandals that are made for getting wet!
To prevent sunburn, have a packable hat, sunglasses, and reef-safe sunscreen handy.
Keep your drinks cool in a collapsible travel cooler or in an individual reusable water bottle.
Want to make sure your clothes and electronics stay dry? Then get this awesome dry bag!
Or if you are looking for an awesome beach bag, this bag comes in a number of patterns.
Throw some baby powder in your bag to rub on your feet and remove sand easily!
Want to catch up on reading a book? A Kindle is small and fits perfectly in your bag.
A portable waterproof Bluetooth speaker is the perfect companion at the beach.
Always keep your phone charged with a portable power bank.
Try to make reservations or be prepared to wait up to a few hours at most restaurants during peak season.
Capture those perfect shots with a travel tripod.
Visit the Orange Beach Welcome Center upon arrival for info on the area (23695 Perdido Beach Blvd).
Map Of Orange Beach Attractions
Trip map created with
Wanderlog
, for itineraries
Best Things To Do In Orange Beach, Alabama
1. Lounge On The Beach
I know some people may not be the lounge on the beach all day type but spending some time on the beach is one of the best things to do in Orange Beach.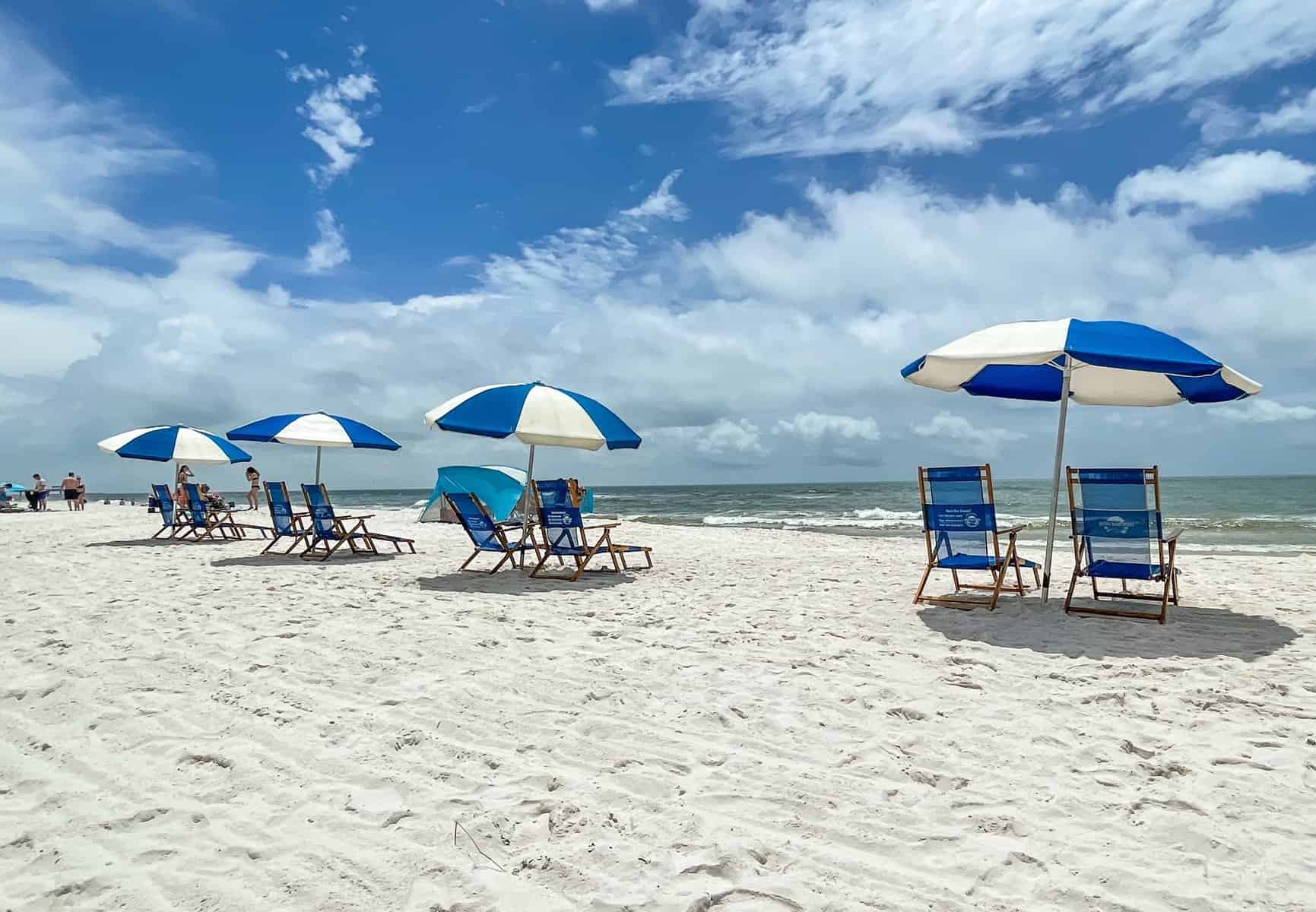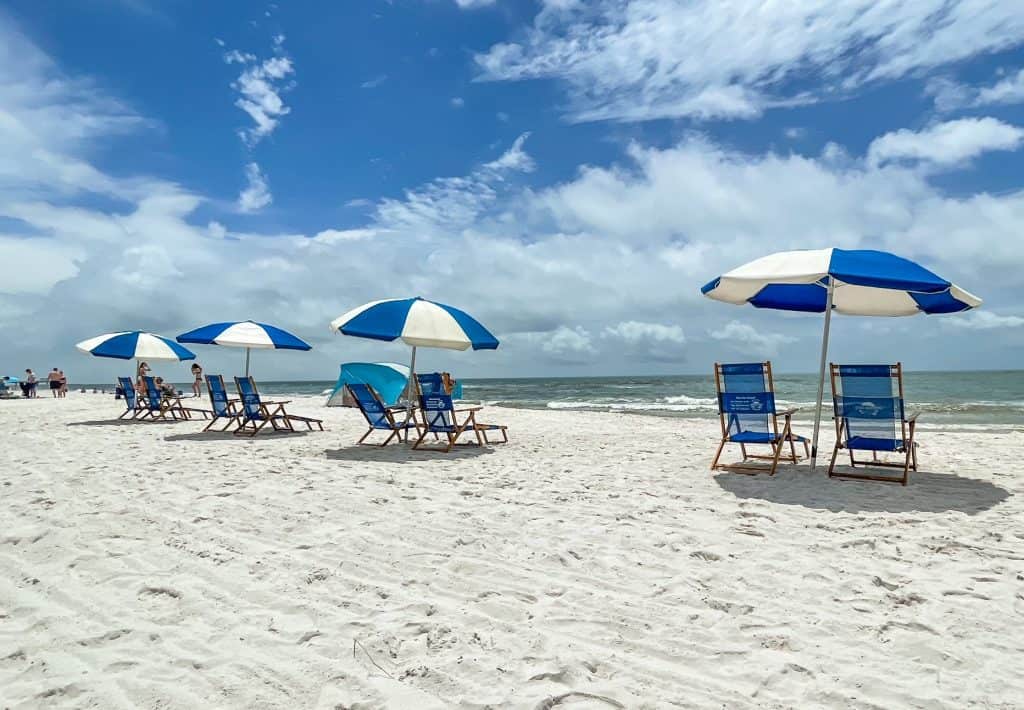 Even though the coastline of Orange Beach is all referred to as Orange Beach, there are three main beaches that make up Orange Beach. These public beaches west to east are Romar Beach, Cotton Bayou Beach, and Shell Lot (across the highway from Caribe Resort).
Most of my photos are from Cotton Bayou Beach as my hotel at Hampton Inn & Suites Orange Beach was on it. At the time of this post, Cotton Bayou Beach is the only one with restrooms, showers, and free parking.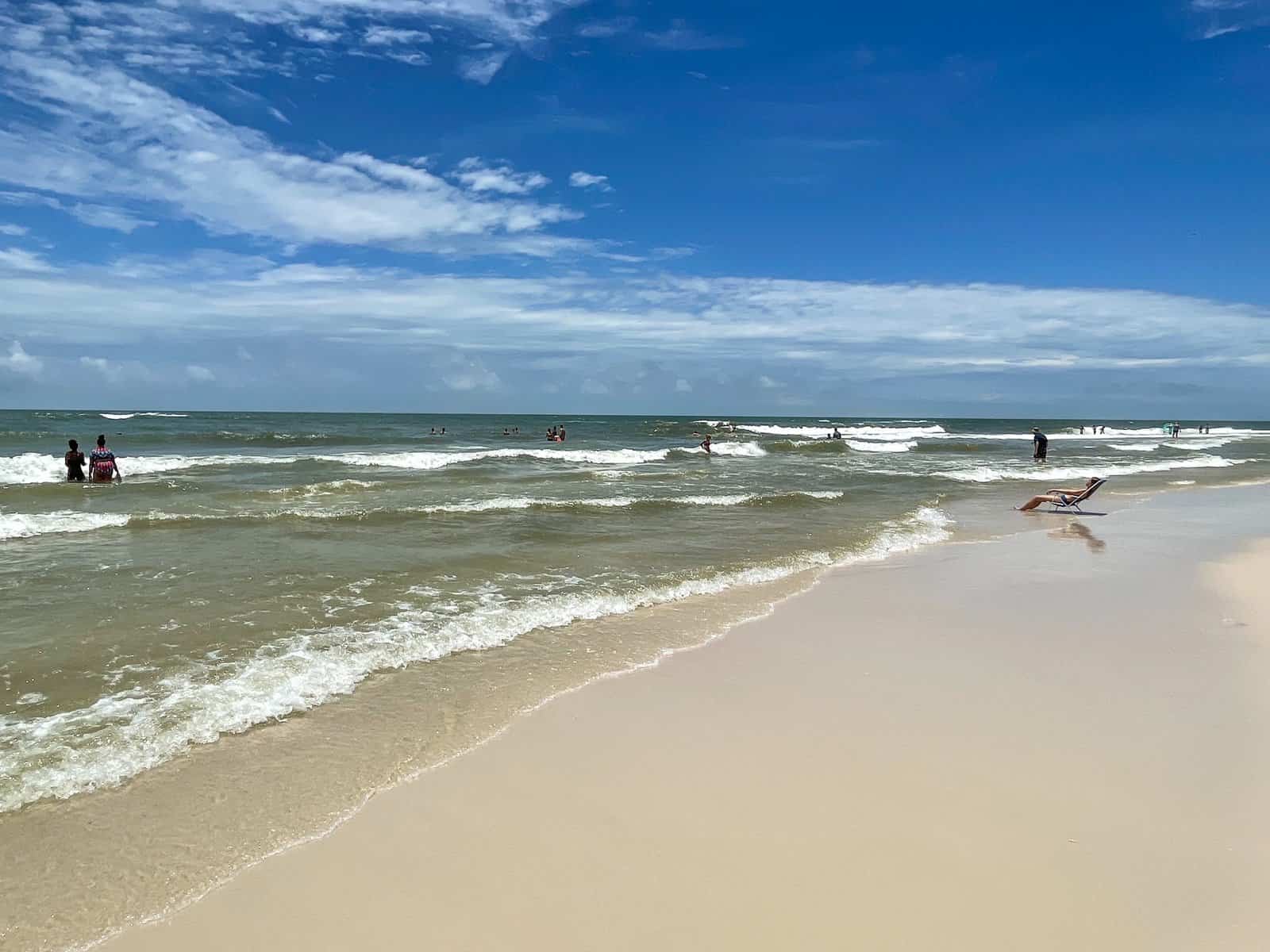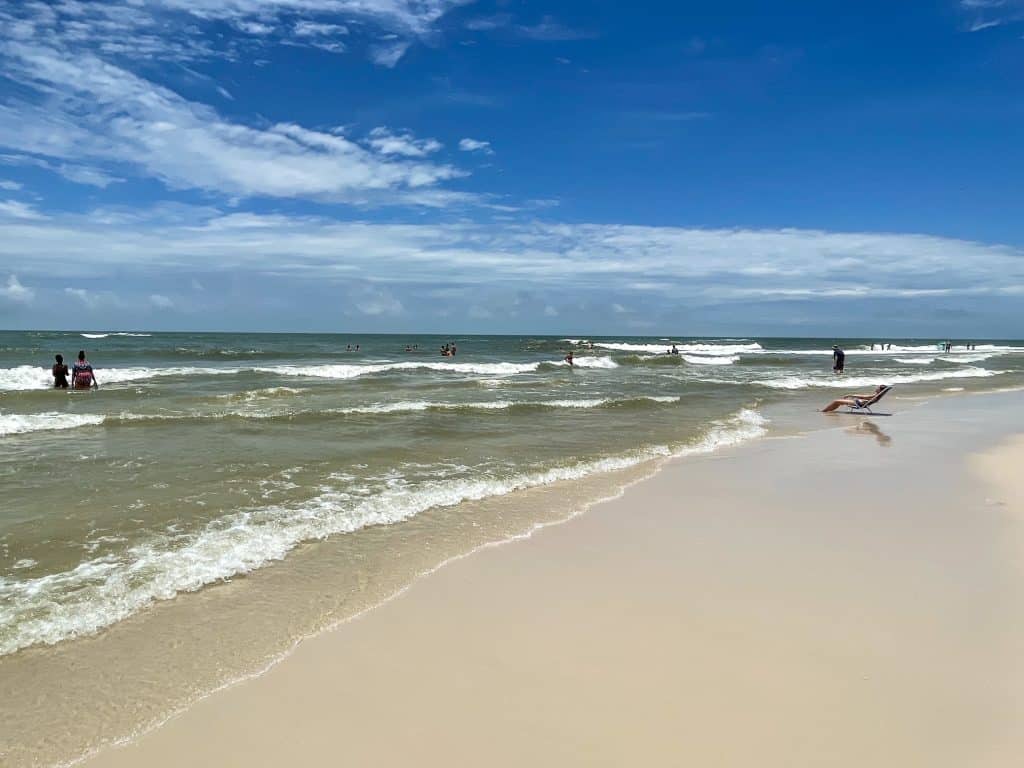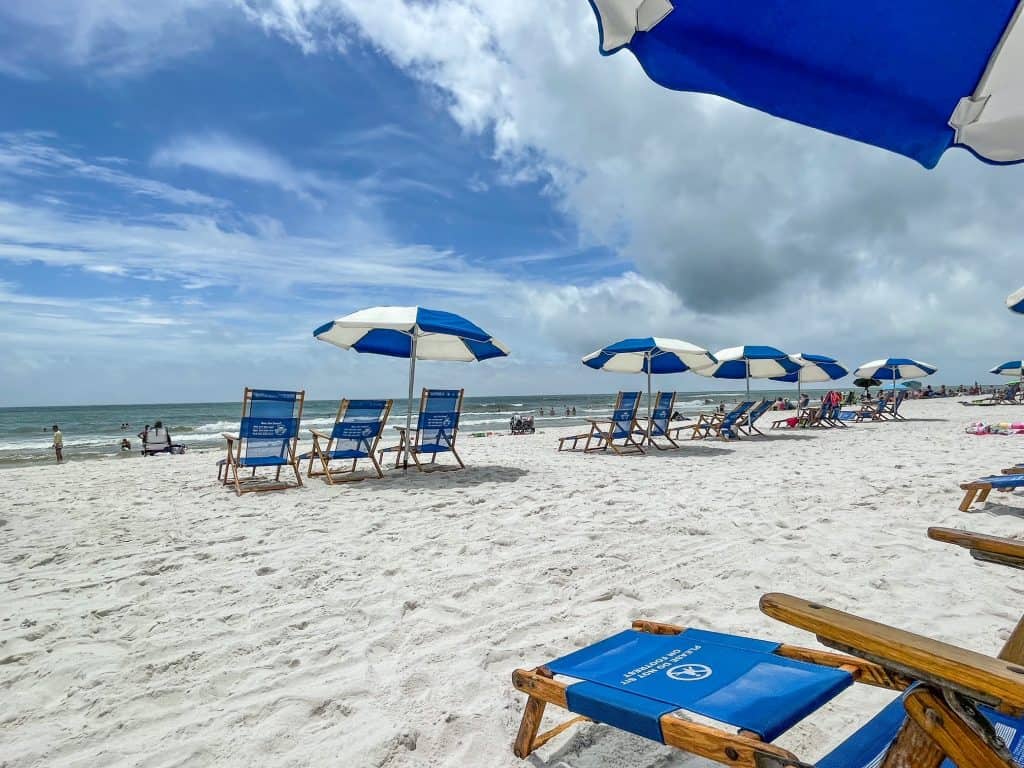 Whether you are staying at a hotel or not, renting a beach chair and umbrella is the coziest way to lounge on the beach!
I usually don't like an umbrella as I want to maximize getting a tan but the heat is so intense along the Gulf Coast that I welcomed some shade.
Note: Even though I had some cloudy days due to a tropical storm it was still lovely weather and the clouds took an edge off the boiling heat!
2. Take A Stroll
When on a beach vacation, taking a walk on the beach is such a relaxing and soothing activity. Any time of the day is great whether it be sunrise, midday, or sunset.
I'm not normally a morning person but I enjoyed getting up early to walk on the beach and take photos before the beach got busy.
I walked down to the Orange Beach Pier and back along the pristine clear water kissing the shoreline. There is something so refreshing about breathing in the salty ocean air!
Walking along any stretch in Orange Beach is a walk in paradise…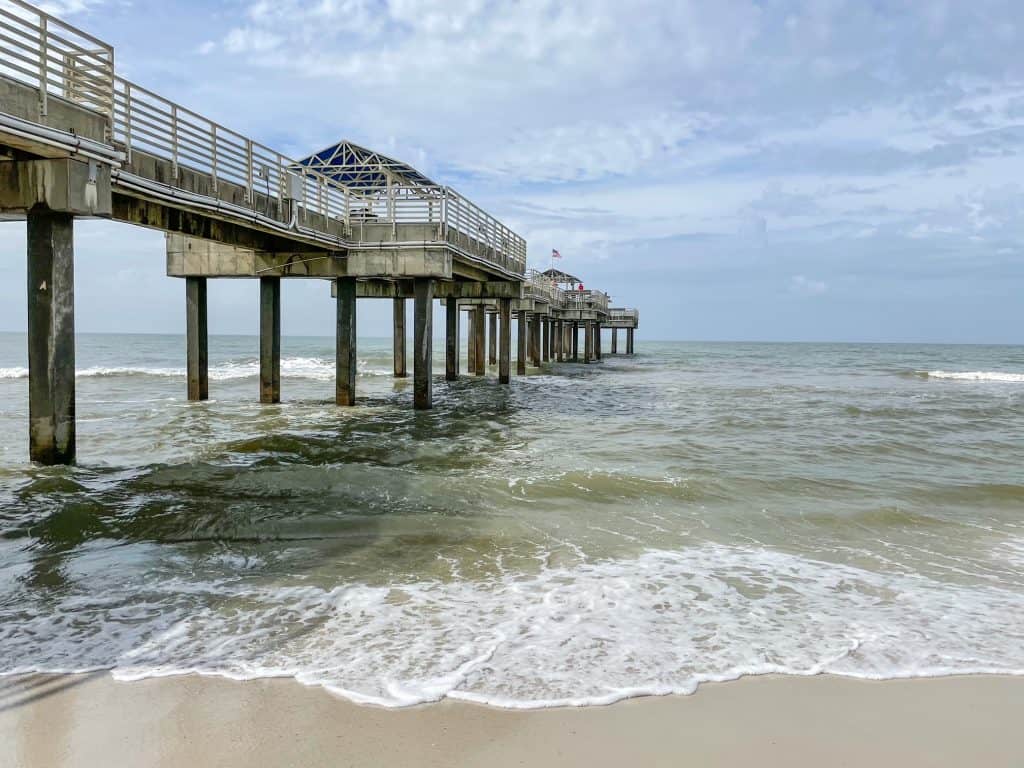 But if you would rather not walk on sand, then take a stroll or run on the paved Cotton Bayou, Rosemary Dunes Trail in Gulf State Park that is a 5.5 loop.
The best place to start this walk is at the Cotton Bayou Trailhead right off of Orange Beach Blvd. You may even see birds, armadillos, and alligators on this trail!
If you are looking for a shorter trail, Rattlesnake Ridge Trail is a flat 3.2 mile out and back trail in Gulf State Park.
The Rattlesnake Ridge Trailhead starts across from the Orange Beach Fire & Rescue Department taking John Snook Dr from Orange Beach Blvd.
Tip: To help assist in finding the trails, use the AllTrails app which makes it very easy!
3. Grab A Great Cup of Coffee
Finding an awesome coffee shop in any town is a priority and if they have a good breakfast that is a bonus!
The Southern Grind is a local coffee house that serves up excellent coffee in bright white and turquoise colors that say coastal beach house vibe.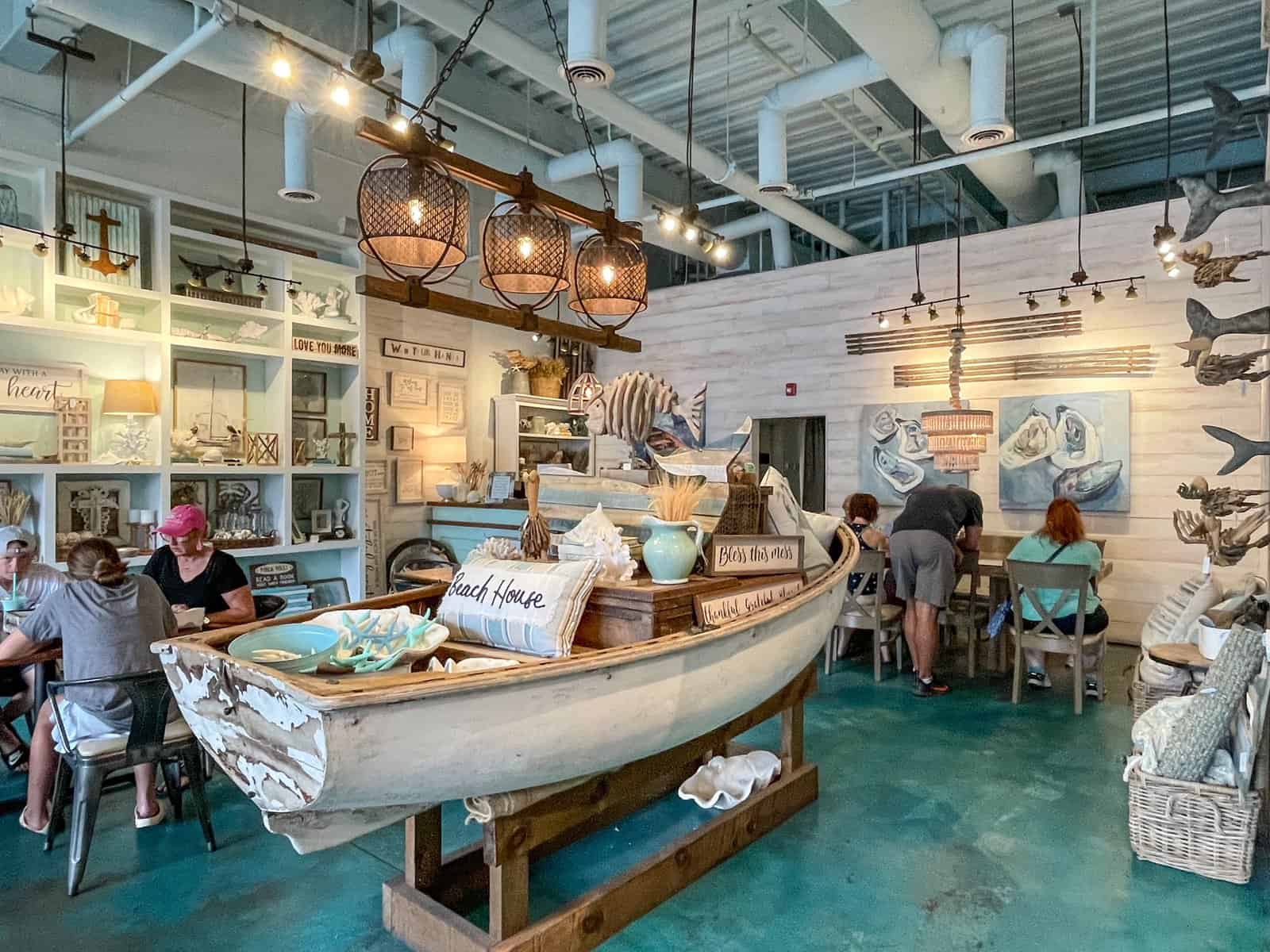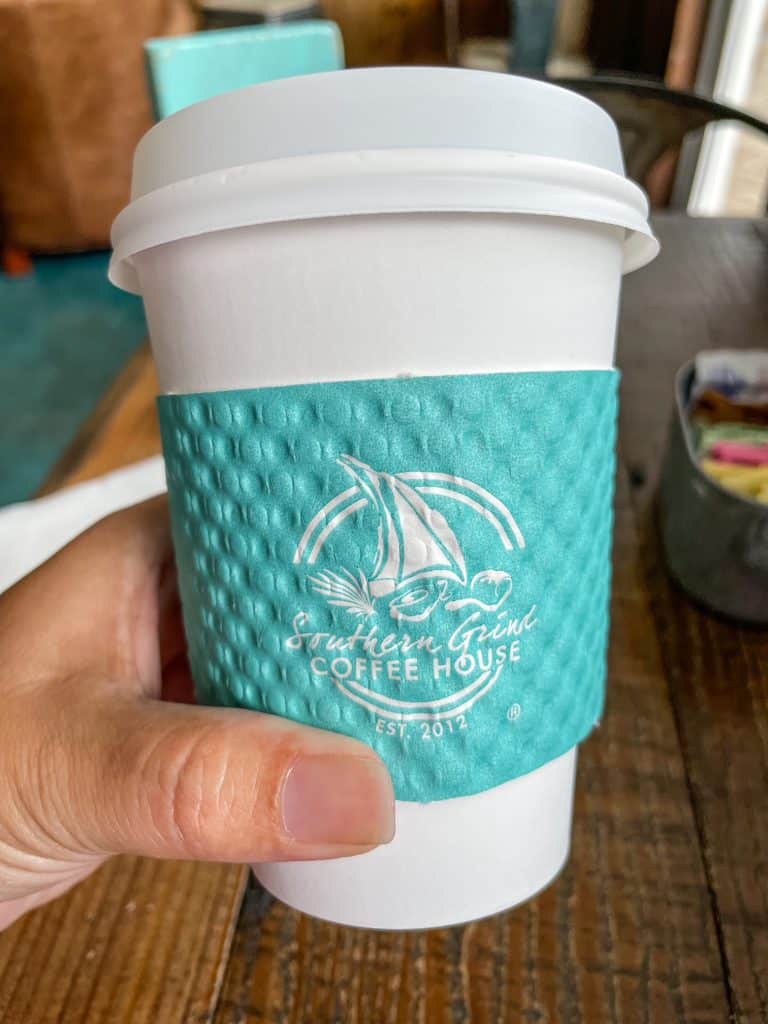 I like that it feels almost like you are in someone's home rather than a coffee shop with super cute beach décor, comfy chairs, and even a TV!
On my visit, I had a yummy breakfast sandwich and it paired perfectly with my coffee. You can find pastries, bowls, sandwiches, salads, and gelato at The Southern Grind too!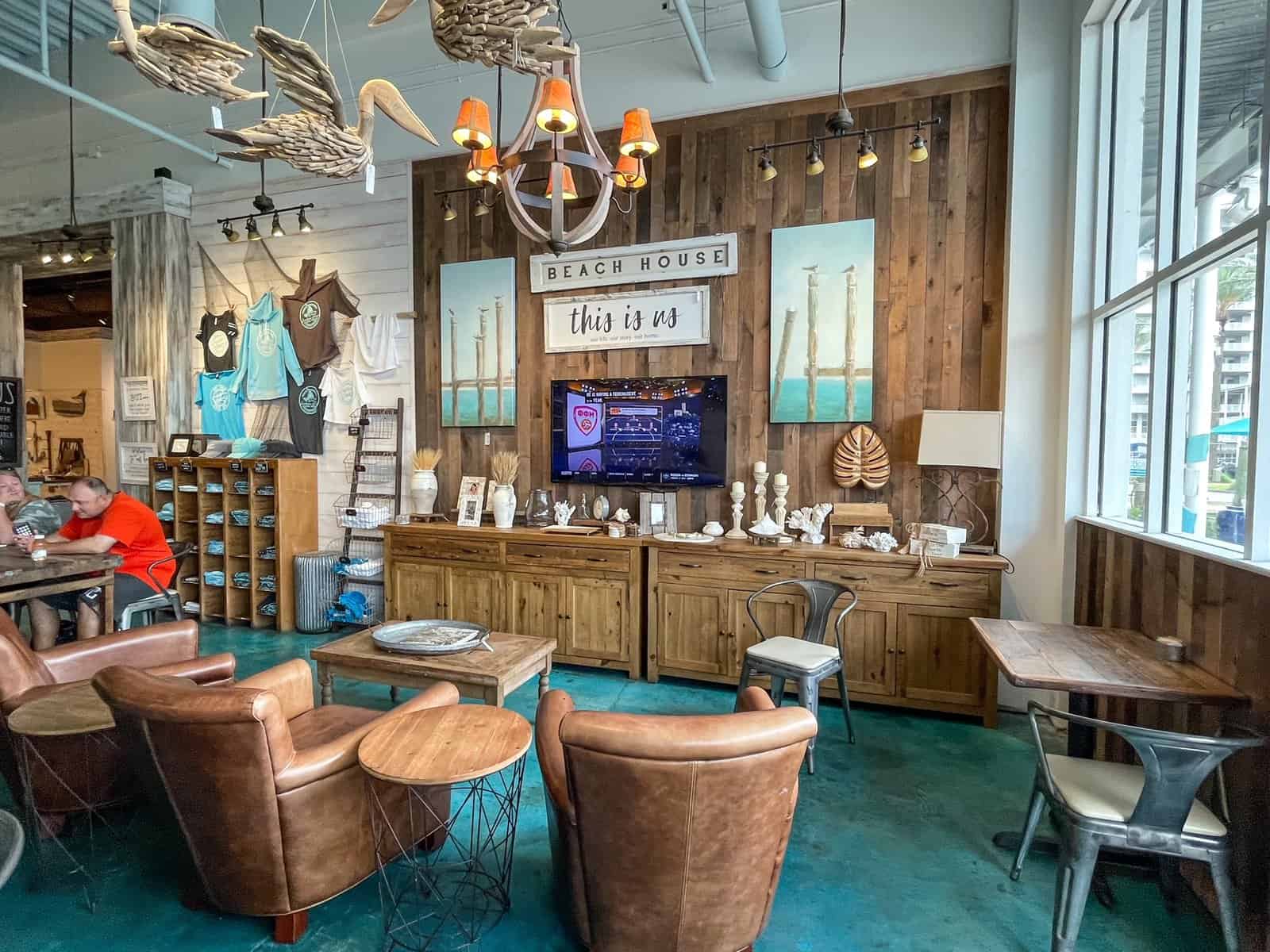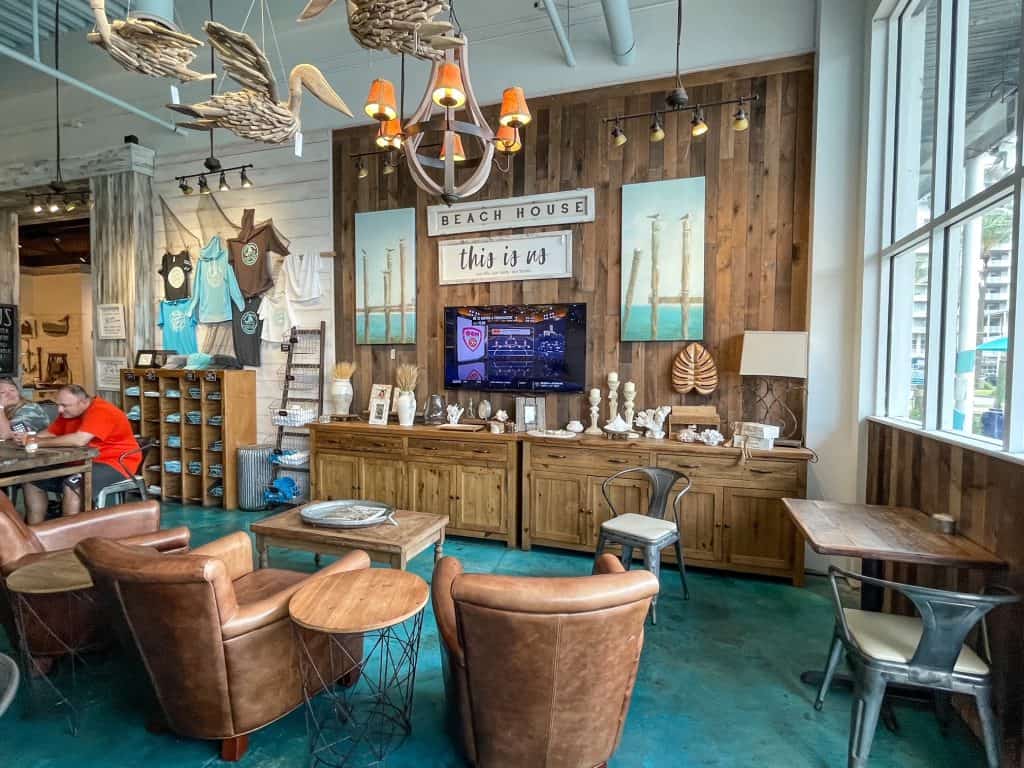 There are two locations with the original location at The Wharf and the other one inside the Hotel Indigo Orange Beach.
4. Happy Hour On The Beach
Is there anything better than having a beer or cocktail right on the beach? Enjoying a drink with a gorgeous view of the Gulf Coast, warm sea air, and possibly sand in your toes sounds pretty incredible to me!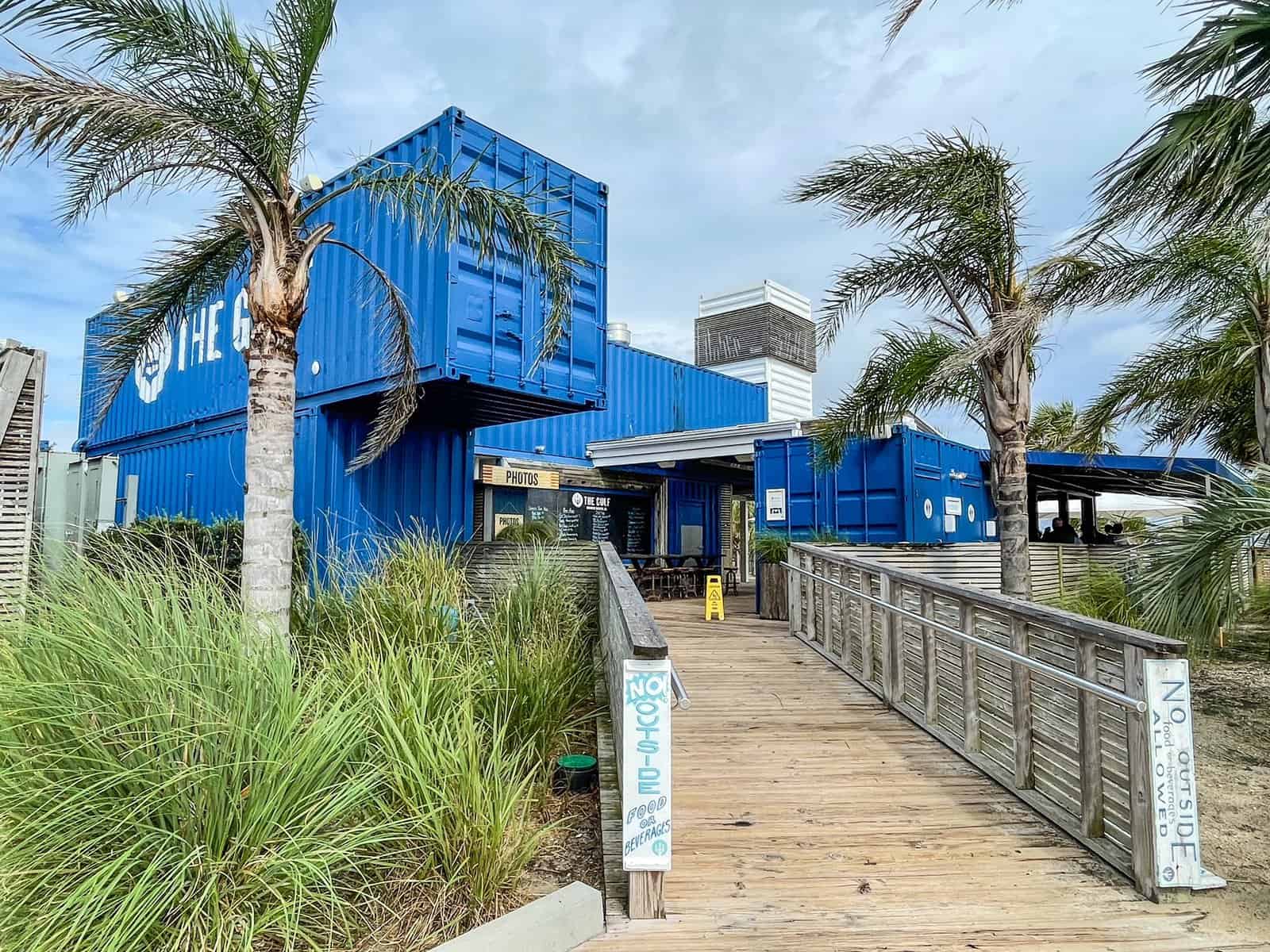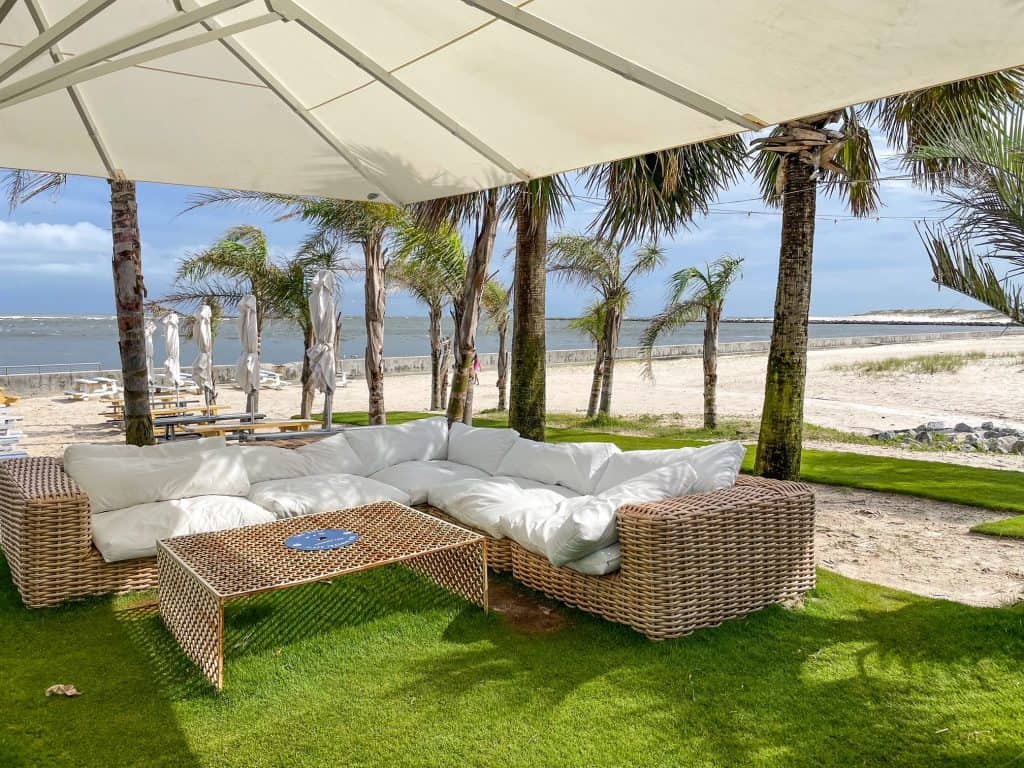 My favorite bar in Orange Beach is The Gulf for its location right on the beach. Upon entering The Gulf, you immediately notice that the bar and restaurant are housed in royal blue shipping containers!
After ordering your drinks, lounge on one of the outdoor couches or tables that scream beach oasis…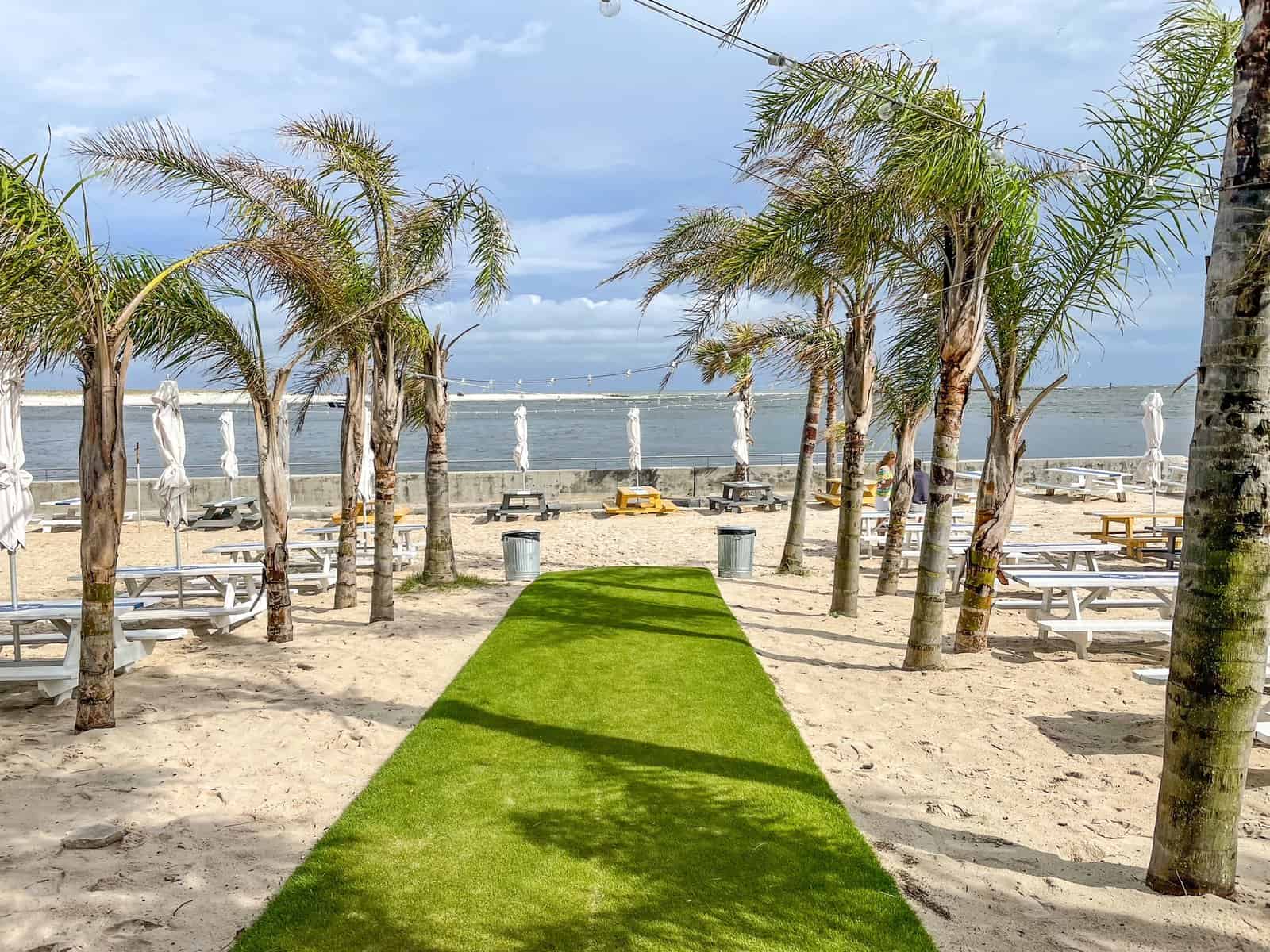 If you are looking for more than drinks, The Gulf has plenty of seafood and American food options to order.
Address: 27500 Perdido Beach Blvd, Orange Beach, Alabama 36561
5. Take A Dolphin Cruise
Want to see some dolphins? Take a day or sunset cruise to explore the water and bays of Orange Beach to see some dolphins! There is a ton of wildlife to see along with dolphins such as fish, birds, and alligators that call wildlife paradise home.
What a sight it is to see dolphins playing and dancing along with the boat in what always seems to be a very happy mood! On these tours, you will get to learn about the dolphins, other wildlife, and the natural environment they live in.
On the sunset tours, you can sip a cocktail and watch the warm glow of the sun setting on the Gulf Coast in awe… Most tours are about 2 – 3 hours in length.
Dolphin & Sailing Tours by Cetacean Cruises
6. Search For Seashells
Where I live in San Diego, it is pretty rare to see seashells so I was excited to learn that there are tons of seashells in Orange Beach!
Searching for seashells is referred to as shelling and there is an assortment of shells you may find along the Gulf Coast. These shells at one time served to house and protect different mollusks such as clams, oysters, and scallops.
Although you can go shelling at any time, early morning, after a storm, or when there is a low tide is ideal. It is exciting to see what treasures you may find on each shelling trip!
Some of  the seashells you might see are:
Surf Clam shells
Coquina Clam shell
Ark Clam shell
Moon Snail shell
Scallop shells
Sand Dollar shells
Conch shells
Oyster shells
Note: If you happen to see any critter or living animal in a shell, keep it where it is! Only take empty shells.
7. Eat The Best Fried Shrimp
The Gulf Coast is known for its seafood and if you love fried shrimp, look no further than Doc's Seafood! Doc's knows its seafood and has been voted in the top 10 Seafood Shacks In America.
They are most well known for their fried shrimp but they have an assortment of other delicious options such as Oysters, Seafood platters, Fish, Crab Claws, and Gumbo.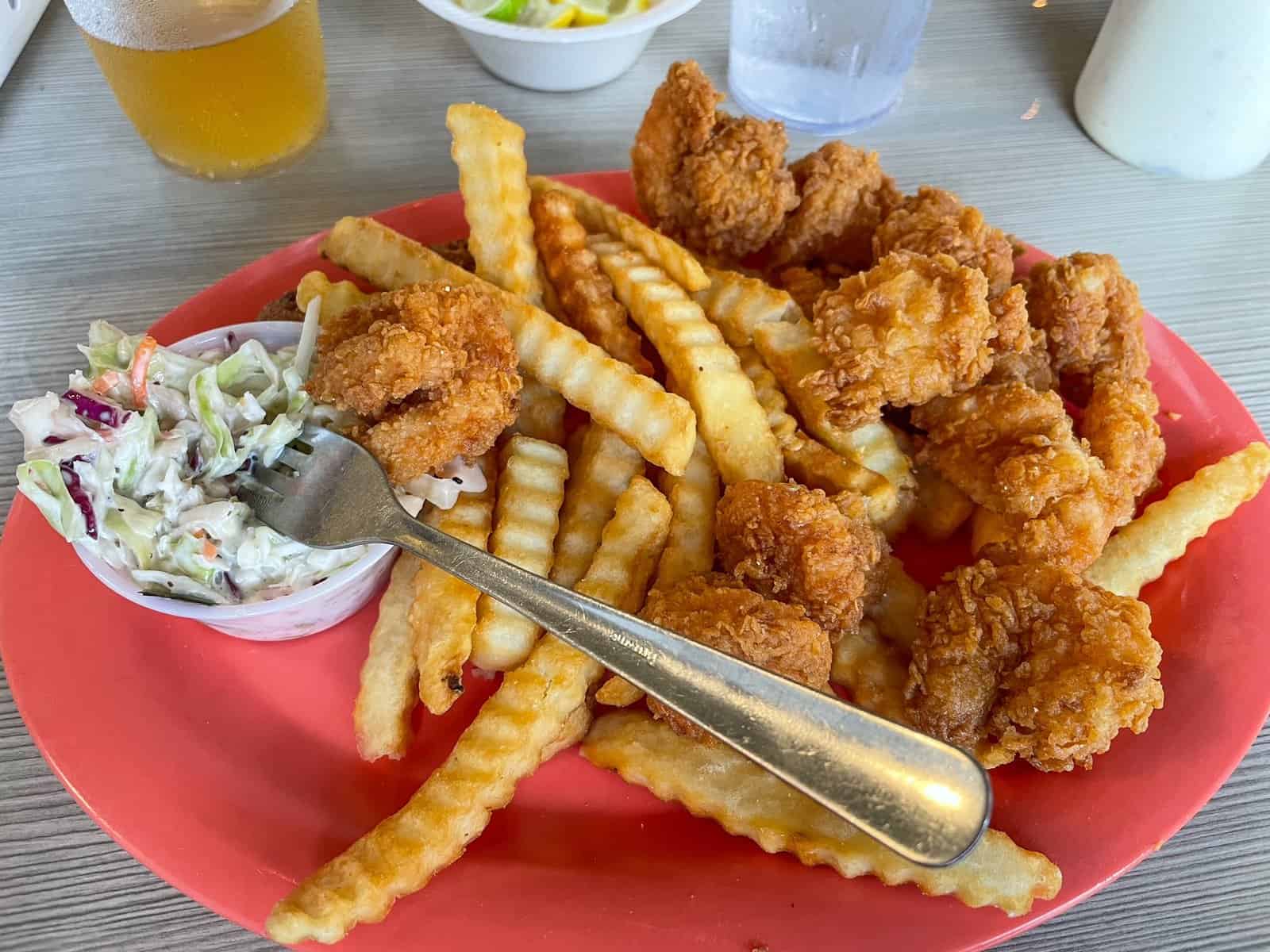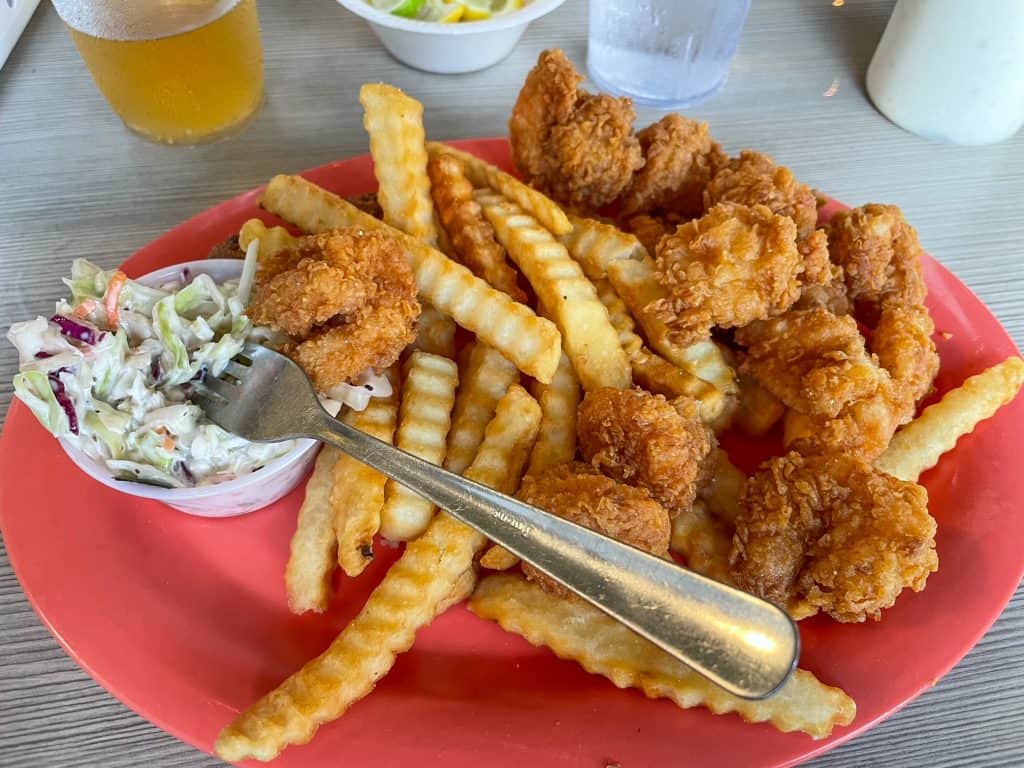 Doc's has been an Orange Beach favorite since 1984 and a spot where you may find yourself coming back to each visit. And if you happen to catch your own fish, bring them on in and Doc's will cook it for you!
Address: 26029 Canal Rd, Orange Beach, Alabama 36561
8. Shopping At The Wharf
When you need a break from the beach or napping at the pool, the best place in Orange Beach for shopping is at The Wharf. You may have seen me mention earlier that The Southern Grind coffee house is here too.
The Wharf is well a wharf… At the marina, you can find boats taking off for various excursions, fishing trips, and maybe an outdoor bar.
With tons of shops along The Wharf, you can browse from top local stores and national brand name stores too. And if you work up a hunger from shopping there are some great bites to eat at among the shops.
If you are looking for a little entertainment, one of the fun things to do in Orange Beach is to hop on the 112 ft Ferris Wheel. Offering great views of the marina and Orange Beach! It is in fact one of the tallest Ferris Wheels in the Southeast.
Other activities that draw people to The Wharf for some fun are the AMC Movie Theatre, an Escape Room, Axe Throwing, and Mini Golf!
Throughout the year you can even attend a concert at The Wharf Amphitheater. To view the concert schedule visit their website.
Address: 23101 Canal Rd, Orange Beach, Alabama 36561
9. Dinner With A View
Dining with either an ocean or marina view is a fantastic and memorable way to enjoy a meal in Orange Beach. Each of these restaurants has a spectacular view and delicious food to match the ambiance!
Although every restaurant listed below is primarily seafood, you can get a few non-seafood items at each such as steak, burgers, and pizza.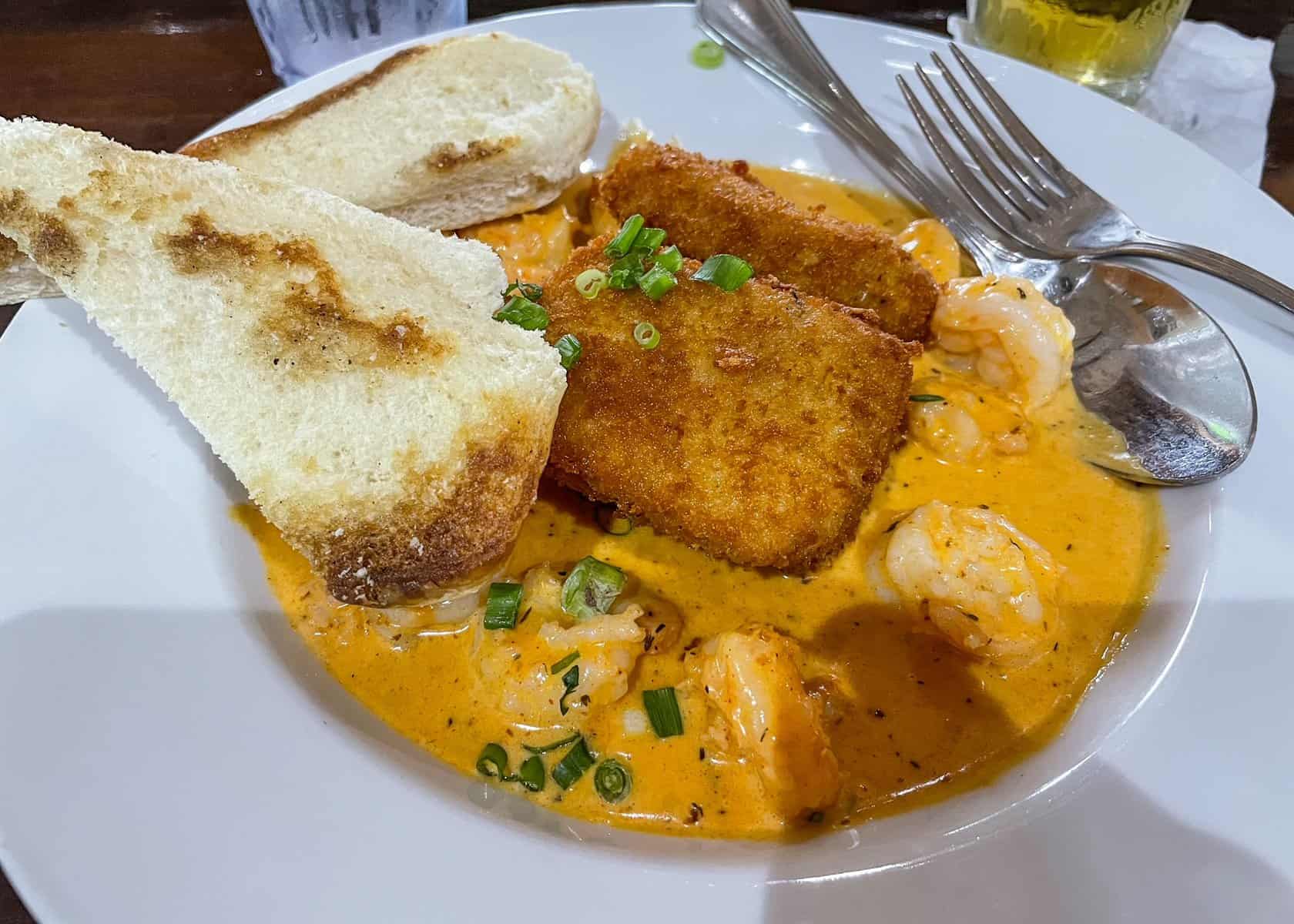 Cobalt The Restaurant (28099 Perdido Beach Blvd, Orange Beach)
GTs On The Bay (26189 Canal Rd, Orange Beach)
The Gulf (27500 Perdido Beach Blvd, Orange Beach)
Fisher's at Orange Beach Marina Upstairs (27075 Marina Rd #300, Orange Beach)
Tip: During peak summer crowds, it can be a 2 – 3 hour wait at many restaurants in Orange Beach. Make a reservation ahead of time or be ready to wait by the bar until your table is called!
One of the benefits of traveling solo is I usually got a seat at the bar to avoid the wait.
10. Ice Cream At Del's
The number one beach treat especially if it is hot is ice cream! I am not a big ice cream person at all but when I'm at the beach and it's hot, I'm a big ice cream lover…
Del's Ice Cream is an Orange Beach favorite and it is conveniently across the road from where I was staying. Whether you want an ice cream cone, milkshake, or sundae, you are bound to be delightfully happy with your pick!
Serving homemade ice cream in over 30 flavors daily their ice cream is so yummy! As my ice cream cone was melting fast I felt it was more important to eat it than take a picture… 😊
Address: 25405 Perdido Beach Blvd, Orange Beach, Alabama
11. Have Fun At FloraBama
What in the world is Flora-Bama you may ask? It is a famous bar and music venue on the beach and literally on the state line between Florida and Alabama, hence its name…
So, after hanging out for the day at Orange Beach head over to Florida for some drinks and entertainment!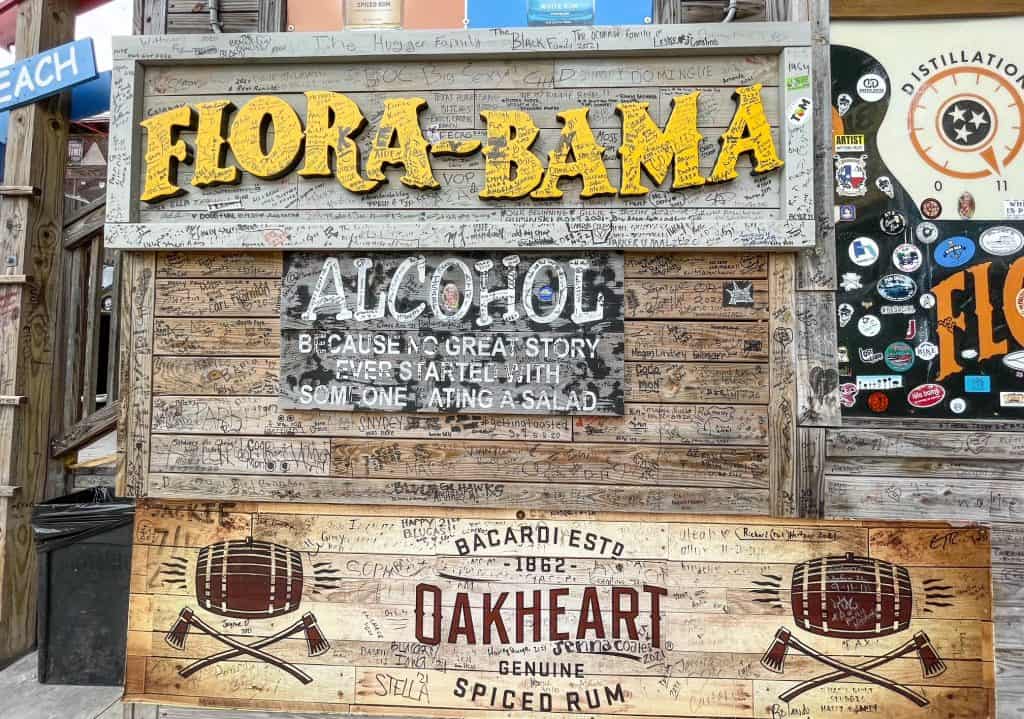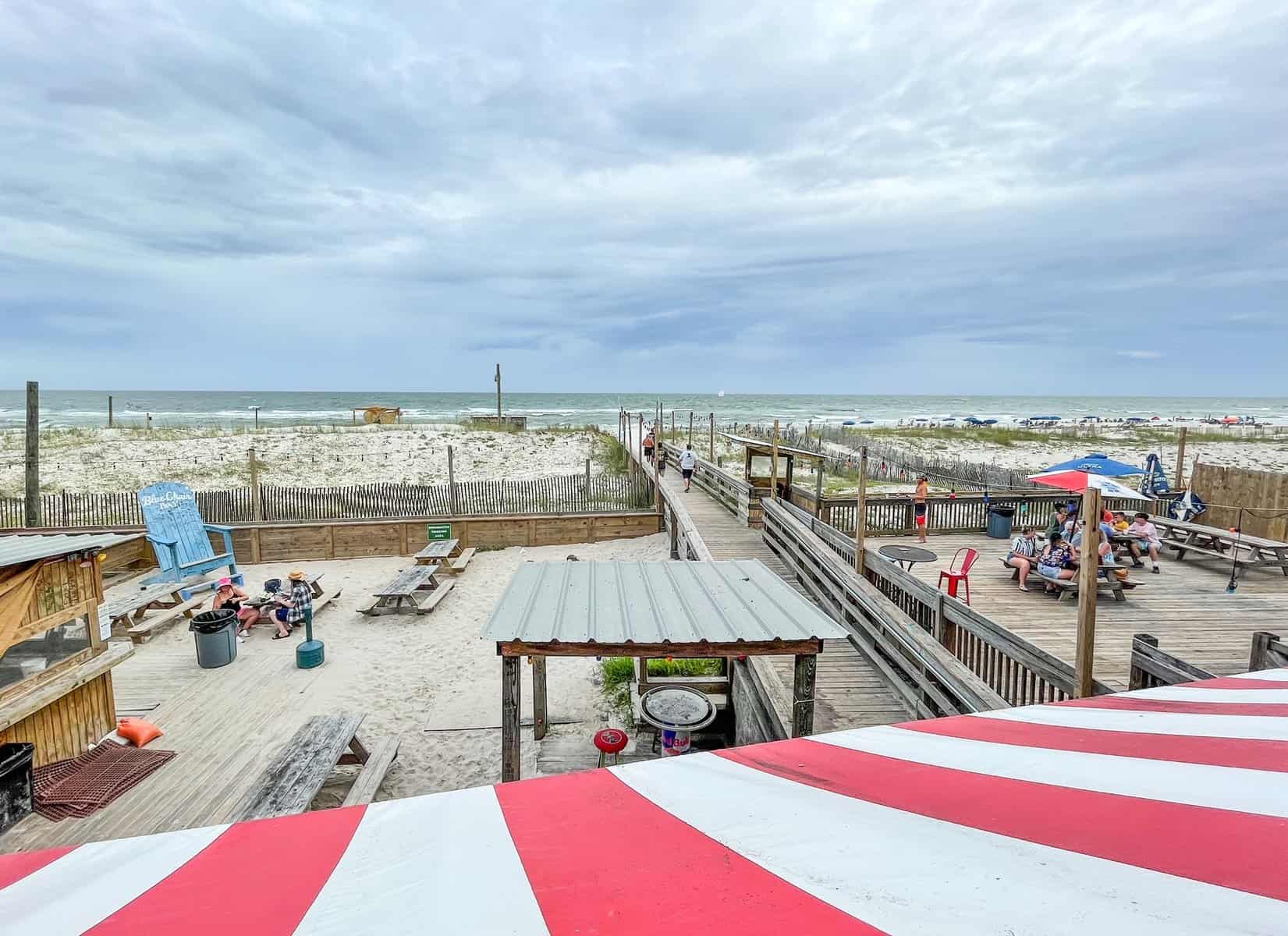 Flora-Bama has been a popular spot rocking it since 1964 as the go-to place for drinks, oysters, and live music right on the beach. There are 5 stages for bands to play with many bars on every level that offer up an ocean view.
If there is one drink to order, get a Bushwacker! A Bushwacker is a fun drink that you can find along the Gulf Coast but Flora-Bama is said to have the best with their secret recipe.
It is basically a very strong adult milkshake…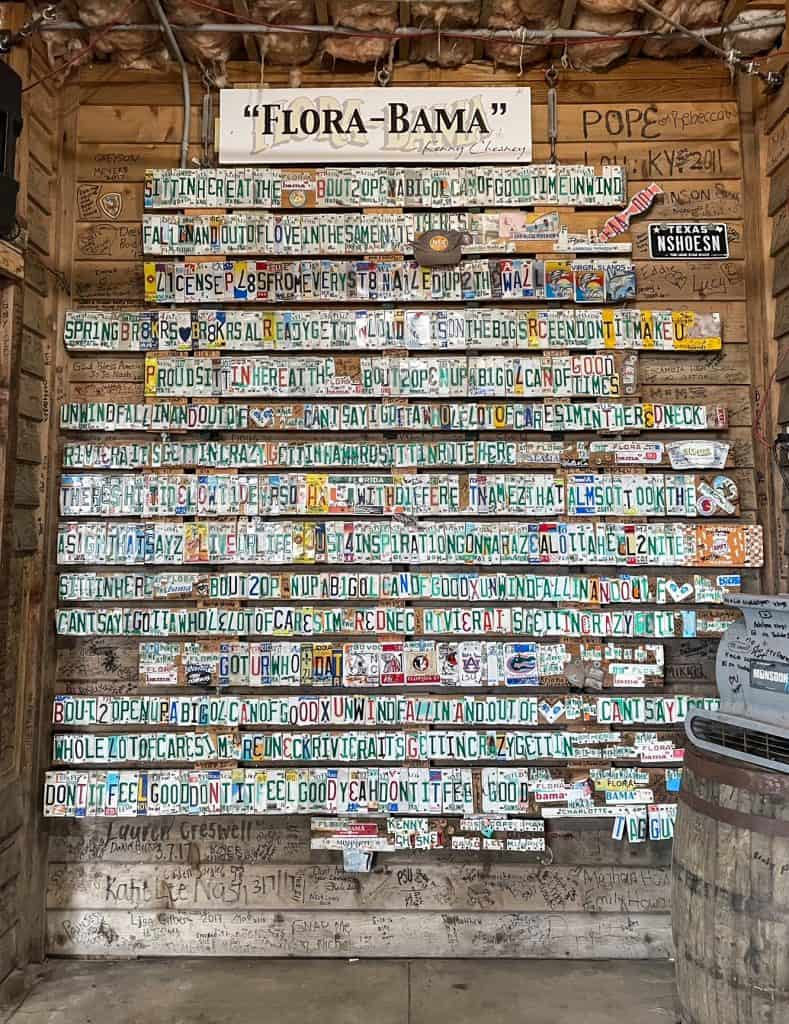 Scattered on the walls inside you will find license plate murals that are lyrics to a few of Kenny Chesney's songs. One of his songs just happens to be about Flora-Bama!
Flora-Bama also has two restaurants across the street on the marina side, Flora-Bama Ole River Grill and Flora-Bama Yacht Club.
Address: 17401 Perdido Key Dr, Pensacola, Florida, 32507
12. Go Snorkeling or Diving
One of the best things to do in Orange Beach is to explore under the water! If you enjoy swimming and/or scuba diving then you will find some great spots along the Gulf Coast to see various sea life.
The water along Orange Beach is pleasantly warm hovering in the low to high 80s during spring, summer, and fall months. With cozy temperatures like that, you won't have any problems jumping into the water!
If you prefer snorkeling, you can take a tour out on a boat where you might see various fish species, stingrays, octopi, crabs, and turtles! With Sail Wild Hearts, the 90-minute tour will take you to snorkel and swim at the Alabama Point Jetties.
But if you would rather scuba dive, a great PADI-certified dive shop to dive with is Down Under Dive Shop. They can take you on both shore and boat dives to wander the tropical paradise below including shipwrecks and an artificial reef!
Tip: For the best water temperatures and visibility, diving in May through September is the most optimal.
13. Fort Morgan
Located about 45 – 50 mins west of Orange Beach is Fort Morgan that sits at the point of the peninsula with Mobile Bay on one side and the Gulf of Mexico on the other.
Even though it isn't located right in Orange Beach I like to include it for its close proximity, beautiful location, and history.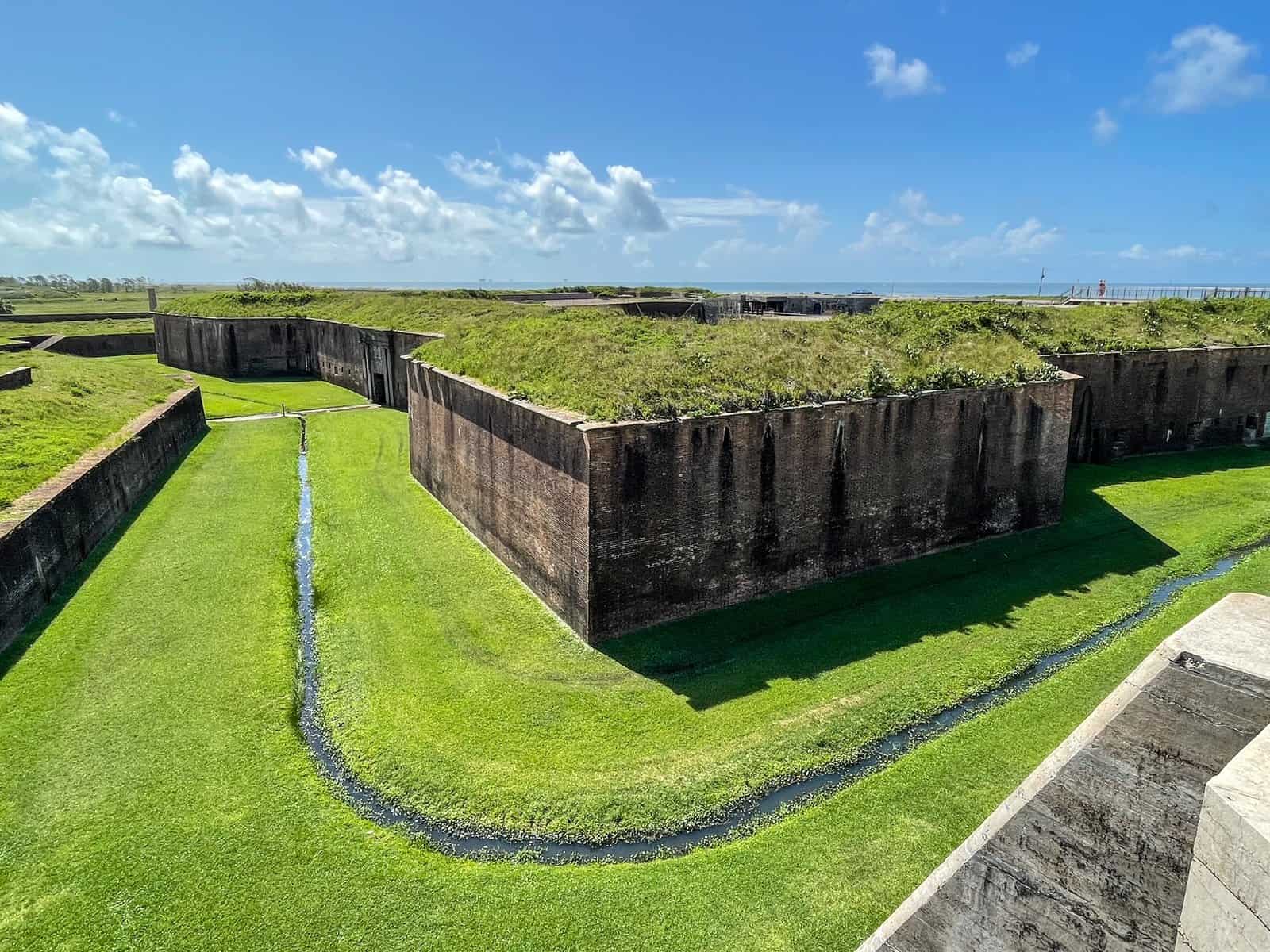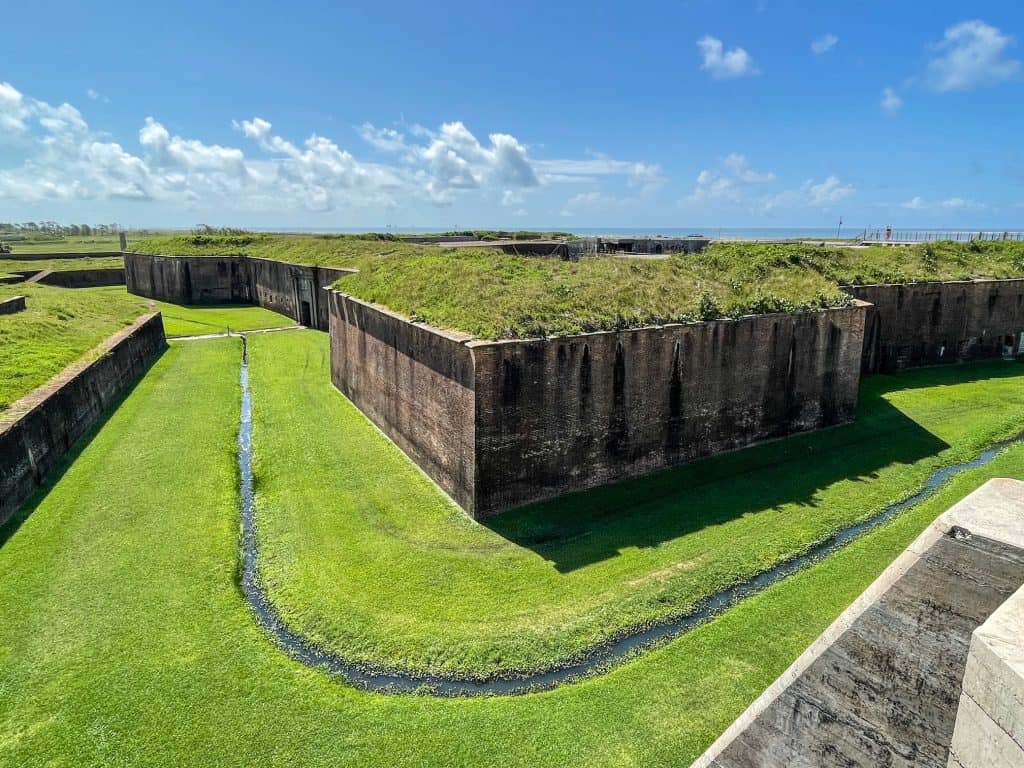 The site of Fort Morgan was originally Fort Bowyer in the War of 1812. Later in 1833, the fort was officially named Fort Morgan after the Revolution War hero General Daniel Morgan.
Its location on Mobile Point served to protect Mobile Bay which was a vital port in the South. Fort Morgan was used until the end of WWII and today it is deemed an Alabama state historic park.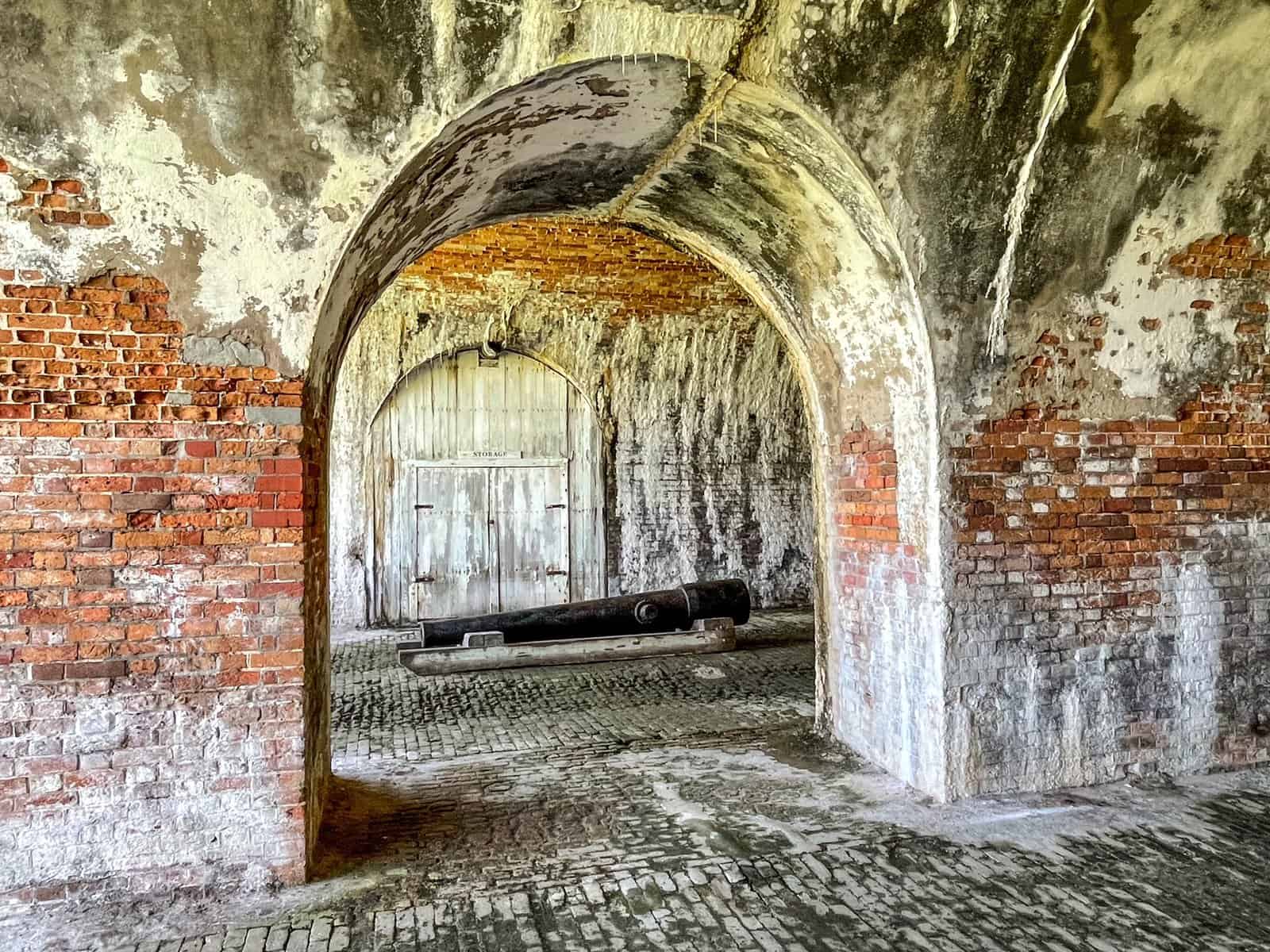 You can tour at your own pace the fort's tunnel, battery, protective walls, and gun mounts. After you have explored Fort Morgan you can walk out to the beach that lays along Mobile Bay and directly across from Dauphin Island.
There is a gift shop and small museum that has exhibits and items reviewing the history of Fort Morgan and the role it has played.
Address: 110 State Highway 180, Gulf Shores, Alabama 36542
Hours: Open daily from 8:00 am to 5:00 pm. Admission is $8 for adults and $5 for seniors. Expect to spend about 1 – 2 hours.
14. Orange Beach Kayak & Canoe Trail
Whether you prefer kayaking or canoeing, there is a fantastic trail to paddle on! The Orange Beach Kayak & Canoe Trail hugs the shores of Wolf Bay, Bay La Launch, Amica Bay, Bayou St. John, and Cotton Bayou in Orange Beach covering a distance of about 15 miles.
But to get back where you started you need to trek back the way you came for a total of about 30 miles. Or you can have someone pick you up Cotton Bayou, the last stop of the trail.
There are 12 trail sites to see along the Orange Beach Kayak & Canoe Trail if you are interested in stopping to explore a bit.
If you want to do this, pack a lunch to enjoy at one of your stops and get an early start so you have time to finish by end of the day.
Start the kayak & canoe trail at the first site, Gulf Bay Rd on Wolf Bay. You can go as far as you like depending on time and fitness level from there. And of course, you can start at any of the boat launches on the route too.
Note: Make sure to not leave any trash or any other belongings. Carry a dry bag with you to hold all your belongings and keep essentials like phone and camera dry!
15. Go For A Bike Ride
If you want to get in a little exercise and see some outstanding views of nature in Orange Beach, hop on a bike and go for a ride!
Riding along the coast of Orange Beach is an easy and ideal place to go for a bike ride as it is flat and you have continuous views of the stark white sand and turquoise waters of the Gulf Coast.
You can start your ride anywhere along the coastal Highway 182 also known as Perdido Beach Blvd. Ride at your leisure and ride as far as you want and return to your starting point.
Another excellent place for a bike ride is on the paved Hugh S. Branyon Backcountry Trail in Gulf State Park. It is a 12.2-mile loop but there are various other trails that you could add on if you wanted to.
The Hugh S. Branyon Backcountry Trail will take you through various ecosystems ranging from saltwater marshes, freshwater lakes, and coastal forests. You may see wildlife living in their natural habitats such as birds, alligators, deer, turtles, and foxes.
You could bike to the beginning of the trailhead or park at the Catman Road Trailhead (off of Orange Beach Blvd) and start the loop from there. I recommend using the AllTrails app to help you navigate if needed.
Beach Bike Rentals (22989 Perdido Beach Blvd, Orange Beach, Alabama 36561)
Infinity Bicycles (4675 Orange Beach Blvd, Orange Beach, Alabama 36561)
16. Visit Souvenir City
Can't leave a trip without a few souvenirs, right? Souvenir City is a tourist attraction in itself as you can find any and all kinds of souvenirs from Orange Beach and the Gulf Coast.
And if you left any beach accessories behind you can grab a pair of sunglasses, sandals, floaties, and more! Anything related to the coastline destination you can find such as seashells and unique gifts to take home.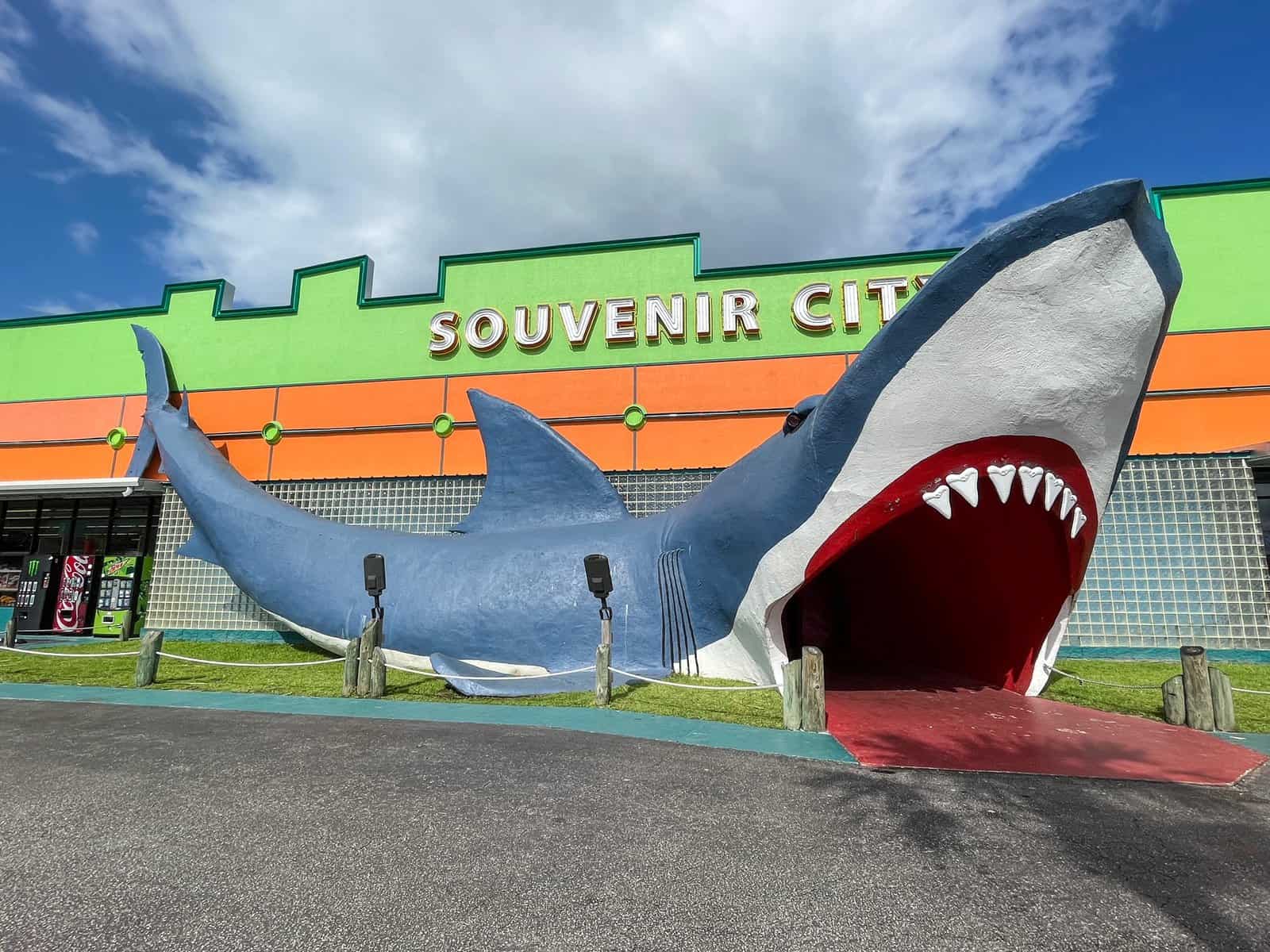 There is also a Souvenir City in Gulf Shores which has one of the coolest store entrances I have ever seen. You walk through the mouth of a rather large shark! Fake of course…
Addresses:
Orange Beach – 24644 Perdido Beach Blvd, Orange Beach, Alabama 36561
Gulf Shores – 217 Gulf Shores Pkwy, Gulf Shores, Alabama, 36542
17. Try A Moon Pie
So, Moon Pies are not exactly from Alabama but they are known as a sweet southern treat! Moon Pies are originally from Chattanooga, Tennessee.
Back in 1917 Moon Pies were created for the local coal miners who were in need of a tasty snack that was "as big as the moon". They became a hit and soon production increased and Moon Pies were later shipped overseas to troops in WWII.
Fast forward to today and you might see Moon Pies being thrown during Mardi Gras in Mobile, Alabama instead of beads! And on New Year's Eve, you can see a large 600 pound Moon Pie drop at midnight in nearby Mobile.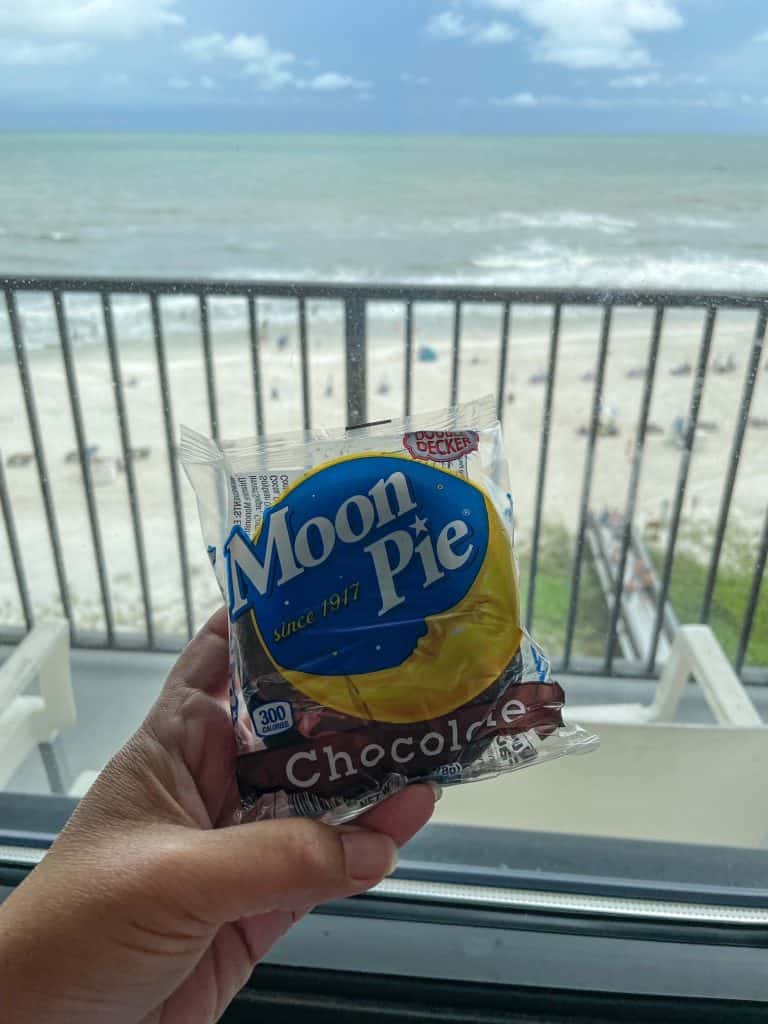 Some may cringe at this recommendation but if you are not from the area it's one of those snacks you have to try at least once! The Moon Pie is made of two graham crackers with marshmallow in the middle and covered in chocolate.
They even gave them out at check-in at my hotel and I am a little embarrassed to admit but I was super excited to try a Moon Pie! I tried both a chocolate and vanilla Moon Pie and loved the vanilla flavor.
Have a fantastic time exploring the best things to do in Orange Beach, Alabama!
Get A PDF Of This Guide For Your Trip
For your convenience, you can download a copy of this guide for visiting Orange Beach, Alabama or print it to take with you. It includes pictures and links within the article. It's ad-free and handy for on the go.

Buy Your Orange Beach PDF Travel Guide Today!
Got Travel Insurance?
Don't leave home without travel insurance as you never know what might happen on a trip! It is always when you least expect it that something can go wrong like getting sick, in an accident or cancellation of some sort. Get a no-obligation quote from two trusted travel insurance companies for peace of mind on your next trip!
Looking For More Travel Inspiration?
15 Best Things To Do On Dauphin Island, Alabama
21 Fun Things To Do In Mobile, Alabama On A Weekend Getaway
7 Amazing Waterfalls In Alabama That Will Take Your Breath Away
25 Best Things To Do In Birmingham, Alabama You Don't Want To Miss
15 Fun Things To Do In Lafayette, Louisiana's Cajun Country
11 Best Wineries In Fredericksburg, Texas That Are A Must To Try
10 Awesome Things To Do On Catalina Island
7 Best Filtered Water Bottles For Travel And Hiking
The Best Guide To Maui Whale Watching
21 Best Scuba Diving Tips For Beginners
15 Best Things To Do In San Diego
Disclaimer: As an Amazon Associate and a participant of other affiliate programs, I may earn from qualifying purchases in this post. This means that if you make a purchase through one of these links, I might receive a commission at no extra cost to you. Thank you and it is greatly appreciated!