Disclaimer: Traveling Ness contains affiliate links and is a member of the Amazon Services LLC Associates Program. If you make a purchase using one of these links, I may receive compensation at no extra cost to you. See my privacy policy for more information.
10 Fun Things To Do On Catalina Island, California
If the California desert and the Hawaiian Islands had a baby, Catalina Island would be that creation! The island has an arid desert terrain spotted with tall palm trees flowing in the island winds and clear turquoise waters welcoming guests arriving in Avalon Bay. Keep reading to find out the best things to do on Catalina Island!
Catalina is part of the Channel Islands located 22 miles off the coast of Southern California (between San Diego and Los Angeles). It is a great getaway from anywhere in California and transports you to paradise.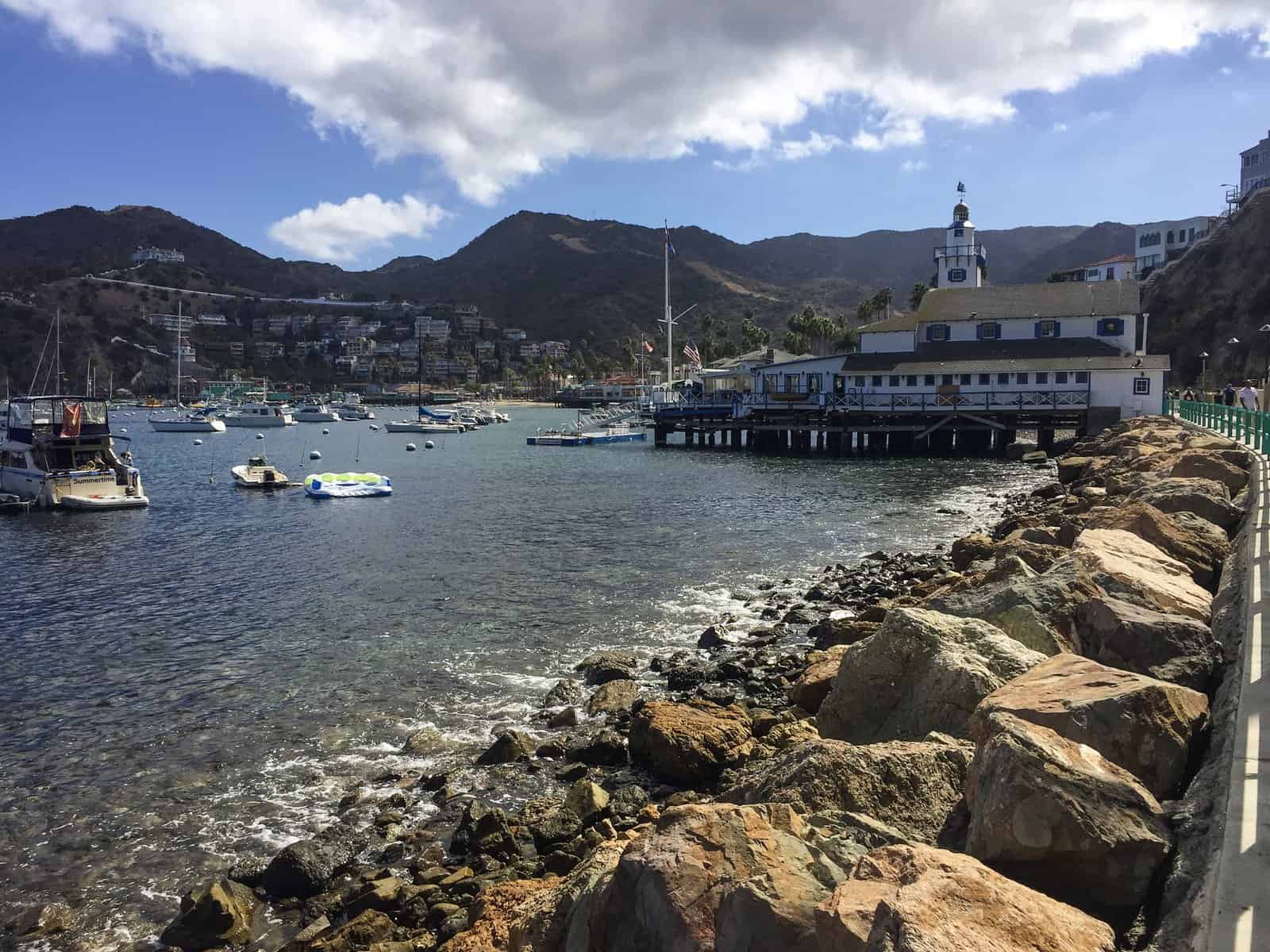 Before I visited, I had heard from many that you only need a day, maybe two days on Catalina Island as there isn't that much to do. I completely disagree with this, as there is so much to do on Catalina, especially if you are active and enjoy the outdoors! One day just isn't enough time to see everything.
Time to spend might be limited, I get it. But to have time to explore and relax a bit, three days should be the minimum. It is easy to spend a week as there are so many Catalina Island attractions and tours to experience.
A Bit of Catalina's History
Catalina Island has a rich history going back to the 1920's when William Wrigley Jr., the chewing-gum king of "Wrigley" gum from Chicago purchased the island without even seeing it! As the owner of the Chicago Cubs, Wrigley brought the Chicago Cubs team to Catalina each year for spring training.
Wrigley invested a significant amount into building up the island including the Avalon Casino, making Catalina the "it" place for Hollywood's weekend escape.
Fortunately, the majority of the island is now controlled by the Catalina Island Conservancy that combines education with preserving nature. That means limiting the amount of building and expansion to keep it much the same size as in Wrigley's days. Get ready for your trip and explore hotel options in Avalon!
Funny note: Many might be familiar with Catalina Island from the line "The mother**king Catalina Wine Mixer" from the movie Step Brothers featuring Will Ferrell. Buffalo roam Catalina Island as they were brought in just for the movie and left behind post-production, making it a unique attraction to Catalina!
Catalina Island Hotels
Luckily you can't go too wrong with selecting a place to stay as options are condensed in and around downtown Avalon. Avalon is the main area on Catalina and it is always nice to choose a location close to everything. My three favorite hotels that are near the best things to do in Avalon are the:
Pavilion Hotel
Portofino Hotel
Aurora Hotel
Catalina Island Essentials
Best Things To Do On Catalina Island
1. Walk Via Casino
Strolling along the Avalon Bay waterfront called "Via Casino" (or Casino Way) is not only relaxing but a great way to get a feel for the layout of Avalon. Taking in the sea air is so effective at putting me into a tranquil mood. From Avalon's downtown area, head through the arch and towards the Casino off in the distance…
The Via Casino arch marks the beginning of a palm tree-lined path to the Casino itself. From downtown Avalon, it is about 0.5 miles to the Casino. If you continue on from the Casino to Descanso Beach on St Catherine Way, that is an additional 0.2 mile stretch.
2. Rent A Golf Cart
You can't come to Catalina and not rent a golf cart! It's truly a unique way to get around and one of the coolest things to do on Catalina Island. There are a few cars on the island but they belong to local residents and are not for rent.
There are a couple of places located in downtown Avalon that rent golf carts by the hour. You won't miss them as they are right on the main street.
The standard rental is for two-hours, but if you want to take your time and stop a lot to take photos, I recommend 3 hours. It's such a great way to see the island and Avalon Bay from different vantage points.
Although there are several places to take in the views, make sure to stop at the Buena Vista Point where the view of Avalon Bay and the Casino are stunning.
Tip: If you are visiting during peak summer days, I would recommend renting a golf cart in advance.
3. Zip Line Eco Tour
If you are up for some adventure and a little adrenaline boost then ziplining is a must! This was the first activity I did once I arrived and it was so fun.
This wasn't the longest zip line that I'd been on but it had incredible views and was probably the nicest (safety-wise) that I have ever been on. Outside the U.S., safety is sometimes questionable…
The Zip Line Eco Tour has 5 separate lines starting at 600 feet above sea level soaring down through Descanso Canyon and finishing at Descanso Beach. The guides were super friendly and made riding in the sky a breeze.
Each platform has interesting tidbits of information on Catalina's history which was an added bonus. The tour takes about 2 hours and can vary depending on the size of the group.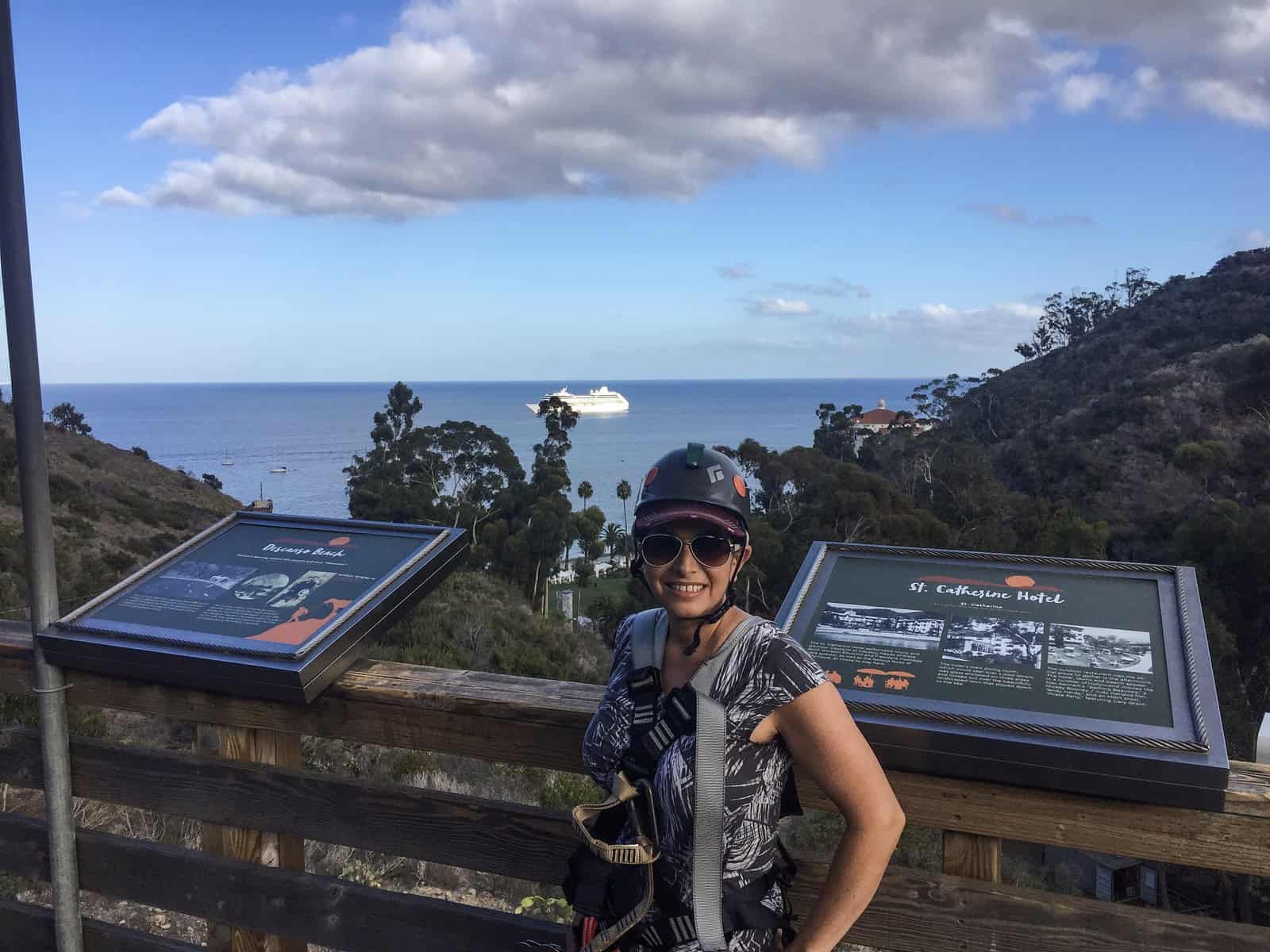 Tip:  If you book more than 7 days in advance, you can save 15%. For more details, go here.
4. Avalon Casino Tour
It seems that from pretty much any spot in Avalon you can see the Casino. Contrary to what you might think, there is no gambling happening.
Instead, it hosts a theater and a grand ballroom (largest circular ballroom in the world) used for many parties and events. You might wonder why it's called a Casino if there isn't any gambling, right?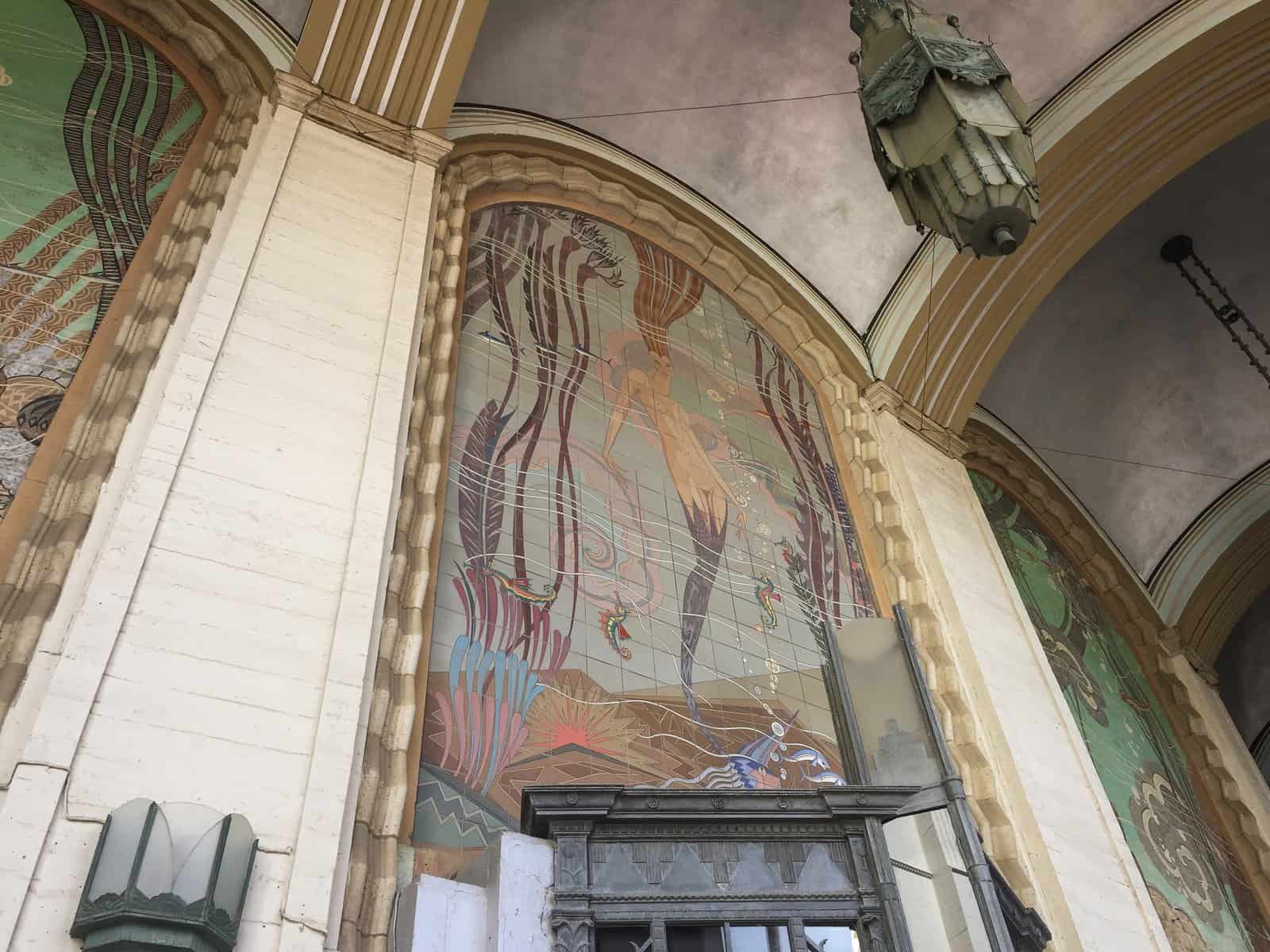 Well, the word Casino means "gathering place" in Italian. Later when Las Vegas was getting started in their heyday, they decided to call places of gambling "Casino's" as they bring people together for food, entertainment, and gambling. I guess you could say Vegas liked Catalina's idea and it really took off!
There are two tours to choose from but I recommend taking the Behind the Scenes Tour (90 minutes) as you get to see more of the Casino that includes the theater, dressing rooms, film rooms, the ballroom and more. You will learn all about its fascinating and famous history on the tour.
Tip: Catch a movie featured in this 1920's era movie theater that shows a movie every night at 7:30 pm. Oh, and there is only one movie played each week so don't expect a selection to choose from! And if you arrive an hour early on Friday and Saturdays, you will hear a live performance of the Casino's incredible pipe organ.
5. Wrigley Memorial & Botanical Garden
This is an attraction to see when you are wandering the island with your golf cart rental as it is a little further out from the main town area. There is an $8 admission fee that gets you into both the Wrigley Memorial and Botanical Garden.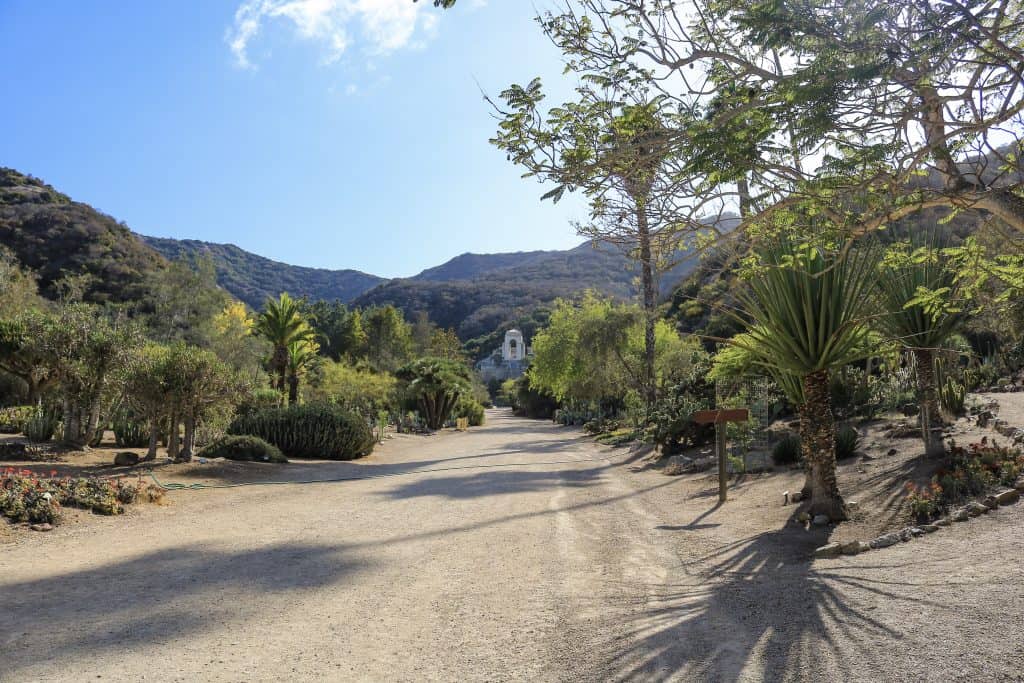 I was surprised to find that the botanical garden wasn't tropical but included all types of plants from a desert climate. Up until that point, I had assumed botanical equaled the tropics.
I guess I was wrong! After strolling through the garden and up the hill, you will see the memorial standing prominently at the end of the path.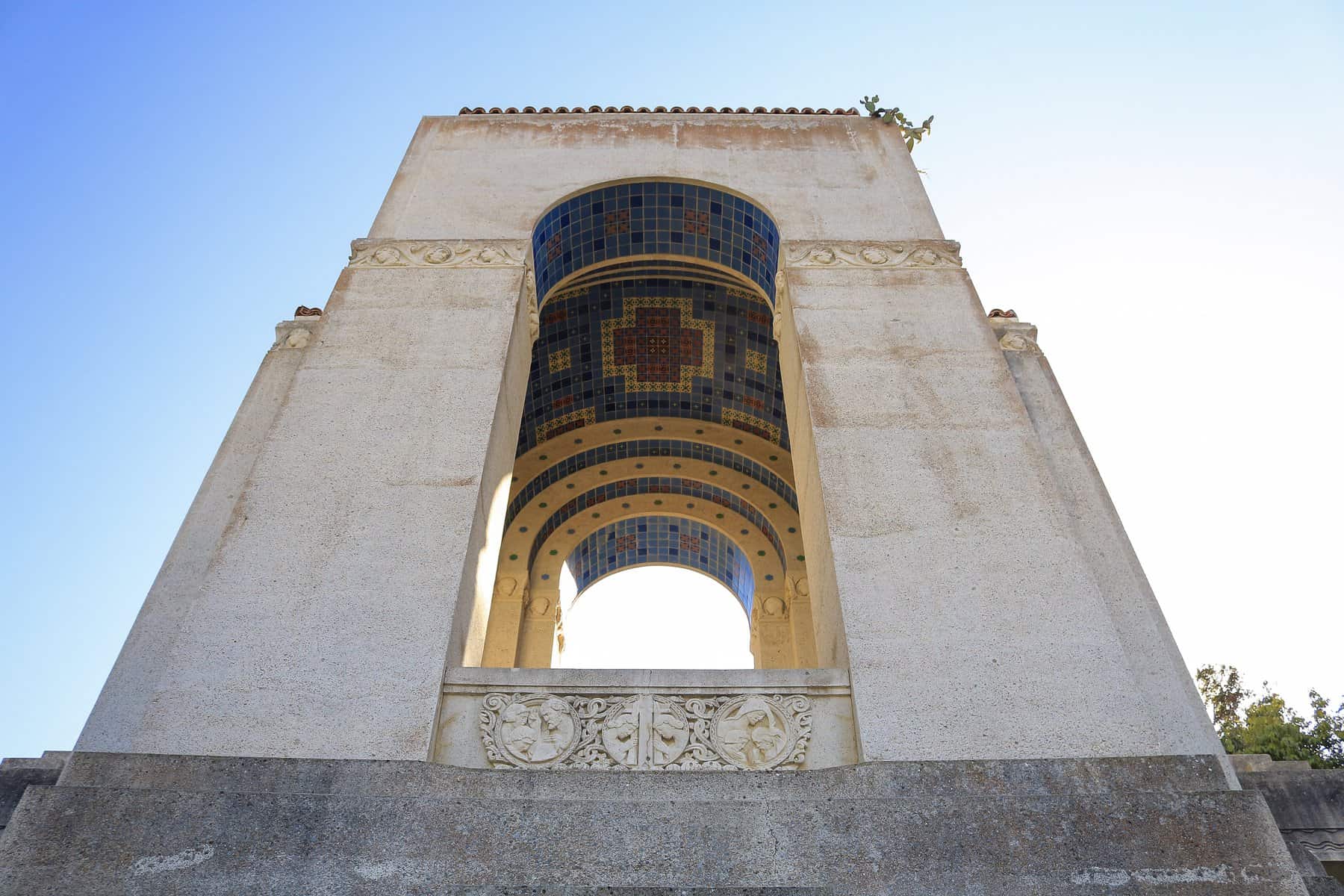 The blue tiles that are seen throughout the memorial pop with color and are so appealing to look at! You can spot these gorgeous tiles throughout Avalon as they really add to the island decor.
As mentioned earlier, the gum king William Wrigley, Jr. had a huge role in the development and history of Catalina Island. This memorial is to honor him for all he did and for his love of the island. The views up at the top of the memorial are quite beautiful and so peaceful.
Tip: If you are looking to get some exercise in, walk to the botanical garden and memorial which is 1.6 miles to the entrance from the Avalon waterfront.
6. Scuba Diving On Catalina Island
I might be biased as I'm a scuba diving addict but a trip to Catalina should involve a peek into the underwater world! According to Scuba Diving Magazine, Catalina is voted as the "World's Healthiest Marine Environment".
The water visibility is excellent for California ranging from 40-100 feet. I dived in the beginning of October and had 60 feet of visibility (September and October have the best visibility).
While diving through the giant kelp forests, the most popular fish to see is the bright orange Garibaldi. They are easy to spot for their neon orange color even from the shores. You might also get to see moray eels, octopus, lobster, sea lions and if you are lucky, angel or leopard sharks.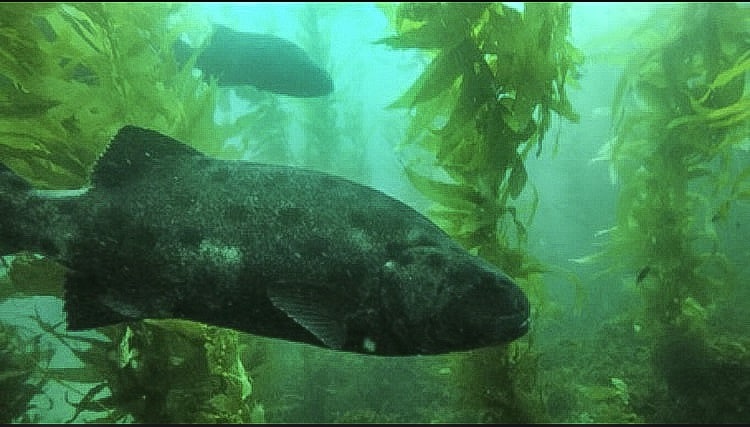 But the highlight is seeing Giant Black Sea Bass which are gigantic weighing several hundred pounds and can be 5-7 ft long!
At first glance, they may look a little intimidating but they are actually harmless and friendly to divers. By far, seeing these large beauties is one of the best Catalina Island attractions as they aren't something you see every day!
There are many dive spots to choose from but a great one to start with is Casino Point Dive Park which is a shore dive right in front of the Avalon Casino.
Tips:  For an incredible diving experience, book your dives with Mark at Catalina Divers Supply. And if you don't scuba dive no problem as you can see a lot of cool sealife while snorkeling!
If it has been awhile since your last dive, brush up before you jump back in with 21 Best Scuba Diving Tips For Beginners.
7. Take A Hike
I only got to go on one small hike but on my next visit, I plan to do more as there are many to choose from. A convenient hike from the town of Avalon/waterfront is walking up the hill to the Mt. Ada Bed & Breakfast.
Another short climb that I enjoyed was walking up the steps to the Chimes Tower where chimes ring every 15 minutes from 8 am to 8 pm. Hearing the chimes ring is a pleasant surprise wherever you are in Avalon. Plus, the view of Avalon Bay is gorgeous from here.
All other hikes on Catalina Island that are outside of the town/waterfront area require a permit which is free. To obtain a permit, maps and info go to the Catalina Conservancy located at 125 Claressa Ave. Depending on the amount of time you have, there is a trail just for you!
8. Relax At The Descanso Beach Club
There are so many outdoor activities that Catalina offers but part of any trip to Catalina should involve chilling on the beach. There are really only two beaches to lounge on, one right on Avalon Bay and Descanso Beach.
Descanso Beach Club has very comfy chaise loungers to kick back and relax on while basking in the sun. Rentals come with free bottled water, towels and cabana service to order drinks and food.
The Bloody Mary's were very tasty too! But if you prefer to get in a little exercise, there are kayak rentals available for some cardio action.
Tips: If its peak summer season I would rent beach chairs in advance to secure a spot, otherwise they fill up fast! If you have water shoes, bring them if you want to get in the water as there are some rocks at the beach entry.
9. Take An Inland Tour
There are various tours to take on Catalina, determined by your interests and the time available. Tours usually range from an hour to a full day. The appeal of many of the tours is the opportunity to explore parts of the island that only the off-road vehicles can take you.
Most visitors to Catalina will stay in or near Avalon but if you get the chance to see other areas head over to Two Harbors and enjoy stunning vistas of the island. Don't forget to look for roaming buffalo, as it isn't often that you get to see buffalos on an island…
10. Must Eats
Antonio's Pizza (230 Crescent Ave or the original location at 114 Summer Ave)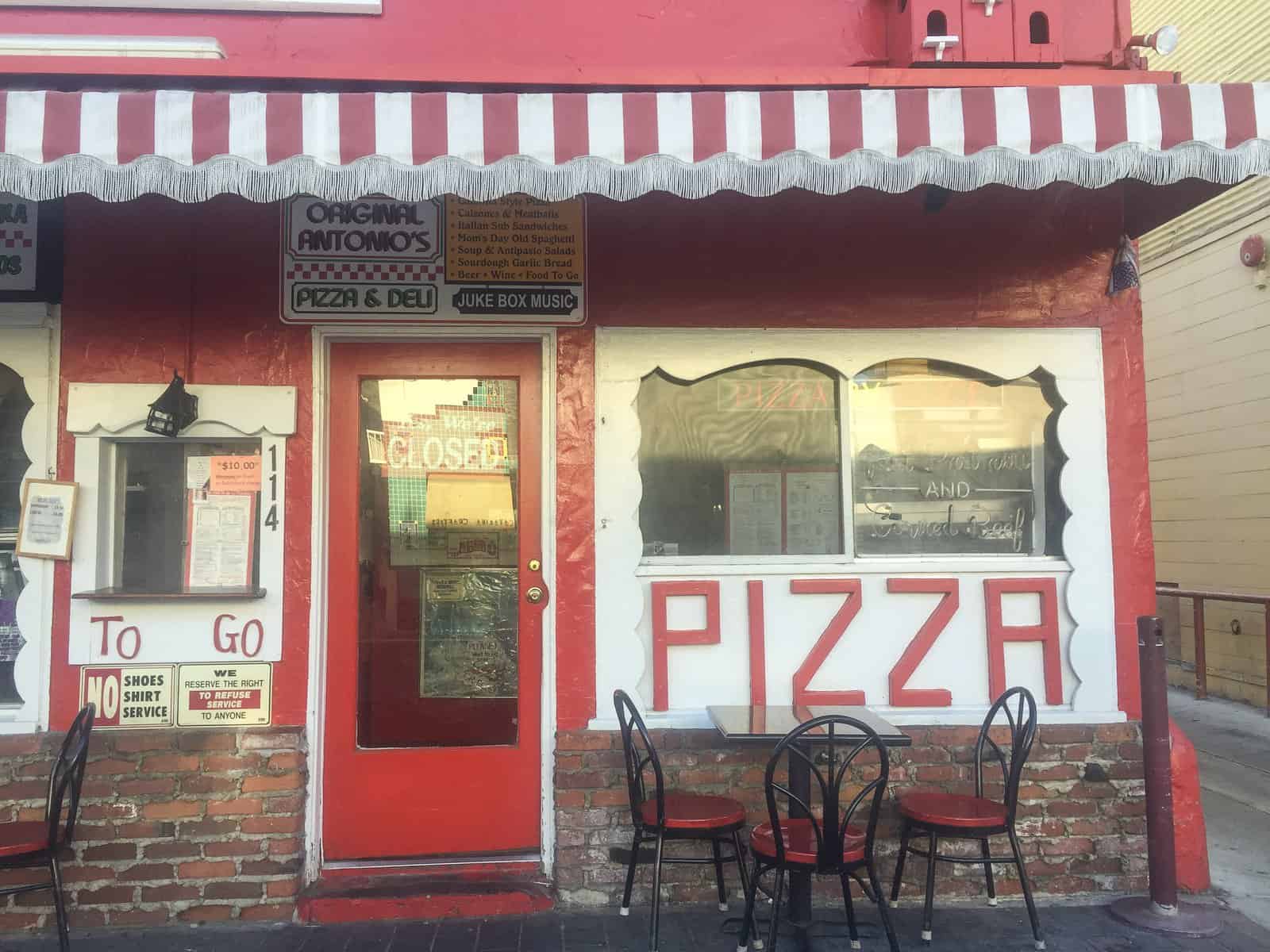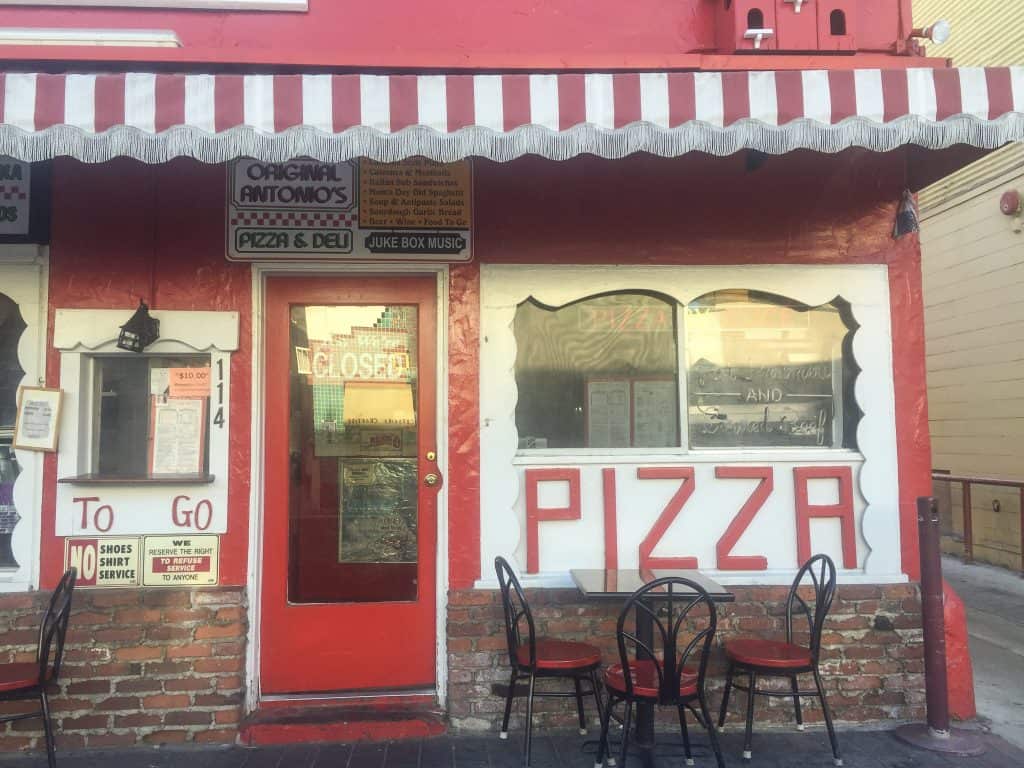 Antonio's offers up some yummy pizza on Catalina Island. There are two Antonio Pizza locations, the one on the waterfront is a casual sit-down restaurant with great views of Avalon Bay. The Original Antonio's located on Summer Ave is better for take-out.
Maggie's Blue Rose (417 Crescent Ave)
If you are looking for some tasty Mexican food and margarita's then look no further Maggie's Blue Rose. A bonus is the homemade chip and salsa that makes it difficult to stop eating.
Pleasure Pier Fish & Chips (Pleasure Pier)
I love trying new spots for fish & chips and it did not disappoint! It is a casual outdoor seating out on Pleasure Pier.
Lobster Trap (128 Catalina Ave)
The Lobster Trap is a casual restaurant that has great seafood ranging from lobster, crab, clam chowder, fish and more!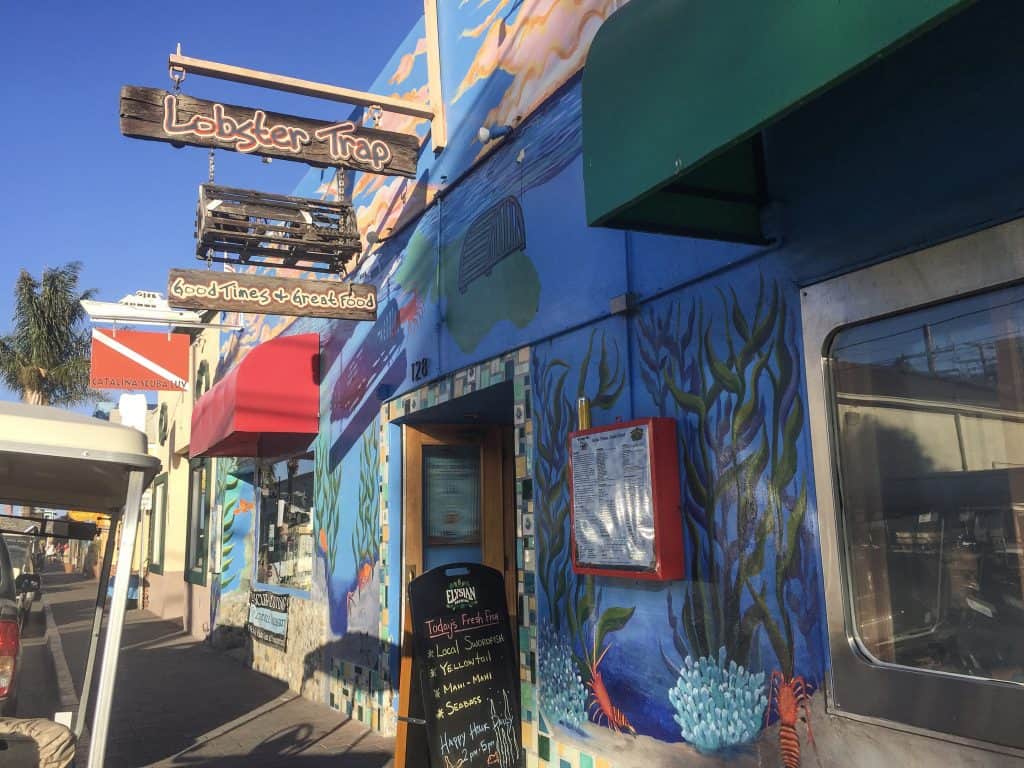 Descanso Beach Club (1 St. Catherine Way)
The Descanso Beach Club is right on the beach with the best dining view on Catalina. Make sure to grab lunch here or at least a drink up at the bar. The menu has an assortment of appetizers, sandwiches, and burgers.
Blue Water Grill (306 Crescent Ave)
The Blue Water Grill is a seafood restaurant situated on Avalon Bay with stunning outdoor seating views. I didn't actually eat here but heard it was good. Instead, I enjoyed a nice happy hour cocktail!
Lloyd's of Avalon (315 Crescent Ave)
I am not a big ice cream fan but I definitely enjoyed getting an ice cream cone a few times here! If you aren't in the mood for ice cream, they have fudge, salt water taffy and more…
El Galleon Restaurant (411 Crescent Ave)
El Galleon has a large selection of American food across from the waterfront.
Tips: Restaurants don't serve water for free, only the option to buy a bottle of water. But you can buy a gallon at nearby Vons grocery store and fill up your own bottle. Be aware that most restaurants and stores on the island only take cash!
How To Get To Catalina
There are two ways to get onto Catalina Island from mainland California, either by ferry or a helicopter. The Catalina Island Ferry takes off from three ports all arriving at the same destination of Avalon Bay.
The three ports are San Pedro, Long Beach, and Dana Point. Dana Point is the most convenient if coming from San Diego. Ferries run several times daily, so check the schedule before heading out.
The second option is to take a helicopter ride to Catalina Island and it isn't as expensive as you might think! For a quick 15-minute commute, you only have to dish out $135. Regardless of the mode of transportation, both options offer a relaxing trip with incredible views of the Pacific Ocean.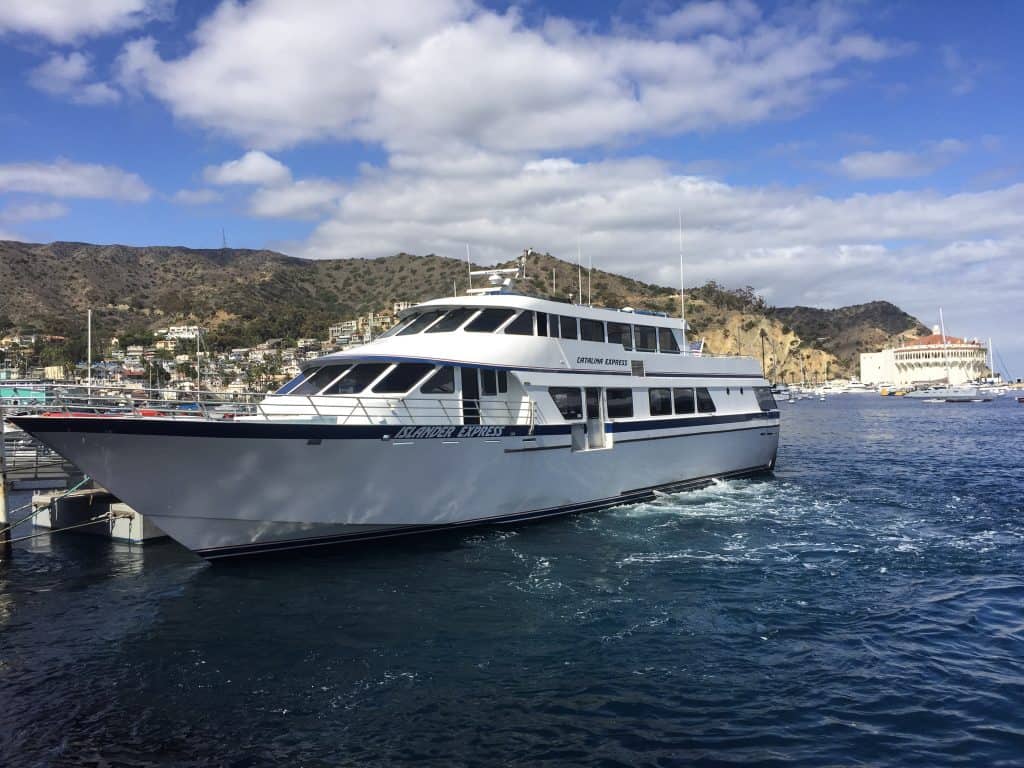 If you are flying into California, the closest airports are John Wayne Aiport – Orange County (SNA), San Diego International Aiport (SAN), and Long Beach Aiport (LGB).
And of course, there is the Los Angeles International Aiport (LAX) a little further out.
Tip: If taking the ferry, don't miss out on getting their famous Bloody Mary! I was surprised how good it was and might have had a few…
How To Get Around The Island
The main town of Avalon is quite small and can be explored very easily by foot. For venturing outside of the Avalon waterfront, renting a golf cart is not only a fun way to get around but convenient on the small streets of the town.
To rent a golf cart, there are a few locations along the Avalon waterfront that rent by the hour.
When To Visit Catalina Island
As Catalina Island is located off the coast of Southern California, it is blessed with having great weather year-round. No matter what month you go, you will most likely have some sunshine and good weather.
To ensure you get the warmest and sunniest days, I recommend the late summer and fall months.
Contrary to what many might think, late spring/early summer isn't the best time to visit. These months tend to be overcast and foggy a lot. My favorite is September and October because it is still warm, fewer crowds and excellent diving conditions. The average temperature in the winter is 50-60 F and 65-75 F in the summer months.
Have fun exploring the best things to do on Catalina Island!
Got Travel Insurance?
Don't leave home without travel insurance as you never know what might happen on a trip! It is always when you least expect it that something can go wrong like getting sick, in an accident or cancellation of some sort. Get a no-obligation quote from two trusted travel insurance companies for peace of mind on your next trip!
Looking For More Travel Inspiration?
The Best Ways To View The Hollywood Sign
The Epic California Big Sur Road Trip
15 Best Things to Experience in San Diego
17 Fun Things To Do In Orange Beach, Alabama On Your First Visit
The Best Guide To Maui Whale Watching
The Best Northern California Coastal Road Trip
10 Things You Must Do in Downtown Los Angeles
15 Best Things To Do On Dauphin Island, Alabama
Disclaimer: My post may contain affiliate links, which means I may receive a small commission if you click a link and purchase through that link. It won't cost anything to you to use these links but is very much appreciated. Thank you!