Disclaimer: Traveling Ness contains affiliate links and is a member of the Amazon Services LLC Associates Program. If you make a purchase using one of these links, I may receive compensation at no extra cost to you. See my privacy policy for more information.
15 Top Reasons To Visit Garvan Woodland Gardens in Hot Springs, AR
Garvan Woodland Gardens is an oasis for nature, beauty, and stunning architecture. This botanical garden in Hot Springs is sure to impress and provide a tranquil place to escape. Discover the top reasons to visit Garvan Woodland Gardens with this guide!
Situated out on a peninsula extending into Lake Hamilton and surrounded by the lush Ouachita Mountains, it is quite the setting.
Much of the gardens are shrouded in densely wooded areas separated by various themed gardens and unique architectural wonders that blend into the encircling flora and fauna.
Verna Cook Garvan inherited the land and with her passion for plants and gardening, she began designing her dream garden in 1956.
Her intention was to eventually make this area her home and spent over 30 years planting all the plants, flowers, and pathways you see today on 210-acres.
After her death, she donated Garvan Gardens to the University of Arkansas which to this day, cares for the lovely green space.
Where Is Garvan Woodland Gardens?
Garvan Woodland Gardens is 8.0-miles south of downtown Hot Springs, Arkansas, and home to the famous Bathhouse Row.
If you are coming from Little Rock, the drive takes a little over one hour or 57-miles.
The lovely botanical gardens are located on a peninsula that juts out into Lake Hamilton for spectacular lake views.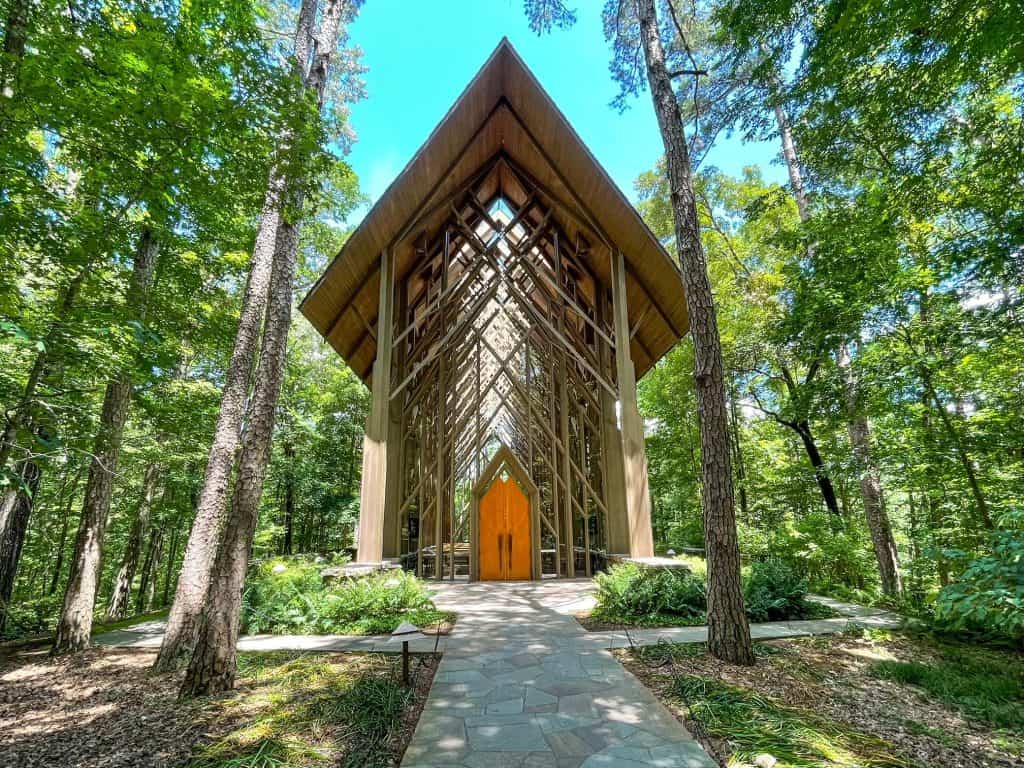 How To Get To Garvan Woodland Gardens
You will need to have a car to reach the botanical gardens with the estimated drive times from the following major cities listed.
Little Rock, AR: 55 miles
Memphis, TN: 188 miles
Shreveport, LA: 191 miles
Dallas, TX: 295 miles
Oklahoma City, OK: 310 miles
If you are flying in, the airports for the easiest convenience and best flight deals are from:
Hot Springs Memorial Field (HOT) – domestic airport located 3.5 miles from the town of Hot Springs and 11-miles from the gardens.
Bill and Hillary Clinton National Airport (LIT) – Little Rock, AR
Memphis International Airport (MEM) – Memphis, TN
Search For The Best Car Rental Rates Today!
Hotels Near Garvan Woodland Gardens
I would recommend staying in Hot Springs, as it is good to base your stay near more attractions and restaurants.
The following are in the town of Hot Springs with exception of the Doubletree which is right on Lake Hamilton on the other side of the lake from the gardens.
The Waters, A Hilton Property – Best location right across from Bathhouse Row in downtown Hot Springs.
Embassy Suites Hot Springs Hotel – A few blocks away from downtown Hot Springs.
Courtyard by Marriott Hot Springs – Located about 10 minutes from the historic area downtown.
Holiday Inn Express & Suites Hot Springs – Located about 13 minutes from downtown.
Doubletree by Hilton Hot Springs – Right on Lake Hamilton and about 6.0-miles from downtown
The Best Time To Visit Garvan Woodland Gardens
You can visit any time of the year as flowers, plants, and trees may be blooming or changing colors at different times.
But for the best weather so that you can walk around with ease would be to visit in the spring, summer, or fall months.
During the spring and particularly in March, you can see the vibrant colors of tulips and the pale pink cherry blossoms which are a treat to see.
I visited in June and there were numerous flowers blooming and plenty of shady trees to escape the hot sun. In the fall months, you will be greeted with fall foliage and the colors of autumn.
Don't overlook visiting in the winter as it can be a peaceful place to explore without the crowds. Just remember to bundle up and bring an umbrella in case it rains.
Note: The timing of blooming flowers and trees can vary from year to year depending on the weather.
Garvan Woodland Gardens Hours
The beautiful Garvan Woodland Gardens are open daily from 10:00 am to 6:00 pm.
I recommend spending a few hours so don't go too late in the day otherwise, you won't have time to see everything.
Note: The gardens are closed on Thanksgiving Day, Christmas Day, and the ENTIRE month of January.
Top Things To See At Garvan Woodland Gardens
1. Pratt Welcome Center
Start off your day touring the Garvan Gardens with a stop at the welcome center to get information, find out about events, and browse the Garden Shop.
It is also recommended to use the bathroom before heading out as the other main restroom is at the farthest point of the gardens at Perry Wildflower Overlook.
Even before leaving the welcome center, you pick up the tranquil vibes from the cedar and stone building…
2. Garden of the Pine Wind
As you leave the welcome center, make your way towards the Garden of the Pine Wind and take note of the Bonsai Garden and Stone Lantern.
It is an exquisite Japanese Garden and ranked as the fifth-best Japanese Garden in all of North America.
The meandering path leads through lush foliage, small waterfalls, and idyllic bridges.
Depending on the season you will glimpse peonies and azaleas that add splashes of color against the dark green foliage.
This area of the garden has over 300 types of Asian plants and 60 types of Japanese and Asian maples that make for stunning scenery.
3. Sunrise Bridge
Within the Garden of the Pine Wind is the picturesque Sunrise Bridge which has the most peaceful setting.
You will feel the natural elements of the wooden railings and stone pavers beneath your feet as you cross over the bridge.
As you make your way over it, appreciate how beautiful it looks from different angles.
4. Bridge of the Full Moon
Not very far after the Sunrise Bridge you will come to the Bridge of the Full Moon.
It is one of the most photographed structures in the gardens after the treehouse and chapel!
Designed by Joy Manning Scott, the Bridge of the Full Moon is an enchanting stone bridge that forms a distinct arch over a creek.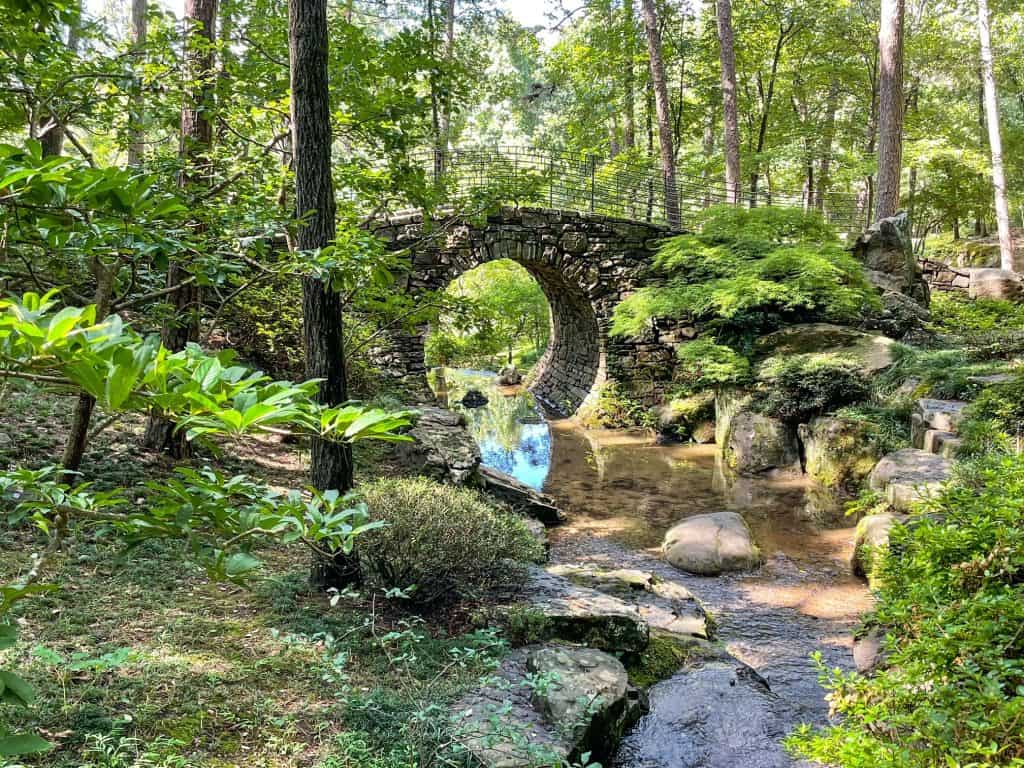 The surrounding trees and rocks add to the serenity worthy of a landscape painting.
Gazing down at the water you can see a hazy reflection of the trees behind the bridge that makes it so photogenic.
5. Koi Pond Waterfall
Continuing down the path towards Lake Hamilton view the large half-acre Koi Pond that cascades over into a smaller pond.
The waterfall might be small but it is idyllic pouring off the rocks and flowing into the next pool.
This is a very pretty spot for taking photos, enjoying the scenery, and watching the koi fish swim about…
6. Southern Inspiration Garden
Once you leave the Garden of the Pine Wind behind, enter the Southern Inspiration Garden which is a perfectly manicured Southern garden.
Various flowers are blooming in bright colors from roses, perennials, and well-known Southern plants.
To keep the garden looking in top form, local garden clubs and master gardeners have designed and taken care of this elegant garden area.
7. Perry Wildflower Overlook
From the Southern Inspiration Garden, there are a few walkways that run parallel out to the most western point of the gardens.
This point that juts out into Lake Hamilton is the Perry Wildflower Overlook and the Perry Wildflower Meadow below.
The views of Lake Hamilton through the trees are breathtaking, especially with the meadow of flowers framing it.
There is a picnic table and restrooms at the overlook so it is a great spot to take a break and even have a picnic.
8. Hike From Old Brick Hill
As you leave the Perry Wildflower Overlook and make your way down Old Brick Hill, continue on the path straight ahead.
The bricks you see paved were made in 1885 and saved from the chimney of the old Wisconsin-Arkansas Lumber Company.
The path will lead you on a short easy hike through a wooded area out to the point of a small peninsula.
It is here that you will be greeted with spectacular views of Lake Hamilton and a tranquil spot to sit down on a bench.
You may even spot a few boats cruising by or just take in the quiet beauty of this section of Garvan Woodland Gardens.
9. Fern Glade & Millsap Canopy Bridge
Walking back towards the direction of the entrance, you will come upon the lush and serene Fern Glade.
Along the rock-paved path are vibrant green ferns and a woody area surrounding a small pond.
The Millsap Canopy Bridge is a beautiful curving bridge that hovers 20-feet overlooking the Singing Springs Gorge.
Each side of the bridge is bordered by trees making it a relaxing area to stroll through.
10. Garvan Pavilion
At the very center of Garvan Woodland Gardens is the open-air Garvan Pavilion with its striking architecture.
Made of redwood and sandstone with the very top portion comprised of glass and steel.
Designed by acclaimed architects E. Fay Jones and Maurice Jennings its natural materials blend in perfectly with the nature surrounding it.
The Garvan Pavilion happens to be the perfect space for holding events and weddings. And with twinkling lights, it has a magical appeal to it in the evening.
11. Cedar Bridge
Upon walking up to the Children's Adventure Garden, I was struck by the intricate beauty of the Cedar Bridge.
Let's just say this adventure garden isn't just for kids! I felt like a kid again exploring this section of the gardens.
The ornate wrought-iron Cedar bridge has a whimsical and natural vibe with the side of the bridge resembling pieces of wood pulled from the forest.
Standing on top of the bridge gives you a great view of the Evans Treehouse and the cave below. Plus, you might see kids playfully throwing bright-colored beach balls!
The bridge spans 450-feet and is 20-feet above the cave and waterfall area.
12. Cave & Waterfall
As you make your way to the bottom of Cedar Bridge, turn around to look back and admire how the architecture blends in so well with the woods and boulders surrounding it.
Walk up and take a closer look by wandering into the man-made cave and the idyllic waterfall that cascades over the cave entrance.
The ferns nestled among the boulders with the running water make it quite calming…
13. Evans Tree House
Turning away from the cave and waterfall, the awe-inspiring Bob and Sunny Evans Tree House will be in front of you.
The Evans Tree House is the coolest and most beautiful tree house I have ever seen. I think it would probably be a dream of every kid to have one this awesome!
The tree house was added to the botanical garden in 2018 and has been quite the focal point of visiting Garvan Woodland Gardens.
No matter your age, you will definitely want to climb through every nook and cranny of what was designed to be an interpretative learning space.
The architectural lines and elements throughout Evans Tree House stimulate your senses as you explore in wonder…
There are three levels to the treehouse with exceptional vantage points looking out over the crawdad hole and lush trees all around.
After you have had your fill of playing in the tree house, wander out onto the connecting bridge that wraps around to see the tree house from afar!
14. Hixton Nature Preserve
If you have the time and looking to add an additional hike to your time at the gardens, then venture out to the Hixton Nature Preserve.
The preserve covers 45-acres through Ouachita woodland taking you on a 1.9-mile loop known as Birdsong Trail.
Its name gives you a hint as to the many birds you may see and hear walking along the trail. In fact, over 120 species of birds call this preserve home.
So, for anyone that loves birdwatching, you will enjoy this area of Garvan Woodland Gardens!
If you are walking clockwise, one of the first points of interest to stop at is Shannon Perry Hope Overlook. As you continue on, Eagle's Point is on the opposite end of the small peninsula.
Looking out onto Lake Hamilton you might be lucky enough to spot a bald eagle flying about!
15. Anthony's Chapel
As you exit the gardens, you will notice a pathway leading to the left of the parking lot.
Follow this trail for a short distance until you come upon one of the top highlights of visiting Garvan Woodland Gardens, Anthony's Chapel!
If there were woodland fairies, you could imagine this is the chapel they would build… But it was actually designed by Maurice Jennings and David McKee, architects from Fayetteville, Arkansas.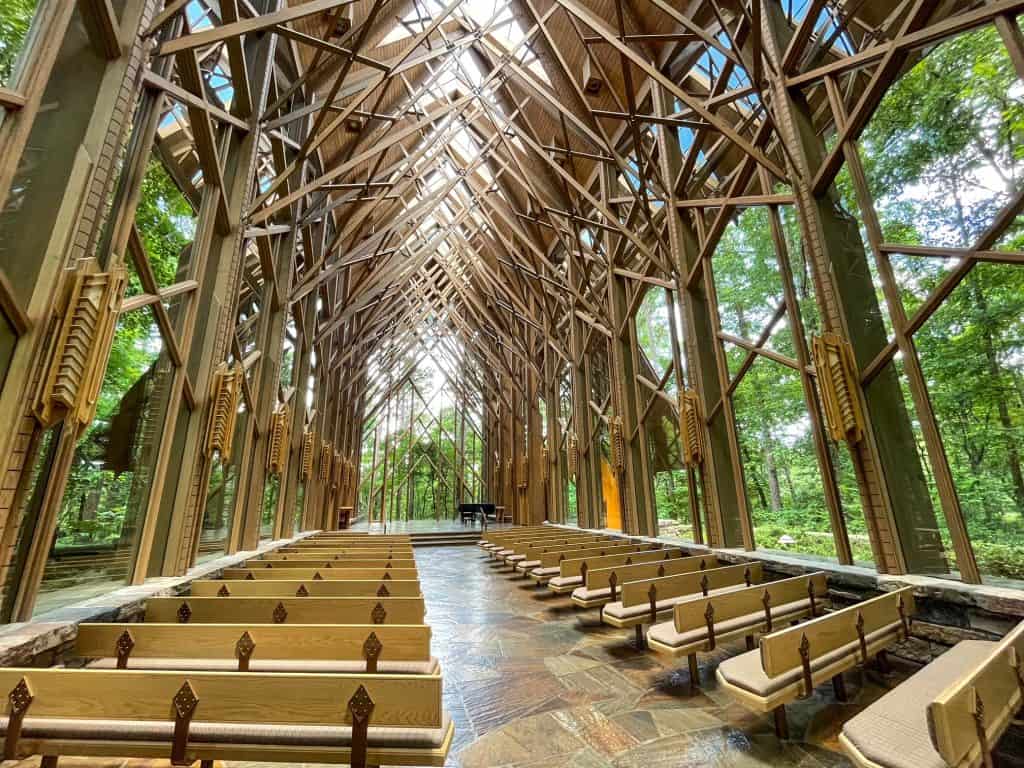 The natural wood chapel blends in so well with the natural surroundings that it is a breathtaking sight to behold.
The 57-foot tall glass windows allow for light to peek through beautifully and for guests to look out and feel they are part of the woods outside.
Once you walk inside, your gaze is drawn up to the soaring ceiling above and the sky beyond. The chapel seats 160 people for weddings and special events.
Tip: If there is a wedding at the time you visit, you won't be allowed to go inside or get close to the chapel.
Call ahead to see if a wedding will be happening the day you visit or go first thing after opening to see it before.
Seasonal Events
Garvan Woodland Gardens Tulip Extravaganza
Each spring, visitors can look forward to the vibrant Garvan Woodland Gardens Tulip Extravaganza!
Around 140,000 tulips in a variety of bright colors will bloom come springtime anywhere from mid-February to mid-April.
Of course, timing a visit for peak blooming is very dependent on the weather that year. Some years will begin blooming earlier than others.
But on average, peak blooming can usually be seen in March. It is a fantastic sight to see such dramatic splashes of color throughout the gardens.
Garvan Woodland Gardens Wonderland
Visiting the Hot Springs botanical garden might not be high on your list during the winter, but in the month of December, it is!
Come December, Garvan Gardens Wonderland transforms into a magical winter wonderland with lighted displays and holiday décor.
In previous years, lights were displayed in the evening, but in the last few years they have switched to a daytime event and it is still as wonderful.
There are nine areas in the gardens that will each have a slightly different holiday and festive theme.
The decorated art installations and lights can be seen from the end of November through the month of December in addition to fun activities that are only offered at this time.
Visitors can enjoy the holiday workshops, reindeer games, scavenger hunts, and tea parties to name a few!
Chipmunk Café
After you spend time exploring the botanical gardens, you will likely work up an appetite! Stop by the Chipmunk Café to grab a gourmet sandwich, salad, wrap, ice cream, and snacks.
There are several outdoor tables you can enjoy your meal. And don't forget to check out the large train set making laps around the track!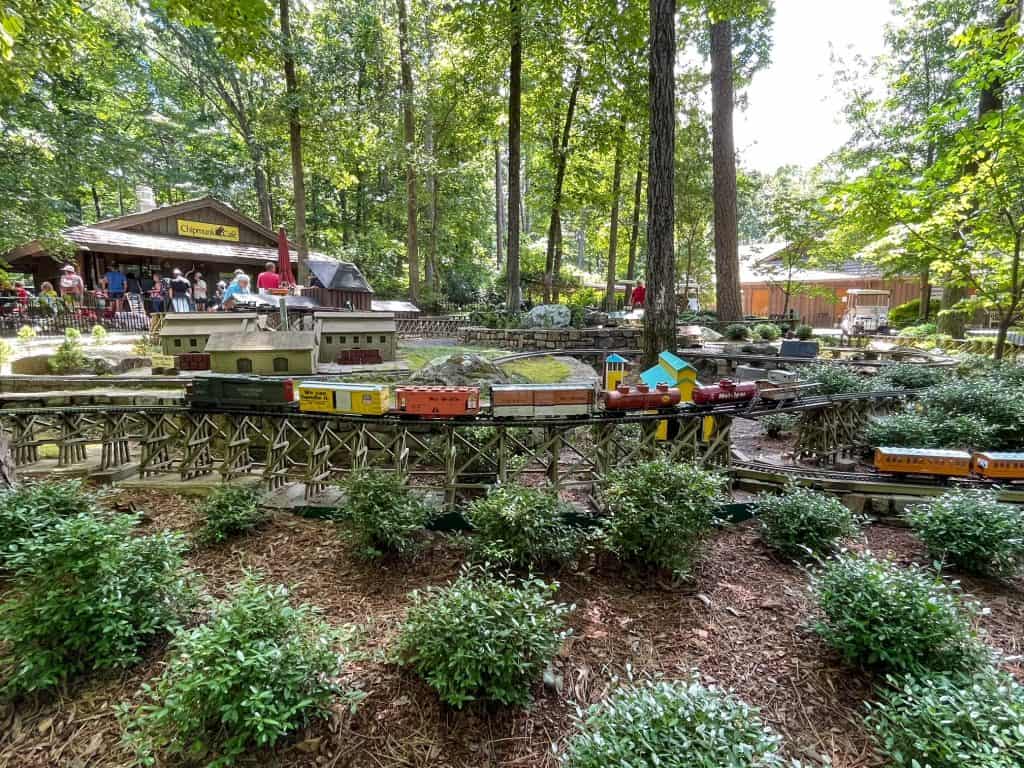 Tips For Visiting Hot Springs, Arkansas
FAQ On Visiting Garvan Woodland Gardens
How Much Does It Cost To Visit Garvan Woodland Gardens?
To visit the gardens, the cost is:
Adults – $20.00
Children (4 – 12) – $5.00
Children (0 – 3) – Free
Dogs (on leash) – $5.00
Golf Cart Tour – $15.00 per person
Parking – Free
How Long Does It Take To Walk Through Garvan Gardens?
I would recommend spending 2 – 3 hours seeing everything, especially the top sights.
But if you really want to take your time to allow for hiking more trails, sitting to enjoy the scenery, and eat then 3 – 4 hours is ideal.
Are Dogs Allowed at Garvan Woodland Gardens?
Yes! Your furry friend can enjoy walking the botanical gardens with you but they must remain on a leash at all times. The entry fee for dogs is $5.00.
No retractable leashes are allowed and only 1 dog per person. Although it should be obvious, only well-behaved dogs are welcomed and they should not be aggressive in any way.
The areas where dogs are not allowed are in the ponds, the treehouse, and in the Anthony Chapel.
Can You Take Food Into Garvan Woodland Gardens?
Yes, you can bring outside food that fits in your bag or backpack. Just no coolers or ice chests allowed.
Is There Yoga At The Gardens?
There are guided health walks and yoga sessions at the gardens but the times offered vary by season so check the website for these special experiences!
Have a great time exploring the lovely Garvan Woodland Gardens!
Got Travel Insurance?
Don't leave home without travel insurance as you never know what might happen on a trip! It is always when you least expect it that something can go wrong like getting sick, in an accident or cancellation of some sort. Get a no-obligation quote from two trusted travel insurance companies for peace of mind on your next trip!
Looking For More Travel Inspiration?
17 Fun Things To Do In Hot Springs, Arkansas For First Timers
19 Cool Things To Do On A Weekend In Memphis, Tennessee
23 Cool And Fun Oklahoma City Attractions That Are A Must To See
25 Best Things To Do In Birmingham, Alabama You Don't Want To Miss
Ultimate New Orleans Bucket List: 35 Fun Things To Do In NOLA
15 Fun Things To Do In Lafayette, Louisiana's Cajun Country
Disclaimer: As an Amazon Associate and a participant of other affiliate programs, I may earn from qualifying purchases in this post. This means that if you make a purchase through one of these links, I might receive a commission at no extra cost to you. Thank you and it is greatly appreciated!