Disclaimer: Traveling Ness contains affiliate links and is a member of the Amazon Services LLC Associates Program. If you make a purchase using one of these links, I may receive compensation at no extra cost to you. See my privacy policy for more information.
7 Amazing Places To See Giant Redwoods In Northern California
The giant redwoods in Northern California are majestic and awe-inspiring to see! California giant redwoods are the tallest trees on the planet and are hands down bucket list-worthy.
I am born and raised in Southern California and for years I always assumed there was only one spot to see the giant redwoods.
But after researching and visiting the redwoods myself, I realized that there are multiple places to see these stunning enormous trees including Redwoods National Park!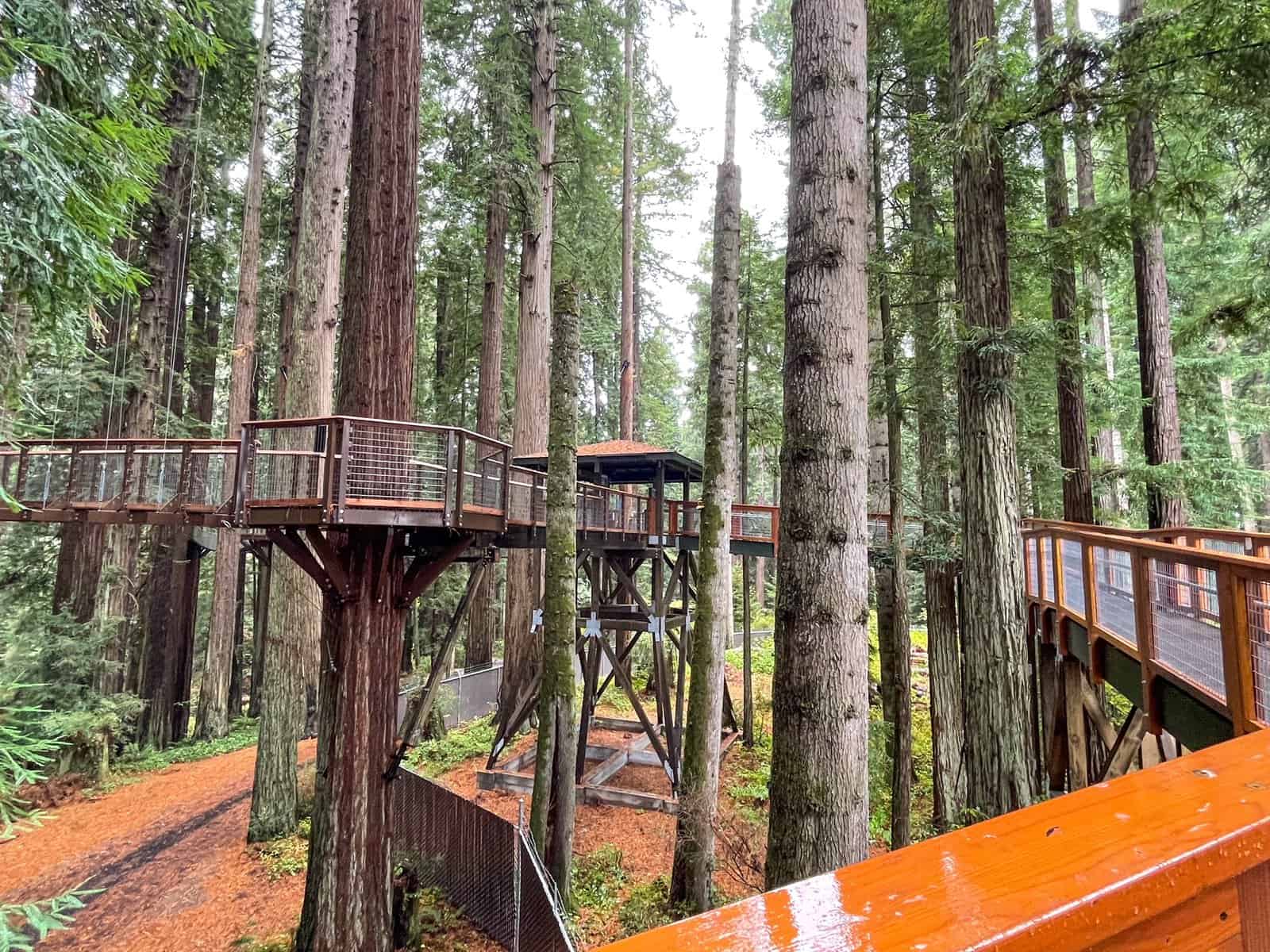 Follow along with me to find the best locations to walk among the massive California redwoods.
And I apologize in advance as the photos just don't do the giant redwoods justice compared to seeing them in person.
It is hard to fully grasp the sheer magnitude of these remarkable California giant redwoods until you stand at the base of one. Hopefully, this post will inspire you to plan a trip to see them for yourself!
Where Are The Giant Redwoods Located?
The giant California coastal redwoods are found only in Northern California and along the coastline.
And when I say Northern California, I mean way north of even San Francisco (4+ hours north of) all the way up to the California and Oregon border.
In general, the area where you begin to see groves of California redwoods is in Leggett and continuing north up to Crescent City, California.
From Leggett to Crescent City, the distance is around 3 hours with no stops.
But as you can imagine, there are so many places to stop in between that you want to take your time.
How To Get To The California Giant Redwoods
Each location of the redwood trees is as you can imagine in a forest and away from any large city or town.
That is the beauty of getting outdoors and immersing yourself among these mammoth-sized trees.
No matter which area or grove of redwoods you choose to visit, you will need a car.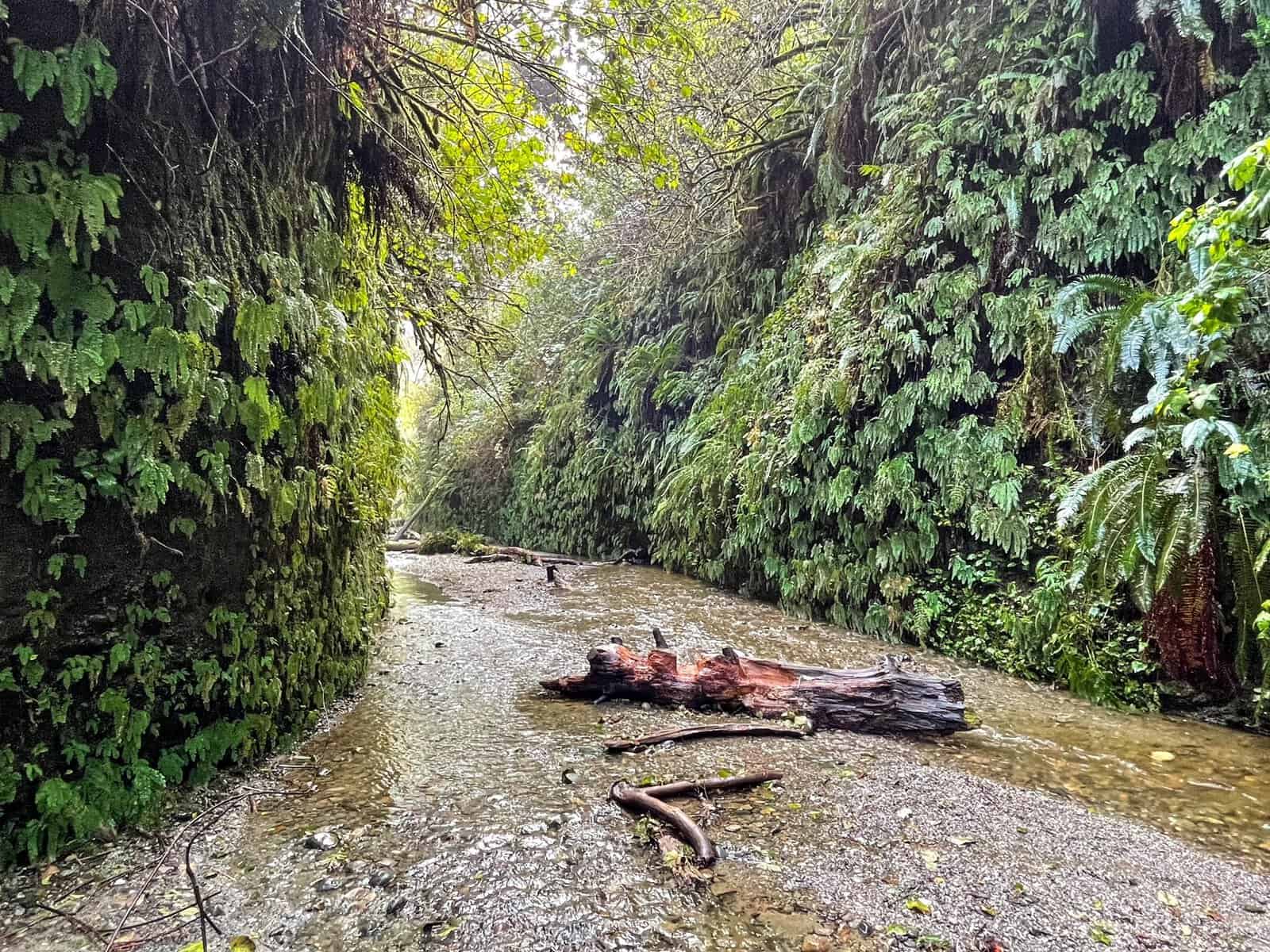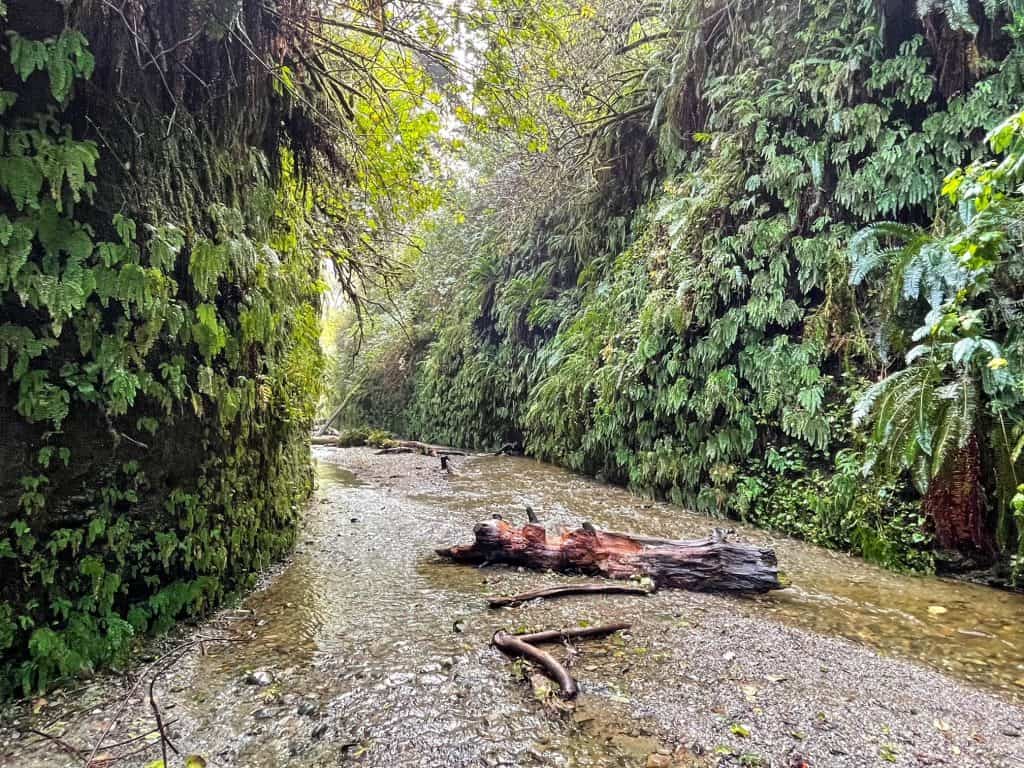 The largest airports to book your flight into are:
San Francisco International Airport (SFO)
Oakland International Airport (OAK)
Arcata-Eureka Airport (ACV) – this will be the closest airport but will have fewer flight options.
Once you land, you will need to rent a car and drive to the locations listed in this post. The drive time from either SFO or OAK airports to Leggett will take 3.5 to 4 hours.
Get The Best Car Rental Rates Booked Today!
How Tall Are California Redwoods?
If you have ever been to a big city such as New York, Los Angeles, or Chicago you know what it feels like to tweak your neck back to view a high-rise building.
Well, the California Coast Redwoods are nature's skyscrapers! And the tallest trees in the world.
These tall trees can reach 350 feet plus with the largest documented at 379 feet in height.
To put that into perspective, most of the redwood trees you see are the same height as an entire length of a football field.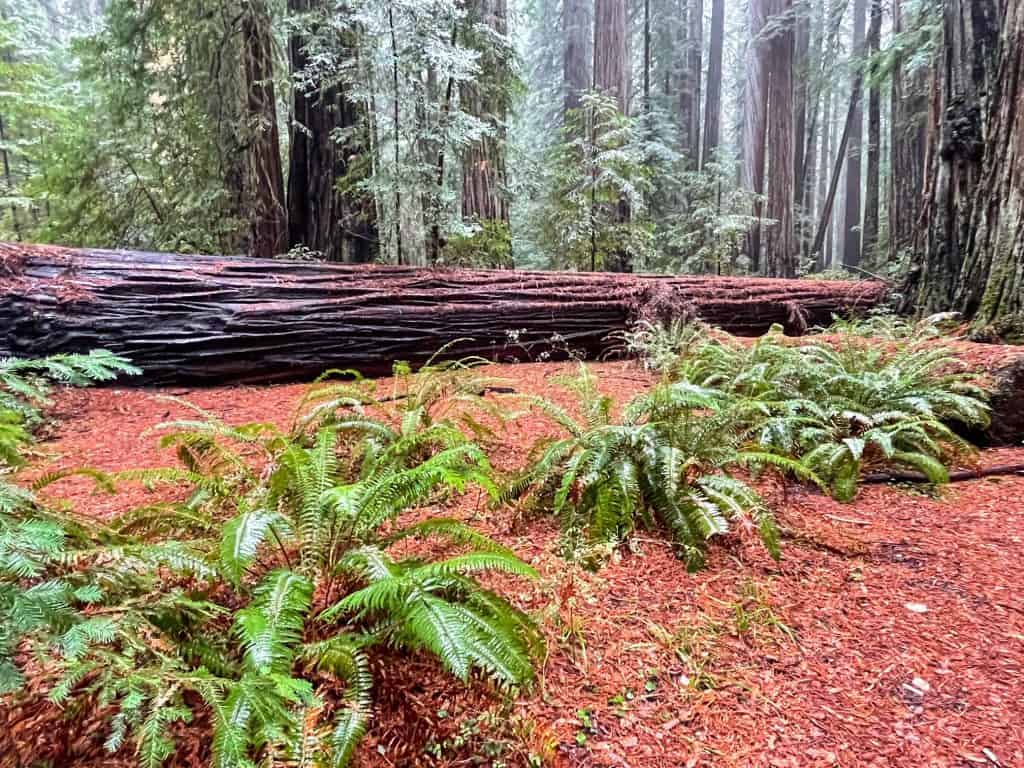 How Old Are Giant Redwoods?
The giant redwoods command respect as they have truly stood the test of time…
So how old are the giant redwoods in California? Most that you will see are considered old-growth redwoods and range from 500 to 4,000+ years old!
It is pretty remarkable that any one tree that is living today was alive well before the Roman Empire and when history was first recorded.
Looking up at a cluster of redwoods makes you appreciate how strong and durable they are to survive harsh weather, fires, infections, and more.
During the late 1800s and early 1900s, thousands of giant redwoods were cut for logging but fortunately all the trees you see today have been protected for generations to come.
There is some cutting down of redwood trees but selectively done that serves both lumber for people and actually promotes growth for trees nearby.
"The redwoods, once seen, leave a mark or create a vision that stays with you… they are not like any trees we know, they are ambassadors from another time" – John Steinbeck
Redwood Terminology
You might notice as you visit the different redwood forests different terminology for the redwoods such as:
Chandelier Redwood – Limbs that branch off and resemble a chandelier.
Goose Pen Tree – Opening or hollow area in the trunk usually caused by fire and provides shelter.
Cathedral Ring – A ring of redwood trees growing tightly together that forms when the original trunk dies or is damaged.
Burls – A growth on the side of a redwood that looks like a wart or a huge knob where a budding branch became dormant and didn't form a limb.
Double Trees – You can see two redwood trees growing from the same base trunk.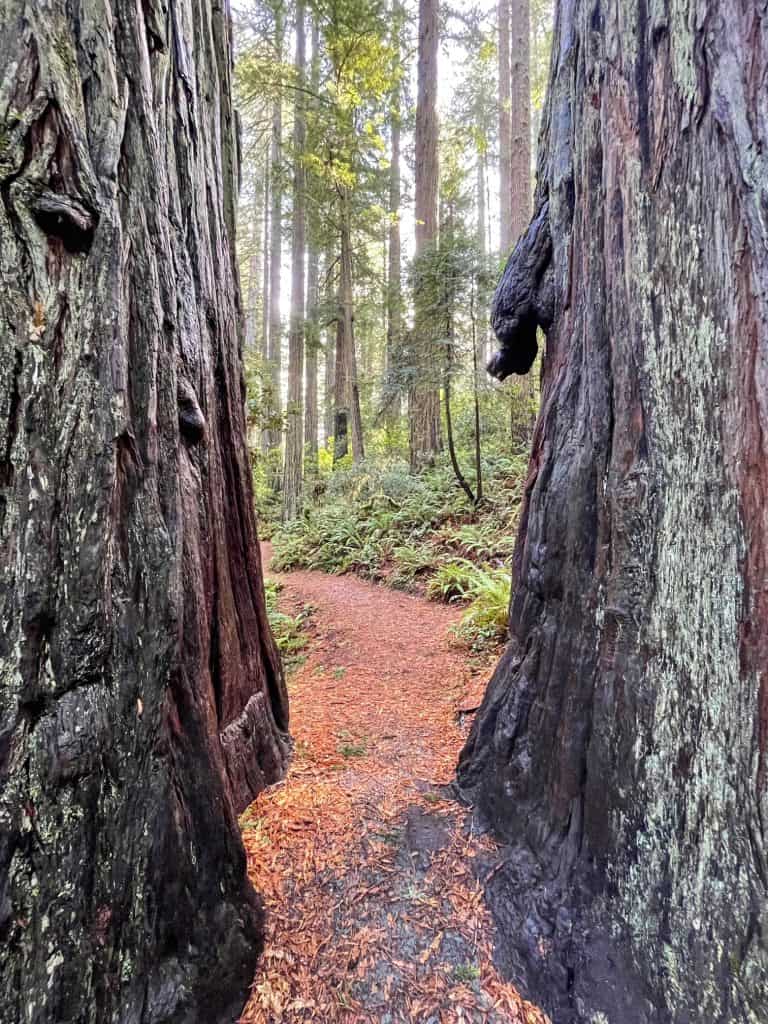 Where To Stay
As you can see from the map below, each area where you can see redwoods are spread out. The few towns that I recommend staying in or near are the following towns.
Each of these has plenty to see, charming, and close proximity to the coastal redwoods.
Mendocino
Miranda (Avenue of the Giants)
Airbnb – there are mostly vacation rentals and cabins in this area. I stayed in a lovely apartment in Miranda.
Trinidad
Trinidad Bay Bed & Breakfast Hotel
America The Beautiful Pass
When traveling to most US National Parks, National Monuments, and/or other federal recreation sites there is a fee.
If you have an America The Beautiful Pass, then your entry is free!
The America The Beautiful Pass is good for 1 year and includes admission into over 2,000 federal recreation sites including national parks, national forests, and national monuments.
If you know you will visit at least three parks or forests in a year it is more than worth getting the America Is Beautiful Pass.
In the places to see California redwood trees in this post, you can use the pass at Prairie Creek to access Fern Canyon.
Other top parks in California you can use the pass at are:
Muir Woods National Monument
Yosemite National Park
Death Valley National Park
Joshua Tree National Park
Sequoia & Kings Canyon National Park
Lassen Volcanic National Park to name a few!
Tips For Visiting The Redwoods
Don't expect to have cell service or GPS in most of the areas listed below.
Carry a map so that you can navigate when cell service is out.
In case of emergencies, stay safe and carry a satellite communicator with you!
Have cash and in small bills to pay for entrance fees or parking in some locations.
Bring plenty of water, reusable water bottle, and snacks as there are not a lot of options if any in the forests.
Wear good shoes or hiking boots that you can withstand getting wet.
In case of rain or misty fog, throw a travel raincoat in your backpack.
Have AAA roadside service or similar in case of car troubles like the flat tire I had and needed to call!
Dogs are not allowed on any trails in the forests (except service animals) but allowed within the campground areas on a leash.
Keep track of all the CA state parks with maps and updates with the CA State Parks app.
I highly recommend visiting each of these incredible places but if you are limited on time, I would see #1 and #3 as top priorities.
Carry a pair of travel binoculars to spot birds, elk, and other wildlife!
Remember to bring a bag for any trash so that you don't leave a trace.
Stock up on essential hiking gear that will make any hike more enjoyable!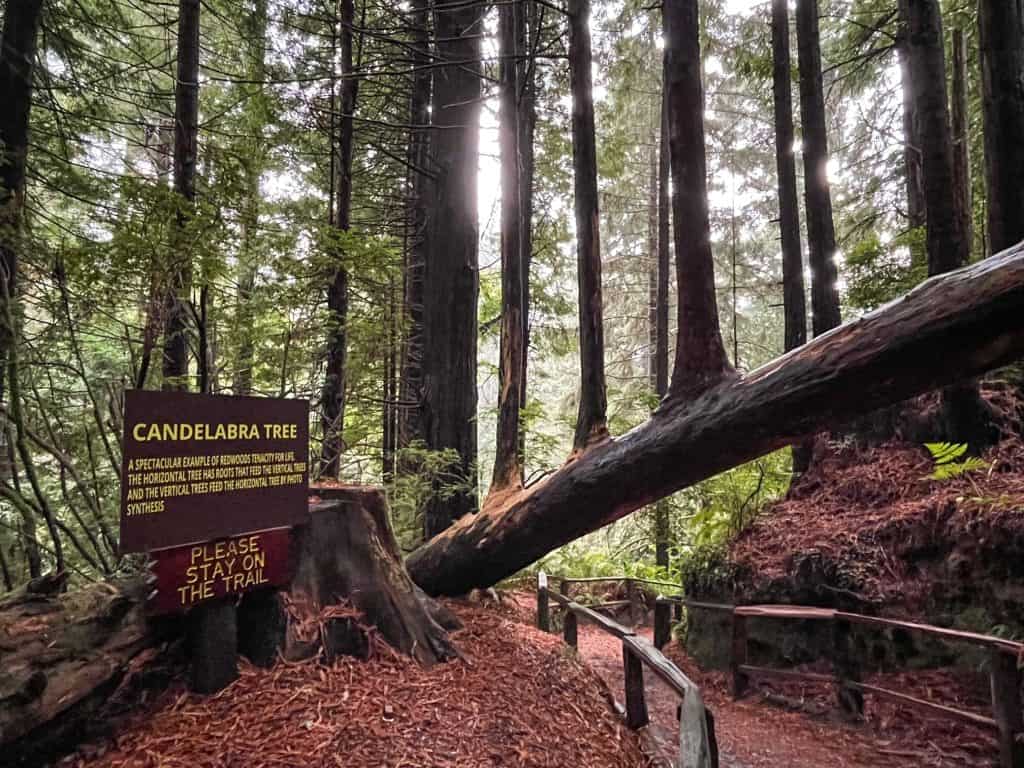 Get A PDF Of This Guide For Your Trip
For your convenience, you can download a copy of this guide for visiting the Giant Redwoods in California or print it to take with you. It includes pictures and links within the article. It's ad-free and handy for on the go.

Redwoods In California Map
Giant Redwoods In Northern California
I have listed out the following locations in order driving from south to north.
1. Leggett Drive-Thru Tree
Drive through a tree? Yep, you read that right! In the tiny community of Leggett, there is a huge coastal redwood tree that you can drive your car through the middle of it!
Located about 1.5 hours north of Mendocino, is a beautiful forest of redwoods and home to the famous Chandelier Tree that is 315-feet tall and 21-feet wide.
Its many limbs resemble a chandelier and inspired the name.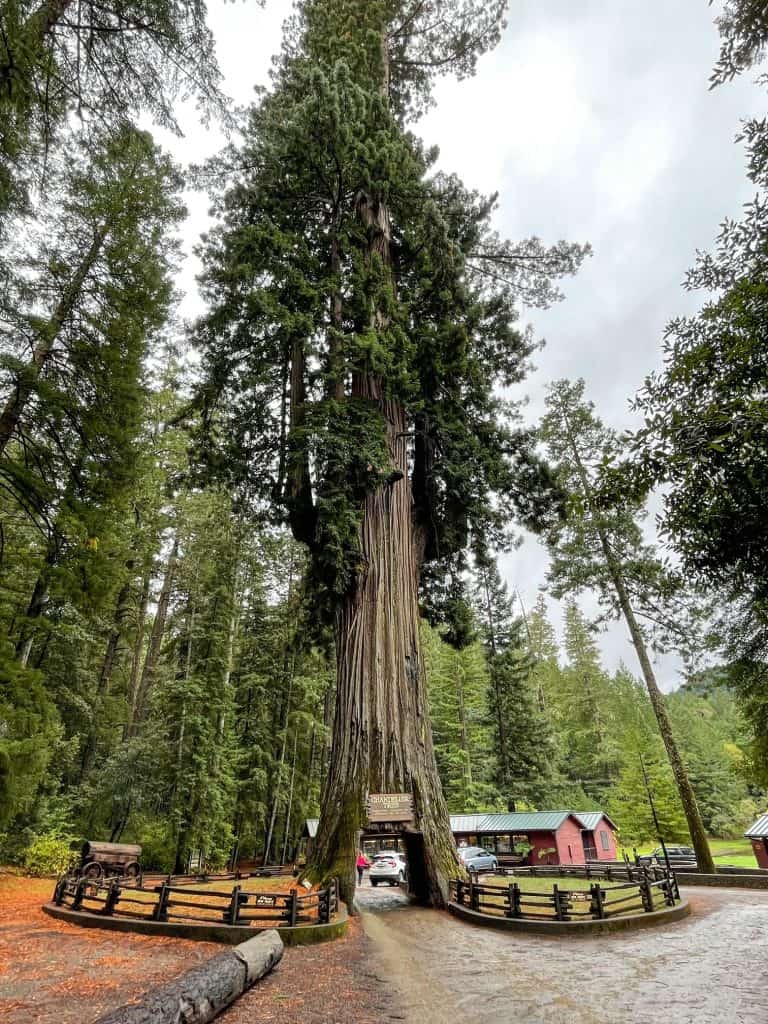 The Leggett Drive-Thru Tree is a California Coastal Redwood estimated to be around 2,400 years old and still alive.
It is hard to imagine carving a hole in a tree today but in the late 1880s and early 1900s, this was done to allow people and eventually cars to pass through.
This particular tree was carved out in 1937 with a 6-foot wide opening. And it is a VERY TIGHT fit!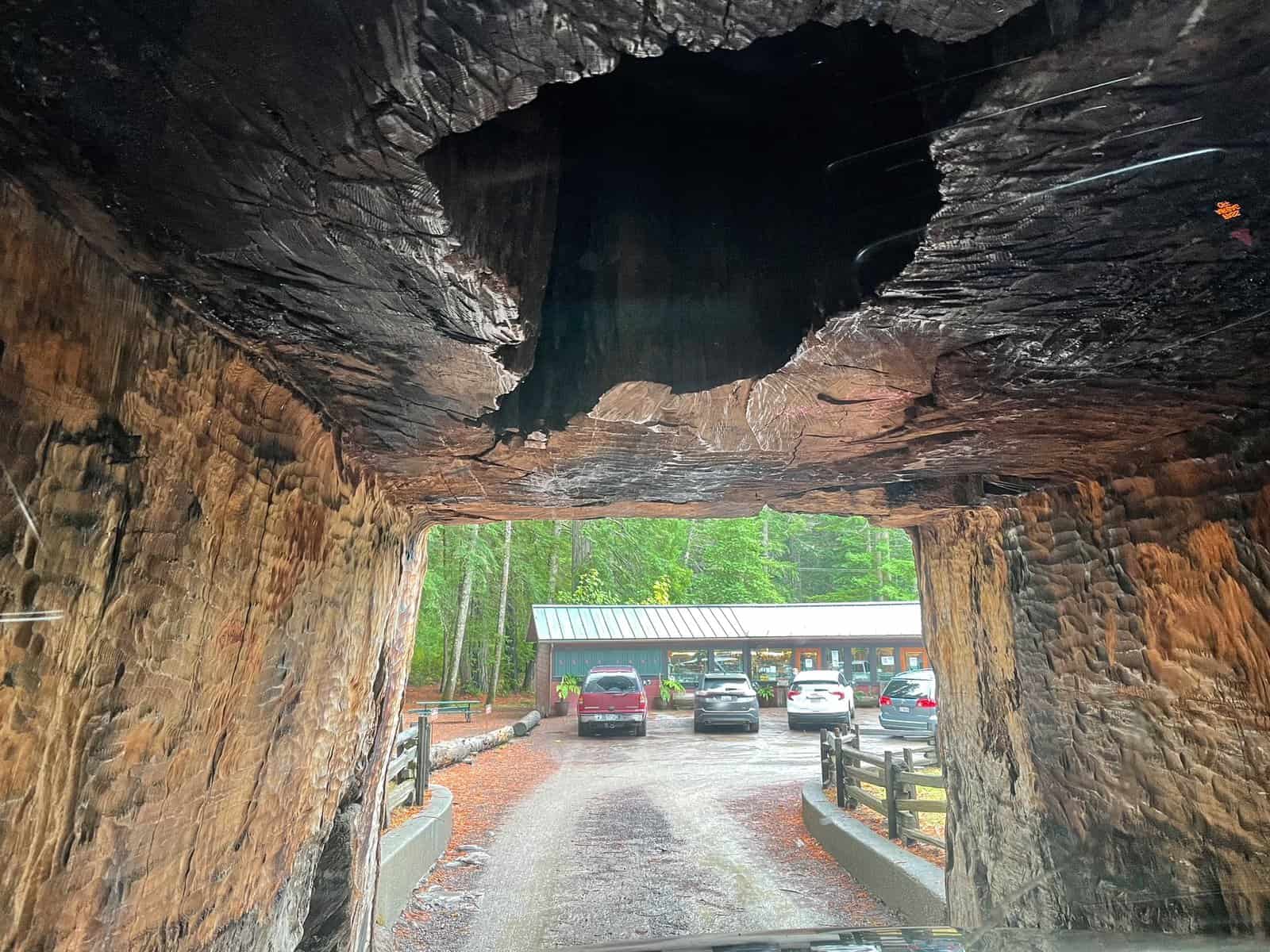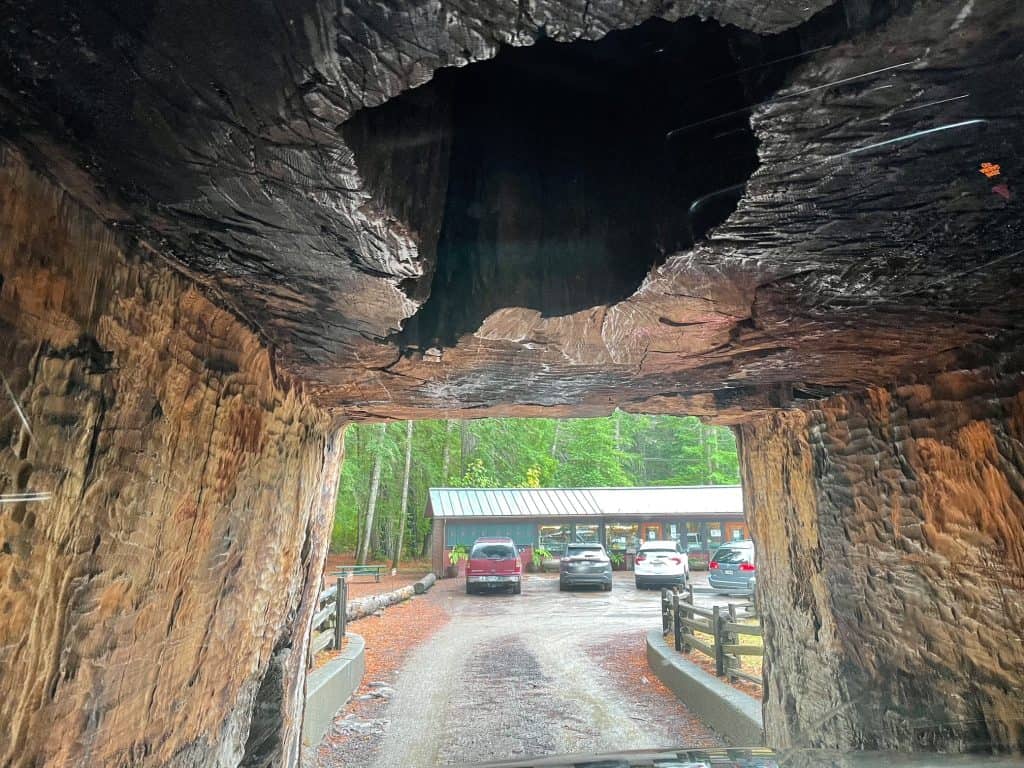 I have a medium-sized SUV and there was maybe a quarter of an inch on each side. Don't make the mistake I did and fold up your side mirrors!
If you have a sunroof, open it up and take notice of the marvel and beauty of the tree as you pass under.
Driving through the Chandelier Tree is worth the stop and a check off your California bucket list…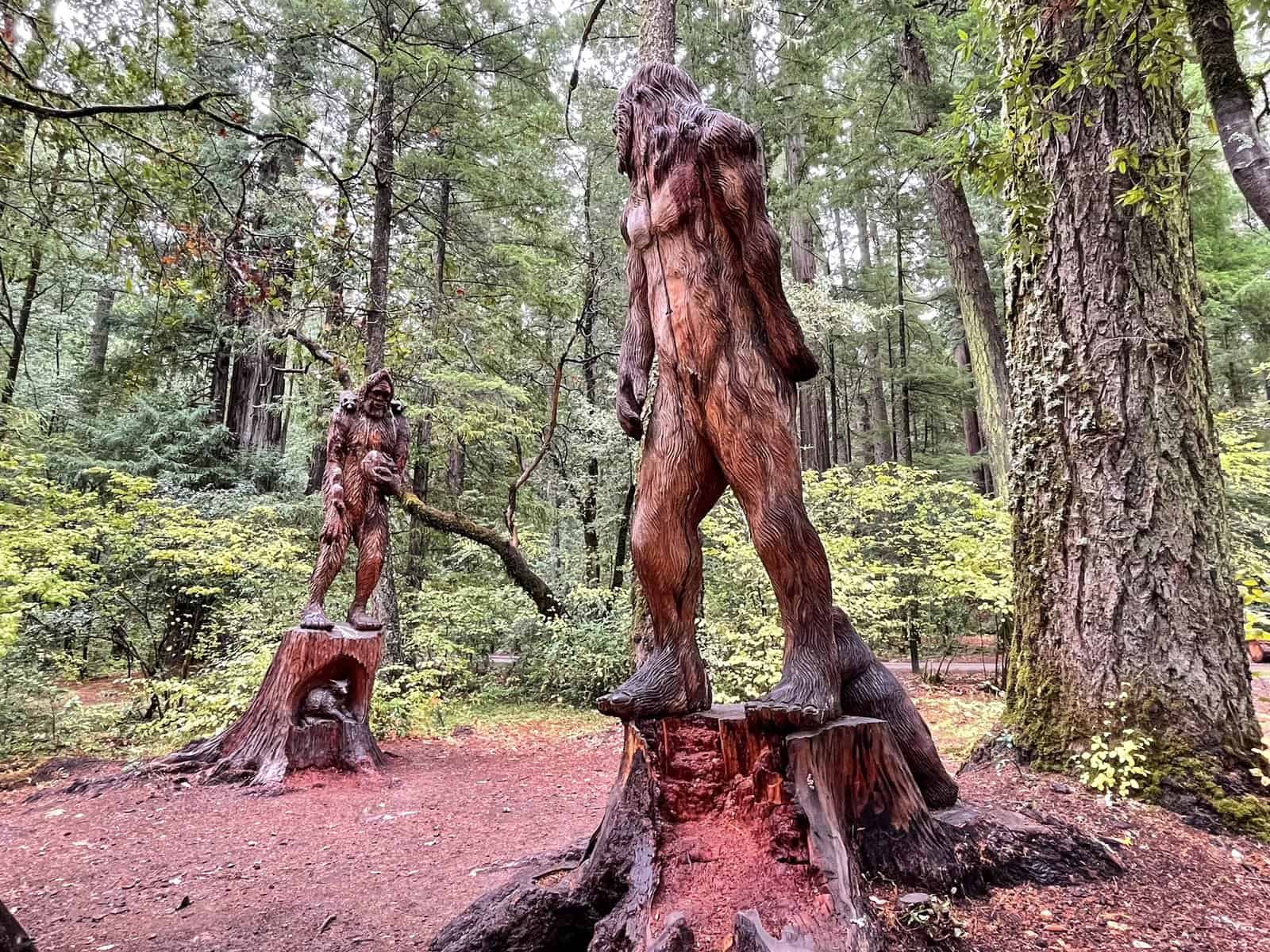 Take notice of several amazing wooden sculptures of animals and a few Bigfoots too!
Hours: Open daily from 8:30 am to 5:00 pm. $15 to pass through the tree by car. Bikes, and walk-ins are $10.
Time Spent: If there is no line, 30 to 45 minutes to drive through, access restrooms/gift shop, and explore the nearby woods. During peak summer months allow extra time.
2. Richardson Grove State Park
As you leave Chandelier Tree behind and continue north along Highway 1, there is an idyllic small grove of redwoods bordering each side of the highway.
The grove is Richardson Grove State Park, a few miles south of Garberville and about 20 minutes north of the Leggett Drive-Thru Tree.
In 1922, the Richardson Grove State Park became one of the first redwood parks in California.
The Eel River runs through this dense grove of coastal redwoods that has many scenic trails to explore.
The most popular path is the Richardson Grove Interpretive Trail (0.3-mile loop) that is gorgeous to wander through east of the highway.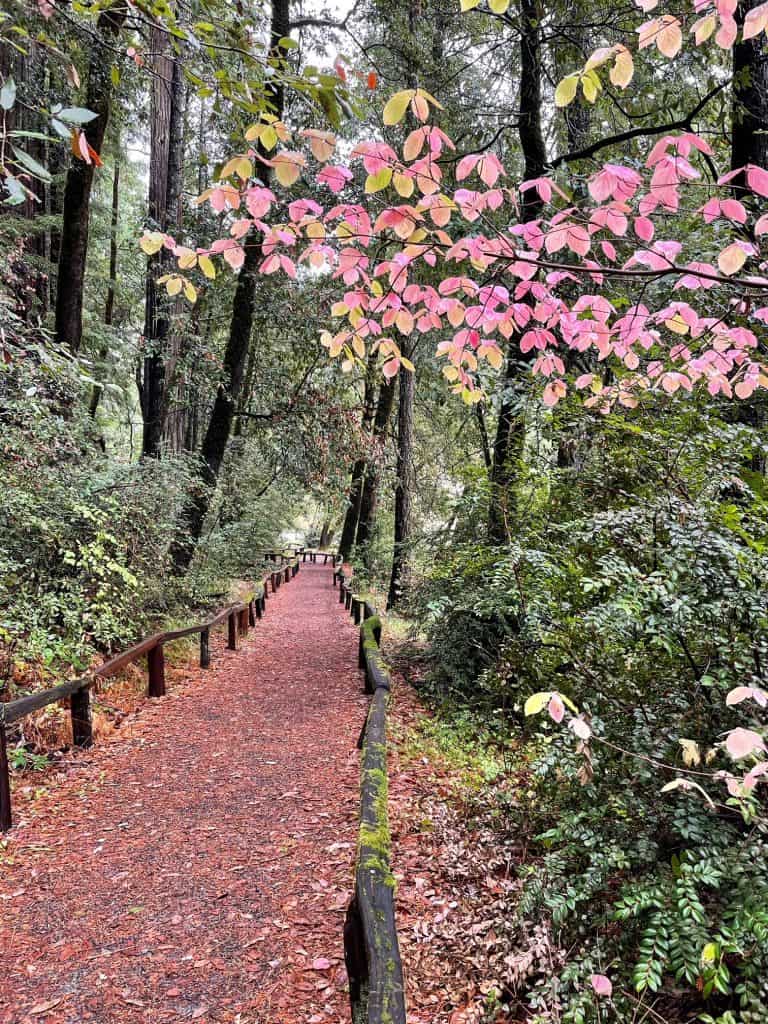 With numerous cathedral-like redwoods, ferns, and padded forest floor this easy trail is remarkable!
Not only will your eyes be drawn to look up towards the redwood canopies but lying on the forest floor are large fallen trees. It is incredible to walk the length of these giants!
Although the sound of cars can be heard not too far away, you still feel like you are miles away from civilization.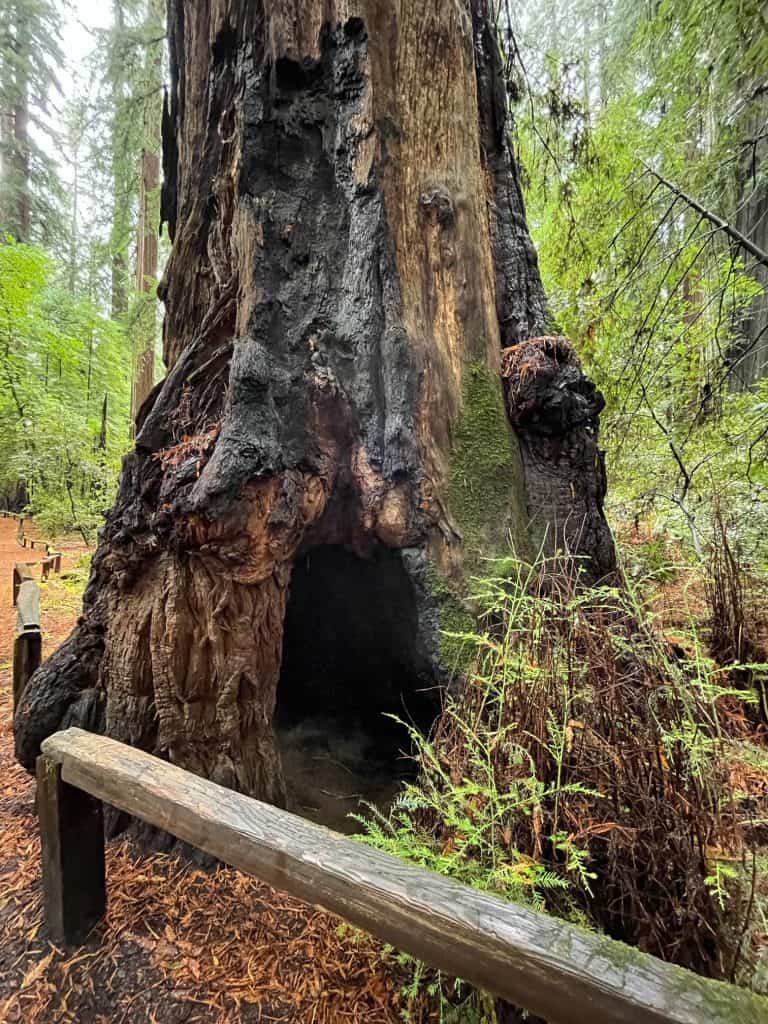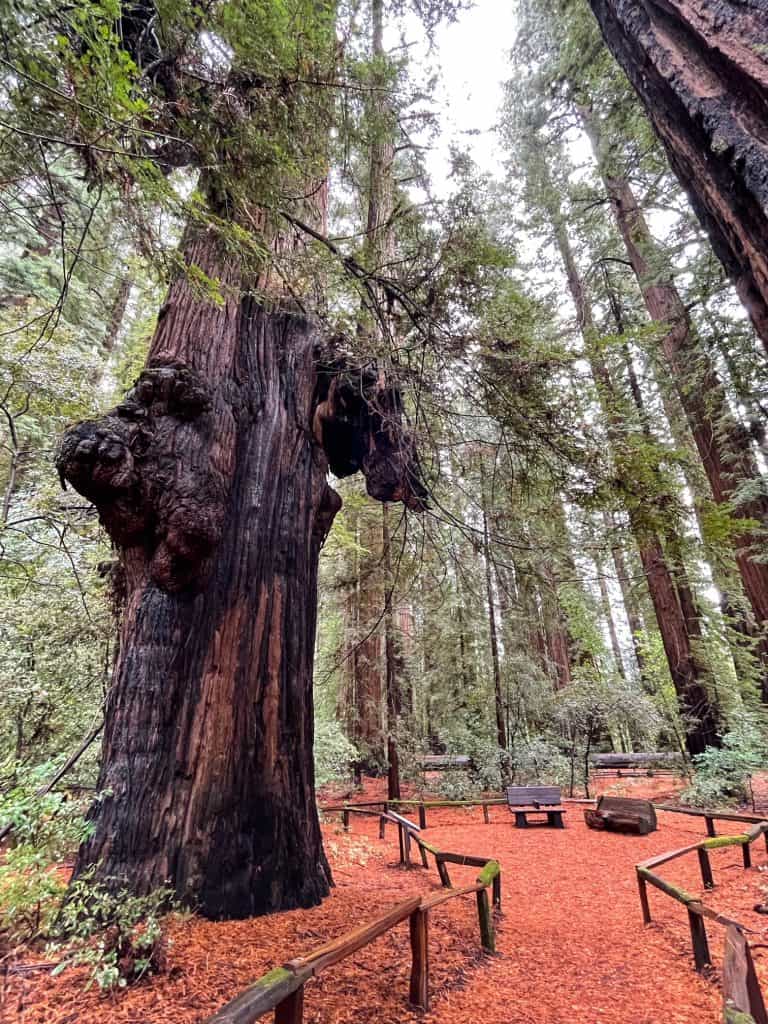 Make sure to observe goose pens and burls as you walk along the trail.
Goose pens are trees that have been hollowed out by a fire. Years ago, these goose pens served as shelter for settlers or to store items from the weather.
A burl is a huge knot or large growth on the side of a redwood. At one point this growth was to become a branch but instead became a dormant wart-like growth.
Note: There is a Visitor Center open during the summer months.
Hours: Open daily 24 hours a day although there isn't anything to do at night but camp!
Time Spent: Walking the loop and taking photos took about 45 minutes at a slow pace.
3. Avenue of the Giants
Driving through the Avenue of the Giants is straight out of a postcard setting where you wonder can a place really be so breathtaking?
The answer is yes, there is such a beautiful landscape where you can walk among giants. Giant redwoods that is!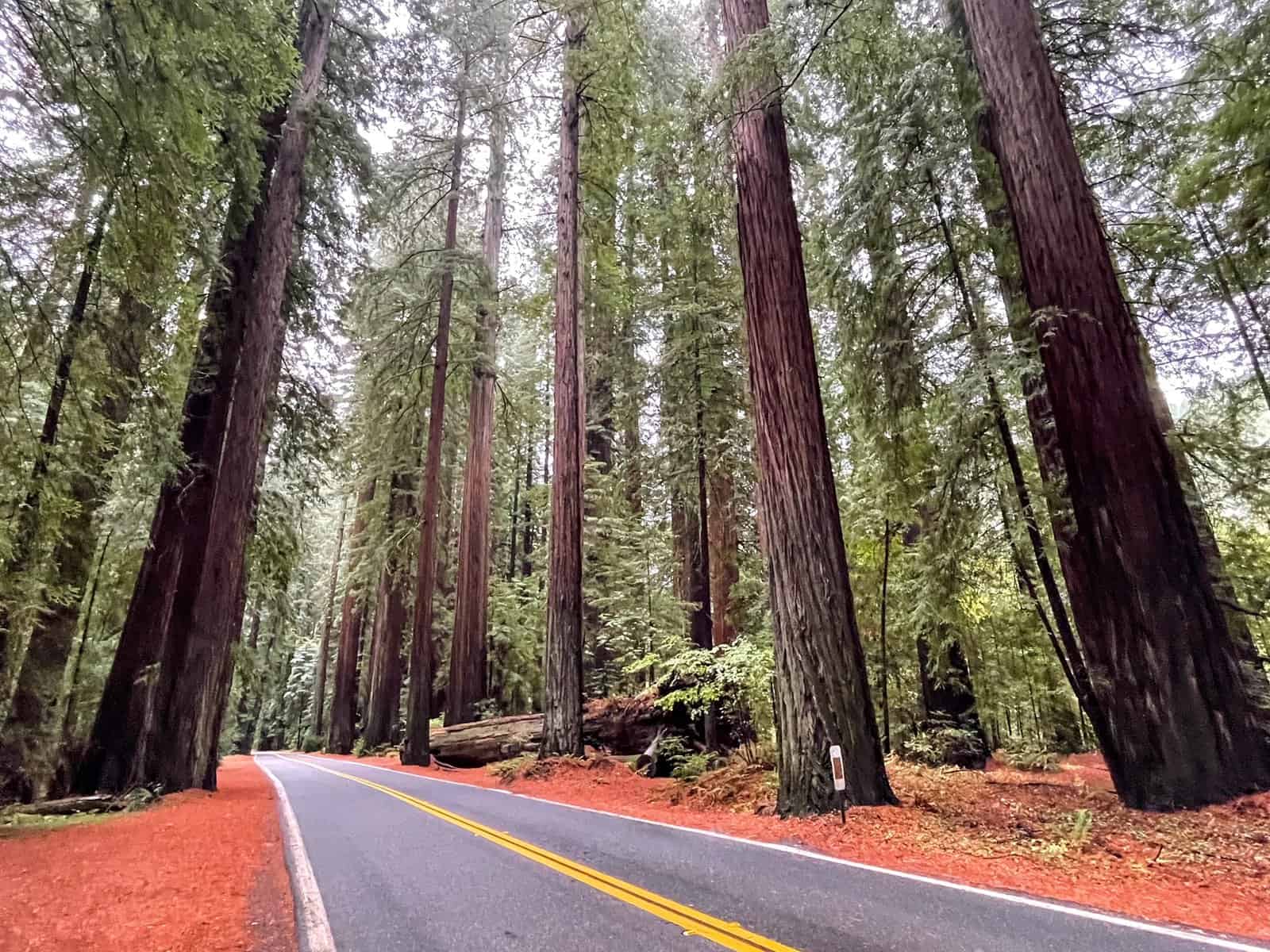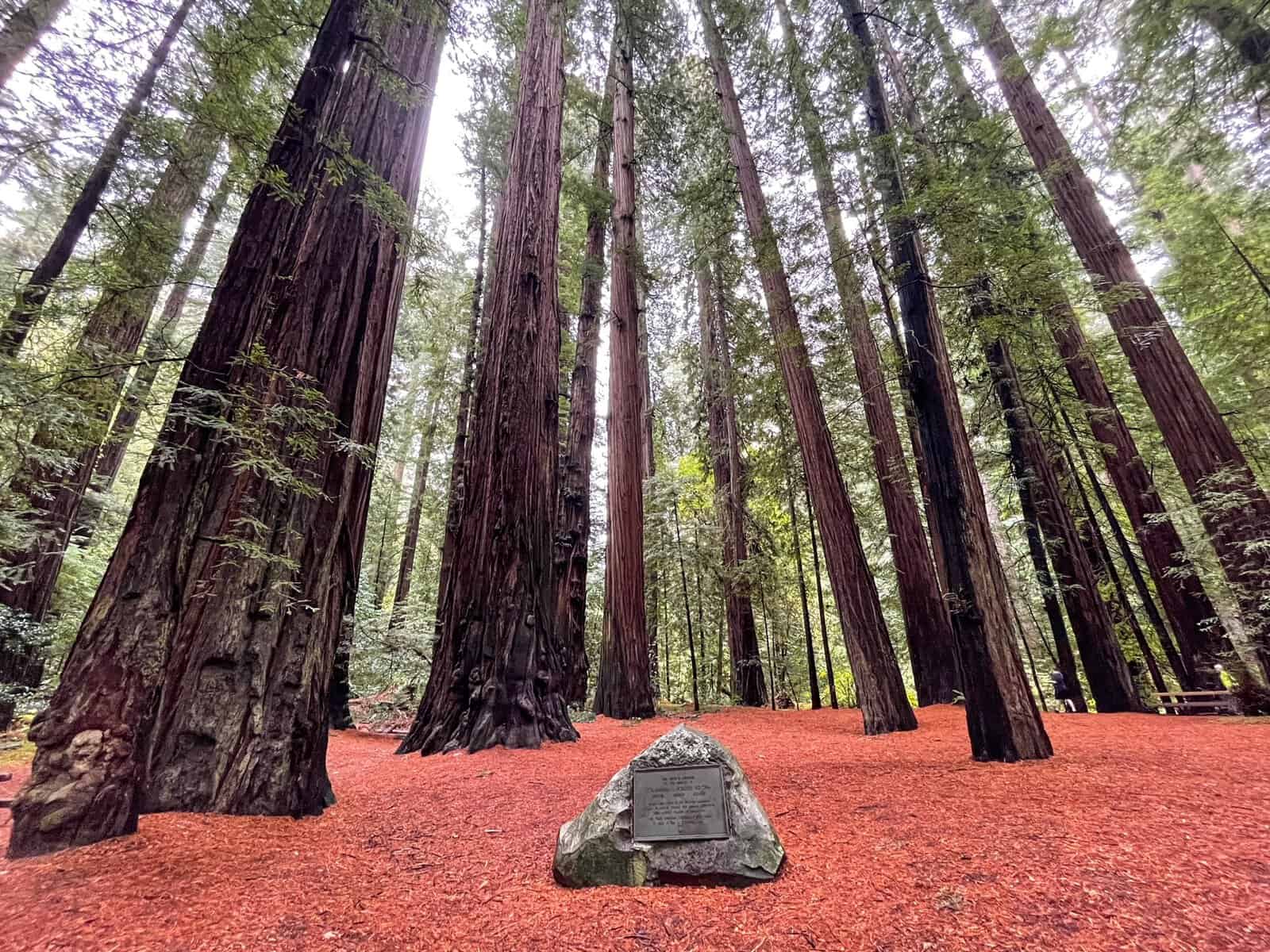 Avenue of the Giants is a scenic highway that runs parallel along the Eel River and the 101 Highway for 32 miles in Humboldt Redwoods State Park.
Whatever your time frame is, exit off the 101 Highway and drive the entire Avenue of the Giants as it is a jaw-dropper to see!
Although the entire area is gorgeous, my favorite stretches of the road are from the tiny town of Miranda to the Visitor Center.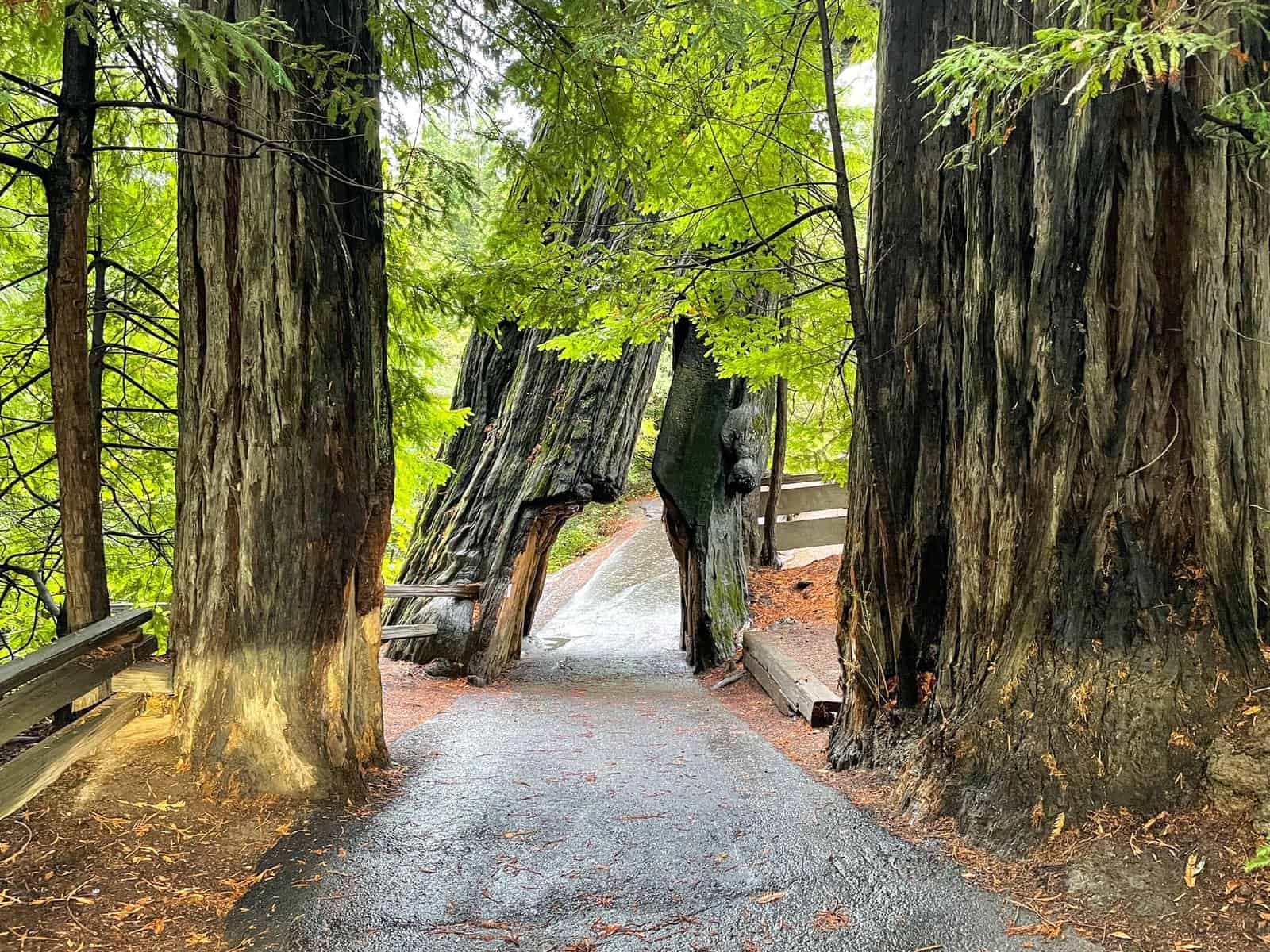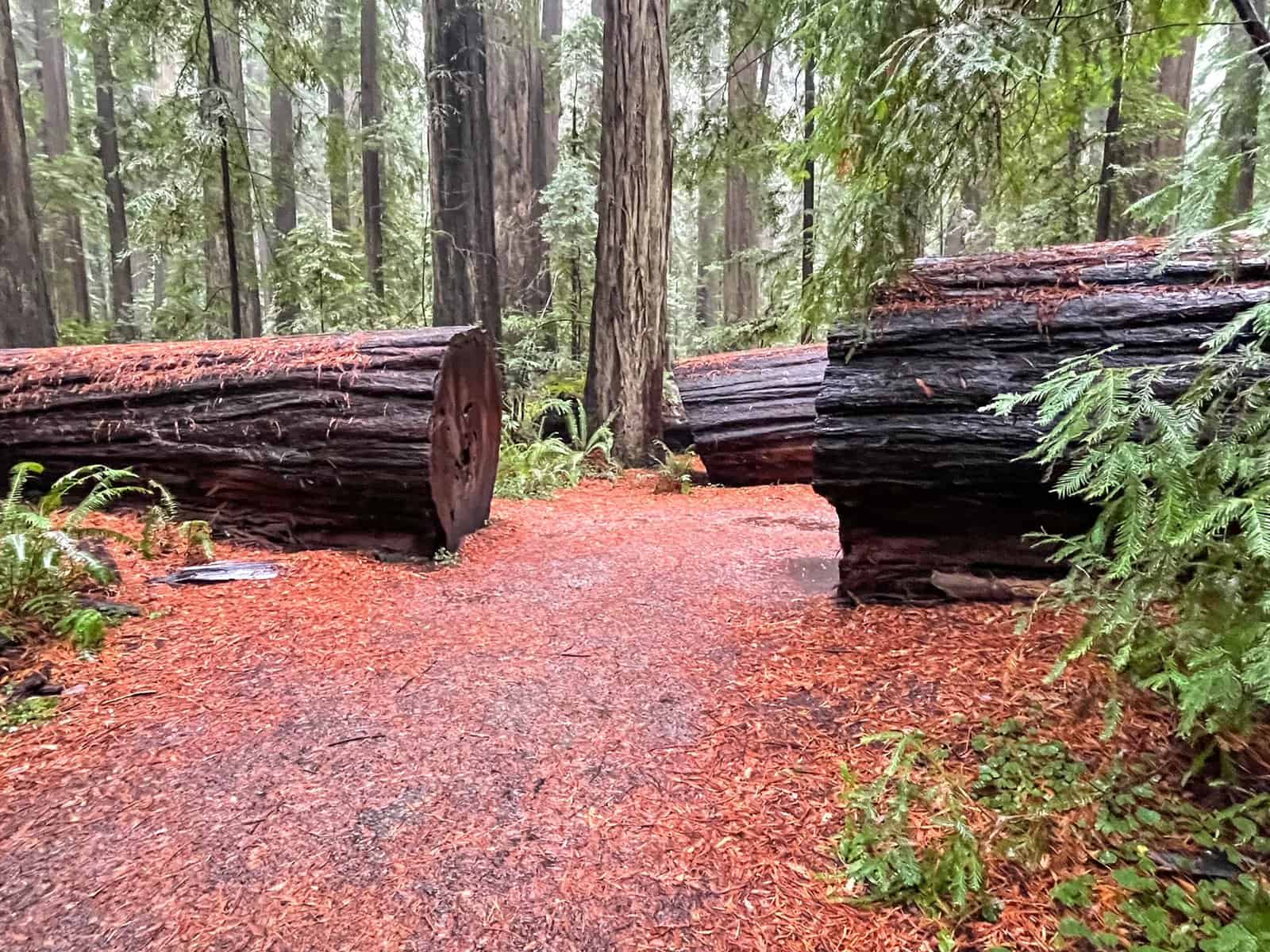 Passing underneath the massive redwoods along the curving roads on this section gives you a true sense of how big and strong these trees are.
If you are coming from the south, take exit #645 in the town of Phillipsville and start the drive here heading north. If you are coming from the north, take exit 674 and head south.
Top attractions to make a point of seeing are:
Bolling Grove
Shrine Drive-Thru Tree
Williams Grove
Visitor Center
Founders Grove
Mattole Road – a very scenic road off of Avenue of the Giants that has the Tall Tree, Giant Tree, and Flatiron Tree.
Hours: Open daily 24 hours a day. The Visitor Center located in the center of Avenue of the Giants is open from 10:00 am to 4:00 pm.
Time Spent: Many might pass through quickly but I spent 1.5 days exploring all the different trails and attractions. One full day is enough to see the top spots.
4. Sequoia Park Zoo
Opening in 1907, the Sequoia Park Zoo is the oldest zoo in the state of California in the town of Eureka.
It also happens to be one of the tiniest zoos I've ever visited! I hadn't planned to visit until I heard of the very cool and fun Redwood Skywalk.
The Redwood Skywalk is located inside of the zoo and is what its name implies, a skywalk up high among a beautiful forest of redwood trees.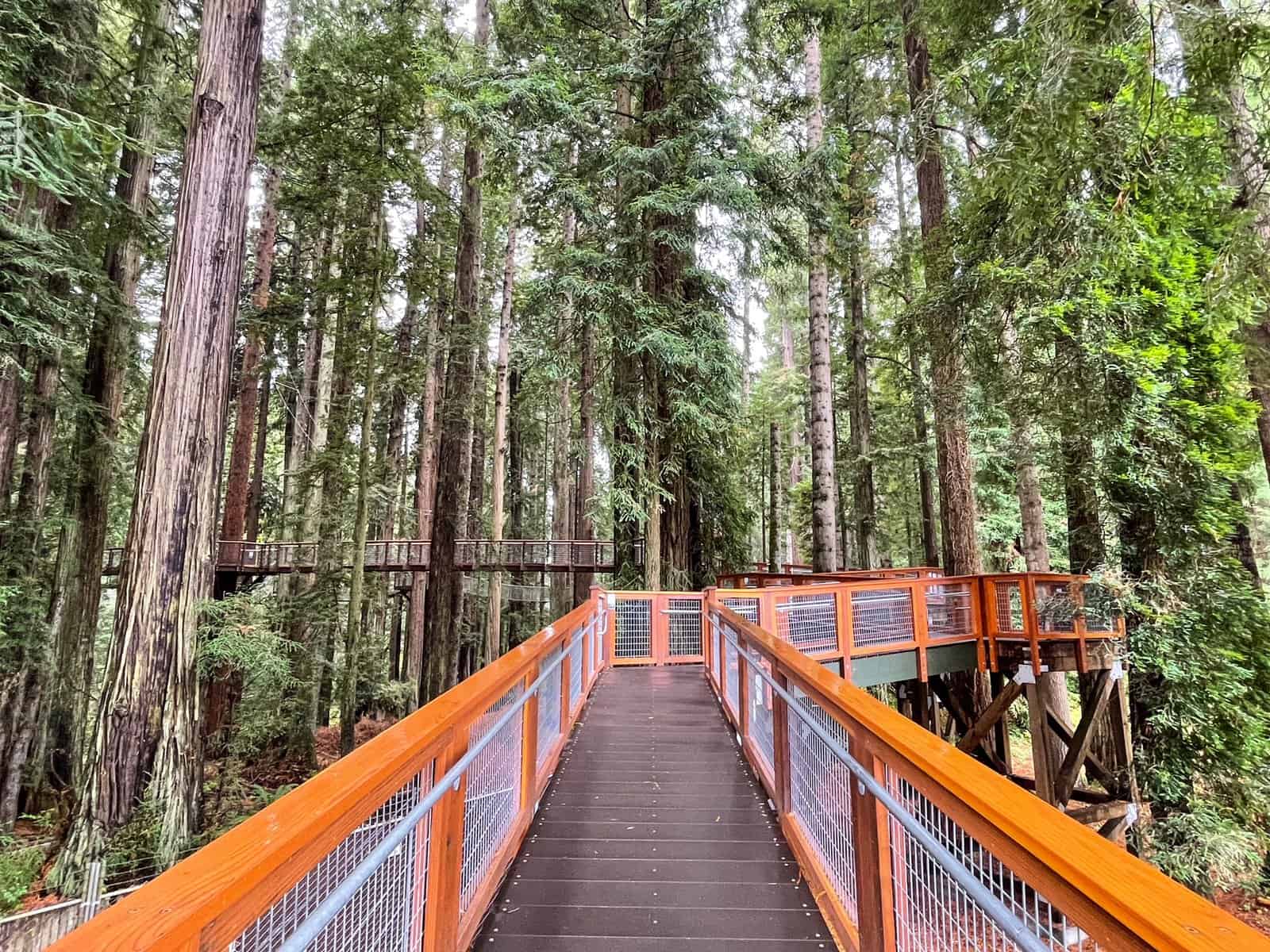 Walking up on the skywalk allows you to get an up-close view and a different perspective than viewing from the forest floor.
As you walk up the ramp to begin your skywalk experience, notice the signs that provide some interesting tidbits of info about the redwoods.
Once you get to the top, you are suspended 100-feet above the ground with a birds-eye view of the redwood trees and their canopy.
It is one of the most unique ways to see the giant redwoods in Northern California!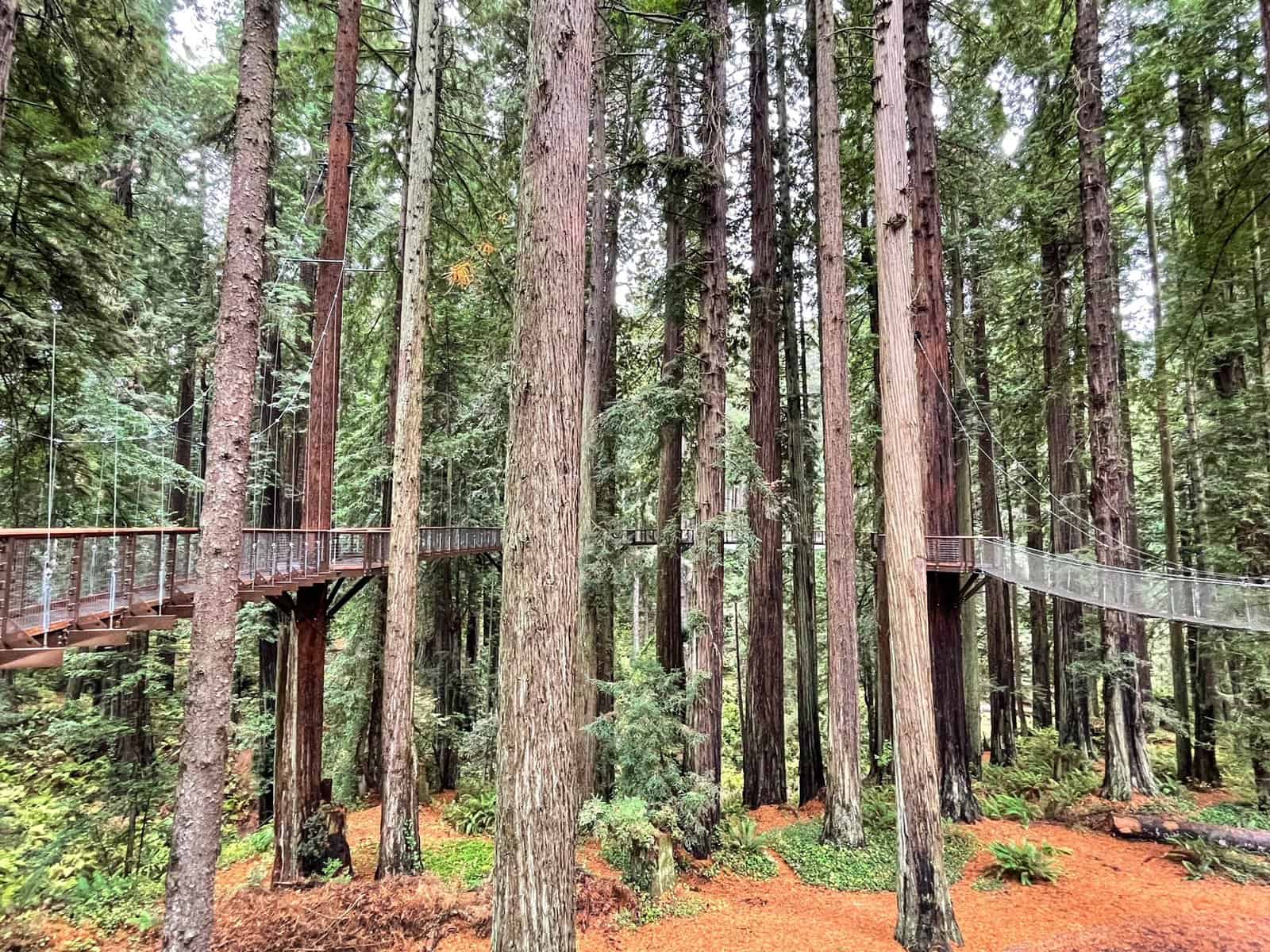 The Skywalk is the longest skywalk in the Western part of the United States with a distance of 1.4 miles.
About 2/3 of the skywalk is a sturdy platform that wheelchairs can access but the remaining part is made up of fun adventure bridges.
Meaning these rope bridges move! Thankfully there were no kids present to hop up and down. I'm terrified of heights but managed to look up more than down…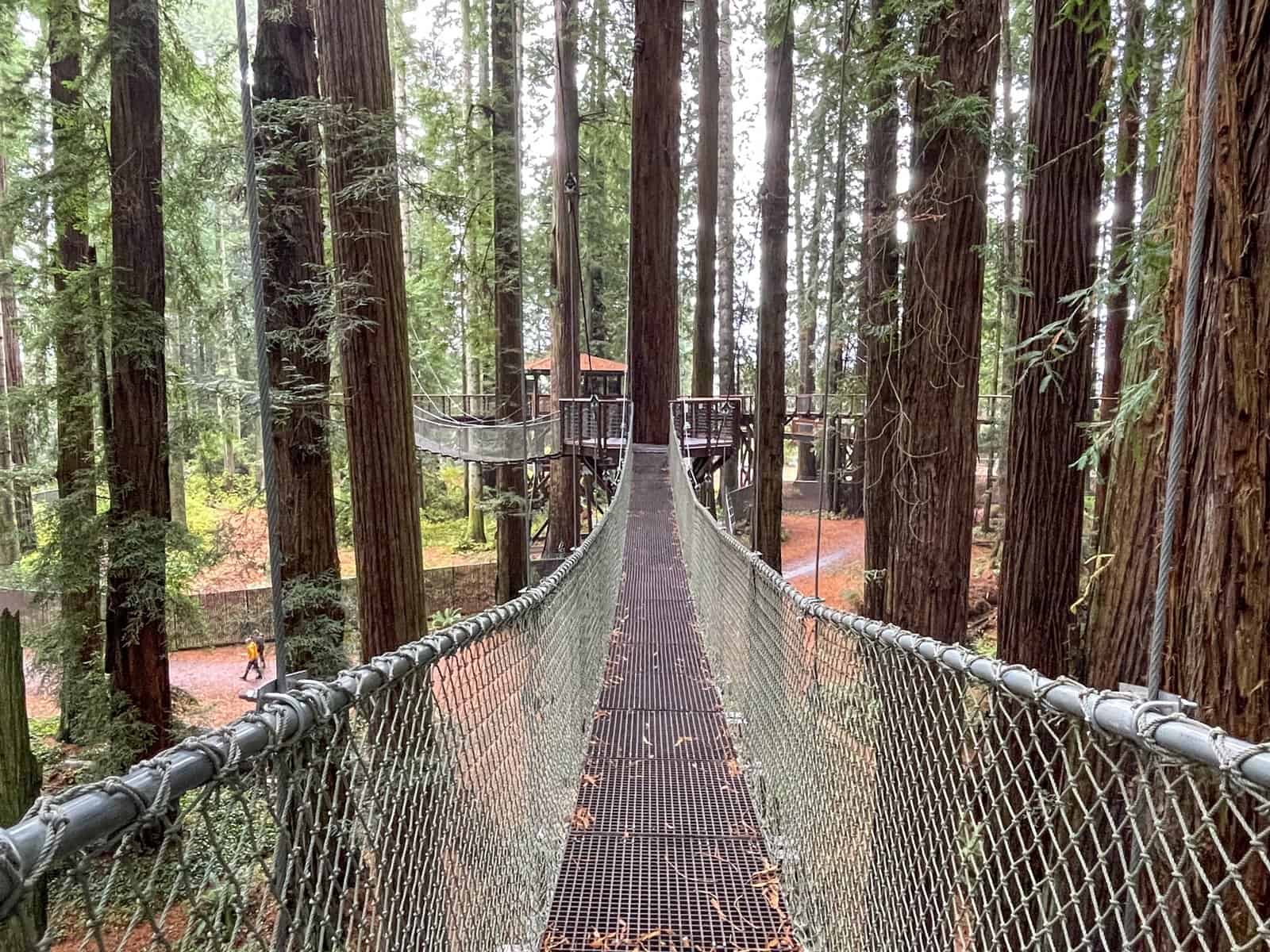 For those that don't want to go on the adventure bridges, you can head back the way you came and still get a memorable experience.
After the skywalk adventure, I visited the rest of the zoo keeping an eye out for some cute critters.
Hours: Open Tuesday – Sunday from 10:00 am to 5:00 pm. Closed Monday.
Time Spent: I spent a little over 1-hour visiting various parts of the zoo and the Skywalk.
Get A PDF Of This Guide For Your Trip
For your convenience, you can download a copy of this guide for visiting the Giant Redwoods in California or print it to take with you. It includes pictures and links within the article. It's ad-free and handy for on the go.

5. Prairie Creek Redwoods State Park
I found Prairie Creek Redwoods State Park to be more diverse and absolutely stunning to explore.
There are sections of the park where you wander through a dense redwood forest, an exotic fern canyon, and the ocean!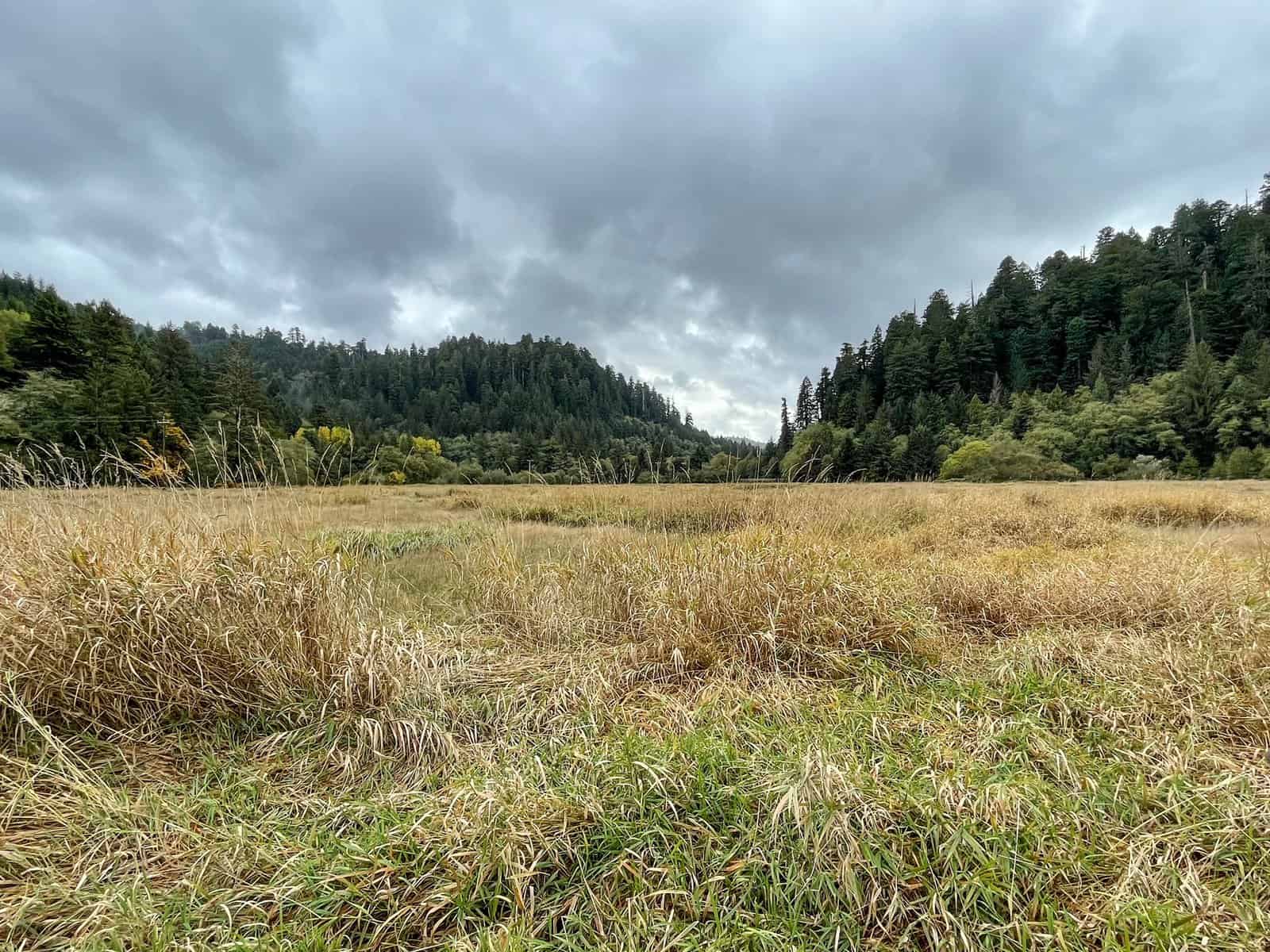 Oh, and did I mention there are several areas you can witness herds of elk roaming and grazing?
There are two main areas that I suggest spending your time in while visiting Prairie Creek. They are Fern Canyon and the Newton B Drury Highway.
Fern Canyon
Fern Canyon is an out-of-the-world vision as you walk ¼-miles through a creek looking up between steep 50-foot walls of ferns on each side.
If you have seen Jurassic Park 2 (The Lost World), you might recognize this abundantly green fern paradise!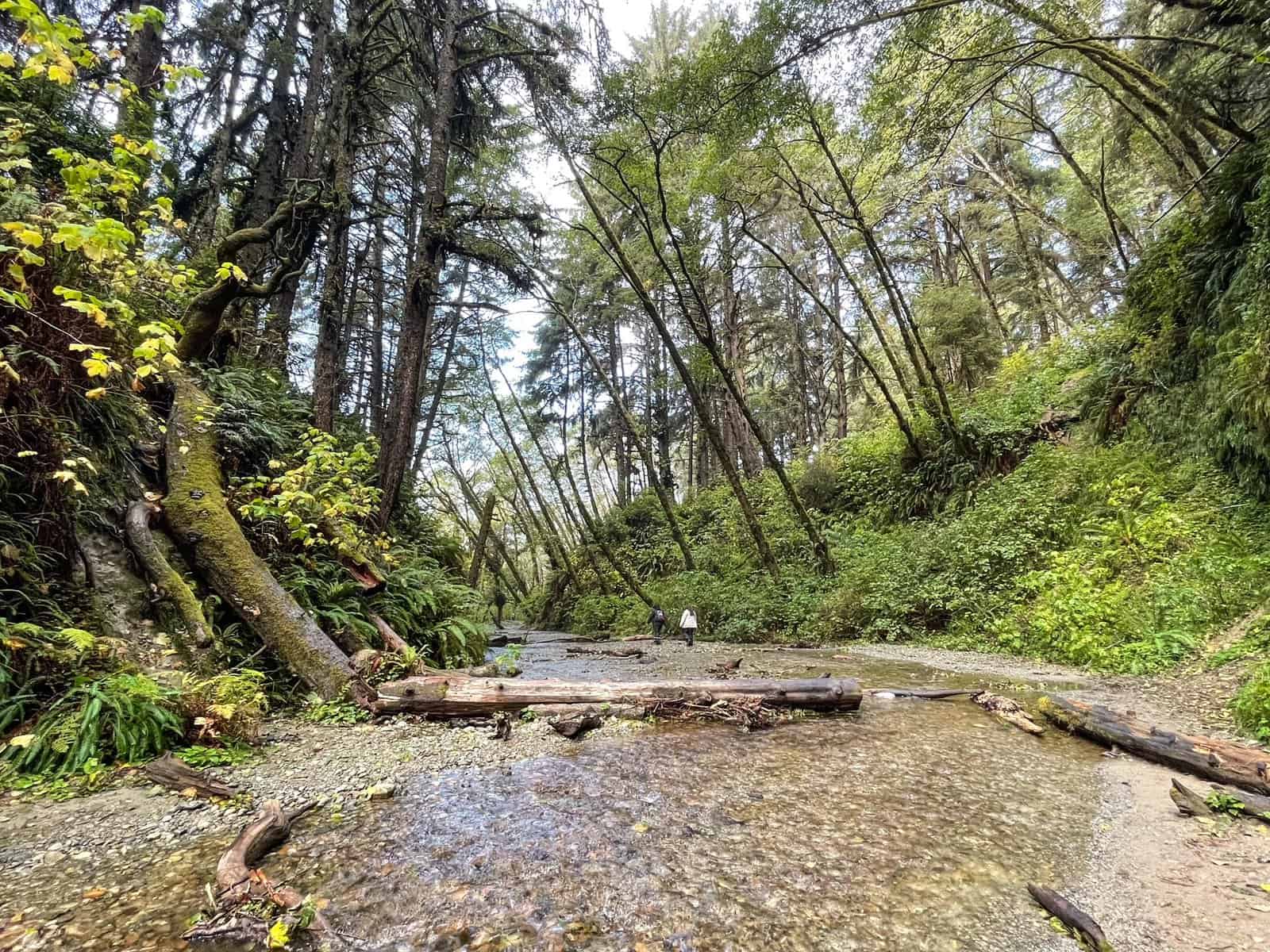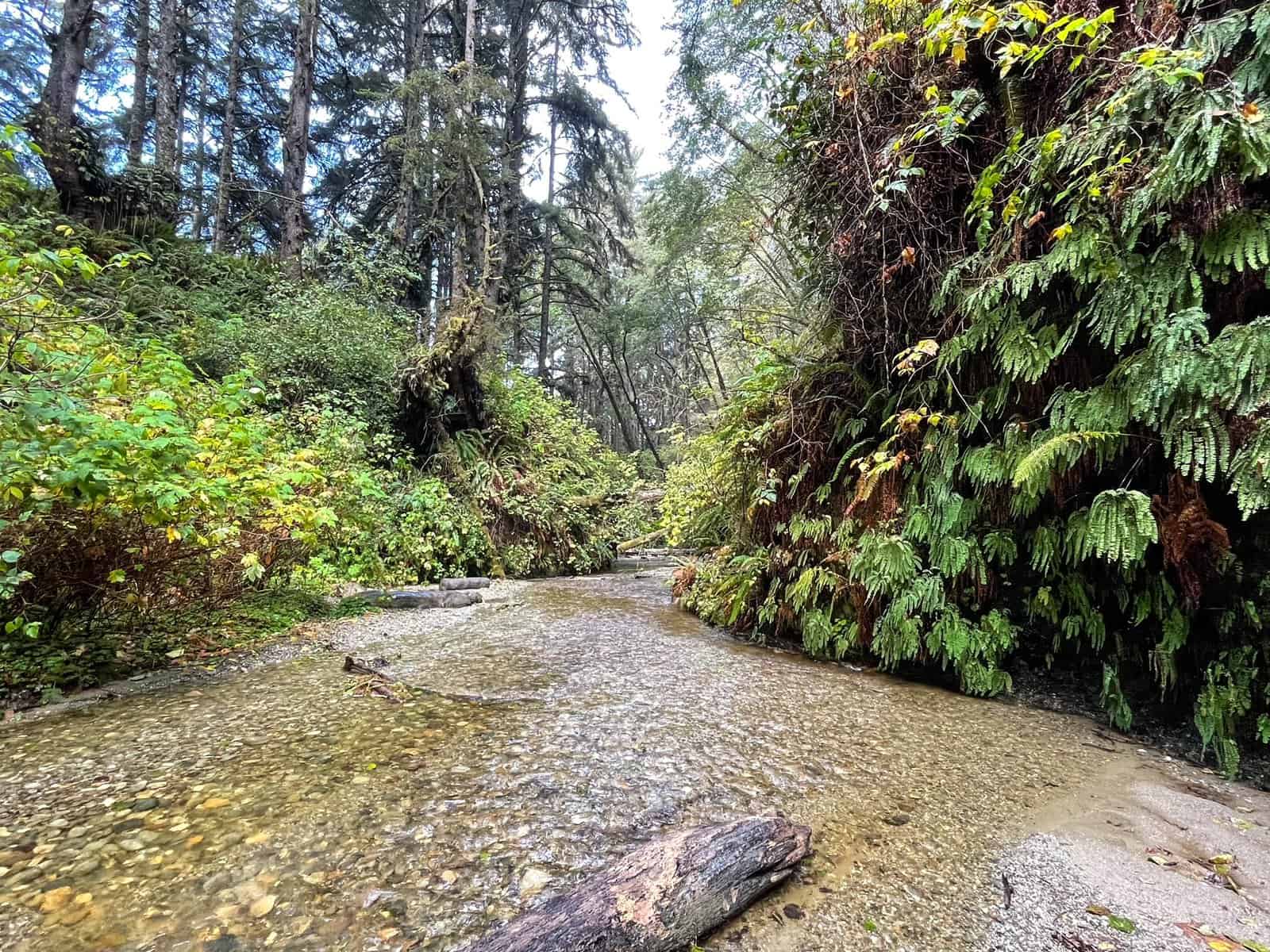 In the movie, very cute but deadly miniature-sized dinosaurs chase after a man through this exact fern canyon. Luckily none of the small dinosaurs were present during my visit!
It is the coolest thing to hear drops of moisture dripping off various types of ferns, water running from the creek, and threadlike waterfalls cascading down.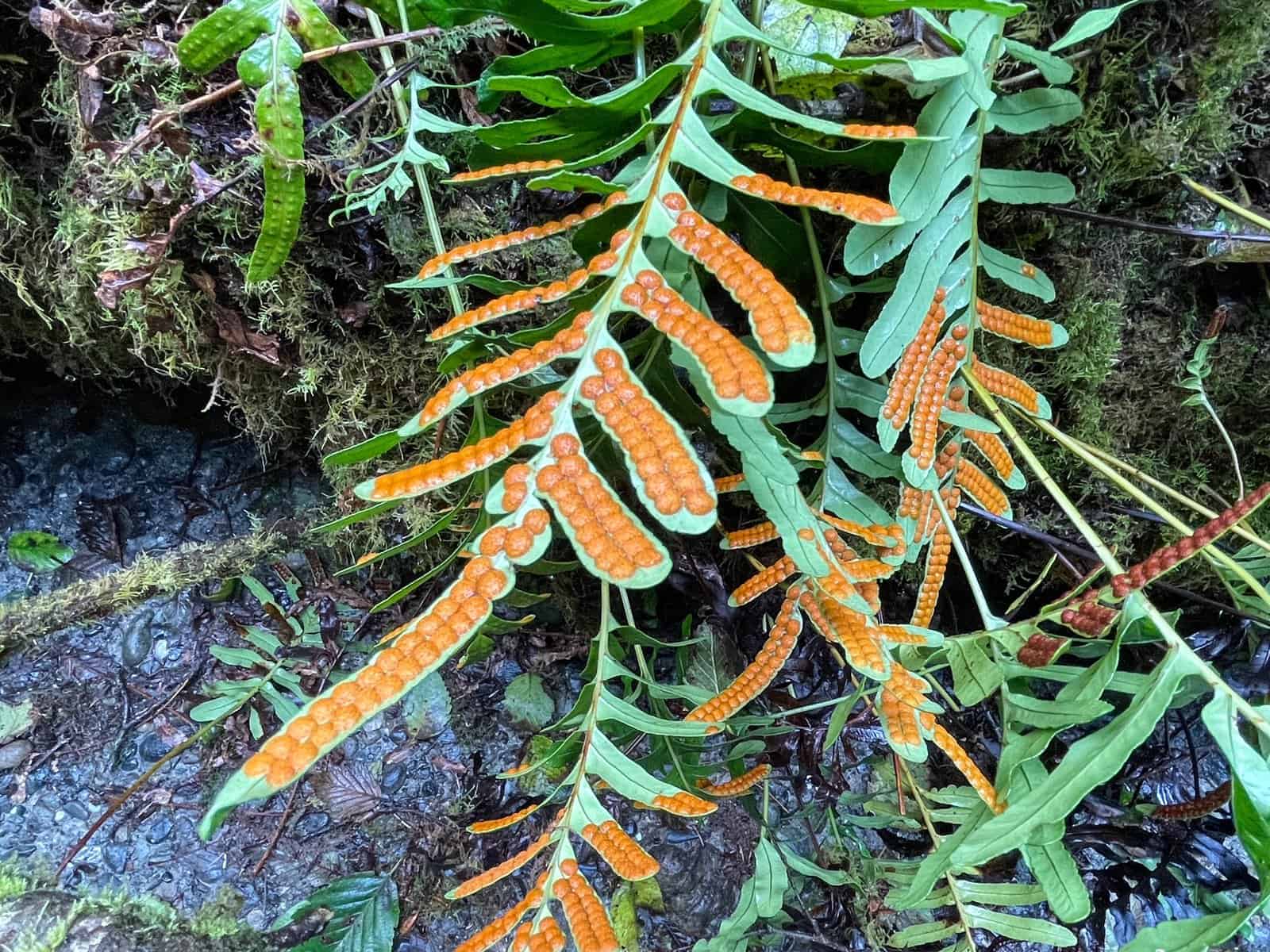 The sounds are so calming and tranquil that you need to take a moment to take in all the beauty…
Depending on the time of year, the creek bed can be dry or full. During my visit (October) after a few days of heavy rain, the creek went up to mid-calf height.
Unless you have boots that go up to your knees, any shoes will get wet whether they are water-resistant or not.
My shoes got soaked but I had an extra pair in the car to change out of that saved the day!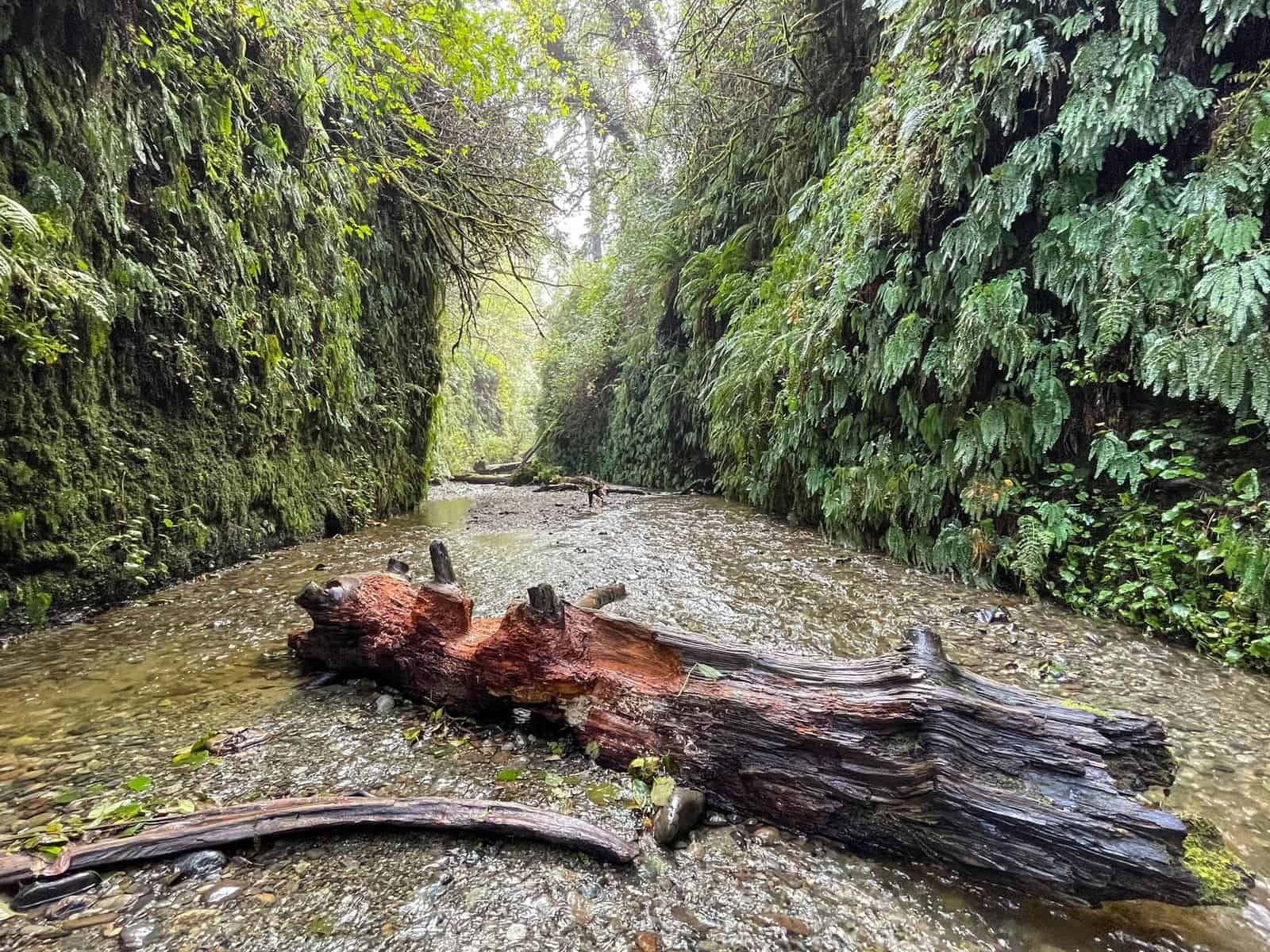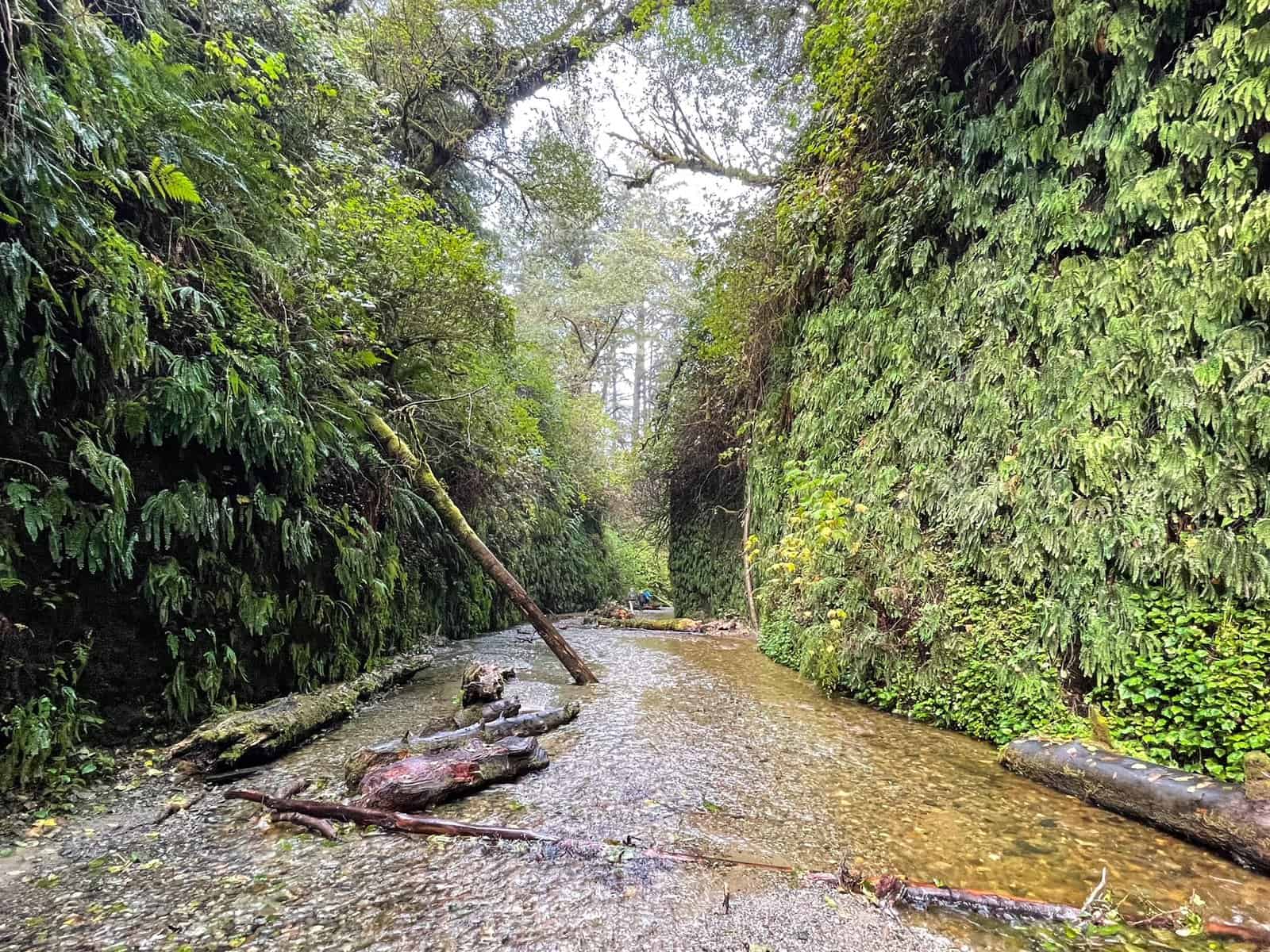 To reach Fern Canyon, turn west onto Davison Rd off of the 101 Highway a few minutes south of the entrance into Prairie Creek Redwoods State Park.
The drive has a lot of turns and the last few miles are gravel and dirt making it a bumpy 8-mile ride. After heavy rains, you may need to drive through small creeks.
I crossed two creeks that were 10 inches deep and I was ok in an SUV. I wouldn't feel comfortable driving a car through but I saw many that did with no problem. Just be careful and use good judgment!
Newton B Drury Scenic Parkway
No matter how much time you have, driving through this very scenic highway is not to be missed!
Drive along the Newton B Drury Scenic Parkway rather than the 101 Highway that runs parallel.
This stretch of road is truly scenic passing through a forest of giant California redwoods! If heading north, exit 753 to enter the park.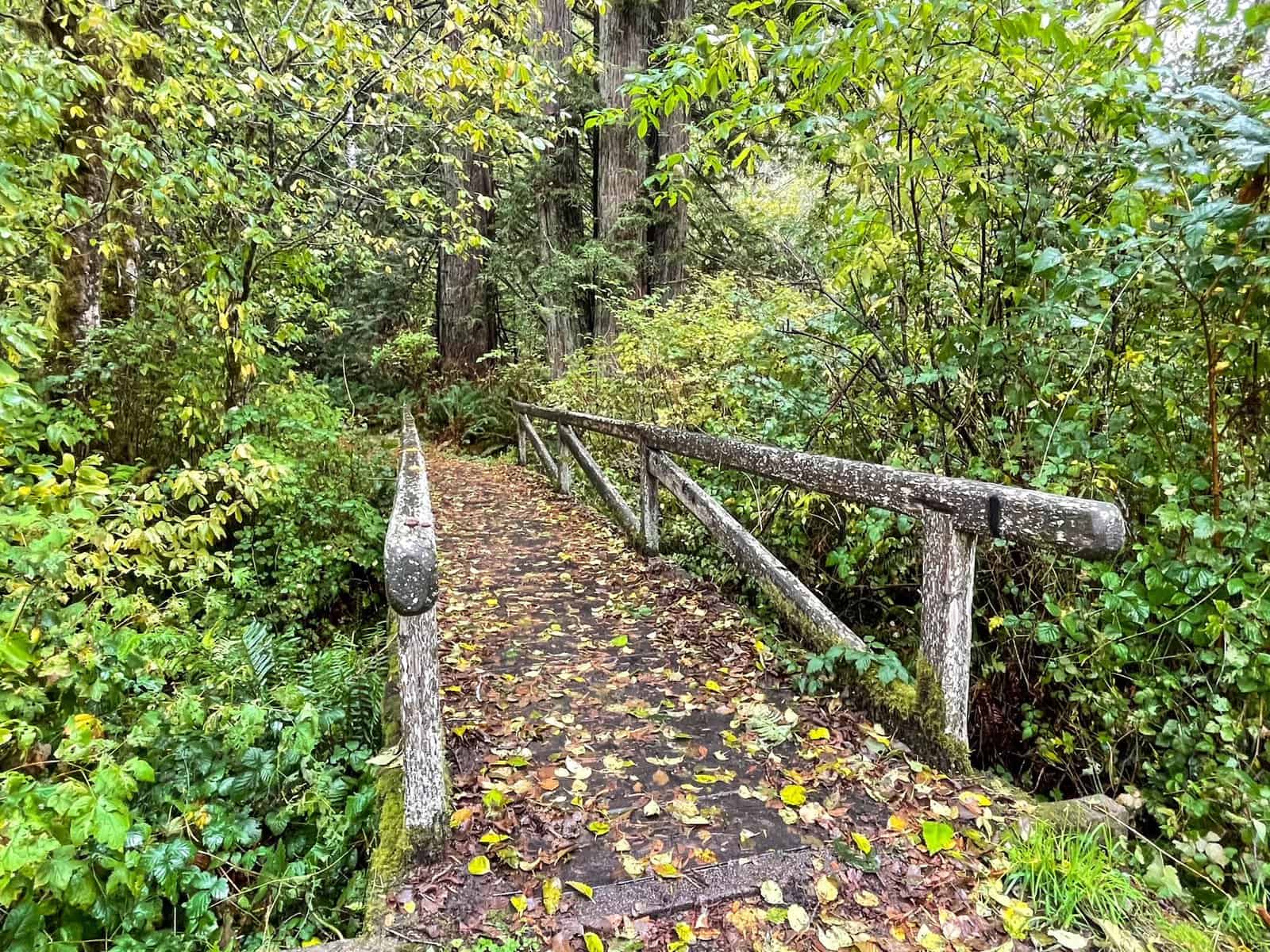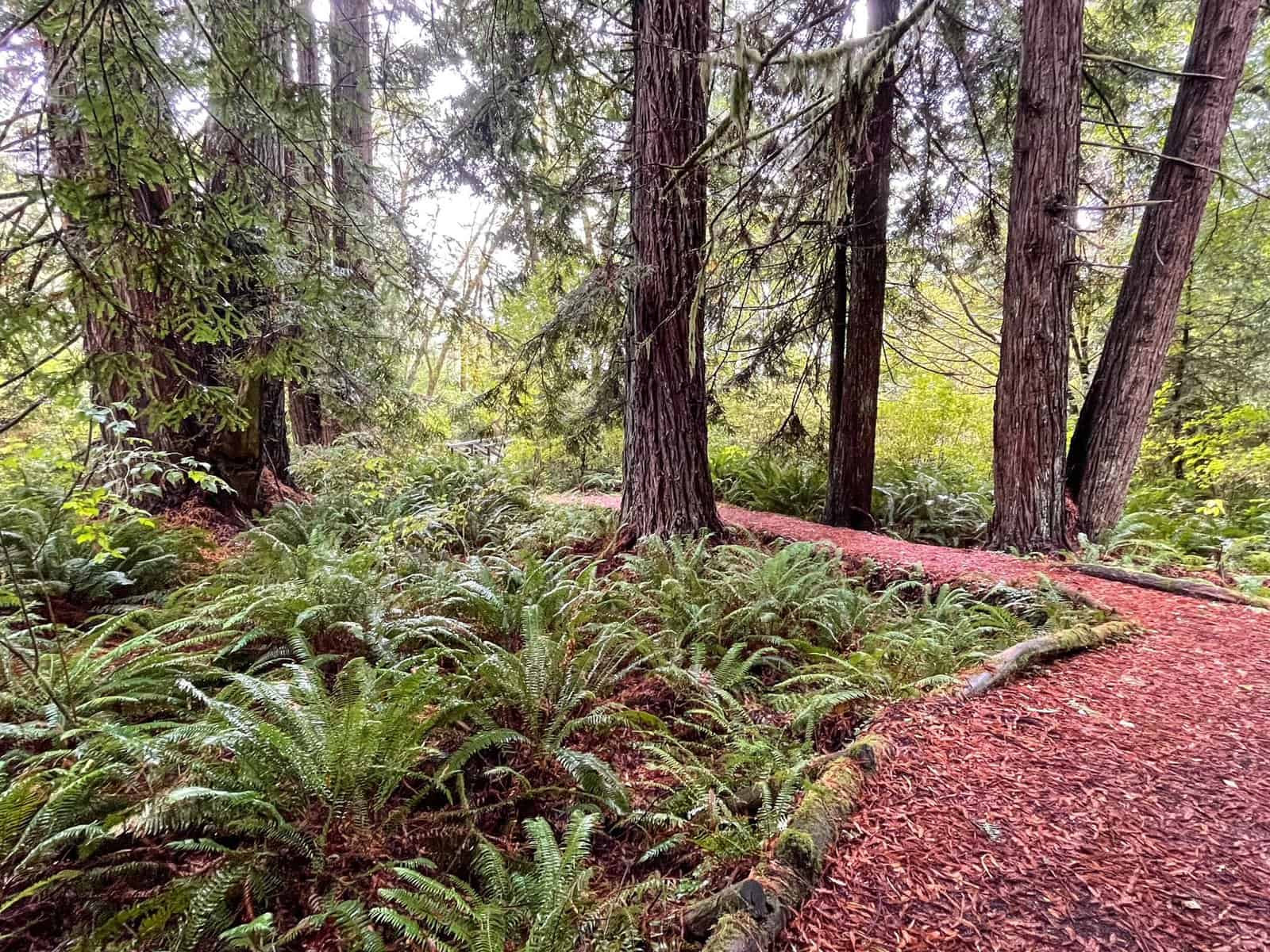 As you enter Prairie Creek Redwoods State Park from the south, the Visitor Center and Museum will be on your left past the Elk Prairie fields.
From the Visitor Center, you can access a few trails or drive further along the parkway and park at the Big Tree Wayside.
The top trails to hike in Prairie Creek are all fairly easy but pack a punch with a lush forest of redwoods, ferns, and a creek.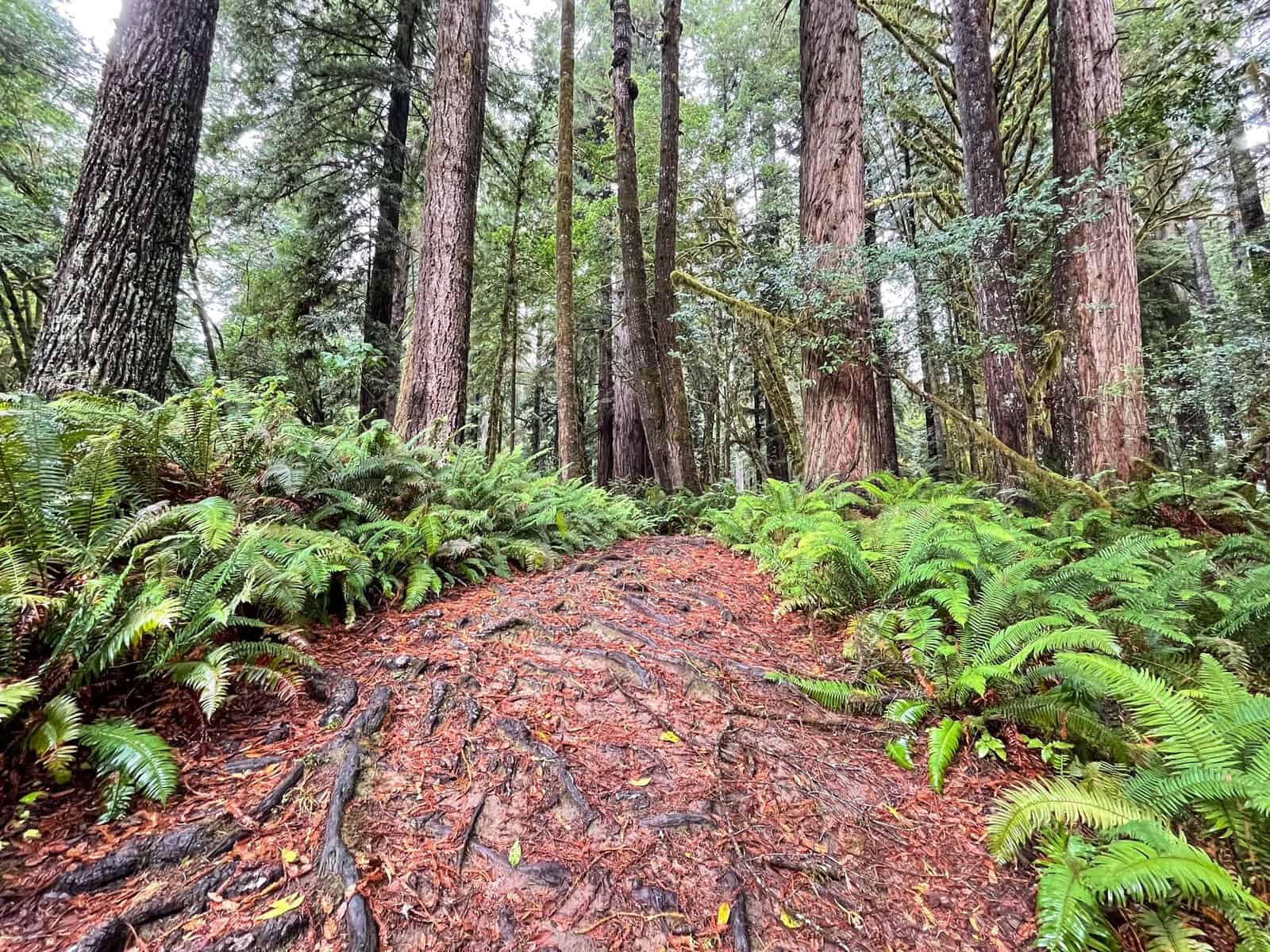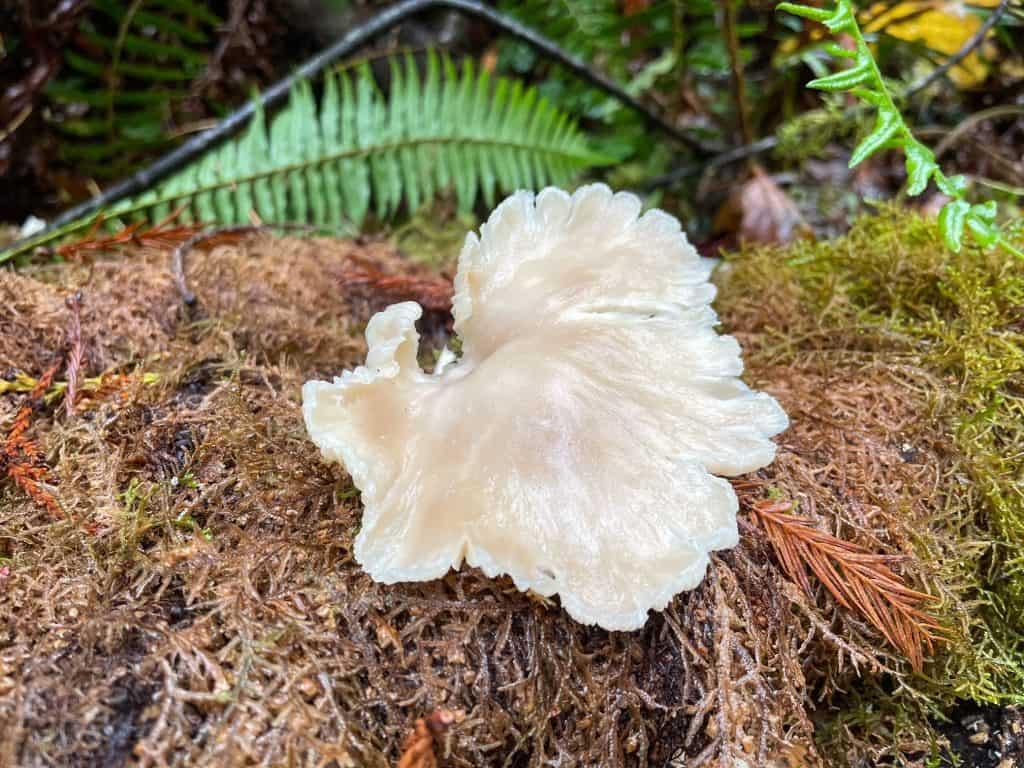 Each of the trails below can be done individually or combined to create one long hike!
Cathedral Trees Trail – A 3-mile easy out and back trail from the Visitor Center. Big Tree Wayside is the turnaround point.
Big Tree Wayside – From the nearby parking lot, it is an easy 0.3-mile trail to see one of the biggest redwoods in the park.
Corkscrew Tree – This is a stop along the Prairie Creek Trail that can be combined with the other trails. The Corkscrew Tree is an unusual ring of redwoods with twisted and intertwined trunks.
Prairie Creek Trail – A 4.3-mile trail that can connect with the rest of the trails listed.
Revelation Trail – An easy 0.3-mile loop trail that is right next to the Visitor Center.
Elk Prairie Trail – An easy 1.3-mile loop trail that goes around a large field where herds of elk can be seen. You can reach this trail from the Visitor Center.
Tips: If you have an America The Beautiful Pass, then you can access Fern Canyon for free. Grab one today and use it at a number of National Parks and Monuments!
Once you turn onto Davison Rd to head to Fern Canyon, expect the drive to be slow going and bumpy over 8-miles.
Hours: Open daily 24 hours per day.
Time Spent: I would recommend no less than 1 day but you could do more if you want to tackle more trails.
6. Redwoods National Park
Redwoods National Park runs parallel (south to north) with Prairie Creek Redwoods State Park.
There are portions of the Redwoods National Park that is right up against Prairie Creek. So, if you plan to visit one, make a point to see both!
Unlike most National Parks, there is no fee to enter Redwoods National Park. There is a fee at some nearby parks such as Prairie Creek above.
You could easily spend a few days in Redwoods National Park if you enjoy hiking. But if you are wanting to see the highlights, I'd recommend spending a half-day to one full day.
The first hike to see is the Lady B. Johnson Trail that is an easy 1.3-mile path in one of the most popular areas of the park.
The trail was named in 1968 after Lady Bird Johnson, a former first lady to President Lyndon B. Johnson. She was an advocate of protecting the redwood groves.
Along the Lady B. Johnson Trail, you will make your way through an old-growth grove of coastal redwoods and numerous ferns.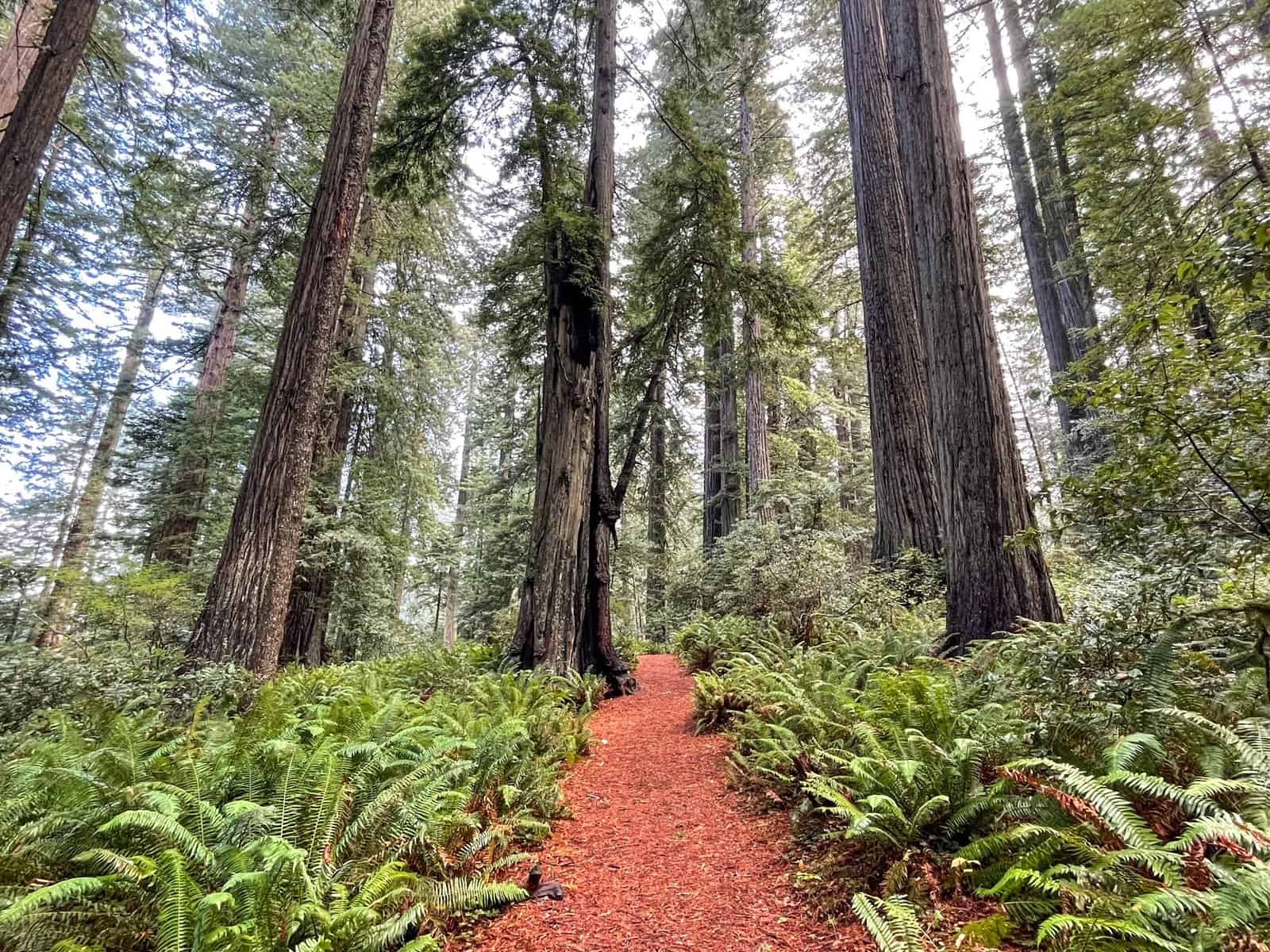 A second hike to trek to is Trillium Falls Trail that is a 2.6-mile hike that has ferns, tons of redwoods, and a 10-foot waterfall!
The third trail that is a top visited area is the Tall Trees Grove Trail that is 3.3-miles and home to Hyperion, the tallest recorded Coastal Redwood at 379 feet!
Note: The Redwoods National Park is part of the Redwoods National and State Parks. The Redwoods National and State Parks includes Prairie Creek Redwoods State Park, Del Norte Coast, and Jedediah Smith Redwoods State Park.
Hours: Open daily 24 hours a day.
Time Spent: I recommend spending between a half-day to one full day if you want to do all three trails.
7. Trees of Mystery
As you approach the Trees of Mystery in Klamath, CA your eyes will pop open upon seeing the larger-than-life Paul Bunyan and Babe the Blue Ox!
Paul Bunyan is a fictional hero and lumberjack character with superhuman strength known throughout Canada and the USA.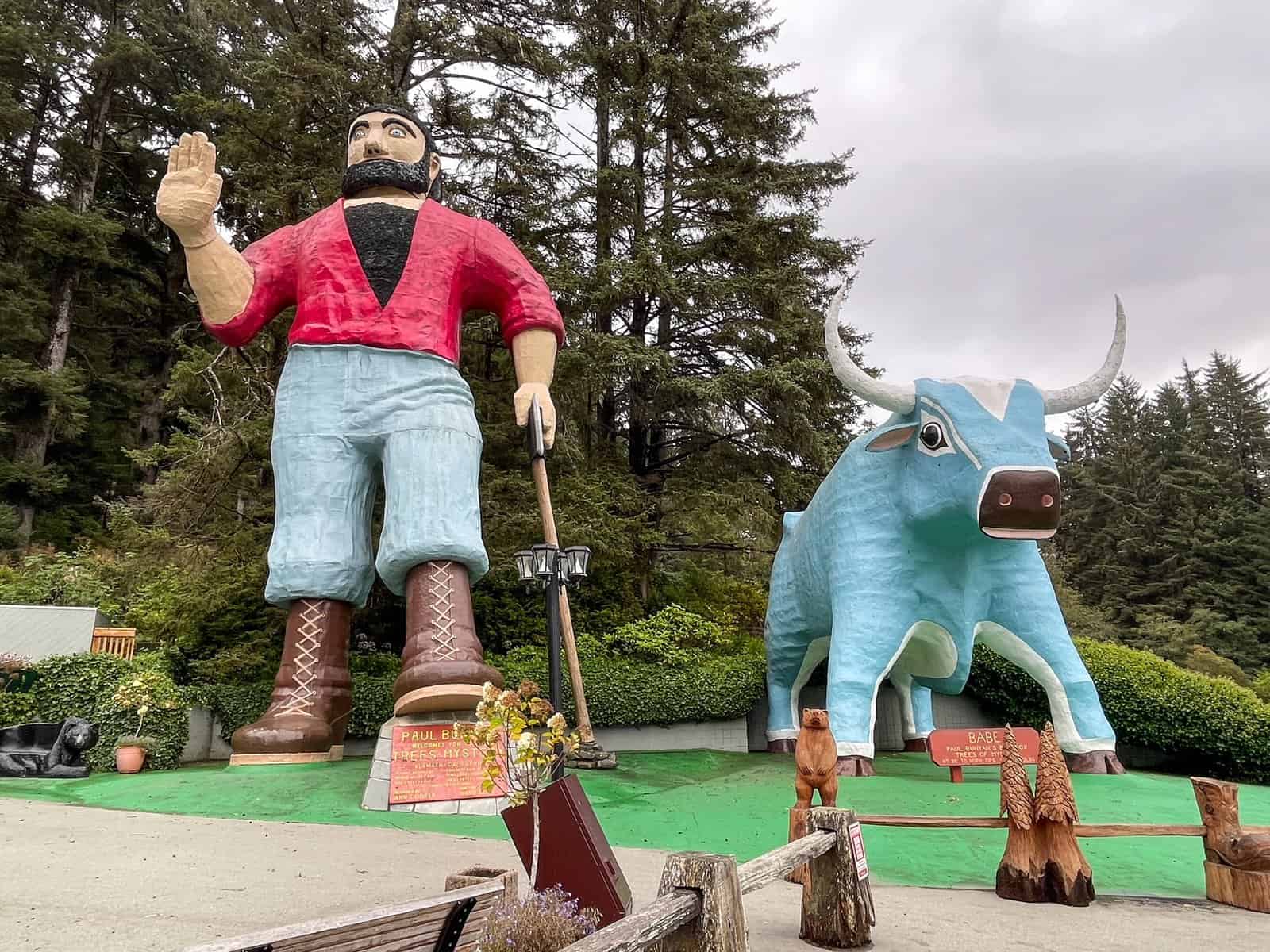 In many shows, animations, or statues, you never see Paul Bunyan without his trusted companion Babe the Blue Ox.
With his ax in hand, Paul Bunyan (49 feet tall) and his sidekick Blue (35 feet tall) greet you to the Trees of Mystery!
As you enter, there is a museum and gift shop to visit but after purchasing a ticket, the mystery begins…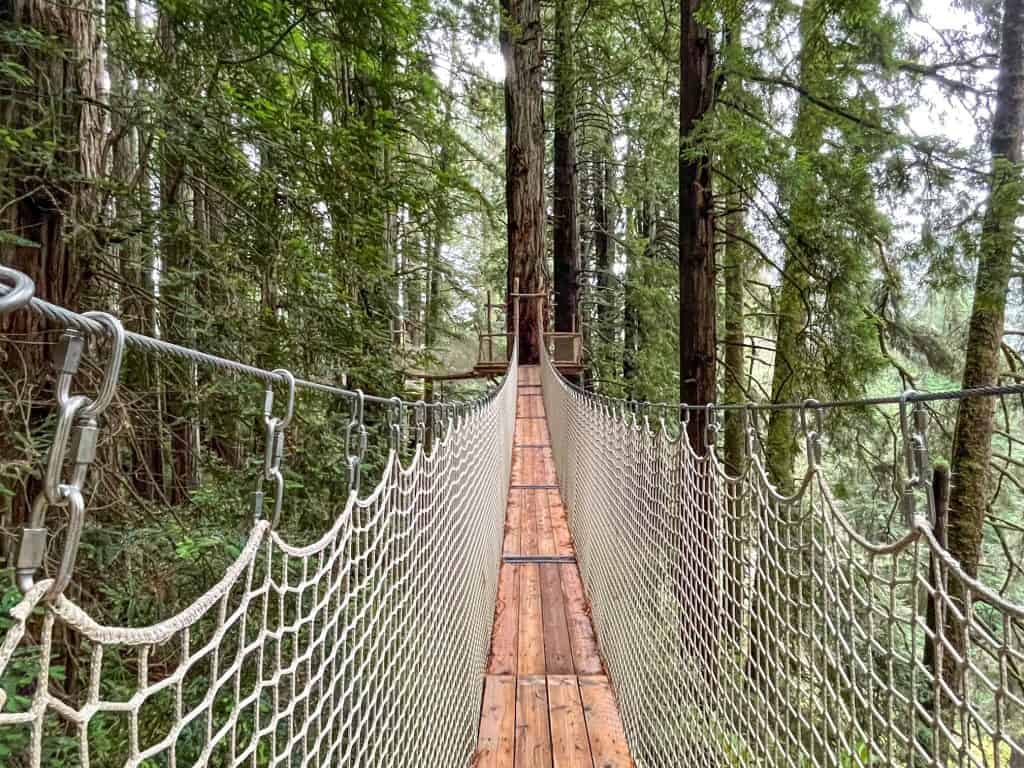 Well, it might not be so mysterious but it is an adventure to roam the twisting path along mighty tall redwoods and up to a small redwood skywalk.
Following the trail, there are signs providing tons of great info about the redwoods and notable things to see including famous redwoods in the park.
The trail has a gradual incline leading up and then stairs to access the Canopy Trail ranging from 50 to 100 feet above the ground.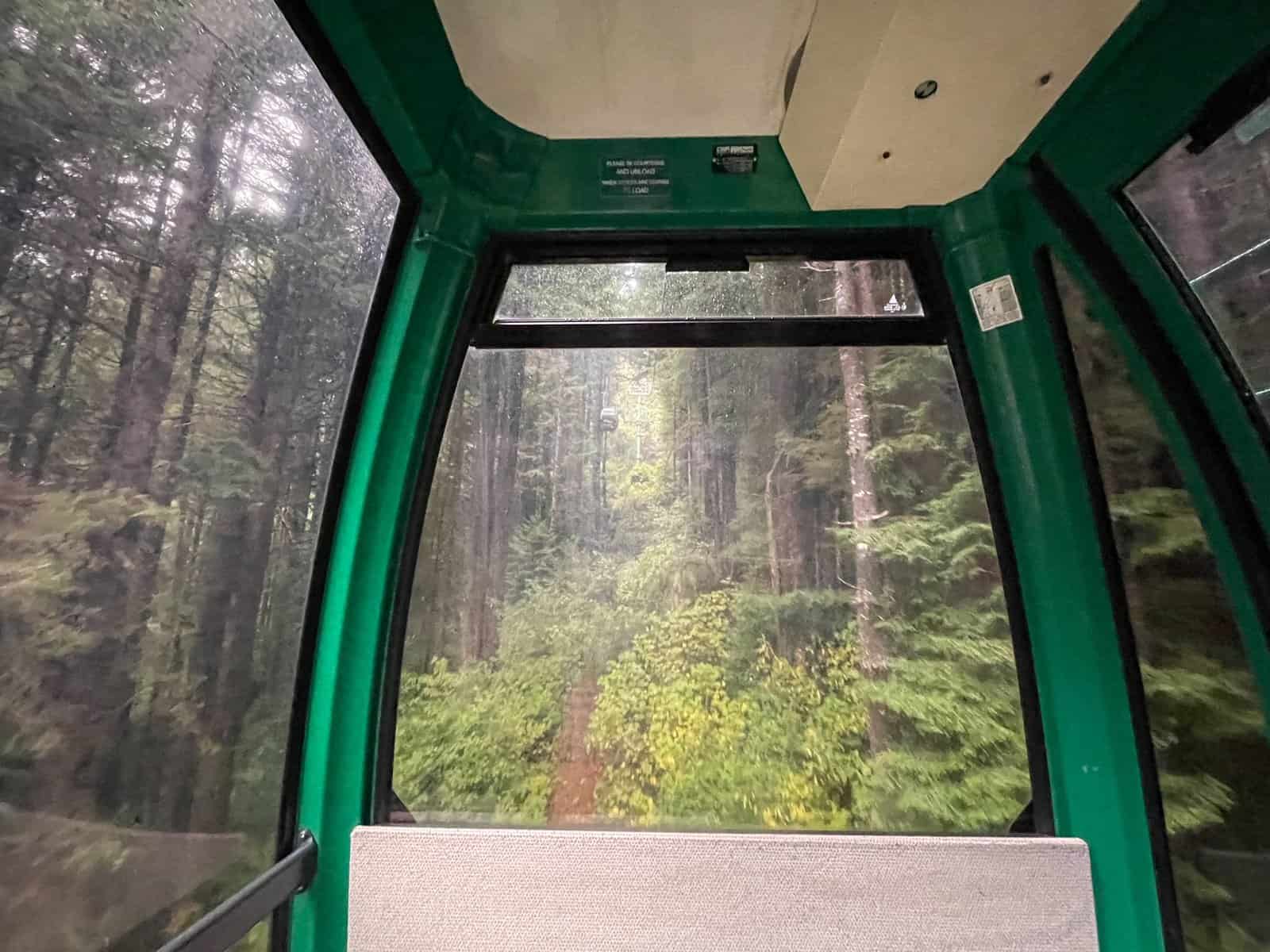 As you continue up the trail, you will reach the SkyTrail where you can't go any further on foot.
As the name implies, the SkyTrail will take you up, up, and away into the canopies of the redwoods via an enclosed gondola.
You really do feel like you are moving among the gigantic coastal redwoods near their canopies that delight in soaking up the fog and rain.
If it is a clear day, take in the epic ocean views before heading back down on the gondola!
Note: Dogs are allowed on a leash.
Hours: Open daily from 9:00 am to 5:00 pm but should enter no later than 3:30 pm to have enough time.
Time Spent: I enjoyed 1.75 hours visiting the Trees of Mystery but I could have spent longer if it wasn't closing. Can easily spend 2 – 3 hours if you include the museum too.
FAQ To Visiting The Redwoods In California
Where Can I Drive Through A Redwood Tree?
There are three places in Northern California where you can drive through a redwood tree. Each of these trees is on private land and does require a fee to enter.
It is quite a unique experience that you want to do at least once!
Leggett Drive-Thru Tree (Chandelier Tree)
Shrine Drive-Thru Tree (Avenue of the Giants)
Klamath Tree (near the top portion of Prairie Creek near Klamath)
Best Time To Visit The Redwoods In California
The good news is that the giant coastal redwoods of California can be seen year-round due to mild coastal temperatures.
The key to visiting Northern California any time of the year is to dress in layers!
Although the winter months will be colder and rainy, you can expect temperatures to range from 43 F to 77 F.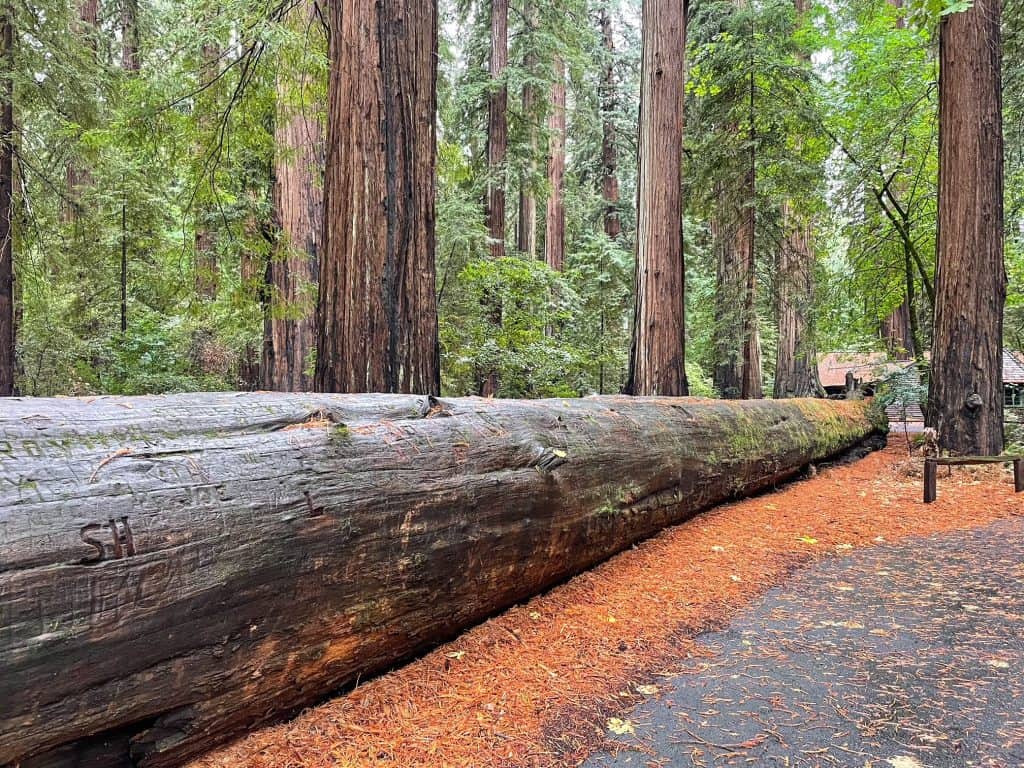 In the spring through fall months the temperatures range from 43 F to 82 F. The main difference between winter and the rest of the year is rain and fog.
There may be temporary road closures due to large storms in the winter but that is rare.
For ideal temperatures and mild if any rain, the best time to visit the redwoods is from May to October.
Best Places To Eat
The best areas to grab a bite to eat will be in the towns of Miranda, Ferndale, Eureka, Arcata, and Trinidad.
There isn't much of anything in between these towns so pack snacks and lunch if you are out for the day.
Redwood Palace (Miranda) – excellent food and wine bar that I ate at two nights in a row.
Tuyas (Ferndale) – Mexican cuisine
Ferndale Pizza Co. (Ferndale) – Great pizza
Café Brio (Arcata) – Breakfast and lunch spot with delicious food and pastries.
Renata's Creperie (Arcata) – Serving both savory and sweet crepes!
Moonstone Grill (Trinidad) – Great seafood with an incredible ocean view.
Seascape Restaurant (Trinidad) – Seafood restaurant at the base of the Trinidad Pier.
Larrupin Café (Trinidad) – Traditional American cuisine
Where Can I Camp Among The Redwoods?
The top campgrounds to rest your head underneath the magnificent redwoods are:
Richardson Grove State Park
There are three options for camping in Richardson Grove, with campsites at Huckleberry, Madrone, and Oak Flat campgrounds.
Open: From Memorial Day weekend to either Labor Day or the end of September.
Avenue of the Giants
The best options for camping along the Avenue of the Giants are the Burlington Campground (next to Visitor Center) and Hidden Springs Campground.
Open: Burlington Campground is open year-round but Hidden Springs from Memorial Day through Labor Day weekend.
Prairie Creek Redwoods State Park
The two best campgrounds within Prairie Creek are Elk Prairie Campground and Gold Bluffs Beach Campground.
Open: All year long.
To book a campsite at any of the above options, go to Reserve California.
What Is The Difference Between A Redwood And A Sequoia Tree?
Many people even Californians get confused as to the difference between Coastal Redwoods and Sequoias.
Both are a type of redwood tree and related but when in California and referencing a redwood, we are talking about the Coastal Redwoods. Sequoias are referenced as the Giant Sequoias.
They are both referred to as giants and the largest trees on the planet. But there are a few key differences…
The first is location. You will only see the giant redwoods along Northern California's coast and why they are referred to as the coastal redwoods.
Coastal redwoods are usually not found more than 50 miles inland as they need and thrive off the cooler temps coming off the ocean and the heavy fog.
Whereas the giant Sequoia trees are found in inland Northern California away from the ocean.
When looking at each tree, coastal redwoods are much taller with thinner trunks than sequoias. Now they are still girthy but not nearly as wide as a sequoia.
Sequoias are shorter and have wider trunks than the coastal redwoods.
Enjoy the adventure of exploring the giant redwoods in Northern California!
Get A PDF Of This Guide For Your Trip
For your convenience, you can download a copy of this guide for visiting the Giant Redwoods in California or print it to take with you. It includes pictures and links within the article. It's ad-free and handy for on the go.

Got Travel Insurance?
Don't leave home without travel insurance as you never know what might happen on a trip! It is always when you least expect it that something can go wrong like getting sick, in an accident or cancellation of some sort. Get a no-obligation quote from two trusted travel insurance companies for peace of mind on your next trip!
Looking For More Travel Inspiration?
23 Top Things To Do In Mendocino County For A Weekend Getaway
The Best Northern California Coastal Road Trip
The Epic California Big Sur Road Trip
17 Best Things To Do In Mammoth Lakes, California
Disclaimer: As an Amazon Associate and a participant of other affiliate programs, I may earn from qualifying purchases in this post. This means that if you make a purchase through one of these links, I might receive a commission at no extra cost to you. Thank you and it is greatly appreciated!