Disclaimer: Traveling Ness contains affiliate links and is a member of the Amazon Services LLC Associates Program. If you make a purchase using one of these links, I may receive compensation at no extra cost to you. See my privacy policy for more information.
45+ Awesome Gifts For Hikers & Adventurers
Need to find a special gift for that outdoor lover in your life? Finding the perfect hiking gift can be challenging as you want to find something they will love and use. I've put together the best gifts for hikers that will definitely put a smile on their face!
There are certain hiking essentials that you don't want to hike without as they can make or break your experience. Explore these awesome gift ideas for hikers and adventurers and maybe pick out something for yourself!
Any adventurer with these must-haves for hiking will be excited to dust of their boots and hit the trails… I have broken down the hiking gift guide by price ranges to make it easier for you. Happy shopping!
Tip: For useful tips on hiking, explore my post 15 Ultimate Solo Hiking Tips For Women.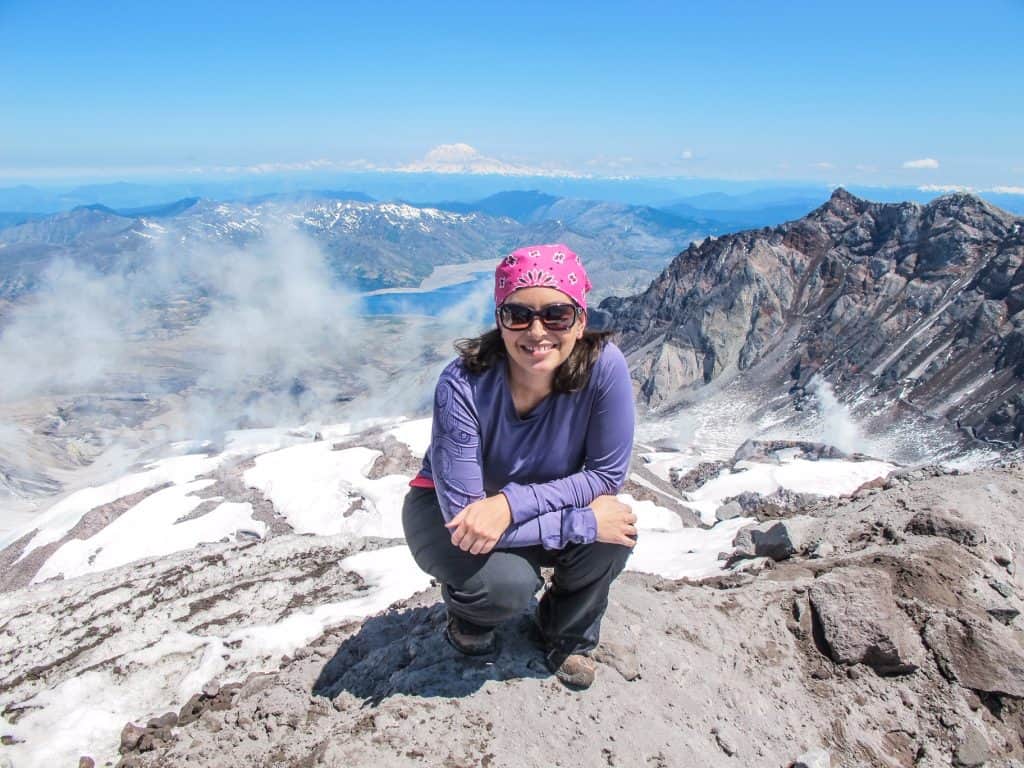 Gift Ideas For Hikers Under $25
1. Socks For Hiking
I'm sure that every hiker has gone on a hike and realized after, that they regret not wearing a good pair of socks designed for hiking. Wearing regular socks or even socks for running for example is a big no-no.
Wearing a high-quality pair of socks is essential for hiking and can really make for a better experience. The consequence of not having them is usually sore feet that have been rubbed in all the wrong places and likely blisters result.
Socks made for hiking will reduce friction and help prevent blisters from forming. They wick away moisture and have added cushioning in the heel and toe areas where rubbing can occur. The brands that stand out as being the best socks after trying many are Darn Tough Socks and Smartwool Socks.
[col-md-6]


[/col-md-6]
[col-md-6]


[/col-md-6]
2. Sock Liners
Even with wearing an awesome pair of socks, some hikers still get blisters from time to time. Wearing sock liners and a little bit of powder can give you another level of protection for your feet. So, if you or someone you know still finds issues, sock liners are a great gift in combination with a pair of socks above.
3. Good Instant Coffee
Most of the time you are starting a hike early and if you are anything like me, you need a little jolt of energy via some coffee before! Usually, there isn't a coffee shop around or maybe you are camping yet still want a quality cup of coffee to start your day.
There are many brands of instant coffee with most being hard to drink due to subpar flavor. This coffee brand is made with slow-roasted arabica beans from Colombia packaged in convenient single-use packets.
Created by a professional rock climber and outdoor enthusiast that wanted a better alternative than what was available. Just add hot or cold water and you have a great cup of coffee!
Going forward I will stash a few of these in my carryon for my next trip whether it is on a train, plane or hotel room as they are so convenient.
4. Outdoor Coffee Mug
Well, you are going to need a coffee mug to drink that yummy coffee above right? But bringing a ceramic mug on a hike or camping isn't really ideal. Having a sturdy mug that has an insulated sleeve like this outdoor mug is a plus.
It has a spill-proof lid and is extremely lightweight which won't weigh you down on a hike.
5. Hand And Toe Warmers
I have used these in every type of travel ranging from hiking to wandering the cities of Belgium in winter. When the temperatures are freezing, there isn't anything better than warming up with some hand and toe warmers.
Most of the time the hand warmers are enough to keep me warm tossing them into my jacket pockets or into my gloves. It is amazing how warm you stay with these little treasures!
They come in individual packets and are activated by the air when you open them up. These come in handy post-hike if you are camping and want to warm up a little too.
6. Microfiber towel
Having a towel is awesome in case you want to take a dip into a river or lake but carrying a bulky towel isn't. What I like about the microfiber towel is that it is light and doesn't take up a lot of space. Plus, it is fast drying and antibacterial!
7. Re-Sealable & Odorless Bags
Before spending about 3 weeks hiking up near Mammoth Lakes in California, I was aware of bears in the area and knew I wanted to protect my food and snacks. I bought these and they were awesome keeping out any odor of the food I was carrying.
These odorless bags are useful for hiking anywhere as they are reusable but even more important if you are hiking in an area where there are bears or other animals that might like a snack too. With these, they won't smell it!
8. Camping Seat Cushion
Having a seat cushion is a serious comfort when you have been hiking and need to take a break. I have used this seat cushion to sit down and enjoy a meal or after a hike back at camp. It beats sitting on the hard and sometimes freezing ground.
The nice thing is that there is no need to waste your breath on blowing it up as it self inflates for you. It packs down and rolls up into a small pouch that can be packed or attached to your backpack.
It can even be used if you want a comfier seat on a bench or bleachers as it has a non-slip base so you won't go sliding around!
9. Lip Balm
Whether you are hiking in freezing temps or hot dry weather, you don't want to leave home without a good lip balm. I've used various lip balms and chapsticks but most have a waxy film or don't soothe my dry lips well.
Although I love Burt Bees and Doterra lip balms, my new favorite is Naturistick as it works so well! An added benefit is that it is made of all-natural ingredients and leaves lips smooth and fully moisturized without a waxy film.
There are multiple flavors such as peppermint, mango, green tea, and vanilla that are awesome to wear. I got a peppermint lip balm from my doctor and I am now hooked on them!
10. Hand Soap
I know what you are thinking, how can hand soap be a cool gift? But what if you didn't have to lug a heavy bottle of liquid soap around with you? These small and compact hand soap sheets are awesome as you just add water and you have soap!
You can purchase both hand soap sheets and laundry soap sheets if you need to wash some clothing items. They take up hardly any space, you never have to worry about a bottle leaking all over your stuff and they are eco-friendly.
11. Snacks For Hikers
Snacks can really vary as far as personal tastes go but giving a hiker in your life a bag of snacks is a great gift. One snack that isn't necessarily the healthiest but I love is to freeze a snickers bar and take with me on a day hike.
For longer hikes or in addition is to bring along some fruit such as grapes or an apple, hard-boiled eggs with hummus, beef jerky, moon cheese, and dried fruit bars. My favorite protein bar is Cliff Bars but I do wish there was less sugar in them.
[col-md-4]


[/col-md-4]
[col-md-4]


[/col-md-4]
[col-md-4]


[/col-md-4]
12. Hydration Tablets
Many times, when hiking you are sweating out key electrolytes and drinking water isn't replenishing your body fast enough. Adding a hydration tablet to your bottle of water can hydrate you quicker giving you electrolytes you may have lost.
I used to carry Gatorade with me for the same purpose but I like how Nuun barely has any sugar at 1g.
13. Hat
Wearing a hat is one of the key hiking essentials you don't want to leave home without. It can help you stay cool and prevent getting a nasty sunburn. This Sun Hat provides UPF 50+ protection from the sun and has an adjustable drawstring so it won't fly away in the wind.
If it gets wet, no worries as it will dry fast and folds up so you can stash it in your backpack when you don't need it.
14. Weatherproof Notebook
At first glance, you might wonder why you would need to carry a waterproof notebook with you. Well, if you want to take notes of your hike or journal it is nice to have. Most of us would take notes on our phone but if you want to conserve the battery of your phone then using a notebook is useful.
15. Waterproof Matches
Having waterproof matches are convenient when camping but also good to carry out on a hike in case for some reason you get lost or don't make it back to camp in time. You will be able to make a fire to keep warm and as they are waterproof you don't need to worry about them getting wet!
16. Wet Wipes
I can't tell you how many hikes I have been on where I needed some wet wipes like these! Ever eaten a sticky peanut butter and jelly sandwich and had nowhere to wash your hands? Or wanted to wipe the sweat off your face?
These awesome Wipes are biodegradable, large, and thick to help you stay clean on the trail. You can use these wet wipes to wash your face, hands, remove makeup (ladies), and even when nature is calling…
17. Mosquito Wipes And Spray
If you or a hiker you know is planning to go hiking in an area where there are a lot of mosquitos and bugs, then these Mosquito Wipes and Spray are a lifesaver. These wipes are DEET free, are individually wrapped and no mess to using them.
There are no harsh chemicals as the main ingredient to defend against mosquitos are essential oils. Each wipe gives you about 4 hours of protection from those pesky bugs!
[col-md-6]


[/col-md-6]
[col-md-6]


[/col-md-6]
18. Books For Hiking Inspiration
For those that love to read, reading about one's adventure of climbing a mountain can be an inspiration to go for a hike. A book that I love is Wild by Cheryl Stayed who takes a personal journey as she hikes with no prior experience over 1,000 miles of the Pacific Crest Trail (PCT).
It is an amazing story of her inner transformation and the toughness it takes to walk the PCT alone. You will find yourself in tears, laughter, and inspired to take on your own adventure. The PCT runs from Mexico up the west coast of California, Oregon, and Washington to Canada.
Another book that is next on my reading list is Walk In The Woods by Bill Bryson. I'm pretty sure I will love it as I found his other book In A Sunburned Country extremely entertaining. His book Walk In The Woods is about his experience attempting to hike 2,100 miles of the Appalachian Trail or AT which is equivalent to the PCT but on the east coast of the U.S.
Both of these hikes are the most difficult hike that a hiker can take on in the United States. Bill takes on this journey with his out of shape friend as they find humor in every person or situation they encounter on the trail.
Tip: If you want to get a gift centered around travel books then consider getting The Wordy Traveler box and get 3 books, an organic tea, and print art from a different location of the world!
19. Whistle
A whistle is a great way to alert others of your location if you are lost or injured. It can also be a great deterrent to any animals that might be near such as bears or mountain lions. This emergency whistle is loud and comes on a lanyard that you can wear around your neck.
20. Gloves
If the weather is cold, keep your hands warm with gloves that are thin, insulated, windproof, and waterproof. They even have touchscreen fingers to access your phone so that you don't need to take them off.
This pair of women's gloves will keep your hands cozy and dry while you hike, run or cycle in the cold.
Gift Ideas For Hikers Under $25 – $50
21. Buff
In times where you want to keep your neck, face, and/or your ears warm, wearing a buff can add that extra comfort. There are several ways to wear it depending on where you want to shield the most. With merino wool, it will wick away moisture and is odor resistant.
22. Blister Relief
As I mentioned above under awesome socks for hiking, getting a blister can really ruin an exciting adventure. Sometimes before you realize it, a blister has formed, and yet you have miles to go. The first time I used these skin squares another hiker gave me, boy was I grateful to put them on the trouble spots.
23. Medical Kit
Giving someone a medical kit as a gift might not be fun or sexy but it sure will come in useful! This Adventure Medical Kit has 67 pieces to take care of most general issues that might need first aid such as cuts, burns, stings, and more.
They have a smaller kit if you will strictly be using on day hikes. But if you do a lot of hiking, it wouldn't hurt to have both on hand for any distance you trek.
24. Portable Power Bank
I can't tell you how many times my phone or kindle were about to die on me while traveling and this portable powerbank charger saved the day! It is a small portable charger that once fully charged can charge a few devices.
I have used it out on a hike and pretty much everywhere I go as my phone battery doesn't last all day. It is peace of mind knowing you have a backup charge if you need it.
25. Small Dry Bag
I originally started using a dry bag for when I go scuba diving to protect my things from getting wet on the boat. But now I love carrying a smaller one with me to protect my phone and camera just in case my backpack gets rained on or it accidentally takes a fall into a lake.
26. Reusable Water Bottle
A reusable water bottle is important as it reduces the waste of drinking out of a plastic one. The Yeti Rambler, is nice for taking on a hike as it will keep your water cold all day.
For short a hike, this might be enough water but for longer hikes, I also bring along an Osprey bladder pouch to ensure good hydration.
And if you know you won't have access to clean water then the Grayl Ultralight Water Purifier or this Nalgene Travel Bottle which purifies as you drink are the best.
[col-md-6]


[/col-md-6]
[col-md-6]


[/col-md-6]
Tip: If you are looking for an in-depth guide to the best filtered water bottles including the two above, read 7 Best Filtered Water Bottles For Travel And Hiking!
27. Headlamp
A headlamp is one of those items that goes with me on every type of trip as you never know when you will need a light. When hiking it is necessary to have if you are starting a hike before the sun comes up or taking longer than you thought and heading back after the sun goes down.
It keeps your hands free and is nice to have back at camp too. Much better than having to carry a flashlight with you.
28. Backpack Rain Cover
If you happen to hike in cold and wet areas then having a rain cover for your backpack is really nice. It's no fun if everything in your bag gets wet and soggy… Depending on the size, there is the smaller Rain Cover (10 – 35L) or larger Raincover (30L – 110L).
[col-md-6]


[/col-md-6]
[col-md-6]


[/col-md-6]
29. Hiking Subscription Box
Not sure what to get an outdoor lover? No problem! Gifting this subscription box includes cool and useful products that any adventurer would love. Items include categories such as food/energy, gear, apparel, accessories, and more!
You can specify whether the gift is for a man or woman and choose from 1 to 12 months of subscription. How fun to receive a box of goodies that you can use on your next adventure. You can even specify what type of outdoor activity someone enjoys the most ranging from hiking, camping, skiing, cycling or surfing to name a few.
Gift Ideas For Hikers Under $50 – $100
30. Hammock
Whether on a day hike or one that spans several days, a hammock is a great way to give your feet a break and relax. Both of these hammocks are compact, light to carry, and easy to attach between two trees.
If you are a solo hiker then the solo Hammock (lighter than Double) is the right fit. If you are a couple then go for the larger double Hammock that is designed for two to comfortably lay in. Both of these hammocks don't come with straps so make sure you get them to have everything you need!
[col-md-4]


[/col-md-4]
[col-md-4]


[/col-md-4]
[col-md-4]


[/col-md-4]
31. Small Backpack
A backpack is near the top as part of your essential hiking gear as it is what carries everything with you. A good hiking backpack will have material to wick away sweat, mesh pockets, lightweight, and have straps to secure around your waist and chest.
It also has a sleeve for the Osprey bladder in #26 above that can slip into it perfectly. This 13L backpack is a great size for any day hike.
32. Large Backpack
If you plan to be hiking more than a day, then the larger 20 L backpack has all the same great features as the 13L but more room for the stuff you will need on longer treks.
33. Travel Tripod
How many times have you been hiking alone or with someone else and would love a photo but there is no one around to take it? That is the beauty of having a sturdy and light travel tripod that won't weigh you down too much.
The very cool thing about this awesome travel tripod is that the legs are flexible and can grip a tree branch, fence or any surface that is available. This makes it ideal when hiking out in nature where there is rarely a flat surface to put it on.
It weighs only 1.6 pounds, is 15 inches tall, and can easily be stuffed in a backpack.
34. National Parks Pass
For those that want to hit the open road and see a few or all of the National Parks in the United States, then getting an America Is Beautiful Pass is the perfect gift. It also includes national forests and monuments.
This annual pass allows you to visit gorgeous and stunning landscapes that are easily on a United States bucket list. If you just visit 2-3 parks, you will have gotten your money's worth and after that is a bonus!
35. Hiking Pants
When hiking, wearing a comfortable yet breathable pair of pants that doesn't feel heavy or cumbersome is huge! I have had several pairs of these hiking pants and they are one of my favorites. Plus, I think they are flattering!
Another pair that I love to wear hiking are these super-soft hiking pants that are great to move in. The material stretches as needed but doesn't lose its shape. And if I decide to dip my feet into the water, I can roll up the bottoms for capri length!
36. Tops For Hiking
A brand of shirts that I love for hiking is Columbia. This long-sleeved shirt looks nice yet is great to move and wicks away sweat. You can wear the sleeves long or roll them up. It comes in both solid colors or flannel print.
[col-md-6]


[/col-md-6]
[col-md-6]


[/col-md-6]
37. Leatherman Tool
Inevitably when you are on a hike or camping, something might break, need a little fix or maybe you just want to cut up an apple with cheese. That's where a this Leatherman comes in with 7 tools in 1 such as a knife, bottle opener, wire cutter, and bit driver.
Gift Ideas For Hikers Under $100+
38. Satellite Communicator
After a long hiking trip alone, a family member asked if I had a satellite communicator and I said no. He made me realize that it wasn't the smartest thing to hike without one and alone by myself! Let's just say I won't go on a hike without one again…
On most hikes, you will likely not have cell service or any way to communicate in the event that you fall or incur some kind of injury. With this satellite communicator, you can connect with others no matter where you are.
You can get weather updates, track your path to make sure you are on the right trail, share your location with others and it fits in your palm it is so small!
39. Rain Jacket
If you enjoy getting out for a hike no matter the weather or in a rainy location then having a durable, waterproof, and lightweight rain jacket is needed. This rain jacket has all of those features plus great ventilation, windproof and packs down small.
40. A Good Camera
This gift probably doesn't need much explaining but if you don't have a good camera, then get one! That is if you have a love for photography and want to capture magnificent landscapes on various hikes.
Many people rather use the camera on their phones and they do take great shots. But if you want to elevate your photos then this Canon camera is a very great camera to capture your hikes on.
41. GoPro Hero
For any outdoor adventure where you want to capture a video of your experience, a GoPro is a great way to do it. You can also take photos with it, not worry if it gets wet, and use different types of attachments to make using it easier all with great video quality.
42. Trekking Poles
Having a pair of trekking poles is a must on any hike that has a more difficult terrain, many rocks, or a creek to cross. The first hike that I used trekking poles on was hiking up Mt. St. Helens in Washington State and they were vital.
The mountain was covered in either snow, ice, or ash so it was challenging and wouldn't have been possible without the poles! This pair of Trekking Poles keep your hands cushioned, durable, and fold up into 3 sections to pack when not in use.
43. A Jacket
Staying warm yet being able to move and ventilate is key when out on a hike. I love this jacket as it has kept me warm, is comfortable, and doesn't take a lot of room when rolled up.
44. Hiking Boots
In line with having good socks, wearing an excellent fitting and comfortable hiking boot is a requirement! The comfort of your feet will determine whether you love or hate the hike you are on…
This pair of Keen's Hiking Boots for women are an excellent choice as they have good traction, are waterproof, and don't require much breaking in.
45. Backpacking Stove
If you want to be able to make some instant coffee, oatmeal, or cook a meal, being able to heat up water or food quickly is really nice. This mini Backpacking Stove is super-efficient and only adds 14.6 ounces to your pack.
46. Amazon Gift Card
And if for some reason none of these great hiking gifts appeal to you, you can always give that special someone an Amazon gift card so they can pick something out for themselves. Or in addition to one of these fun gifts!
47. REI Gift Card
If you or someone you are giving a gift to prefers to shop at REI for all their outdoor and adventure items then consider an REI Gift Card! That way they can get all the hiking and camping gear they want but might not ask for.
48. Travel Insurance
If you or someone you know is going on a trip, there is no better reassurance than knowing you are covered for accidents, illness or cancellations that are unexpected. Get a no-obligation World Nomads travel insurance quote today for peace of mind!
Looking For More Travel Inspiration?
15 Ultimate Solo Hiking Tips For Women
7 Best Filtered Water Bottles For Travel And Hiking
21 Epic Hikes In Mammoth Lakes
The Best Ways To See Yosemite In The Fall
The Best Ways To View The Hollywood Sign
15 Best Things To Do In Santa Fe, New Mexico
Disclaimer: As an Amazon Associate and a participant of other affiliate programs, I may earn from qualifying purchases in this post. This means that if you make a purchase through one of these links, I might receive a commission at no extra cost to you. Thank you and it is greatly appreciated!