Disclaimer: Traveling Ness contains affiliate links and is a member of the Amazon Services LLC Associates Program. If you make a purchase using one of these links, I may receive compensation at no extra cost to you. See my privacy policy for more information.
Ultimate Guide To Visiting Noccalula Falls Park in Alabama
Noccalula Falls not only has an astonishing beauty but a fascinating legend behind its name! There are ways to view Noccalula Falls both from inside and outside of Noccalula Falls Park.
Many may wonder if it is worth paying the small fee to enter via the park. I do think it is worth it, so follow along to find out why!
In this guide, I will provide all the info you need to visit and the best ways to view the spectacular 90-foot Noccalula Falls!
Tip: If you want to know where to find other magnificent waterfalls nearby, explore 7 Amazing Waterfalls In Alabama That Will Take Your Breath Away!
Where Is Noccalula Falls?
Noccalula Falls is in Northern Alabama in the town of Gadsden, about 1 hour northeast of Birmingham. Or if you are staying in Huntsville, the drive would be 1.5 hours.
Noccalula Falls including several other top waterfalls in Alabama are in the Northeast corner of the state close to both the Georgia and Tennessee borders.
This entire region has lush forests, lakes, and rivers that make it an awesome spot to spend time in nature!
Because of their close proximity, you could even make it a day trip from either Atlanta, Georgia (2 hrs) or Chattanooga, Tennessee (1.5 hrs).
How To Get To Noccalula Falls
Since you can get to Noccalula Falls Park from several large cities in every direction, it is pretty easy to access.
I drove from Birmingham, Alabama but no matter what city your starting point is, plug in the address listed below. This address will get you to Noccalula Falls Park.
If after reading this post you decide not to pay to enter the park, you can drive past Noccalula Falls Park and park in the lot near Jack's fast food.
Noccalula Falls Park Address: 1500 Noccalula Road, Gadsden, Alabama 35904
Best Time To Visit Noccalula Falls
Due to its easy access, you can visit Noccalula Falls in any season but the prime time to see the falls would be spring, fall, and winter.
That is when you will have the highest water flow and viewing Noccalula Falls at its best. I visited at the end of June and it was perfect.
There was still plenty of water flowing but as summer progresses, there will be less and less water. In the spring and early summer, everything will be super green and lush.
And no matter the season, it is always best to go after it rains to see more water flowing.
Note: These photos are from late June to give you a reference of what the falls look like in early summer. Although if it is an unusually hot start to summer then there would be less water.
Where To Stay
If you are looking to visit Noccalula Falls on a day trip, it is best to see the falls coming from either Birmingham or Huntsville. Here are a few options for both cities to base your trip out of.
Birmingham
Elyton Hotel, Autograph Collection – in downtown Birmingham
Courtyard by Marriott Birmingham Homewood – in a great neighborhood south of downtown.
Grand Bohemian Hotel Mountain Brook – next to the Botanical Gardens and the Zoo.
Redmont Hotel Birmingham, Curio Collection
Huntsville
AC Hotel by Marriott Huntsville Downtown
106 Jefferson Huntsville Curio Collection, Hilton
Embassy Suites by Hilton Huntsville
If you would rather stay minutes away from Noccalula Falls Park then there are a few options in the town of:
Gadsden
Noccalula Falls Campground
If camping is more your style, then you are in luck as there is a campground at Noccalula Falls Park!
The campground has 126 campsites with about 75 that have a full hook-up option. Tents, campers, and trailers are welcome with a maximum length of 25 feet or 40 feet depending on the site.
Other than a beautiful setting near Noccalula Falls, the campground has showers, electricity, picnic tables, fire pits, a swimming pool, a laundromat, a lake, and wifi!
For more info and to book a campsite, visit their website here.
Noccalula Falls Story
There is something about a love story tied with history that makes a place more intriguing to visit. Whether or not it is completely accurate or not, it still adds a bit of mystery…
In this case, it is about a story of love or rather about not getting to love the one you choose. Originally way back when, Noccalula Falls was called Black Creek Falls.
The legend goes that princess Noccalula, the daughter of a Chief Cherokee Indian was determined to have his daughter marry a wealthy chief of another village.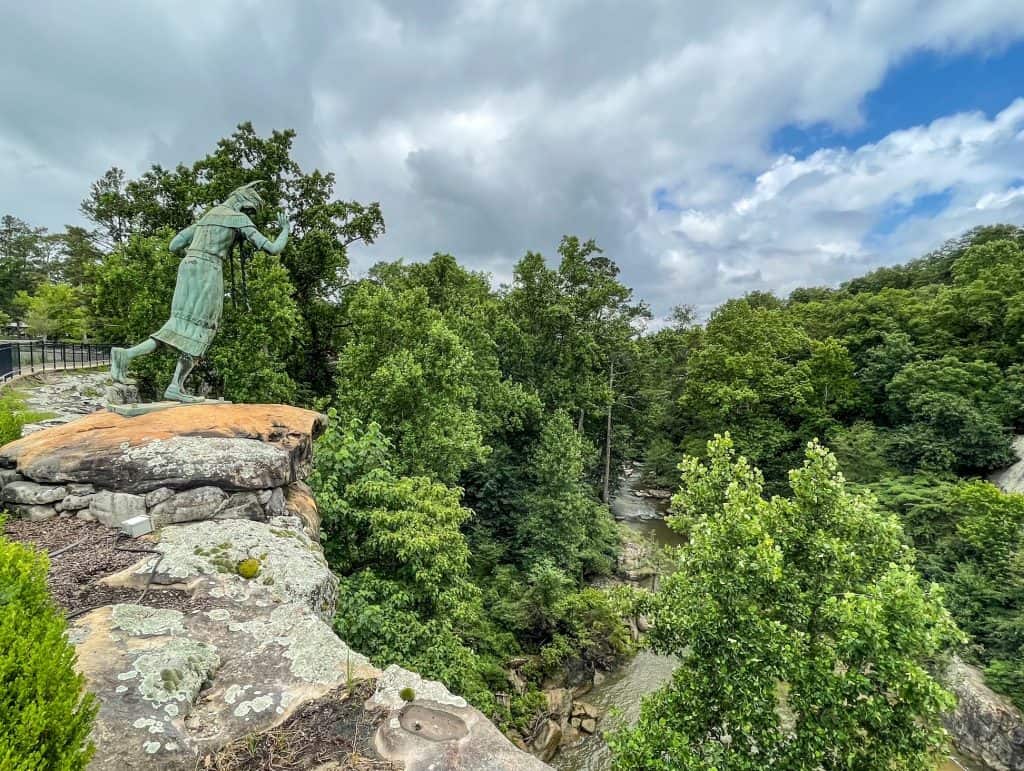 But Noccalula's heart was in love with a strong warrior from her own village. That was not what her father wanted for her or had already arranged.
Her father forbid her to marry the warrior she loved. In a drastic response to her father's decision and with a broken heart, Noccalula jumped off at the top of the falls on what was supposed to be her wedding day.
With great sadness, her father renamed the falls to Noccalula Falls in remembrance of her. Today, there is a statue in the exact place she was supposed to have jumped to her death.
Tips For Viewing Noccalula Falls Park
The best time to see the most water flow is spring, late fall, and winter.
Bring lunch and snacks in a travel cooler that is great for a day trip and have a picnic!
Use this handy seating pad to sit and enjoy nature wherever you are.
Make sure to bring shoes that are made for walking and function well in wet and muddy terrain.
This awesome backpack is not only weatherproof but great for travel or day use!
Bring a map or download one before you go as cell service is spotty.
Make sure to bring plenty of water to drink or carry a filtered water bottle that you can fill up!
During the summer months, be prepared to ward off pesky mosquitoes with mosquito spray or wipes.
Watch your step when walking along the trail to avoid twisting an ankle or worse!
No swimming is allowed at Noccalula Falls, unfortunately.
Keep away from the edge of any waterfall or cliff as no photo is worth an accident.
To capture great video or photos without worrying about it getting wet, bring a GoPro!
Please take your trash with you and leave any area as untouched as you arrived.
If you want more stability walking on the trail or on the slippery rocks consider using trekking poles.
Use the AllTrails app to help with navigating any of the trails mentioned.
Dogs are allowed on a leash outside of Noccalula Falls Park but not inside!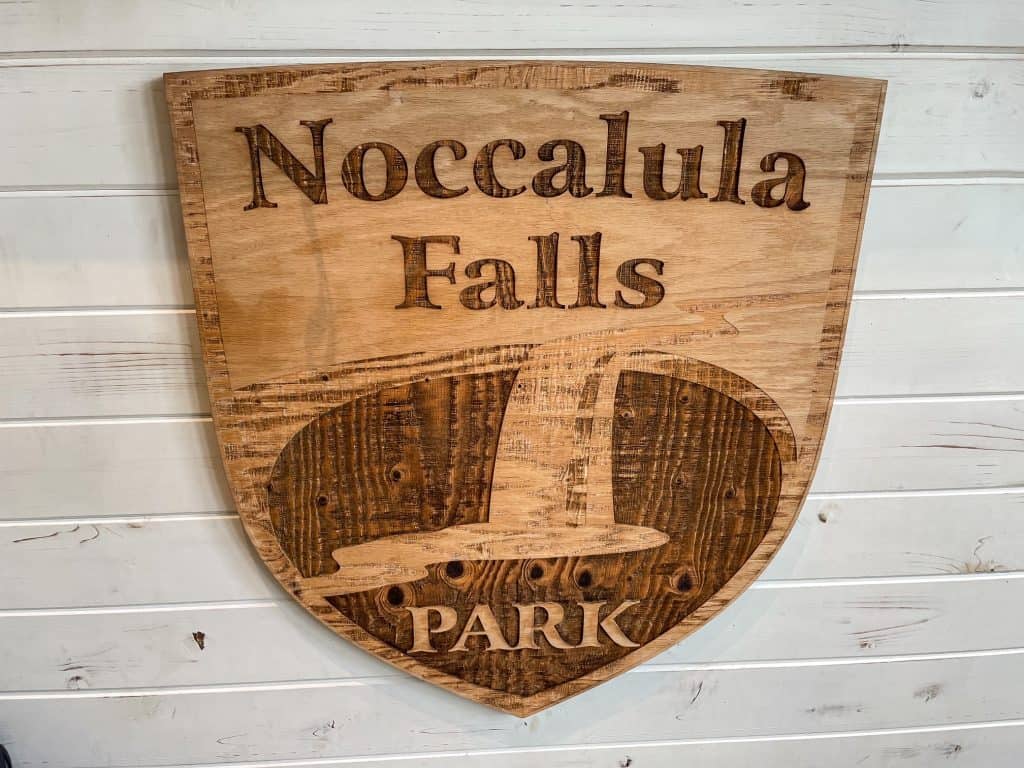 Noccalula Falls Park
Noccalula Falls Park is a 250-acre public park that encompasses the Falls Park and the campground mentioned above.
There is a fee of $6.00 for adults and $4.00 for kids (4-12) to enter Noccalula Falls Park but I think it is worth it.
There are several attractions inside of the park for both kids and adults plus giving you access to the Gorge Trail that leads to the base of Noccalula Falls.
Once you enter the park you will be in the gift shop where you buy your ticket, with access to restrooms, and grab a map of the park.
You can explore the park on foot or take a mini-train ride to get to further points of the park. There are 3 stops where you can catch the train ride as it makes a loop inside the park. The main stop can be seen as you exit the gift shop.
I chose to walk through the park admiring the beautiful grounds, the Pioneer Village, and Botanic Gardens.
But after I hiked down to the waterfall, I was very hot and tired and decided the mini train looked pretty nice to hitch a ride on back up to the entrance!
There is even a petting zoo, animal corral, and playground for kids to enjoy too.
Note: Although you can visit the top of Noccalula Falls any time of the year, Noccalula Falls Park is only open from March through the end of October.
It is open only on the weekends in November and December but near Christmas, they have special hours so check the Noccalula Falls Park site for current info. The park is closed in January and February.
Address: 1500 Noccalula Falls Road, Gadsden, Alabama 35904
Noccalula Falls Trail
There are numerous trails in this area but there are two main trails that will get you to the base of Noccalula Falls and underneath it!
If you paid to enter Noccalula Falls Park, then make your way to the bottom of the park where the Gorge Trail begins.
From here it is only about 0.6-miles but after the paved portion ends it is dirt and/or mud the rest of the way. The beginning of this trail is steep going down and seriously got my heart rate up on the way back!
When you see the trail split, you can go down navigating over rocks to get to the water and look directly at Noccalula Falls. I did this and then backtracked to take the other split that goes up a little.
Taking the path up will lead you to go behind the falls. This portion is VERY wet, muddy, and slippery as you navigate around rocks.
No surprise as you will feel the mist of the waterfall spraying over you and well the ground everywhere… For this reason, take care to watch your step!
I was in complete awe standing behind the falls and underneath what looks like a huge open cave. The sight is truly breathtaking and a must if you can physically.
After I snapped out of my daze of gazing at this gorgeous waterfall, I made my way back the way I came and up through Noccalula Falls Park. But I could've continued on making a huge loop exiting at the campground.
The other trail option is Black Creek Trail (1.7-miles) and it begins in the campground parking lot. From the campground, walk along the wedding chapel and start the hike here.
You have the option to hike to the falls and back the way you came or make a loop. The loop combines with the Gorge Trail for a full 3-miles crossing over the creek using the suspension bridge.
Note: At the time I did this, I had some injuries and found the hike challenging but prior to these injuries I would classify it as moderate with the only difficulty being the slippery rocks near the falls.
Top Viewing Platform
If you are not interested in hiking to the base of the falls due to mobility issues or time, you can get a great view of it from the top!
The viewing platform at the top is past the entrance to Noccalula Falls Park and is FREE. If you continue past it and see Jack's (fast food drive-thru), then turn left after it.
There is a parking lot where you can get out and view the top of the falls and a semi-side view. This is a great option for those with little kids or in wheelchairs that can't hike the trail to the base.
At this viewing area, you can't miss the statue of Noccalula herself with a bed of flowers near a plaque that provides some info about her story.
There is also a footbridge and a small park where you can picnic if you want too!
Have a fantastic time seeing the falls at Noccalula Falls Park!
Got Travel Insurance?
Don't leave home without travel insurance as you never know what might happen on a trip! It is always when you least expect it that something can go wrong like getting sick, in an accident or cancellation of some sort.
And when out hiking or visiting waterfalls, a slip can quickly become a twisted ankle or possibly worse. Get a no-obligation quote from two trusted travel insurance companies for peace of mind on your next trip!
Looking For More Travel Inspiration?
7 Amazing Waterfalls In Alabama That Will Take Your Breath Away
17 Fun Things To Do In Orange Beach, Alabama On Your First Visit
15 Best Things To Do On Dauphin Island, Alabama
Perfect 3 Day Weekend In San Antonio Itinerary For First Timer's
7 Best Filtered Water Bottles For Travel And Hiking
15 Ultimate Solo Hiking Tips For Women
Disclaimer: As an Amazon Associate and a participant of other affiliate programs, I may earn from qualifying purchases in this post. This means that if you make a purchase through one of these links, I might receive a commission at no extra cost to you. Thank you and it is greatly appreciated!