Disclaimer: Traveling Ness contains affiliate links and is a member of the Amazon Services LLC Associates Program. If you make a purchase using one of these links, I may receive compensation at no extra cost to you. See my privacy policy for more information.
How To Spend The Best Weekend In Albuquerque
Albuquerque is located in New Mexico's high desert or "The Land of Enchantment" for its gorgeous landscapes and outstanding food. Spending a weekend in Albuquerque is perfect to explore its unique history, culture, and outdoors.
Although there are many things to do in Albuquerque, it is best known for the International Balloon Festival and spicy Hatch Green Chiles that are intertwined into the essence of life here.
From the Old Town to the Sandia Mountains and to seeing downtown from up in the sky in a balloon, Albuquerque is a city to experience.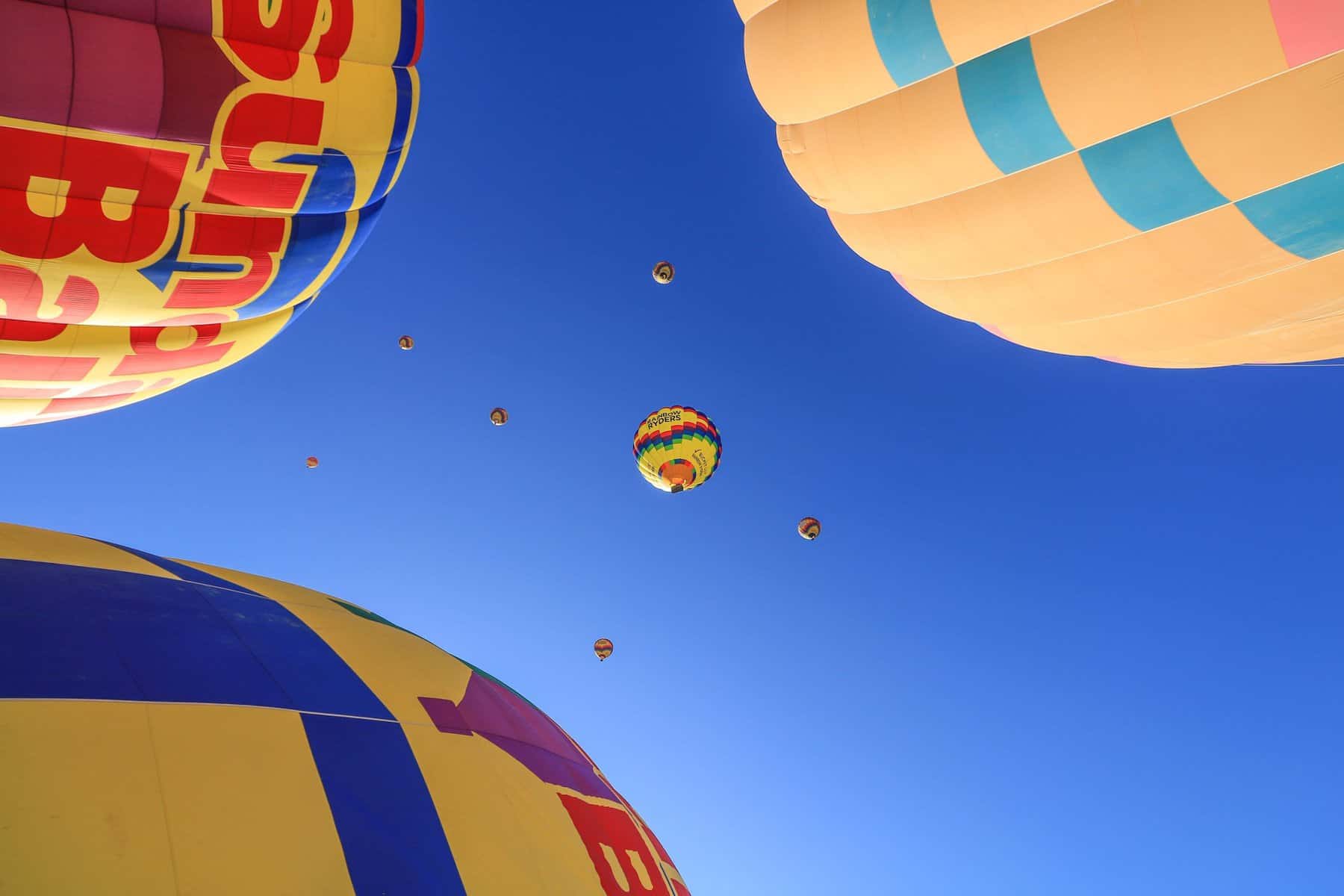 Other than the balloon festival, I hadn't heard many positive things about Albuquerque but I was pleasantly surprised that I enjoyed it more than I thought. Santa Fe does get more attention overall for good reason but don't dismiss all the great Albuquerque attractions to see!
If you plan to visit during the International Balloon Festival then I would add another 3 days. That way you have a few days to attend the festival and in between, you can take a drive up to Santa Fe or nearby attractions. For more info on visiting Santa Fe, read my post here.
Note: For day trips that can be done from either Albuquerque or Santa Fe, take a look at my post, 7 Unique Day Trips From Santa Fe.
If you plan to attend the Balloon Festival, read my post The Ultimate Guide To The Albuquerque Balloon Festival to have the best time!
Or if you plan to drive to southern New Mexico don't miss out on exploring 11 Top Things To Do In White Sands National Park!
Hotels In Albuquerque
Doubletree Albuquerque – I stayed here and as with all Hilton properties I thought it was very nice and perfect for my stay. Plus located downtown close to all major attractions.
Los Poblanos Historic Inn – On my next visit to Albuquerque I would very much like to stay at the tranquil and historic inn. Read more about it below under day 2.
Hotel Parq Central – This is another hotel that I would recommend as it looked very nice and as a bonus, it has a rooftop bar!
Where Is Albuquerque?
Albuquerque is the largest city in New Mexico in what is referred to as the Southwest area of the United States.
It is surrounded by the states Arizona, Colorado, and Texas. On the bottom of the state, it is bordered by the country of Mexico.
And no, New Mexico is NOT part of Mexico although many get confused due to its close proximity.
The city of Albuquerque sits on a large high desert plain with the Sandia Mountains on its eastern side and Rio Grande River on its western side.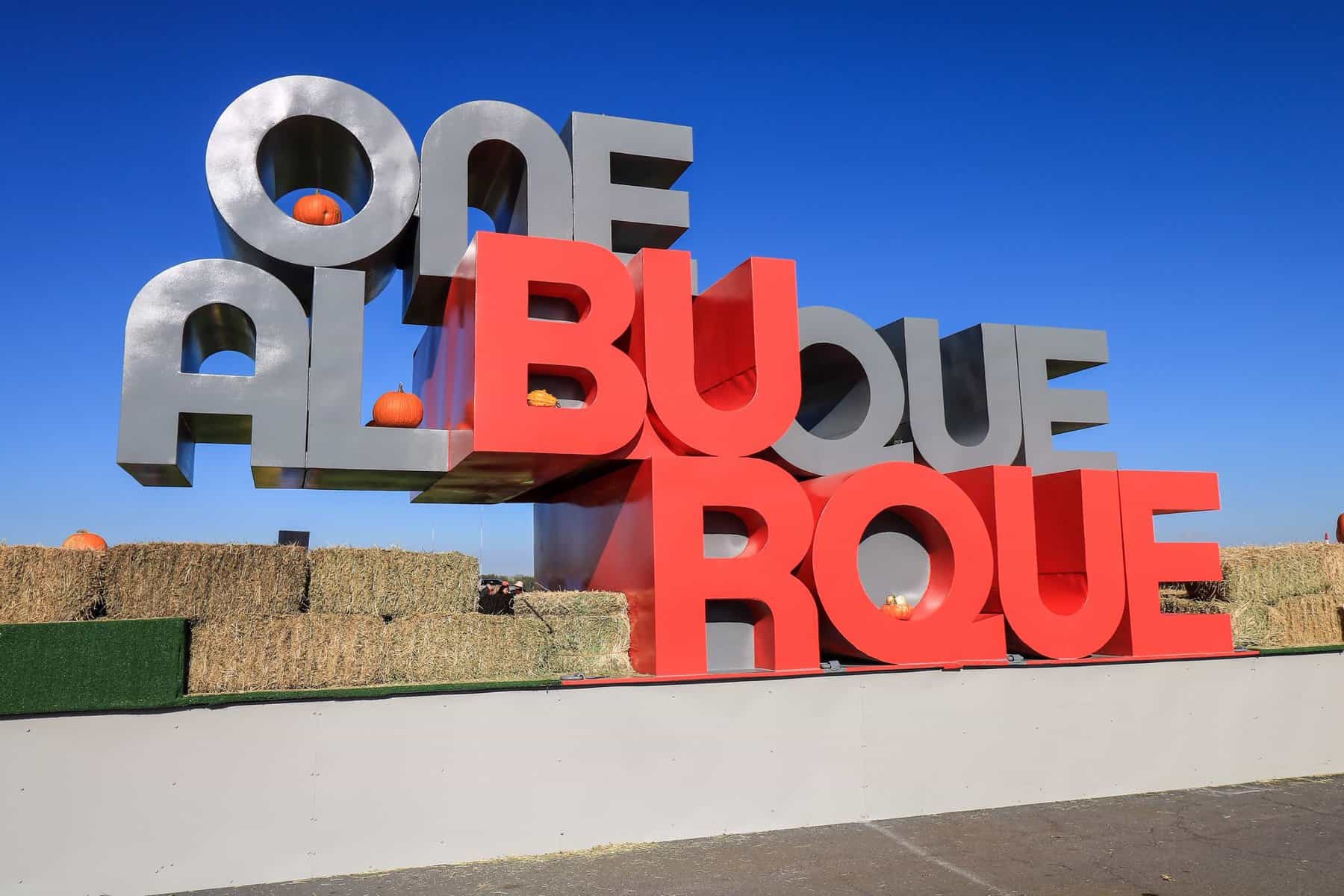 If you are flying into Albuquerque, you want to book your flight into Albuquerque International Sunport (ABQ).
It is about a 10-minute drive from the airport to downtown and about 15-minutes to Old Town Albuquerque. Start planning your trip today and find the best flight deals!
Need a car rental? Explore the best car rental deals here and be ready for your trip!
Tips For Visiting Albuquerque
Albuquerque is considered the high desert at an altitude of 5,312 feet (1,619 meters) above sea level, so drink extra water and avoid intense exercise at first.
Try all things with green chile as where else are you going to get these scrumptious food options? I'm still craving green chile meals. I might need to take another trip just for this!
The best time to visit Albuquerque is in the spring, summer, and fall months but my favorite is in September and October. Overall, spring and fall have the best weather. As an added perk to visiting in the fall, the beginning of October is the International Balloon Festival!
No matter when you visit add to your buckelist and go on a hot air balloon ride!
I recommend getting a rental car as everything is pretty spread out and there are a number of awesome day trips to take.
If you happen to be out and about driving and see a sign for Las Vegas, no it's not the casino and bling-bling one you might be thinking of! I was extremely confused as to how it was that close! Apparently, New Mexico has its own…
The TV show Breaking Bad was filmed right here in Albuquerque and for die-hard fans, you can even take a tour of locations where it was filmed.
Best Things To Do In Albuquerque
Day 1 In Albuquerque
Take A Hot Air Balloon Ride
Going for a hot air balloon ride is a bucket list experience and a great way to kick off your weekend in Albuquerque. It is one of those once in a lifetime adventures that literally takes you to new heights! And without question one of the best things to do in Albuquerque.
Prior to my visit to New Mexico, I had never been up in a hot air balloon so I was ecstatic to finally check off this monumental bucket list item.
I attended the International Balloon Festival in early October and had booked months before going up in a balloon during the festival. The only balloon operator during the festival is with Rainbow Ryders and wow it was a memorable experience!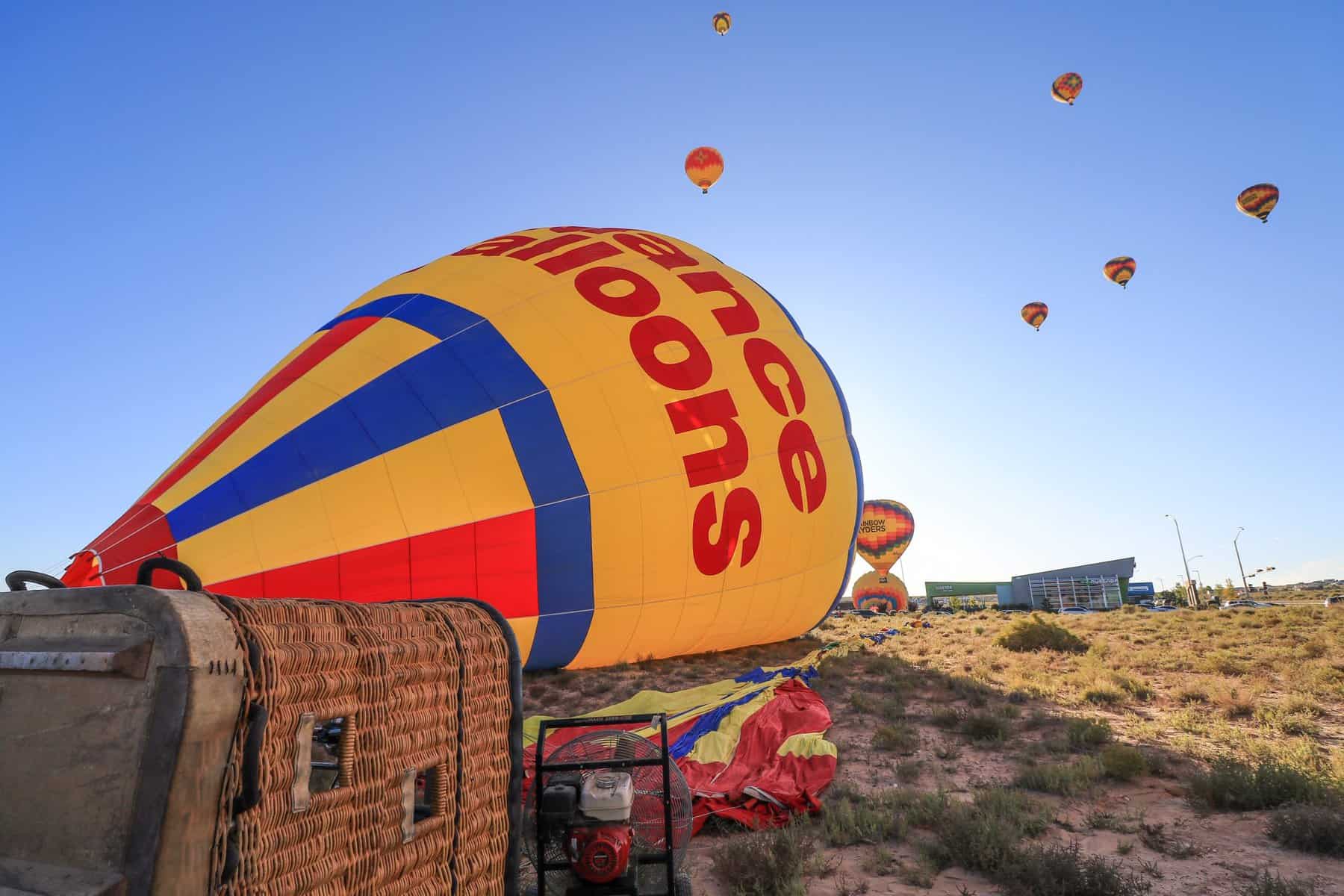 We got to go up with tons of other hot air balloons including the ones competing in the balloon festival. Before going up, it is fun to watch the pilot and his crew set up the balloon and basket.
It is fascinating to see up close how big the balloons are and the amount of heat to get these beauties up and away!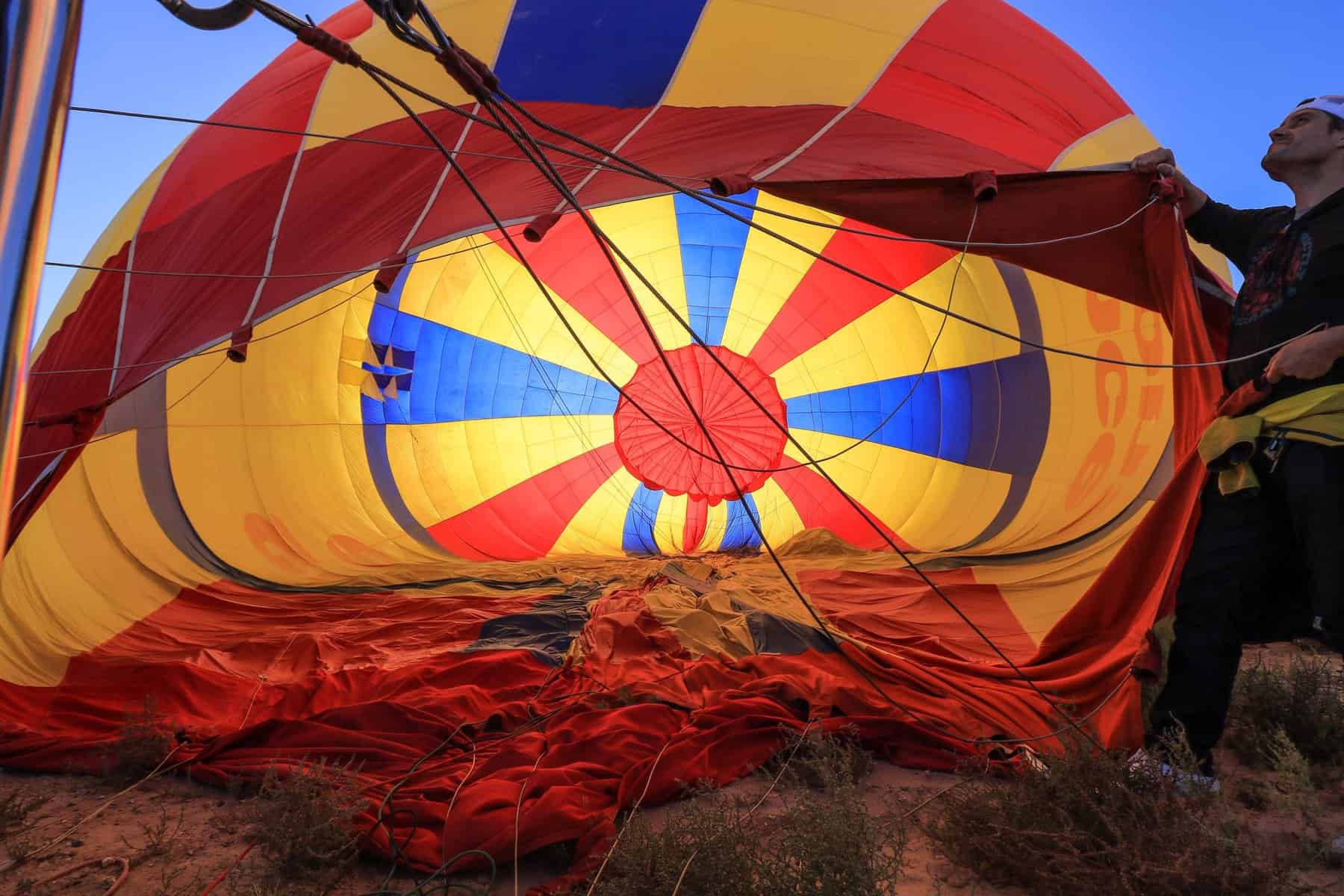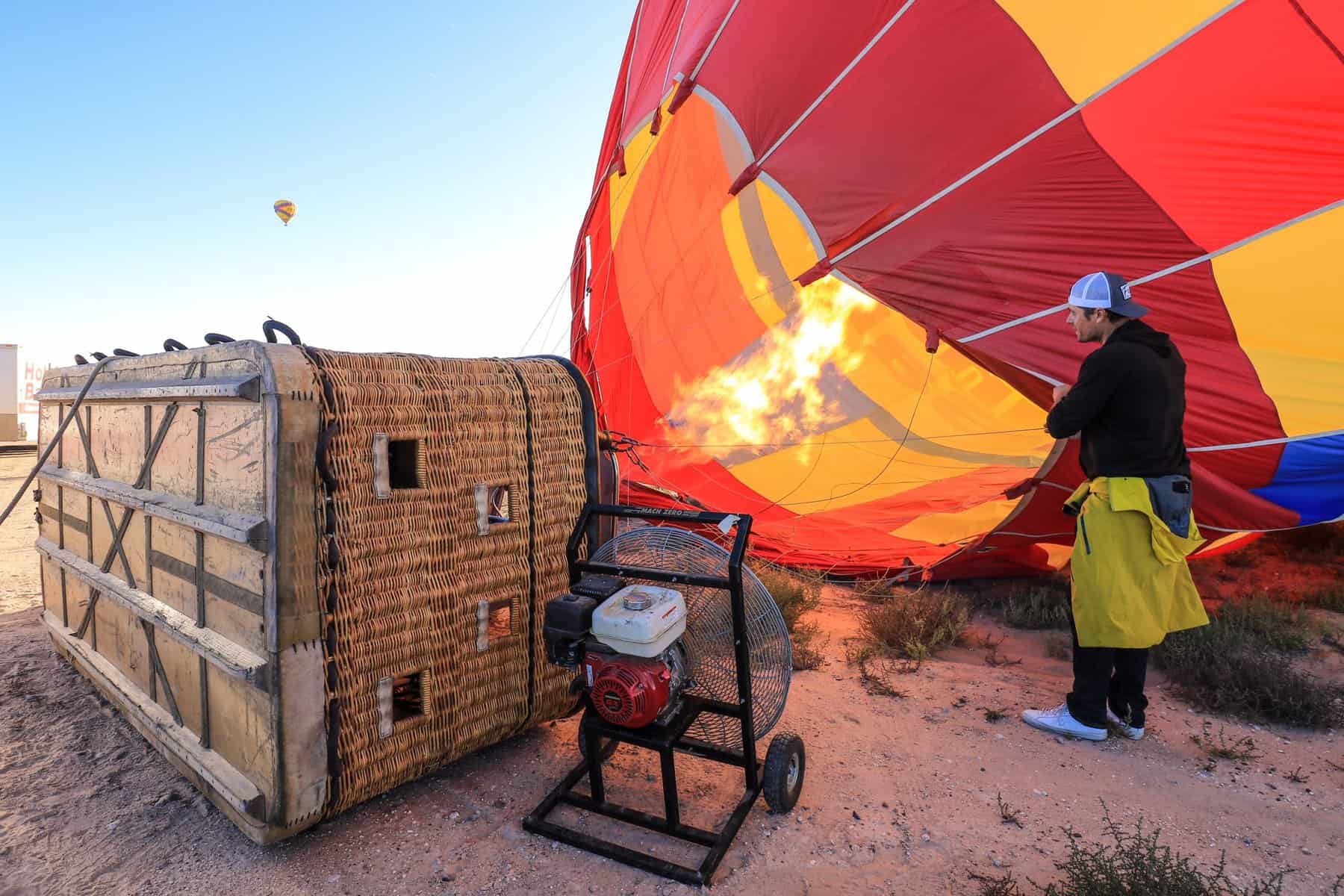 Now if you can't make it to the Balloon Fiesta in October, Albuquerque is still a prime spot to take a ride. I don't know the science behind it but the weather conditions in this area are extremely optimal for flying.
I am terrified of heights and was nervous about getting into the basket but once we were up it was strangely so calm and peaceful. And what I found odd was that you couldn't even feel it moving (which I like)!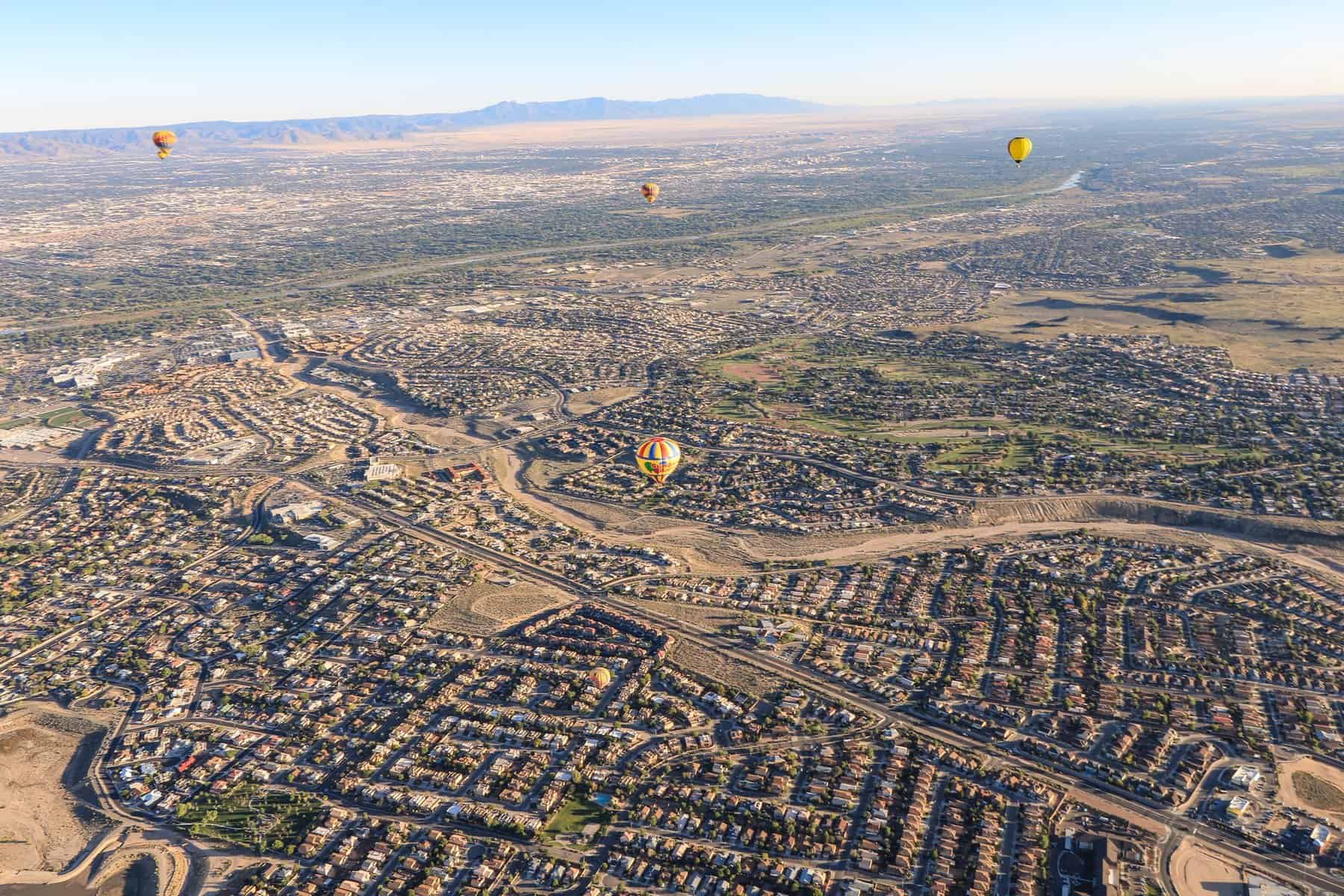 The only time it got noisy is when he would turn the torch on. The landing can be a bit bumpy but overall, I can't say enough wonderful things about my experience with Rainbow Ryders!
Albuquerque Balloon Museum
Even if the Balloon Festival isn't happening, don't miss out on visiting the Albuquerque Balloon Museum.
The museum is right up against the field where the Balloon Festival takes place and is open year-round. The museum features an incredible review of the history of ballooning worldwide.
It is amazing how people risked their lives to test and push the boundaries of science and flight over the years. I also never realized that there are different types of ballooning, not all powered by hot air that most are familiar with.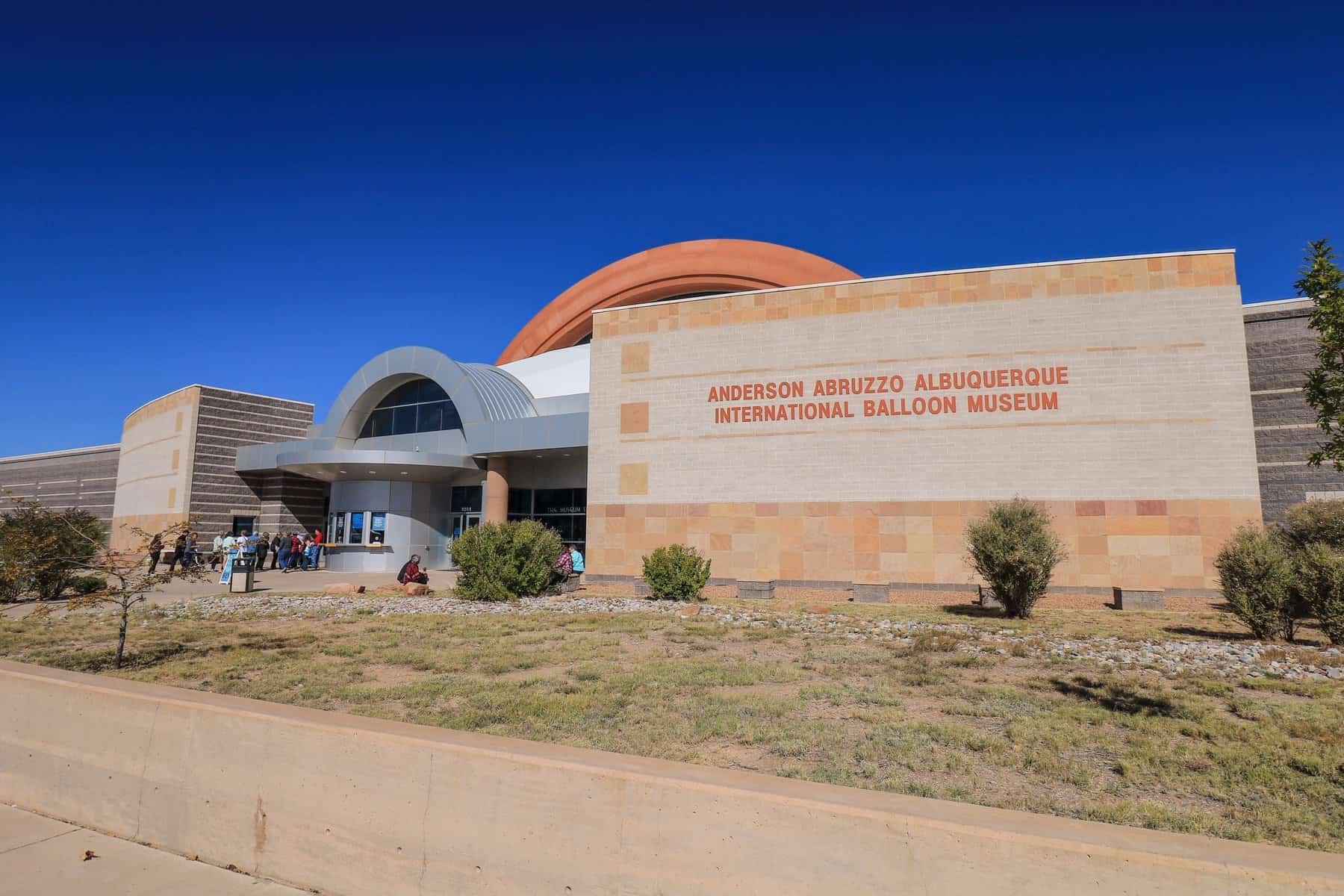 You will learn about the pilots that pioneered balloon flight, the construction of, and the materials used to make the balloons.
I have to admit I knew absolutely nothing about ballooning before visiting New Mexico but was completely fascinated by it all!
And if you were wondering, the first balloon flight is documented to have taken place in 1783! Talk about brave souls who took these expeditions…
Address: 9201 Balloon Museum Dr NE, Albuquerque
Wander Old Town Albuquerque
So how old is Albuquerque's Old Town? Not quite as old as those in Europe but pretty old for the United States at about 300 years old. Old Town is the oldest section of Albuquerque dating back to 1706.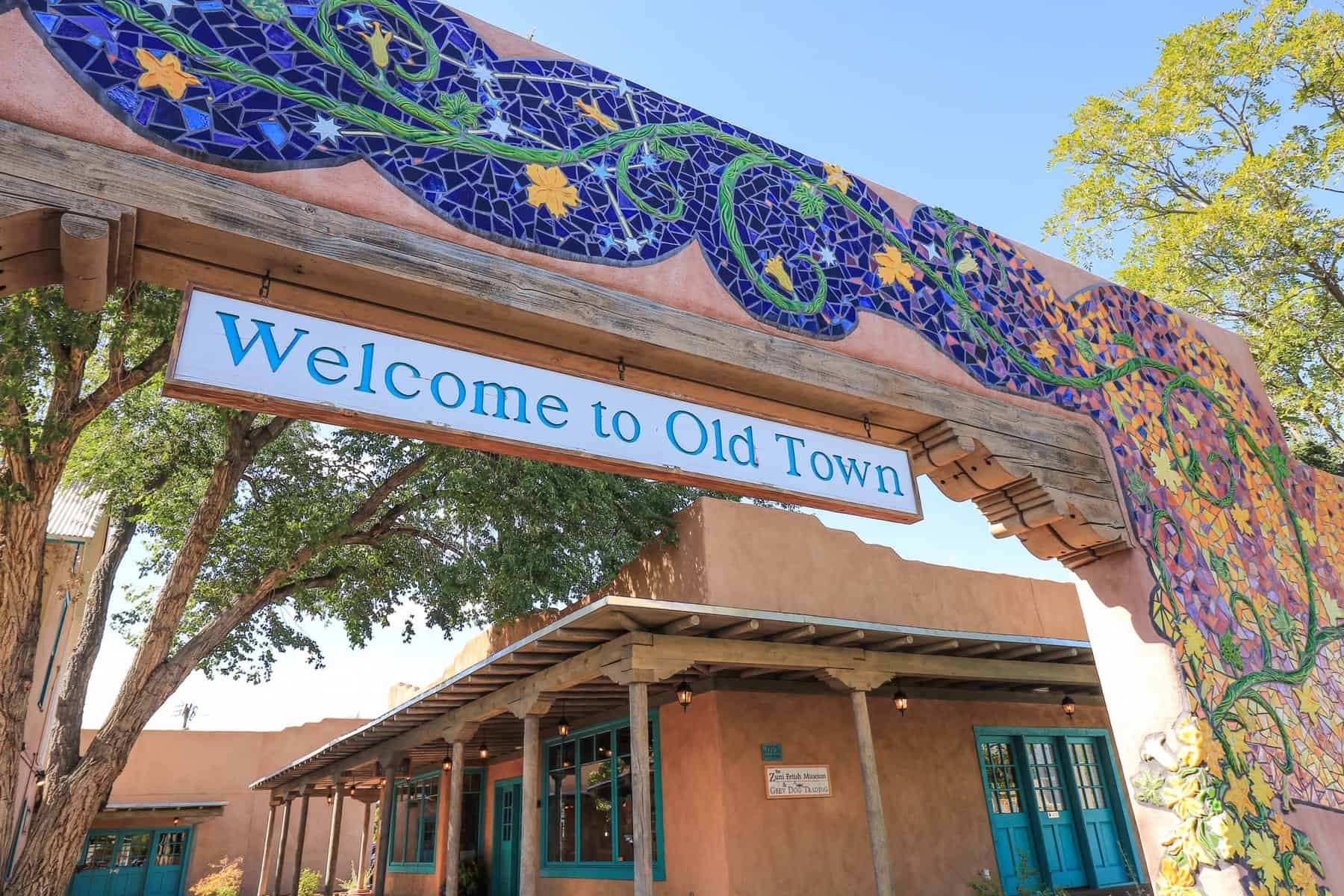 Visually you can see the old buildings and church in adobe architecture that surrounds the central park square.
With several restaurants and shops, this is the perfect spot to wander by foot to shop unique New Mexican items and yes maybe some touristy stuff too…
Make sure to bring your appetite and indulge in a delicious New Mexican meal at Church Street Café! Sit in the outdoor patio and possibly enjoy some live music.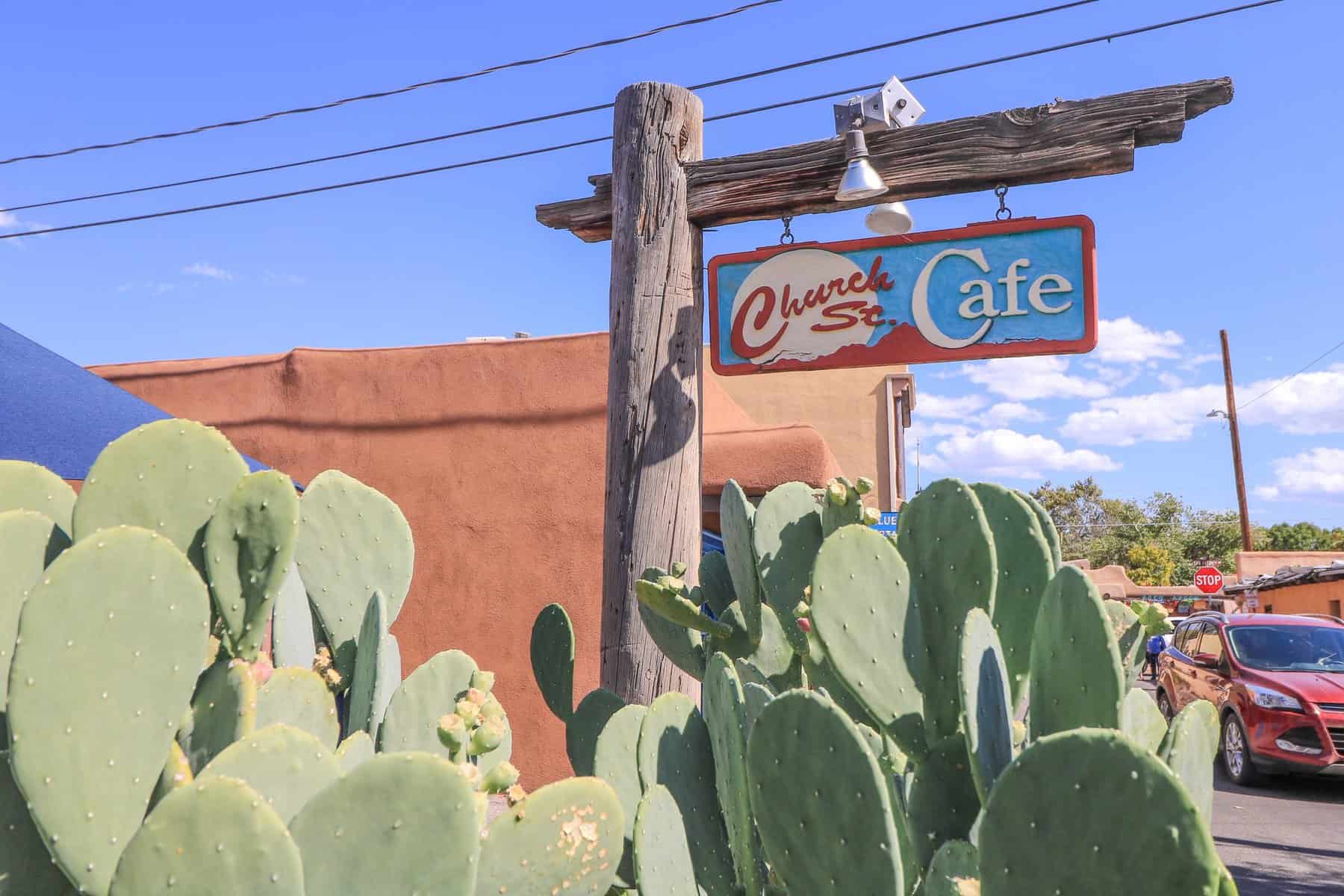 Make a point to visit the San Felipe de Neri Catholic Church along the shady park square.
The Albuquerque Museum and New Mexico Museum of Natural History & Science are a few museums that highlight the history of both Albuquerque and New Mexico.
What I love most is the vibrant colors, art, and the chile peppers hanging from storefronts. Old Town is a place to enjoy the music and art for it is a festive area to spend your day.
Sandia Peak Tramway
For spectacular views of Albuquerque, there is no better place (except for maybe in a balloon ride) than the top of the Sandia Mountains.
From the base of the Sandia Mountains, take the Sandia Peak Tramway that is the longest aerial tram in the United States to the top!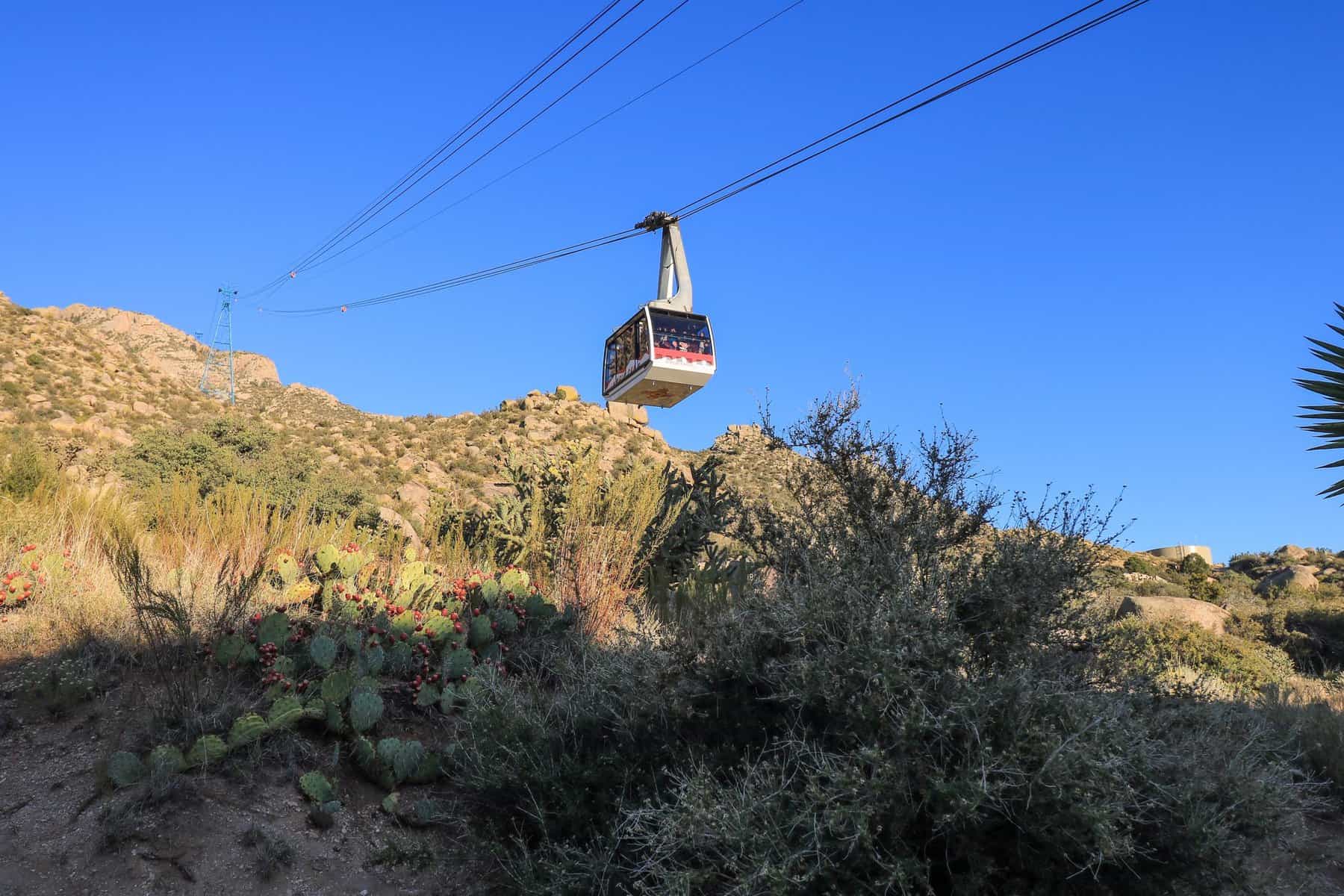 Expect the ride up to take about 20 minutes over 3 miles to reach an elevation of 10,378 feet (3,163 meters) to the Sandia summit.
If you can, get a spot along the outer part of the cable car so that you can get a clear and sweeping view of Albuquerque below.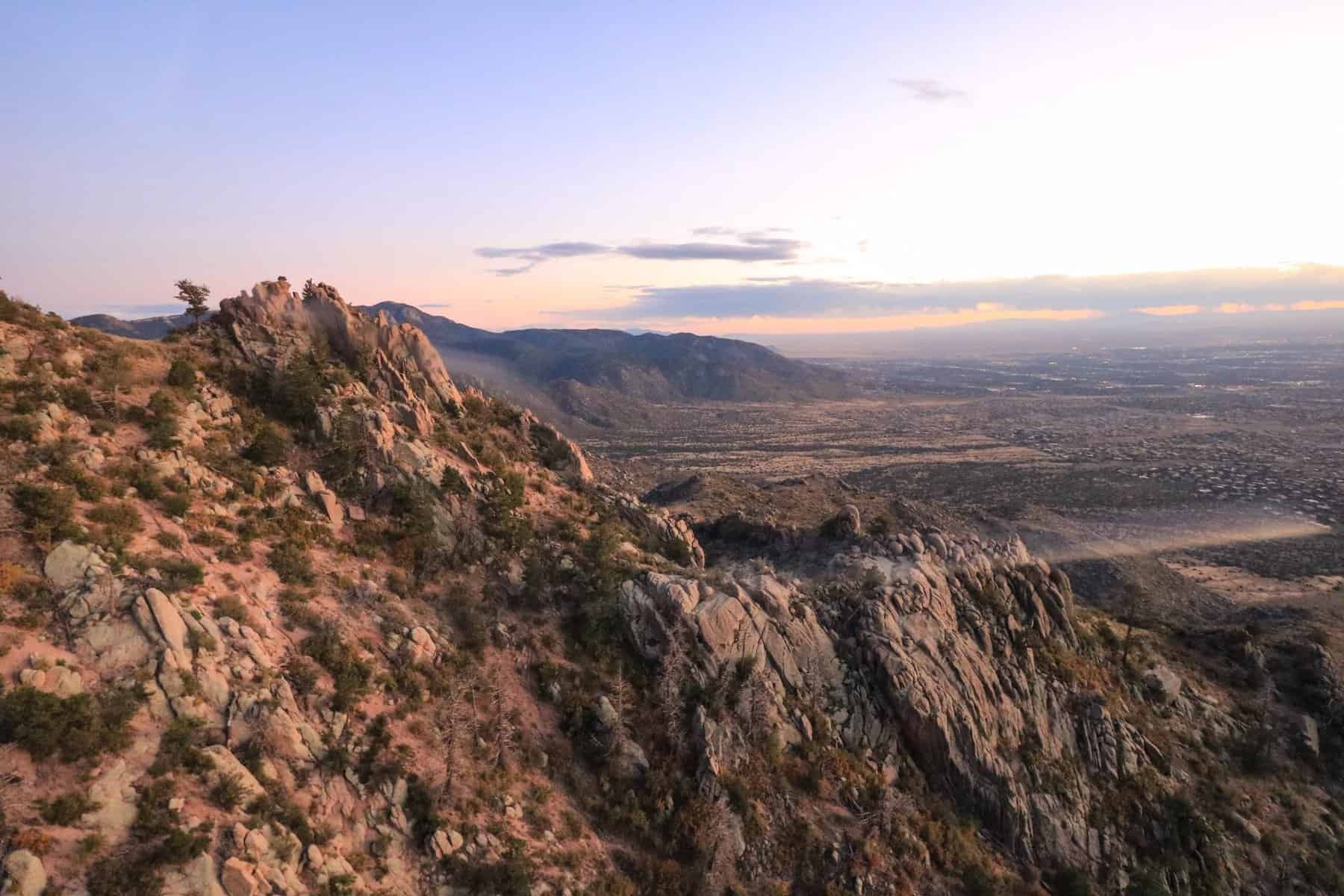 Once you get to the top enjoy the breathtaking view of the Rio Grande Valley. Head out onto the viewing platform or enjoy a meal at the restaurant for a spectacular vista at any time of the day but particularly a sunset.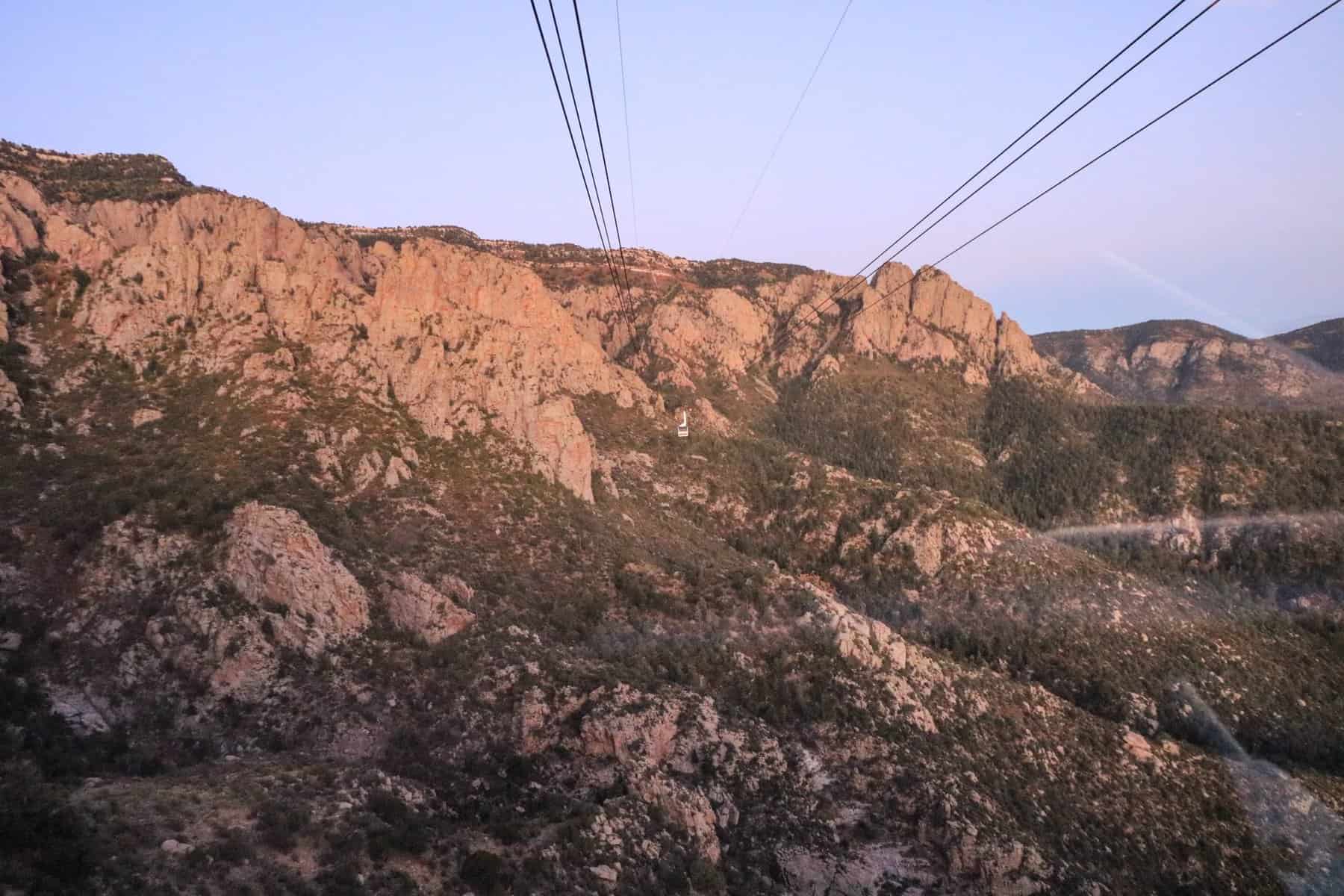 If you get up there prior to sunset, consider hiking one of the many trails along the peak. No matter when you visit, always dress in layers as the temperatures can be a lot colder than down below (20-30 degrees colder). I was up there at sunset in October and was beyond freezing once the sun went down.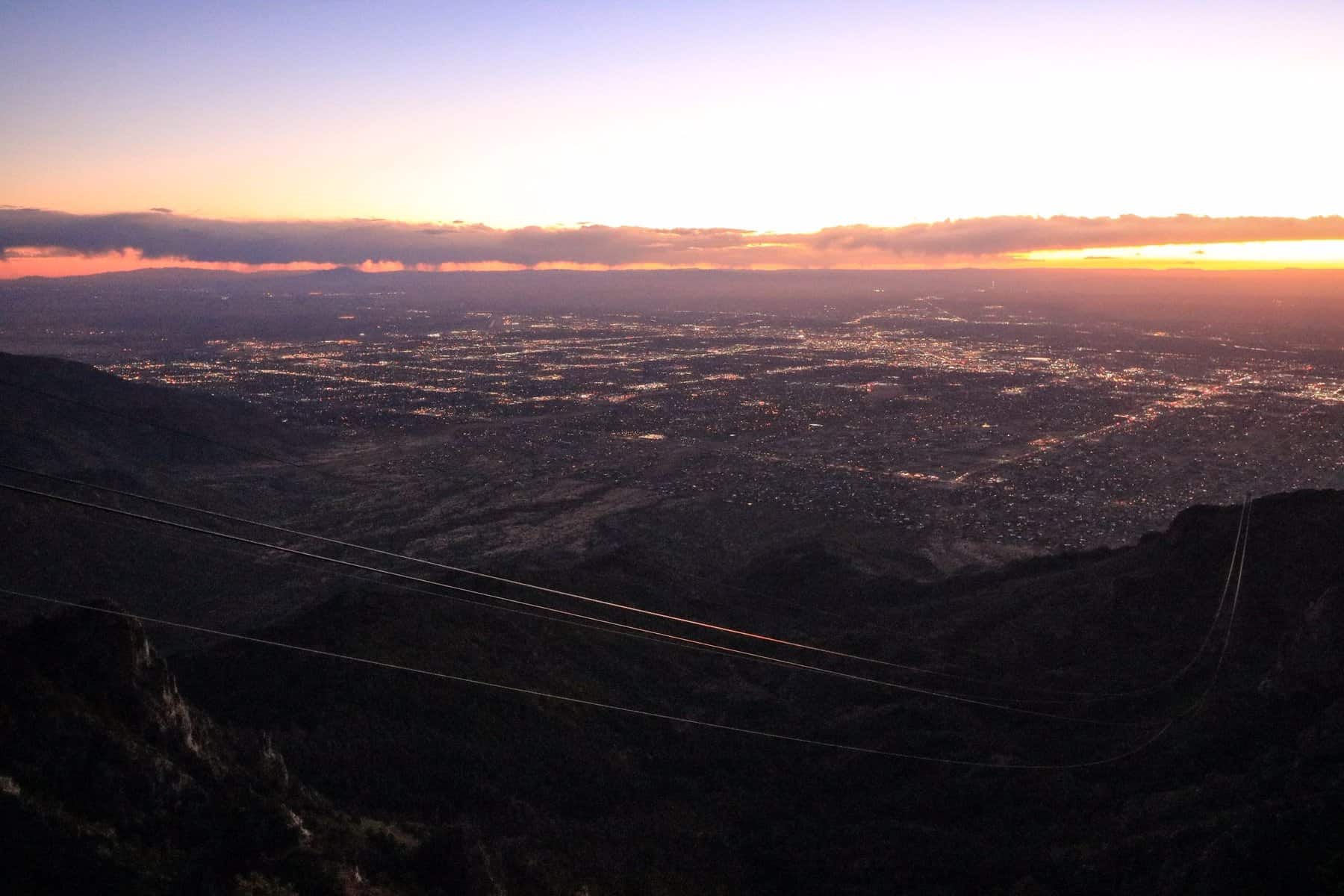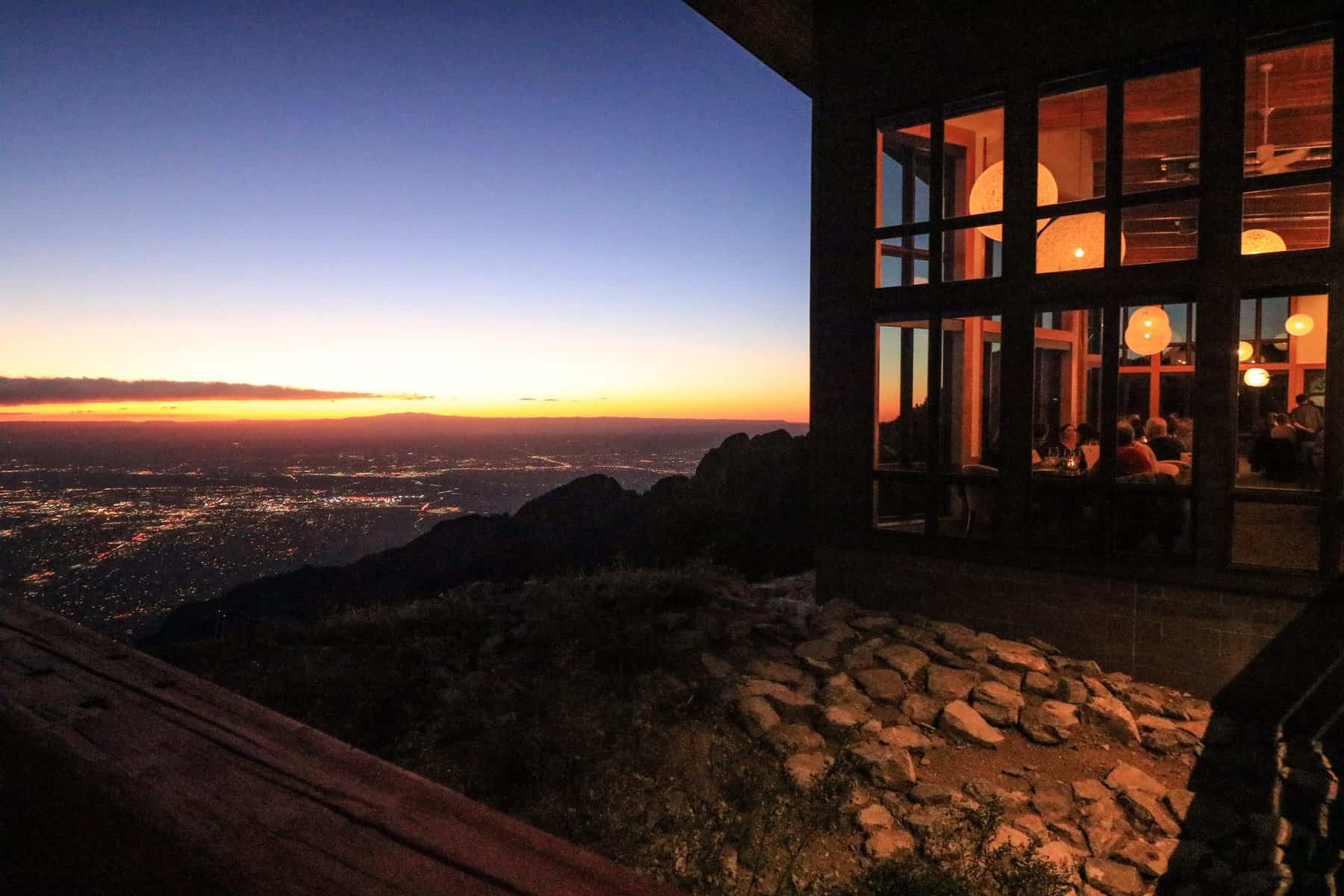 Note: Be prepared to wait for your turn to take the tramway as there can be a 1 – 2 hour wait. I questioned whether it would be worth it and it was! This is one of the top attractions in Albuquerque for sure. I just wish I had planned more time during daylight up there.
Address: 30 Tramway Road N.E., Albuquerque
Dinner @ Tomasita's
All I can say is wow and you must have dinner here! That is if you love authentic New Mexican food or want to try some of the best.
I first ate at the original Tomasita's in Santa Fe and was delighted to see that there is a location in Albuquerque.
There really wasn't a decision to be made, I knew exactly where I would be having dinner on my first night in Albuquerque. The tamales with red chile sauce is now one of my favorite meals! Another excellent choice is the chile relleno where both dishes highlight the unique flavors of New Mexican cuisine.
New Mexican food combines different spices and herbs that blend Native American, Mexican and European flavors. The highlight of this tasty food is the Hatch Chile Pepper, both red and green.
It would be an understatement to say that these peppers are hot. They are very spicy so if you can't handle spicy food, use with caution…
In being cautious, order the red or green sauce on the side. And if you can't decide which one you want to try, then order it "Christmas" style where you get both!
Other than the two meals I mentioned, a few New Mexican favorites to try during your stay are the enchiladas, burritos, green chile burger, posole, and sopapillas.
At Tomasita's, they bring you a sopapilla (frybread) with butter and honey slathered on it that is heavenly!
Address: 4949 Pan American Freeway NE, Albuquerque
Day 2 In Albuquerque
Grab A Pinon Coffee
If you are like me, you have never heard of Pinon Coffee unless you have visited New Mexico!
Pinon is a Spanish word for "pine nuts". They are edible pine nuts from pine trees that are abundant in New Mexico and used frequently in New Mexican cuisine.
Unique to the region of New Mexico, the particular pine tree that produces the pinon nut grows between 6,000 and 8,000 feet.
New Mexico's high desert is the perfect environment for them to grow. The coffee is made by combining roasted arabica coffee beans with roasted pinon nuts.
The traditional Pinon Coffee you will likely try is a dark roast that has a rich nutty flavor. From what I was told, people either love or hate it. I personally love it and am surprised that I enjoy it black.
With most coffee, I can't drink without adding milk. Order your Pinon Coffee with a dark roast, medium roast or flavored (dark fudge is spectacular)!
It is likely something you will only come across in New Mexico, so don't miss out on trying it. In fact, a weekend in Albuquerque isn't complete without trying it!
I like it so much I brought a few pounds of the coffee beans home with me. And when I ran out, I bought some online from the New Mexico Pinon Coffee Company.
Note: You can get a cup of Pinon Coffee or beans at one of many New Mexico Pinon Coffee Company, Pinon Coffee House or at grocery stores in New Mexico.
Golden Crown Panaderia
If you are looking for some breakfast or a light snack that will satisfy your sweet tooth then head over to Golden Crown Panaderia.
It is a well-known New Mexican bakery that is famous for its "biscochito" (New Mexico's state cookie) and green chile bread among many other delicious bites!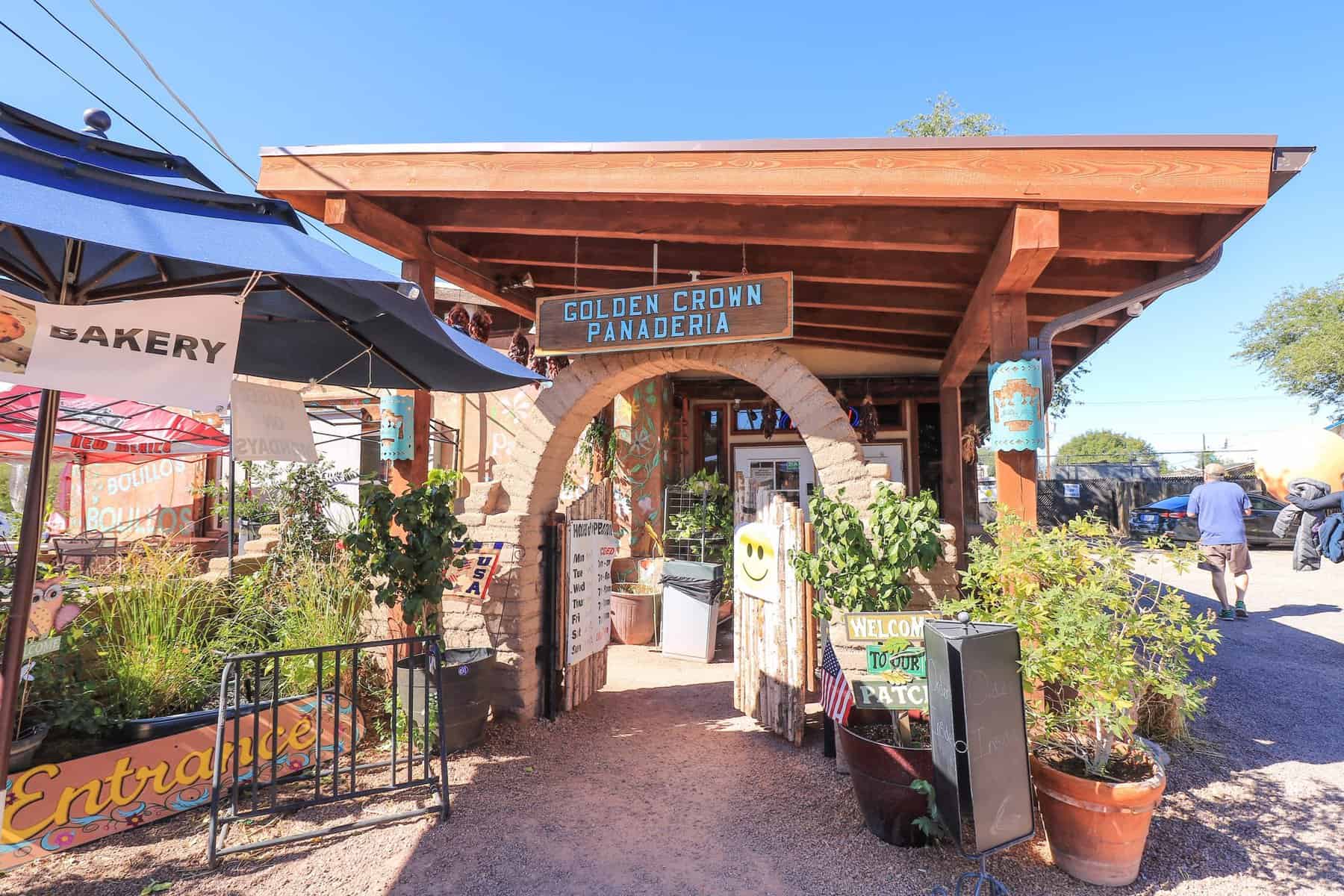 The biscochito is a crisp butter cookie that is made with anise and cinnamon blended with Spanish and Native American flavors.
It isn't super sweet yet yummy to eat with hot chocolate. Once you arrive, you will be greeted with a free biscochito!
You can also find various fresh bread, sandwiches, empanadas, and pastries. They offer wine and beer too that you can enjoy out on the outdoor patio on a beautiful day.
Address: 1103 Mountain Rd NW, Albuquerque (Old Town area).
Boca Negra Canyon
Boca Negra Canyon is a great spot for short easy hikes, excellent views, and getting to see petroglyphs as you walk.
There are three quick hikes that you can take through the canyon to see around 100 petroglyphs.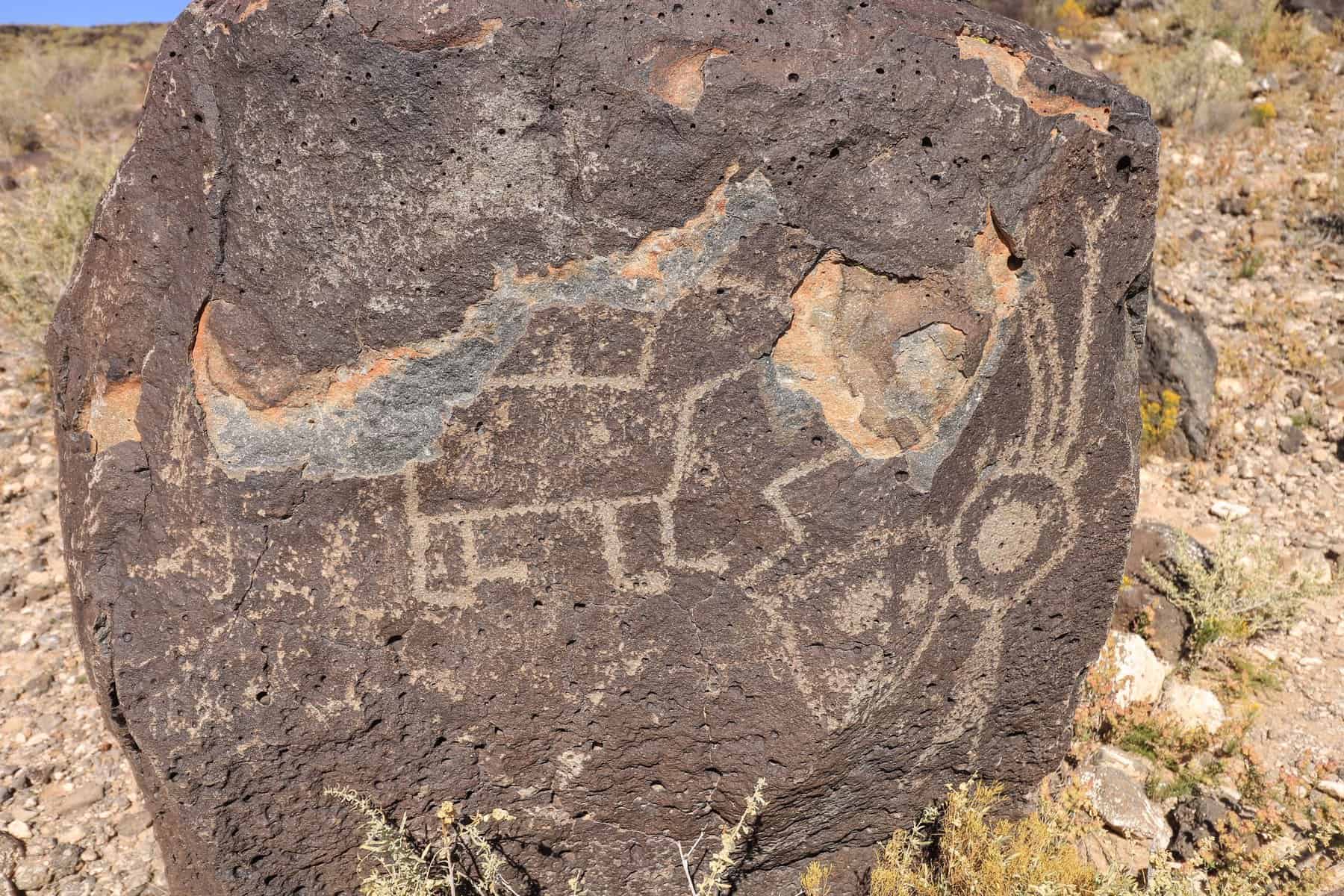 Once you pull in and park, the first hike you will see is the Mesa Point Trail and the most popular one. This is also the hardest (yet not bad) of the three and is 0.4-miles that takes you to the mesa top.
You get a 360-degree vantage point of the canyon, the city of Albuquerque and the Sandia Mountains in the distance.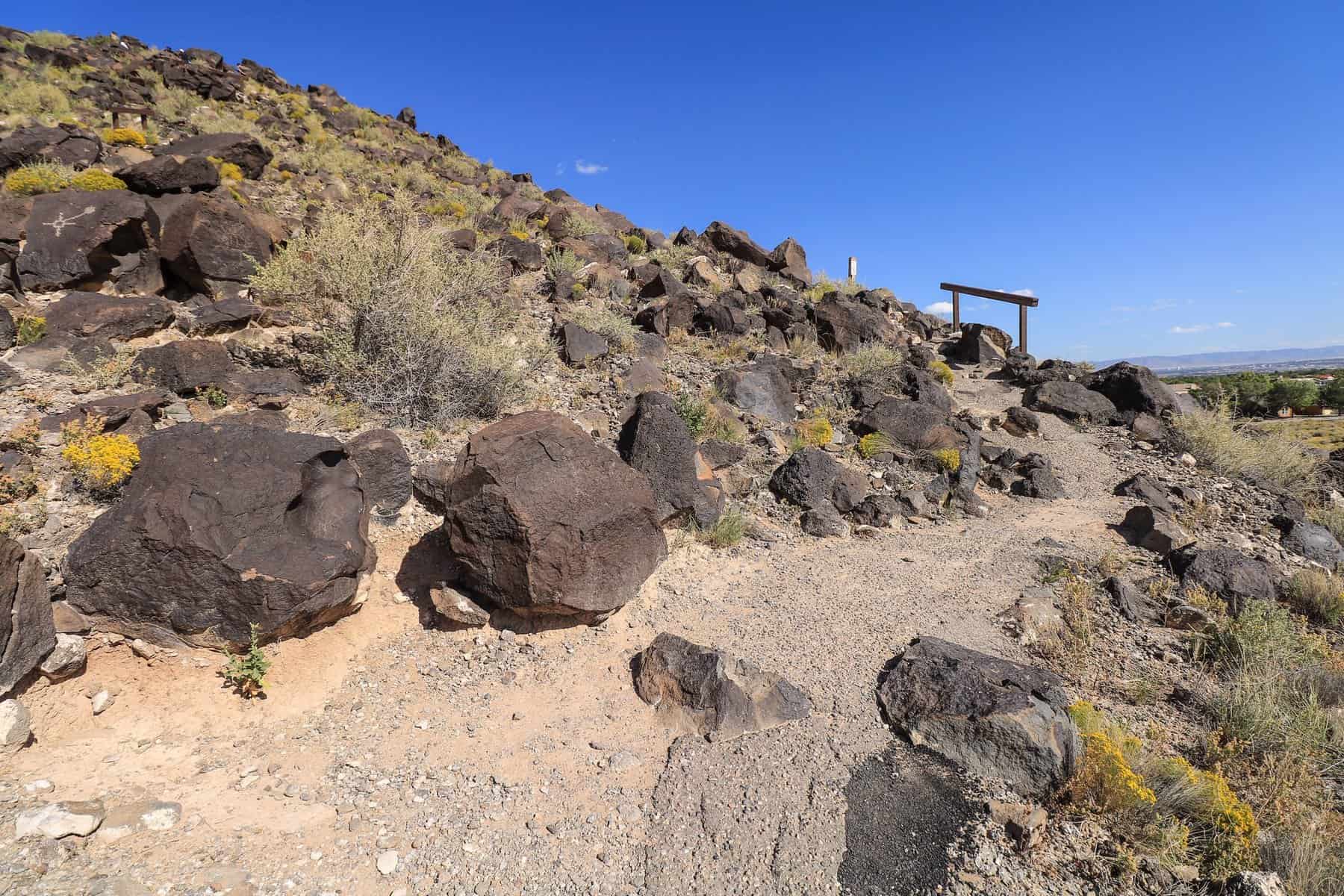 As you make your way up to the top, keep your eyes alert to see various symbols, characters, and animals carved into the black volcanic rocks.
The petroglyphs in Boca Negra Canyon are estimated to be up to a few thousand years old by the ancient Indian settlers in the area.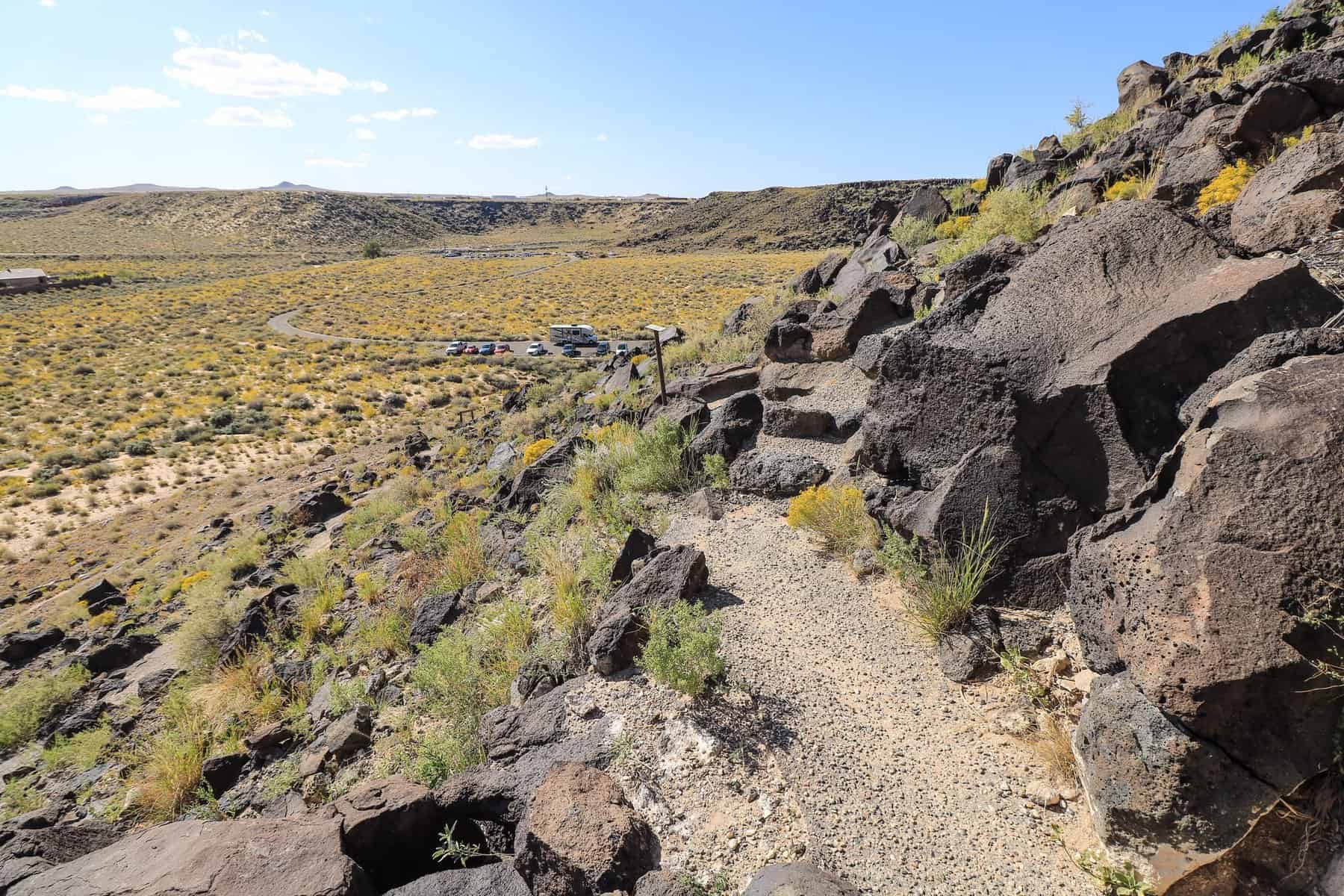 Depending on how the light hits the rocks can make a big difference with seeing the petroglyphs. So, take your time and search for the ancient drawings!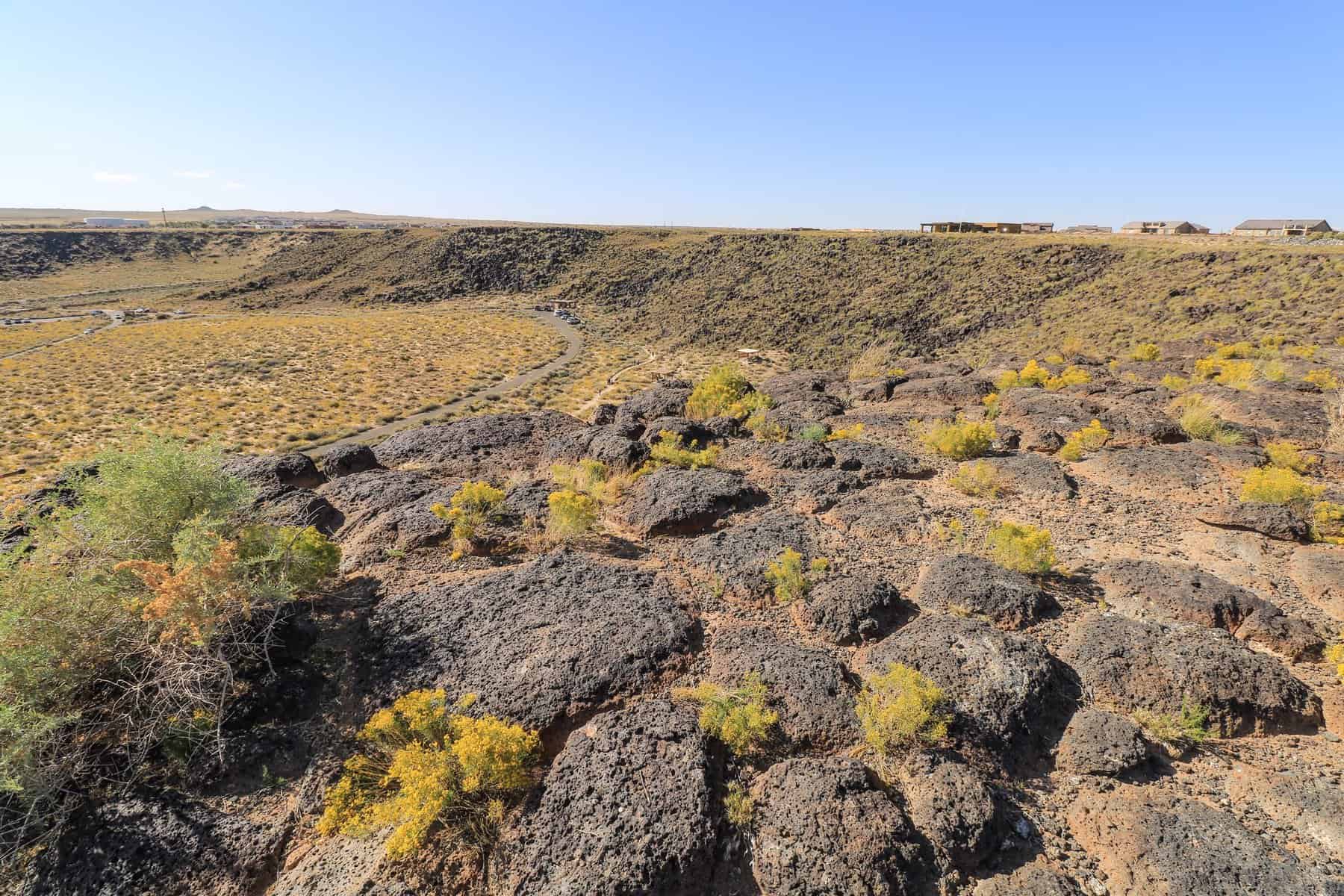 The other two trails are the Macaw Trail (0.1-miles) and Cliff Base Trail (0.2-miles) taking about 1 hour to see all three. There isn't any shade so go early or late in the day especially if there are hot temperatures.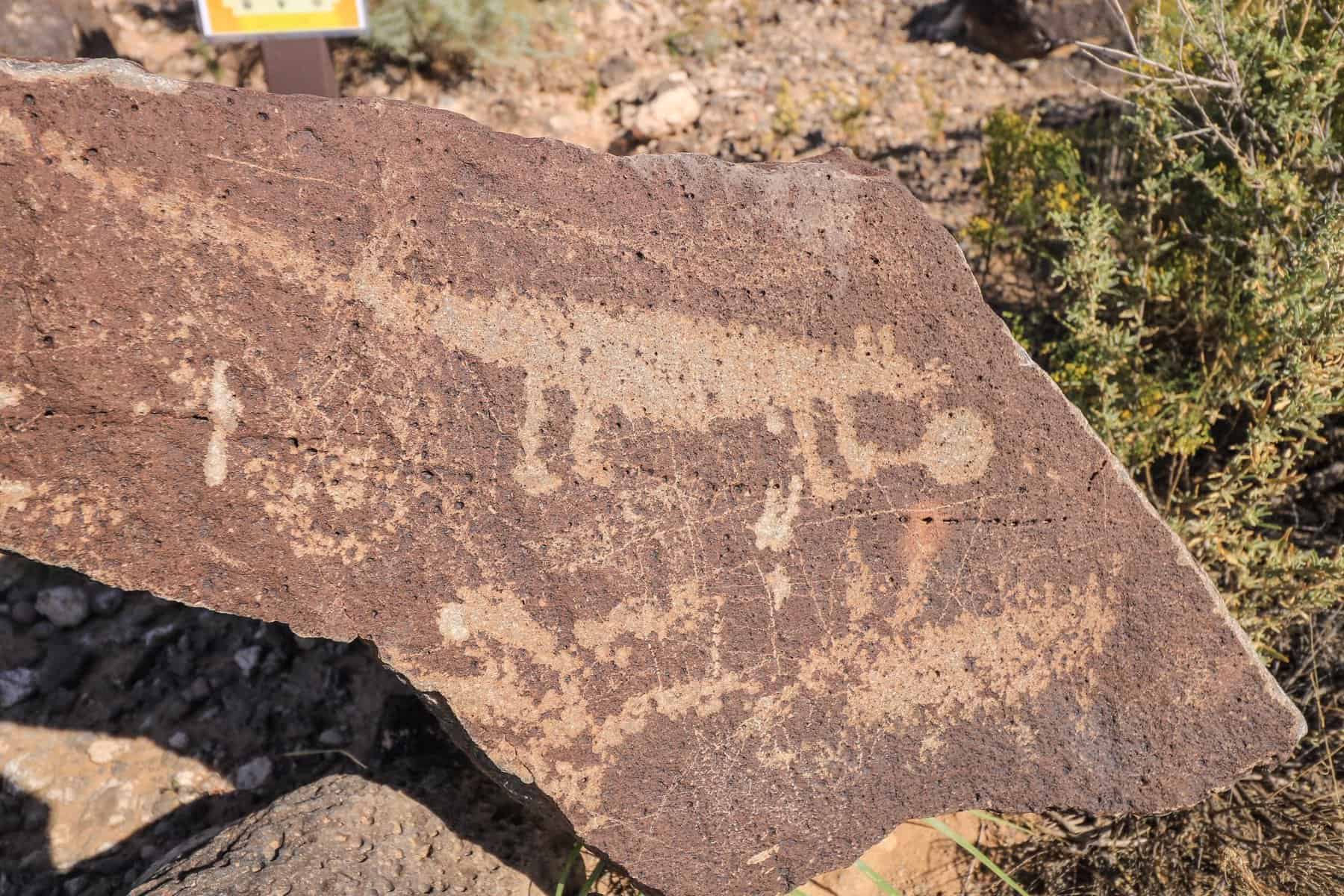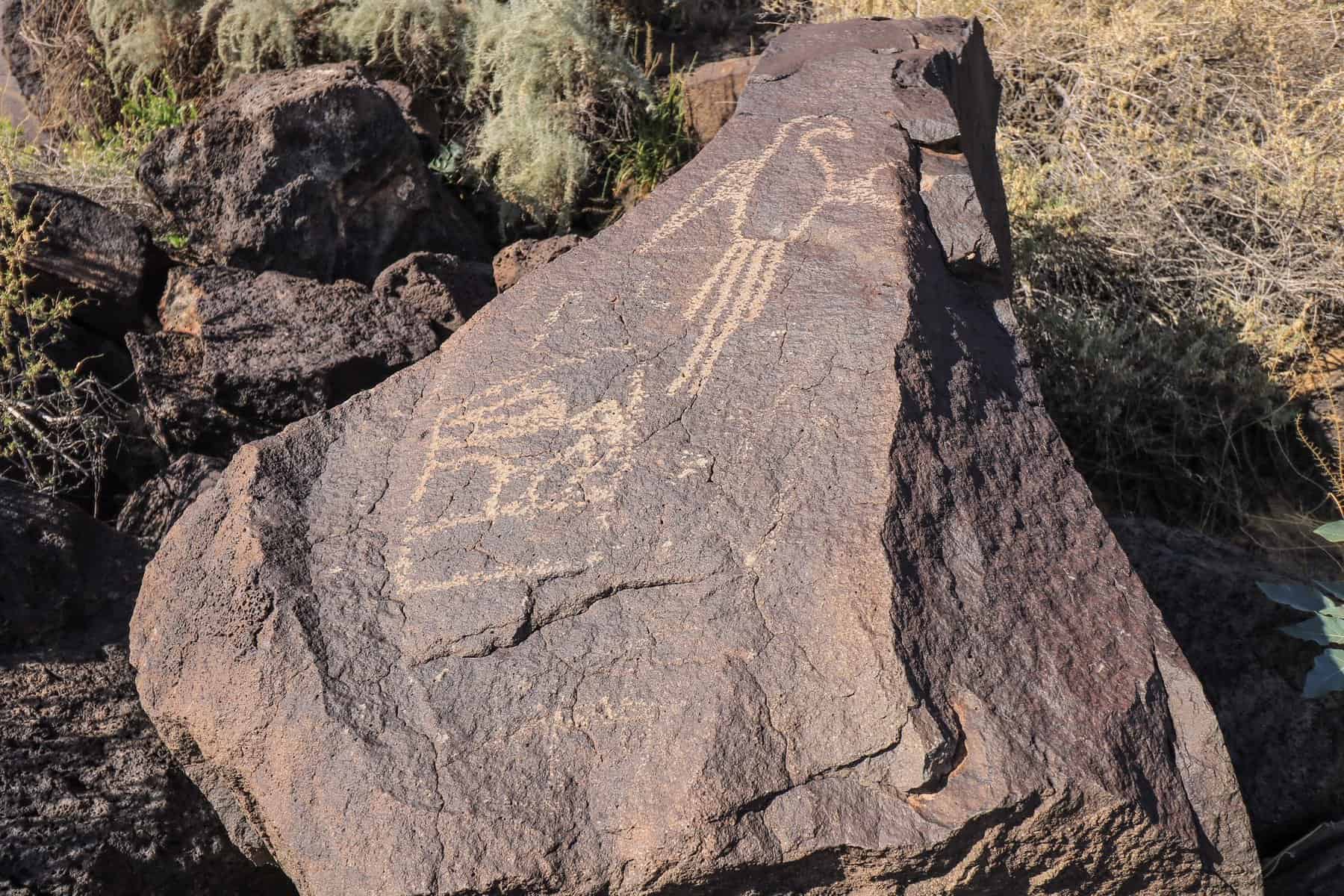 Tips: Parking is $1 during the week and $2 on weekends. There isn't a lot of parking so another good reason to go early. Open at 8:30 am and closes at 4:30 pm (might vary throughout the year so check the website).
If you plan to visit several of the U.S. National Parks during the year, consider purchasing the America Is Beautiful Pass.
It gives you access to 2,000 National Parks and Monuments in the U.S. including Petroglyph National Monument!
If you are planning to visit Bandelier National Park and Tent Rocks National Park on day trips then it can be used at both as well.
America Is Beautiful Pass is good for one year from purchase and also includes 3 other adults that are in your car. If you just visit 3 or more national parks or monuments it is worth buying and pure savings after that!
Note: There are restrooms and picnic tables at the canyon.
Los Poblanos Historic Inn
On my next visit to Albuquerque, I would like to stay at the lovely Los Poblanos Historic Inn. It has so much charm and a tremendous amount of history on over 20 acres.
There are numerous cottonwood trees, gardens, and a lavender farm onsite. It is by far one of the prettiest places to visit in Albuquerque…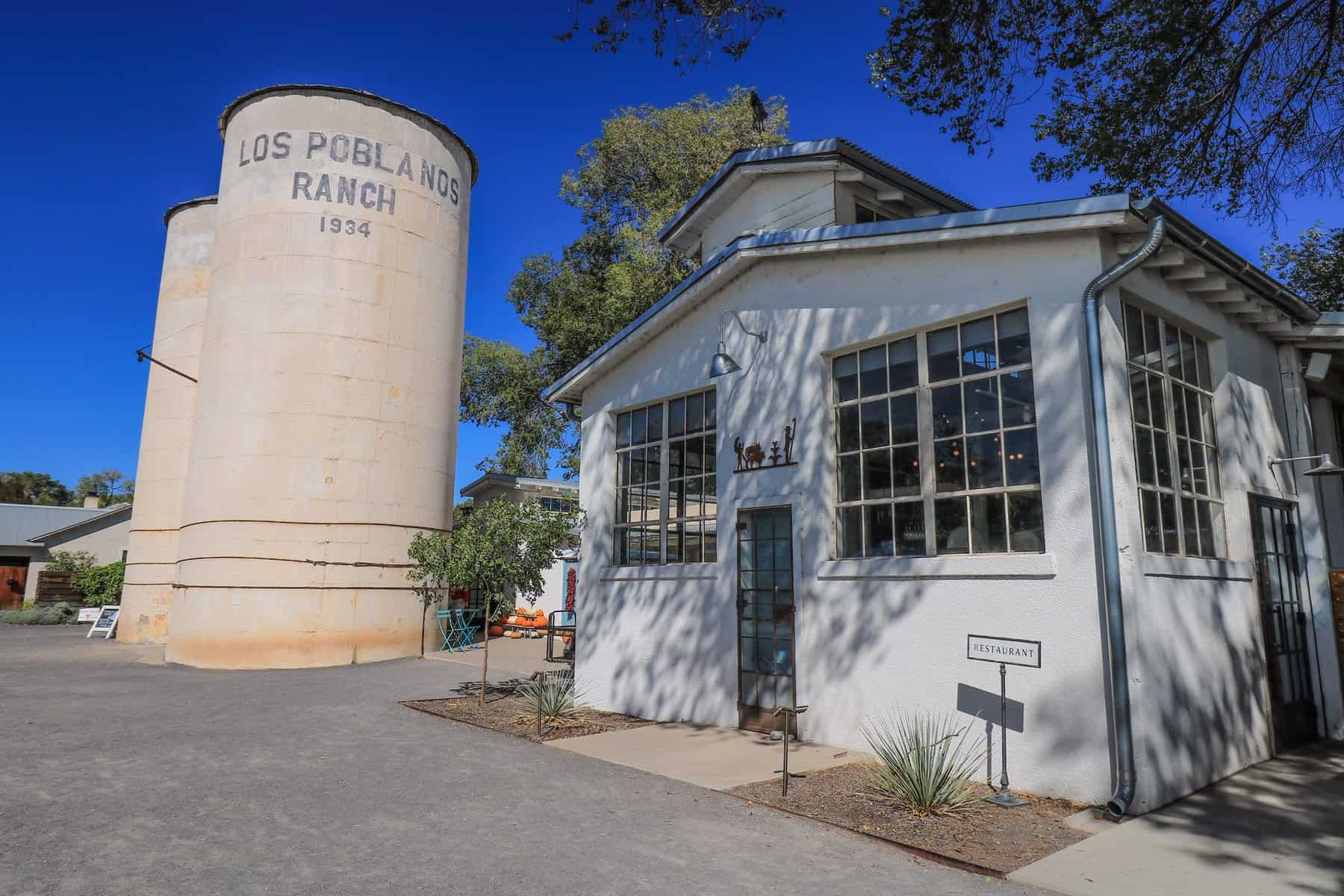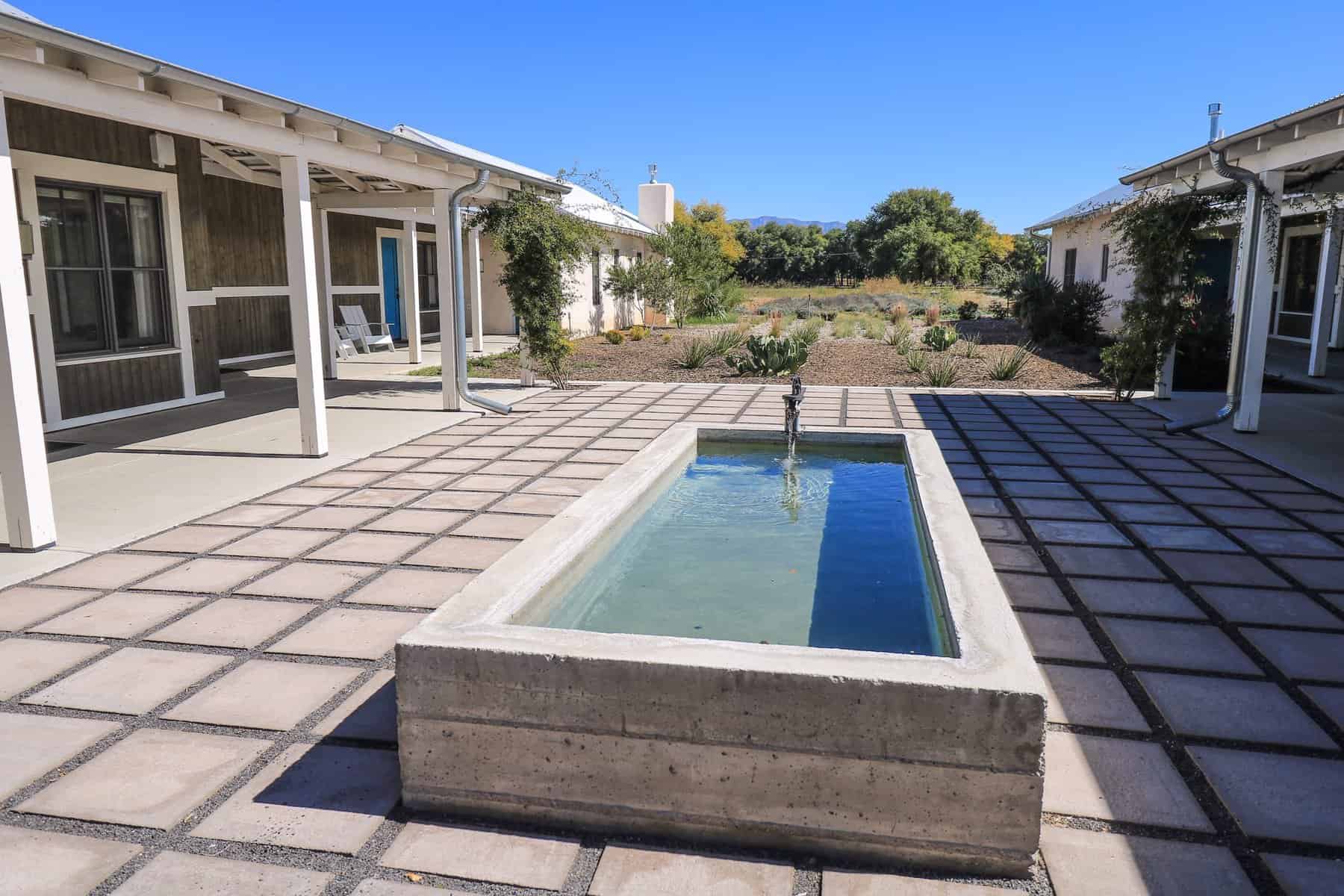 Although I didn't stay here, I booked a walking tour of the grounds going into the various buildings to learn about the art and history. There are different tours to choose from and may vary depending on the season. For example, if you are visiting in June you can take a tour of their lavender farm.
As you walk around, you will see endless beautiful architecture, courtyards, and art that are a surprise to see. I won't give away all the fascinating details of the farm and inn's history so that you can find out for yourself!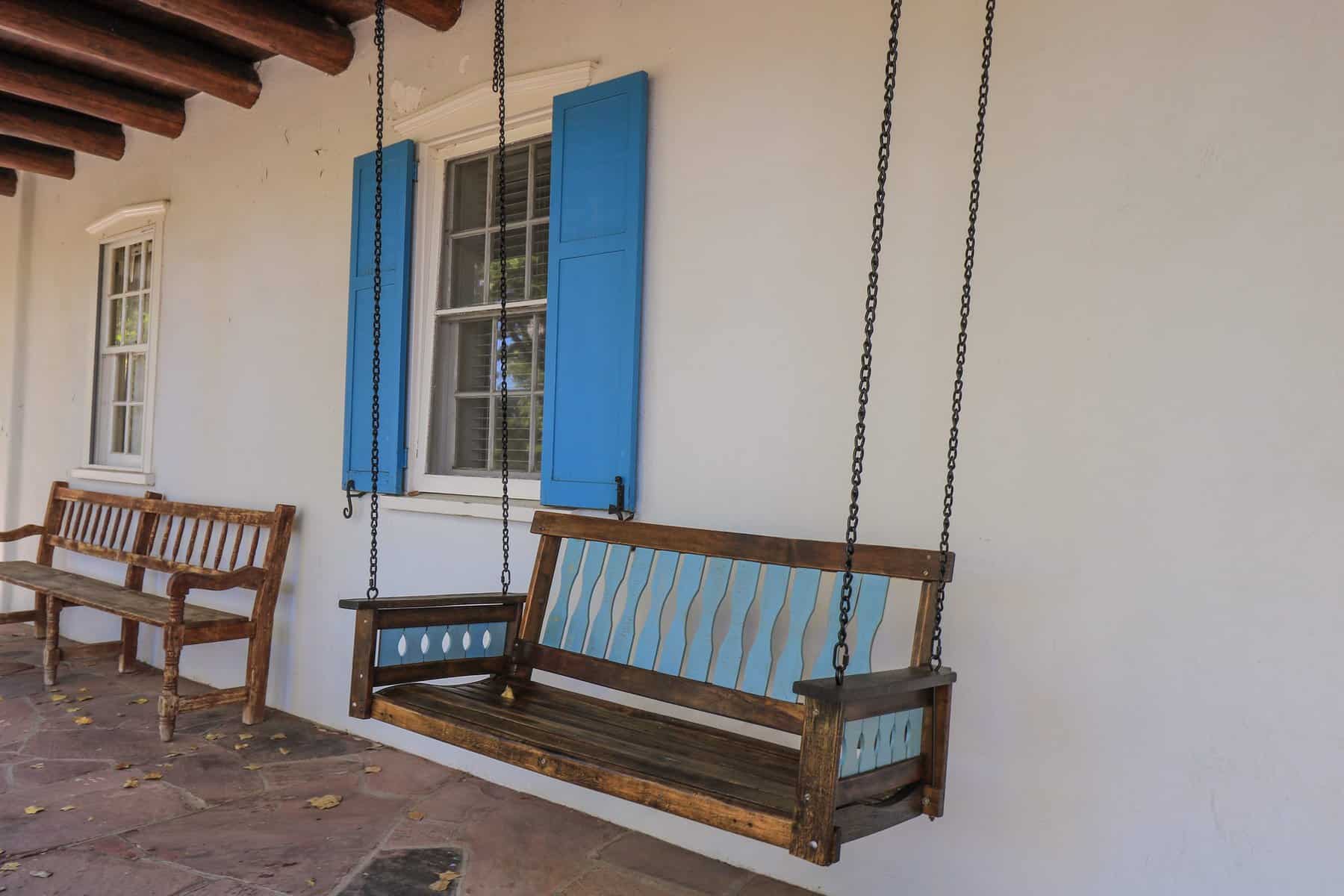 Make sure to pop into the Farm Shop to get one of many lavender products using their own lavender. The shop smells heavenly with the intoxicating scent of lavender…
They also sell fresh bread, sandwiches, and treats that you can enjoy at the tables outside.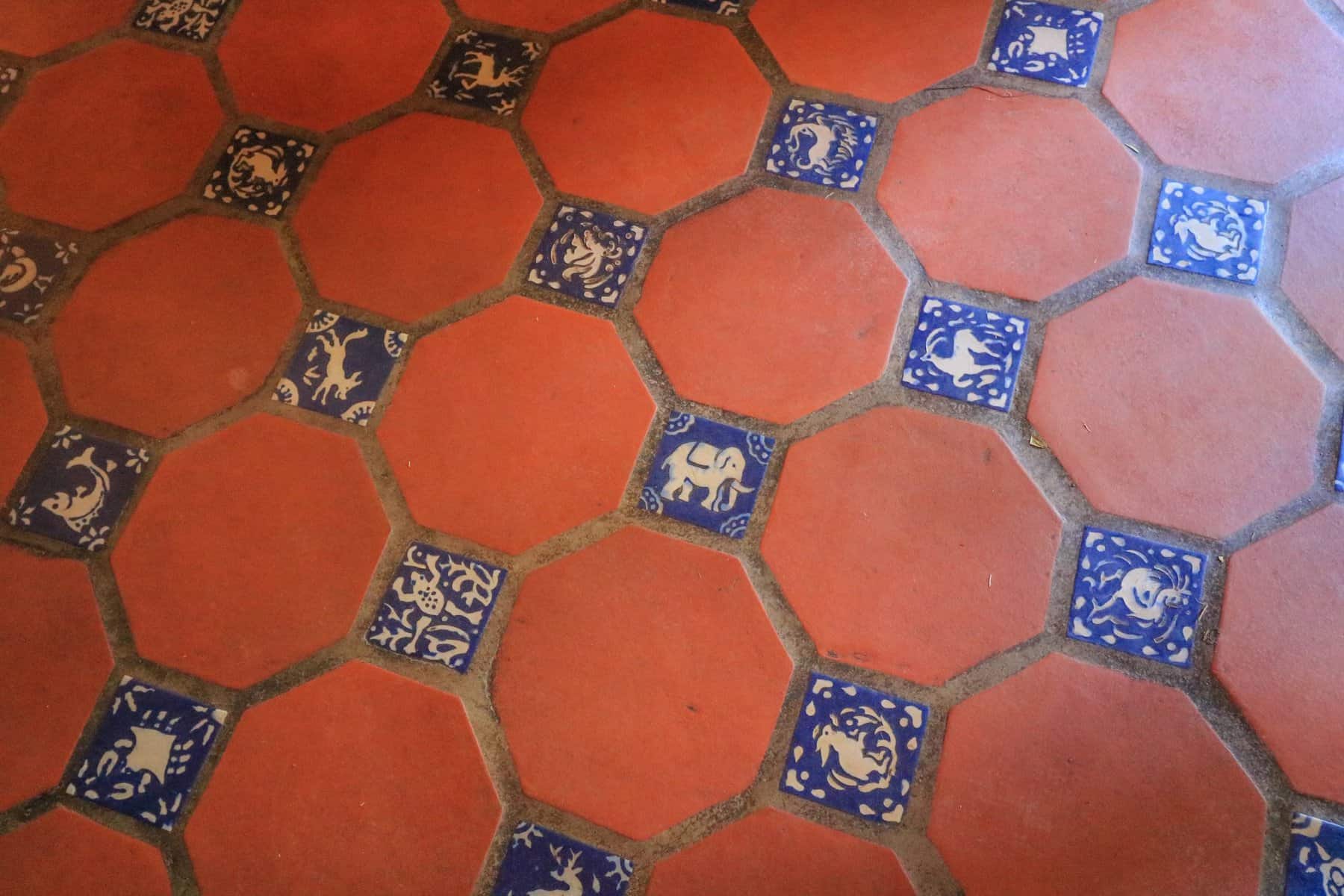 The day I visited, there was a wedding about to start and I was envious I wasn't a guest!
Address: 4803 Rio Grande Blvd NW, Los Ranchos de Albuquerque. The restaurant on-site serves breakfast and dinner only.
Watch The Sunset @ Apothecary Lounge
What to do in Albuquerque at the end of a fun-filled day of sightseeing? The ultimate way to end your weekend is to have a cocktail while enjoying the sunset from a rooftop bar.
The Apothecary Lounge at the top of the Hotel Parq Central is the spot to be if you like margaritas! A yummy choice is the prickly pear margarita!
If margaritas are not your thing, there are a number of Prohibition-era cocktails to quench your thirst.
This is a great stop to have a few drinks before heading to dinner. Plus, you get stunning views of the city of Albuquerque and nearby mountains.
The hotel has a lot of history as it dates back to 1926 when it used to be the Santa Fe Hospital and then in later years a psychiatric hospital.
For those reasons, it is said to be haunted by patients who had passed away. I guess a stay is needed to determine if it really is haunted…
Address: 806 Central Ave SE, Albuquerque
Dinner @ Cocina Azul Downtown
If you aren't tired of eating New Mexican food yet, another awesome restaurant to dine at is the Cocina Azul Downtown. On top of having traditional-style New Mexican food, they have a number of mouthwatering burgers to choose from.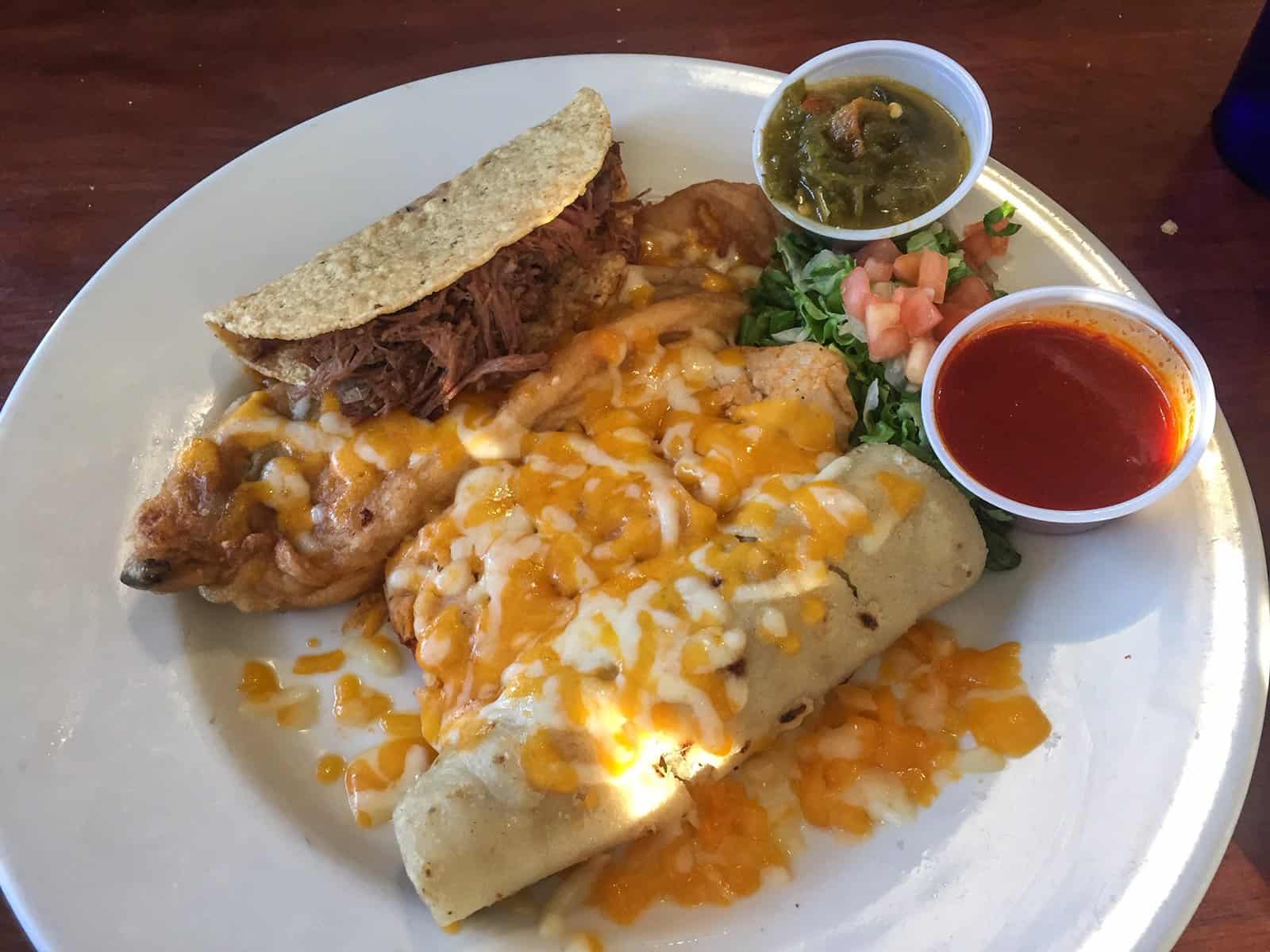 There are three locations in Albuquerque to choose from but if you are staying in the downtown area, visit the original Mountain Rd location.
Besides not being able to stop eating the homemade chips & salsa a few must dishes to try are the posole, carne adovada plate, and green chile burger. Oh, and anything that has brisket! End the tasty meal with a sopapilla if you are not too full.
Address: 1134 Mountain Rd NW, Albuquerque
Happy travels and have a wonderful weekend in Albuquerque!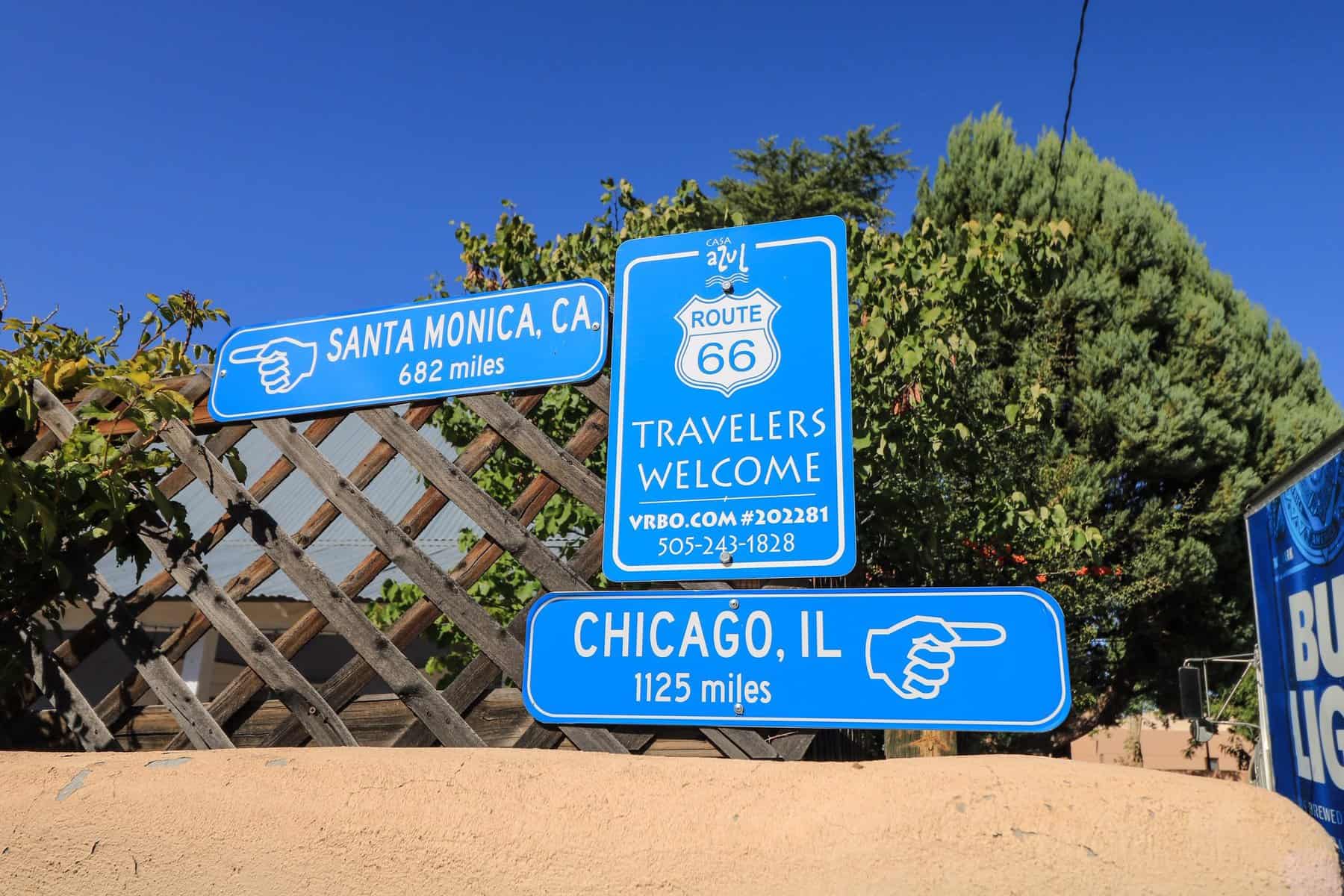 Bonus Activities
If you are looking for more to do and see, here are a few bonus things to do in Albuquerque!
Indian Pueblo Cultural Center – dedicated to New Mexico's 19 pueblos where you can learn about the culture and tradition.
Casa Rondena Vineyard – This is something I wish I had had time to visit. You can visit their tasting room daily from noon to 7 pm.
Route 66 runs through Albuquerque – If you are curious as to where Route 66 actually is, you can use the Route 66 Diner address at 1405 Central Ave NE to get you there. On a map you might see Central Ave instead of Route 66.
Got Travel Insurance?
Don't leave home without travel insurance as you never know what might happen on a trip! It is always when you least expect it that something can go wrong like getting sick, in an accident or cancellation of some sort. Get a no-obligation quote from two trusted travel insurance companies for peace of mind on your next trip!
Looking For More Travel Inspiration?
The Ultimate Guide To The Albuquerque Balloon Festival
15 Best Things To Do In Santa Fe, New Mexico
11 Top Things To Do In White Sands National Park
7 Unique Day Trips From Santa Fe
15 Best Things To Do In Petrified Forest National Park: One Day Guide
15 Famous Things About Chicago You Must See
Boston Itinerary: How To Spend 3 Awesome Days
10 Best Things To Do In South Dakota
Disclaimer: My post contains some affiliate links and as an Amazon Associate, I may receive a small commission if you click a link and purchase through that link. It won't cost anything to you to use these links but is very much appreciated. Thank you!