Disclaimer: Traveling Ness contains affiliate links and is a member of the Amazon Services LLC Associates Program. If you make a purchase using one of these links, I may receive compensation at no extra cost to you. See my privacy policy for more information.
How To Spend The Best Weekend In Brussels: 3 Day Brussels Itinerary
Ready to spend the best weekend in Brussels, Belgium? Let's explore the best things to do in Brussels including plenty of chocolate, beer, waffles, and frites indulging! Discover everything you need to know before visiting Brussels with this detailed 3-day Brussels itinerary including all the top sights.
Brussels has it all as it is a large modern city yet keeping with its medieval old town vibe that makes it a fascinating city to visit.
Before going, I had heard that many people didn't care for Brussels compared to some of the other cities in Belgium.
Personally, I really like Brussels and feel it deserves more love than it gets compared to some of the fairytale-like cities of Bruges and Ghent.
Whatever you do, don't skip Brussels as it has its own unique appeal that makes it stand out as a city worth visiting. In this post, I'll share all the top activities, where to stay, what to eat, and how to get around on the perfect long weekend in Brussels!
Note: This Brussels in a weekend itinerary assumes that you arrive the night before and have a full day to see the city on day 1.
Tip: If you are visiting in December, make sure to find out everything you need to know about attending the Christmas Markets!
3 Day Brussels Itinerary
Weekend In Brussels Day 1
1. Waffles At Maison Dandoy
You can't spend a weekend in Brussels without having waffles at Maison Dandoy! It wouldn't be complete to not indulge in the best waffles in Brussels.
You can get the best biscuits in town too as they have a large variety to choose from. And when I say biscuits, I mean hard but very tasty cookies.
Before coming to Belgium, I knew they were known for waffles but had no idea how they differed from the ones in the United States.
There are two main styles of waffles in Belgium. There is the Brussels style and the other is from the Flanders region, called Liege style.
The Brussels style waffle is closest to what I am familiar with yet very different! The Brussels style is very light, kind of crispy and is eaten sitting down.
If eating it as Belgian's do, you eat it with some powdered sugar and maybe whipped cream. And no, you will never find maple syrup to put on it!
In contrast, the Liege style of waffles is smaller, served hot and can be eaten as a yummy snack as you walk.
Traditionally these do not have any toppings on them as there is caramelized sugar in them that is true perfection!
Of course, you will see touristy spots that pile like 10 toppings onto them, but that isn't the Belgian way…
If in Brussels, I say stick with the Brussels style but if you are in Flanders (Bruges & Ghent) go for the Liege waffles! And waffles are traditionally not eaten for breakfast but as a snack or dessert.
Location: There are multiple Maison Dandoy locations throughout Brussels, but I loved frequenting the one inside the Galleries Royale St. Hubert.
Take A Brussels Waffles Making Workshop!
Go On A City Walking & Food Tour!
2. Galleries Royales St. Hubert
Located just a block away from the Grand Place (main square), is the Galleries Royale St. Hubert.
It is a long indoor passage that is covered over with glass along the top of it. Lining each side are shops, places to eat, and oh so many chocolatiers!
It is referred to as a shopping arcade that was built in the mid-1800s and designed by the architect Jean-Pierre Cluysenar.
As you walk through, make sure to look up at the beautiful architecture and enjoy the dazzling lights if on display. I was there in December, so everything was very festive with decorations.
Location: Enter the beautiful passage off of Rue du Marche aux Herbes and steps from Place de I'Agora. You will see a Haagen-Das ice cream store before entering.
Note: Don't miss out on taking a stroll down Rue des Bouchers which runs through the middle of Galleries Royales. It is off this adorable street that can see Jeanneke Pis, the "little pissing girl".
3. Explore Grand Place (Grote Markt)
The Grand Place or Grote Markt is the main square surrounded by the most elaborately crafted historic buildings. It should be one of the first things to do in Brussels upon arriving.
I have never seen so many grand and gorgeous buildings in one square like this. I can see why they consider it one of the most beautiful squares in Europe.
As a UNESCO World Heritage Site, there are many buildings in the Grand Place to take note of for the craftsmanship and architecture.
The square is kind of tucked away and you can't really see or enjoy the beauty of it until you walk out into it. If you happen to be very limited in your time in Brussels, this is one place not to miss!
Many of the buildings in Grand Place were once the guildhalls of Brussels and are mostly in Baroque style. What are guildhalls you might ask?
Referred to as guildhall or guild house, it was a place where people of the same trade or craft could come together and meet.
Think of it as a town hall for each guild in a city. During the middle ages and up to the end of the 18th century, guilds dominated economic life in a town. Guildhalls can be seen throughout cities in Belgium such as Bruges.
The most impressive building along the Grand Place is the Hotel de Ville (also referred to as the City Hall or Stadhuis). And no, it is not a hotel like I originally thought!
It is just a fancier name for the City Hall… Built in the 1400s, its tower rises high at 96 meters (315 feet) and you can even take a guided 45-minute tour of it.
Across from the Hotel de Ville is another spectacular Gothic building, the Maison du Roi (King's House) that is now the Brussels City Museum.
And it seems that no king ever lived here as in its name! Known as the previous "Bread Hall" when it was the site for the bread market. Now, it currently showcases the history of Brussels.
4. Admire The Old England Building
The Old England Building is just a few minutes' walk and a wonderful example of Art Nouveau style of architecture.
At first glance, you might tilt your head and say "huh" as it is a very unusual building. But once you stand and take it in, you can see all the unique and stunning details.
If you can believe it, the Old England Building used to be a department store that was built in 1899.
The front of the building is black with wrought iron craftsmanship in combination with arched windows. Besides the ironwork, the front is predominately all windows and stands out from other nearby buildings.
Today the Old England Building is home to the Musical Instruments Museum (MIM). It includes exhibits that showcase the history of manufacturing instruments in Brussels. There are over 7,000 musical instruments on display from the middle ages to today.
It also features the history behind the birth of the saxophone by Adolphe Sax who was born in Dinant, Belgium.
If you are looking for another charming city to visit, explore what to do in Dinant near the French border.
If you get hungry or need a break, head up to MIM's rooftop terrace café for gorgeous views of Brussels.
Location: Rue Montagne de la Cour 2 (between the Royal Palace and Mont des Arts).
Hours: MIM is open from 9:30 am to 5 pm (Tuesday – Friday) and 10 am to 5 pm (Saturday & Sunday). It is closed on Mondays.
Grab Your Musical Instruments Museum Tickets!
5. Take A Stroll In Mont des Arts
From the Old England Building, walk down the hill on the opposite side of the street to get an excellent view of the buildings that line it.
Right before the street begins to curve, head straight down the steps to Mont des Arts (or Kunstberg in Dutch).
From the top of the steps, take in a spectacular view looking down onto a manicured garden, the Royal Library of Belgium, the National Archive, and various forms of art.
There are examples of both graffiti mural art, sculptures, a fountain, and installations that are fun to see.
From the elevated viewpoint, you can clearly see the eye-catching tower of the Town Hall (Hotel de Ville) at Grand Place.
Make sure to walk over to the Carillon of the Mont des Arts on the right-hand side. It is a clock tower arched over the Mont des Arts street, has 24 bells and 12 figurines that mark the hours.
It was built in 1958 for the World Fair and is a very striking clock with so much detail. Each of the figurines represents someone of significance in Brussels history.
To best see and hear this clock tower in action, get there a few minutes before the hour to see the figure at the top strike the bell with his hammer.
6. Enjoy a Belgian Dinner
At the end of your first day in Brussels you might be a little jetlagged and looking for a great meal to finish your day.
A few places to eat in Brussels to experience Belgian food in the center of the historic district are Aux Armes de Bruxelles and 'T Kelderke.
Both of these Brussels restaurants are along the main square of Grand Place. Sure, places around town squares can be a little touristy and more expensive, but the location can't be beat.
Plus, these restaurants have been here for years offering up delicious Belgian cuisine in really cool settings. And after you are done you can take an evening stroll to see the square lit up at night.
Need ideas on what to order? Try one of these authentic Belgian dishes!
Stoemp – This Belgian staple blends mashed potatoes with vegetables like carrots, onions, or brussels sprouts and is usually served as a side dish or as an entrée with sausage or other meat.
Waterzooi – A creamy stew using eggs and butter that usually features fish or chicken
Carbonade Flamande – A dish similar to beef bourguignon, carbonade is slow cooked in Belgian brown beer until the meat nearly falls apart.
Mussels – Belgians really know how to make the tastiest mussel dishes.
Brussels In A Weekend Day 2
7. Visit St. Michael and St. Gudula Cathedral
St. Michael and St. Gudula Cathedral (Cathedrale des Saints Michel et Gudule) was built between the 11th and 15th centuries in a distinctly Gothic style of architecture.
Upon seeing it, it immediately reminded me of Notre Dame in Paris with a similar look and design.
Both Saint Michael and Saint Gudula are the patron saints of Brussels so it is not surprising that the Catholic cathedral would be dedicated to them. Today, the cathedral hosts royal weddings, coronations, and important events.
Inside the cathedral is quite impressive as you walk throughout and admire the beautiful craftsmanship.
Take note of the fabulous stained glass and the wooden pulpit that are magnificent pieces of art!
If you want to take a tour of the cathedral tower, book a guided tour at least 2 weeks in advance during the months of March through October. The 2.5 hr tour is in Dutch or French currently.
Location: Place Sainte-Gudule. It is an 8 – 10-minute walk from Brussels Park or the Grand Place.
Hours: Open 7 am to 6 pm (Monday – Friday), 8 am to 5 pm (Saturday) and 1 pm to 6 pm (Sundays).
8. Take A Walk In Parc de Bruxelles
A few blocks from St. Michael and St. Gudula Cathedral is the lovely Parc de Bruxelles. It happens to be the largest urban park in central Brussels.
Previously the park was known as the Royal Park as the park lies directly in front of the Palais Royal.
It is a wonderful space to stretch your legs on a stroll, rest on a bench, or admire the grand architecture of the surrounding buildings.
Make your way towards the south end of Parc de Bruxelles and you'll get a direct view of the Palais Royal.
I visited in the winter, but I would love to go back during the spring or summer when all the trees and flowers are in bloom!
9. See The Palais Royal
The Palais Royal also known as the Royal Palace of Brussels is the official home to the Royal family of Belgium.
Although it is the official residence, the King and Queen mainly live right outside of Brussels at the Royal Palace of Laeken. For most of the year, you can only admire the palace from afar or on the outside.
If you are lucky enough to visit in the summer months, you can visit the inside from the end of July to the beginning of September.
Ahead of your trip, check the exact dates and times to visit each year. If you ever see the Belgium flag flying up on top of the palace, that means that the king is there!
Even if you can't go inside, it is a gorgeous building to see as it sits on the south side of Brussels Park.
Note: The Royal Palace is closed for renovations in 2023 but will reopen in 2024.
10. Explore Cinquantenaire Park (Parc du Cinquantenaire)
If you are looking to escape the bustling city life, Cinquantenaire Park is the perfect spot. It is a large park past the EU district and a must to see during a weekend in Brussels.
During the reign of Leopold II, the park was built to include gardens, monuments, and museums.
It was built it in 1880 in celebration of Belgium's 50th anniversary of independence.
In the center of the park is the Royal Museum, Army Museum and triumphal arch that has a resemblance to the Arc de Triomphe in Paris.
The Arch wasn't finished until 1905 and has since been a majestic reminder of Belgium's strong and successful independence. Notice the bronze chariot up top of the arch and the stone carvings at the base and on the pillars.
If you want to experience an epic Brussels viewpoint, climb to the top of the arch via the next stop on the 3-day Brussels itinerary.
11. Royal Army And Military History Museum
Once you walk under the arch, head to your left and enter the Army Museum. If you don't have a lot of time or just not that into military history, you can just pay the fee to go to the top of the arch.
If climbing stairs is the last thing you want to do, there is a small elevator (lift) up to the second to top level.
At this level, there are displays of weapons, uniforms, and info on military history that you can explore before going up a flight of stairs to the top.
Make sure to walk over to each side of the rooftop to get different vantage points and spectacular views.
Note: If you are coming from the Grand Place area of town then it is easy to jump on the metro and get off at Schuman stop. From here it is only a few minutes' walk to the park entrance.
12. See The Impressive Atomium
In anticipation of the 1958 World Expo, the Atomium landmark was built to celebrate post-WWII advancement.
The slogan for the Atomium in 1958 was "a world for a better life for mankind". The slogan still rings true today and hopefully for a long time into the future.
What is the Atomium exactly? It is an architectural feat that stands 335 feet made to resemble magnified connecting iron atoms and one of the best things to do in Brussels.
Or put simply, a bunch of spherical metal balls connected by steel tubes. If you have ever taken a chemistry class, then you will recognize this landmark immediately.
In total, there are nine balls and the straight tubes connecting them are the elevators, escalators, or stairs to reach the various levels.
Today, the Atomium is a museum, art exhibit and a place to take in magnificent views of Brussels. There are both permanent and changing exhibits that you can see when visiting.
There is even a restaurant up top that serves dinner. Definitely book in advance if you are interested in having dinner here.
I highly recommend purchasing your Atomium ticket ahead of time to avoid the potentially long wait. I only wish I had purchased it before as it would have saved a lot of time…
Location: Place de l'Atomium / Atomiumplein 1. The Atomium is a little further out of the city center of Brussels so the easiest way to get there is via the metro. Coming from the city center, take the 6 line to the Heizel/ Heysel station.
Hours: Open daily from 10 am to 6 pm. There could be closures for maintenance during the winter, so check ahead prior to your visit.
Get Your Atomium Ticket & Skip The Lines!
13. Choose Your Meal At Wolf Food Market
The Wolf Food Market, officially known as the Wolf Sharing Food Market is a newer addition to Brussels opening at the end of 2019.
If you need a break from eating all the yummy Belgian food, head over to the Wolf Food Market which offers food from around the world.
With 17 restaurants and two bars, you can select a meal from pretty much any corner of the globe.
Each restaurant serves mouthwatering culinary favorites such as homemade pasta, sushi, seafood, craft pizza, Indian, and Latin food.
Plus, it is a great place for families or groups that can't all decide on the same thing to eat. This way, everyone can order the cuisine they want.
Location: Quarter du Marais neighborhood along Rue du Fosse aux Loups (about an 8 to 10-minute walk from Grand Place).
Hours: Open daily from 6 am to 2:30 pm and from 6 pm to 10 pm.
Weekend In Brussels Day 3
14. Visit The Comic Book Museum
I have never been a huge comic book fan, but I had heard that Belgium has a rich history in comics.
So, with my interest piqued, I decided to visit the Belgian Comic Strip Center. And I am so glad that I did as it is one of the coolest things to do in Brussels!
I mentioned previously that the Old England Building is an example of Art Nouveau architecture and so is the building of the Comic Book Museum (built in 1906).
It is a gorgeous building in itself to see and the comics give a fun, playful, and colorful vibe to a timeless piece of architecture.
The museum dedicates the exhibits to the beginnings, history, and making of comics since they first started.
The comic strip or comic book we know today became popular in the 1920s and 1930s. Did you know that Belgium has more comic strip artists per capita than any other country?
The first comic that I saw and immediately recognized is the Smurfs. I had no idea that it got its start in Belgium and as it was one of my favorites growing up.
A few other famous comics from Belgium are Tintin, Spirou, Bill & Buddy, Lucky Luke and Boerke.
Although the humor is more for adults, I loved the Boerke comic strip as each one I saw made me laugh.
Comics are a very important part of Belgian culture, and it shows in their celebration of comics all over Brussels.
Even if you only plan to stay the weekend in Brussels, I highly recommend squeezing in time for the Belgian Comic Strip Center.
Location: Rue des Sables 20. A 10-minute walk from the Grand Place.
Hours: Open daily from 10 am to 6 pm.
15. Saint Catherine's Church & Black Tower
On the opposite side of the Grand Place (Grote Markt) from Cinquantenaire Park is Saint Catherine's Church.
Built in the 15th century, Saint Catherine's Church is in a quieter neighborhood that is known for having many good seafood restaurants.
I really enjoyed walking the entire way around the church as it is a mix of Gothic and Baroque architecture.
The back portion of the church is much older, but I think it hasn't been cleaned which makes it look more aged.
I find the contrast of the gleaming white of the front with the black both fascinating and beautiful. A random and odd fact about the church is that you can take a piss against its walls.
Yep, there is a urinal against the church wall on the left side! I'm not sure how it got started but if you are a guy and are looking for a bathroom near here…
After visiting Saint Catherine's Church, walk behind it to see the Black Tower or "Tour Noire".
This medieval Black Tower is a surviving piece of Brussels' 13th-century walls that encircled the city. It stands out as it is now partially surrounded by a modern hotel, the Novotel Brussels Centre.
I like how they kept this chunk of history intact and built the hotel around it. Although I wish they had not built anything so close to it so that its fairytale-like beauty could stand out more.
Location: Place Sainte-Catherine 50. If you aren't in close walking proximity, you can take the metro (1 or 5 line) to Sainte-Catherine/Sint-Katelijne stop.
16. Admire The Bourse Building
The Bourse is where the stock exchange in Brussels was previously housed in a magnificent building and fabulous to see, especially at night!
It was built in 1873 and has a grand façade with columns, ornate sculptures, and oozes power.
Built on the previously covered up Senne River, the neo-palladian style Bourse is worth walking by to see as it is just steps away from the Grand Place.
The Bourse is no longer used as the location of the stock exchange (up to 2002), but it is now used for various exhibits and events.
17. The Choco-Story Museum
If you are in any way a lover of chocolate, then head over to the Chocolate Museum or the Choco-Story.
One thing is for sure, Belgians sure know how to make the most amazing chocolate!
Before going in, I thought the museum would only feature the history and making of chocolate in Belgium.
But I was surprised to see that it was the history of chocolate throughout the world and how it eventually became so popular in Belgium.
I love how each room is full of so much interesting information on how the chocolate we know today originated.
The self-guided tour is interactive getting to smell, touch and see items that are involved with chocolate.
Towards the end, you even get to eat some chocolate and watch a live demo of chocolate being made by a chocolatier. It is a great museum to visit and a great rainy day activity.
Location: Rue de I'Etuve 41 and less than a half-block from Manneken Pis.
Hours: Open daily from 10 am to 6 pm. But as it will take about 1 – 1.5 hrs to go through, get there at least an hour before closing.
Get Your Choco-Story Museum Ticket & Skip The Lines!
18. Sample The Best Belgian Chocolate
As mentioned above, if you enjoy eating the most delicious chocolate, plan to visit a handful of chocolate shops in Brussels.
Belgium as a whole is pretty well known for their chocolates but I found the most chocolate shops in Brussels compared to other cities in the country.
I had a lot of fun visiting the various chocolate shops or chocolatiers and sampling chocolate after chocolate.
If you want to go on your own self-guided tour of Belgian chocolates, discover the top shops to visit that I put together.
Or if you prefer going on a guided tour, check out these tours:
Take A Chocolate Making Workshop In Brussels!
19. See Manneken Pis (Little Pissing Man)
Just 3 blocks away from the Grand Place is the incredibly famous statue of Manneken Pis. He is by far one of the most unique things to see in Brussels!
You will likely know who this figurine is before you actually see it as there are versions of him everywhere!
And I mean everywhere from t-shirts, made of chocolate, mugs, small figurines and more.
Manneken Pis is a statue that is a cherub-like boy who is naked and pissing into a fountain.
Yep, you heard that correct. He is "pissing" water out from his package and into an enclosed fountain for hordes of people to gawk at and take many photos of! Lol.
Not to disappoint you, but the statue is very small and I laughed a bit as I guess I was expecting a much larger one.
At times you might see him dressed up in costumes for various occasions. So why all the hype? I'm not 100% sure but I did hear various interesting and creative tales of his origin.
Regardless, it is one of those touristy things you can't pass up! Oh, and there are a few other "pissers" in Brussels to see.
Jeanneke Pis is another small fountain of a little girl squatting and taking you guessed it, a piss…
And although I didn't get a chance to see it, there is even a mongrel dog called Zinneke located in the Fashion District.
Manneken Pis Location: On the corner of Rue du Chene and Rue de I'Etuve
Jeanneke Pis Location: Not too far from the Galleries Royales St. Hubert at the end of the small street of Impasse de la Fidelite (across from the Delirium Taphouse). She might be enclosed behind an iron gate so easy to miss.
20. Dine At Fin de Siecle
Another great Brussels restaurant is Fin de Siecle located in Pentagone neighborhood just a few blocks from the Grand Place. And no better way to end your long weekend in Brussels.
I really enjoyed my meal here, ordering Stoemp. Stoemp is a blend of mashed potatoes and vegetables like carrots, onions, or brussels sprouts and served with sausage or another meat.
It is a fantastic traditional Belgian dish that I recommend trying at least once.
There is huge board upon entering that lists out the menu for you so make note of what you want as you don't get physical menus. It has a cozy atmosphere that makes for a great addition to the meal.
Location: Rue des Chartreux 9
Hours: Monday – Friday from 6 pm to midnight and Saturday/Sunday from 12 pm to midnight.
21. Grab A Beer At Poechenellekelder
One of the coolest and quirkiest bars in Brussels is Poechenellekelder which translates to the "puppet cellar".
The name gives reference to the many marionettes or puppets seen hanging about the tavern along with artwork and unusual photos.
This tavern is the place to go if you enjoy drinking beer and Belgian beer in particular. Poechenellekelder has over 100 beers on its menu including Trappist beer if you are curious to give it a try.
Since 1991, it has been a popular spot for both locals and tourists for the fun ambiance and great beer selection.
If you happen to be standing and taking in the oddity of Mannekin Pis, just turn and look across the street to see Poechenellekelder.
In the warmer months you can sit out front or on a cooler day go upstairs and find the perfect table to sip a Belgian beer.
Brussels Attractions Map
Here is a map of Brussels with all the best things to do on weekend visit to make navigating the city easier for you!
Where Is Brussels?
Brussels is the capital of Belgium and pretty much in the center of the country. It is the largest city in Belgium and is the perfect base to start out your travels in the country.
Belgium is bordered by France, Luxembourg, Germany, and the Netherlands. That means that it is super easy to get to Brussels from so many cities for its central location.
It also happens to be the administrative capital of the European Union (EU), so you will see a large EU presence here.
Accommodations In Brussels
For the most convenient access to most of the Brussels attractions, I would recommend staying near the Grand Place (Grote Markt).
That way you can rely on walking to almost everything, near all the cafes, shops, and chocolatiers.
Courtyard Marriott Brussels EU – I loved staying in the European Union (EU) district which is about a 20-minute walk or quick metro ride to the Grand Place.
Hilton Brussels Grand Place – If you are coming into Brussels by train, this Hilton property is next to the Brussels Central Train Station.
Brussels Marriott Hotel Grand Place – Centrally located a few blocks away from Grand Place.
Radisson Blu Royal Hotel Brussels – Centrally located and across from the Wolf Food Market.
Traveling To Brussels
The airport in Brussels, Belgium you want to fly into is the Brussels Airport (BRU) which is the international airport. The airport is about 20 – 25 minutes from the city center of the Grand Place (Grote Markt).
Search For The Best Flight Deals!
If you don't have a lot of luggage, I would say to jump onto the metro and take it to one of the stops near the city center. But if you have a lot of luggage or are too tired after flying for hours like I was, then hop into a taxi or Uber.
Book Your Private Airport Transfer To The City!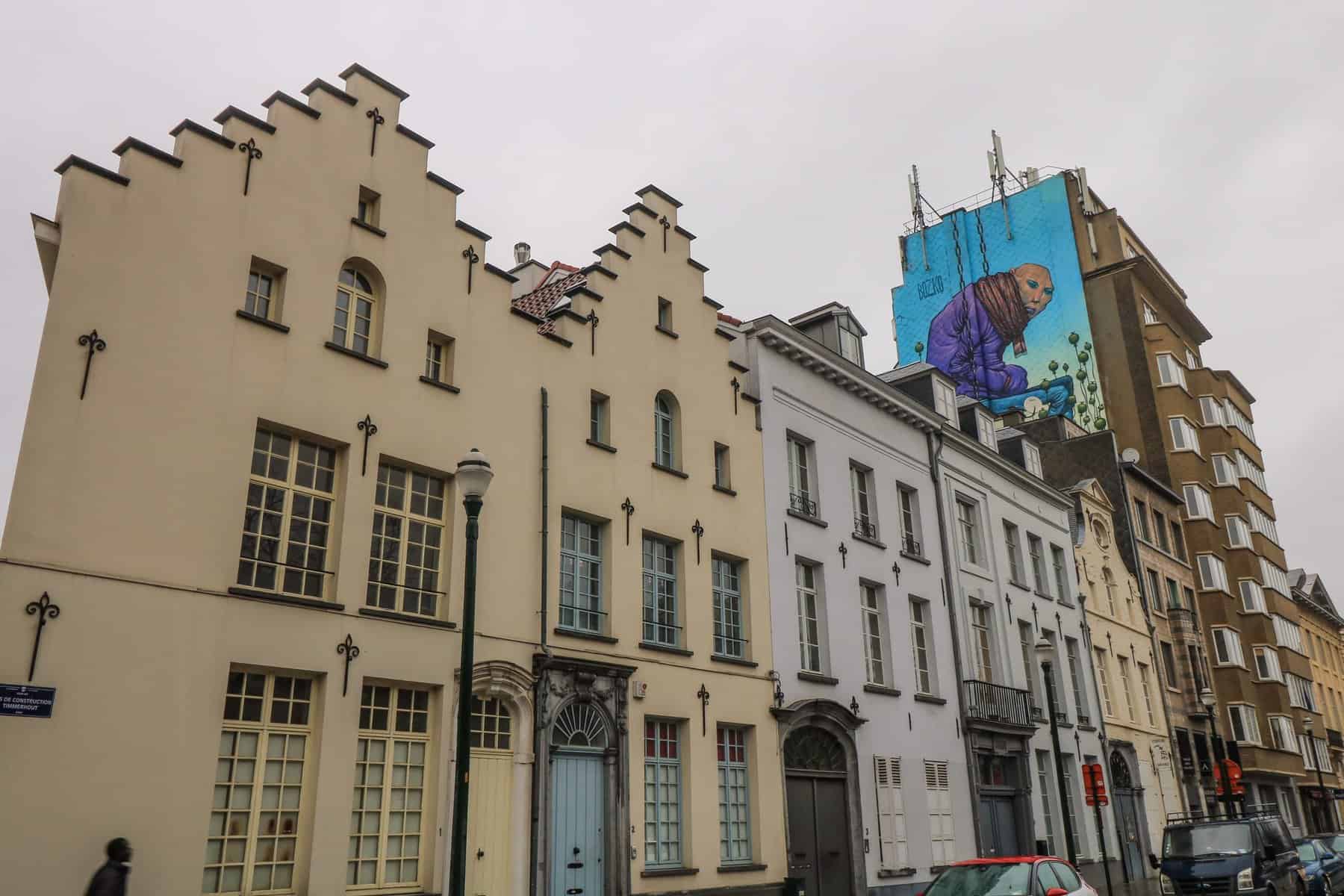 Top Tours In Brussels
Brussels Private Walking Tour With A Local – Is an excellent way to see some of these sights listed in this post from a local's perspective.
City Highlights Walking Tour & Food Tasting – What better way to experience a new city that by learning about the history and sampling chocolate, beer, and waffles!
Hop-On Hop-Off Bus Tour Pass – Get on a bus tour and pick which stops to get off at for the most popular attractions in Brussels.
Belgian Chocolate Workshop – Always wanted to learn how to make delicious chocolate?
Choco-Story Museum Ticket – Skip the line and visit the Chocolate Museum with ease!
Belgian Beer Tasting Experience – Sample an assortment of beers from Belgium at two different locations!
Atomium Skip The Line Ticket – Avoid long lines and see the Atomium quicker than most people!
How To Get Around Brussels
Brussels is a very easy city to navigate and get around by walking which provides the opportunity to see sights that you might normally miss!
The majority of the sights I have listed above are within walking distance of the center or Grand Place.
If you would rather not walk or save time, then consider getting the Brussels Hop-On Hop-Off Guided Bus Tour. The tour takes you to the most popular Brussels attractions where you can jump off at any time during a 24-hr or 48-hour unlimited pass.
For those that are further out, I suggest taking the metro. If you know you will be using the metro a lot, you can purchase an unlimited day or multiple day pass, that will be a better deal.
Before using the metro or train stations, be aware that there are a few names for each station. Why? Well, the station names are in French and Flemish with a good chance of English too.
Brussels Train Stations
There are three main train stations in Brussels, they are Brussels North, Brussels Central, and Brussels South.
At first, knowing which train station to go to can be confusing as there are often two different names for each station.
For example, Brussels South (English) is Bruxelles-Midi (French) and Brussels-Zuidi (Flemish).
They are all the same location, just a different name depending on the language. Having said that, I hope I haven't scared you off to using the metro and trains as they are nice and simple to use.
Catching a train is the easiest way to head to other nearby cities like Leuven, Ghent, Bruges, and Antwerp.
If walking or taking the metro isn't ideal, you can always book a ride with Uber. If you are spending a weekend in Brussels, you really don't need a car and parking will only add to your costs.
Best Time To Visit Brussels, Belgium
Brussels is one of those cities you can visit year-round as it has fairly mild winters. They only seem to get one or two snowstorms a year so traveling there is pleasant even in the winter months.
I visited in December to experience the Christmas Markets in Brussels and loved it! There were a number of overcast and rainy days, but I was bundled up and prepared for the chilly air.
If you aren't coming for the Christmas Markets in December, then the spring and fall will be the most pleasant and have fewer crowds than the summer months.
More and more I try to avoid the crowds and visit during the shoulder and off-season, but you can't beat the warm summer months as a great time to visit too.
If you are looking for a few other great places to visit in Europe, explore:
12 Ultimate Things To Do In Brasov, Romania
15 Top Things To Do In Split, Croatia
What To Eat In Brussels
Belgian food did not disappoint and quite the opposite as I might have indulged too much! I am not a big waffle fan at home but when in Belgium, I absolutely love them. As I mentioned above, try one at Maison Dandoy, the best waffles in Brussels.
Another Belgian favorite is chocolate, and they really are incredibly delicious! There are a number of top chocolatiers that require a visit to their shop, especially Mary's and Neuhaus.
The chocolate that Belgium is famous for is the praline, so make sure to taste one of these delights.
For French fry lovers, Brussels has excellent frites and even Moules Frites which is mussels with French fries. Don't leave Belgium without experiencing mussels and fries.
And what goes well with frites? Well, beer of course! The Belgian's are known for their beer but give Trappist Beer a try.
It is beer that has been brewed by Trappist Monks and six monasteries in Belgium still brew it today. That is more than any other country in the world.
To be a Trappist Beer, it must be brewed in a Trappist Monastery by monks and be in line with the life and practices of the monks. The six Trappist breweries are Chimay, Orval, Westmalle, Rochefort, Achel, and Westvleteren.
One of my favorite traditional Belgian dishes I had was Stoemp. It is a blend of mashed potatoes and vegetables like carrots, onions, or brussels sprouts and served with sausage or other meat. It is so delicious and a dish to try at least once.
Tips For Visiting Brussels, Belgium
FAQs About Brussels, Belgium
Is Brussels Worth Visiting?
Yes! Brussels is worth visiting as it is a historic city that is very walkable with friendly locals, fantastic Belgian food, gorgeous medieval buildings, and unique museums such as the Comic Book and Chocolate museums.
What Is Brussels Known For?
Brussels is known for its incredible chocolates, beer, waffles, historic medieval architecture, the Atomium, comic books, and the headquarters of the European Union (EU). It is also known for its art murals and quirky sights such as Mannekin Pis.
Is 3 Days In Brussels Enough?
Yes, you can see all the main attractions in Brussels in 3 days and be able to go on a few tours, visit museums, and indulge in plenty of waffles, chocolate, and beer.
How Many Days In Brussels Do You Need?
I would recommend 3 days or a long weekend in Brussels to see all the top activities, go on a tour or two, visit a few museums, and enjoy the spectacular Belgian cuisine and beer. If you have 4 to 5 days, you can add on a day trip to nearby Leuven, Antwerp, or Ghent.
Is Brussels A Walkable City?
Yes, Brussels is a very walkable city that is easy to get around on foot or by using the metro. It is a relatively flat city with all the main tourist attractions within walking distance of Grand Place in the historic center.
What To Eat In Brussels?
The best things to eat in Brussels are waffles, Belgian chocolates especially pralines, French fries (frites), mussels, and beer. A few excellent traditional dishes to try are Stoemp, Carbonade Flamande, and Waterzooi.
Can You Speak English In Brussels?
A little over 50% of the population speak English but keep in mind there are three main languages spoken in Brussels. They are Dutch, French, and Flemish. Have the Google Translate app on your phone handy in case you need to reference it and always try to learn common words or phrases.
Is Brussels Safe To Visit?
I felt completely safe walking around during the day and early evenings in Brussels. That said, Brussels is a large city so as with all big cities, use common sense and don't wander in neighborhoods you are unfamiliar with at night or carry flashy valuables such as jewelry.
What Currency Is Used In Brussels, Belgium?
The Euro is the currency used in Brussels and all of Belgium. For the best conversion rates, get cash from an ATM rather than a currency exchange station.
Is Bruges or Brussels Better?
Both are wonderful cities in Belgium, and each is worth visiting. For those looking for a bigger city feel with a lot of nightlife, shopping, attractions, and a major international airport, then Brussels is a great choice. If you would prefer spending time in a very charming and fairytale-like city at a slower pace, then Bruges is a top pick.
Before You Go…
There are several top cities in Belgium to visit within an easy train ride from Brussels. Read my next post on one of my favorite cities in Belgium that is only 40 minutes away!
19 Amazing Things To Do In Ghent, Belgium
Have a wonderful time exploring a weekend in Brussels!
Got Travel Insurance?
Don't leave home without travel insurance as you never know what might happen on a trip! It is always when you least expect it that something can go wrong like getting sick, in an accident or cancellation of some sort.
Get a no-obligation quote from two trusted travel insurance companies for peace of mind on your next trip!
Looking For More Related Travel Content?
11 Fun Things To Do In Dinant, Belgium
How To Tour The Best Chocolates In Brussels
The Best Way To Spend 3 Days In Bruges, Belgium
Guide To The Best Christmas Markets In Belgium
12 Best Things To Do In Bucharest, Romania
15 Ultimate Things To Do In Dubrovnik, Croatia
7 Best Filtered Water Bottles For Travel And Hiking
Allbirds Review: The World's Most Comfortable Shoes?
Vanessa Shields
Vanessa Shields is the founder of Traveling Ness helping people with trip ideas, itineraries, travel planning, and boosting confidence for female travelers to take a solo trip. She has been a travel writer and content creator since 2019.