Disclaimer: Traveling Ness contains affiliate links and is a member of the Amazon Services LLC Associates Program. If you make a purchase using one of these links, I may receive compensation at no extra cost to you. See my privacy policy for more information.
10 Top Things To Do In Downtown Los Angeles, California
Growing up in Southern California, the idea of exploring downtown Los Angeles was not exactly on my to-do list. In the past, DTLA has mostly been a business hub with a bunch of high rises and not much else. But in recent years, it has evolved to be a center offering up culture, history, and modern accents with top things to do in downtown Los Angeles.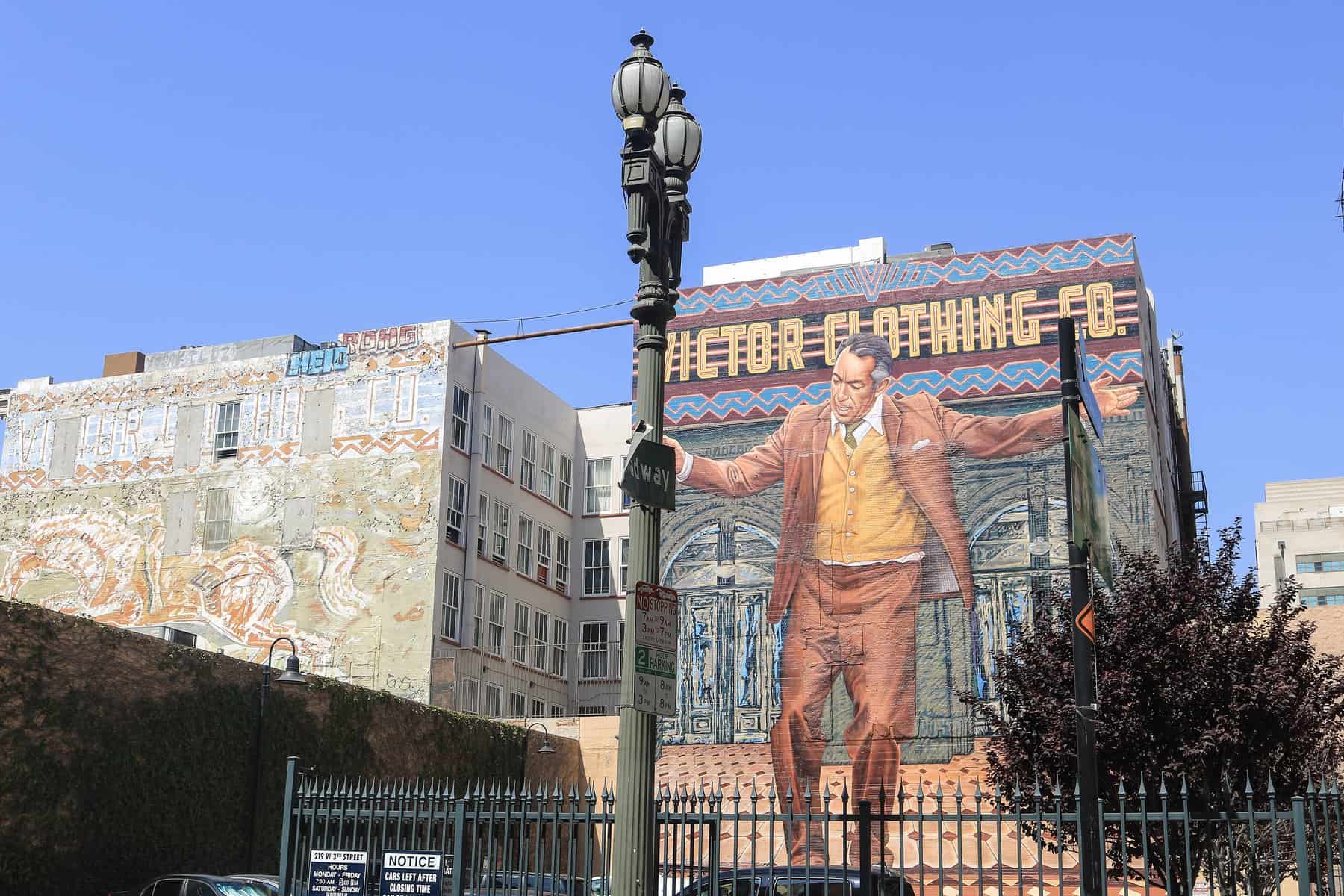 To my surprise, there are many fun things to do in downtown LA giving me a whole new appreciation for the area. Wandering DTLA is full of sights to see with such a mix of vintage meets modern that will delight a visit to this ever-changing urban city.
The following fun things to do in downtown Los Angeles are not to be missed on any trip to the "City of Angels".
Where Is Downtown Los Angeles?
Los Angeles as a whole is an incredibly large county that can easily take a few hours to get from one end to another. Downtown Los Angeles is in the central area of the county where you have likely seen enormous high rises that create the LA skyline.
If you are coming from LAX or the Los Angeles International Airport, expect about 30 – 45 mins to reach downtown Los Angeles. Start planning for your trip to Los Angeles and explore the best flight deals today!
Downtown Los Angeles is about 30-minutes from the beaches of Santa Monica and about 20-minutes from Hollywood.
If you are starting your trip from further south in San Diego, the drive is between 2-3 hours depending on traffic.
Tip: If you want to spend some time on a gorgeous beach, explore A Guide To The 5 Most Beautiful Beaches Of Malibu, California!
How To Get To Downtown Los Angeles
If you have arrived at LAX airport then you can either take a taxi, Uber or a bus shuttle. The easiest and cheapest route is to take the LAX FlyAway Bus to Union Station that is in downtown Los Angeles.
Once you get to the Union Station you are set to see DTLA and it happens to be one of the top things to see in downtown Los Angeles! The bus will take 30-45 minutes and can be taken in the reverse direction.
If you are planning to visit many areas in Los Angeles then consider getting the Los Angeles Hop-On Hop-Off bus tour that is a great way to avoid having to drive. Although it doesn't go to downtown LA, you can take an Uber from the Hollywood area to see the sights listed here.
Tip: If you know you will be visiting many attractions throughout the LA area then consider getting a car. Find the best deals on a car rental here and be ready for your trip!
Hotels In Downtown Los Angeles
Los Angeles is such a huge city that is spread out over a vast area. So planning your overnight stay in the right location is key! The best places to stay while exploring things to do in downtown Los Angeles are:
Ace Hotel DTLA
JW Marriott LA Live
Millennium Biltmore LA
Downtown LA Walking Tours
If this is your first visit to Los Angeles then I recommend taking a downtown LA walking tour that is not only fun but will offer tons of great history, architecture, and culture insight!
Downtown LA Culture & Arts Walking Tour – This walking tour will dive into the history of DTLA, iconic buildings, and cool facts of this urban hub.
Downtown LA Food Tour – If you are a foodie then you will love tasting your way through the best bites to eat in DTLA in 3 hours. Plus, you can skip the lines at some of the best eats in town!
Downtown LA Hollywood Movie Tour – This tour will take you to see where some of Hollywood's top movies have been filmed here!
Downtown Los Angeles Architecture & History Tour – Tour the most impressive architectural buildings in downtown LA plus the fascinating history behind them!
Los Angeles Helicopter Ride – Ok this is not a walking tour but when you have finished for the day, hop into a helicopter for a 30-minute evening ride over Los Angeles and give your feet a rest!
Top Attractions In Downtown Los Angeles
1. OUE Skyspace LA
The U.S. Bank Tower is a high-rise building in the heart of downtown LA and is likely one of the most recognizable buildings in Los Angeles for its round shape. For many years up until 2016, it was the tallest building in Los Angeles at 1,018 feet and has been seen in countless movies, shows, and commercials.
The OUE Skyspace LA provides a stunning 360 degree viewing on top of the 69th and 70th rooftop observatory. Besides the breathtaking views, there is a glass enclosed skyslide that drops 45-feet from the 70th to 69th floor on the outside of the U.S. Bank Tower.
Yes, you read that right, it's on the outside! I was hesitant at first as I am very scared of heights, but it goes so fast (5 seconds). You don't have time to worry that you are 1,000 feet above DTLA! This is definitely one of the coolest things to do in downtown Los Angeles!
If you are lucky enough to be in LA on a clear and sunny day (no smog) then you can see the coast on one side and the Hollywood sign on the other. I have been to Los Angeles many times, but this was hands down a whole new perspective that you can't get anywhere else as it is the tallest open-air observation deck in California.
Note:  You can't bring in luggage or tripods, even small ones. I had a small tripod for my cell phone but luckily, I was able to check it at the front counter.
Cost: $25 per person (Adult) and $8 to ride the Skyslide
Hours: 10am to 10pm daily, although last entry is at 9pm
Location: 633 West 5th Street, Los Angeles, CA 90091
2. The Last Bookstore
If you are a bookworm like me, then wandering in the Last Bookstore is heaven! The Last Bookstore is the largest new and used bookstore in California that used to be an old bank.
You can still see the layout of the bank and even cooler is the old vaults that you can browse books in. As the name implies, it is rare to see an actual bookstore these days but luckily LA has this gem.
Not only is it a beautiful bookstore to explore, but there are some fun photo opportunities with unique ways they stacked books making it very Instagram worthy!
Visit the upstairs so that you don't miss the book vault and books arranged in unique arrangements. Although I do have a kindle, there is something about the smell and feel of a physical book that never gets old.
Note:  No large bags or backpacks are allowed but they do bag check up front.
Hours: Monday thru Thursday, 10am to 10pm. Friday and Saturdays 10am to 11pm and Sundays 10am to 9pm.
Location:  453 S. Spring Street, Los Angeles CA 90013
3. Grand Central Market
If you are hungry and in downtown LA, look no further than Grand Central Market! Grand Central Market has been around since 1917 housing an open-air market with over 35 food vendors, many of which will dazzle your taste buds.
There is every type of food you could want ranging from gourmet burgers, tacos, noodles, BBQ and true deli sandwiches just to list a few.
Although I could have had one of everything, I enjoyed half of a Reuben and the LA Bird from Wexler's Deli. It transported me back to the east coast, enjoying a real deli sandwich…
Eggslut makes amazing egg sandwiches that will satisfy any breakfast or lunch craving you might have. With so many amazing food options, it's easy to see why the Grand Central Market has been around so long.
Note:  Right across the street is Angel's Flight, so don't miss the historic quickest train ride!
Hours: Open daily from 8am to 10pm
Location:  317 S. Broadway, Los Angeles, CA 90013
4. Angel's Flight
Angel's Flight is the world's shortest train ride at just 298 ft long! It's right in the heart of DTLA, connecting Olive Street to Hill Street in the area known as Bunker Hill. The ride up to Olive Street is over before you know it or about 45 seconds later!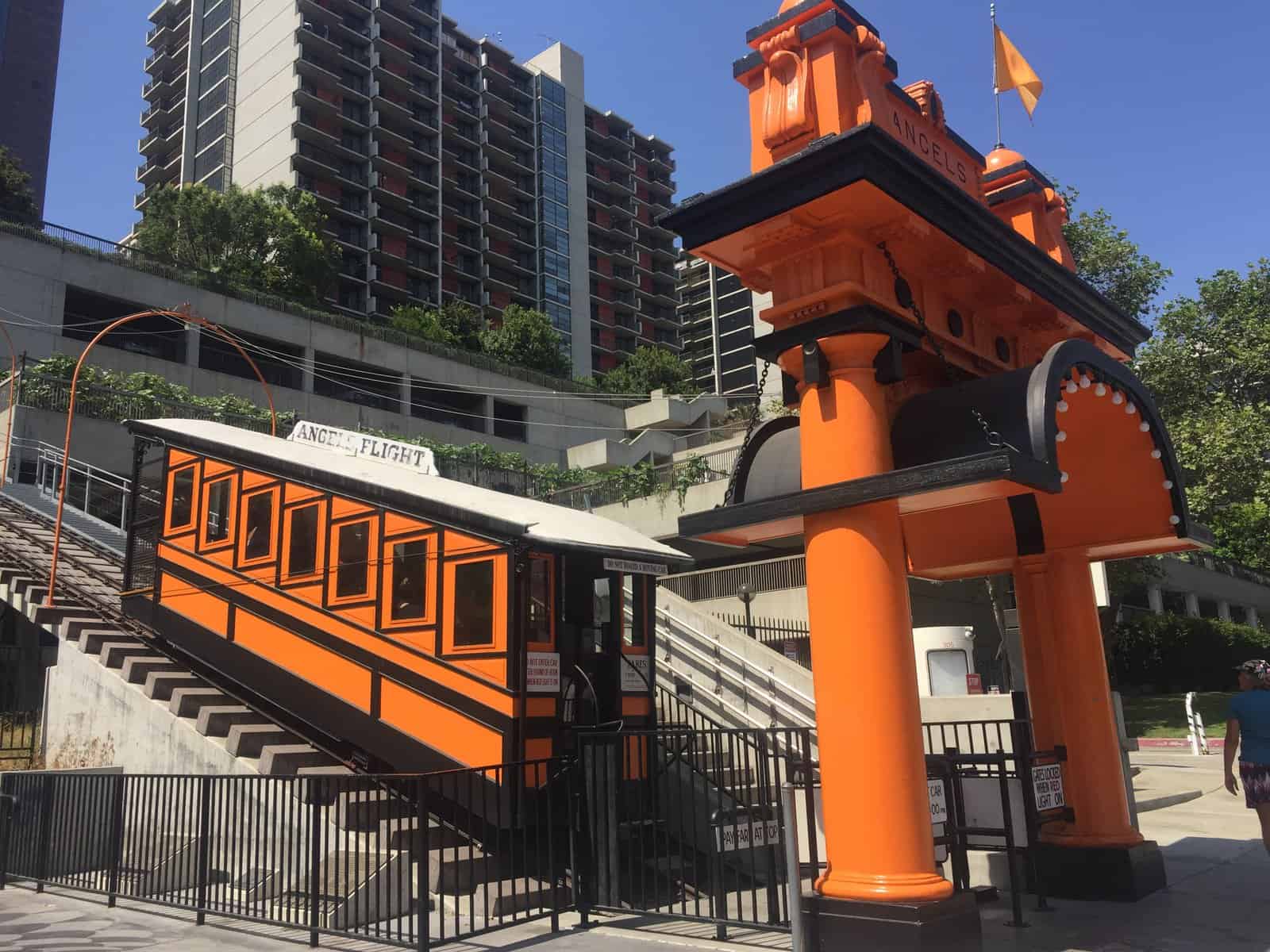 Angel's Flight was first opened in 1901 with two funicular cars named Olivet and Sinai and is quite adorable with a vibrant orange color that stands out. Angel's Flight stands out and is one of the most unique places to see in downtown Los Angeles!
Although it is just as easy to take the stairs up/down, I recommend taking Angel's Flight as it's like stepping back into time on a vintage railway. Angel's Flight has also appeared in many films and shows over the years, the most popular being La La Land and one of my favorite shows, Bosch.
In the Harry Bosch scene, there is a murder on the railway car. Luckily for me, there wasn't any crime that day…
Cost: The fare to ride is $1.00 each way or 50 cents each way for Metro fare if you have a TAP card.
Hours: Runs daily from 6:45am to 10pm
Location:  351 S. Hill Street, Los Angeles CA 90013 (across from Grand Central Market)
5. Bradbury Building
The Bradbury holds the title of being the oldest building in Los Angeles built in 1893 and is in the heart of the historic downtown LA. From the outside, it is clear that it is old but not super impressive from the exterior. That quickly changes once you enter the building and are transported back in time to a different era!
There is no end to the amount of craftsmanship, detail, and quality when admiring the Victorian court with staircases, ornate ironwork, cage elevator, and atrium. I only wish that buildings were still built like this today…
Originally the Bradbury Building was office space but more recently it serves to house the LAPD Internal Affairs division. The building's interior has been seen in countless movies and shows with the most popular, "Blade Runner".
More recently the music video for "Say Something" with Justin Timberlake and Chris Stapleton is an awesome opportunity to see parts of the building that visitors don't get access to. Apparently, you need to be JT to go up past the first landing!
Note: To learn more about the history of the Bradbury, tours are available through the LA Conservancy every Saturday morning at 10am on the Pershing Square Tour (covers several buildings in the area).
Unfortunately, visitors are only able to go up as high as the first landing. The Bradbury is located across the street from Grand Central Market and a few blocks from Angel's Flight, so lots to see in this area.
Hours:  Open daily from 9am to 5pm
Location:  304 S. Broadway, Los Angeles
6. City Hall
The Los Angeles City Hall was built in 1928 and up until 1964 was the tallest building in LA with 33 floors! Now that there are so many tall buildings that tower it, it seems hard to imagine it being the highest. The City Hall's beautiful architecture is from the Art Deco period and a Los Angeles landmark to be seen.
Interestingly, City Hall has a free observation deck that provides stunning views of downtown LA. On a clear day, you can even see the Hollywood sign, Griffith Observatory and Dodger Stadium.
To get a glimpse of what Los Angeles looked like back in time, head to the 3rd floor to see the art gallery depicting Los Angeles throughout its history in the making.
After visiting the art gallery, wander down to the 1st floor to see the 1984 Olympic Torch from when LA hosted and has since called City Hall home (near the Spring Street exit).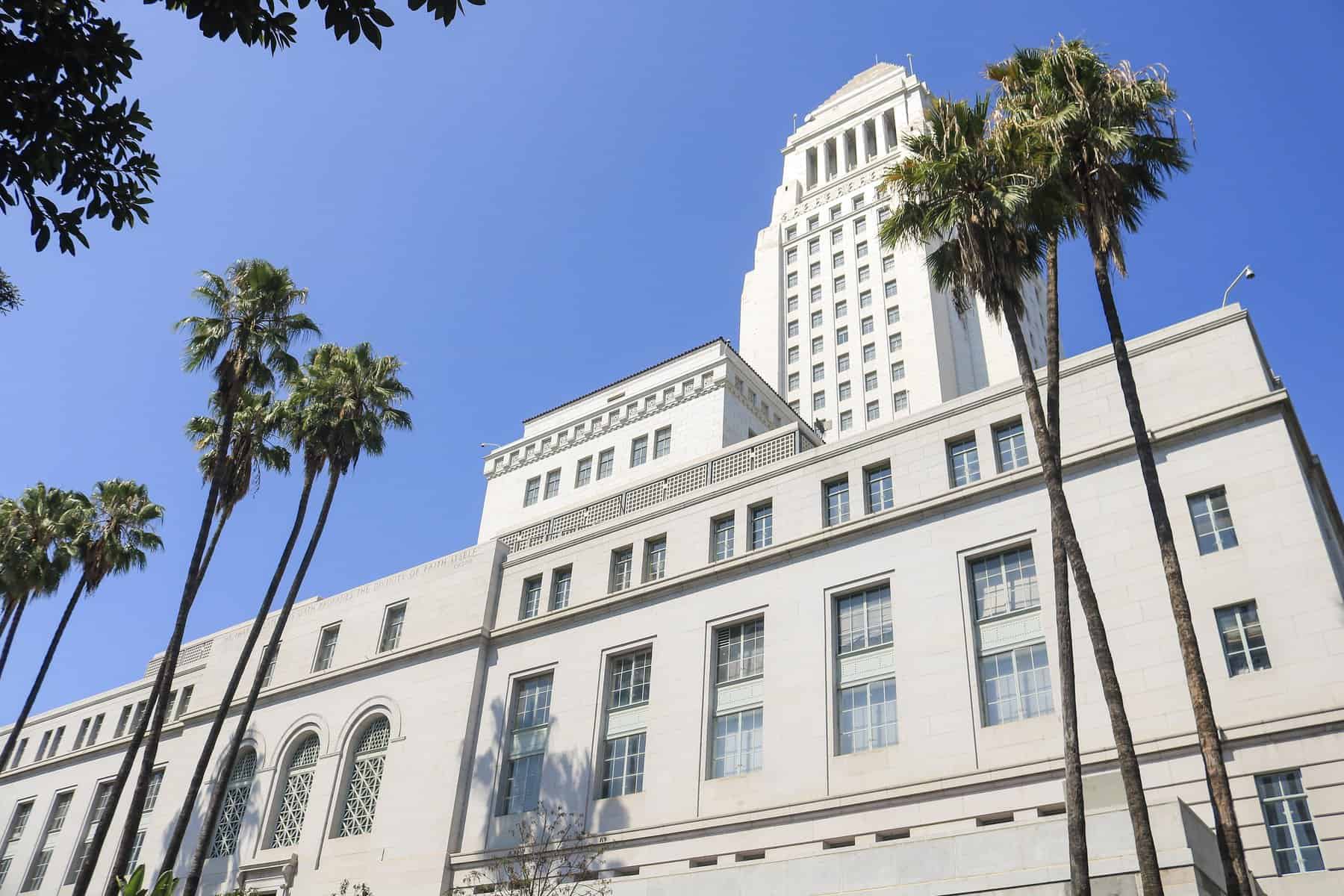 Note:  To access the observation deck on the 27th floor, enter the Main Street entrance. Go through security and show ID and they will give you directions to the top. The observation deck isn't open on the weekends, so make sure you fit this in during the week.
Hours:  Monday thru Friday, 8am to 5pm (entrance via Main Street)
Location: 200 N. Spring Street, Los Angeles CA 90012
7. Union Station
If you are coming into Los Angeles by train, then you are in luck as all trains coming into DTLA arrive at Union Station. The station is the main hub in LA where you can catch an Amtrak train, the Metrolink commuter trains or the Metro Rail subway.
Union Station is a Los Angeles landmark built in 1939 and is an architectural gem that combines Art Deco and Mission design. It is considered one of the "last great train stations". If you have some time to spare before you catch your train, grab a drink and some oysters at the Streamliner Bar!
Note: If you aren't rushing to catch a train, slow it down by taking an Art & Architecture tour of Union Station that is free on the second Sunday of each month. Meet at the info booth near the Alameda entrance at 10:30am. The tour lasts about 2 hours.
Location: 800 N. Alameda Street, Los Angeles, CA 90012
8. Olvera Street
Directly across from Union Station is "El Pueblo de Los Angeles Historic Monument" or more commonly known as Olvera Street. Olvera Street is home to some of the oldest dwellings in DTLA and leads off from the plaza where the vibrant Mexican culture is always present.
At only 1 block long, it is said that Olvera Street is the "first" street in DTLA.
Olvera Street is closed off to traffic and a great area to stroll in looking at the various attractions and the marketplace. There are several stalls where you can purchase gifts and knickknacks celebrating Mexican heritage.
If you love Mexican food then make sure you bring your appetite as there are several Mexican restaurants to choose from! Some popular favorites are El Paseo Inn, Cielito Lindo, and La Golondrina.
Tip: Save some room for dessert and grab some churros, both plain and those are filled with chocolate at Mr. Churro's!
Location: 1 Olvera Street, Los Angeles, CA 90012
9. Walt Disney Concert Hall
The Walt Disney Concert Hall is pretty hard to miss with its modern architecture that makes you take notice. The architectural style might seem familiar as it is by the famous architect, Frank Gehry.
He is also well known for his work in creating the Guggenheim Museum Bilbao in Spain that displays a modern and contemporary design. His designs are so unique and yet distinct to him, that they become instantly recognizable.
The concert hall is home to the LA Philharmonic and acoustically one of the best concert halls in the world. The best way to experience the Walt Disney Concert Hall is to attend a concert but if that isn't an option, check out their tours. They offer both self-guided audio tours and guided tours most days.
Note: Tours offered are about an hour long and begin in the Grand Lobby of the Walt Disney Concert Hall. The self-guided tours are free and just require a photo ID to begin. The guided tours are $10 and it is recommended to check the tour schedule as the times vary by day.
Location:  111 S. Grand Ave, Los Angeles, CA 90012
10. Downtown LA Walking Tour
There are so many attractions in downtown Los Angeles to see but if you are looking to take a deeper dive into learning more about DTLA's history and culture, take a downtown LA walking tour with the Los Angeles Conservancy.
The Los Angeles Conservancy offers various walking tours that focus on different areas of downtown LA. If you are short on time or just can't make a specific tour, the LA Conservancy offers some great self-guided tours that you can do at your leisure! You can download a PDF copy for each tour you want to take.
Note: Tours are offered on various days, so check the website prior to find out what tours are offered. All the tours except for the Art Deco and Historic Downtown require advance registration. Expect to spend between 2-3 hours for most tours.
Cost: Walking tours are $15 or $10 for members of the LA Conservancy.
Enjoy visiting the best attractions in downtown Los Angeles!
Got Travel Insurance?
Don't leave home without travel insurance as you never know what might happen on a trip! It is always when you least expect it that something can go wrong like getting sick, in an accident or cancellation of some sort. Get a no-obligation quote from two trusted travel insurance companies for peace of mind on your next trip!
Looking For More California Travel Inspiration?
The Best Ways To View The Hollywood Sign
Venice Beach to Santa Monica: A Fun One Day Itinerary
A Guide To The 5 Most Beautiful Beaches Of Malibu, California
The Epic California Big Sur Road Trip
10 Awesome Things To Do On Catalina Island
15 Best Things To Do In San Diego
The Best Northern California Coastal Road Trip
How To Have The Perfect Weekend In Big Bear
Disclaimer: My post may contain affiliate links, which means I may receive a small commission if you click a link and purchase through that link. It won't cost anything to you to use these links but is very much appreciated. Thank you!