Disclaimer: Traveling Ness contains affiliate links and is a member of the Amazon Services LLC Associates Program. If you make a purchase using one of these links, I may receive compensation at no extra cost to you. See my privacy policy for more information.
19 Awesome Things To Do In Puebla, Mexico You Don't Want To Miss
Puebla is a lovely place to visit in Central Mexico with close proximity to Mexico City and its status as a World Heritage city! If you are searching for the best things to do in Puebla, Mexico look no further.
Use this travel guide to explore Puebla's vibrant buildings in colonial architecture, awe-inspiring cathedrals, fantastic street food, and charming streets that are meant to wander…
Although Puebla is a large city, you wouldn't know it walking through the historic center. Many visit Puebla on a day trip but stay a few days to really take in the sites, engage with the friendliest locals, and enjoy some unique dishes.
Best Hotels In Puebla, Mexico
Hotel La Purificadora – I stayed here and absolutely loved it with the perfect mix of modern meets historic ruins, plus in walking distance of everything!
In preparation for your trip, learn the most useful tips for traveling in Mexico. And if you plan to visit Oaxaca, don't miss out on these activities!
Things To Do In Puebla, Mexico
1. Wander The Zocalo
The Zocalo is one of the best places to begin your time in Puebla as it is the central square and heart of the historic center (centro historico).
Many of the top sights to visit in Puebla are located within walking distance of the Zocalo. It is a good spot to get your bearings of the town and venture out from here.
This large square or plaza has a beautiful park with water features and benches to sit back and relax.
The towering Catedral of Puebla is on one side and several eateries and shops line the other three sides of the square in arcades. The arcades or passageways date back to the 16th century and are beautiful to view.
It is the perfect place to grab something to eat or drink at an outdoor cafe and take in the atmosphere and watch people passing by.
Anytime there is a festival or big holiday, you can expect the Zocalo to be bustling with activity.
At the time Puebla City was founded in 1531, the Zocalo was the first square block to be designed and built. After that, the rest of the city was built surrounding the Zocalo and spanning out as the city grew.
2. Catedral de Puebla
Bordering the entire length of the Zocalo's southern edge is the Catedral de Puebla, the main cathedral in Puebla built between 1575 and 1649.
Additions and final touches to the cathedral continued up to 1690. The twin bell towers of the cathedral stand at a whopping 227 feet (69 meters), the tallest of any cathedral in Mexico.
When you are standing in front of it and gazing up, it is quite an impressive sight! With Renaissance architectural style facades on the outside and a Baroque interior, there is nothing shy of being over-the-top in grandeur. In fact, it is one of the most beautiful cathedrals in Mexico.
Catedral de Puebla was declared an UNESCO World Heritage Site in 1987 to preserve its beauty and history.
As you enter the cathedral, take your time to view al the intricate décor, paintings, altars, carvings, goldsmithing, and more.
There are three main doors with the largest in the center. The center door is closed but I recommend viewing it from the inside to see the detailed craftsmanship and its enormous size.
3. Take A Food Tour
Puebla is one city you do not want to leave without diving into the incredible food scene. My personal favorite way to accomplish this is to take a food tour.
Usually a food tour is focused on the food but interspersed with history and the connection between the food and its local significance.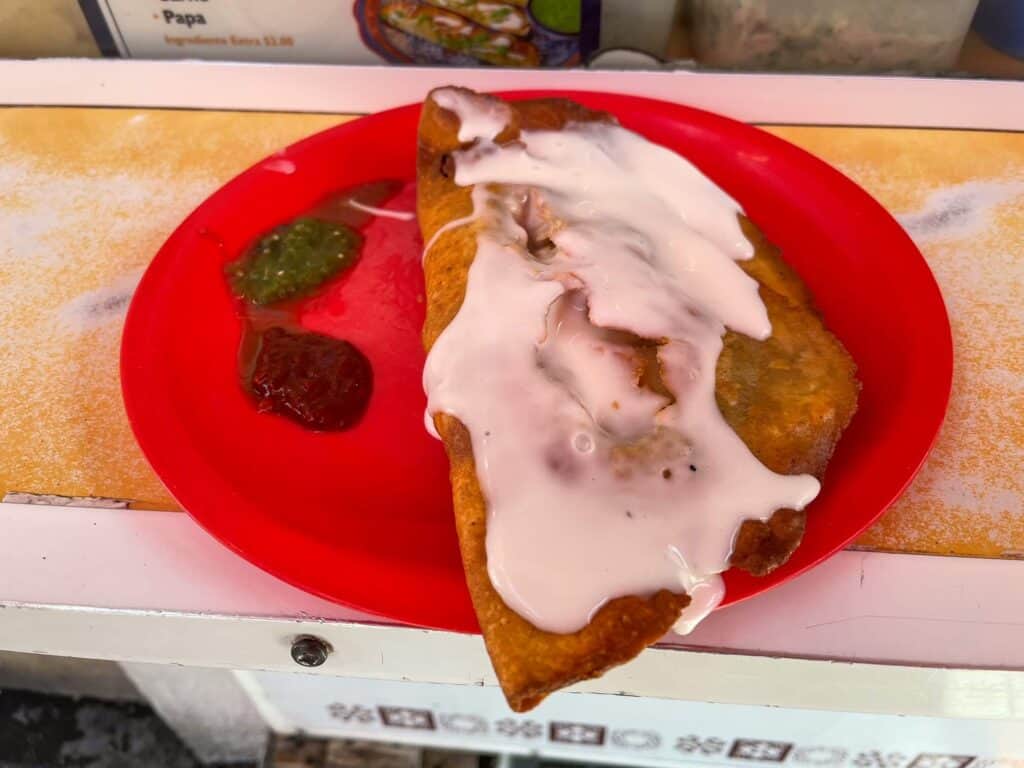 Awesome street food is in abundance in Puebla so having a guide that can take you to the best spots is key.
A few foods that are a must to try in Puebla are cemitas, moletes, chalupas, Arabe tacos, Al pastor tacos, and churros with hot chocolate.
A cemita is considered a snack but wow, it is an enormous snack! It is a sandwich that is similar to a torta but uses cemita bread with sesame seeds. Every bite of this sandwich is incredible…
Moletes look like an enclosed quesadilla that is fried and with various fillings. I enjoyed one with huitlacoche (corn mold) and cheese topped with some hot sauce. So good!
The chalupas are much different than what I have seen in the U.S. and much better! The tiny round thick tortillas have chicken with red or green sauce and when folded, resemble small tacos.
Both the Al pastor and Arabe tacos are fantastic. I had never eaten an Arabe taco which is from Lebanese tradition of cooking the pork on a spit. An Arabe taco unlike most will not have any toppings like cilantro or onions. It is to be enjoyed simple and delicious.
Tip: If you want to sample great street food of Puebla, consider a food tour with Alejandra. She is an excellent local guide that will take you to the best spots!
4. Museo Amparo
If you enjoy visiting museums, add Museo Amparo to your list. Just a few blocks from the Zocalo, Museo Amparo is the best museum to really showcase the history, culture, and art of Mexico, including Puebla.
The museum is housed in two beautiful colonial-era buildings yet as you walk inside, the interior is completely modern and unexpected.
The first thing you see is a large, abstract textile weaving that hangs in the lobby giving a nod to Mexican traditions of weaving.
As you walk from one exhibit to another, you get an excellent grasp on what life was like in Mexico from pre-Hispanic times, the Colonial era, the time of Mexico's Independence and up to present day.
You can learn all about Mesoamerica and the indigenous groups such as the Mayans, Aztecs, and Zapotecs that lived here.
There is a fascinating mix of old such as ancient artifacts intertwined with modern art throughout the museum.
Because of its comprehensive collection of artifacts, sculptures, and art, the Museo Amparo is considered one of the top museums to visit in all of Mexico.
One of the biggest surprises is on the top floor terrace where there is a café and a rooftop patio that has stunning views of historic Puebla. You have a premier vantage point of the domes of several churches, beautiful buildings, and a really peaceful space.
Note: The museum is open daily from 10:00 am to 6:00 pm except for Tuesday (closed).
Tip: On Sundays the Museo Amparo is free to enter.
5. Sample Sweets On Calle De Dolce!
On Calle de Dolce you will find no shortage or dolce (sweets) as there are many sweet shops lining this two-block historic street.
I had the chance to sample some tasty sweets on Calle de Dolce on the food tour I took above. And I popped into a few other stores later to find more of the great candy I had tried!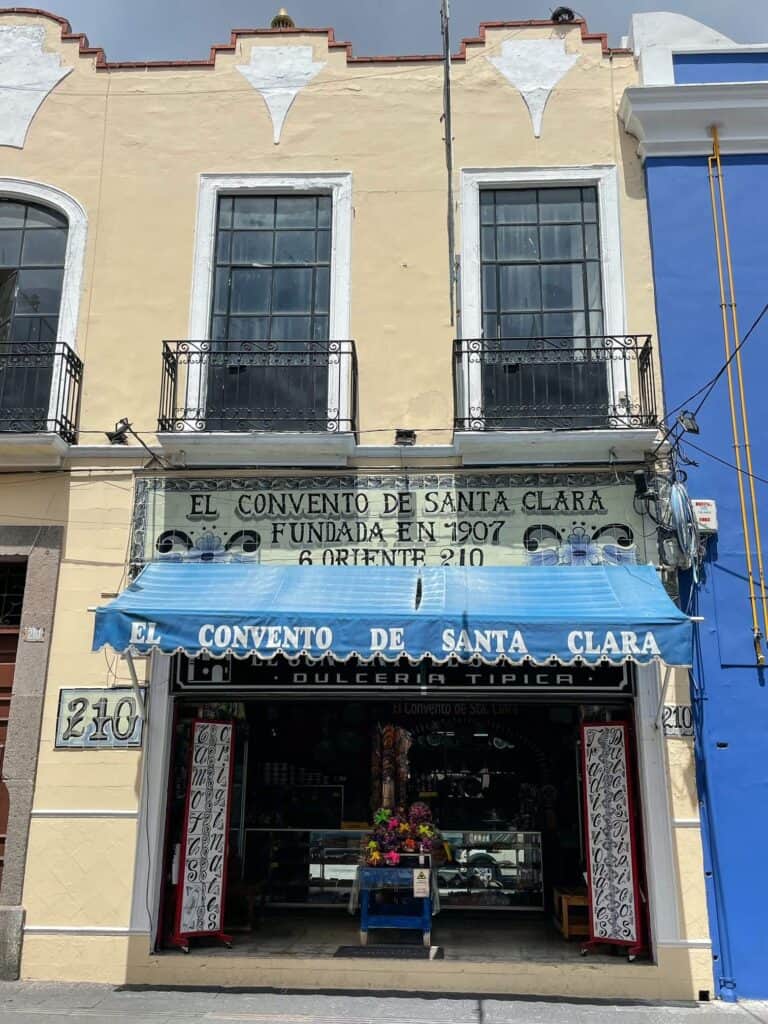 So, why are there so many dolce shops on this one street? Originally the sweets were made by nuns at the convent at the end of the street to give to those who gave and supported them.
When the sweets became a hit, the nuns realized they could sell them and raise money. The recipes have since been passed down so that people could delight in their sweets for generations.
You can find pretty much anything your sweet tooth might desire. From candy to confections, cookies, and more it can be overwhelming to decide which ones to get.
A few that I absolutely loved and are classic sweets from Puebla are:
Santa Clara cookies – My absolute favorite and wish I had bought a ton before I left! A buttery cookie topped with a layer of marzipan made from pumpkin seeds that originated in Convento de Santa Clara.
Camotes – Candy made from sweet potatoes in the shape of a cigar.
Jamoncillo de Pepita – The small rectangular shaped bar made of pepitas or pumpkin seeds is combined with sugar and milk. It is easy to identify with its red strip. The flavor reminds me of marzipan.
Pepitorias (Seed Brittle) – The round sweet is made of ground sesame seeds (ajonjoli), honey, coconut, pumpkin seeds, and peanuts.
Tip: Calle de Dolce is officially Avenida 6 Oriente between Avenida 5 de Mayo and Calle 4 Norte.
6. Biblioteca Palafoxiana
If you are into history or books, visiting Biblioteca Palafoxiana needs to be on your Puebla itinerary.
Biblioteca Palafoxiana is very special as it is the first and oldest library in all of the Americas! The library opened in 1646 with books dating back to the late 1400s.
It's amazing how the interior looks in perfect condition and likely no different than hundred of years ago. It was only in 2005 that UNESCO recognized it as a "Memory of the World" site.
The dark wooden bookcases are excellently crafted in Baroque style. Even the floors captured my attention with blue and white ceramic tiles throughout.
The original library books came from the personal collection (5,000 books) owned by Bishop Juan de Palafox y Mendoza. He had a strong desire for people to read and have access to the books opening it to the public.
Later under Bishop Don Francisco Fabian y Fuero more books were added, and construction of the library began, expanding to over 45,000 books.
Take a moment to view the books up close. Even though I couldn't understand the words it is impressive to see such old books stay in tact all these years.
Tip: The library is open Tuesday – Sunday from 10:00 am to 6:00 pm.
7. Alley of the Frogs
One of the most charming streets in Puebla's historic district is Alley of the Frogs or Callejon del los Sapos.
It is a colorful and quaint street with shops, cafes, pots filled with flowers, and hanging lights decorating a photographic passageway.
During colonial times, this small street tended to flood leading to stagnant water and well frogs… As the main resident of the street, the name Alley of the Frogs was born.
One of the last reminders of frogs living here is the frog spouting water out of the fountain in the square in the center of the alley.
Lining the square you can find antique shops, art, outdoor cafes, and restaurants. On the weekends you can find live music playing and markets to browse.
8. Templo de Santo Domingo
Templo de Santo Domingo is a Dominican church with a dark red exterior that doesn't exactly seem much different than other churches. But don't let that deter you as the inside is exquisite.
The main part of the church is impressive, but walk to the altar and turn left to enter the Chapel of the Virgen del Rosario (Rosary Chapel). This area is the star attraction here!
There is a fee to go into this section of the church but worth it in my opinion. Once you walk in, your jaw will drop at the absolute grandeur lining every inch of the interior.
It is by far the prettiest and a little over the top section to view with paintings, carvings, and an abundance of gold leaf covering. There is so much to see that your eyes need a moment to take it all in.
Built between 1650 and 1690 the cathedral was designed in Spanish Baroque architectural style and is on the UNESCO World Heritage List.
Hours: From Tuesday – Saturday the church is open from 9:30 am to 1:30 pm and then again from 4:00 pm to 6:00pm. On Sunday the hours are from 9:00 am to 10:45 am and 3:30 pm to 5:30 pm. It is closed on Monday.
9. El Parian Market
Located a few blocks from the Zocalo and historic center is the El Parian Market, the largest and best handicraft market in Puebla.
It is nestled within the Barrio del Artista or the artist's neighborhood, so you can find talented artwork and crafts throughout.
It is the place to shop if you are looking for traditional handicrafts made by local Puebloans. You can find textiles, pottery, leather, jewelry, ceramics, blown glass, sweets, and more.
In total, there are a little over 100 vendors in the same spot where various markets have been in place since the late 1700s. In 1961, the El Parian Market got an update to what you see today.
Besides all the creative talent, you will notice the market is alive with color within each vendor stall, on the walkway, and vibrant flags hanging from above.
There is even a large frame that you can use as a prop, capturing the bustling scene of El Parian.
Note: The market is open daily at 10:00 am and closes at either 7:30 pm or 9:00 pm depending on the season.
10. Sip Pasita With Locals
Prior to my visit to Puebla, I had never heard of Pasita (little raisin) but so glad I gave it a try! Pasita is a liquor or appertif made from raisins and has quite a distinctive taste.
The best place in Puebla to sip Pasita is at La Pasita, the oldest bar (canteen) in the city. You'll find La Pasita off of Alley of the Frogs or Barrio de Sapos.
If their name doesn't give away what they specialize in, you will quickly find out when you step into the quaint bar.
Walk up to the bar bumping elbows with locals as you sip delicious pasita. What is so unique about this raisin liquor is how you enjoy it.
Pasita comes in a shot glass with its raisin-like color, a tiny cube of goat cheese, and a soaked raisin on a toothpick.
Simply take a sip of pasita and then a small bite of the salty cheese. The saltiness mixed with the sweet pasita is a delightful surprise to the palate.
I have never had a combination like that but would recommend it to anyone visiting Puebla.
La Pasita Hours: Open from 1:00 pm to 6:00 pm every day except for Tuesday (closed).
11. Explore Puebla's Underground Tunnels
When I first heard about Puebla's hidden underground tunnels, I was fascinated to learn that the tunnels had only been rediscovered in 2015.
The underground tunnels are 500 years old dating back to 1531 and had for some reason been covered up for several decades.
Once archeologists discovered the tunnels again, they found weapons, household items, toys, and other artifacts within the mud.
One end of the underground tunnels starts in the historic city center on Cinco de Mayo Road and the other end drops you into the beautiful park at the Historic Zone of Los Fuertes.
The most famous usage of the tunnels was during the Battle of Puebla between the people of Puebla against the French on May 5th, 1862.
The odds were against Puebloans, but they defeated the French marking May 5th or Cinco de Mayo a victorious day. And oddly a popular holiday that is celebrated more in the United States than in Mexico!
You'll also notice the height of the tunnels were to accommodate people on horseback to pass through.
Today the tunnels serve as a museum and a cool experience to walk the pathway that many Puebloans did over the centuries.
Tip: The entrance on Cinco de Mayo Road resembles that of a subway or metro entrance leading underground. It will take you about 30 minutes to walk (1 km) from one entrance to another.
12. Visit The Great Pyramid Of Cholula
The Great Pyramid of Cholula is in the small town of Cholula, a short distance from Puebla City.
This special pyramid is the largest pyramid in the world by volume! Yes, even more so than the pyramids in Egypt.
When you first glance at the pyramid in Cholula, all you see from one angle is a huge grassy hill. And a bright colored yellow cathedral on top of the hill.
Today, the only section that has been excavated and visible to the public is the massive base of the pyramid. The rest of the pyramid is completely covered up with dirt, grass, and trees over the years.
Built over 2,000 years ago, the pyramid complex was originally known as Tlachihualtepetl. It was dedicated to feathered-serpent Aztec god, Quetzalcoatl.
During this time, the people believed in making offerings to Quetzalcoatl on one of the many altars. Sadly, they thought that sacrificing children was the best way to convey their messages to the gods.
There are tunnels underneath the pyramid which are currently closed for tours as of 2023.
I encourage you to pay the fee to enter the pyramid grounds so that you can walk around the base of the pyramids and view the ruins. It's quite impressive and interesting to learn about the history of Cholula's pyramid.
Once you make your way through viewing the pyramid grounds, climb up the hill to the beautiful church with its bright yellow color.
The church, Iglesia de Nuestra Senora de los Remedios is exquisite inside and out! Plus, the views from the landing are breathtaking.
And if it is a clear day, you can see the active volcano Popocatepetl in the distance.
Note: Open Tuesday – Sunday from 10:00 am to 5:30 pm.
13. Stroll Through Jardin de San Francisco
I stayed at the lovely Hotel La Purificadora that is rich in history combining modern architecture with old ruins.
Right next to the hotel is Jardin de San Francisco, a small but beautiful park that has neat sculptures, flora, and benches to take a moment to view the serene space.
When you look around, you'll notice several ruins that make for great backdrops for photos or just going for a stroll.
The park is right next to the Puebla convention center so if you happen to be attending an event there, make a point to take a break in the park.
There are also a few eateries and a café nearby to grab a bite to eat or drink.
14. Ruins Behind Hotel La Purificadora
Behind Hotel La Purificadora and next to Jardin de San Francisco are ruins known as Claustro del Convento Franciscano.
I stumbled upon these ruins by chance as I stayed at Hotel La Purificadora. Otherwise, I had never heard any mention of them in my researching of Puebla.
I couldn't find a lot of information on them but if you are in the area, they are fascinating to walk through.
These ruins are from the original 16th century convent of San Francisco (see #15 below) but during the 1800s, this portion was turned into a water purification factory.
The factory purified water to make ice. A portion of the rundown factory was used to build Hotel La Purificadora combining modern accents with the captivating ruins.
To enter the ruins, walk up the steps and into the doorway seen in the photo above and continue along raised platforms for the first section.
From there, you can step down and explore the rest of the ruins on your own. You can spend anywhere from 10 to 30 minutes wandering the peaceful spot.
What I find neat about standing among the ruins is that this is said to be the spot (old convent) where Puebla City was founded.
15. Admire Ex-Convento de San Francisco
Your head will turn as you pass by the Ex-Convento de San Francisco temple for its eye-catching bright yellow and orange colors.
Within walking distance from the historic city center, The Temple of San Francisco is next to Hotel La Purificadora and Jardin de Francisco.
As the Franciscans were the first ones to establish Puebla City, the convent was the first to be built in Puebla from 1531 to 1585.
Over the years and into the 18th century additions were made to what you see today. The bells were one such addition during 1767.
The magnificent exterior is a clear example of Baroque-style architecture and in my opinion way more impressive than the interior.
Inside it is quite simple and doesn't appear to stand out in any way like the outside façade. I enjoyed looking at the details in the painted Talvera tiles and stellar craftsmanship involved.
Personally, it is one of the most unique church facades I have seen!
16. Try Chiles en Nogada
Prior to my trip, I had seen photos of Chiles en Nogada and knew I wanted to try this colorful dish!
Chiles en Nogada is a seasonal entrée tied to Mexico's Independence Day and marked by the colors of Mexico's flag of red, green, and white.
Locals and visitors alike look forward to indulging in a delicious plate of Chiles en Nogada every August and September.
Chiles en Nogada consists of a poblano chile stuffed with picadillo. Picadillo is a mixture of meat (usually pork), dried fruits such as raisins, and spices.
A white, creamy walnut-based sauce is poured over the poblano chile and topped with blood red pomegranate seeds and green parsley. Sometimes you will see versions made without meat and some sweeter than others.
This famous dish originated in Puebla, created by the Augustinian nuns of the Santa Monica convent.
They were inspired to make Chiles en Nogada after Augustin de Iturbide signed the Treaty of Cordoba in 1821 granting Mexico its independence.
It was to commemorate the special event with a feast in his honor and the important change for the country.
Tip: You will see Chiles en Nogada served in Central Mexico, but each area has its own variation of making it. I personally preferred the version of it in Oaxaca the most.
Note: Mexico's Independence Day is on September 16th and a fun time to visit Mexico with celebrations, décor, and special meals. The huge celebration is actually on the 15th but both days are wonderful to experience.
17. Take A Photo With PUEBLA Letters
At the top level of the Historic Zone of Los Fuertes is a beautiful, elevated view of Puebla City and where you can find large PUEBLA letters.
A fun backdrop for taking photos, the colorful letters here are one of a few locations you can find them. You will also spot them in the main square in the historic district known as the Zocalo.
Also, in the Los Fuertes area you will find the exit to the underground tunnels and the Teleferico Puebla.
The teleferico is a cable car that transports people up to another park, museum, a planetarium, and places to eat.
It doesn't take more than about 10 minutes and offers up spectacular views of Puebla for a relaxing respite from sightseeing.
And on a clear day, you can see the volcanoes Popocatepetl and Iztaccihuatl! These are active volcanos so don't be alarmed if you see them spewing fumes of ash in the air.
Note: The Teleferico is currently closed for repairs until further notice.
18. Search For Street Art
Puebla is a vibrant city filled with colors in every direction with art murals found here and there. But one neighborhood that stands out with loads of awesome art murals on every block is Xanenetla.
Xanenetla is a neighborhood just south of the Historic Zone of Los Fuertes, a large green space where the underground tunnels are (see #11 above).
On every street you will find art mural after art mural with colorful scenes that are a joy to see. For anyone that appreciates art, you will find a smile on your face exploring this neighborhood.
19. Museo Regional de La Revolución
The Museo Regional de La Revolucion has a very unique exterior that is clearly visible to anyone passing by.
The front of the white building is covered in bullet holes! The bullet holes are a lasting reminder of where the Mexico Revolution kicked off in the early 1900s.
It is said that the gunfire in this location was the first battle sparking the Revolution in 1910. At the time, the Serdan family lived here and were planning an uprising against the dictator Porfirio Diaz.
Today, the renovated home is a museum dedicated to the history and timeline of the Mexican Revolution from 1910 to 1920.
Note: The museum is open Tuesday – Thursday from 10:00 am to 5:00 pm and Friday – Sunday from 10:00 am to 6:00 pm. Closed on Monday.
Bonus – Enjoy Hot Chocolate With Churros
In Central Mexico eating churros with hot chocolate is best enjoyed in the morning when the churros are fresh!
I have to admit it was a sweet breakfast but one that I loved. Although there are many great churrerias, my favorite with the best hot chocolate and churros was at Puebla La Churreria.
Located on the block behind Catedral de Puebla and the Zocalo this small place is bustling with people placing their orders!
Where Is Puebla Located?
Often referred to as Puebla, Puebla City is the biggest city in the state of Puebla. Most of the time when people refer to Puebla, they are referring to Puebla City. But in this post, I will refer to Puebla City as Puebla most of the time.
Puebla is in Central Mexico about 2.5 hours southeast of Mexico City, 3.5 hours to Veracruz along the Gulf of Mexico, and about 4 hours northeast of Oaxaca.
Although many people visit Puebla on a day trip from Mexico, I recommend spending a few days as there are several fascinating sights to see!
How To Get To Puebla
If you are flying in from out of the country, I would recommend flying into Benito Juarez International Airport (MEX) in Mexico City.
You will have the most flight time options and the best rates when flying in and out of Mexico City (CDMX).
From Mexico City, I recommend taking the bus to Puebla as it is very easy and convenient. There are several bus stations in the Mexico City metro area so make sure you heading to the correct one.
You can catch a bus from the station at the CDMX airport. Or for more available times to Puebla take a bus from TAPO (Terminal de Oriente) in Mexico City. From either, you can catch a bus with ADO to Puebla that takes about 2.5 hours.
ADO is a company that provides first-class buses that I have taken myself several times. The buses are nice and clean!
The bus station in Puebla that you will arrive in is CAPU. From the bus station, you can take a taxi to the historic district.
Search for the best flight deals today!
Top Tours In Puebla, Mexico
Puebla Hop On Hop Off Bus – a great way to view the city and hop off at top Puebla attractions!
Puebla, Cholula, & Tonantzintla Day Trip From Mexico City – Spend a full day exploring the best of Puebla City, Cholula, Tonantzintla, and local food!
Small Group Tour of Puebla & Cholula From Mexico City – Visit the best of Puebla City and see the largest pyramid in the world on a small group tour!
Private Puebla City Walking Tour – Go on a walking tour with a local and visit cathedrals, markets, the Zocalo, and more!
Puebla Secrets Experience – Take a private tour to see some of the top landmarks plus a few hidden gems!
Puebla Through Flavors Tour – Alejandra was my food tour and was fantastic! I learned so much history and sampled the best eats from Puebla.
Taste of Puebla Food Tour – Sample the most delicious street food in Puebla plus sweets and a unique liquor you don't want to miss!
Tips For Visiting Puebla
Map Of What To Do In Puebla
FAQs About Puebla, Mexico
What Is Puebla Known For?
Puebla is known for its rich history, vibrant colors, incredible street food, Chiles en Nogada, winning the Battle of Puebla and why we celebrate Cinco de Mayo. Plus, in nearby Cholula you can see the largest pyramid in the world!
Is Puebla, Mexico Worth Visiting?
Yes! From beautiful cathedrals, museums, outstanding food, and art, there is so much to do in Puebla that you can easily spend 2-3 days here.
How Safe Is Puebla, Mexico?
I traveled to Puebla solo and felt completely safe. Personally, I avoid going out late in any city when traveling solo for obvious safety reasons. I walked around several neighborhoods, took taxis, and the bus with no issues. That said, use common sense as in any city and avoid bringing valuables.
When Is The Best Time To Visit Puebla?
Any time of the year! Puebla has nice weather year-round with little variation between seasons. The high average across the entire year is between 68F and 80F. There is minimal rainfall, but you can expect it to be during the summers. In the winter the lows may reach the 40s and 50s at night but otherwise most days are perfect!
What Is The Altitude In Puebla City?
Puebla City, Mexico is at 7,005 feet (2,135 meters). For those that suffer from altitude sickness, make sure to drink plenty of water, take it slow, and consider taking chlorophyll pills (really helped me).
Enjoy exploring the best things to do in Puebla, Mexico!
Got Travel Insurance?
Don't leave home without travel insurance as you never know what might happen on a trip! It is always when you least expect it that something can go wrong like getting sick, in an accident or cancellation of some sort.
Get a no-obligation quote from two trusted travel insurance companies for peace of mind on your next trip! I have used both companies on numerous occasions and trust them for myself and my family.
Looking For More Related Travel Content?
25 Best Things To Do In Oaxaca City, Mexico For First Time Visitors
55 Top Tips For Traveling To Mexico And What To Know Before You Go
Food From Oaxaca: 21 Traditional Dishes You Must Try When Visiting
33 Best Things To Do In San Miguel de Allende, Central Mexico
7 Best Filtered Water Bottles For Travel And Hiking
Allbirds Review: The World's Most Comfortable Shoes?
Disclaimer: As an Amazon Associate and a participant of other affiliate programs, I may earn from qualifying purchases in this post. This means that if you make a purchase through one of these links, I might receive a commission at no extra cost to you. Thank you and it is greatly appreciated!
Vanessa Shields
Vanessa Shields is the founder of Traveling Ness helping people with trip ideas, itineraries, travel planning, and boosting confidence for female travelers to take a solo trip. She has been a travel writer and content creator since 2019.