Disclaimer: Traveling Ness contains affiliate links and is a member of the Amazon Services LLC Associates Program. If you make a purchase using one of these links, I may receive compensation at no extra cost to you. See my privacy policy for more information.
33 Best Things To Do In San Miguel de Allende, Central Mexico
Are you looking for the best things to do in San Miguel de Allende? If so, then you are in the right spot! Imagine walking along charming cobblestoned streets, admiring stunning colonial architecture, and indulging in ridiculously tasty cuisine…
San Miguel de Allende has continuously been voted as one of the best small cities in the world to visit by the top travel outlets for good reason.
I spent five days wandering the quaint alleyways, going on a food tour, visiting museums, pyramid ruins, and sipping cocktails on rooftop bars. And I'm not the only visitor to be drawn to the best places to visit in San Miguel de Allende.
As a well-preserved UNESCO World Heritage Site, this magical city has been a hotspot for artists and expats over the years for its beauty, culture, and sights.
So, pack your bags and get ready to discover what to do in San Miguel de Allende, Mexico!
Fun Things To Do In San Miguel de Allende, Mexico
1. La Parroquia de San Miguel Arcangel
The most famous sight in all of San Miguel de Allende is the gorgeous La Parroquia de San Miguel Arcangel.
Its staggering height and pink Gothic architecture make it a focal point no matter where you are in the city.
Centered at the heart of San Miguel and overlooking El Jardin, this parish church started construction in the early 1700s with additions of the front façade in the late 1800s.
It is said that the architect Zeferino Gutierrez was inspired to design the church after the impressive churches in Germany and Belgium.
Either way you can't help but admire the intricate design and craftsmanship of the Catholic church that slightly resembles that of an elegant wedding cake.
As I explored San Miguel de Allende I enjoyed always looking up to see the towers which helped with navigating back to the town center no matter where I was coming from.
Tip: If you enjoy visiting beautiful churches, plan a visit to Puebla, Mexico!
2. Relax At The El Jardin
If you are gazing at La Parroquia de San Miguel Arcangel in the above photo, turn around and you are in the main town square (Zona Centro) known as El Jardin.
As with the main squares in many cities in Mexico, it is a gathering place and a spot where you can enjoy some shade.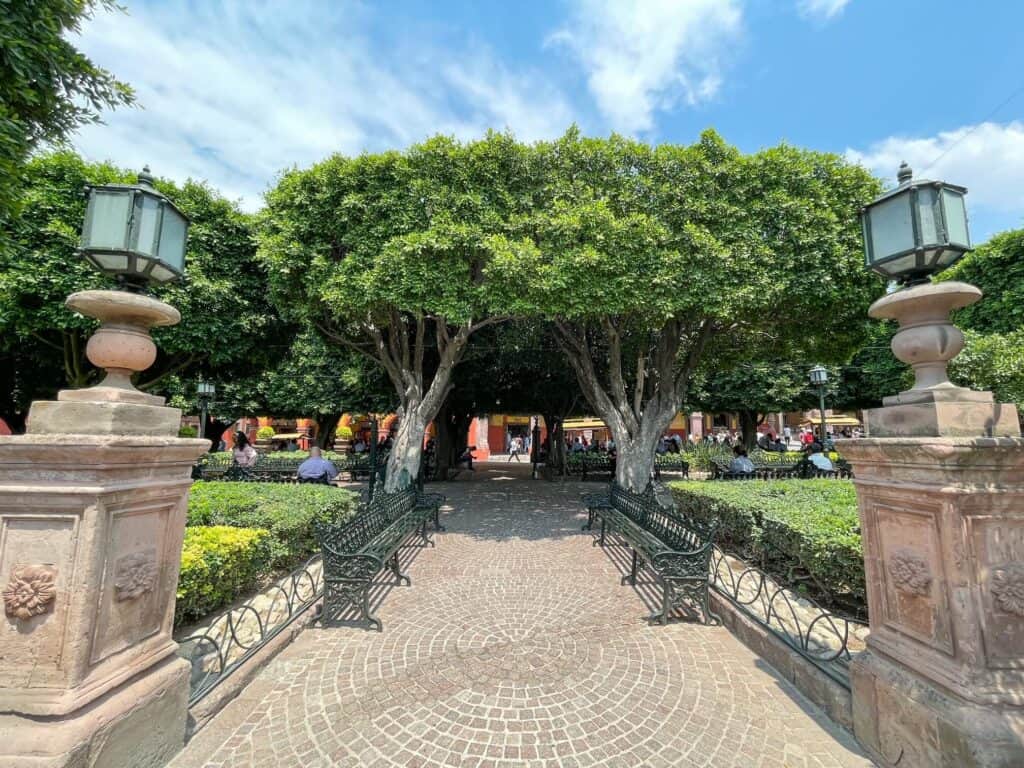 The midday sun can be intense so finding a bench to sit on under a tree is the perfect respite. And it doesn't hurt that it is a prime location to get in plenty of people watching while you are at it.
Spending some time in El Jardin is one of the best free things to do in San Miguel de Allende as the tree-lined square has fantastic views of the surrounding colonial architecture.
3. Go On A Food Tour
I say this for almost every city I visit, but the best way to discover what makes a place unique is to dive into the food scene.
And the best way to do that is to take a food tour! Learning about what foods locals eat and the best representation of the cuisine is sampling different foods with the help of a guide.
Trying a variety of foods allows you to quickly understand the people, culture, and history of your destination.
I had the pleasure to take a food tour with Omar from Taste of San Miguel, part of San Miguel Food Tours.
What I really enjoyed about this tour is the depth of history I learned and how each food we were eating evolved at various points over the past few hundred years.
I was surprised to learn that many of the Mexican dishes we enjoy today were officially named and became popular in the last 125 years.
The meshing of several cultures created Mexican cuisine as we know it. Settlement of the Spanish, French, and Germans during colonial times mixed with indigenous foods creating magic in my opinion.
I got to bite into the tastiest dishes ranging from Sopa Azteca (soup), Minor's enchiladas, fresh ice cream, and more. By far one of the top things to do in San Miguel de Allende!
Tips: Book your food tour at the beginning of your trip so that you can get awesome restaurant recommendations from your local guide.
Another great restaurant that has a unique spin on a taco is the shrimp taco with a jicama "tortilla" at La Azotea which is absolutely delicious!
Note: If you consider yourself a foodie, don't miss out on eating the tastiest food in Oaxaca, the top gastronomical city in the world!
4. Experience A Night In A Historic Hacienda
If you enjoy staying in unique accommodations, stay the night in a historic hacienda. There are several haciendas or homes with striking architecture from colonial time throughout San Miguel de Allende.
Many of these have been renovated to include modern amenities yet keeping the décor reminiscent of another era. Usually the haciendas will have red tiled roofs, stark white walls, and a central courtyard.
A few top haciendas to stay at are:
5. Feast On An Incredible Breakfast
For me trying copious amounts of food is a priority in any new destination! And what better way than starting out with a good breakfast.
San Miguel de Allende has so many incredible restaurants and the same goes for its breakfast options.
You can find traditional Mexican selections along with modern flavors and healthy choices too. I think it has to do with such a large expat population that drives this.
Three of my favorite breakfast spots in San Miguel de Allende are:
La Sacristia Café – I ordered espresso and the Huevos de Rancho which was incredible. I couldn't eat the whole thing but wanted to!
Lavanda – They have a variety of great espresso and coffee options to start in a quaint setting. I enjoyed chilaquiles topped with an egg that was so tasty. Don't be surprised if there is a wait here!
Inside Café – Using Mexican spices and influence, there is definitely a healthier vibe here. Sit up on the rooftop terrace if available. I ordered the Sexy Breakfast and it had sexy flavors for sure! It had egg, avocado, caramelized onions, tomatoes, and salad that was so good.
Tip: If you are looking for awesome coffee shops and not necessarily food, read #20 below.
6. Stroll Through Plaza Civica
Plaza Civica is a wide open square a few blocks from the town center and El Jardin. As with many colonial cities, there are many plazas to hang out in, take a break, and see local life at its finest.
At the top portion of the plaza is a tree lined square and a statue of Ignacio Allende on horseback holding up his sword. The same heroic Allende that the city is named after!
If you make your way down the steps to the next level, you will be in awe staring directly at Templo de Nuestra Senora de la Salud.
This church has an impressive façade resembling a seashell flanked with pink colored walls and intricate carvings.
If you keep walking down the ramp even further you will come upon Oratorio San Felipe Neri. The deep colored red and orange church is a marvel to see and stands out from other churches in the area.
7. Take In Views At El Mirador
If you want a panoramic view of the city, one of the top things to do in San Miguel de Allende is to head up to El Mirador viewpoint.
From here you can see the entire valley and the iconic church towers off in the distance.
You have two options for getting up to the overlook, walk up or take a taxi. The walk up takes about 15 – 20 minutes from the historic city center and is definitely a workout.
It is a gradual steep climb with a series of stairs to make it to the top of El Mirador viewpoint. I stopped along the way to take photos of lovely buildings but also to catch my breath from time to time.
Remember, San Miguel is at a high altitude so no surprise if you get out of breath easily. Once you reach the top, the views are outstanding.
Although I didn't stay up until sunset, this would be a great place to take it in. There are some restaurants and places to get something to drink before you make your way back down.
Walking is a nice chance to explore the residential neighborhoods between El Mirador and the city center. I walked by myself in the afternoon and felt completely safe.
8. Enjoy A Cocktail On A Rooftop Bar
When venturing out into a new city, I love to find rooftop bars that host a ton of ambiance and offer spectacular views.
San Miguel de Allende is no different. In fact, there are a lot of rooftop bars here to choose from.
Whether you need a respite from walking around all day or just want to enjoy the sunset, there is a rooftop bar calling your name.
And from almost every rooftop bar in town you have a beautiful and unique vantage point of La Parroquia de San Miguel Arcangel mentioned in #1.
I will be writing up a more detailed post on rooftop bars in San Miguel but a few notable ones to visit are:
Quince Rooftop
Luna Rooftop @ The Rosewood Hotel
Cielo Rooftop
Note: Save this post and check back for my post on rooftop bars in San Miguel!
9. Visit Home of Ignacio Allende
The former home of Ignacio Allende is now the current Museo Historico de San Miguel de Allende.
For history buffs you might be familiar with Ignacio Allende but for everyone else, he was instrumental in Mexico gaining independence from Spain.
Overall it is one of the best places to visit in San Miguel de Allende to learn all about the history of the city.
Ironically, he was a captain for the Spanish army but secretly worked to fight against the Spanish and was dubbed the "father of Mexican Independence".
He became famous for his efforts of igniting what became a successful start to ending colonial rule in Mexico. Sadly, he was captured by the Spanish and executed for treason.
Today, his home is open to the public as a museum showcasing how he and his family lived and providing great info on how the city got its start before, during, and after independence.
It is a beautiful home with two floors and exhibits in each room surrounding a lovely courtyard. The museum is right on the corner of the Jardin and steps from La Parroquia de San Miguel Arcangel.
Note: The city was originally named San Miguel and later changed to San Miguel de Allende in honor of his heroism for Mexico's independence.
10. Indulge In The Best Shortbread Cookies
If you love shortbread cookies, you are in for a treat when visiting San Miguel de Allende!
In a food tour, the guide had mentioned the best shortbread cookies he'd ever had were at La Colmena. And he was so right!
The tiny bakery is one of the oldest businesses in Mexico at over 120 years old (established in 1901). You could say they have had time to perfect the most delicious baked goods…
Along with the yummiest shortbread cookies, you can find croissants, empanadas, cinnamon rolls, and bread.
Before you enter the shop, you might notice the intoxicating smell and the logo out front with a bee on it. What is interesting and I had been warned, is that there are bees inside!
Hence the name La Colmena translated to "the beehive". So, if you are allergic to bees, maybe send someone else in to make your purchase.
The bees were behind the case and not an issue as they were more focused on all the sugary goodness much like the patrons rushing to make a purchase.
The fact that La Colmena has withstood WWII and the more recent pandemic says a lot about the quality of their baked goods and the loyal customers that keep coming back…
11. Church of the Immaculate Conception
Just a few blocks from the Jardin and La Parroquia de San Miguel Arcangel is another beautiful church. You can't miss it for its bright yellow exterior and exquisite bell tower standing tall.
Established in the late 1700s, the church was part of a convent for nuns and originally built for the daughter of one of the wealthiest Spanish families.
Known as Las Monjas (the nuns), there are still a small group of nuns that live here today. If you are in need of a break, there are some benches to sit back and enjoy an ice cream or snack,
Tip: Right outside the courtyard of the church is a cart that sells awesome Mexican ice cream. You can ask to sample flavors before picking your selection. I enjoyed the Pinon flavor!
12. Centro Cultural Ignacio Ramirez
Before you leave the Church of the Immaculate Conception (#11) above, walk around the corner and enter the cloisters of the old convent that is now home to the Centro Cultural Ignacio Ramirez.
The entrance is just past the iron bull sculpture that is hard to miss.
Part art gallery and part museum, there are several exhibits showcasing the talented skills of local artists. At one point this space was a school for artists to come from all over the world to perfect their craft.
Surrounding the courtyard, you can find a handful of art murals and in a few of the exhibit rooms too.
The center courtyard is a serene place to wander with a water fountain in the center. Today various classes are offered for those interested in drawing, sculpture, painting, and music.
Tip: It is free to enter, so why not visit!
13. Playtime At The Toy Museum
Visiting La Esquina Toy Museum was an unexpected highlight of my trip, getting to explore three floors of handmade toys.
It is definitely up there as one of the most unique things to do in San Miguel de Allende and not to be missed.
Each floor of the museum has various exhibits of handmade toys from Mexican artists spanning six decades. In my opinion, these toys are more works of art than something to play with.
But either way they are bright, fun, and a neat way to see toys made of wood, ceramics, paper mache, and woven.
Viewing all these colorful toys, you get a glimpse into Mexico's history and culture in a playful way.
Usually being in a room full of many dolls, I would normally be a little creeped out but not here. The dolls have fascinating faces and clothes you can't help but love.
On the first floor there is an outdoor courtyard where you can take a moment and enjoy the serene space.
Or up on the third floor there is a rooftop terrace that has lovely views of the city and church towers off in the distance.
After you finish, there is a charming gift shop where you can take home a handmade toy for yourself!
14. Photograph Decorative Doorways
Within an hour of exploring the city, I was amazed at how decorative and eye-catching the doorways on each street were!
There are endless open doorways to shops, restaurants, homes, and hotels that have vibrant colored decorations and flowers adding character to this already charming city.
It is hard not to stop every doorway to snap a photo of each one!
15. Explore Ignacio Ramirez Market
Every city I have visited in Central Mexico has one or more markets where locals sell everything you can imagine from food, clothes, flowers, produce, spices, and household items.
In some cities, the markets are enormous and quite intimidating, but the Ignacio Ramirez Market is much smaller and easy to navigate compared to those in Oaxaca or Mexico City.
Open daily, I highly recommend visiting to sample some incredible food. If all the locals eat here, then you know it will be good!
I suggest wandering up and down each row of vendors checking out what they have to offer.
Choose one that is crowded or see them cooking up batches of tacos, burritos, sandwiches, or fresh juices.
I know some basic Spanish but with the help of the Google Translate app, I was able to communicate with the vendors no problem.
I had a plate of tacos that were so delicious and really hit the spot. For me, being among locals and eating in the markets is such a fantastic way to experience the culture.
16. The Sistine Chapel of Mexico
About 15 minutes outside of San Miguel de Allende to the northwest is a tiny town of Atotonilco, home to what is commonly referred to as the Sistine Chapel of Mexico.
The Sanctuary of Atotonilco is a picturesque church made famous by its awe-inspiring art murals covering the walls and ceiling inside.
This beautiful Catholic church is a World Heritage Site built in the 18th century in Mexican Baroque architectural style by Father Luis Felipe Neri.
Adding to it being a holy place to visit, there were once several freshwater springs here that were considered sacred.
Atotonilco translates to place of hot waters hinting to the numerous healing springs that once dominated the town.
The stark white exterior although lovely provides zero indication of the colorful scenes that will be a jolt to your eyes as you enter.
Inside the murals you see were primarily painted by Antonio Martinez de Pocasangre over a 30-year period. In addition, poems and sculptures adorn the nave and chapels.
The paintings tell the story of Jesus' life and death mixed with images of indigenous people to the area.
Your neck might ache gazing up to capture each detailed image but it's well worth the minor inconvenience.
As you step back outside, you can imagine that the community likely hasn't changed much over the past few hundred years. This is a place not to be missed on any San Miguel de Allende itinerary.
Note: I had my hotel arrange a taxi to take me, wait, and bring me back to San Miguel de Allende.
17. Admire Templo San Francisco
There are no shortage of stunning churches in San Miguel de Allende to see. A few blocks from the heart of the city is another small square where you can find Templo San Francisco.
It is a beautiful church built in the late 1700s in colonial neoclassical style and worth checking out.
In the quaint jardin in front, it is a fantastic spot to grab a seat on a bench for a relaxing break from sightseeing.
And make sure you go inside the church and see the gorgeous blue and white tile flooring!
Tip: Grab some churros across the street to go (see below) and enjoy them in the park!
18. Delight In Churro Heaven
If you love churros like I do, then one of the best things to do in San Miguel de Allende is getting a churro at San Agustin.
The churros are so fresh and incredibly tasty! There are several types of churros to get including three main styles: Mexican churros, Spanish churros, and French churros.
The Mexican style churros are the sweetest and my favorite. You can even get one's with a filling of your choice!
I ordered one filled with cajeta which tastes similar to caramel but it's not. It's closer to dolce de leche but instead of cows milk, it is made with goat milk.
Churros at San Agustin are famous for good reason as they are absolutely delicious… Even though the churros are the star at this café, you can find great coffee and savory dishes too.
Whether you order a churro first thing in the morning, for an afternoon snack, or for dessert, there might be a line.
If it's really busy inside, take your churro to go and eat it across the street at the small park on one of the benches.
19. Have Fun On A Taco & Tequila Tour
Two classic things to enjoy in Mexico are tacos and tequila! Both of these are delightful and well mastered in Mexico.
If you like either, then taking a taco and tequila tour is a must! Sample tacos and tequila cocktails at various places with a local guide.
Besides eating great food, learn tons about Mexican cuisine and how it ties into the culture. The bonus of this tour is that it is a small group tour.
20. Take A Coffee Break
If you are staying in the historic city center, the chances of finding an awesome coffee shop is likely only steps away.
There is vibrant coffee scene in San Miguel and baristas here take making coffee seriously. They take pride in sourcing coffee beans from Mexico usually from the state of Oaxaca.
If you think about it, it is extremely rare that a country serves coffee with beans sourced from their own country.
Each day I popped into a few coffee shops to enjoy a perfect cup of espresso, latte, or an Americano and was never disappointed. My favorite coffee shops are:
Ki'bok Coffee – it's said they serve some of the best coffee in the world!
La Sacristia Cafe
La Cabra Iluminada
Lavanda Cafe
Café Zenteno
Café La Ventana
21. Visit A Winery
If you have never visited Central Mexico, you might not have any idea that Central Mexico makes wine let alone incredible ones at that!
Throughout Central Mexico there are seven main regions in Central Mexico that are worth visiting.
But since you are staying in San Miguel de Allende, which is in the state of Guanajuato, let's focus on wineries in this area that you can easily reach.
All the wineries surrounding San Miguel are between 15 minutes and 1 hour from the city center.
Due to the high elevation, grapes can thrive in this area despite the warm temperatures offering several grape varietals to taste.
Compared to wineries in Baja, you will notice high acidity and refreshing flavors in the wines, again due to the high elevation (6,200 to 6,500 feet on average).
One of the top wineries in the Guanajuato region is Tres Raices about 30 minutes north of San Miguel de Allende and not to be missed. Their wines are fabulous with a state-of-the-art winery, farm to table restaurant and a boutique hotel.
Although this isn't a complete list, some of my favorite wineries to visit are:
Tres Raices
Guaname
Dos Buhos
San Miguel Vineyard
Whether you are looking for the perfect rosé, white wine varietals of Sauvignon Blanc, Chenin Blanc, White Malbec, Chardonnay or red wine varietals of Grenache, Malbec, Merlot, Cabernet Sauvignon, Nebbiolo, Sangiovese, Syrah, and Tempranillo, there is a delicious wine waiting for you!
Take A Wine Tour!
I highly recommend hiring a guide to take you to the wineries and make a day trip out of it. They can handle the driving and navigating to some of the wineries that are a little harder to locate on your own.
Consider booking a tour with Heart of Mexico Tours as they can take you on a lovely wine day trip in the San Miguel de Allende area or nearby Queretaro!
Tiffany and her husband from Heart of Mexico Tours are American expats living in Queretaro and have years of experience of working in the wine industry. So, they know wine and the best places to take you!
22. Tour The Mask Museum
One of the most unique things to do in San Miguel de Allende is to visit the Mask Museum.
It is an opportunity to view a wide assortment of traditional and ceremonial Mexican masks. In fact, there are over 500 to see!
The masks were used by the indigenous people in ceremonies and dance performances. Bill LeVasseur and his wife created the museum for others to learn about the indigenous culture through the striking and well-crafted masks.
Note: Visiting the Mask Museum is by appointment only, so reach out to them ahead of your visit.
23. Learn To Cook Traditional Mexican Cuisine
Taking a cooking class is a fun way to dive into the culture of a place! And eat your tasty creation of course…
For those that like to cook, experience making traditional Mexican cuisine from a local San Miguel de Allende chef.
Learn what ingredients go into iconic Mexican dishes along with tips and techniques to create a delicious meal you can make at home!
Sign Up For A Private Cooking Class!
24. Wander An Ancient Pyramid
Hopping into a taxi arranged by my hotel, I headed about 30 minutes east to the pyramid ruins of Canada de la Virgen. Or you can take this tour to Canada de la Virgen and not worry about transportation.
Once you arrive and pay for your ticket, you will get on a shuttle bus that will take you 8 km and drop you off closer to the ruins.
You can only take your phone/camera and water bottle. Everything else you can check at the visitor center.
There is a small museum to visit if you are waiting for the next shuttle bus. Or you can always visit after seeing the ruins.
From the drop off area, it is 1 km walk slightly uphill to the pyramid ruins with a guide. The guide I had only spoke Spanish so I could only pick up pieces of info here and there. Same goes for the museum, everything is in Spanish.
These archeological ruins were excavated in 2002 and have only been open to the public since 2011.
They are what is left of a pre-Hispanic settlement, and it is thought that this site was primarily used to observe the sky, stars, and the moon. They studied the sky in relation to how it affected their crops and changed throughout a calendar year.
Even though these ruins are quite small compared to some of the more famous pyramids in Oaxaca or Mexico City, I really enjoyed visiting.
Tip: Have your taxi driver drop you off and confirm that they will return to pick you up in 3 hours. Or text him via Whatsapp when you are ready. And don't pay anything until you return to San Miguel de Allende.
Note: There are no food and drink options so make sure you bring plenty of water and/or snacks with you. And don't forget a hat and sunscreen as there is no shade.
Book Your Canada de la Virgen Tour
25. Visit Fabrica La Aurora
Fabrica La Aurora is a cultural center for art and design that is a beautiful space to visit. Located a quick 5 min drive or 15-minute walk from the middle of town you can see all sorts of art from San Miguel locals.
Once a textile factory, it is an art lover's destination where you can view various textiles, paintings, jewelry, and sculptures.
If you have the desire to create some art yourself there are workshops that you can sign up for.
Or if you find yourself a bit hungry, there are three restaurants, a coffee shop, and a wine tasting room onsite at one of the most unique San Miguel de Allende attractions!
26. Angela Peralta Theatre
About a block from Centro Cultural Ignacio Ramirez (#12), is the Angela Peralta Theatre. The theatre opened in 1873 by the most famous opera singer at the time, Angela Peralta.
It is an elegant venue to attend a concert or play in the city even today. I only admired the charming theatre from the outside but can only imagine how special it would be to see a performance here.
27. Charco de Ingenio Botanical Garden
Charco del Ingenio is the botanical garden in San Miguel, about a 12-minute drive from the city center.
The nature preserve covers 170-acres of cacti, succulents, and other plants native to Mexico, some of which are very rare.
You can wander through the gardens, or you can take a tour to learn more about the plants. English-speaking tours are every Tuesday and Thursday from 10:00 am to noon.
You will have the opportunity to see wildlife ranging from birds to butterflies, reptiles, and small mammals. As you make your way along the route, you will come across lakes, a sculpture garden, and a canyon.
The gardens are not just a botanical garden but an ethnobotanical area where most of the plants have been either a source of food or used in medicinal healing over the years.
28. Enjoy Art At Instituto de Allende
The Instituto Allende is a visual arts school about 10 – 15 minutes south of the historic center of San Miguel. It is by far one of the most underrated attractions in San Miguel de Allende.
It isn't an obvious place to visit as it is a little further from many of the other sights and from the street you wouldn't guess the oasis inside.
Upon entering you are greeted by a large courtyard with trees, a fountain, and places to sit that is part of the café.
Since 1950, the art school has welcomed students from all over the world to come and refine their skills as an artist.
Originally this beautiful building was the home to Canal family, one of the wealthiest families in San Miguel de Allende during the 1700s.
It is free to enter and walk around the courtyard to view art murals and art galleries. Overall, it is a very serene and beautiful spot to explore.
As you wander around, make your way to the far-left corner, and go through the short passageway to view more art and the back patio area. From here you get a direct view of the top tower and dome of La Parroquia church.
Those wanting to further their education in art can take one of many classes or obtain a Master of Arts here through the University of Guanajuato.
Note: The Instituto de Allende is also a popular location for special events and weddings.
Hours: Open Monday – Friday from 9:00 am to 6:00 pm and Saturday from 9:00 am to 1:00 pm. Closed on Sunday.
29. Go On A Horseback Riding Adventure
There is so much to do in the central historic area that there is plenty to keep you busy without needing to leave it.
But if you head out of the city you can explore the countryside on horseback! Led by a guide, a horseback tour will take you out to nearby Coyote Canyon and the La Virgen River.
Riding instruction is included so all levels are welcome to join the tour and you get to enjoy a ranch-style meal after.
Book Your Horseback Guided Tour!
30. Stop Into A Mezcal Bar
One thing that is prevalent in Central Mexico is fantastic mezcal. There are several adorable mezcalerias in town but one that I especially enjoyed was The Room.
It is small and intimate with very cute Mexican-inspired décor perfect for a mezcal tasting or a craft cocktail.
I usually steer away from cocktails that are sugary, so I was pleased to see that their cocktails were made with real fruit juice and top-quality ingredients.
Perusing the drink menu will bring a smile to your face with fun and witty names such as Naked & Famous.
Of course, I couldn't pass up trying it with a name like that… A perfect blend of mezcal, citrus, and bitter that tasted balanced and refreshing.
And if you aren't sure what to order, just ask one of the bartenders as they are both knowledgeable and passionate about mezcal. They can easily point you in the direction of what to order.
31. Wander Aimlessly On Cobblestoned Streets
One of the best things to do in San Miguel de Allende? Wander all the streets in and around the historic district.
Each cobblestoned street oozes charm lined with colorful buildings and elaborately decorated doorways.
If you love taking photos, this town has more than enough photo opportunities to keep you busy for hours…
Plus, you will discover water fountains, art galleries, jewelry shops, and cafes along the way. It is one of those towns that is fun to get lost without really getting lost.
32. Practice Spanish With Locals
There is no better way to learn a language than immersing yourself in a country where it is spoken. And San Miguel de Allende is a fantastic place to practice your Spanish.
You will find that most of the cities in Central Mexico speak primarily only Spanish which makes sense! In contrast to the beach resort towns where pretty much everyone speaks English.
The nice thing about San Miguel de Allende, is that it is somewhere between the two. English is more widely spoken due to the high number of American and UK foreigners living there.
It provides a great opportunity to brush up and practice your Spanish with both locals and expats.
And in the case you get stuck with what you are trying to say, you can easily refer to English as a backup.
Tip: Have the Google Translate app downloaded on your phone to help with translation. Or consider taking Spanish lessons at a school!
33. Go On A Hot Air Balloon Ride
Have you always dreamed of going up in a hot air balloon? Add this bucket list adventure to your San Miguel de Allende itinerary and take flight outside of the city over wide open fields with outstanding views.
Even if you fear heights, give it try as it isn't as scary as it may seem! My first time going up in a hot air balloon was at the Albuquerque Balloon Fiesta in New Mexico and it was magical.
I'm terrified of heights and although I had jitters taking off, it was such a smooth and calming experience. You don't even notice you are moving.
My only advice is to listen to instructions for landing as I didn't hold on right and bruised up my hand on a slightly rough landing. Still completely worth it!
Book your Hot Air Balloon Experience Today!
Where Is San Miguel de Allende?
Located in Central Mexico, San Miguel de Allende is in the state of Guanajuato. On a map, the city is about halfway between the cities of Queretaro and Guanajuato.
For those that want to add a visit to their Mexico City stay, San Miguel de Allende is about 3.5 hours northwest of Mexico City.
And as with most of the cities in Central Mexico, San Miguel de Allende is at a high altitude so something to be aware of if you are sensitive to it. The city is about 6,300 feet or 1900 meters high.
Getting To San Miguel de Allende
The nearest airport to San Miguel de Allende to fly into is Queretaro but the two main options are:
Queretaro International Airport (QRO) – 53 miles (85 km) southeast from San Miguel de Allende
Guanajuato International Airport (BJX) – 64 miles (103 km) west of San Miguel de Allende
From either of these airports you can book a private transfer to San Miguel de Allende in advance. I flew in and out of Queretaro as it was a little closer but depending on your itinerary, you have two good options.
For those that are coming from Mexico City, I would recommend taking the bus that takes around 3.5 to 4 hours. But you can always fly if there are not ideal bus times available.
Bus tickets can be purchased online if you have a Mexican credit card but for anyone coming from outside the country, purchase your tickets at the bus station.
Unless it is a holiday or busy weekend, you can usually buy your ticket the day you plan to leave. The main bus station in San Miguel de Allende is Central de la Autobuses, about 15 minutes west of the city center.
I recommend taking the first-class buses which are very nice and pleasant to ride on. Look for the bus companies Primera Plus or ETN, similar to ADO in other areas of Mexico.
Find The Best Flight Deals Today!
Top San Miguel de Allende Hotels
All of these hotels are beautiful places to stay in the city center of San Miguel unless otherwise noted.
Hotel Casa 88 – a small boutique hotel steps from everything in the city center.
Rosewood San Miguel de Allende – the nicest hotel in town but about a 10 minute walk to the central part of town.
Live Aqua San Miguel de Allende – about a 15 minute walk from the city center.
Best San Miguel de Allende Tours
No matter what your interests may be, there are several awesome tours to take in San Miguel de Allende!
Taste of San Miguel Lunch Food Tour – explore a variety of top Mexican dishes on this yummy lunch food tour.
Tacos & Tequila Walking Tour – Who doesn't enjoy tacos and tequila? Sample delicious tacos and tequila cocktails at top spots in San Miguel de Allende. You can book with either: GetYourGuide or Viator
Landmarks and Lunch Walking Tour – Visit the most iconic landmarks in San Miguel, learn about its rich history, and indulge in a 3-course meal!
Chocolate Tasting Walking Tour – Chocolate lovers will have fun trying different chocolates and the history of chocolate in Mexico!
Evening Food Walking Tour – Sample the best of culinary delights on this evening walking tour! You can book with either: GetYourGuide or Viator
Horseback Riding & Hot Springs Tour – Have a fun day of horseback riding and relaxing in thermal hot springs!
Half-Day Horseback Riding Adventure – Enjoy a horseback riding experience viewing the natural landscapes outside of the city including lunch!
Canada de la Virgen Pyramid Tour – Take this tour that includes transportation to the pyramid ruins at Canada de la Virgen!
Heart of Mexico Wine Tours – Discover the best wineries offering spectacular wines of Central Mexico!
Private Mexican Cuisine Cooking Class – Love to cook? Learn how to make classic and authentic Mexican dishes with a professional chef!
Hot Air Balloon Experience – Go up in a hot air balloon outside of downtown San Miguel de Allende!
San Miguel de Allende Map
Tips For Visiting San Miguel de Allende
FAQs About San Miguel de Allende
What Is San Miguel de Allende Known For?
San Miguel de Allende is known for its charming vibrant cobblestoned streets, preserved colonial style architecture, mouthwatering cuisine, and the birthplace of Ignacio Allende who the city is named after.

The town is also the most popular city in Mexico to retire in for American and UK expats.
How Many Days Is Enough In San Miguel de Allende?
Three days in San Miguel de Allende is enough time to see the top attractions including historic churches, museums, enjoy incredible food, and a day trip such as wine tasting, visiting a pyramid, or hot springs.

Personally, I recommend staying five days so you can add on some tours and additional day trips.
Is It Worth Going To San Miguel de Allende?
Yes! San Miguel de Allende is worth going to as it is a picturesque city with a rich history, colonial architecture, endless places to indulge in Mexican cuisine, and the friendliest locals.

Plus, you can enjoy a drink on a rooftop bar with a view of the city, wander the colorful cobblestoned streets, or sip a top-notch coffee!
What Are The Best Months To Go To San Miguel de Allende?
The best months to visit San Miguel de Allende are from October through April. That said, the weather is great year-round with not a lot of change in temperature between seasons. May and September are very nice but expect warmer days and potential rain. The summer months of June, July, and August will see the highest temps and the most rain.
Do You Need A Car In San Miguel de Allende?
No, you do not need a car when visiting San Miguel de Allende. A majority of the hotels and attractions are within walking distance of the main town square where El Jardin and La Parroquia are located.

For day trips or sights that are further, you can take a tour or taxi.
Is There Uber In San Miguel de Allende?
Yes, but there are not many of them and it can be a challenge to schedule one. Getting a taxi is much easier and quicker.
Is San Miguel de Allende Safe?
Yes, San Miguel de Allende is a very safe city in Central Mexico as there are a high number of expats living here from the United States, United Kingdom, and Spain many of which are retired here.

As with any city always use common sense, don't carry any unnecessary valuables, and stay in the historic city center at night where there are many people.

I traveled here solo and had no issues, always feeling safe. San Miguel de Allende has low crime compared to other cities in Mexico, is very clean, and one of the most beautiful cities in the world!
What Is The Altitude Of San Miguel de Allende?
San Miguel de Allende is at a high altitude approximately 6,300 feet (1900 meters) and considered a high desert. The altitude of the area surrounding the city can range from 6,200 to 6,600 feet.
What Part Of San Miguel de Allende To Stay In?
The best neighborhood in San Miguel de Allende to stay in is in the historic center (El Jardin) and the area surrounding it. This way you have quick access to most of the San Miguel de Allende attractions, tons of restaurants, bars, shops, and cafes all within walking distance.
What Airport Do You Fly To For San Miguel de Allende?
There are two airports you can choose to fly into for San Miguel de Allende. You can fly into Queretaro International Airport (QRO) or Guanajuato International Airport (BJX) with Queretaro about 20 – 30 minutes closer.

Plan ahead and schedule a airport transfer to pick you up at the airport!
What To Do In San Miguel de Allende Summary
After learning about all the best things to do in San Miguel de Allende, I'm sure you are set to book a ticket and pack your bags!
From the most charming cobblestoned streets to jaw-dropping churches, incredible Mexican food, and wine country, you can see why so many people absolutely love this city.
Plus, with so many foreigners living here, English is widely spoken compared to other areas of Central Mexico making it easier to visit.
Got Travel Insurance?
Don't leave home without travel insurance as you never know what might happen on a trip! It is always when you least expect it that something can go wrong like getting sick, in an accident or cancellation of some sort.
Get a no-obligation quote from two trusted travel insurance companies for peace of mind on your next trip! I have used both companies on numerous occasions and trust them for myself and my family.
SafetyWing Travel Insurance Quote
World Nomads Travel Insurance Quote
Looking For More Related Travel Content?
25 Best Things To Do In Oaxaca City, Mexico For First Time Visitors
55 Top Tips For Traveling To Mexico And What To Know Before You Go
Food From Oaxaca: 21 Traditional Dishes You Must Try When Visiting
19 Awesome Things To Do In Puebla, Mexico You Don't Want To Miss
7 Best Filtered Water Bottles For Travel And Hiking
Allbirds Review (Updated 2023): The World's Most Comfortable Shoes?
Ultimate New Orleans Bucket List: 35 Fun Things To Do In NOLA
Perfect 3 Day Weekend In San Antonio Itinerary For First Timer's
15 Best Things To Do In San Diego, California For First Time Visitors
Vanessa Shields
Vanessa Shields is the founder of Traveling Ness helping people with trip ideas, itineraries, travel planning, and boosting confidence for female travelers to take a solo trip. She has been a travel writer and content creator since 2019.