Disclaimer: Traveling Ness contains affiliate links and is a member of the Amazon Services LLC Associates Program. If you make a purchase using one of these links, I may receive compensation at no extra cost to you. See my privacy policy for more information.
19 Cool Things To Do On A Weekend In Memphis, Tennessee
Looking for the best things to do in Memphis, Tennessee? Look no further as I have put together a complete guide for spending a fun-filled weekend in Memphis!
No matter your interest, there is an abundance of top Memphis attractions that will feed your soul and your appetite.
You can hear and feel the pulse of the music flowing in Memphis upon arrival which is no surprise as it is the Home of the Blues, the birthplace of Rock 'n' Roll, and soul music…
Memphis has been a mecca for musicians, coming together to play jazz, gospel, country, and eventually blues and rock.
Another love of this city is its famous Memphis-style dry rub BBQ most notably the ribs that tend to be the talk of the town for good reason!
It has a fascinating history, was a pivotal city in the National Civil Rights Movement, has an enormous pyramid that rivals Egypt, home of Elvis's Graceland, and fancy ducks that live in the penthouse of the most luxurious hotel in town!
Spending a long weekend in Memphis is the perfect amount of time to sample the best of Bluff City. You might even find yourself planning your return trip before you leave…
Fun Facts: Memphis is often referred to as Bluff City as it was built on the bluffs of the Mississippi River. A more recent nickname is Grind City in reference to the Grizzlies basketball team whose motto is "Grit and Grind".
Disclaimer: Many of the tours I went on were hosted by Memphis Tourism but as always, the opinions in this post are mine alone.
Where Is Memphis?
Memphis is in the farthest southwest corner of Tennessee and what would be considered the northern part of The South in the United States.
Although in Tennessee, Memphis is right on the border of Tennessee and Arkansas separated by the Mississippi River.
In fact, they call the Arkansas side near the border West Memphis. But for the majority of the time when you see anything referencing Memphis, it is on the Tennessee side.
Tennessee is bordered by Mississippi, Alabama, and Georgia to the south, Arkansas and Missouri to the west, Kentucky to the north, and North Carolina to the east.
Tip: Looking for the best BBQ joints in Memphis? Explore 5 Best Memphis BBQ Restaurants That Are A Must-Try When Visiting!
How To Get To Memphis
As there are a number of states surrounding Tennessee, driving is a great option. The distance from the following cities are below.
Little Rock, AR: 135 miles (217 km)
Jackson, MS: 210 miles (338 km)
Nashville, TN: 213 miles (343 km)
Huntsville, AL: 216 miles (348 km)
Birmingham, AL: 238 miles (383 km)
St. Louis, MO: 283 miles (455 km)
If you are flying into Memphis, you want to book your flight into Memphis International Airport (MEM).
The airport is 13 miles from downtown Memphis. You can either rent a car or take an Uber/Lyft to your hotel.
Search For The Best Car Rental Rates Today!
Tips: If you know you want to see Memphis attractions outside of downtown that will require a car, book a car rental just for a day or the last portion of your trip. Or you can take an Uber/Lyft as well!
Where To Stay In Memphis, Tennessee
The best place to stay in Memphis is downtown in and around Beale Street and Main Street.
Each of these hotels is in walking distance or a short trolley ride from most of the Memphis attractions listed.
Hyatt Centric Beale Street Memphis
Sheraton Memphis Downtown Hotel – it is directly across the street from the Renasant Convention Center
Best Memphis Tours
I think I went on more tours in Memphis than I have in any other city. There are seriously so many great tours from history, museums, food, beer, and of course a haunted one!
Hop-On Hop-Off Bus Tour – For attractions that are too far to walk and you don't want to get a rental car, this hop-on hop-off bus takes you around the city to 9 major attraction stops!
Memphis City Tour – Go on a tour with a local guide taking you to the top Memphis attractions and the option to add on a riverboat cruise and Sun Studio.
Memphis Rock n Soul Museum & Music Hall of Fame – Get a combo ticket to visit two museums that are perfect for music lovers!
STAX Museum of American Soul Music – Grab a ticket in advance to the museum that is a must for anyone that has an appreciation for music and is one of the top museums in Memphis!
Food Tour Of Downtown Memphis – There is no better way to get to know a city than by going on a food tour!
Historical Tour of Beale Street – Beale Street is one of the most famous streets in Memphis and in America. Learn all about the history of this fascinating area!
Local Breweries Tour – Ready to taste awesome craft beer from breweries in Memphis?
Haunted Walking Tour – Explore the darker and more haunted side of Memphis with an incredible storyteller!
Map Of Top Memphis Attractions
Best Things To Do In Memphis, Tennessee
1. Stroll Down Beale Street
Kick off your weekend in Memphis by walking down Beale Street. Beale Street is the most famous street in Memphis and one of the most well-known in the country!
Prior to visiting I had envisioned Beale Street to be really long and was surprised to learn that it is only a few blocks long.
The portion of Beale Street that is pedestrian-only and filled with restaurants, bars, and music venues is a brief three blocks.
You will find the lively atmosphere on Beale Street between Second Street and Fourth Street downtown.
So why is Beale Street so famous? In the 1800s, Beale Street was an area for merchants and those trading goods coming in and off boats from the nearby Mississippi River.
By 1879 after the great yellow fever epidemic hit Memphis, Robert Church purchased the land where Beale Street is.
What is so significant about it this is that Church had a black mother and a white father. In purchasing a lot of land in Memphis he became the first African-American black millionaire in the South.
At that time, African-Americans were not allowed into most establishments due to the color of their skin but Beale Street changed this.
Each business, restaurant, or music club was black-owned. Beale Street drew musicians from all over to give birth to the sound we know as the Blues.
Blues and Jazz have continuously been celebrated on Beale Street with many legends such as B.B. King playing here.
Today, it is still the home of the blues and where you can listen to great live music, have fun at one of the bars or eat at one of the many restaurants.
During the day it will be pretty calm but at night it can get a little rowdy as it is a party destination!
Tip: Grab a beer at Silky O'Sullivan's and see if you spot the goats! Yep, you read that right!
Book A Historical Tour of Beale Street!
2. Eat The Best BBQ
Trying one or many BBQ joints is a must when visiting Memphis. You can almost say that you haven't been here unless you ate some BBQ!
Of any city that I have been to, Memphis has the most barbeque restaurants. And for good reason!
The BBQ here is incredible and even though there might be a competition to who serves the best, you can't go wrong in this city.
BBQ ribs and pulled pork are usually the top choices to order no matter which restaurant you go to.
Memphis is known for their dry rub BBQ but they always serve with a fantastic sauce that is dynamite!
Wondering where the best BBQ in Memphis is? If so, explore 5 Best Memphis BBQ Restaurants That Are A Must-Try When Visiting!
3. Visit Bass Pro Shop Pyramid
I know what you are thinking, why would I recommend going to Bass Pro Shop as a main Memphis attraction.
But this is no ordinary sporting goods store! First, it is located in a huge pyramid which that alone makes it unique.
The pyramid has been a symbol of the Memphis skyline for years and after it was left vacant, Bass Pro Shop moved in. And thank goodness as the pyramid might not still be here today.
Upon entering my jaw dropped as it is both massive and incredibly impressive to see! The interior is low-lit and gives the impression that it is evening out on the bayou.
Complete with twinkling hanging lights, small ponds, wooden walkways over the water, and enormous fish swimming about. Plus, there are a number of shops, restaurants, and a hotel!
Yes, you can book to stay at the Big Cypress Lodge where each room resembles an upscale cabin in the woods.
The rooms have a balcony looking over the stores, restaurants, and bayou which makes for quite a unique place to stay.
Standing in the center of the pyramid is the largest free-standing elevator in the world at 28-stories!
Buy a ticket and zoom up to the top where you can take in views of Memphis and the Mississippi River from the glass observation deck.
After you have taken in the incredible views, head back inside and order a drink at the bar or enjoy a meal at The Lookout at the Pyramid.
Hours: Open Monday – Saturday from 9:00 am to 9:00 pm and Sunday from 10:00 am to 7:00 pm.
This Hop-On Hop-Off Bus Tour Goes To The Memphis Pyramid!
4. Experience The Duck March
One of the whackiest yet adorable things to do in Memphis is to attend the Duck March at the iconic and elegant Peabody Hotel.
The Peabody Hotel Memphis has been a beacon to visit since it opened in 1925 in Italian Renaissance architectural style.
In the 1930s, the General Manager (Frank Schutt) of the hotel went hunting with friends and after a little too much whiskey thought it would be funny to bring their live duck decoys back to the hotel.
He had the bright idea to put the ducks in the fountain located in the center of the hotel lobby!
The next morning the staff were angry but when they realized that the guests loved them, they considered keeping them. In fact, word of the ducks got out and became a famous attraction to go see.
Five Mallard ducks replaced the original three call ducks and have been one of the best Memphis attractions ever since.
It wasn't until 1940 when a bellman offered to train the ducks as he had previously been an animal trainer for the circus. He then became known as the Peabody Duckmaster.
Originally, he trained the ducks to come down from their rooftop abode at 11:00 am every day to greet guests.
Today, the Duckmaster marches the ducks down to the lobby at 11:00 am where they hop into the fountain and swim until they are marched back up the red carpet at 5:00 pm.
The first Duckmaster, Mr. Pembroke served as the Peabody Duckmaster for 50 years until his retirement in 1991!
Tip: Make sure you get there 20 – 30 minutes early if you want to hear about the history from the Duckmaster and see the ducks parading up close!
Hours: The Duck March can be viewed daily at 11:00 am and at 5:00 pm.
Explore these fun Memphis, Tennessee tours to take!
5. National Civil Rights Museum
The National Civil Rights Museum has a unique location compared to the average museum. It is located at the Lorraine Motel a few minutes south of Beale Street.
During the 1920s and into the 1960s, the Lorraine Motel became a place for black visitors and travelers to stay when in Memphis.
As one of the only motels in the area to welcome black guests, notable black musicians, baseball players, and civil rights leaders stayed here.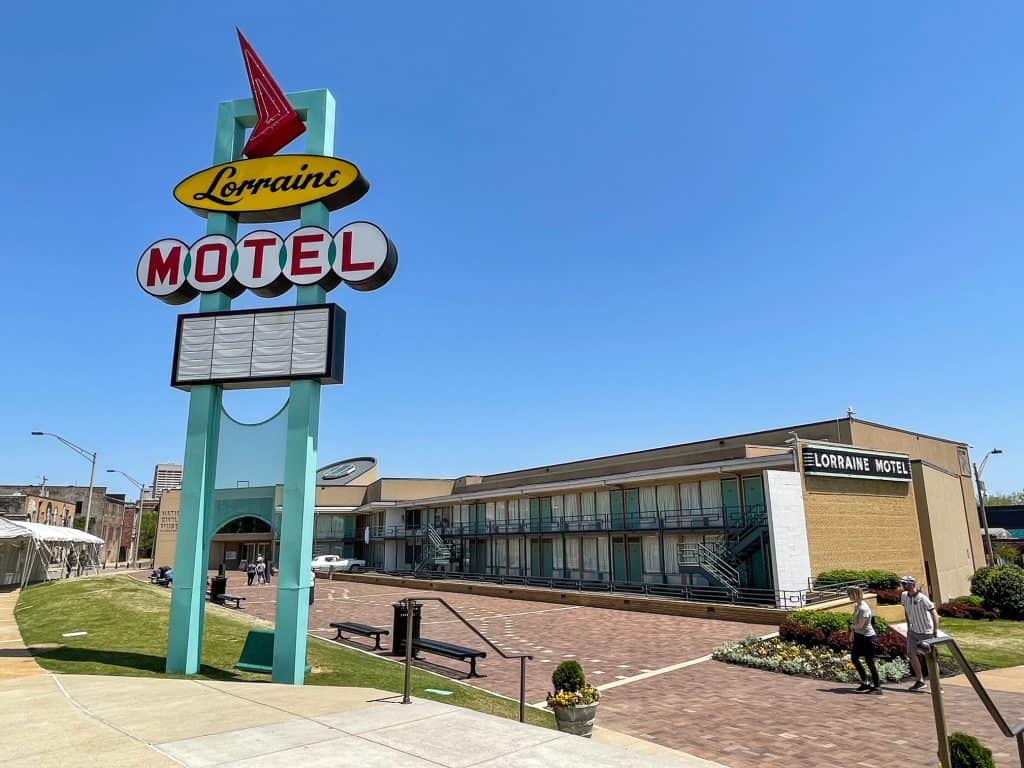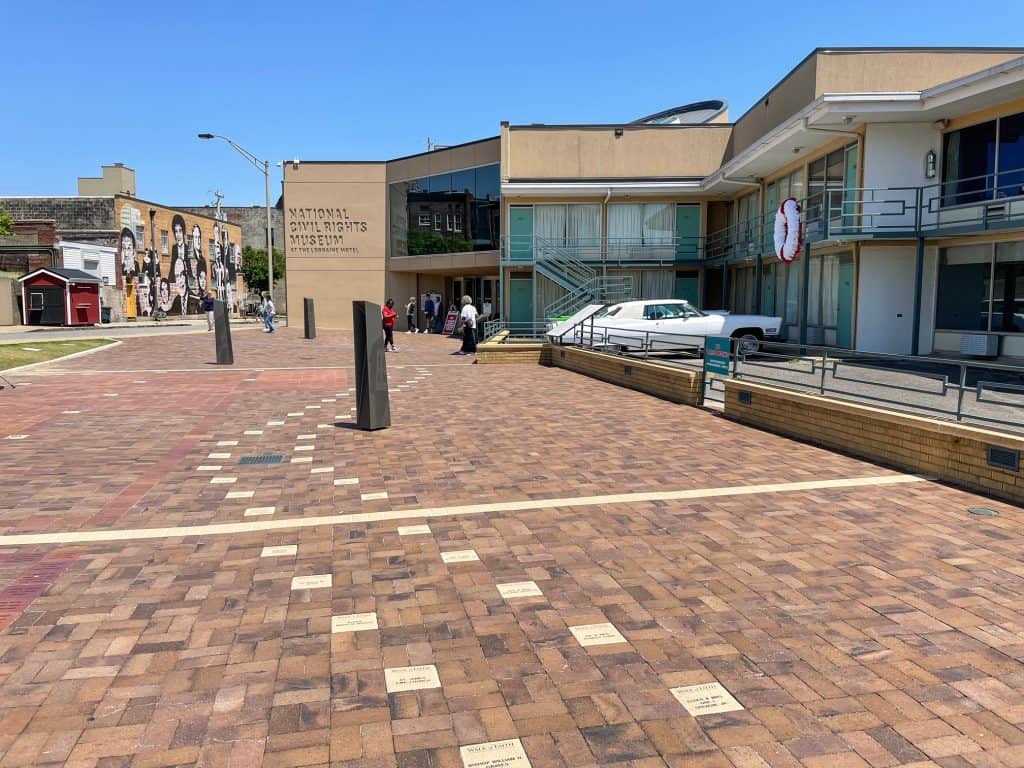 Guests such as Otis Redding, Ray Charles, Aretha Franklin, Louis Armstrong, and Martin Luther King Jr. frequented it.
Although he visited often, Martin Luther King, Jr. stayed at the Lorraine Motel for the last time on April 4th, 1968.
As he was talking to friends from the balcony of his room #306, he was brutally assassinated there on the spot by a shot to the neck.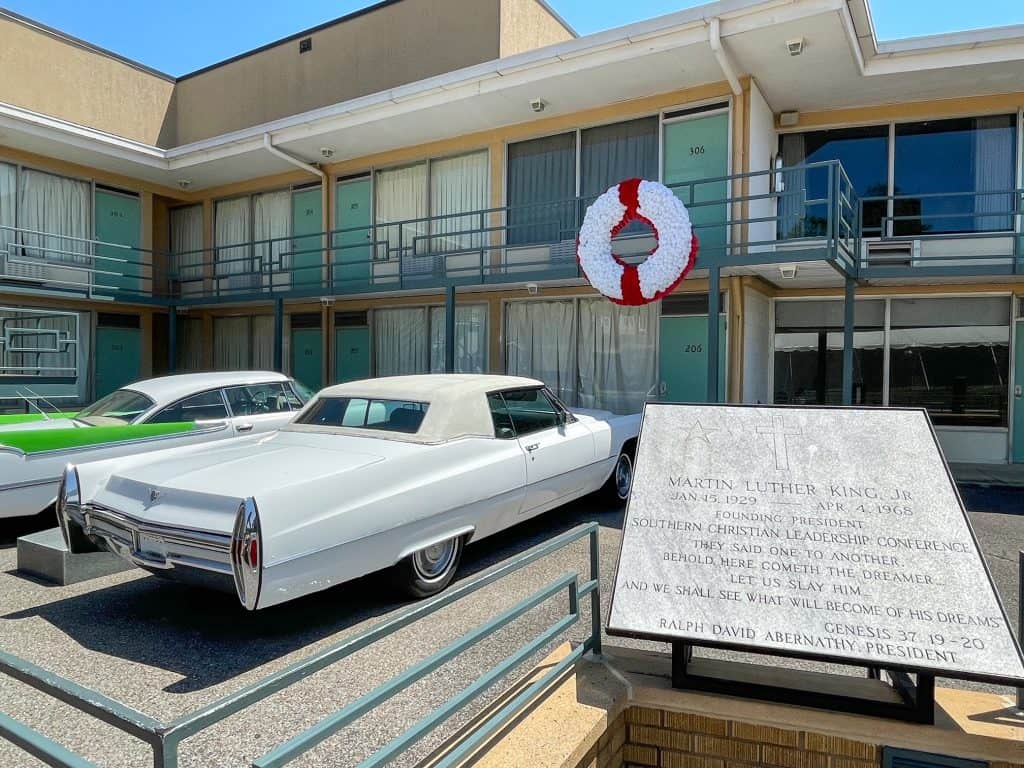 The room has since been preserved from that horrible day in 1968 and is now part of the National Civil Rights Museum.
The museum expanded to include the motel and keep the front frozen in time with a wreath marking where he took his last breath.
This incident is only one of many in the civil rights movement that you will learn about as you explore the various exhibits in the museum.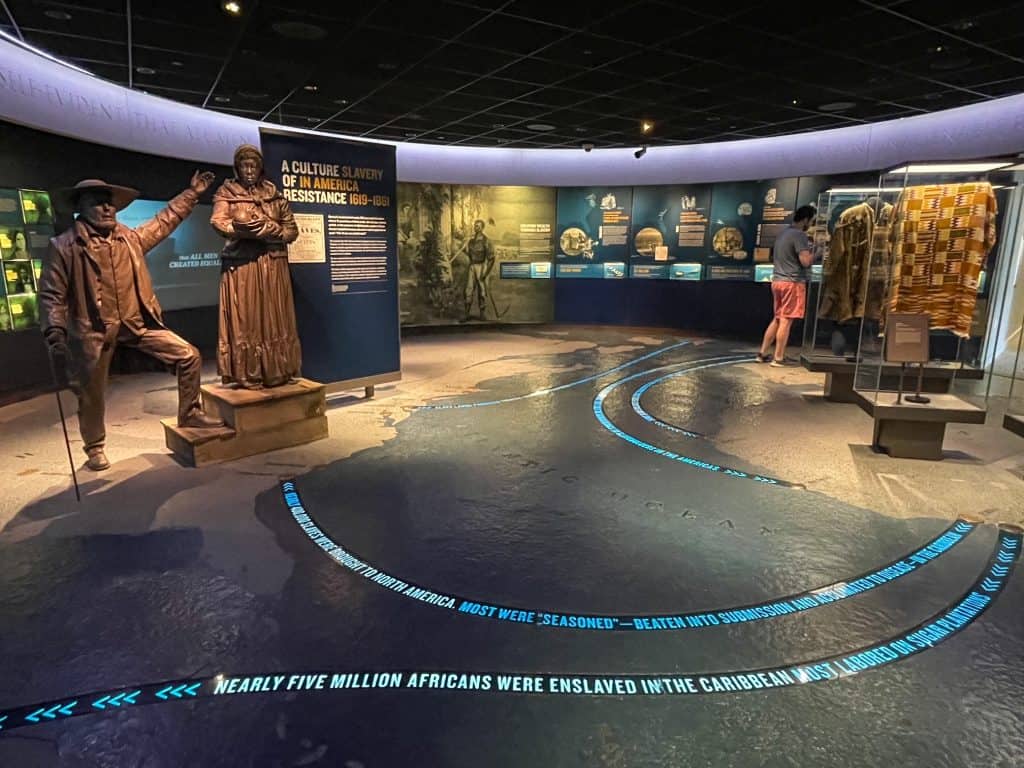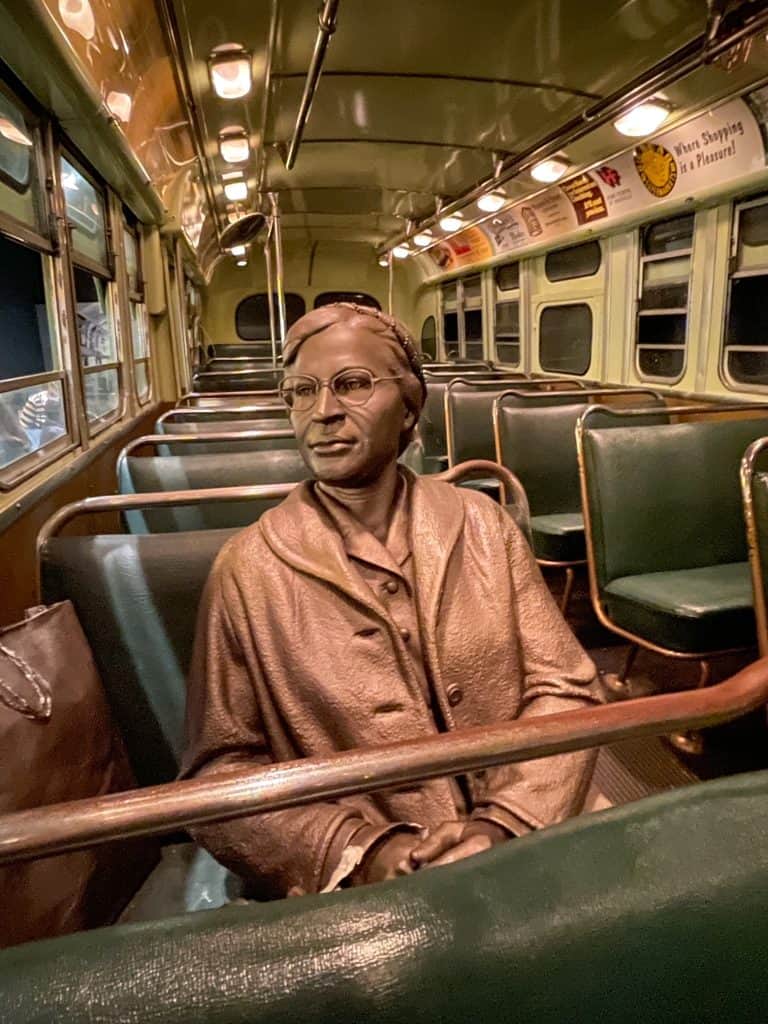 Visiting the museum is one of the top things to do in Memphis for the history, photos, and videos that give a perspective that many of us have never heard of or are only faintly aware of.
Hours: Open Wednesday – Monday from 9:00 am to 6:00 pm and closed on Tuesday.
Book This Hop-On Hop-Off Bus Tour That Stops At The Museum!
6. Have Breakfast With Elvis
Who wouldn't want to start their day with the King? In fact, their motto is "mouthwatering food fit for a king"!
Well, not literally that is but you can enjoy a meal at The Arcade Restaurant where Elvis Presley often referred to as the King or the King of Rock n' Roll ate.
His favorite item to eat? A peanut butter and sliced banana sandwich sometimes with bacon and always fried in bacon grease.
It might not sound super appetizing but don't judge until you have given it a try! It's actually quite tasty…
You can even sit in the booth he ate at which is far in the back and has a plaque commemorating it.
I had heard the sweet potato pancakes and the deep-fried French toast were amazing so I got the sampler to try both.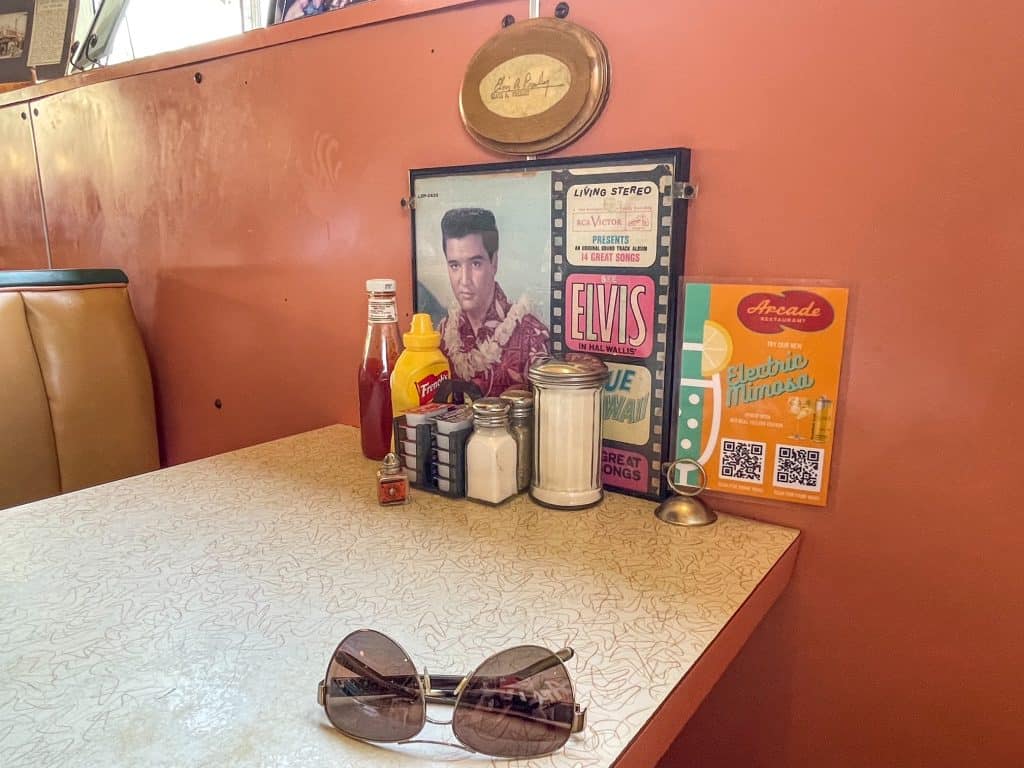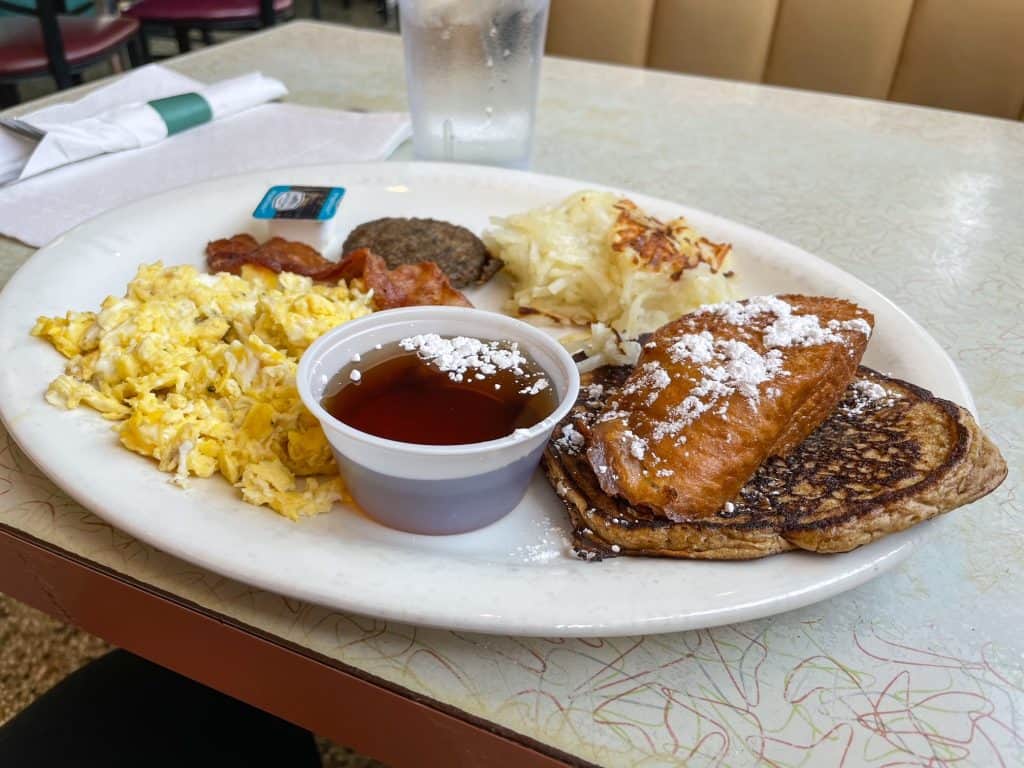 I have to say, sweet potato pancakes are my new favorite breakfast go-to! The French toast was delicious too…
The Arcade is a classic diner that serves up a hearty breakfast and lunch and doesn't seem like it has changed much over the years.
It also happens to be the oldest café in Memphis as Speros Zepatos opened it in 1919 not much more than a wooden shack.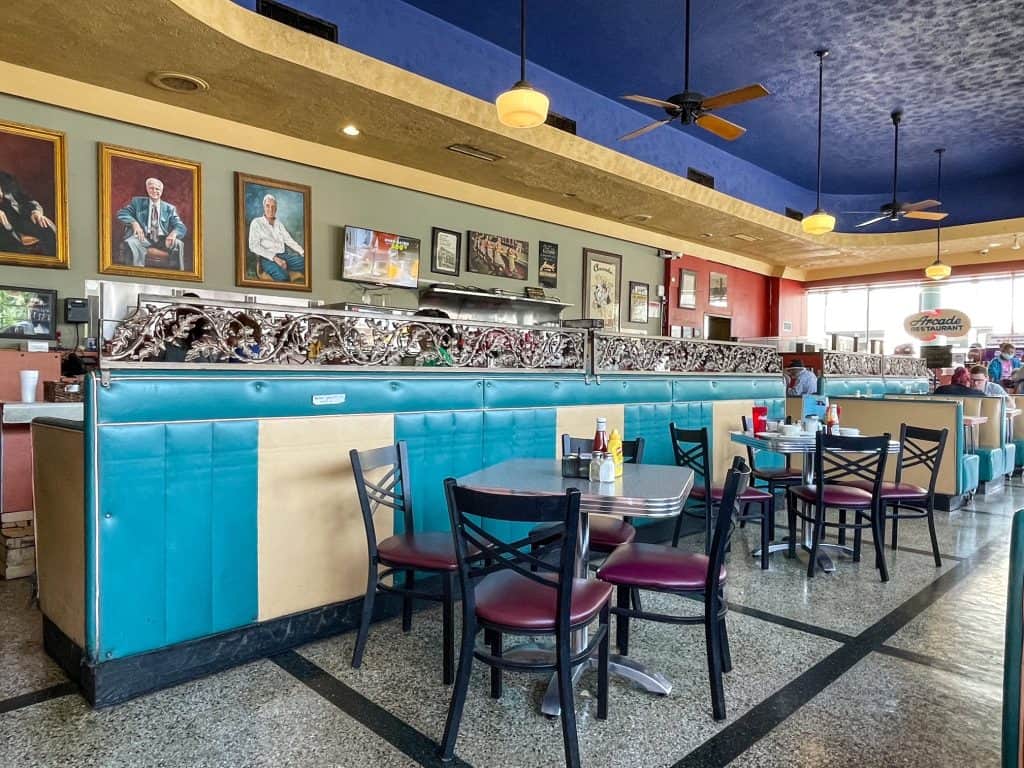 Later in 1925 it was torn down and rebuilt in Greek revival style to become the Arcade we know today.
Hours: Open daily from 7:00 am to 3:00 pm.
7. Visit Graceland
Graceland is the home where Elvis Presley lived up until he passed away in 1977. And no weekend in Memphis would be complete without visiting!
He purchased the mansion on a 500-acre farm in 1957 when he was only 22 years old.
In 1982, his home opened to the public to become a museum dedicated to showcasing Elvis's music and film career, family, and personal life.
His wife Priscilla Presley made the decision to open it up welcoming his fans that wanted to pay tribute to his grave that is onsite.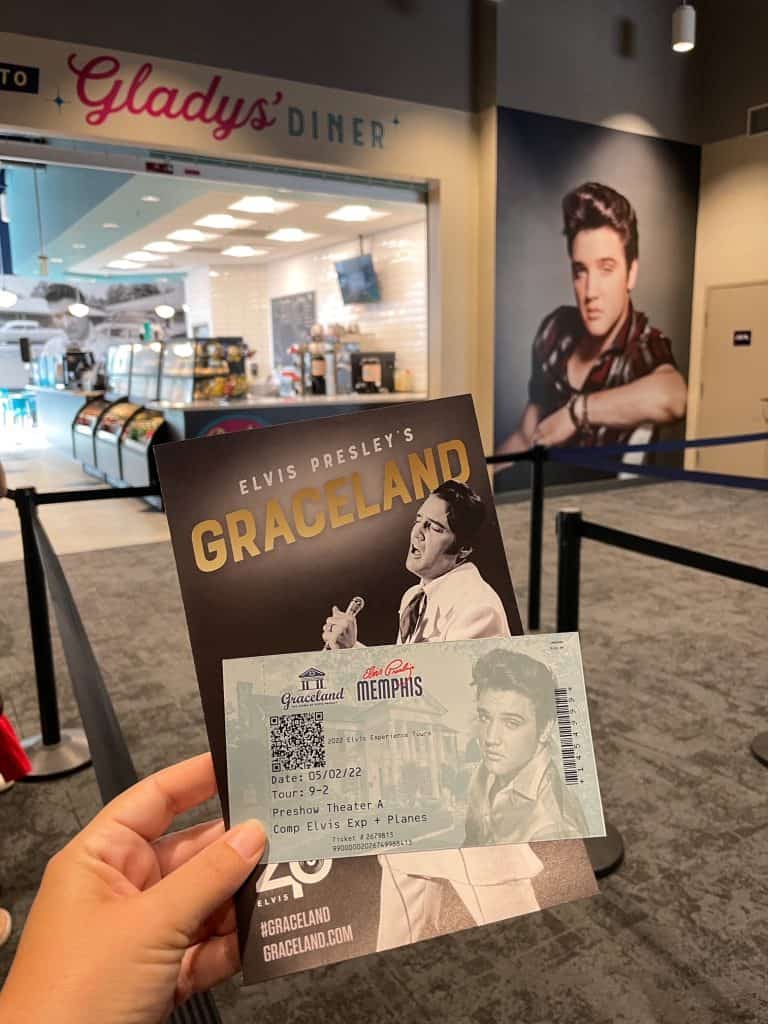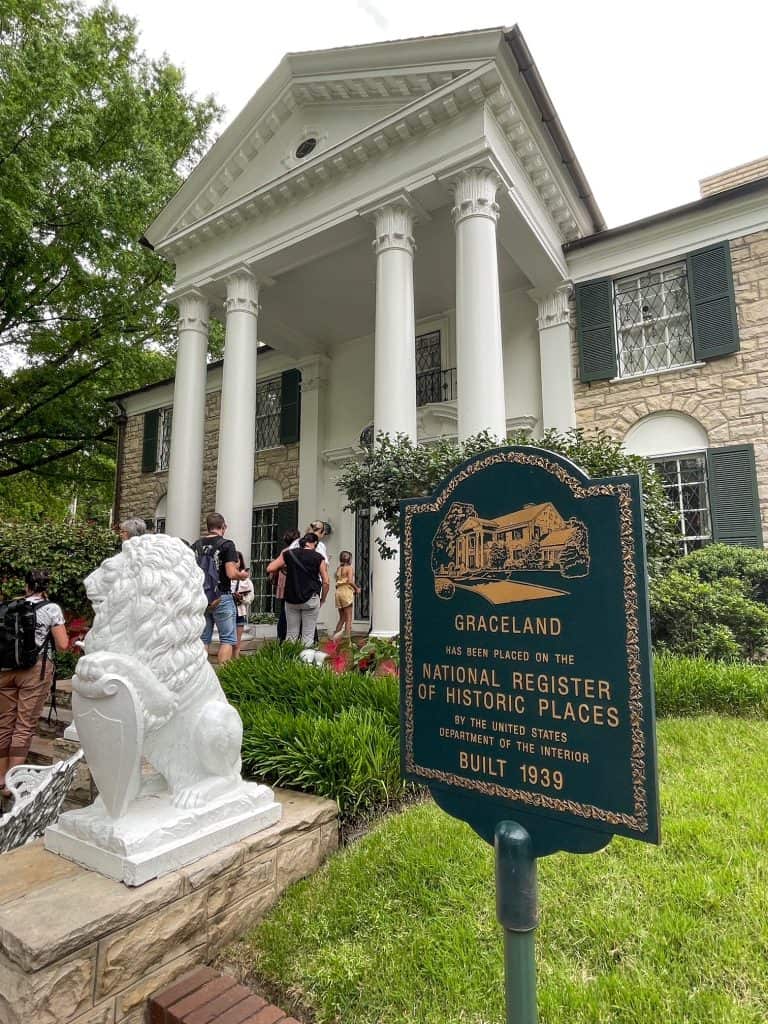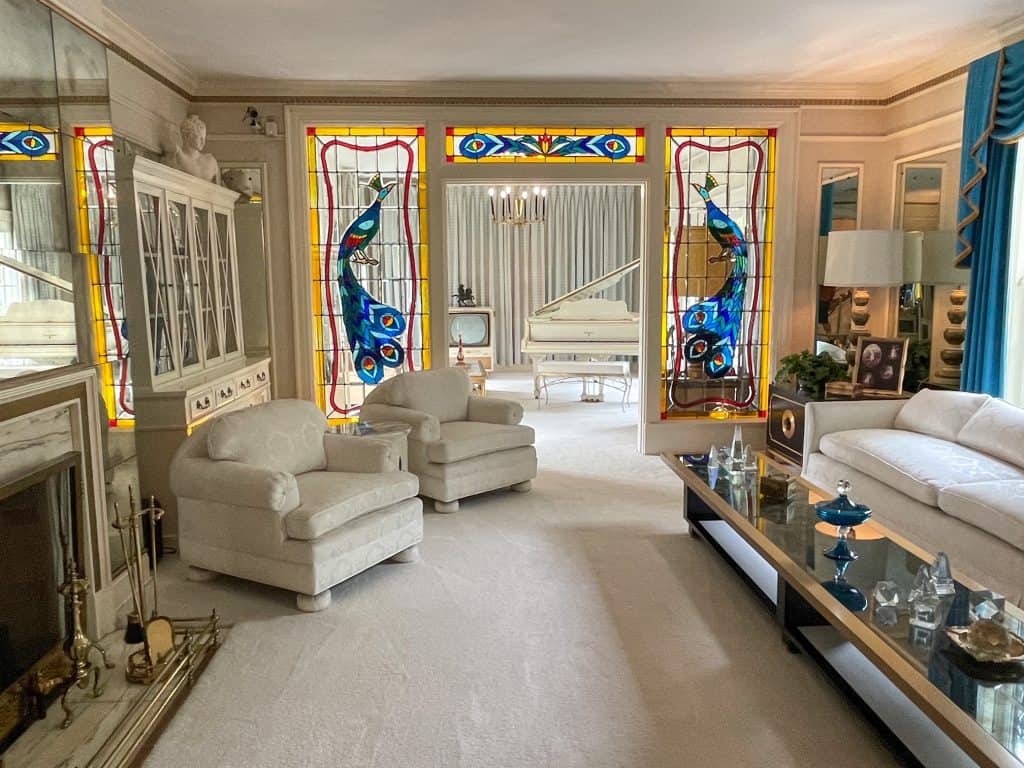 Graceland has since expanded to become an enormous museum and entertainment complex directly across the street from his mansion.
Once you enter the Graceland complex, you get in line to board a small shuttle and are given an audio guide that takes you across the street to tour the mansion.
After you have enjoyed your time at the estate, hop on the next shuttle and make your way back across the street.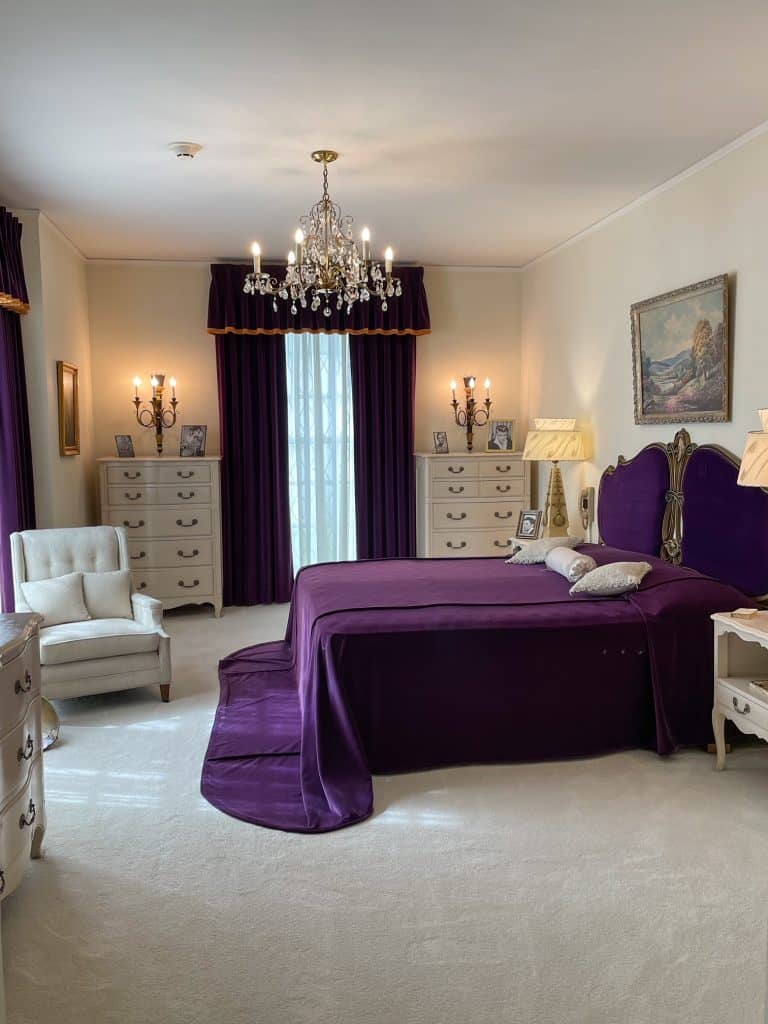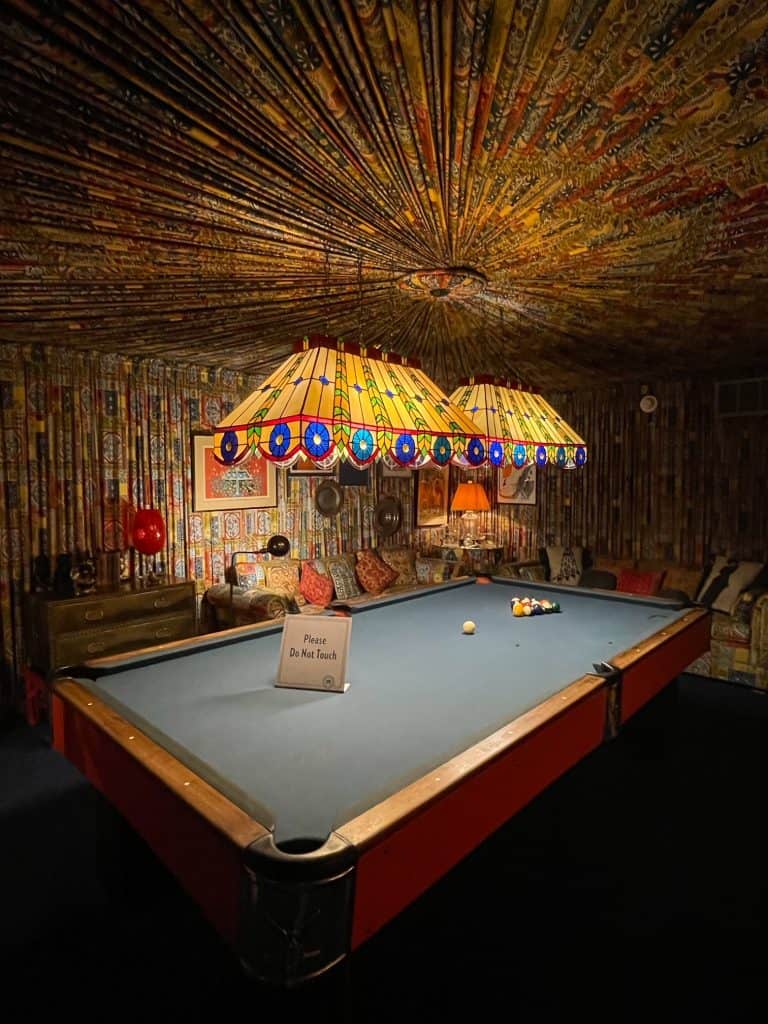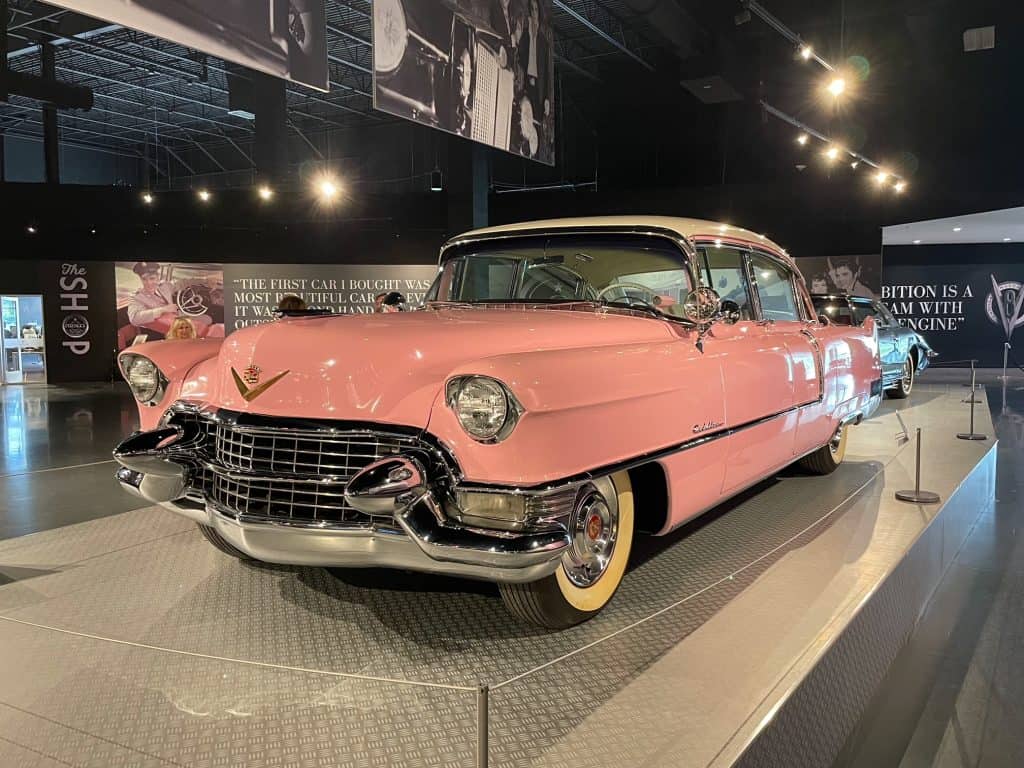 You can walk over to see the two planes Elvis owned and go inside. Make sure you wander through the various museums especially the one showcasing all of his cars!
I really enjoyed visiting and learning about the life and career Elvis led as he lived a fascinating life albeit short.
Tip: Walk across the street to see all the messages people have left on the wall in front of his estate. If you want to leave a note, bring a sharpie marker with you!
Note: Save this post, as I will be creating an in-depth post on visiting Graceland soon.
Hours: Open daily from 9:00 am to 4:00 pm.
Reserve Your Spot On This Hop-On Hop-Off Bus Tour That Stops At Graceland!
8. STAX Museum
There are several awesome museums in Memphis and many that are centered around music, but STAX Museum of American Soul Music is at the top.
I was completely impressed with the layout, the exhibits, videos, and items that represent the history of soul music in the United States.
Even though I am from the U.S., I did not know how soul got started and for those that aren't aware, it started right here in Memphis!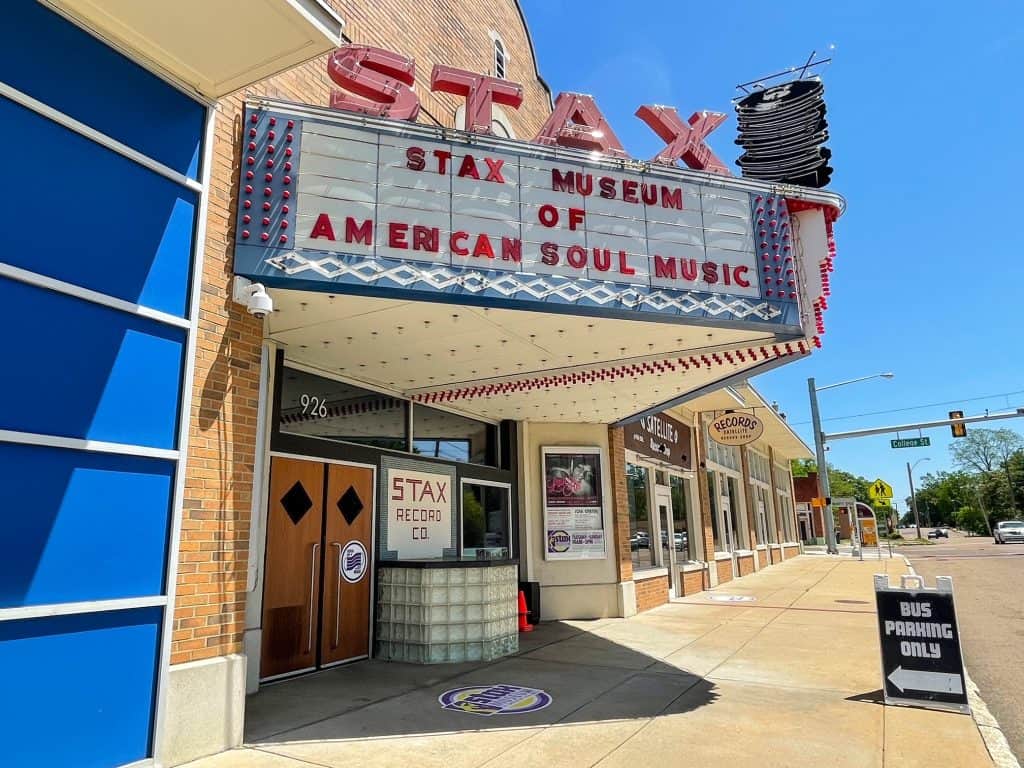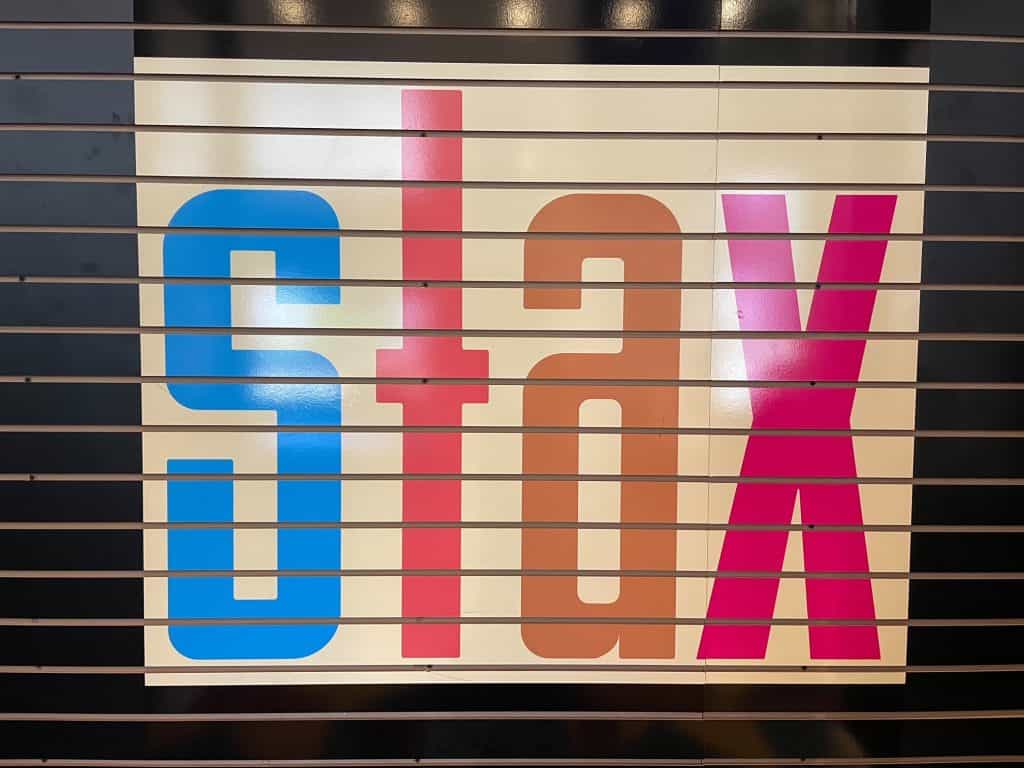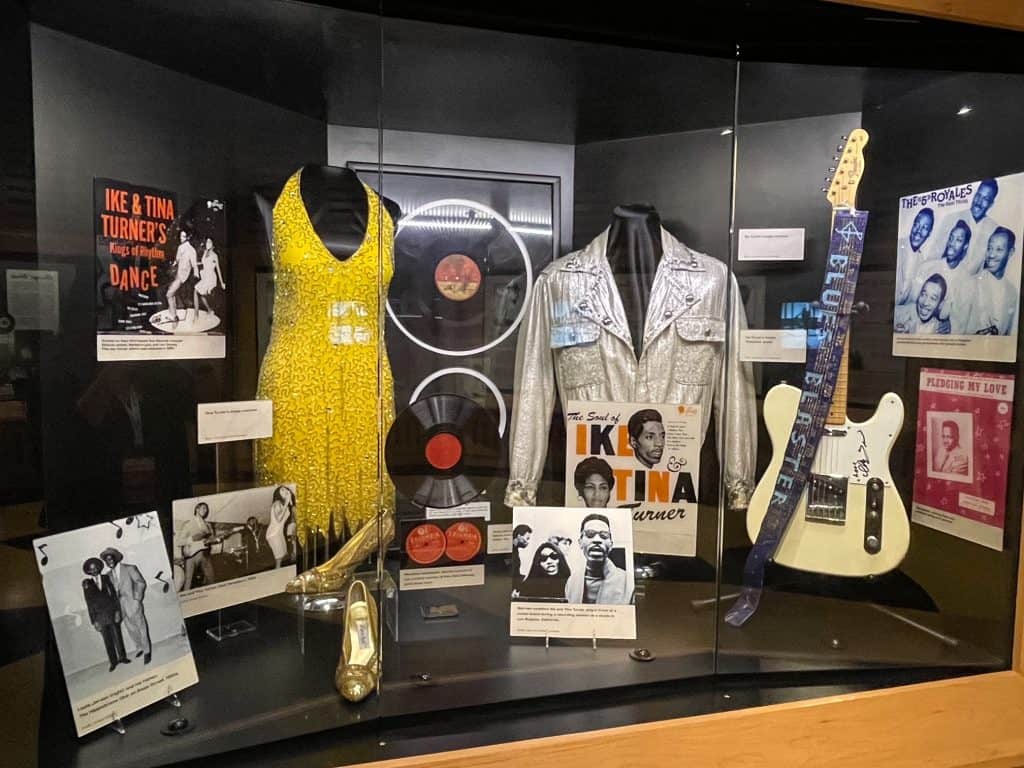 For those that aren't quite sure what soul music is, it is a mix of gospel, jazz, and country music to create a very distinctive sound.
Although the concept began forming in the late 1950s, it wasn't until the 1960s and 1970s that soul took off.
The STAX Museum was originally a small recording studio and a record store next door in what was an old theatre previously.
The record store helped bring in cash to sustain the recording side and this is how the owners found talent to record.
Many talented yet unknown patrons would come in to listen to music creating a social space for music lovers.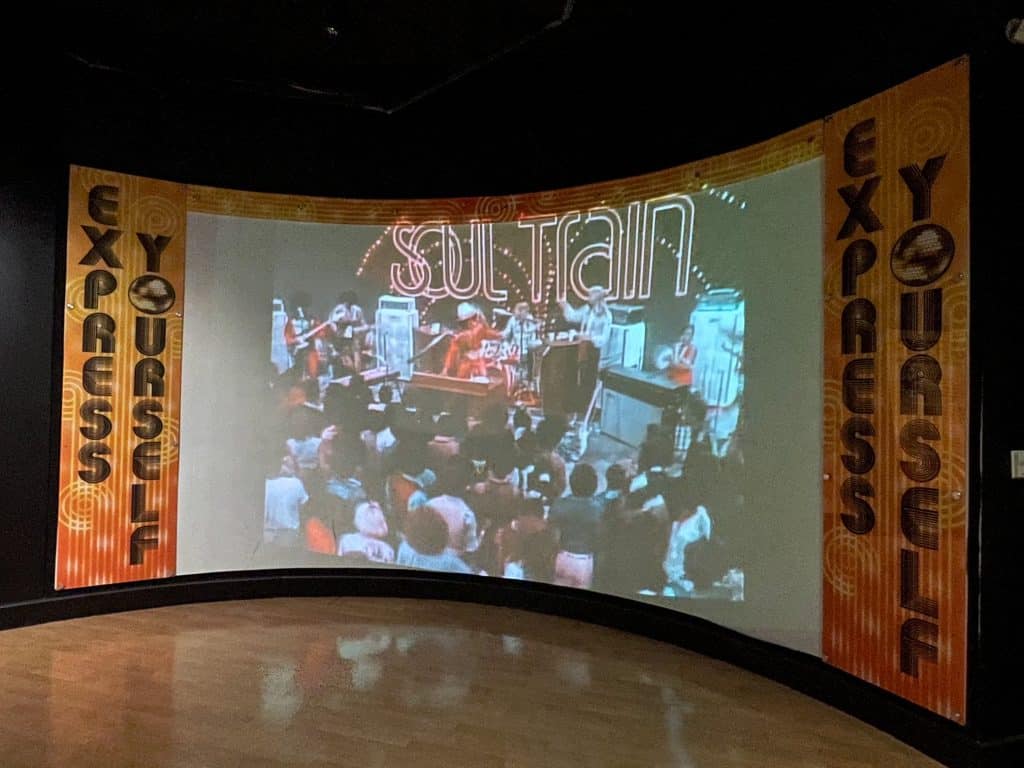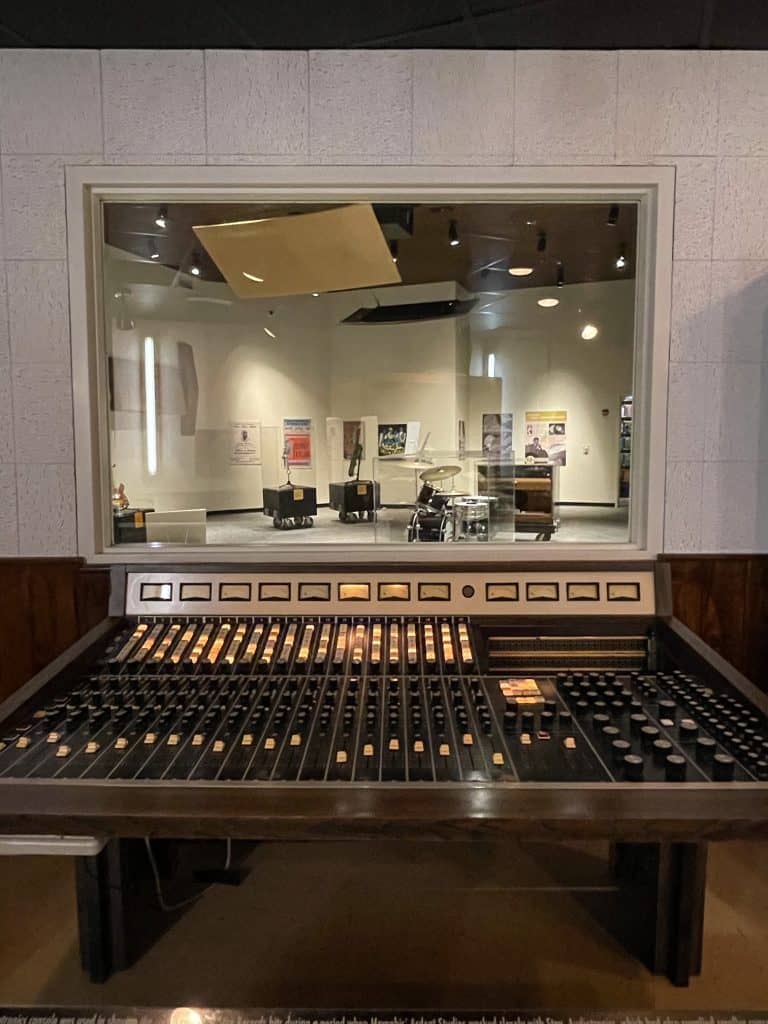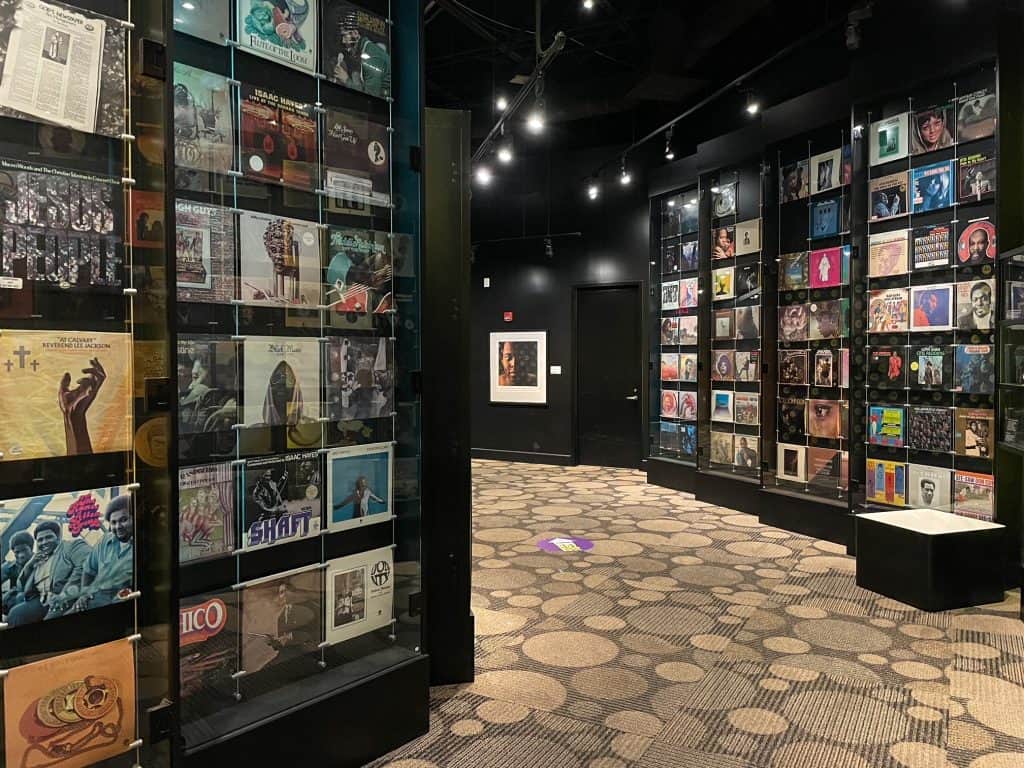 The owners Sam Stewart and Estelle Axton realized many of these talented singers needed to be recorded and gave them a chance they might not have had otherwise.
Big names such as Rufus and Carla Thomas, Otis Redding, and Booker T. and the MGs recorded here.
Today, STAX Museum protects the legacy and the importance of how soul music transformed music as a whole in America.
Fun Fact: STAX was the combination of the first two letters of the owner's last names.
Hours: Open Tuesday – Sunday from 10:00 am to 5:00 pm and closed on Tuesday.
Get Your STAX Museum of American Soul Music Tickets!
9. Sample Some Beer
Memphis has no shortage of terrific craft breweries to visit spread out all over the city. Not only do all of these breweries make great beer, but each has a unique and fun setting to enjoy that cold brew.
When sampling the best local beers in Memphis, you can order a tasting flight or by the glass. Many times, I just ordered a glass based on a recommendation from the server and was never disappointed!
Most of the breweries have outdoor patio seating or at least can open up to the outside. If the weather is nice, there is no better place to enjoy a crisp beer on a warm day.
A few of my favorite craft breweries to sample in Memphis are:
Wiseacre Brewing Company
Memphis Made Brewing Co. – closed on Monday & Tuesday
Crosstown Brewing Company
Take A Local Memphis Breweries Tour Today!
10. Explore Crosstown Concourse
This is one of the most under-the-radar places to visit in Memphis. I received a hosted tour of Crosstown Concourse and was absolutely amazed by what I saw and learned!
The Crosstown Concourse put simply is a mixed-use complex where you can live, eat, play, and work all in one convenient space.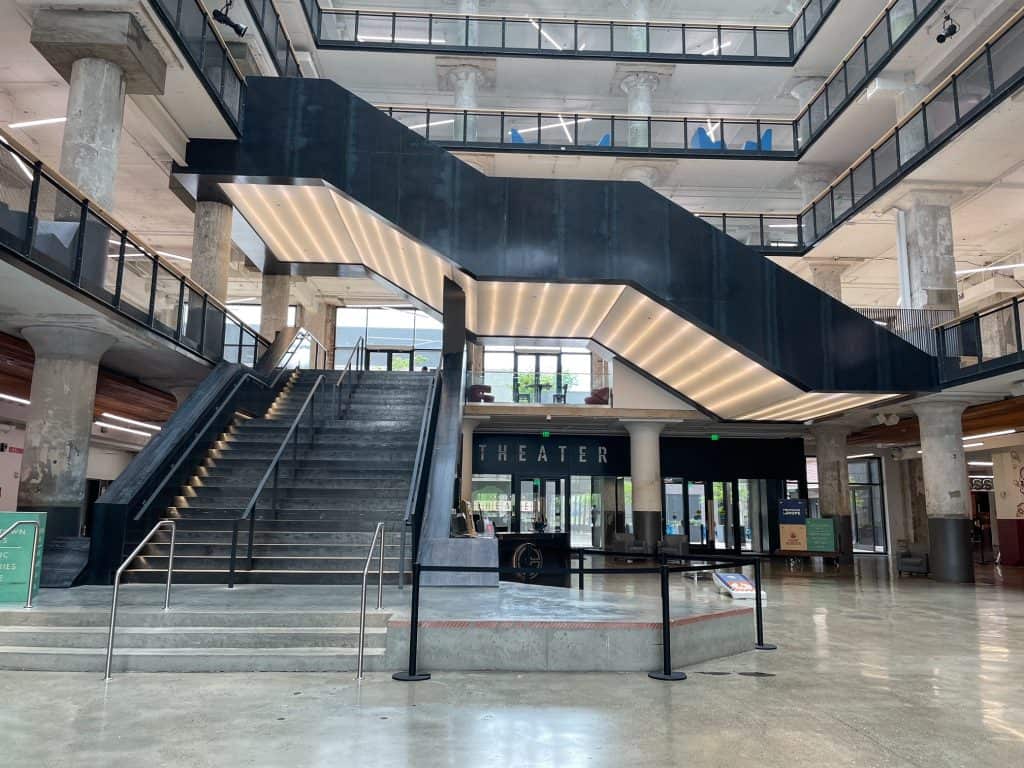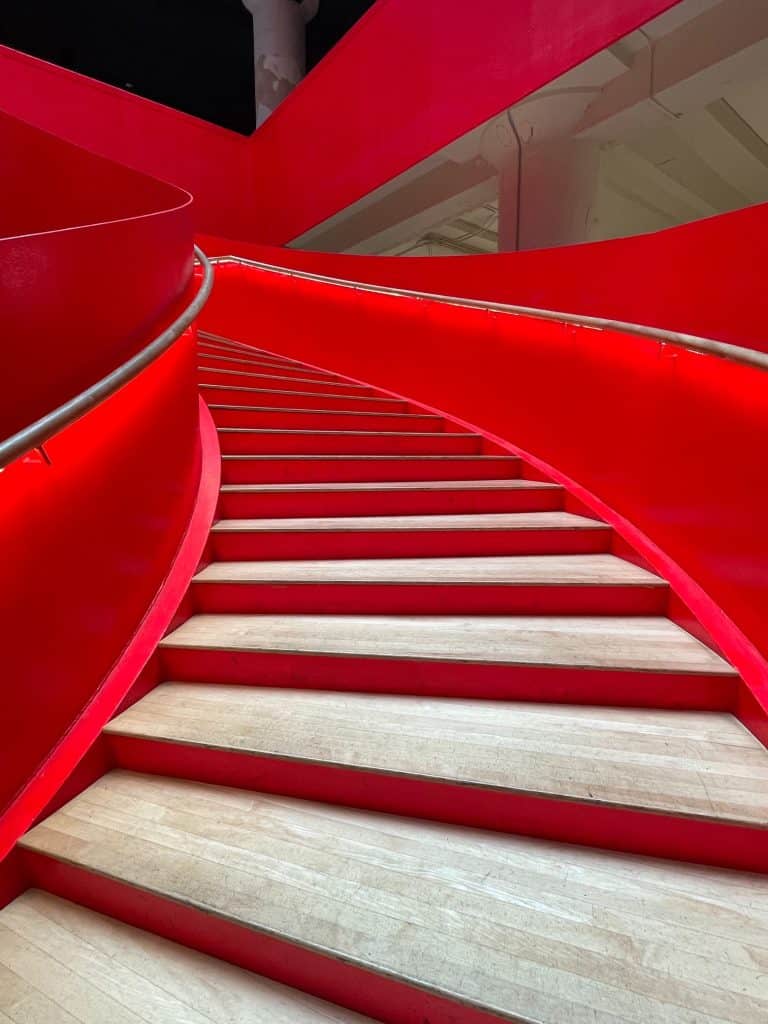 But its history is what makes it stand apart! The massive building you see today used to be a Sears-Roebuck distribution center and one of 10 of its kind in the country.
Think of it as the old-school version of a massive Amazon distribution center.
Sears-Roebuck was just as big as Amazon in its own time as the go-to source for any item you might want or need including houses!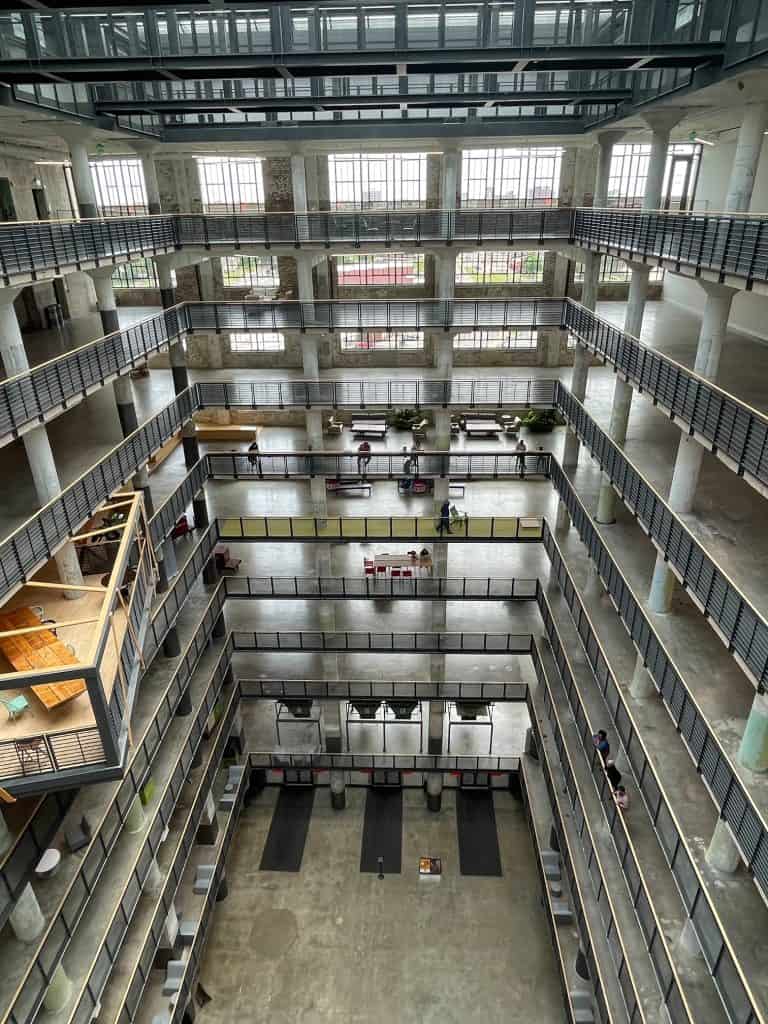 The Sears Crosstown opened up in 1927 as one of the biggest in the country and was in business until 1993.
It sat vacant until three men had the vision to resurrect the building and make it a great place to incorporate a mixed-use concept with a focus on history, art, and health.
In 2017, it opened up with restaurants, shops, a radio station, and café at the bottom, spaces for artists in the middle, and residential living on the upper floors.
There is also a healthcare center, dentist, and gym onsite in addition to a performing arts center, Crosstown Brewery, and a high school.
Some great places to eat that are worth checking out are Abner's for chicken, Curb Market, Farm Burger, Wolf River Brisket, Pizzeria Trasimeno, and French Truck Coffee (amazing coffee!).
Note: I will be writing a post solely on Crosstown Concourse if you want to learn more about it. Save this post to refer back!
Explore these fun Memphis, Tennessee tours to take!
11. Beale Street Landing
Beale Street Landing is a park where Beale Street meets the waterfront of the Mississippi River.
It is the perfect area to go for a walk, run, have a picnic, and take in gorgeous views of the riverfront. If you want to take a steamboat tour on the Mississippi River, boats take off from this landing.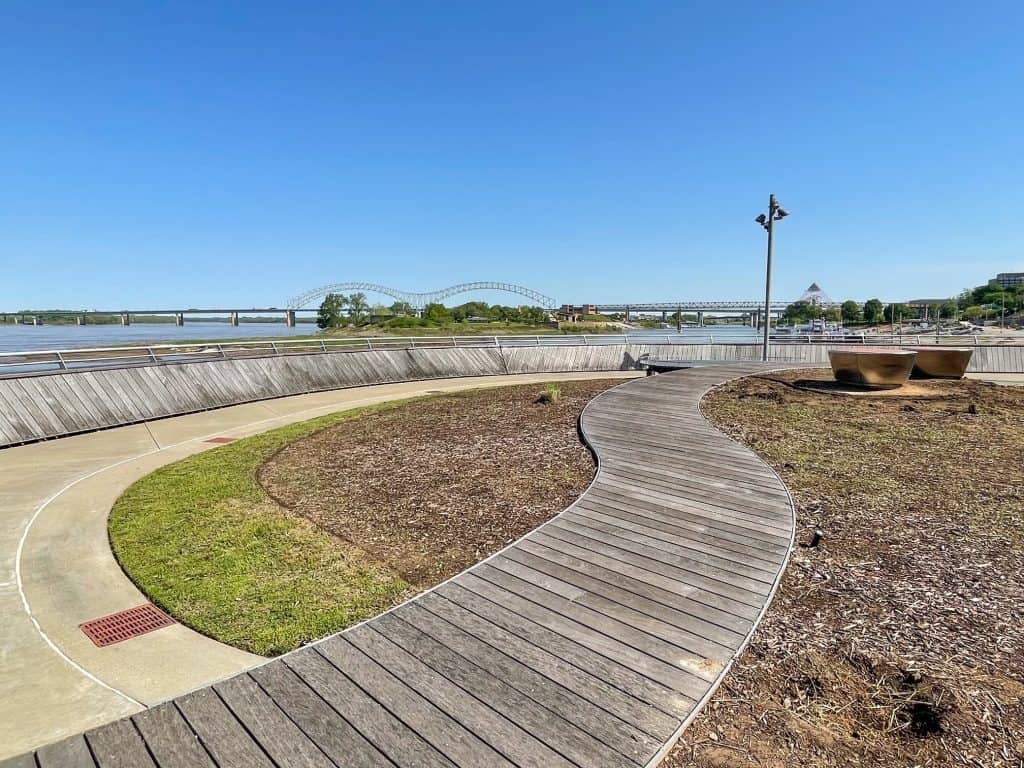 Depending on when you visit, they might still be doing a huge revamp and improvement to Beale Street Landing.
There a few different viewing platforms that you can walk out on but if you get the chance, sit back, and relax in one of the vibrant red chairs. They are great for kicking back to watch boats passing by.
Eventually when the renovation to the waterfront is complete the indoor/outdoor restaurant, gift shop, and other amenities will open up for guests to use.
Riverboat cruises on the Mississippi will board at Cobblestone Landing until Beale Street Landing is completed. Most tours will last between 90 minutes and 2 hours.
Book A Memphis City Tour w/ A Riverboat Option!
12. Walk Over To Mud Island
If you enjoy exploring by foot, walk over to Mud Island Park with the Mississippi River separating it from downtown Memphis.
It is actually a small peninsula with most of the area open green space (52 acres) and residential housing in the northern area known as Harbor Town.
You might be wondering how it got its name? The island was built using sand, gravel, and silt so basically mud…
I enjoyed walking over via the skybridge as it provides so many lovely vantage points of the Mississippi River and the huge Bass Pro Shop pyramid.
To walk across the skybridge, around the park, and back, expect to walk 2 – 3 miles.
You could also drive if you are short on time or prefer not to walk. Although it wasn't working during my visit, there is a monorail that can take you across so that might be an option but I wouldn't count on it.
The main reason to visit Mud Island? For awesome Memphis skyline views and the huge 50-foot "MEMPHIS" letters!
There is also an outdoor amphitheater and museum to explore too. As you make your way from the skybridge out to the MEMPHIS letters, there is a lovely scale model of the Mississippi River carved into the concrete.
Walk along the scaled replica of the Mississippi River and stop at the various signs that provide info and history on this vital river. The replica is 2,000 feet long!
Tip: The "MEMPHIS" letters are at the southernmost tip of Mud Island.
Note: To access the skybridge, enter at 125 N. Front Street.
13. Explore Vibrant Street Art
Before visiting Memphis, I was not expecting to see so much street art and incredibly creative ones too!
During my stay, I saw vibrant murals splashed across walls of buildings, in alleyways, and on pretty much anything you can paint on.
In every neighborhood I visited there were plenty of talented works of art to see which added to the fun of exploring on foot.
Let your eyes wander and enjoy the colorful murals that each tell a unique story…
The neighborhoods where you can see a vast amount of art murals in one spot are:
Downtown Memphis – all along Main Street, alleyways off of Main Street, and Madison Ave
South Main Street – slightly south of Beale Street and downtown
Soulsville – the neighborhood where STAX Museum is located
Crosstown Concourse
Broad Avenue Arts District
Cooper-Young
14. Take A Tour Of Sun Studio
Memphis is the birthplace of Rock 'n' Roll and Sun Studio played a huge part in that!
In 1950 Sam Phillips quit his radio job to open up a recording studio and pursue his passion for making music.
He started recording some hits for Ike Turner and B.B. King. But when a young teenage boy walked into his studio in 1953, music changed forever…
That teenager was none other than Elvis Presley. On his first attempt, Sam Phillips barely gave him a second but on a later visit, the receptionist heard him sing and made sure Sam gave the kid a chance.
Thank goodness he did, as after Sam listened to Elvis, he knew a star was born! Sam had been searching for a white singer who could sing like black musicians.
If he could do that, it would bring the sound of black musicians to the mainstream. We all know how gorgeous Elvis was so it was no surprise that he was fit for the role!
Elvis Presley recorded a number of songs with Sam at Sun Studio before Sam realized he didn't have the capital to take Elvis to the next level.
He signed over Presley's contract to RCA which was a huge national label that could promote Elvis properly.
During this time, Jerry Lee Lewis, Johnny Cash, and Carl Perkins all recorded and got their start at Sun Studio.
In fact, the combination of these three singers plus Elvis, became known as the "Million Dollar Quartet" when they used to jam together.
It likely had to do with the millions each of their music generated too!
Today you can take a guided 45-minute tour of the studio and stand where Elvis did when he recorded his music.
Note: Sun Studio is still an active recording studio and is used by many famous singers in the evenings!
Hours: Open Sunday – Thursday from 10:00 am to 5:15 pm and Friday & Saturday from 10:00 am to 6:15 pm.
Take This Hop-On Hop-Off Bus Tour To Sun Studio!
15. Take A Stroll In Elmwood Cemetery
Located about 4 miles east of downtown Memphis is the historic Elmwood Cemetery built in 1852 and the oldest cemetery in town.
For years most people have associated cemeteries with death, sadness, creepiness, and ghosts. But in the Victorian era of the 1800s, it was the complete opposite!
Cemeteries were usually the best groomed and manicured parks in a city where people went to gather, have a picnic, and visit with family that had passed. They were a green space to enjoy rather than avoid.
And what better way to learn more about the history of a cemetery than by taking a tour!
My lovely guide Sheena was a wealth of knowledge and knew so much about the "residents" of Elmwood.
Most if not all of the stories about these past Memphis locals were quite scandalous and notorious for their time.
One of my favorites was of a prominent woman from the 1800s who happen to keep losing husband after husband in mysterious deaths.
Since there were no autopsies or tests to determine many forms of death it wasn't until after the 6th husband people started wondering…
Some of the most famous people from Memphis and many who founded Memphis are laid here too.
As you walk down the various paths you will notice the beautiful and ornate headstones, statues, and plants that tell a story of a different era. Some even have funny phrases on their headstone!
In one section there are thousands of people buried from the Yellow Fever outbreak that wiped out a good portion of the population in 1878.
Elmwood Cemetery is on the National Register of Historic Places, a Level 3 arboretum, and a bird sanctuary!
Note: If you ever saw the 1993 movie The Firm, a scene was filmed here.
Hours: Open daily from 8:00 am to 4:30 pm.
16. Eat The Best Fried Chicken
You can't spend a weekend in Memphis without having the best-fried chicken in the world!
I admit when I hear this kind of claim I'm skeptical and I was even more hesitant when I arrived to see there was a long wait…
But I figured I couldn't leave Memphis without trying Gus's World Famous Fried Chicken and so I waited. And I am so happy that I did!
I have never had fried chicken like it and seriously the best I have ever had. The way they fry the chicken takes some serious skills which they have mastered since 1953.
The outer skin is super crispy yet the chicken inside is so juicy and cooked to perfection.
Usually, if the outer part is crispy then the inside is dry or vice versa. Not so at Gus's World Famous Fried Chicken.
They use fresh, natural, and hormone-free chicken that is cooked once you place your order. So, it comes out hot and ready to eat.
I got a 2-piece chicken plate that comes with coleslaw, beans, and a slice of white bread.
The white bread is if you need to cool off your palate as the fried chicken definitely has a spicy kick to it.
I love spices so I loved it but keep that in mind if don't like any spice in your food.
Although Gus's started out in Memphis, you can bite into the delicious fried chicken at locations in 14 different states.
I still think it will always taste better right here in Memphis…
Tip: While you wait for your table to be available, cross the street and sample some whiskey at Old Dominick Distillery.
Hours: Open daily from 11:00 am to 9:00 pm.
17. Memphis Botanic Gardens
The Memphis Botanic Garden is a lovely 96-acre green space with 30 themed gardens and a Level 4 Arboretum.
It is an ideal spot to go for a relaxing stroll through each of the gardens, take photos, or find a bench to sit back and enjoy the scenery.
At the time I visited, the staff was quite busy putting all the pieces and final touches to the exhibits for Alice's Adventures at the Garden.
The Alice in Wonderland-themed exhibit has four areas throughout the park with larger-than-life characters from the animated movie.
The main areas are The Chess Set, The Red Queen, Alice, and The Cheshire Cat.
Each one of these living sculptures is fun to see and a unique addition to the botanical gardens!
Venture to Alice's Garden in the My Big Backyard section to find colorful accents that adults and kids will enjoy.
Alice's Adventures at the Garden will be showing until October 31, 2022, so don't miss out on visiting by then!
A few other areas that are at the top of my list are the Sensory Garden, Japanese Garden, My Big Backyard, Woodlands, and the Shade Gardens.
There is even a huge event lawn and amphitheater where they host events and concerts. Plus, you can host a wedding or party here too!
Note: I visited before the exhibit was officially open, so the living Alice in Wonderland sculptures are not finished in these photos.
Hours: Open daily from 9:00 am to 6:00 pm (until 4:30 pm in the winter months).
18. Memphis Rock n Soul Museum
The Memphis Rock 'n' Soul Museum is right off of Beale Street and next to the FedEx Forum where the Grizzlies play.
Whether you have a serious passion for the history of music or not, I recommend visiting the museum as it does an excellent job of showcasing how rock and soul music originated.
Since rock and soul music originated in Memphis, there is no better place to learn about it!
Your experience starts out with a short movie setting the stage and recapping what you will learn as you move through the museum.
Starting in the 1930s and spanning up to the present day, each exhibit tells the story of how the upbeat sounds of rock and soul music began on the rural fields picking cotton.
Each exhibit has a piece discussing the history, social segregation, and evolution of how classic sounds we know today formed.
Plus, you can see outfits, jute boxes, and all kinds of fun items from the past!
Hours: Open daily from 10:00 am to 5:00 pm.
Grab Your Memphis Rock n Soul Museum & Music Hall of Fame Tickets!
19. Hop On A Trolley
Taking the Memphis Trolley is one of the easiest ways to get around downtown and fun to hop on the vintage trolley cars.
Upon stepping into a trolley car, you feel like you have stepped back in time with the wood paneling and antique lighting.
There are three trolley lines:
Main Street Rail Line – this is the most popular line to use
Riverfront Line
Madison Line
For a map to see where each line stops, click here to see the trolley map.
Although you can take the trolley down Main Street, I recommend walking at least once so you don't miss all the old buildings, street art, and more!
Tip: You NEED To HAVE CASH to ride the trolley, so don't forget to carry cash on you.
Fare Prices: Each ride is $1.00 whether you go one stop or six! If you know you will be riding it several times in one day, consider getting the daily pass for $2.00.
Bonus Activity!
Throughout the downtown area, there are 20 vibrant and eye-catching giant Gibson guitars scattered about for you to find.
The guitars are replicas of the late B.B. King's Lucille-style guitar all painted by various local artists. Can you find them all?
Most of them are along or near Beale Street so it isn't too hard to spot one…
Tips For Spending A Weekend In Memphis, Tennessee
FAQ On Visiting Memphis, Tennessee
When Is The Best Time To Visit Memphis?
Memphis is a town that you can visit any time of the year but if you want to be able to walk around and enjoy outside venues, the spring through fall months are the best.
Always carry a small travel rain jacket or umbrella just in case it rains!
The summer months will get up into the 90s so if that is too hot for you then stick to the spring and fall months.
If music is your jam, consider attending Memphis in May music festival!
What Is Memphis Known For?
Memphis is known for many things, most notably great hospitality, awesome BBQ, Beale Street, history, home of the blues, and Elvis Presley's Graceland.
How To Get Around Memphis?
If you are staying in downtown Memphis, you can get around by foot, the trolley, or even an Uber/Lyft.
Some of the attractions listed in this post are too far to walk, so you would need to take an Uber/Lyft. Or you can rent a car for the day and see all the places outside of downtown in one day.
You can also take this hop-on hop-off bus tour that makes stops at 9 main Memphis attractions.
Is Memphis Safe?
The quick answer is yes, but there are pockets of Memphis that I would not feel comfortable visiting.
I traveled solo and did not have any issues feeling completely safe at all times.
For areas that I was unsure about, I took an Uber/Lyft as the status of a neighborhood can change quickly.
And like any big city, trust your intuition and don't go out alone at night in areas you aren't familiar with.
Is Memphis Worth Visiting?
Yes! There is so much history, culture, incredible food, great music, and things to do in Memphis that it is worth adding to your bucket list.
Enjoy a fun weekend in Memphis, Tennessee!
Got Travel Insurance?
Don't leave home without travel insurance as you never know what might happen on a trip! It is always when you least expect it that something can go wrong like getting sick, in an accident or cancellation of some sort. Get a no-obligation quote from two trusted travel insurance companies for peace of mind on your next trip!
Looking For More Travel Inspiration?
5 Best Memphis BBQ Restaurants That Are A Must-Try When Visiting
17 Fun Things To Do In Hot Springs, Arkansas For First Timers
15 Top Reasons To Visit Garvan Woodland Gardens in Hot Springs, Arkansas
25 Best Things To Do In Birmingham, Alabama You Don't Want To Miss
7 Amazing Waterfalls In Alabama That Will Take Your Breath Away
Ultimate New Orleans Bucket List: 35 Fun Things To Do In NOLA
Disclaimer: As an Amazon Associate and a participant of other affiliate programs, I may earn from qualifying purchases in this post. This means that if you make a purchase through one of these links, I might receive a commission at no extra cost to you. Thank you and it is greatly appreciated!