Disclaimer: Traveling Ness contains affiliate links and is a member of the Amazon Services LLC Associates Program. If you make a purchase using one of these links, I may receive compensation at no extra cost to you. See my privacy policy for more information.
How To Tour The Best Chocolates In Brussels
Belgium is known for many things like beer and waffles but chocolate wins for being the most decadent and satisfying. Although I wasn't sure before my trip, I am now convinced that Belgian chocolates are the most divine. Follow me on this yummy adventure as I take you on a tour of finding and tasting the best chocolates in Brussels!
Living in the United States, the only Belgium chocolate that I was familiar with is Godiva. I had no idea there were so many chocolatiers in Belgium and notably so in Brussels.
I was pleasantly shocked to see how many chocolate shops are present. There are several chocolatier shops on every block, just like a Starbucks coffee shop back in the United States!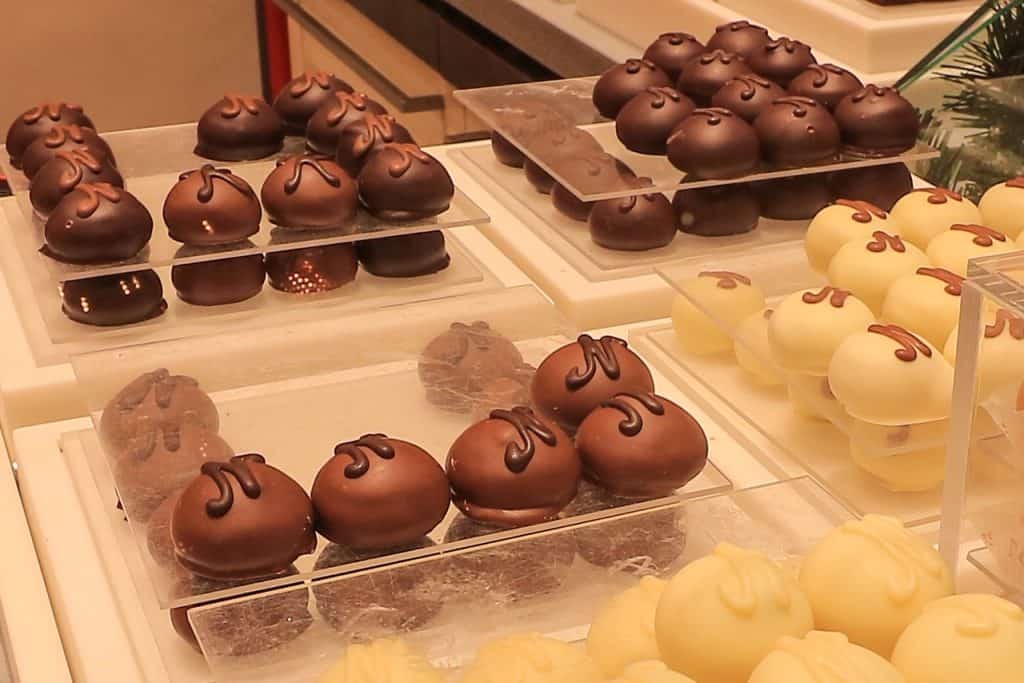 And no, you won't find me complaining about it one bit! Quite the contrary, I was able to indulge in a bite of bliss whenever I desired!
No matter if your chocolate of preference is dark, milk or white, you will find something to like in every shop. Enjoy your chocolate tour in Brussels!
"When you walk into a chocolate store, suddenly the most difficult decision you will ever have to make in your life, is which chocolates to pick! It is pure torture! Especially when you are in Belgium surrounded by Belgian chocolates!" – C. JoyBell C.
Where Is Brussels?
So where is this mecca of chocolate located? Brussels is the capital of Belgium and is pretty much in the center of the country.
It is the largest city in Belgium and is an excellent base to start out your travels in Belgium. Belgium is nestled in between France, Luxembourg, Germany, and the Netherlands.
That means that it is super simple to get to Brussels for its central location to many cities.
Brussels really is an easy train ride away from most major European cities so there isn't any excuse to miss tasting the chocolates here! It also happens to be the administrative capital of the European Union (EU).
If you are flying into Brussels, then you will fly into Brussels Airport (BRU) which is the international airport.
Expect it to take about 20-25 minutes to reach the main center or Grand Place area of Brussels.
If you don't have a lot of luggage then hop onto the metro. But if you would rather, taking a taxi or Uber is an easy option.
In planning for your trip to Brussels, explore the best flight deals today!
Where To Stay In Brussels
For the most convenient access to most of the sights in Brussels, I would recommend staying near the Grand Place (Grote Markt).
That way you can rely on walking to almost everything and near all the cafes, shops and chocolatier shops. Gotta be near the chocolate shops… Lol.
As another option, I stayed in the European Union (EU) district at the Courtyard Marriott Brussels EU that is about a 20-minute walk or quick metro ride to the Grand Place. A few hotels that are a close proximity to the Grand Place, are:
Hilton Brussels Grand Place – if you are coming into Brussels by train, this Hilton property is next to the Brussels Central Train Station.
Brussels Marriott Hotel Grand Place
Radisson Blu Royal Hotel Brussels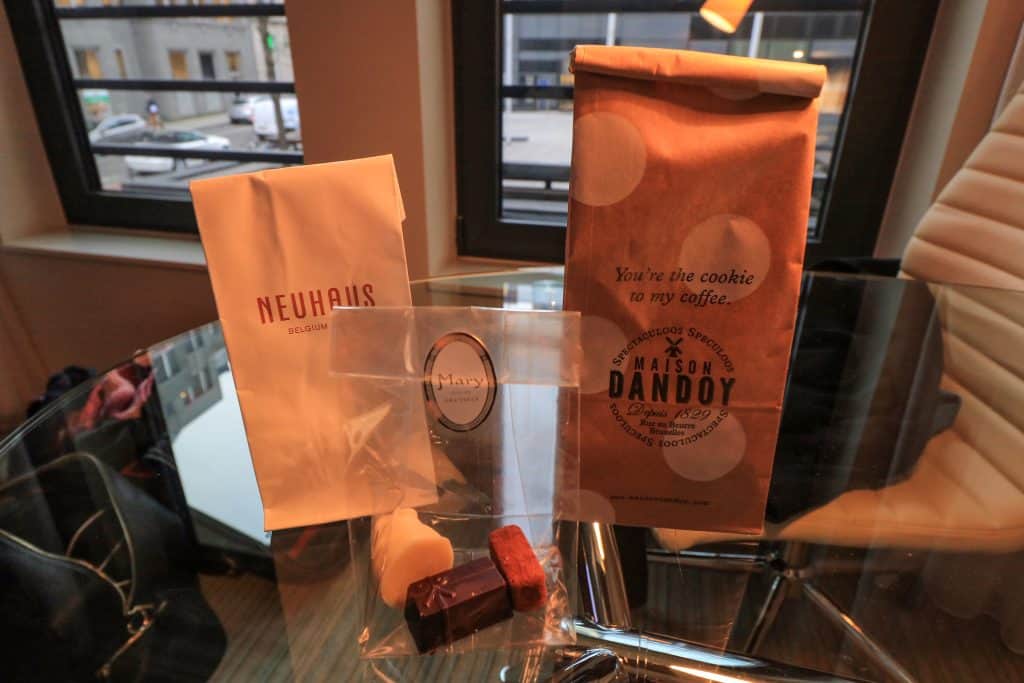 The History Of Belgian Chocolate
So, chocolate didn't originate in Belgium but it was the Belgians that helped to make it more popular.
I guess you could say that the Belgians became a leader in taking a plain and simplified version of chocolate and transformed it into the sweet treat we love today.
As you may know, the cocoa bean is from South America and during the 17th century when the Spaniards ruled Belgium, they brought over some of these magic beans.
At that time, cocoa beans were used for the making of hot chocolate and reserved mainly for royalty or the upper class.
In fact, the indulgent sweet was thought to be an aphrodisiac! It explains why some men drank several cups a day. Lol.
It was also thought to be improper if a man invited a single woman to drink hot chocolate with him as that was an indication of what was to come after…
Fast forward to the early 20th century, large amounts of cocoa beans started arriving into Belgium via the Congo which it occupied at that time.
What made Belgium especially famous for its chocolates, is the "praline" in 1912. It is now the countries specialty!
In the 1900s, chocolate became more available for both the working, middle and upper classes and not just for the rich elite.
During this time the invention of being able to transport liquid chocolate and the "chocolate spread" became instrumental in making chocolate more popular to all.
Things To Know
Before you begin exploring the best chocolates in Brussels, there are a few helpful things to know ahead of time.
For example, there are several steps involved in the chocolate-making process but in order for a chocolate to be called Belgian, it must be refined and molded in Belgium.
All other steps and/or ingredients can come from elsewhere in the world such as the cocoa beans. Cocoa beans used by chocolatiers don't come from Belgium but mainly from South America and Africa.
Belgian chocolatiers use 100% cocoa butter that results in the high quality, creaminess, and smoothness of its chocolate.
The two top chocolates that you will see in Brussels are pralines and truffles that are both quite luxurious to the palette. Since the praline was invented in Brussels, the praline is celebrated for its pleasantly addictive taste.
The praline has a hard outer coating with a smooth soft filling or a paste on the inside. Some popular fillings you might taste are caramel, hazelnut, ganache, fruit, and coffee.
Truffles on the other hand, are filled with sweet buttercream and a cocoa dusted exterior. My favorites were the dark chocolate and champagne truffles!
An interesting tidbit of info that I learned on a city tour, is that if you see an image of a cocoa bean pod at the front of a chocolate shop window, it means that the chocolates are made by hand.
As you tour around the city of Brussels don't be shocked to smell the heavenly aroma of chocolate and see window displays of chocolate fountains appearing to invite you in.
It is very seductive as you can't help yourself from popping into a chocolatier here and there…
Tips On Touring Chocolatiers
When visiting chocolate shops in Brussels, you can see almost all of them in the Royal Gallery of St. Hubert (Galerie de la Reine) but spread out your chocolate tour over different areas of Brussels.
I recommend focusing on 3 areas, the Galerie de la Reine, in and around the Grand Place (Grote Markt) and the Sablon neighborhood.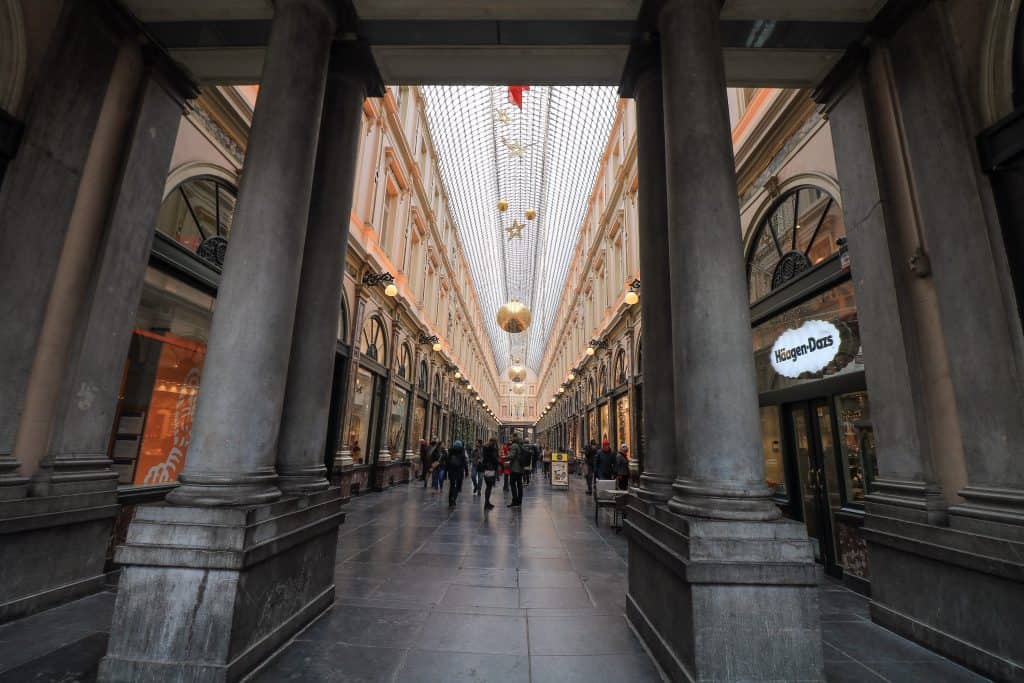 Don't eat anything sweet prior to visiting the chocolatiers as you want to be able to enjoy every ounce of sweetness! So basically, go with an empty stomach…
Be prepared to spend on these lovely morsels as they are high-quality chocolates and obvious once you try them. Don't expect to see cheap prices among these shops. Individual pieces range from 1 to 3 Euros but many times it is more economical to buy 6.
Before you venture out on your own self-guided tour of these chocolate shops, get your ticket and visit the Chocolate Museum (Choco-Story) first so you get a good understanding of how it all began…
I recommend buying 2-3 pieces at each shop. That way you will figure out which ones are a favorite and you can go back to purchase more later!
You can either dedicate a whole day in chocolate heaven or do as I did and visit 2-3 chocolatiers per day. There is no wrong or right way, whatever fits your schedule!
Make sure to try the speculoos flavored chocolates which is a spiced gingerbread flavor.
I did not taste any bad chocolates, some I just enjoyed more than others. My top 2 favorite chocolatiers are Neuhaus and Mary's. But as everyone's taste buds are different, I challenge you to find your favorite! No matter what, it will be fun!
If you would like to make your own chocolates, then sign up to take this 1-hour workshop to make your own Belgian chocolates!
If you are looking to take a guided walking tour of Brussels to see and learn about its history then consider this one!
"Chemically speaking, chocolate really is the world's perfect food." – Michael Levine
Best Chocolates In Brussels
1. Neuhaus
Neuhaus Chocolates got its start in 1857 as the first chocolatier in Brussels by Jean Neuhaus. He didn't start out as a man making chocolates but used chocolate to cover medicine in the pharmacy he owned.
The goal was to make medicine easier or more pleasant to get down which is genius! What might surprise you is that Jean Neuhaus is actually Swiss and not Belgian.
Then in 1912, Jean Jr. created the world-renowned "praline"! Why is this so significant? It is the first time people had a piece of chocolate that had a hard exterior but a soft creamy filling. The most popular praline fillings are hazelnut, caramel, and ganache.
A few years later in 1915, Jean Jr.'s wife came up with the idea of a gift box that would hold the pralines and prevent them from getting crushed.
It seems obvious now but at the time what a creation! This box to hold the pralines is called a "ballotin".
Another proud distinction that Neuhaus has is it is a Royal Warrant Holder. It is an honor and distinction that the King and Queen of Belgium give for their excellent and high-quality products.
There are several Neuhaus Chocolate shops throughout Brussels and Belgium but the original can be found in the "old pharmacy" in the beautiful Royale Gallery St. Hubert (Galerie de la Reine).
Note: If it is in the winter or a cold day, get hot chocolate! Of all the ones I tried, Neuhaus is my favorite. Yum!
Location: You can find shops in and near the Grote Markt (Grand Place) but the original location in Royal Gallery of St. Hubert is at Galerie de la Reine 25-27, 1000 Brussels.
2. Mary Chocolatier
Other than the most delicious chocolates, I love that Mary Delluc was the first female chocolatier in Brussels.
With her passion as a chocolate lover, she opened up shop in 1919 with the first location on Rue Royale.
In 1942, Mary Chocolatier received its certification as a supplier to the Belgian Court serving her best chocolates to the royal family.
Although the original is located on Rue Royale, I enjoyed visiting the one in the Royal Gallery of St. Hubert. I found that my favorite chocolates were a tie between Neuhaus and Mary. I liked different chocolates at each and why I had to visit both a few times!
Notice the exquisite patterns and presentation of Mary's boxes and packaging. I bought a box of chocolates to take home for myself and am holding on to the box as a beautiful keepsake!
Even though I couldn't get enough of Mary's chocolates, my favorite ones are the praline with lemon cream filling and the sea salt caramel (both in dark chocolate).
Locations: There are locations in and around the Grand Place, Galeries Royale St. Hubert and the original on Rue Royal.
Royal Gallery of St. Hubert – Galerie de la Reine 36, 1000 Brussels
Rue Royale – Rue Royale 73, 1000 Brussels
Grand Place – Grand Place 23, 1000 Brussels
3. Pierre Marcolini
Pierre Marcolini might be newer to the Belgian Chocolatier group here but don't let that deter you from trying his exceptional chocolates! He has received numerous awards for his devotion to making high-end chocolates.
The first boutique shop opened in 1997 in the Sablon neighborhood of Brussels at Place du Grand Sablon and is now the flagship store. Pierre Marcolini has also been honored as an official caterer to the Belgian Royal Court.
The emphasis at Pierre Marcolini is to create unique tastes and blends that will delight each customer. His determination is that all ingredients used come from an environmentally sustainable and ethical process.
He travels the world in search of rare and unique cocoa, sourcing cocoa from South America, Mexico, Africa, and Asia.
When visiting one of Pierre's boutique shops, taste a signature Raspberry Heart chocolate that is fresh raspberry ganache and lemon zest.
The only negative is that you can't buy individual chocolates, just boxes. I usually like to buy a few to figure out which I like the most. But in this case, you really can't go wrong in your pick!
If you are a macaron lover then you are in luck. You can buy the yummiest macarons in the prettiest pastels.
My favorites are the passion fruit and pistachio flavored macarons. You can either buy them individually or a box of them.
Location: There are 9 locations in Brussels with the flagship store at Grand Sablon (Rue des Minimes 1, 1000 Brussels). Another great location is the one in the Royale Gallery of St. Hubert (Galerie de la Reine).
4. Corne Port-Royal
Corne Port-Royal got its start in 1932 when Maurice Corne opened up his boutique shop as a chocolatier. To make his shop more distinct from his family members that were also becoming chocolatiers, he added the "Port-Royal" to set himself apart.
The prized chocolate that Corne Port Royal is known for is the "Manon Sucre" which is a praline with a smooth cream combined with crisp nougatine and walnuts.
Location: Although there are numerous locations in Brussels, the favorite is located at Royale Gallery of St. Hubert (Galerie de la Reine) with its Art Nouveau architecture.
5. Elisabeth
I would classify Elisabeth as a sweet shop as they have not only chocolates but candy, nougats and the fun playful look of the meringues.
A few other fun treats are the melo cakes, chocolate spoons (to make hot chocolate) and chocolate coffee beans! You will find complete satisfaction for anything your sweet tooth might be craving.
Elisabeth is considered an artisanal boutique that serves Belgium's sweets with high-quality and honest ingredients.
I love their motto of "Our sweets speak when words can't". How true of a statement it is…
I enjoyed eating the chocolate coffee beans, nougats, and meringues (that come in various sizes)!
Location: I recommend going to the one on Rue au Beurre 43, which is right off of the Grand Place although you will spot many in the city.
6. La Belgique Gourmande
Walking into a La Belgique Gourmande shop is like stepping into a chocolate shop that I would imagine would be in a Willy Wanka or Harry Potter movie.
You immediately feel like a kid as there are glass jars, baskets, and shelves stocked with all kinds of chocolates and candy.
I was greeted with a few samples to taste while I browsed the many options in the store. Unlike the other chocolate shops where you tell the person behind the counter what you want, here you get to serve yourself. Grab one of the empty bags and fill up with your favorite picks!
Location: As with many of these shops, there are multiple locations but there is a good size one in the Royale Gallery of St. Hubert (Galerie de la Reine). There are both smaller and larger locations on or near the Grand Place.
7. Maison Dandoy
If you are familiar with Maison Dandoy, you might be thinking hey wait a minute, this isn't a chocolate shop!
You are correct but they do have the best waffles in Brussels and an incredible assortment of biscuits.
For my American friends, when I refer to biscuits, I mean hard but tasty cookies.
Maison Dandoy started in 1829 with Jean-Baptiste who is the great-great-great-grandfather to the legacy that runs it today.
The tradition of making its most delicious speculoos biscuits (spiced gingerbread) continues on today. Their boutiques are bright, fun, and very whimsical! Like you are having biscuits and tea (or coffee) on a movie set.
If you are a coffee lover, they make fabulous cappuccinos too… And if beer is more your thing, you can order the beer + biscuits which is fun as it is a cookie dough beer.
Oh, and don't forget to take home a bag or box of biscuits, especially with their signature gold dots on the packaging!
Location: There are a handful of boutiques in Brussels but I enjoyed going to the one in the Royale Gallery of St. Hubert (Galerie de la Reine) every morning that opens at 10 am. There is also one on:
Rue au Beurre (Grand Place) @ Rue au Beurre 31, 1000 Brussels
Rue de Rollebeek (Sablon neighborhood) @ Rue du Rollebeek 50, 1000 Brussels
8. Godiva
I have always been a fan of Godiva as it is very popular in the United States and a chocolate that I know I will always be more than happy with. Out of the bunch, Godiva is probably the most exported and internationally known as Belgian chocolate.
Godiva opened up its doors in 1926 by Pierre Draps right along the Grand Place in Brussels. Inspired by the old legend of Lady Godiva he named his shop "Godiva" after her passion and generosity.
Although Belgian in origin, Godiva is now owned by a Turkish company but still run and manufactured in Belgium.
Since I can get Godiva chocolates in practically any store at home (United States), I spent little time here and focused on the many other shops that I can't find back in California.
Location: As with all of these shops, there are multiple locations but I recommend visiting the original shop at Grand Place 21/22, 1000 Brussels.
9. Wittamer
In 1910, Henri Wittamer opened his first boutique is more of a café that sells not only chocolates but cakes, macarons, and pastries too.
The original location is in the Sablon neighborhood that has a tea room and is perfect for relaxing for a moment with sweets as your company!
Wittamer also has the distinction of being a Royal Warrant Holder for Belgian Royalty. He has served cakes for special events that the royal family has held.
If it is good enough for royalty then they must be good! This chocolate shop I sadly didn't get to try myself.
Location: Place du Grand Sablon 6-12-13, 1000 Brussels, in the Sablon neighborhood.
10. Blondeel
Frederic Blondeel has earned the title of chocolatier of the year and prides himself on offering the finest chocolates to chocolate lovers.
His motto is from "bean to praline/bar" sourcing beans from countries in Africa, South America, and Asia.
Blondeel is known for his talent for roasting the cocoa beans to showcase its unique flavor. You can visit Blondeel's factory & shop that also has a tea room located at Rue de Ganshoren 39, 1081 Koekelberg. This location is about a 15-minute drive from the Grand Place area of Brussels.
Want To Make Your Own Chocolates?
Instead of buying Belgians finest chocolates, would you rather try making them yourself?
Well, you are in luck as you can make your own chocolate treats to take home! I didn't have a chance to do this but wish I had and definitely plan to next time.
You can partake in a chocolate-making workshop at a few locations with the first at Neuhaus in the Galerie de la Reine 29, 1000 Brussels.
A 1-hour chocolate making workshop costs 35 Euros per person. I would recommend booking in advance through the Neuhaus website here.
Another workshop that includes visiting a chocolate-inspired museum is the Choco-Story (Chocolate Museum). Workshops are 1 hour and 30 Euros to make your own chocolates. Check ahead to see availability and book a workshop with the Choco-Story here.
And lastly, this is a 1-hour Belgian Chocolate workshop where you can learn how to make the chocolates. Plus you get to take some home with you!
The Brussels Card
Depending on how long you will be visiting Brussels and what you want to see, the Brussels Card could save you a good amount of money. They offer a 24/48/72 hour options. The reason I mention it here is that the Choco-Story (Chocolate Museum) is included and free with the card.
You also get discounts at the following chocolate shops!
Elisabeth: 15% on the purchase of 35 Euros or more
Godiva: 25% on the purchase of 35 Euros or more
There are many other cost savings but as far as the ones that relate to chocolate I have listed. For more info on the Brussels Card, you find a detailed list of what is offered here.
When To Visit Brussels
Every month is perfect if you are touring the many spectacular chocolatiers in Brussels!
It doesn't matter what the weather is like, the Belgian chocolate welcomes you all year. Brussels is one of those cities you can visit year-round as it has fairly mild winters.
They only seem to get one or two snowstorms a year so traveling there is pleasant even in the winter months.
I visited in December to experience the Christmas Markets and loved it. There were a number of overcast and rainy days but I was bundled up and prepared for the chilly air.
If you aren't coming for the Christmas Markets in December then the spring and fall will be the most pleasant and have fewer crowds than the summer months.
More and more I try to avoid the crowds and visit during the shoulder and off-season but you can't beat the warm summer months as a great time to visit too.
Why not explore the best flight deals to Brussels and book your flight today!
Last-Minute Tips
If you accidentally forget to buy chocolates when in Brussels, you can purchase almost all of these different brands at the Brussels International Airport (BRU). They have quite a selection for any last-minute gifts to take home.
If you are visiting the city of Ghent, I recommend tasting chocolates at Van Hoorebeke Chocolatier.
If you are in Bruges, don't miss the chocolates at Chocolatier Dumon.
I hope you enjoyed tasting the best chocolates in Brussels!
Got Travel Insurance?
Don't leave home without travel insurance as you never know what might happen on a trip! It is always when you least expect it that something can go wrong like getting sick, in an accident or cancellation of some sort. Get a no-obligation quote from two trusted travel insurance companies for peace of mind on your next trip!
Looking For More Travel Inspiration?
How To Spend The Best Weekend In Brussels
19 Amazing Things To Do In Ghent
The Best Way To Spend 3 Days In Bruges
Guide To The Best Christmas Markets In Belgium
12 Best Things To Do In Bucharest
10 Fantastic Places To Visit In Transylvania
7 Best Filtered Water Bottles For Travel And Hiking
Allbirds Review: The World's Most Comfortable Shoes?

Disclaimer: My post may contain affiliate links, which means I may receive a small commission if you click a link and purchase through that link. It won't cost anything to you to use these links but is very much appreciated. Thank you!