Disclaimer: Traveling Ness contains affiliate links and is a member of the Amazon Services LLC Associates Program. If you make a purchase using one of these links, I may receive compensation at no extra cost to you. See my privacy policy for more information.
7 Unique Day Trips From Santa Fe, New Mexico
Santa Fe is a cultural hub where art, history, nature, and out-of-this-world cuisine come together. And it makes for an excellent base to explore the surrounding area. In pretty much every direction from Santa Fe there are a number of things that are unique and fun to see. Between day trips from Santa Fe and attractions to see in the town itself, you can easily spend a week here!
Not to mention that the drive to any of these sights offers up stunning landscapes to pull over and admire.
To see the day trips listed here, I would give yourself no less than 3 days to visit them. Get ready for your trip and explore places to stay in Santa Fe!
Tip: When you get outside of Santa Fe, depending on your phone carrier you will likely not have cell service. That means it is a good idea to have a physical map with you to help navigate your way!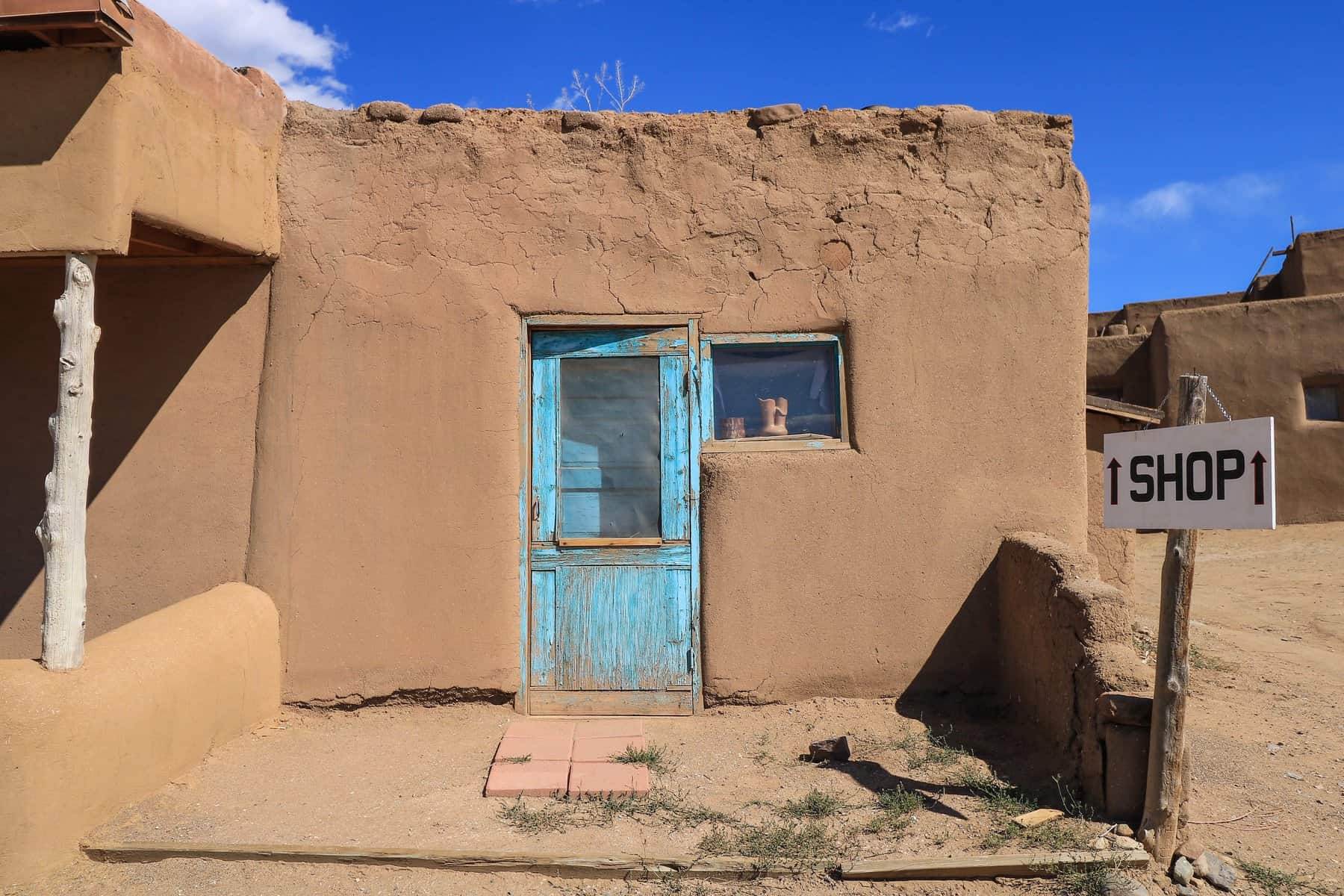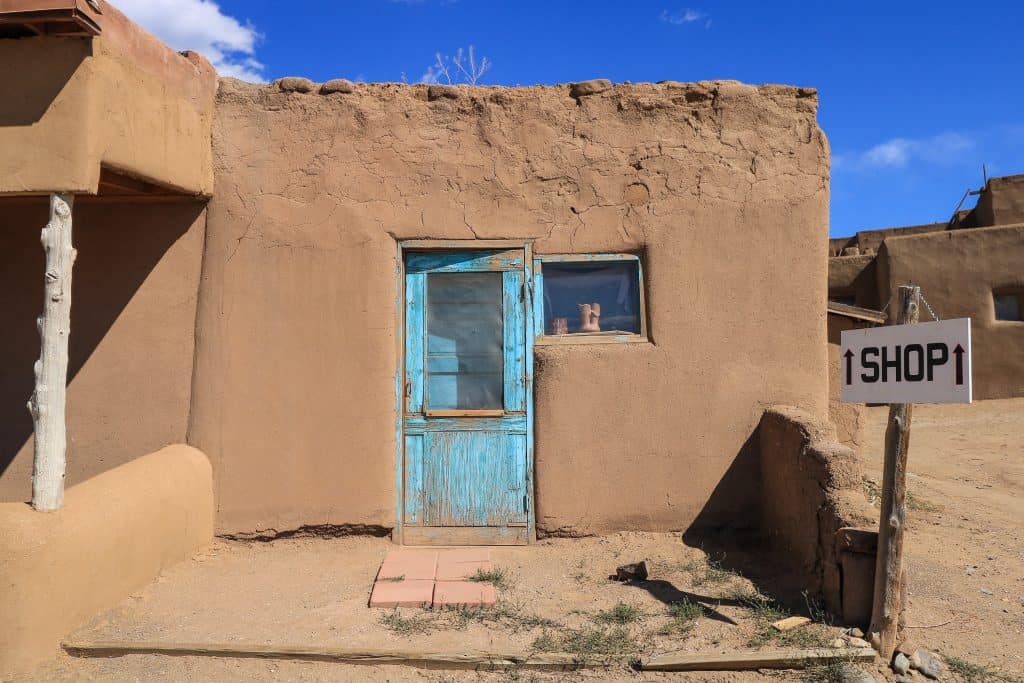 Where Exactly Is Santa Fe?
Santa Fe is located in the state of New Mexico in the Southwest region of the United States. It is the capital of New Mexico and happens to be the oldest and highest (7,200 ft elevation) state capital in the U.S.
If you are interested in learning about what to do in Santa Fe, read my post, 15 Best Things To Do in Santa Fe, New Mexico.
Santa Fe is located about 1-hour northeast of Albuquerque and a pretty easy drive from either the city of Albuquerque or the Albuquerque International Sunport (ABQ) airport. You will need a car to visit all the locations listed so find the best car rental rates here!
And if you happen to be visiting in the beginning of October, then don't miss out on attending the balloon festival! Refer to my post, The Ultimate Guide To The Albuquerque Balloon Festival.
Where To Stay In Santa Fe
The most convenient place to book a room while exploring day trips from Santa Fe is near the historic Plaza. Staying close to the Plaza makes most things to do in Santa Fe within walking distance. Hotels that I recommend staying at are:
Hilton Santa Fe Buffalo Thunder – located about 15 minutes outside Santa Fe but an excellent resort and amenities.
America The Beautiful Pass
If you plan to visit several of the U.S. National Parks during the year, consider purchasing the America Is Beautiful Pass.
It gives you access to 2,000 National Parks and Monuments in the U.S. including Bandelier National Park and Tent Rocks National Park!
If you are planning to visit Albuquerque then it can also be used at Petroglyph National Monument. Plus, if you are planning to travel to southern New Mexico, you can use the pass at 11 Top Things To Do In White Sands National Park!
America Is Beautiful Pass is good for one year from purchase and also includes 3 other adults that are in your car. If you just visit 3 or more national parks or monuments it is worth buying and pure savings after that!
Best Day Trips From Santa Fe
1. Taos Pueblo
Visiting Taos Pueblo is a fascinating village where the Taos Pueblo Indians still live as their ancestors have for 1,000 years.
In fact, I was amazed and in awe at how people choose to live in such primitive conditions even if they don't have to. There is no electricity or running water still to this day but as you quickly learn they live fine without it.
In fact, Taos Pueblo is both a National Historic Landmark and a UNESCO World Heritage Site that has a living Native American community.
It really is like stepping back into time when people lived more simple lives. The ancestors of the people I met have been here long before the "United States" was even a thing.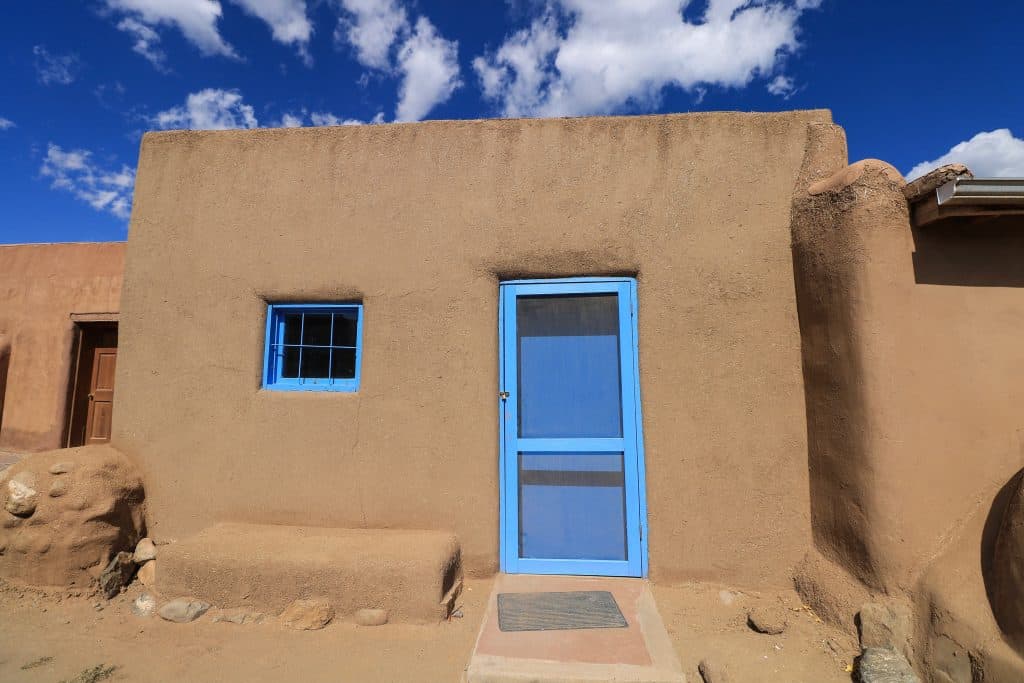 Once you make your way into the Taos Pueblo Village, start your visit off at the chapel and catch a tour.
A local will lead the tour providing some history of the village and how daily life functions now compared to the past. It gives you a great overview of Taos Pueblo before you go off and wander the grounds yourself.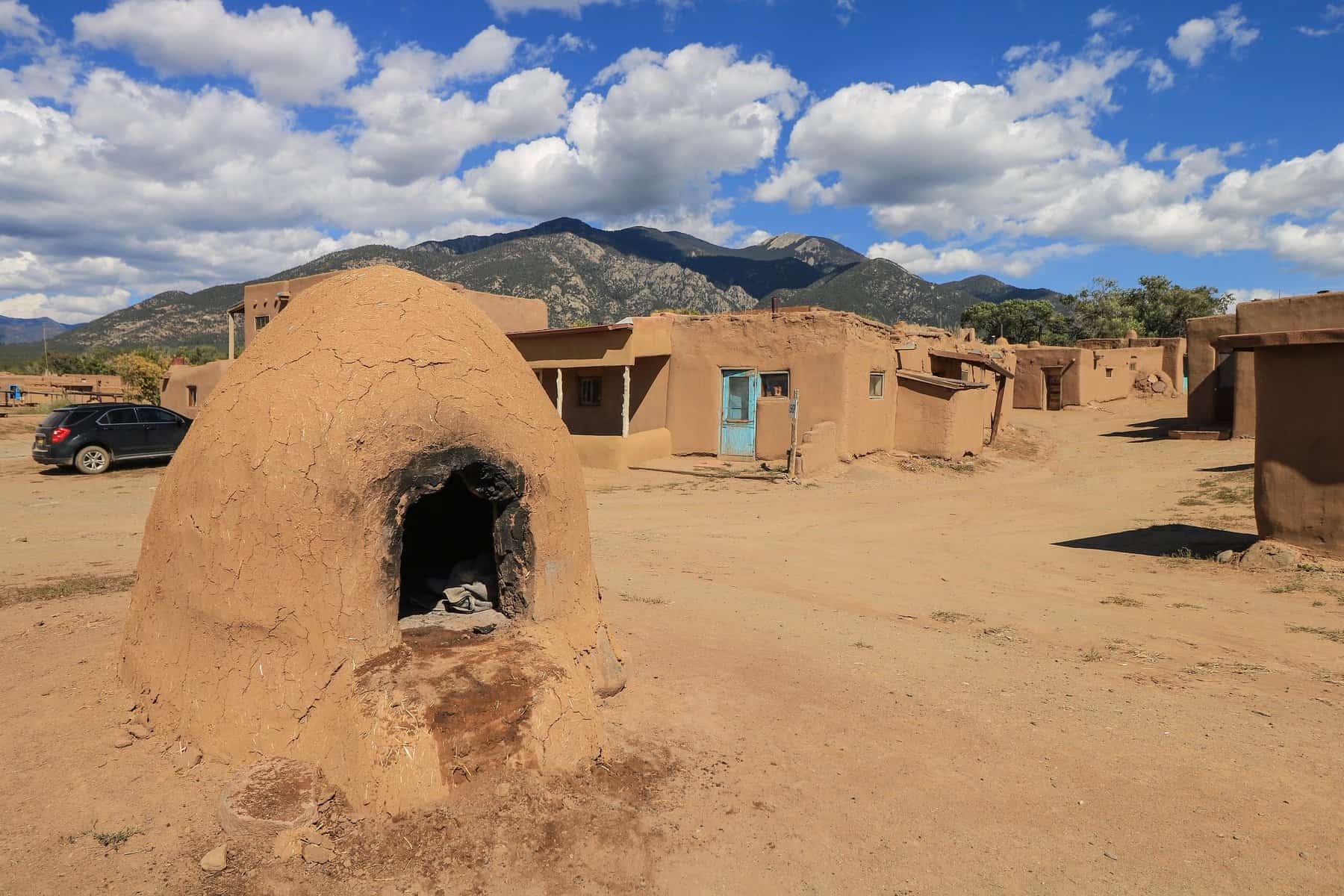 Before arriving, I was a little confused about what Pueblo meant or referred to. I wasn't sure if it was a type of dwelling or a group of people. The tour guide clarified that technically "Pueblo" means a village.
But it is also referred to as an adobe dwelling that is made of earth, water, and straw. And people that live in these Pueblo villages are referred to as Pueblo people or Puebloans. So it has many meanings!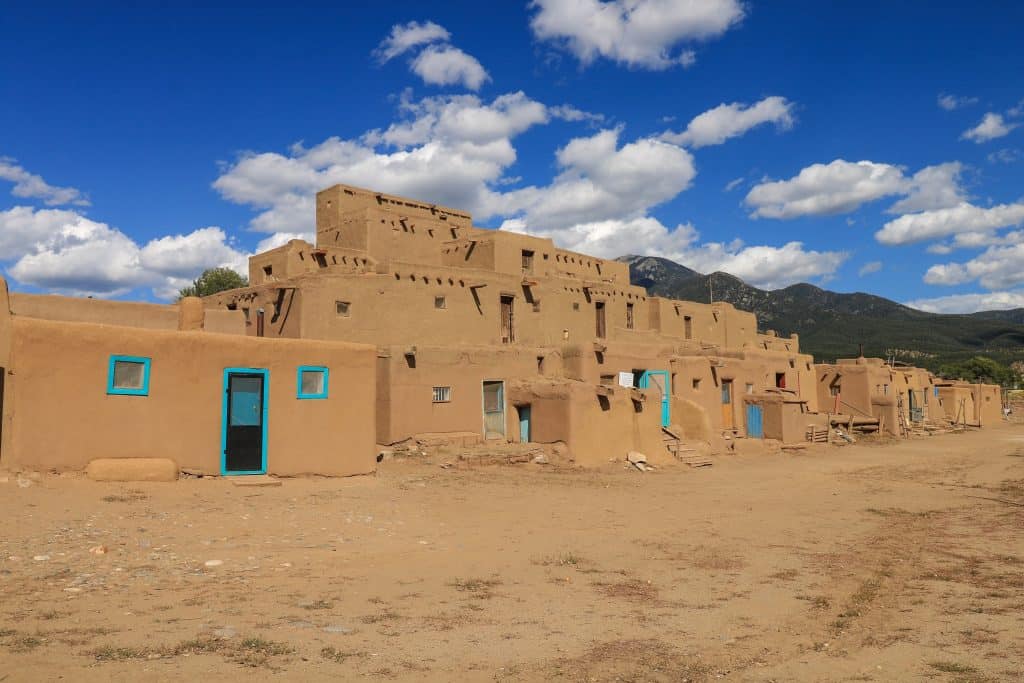 Currently, there are about 150 Taos Indians that are living here and I encourage you to visit with them.
There are many that will invite you in to look at the wares, food or drinks they are selling. You must try fresh fry-bread which is unbelievably delicious…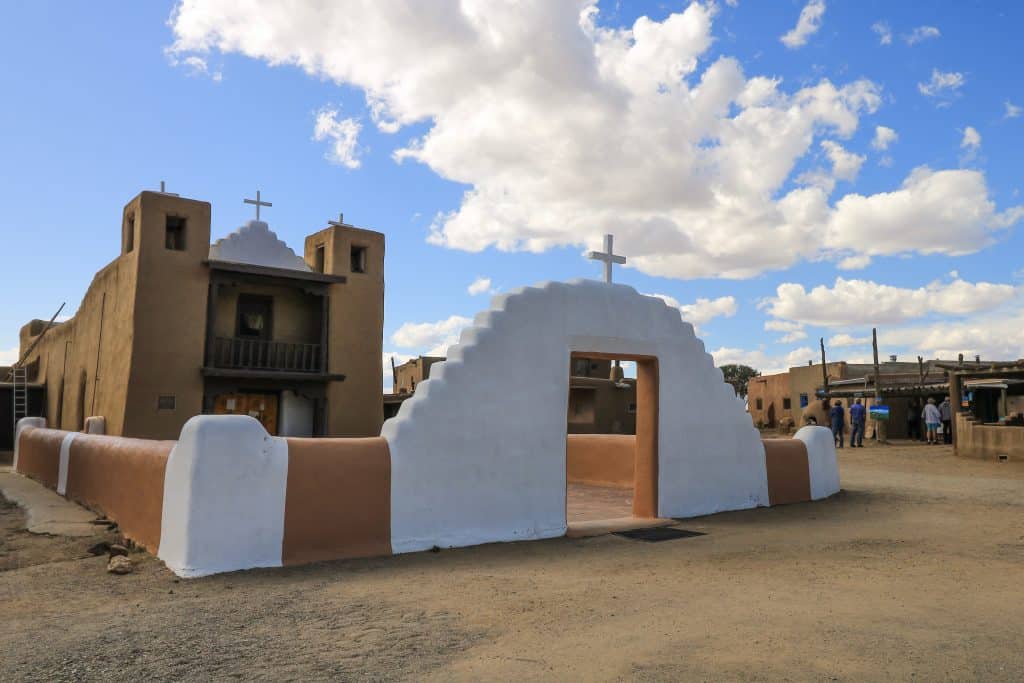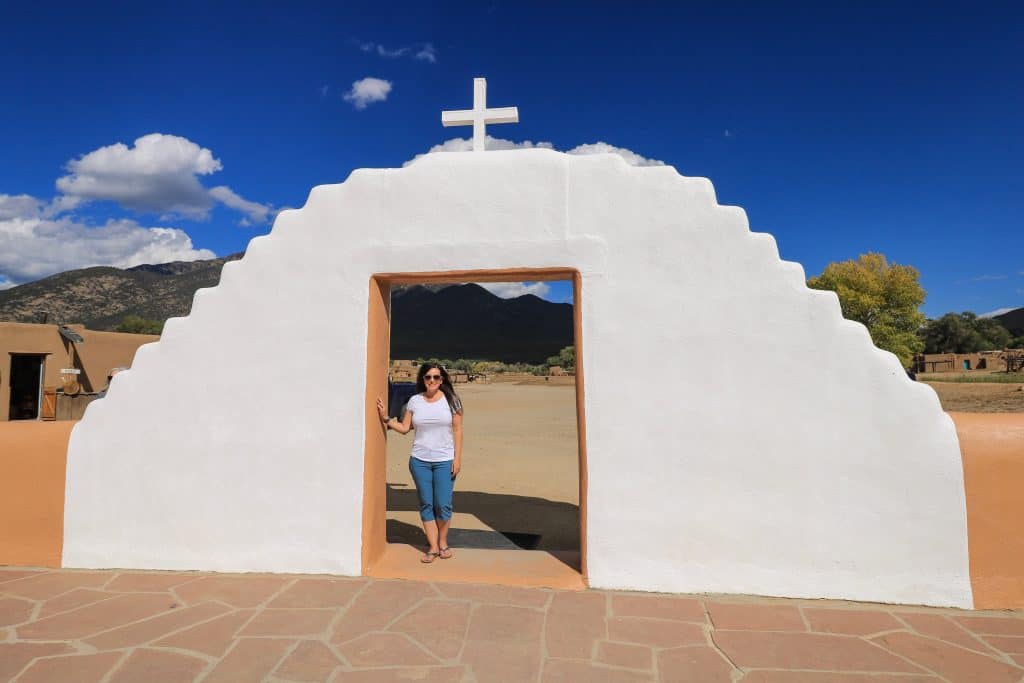 Note: Please do not photograph any of the local Native Americans unless you get their permission beforehand.
And unless you are invited or there is a sign saying to come in, do not enter any of the pueblo dwellings as people are living there. They also ask that there are no photographs taken inside if they do invite you in.
Hours: Open Monday to Saturday from 8 am to 4:30 pm and Sundays from 8:30 am to 4:30 pm.
Admission: Entry into Taos Pueblo is $16 per adult. Tours are free but do leave a tip donation as it is an excellent tour. Tours run every 20 minutes leaving from the chapel.
2. Rio Grande Gorge Bridge
Driving from Taos Pueblo, the Rio Grande Gorge Bridge is about a 15 – 20 minute drive along Highway 64.
You can park on either side of the bridge but if you are looking for a bathroom then park on the west side of the bridge. Once parked, make your way out onto the bridge and look over the edge!
You will be blown away by the view, quite literally. It gets extremely windy so hold on to any valuables including hats and sunglasses.
Let's just say I learned this mistake from personal experience. I was so sad to have my sunglasses whipped off me and out into the canyon below! No chance of retrieving them unfortunately…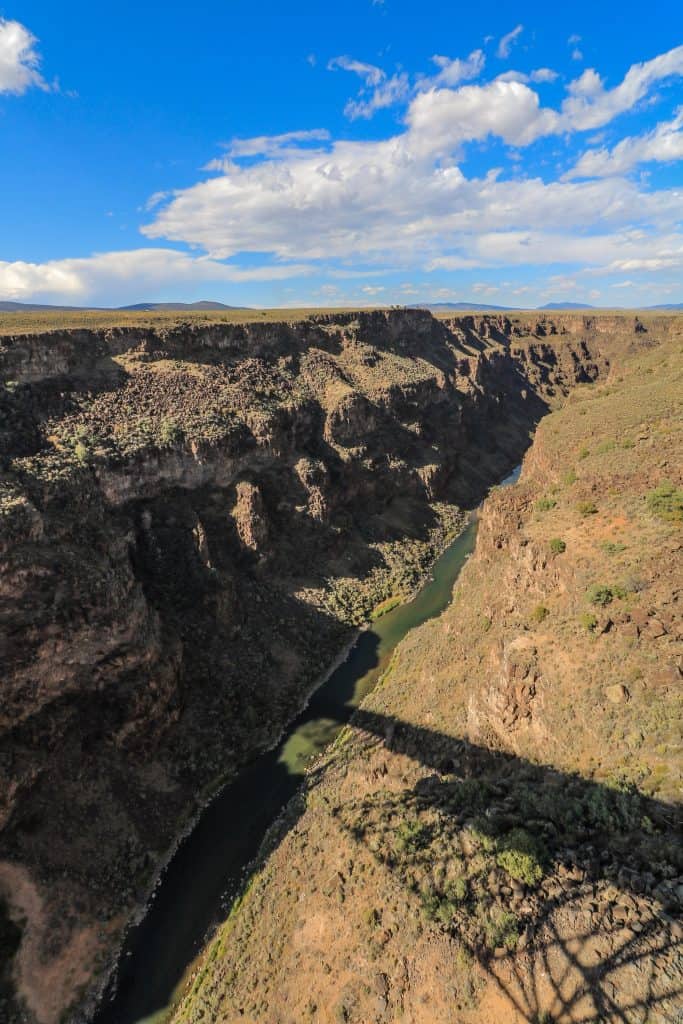 The view of the Rio Grande River is outstanding as you can see how the water has carved out the deep gorge over millions of years.
To be exact, the gorge below is 565 feet deep and is the second-highest bridge on any U.S. highway and the 5th highest bridge anywhere in the United States.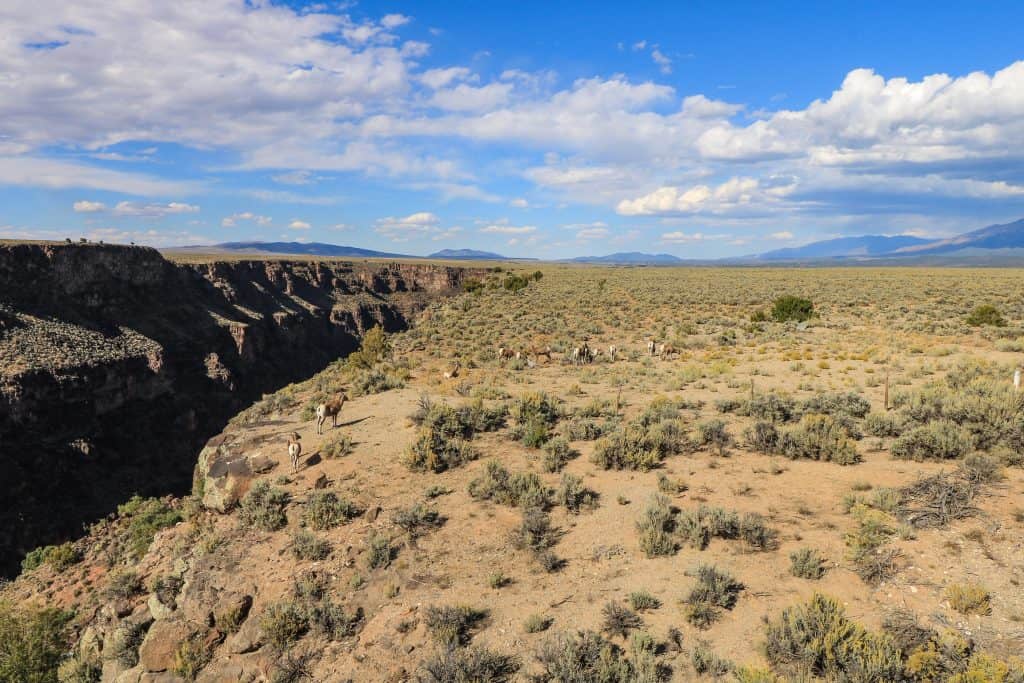 Walk completely across from one end to another and from side to side of the beautiful long-span steel bridge. That way you get different vantage points to take in the surrounding landscape and bridge.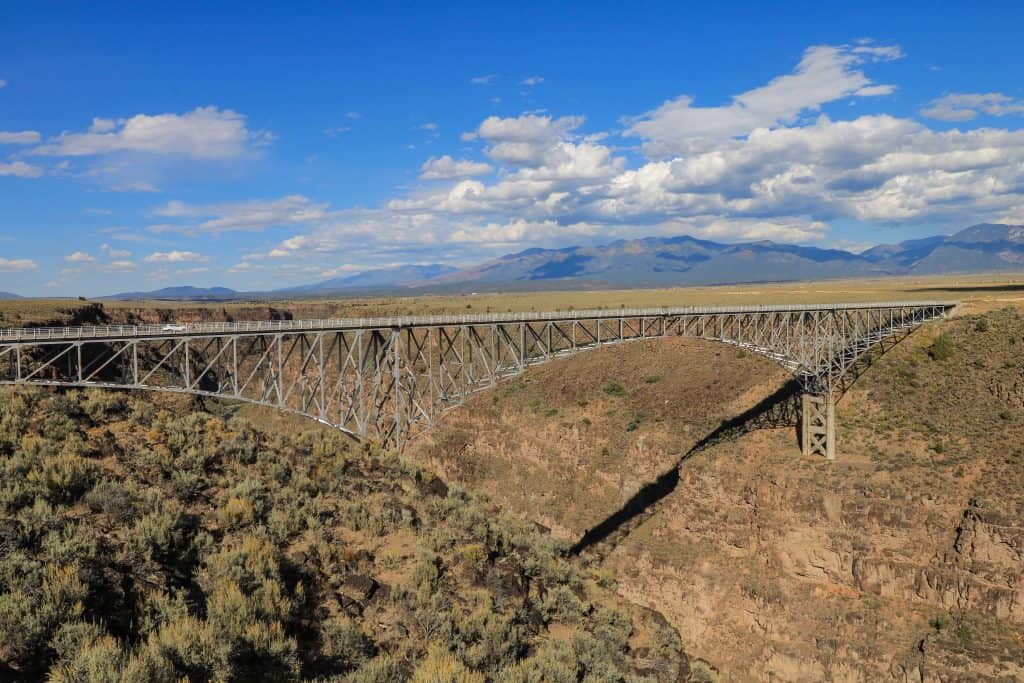 If you are lucky, you might even see a herd of mule deer or a bald eagle! There were about 30 mule deer moving from one side of the bridge to another.
3. Ojo Caliente Mineral Springs
Looking to slow down and relax a bit? Spend the day or even a few days at Ojo Caliente Mineral Springs!
The mineral springs and spa is a magical oasis in the middle of what seems like nowhere. Ojo Caliente is an hour's drive from Santa Fe and 50 minutes from the city of Taos.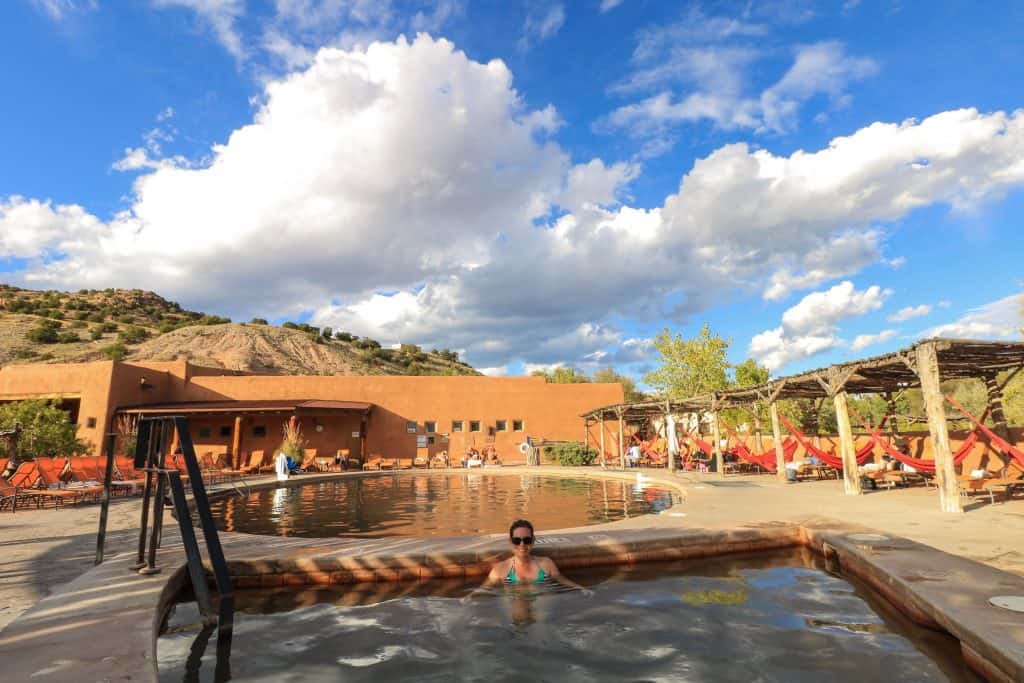 Ojo Caliente Mineral Springs is one of the oldest health spas in the United States. It is also the only one that has four different sulfur-free healing waters. The first version of the Ojo Caliente Mineral Springs Spa & Resort opened up in 1868.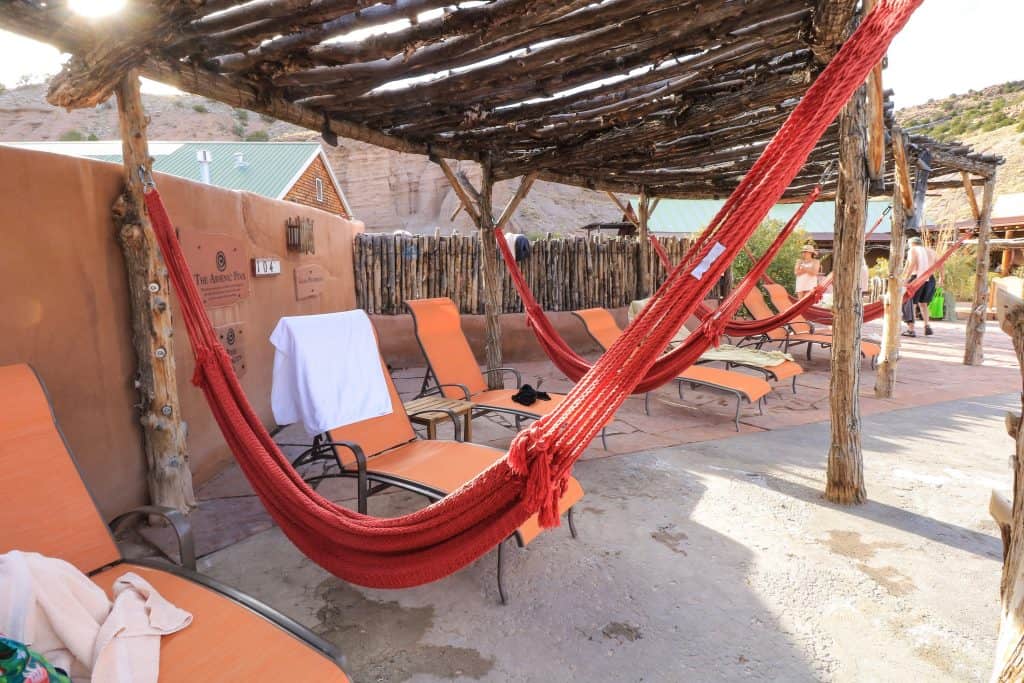 I spent the day at the spa but next time I plan to spend a few days here at the resort to indulge in spa services and to completely relax in the most serene setting.
It is peaceful and very quiet with the sounds of the wind and birds. They specifically have signs to whisper and be quiet which is both soothing and welcoming.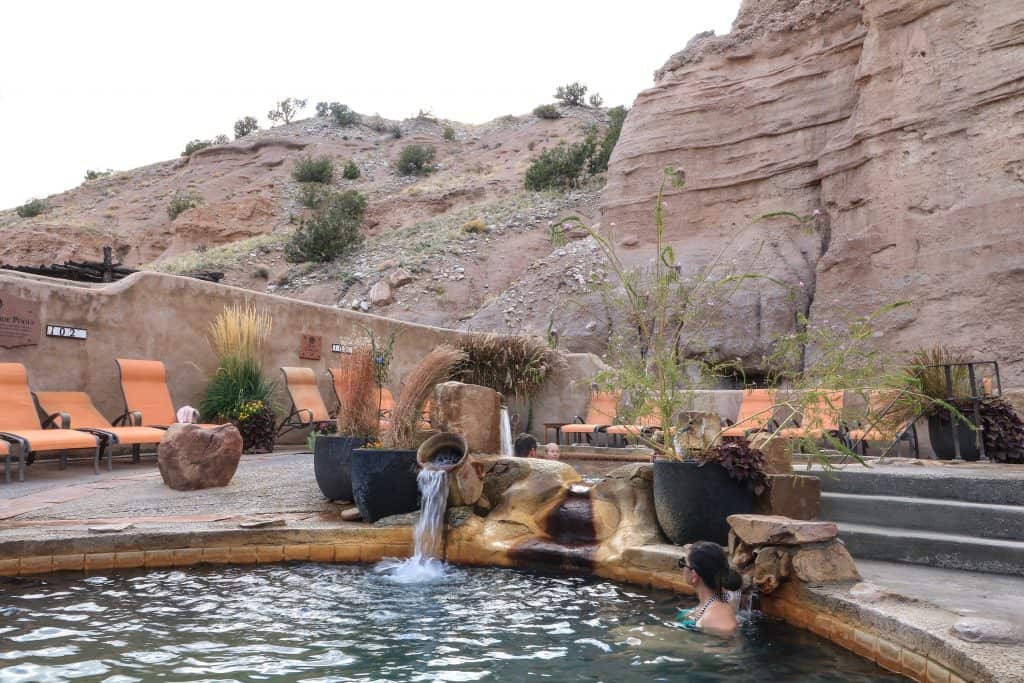 There are 12 mineral pools that are said to have healing abilities for different ailments.
There is an arsenic pool that is great for skin conditions and a lithia pool that is good for digestion and mood.
The iron pool is beneficial for the blood and immune system. These are just a few of the pools to dip into.
Whether the mineral springs do indeed help or not, it feels incredibly luxurious and calming! I left feeling renewed and at peace… For more information on the spa, hotel or camping click here.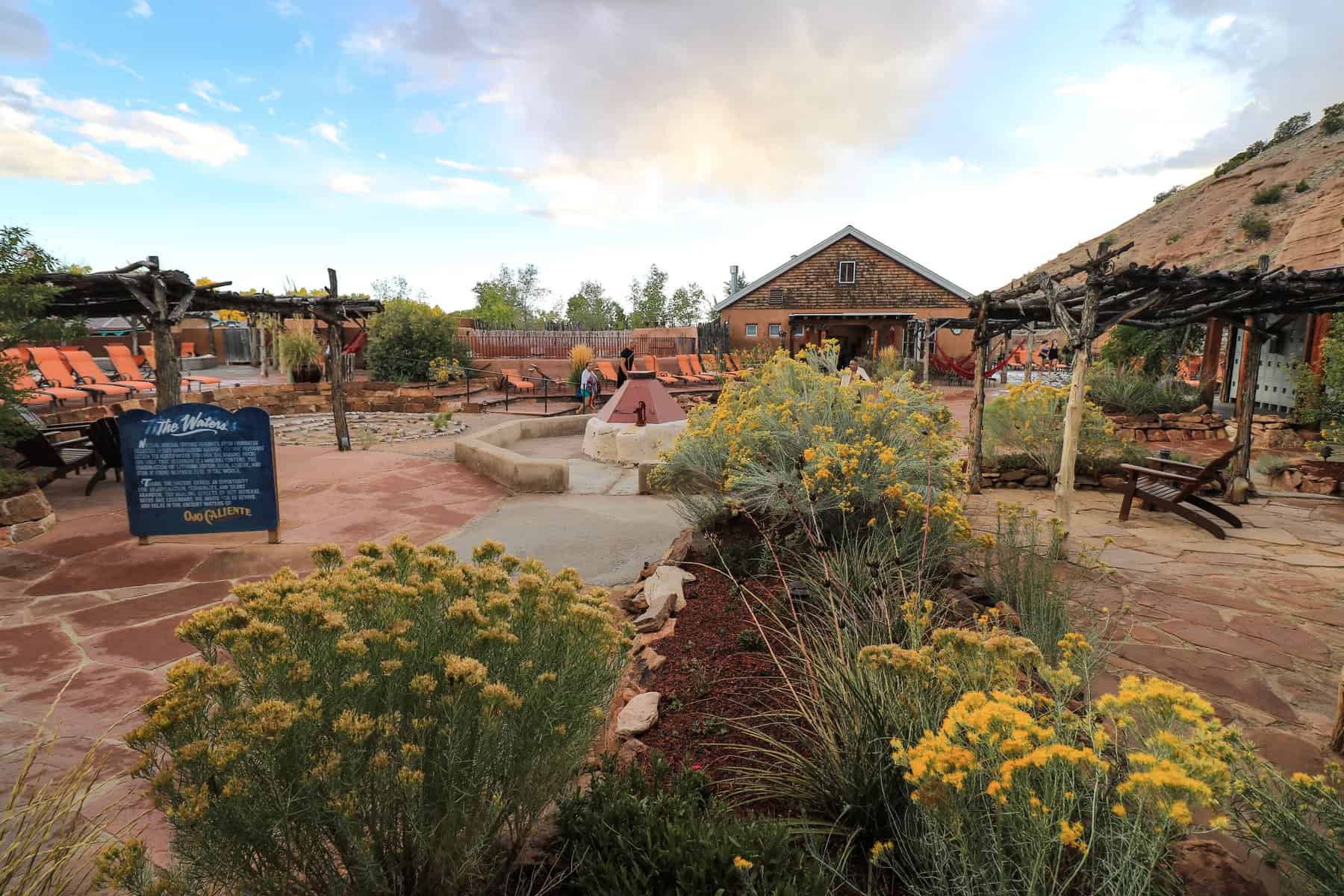 Hours: The mineral pools are available from 9:30 am to 10 pm.
Admission: Monday to Thursday, $30 and Friday to Sunday is $45. After 6 pm, the rates are discounted to $25 and $38. These rates are for the entire day so go early!
4. Bandelier National Monument
The Bandelier National Monument is dedicated to preserving the ruins of the Ancient Pueblo community. The adobe structures that served as their home and living quarters are dated to be from the years of 1150 and 1600. So, they are pretty old!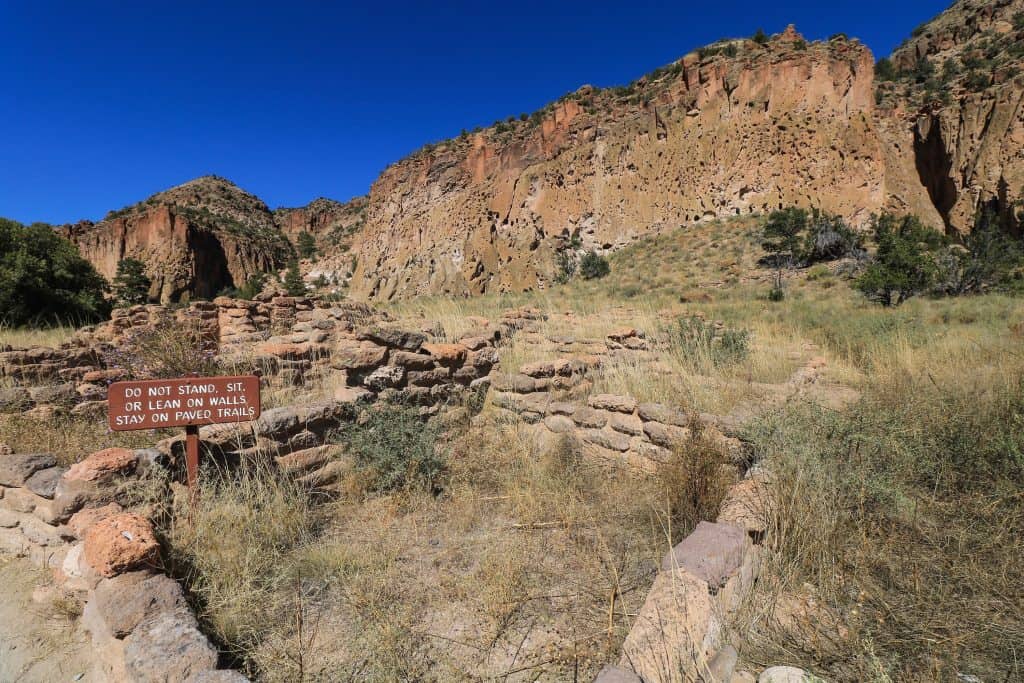 The Native Americans created this community in a deep canyon known as Frijoles Canyon and along the Frijoles Creek.
Did you know frijoles translates to "beans"? It got its name because of the beans that grew along the banks of the river.
The Main Loop Trail is an easy 1.25-mile loop that takes you through the Frijoles Canyon seeing 21 different markers that are points of interest.
For instance, there are kivas, cliff dwellings, and petroglyphs to see along the trail. You clearly get to see how the ancient Pueblo people lived.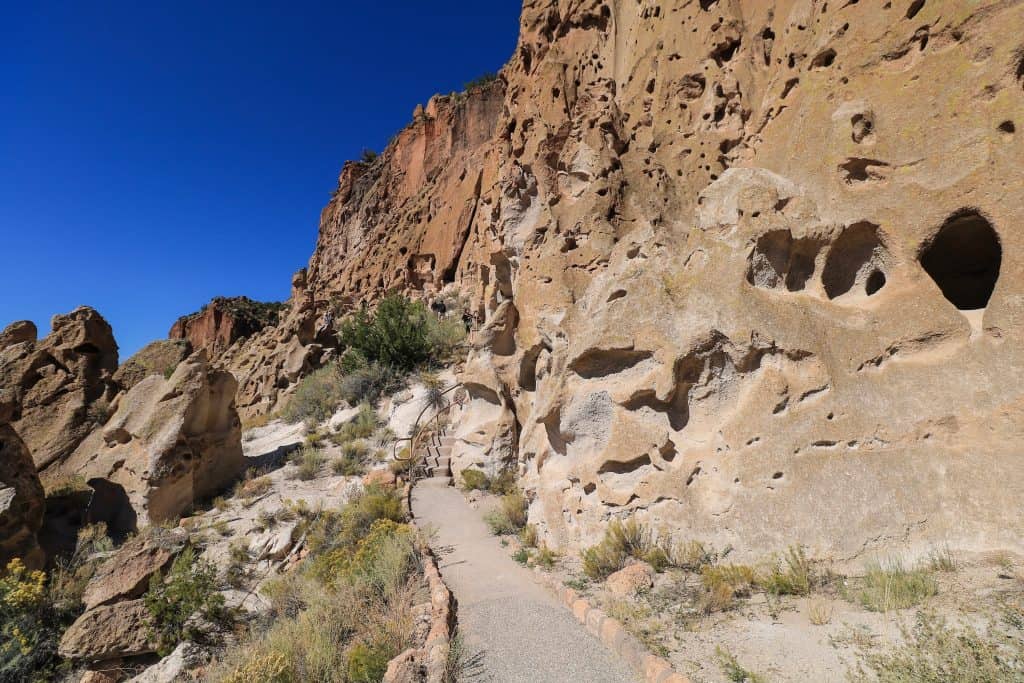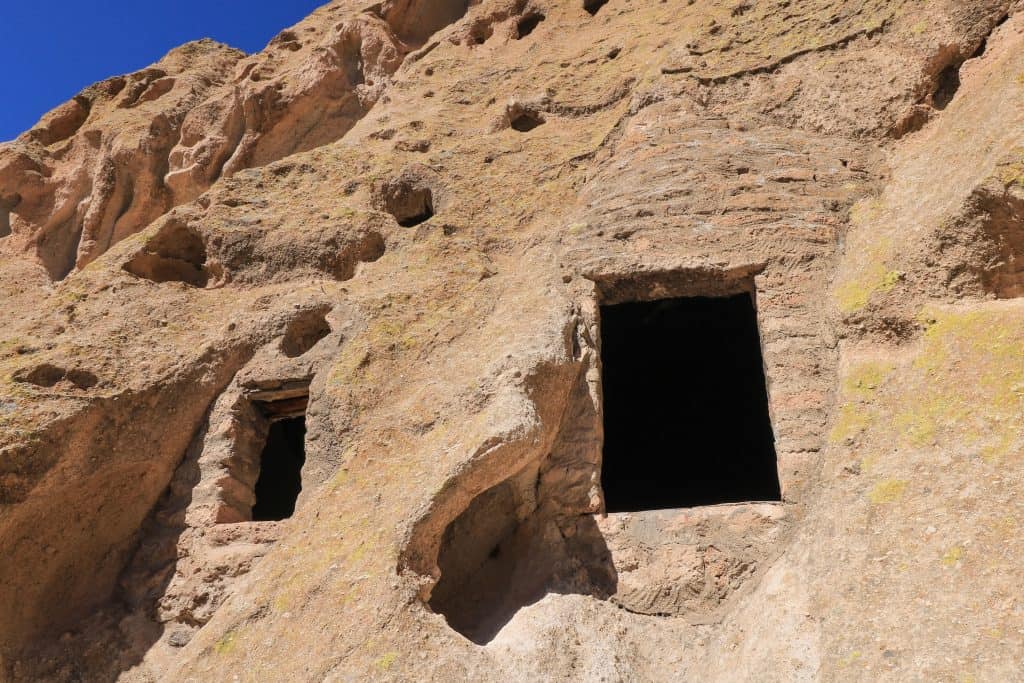 The highlights for me was getting to see the cliff dwellings and how they literally carved out a living space into the side of the cliffs. You can climb up the ladder to a few of the dwellings that are pretty cool. It kind of reminds me of a very primitive apartment complex.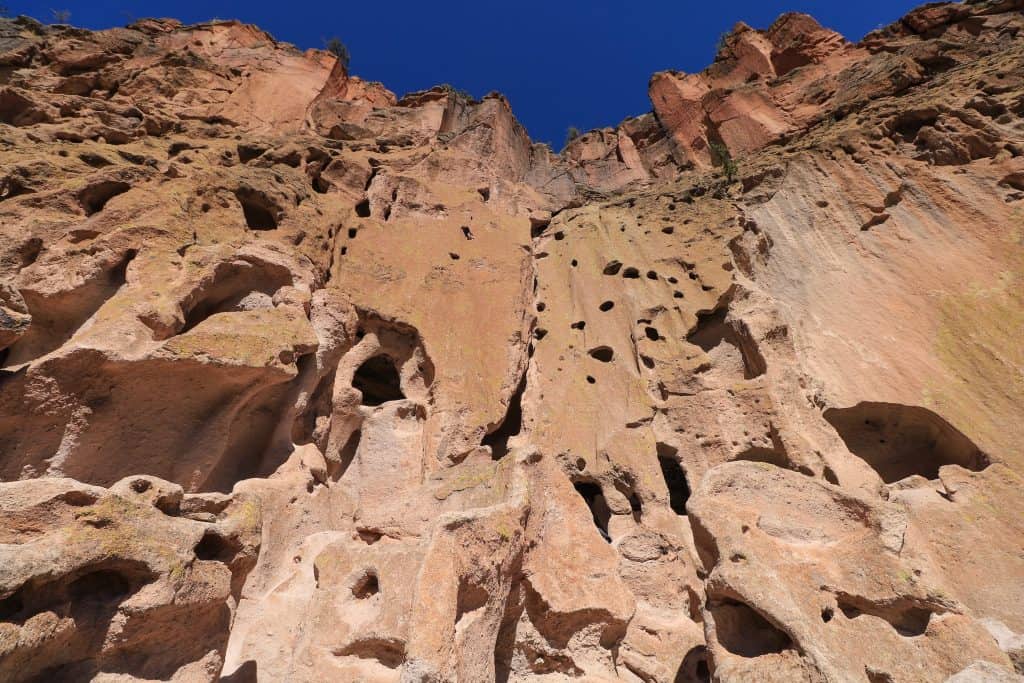 Keep your eyes open and take a moment to see the petroglyphs particularly at markers 19 – 21 (cliff dwellings).
If you are interested in going further, continue on to the Alcove House before heading back on the loop to the start. This will add on an additional 1-mile roundtrip to the Main Loop Trail.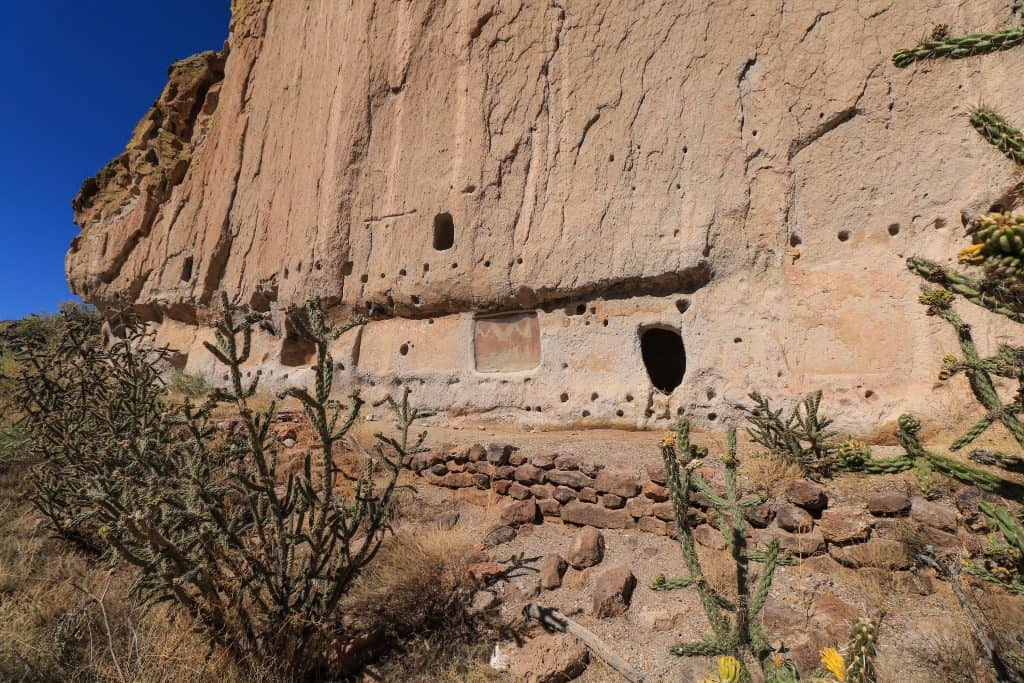 Hours: Open from 9 am to 6 pm daily and must park at the visitor center and catch the shuttle down to the monument. If before 9 am or after 3 pm, then you can drive all the way down and skip the shuttle. Located about 30 minutes from Los Alamos and 1 hour from Santa Fe.
Admission: The entrance fee is $25 per car. Or if you have the America Is Beautiful Pass then your entrance fee is waived along with Tents Rocks Monument below!
5. Tent Rocks National Monument
Visiting Tent Rocks National Monument allows you to witness a geologic marvel with the cone-shaped tent rock formations. The monument is near Cochiti Lake and about an hour from Santa Fe.
What you see today was created millions of years ago when volcanic eruptions created the tent rock formations.
The rock formations are made up of pumice and ash from the ancient volcanic activity. There are two trails that you can take to view the unusual and exquisite natural formations. The first option is the easy Cave Trail that is 1.2 miles.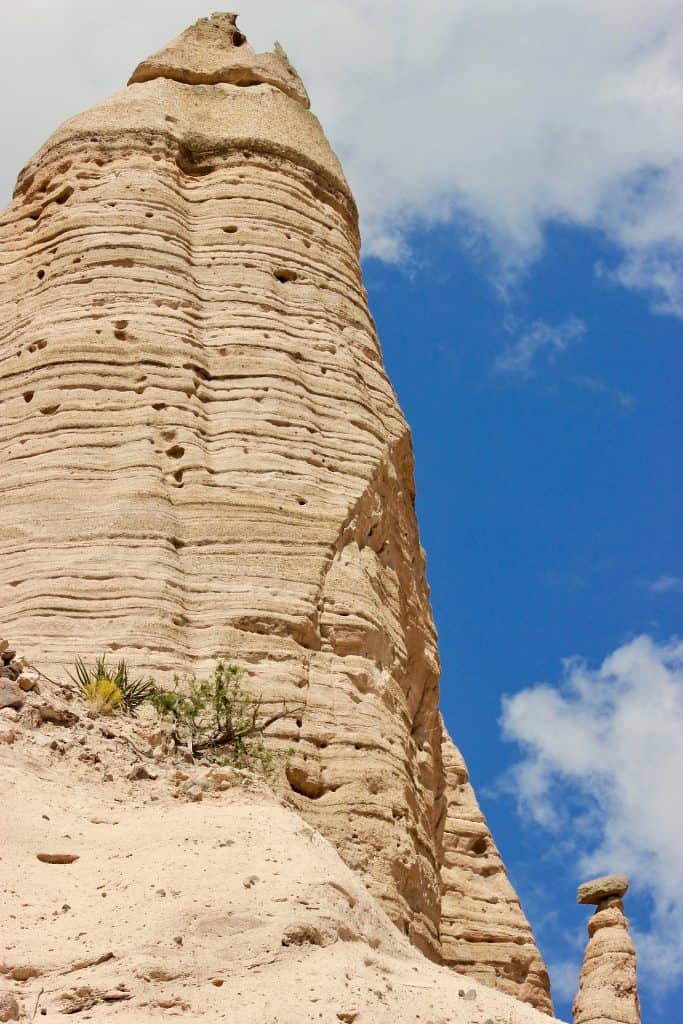 If you want a little bit more of a challenge then take the Canyon Trail that is 1.5 miles. On the Canyon Trail, you get the chance to go through a slot canyon up to the top (mesa) for spectacular vistas.
Views include the Jemez, Sandia and Sangre de Cristo mountains. The tent rock formations range in height but are up to 90 feet!
Hours: The Kasha-Katuwe Tent Rocks Monument is open daily from 8 am to 4 pm and must be out of the monument by 5 pm.
Admission: The entrance fee is $5 per car. Or if you have the America Is Beautiful Pass then your entrance fee is waived along with Bandelier National Park!
6. Ghost Ranch
If you visit the Georgia O'Keeffe Museum in Santa Fe, then you will be a little familiar with Ghost Ranch.
Georgia O'Keeffe found plenty of inspiration for her paintings with the stunning landscapes on the 21,000 acres that comprise Ghost Ranch.
She purchased a section of the ranch and later moved to the nearby village of Abiquiu. Before her death, O'Keeffe spent her last years in this area where her love for the region brought her much happiness.
Today, you can visit this education center and retreat to get a glimpse of what inspired O'Keeffe in her art scenes.
Think of Ghost Ranch as a cattle ranch with dramatic landscapes and restorative activities such as horseback riding, hiking, and massage. For more information on Ghost Ranch, visit their website here.
Hours: The Welcome Center is open daily from 8 am to 7 pm.
Admission: Entry to the facilities of Ghost Ranch, there is a $5 fee. Ghost Ranch is located a short distance from Abiquiu which is about an hour from Santa Fe.
7. Camel Rock
As you leave Santa Fe and head north on the 285 towards Taos or Bandelier National Monument, stop off on Camel Rock Rd to see Camel Rock! After exiting the highway, turn left and then right onto the frontage road.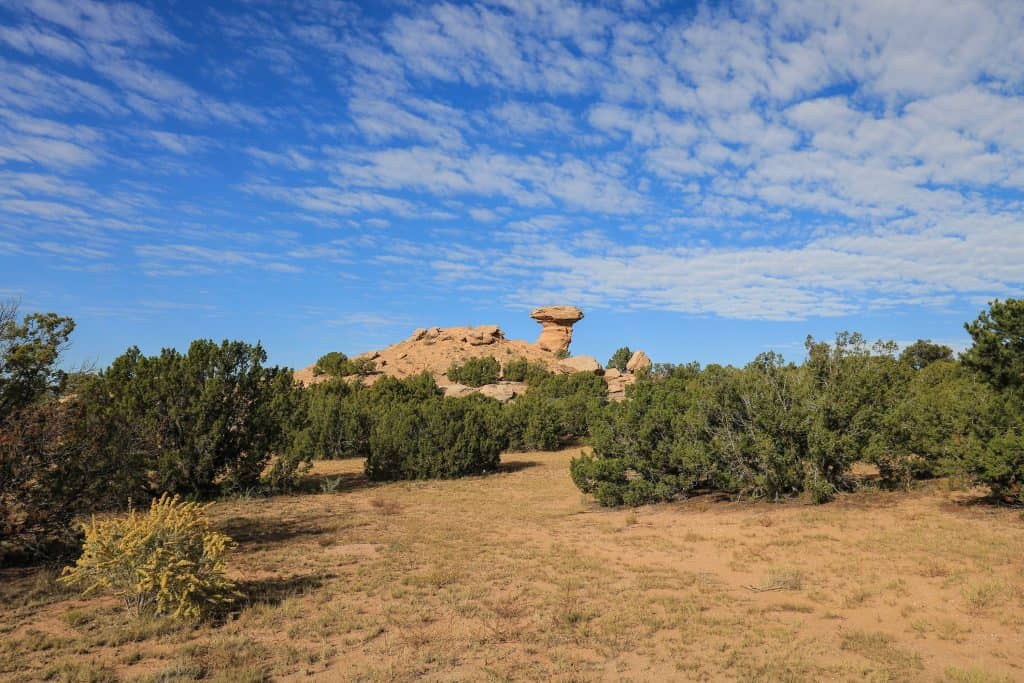 The rock formation that looks like a "camel" is right off the road so you won't miss it. It is one of those cool and odd things that are hard to pass up on a road trip!
Camel Rock is made of sandstone that has a pinkish tint to it with a length of 100 feet and a height of 40 feet.
The animal-shaped rock formation is natural and a unique thing to see on your drive. There is a fence surrounding the Camel Rock so no climbing or getting too close to it.
How To Get Around
The easiest way to get to Santa Fe and see all the sights surrounding the city is to rent a car. To find the best deals on a car rental, search here!
There are a number of national parks, nature and cultural sites that you really need a car to get to. Most of the places you visit will likely be within a 1 to 2-hour drive.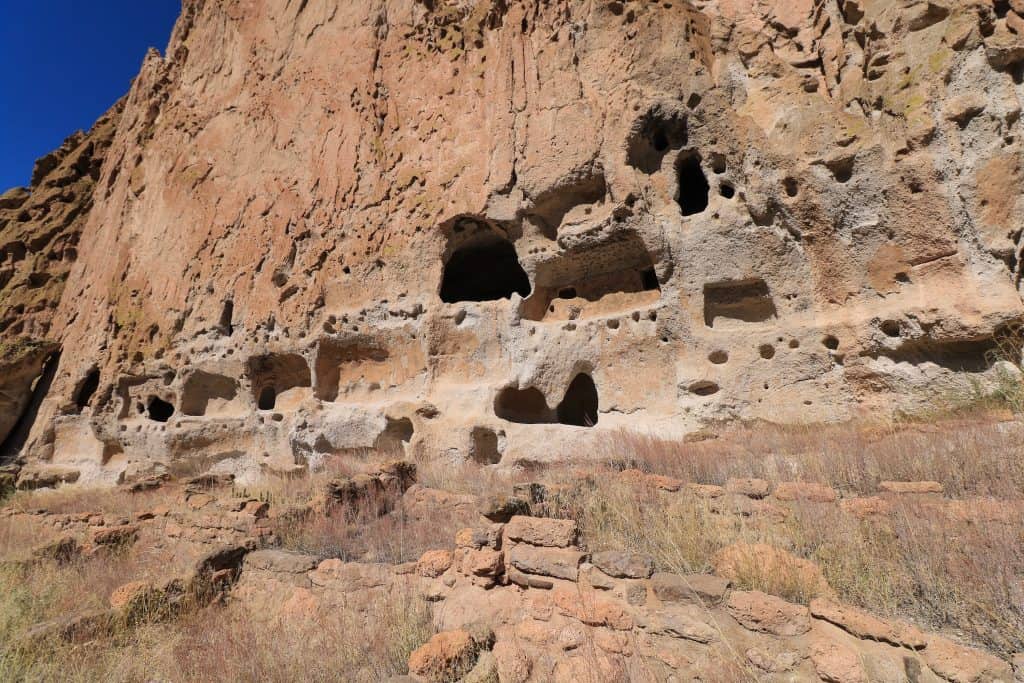 When To Visit Santa Fe
There is a lot to see and do in Santa Fe year-round but spring through the fall will offer the best weather.
It does get snow in the winter with cold temperatures in the 20's to 40's. Be aware that Santa Fe gets a lot of rain in the summers due to thunderstorms in July and August.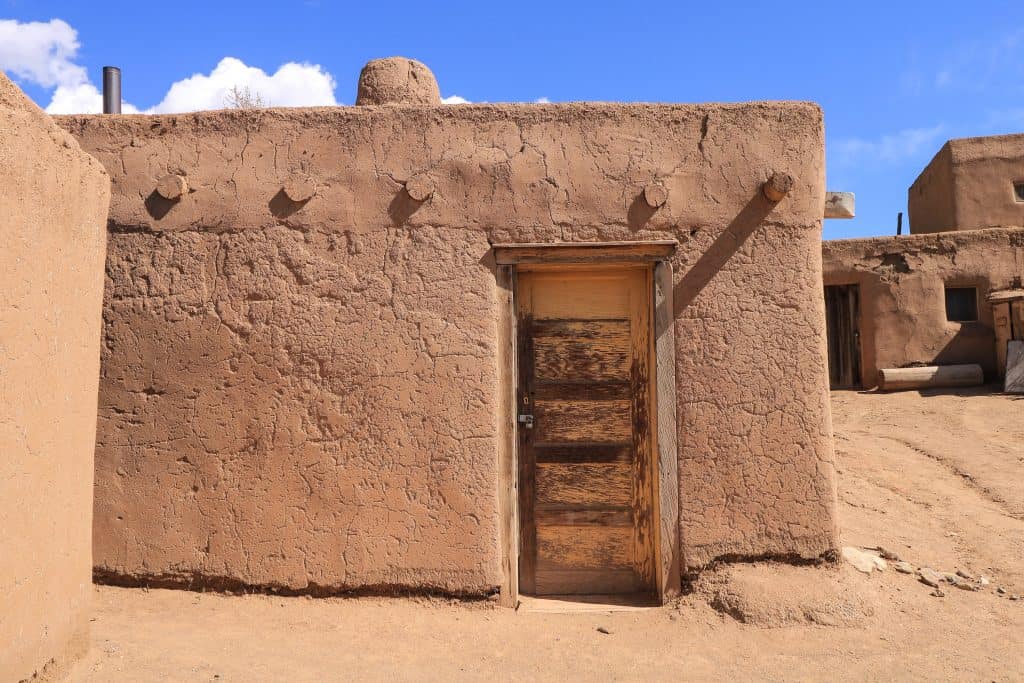 I think the fall is a perfect time to visit as the temperatures are still nice, sunny and you can see the trees changing colors.
Not to mention if you visit at the beginning of October you can see the Balloon Festival in Albuquerque.
If you are flying in, the main airport that will also be the most economical to fly into is in Albuquerque.
The airport in Albuquerque is Albuquerque International Sunport (ABQ). From Albuquerque, it is an hour's drive to Santa Fe.
New Mexican Cuisine
New Mexican food is very delicious but keep in mind that it is extremely spicy! It has both heat and mouth-watering flavors that are quite delightful.
New Mexican food is unique in that it uses different spices, herbs and chile peppers that distinguish it from say Mexican or other Southwest food.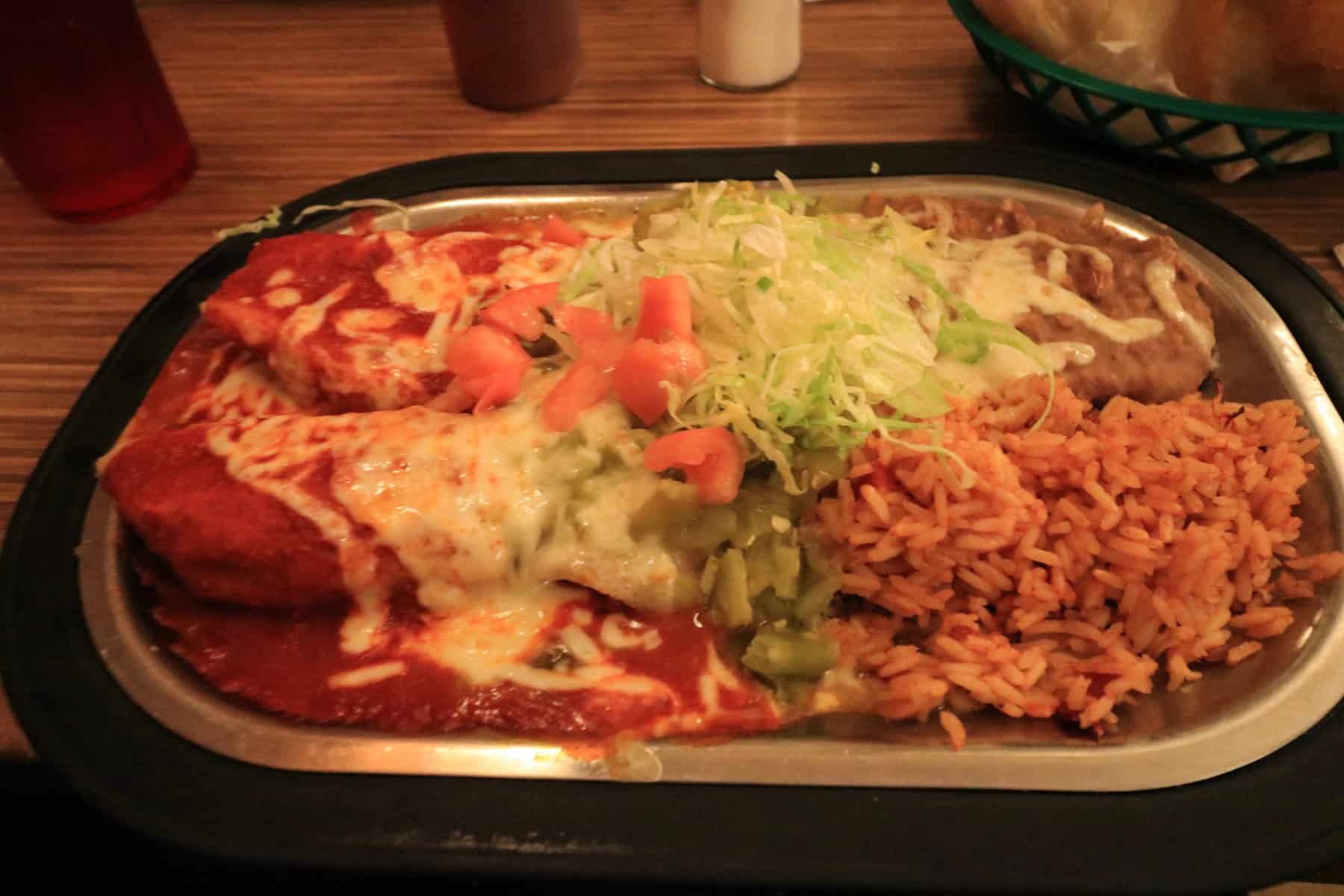 The chile pepper used in so many dishes is the Hatch Chile Pepper. When ordering food in a restaurant you will likely be asked green or red sauce? The locals will tell you to order it "Christmas" style.
That is to get both green and red chile sauce on it! But if you are not sure or you can't take a lot of heat in your food, order the sauce on the side.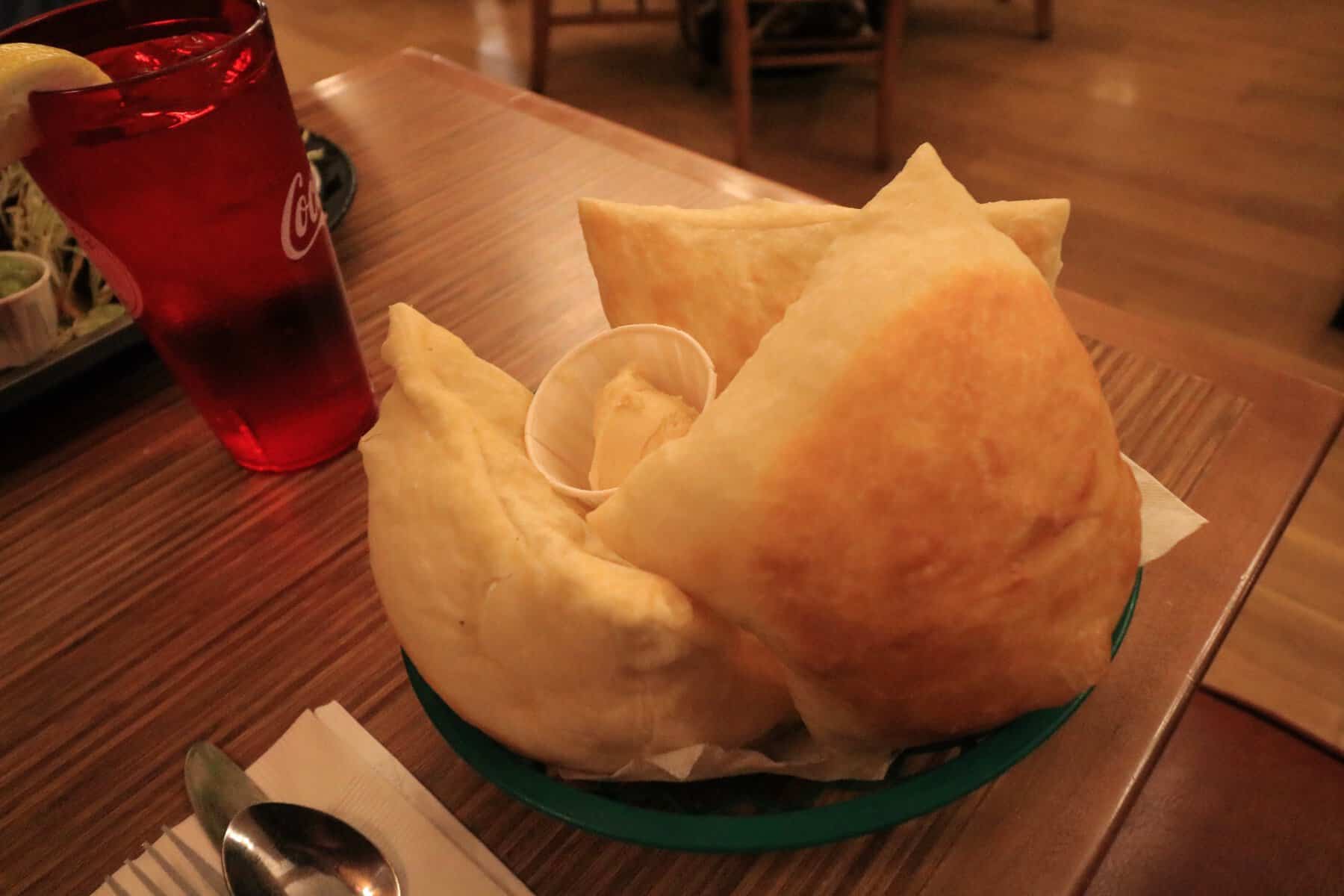 A few dishes that are yummy to try are the enchiladas, burritos, chile stew, anything pork, green chile burger, posole, and sopapillas.
I think of sopapillas as more of a dessert as they bring it to your table after your meal. Lather the sopapilla (frybread) with butter and honey then sit back in heaven!
Don't forget to try a freshly made frybread or Pinon coffee at Taos Pueblo, so delicious! Enjoy your stay and these awesome day trips from Santa Fe!
Looking For More Travel Inspiration?
15 Best Things To Do In Santa Fe, New Mexico
11 Top Things To Do In White Sands National Park For First Time Visitors
The Ultimate Guide To The Albuquerque Balloon Festival
How To Spend The Best Weekend In Albuquerque
11 Best Wineries In Fredericksburg, Texas That Are A Must To Try
10 Best Things To Do In South Dakota
15 Famous Things About Chicago You Must See
Boston Itinerary: How To Spend 3 Awesome Days
Got Travel Insurance?
Don't leave home without travel insurance as you never know what might happen on a trip! It is always when you least expect it that something can go wrong like getting sick, in an accident or cancellation of some sort. Get a no-obligation quote from two trusted travel insurance companies for peace of mind on your next trip!
Disclaimer: My post may contain affiliate links, which means I may receive a small commission if you click a link and purchase through that link. It won't cost anything to you to use these links but is very much appreciated. Thank you!