Disclaimer: Traveling Ness contains affiliate links and is a member of the Amazon Services LLC Associates Program. If you make a purchase using one of these links, I may receive compensation at no extra cost to you. See my privacy policy for more information.
Perfect 3 Day Weekend In San Antonio Itinerary For First Timer's
Ready to spend a fun-filled weekend in San Antonio, Texas? San Antonio might be most famous for Tex-Mex food, the River Walk, and the Alamo but wait until you see what else this awesome city has up its sleeve. Use this 3 days in San Antonio itinerary to guide you through this unique town!
The River Walk is where a lot of the San Antonio attractions can be found in the midst of downtown. Steps below street level and lined with Cypress trees is a fascinating and vibrant section of the city that makes it one of a kind!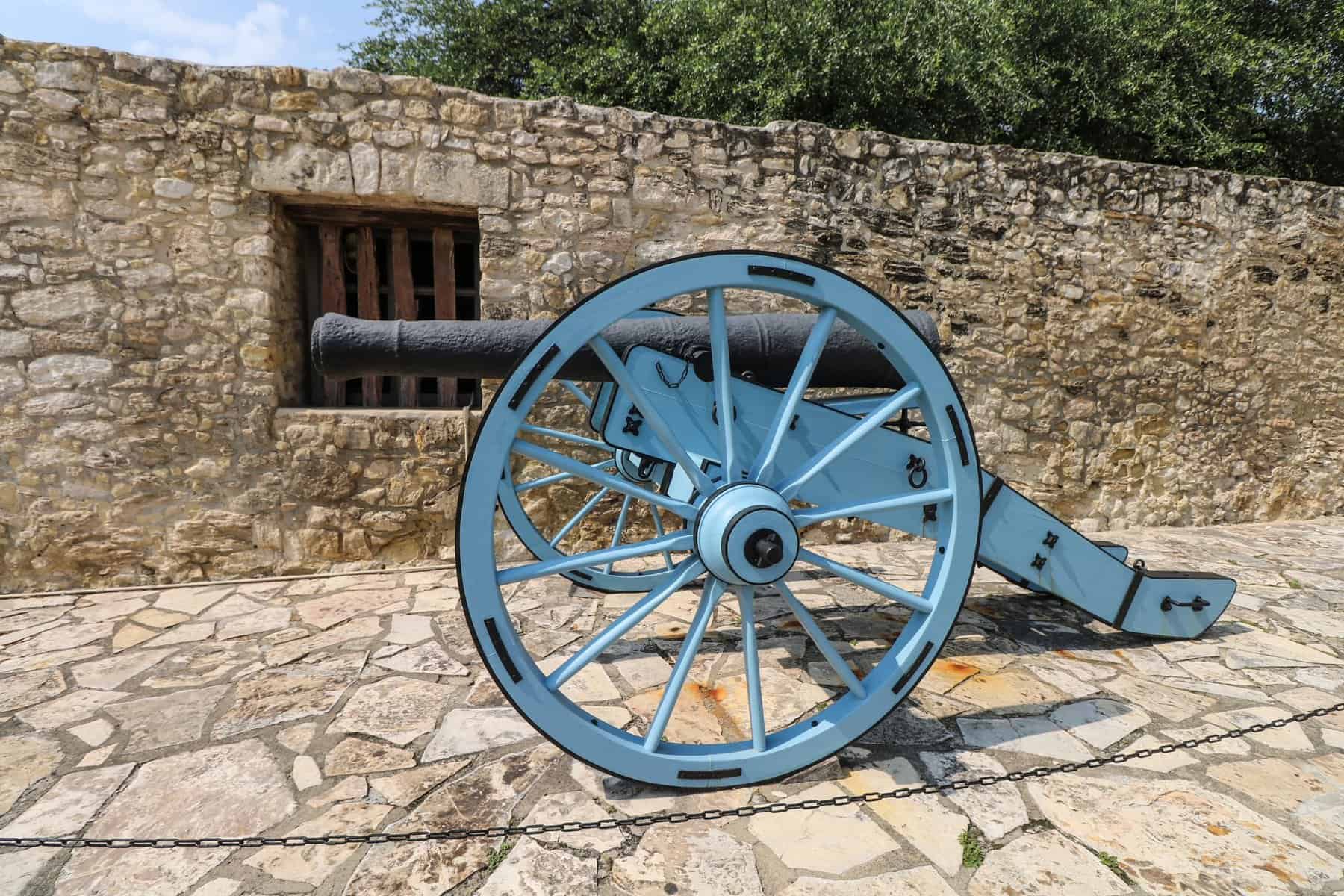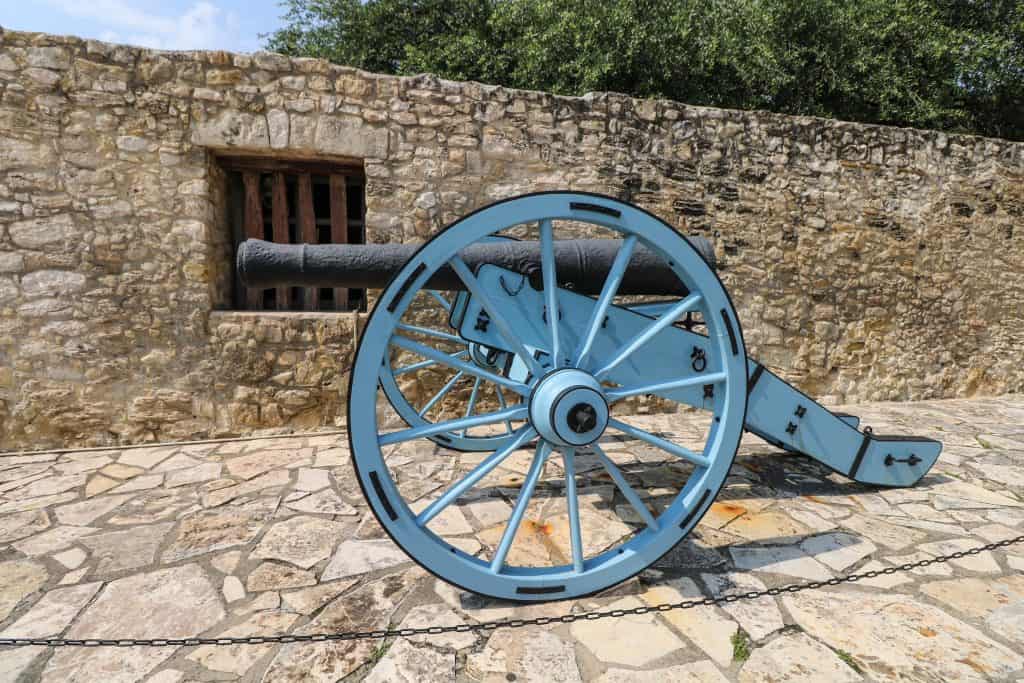 Everything from restaurants, bars, shops, and hotels on the River Walk makes it a perfect central location to base your activities.
Without a doubt, San Antonio has the coolest river walk of any city in the United States. Whether you cruise along the River Walk by foot or boat, you will instantly feel the relaxed vibe of this town.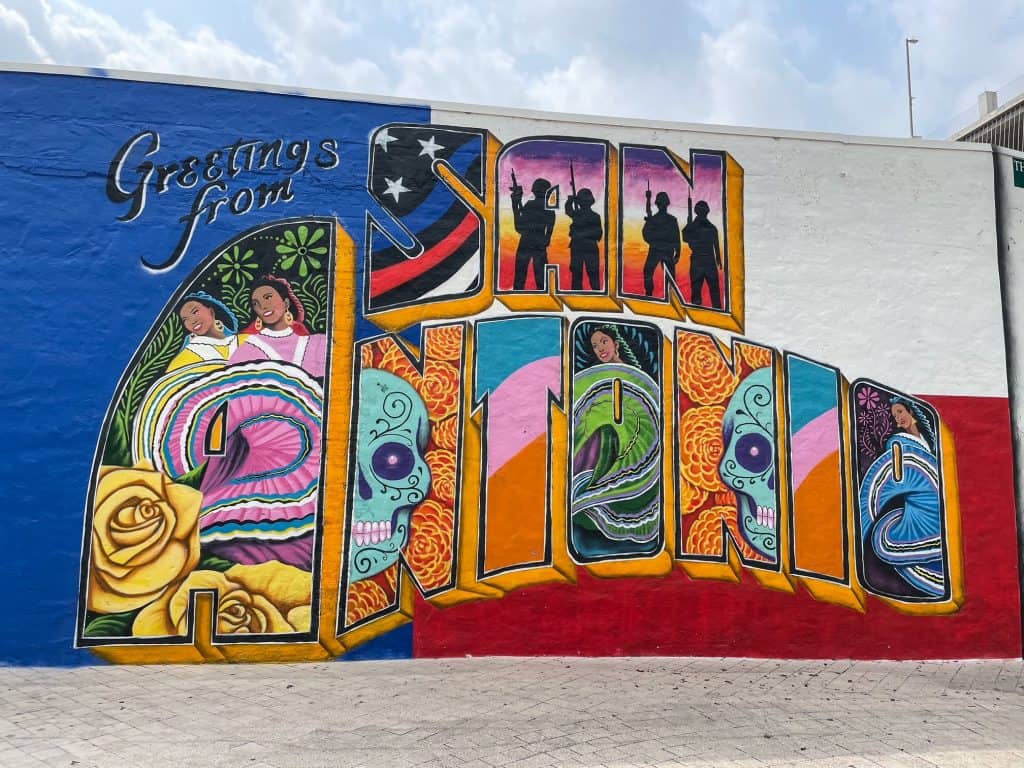 San Antonio has a rich and interesting history with the Battle of the Alamo and its colonial missions. With its close proximity to Mexico, you will find a blend of American and Mexican culture that creates magic!
If you are a foodie, then San Antonio will not disappoint as it is a true gastronomic delight! It may be known for its Mexican food and Texas BBQ but there is every type of food you could wish ever for.
Let's get started and discover the best things to do in San Antonio on a long weekend getaway!
Where Is San Antonio?
San Antonio is located in the southern part of Texas in the United States. And it is the second-largest city in Texas behind Houston.
San Antonio is a great base to explore other areas of Texas with Houston 3 hours away (200 miles) directly east and Austin a much easier 1.5 hours away (80 miles), northeast.
If you want to escape the city and are a wine lover, then head north about 1 hour to Fredericksburg, Texas. For more info on wine tasting along the Texas Wine Trail read 11 Best Wineries In Fredericksburg!
Texas in general is considered to be part of the Southwest of the United States. When looking at a map, Texas is in the middle of the country along the southern border that meets Mexico and the Gulf of Mexico.
By land, Texas is bordered by the states of Louisiana, Arkansas, Oklahoma, and New Mexico.
Heading to Louisiana? If so, explore:
15 Fun Things To Do In Lafayette, Louisiana's Cajun Country
Ultimate New Orleans Bucket List: 35 Fun Things To Do In NOLA
How Many Days Do I Need To Spend In San Antonio?
San Antonio is one of those cities that you could spend days in especially if you are looking to sample the endless list of fantastic dining and bar options!
For a first-time visit, I recommend spending 3 full days in San Antonio. If you can stay longer then do so as there is plenty to keep you busy.
Once you spend a little time in San Antonio you will quickly realize this won't be your last trip there. It is a fun city to explore over and over again!
How To Get To San Antonio
I've been to San Antonio twice flying the first time and the most recent visit I drove while on my epic road trip from California to Alabama.
When flying into San Antonio you will want to book your flight arriving at the San Antonio International Airport (SAT). The airport is about a 15-minute drive to the downtown/ Riverwalk area of San Antonio.
Start planning for your trip to San Antonio and explore the best flight deals today!
If you plan to stay mostly in the San Antonio downtown and Riverwalk area, you can get away without renting a car.
For some of the sights a little further out or wanting to take day trips, I recommend booking a car.
San Antonio River Walk Hotels
Most of the San Antonio attractions are located along the Riverwalk, a short walking distance or a close Uber ride.
All of these hotels are in awesome locations right along the Riverwalk adding to the appeal.
Courtyard by Marriott Riverwalk
Omni Hotels & Resorts – La Mansion del Rio
Hyatt Regency San Antonio Riverwalk
Hotel Emma – located along the Riverwalk but in the area of the Pearl neighborhood which is about 10 minutes from the above options. See more on the Pearl below!
A Little History Of The Alamo
Even if you haven't visited Texas or San Antonio in particular, you have likely heard of the Alamo. The Alamo was initially built in 1718 but the structure you see today was established in 1744.
What made the Alamo famous started on February 23, 1836, with a siege that lasted thirteen days known as the Battle of the Alamo.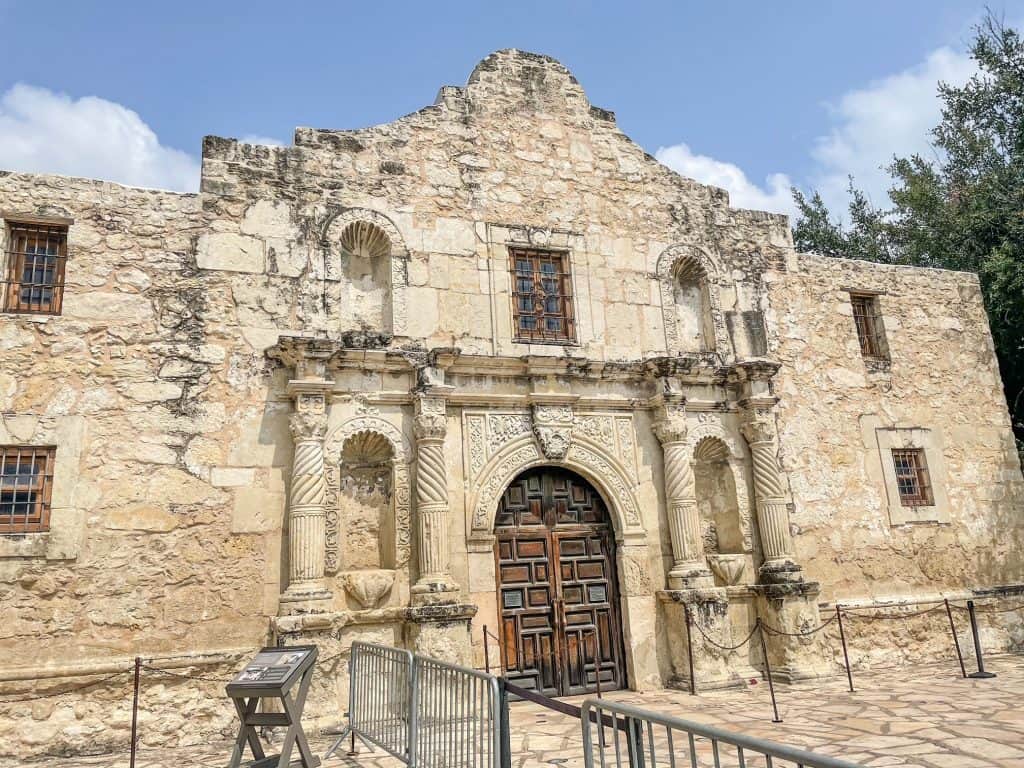 Prior to the battle, Texians had driven Mexicans out of Mexican Texas in an attempt to gain independence from Mexico. Texians were comprised of Anglo-American residents and Mexican settlers referred to as Tejanos.
With only about 100 Texians stationed at the Alamo they were undermanned to sustain an attack by the Mexican troops set out to reclaim Texas.
The Texians begged the United States to send reinforcements but since that went against their treaty with Mexico, they couldn't support the Texians.
Within 90 minutes of the Mexican troops attacking, the Alamo was taken and hundreds of Texians were killed, wounded, or attempted to flee. The well-known David (Davy) Crockett was also one of the Texians to be killed that day.
Less than two months later, the Texians attacked the Mexican army and were heard saying "Remember the Alamo!" which resulted in Texas gaining independence from Mexico.
Today the Alamo is a shrine to remember the ugly battle that occurred at the site of the Alamo and how Texas gained its freedom.
Note: Texas was not yet part of the United States until the end of 1845 and was the Republic of Texas in the interim.
If you want a complete guide on the best restaurants in San Antonio (with tips from a local) then sign up to get a FREE list that you can print out and take with you!
Best Time To Visit San Antonio
San Antonio is one of those cities where you can visit any month of the year which is a major bonus.
My first trip was in early February with absolutely perfect weather (low 60s)! Nice temperatures throughout the day that was ideal for hanging outside on the Riverwalk most of the time.
My most recent trip was in mid-June and even though it was really hot and humid (94 F – 96 F) I still had a fabulous time. Of course, I did have to take more indoor breaks with a cold beer! 😊 But I didn't mind…
If you struggle with humidity and would like to avoid sweating like a pig, I say overall the best months to spend a long weekend in San Antonio are from October through April/ May.
Top San Antonio Tours
San Antonio – Tower of Americas, River Walk Cruise and Bus Tour
This is a great tour option if you don't want to walk a ton and don't feel like renting a car. You get a bus tour with tickets to the Tower of the Americas and a River Walk Cruise. The tour will take you to almost every sight you would want to see!
San Antonio Go City Explorer Pass
If you plan to see a lot of attractions, this is a great deal as you get up to 45% off on more than 25 of the most popular attractions!
UNESCO World Heritage Missions Trail Tour
The four missions that are included on this tour are must-see south of downtown San Antonio. If you don't have a car this is this perfect tour as it includes a guide and transportation to each of the missions.
Ghosts of San Antonio Walking Tour
If you have a curious mind to the haunted history of a city, then purchase your ticket for a walking ghost tour. Learn about San Antonio's spooky past!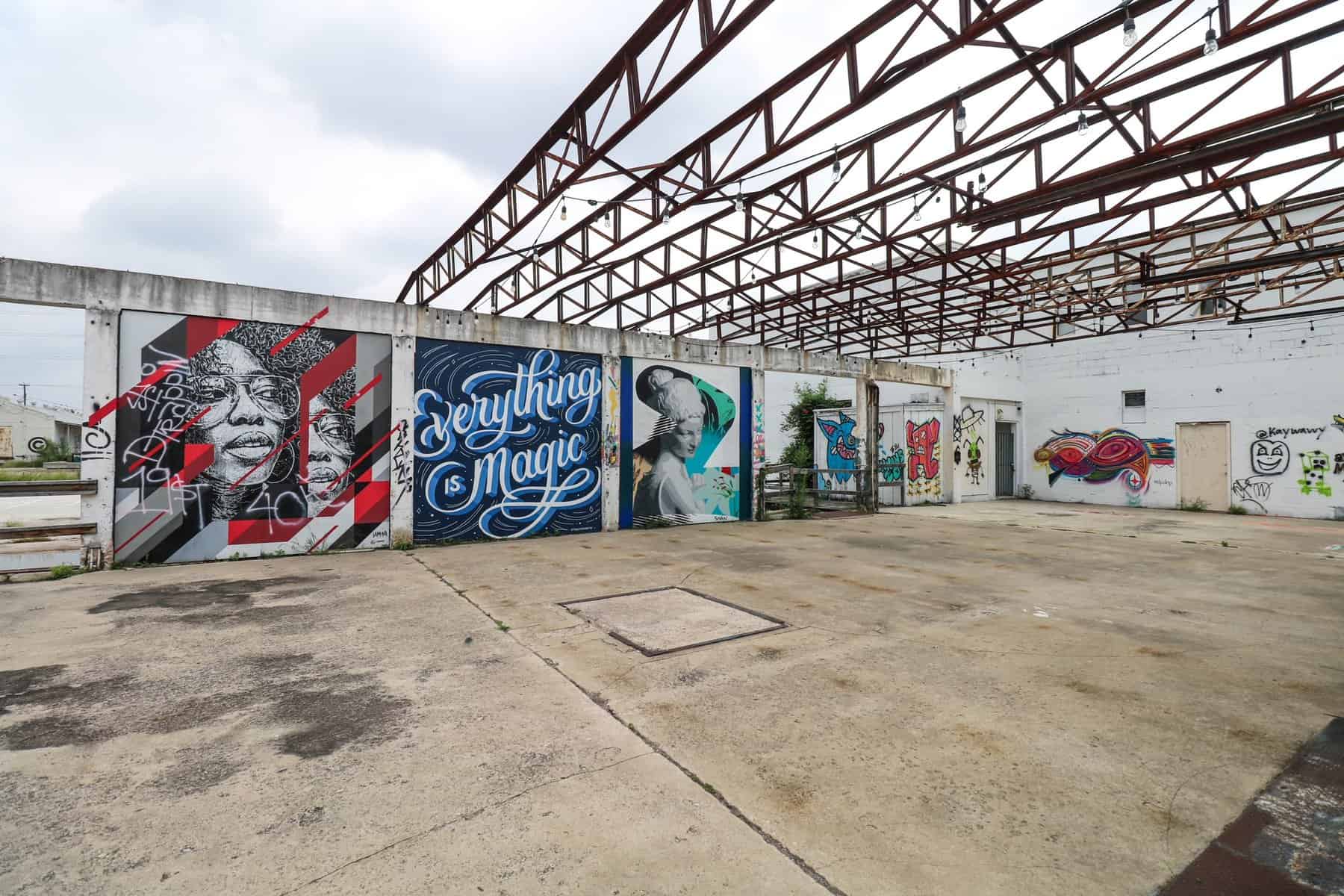 Additional fun San Antonio tours to take!
Tips For Visiting San Antonio
Get A PDF Of This Guide For Your Trip
For your convenience, you can download a copy of this guide for visiting San Antonio or print it to take with you. It includes pictures and links within the article. It's ad-free and handy for on the go.

Buy Your San Antonio PDF Travel Guide Today!
Map of Things To Do In San Antonio, Texas
Trip map courtesy of
Wanderlog
, a road trip planner
Weekend In San Antonio: Best Things To Do
Day 1 In San Antonio
Breakfast Tacos
Start your first morning off right with an awesome breakfast and the first activity on your San Antonio itinerary. I'm sure you have heard of a breakfast burrito but a breakfast taco you say?
I had never heard of such a thing but I figured why not as they came highly recommended!
In my own hometown of San Diego, I am always on a hunt for the best tacos and when I visited Pete's Tako House I knew it was a winner!
Pete's makes the most delicious breakfast tacos that are served up on homemade and quite addictive flour tortillas.
The tortillas cradle a tako (taco) of your choice with my favorite being the chorizo & egg and the bacon & egg.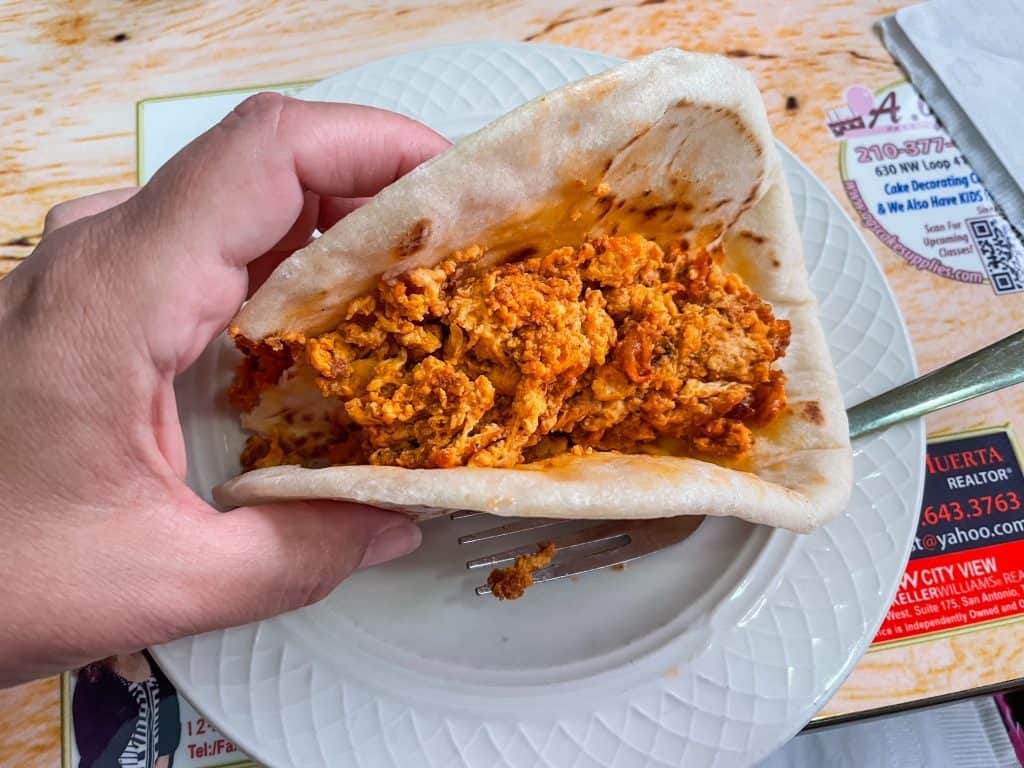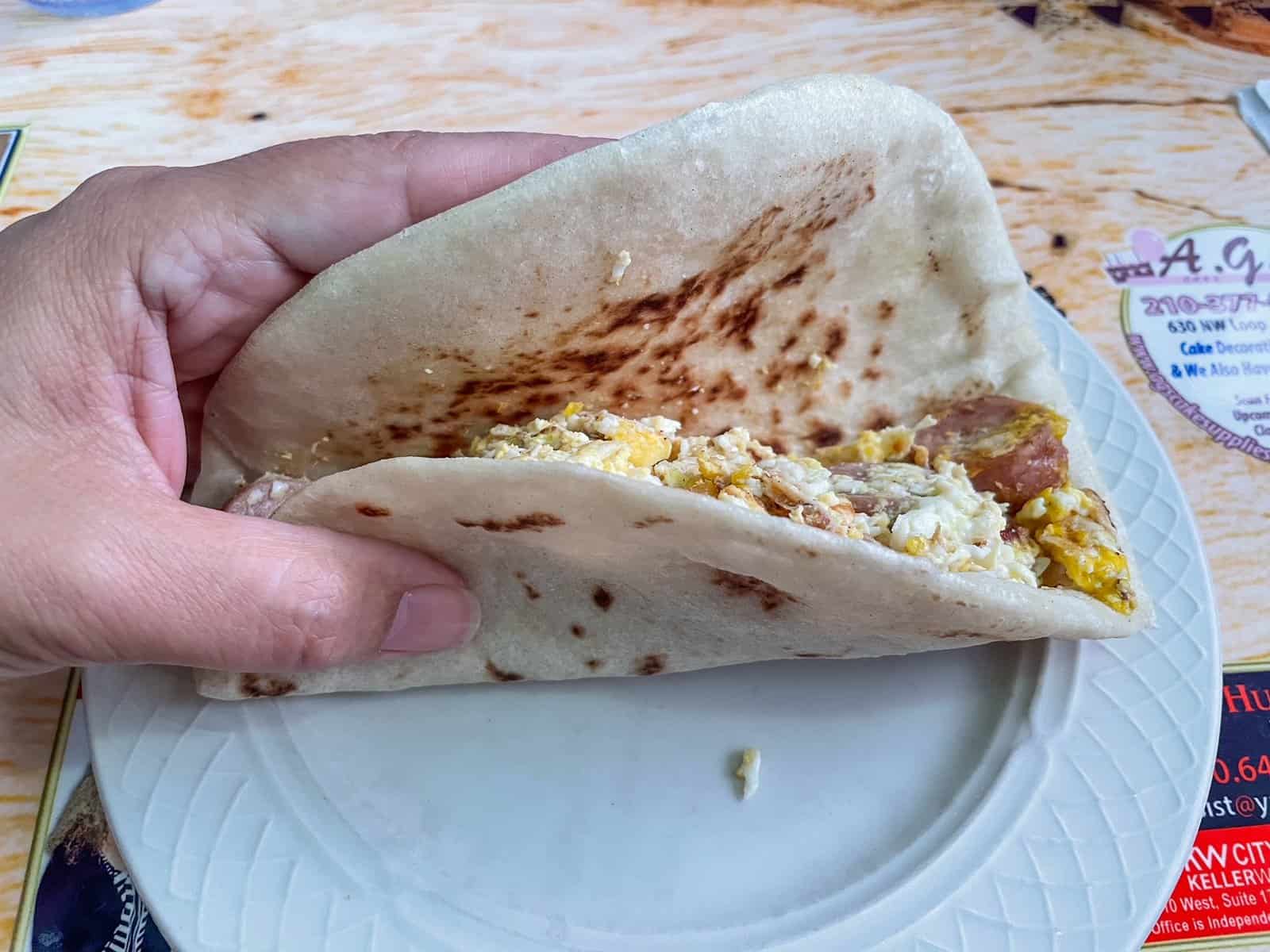 I found them so good I actually had to go back the next day! Just to confirm that they were indeed that good… 😊
They have a whole menu dedicated to Mexican food but the star here is the "tackos".
Note: In case you are questioning my spelling abilities for taco, they actually spell it with a "k"! The use of a "k" instead of the regular taco spelling is in honor of the original owner named Tink.
Address: 502 Brooklyn Ave, San Antonio, Texas 78215
Wander The River Walk
Even though I suggest you explore the River Walk on your first day, the reality is you will likely visit it on many occasions during your stay.
It's hard not to stroll along some section of it every day as the River Walk is the heart of San Antonio. Plus, there is something so tranquil about it that screams "I'm on vacation"!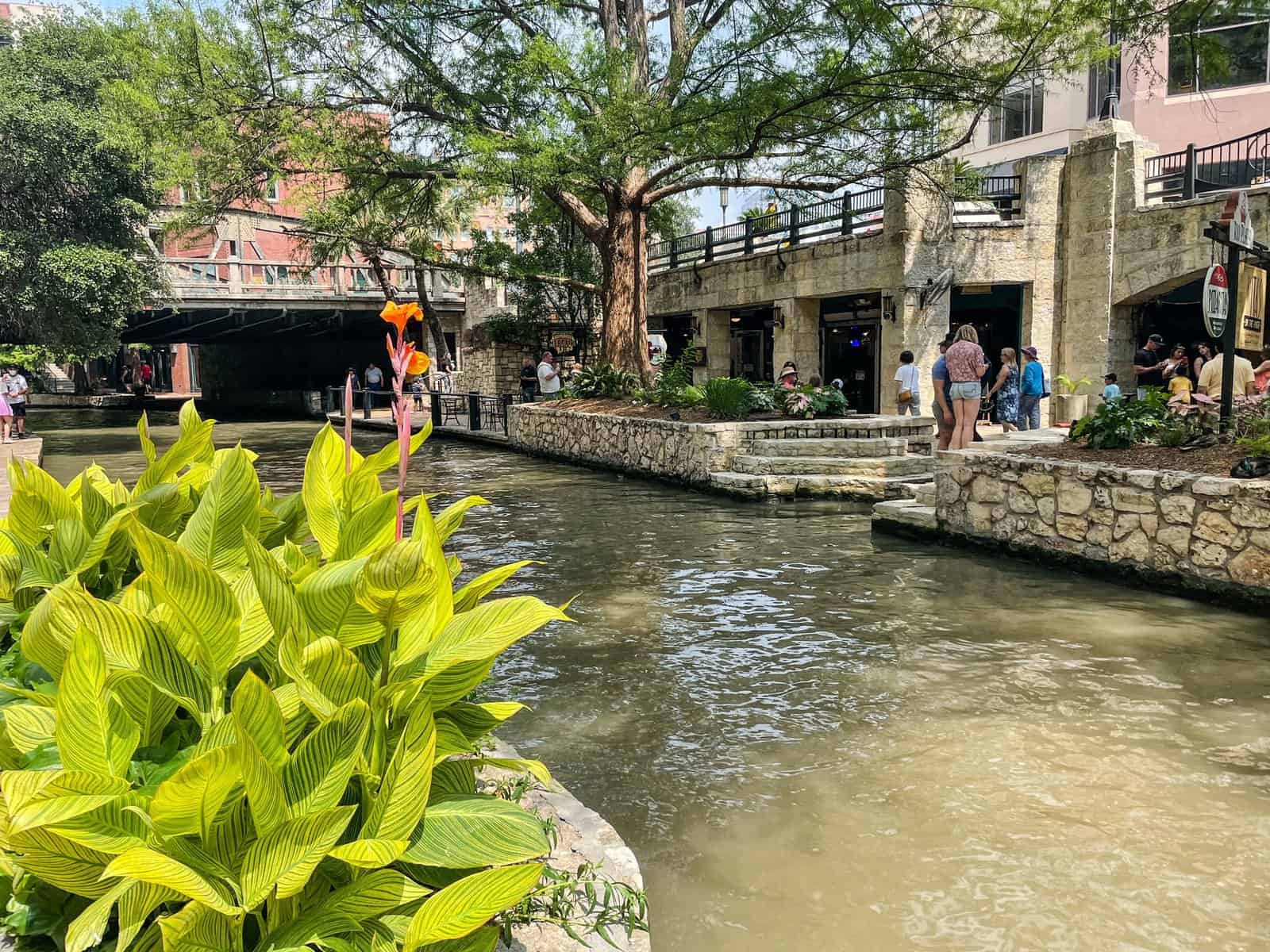 Maybe it is the fact that if you buy a drink from a bar or restaurant you can carry it to go and drink along the River Walk. From my knowledge, you only want to do this in the River Walk region.
Although around every curve and turn of the river is photo-worthy, there are a few famous spots you want to make a point of seeing.
The Selena Bridge might be the most recognizable as it is not only a lovely bridge but it is known for lovers to kiss on.
A scene from the movie Selena (1997) starring Jennifer Lopez filmed a scene with her kissing her love interest.
So, you can reenact the scene or just admire it from the banks of the River Walk! The bridge is located along the Riverwalk between N St Marys Street and Navarro Street.
Another photogenic spot is Marriage Island which might be the tiniest island there is! Located a few steps off of the River Walk bank is a huge Cypress tree and a bench taking up most of the island.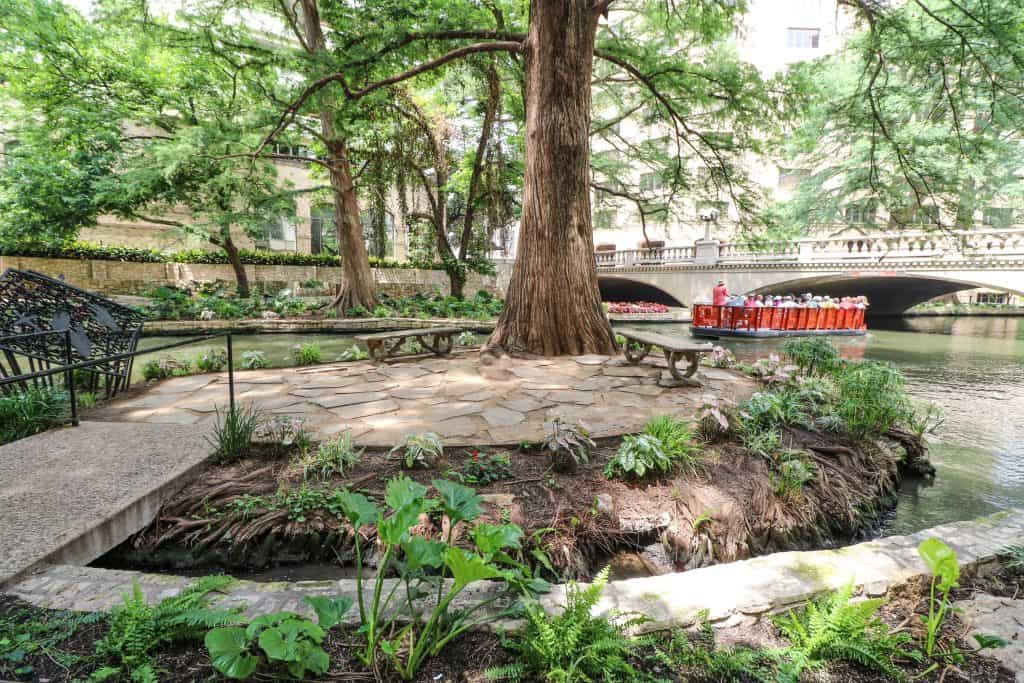 This island is widely famous for you guessed it, getting married! Over 200 weddings are held here each year and the bonus is that your guest list is limited to 20 people.
Note: The pint-sized island is located between Navarro Street and Presa Street on the River Walk.
Take A River Walk Cruise
Taking a River Walk Cruise gives you a different perspective of the River Walk and gives your feet a rest! I quite enjoyed taking the boat ride during the late afternoon after a long day of walking and seeing the sights.
The San Antonio River runs through the area known as the River Walk and is 15 miles long. You can find most San Antonio attractions along about 2.5 to 5 miles of this stretch.
Not only do you get to take a relaxing boat ride, but the guide will provide an overview of the River Walk history and interesting facts in regard to particular buildings or sights.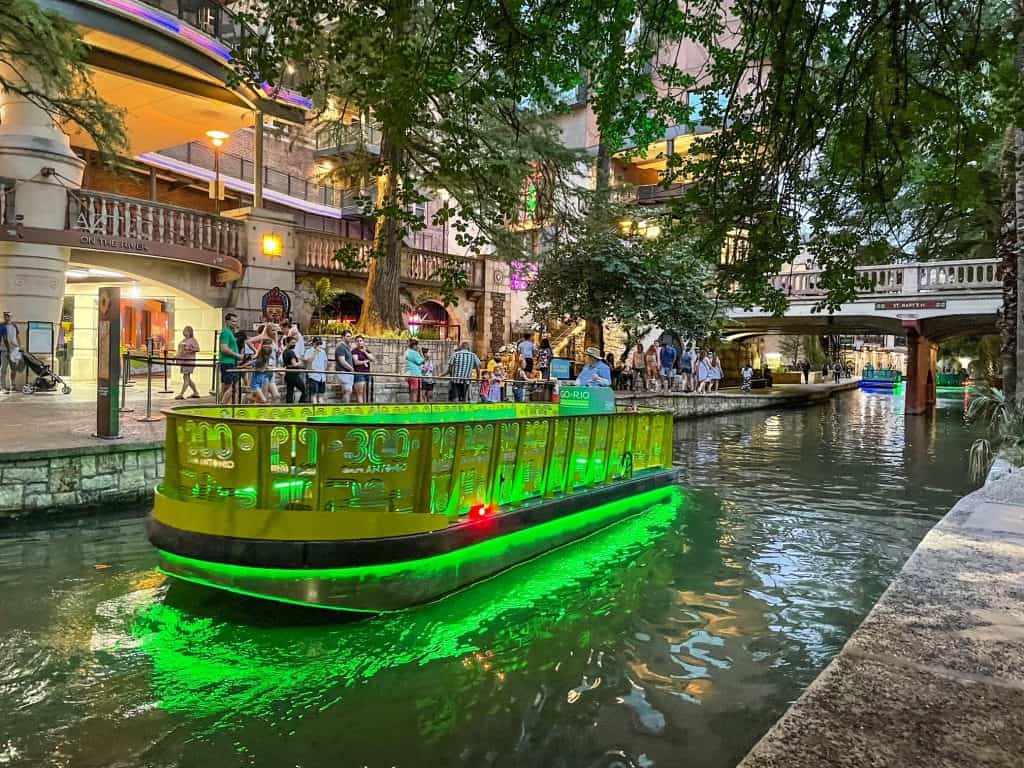 The boat cruise lasts about 35 or 40 minutes and drops you off where you started.
During the busy summer months, I would recommend buying your tickets ahead of time. But most of the time you can just walk up and buy them as boat rides are usually taking off every 20 minutes or so.
Note: Boat Rides run from 12:00 pm to 10:00 pm daily year-round (weather permitting) except for early January when it is being drained.
Tip: There are 3 locations you can buy tickets with the most popular in the heart of the River Walk under the Market Street Bridge across from the Hilton Palacio del Rio.
Remember The Alamo
I know it might be hard to believe but I missed seeing the Alamo on my first trip as I thought it was far away. I was very mistaken as it is literally a few minute's walk from the River Walk!
The grounds of where the Alamo resides is rather large but the Alamo itself is much smaller than I had anticipated.
The Alamo is made of limestone and a beautiful church although many think it as more of a fortress from the Battle of the Alamo in 1836.
Either before or after visiting the inside of the Alamo, venture out and around the surrounding grounds as it is a lovely space. There are numerous trees, statues, and signs describing various points in the history of the Alamo.
There is even a small outdoor seating area with a short movie depicting events of the Alamo. And if you are in need of refreshments or an Alamo souvenir, there is a gift shop to visit.
If you are looking for more detailed info, you can book either an Audio Tour (self-tour) or one led by a guide.
To promote a nice visiting experience and prevent overcrowding inside you do need to reserve a time slot to visit. But don't worry, the tickets are free!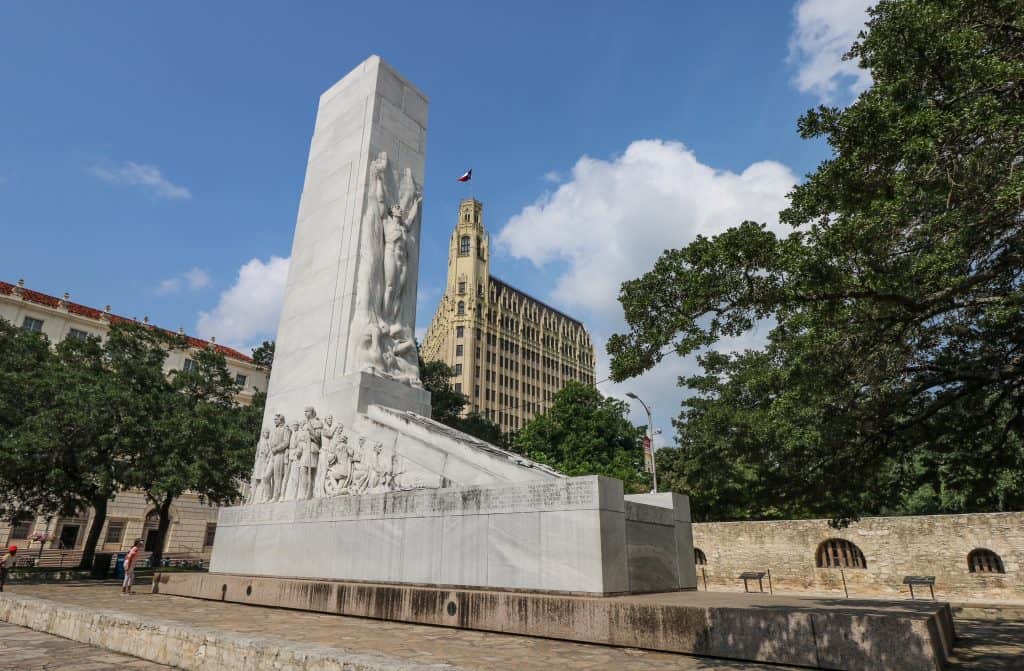 Interesting Fact: Look up and around you when standing in front of the Alamo. You might notice that no tall buildings are built around it. That is on purpose to prevent any building from casting a shadow on the Alamo.
Note: You can't take photos of any kind when inside the Alamo and please remove any hats before entering.
Hours: Open daily from 9:00 am to 7:00 pm.
San Fernando Cathedral
The San Fernando Cathedral is the oldest operating sanctuary in North America founded in 1731. The cathedral has a distinct Gothic-style architecture and is a gorgeous and impressive church to see.
The cathedral played an important role in the Battle of the Alamo when its church bells alerted Texians that the Mexican army was close approaching.
Although I enjoyed viewing the exterior more, the interior is also very spectacular!
I recommend visiting San Fernando Cathedral both during the day but also at night if you happen to be visiting on a Tuesday, Friday, Saturday, or Sunday.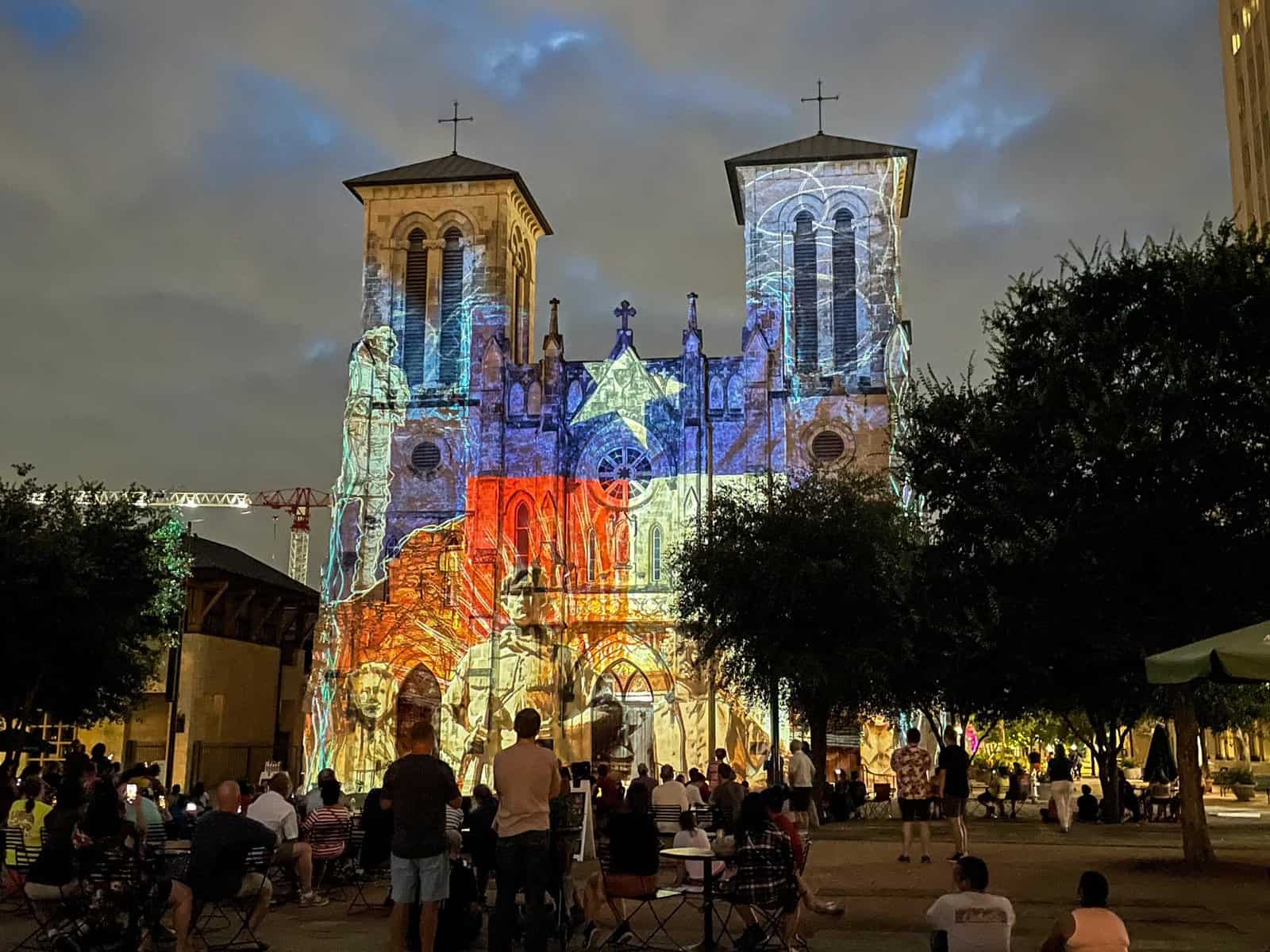 On those 4 nights, the Saga Light Show is held in the main plaza displaying lights and images against the front façade of the cathedral. The images narrate the history of San Antonio and Texas evolving to the present day.
It is one of the most amazing things I have ever watched as far as outdoor art performances go and one of the coolest things to do in San Antonio!
You will find yourself saying "wow" a few times in awe of this vibrant light show!
The light show is free to attend, but I recommend you get there a little early to find a spot to sit or stand. The main plaza of the church is a 5 – 10 minute walk from the River Walk area.
The Saga Light Show lasts about 30-minutes starting after dusk which will vary throughout the year. In the summer months that is around 9:00 pm.
Note: Make sure you plan your weekend in San Antonio around one of the 4 nights that the Saga Light Show plays as you don't want to miss it!
Address: 115 Main Plaza, San Antonio, Texas 78205
Dinner On The River Walk
Now that you have had an incredible day exploring the heart of San Antonio, it's time to unwind and enjoy a great meal.
While the best restaurants in San Antonio are not exactly along the River Walk, the River Walk has the best ambiance by far…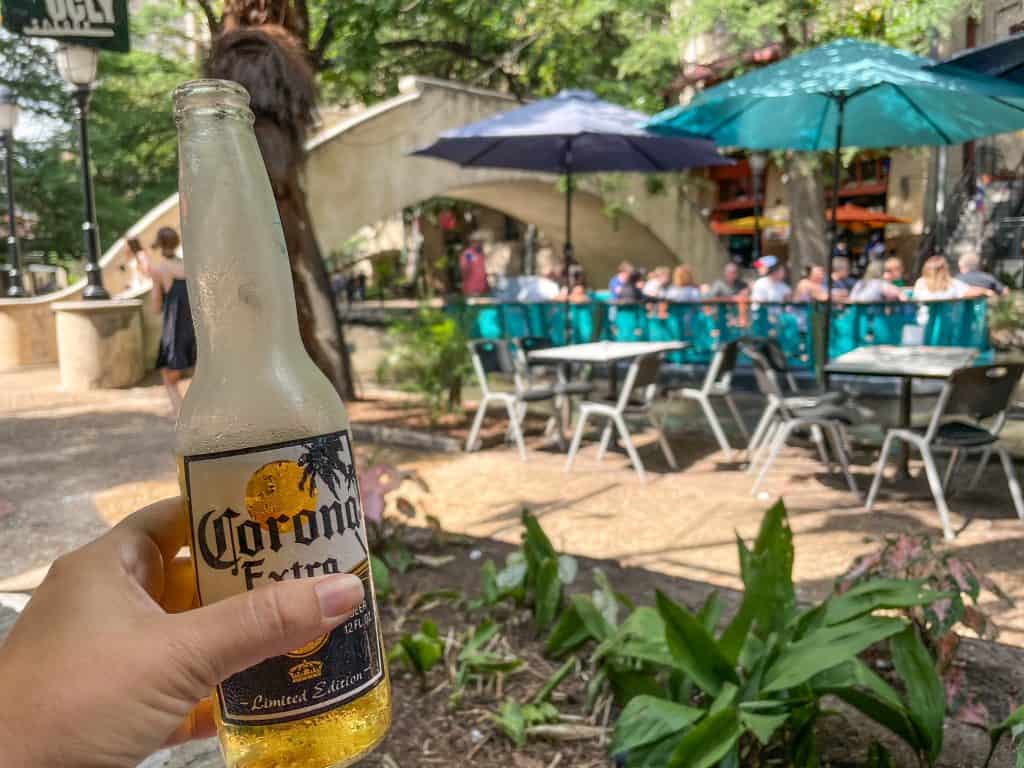 Just keep in mind that there will be more touristy type restaurants and chains on the River Walk but there are still some great places to eat. And if you can eat at a table outside along the river that is a bonus!
Four restaurants that I have enjoyed right on the River Walk are The County Line, Rita's On The River, Iron Cactus Mexican Grill, and Ostra.
The County Line is an excellent spot for some Texan BBQ with the brisket as the star here. It was so good and makes my mouth water thinking back to that meal!
There are two cuts of brisket, with the 2nd cut being more flavorful due to more fat than the leaner 1st cut. I didn't think I'd like the fattier cut but it was phenomenal and I can't recommend it enough!
Both Rita's on the River and Iron Cactus serve Mexican food that is ok but with the atmosphere of the river, it is an awesome spot with a view.
Ostra is a seafood restaurant that is a little higher-end and located in the Mokara Hotel.
And if you have a sweet tooth, take a stroll over the get a Blue Bell Ice Cream at Mr. Ice Cream. Blue Bell Ice Cream is outstanding and made in Texas!
Day 2 In San Antonio
Breakfast at Guenther's
The best breakfast in San Antonio is at Guenther House. It might even be one of the best breakfasts I've ever had!
Guenther House is located in the King William Historic District along the San Antonio River. The Guenther House was the home to the Guenther family who owned the Pioneer Flour Mills that got its start in the late 1800s.
Now a restaurant, Guenther's is a pretty popular breakfast/brunch spot that offers American and Tex-Mex cuisine.
There is both indoor and outdoor seating under a semi-covered veranda. I sat on the serene outdoor patio eating the most delicious Chicken & Sweet Cream Waffle meal.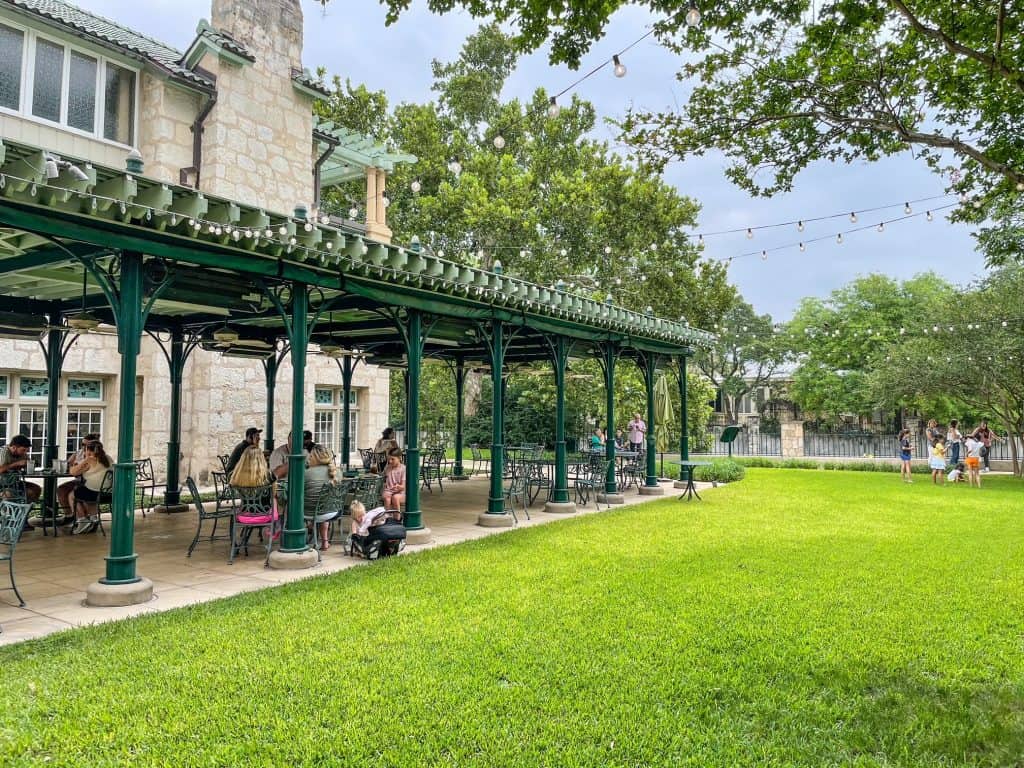 Oh, my goodness, the sweet cream waffle and grade A maple syrup were a party to my palate and then when combined with the perfectly fried chicken it was intoxicating…
And with the encouragement of my server, I got a side of the country gravy to dip the chicken in. Amazing… Top it off with one of the best cups of coffee and I was in heaven!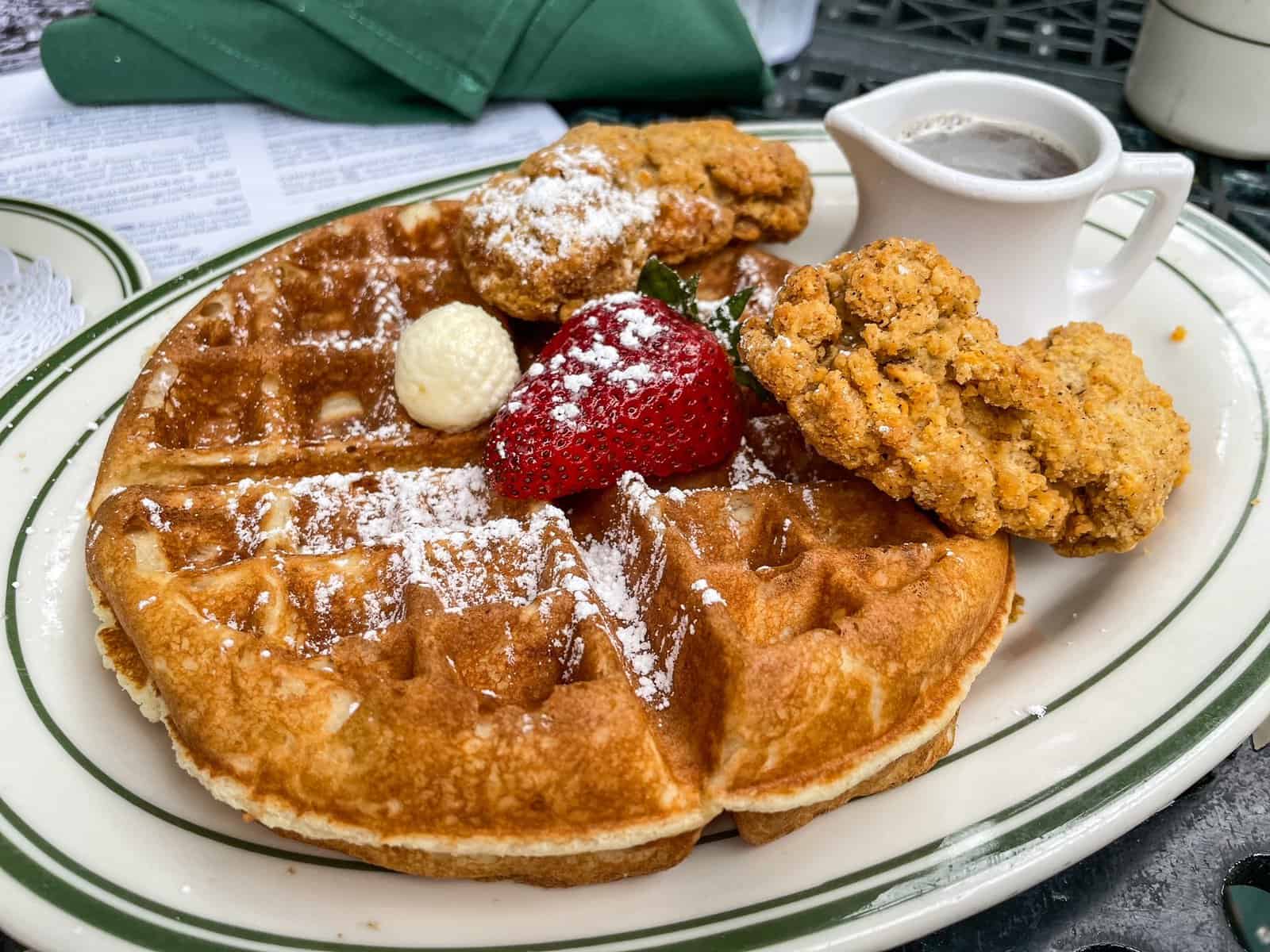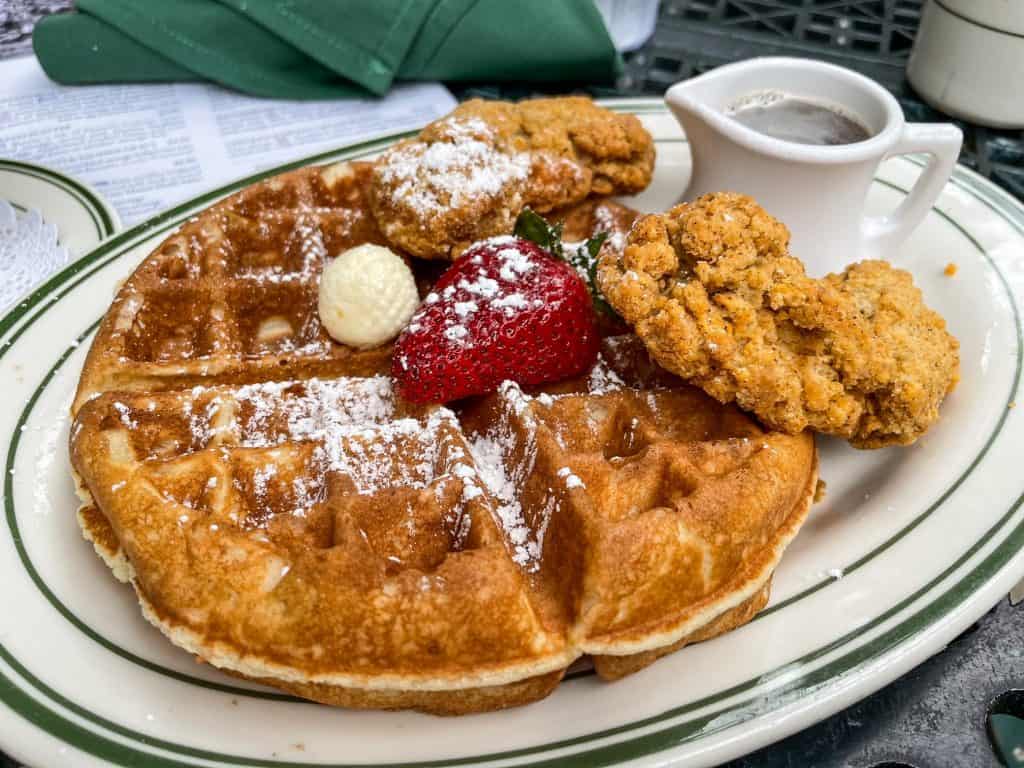 They serve Founder's Choice Coffee which I couldn't get enough refills of. In fact, on the last day of my trip, I went by to get coffee beans and coffee to go as I hit the road!
They have a small shop that you can purchase an assortment of items such as coffee beans, sweet cream pancake mix, cornbread mix, gravy mix, and preserves. It makes for a great souvenir to take back home.
Tip: Get there close to when the restaurant opens as they get busy fast! The wait can be 1 – 3 hours at times but know it is completely worth the wait.
Note: Enter the parking lot on S Alamo Street.
Address: 205 East Guenther Street, San Antonio, Texas 78204. Open Wednesday – Sunday from 8:00 am to 2:00 pm.
Walk King William Historic District
Now that you are blissfully satisfied after a meal at the Guenther House, take a stroll through King William Historic District.
From Guenther House, walk over and up to King William Street. On this street, you will see the grandest historic homes. Most of the homes are dated from the mid to late 1800s.
Once on King William Street, the Steves Homestead House Museum will be on your left side.
It is a three-story mansion built in 1876 that provides a look into the elegant living of the Steves family and other families during that era. Edward Steves was the founder of the Steves Lumber Company.
Steves house is no longer open for tours but after admiring from the outside, continue on and view house after house that will captivate your attention!
This neighborhood was also known as the "Sauerkraut Bend" for the predominantly German residents. In the 1840s, a large number of Germans immigrated and settled in this neighborhood.
They named it King William in honor of King Wilhelm I, King of Prussia. Most of the houses you see have been restored or in the process of.
Steves Homestead House: 509 King William Street, San Antonio, Texas 78204.
Note: S Alamo Street that runs parallel to King William Street has a ton of great bars, restaurants, and shops.
Check Out These Fun San Antonio Tours!
Tower Of The Americas
From King William District, you can either walk or grab an Uber/Lyft over to the Tower of the Americas. If you decide to walk, it will take about 15 – 20 minutes.
The Tower of the Americas is a 750-foot tall tower that you can take an elevator up to the top for fantastic panoramic views of San Antonio.
It was built for the 1968 World's Fair (Hemisfair '68) and until 1996 was the tallest observation tower in the United States.
Once at the top, walk around the observation deck trying to spot different buildings and sights of San Antonio. Thankfully they have signs that describe what you are seeing in any particular direction.
Back on the ground, there is a pretty manmade waterfall that makes for great photos. On the platform above the cascading waterfalls take notice of the Hemisfair Wings of Mexico that is fun for photos.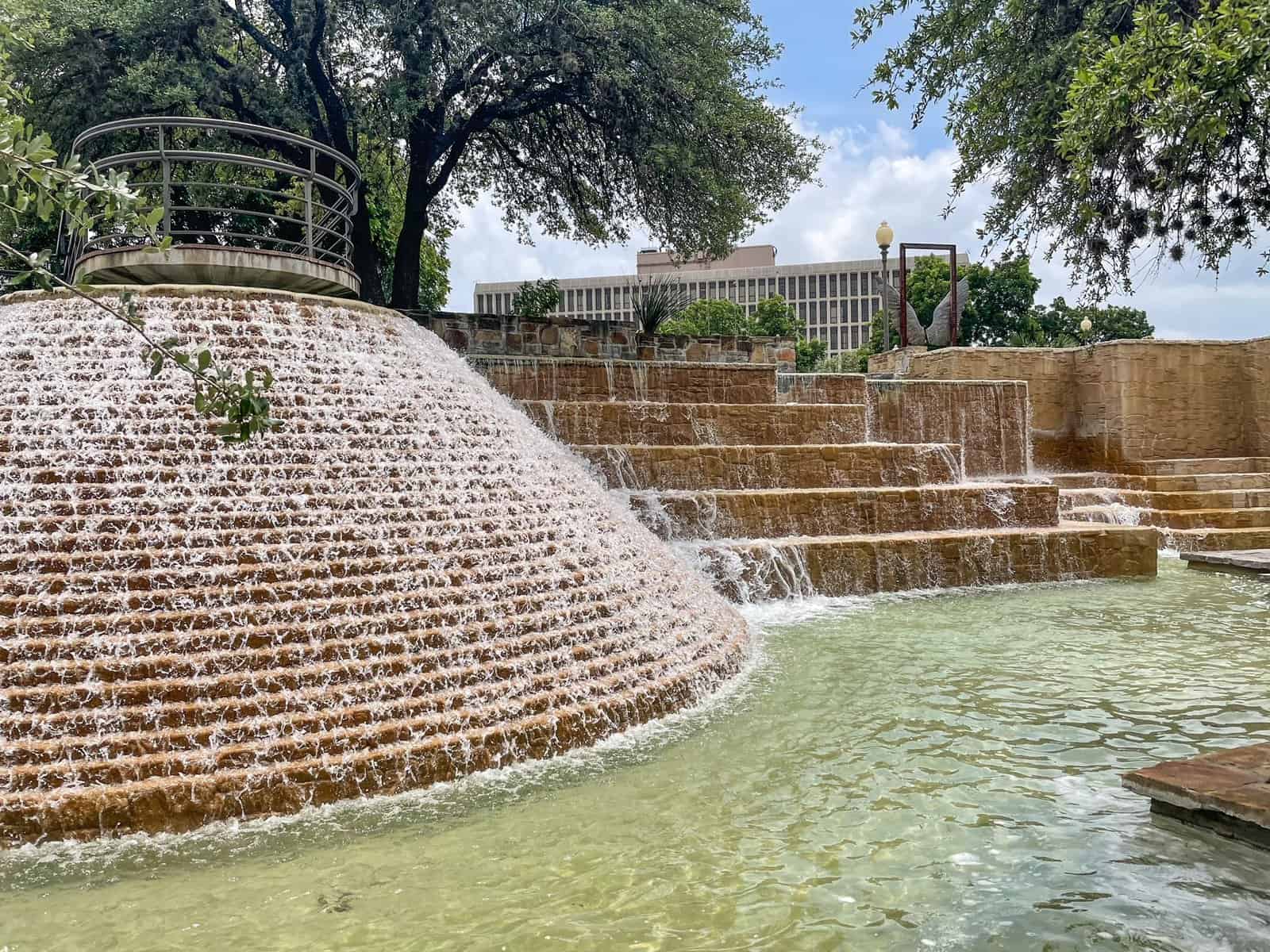 They were a gift from Mexico City in celebration of San Antonio's tricentennial. This entire location is the Hemisfair district, with various art installations and murals in this area.
Address: 739 E Cesar E. Chavez Blvd, San Antonio, Texas, 78205.
Hours & Admission: Open daily from 12:00 pm to 10:00 pm. Tickets are $14.50 for adults, $12.50 for seniors and military and $11.50 for kids 4-12.
San Antonio Mission Trail
Visiting the San Antonio missions also known as the Missions Trail consists of 4 different missions that run south of downtown San Antonio along the River Valley.
The four missions are located miles apart with Mission Concepcion the closest to downtown and the first one you will come upon.
Next further south is Mission San Jose, then Mission San Juan, and finally Mission Espada. From the first mission to the last is about 5 miles or 12 – 15 mins apart from one another.
You will definitely need a car or book a tour of the missions that includes transportation.
So why are the missions so important to San Antonio's history? In the early 1700s, Spain was on a quest to expand its territory and build as many Catholic missions in North America as possible.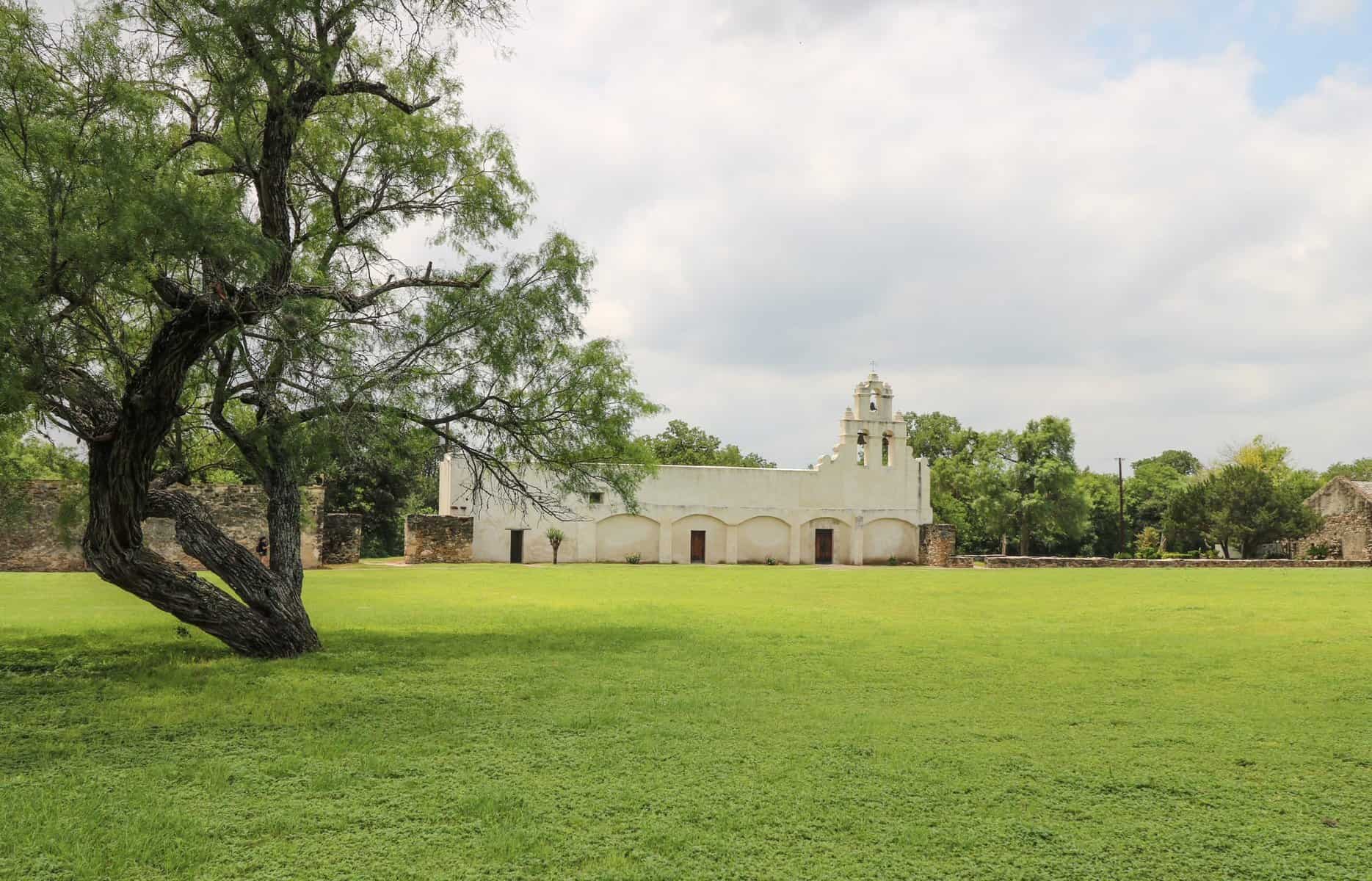 Expanding the number of missions was strongly tied to converting the local Indians which in turn would increase the power of Spain.
Each mission you see on this trail had its own community with everything they needed including the church, protected by a fortress, and housing.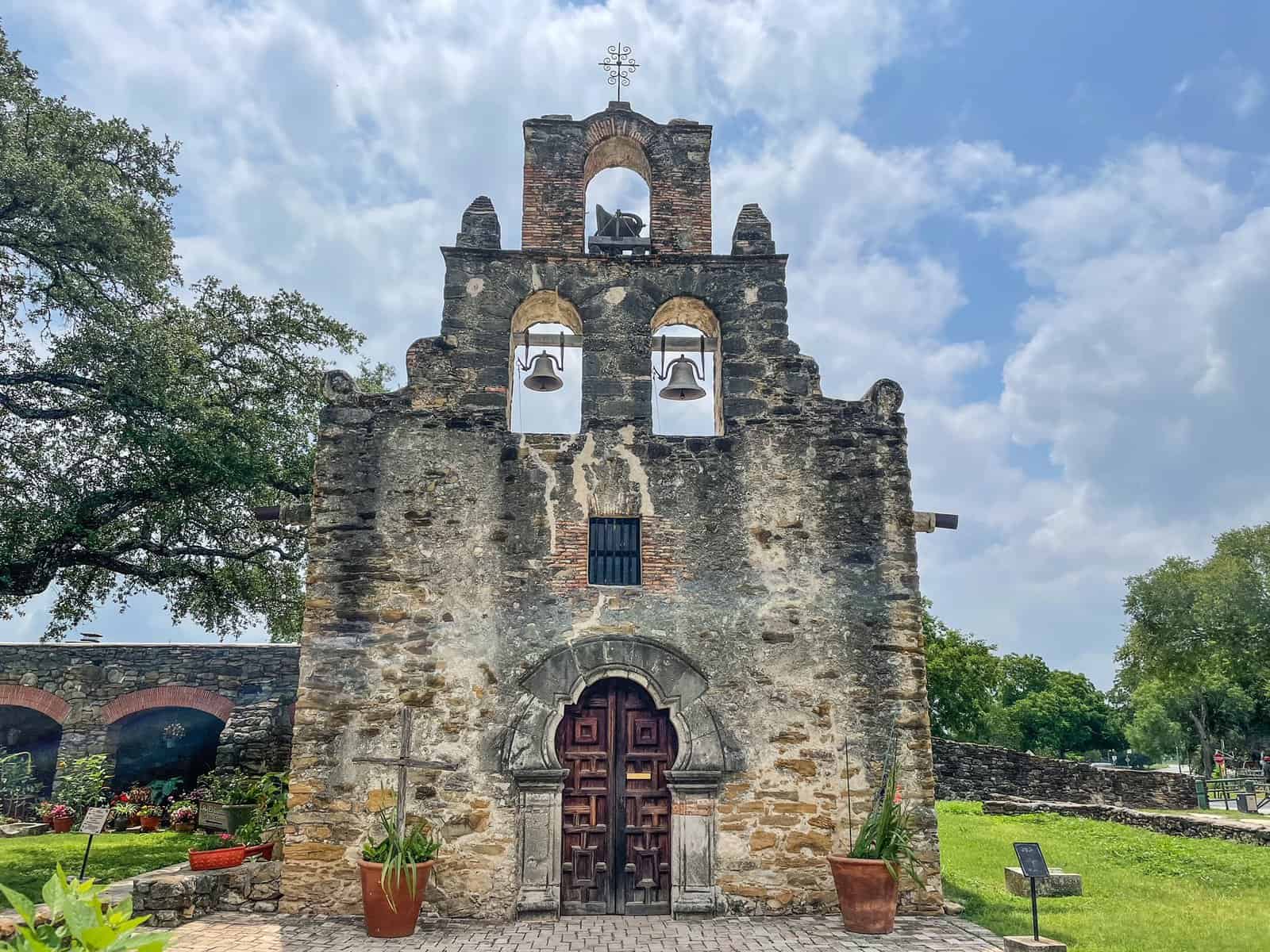 Within a hundred years, the missions no longer served the same role as they once had but they were the catalyst to building San Antonio's foundation.
Note: The main visitor center can be found at Mission San Jose (6701 San Jose Dr, San Antonio, Texas, 78214). It is open daily from 9:00 am to 5:00 pm.
San Antonio Murals
San Antonio has a surprising number of art murals scattered around the city that will amaze you. Searching out art murals is one of the cool things to do in San Antonio!
The first one I stumbled upon is an older and small vintage-style "Greetings from San Antonio" mural with some big and quite impressive murals across the street.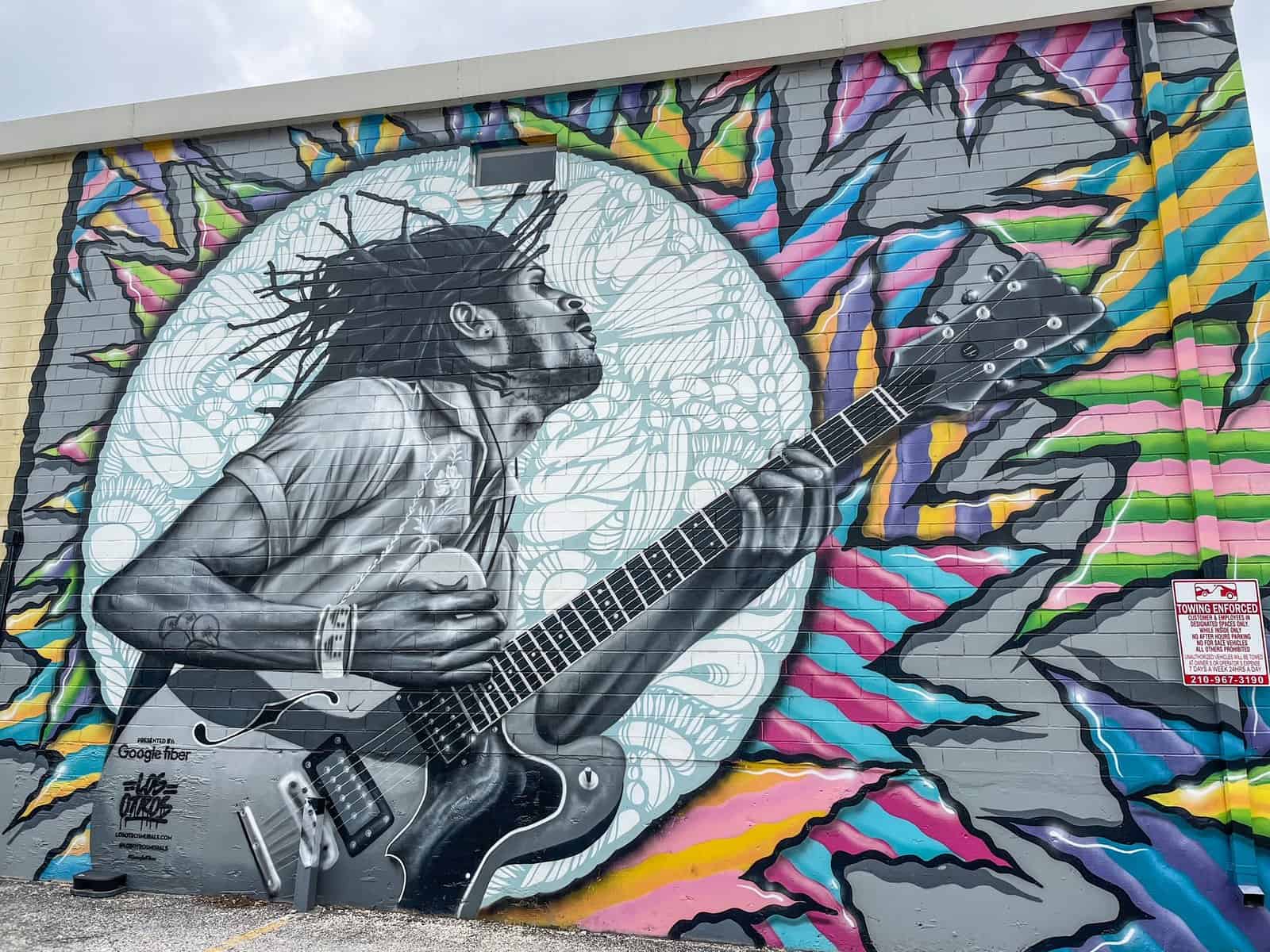 The above murals can all be found on N St Marys Street with the most recognizable, The Fiesta Mural. You can use the address 2702 N St Marys Street to get you there. You can find more murals up and down this street too.
Over on Brooklyn Ave between the river and Pete's Tako House is a newer "Greetings from San Antonio" mural.
The coolest and biggest group of vibrant and very talented art murals can be found at Essex Modern City. I was blown away at the volume and the high quality of murals at Essex.
There are rows of murals, one right after another in what looks like an old abandoned industrial site. Or more like the framing and partial walls of one.
The Essex Art Project brings artists and the community together to appreciate and connect via art.
Note: Essex Modern City is only open during the week, Monday thru Friday from 9:00 am to 5:00 pm. Address is 51 Essex Street, San Antonio, Texas 78210.
Get Some Texas BBQ
Texas is known for their BBQ so you have to try it at least once or maybe a few times… If you are craving BBQ, then look no further than Augie's Alamo City BBQ.
Augie's BBQ has an assortment of options that are true Texan BBQ comfort food! This is a casual joint so come ready to eat great food with no frills.
You can get brisket, pulled pork, chicken but a top favorite is the brisket! If you get a plate, two sides are included choosing from a variety of beans, mac & cheese, potato salad, coleslaw, or rice.
I recommend the Borracho Beans (drunken beans) as one of your sides as they are so yummy! Borracho Beans are pinto beans soaked overnight in Mexican beer with bacon and a host of spices that makes for a sensational bite!
Augie's has been serving up mouthwatering BBQ for over 20 years so they know what they are doing! Most recently, Augie's has added to its Broadway location Brazed Bourbon & Beer. It's a beer and whisky bar that also has a fantastic bar menu.
Address: 909 Broadway, San Antonio, Texas 78215. Closed on Monday and Tuesday.
Drinks On A Rooftop Bar
After your fill on BBQ, why not end the night getting drinks up on a rooftop bar? An awesome rooftop bar that isn't too far from Augie's Broadway location is Paramour at the Phipps.
Paramour is an upscale swanky rooftop bar next to the San Antonio River and has spectacular views of the San Antonio city skyline.
They have a full bar with plenty of cocktails, wine, and beer to choose from no matter what you desire!
Address: 102 9th Street 4th floor, San Antonio, Texas 78215. Closed Monday and Tuesday.
Day 3 In San Antonio
Mi Tierra Café
For your last day in San Antonio head over to Mi Tierra Café for a traditional Tex-Mex breakfast! Mi Tierra Café opened in 1941 by Pete and Cruz Cortez.
The café & bakery is in the Mexican Market Square section west of the downtown River Walk or about a 10 – 15 minute walk.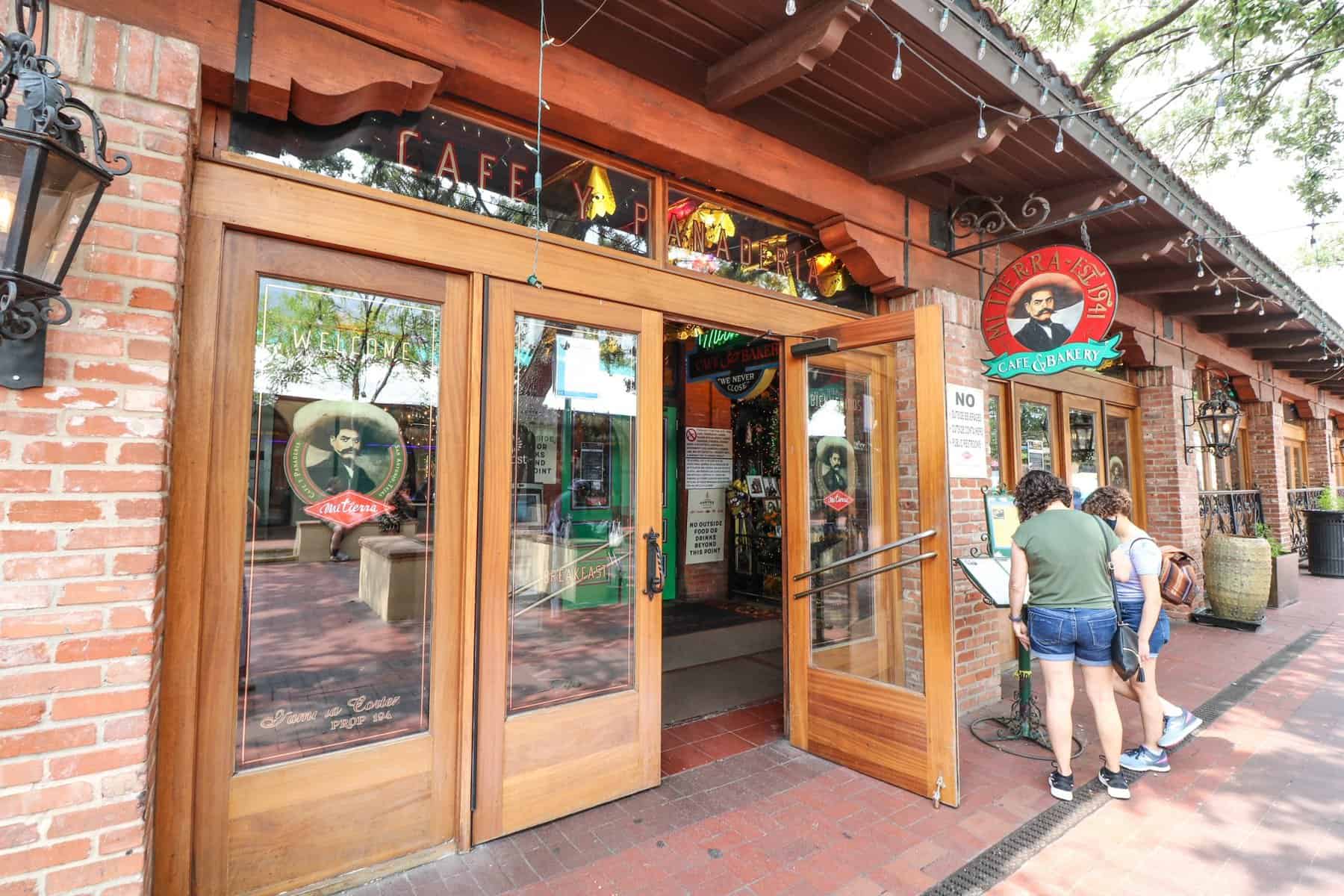 In the beginning, there were only a few tables but once people realized how fantastic the food was, they quickly expanded.
Because they are so good and no one seems to be able to get enough, they are open 24/7!
And if you still have room walk over to the bakery or panaderia section to choose from a variety of Mexican pastries.
You always have room for a few to take with you right? Make for an excellent snack while out sightseeing…
As you leave Mi Tierra walk along the pathway admiring the shops and very colorful decorations hanging overhead.
Address: 218 Produce Row, San Antonio, Texas 78207.
Japanese Tea Garden
The Japanese Tea Garden is a tranquil outdoor escape that has been a popular San Antonio attraction for 90 years.
The garden is strikingly beautiful with stone structures, bridges, a koi pond, exotic plants, and a 60-foot waterfall!
Although you can visit any month of the year the spring and fall months will provide the most pop of colors to see. From spring flowers to fall foliage…
I found it interesting to know that this lush nature oasis used to be an old rock quarry. Using prison labor, the Japanese garden and pagoda were realized from the city's vision.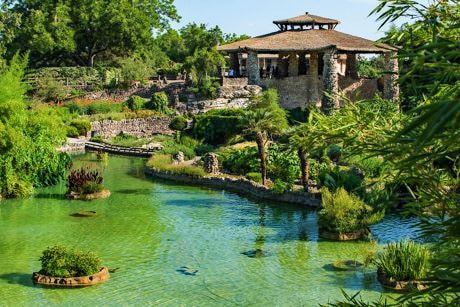 For a period of time after WWII, the gardens were renamed the Chinese Tea Garden in fear of damage to the gardens due to anti-Japanese sentiment. In 1984 the gardens had their name restored back to the original Japanese Tea Garden.
Today visiting is a delight to wander, take tons of photos and just relax… The gardens provide a romantic and intimate space for small weddings too.
If you happen to want a snack or some tea, make your way over to the Jingu House Café. No better place for a bit of tea than at a tea garden!
Note: The San Antonio Botanical Garden is next door if you are looking for more time in nature!
Address: 3853 N St Marys Street, San Antonio, Texas 78212.
Hours & Admission: Open daily from 7:00 am to 5:00 pm. Admission is FREE!
The Pearl
The Pearl is a neighborhood in San Antonio that is the southern part of Midtown and northern part of downtown along the San Antonio River. If I were to move to San Antonio, it would be in this neighborhood!
In 1883 the Pearl Brewery opened for business and by 1916 it was the largest brewery in Texas. Because the area got its start with the Pearl Brewery, the neighborhood eventually became known as the Pearl.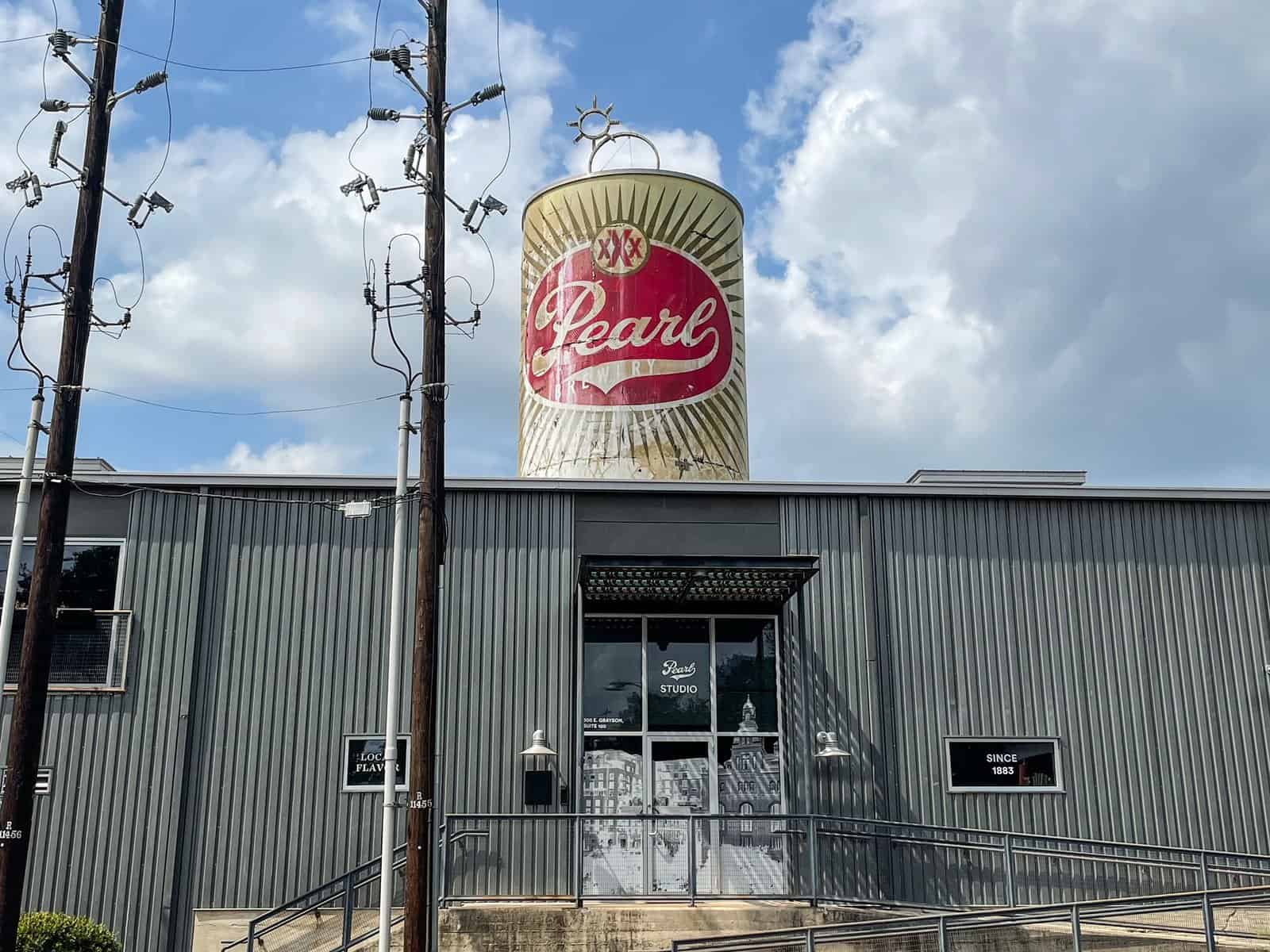 After the brewery closed its doors in 2001, the area surrounding it was deserted and left without a purpose.
Soon after, the 23 acres of land were purchased, and plans were set to develop shops, restaurants, and a hotel that would draw visitors to this section of town.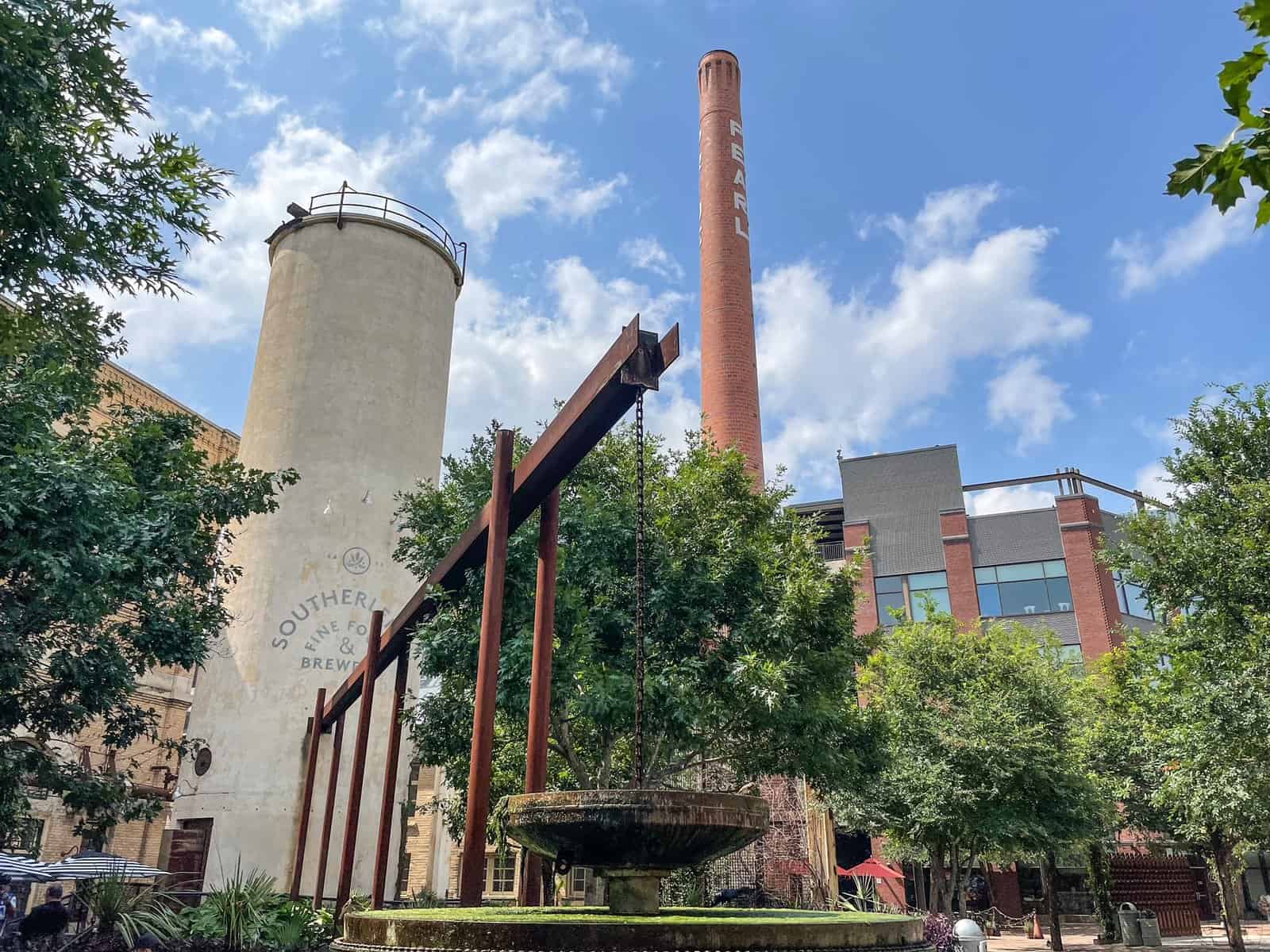 Most of what you see today walking around was built between 2009 and 2020. So overall it is a pretty new neighborhood!
There is plenty of outdoor seating, parks, shops, cafes, restaurants, and pathways along the river to spend a few hours exploring.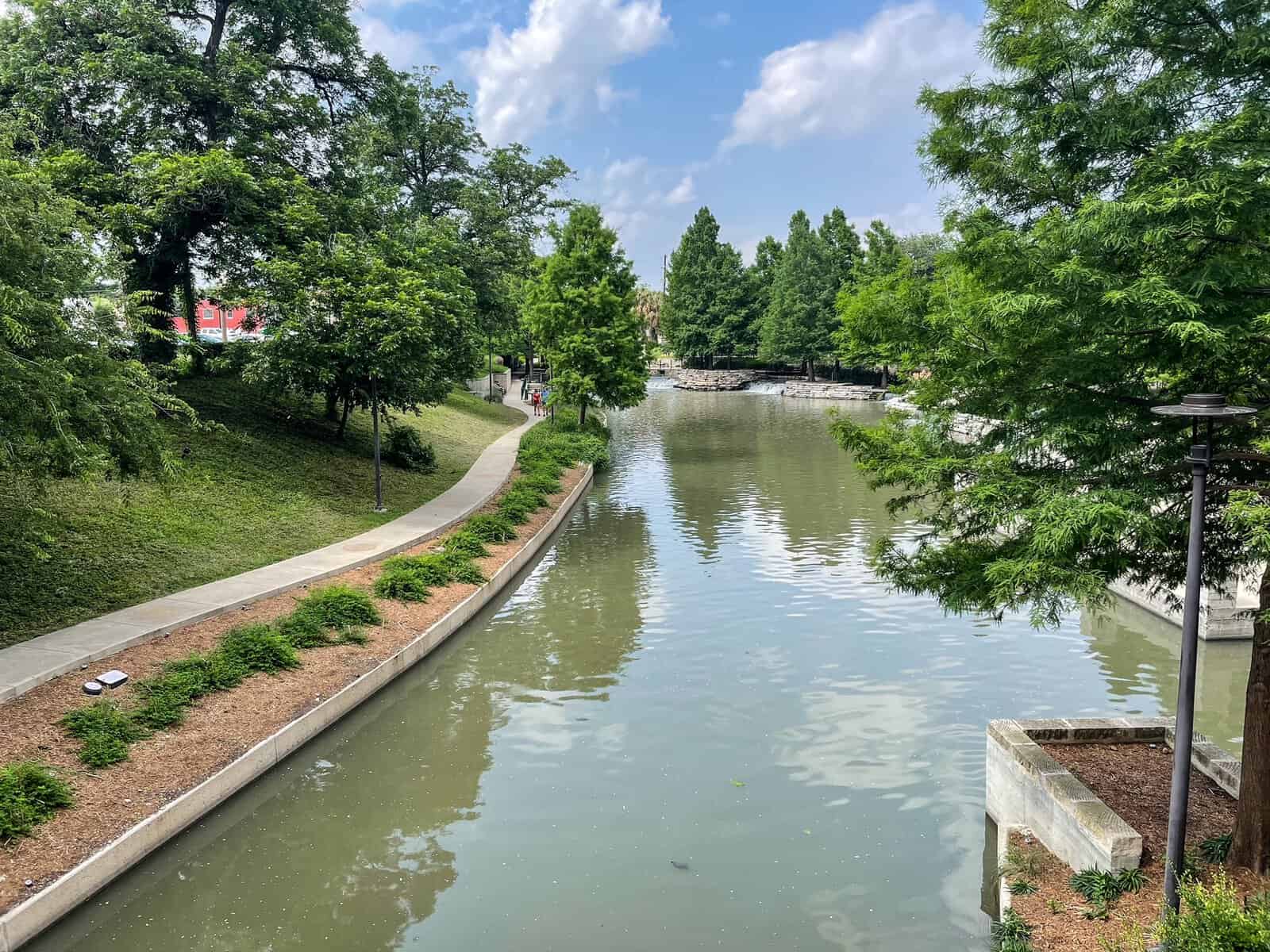 Everywhere you look you can see history combined with modern touches in all of the buildings and décor which is exciting to see.
Parking: There are a few parking lots in the Pearl and across the river from the Pearl. The one I parked, located at: 307 Pearl Pkwy, San Antonio, Texas 78215.
Drinks At The Sternewirth
If you only visit one place in the Pearl, make it to the Sternewirth Tavern & Club Room at Hotel Emma! It is the coolest bar that has such a unique décor and is a spot you know you could spend some time at…
This bar and Hotel Emma are located in what was the previous site of the Pearl Brewery that opened in 1883.
I nabbed a comfy leather chair that I practically sunk into after walking for hours out in the summer heat. Even though it was the afternoon I was craving a Bloody Mary which was fantastic!
They also have a full bar, wine list, and beer plus some fun signature cocktails! The atmosphere has an elegant Texas cowboy vibe. Much of the original brewery is still present which adds to the cool factor.
The bar is named after the Sternewirth Privilege which allowed 19th-century brewery employees the privilege to have free beer during the work day!
I'm not sure if that was the smartest business decision but heck, I would have loved to have been an employee at the brewery then! 😊
Even through Prohibition when most breweries outlawed this rule and were shut down, the Pearl Brewery kept going strong until the 1990s. It opened in 1883 and officially closed in 2001.
Hotel Emma has quite a fascinating history that I won't spill all so that you have a reason to visit and find out more for yourself!
Note: Hotel Emma is a very upscale hotel that might put a dent in your wallet but from what I have seen it is well worth it. I'm hoping that I can stay here on a future trip!
Dinner In The Pearl
So, although there are several more awesome Mexican and BBQ places to eat in San Antonio, I don't want you to get burned out thinking San Antonio only has those two cuisines!
For your last night, here is a list of some incredible restaurants to choose from. And since you have been touring the Pearl, let's give you a few options in this trendy and sophisticated neighborhood!
Of these 4 choices, you are bound to find a flavor to your liking. All of these restaurants are located in the Pearl and have spectacular food!
Either I have tried them or they came highly recommended by a friend that is a local.
Supper – You definitely know what meal you are having here! Supper is an elevated American farm-to-table restaurant located in Hotel Emma and what was previously the Pearl Brewery. (136 E Grayson Street)
Southerleigh Fine Food & Brewery – Located in the same complex as Hotel Emma, is delicious Texas meets Southern cuisine. They also brew their own beer with 15 on tap!
Brasserie Mon Chou Chou – A French restaurant located across from Hotel Emma that dishes up traditional French fare. With a vibrant pink décor, comfort food blends with sophisticated flavors.
Best Quality Daughter – Another hotspot in the Pearl is a few minutes walk from the rest of these providing guests with Asian-American fusion. The dining area has a funky and whimsical vibe inside an old house from around 1900.
Tip: If you want to end the night with something sweet and cooling (during hot months), grab an ice cream from Lick Honest Ice Cream!
And if you want a complete PDF restaurant guide of the very best places to eat in San Antonio, sign up to receive emails from Traveling Ness! That way you can print and take it with you!
Additional San Antonio Attractions
If you decide to stay longer than 3 days, here are some activities to add to your list! Plus, I would highly encourage you to visit Fredericksburg, Texas if you like wine.
Texas Rangers Museum & Buckhorn Saloon
Natural Bridge Caverns
McNay Art Museum – Admission is free Thursday nights (4-9 pm)
La Villita Historic Arts Village – First neighborhood in San Antonio and now an arts community with cobblestoned streets.
Have a fabulous fiesta while spending the weekend in San Antonio!
Get A PDF Of This Guide For Your Trip
For your convenience, you can download a copy of this guide for visiting San Antonio or print it to take with you. It includes pictures and links within the article. It's ad-free and handy for on the go.

Buy Your San Antonio PDF Travel Guide Today!
Got Travel Insurance?
Don't leave home without travel insurance as you never know what might happen on a trip! It is always when you least expect it that something can go wrong like getting sick, in an accident or cancellation of some sort. Get a no-obligation quote from two trusted travel insurance companies for peace of mind on your next trip!
Looking For More Travel Inspiration?
11 Best Wineries In Fredericksburg, Texas That Are A Must To Try
15 Fun Things To Do In Lafayette, Louisiana's Cajun Country
Ultimate New Orleans Bucket List: 35 Fun Things To Do In NOLA
23 Cool And Fun Oklahoma City Attractions That Are A Must To See
17 Fun Things To Do In Orange Beach, Alabama On Your First Visit
11 Top Things To Do In White Sands National Park For First Time Visitors
15 Best Things To Do In Santa Fe, New Mexico
7 Best Filtered Water Bottles For Travel And Hiking
Disclaimer: As an Amazon Associate and a participant of other affiliate programs, I may earn from qualifying purchases in this post. This means that if you make a purchase through one of these links, I might receive a commission at no extra cost to you. Thank you and it is greatly appreciated!