The Ultimate Guide To The Albuquerque Balloon Festival 2022
The Albuquerque Balloon Festival officially known as the Albuquerque Balloon Fiesta is 9 days of hot air ballooning fun! There are certain experiences that need to be on everyone's bucket list and attending the balloon fiesta should be at the top.
It is an unreal feeling watching hundreds of hot air balloons ascend up, up, and away in a brilliant array of magic.
There are not many things that leave me speechless but attending the festival, I felt like a kid on Christmas morning waiting in both excitement and anticipation.
With my senses alert, I could feel my heart racing with panic of where to look as I didn't want to miss a thing!
And how I would possibly enjoy what I was seeing, take photos and video all at once was a whole other piece to the fun puzzle of attending the festival.
Throughout this guide, I'll walk you through the biggest questions and tips on how to get the best possible experience from your first balloon fiesta!
October is one of the best months to visit New Mexico for the beautiful weather, vibrant yellows of Aspen trees, and the sky decorated in hundreds of balloons.
Gazing up, the fiesta looks like a fun and colorful live painting that is unreal to see!
Note: I will update this post every year so that you have the information needed to attend. You can check for updates on the official website to confirm any changes.
Where Is The Albuquerque Balloon Fiesta?
This spectacular event is held in Albuquerque, New Mexico which is in the Southwest portion of the United States.
Albuquerque is the largest city in the state of New Mexico laying in a valley in between the Sandia Mountains and the Rio Grande River.
Be aware that Albuquerque is at a high elevation of 5,312 feet (1,619 meters) so take precautions if you are sensitive to high altitude.
Drinking plenty of water, limiting alcohol, and easing into physical activity can help reduce issues.
Albuquerque is about 1 hour from Santa Fe, New Mexico, and about 2.5 hours from Taos, New Mexico.
Taos is further past the town of Santa Fe and both I highly recommend visiting.
Make sure to explore my posts, 15 Best Things To Do In Santa Fe, and 7 Unique Day Trips From Santa Fe.
Specifically, the festival is held at the Balloon Fiesta Park which is north of downtown Albuquerque.
The best address to get you to the park is for the Balloon Museum which is on the edge of the park at 9201 Balloon Museum Dr NE, Albuquerque, New Mexico.
And if you plan to head to southern New Mexico, explore Things To Do In White Sands National Park!
Tip: Looking for things to do in Albuquerque outside of the festival? Learn more via my post, The Perfect Weekend In Albuquerque.
Get A PDF Of This Guide For Your Trip
For your convenience, you can download a copy of this Albuquerque Balloon Fiesta guide or print it to take with you. It includes pictures and links within the post. It's ad-free ad handy for on the go!
Buy Your Albuquerque Balloon Fiesta PDF Guide Today!
When Is The Albuquerque Balloon Festival?
The Albuquerque Balloon Fiesta is held every year in the beginning of October for a total of 9 days.
For 2022, the balloon fiesta is scheduled for October 1st, 2022 and ending on October 9th, 2022.
You might wonder why October? Well, I am not an expert in the science of it all but October has ideal weather conditions for flying a hot air balloon.
And specifically, in the high desert valley of Albuquerque. At this time of year, the mornings are very cool which helps the balloons get their lift.
And once the sun rises it creates an effect called the "Albuquerque Box". This metaphorical box allows balloons to take off and land in pretty much the same place. There is usually no wind or not enough to prevent the balloons from flying.
October tends to have some of the best weather of the year as it is still warm during the day without the intense heat or cold as in other months. The early mornings are what I would call freezing!
The key is to bundle up in layers as the morning temps around 4:00 am range from 30 F and 40 F. As the sun comes up, the temperatures will increase and get hot.
History Of The Albuquerque Balloon Fiesta
The Fiesta has been a hit for 49 years starting in 1972 and has become an iconic symbol of New Mexico.
In 1972 the fiesta involved 13 balloons and today there are over 500 balloons that are awe-inspiring to see.
Attending the festival was my first time in New Mexico and I really didn't know much about this beautiful state other than it hosted the most amazing balloon fiesta on the planet!
I'm so glad it got me to visit as it is one of the most breathtaking and exhilarating experiences, I have ever had. To witness that many balloons in flight at once and to ride in one for the first time is sensational…
Biggest Balloon Festivals In The World
The Albuquerque Balloon Fiesta is not only the biggest balloon festival in New Mexico but in the entire United States and the world!
Yep, Albuquerque, New Mexico is proud to host the biggest and coolest balloon party you will ever see. It is said that it is also the most photographed event in the world too.
If you only get the chance to attend one balloon festival in your lifetime, the Albuquerque International Balloon Fiesta should be it! So where are the other awesome balloon festivals in the world? To round out the top 5, they are:
Colorado Springs Labor Day Lift Off (Colorado Springs, Colorado, United States) – held on Labor Day Weekend (September)
Great Reno Balloon Race (Reno, Nevada, United States) – held in the beginning of September
International Balloon Festival of Saint-Jean-sur-Richelieu (near Montreal, Canada) – held mid-August
Bristol International Balloon Fiesta (Bristol, England) – held the beginning of August
Note: Although it isn't a festival, going for a hot air balloon ride in Cappadocia, Turkey should be included in ballooning must experiences! It is still on mine…
Where To Stay In Albuquerque
There are a few options to decide where you want to stay during the Albuquerque Balloon Festival. It comes down to preference of a hotel, glamping, or camp in an RV at the fiesta park.
Best Hotel Options:
Doubletree Albuquerque Downtown – I stayed here and as with all Hilton properties, I thought it was very nice and perfect for my stay.
Los Poblanos Historic Inn – On my next visit to Albuquerque I would very much like to stay at the tranquil and historic inn.
Hotel Parq Central – This is another hotel that I would recommend as it looked very nice and as a bonus, it has a rooftop bar!
Glamping @ The Balloon Fiesta Park:
For those that aren't aware, the glamping tents are very nice upscale versions of any camping you may have done. The glamping tents are located in a tent village in a section of the balloon park.
So, you don't even need to worry about dealing with traffic as you will already be there! Your stay is for 3 nights and includes your entry into the festival during those days.
RV Camping:
If you are on a road trip in your RV, then consider camping at the Balloon Fiesta Park. You need to book in advance on their website as sites sell out.
Note: To book for both glamping and RV camping, you need to book in advance as there are limited spots. You can book on the official website here.
Tip: If you are staying in or near downtown Albuquerque it will take about 15-20 mins to get to the park. But I recommend giving yourself 30 – 45 mins to get there as there will be a line to get in.
How Far In Advance Do I Need To Buy Tickets?
You do need to plan ahead if you plan to go to the festival. Luckily, you don't need to book everything in advance if you don't want to but I personally like to book everything when there is no wiggle room in dates and I really want to do something.
Tickets to the festival can be purchased the day you attend but I highly recommend buying in advance so that you don't have to wait in line the day of. Plus, there are options where you can buy your ticket with parking or a shuttle included.
The main items you need to book in advance are a hotel, rental car, and if you want to go up in a balloon during the festival. To find the best rates on a car rental click here to reserve your car today!
Those 3 things tend to fill up quickly and are essential to having a great time at the event. For example, I booked hotel and hot air balloon ride about 6 months in advance and a rental car 2-3 months ahead of time.
Note: For general admission, tickets are $15 per session. Children under 12 are free.
What Are The Best Days To Attend The Balloon Festival?
If you are fortunate enough to attend any day at the Albuquerque International Balloon Festival, then that is a spectacular day!
Having said that, if your schedule is flexible try to attend at least one session during the week.
During the week there will be a lot less traffic than the weekend so try to go then.
I attended on a Wednesday, Thursday, and Saturday with both morning and evening sessions and loved the different experiences between them all. I did notice a substantial increase in people on Saturday.
Tip: If you only have one day to pick, go to a morning session that has a Mass Ascension!
Note: Plan on doing a lot of walking the days you are at the festival and have super comfy walking shoes. Having a pair of shoes that you can stand or walk in all day is vital…
How Many Sessions Should I Attend?
Since this is a bucket list event to attend, plan several days to be in New Mexico and go to multiple sessions.
I would recommend attending 3 – 4 sessions for a few reasons. First, each session is different and it is exciting to see the variation in balloons and shows.
Second, the balloon fiesta is at the mercy of mother nature so you are not guaranteed to see the balloons go up.
That is why you want to allow several days in the area. My first session was beyond amazing but the second day, it was too windy and no balloon was going up for almost 2 days.
At first, I was devastated as that meant my own balloon ride was canceled. But thankfully I was in New Mexico for over a week touring other cities too.
The days the festival was canceled I went to Santa Fe, etc… On the 4th and 5th day the wind gods were happy and balloons went up and the potential catastrophe was avoided!
I met a few people that arrived on the day the festival was canceled due to wind and they were obviously heartbroken as they only planned the one day to attend.
Usually, there are no weather issues but just in case allow a buffer in your schedule and attend a few sessions for this reason.
What Is The Difference Between Sessions?
Before you book tickets to a particular session, determine what you are most interested in seeing by looking at the schedule. I attended 4 different sessions over 3 days as I wanted to experience the different sessions myself.
Each session is different every day and between the morning and evening sessions.
Morning Sessions is from 5:00 am to 10:00 am
Evening Session is from 5:00 pm to 9:00 pm
Within each session, there are different shows each day. The shows that I think are a must are the Dawn Patrol, Morning Glow, and Mass Ascension in the Morning Session.
The top shows in the Evening Session are the Special Shape Glowdeo and AfterGlow Fireworks.
Here is a quick summary breakdown of the main shows:
Dawn Patrol: This takes place before dawn where a handful of pilots lift up the balloons to test the winds and determine the conditions before all the balloons go up. It is a gorgeous scene to look out at a pitch dark sky and see random balloons light up the skyline with their fire illuminating the field.
Mass Ascension: This is the best show, where over 500 hot air balloons ascend into the morning sky all at once. It is a phenomenal sight and will leave you speechless… Likely every photo you have seen of the fiesta is from a Mass Ascension show.
Special Shape Rodeo & Glowdeo: This show ended up being so fun as all the unusual shaped balloons are mostly cartoon characters and animals for a whimsical show.
Twilight & Night Balloon Glow: This is when the burners of the balloons are ignited and you can see what looks like a light dancing celebration!
To see a complete and detailed festival schedule, visit their official website here.
Best Place To View The Balloons?
If you are in the Balloon Fiesta Park then you can see the balloons from pretty much anywhere.
At the first session I attended, I watched on the edge of the field from the Gondola Club tent. It was great but I wanted a close-up view of the balloons.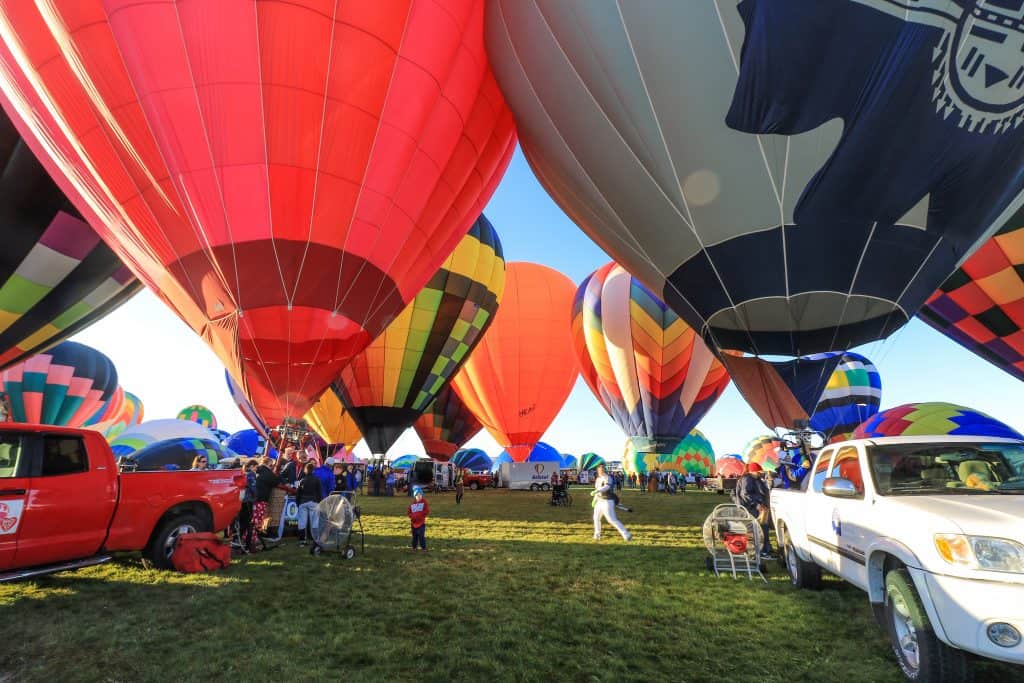 Before going, I had no idea that you are able to walk on the field and among the balloons as they are setting up and taking flight.
To me, that was insane and yet so exciting. At first, I was thinking could this be safe? But they have an extremely good safety record which put me at ease.
It is rare that you are allowed onto the field with the balloons close enough to touch them! Be alert as balloons are taking flight and landing all over the place.
The energy you feel from 360 degrees around you is unreal as you take part in the launching of the balloons.
That said, I would start out on the outer parts of the field to take in the whole scene as the action of turning on the balloon burners startup.
Get some great photos and then wander in and out through hundreds of balloons toward the center of the field as they go up and up!
There really is no bad spot to watch the balloon activity but expect to be on your feet as you can continuously walk over to the next wave of balloons getting ready to take off. You can bring a foldup chair or blanket and just stay put, but in my opinion, that is no fun!
Can I Go Up In A Balloon?
Yes, you can! An important thing to know is that there is a limited amount of balloons that go up each day for regular people like you and me. The rest are teams that are flying their balloons as part of the fiesta competition.
For that reason, book your ticket to go up in a hot air balloon ride with Rainbow Ryders as soon as you decide to go. They are the only company that flies during the festival.
The price you pay will be at least double than if you were to take a hot air balloon ride, not during the festival.
Gasp I know, but it comes down to demand. There are limited spots and it is the BEST balloon ride when you are among so many balloons. It really is a once-in-a-lifetime opportunity that is worth the splurge.
I'm terrified of heights so I was a little hesitant to get into the basket. But once we took off, all nerves were gone and I was giddy with joy at how amazing it felt to be up so high in the sky among so many balloons.
I am happy to report that you don't feel movement when flying. You wouldn't even know you are moving unless you looked at the ground below. It was surprisingly peaceful and quiet except for when the burner turned on.
When the pilot gives directions and tells you how to prepare for landing, listen up! I was too excited and blanked out on what he said and failed to brace myself properly.
The landing was a little bumpy for a few seconds and I bruised my hand. But totally my fault as I didn't hold on properly…
Get A PDF Of This Guide For Your Trip
For your convenience, you can download a copy of this Albuquerque Balloon Fiesta guide or print it to take with you. It includes pictures and links within the post. It's ad-free ad handy for on the go!
Buy Your Albuquerque Balloon Fiesta PDF Guide Today!
Essentials Tips For A Good Time
The morning session starts out freezing, so bundle up with a jacket, scarf, and gloves. The key is to wear layers as it will warm throughout the day.
Wear comfy shoes as you will be on your feet and walking around most of the time. For the most comfortable walking shoe that is cute too.
Ok, you might laugh but having hand and feet warmers was a lifesaver and made being out in the cold no big deal. You can order the hand warmers and feet warmers I used.
In contrast to the tip above, have sunscreen with you especially if you burn easily. Once the sun comes up it can get warm and as there isn't any shade you want to be prepared.
After the sun pops up, it is quite sunny, so have sunglasses and a hat handy.
Carry hand sanitizer or wet wipes.
When you first arrive in the early morning around 4:00 am or 5:00 am it is very dark so using my headlamp was nice to keep my hands free for my hot coffee and camera!
A majority of the vendors only seem to accept cash. Some take credit cards but I would have some cash with you and can access an ATM if you need more.
Drink plenty of water and limit alcohol consumption as it is dry and with a high elevation you want to hydrate.
The weather is warm and dry with potential wind. To prevent your hands from feeling like the skin of an alligator, carry some hand lotion.
If you are with others, pick a spot where you can all meet up if you get lost. Trust me, in a blink, you lose the people you are with.
You can bring a blanket or chair but you will likely be walking among the balloons and not using the chair.
And finally, make sure you book in advance to go up in a hot air balloon ride as the slots will sell out!
Extra Bonus Tip: Download the Fiesta App to use throughout your visit and get weather alerts, etc…
Photo Tips!
It should go without saying but bring your camera and GoPro to take the coolest photos.
Make sure you have a wide-angle lens otherwise you won't get an entire balloon in your frame if you are decently close. I took almost all my photos using a wide-angle lens.
For the early morning session and near sunset, use a tripod with a remote.
Get to the balloon fiesta park early and as soon as parking opens up so you have time to setup. You don't want to feel rushed and miss out!
Fiesta Sponsors
When I attended, Canon Camera was the official presenting sponsor for the Albuquerque Balloon Fiesta.
But for 2022, Exon Mobil is the presenting sponsor for the fiesta!
The presenting sponsor will have its own balloon that you can see daily at the balloon grounds. There are a number of smaller sponsors and if you are lucky enough to be invited, you can hang in one of their VIP tents.
How To Get To The Balloon Fiesta?
The main airport to fly into is the Albuquerque International Sunport (ABQ) and to the balloon fiesta field it is about a 15 – 20 minute drive.
So you could grab an Uber/Lyft or rent a car if you plan to visit some of the attractions outside of downtown. In anticipation of your trip, start exploring the best flight deals to Albuquerque!
There are multiple ways to get to and from Balloon Fiesta Park. The obvious is to drive and park at the festival.
I personally didn't mind this option as although there are a ton of cars, I was impressed at how well they have it controlled that it doesn't take that long to get in and out.
Let's say they have years of experience in mastering the traffic flow that exceeded my expectations.
But if you don't want to drive and pay for the $20 parking fee per vehicle, you can purchase a park and ride ticket online instead.
There are a handful of places to park and then take a bus that drops you off in front. The cost for the park and ride is $22 per adult but includes your ticket into one session at the festival.
Taking an Uber or Lyft won't save you much more time as they will still have to wait in the line of cars like everyone else. And it might be more pricey for the time.
If you are really ambitious, you can ride your bike in for free. For me, there is no chance of me getting on a bike around 4:00 am…
Tip: If you or anyone in your group has a hard time walking around or disability, you can rent a wheelchair or a motorized scooter. Rentals are at both the north and south entrances into the park.
Albuquerque International Balloon Fiesta 2022 Schedule
Saturday, October 1st:
Dawn Patrol Show @ 6:00 am
Krispy Kreme Morning Glow @ 6:30 am
Mass Ascension @ 7:00 am
America's Challenge Gas Balloon Inflation @ 2:00 pm
Twilight Twinkle Glow @ 6:00 pm
AfterGlow Fireworks Show @ 8:00 pm
Sunday, October 2nd:
Dawn Patrol Show @ 6:00 am
Krispy Kreme Morning Glow @ 6:30 am
Mass Ascension @ 7:00 am
Balloon Glow @ 6:00 pm
AfterGlow Fireworks Show @ 8:00 pm
Monday, October 3rd:
Dawn Patrol @ 6:00 am
Ascension-Balloon Launch from Park @7:00 am
Competition Balloon Flying @ 8:00 am
Balloon Launch @ 7:00 am
Tuesday, October 4th:
Dawn Patrol @ 6:00 am
Balloon Launch @ 7:00 am
Wednesday, October 5th:
Dawn Patrol Show @ 6:00 am
Krispy Kreme Morning Glow @ 6:30 am
Flight of the Nations Mass Ascension @ 7:00 am
Thursday, October 6th:
Dawn Patrol Show @ 6:00 am
Special Shape Rodeo @ 7:00 am
Special Shape Glowdeo @ 6:00 pm
AfterGlow Fireworks Show @ 8:00 pm
Friday, October 7th:
Dawn Patrol Show @ 6:00 am
Special Shape Rodeo @ 7:00 am
Special Shape Glowdeo @ 6:00 pm
AfterGlow Fireworks Show @ 8:00 pm
Saturday, October 8th:
Dawn Patrol Show @ 6:00 am
Krispy Kreme Morning Glow @ 6:30 am
Mass Ascension @ 7:00 am
Night Magic Glow @ 6:00 pm
AfterGlow Fireworks Show @ 8:00 pm
Sunday, October 9th:
Dawn Patrol Show @ 6:00 am
Krispy Kreme Morning Glow @ 6:30 am
Farewell Mass Ascension @ 7:00 am
VIP Treatment
If you are looking for a VIP experience, there are a few options. If you are invited by one of the sponsors then you will get to enjoy food and booze in one of their tents.
But if you don't have any of those connections, there is the Gondola Club and Chasers Club that you can buy a ticket to.
Gondola Club ($125 per adult) – The ticket includes entry into a private area that has tents with a buffet of food, coffee, and drinks. There is some seating in one of the tents but most of the seating is outside so bundle up! The seating has an excellent view of the balloons on the edge of the field.
I attended the Gondola Club on my first morning and overall I enjoyed it having a place to sit down and have something to eat before the fiesta got started. But I do think that they could do better on the food as it was ok.
I didn't stay in the private Gondola Club area as I wanted to go walk among the balloons once the fiesta started. Is it worth it? Yes, if money isn't a problem as you do get private bathrooms and super close parking included too.
Chasers Club ($60 per adult) – If you want a VIP experience without the higher price tag, the Chaser Club is a great option as you get access to a private outdoor seating area and a light breakfast/snacks.
Food Options At The Fiesta
You are able to bring food in with you as long as it isn't in any glass container. There are a handful of picnic tables or you can picnic on the grassy field. If you would rather buy something to eat there are numerous food vendors to choose from.
If you have ever been to a state fair, the food reminded me of that. Lots of burgers, hotdogs, pizza, and ice cream. Nothing that stands out but average I would say for an event or festival. I would have a snack but wait to eat at a great restaurant in town before or after the fiesta.
If you need a caffeine fix, give Pinon coffee a try! If you are looking for some excellent places to eat in Albuquerque, then try one of these:
Tomasita's (New Mexican food) – 4949 Pan American Freeway NE, Albuquerque, NM
Cocina Azul Downtown (New Mexican food) – 1134 Mountain Rd NW, Albuquerque, NM
Church Street Café (New Mexican food ) – 2111 Church Street NW, Albuquerque, NM
Tip: Bring cash as many vendors don't accept cards but there are ATMs available if you need more.
Have the best time at the Albuquerque Balloon Fiesta as it is quite the experience!
Get A PDF Of This Guide For Your Trip
For your convenience, you can download a copy of this Albuquerque Balloon Fiesta guide or print it to take with you. It includes pictures and links within the post. It's ad-free ad handy for on the go!
Buy Your Albuquerque Balloon Fiesta PDF Guide Today!
Got Travel Insurance?
Don't leave home without travel insurance as you never know what might happen on a trip! It is always when you least expect it that something can go wrong like getting sick, in an accident or cancellation of some sort. Get a no-obligation quote from two trusted travel insurance companies for peace of mind on your next trip!
Looking For More Travel Inspiration?
11 Top Things To Do In White Sands National Park For First Time Visitors
How To Spend The Best Weekend In Albuquerque
15 Best Things To Do In Santa Fe, New Mexico
7 Unique Day Trips From Santa Fe
11 Best Wineries In Fredericksburg, Texas That Are A Must To Try
The Best Guide To Maui Whale Watching
15 Famous Things About Chicago You Must See
10 Best Things To Do In South Dakota
Disclaimer: My post contains some affiliate links and as an Amazon Associate, I may receive a small commission if you click a link and purchase through that link. It won't cost anything to you to use these links but is very much appreciated. Thank you!