Disclaimer: Traveling Ness contains affiliate links and is a member of the Amazon Services LLC Associates Program. If you make a purchase using one of these links, I may receive compensation at no extra cost to you. See my privacy policy for more information.
What To See On A Dubrovnik Day Trip To Kotor
If you are staying in Dubrovnik, don't miss out on traveling to see Perast and Kotor Old Town in the beautiful country of Montenegro, especially since it is right next door to Croatia. Take off and enjoy idyllic landscapes along the Bay of Kotor and explore many things to do in Kotor on an epic Dubrovnik day trip to Kotor!
Montenegro is becoming more popular, but it still doesn't see the volume of tourism as its neighbor, Croatia does. Montenegro is more economical and is less touristy than many European cities which is a plus. It offers a slower pace of life that can be a much-needed welcome.
Where Is Kotor?
Montenegro lies along the Adriatic Sea with 5 countries bordering it, Croatia, Bosnia & Herzegovina, Serbia, Albania, and Kosovo (disputed territory). The country of Montenegro is about the size of Connecticut in the United States, which is pretty small!
Previously part of Yugoslavia, Montenegro became an independent country in 2006 and growing as a must-see European destination.
Kotor is located on a secluded section on the Bay of Kotor. Nestled in its own bay within the larger bay, Kotor is approximately 2 hours from Dubrovnik and 20 minutes from Perast. You will pass the town of Perast on your day trip to Kotor from Dubrovnik.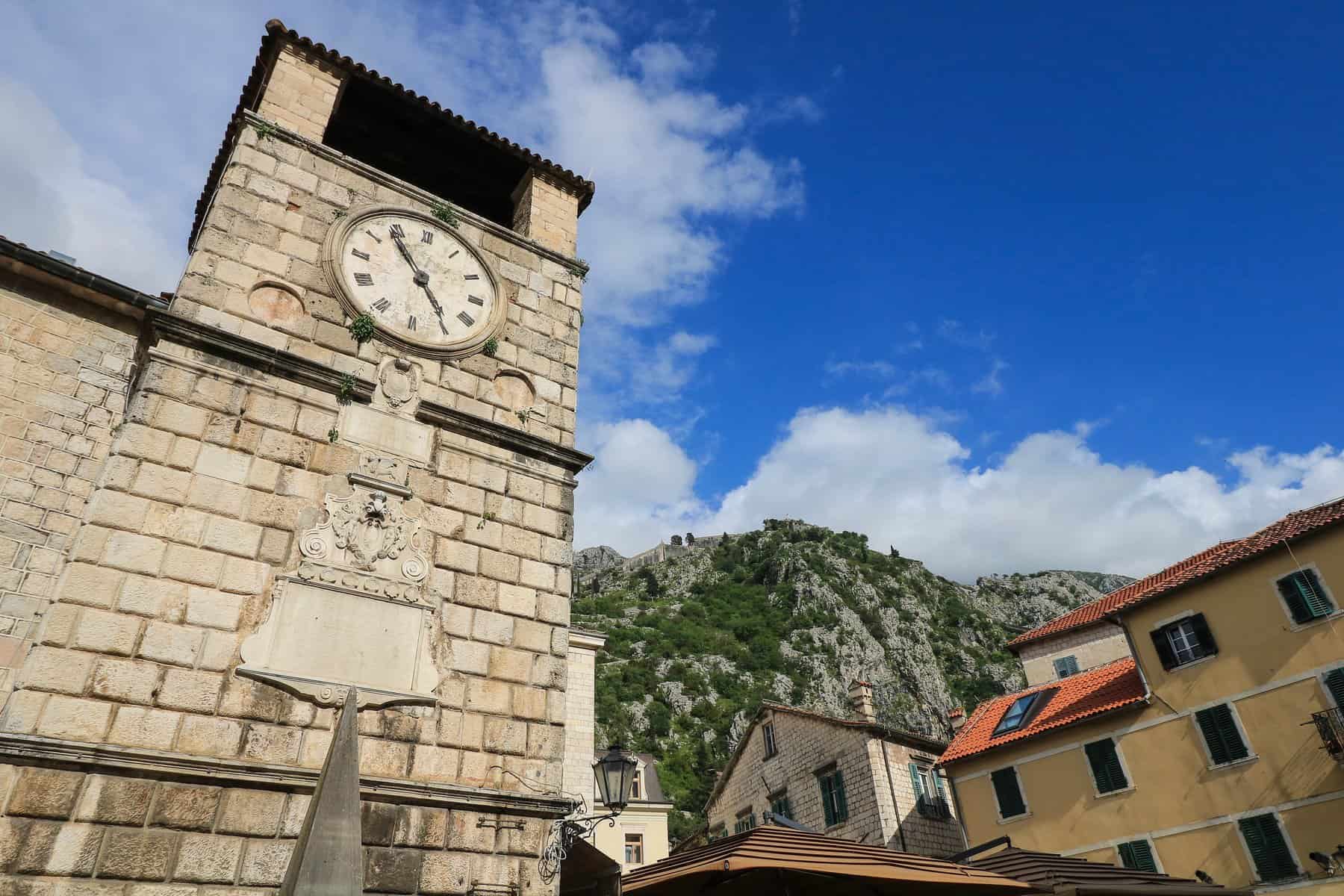 Although you can get around Montenegro by bus or on a tour, the best way to see Montenegro is by renting a car. Take to the open road and see many sights and towns that aren't as accessible by other means.
No need to worry about the ease of driving in Montenegro or whether it is safe. Driving is no different than in the United States as driving on the right-hand side is familiar and convenient.
Hotels In Kotor
If you are staying in Kotor overnight, the best area to stay is in Old Town (within the city walls). I had researched places to stay but time didn't allow for it in the end as I visited on a day trip from Dubrovnik instead.
After looking at reviews and location, I would next time stay at the Hotel Vardar or at an Airbnb located in Kotor Old Town.
If you are looking to stay in Herceg Novi, Hotel Aurora is in the heart of Old Town or Hotel Xanadu a few mins away.
Kotor Tours
If you do indeed decide to stay overnight, then the following tours will be a fun way to explore Kotor further!
Kotor Old Town Walking Tour – This is a great tour to take if you are on a day trip to Kotor or spending the night. Learn about Kotor's history and hidden gems.
Bay of Kotor Kayak Tour – looking for a bit of adventure and want to explore the Bay of Kotor? Going on a kayak tour is an excellent way to see Kotor from the water, visit idyllic beaches, and snorkel!
Kotor Blue Cave Tour – This private tour will take you to see Our Lady of the Rocks church and to the famous Blue Cave where you can swim in!
Montenegro Full-Day Tour – If you took a bus to Kotor but want to see more of the nearby areas then this full-day tour will take you to see Lovcen National Park, Njegusi village, Cetinje, River Crnojevica, and Sveti Stefan.
Dubrovnik Day Trip To Kotor
Getting Started
After getting an Uber to the Dubrovnik Airport (DBV) to pick up the car rental, I headed out on my Montenegro road trip! I had pre-booked the rental online before the trip and it was quite economical (at least compared to the U.S.).
I'd heard that there was no need to purchase the border crossing fee as it was just a way for car rental companies to add another charge.
Even though I'd been warned, the rental company said I wouldn't be able to cross the border if I didn't have it and they were firm on this. Well, I gave in and purchased the $80 fee (U.S. dollars) and soon regretted it…
When crossing the border from Croatia to Montenegro, customs never asked for it and when I tried to show it, they just looked at me in confusion. So as of this post, you do not need to purchase a border crossing pass.
With that said, things could change, so look into it beforehand. You will need both your driver's license and your passport in order to drive the rental car.
Upon leaving the Dubrovnik Airport (DBV), it takes about 20 -30 minutes to reach the Croatia border driving on the M2 road. When crossing the border, it was pretty simple and only took a few minutes. But be aware that during the peak summer months expect it to take an hour or two to get through.
After crossing the Croatian border, there will be another stop a few miles later that is the Montenegro border checkpoint. This is Debeli Brijeg, the main border checkpoint into Montenegro.
So, keep your passport out and handy as it will get stamped twice each way. After getting your stamps, you are off to see Montenegro!
Note: I did not opt for the extra insurance and you shouldn't either. That is, as long as you have your own auto insurance and/or travel insurance that would fully cover you for any issues. Just make sure you know your coverage ahead of time.
Driving Along The Bay of Kotor
From the border, keep on the M2 and drive to Perast which will take about 1 – 1.5 hours and is nestled along the Bay of Kotor. Since there are so many great places to stop on the way to take a photo or grab a coffee, you might want to take your time.
There aren't many roads for you to divert off of but do watch for signs to Perast. Get ready to be overwhelmed with incredible beauty as you drive along the water.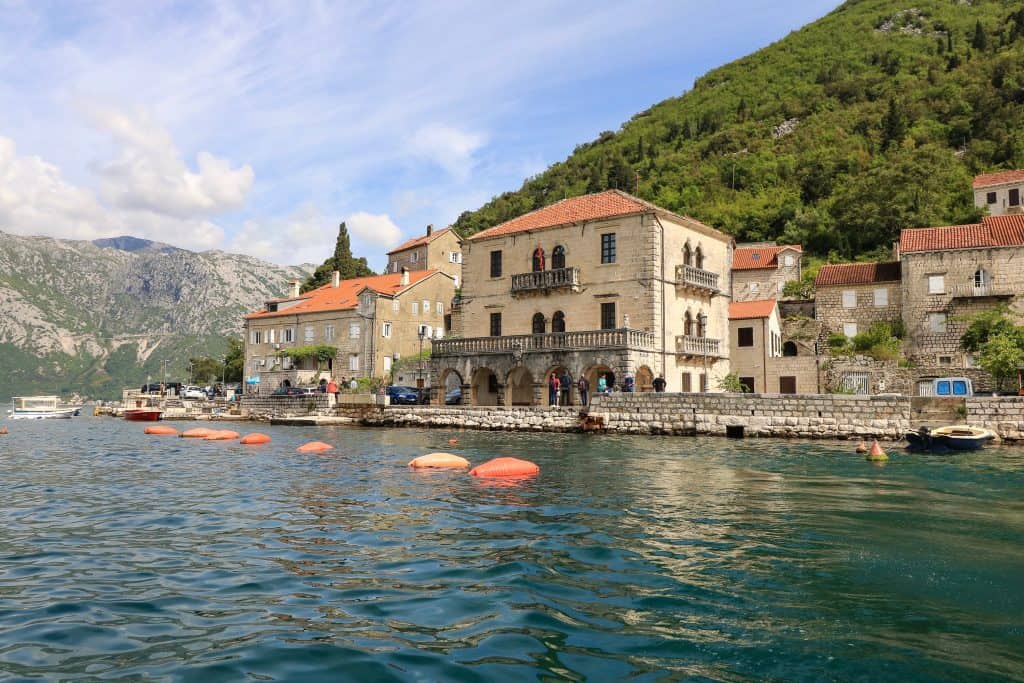 Although Montenegro is not a part of the European Union (EU), the currency used is the Euro.
I would recommend getting some Euros prior to visiting Montenegro either at the Dubrovnik Airport after you land or at one of many currency change stores in Old Town Dubrovnik. In some spots, they might accept the Croatian Kuna but don't count on that.
You could easily spend days wandering all the charming small towns in Montenegro and should do so if you have the time. But if you don't, below are some reasons for getting up early and taking an awesome road trip for the day.
I would recommend leaving as early as possible especially during the summer months. I left Dubrovnik at 7am and made a long but wonderful day of the following. And if you choose to extend your day trip to an overnight, explore hotel options in Kotor!
Best Things To Do In Perast
Once you arrive in Perast, park off of the M2 in a parking lot right along the Bay of Kotor. You can't miss it as it is pretty much the only parking lot entering Perast.
Try to get there early so that you can have time to yourself before the tour buses take over. The main attraction in Perast is the man-made island Our Lady of the Rocks that sits beautifully in the Bay of Kotor. This is by far one of the coolest things to do in Perast.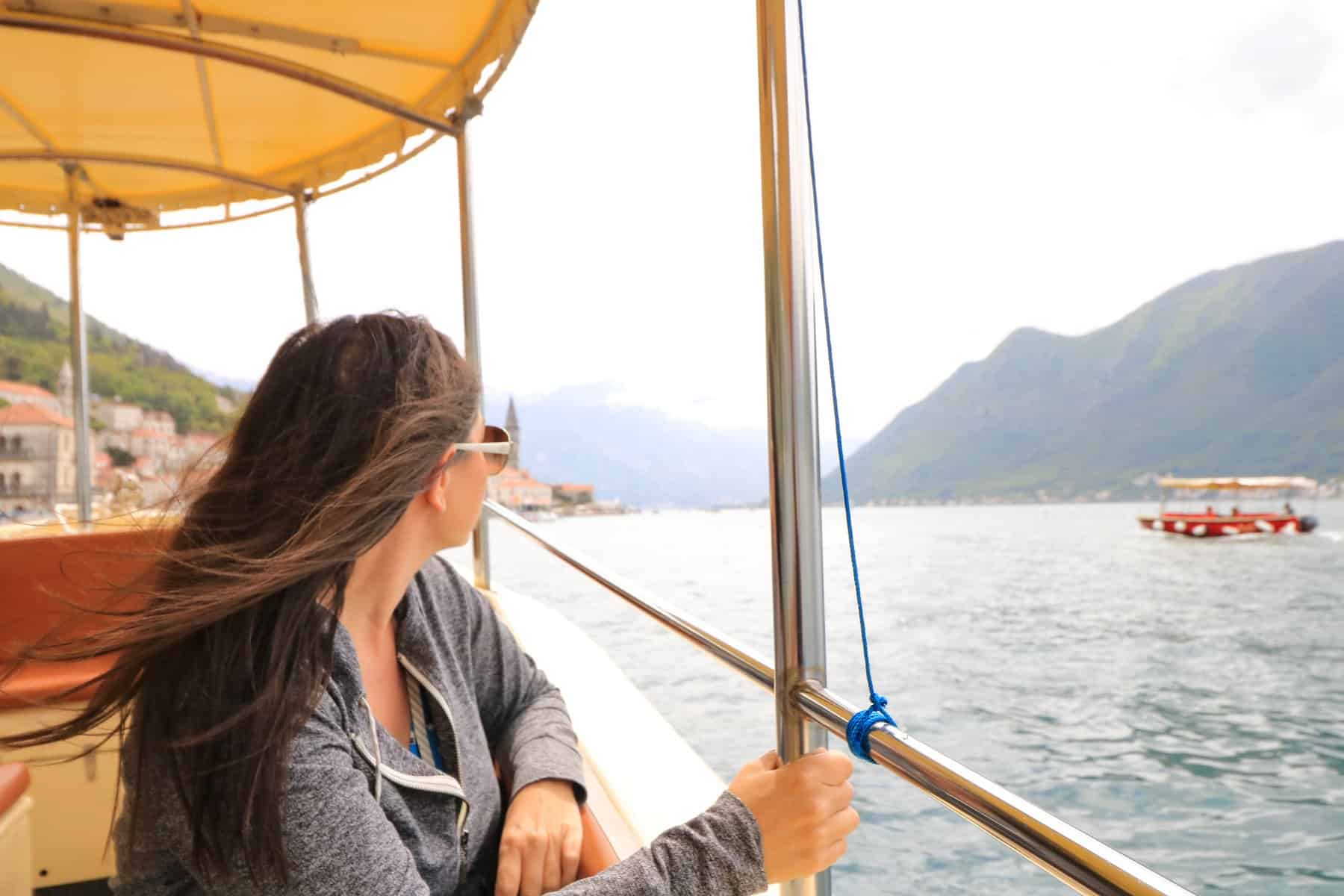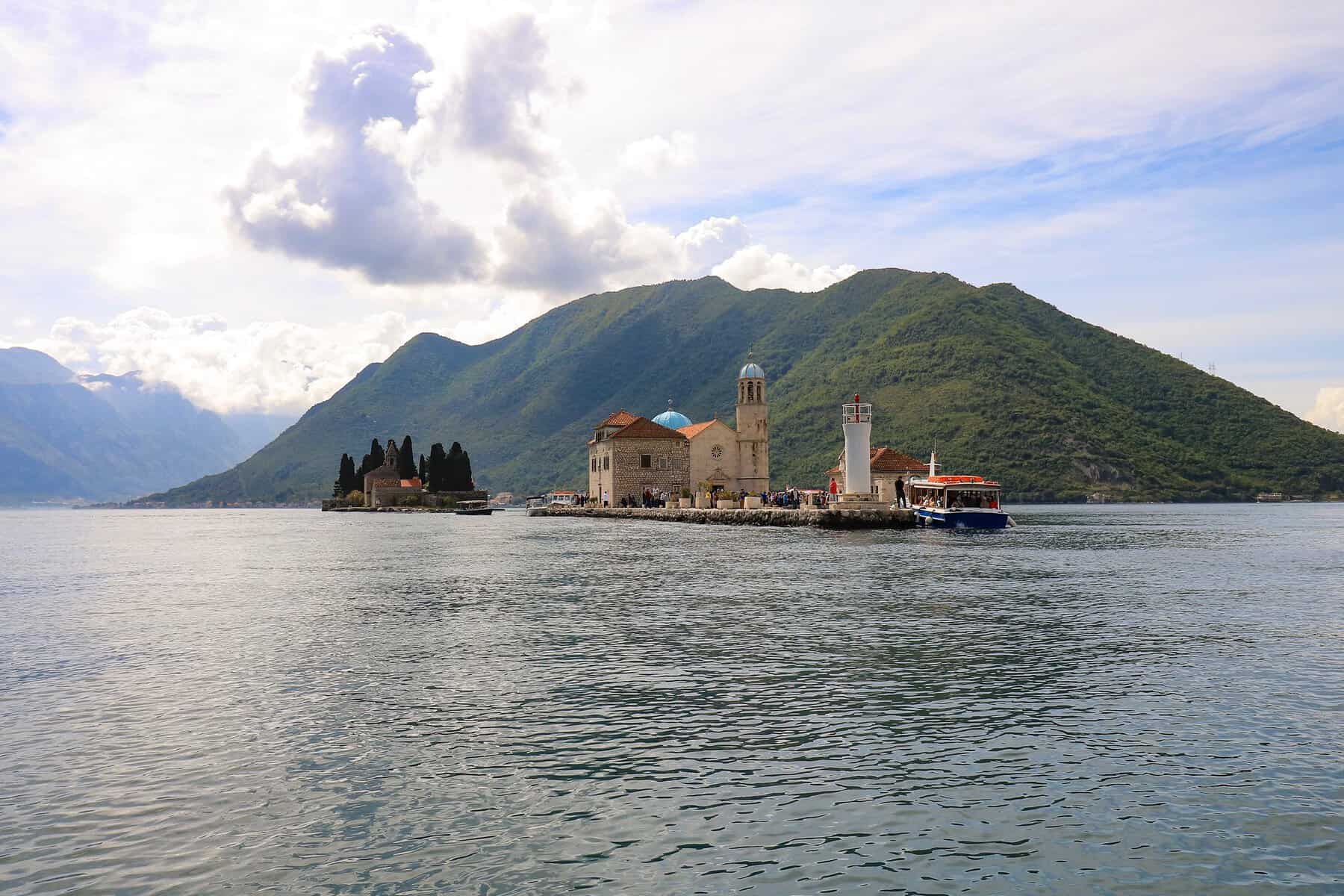 There will likely be locals that will ask if you want a boat ride over to the island. Go with one that seems reasonable and expect to pay about 5 Euros (that includes your return trip). The boats will drop you off and tell you to return in 30-45 mins.
I recommend staying 45 mins to an hour especially if it is crowded. That way, you have time to tour the church and the lovely surroundings that make for excellent photo opportunities.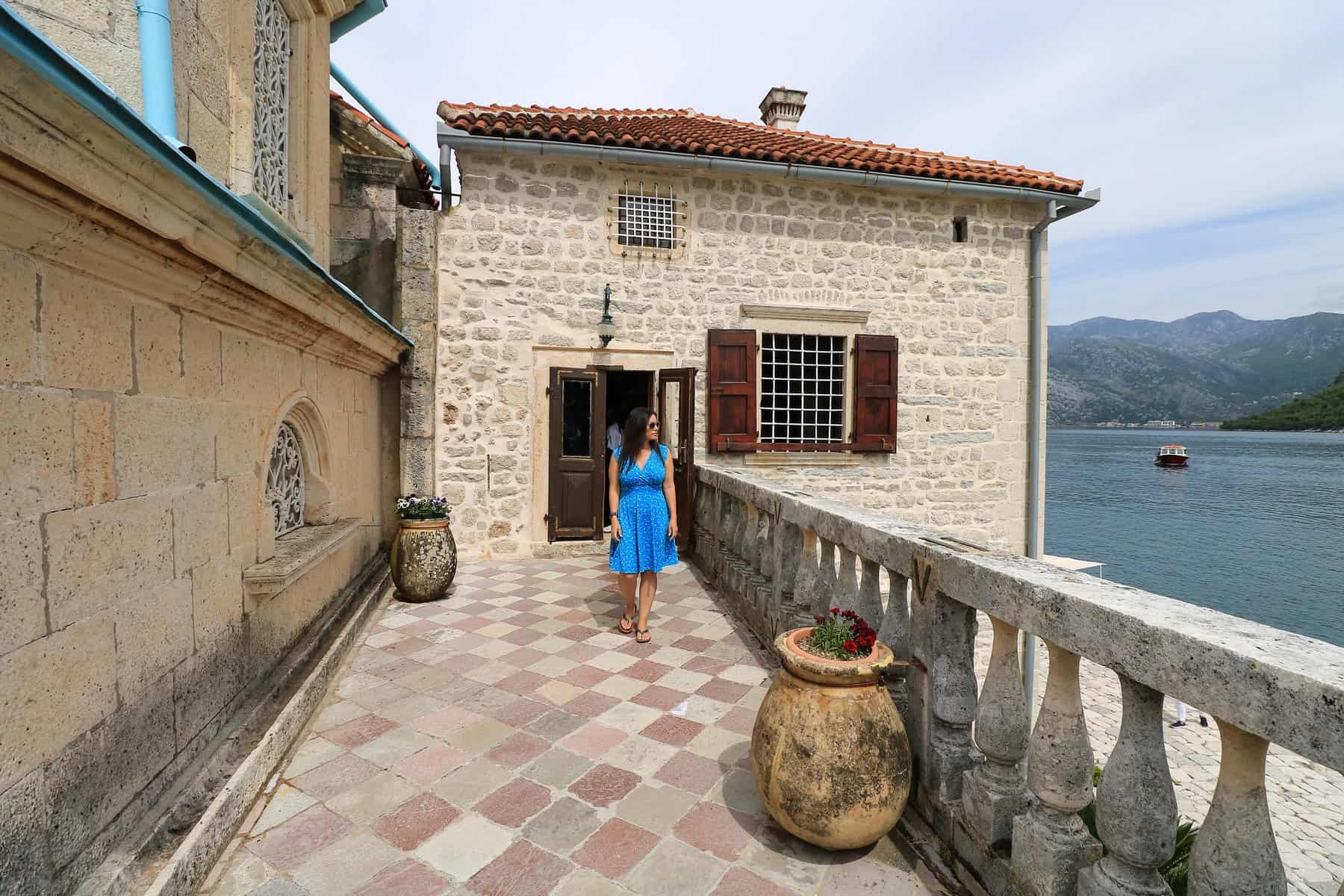 As the boat takes you over to the island, have your camera ready to take photos of the idyllic island. And don't forget to turn around to capture the charming Perast behind you!
Take notice of the tiny natural island near Our Lady of the Rocks that is Sveti Djordje, also known as "Island of the Dead".
Why you might ask? Well, a Benedictine monastery and cemetery call Sveti Djorde home and it is supposedly cursed. I heard varying stories of why it is thought to be cursed, all very intriguing but not sure which are true!
Unfortunately, visitors are not allowed on Sveti Djorde but you get a great view of it from Our Lady of the Rocks.
In 1452, the building of Our Lady of the Rocks starts out with a story of a fisherman. It's said the tradition to pray going out to sea on fishing trips was because so many never made it home.
Upon returning one trip, the fisherman spotted a Virgin Mary statue wedged on the rocks. Grateful that she kept them safe, they promised to build an island in that very spot to honor her.
Gradually stones and pieces of old ships were used to create this beautiful island. It became a tradition for sailors to leave small silver plaques in the church to show their appreciation for the Virgin Mary watching over them. You can see these plaques still today inside the church.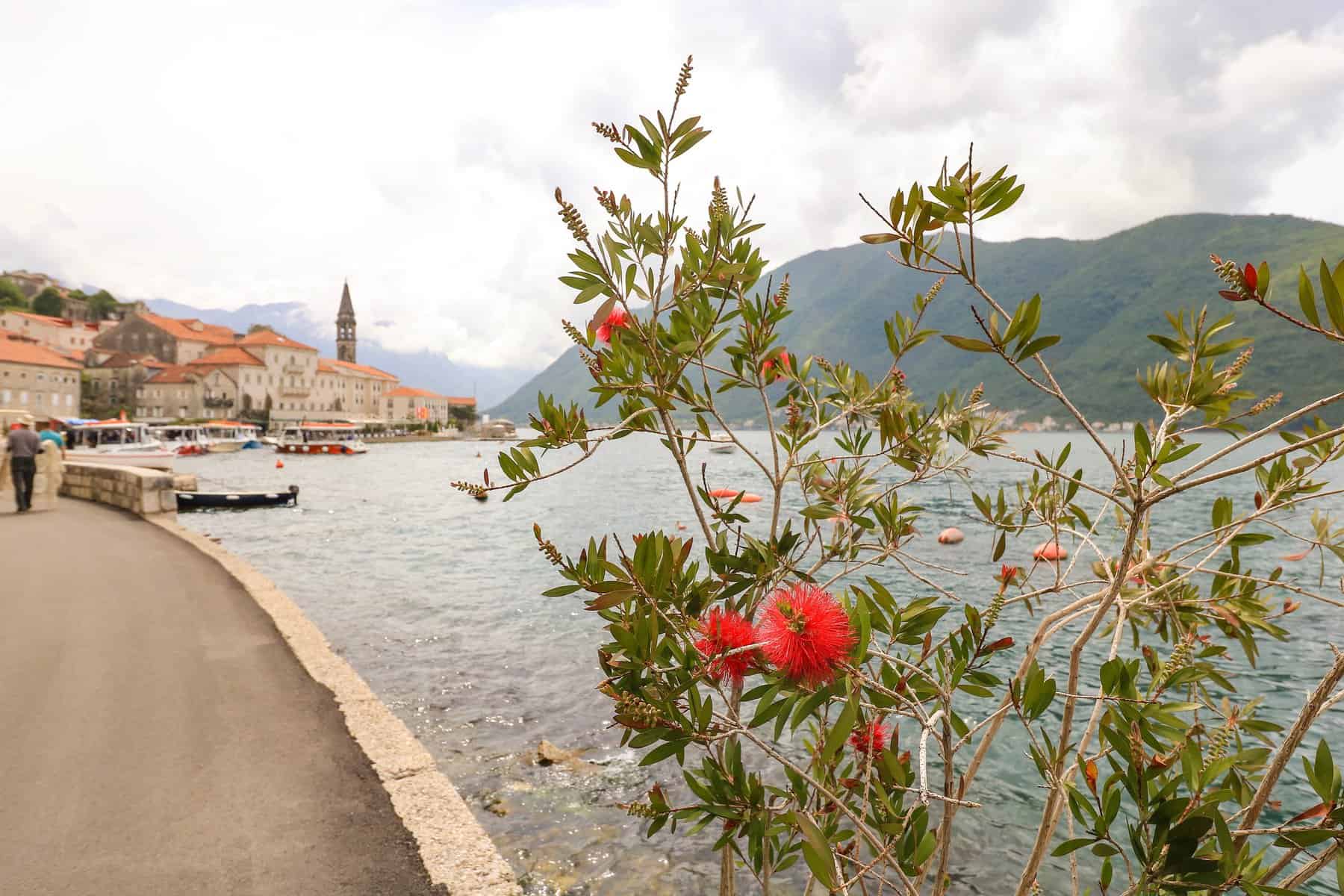 After your excursion over to the island, walk along Perast's waterfront that has an endless amount of charm. Exploring Perast is pretty simple as there is only one main street that hugs the waterfront.
It is also pedestrian-only, that is except for locals! It is a great place to enjoy the tranquil bay, slow down and grab a bite to eat with views for days.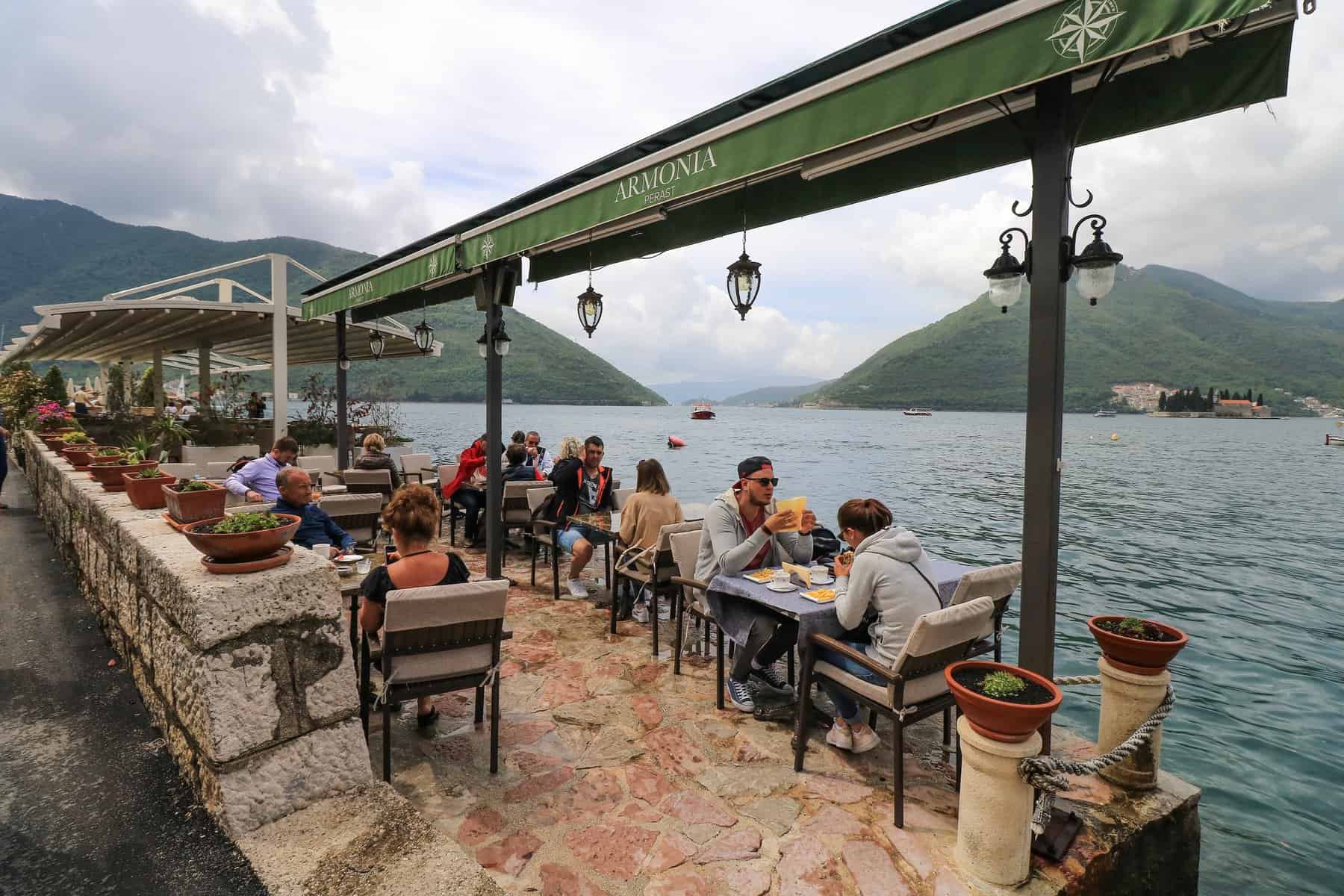 You will likely walk by St. Nikola's Church that deserves a visit inside and for 1 Euro to climb the bell tower. From the bell tower, you can admire stunning views of the town and the Bay of Kotor.
If time permits, visit the Perast Museum to find a lot of information about the history of Perast and its famous noble families.
Tip: Although you can take a boat to Our Lady of The Rocks from Kotor, it's better from Perast. It is much quicker and allows you to take your time wandering the town of Perast.
Best Things To Do In Kotor
Continuing on the M2 from Perast, you will arrive in Kotor in about 20 minutes. There are a few places along the way to pull over and take photos which I recommend for great views.
Kotor definitely has a whimsical and fairytale-like vibe that will elicit a serene feeling upon arrival…
As you arrive in Kotor, you will see a large parking lot on your left, right before you come to Kula Kampana.
Kula Kampana is a medieval citadel and tower that lies along the Skurda River (that flows into the Bay of Kotor). Go up to the tower to get a better viewpoint of the bay and town.
If you haven't eaten lunch already, fill up on some delicious food before exploring. You especially want to have some energy prior to hiking up to the fortress.
Although there are plenty of places to get a great meal, Taniga Restaurant was excellent! It is located just a few minutes outside of the city walls and is quite delicious.
If you like meat and chicken you won't be disappointed. It gets busy, so join a table with others and quickly find great conversation among locals and travelers.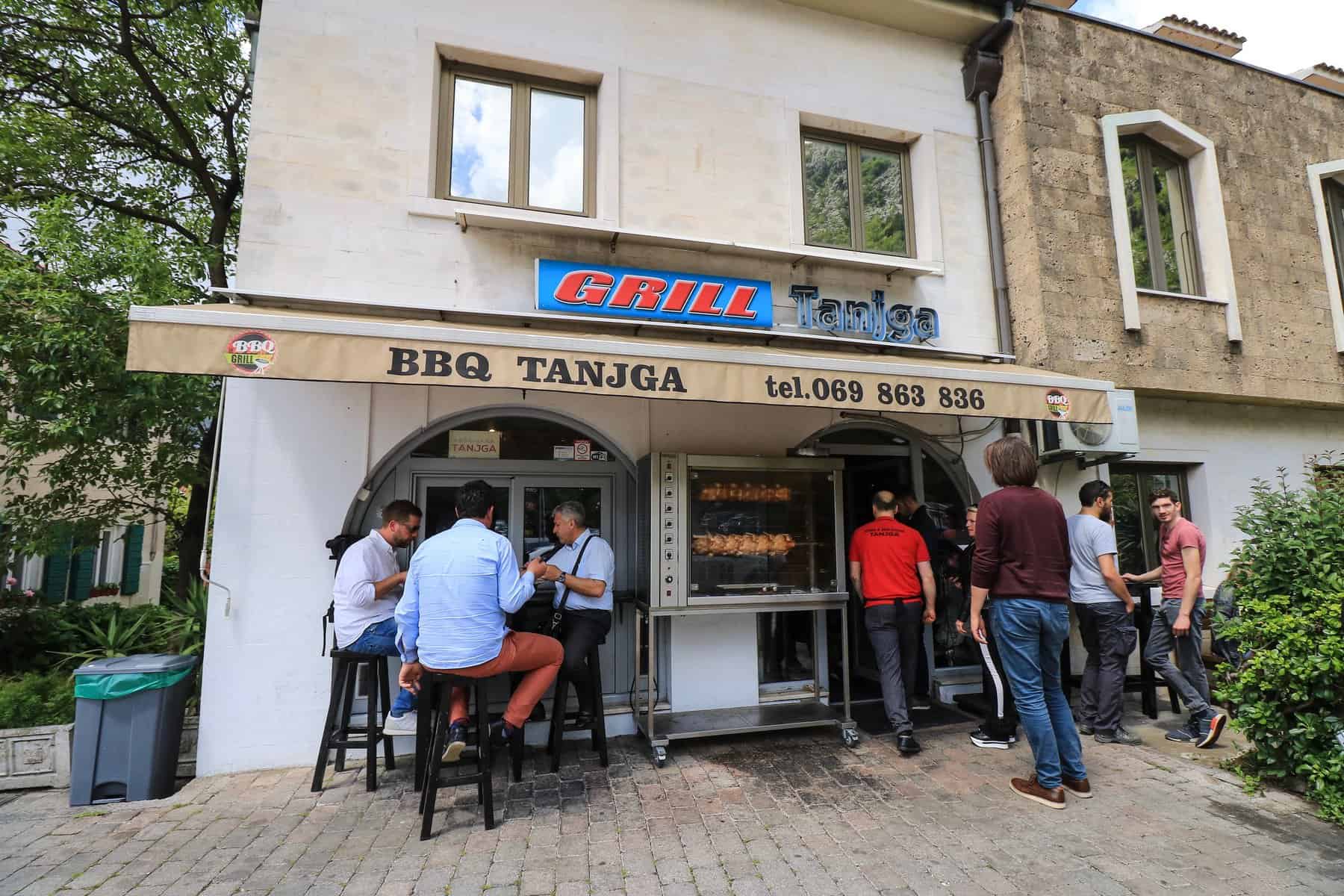 Kotor Old Town
Post lunch enter the Old Town of Kotor that is a UNESCO World Heritage Site and a walled medieval city at the base of the mountain. Kotor's city walls are quite impressive as they are up to 20 meters high and 16 meters thick.
The full distance of the city walls that surround Old Town and the upper hillside above is 4.5 km (2.8 miles).
There are three gates to enter the Old Town of Kotor. The first gate that you will encounter coming into Kotor from Perast, is the River Gate (North Gate). The Main Gate or Sea Gate is right in the center along the waterfront.
At one time, the sea came right up to this gate hence its name. On the opposite side of the River Gate (North), is the Gurdic Gate (South Gate). There is a small drawbridge to cross over into Old Town.
Once inside the gates of Kotor Old Town, give yourself some time to wander all the beautiful squares, churches and cafés. It really isn't possible to get lost, but if you do, give in to finding delightful surprises around every corner!
For such a small town, it is amazing at how many churches decorate Kotor all of which are beautiful to see.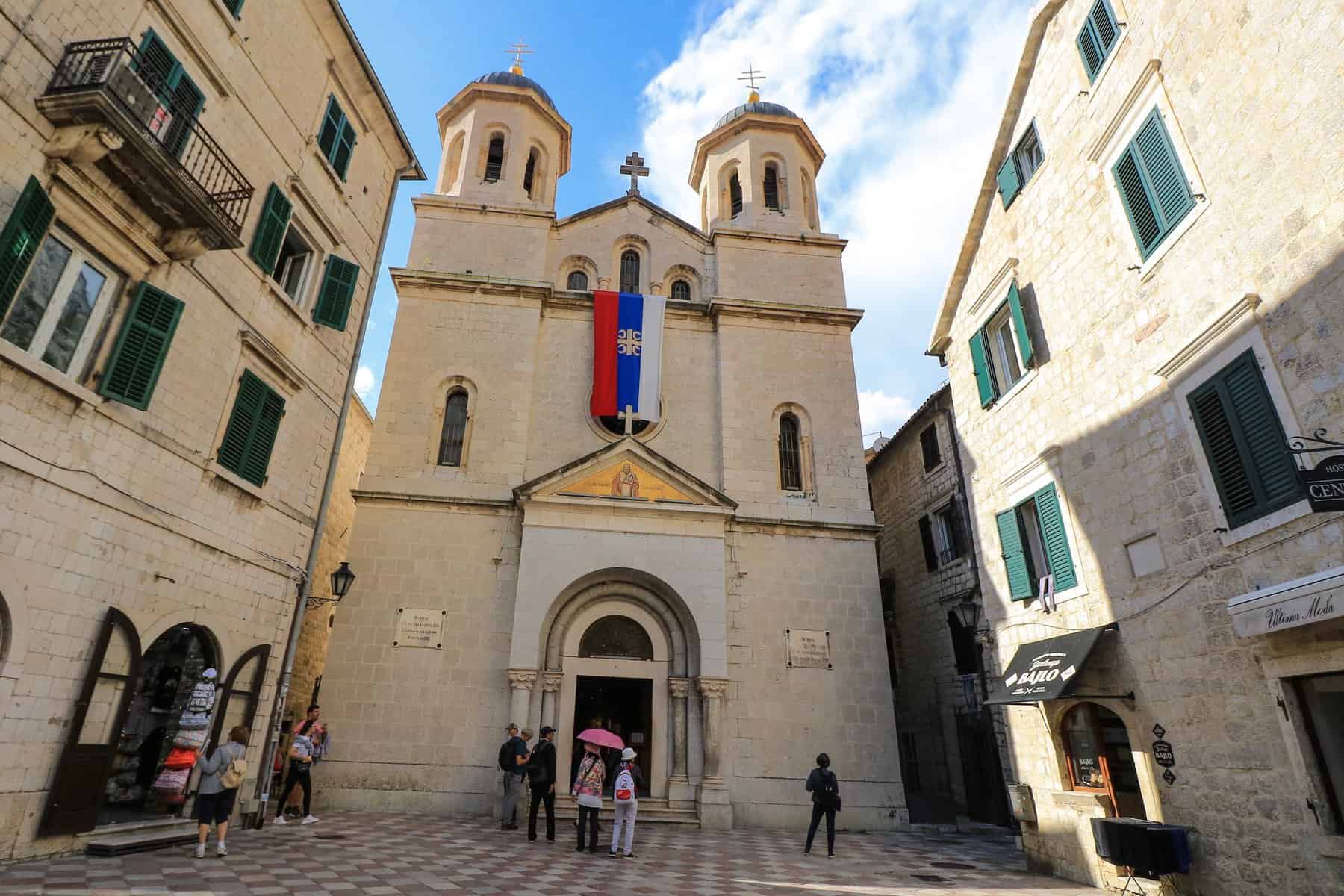 The churches that are of particular interest to visit are St. Tryphon's Cathedral (Sveti Tripun), a Roman Catholic Church and St. Nicholas' Church (Sveti Nikola), a Serbian Orthodox Church.
And then there is St. Luke's Church (Sveti Luka) which has served as both an Orthodox and Catholic church.
As you meander the winding streets of Kotor's Old Town, you might notice there are the most adorable cats everywhere! They are super friendly and are perfect subjects to photograph.
And if you haven't gotten enough fill of cats, visit the Cat Museum in the center of Old Town. The museum is dedicated to all things cats ranging from writings, artwork and furry feline related memorabilia.
Hike To San Giovanni's Fortress
Of all the things to do in Kotor, walking up to the San Giovanni Fortress (St. John Fortress) is a must. Why you might ask? The views are breathtaking and worth the struggle over the 1,355 stone steps up to the top!
Although I have never been to Norway, the view of the Bay of Kotor from the top looks a lot like the pictures I have seen of the fjords in Norway. The stunning vistas from the San Giovanni Fortress are remarkable and a reward for making it to the top!
If it is a hot day, then leave hiking up to the top of San Giovanni's Fortress until later in the afternoon. That way it will be a little cooler and less crowded. Although Kotor gets many visitors, most do not attempt the hike because it is somewhat difficult or being short on time.
It takes about 60-90 minutes to get to the top and the same back down plus some time to relax at the top. Overall expect to spend 3 – 3.5 hours to hike it.
There are a few areas to start the trek up the hill, but the easiest is from the Main Gate. From the Main Gate, head straight back and to the right towards the base of the mountain and look for the sign below at the base of the stairs (across from Caffe Bar Perper).
As you zig-zag up the stone steps, make sure to wear good shoes so you don't slip off the steps and sprain an ankle!
There are numerous spots to take a break, turn around and capture incredible views of the Bay of Kotor. At different vantage points, you will see various plants, trees, cruise ships, Old Town and the Our Lady of Remedy Church tower.
There will be moments in between deep breaths that you ask whether this is worth it. And I promise it is, so don't stop and head back down until you have made it to the top!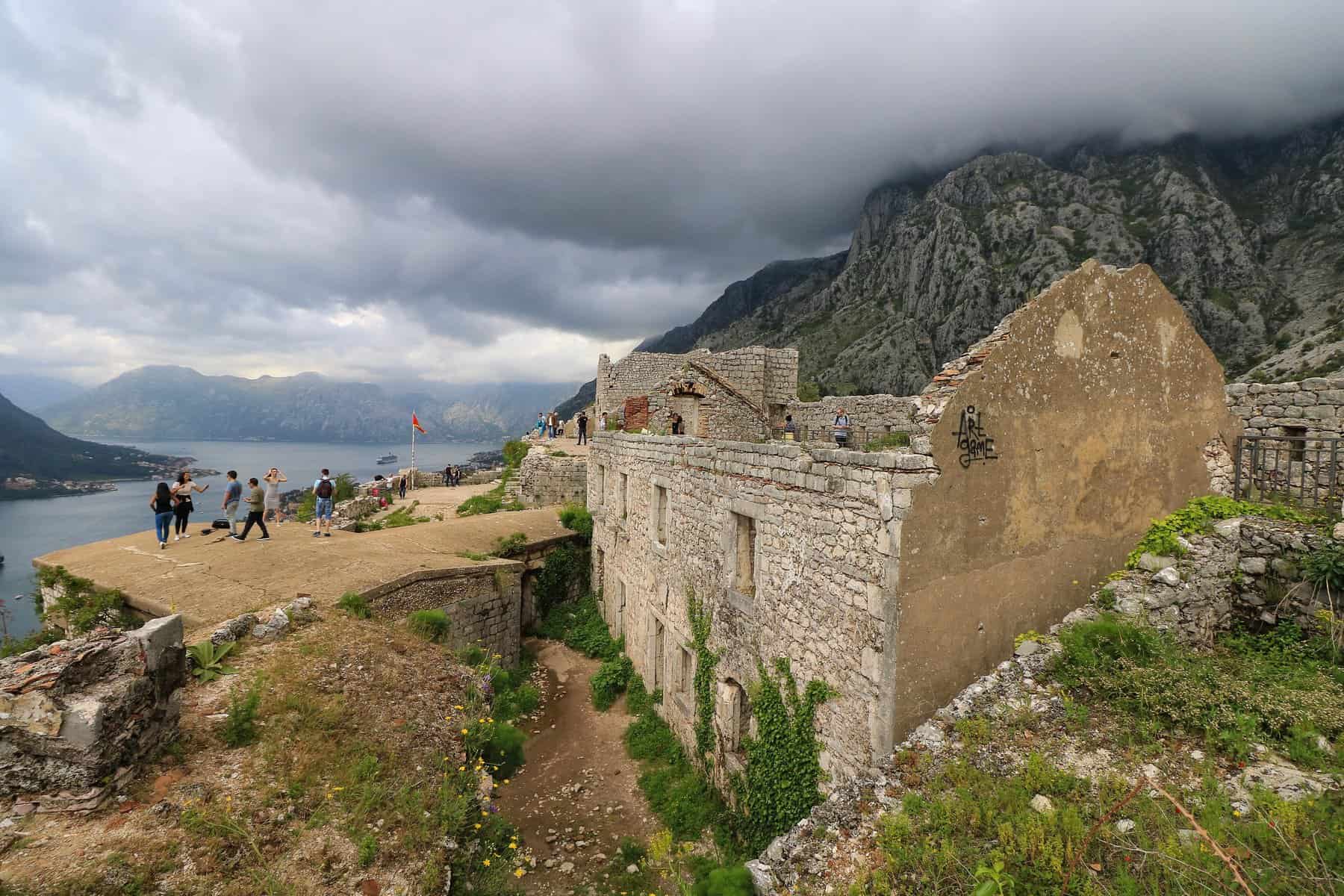 Once you reach the top of the San Giovanni Fortress (or Castle), take your time and wander like a kid around the ruins. Each level and section of the fortress provides various viewpoints to enjoy. The fortress was built in the 6th century and it is amazing to see it preserved so well after all these years.
When I was at the top there was a teenager who came up carrying nothing but a boombox (a large one). It seemed so odd and a little annoying at first since he was blasting it so loud. After a while, listening to the 1980's music he was playing was surprisingly entertaining and quite memorable!
Tips: Go to the bathroom prior to starting and take plenty of water as there are no facilities along the way. I recommend taking most of your photos as you climb up to ensure you capture photos with good lighting and it gives you a moment to catch your breath.
Admission: The fee is 8 Euros per person from 8am to 8pm. If you go earlier than 8am then there is no fee.
Back in Kotor's Old Town
Once you get back down to Old Town, indulge yourself with a tasty gelato. Then sit back in a square to appreciate your accomplishment! You will likely feel like napping in the sun like so many of the local cats…
Njegos Mausoleum
If you are staying overnight in Kotor, take a side trip up to Mount Lovcen to visit the Njegos Mausoleum. It is about a 1-hour drive on a winding road from Kotor to the mausoleum in Mount Lovcen National Park. I was so bummed that I didn't get a chance to go here and plan to next time!
The Njegos Mausoleum is located on the second-highest peak on Mount Lovcen and with no surprise has stunning views. Who does the mausoleum belong to you might ask?
It is the resting place for Petar Petrovic Njego's who was a poet, prince, and leader of Montenegro until 1851 with his last wishes to be buried at the top of Mount Lovcen. Once you arrive, there are 461 steps to the mausoleum itself.
Herceg Novi
As you leave Kotor behind and drive along the Bay of Kotor back to Dubrovnik, head to the town of Herceg Novi for dinner. It is the perfect spot to have dinner, enjoy the sunset, and walk along the waterfront promenade.
Herceg Novi is often overlooked as people are more focused on visiting Perast and Kotor. But don't underestimate this beauty lying on a dreamy beach on the bay.
It is a small town that boasts a lot more charm than its size. Located close to the Montenegro and Croatian border, it is about 40 mins away from the Dubrovnik airport.
If you can, stay a night and explore the tranquil Old Town of Herceg Novi as time seems to pause here. After exploring Old Town and getting in some beach time, visit Kanli Kula, also known as the "Bloody Tower".
It got its nickname as it was once a prison where there was a lot of bloody torturing happening.
On top of being a prison, it was also a fortress, a castle and a theater. Yes, they definitely multi-tasked when using the same location! Be prepared to take in some spectacular views and if you are lucky even, catch a film there.
Forte Mare or the "Sea Fortress" is another photogenic spot right along the bay in Herceg Novi to see. And if you are feeling adventurous, take a kayaking tour on the Bay of Kotor and enjoy the turquoise blue waters.
When To Visit Kotor
Visiting Montenegro like the other Balkan countries is best visited between April and October to ensure good weather.
But if you are looking to avoid the summer crowds, I recommend visiting April/May or September/October for great weather (most of the time!) and some room to wander.
If you get the chance, spend a few days exploring Montenegro as I wish I had spent more time here. A good reason to go back I guess. Have a great road trip to Kotor, Montenegro!
Got Travel Insurance?
Don't leave home without travel insurance as you never know what might happen on a trip! It is always when you least expect it that something can go wrong like getting sick, in an accident or cancellation of some sort. Get a no-obligation quote from two trusted travel insurance companies for peace of mind on your next trip!
Looking For More European Travel Inspiration?
7 Best Filtered Water Bottles For Travel And Hiking
15 Ultimate Things To Do In Dubrovnik
5 Special Ways To Experience Dubrovnik
How To Spend 48 Hours In Mostar
Visiting Plitvice Lakes: How To Have The Best Experience
12 Best Things To Do In Bucharest
10 Fantastic Places To Visit In Transylvania
How To Spend The Best Weekend In Brussels
11 Fun Things To Do In Dinant, Belgium
Disclaimer: My post may contain affiliate links, which means I may receive a small commission if you click a link and purchase through that link. It won't cost anything to you to use these links but is very much appreciated. Thank you!