Disclaimer: Traveling Ness contains affiliate links and is a member of the Amazon Services LLC Associates Program. If you make a purchase using one of these links, I may receive compensation at no extra cost to you. See my privacy policy for more information.
11 Fun Things To Do In Dinant, Belgium
The small town of Dinant is quite picturesque and one that you will likely fall in love with once you lay eyes on her. It has a ridiculous amount of charm, history, and fairytale-like qualities. If you are up for some fun, there are a number of things to do in Dinant that make for a memorable trip.
After visiting, there is no question as to why Dinant is considered Belgium's "hidden gem"! Although small I quite enjoyed wandering the picturesque town along the La Meuse River…
Even though it can be seen on a day trip, I highly recommend spending 2 days to experience this darling city for its enchanting and unique appeal.
Dinant is the perfect weekend getaway especially for those coming from France, Germany or other regions of Belgium.
If you are planning to visit other cities in Belgium, explore:
How To Spend The Best Weekend In Brussels
19 Amazing Things To Do In Ghent, Belgium
The Best Way To Spend 3 Days In Bruges
Best Christmas Markets In Belgium In 2023 To Attend
A History Recap of Dinant
The town of Dinant gets its name from the Celtic word "Divo-Nanto" meaning sacred valley and it isn't hard to see why! Dinant has a fascinating and rich history but especially so since the Middle Ages.
Because of attacks by Danish Vikings in the 9th century, it prompted the town to build the citadel or fortress up on the cliff in 1040. There were many battles and attacks through the 15th century leading to a lot of rebuilding.
In more recent history (well kinda), the Battle of Dinant in 1914 between the French and Germans soon after World War I began.
Belgium was considered to be a neutral territory situated between the dueling France and Germany. Dinant sadly laid in the German's strategic path to reach and conquer France. The Germans conquered, destroyed, and killed many civilians of Dinant during the second half of 1914.
During World War II, history repeated itself with Germany occupying Dinant. This battle is famously known as the Battle of the Bulge ending with American allied troops coming to Belgium's aid.
It was the deadliest battle for the United States in WWII but it was successful at stopping Nazi Germany.
Although the memories of Dinant's history have been challenging, the town is a peaceful vacation spot today. It is hard to imagine the several battles that have taken place here. Dive into exploring Dinant on your trip here!
Tip: If you are looking for a unique adventure within 30-minutes from Dinant, explore the Caves of Han. In this guide you will find out everything you need to know about visiting the UNESCO Global Geopark!
Fun Things To Do In Dinant
1. Charles De Gaulle Bridge
One of the first things that you want to do upon arriving in Dinant, is to walk across the Charles De Gaulle Bridge also known as Saxophone Bridge.
It might be one of the most unique and fun bridges I have crossed. Why? Well, it is lined with several larger than life saxophone sculptures that were added in 2010.
The saxophone is a proud reminder of the instrument's birthplace in a colorful and artistic way. There is a saxophone representing each country in the European Union (EU) on each side of the bridge, along the waterfront, and in town.
The Charles De Gaulle Bridge is centrally located in the middle of Dinant and is the main hub between the two sides of the Meuse River.
The views of the city are beautiful from the bridge as it is an excellent vantage point to see many sights.
The bridge is named after Charles de Gaulle (the French general) in honor of his leadership in the French resistance against Nazi Germany during WWII.
The French were instrumental in fighting off the Germans in and around the area of Dinant. Oh, and if you were wondering where else you have heard his name, you might recognize it from the "Charles de Gaulle" airport in France.
Note: The bridge is free to access and a sight to see!
2. Citadel of Dinant
Sitting high above the town of Dinant sits the prominent and fierce Citadel of Dinant (La Citadelle Dinant).
It is one of the first things you will notice when you arrive as it sits on a tall and gigantic rock face. It is the perfect spot if you are in need of a position to see potential threats coming from afar.
The Citadel or fortress was originally built in 1040 but due to destruction and damage over periods of time, the one you see today was built in 1815. There was extensive damage in the early 1900s and has had some work to repair it.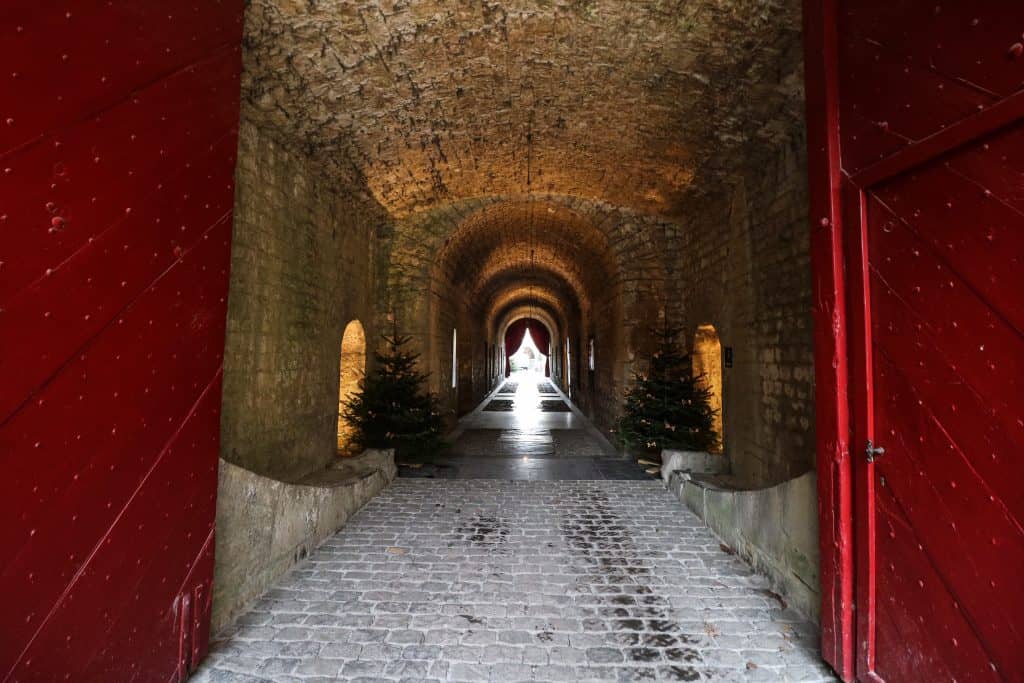 There are three ways that you can reach the top to visit the museum and experience the breathtaking views from the fortress.
You can take the 408 steps up, take the cable car or drive to the top. If you are decently fit, taking the stairs is a great workout! During the off-season, the cable cars may only be open on the weekends.
Once at the top you will be given a pamphlet to take a self-guided tour on the fortress grounds and museum. There are 9 points of interest including a detailed account of the fascinating history and the important role the citadel had. Expect to spend about 45-minutes to an hour visiting the citadel.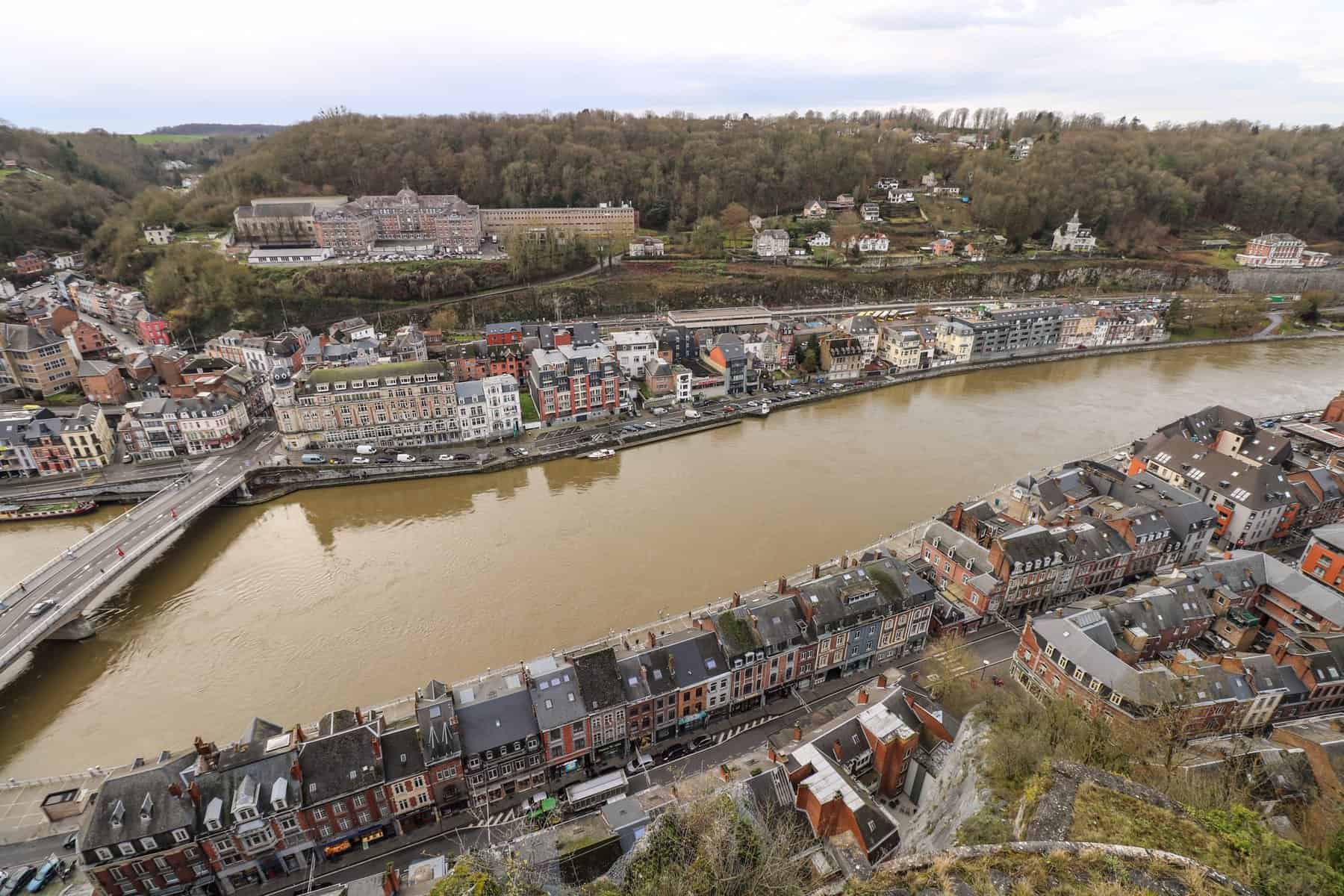 In the summer months, a guided tour is also offered. The fourth stop on the self-guided tour is the view looking out over the Meuse River and the town of Dinant.
It might be the most spectacular view in Belgium! And quite windy at the top, so hang on to any hats or sunglasses.
Note: There is a place to get snacks and drinks but you can even bring your own lunch and enjoy it at the top.
Hours: It is open 10 am to 6 pm (April – September) and 10 am to 4:30 pm (October – March).
3. Notre Dame de Dinant Cathedral
The first view of the Cathedral pressed up against the rock wall and with the Citadel perched above it is an "Oh wow!" moment.
If you are anything like me, your jaw will drop in both happy delight and awe. Even though it is a church, it has a very dark and almost menacing feel yet quite beautiful.
Without a doubt, it is one of the most impressive and dominating Gothic churches I have seen with its dark exterior and black bulbous shaped bell tower.
The Notre Dame of Dinant or Collegiate Church of Our Lady is a Catholic church built in the 13th century along the banks of the Meuse River.
No matter where you are in Dinant, you can always see the cathedral in the skyline. It is a distinctive symbol of the town.
Once inside, gaze up at the enormously tall ceilings and towers that leave you speechless. If the builders were going for dramatic and impactful, they succeeded!
Notice the detailed and elaborately crafted stained glass especially the largest one that is on the right side of the church near the altar. I don't think I have ever seen a stained glass that big. Quite incredible the craftsmanship that went into making it.
Hours: The cathedral is open from 9 am to 6 pm (April – October) and 9 am to 5 pm (November – March). The entrance to the cathedral is free.
4. Maison Leffe Beer
If you are a beer drinker and have had a Belgian beer, there is a good chance it was Leffe Beer. It is exported to countries all over the world, but Leffe got its humble beginnings in the town of Dinant.
What is even more incredible, is that Leffe began its first brew by monks of the Leffe Abbey in the year 1240.
I was shocked to learn that Leffe has been brewed for that long! It might surprises you that monks would brew and drink beer regularly but they were quite smart about it. That is because beer was much safer than drinking water during that time.
They didn't understand why at the time but they knew that drinking beer wouldn't end in death. Heating of the beer killed off any microbes unlike that of water. If only they had realized boiling liquids killed any harmful bacteria…
The monks were king of brewing Leffe beer themselves until 1952 when the Abbey beer went commercial. AB InBev purchased Leffe where it is brewed at the Stella Artois brewery in Leuven, Belgium today.
Once you enter Leffe Museum, there is a classicly elegant bar lounge that you can sit back and enjoy a variety of Leffe beer.
Across the hall, you enter what used to be the chapel to the previous convent of Bethleem (now La Merveilleuse Hotel). It is a fantastic setting to learn and taste the magic of Leffe beer.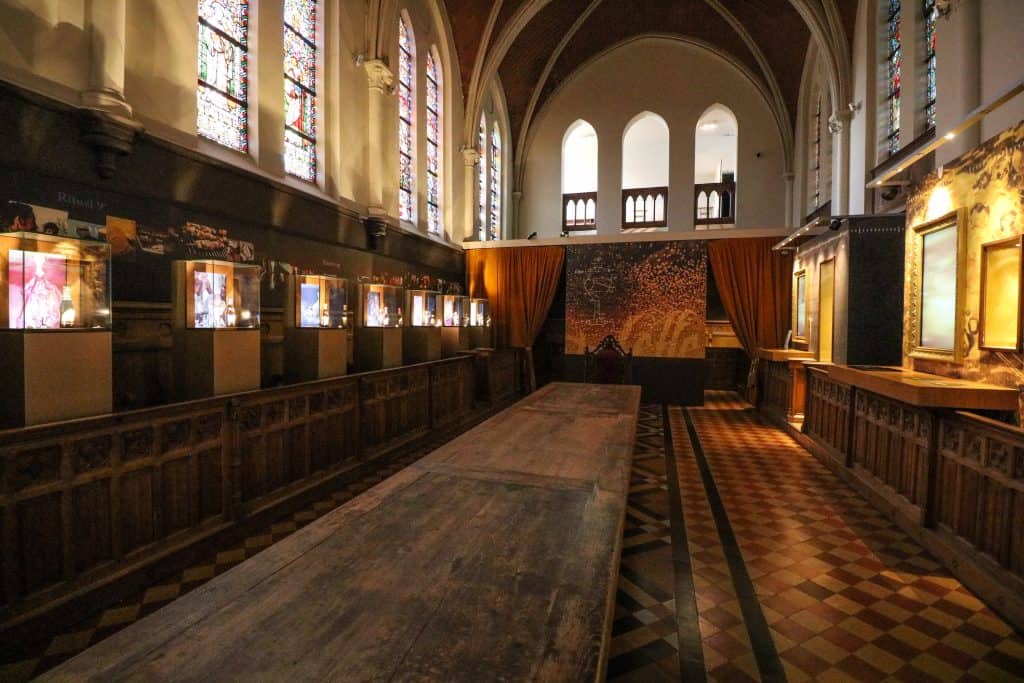 As you walk through the museum, there are 8 centuries of Leffe beer history that you will travel through.
At your own pace, scan the barcode you are given and various touch screens come alive to choose from. Learn about the beer-making and what is involved in the distinct steps and ingredients that go into it.
At the end of your tour, taste different Leffe beers and determine which one is your favorite!
Location: The museum is inside the La Merveilleuse Hotel at Charreau des Capucins 23, 5500 Dinant, Belgium.
Hours: The museum is open Tuesday to Sunday from 11 am to 7 pm (April – October). During the winter months, it is open Friday, Saturday, and Sunday from 11 am to 6 pm.
5. Birth of the Saxophone – Maison Sax
Prior to planning my trip to Dinant, I had no idea that the birthplace of the saxophone was in this quaint town!
Adolphe Sax invented the saxophone in 1841 and patented it in 1846 gifting the world with the sax's exquisite sound. His invention transformed music forever, especially its strong presence in American music particularly jazz.
If only he could see the impact his creation made! I guess you could say that music was in his blood as his father was a maker of wind and brass instruments.
He based his invention of the saxophone off of the bass clarinet in an attempt to improve its tone. Much of his career was spent in lawsuits and fighting crooks who were trying to copy his patent.
Sadly, even until his death in 1894, he was in several court litigations in an effort to protect his invention. Today, you can visit a museum in Dinant dedicated to Adolphe Sax's saxophone in the building where he was born and grew up.
The Maison Sax museum is on the ground floor of his old home and free to visit. You can't miss walking by Maison Sax as there is a statue in front of him sitting on a bench.
Take a break and grab a seat with him! The museum is pretty small but packs a punch in information and history of Adolphe Sax and his saxophone.
Location: You can find Maison Sax on Rue Adolphe Sax 37 and is less than a block away from Notre Dame de Dinant.
Hours: The museum is open from 9 am to 7 pm and is free to visit.
6. Stroll Along The Meuse River
The Meuse River is the heart of Dinant and where the town's life comes alive. It is also the busiest area of the small town with a lot to see. I recommend walking along both sides of the Meuse River as it provides different views.
Although both are great, the view from the side opposite of the citadel and cathedral is pretty epic. It is also the most photographed view of Dinant. You can capture the citadel, cathedral, colorful buildings at the base of the cliff's side, and of course, the river.
Besides the gorgeous views, it is a great place to get in some exercise and get those steps in! If you are visiting in December, you will find Christmas Market booths lined up along the Meuse River. But because this is an off-season time of year to visit, the Christmas Market is only open Friday, Saturday, and Sundays.
Walking along the waterfront is one of my favorite things to do in Dinant, as it has one of the most captivating views in every direction.
7. Play At Casino de Dinant
Interested in playing your odds and winning a bit of cash? Then head over to Dinant's Grand Casino! Who knew that this tiny Belgium town would have its own casino. The casino has over 200 slot machines and table games such as Blackjack and Roulette.
Unfortunately, Poker isn't offered but if gambling is your thing, the slot machines are open 24 hours a day. The table games are available from 3 pm to 4 am daily. Visitors must be 21 years of age and there isn't any formal dress code required.
Location: Boulevard des Souverains 6 is a short walk (10-15 minutes) down along the waterfront from the Charles de Gaulle bridge on the east side of the Meuse River.
8. Take A Boat Cruise
Now that you have walked along the Meuse River's lovely banks, take to the water and see her by boat. The majority of the boat tours operate from May – September, so if you are traveling to Dinant outside this timeframe, check ahead for tour availability.
There are two main boat cruise tour options, a 45-minute tour and a 2-hour tour both of which are roundtrip. The 45-minute boat ride will take you from Dinant to Anseremme where you will get to see the Anseremme Priory.
The 2-hour boat ride will take you from Dinant to Freyr with an opportunity to see the Freyr Castle. But if the weather is warm and you are feeling like getting in a workout, you can also kayak on the nearby Lesse River! There are various tour lengths of 12 km ( ~ 3 hours) or 21 km (~ 5 hours).
Note: You can also take a boat cruise on the Meuse River from Namur to Dinant. It is a full day there and back cruise that includes visiting Dinant for a few hours.
9. Try A Couque De Dinant
Have you ever heard of a Couque de Dinant? I know I sure hadn't but was intrigued to see what the hype is all about. What is it exactly?
Well, it is a rather hard biscuit that is sweet. For my fellow Americans, a biscuit is a similar word used for a hard cookie.
First off, no matter how appetizing or inviting a Couque de Dinant might be to bite into, don't!
They are extremely hard and it wouldn't be too far reached to say you could possibly chip a tooth on.
The tip to enjoying these is to break off a small piece, place it in your mouth and let the saliva in your mouth soften up this yummy treat.
Then the magic happens! Couque de Dinant is a simple biscuit made up of only two ingredients, wheat flour, and honey in equal amounts. That's it!
No water, yeast, eggs, or sugar are used. These biscuits or cookies have been made in Dinant since the middle ages and are very well known for them. In more recent recipes, a bit of sugar or baking powder might be added.
The biscuits are molded into various shapes of animals, fruit and well anything really. You can find these in sizes small, medium, and large depending on how hungry you are. A few great places to purchase a Couque de Dinant is from Patisserie V. Collard or Solbrun in the town of Dinant.
10. Grotte La Merveilleuse
Just a short distance from the Dinant train station and La Merveilleuse Hotel, are the prettiest caves in all of Belgium.
The town itself can't get any prettier and so is its underground! As in its name they are marvelous to see and explore.
The limestone caves have beautiful stalagmites (rock formations on the ground from the dripping). And in contrast, there are stalactites (dripping from the ceiling of the caves) throughout it. There are three areas or chambers that you will walk through on the tour.
Hours: Open daily except for Mondays (April – October) offering tours at 11 am, 12 pm, 1 pm, 2 pm, 3 pm, and 4 pm. Open only on the weekends (November – March) with tours at 11 am, 12 pm, 1 pm, 2 pm, and 3 pm. Expect to spend about an hour visiting the caves.
11. Visit A Nearby Chateau (Castle)
There are a number of fairytale-like chateau's (or castles) to explore near Dinant that could make you feel like a prince or princess! The easiest way to get around and reach most of these is with a car. But you could always hire a driver or even take a boat to one.
Chateau de Freyr (Castle Freyr) is just a few minutes north of Dinant along the Meuse River. If you take a boat tour, there is a good chance you are visiting this one. Castle Freyr dates back to the middle ages during the 14th century and the home to the Dukes of Beaufort-Spontin. An interesting bit of history is that the first cup of coffee drunk in Belgium was at Castle Freyr!
A few other castles that you can visit depending on your time in Dinant is Chateau de Annevoie (Annevoie Castle), Chateau de Veves (Veves Castle), and Chateau de la Poste. All three of these are within 25-minutes of Dinant which makes them great places to explore.
Disclosure: My stay is a sponsored collaboration with La Merveilleuse Hotel. As always all opinions are my own.
Where To Stay In Dinant
If I'm not staying at a big chain hotel, I enjoy finding hotels that offer a unique setting, history and tons of character.
My stay at La Merveilleuse Hotel covers all of these points and more! La Merveilleuse is a short walk from the train station and perched on a hill that has spectacular views of Dinant, the Meuse River and the Citadel.
The hotel is steeped in history as it used to be the Bethleem Convent run by Dominican nuns for over a century.
After that it became a hospital, then an orphanage, and finally a hotel in 2008 when Infiniti Resorts took over and named it La Merveilleuse.
They named it after the area of underground caves, the Grotte La Merveilleuse nearby. La Merveilleuse translates to "the marvelous or wonderful" in French and the area is truly marvelous!
The hotel has 15 rooms and 2 larger-sized rooms ideal for families. There is a restaurant and bar onsite along with the Leffe Museum located within it too.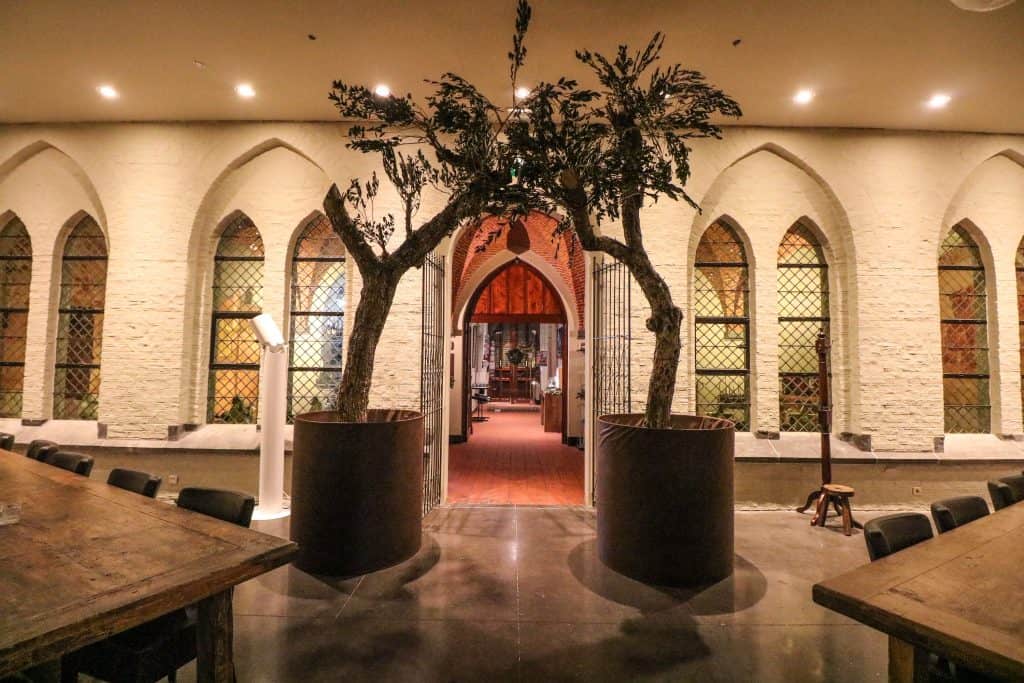 Wandering the hallways felt like I was going back in time and could imagine the nuns living here.
I am so glad the hotel kept the architecture, stained glass and murals intact as they add so much character. They really preserved the history and blended it into the hotel well.
Make sure to walk around and appreciate the architecture and décor. The arched ceilings and windows are so distinctive of being in an old church yet have a timeless feel to them.
If you are like me, a bed can make or break a hotel stay. The bed was fabulously comfortable and allowed me to fall asleep within minutes.
Even though the nuns lived a minimalist life, don't worry as the hotel has all modern amenities that you will need for a heavenly stay.
Les Bains de Dinant (The Spa)
Another blissful feature at La Merveilleuse is their onsite spa, Les Bains de Dinant. It is located in the building next door to the hotel and is a place for complete relaxation. The spa is open to anyone, not just hotel guests.
There is a Roman pool (34 C), saunas, salt cave, a UV shower, a bar-lounge and an outdoor garden oasis. If you call and book in advance, you can even schedule a massage. The spa is centered around the 5 elements of Chinese philosophy that are water, wood, fire, earth, and metal.
After enjoying the different areas of the spa, you can relax with a cup of tea and rest on one of many comfy lounge chairs. Or if the weather permits, go out to the garden and lay out in the sun.
Spa Hours: The spa is open for hotel guests from 10 am to 12 pm and 4:45 pm to 7:45 pm. For other visitors, the spa can be accessed from 4:45 pm to 7:45 pm or booked for a private time. It is recommended to book a massage a week in advance.
Hotel Location: La Merveilleuse Hotel is at Charreau des Capucins 23, 5500 Dinant, Belgium. For more information, go to there website here.
Where To Eat In Dinant
A few of the places that I really enjoyed eating at during my stay in Dinant are:
Chez Bouboule – is a mix of Belgian, European, and Seafood. Have excellent mussels!
Pizzeria Taormina Dinant – a tasty place to get pizza
Solbrun – is a great place to get breakfast, a coffee or something sweet…
Where Is Dinant?
Dinant is located in southern Belgium in the region of Wallonia along the Meuse River.
Even though Dinant is located in Belgium, this area of Belgium is predominantly French-speaking as it is just 12-miles from the France-Belgium border.
After traveling to other cities in Belgium where there was an even mix of French, Danish, German and English spoken I was surprised to only hear French!
But here, only a few people speak English which made it a tiny bit more difficult to converse in.
Even though Dinant is quite small and in Wallonia's countryside, it is close and easy to reach from some of Belgium's bigger cities.
Dinant is located about 1 hour south of Brussels and 30 minutes south of Namur. So there is no excuse to miss this hidden treasure!
How To Get To Dinant
If you are flying into Belgium, you are most likely flying into Brussels at Brussels Airport (BRU). Brussels is 1 – 1.5 hours north of Dinant and super easy to get to via train.
If you plan to see the surrounding areas of Dinant, then I recommend renting a car so that you have the freedom to see the countryside, smaller towns, and castles that are further out.
Other than driving, the easiest way to get to Dinant is by train. Coming from Brussels there are multiple stations to leave from but I recommend leaving from Brussels-Midi or Brussels-Central.
The Central station will be a few minutes closer and is the biggest train station. That means there will likely be more trains leaving for Dinant.
Unless it is a major holiday, you can just purchase your train ticket at the station. They have many kiosks where you can buy your ticket or a ticket agent that can assist you. Buying the ticket was simple, but figuring out which platform to go to was a bit challenging.
The final stop is what is listed, so make sure you know the time the train leaves and the final destination of the train, not necessarily your destination.
If you can't figure it out don't worry as there is an info booth at each station to help. When buying a ticket, pick one that only has one stop which will likely be in Namur.
When To Visit Dinant
Dinant is a wonderful place to visit any time of the year! But as it is a smaller town, you have more options for what to do in the spring, summer, and fall. That's not to say that the winter isn't awesome as I visited in December and loved it!
For activities like kayaking, bike riding, or taking boat tours on the Meuse River, the winter isn't the best time. But if you go during the holidays you will be greeted with holiday decorations and a small Christmas Market that is open on the weekend.
For travel in the winter try to aim your visit around the weekend as that is when many sights and restaurants are open. But no matter what time of year you go, there are always many fun things to do in Dinant!
Got Travel Insurance?
Don't leave home without travel insurance as you never know what might happen on a trip! It is always when you least expect it that something can go wrong like getting sick, in an accident or cancellation of some sort.
Get a no-obligation quote from two trusted travel insurance companies for peace of mind on your next trip!
Looking For More Travel Inspiration?
How To Spend The Best Weekend In Brussels
19 Amazing Things To Do In Ghent
How To Tour The Best Chocolates In Brussels
The Best Way To Spend 3 Days In Bruges
Guide To The Best Christmas Markets In Belgium
7 Best Filtered Water Bottles For Travel And Hiking
Allbirds Review: The World's Most Comfortable Shoes?
Vanessa Shields
Vanessa Shields is the founder of Traveling Ness helping people with trip ideas, itineraries, travel planning, and boosting confidence for female travelers to take a solo trip. She has been a travel writer and content creator since 2019.