Disclaimer: Traveling Ness contains affiliate links and is a member of the Amazon Services LLC Associates Program. If you make a purchase using one of these links, I may receive compensation at no extra cost to you. See my privacy policy for more information.
25 Best Things To Do In Oaxaca City, Mexico For First Time Visitors
Curious as to the best things to do in Oaxaca City in preparation for your first trip? Oaxaca is mesmerizing, a land of magic, and a city you can't help but fall in love with. Explore the top Oaxaca attractions that will leave you wanting to book your next trip back before you leave!
I had repeatedly heard how amazing Oaxaca is and after visiting, I completely get it. I have been to 35 countries and can honestly say this is one of my favorite cities in the entire world.
In every direction, you see vibrant splashes of color on buildings, art murals, flowers, and festive decorations no matter the time of year.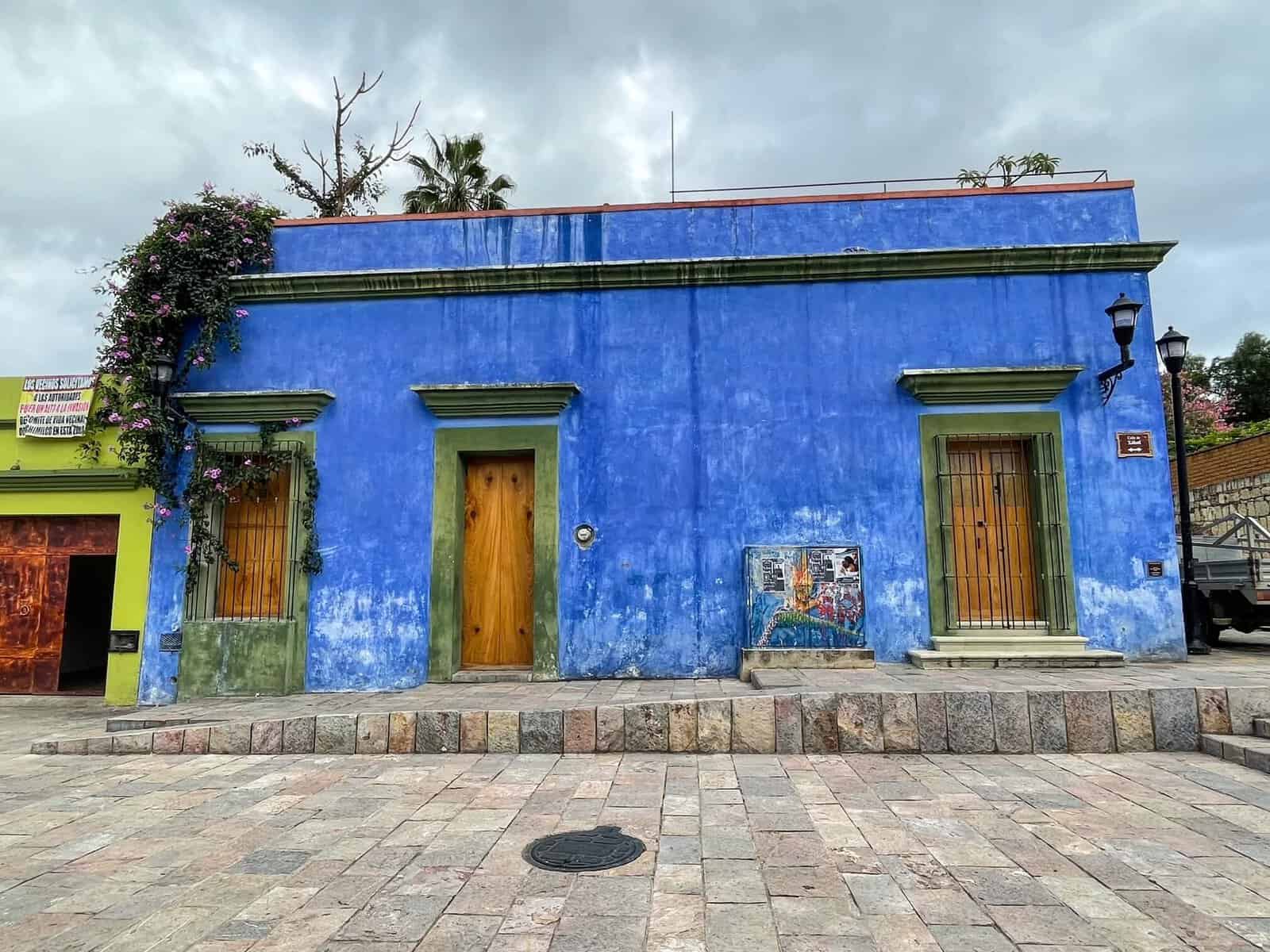 Oaxaca City has it all for a magnificent trip, home to outstanding food (major understatement), the warmest hospitality, fascinating history, and plenty of mezcal tastings to enjoy.
In fact, Oaxaca City has been nominated several times as the gastronomical capital of the world, and for good reason. Your taste buds won't know what hit them as you sample intoxicating spices and foods at every turn.
After the delectable cuisine, Oaxaca City is most famous for its annual Day of the Dead Festival held the first two days of November and quite the celebration remembering those that they have lost.
Note: Although Oaxaca is a state in Mexico when people refer to Oaxaca they are usually referencing Oaxaca City.
Tip: Prepare for your trip and find the most useful tips for traveling to Mexico ensuring a less stressful vacation! Everything from safety, solo travel, money, transportation, health, and more.
More Mexico Destinations:
19 Awesome Things To Do In Puebla, Mexico You Don't Want To Miss
Where Is Oaxaca City?
Oaxaca City is commonly referred to as Oaxaca de Juarez if you are viewing a map for example. Oaxaca City is in the state of Oaxaca and is both the capital and the largest city within the state.
Centrally located in the state of Oaxaca, Oaxaca City is in the southern portion of Mexico about 7 hours to the Pacific Ocean (Puerto Escondido) and 6 hours from the Gulf of Mexico (Veracruz).
Mexico City, the capital of Mexico is approximately 6 – 7 hours to the north of Oaxaca City. Once you arrive in Oaxaca, it really is a great place to branch off from to visit other top cities in the country.
Tip: Wondering how to properly pronounce Oaxaca? It sounds like "wah-haa-kah"!
How To Get To Oaxaca City
If you are coming from out of the country or in a city within Mexico more than five hours away you are likely flying into Oaxaca.
The airport for Oaxaca City is Aeropuerto International Xoxocotlan (OAX) which is about a 25-minute drive to the central historic district of town.
Get started and search for the best flight deals today!
Once you land, you will make your way through customs and be given an FMM form also known as a tourist card.
HOLD ON TO IT! You will need to hand it over when you leave Mexico and if you lose it, expect to pay a $30 fine.
After you pass through customs and collect your luggage, there are ATMs if you want to get pesos. More info on using ATMs and having cash on you in Mexico, in my post 55 Top Tips For Traveling To Mexico!
Before you exit the airport you will see a ticket booth to request a taxi. Be aware that if you don't clarify, you will likely be placed in a taxi colectivo.
A taxi colectivo is a small shuttle bus that fits about 8 – 10 passengers. I assumed that when I paid I had paid for a private taxi.
To my surprise, I was placed in a taxi colectivo where they wait until it is filled up to leave and drop off at each person's hotel.
It took a little longer than I would have preferred but at the time I arrived solo taxis were not available.
Best Places To Stay In Oaxaca City
Over an 11-day period in Oaxaca, I stayed in three hotels all of which I really enjoyed. My favorite was Casa de Arte as far as comfort, incredible restaurant, and décor but its location is a little bit north of the downtown historic area.
All of the other hotels listed here are in the heart of the historic section and in walking distance to all the top sights. You can't beat their prime location!
Note: If you are planning to visit for the Day of the Dead or Independence Day, book your hotel way in advance especially if you want to stay in the central part of town. For Day of the Dead book a year out.
Tip: Be aware that if you are staying along or within a block of the Zocalo (main square) it can be very loud if you are a light sleeper.
Is Oaxaca At High Elevation?
Yes! Oaxaca City is at 5,102 feet (1,555 meters) and it is noticeable for most people during the first few days until you acclimate.
You might notice being tired, getting out of breath easier, having a headache, and feeling dehydrated.
Personally, I get mild altitude sickness above 5,000 feet and very sick above 7,000 feet so I researched what I could take to help combat the effects of the high altitude prior to visiting.
I began taking chlorophyll softgels two days before I arrived in Oaxaca and took them daily during my entire trip in Mexico where I was at altitudes between 5,100 and 7,500 feet.
Aside from a few mild headaches the first few days and getting out of breath easily I was fine. For the first time in my entire life, I didn't get full-blown altitude sickness. I will never go without these again!
Of course, they may not work for everyone but they are widely used for many at high elevations. As with anything, make sure you consult with your doctor about taking them first.
Tip: To help me stay hydrated, I poured a hydration pack into 16 ounces of water each day. They are said to help with hangovers too!
A Very Brief History Of Oaxaca
It is impossible to cover several thousand years of history but I'd like to include a snapshot of Oaxaca's beautiful history.
For centuries, the indigenous people of the Zapotecs and Mixtecs lived in the Valles Centrales, the region where Oaxaca City is today.
In 1495, the Aztecs came in and founded Oaxaca City invading the Zapotecs in the process. Later in 1519, Spanish settlers came in and invaded both the Aztecs and the indigenous people living there.
It was the Spanish that introduced or rather forced the Spanish language and Catholicism in Mexico.
Although there were various power struggles over the years, the region of Oaxaca has held on to its love and pride for its Zapotec and Mixtec cultures.
This passion to share their culture is evident in the food, architecture, eye-catching colors, warm hospitality, and the making of mezcal.
Oaxaca Tours To Take
Monte Alban & Arts Tour – Explore the magnificent ancient ruins of Monte Alban and two villages to discover the art of Oaxaca!
Hierve el Agua & Mezcal Tasting Tour – See the magical wonders of Hierve el Agua for its petrified waterfalls and pools you can swim in. Plus, enjoy a mezcal tasting afterward!
Full-Day Oaxaca Tour – Visit top sights outside of Oaxaca such as Hierve el Agua, Mitla, a textile village, the giant Tule tree, and mezcal tasting over a full day.
Monte Alban Only Tour – If you are short on time and just want to visit Monte Alban, this tour with a local guide is perfect.
Oaxaca Street Art Tour – For those that love exploring the best street art, this tour is for you! Explore exquisite art murals and the history of street art in Oaxaca.
Guided Oaxaca City Tour – Enjoy a guided walking tour of the historic area of downtown Oaxaca!
Oaxaca Food Tours
With a focus on culinary delights, learning the history of Oaxacan food and of course, getting to eat the top favorites. Each of these tours will leave you more than satisfied and introduce you to the best food and drinks in Oaxaca!
For an in-depth food guide to Oaxaca, explore Food From Oaxaca: 21 Traditional Dishes You Must Try When Visiting!
Downtown Restaurant Food Tour – If you want to try some of the best food in downtown Oaxaca City, Oaxaca Eats takes you to several restaurants to sample the most delicious food!
Oaxacan Street Food Tour – Eat the best street food at two markets in Oaxaca with a local guide tasting mouthwatering food!
Tasting The Roots Of Oaxacan Cuisine Tour – Learn about the history of Oaxacan cuisine and eat at the top street food spots and at a family-owned restaurant.
Oaxacan Cooking Class – Enjoy learning to cook new cuisines? Accompany a chef to a local market shopping for the freshest ingredients followed by making a traditional Oaxacan meal!
Mezcal Tasting Experience – Are you a fan of mezcal or curious about what it tastes like? The best way to learn about mezcal and try different ones is on a tour visiting palenques (mezcal farms) with the fun duo, Rambling Spirits!
Central de Abastos Market Tour – Explore the largest market in Oaxaca with Mario come Oaxaca as he introduces you to the magic of this massive market with food, drinks, and more!
Map Of Oaxaca Attractions
Best Things To Do In Oaxaca City
1. Templo de Santo Domingo
One of the prettiest spots in Oaxaca City is the square looking up at the striking Templo de Santo Domingo.
Gazing up at its staggering towers and awe-inspiring Baroque facade you begin to feel the magical effect Oaxaca has on its guests.
In front of the entrance to Templo de Santo Domingo is a wide open square that is a popular place for both locals and visitors to gather.
On days when there are weddings or festivals, this square comes alive with locals in bright costumes, dancing, and celebrating with a zest for life.
Founded in the late 1500s and completed in 1731, Templo de Santo Domingo was a Catholic church and convent.
Although it was originally a convent, in 1812 it became occupied by the army and used as barracks during the Mexican War of Independence. It wasn't until 1994 that the army left the church and the Dominicans took back ownership!
As you make your way inside, you will quickly notice the lavish décor with the appearance that everything you see is covered in gold leaf.
And you will completely miss the beauty the church as to offer if you don't look up! Quite impressive and ornate as you walk through and up to the grand altar with its dome ceiling above.
Tip: If there is a wedding or mass being held you won't be able to enter to walk around.
Note: This walking tour will take you to the top sights in the historic district of Oaxaca!
2. Museo de las Culturas de Oaxaca
Inside the previous convent and butting up to Templo de Santo Domingo is Museo de las Culturas de Oaxaca.
Of any museum you visit in Oaxaca, make sure this is one you don't miss! You might see it referred to Centro Cultural Santo Domingo too.
The museum is dedicated to preserving and sharing the artifacts, figurines, ancient books, and art that encompasses Oaxaca's culture and history.
After you enter, explore the lovely, restored cloisters before moving from one room to the next. On the ground floor, is a library filled with books that date as far back as 1484.
Upstairs you can roam several rooms host to fascinating exhibits. Plus, you can peek out with views over El Jardin Etnobotanico de Oaxaca and the main square in front.
In one of the main rooms upstairs are treasures including jewelry, vases, and figurines that were found in Tomb #7 at the Monte Alban archeological site.
There were several tombs where people were buried with extravagant items but the Spanish plundered all of them except one.
It wasn't until 1931 that someone discovered a tomb the Spanish had missed! A tomb filled with a treasure trove of artifacts for us to view today.
The most recognizable item in the museum might well be a human skull which is covered in fragments of turquoise.
Tip: You can't take in large bags or backpacks, only small purses or crossbody bags. There are no lockers to check a bag so I came back later when I didn't have a backpack.
Note: To see all the exhibits, I would recommend spending about 2 hours at the museum.
3. El Jardin Etnobotanico De Oaxaca
Directly behind Templo de Santo Domingo and Museo de las Culturas de Oaxaca is El Jardin Etnobotanico de Oaxaca.
El Jardin Etnobotanico de Oaxaca is a botanical garden that includes over 1,000 species of plants, cacti, trees, and flowers opening to the public in 1998.
And that number is growing with the goal to include in the garden 10% of all plant species found in Oaxaca.
The gardens were designed by Francisco Toledo and Luis Zarate, Oaxacan artists who successfully created a space where plants native to Oaxaca and its culture are beautifully intertwined.
Ethnobotanical is the study between plants, people, and culture. So, at El Jardin Etnobotanico de Oaxaca you will learn just as much about the Oaxacan culture as you do the plants.
You will discover how plants that are native to Oaxaca are used for food, medicine, and in making items for everyday use.
With its rich biodiversity, the most photographed section is the very tall row of cacti that form a natural fence. Capturing the reflection of the cacti in the shallow pool below is beautiful.
The ONLY WAY TO VISIT is by taking a guided tour. You are not allowed to explore on your own at the moment. In the future, the goal is to have audio guides so that you can take a self-paced tour.
Tours: English tours are at 11:00 am from Monday – Saturday. The cost is 100 pesos ($5.00) per person and the tour is 2 hours.
Spanish tours are at 10:00 am, 11:00 am, and 12:00 pm Monday – Saturday. The cost is 50 pesos and takes 1 hour.
4. Take A Oaxacan Food Tour
As previously mentioned, Oaxaca is the top gastronomic city in the world so there is no better place to take a food tour than here!
Going on a food tour is one of the best ways to dive into the heart of Oaxacan cuisine and taste the most delectable bites.
Each dish I sampled was like an explosion of flavor and unbelievably good. Many of the spices and ingredients were ones that my taste buds had never tried but quite enjoyed.
Mole might be the most famous item in Oaxacan food with seven different moles ranging from sweet to savory.
I can't recommend enough taking a tour with Oaxaca Eats Food Tours!
The owner Lorena Rubio and other guides will take you to the best spots in Oaxaca with mole, tacos, posole, and many more tasty items for you to try. Lorena provides the warmest hospitality and makes this tour quite fun!
Note: Use this in-depth guide on Oaxacan food, so you don't miss out on the best eats, with Food From Oaxaca: 21 Traditional Dishes You Must Try When Visiting!
A few other great food tours to consider are:
Oaxacan Street Food Tour – Eat the best street food at two markets in Oaxaca with a local guide tasting mouthwatering food.
Tasting The Roots Of Oaxacan Cuisine Tour – Learn about the history of Oaxacan cuisine and eat at the top street food stalls and at a family-owned restaurant.
Oaxacan Cooking Class – Enjoy learning how to cook new cuisines? Accompany a chef to a local market shopping for the freshest ingredients followed by making a traditional Oaxacan meal!
5. Explore The Zocalo
In each town in Mexico, you will find a Zocalo or main town square that is the number one place for people to come together.
The Zocalo is bustling with locals regardless of the day and there is usually a live band playing music, vendors, people dancing, and the center of activities for festivals and holidays.
Situated in the center of Oaxaca City, a large gazebo is in the middle with plenty of trees that provide shade on a hot day and water fountains.
Surrounding the Zocalo are restaurants and bars with outdoor seating reminiscent of European cafes perfect for people-watching.
On the southern part of the Zocalo, you will see indigenous people protesting peacefully and selling handicraft items native to their villages.
At the northern part of the square is Catedral de Nuestra Senora de la Asuncion. It is a wonderful spot to enjoy a drink or ice cream and watch the various entertainment in the plaza out front.
During the Day of the Dead festival or on Independence Day, the place to be is in front of Catedral de Nuestra Senora de la Asuncion.
Note: The Zocalo is about 4 – 5 blocks south of Templo de Santo Domingo.
6. Mezcal Tasting At A Palenque
One of the best places to visit in Oaxaca is a palenque! A palenque is an agave farm where they make mezcal, the top and beloved drink of Oaxaca.
First, let's explore what mezcal is, and no it isn't the same as tequila! Tequila is a type of mezcal but not all mezcal is tequila.
Mezcal is an alcoholic spirit that is made from various types of agave plants, those that are wild or planted for harvest.
Once the agave plant reaches a certain growth, the heart of the plant is harvested then roasted in the earth (like with pigs), ground and mashed, then left to ferment in barrels of copper or clay pots.
Mezcal is distilled twice and a good mezcal will be anywhere from 40% to 60% proof. You may see up to 80% too.
In Mexico, particularly in Oaxaca, it is easy to find mezcal at this proof but in the United States, it is difficult where you might see only see as high as 38 – 42%.
The reason is that mezcal is not mass-produced on any of the local palenques. Most palenques are family owned and operated to make mezcal in small batches.
Mezcal from a palenque is considered artisanal or ancestral. If it is manufactured by a U.S. company or big brand, then it is considered industrial.
Much like the production of wine but more so, mezcal has over 1,000 complexities that create specific flavor profiles.
To get a fun and authentic experience of mezcal, consider taking a tour of a palenque and sip incredible mezcal at the source! You will have a fantastic time and learn all about mezcal with Rambling Spirits aka Anna and Brooks.
Note: Save this post as I will be writing a more in-depth post about mezcal and visiting a palenque!
7. Wander Calle Macedonio Alcala
Calle Macedonio Alcala is a pedestrian-only cobblestoned street spanning four blocks linking Templo de Santo Domingo to the Zocalo.
The street is paved with the classic Oaxacan green limestone and cobblestones adding to its charming appearance lined with buildings painted in shades of every color.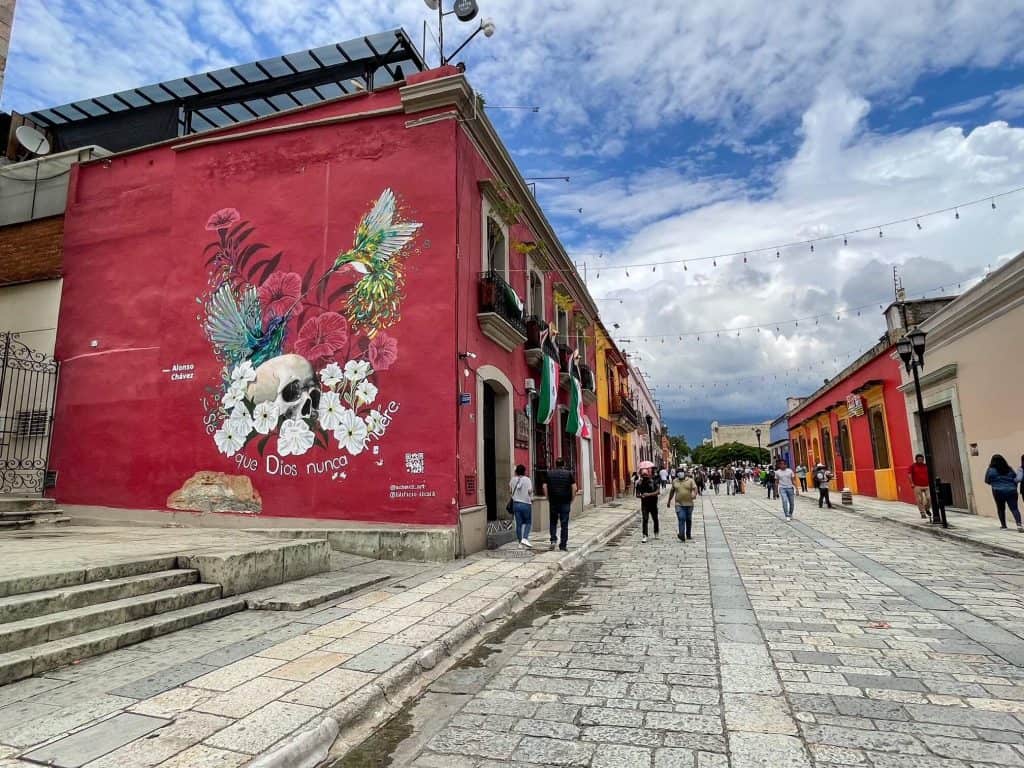 As the sun begins to set leading into the night, lights hang across the street exuding a romantic ambiance. It is just one of many aspects which create a magical feeling only Oaxaca can create…
If you are fortunate enough you can watch a lively street parade known as calendas march down Calle Macedonio Alcala.
During festivals or after a wedding held at Templo de Santo Domingo, a procession comes alive dancing and celebrating their way down to the Zocalo.
In contrast, go in the mornings to enjoy a quiet walk among couples, families, and to take photos of this idyllic street.
8. Visit Central de Abastos Market
One of the most exciting things to do in Oaxaca City is to visit one of its markets! The markets are bustling, chaotic, vibrant, and can easily overload your senses but in a good way.
The biggest market in Oaxaca City is Central de Abastos Market which is a city unto itself. It spans four square kilometers and houses 20,000 vendors!
It is an impressive complex of vendors selling every type of food, ware, and service you can imagine. There is even a school, dentist, lawyer, and more in addition to the regular daily purchases of produce, food, and clothes.
On an average day, there are estimated to be between 40,000 to 100,000 people in Central de Abastos Market.
The only way to fully grasp its size is by going and the best way to do so is with Mario from Mario come Oaxaca!
Mario is an excellent guide who knows Central de Abastos Market and can navigate from one area to another without getting lost as any foreigner like myself would do.
He'll take you to try awesome street food such as tacos, memelas, agua fresca, chocolate, and mole.
Each type of product can be found in one area, for example, all produce will be in one section and meats in another.
Tips: Don't take valuables and use a crossbody purse that you can keep in front of you at all times. Vendors likely won't take credit cards so bring cash and small bills with you.
Note: Another great market but much smaller is Mercado Benito Juarez which is one block south of the Zocalo.
9. Take A Break At A Café
I was pleasantly surprised at how many cafes are in Oaxaca! Every block has at least a few, each with its own charming décor, courtyards, and top-notch coffee.
Outside of Europe, I have not seen so many cafes in one city! And no, I am not referring to Starbucks although there is one location north of downtown.
Each day I tried to visit a different café but a few drew me back for a return trip for both the fantastic coffee and ambiance.
And all of these cafes have delicious bread, pastries, and/or sandwiches to select from if you happen to be hungry.
My top picks for cafes in Oaxaca City are:
Muss Café
Siempre Café
Cafebre
Boulenc
Each of these cafes is the perfect spot if you are looking to start your morning or need an afternoon caffeine break between sightseeing.
10. Explore Xochimilco Neighborhood
One of the best neighborhoods in Oaxaca City to explore on foot is Xochimilco. It is a charming neighborhood north of the central historic area and filled with tons of vibrant art murals!
It is a scenic 20-minute walk from the Zocalo area passing by colorful buildings, cafes, restaurants, and shops.
As you enter Xochimilco you'll see flags hanging over cobblestoned streets in colors of red, green, and white. Looking up you can see different images printed and on some, the phrase "Barro de Xochimilco".
Compared to the areas around the Zocalo and Templo de Santo Domingo, Xochimilco is very laid back and quiet as it is a residential neighborhood.
One of the coolest Oaxaca attractions in Xochimilco is the Aqueduct that runs along Calle Jose Lopez Alvarez.
The arches of the aqueduct are what remains of the 18th-century waterway that transported water from the mountain of San Felipe down to Oaxaca City.
At 300 meters long and running through the neighborhood of Xochimilco, the aqueduct provided the city with water up until 1941.
The arches may even look familiar if you saw the movie, " Nacho Libre" with Jack Black where a scene from the movie was filmed. It is a silly yet funny movie about the unlikeliest man becoming a Lucha libre wrestler.
Today, the arches of the aqueduct frame the doorways to people's houses.
11. Sip Mezcal At A Mezcaleria
On essentially every block in Oaxaca, there is a mezcaleria and a café! I'm not sure which there is more of but there is no shortage of either.
When in Oaxaca, visiting a palenque to see how mezcal is made is a must but back in town explore sipping various mezcals in a mezcaleria.
As the name implies, a mezcaleria is a mezcal bar that serves artisanal mezcal. You can choose from sipping mezcal neat or in a specialty cocktail that most likely is made with fresh fruit and herbs.
In the photo above I thoroughly enjoyed one of the best (mezcal) cocktails I've ever had!
Each mezcaleria is super small, very charming, and has a cozy atmosphere where you can enjoy sipping mezcal while making instant friends with locals.
Due to size, most mezcalerias only have a few bar stools where you stand and strike up a conversation with other guests or the bartender.
Oaxacans have pure love and pride for their mezcal which is evident when speaking to them!
12. Get Your Cardio In At Escaleras del Fortin
If you want to get in a little workout and take in spectacular views of Oaxaca City, climb up the steps at Escaleras del Fortin.
It is a popular spot for locals getting in their exercise especially in the mornings or on the weekends. The steps are broad and make for a beautiful view when you need to stop and take a breather.
Located in the La Paz neighborhood about a 15 – 20 minute walk northwest of the Zocalo, the steps lead up to Auditorio Guelaguetza from Calle Crespo.
The Auditorio Guelaguetza is an outdoor amphitheater where different events are held such as concerts, shows, and festival-related activities.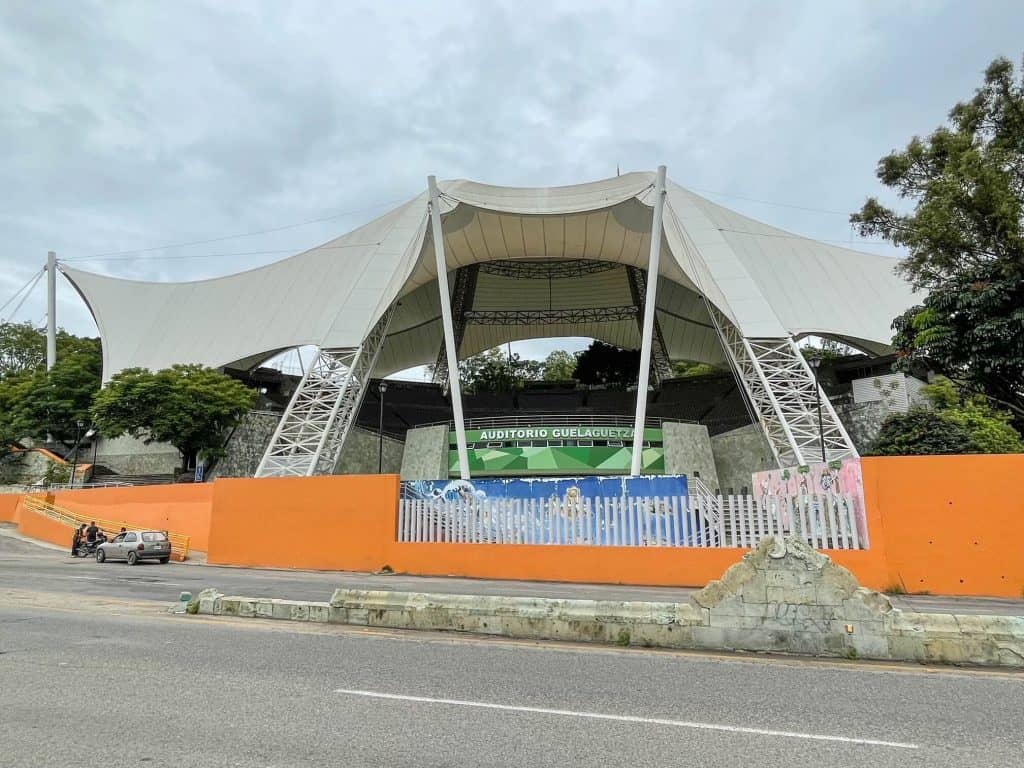 Further up past the amphitheater is a planetarium and observatory that you access via a tunnel at the top of the stairs.
I would advise caution and not go alone past the tunnel as there is known to be crime and pickpockets. For that reason, I only went up to the amphitheater and enjoyed the lovely views of the city and surrounding mountains.
13. Admire Vibrant Street Art
One of the first impressions you will have of Oaxaca is the abundance of color and street art everywhere you look.
You can't help but smile viewing all the talented artwork on full display representing the culture and people of Oaxaca.
There is no shortage of fabulous art murals throughout the city but the two neighborhoods in which you can see several in one area are in the Xochimilco and Jalatlaco neighborhoods.
14. Ancient Ruins Of Monte Alban
Visiting the ruins of Monte Alban is one of the best things to do in Oaxaca City and a perfect half-day trip.
Monte Alban is an incredibly large Zapotec city that means "Sacred Mountains" and was established around 2,500 years ago.
In Valles Centrales, the drive to Monte Alban from Oaxaca City takes 30 minutes to reach and is a place not to miss!
From the visitor center, head out on foot up the hill to explore the magnificent ruins of what is left of the Monte Alban civilization.
Even after all these years, standing and looking out at the pyramid structures is pretty awe-inspiring. To imagine a bustling city that was a major metropolis and hub for all political and economic activity is astounding.
The native produce of corn, squash, and beans were the primary items that were used to trade with other indigenous groups and those coming from faraway lands.
Although you can't see all of them clearly, there were once 2,000 terraces with dwellings on them. At its peak, the population is estimated at around 20,000 people and possibly more.
Monte Alban flourished but after 900 there is evidence that the city was abandoned. There are various theories but no one really knows why the Zapotecs left Monte Alban.
The Zapotecs buried those of high status in tombs with jewels and treasures that were later found and raided by Spanish conquistadors.
For many years the city was forgotten and rediscovered in 1931 by archeologists who located a tomb that had been missed by the Spanish. The belongings of Tomb #7 can be seen at the Museo de las Culturas de Oaxaca (#2 above).
Tip: Spend 2 – 3 hours and go with a guide to learn about the history, culture, and architecture of Monte Alban.
Hours: Open daily from 8:00 am to 5:00 pm.
Monte Alban & Arts Tour – Explore the magnificent ancient ruins of Monte Alban and two villages to discover the art of Oaxaca!
Monte Alban Only Tour – If you are short on time and just want to visit Monte Alban, this tour with a local guide is perfect.
15. Wonders Of Hierve El Agua
I'd seen photos of Hierve el Agua and knew I couldn't pass up an opportunity to see the jaw-dropping petrified waterfalls!
East of Oaxaca City (40 miles), Hierve el Agua looks like an image you would see in a movie that isn't real, but rather conjured up in one's imagination.
Once you arrive, expect a 5 to 10-minute walk down a steep hill (remember what goes down must come up!) and prepare to be mesmerized by pools of water that resemble infinity pools.
The name Hierve el Agua translates to "the water boils" giving the impression that the water is hot but it isn't!
The water is room temperature to slightly cold but the name comes from the bubbling water that appears to be boiling as it escapes the springs and flows into the pools.
Naturally formed, the pools are fresh spring water filled with an abundance of minerals, primarily calcium carbonate.
As the water flows over the edge of the cliff, it hardens and forms a petrified waterfall with its stark white color. Over time the waterfalls will grow as more minerals flow over and add to the size.
Hierve el Agua is one of two places in the world where you can see this phenomenon, the other is in Turkey.
There are a handful of pools and two major "salt waterfalls" over a large area that requires you to hike steep hills to get back and forth. Not too hard but because of the altitude, you will get out of breath quickly.
If you want pictures without tons of people, get there when it opens and bring your swimsuit and towel if you want to take a dip.
Hours: Open daily from 7:00 am to 5:00 pm.
Hierve el Agua & Mezcal Tasting Tour – See the magical wonders of Hierve el Agua for its petrified waterfalls and pools you can swim in. Plus, enjoy a mezcal tasting afterward!
Full-Day Oaxaca Tour – Visit top sights outside of Oaxaca including Hierve el Agua, as well as Mitla, a textile village, the giant Tule tree, and mezcal tasting over a full day.
16. Grab A Cocktail On A Rooftop Bar
Oaxacans sure know how to enjoy outdoor dining with a view as there are several rooftop eateries to choose from. Eating or enjoying a drink on a rooftop bar and taking in the views doesn't get much better.
It seems like every other building has a rooftop that is perfect for sipping a cocktail or beer with direct views of the surrounding mountains, churches, and a kaleidoscope of colors from the buildings below.
Most days I enjoyed taking a break and getting a drink in the afternoon but really any time of the day works in such a relaxing space.
A few of my favorite rooftop bars to hang out at are below and although I primarily had drinks, they all serve food too.
Gozobi
Casa Oaxaca – awesome food and one of the best restaurants in Oaxaca!
Los Andantes Terraza
Sur A Norte
La Mescalerita
17. Spend Time In Jalatlaco
Much like Xochimilco, Jalatlaco is one of the coolest neighborhoods in Oaxaca which is residentially mixed in with cafes, restaurants, and tons of colorful street art.
Rows of vibrant flags hang over the idyllic streets with relaxed vibes yet only a mile from the Zocalo.
It's a neighborhood that you can easily see yourself living in for its pretty streets resembling a rainbow, colonial architecture, and great places to eat.
I didn't spend as much time exploring outside due to the rain but really enjoyed escaping the wetness to warm up with a latte in a café.
Oaxaca Street Art Tour – For those that love exploring the best street art, this tour is for you. Explore talented art murals and the history of street art in Oaxaca's Jalatlaco neighborhood!
18. Give Chapulines A Try!
What are chapulines you ask? They are grasshoppers! I'm sure your first response is no way and disgusting but I challenge you to try at least one…
I'm not someone who enjoys eating insects but I knew I couldn't come to Oaxaca without trying them.
Much to my surprise, they aren't bad and if you don't think about what they are, they are quite tasty!
They are a crunchy and salty snack that the locals enjoy on a daily basis. You will see street vendors selling various types of chapulines in colorful mounds.
You can choose from small or large grasshoppers with the smaller ones being my preference. Plus, you may see them with different spices too.
Chapulines are not just street food! You will see them on menus across the city and in all types of meals.
It is common to see a heaping serving on top of guacamole or in an omelet for example! For a complete guide to eating in Oaxaca, check out Food From Oaxaca: 21 Traditional Dishes You Must Try When Visiting!
19. Travel Back In Time At Mitla
Mitla is an ancient Zapotec town east of Oaxaca City about 30 miles away and one of the best places to visit in Oaxaca.
It also happens to be on the way to Hierve el Agua so it is ideal to combine the two on a day trip.
The town of Mitla is over 2,000 years old with it being established between 0 AD and 200 AD.
Walking around it is pretty astonishing that the ruins you see today are over 2,000 years old as they are in exceptional condition.
Mitla became a religious center for the Zapotecs and Mixtecs that prospered until the 16th century before the Spanish came in and conquered them.
What makes the ruins so remarkable is the intricate geometric shapes carved into the stonework on walls and panels.
Although you can still clearly see the dyed images, you can imagine how bright they would have been in their heyday.
Walking among the church, tall columns, and steps you catch a glimpse of what life would have looked like.
The present-day town that borders the archeological ruins of Mitla is San Pablo Villa de Mitla which is a great spot to do some shopping and eat at. The market as you exit is known for its textiles and artisan handicrafts.
Hours: Open 9:00 am to 5:00 pm from Tuesday – Sunday.
Full-Day Oaxaca Tour – Visit top sights outside of Oaxaca which includes Mitla along with Hierve el Agua, a textile village, the giant Tule tree, and mezcal tasting over a full day.
20. Sample Pulque, Tepache, & Tejate
There are so many foods and flavors that are home to Oaxaca and the same goes for some unique drinks. There are three drinks that you don't want to skip when visiting Oaxaca as they are local favorites.
Pulque
Pulque is a slightly tart drink that is made from agave plant sap and is fermented to give a low alcohol content similar to a light beer. The only way to have it is fresh, straight from the agave plant!
Tepache
Tepache is another fermented drink that is made with pineapple rinds, sugar, and cinnamon. It barely has any alcohol in it but it does have some to be aware of.
It has a refreshing sweetness but is not overwhelming and is something I could drink daily if available.
Tejate
You will see Tejate being sold by street vendors and at small shops all around Oaxaca. Tejate does not have any alcohol in it and is sweet.
Made from toasted maize (corn) and fermented cacao beans that are ground into a paste. Water is added and stirred with a bit of sugar creating a frothy top layer. It's similar to cold watery chocolate milk.
21. Attend The Day Of The Dead Festival
The biggest festival of the year in Oaxaca and much of Mexico is the Day of the Dead Festival which is held on November 1st and 2nd.
Contrary to what many believe, it isn't the same as Halloween which is celebrated on October 31st. Although festivities and events build up the few days before Nov. 1st, it is primarily on the first two days of November.
Day of the Dead in Mexico (El Dia de los Muertos) is a festival also known as All Souls' Day, where families celebrate and remember their dead ancestors.
It is a time to visit the graves of loved ones, create a beautiful altar, make special dishes, dress up, and attend a parade.
Tip: If you plan to attend, book your hotel a year in advance if you want to stay in the historic center and not pay really high rates.
22. Celebrate Independence Day
Another fun and exciting time to visit Mexico is during the week of Independence Day!
Mexico's Independence Day is officially September 16th but celebrated on September 15th and 16th. The big party, parade, and firework festivities are all on the 15th making it the main day.
On the 16th, it is a day to relax and spend time with family and friends, much calmer than the day before. And quite possibly to recover from a hangover…
A parade and fireworks on the evening of the 15th are along the northern portion of the Zocalo in the center of town.
I happened to be in Oaxaca on Independence Day and it was such an incredible experience celebrating with friends and locals.
The week or two leading up to it you will notice decorations being put up and a day or two before the city will get busier and more festive.
Tip: If you are in Oaxaca in August or September make sure you order Chiles en Nogada as it is a seasonal dish and absolutely amazing! Chiles en Nogada originated in Puebla, but I prefer the style of Oaxaca's better.
The dish is a stuffed poblano chile with various ingredients such as meat, raisins, and spices, with a walnut-based sauce and pomegranate seeds. It makes up the colors of the Mexican flag!
23. Visit The Textile Museum
A small and interesting museum to visit is the Textile Museum which features textiles created from different regions of Oaxaca and Mexico overall.
You can view the various designs, materials, and techniques that go into making beautiful textiles.
The exhibits do a great job of explaining the ways of creating textiles in the past and how it has changed compared to modern day.
You will see in the main courtyard when you walk in, a large and striking textile hanging from above. There are a few rooms downstairs and upstairs that you can wander at your own pace.
Note: The museum is free to enter and open from 10:00 am to 8:00 pm daily.
Tip: Pay a visit to Muss Café next door, one of the best and prettiest cafes in the city!
24. Instituto Oaxaqueno De Las Artesanias
Located in the Xochimilco neighborhood is the exquisite Instituto Oaxaqueno de las Artesanias (Hecho en Oaxaca), a cultural center that features exquisite handmade items from artisans in Oaxaca.
"Hecho en" translates to "made in", so all items you see are made in Oaxaca. If you want to purchase a high-quality handicraft from Oaxaca, this is an excellent place to shop.
There are several shops that line a lovely courtyard with a fountain and colorful flags hanging from above.
Pictures are not allowed inside but there is incredible craftsmanship in figurines, bowls, clothes, artwork, and more!
Hours: Open from 10:00 am to 5:00 pm, Monday – Friday. And open from 11:00 am to 5:00 pm Saturday and Sunday.
25. Centro Cultural San Pablo
Another quaint and beautiful space is at the Centro Cultural San Pablo, a cultural center a few blocks from the Zocalo.
The center is housed in a restored Dominican convent that blends the cultural history of Oaxaca and academics.
Centro Cultural San Pablo opened to the public in 2011, sharing the heritage of Oaxaca's communities from the time when the convent was founded in 1529.
As you make your way from one section to another you will notice modern additions in metal, wood, and glass added within the old convent structures.
Including a library and a space for events, you can learn about the indigenous people of Oaxaca through their culture, items they made, language, and foods eaten.
On one side of the courtyard, there is a café which is a nice spot to enjoy a coffee or a bite to eat!
Note: Admission to the Centro Cultural San Pablo is free.
Hours: Open 10:00 am to 8:00 pm, Monday – Saturday and til 6:00 pm on Sunday.
FAQ On Visiting Oaxaca City
When Is The Best Time Of Year To Visit Oaxaca?
The short answer is any time of the year! But of course, there are some pros and cons to each season.
Overall the best months to visit Oaxaca are April, May, June, September, October, and November. The weather is nice and with the exception of festivals, it isn't too crowded.
During the winter months of December – March, the temperatures will be slightly cooler and drier. It is also the busiest time of the year. So, expect more crowds and look into booking hotels and tours in advance.
The summer months are the wettest with rain a daily occurrence usually ending in September. For most days it will only rain in the late afternoon or evening and not interfere with sightseeing!
Is Oaxaca City Worth Visiting?
Yes! Oaxaca is one of the most beautiful cities in the world with its colonial architecture, cobblestoned streets, outstanding cuisine, top-notch mezcal, history, culture, and the friendliest people.
How Many Days Do I Need In Oaxaca?
I suggest spending a minimum of 4 days in Oaxaca but recommend staying a full week. This way you can take advantage of exploring the best places to visit in Oaxaca and enjoy several unforgettable meals.
Oaxaca isn't a city you want to rush but rather experience at a slower pace and give in to its alluring appeal…
What Are The Most Popular Festivals in Oaxaca?
The most popular festival in Oaxaca is the Day of the Dead (Oct/Nov)! Although not quite a festival, Independence Day (Sept) is a fun celebration that runs over a few days.
Two other top festivals to attend in Oaxaca are Guelaguetza (folk festival in July) and the Oaxaca Mezcal Festival (July).
What Language Is Spoken in Oaxaca?
Spanish is the primary language spoken in Oaxaca but you can find people that speak some English. English isn't as widely spoken as in other regions, so do your best to learn basic phrases and you can always reference the Google Translate app!
What Currency Is Accepted In Oaxaca?
The local currency used in Oaxaca is pesos (MXN). Pesos are the currency used to purchase items, with American dollars rarely accepted.
I recommend you purchase in pesos as it is a better conversion rate. A quick way to determine the cost and conversion rate is with the XE Currency app.
For money tips and more, reference 55 Top Tips For Traveling To Mexico And What To Know Before You Go!
What Is Oaxaca Most Famous For?
Oaxaca is known as the gastronomic capital of the world making it a must-destination for anyone who appreciates exceptional food.
It is also famous for the Day of the Dead festival, mezcal, archeological ruins, colorful decor, and the warmest people!
Is Oaxaca Safe For Female Travelers?
Yes! Oaxaca is an incredibly safe city but as with all cities, things can happen. My best advice is don't go out alone at night outside of the historic center. There are always people out and about in that area.
I traveled solo and in a group during my stay in Oaxaca. I never once felt that safety was a concern when I was by myself or with others.
Enjoying experiencing the best things to do in Oaxaca!
Got Travel Insurance?
Don't leave home without travel insurance as you never know what might happen on a trip! It is always when you least expect it that something can go wrong like getting sick, in an accident or cancellation of some sort. Get a no-obligation SafetyWing travel insurance quote today for peace of mind!
Looking For More Travel Inspiration?
Food From Oaxaca: 21 Traditional Dishes You Must Try When Visiting
19 Awesome Things To Do In Puebla, Mexico You Don't Want To Miss
55 Top Tips For Traveling To Mexico And What To Know Before You Go
33 Best Things To Do In San Miguel de Allende, Central Mexico
7 Best Filtered Water Bottles For Travel And Hiking
10 Ultimate Things To Do In Panama City, Panama
A First Timer's Guide To 3 Days In Delhi Itinerary
Disclaimer: As an Amazon Associate and a participant in other affiliate programs, I may earn from qualifying purchases in this post. This means that if you make a purchase through one of these links, I might receive a commission at no extra cost to you. Thank you and it is greatly appreciated!