Disclaimer: Traveling Ness contains affiliate links and is a member of the Amazon Services LLC Associates Program. If you make a purchase using one of these links, I may receive compensation at no extra cost to you. See my privacy policy for more information.
Ultimate New Orleans Bucket List: 35 Fun Things To Do In NOLA
New Orleans is one of the most iconic and unique cities in the United States making it a top destination! There is plenty of fun, history, and cool things to do in NOLA that you can't do anywhere else. Get ready to experience this magical city with the ultimate New Orleans bucket list!
If you didn't already know, New Orleans is home to countless festivals with Mardi Gras the most famous of them all.
Over the years, New Orleans has earned the nicknames "Crescent City" and the "Big Easy".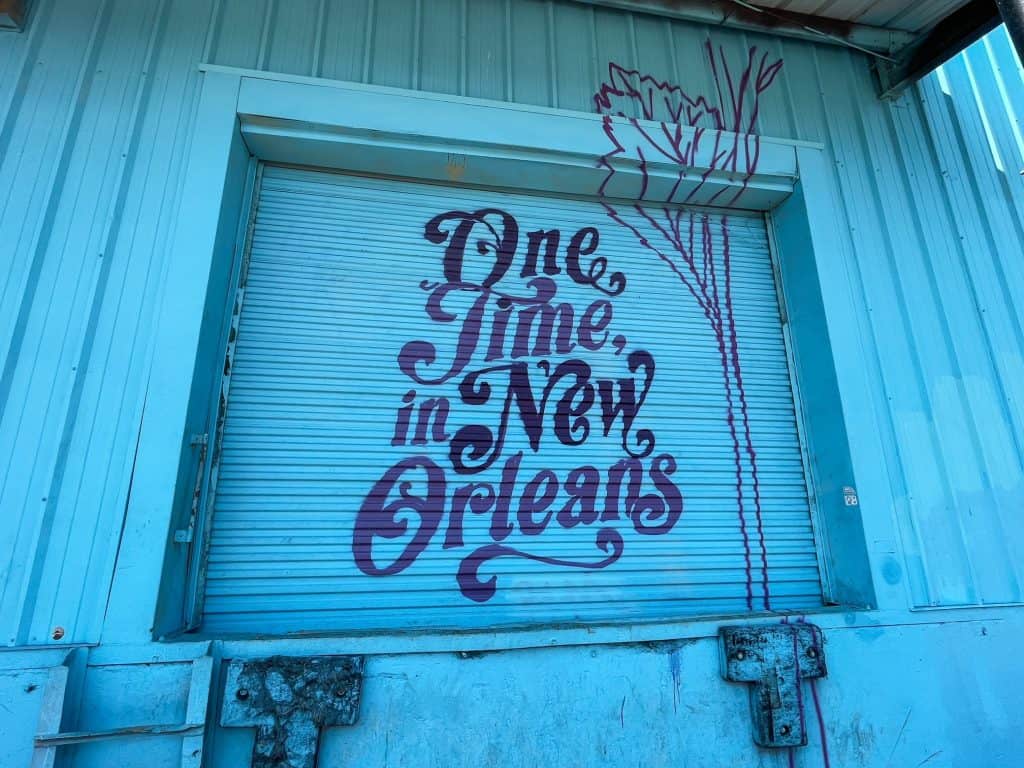 When looking at a map, where the French Quarter meets the Mississippi River is crescent-shaped. Whereas the Big Easy gives reference to the laid-back and easy-going pace of this awesome town.
Without question, New Orleans is one of my favorite cities and one that I hope you will learn to love too.
Explore the best New Orleans attractions you want to experience and make your own New Orleans itinerary!
Where Is New Orleans?
New Orleans is one of those cities that you are probably familiar with but might not be too sure as to where it is.
New Orleans is located in Southern Louisiana on a crescent-shaped piece of land right along the Mississippi River and minutes to the Gulf of Mexico.
Louisiana is nestled between Texas to the west, Mississippi to the east, and Arkansas to the north.
The Crescent City aka New Orleans is considered part of the South and the Gulf Coast of the United States.
Tip: If you are looking for another city to visit along the Gulf Coast that has a New Orleans feel, try 21 Fun Things To Do In Mobile, Alabama On A Weekend Getaway!
How To Get To New Orleans?
If you are flying into New Orleans, the best airport to fly into is Louis Armstrong New Orleans International Airport (MSY).
Do you need a car in New Orleans? If you just plan to stay in New Orleans, you can easily do without renting a car and choose walking, the streetcar, or an Uber/Lyft to get around.
But if you plan to see surrounding areas or want to visit a plantation or nearby city of Lafayette then yes renting a car is best.
Search For The Best Car Rental Rates Today!
If you are on a road trip or driving in from another state, the drive times from the following cities are:
Baton Rouge, Louisiana – 1.5 hours
Lafayette, Louisiana – 2.5 hours
Houston, Texas – 5 hours
Gulfport, Mississippi – 1.5 hours
Mobile, Alabama – 2.25 hours
Pensacola, Florida – 3 hours
How Many Days To Spend In NOLA?
The number of days you spend in New Orleans has a lot to do with what you plan to do. If your primary goal is to just party on Bourbon Street then a weekend is plenty of time.
But I challenge you to do more than going bar to bar on Bourbon Street! Although I am guilty of this and although it is a ton of fun, there is so much more to explore in NOLA.
For your first visit, I would recommend 4 days to experience the essential first-time New Orleans attractions.
If you plan to take a few tours and want to head up to Cajun Country in Lafayette then you could easily spend 5 – 6 days.
Get A PDF Of This Guide For Your Trip
For your convenience, you can download a copy of this New Orleans bucket list guide or print it to take with you. It includes pictures and links within the post. It's ad-free ad handy for on the go!
Buy Your New Orleans Bucket List PDF Guide Today!
Best Places To Stay In New Orleans
When staying in New Orleans, I think it is best to stay within walking distance of great restaurants, bars, and top New Orleans attractions.
The three areas I would recommend staying in are the French Quarter, CBD (Central Business District), and Lower Garden District.
Here are the best places to stay in each neighborhood:
French Quarter
Central Business District (CBD)
Lower Garden District
What Is Cajun vs. Creole?
I had always associated both with a style of food but Cajun is both a group of people and a style of food that Cajun's are known for eating. The same goes for Creole.
Cajun's are known as Acadians who are a group of people that live in Louisiana but originally came from Canada.
The Acadians that migrated to Southern Louisiana were French-speaking and why you may hear and see a lot of French words in Cajun French.
Traditionally you find Cajun in the Lafayette region whereas Creole is found in New Orleans. Although a lot of restaurants have blended into their cooking both Creole and Cajun flavors, they have separate origins.
The French known as Acadians migrated from Canada were classified as Cajuns whereas people born in the "New World" in Southern Louisiana were considered Creole.
So, a Creole could be someone born in Louisiana whose parents were from Spain or France and were Catholic.
And if that isn't confusing enough, all Cajuns born in Louisiana are by default also Creoles as they are born in the New World.
But not all Creoles are considered Cajun!
Top New Orleans Tours
Explore the best tours in New Orleans that make for an unforgettable trip!
Map of New Orleans Attractions
New Orleans Bucket List: Top Things To Do In NOLA
1. Wander The French Quarter
The French Quarter is the heart of New Orleans overflowing with history, cobblestoned streets, and plenty of entertainment.
It encompasses many things to do in NOLA including Jackson Square, Café du Monde, and the Mississippi Riverfront.
Back in the early 1700s, the French established New Orleans in what is now the French Quarter where the development of NOLA began.
Later this section of town became known as Vieux Carré meaning "Old Square".
Eventually, the Spanish came and as you notice the architecture, is both French Colonial and Spanish Colonial style.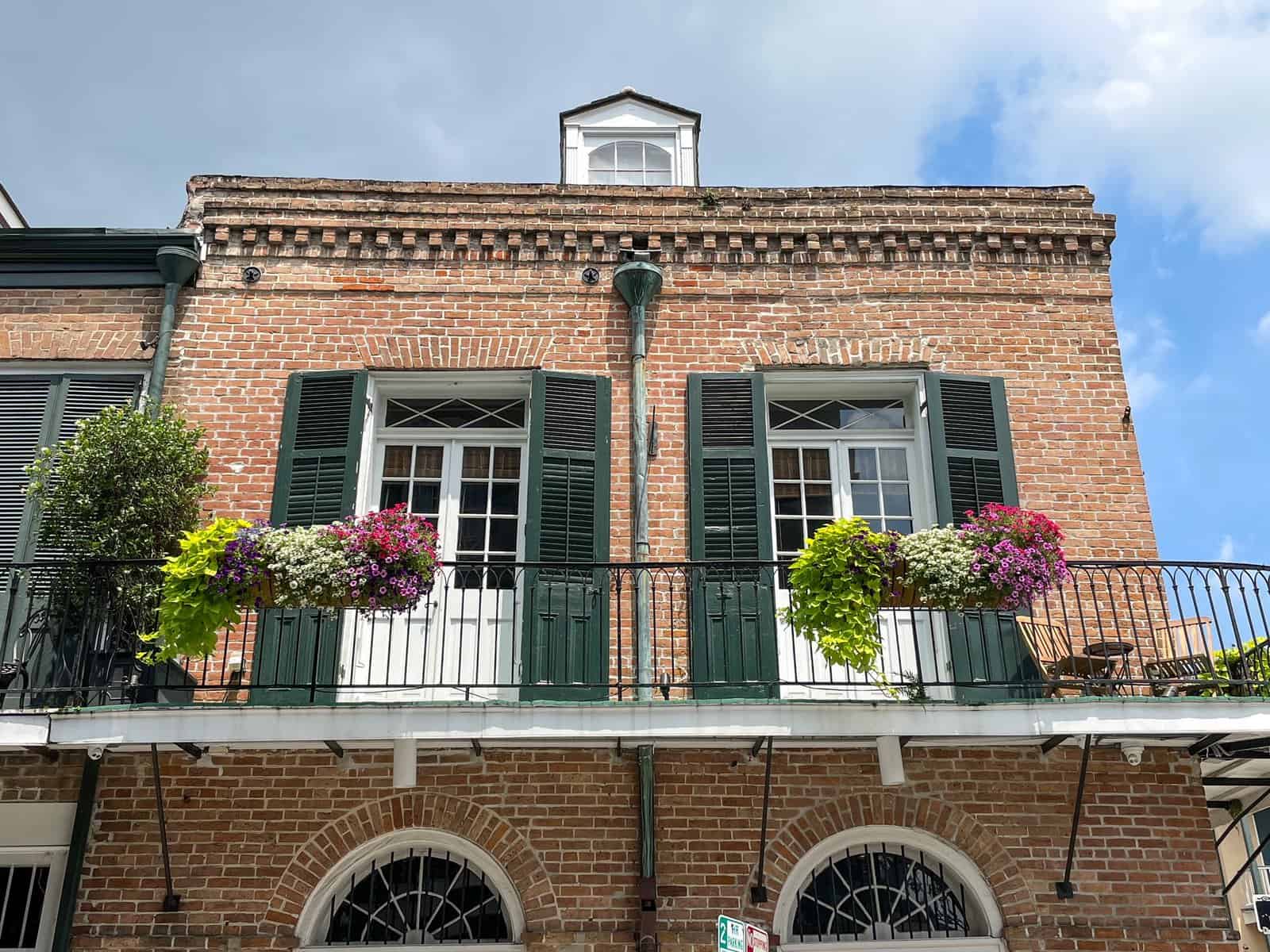 The most famous street in the French Quarter is Bourbon Street where you can pop into one bar, restaurant, or jazz club after another.
It is also the epicenter of the world-renowned Mardi Gras Festival each year where people are partying and throwing beads off of balconies.
But if partying it up isn't your thing, don't pass up on spending time in the French Quarter!
I think I have spent hours just wandering up and down streets in the Quarter admiring the most charming houses and buildings.
You'll see buildings in bold, bright colors with balconies and black wrought iron accents throughout.
Besides Bourbon Street, make sure to walk along Royal Street, Chartres Street, and Decatur Street.
Plus, all the cross streets in between as there are so many hidden gems to see as you wander through the French Quarter!
2. Get A Cup To Go
One of the coolest things to do in New Orleans is to grab a drink to go! Yes, an alcoholic drink.
New Orleans is one of the few places in the United States where you can openly carry a drink and not get busted by the cops.
If you plan to take your drink to go make sure you order it that way so that they put it into a paper or plastic cup.
In the mornings I loved getting a Bloody Mary and walking throughout the French Quarter sightseeing.
Or in the evenings you can grab a drink and enjoy it walking down Bourbon Street where there is a lot of great people watching to be had!
A very popular drink in New Orleans is the daiquiri. A daiquiri is a frozen rum alcohol drink that can come in almost any flavor you can imagine such as strawberry, coconut, mango, sangria, and so on.
Most daiquiri places will have 15+ flavors to choose from and you can get them to go in various sized cups.
And if you happen to be driving around New Orleans and other areas of Louisiana, you can even get a daiquiri to go from a drive-thru.
Yep, it is legal but there are a few rules. You must not drink the daiquiri until you get to your destination. And keep the lid intact and don't put the straw into the lid.
3. Eat Beignets!
If there is one sweet treat to eat in New Orleans, it is a beignet! I have tried them in other places, but no question the best beignets can be found in NOLA.
What exactly is a beignet? A beignet is fried dough covered in powder sugar goodness somewhat square-shaped and slightly puffy.
A freshly made beignet is incredibly delicious and it's hard to only have one! Luckily beignets are served with three as the smallest order.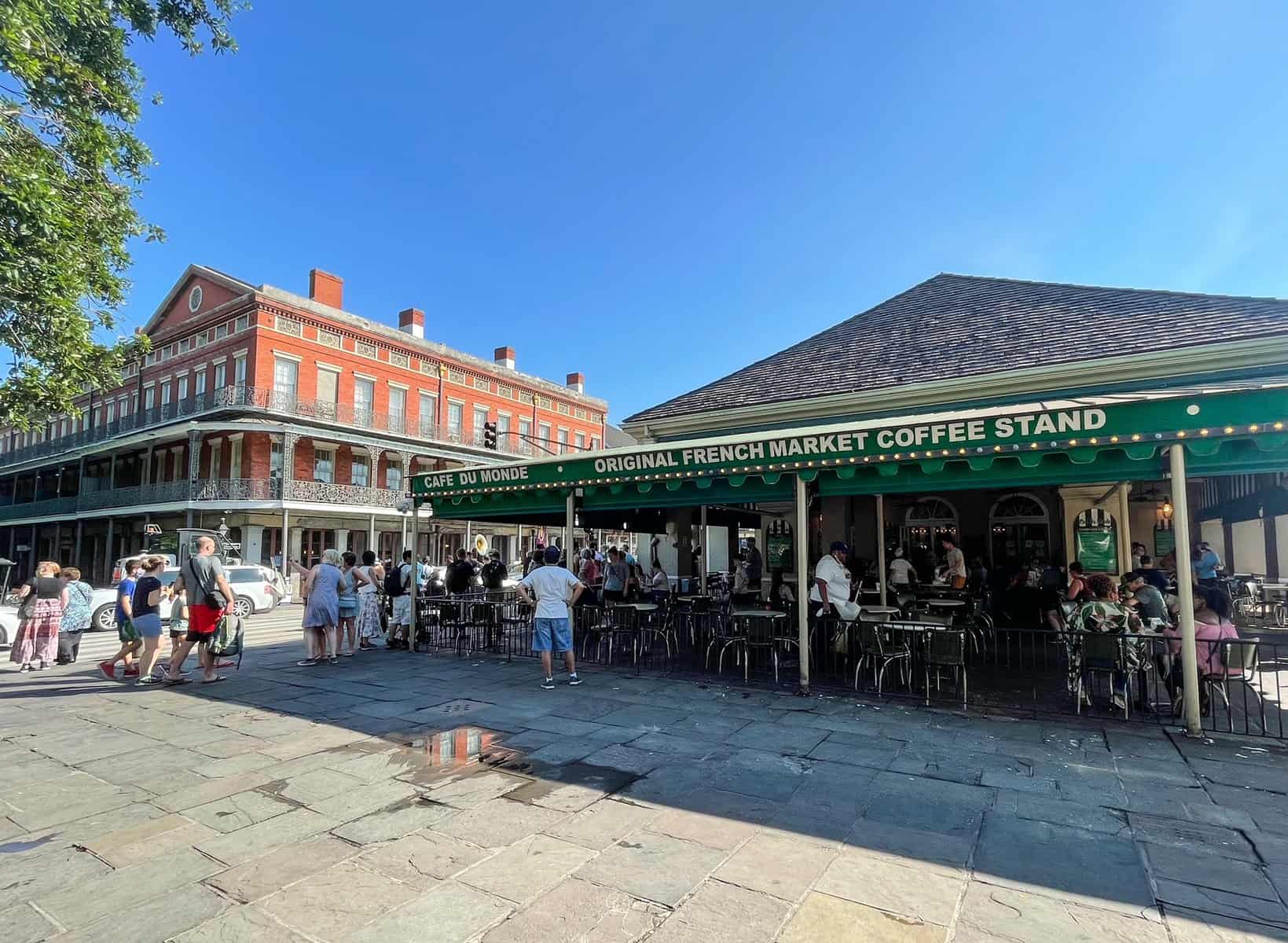 On my first trip to New Orleans, I made the mistake of getting a bag of beignets to eat the next day. That is a big no-no…
Beignets are meant to be eaten fresh on the spot! If you don't eat them fresh, they get somewhat hard and less desirable.
The most famous place to grab a trio of beignets and chicory coffee is at Café du Monde located between Jackson Square and the river.
And if you have a late-night craving, Café du Monde is open 24 hours a day!
The other top spot to sample a beignet is at Café Beignet with a few locations but I prefer the one at 334 Royal St for its idyllic indoor and outdoor garden seating.
I personally love the beignets at both of these iconic New Orleans café's and I recommend you try both to see which one you prefer!
Tip: Avoid wearing black or any dark-colored top when eating beignets! Otherwise, you will be covered in powder sugar. At that point, there is no denying what you have eaten as the evidence is everywhere…
4. Jackson Square
Besides the famous Bourbon Street, Jackson Square is the most recognizable location in the French Quarter.
Jackson Square happens to be a historic landmark and a central spot where the French Quarter meets the riverfront.
You have likely seen the 2.5-acre square in many movies and TV shows with the iconic St. Louis Cathedral as the backdrop.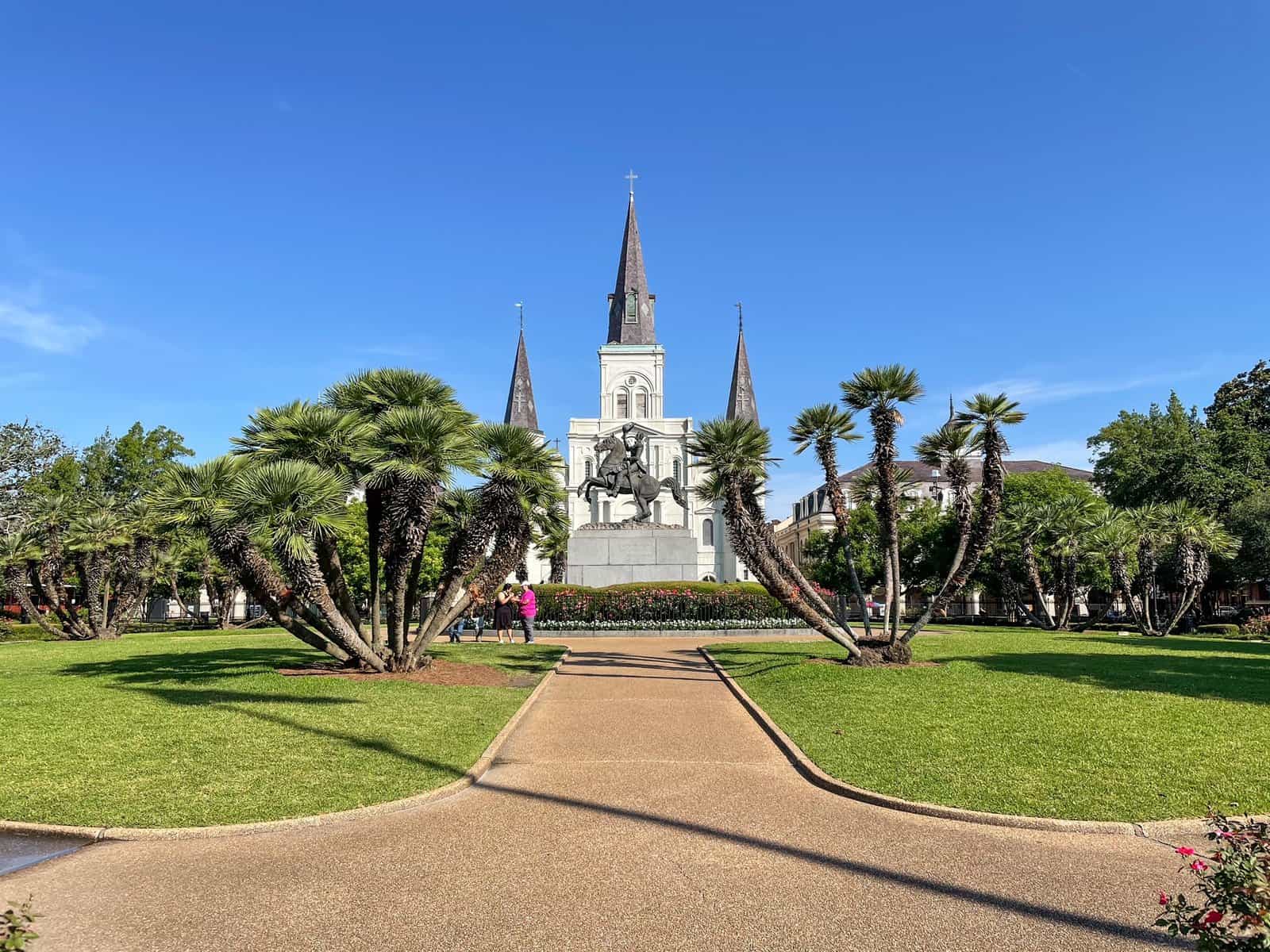 The beautiful square and garden feature benches to sit, manicured planters, a fountain, open space for festivals, weddings, or artists all surrounded by black iron fencing.
At the center of the square, you will see a statue of General Andrew Jackson (7th US President) on a horse who is considered to be the hero of New Orleans after the 1815 Battle of New Orleans.
It is a bustling area of New Orleans with the waterfront across the street and access to numerous places to eat and drink.
For any festival such as Mardi Gras, Jazz Fest, or New Year's Eve, you can bet Jackson Square will be at the center of it all.
When visiting Jackson Square make a point to admire the St. Louis Cathedral from the exterior and take a peek inside to see the oldest cathedral in North America.
The building next to St. Louis Cathedral is The Cabildo, Louisiana's State Museum. The Cabildo is housed in a Spanish colonial-style building that is beautiful to see on its own!
Up until 1853, The Cabildo served as the seat of the Louisiana government, then a Supreme Court, and finally a museum in 1908.
Inside you can explore three floors of fascinating New Orleans history and the greater Louisiana viewing artifacts, memorabilia, and various exhibits.
Hours: Jackson Square is open 24/7 but the Cabildo is open from 9:00 am to 3:30 pm daily except for Monday.
Discover The Best Tours In New Orleans!
5. Tour The Garden District
As much as I love the French Quarter, leaving Bourbon Street and exploring other neighborhoods such as the Garden District is a must.
The Garden District is an idyllic and upscale neighborhood in New Orleans that is the most popular area to visit after the French Quarter.
You'll find streets lined with oak trees, historic mansions, streetcars, quaint shops, and plenty of top restaurants and bars.
If I lived in New Orleans, this is the neighborhood I'd want to live in!
The Garden District has the most well-preserved historic mansions in the South established during the mid-1800s up until around 1900.
There are so many mansions in this area because at one time this area of NOLA had many plantations.
The mansions housed the wealthy plantation owners and each had large gardens, hence its name!
On Prytania Street and St. Charles Street, you can find a number of beautiful historic mansions to stroll by and admire.
Commander's Palace is one of the most iconic fine dining restaurants in New Orleans and is located in the Garden District.
The restaurant has been around since 1893 serving Louisiana Creole food that is superb! Plus, you get to dine in a historic mansion.
Go for a fun jazz brunch or dine for lunch and get the famous 25 cent martinis! Yes, you read that right, 25 cent martinis with a limit to 3…
I'll talk about Magazine Street next, but another top sight to see in the Garden District is Lafayette Cemetery No. 1.
6. Stroll Magazine Street
I briefly mentioned Magazine Street as a point of interest in the Garden District but I wanted to focus on it a bit more here.
Magazine Street is the main artery in the Garden District where you can spend hours roaming up and down appreciating the architecture, bright colors, lots of shops, and places to grab a bite to eat.
If you want to learn about the Garden District's history and sample excellent bites of food then I highly recommend you take the New Orleans Secrets Food Tour.
I took this food tour on a recent visit and it was my favorite experience of the trip, definitely New Orleans bucket list-worthy!
Not only do you learn about the area and get fun facts but you get to taste some of the best food on Magazine Street.
You can find art galleries, cafes, jewelry stores, and more on Magazine Street. On the tour, we got to visit the gallery of the artist, Terrance Osborne.
I fell in love with his art so much I bought a print! He captures the vibrant colors, feelings, and images of New Orleans perfectly.
Magazine Street is a popular street running through a few neighborhoods. But the main section in the Garden District to focus on is between the cross streets of Jackson Ave and Napoleon Ave.
Although there are many favorite places to eat in the Garden District, one brunch and dinner spot stands out, Atchafalaya Restaurant. They serve the most delicious Southern Creole food…
And if you are looking to grab a beer in a unique setting, go to Bulldog's and sit next to the outdoor fountain coming out of beer taps. The fountain was off when I took this photo, unfortunately…
7. Visit A Cemetery
You might not have ever envisioned visiting a cemetery as top on your list of things to do in New Orleans but hear me out.
New Orleans has the most unique and eerily beautiful cemeteries in the United States!
Due to high water levels and flooding, bodies need to be buried at an elevated level in tombs. Otherwise, graves would just fill with water if dug in the traditional way.
As you enter a cemetery in New Orleans you will see rows of elevated graves or tombs some fairly plain and others very ornate and decorative.
It isn't unusual for several generations to be kept in one vault or tomb. When a new body is to be added, the previous family member's bones get pushed to the bottom giving rise to the saying "getting shafted".
There are a few cemeteries that are popular to visit with fascinating ghost stories and famous residents.
The top cemeteries to visit are St. Louis Cemetery No. 1, Lafayette Cemetery No. 1, and St. Louis Cemetery No. 3.
In New Orleans, you need to visit a cemetery with a guide or on a tour. The most popular cemeteries in NOLA are not open to visit unless on a tour.
The photos taken are from a tour where I visited St. Louis Cemetery No. 1 which is the most famous of the three. The rain and gloominess added to the spooky vibe…
You will get to see the graves of the Voodoo Queen Marie Laveau and several notable New Orleanians. The huge pyramid happens to be the future resting place for the actor Nicholas Cage.
Book A New Orleans French Quarter Cemetery Tour Today!
Book A Garden District & Lafayette Cemetery Tour Today!
8. Eat A Po'Boy
If you come to New Orleans and don't eat a Po'Boy, then I'm not sure your visit counts…
A Po'Boy is an iconic sandwich that is associated with New Orleans and Louisiana. The idea originated during the 1929 streetcar strike when a local restaurant owner offered to feed the strike workers.
He wanted to make a hearty and tasty sandwich for the workers and came up with the Po'Boy.
When a worker would come to the back of the restaurant, staff taking the order would yell, "here comes another poor boy"!
The essentials that go into making a Po'Boy sandwich are French bread with a slightly crispy exterior and a very soft inside. Then spread mayo, hot sauce, pickles, tomatoes, lettuce, and a choice of meat.
Usually, the protein is fried shrimp, roast beef, fried oysters, crawfish, or crab. The original and most popular Po'Boy is made with roast beef.
If you are asked whether you like your Po'Boy "dressed", answer yes! Dressed means you want lettuce, tomatoes, pickles, mayo, and any hot sauce.
Personally, the best Po'Boy sandwiches are to be eaten "dressed"… If you want to take a bite into an awesome Po'Boy when visiting New Orleans, my favorites are:
Mahony's Po-Boys & Seafood (Garden District)
Parkway Bakery & Tavern (Bayou St. John)
NOLA Po'Boys (French Quarter)
9. Listen To Jazz On Frenchmen Street
After spending some time in the French Quarter head over to Frenchmen Street. Frenchmen Street is a popular street in the Marigny neighborhood east of and bordering the French Quarter.
Frenchmen Street starts about 1 block off of the Mississippi River, with 6 – 8 blocks of great places to eat, bars, and music venues.
Imagine a less-trafficked and mellow version of Bourbon Street. One of the best activities on Frenchmen Street is to listen to some jazz music!
The top places to enjoy some great live music with jazz, blues, and more is at:
Snug Harbor Jazz Bistro
The Spotted Cat Music Club
d.b.a
The Maison
Blue Nile
10. Ride A Streetcar
Catching a ride on a streetcar in New Orleans is not only a fun experience but an excellent way to get around the city.
If your legs are tired or you need to go a further distance, the streetcar is more economical than getting a cab or an Uber/Lyft.
Depending on what area you are in, you will notice that the streetcars are bright red or dark green.
There are five different streetcar lines that can get you from one point to another within the French Quarter and nearby neighborhoods.
The oldest streetcar in NOLA is the green St. Charles Streetcar line. This line will take you from the CBD (Central Business District) to Uptown (past the Garden District).
The red Canal Street line will carry passengers from Canal Street, through CBD and Mid-City neighborhoods.
If the focus of your stay is in the French Quarter and along the Mississippi River, then you'll likely use the Riverfront Line the most.
A line that might not be used as much by tourists, is the Loyola/UPT Line that goes along Loyola Avenue through the Warehouse Arts District and the Financial District.
And lastly, if you are arriving in New Orleans by train then you will likely hop onto the Rampart/St. Claude line. It will take you through the French Quarter ending on Frenchmen Street.
Tips: A single fare to ride the streetcar is $1.25 or if you might use it often during your stay consider getting a Jazzy Pass. To check schedules and map visit the streetcar site.
There are 1, 3, and 31-day Jazzy Passes available! If you don't have cash on you, you can pay using the RTA GoMobile app.
11. Explore Vibrant Art Murals
Searching for cool urban art is one of the top things to do in New Orleans as there are some fantastic murals to see!
For those that are fans of the artist Banksy, you can find a few of his murals around New Orleans such as Umbrella Girl (1434 N Rampart Street) and Looters (in International House Hotel).
If you are in the Garden District, check out the "Greetings from NOLA" and this fun swamp art mural.
Another location where you can find several art murals in one area is Studio Be. Studio Be is located in the Bywater neighborhood along the Mississippi River.
It is in this large warehouse where artists come together to exhibit their art and interact with the community.
The talented Brandon "bmike" Odums started this creative space for artists. Walking around the outside you can view a handful of top art murals too!
I love this one of a girl peeking out behind a tree and a few others that I found on Frenchmen Street.
These are just a handful of the art murals you can find, so happy mural hunting!
Studi Be Hours: Open Wednesday – Saturday from 2:00 pm to 8:00 pm or 2:00 pm to 6:00 pm on Sunday. To purchase a ticket, you can visit the Studio Be site.
Address: 2941 Royal Street, New Orleans, LA 70117.
Explore The Best Tours In New Orleans!
12. Go For A Walk in Louis Armstrong Park
Located at the upper end of the French Quarter and the beginning of Tremé neighborhood (on N Rampart St) is Louis Armstrong Park.
The park is dedicated to the famous and very talented singer and trumpeter, Louis Armstrong who was from New Orleans.
Nicknamed "Satchmo" or "Pops", he is known as one of the best and most notable jazz musicians in history.
One of his most popular songs and a favorite of mine is "What A Wonderful World".
Taking a walk through Louis Armstrong Park is very relaxing and quiet compared to the French Quarter just steps away.
As you wander through the park, you will see sculptures, fountains, ponds, and plenty of places to sit on a bench.
The main entrance is a large archway with "Armstrong" carved into it welcoming you to the 31-acre park.
A large area within the park is known as Congo Square because during the 18th and 19th centuries, this was the only area that enslaved Africans could come to on Sunday's which was their only day off.
They would gather, play their music, and keep their traditions alive in this square.
Hours: Open daily from 8:00 am to 6:00 pm.
13. Get A Drink At The Oldest Bar In The US
When walking around the French Quarter and you feel a thirst, make a point to stop into Lafitte's Blacksmith Shop!
Lafitte's Blacksmith Shop is the oldest bar in the United States serving up a good drink since 1722 (built between 1722 and 1732).
The bar truly looks its age and I mean that in the nicest way possible. Once you step into the building, you feel like you are being transported back to another era…
Owned by the Lafitte brothers who were known smugglers with an interesting and potentially shady past.
There are many tales mixed in with facts about this fascinating bar that makes for a good story.
Either way, Lafitte's is a National Historic Landmark and a great place to grab a chair outside and sip on a cocktail.
Inside is pretty dark, so taking your drink outside or as you travel to your next destination is best! I grabbed a Bloody Mary to go and enjoyed it immensely…
Hours: Open daily from 10:00 am to 3:00 am.
14. Enjoy Some Awesome Gumbo
Louisiana and New Orleans in particular is the place to go for a good bowl of gumbo!
For those that aren't familiar, gumbo is a classic Creole stew of Louisiana made with a variety of meats, shellfish, spices, a thickener, and vegetables such as tomatoes, okra, onions, and bell peppers.
In fact, when you use the Creole "holy trinity", the base of an excellent gumbo is celery, onions, and bell peppers.
It's not unusual to have sausage, crab, shrimp, and chicken in one bowl of gumbo. The stew of gumbo is usually served over white rice topped with scallions and hot sauce of course!
Gumbo is a blend of flavors from Africans, French, Spanish, and Native Americans. It is a dish that you can find any time of the year but is more prevalent during Mardi Gras or a festival.
To find a delicious bowl of gumbo, try one of these spots to see which is your favorite…
Gumbo Shop
Dooky Chase Restaurant
Tableau
Galatoire's
Tujague's
Get A PDF Of This Guide For Your Trip
For your convenience, you can download a copy of this New Orleans bucket list guide or print it to take with you. It includes pictures and links within the post. It's ad-free ad handy for on the go!
Buy Your New Orleans Bucket List PDF Guide Today!
15. Mardi Gras World
Mardi Gras World celebrates the history and colorful decorative floats used in the annual Mardi Gras parade.
Founded by Roy Kern and his son Blaine in 1947, he started out helping paint and build floats.
Later Blaine would become the top designer of the city's floats and be known as Mr. Mardi Gras.
When you visit Mardi Gras World, you get a behind-the-scenes glimpse at what is involved in creating a fantastic Mardi Gras float!
All the floats and costumes are housed in the 300,000 square foot Kern Studios warehouse.
Touring the various floats is self-guided and usually takes about an hour to see everything. The floats are huge, vibrant, and scream a fun time.
It is a fun New Orleans attraction especially if you have always wanted to learn about the history and traditions behind Mardi Gras!
Hours: Open daily from 9:00 am to 5:30 pm.
16. Visit A Plantation
While you are in New Orleans make sure to visit at least one plantation! There are several plantations near New Orleans with most within an hour from the French Quarter.
During the 1700 and 1800s, several plantations formed along the Mississippi River outside of downtown New Orleans.
The plantations were located outside of the city as each plantation needed a large portion of land for crops, the main mansion house, and slave quarters.
Some of the richest people in the United States at that time were plantation owners sadly due to the fact that their workforce was free slave labor.
The main crops grown on the plantations over the years were tobacco, indigo, cotton, and sugar cane. But sugar cane was the most predominant crop in Southern Louisiana.
The main house or mansion on a plantation was very large, luxurious, and grand back then and even still today. Many are surrounded by or have a path of enormous oak trees that are gorgeous to see.
Some may not agree with visiting the plantations for their dark history of using slave labor to profit big time.
My personal opinion is that even though it isn't a proud era in U.S. history, it is important to learn about it and understand what African Americans were submitted to.
Each plantation varies with some focusing on the plantation owners and others focusing on the perspective and life of the slaves.
Tip: Read 5 Best Plantations Near New Orleans, Louisiana That Are A Must To See for a detailed post about the top plantations to visit.
Book A New Orleans Plantation Tour Today!
17. Walk Along The Mississippi River
Along the Mississippi River is a beautiful flat path where you can go for a walk, run, or ride a bike.
The most popular stretch of the riverfront is where the French Quarter meets the river.
On any given day you will see people getting some fresh air or sitting on a step eating their lunch.
And if you happen to visit for New Year's Eve, this is the area where everyone gathers to watch the fireworks go off at midnight. I did this on my first visit to NOLA and loved it.
Steps from Jackson Square, you might notice the Steamboat Natchez docked. To see New Orleans from the river, you can take a 2-hour boat tour on Steamboat Natchez.
Choose from either a lunch or dinner jazz cruise and have a blast on an actual steam-powered steamboat!
Near where the Steamboat Natchez is located, stop to notice the "Love Wins Locks". There are numerous locks on a chain-link fence left by visitors with views of the river beyond.
If you have a bike and continue uptown, you can join the paved Mississippi River Trail (MRT) and go on a scenic ride!
Get Tickets For A Jazz Cruise On The Steamboat Natchez!
18. Take The Ferry Over To Algiers
Fancy going for a boat ride and visiting another cool neighborhood outside of the French Quarter?
Slightly upriver from Jackson Square and Woldenberg Park is the Canal Street Ferry Terminal.
From here catch a ferry ride across the Mississippi River and get dropped off at the Algiers Ferry Terminal in the Algiers neighborhood.
The 30-minute ferry ride has been running since 1827 transporting people between Algiers and the bustling Canal Street and French Quarter.
Most that use the ferry are those commuting to and from work. But for visitors, walking in Algiers is a lovely place to explore.
As it is a residential neighborhood, the main attractions are to walk the levee, the historic streets, grab a bite to eat, and hop into a pub for a drink.
For first-time visitors, a levee is a raised embankment that protects the neighborhood from the Mississippi River flooding.
If the sun has set, it is a beautiful location to view the city of New Orleans skyline all lit up!
To see the top sights and architectural gems in Algiers, take a guided tour with Algiers Point Tours.
Or you can access a map of the area through the Algiers Point Association. Head upriver and you can trace the steps of the Jazz Walk of Fame.
A few great places to grab food and drinks are:
Tout de Suite Café
Crown and Anchor Pub
Old Point Bar
Tavolino
Check ahead for the most up-to-date ferry schedule when visiting.
Tip: If you are exploring by bike, you can take your bike too. The fee for crossing is $2.00 per person. And dogs on a leash are ok.
19. See The Tree Of Life
The Tree of Life is an enormous and beautiful oak tree located in Audubon Park which happens to be in the neighborhood of Audubon.
Audubon Park is next to the Mississippi River about a 15 – 20 minute drive from the French Quarter. But if you would rather skip driving, you can take the St. Charles Streetcar instead.
The park covers over 300-acres of what used to be a plantation but is now a lovely urban green space to go for a walk, run, or have a picnic at.
It isn't certain exactly how old the Tree of Life is, but the Live Oak Society estimates that this captivating oak tree is between 200 and 500 years old.
It's no surprise that the tree is a popular backdrop for engagement and wedding photos. The hanging Spanish moss adds a whimsical and romantic vibe to any photoshoot.
Tip: The park borders the Audubon Zoo if you want to explore it afterward.
Discover Fun tours In New Orleans!
20. National World War II Museum
If you are fascinated by history then visiting the National World War II Museum is one of the top things to do in NOLA.
As you make your way through the museum, you will learn and understand how World War II impacted America and the American way of life.
There are several galleries or rooms of the museum to explore with various exhibits, images, and videos depicting America's story.
That story is broken up by regions of the world where the war was fought. Make sure to watch the short film Beyond All Boundaries narrated by Tom Hanks.
It is a very informative, comprehensive, and moving tribute to all those who fought in World War II and the legacy of freedom they left for future generations.
Get Tickets To The National World War II Museum!
Hours: Open daily from 9:00 am to 5:00 pm. Expect to spend 2 – 3 hours to see all the exhibits.
Tip: The museum is about a 30-minute walk from the French Quarter or you can hop on the St. Charles streetcar and get off at the Lee Circle stop. A short 2 block walk from here.
21. Venture Out On A Swamp
Not too far away from the pulsing city of New Orleans is the unique landscape and culture of the bayou or swamps.
These swamps are likely a habitat that you have never encountered until now. One word that would sum up being out on a swamp would be wilderness!
The marshlands have a unique ecosystem filled with plenty of birds, alligators, turtles, fish, and other animals that call this region home.
And the best way to experience a swamp is by boat or kayak! Taking a tour with a guide allows you to spot wildlife and learn about the nature and culture of Louisiana's swamps.
The best-guided swamp tours to take are:
New Orleans Airboat Swamp Ride Tour
New Orleans Swamp & Bayou Boat Ride
Tip: If you are heading up to Lafayette, Louisiana I recommend taking an airboat tour in the nearby bayou. Read more about it in my post, Fun Things To Do In Lafayette, Louisiana!
22. Order A Drink At The Carousel Bar
I can't refuse a drink in a unique spot and one that has an intriguing history!
On my first visit, I had heard of the Carousel Bar where the bar actually rotates like a carousel and I knew I had to see it for myself.
The unique and playful Carousel Bar & Lounge is located in Hotel Monteleone serving up cocktails for over 70 years.
Who wouldn't want to have a drink and ride a merry-go-round at the same time?
And for those that get motion sickness easily, it revolves pretty slow thankfully…
Although they have an extensive cocktail list, the most requested is the Sazerac as it originated right here in New Orleans.
A Sazerac is a cognac or whiskey cocktail with Peychaud's bitters, Herbsaint, and sugar topped with a lemon peel. So try one and check off your New Orleans bucket list!
Another New Orleans favorite is a Pimm's Cup that is made of Pimm's (gin), lemonade, 7up, and garnished with cucumber. It makes for a refreshing day drink when it's hot out.
Countless famous people have stayed at the hotel and sipped a drink at the bar such as Truman Capote, Ernest Hemingway, Tennessee Williams, Ann Rice, and John Grisham.
To make it more intriguing, Hotel Monteleone itself is said to be the most haunted hotel in New Orleans. I guess you will have to see for yourself!
Tip: As there are only 25 seats, go early to grab a seat!
Hours: Open daily from 11:00 am to midnight.
23. Admire Shotgun Houses
I spent countless hours wandering the streets of New Orleans and quickly fell in love with the colorful houses that line many streets.
A particular style of house caught my attention and I found out they are called Shotgun Houses.
Shotgun Houses are a type of house in New Orleans and the South that were built from the end of the Civil War through the 1920s.
During that time, Shotgun Houses were associated with African Americans and poor areas with immigrants.
They are single-story narrow houses one room wide but long and with a front porch. Once you walk in the door, you keep walking back from one room to another as there are no hallways.
So where did these adorable and colorful houses get their name?
Most that I asked said that if you were to fire a shotgun through the front door, the bullet would travel through each room and out the back door without hitting anything.
But in reality, the design helps the flow of air that is vital during the hot and muggy months. The house design is thought to have come from Haiti.
You can find this style of house in many neighborhoods in New Orleans but one of my favorites is in the Irish Channel.
Found a few streets south of Magazine Street in the Garden District you can wander Constance St, Laurel St, and Annunciation St to see many.
It is here that I found countless vibrant Shotgun houses with so much charm and spirit. Of course, today, these houses are sought after and a prized place to live!
24. Grab Pralines For A Souvenir
For those that love a good praline, stop by and pick up a few boxes to take home! The praline is the classic sweet candy the Crescent City is known for.
A praline is like a nutty fudge that is made of butter, evaporated milk or cream, sugar, and pecans.
Today you can get the original, creamy, chocolate, rum, and possibly a few other flavor varieties. For anyone that loves candy and pecans, you will find this treat heavenly!
But unlike the shape of fudge or a typical candy, a praline is round and flat like a cookie. To find the best pralines in New Orleans, visit:
Loretta's Authentic Pralines – you can even get a praline beignet here!
Aunt Sally's
Southern Candymakers
25. Try A King Cake
If you are visiting New Orleans during the winter months, make a point to try a slice of King Cake!
The King Cake has a long tradition of being served during Mardi Gras and is THE dessert served from January 6th until Fat Tuesday.
A King Cake is a cinnamon brioche-based cake that is what you would imagine if a French pastry and a coffee cake had a baby.
Speaking of babies, one thing that makes a King cake quite unusual is that there is a tiny plastic baby inside every King Cake.
Then the wreath-shaped cake is topped with a TON of icing in purple, yellow, and green colors, sprinkles, and possibly a few strings of beads. Inside the cake, fillings will vary by bakery.
Now back to the little plastic baby inside… I know what you are thinking, what a choking hazard and why would anyone do that?
The tradition started in the late 1800s of making the cake during Mardi Gras and the tiny plastic baby symbolizing a baby Jesus.
It represents the day of Epiphany where the three wise men offered up gifts to the baby Jesus. The King Cake in turn is to celebrate the birth of Christ.
If you happen to get the slice of cake with the baby in it then you are the King or Queen for the day and you are the lucky one to bring a King Cake to the next event.
The top bakeries to indulge in some King Cake are:
Manny Randazzo King Cakes
Tartine
Dong Phuong Bake Shop
Haydel's Bakery
As these yummy cakes are only on sale for 55 days during Mardi Gras, don't miss out on tasting it for yourself!
26. Eat Red Beans & Rice On A Monday
You are probably wondering what is the big deal about red beans and rice and the need to eat it on a Monday?
During the 1800s, it was common to have ham or a good piece of meat for a Sunday dinner. With the leftover ham, you could add it to other ingredients and make a great meal.
When families didn't have a lot, extending scraps from one meal to create another was essential.
Blending the pieces of ham with red kidney beans and the "holy trinity" of celery, onions & bell peppers, and spices served over a scoop of white rice.
Red beans & rice may sound very simple but it is true comfort food with flavors your taste buds will delight in!
And no, you no longer have to eat it only on a Monday although many locals still keep to that tradition. A few top places to get red beans & rice are:
Joey K's Restaurant (Garden District)
Coop's Place (French Quarter)
Mother's Restaurant (CBD)
Willie Mae's Scotch House (Tremé) – also happens to have the best fried chicken!
27. Historic Voodoo Museum
A fun thing to do in New Orleans is to learn about the spookier side of this iconic city by visiting the Historic Voodoo Museum.
The Historic Voodoo Museum explores what voodoo is, how it originated, and its history. The intriguing and peculiar museum has been open since 1972 in the heart of the French Quarter.
Surprisingly, Voodoo isn't all dark practices as it is played up in the media. Voodoo has been an integral part of New Orleans since the 1700s.
Known as Louisiana Voodoo or New Orleans Voodoo, it is a religion associated with nature, spirits, and ancestors.
During the 1700s many of the slaves or West Africans coming to New Orleans practiced a blend of their religious beliefs with that Catholicism and referred to it as Voodoo-Catholicism.
To learn more in-depth about Voodoo, Voodoo Queens, and how Voodoo compares from the past to now, visit the museum, and consider taking a Voodoo tour!
If you are looking for the best Voodoo Tour in New Orleans, consider taking one of these awesome choices:
Haunted Ghost, Voodoo & Vampire Tour
Adult-Only Ghost, Voodoo & Vampire Tour
Museum Hours: Open daily from 10:00 am to 6:00 pm.
28. Play At Harrah's Casino
Looking to do a little gambling when in New Orleans? You don't have to go to Vegas as there is a Harrah's Casino in NOLA!
Located about a 15-minute walk from the French Quarter and a few blocks from the river is the Harrah's New Orleans Hotel & Casino.
Here you can play and try your luck at slots, video poker, poker, blackjack, craps, baccarat, and more at the casino.
The hotel is a good location close to many attractions and has a number of excellent dining options such as Ruth Chris Steakhouse and Gordon Biersch.
If you do get a room here, request a room with a view of the river!
29. Start The Day With A Delicious Brunch
Having brunch in New Orleans is a must especially if you have had one too many cocktails the night before.
There are countless great places to get brunch in this foodie town but a favorite that you can find multiple locations of is The Ruby Slipper Cafe.
The Ruby Slipper Cafe is the perfect brunch spot as it serves brunch all day! How great is that? If you wake up late, no problem…
The restaurant got its start after Hurricane Katrina hit in 2008 when owners Erich and Jennifer wanted to bring life, good food, and community back to the city.
They offer breakfast, lunch, and brunch with excellent morning cocktails of course! If you are looking for great food, fun, and a welcoming atmosphere then come with an appetite.
There are several locations but the one I visited is in the CBD neighborhood next to the French Quarter at 200 Magazine Street.
Tip: No matter the day, there will likely be a wait! But it is worth it. They don't take reservations, but if you are heading there, get on their waitlist.
That way by the time you get there by foot or taxi, your turn is up! Visit The Ruby Slipper Cafe to get on the waitlist for the location you want.
Hours: Open Monday – Friday from 7:30 am to 2:00 pm. On the weekends open from 7:30 am to 3:00 pm.
30. Attend A Festival
Visiting New Orleans any time of the year is guaranteed to result in fun and a fabulous time.
But if you want to experience an unforgettable festival then there are several that should be added to any New Orleans bucket list!
Usually, good food, music, and plenty of alcohol are some of the highlights to experiencing a festival in the Big Easy.
Keep in mind that visiting during these festivals will mean more crowds and likely higher rates. I recommend visiting during and outside of a festival time to get a feel for both.
Mardi Gras
Mardi Gras is by far the biggest and most famous festival in the United States and likely the world.
Also known as Carnival in other areas of the world, the festival occurs over a few weeks leading up to the biggest party day of the year, Fat Tuesday.
Fat Tuesday signifies the last day of Mardi Gras or Carnival and is always on a Tuesday before Ash Wednesday or first day of Lent.
For 2022, Fat Tuesday will be on March 1st!
And if you want to plan for 2023, Mardi Gras will land on Feb. 21st, 2023.
The Mardi Gras season kicks off officially on January 6th but gets more festive, indulgent, and wild as Fat Tuesday approaches.
It is a huge celebration involving a parade with floats, costumes, plenty of drinks, incredible food, parties, music, and lots of beads being tossed.
This is one festival that I would say is definitely not kid-friendly and should be an adult-only experience as it isn't unusual to see topless women vying for more beads…
Fun Fact: Did you know that Mobile, Alabama is actually the birthplace of Mardi Gras in the U.S.? Find out more in 21 Fun Things To Do In Mobile, Alabama On A Weekend Getaway!
French Quarter Festival
The French Quarter Festival is an awesome festival to attend as it isn't nearly as crazy as Mardi Gras but has tons of excellent food and music.
Each year the festival runs for four days at the end of April. The 2022 dates are April 21st – 24th!
The festival focuses on celebrating the history and culture of the French Quarter. Food, art, and music are the highlights of attending the French Quarter Festival.
The majority of the action is in Jackson Square where booths are lined with food from top New Orleans chefs!
Between Jackson Square and the Riverfront will be live bands performing and local artists sharing their visual love of NOLA.
Tip: It's free to attend, no tickets required!
Jazz Fest
If you are a big jazz music lover, then there is no question that you would want to attend Jazz Fest!
For 10 days, Jazz Fest celebrates the history, culture, art, and its birth right here in the Big Easy.
You won't just hear jazz music but an assortment of music such as zydeco, blues, funk, and hip-hop.
And of course, you can't have a great festival without mouthwatering food! As it is crawfish season, enjoy a crawfish po'boy and even a savory beignet with crawfish!
For 2022, Jazz Fest will be held from April 29th – May 8th!
Tip: Tickets are required to be purchased to attend.
New Orleans Wine & Food Experience
No better way to kick off summer than with some wine and food from the best chefs in town!
If you are a foodie and enjoy excellent wine, you will find yourself in culinary heaven. Come with an appetite and a desire to have fun!
For 2022, the New Orleans Wine & Food Experience is from June 7th – June 12th!
Tip: Tickets are required to be purchased to attend.
Crescent City Blues & BBQ
The best of both Blues and BBQ combine in one big celebration in New Orleans each fall.
This fun festival is held in Lafayette Square in the Central Business District (CBD) for one weekend in October.
For 2022, the Crescent City Blues and BBQ festival is on Oct. 14th – Oct. 16th! And no tickets are required to attend.
Note: Although not a festival per se, New Year's Eve in New Orleans is super fun! I spent a New Year's Eve here which was the best time and if you are a football fan, the Sugar Bowl is happening at this time too.
31. Sydney & Walda Bestoff Sculpture Garden
Nestled in a corner of the large New Orleans City Park is the Sydney & Walda Bestoff Sculpture Garden.
The Bestoff Sculpture Garden covers 11 acres of beautiful outdoor space with manicured gardens sprinkled with modern sculptures.
Access to the sculpture garden is free and open to the public even though it is part of the New Orleans Museum of Art (NOMA). To visit the inside of NOMA, there is an admission fee.
To download a map of the sculpture garden that is 11-acres, go to NOMA's site here.
If you don't want to drive (free parking), the easiest way to get to the New Orleans Museum of Art is to take the Canal-City Park Streetcar line from the French Quarter to the City Park/Museum stop.
Tip: After exploring the sculpture gardens, there is a total of 1,300-acres in the City Park to see including the Louisiana Children's Museum, botanical garden, lakes, miniature golf, and numerous paths for walking or running.
Garden Hours: Open daily from 10:00 am to 5:00 pm.
Book The Best Tours In New Orleans!
32. New Orleans Pharmacy Museum
The New Orleans Pharmacy Museum is one I have missed seeing on every visit sadly. I somehow picked a day or time where it was closed.
But from reading about it and talking to others it looks so cool! The museum is listed on the National Register of Historic Places filled with various bottles and artifacts from when it was a pharmacy.
You can learn about the history of pharmacy and about the first licensed pharmacist in the United States, Louis J. Dufilho, Jr.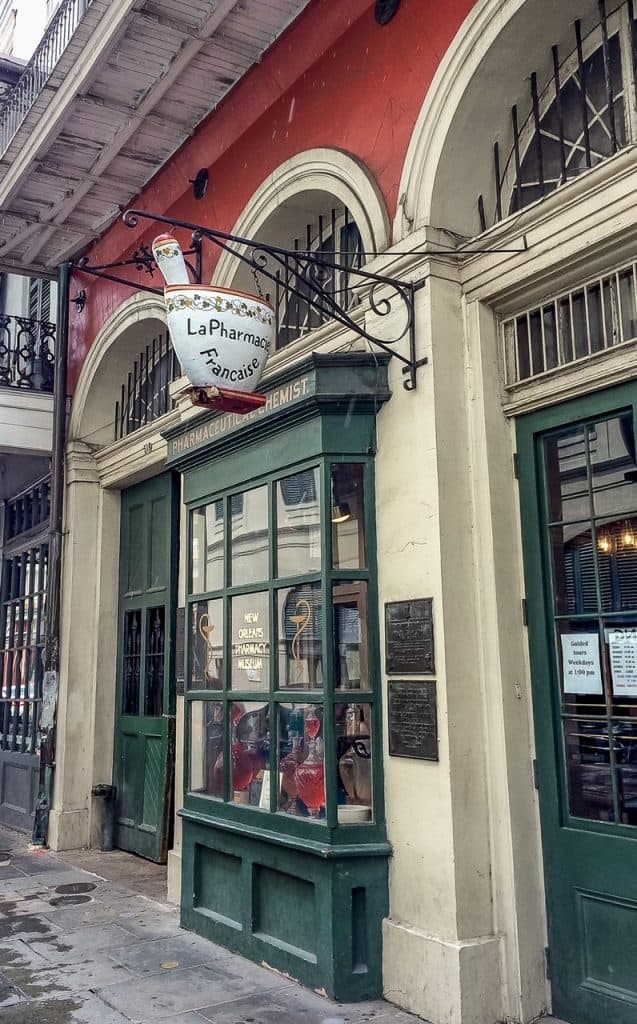 Dufilho was a pharmacist in New Orleans during the early 1880s. It was an important period in history as prior to 1804, there were no requirements for being a pharmacist or what drugs a person could hand out.
After the law passed, a pharmacist needed to pass board exams to get a license to practice and regulations were put in place to determine what drugs or items could be sold and the dosages given.
The building is where Louis J. Dufilho lived and worked as a pharmacist in the first apothecary in America!
Hours: Open Wednesday – Saturday from 12:00 pm to 5:00 pm. Closed Sunday, Monday, and Tuesday.
33. Jean Lafitte National Historical Park and Preserve
The Jean Lafitte National Historical Park and Preserve is part of Louisiana's Mississippi River Delta that abounds in nature and trails to explore it.
This area of Louisiana is only 25-minutes from the French Quarter of New Orleans yet it seems a world away…
You enter a complete rugged wilderness as you walk on one of the trails or boardwalks in the preserve.
A network of waterways among sections of land where it isn't unusual to spot a variety of birds, alligators, turtles, and more.
There are several sections within Jean Lafitte National Historical Park but the most popular one for a nature walk is Barataria Preserve.
The Barataria Preserve is 26,000-acres of wetlands made up of swamps, bayous, and forests.
From the Barataria Preserve Visitor Center, there are a few popular and easy trails to take.
They are the Bayou Coquille Trail (0.5-mile boardwalk), Marsh Overlook Trail (0.4-mile boardwalk & stairs), Visitor Center Trail (0.25-mile boardwalk), and the Palmetto Trail (0.9-mile boardwalk).
Note: Even if the Visitor Center is closed, you can still access the trails. At times any of these trails could be closed due to hurricane damage so check the website for current updates.
34. Degas House
Are you a fan of the famous French Impressionist artist Edgar Degas? If so, you can visit a mansion from 1852 where Degas briefly lived.
This large house was owned by the family of Degas and where he spent 1-year living and working on his paintings.
Although Degas didn't live here for a very long time, the historic house is on the National Register of Historic Places.
You have the option to stay at one of the few B&B rooms offered or you can arrange to dine for brunch and have a Creole meal followed by a tour.
The tour focuses on the history, life, and paintings of Degas. There are no original paintings there but reproductions.
Several of his most notable paintings are that of ballerinas and a ballerina statue. It is said that he was an admirer of the art of ballet.
Note: Tour is included with the New Orleans Go City Pass.
35. People Watch!
New Orleans is by far one of the best cities in America if you like to people watch!
NOLA draws so many people in for a visit from all across the world that you can't help but be fascinated with people coming and going.
Whether you are sitting on a bench, in a café, or bar, you will see some interesting characters for sure!
Tips For Visiting New Orleans
Most restaurants are closed on Monday, Tuesday, and sometimes on Wednesday.
As fun as the French Quarter is, venture out to other neighborhoods.
Stay hydrated carry a reusable water bottle or a filtered water bottle.
Carry mosquito spray or wipes especially if you are going out to a swamp or bayou.
You will do a ton of walking in New Orleans so wear the most comfortable shoes in the world!
Bring a travel rain jacket in case it rains as most events and tours keep on going!
If you plan to see several New Orleans attractions, consider getting the City Pass for lots of savings.
Use this great travel backpack to hold your belongings to keep your hands free to take photos, eat, and drink!
If you don't feel like doing a lot of walking get a ticket on the Hop-on Hop-off Bus Tour.
Best Time To Visit New Orleans
New Orleans is one of those cities that can be visited any time of the year and really depends on your personal preferences.
The weather is pretty nice most of the year as New Orleans doesn't usually get very cold in the winter and awesome spring and fall months.
The only time the weather can get a little hot and sweaty is in July and August. The summer is when you will have the most rain due to hurricane season.
But the plus of visiting during these months is there aren't any big festivals or conferences making it an economical time to go.
During the months from January through June, there are a lot of festivals which is a tempting time to plan a trip!
Is New Orleans Safe To Visit?
Like any big city, there are dangers but for the most part, I feel that New Orleans is very safe.
I have been with someone else and traveled by myself. Having said that, I do not recommend going out late at night alone outside of the French Quarter or Garden District.
There will always be a lot of people in the French Quarter if you ever have any issues with needing assistance.
I never once felt uncomfortable or that my safety was in question. Just remember to use common sense and have fun!
Let the good times roll and have fun exploring the New Orleans bucket list!
Get A PDF Of This Guide For Your Trip
For your convenience, you can download a copy of this New Orleans bucket list guide or print it to take with you. It includes pictures and links within the post. It's ad-free ad handy for on the go!
Buy Your New Orleans Bucket List PDF Guide Today!
Got Travel Insurance?
Don't leave home without travel insurance as you never know what might happen on a trip! It is always when you least expect it that something can go wrong like getting sick, in an accident or cancellation of some sort. Get a no-obligation quote from two trusted travel insurance companies for peace of mind on your next trip!
Looking For More Travel Inspiration?
5 Best Plantations Near New Orleans, Louisiana That Are A Must To See
15 Fun Things To Do In Lafayette, Louisiana's Cajun Country
21 Fun Things To Do In Mobile, Alabama On A Weekend Getaway
Perfect 3 Day Weekend In San Antonio Itinerary For First Timer's
17 Fun Things To Do In Orange Beach, Alabama On Your First Visit
25 Best Things To Do In Birmingham, Alabama You Don't Want To Miss
23 Cool And Fun Oklahoma City Attractions That Are A Must To See
15 Famous Things About Chicago You Must See
Boston Itinerary: How To Spend 3 Awesome Days
Disclaimer: As an Amazon Associate and a participant of other affiliate programs, I may earn from qualifying purchases in this post. This means that if you make a purchase through one of these links, I might receive a commission at no extra cost to you. Thank you and it is greatly appreciated!