19 Amazing Things To Do In Ghent, Belgium
I enjoyed all of Belgium, but Ghent won as my favorite for its endless charm, laid-back feel, and dreamy cityscapes. If you are a fan of medieval architecture, great food, and cobblestoned streets then you will find many things to do in Ghent. The Gravensteen Castle and the Belfry of Ghent are just a few of the Ghent attractions that are must-see!
Ghent is a good size city yet it has a compact and cozy feel that invites you in and wraps its arms around you. I think what adds to its appeal is it is extremely easy to get around on foot.
Most of the sights are located in the largest pedestrian-only city center in Belgium and is a huge bonus in my opinion.
Ghent is also on the tentative list to earn the status of UNESCO World Heritage Site for the entire historic city center.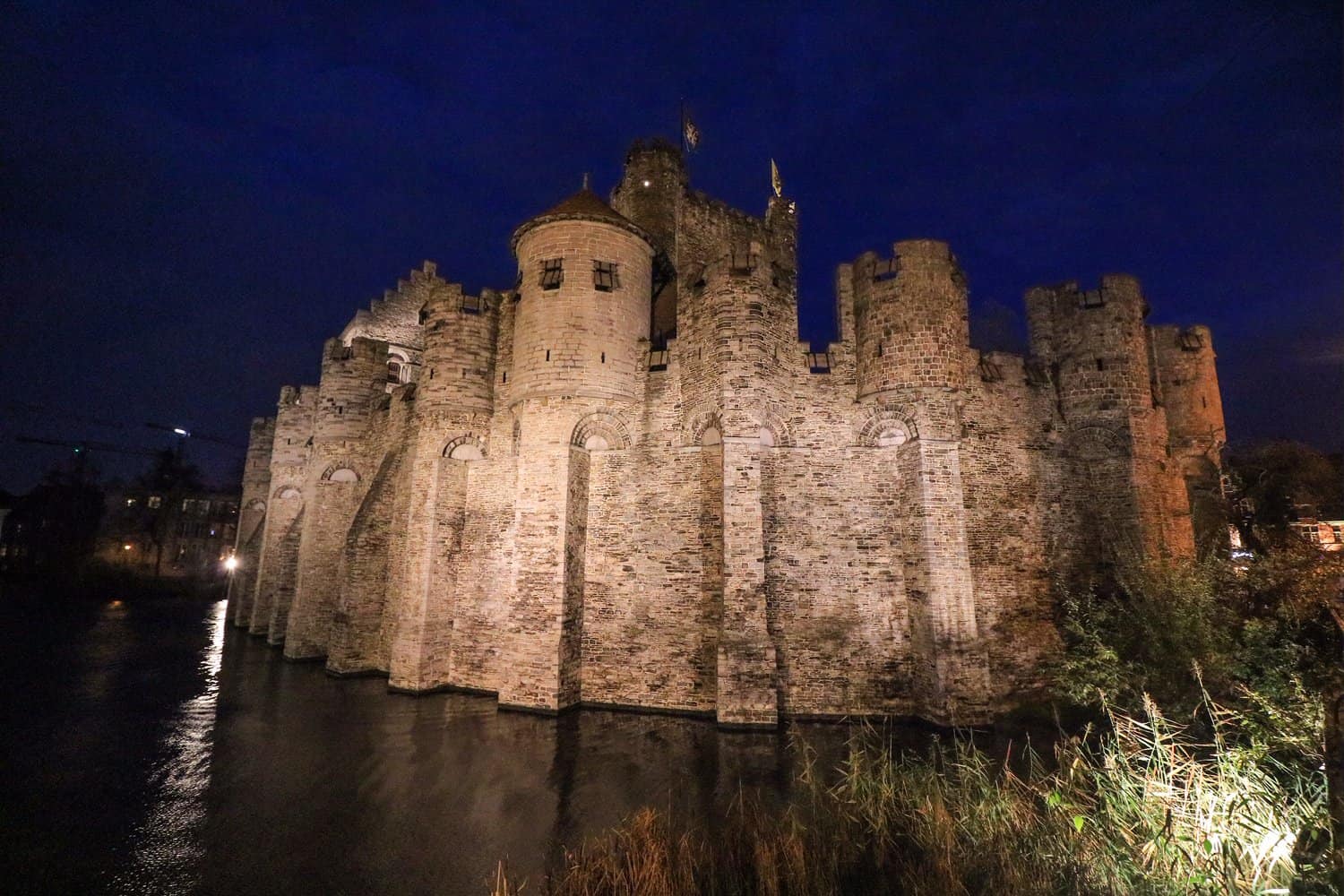 No matter where you stand in this historic city, you can capture a postcard photo in every direction. As you will see from my photos, I really enjoyed photographing the city at sunset and at blue hour!
Overall, Ghent is one of those feel-good and romantic cities that you can't help but love. Curious on what to do in Ghent? Keep reading to explore the best Ghent attractions during your stay!
Where Is Ghent?
Ghent is in the northwest area of Belgium and also the region of Flanders. It happens to be the capital and largest city in the East Flanders province.
It is pretty much in equal distance from Brussels, Bruges, and Antwerp depending on which direction you are looking to go.
So, expect about 30 – 45-minutes to get to any of these cities by car. This makes it a superb location to use as a base or a stay on your way to the next city on your trip.
I wouldn't stay less than 3 days to give Ghent the full attention it deserves even though I have heard some come for just a day.
Ghent is a little under the radar compared to Brussels and Bruges but make sure you stay a few days in this enchanting city.
When To Visit Ghent
Ghent is one of those cities you can visit year-round as it has fairly mild winters. They only seem to get one or two snowstorms a year so traveling there is pleasant even in the winter months.
I visited in December to experience the Christmas Markets and loved it. There were a number of overcast and rainy days but I was bundled up and prepared for the chilly air.
If you aren't coming for the Christmas Markets in December then the spring and fall will be the most pleasant and have fewer crowds than the summer months.
More and more I try to avoid the crowds and visit during the shoulder and off-season but you can't beat the warm summer months as a great time to visit too.
No matter when you visit, there are so many things to do in Ghent for every season!
Why not explore the best flight deals to Ghent and book your flight today!
Flying into Brussels or Antwerp are likely the best cities to fly into and then take a train to Ghent.
Best Hotels In Ghent
Staying near the Graslei section of historic Ghent is the best location to stay as you are literally steps from everything to see.
I stayed at the Ghent Marriott Hotel and loved it especially for its perfect location on the Korenlei and along the canal across from the Graslei.
Even if you don't stay at the Ghent Marriott, walk by and take notice of its beautiful façade and the two swans up towards the top.
Way back in the day, when sailors would come into port right in front of the hotel, they would look for the company of women discreetly.
If they were to see two swans turned away from each other like that on the Marriott façade then they knew it was a brothel.
I found this so interesting and something you will see more of in Ghent and Bruges if you pay attention!
Other excellent hotels are: 
1898 The Post – next to St. Michael's Bridge and the Graslei
Hotel Harmony – near the Gravensteen Castle
And if you are looking to start off your day with a great cup of coffee, walk over to Mokabon.
It is a local's coffee shop that smells heavenly with fresh ground coffee beans. It is said to be the first coffee shop in Ghent!
Best Things To Do In Ghent
1. Graslei & Korenlei
One of the most picturesque places to visit in Ghent is where the Leie River is bordered by the Graslei (Grass Quay) and Korenlei (Corn Quay).
A "quay" is a concrete platform that runs along a river and in this case the River Leie.
On the east side is Graslei and on the west side is Korenlei that was the medieval port serving many ships that came in and out of Ghent.
Even though it was the main shipping hub going as far back as the 11th century it is still a bustling area today.
There are a number of shops, hotels, and restaurants that line each quay. The Graslei and Korenlei are peaceful spots to just sit, watch boats go by, and take in Ghent's historic beauty.
I seriously could sit here for hours and at different times of the day. Spending time on the Graslei is one of my favorite things to do in Ghent.
I loved getting up early before people were out and about but sunset is also a magical time to be here. If you are a fan of architecture, then you will be in love with the buildings on both sides. These old guildhalls boast so much fascinating history!
Most of the buildings have stepped gable rooflines that form a lovely triangular shape. This type of architecture is distinct to many cities in Europe but Ghent has some of the oldest in this style.
Although the buildings might date back to the Middle Ages, most of the facades have been updated or restored in the late 1800s or early 1900s in preparation for the 1913 World's Fair.
The building on the Graslei side that says "Manhattan's Burgers" is one of the oldest buildings along this stretch. It used to be where grain coming in off the ships was weighed.
The super tiny building to the right of Manhattan Burger's and has a blue door used to be the tax office. It also happened to burn down a few times. Somehow, I don't think that is a coincidence… Lol.
2. Gravensteen Castle
Usually, you see castles high up on a hill or on a cliff away from potential threats. And not typically in the middle of a city.
That's what makes the Gravensteen Castle so unique because it is on a flat surface in Ghent's historic city center.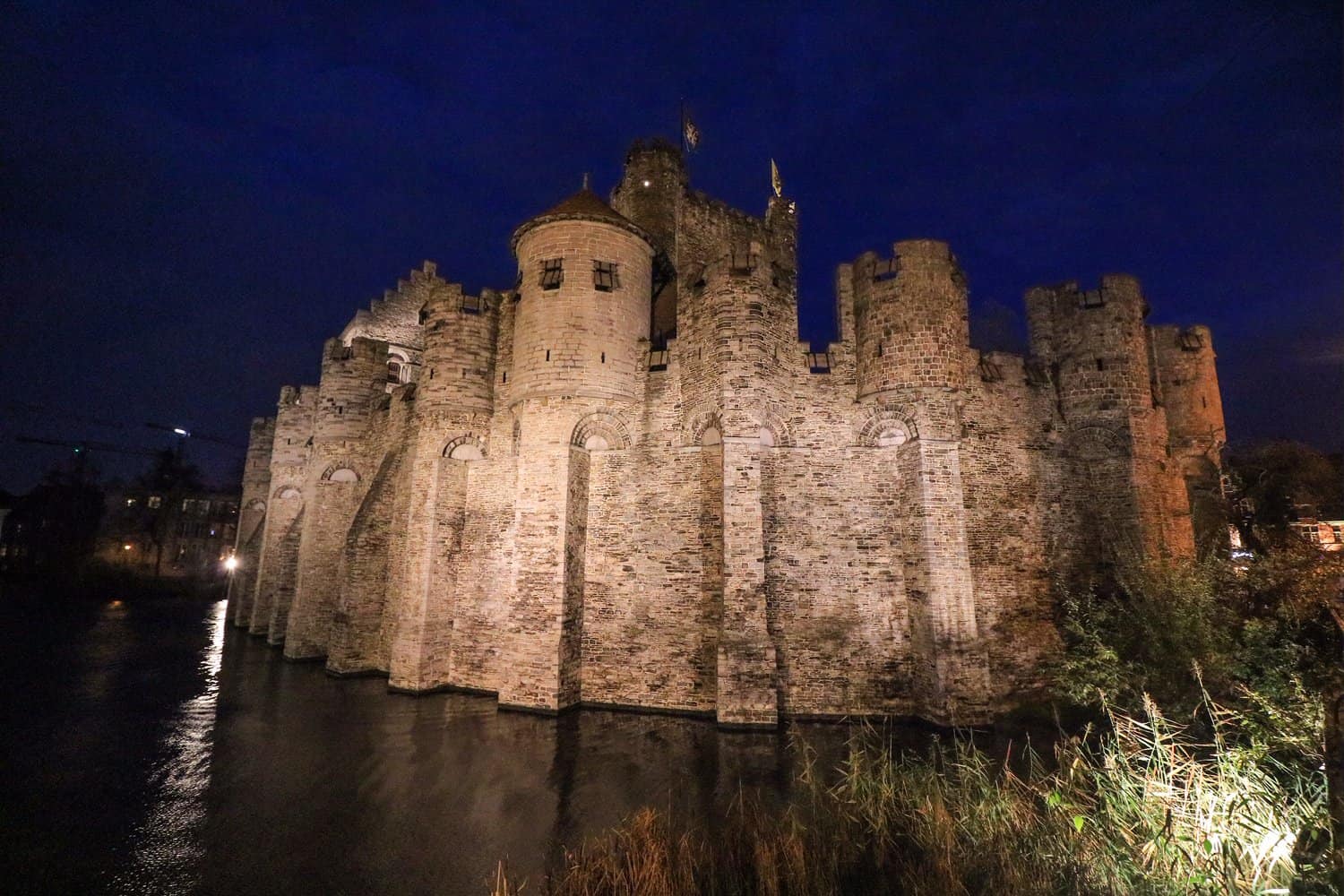 The word Gravensteen is Dutch and translates to "Castle of the Counts" which makes sense as it was the home to the Count of Flanders.
It was built in 1180 and lived in until 1353 then later turned into a cotton mill during the 1800s.
Count Philip of Alcase wanted to build the castle to let it be a symbol of his wealth and power to the common people in town. The castle is surrounded on one side with what looks like a moat but really is the river Leie canal.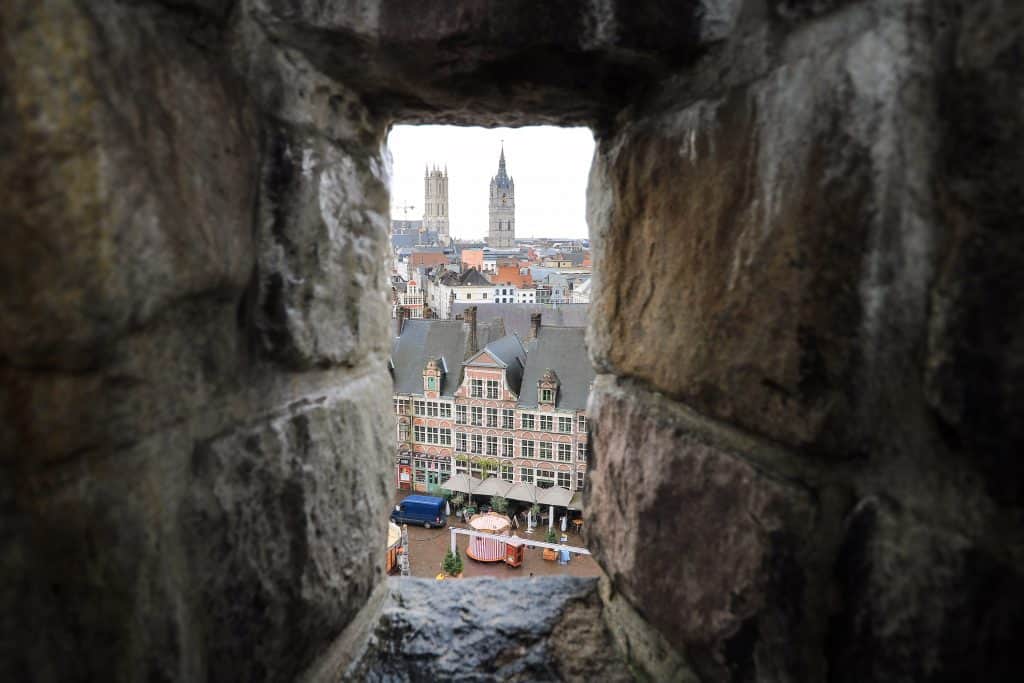 There is a self-guided audio tour that you must use on your visit!
No, you don't have to, but it is the oddest, funniest and light-hearted audio guide I have ever listened to. It will take you through 18 points of interest throughout the castle.
For this reason, visiting the Gravensteen Castle is one of the best Ghent attractions to see. Oh and make sure to go to the top for wonderful city views of Ghent!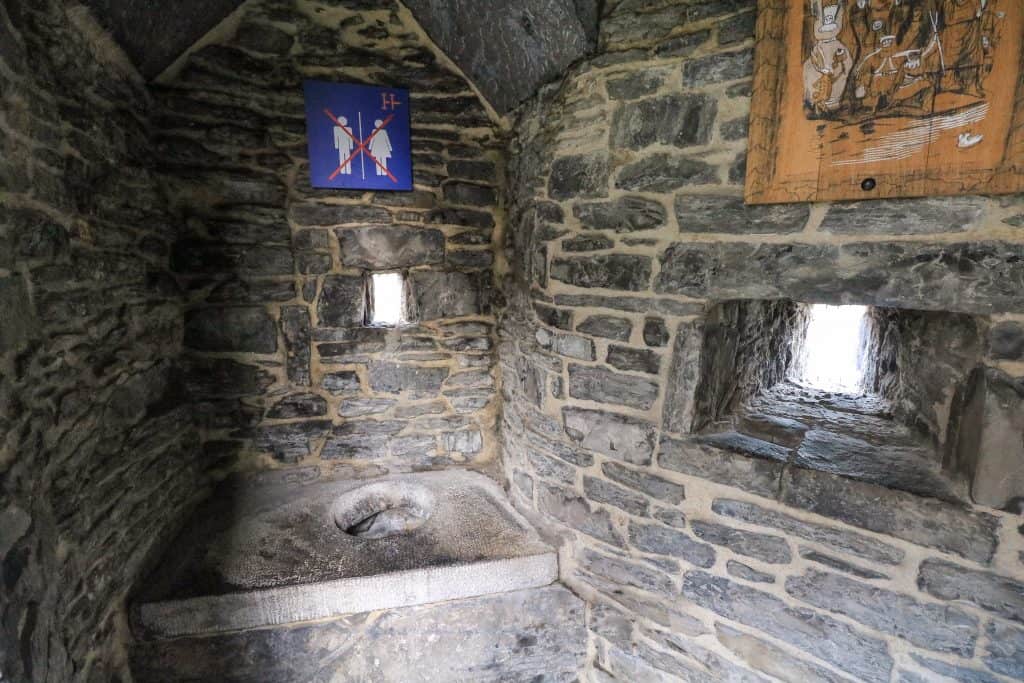 At times you might be a little shocked at what the guide just said in a humorous way.
He does so in a successful attempt to teach you about the castle's history and make it entertaining. I heard that he is an actual comedian which makes perfect sense!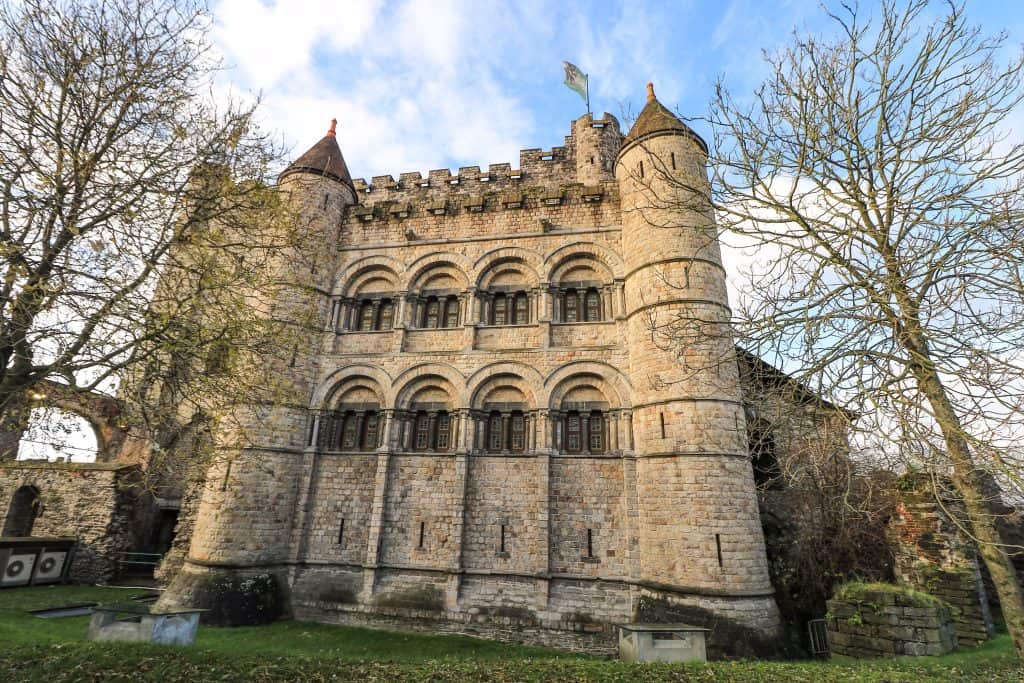 Note: The bridge to the left of the castle over the canal is called Execution Bridge. As in its name, murderers and rapists were executed by beheading right on this spot in public!
Hours: The castle is open from 10 am to 6 pm (April – October) and 9 am to 5 pm (November – March).
3. Take A Walking Tour
To enhance your experience in Ghent, make sure you take a walking tour with Gent Free Walking Tours.
Not only is it FREE, but you learn a ton of interesting facts about Ghent and a really great overview of the cities long history.
Although it is free, I recommend giving a tip at the end if you enjoyed yourself as it is an excellent tour.
Tours are held daily at 10 am, 1 pm and 6:30 pm in both English and Spanish. No need to book in advance, just show up about 5-10 minutes before the tour is scheduled to leave at Hostel Uppelink. It is right where the St. Michael's Bridge meets the Korenlei side of the river.
The tour takes about 2 hours and will take you on a captivating walk to the must-see places in Ghent.
Have some comfy walking shoes on, layers depending on the weather and an umbrella as tours are a go even in the rain!
I recommend taking the Gent Free Walking Tour on your first day so that you get the lay of the land and you know where you might want to go back and see more of later. I also love getting tips from a local on where to eat, drink and photograph a city!
4. St. Michael's Bridge
Not only is St. Michael's Bridge photogenic itself, but from the top of the bridge you can see the most iconic sights in Ghent.
The views from each side of the bridge are pretty epic, especially at sunset! The bridge is named after St. Michael's Church that stands right next to it along the Leie River.
Standing on top of the bridge and looking towards Korenmarkt, you can see the three enormous towers of St. Nicholas Church, the Belfry, and St. Bavo's Cathedral.
It makes for a special and extraordinary shot! Not only is it free but one of the coolest things to do in Ghent.
St. Michael's Church was built in phases from the 1400s to the late 1600s. Originally the plan was to build a church tower that would be larger than any other in Ghent but due to various conflicts, it never came to be. You can see that the small tower has a flat roof as it was never finished.
Note: Make sure to capture photos in every direction both on the top of the bridge and below it on the quays. You can seriously spend hours taking photos in this premier location.
5. Korenmarkt
The Korenmarkt or the Wheat Market is a square where the buildings behind the Graslei and to the side of St. Michael's Bridge meet. The tram makes frequent stops here which makes it easy to arrive in the historic center of Ghent.
As you walk around from the Graslei side of the canal, you will pass a gorgeous building that looks like it is from the set of a Harry Potter movie.
1898 The Post is an architectural marvel and beautifully showcased right between the canal and Korenmarkt.
It was originally a post office that has since been converted into a luxury hotel with rooms themed as "Stamp or Letter" rooms. How fun! The construction began in 1898 but wasn't complete until a few years before the 1913 World's Fair.
The Korenmarkt also happens to be along some of the busiest shopping streets, so there is a lot to see and buy in this area!
The square is referred to as the Wheat Market because it was the main square for the selling and trading of cereal or wheat.
Note: If you are visiting in December, a Ferris wheel and Christmas Market stalls can be found here too!
6. Saint Nicholas Church
Walking from St. Michael's Bridge and Korenmarkt, Saint Nicholas Church is the first of the three big towers you will come upon.
If you can imagine these towers created a medieval skyline before high-rises were even a thing!
It is an exquisite church that has a graceful feel despite its Gothic-style architecture. The tower does not sit right above the front of the church but up above the nave.
When you first walk inside, you will notice how bright it is which is different from other churches that have very low lighting.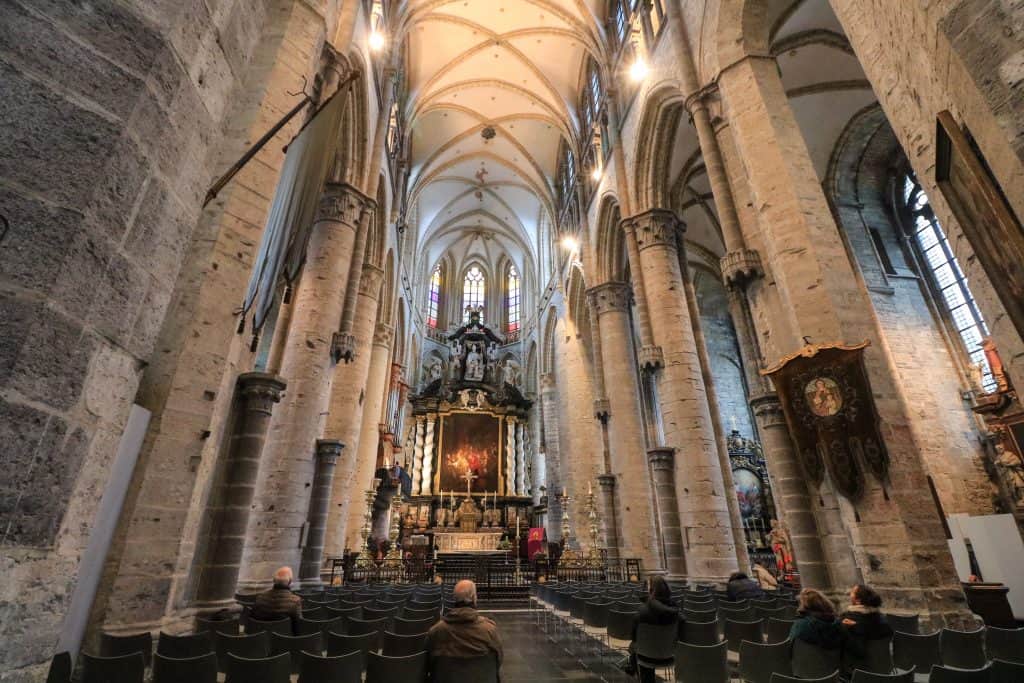 Construction of Sint Niklaaskerk (Dutch name) began in the 13th century and lasted into the 15th century.
If you are lucky enough to come in when the elegant organ is being played, then you are in for a treat! When I visited, they were practicing on the organ which made for a peaceful and enjoyable time to visit.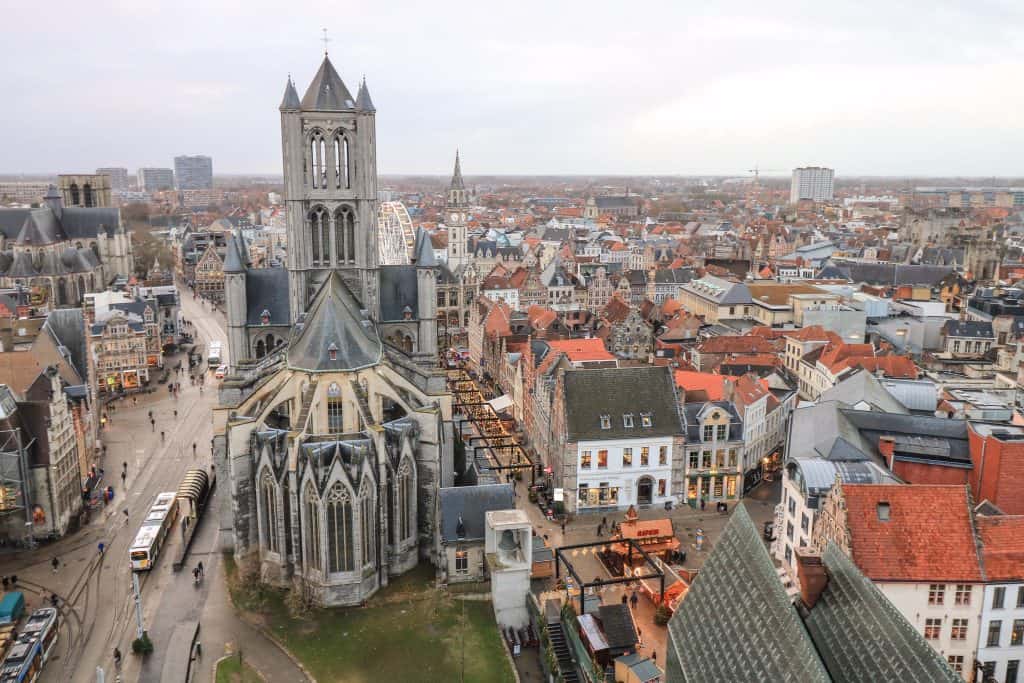 Hours: Open from 2 pm to 5 pm (Mondays) and from 10 am to 5 pm (Tuesday – Sunday). Free entry.
7. Belfry of Ghent
After leaving Saint Nicholas Church, the next tower you will see is the Belfort or Ghent's Belfy.
Listed as a UNESCO World Heritage Site, this 14th-century belfry stands at 91 meters (299 feet) and is the tallest belfry in Belgium. By far, this is one of the coolest things to do in Ghent!
You can climb the 350 steps to the top for a heart heart-pumping cardio session. But if that isn't your thing, there is an elevator too that can take you up.
On each floor going up, you get to learn about the belfry's history and see older versions of the dragon weathervane.
Before you go inside take a look at the dragon on the very top of the tower. He has become somewhat of a city mascot.
Years ago, there was a conflict between Ghent and nearby Bruges and there are various stories and debates about who took the dragon from who.
It is both funny and fascinating to hear the different versions depending on which city you are in.
Go on a walking tour to hear them in full detail! And if it isn't obvious, the best views of the city are at the top and are magnificent…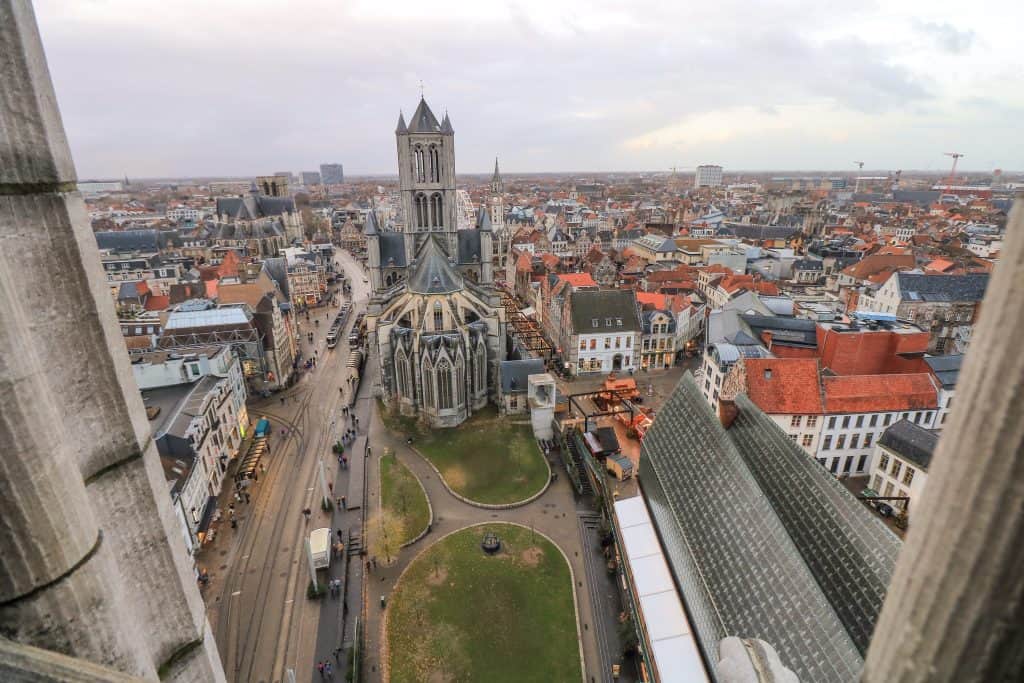 The tower also served as a watchtower and the men that were on guard were called "kannenschijters".
The name comes from the fact that they had to carry up a jug with them at the beginning of the day. They couldn't risk leaving their post to climb down each time they had to use the loo!
The hall connected to the tower was the Cloth Hall and is beautiful to walk through before you leave.
Oh, and if you are visiting during the Ghent Festival (July), you might get to see the dragon breathe fire! It started in 2018 and will hopefully continue.
Hours: Open daily from 10 am to 6 pm.
8. Saint Bavo's Cathedral
The third large medieval tower of the "big 3" is at Saint Bavos Cathedral and is a bit shorter than the Belfry at 89 meters (292 feet).
From the 13th to 16th centuries the cathedral was built in a Gothic style much like other nearby buildings from this period.
In contrast to Saint Nicholas Church, it is much darker inside but it is quite spectacular to see. I took a few photos when I first walked in before seeing signs that said no photos.
So sadly, I don't have much to share of the inside, but take my word for it that it is well worth going inside.
You might also see St. Bavo's referred to by its Dutch name of Sint-Baafskathedraal.
The highlight to visiting is to see The Adoration of the Mystic Lamb which is a famous painting by the Van Eyck brothers. This painting is also commonly referred to as the Ghent altarpiece.
Why is it so famous? Well, it is known to be one of the oldest known oil paintings in the world and painted in the 1400s. It was painted as an altarpiece and is a polyptych that is a painting divided into sections or panels.
Over the years it has been stolen a few times but today all panels have been found/returned except one.
It is one of the pieces of artwork that was rescued by the Monuments Men. So, if you happen to see a panel in an attic or basement somewhere…
Although the cathedral is free to enter, it costs 4 Euros to see the "Ghent Altarpiece" aka the Adoration of The Mystic Lamb in a private chapel. An audio guide is included to provide detailed info on the painting.
Hours: Open daily from 8:30 am to 5 pm (6 pm in the summer).
9. Werregarenstraat (Graffiti Street)
If you like graffiti art then you are in luck as Ghent has both cool mural art and a dedicated graffiti street.
Once I heard there was a legal street that people could contribute their own graffiti art to, I knew I had to see it. Of all the Ghent attractions to see, this is the most colorful!
Just a few minutes' walk from the Belfry, take your time wandering down Werregarenstraat as there is an overwhelming amount to see.
It is more of a two-block alleyway between Hoogpoort and Onderstraat streets that is constantly changing.
Artwork that is there today might not be there tomorrow or next month as artists paint over each other's work. Once and awhile, the entire wall is painted over and serves for a blank canvas to start all over again.
Not only is it a place where graffiti artists can express themselves, but it also hopefully keeps the graffiti art here and not elsewhere in town. For more info on the street art in Ghent, go to the website here.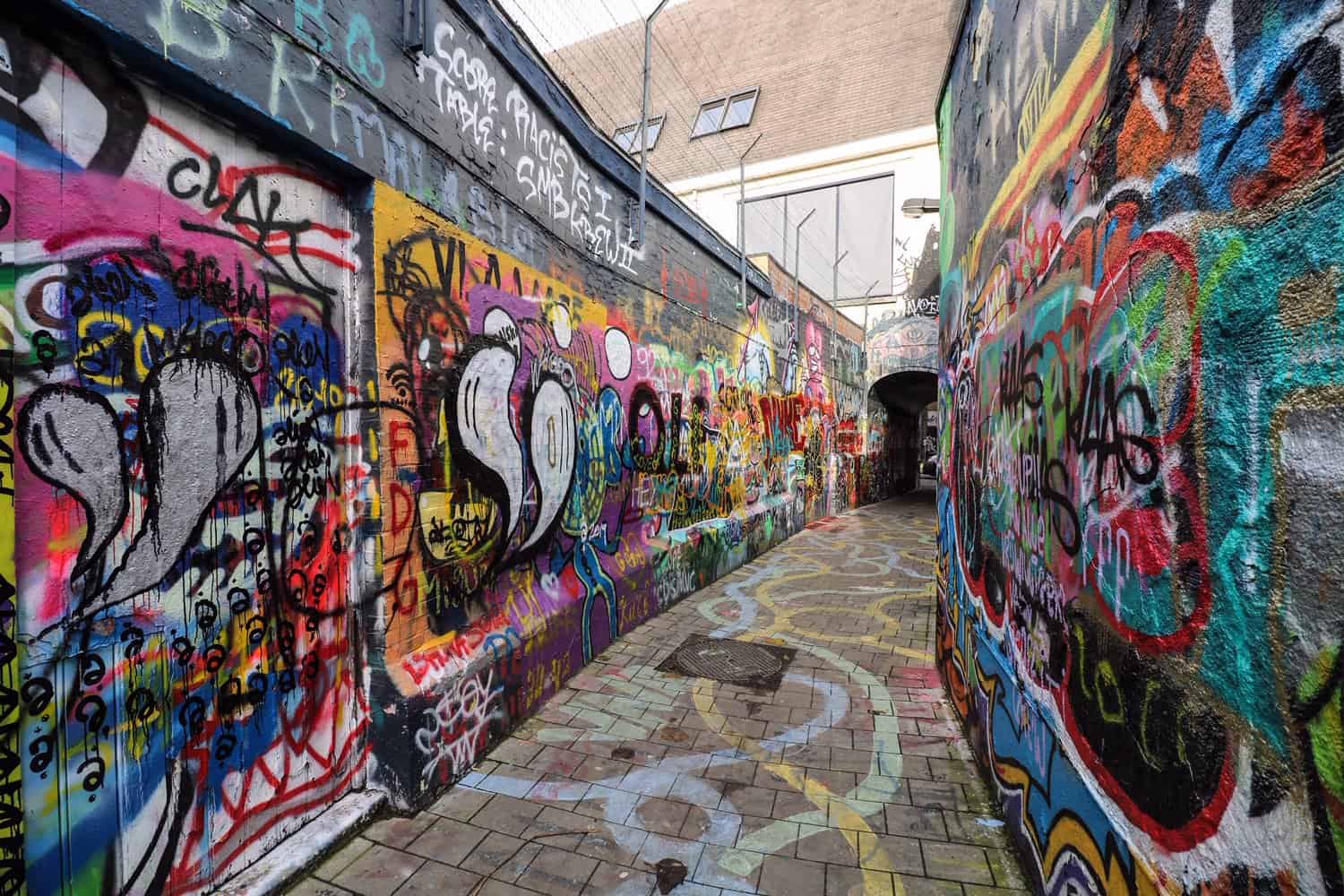 To see another nearby street that is void of art but so quaint is Serpentstraat. It has adorable shops lined here and if you couldn't have guessed, the street is known as "snake street". Not sure why as I didn't see any snakes around…
10. St. James Church
While wandering the many pretty streets in Ghent, I came across St. James Church and immediately loved it. The architecture and the lavender-colored curtains hanging gave it a unique charm from other churches.
I walked around the entire church but didn't see an open door and bummed to not see the inside. I'm not sure why, but this church doesn't get the attention or love like some of the bigger churches.
It was built in the 12th century and in Baroque style. There is a darling square around it called Bij Sint-Jacobs that has lovely cafes and shops to visit.
This square is also where the Ghent Festivities (Gentse Feesten) kicks off which is one of the biggest festivals in Europe.
11. Vrijdagmarkt (Friday Market)
Vrijdagmarkt or the Friday Market is an enormous square where political & public meetings, executions, and the Friday market were all held. Thankfully the executions are no longer but you can still find a market here every Friday.
In the center of the square is the statue of Jacob van Artevelde. He is considered a hero as he helped to stop the boycott of English wool during the Hundred Years' War in the 14th century. This allowed Ghent to prosper and dominate in the textile industry.
Surrounding the square are several cafes, pubs, and shops to explore. One pub that you should make a priority of visiting is Dulle Griet as it has over 500 beers!
They happen to have a very odd tradition called the "shoe for a glass". You hand over one of your shoes for a MAX beer in a glass shaped like a shoe and don't get it back until you hand the glass in return!
Note: It is steps away from St. James Church and Serpentstraat.
12. Patershol Neighborhood
The neighborhood behind and around that of the Gravensteen Castle is the Patershol neighborhood.
It is like stepping back into time and walking the medieval steps of those before you! There is no specific thing to see here but don't let that prevent you from coming here.
It is one of those neighborhoods that you could wander in for days exploring the cafes, picturesque buildings, pubs, and enjoying delicious cuisine.
There are many restaurants scattered on these cobblestoned streets that you can't go wrong with any you pick.
The Patershol neighborhood is pedestrian-only so you feel the quiet and peace without the noise of cars.
Take your time to discover what might be behind the next corner as it just might surprise you. Patershol is definitely the hippest neighborhood in Ghent!
13. Taste Cuberdons & Snowballs
If you have a sweet tooth, then you can't leave Ghent without trying a Cuberdon that translates to little nose or "neuzekes" in Dutch.
A Cuberdon is a cone-shaped Belgian treat that is a gummy candy that has a harder outside and chewier inside. They kind of have a jelly bean like taste to them.
Made with Arabic gum, there are many colors and flavors, but the traditional flavor is raspberry with a purplish color. There are two main carts that you can purchase a Cuberdon from and there has been a long-standing feud between the two!
Found in the small square of Groentenmarkt, I visited the cart nearest the bridge and very much enjoyed them.
As I was visiting in December, another tasty delight was available for purchase, Snowballs! They are only available in the winter months but are now my new favorite dessert. I ate them before remembering to take a photo…
They are so freaking good; I wish I could've taken cases of them back home with me! Snowballs (Sneeuwballen) are between a cookie and a candy but I think officially considered a candy.
Made in the shape of a cookie, it is vanilla coated with dark chocolate and sprinkled with icing sugar. They are a traditional dessert from Ghent so make sure you get some!
14. Take A Canal Boat Ride
Ghent is a city of canals that are so charming and the place to be. I'm not sure how many ways I can say how charming Ghent is, because it is! Besides taking a stroll along the canals, the best way to experience them is to take a boat ride.
Canal boat rides might be limited in the winter depending on the weather but I went in December and they were a go! There are both open and enclosed boat rides so in the colder months, the glass-enclosed ones are a blessing.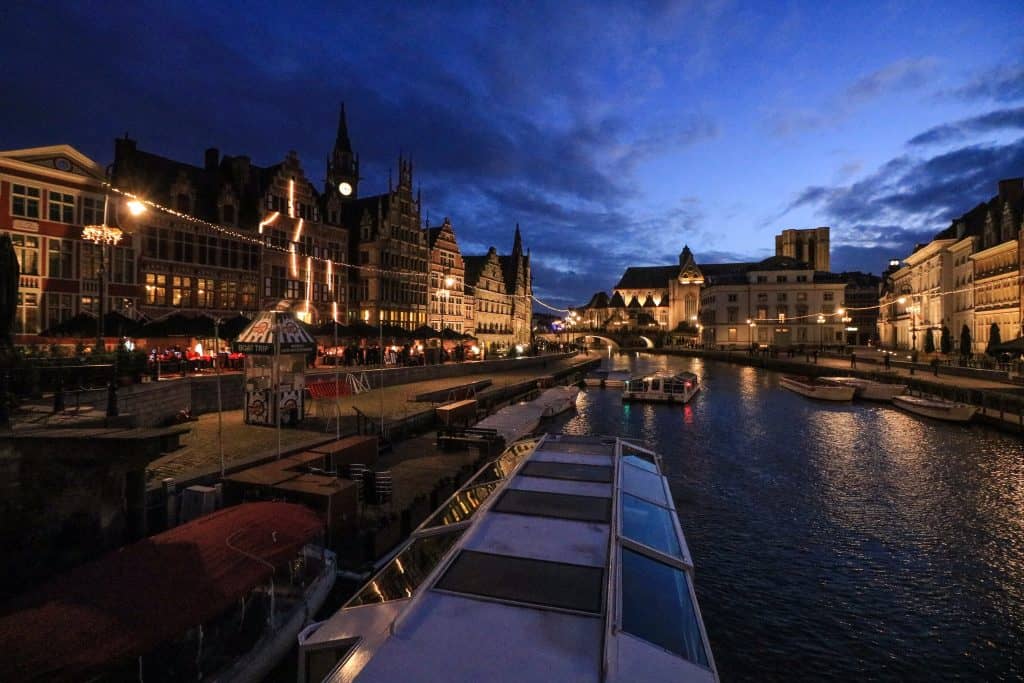 It is a relaxing activity to kick up your feet and listen to a bit of Ghent's history as you float on the River Leie. All canal rides can be accessed along the Graslei as this is where they take off and drop off at.
Tip: Book your guided boat tour among Ghent's idyllic canals and historic old town!
15. The Great Butcher's Hall
Before I even knew what it was, I loved the Great Butcher's Hall building from afar as it was lit up at night.
Tucked in between the River Leie and the Groentenmarkt is the Great Butcher's Hall dating from the 15th century.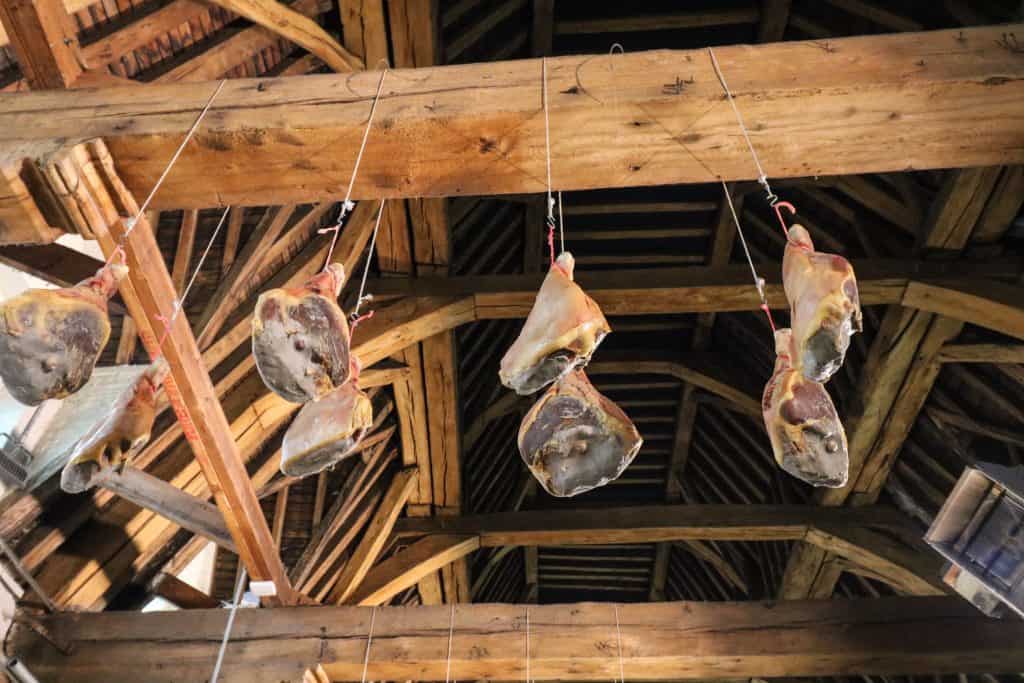 It was basically an indoor market for buying meat, particularly Ghent's famous Ganda ham. Even today when you walk in, there are many hams hanging from the wooden beams.
Do make sure you try this most delicious ham as you will close your eyes with a sigh of pleasure once you taste it!
You can also find other East Flemish food specialties in the hall and eat at the restaurant there.
Besides the ham, you must not leave Ghent without trying the unbelievable yummy mustard from Tierenteyn-Verlent. It is a tiny shop directly across the square that looks like an old apothecary and specializes in mustards since 1883.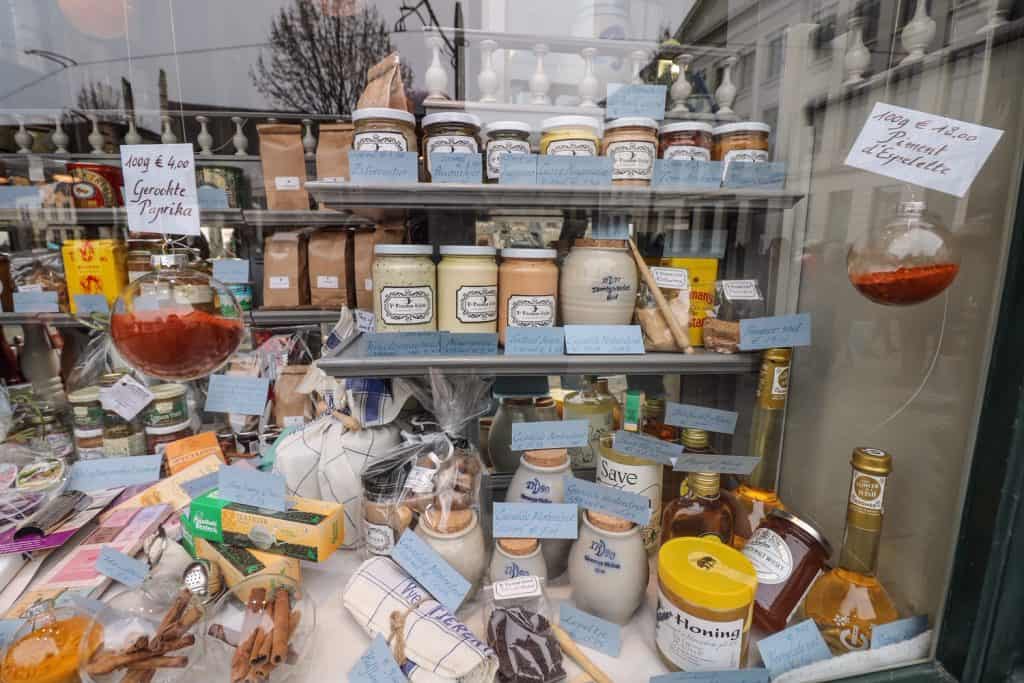 I personally dislike mustard but love the mustard from Tierenteyn-Verlent as it has incredible flavor and is spicy!
I bought a jar to bring home and almost cried when airport security confiscated it. It was wrapped up so good that I forgot it was in my carry-on bag. I will be going back one day to get another jar!
16. Have A Pint At The Smallest Pub
After a long day of exploring, there is no better way to rest than with a beer. Right next to the Great Butcher's Hall is 't Galgenhuije and it is the smallest pub in all of Ghent!
It seats a total of 8 people inside. Don't be turned away by its pint-size (see how I slid in some humor there) as there is terrace seating too.
It is quite adorable and resembles more of a cute cottage than a pub. If you have worked up an appetite, head around the corner and across the bridge to eat pizza at Otomat.
I would never have thought about eating pizza in Ghent but it is noteworthy as the pizza is made with the yeast of local Belgian beer.
Grab a window seat along the canal and have a clear view of the Great Butcher's Hall. With each pizza that you select they recommend the perfect beer to pair it with too.
17. Snack On A Liege Waffle
If you haven't heard yet, Belgium is known for waffles! And there is certainly a good reason for that.
To be clear, I am probably ruined to eat them ever again in the United States but that just means I'll have to go back to Belgium for this goodie!
There are two main styles of waffles in Belgium that are the Brussels style and the other is from the Flanders region and called Liege style. Oh and waffles are not eaten for breakfast but as a snack or dessert.
The Brussels style is very light, kind of crispy and is eaten sitting down. It might have a few toppings but if eating it as Belgian's do, you eat it with some powdered sugar and maybe whipped cream. And no, you will never find maple syrup to put on it!
In contrast, the Liege style that is found in Ghent is smaller, served hot and can be eaten as a yummy snack as you walk.
Traditionally these do not have any toppings on them as there is caramelized sugar in them that is true perfection!
I love both styles but if I had to pick one, I would choose the Liege style that is found in Ghent and Bruges.
A few places that had some tasty Liege style waffles are Jack's House (by the bridge of Graslei) and Koffie 3,14 Thee (next to Tierenteyn-Verlent spicy mustard shop).
Note: Both of the waffle spots I recommend are stalls so there is no place to go inside and sit down. You order and eat it as you go!
18. Indulge In Belgian Chocolate
If you happen to be a chocolate lover like me then you are in luck as Belgium has some of the best chocolate I have ever tried!
I'm partial to dark chocolate and kept to it throughout my tastings. I am amazed at how many chocolatier shops are in Belgium.
There is one in every direction you look, much like a Starbucks coffee shop in the United States.
There are different qualities of Belgian chocolate and usually corresponds to the price. The higher quality means you will pay more euros.
The chocolate that Belgium is famous for is the "praline". The praline chocolate has a soft inside or filling that is usually made of hazelnut, almonds, sugar or milk-based pastes. Think of it as a soft creamy filled center that is very delicious.
The two chocolatiers in Ghent that have excellent quality chocolates are Neuhaus and Luc Van Hoorebeke (local to Ghent).
Both offer exceptional chocolates and don't pass up the opportunity to have hot chocolate. The best hot chocolate I have ever had…
19. Castle of Gerald the Devil
So, who is this Gerald the Devil you might ask? He was the son of a knight that lived here. He of course, wasn't the devil but that was his nickname due to his dark features and complexion.
Even though the devil never lived here, many others did making for an interesting history.
As one of the oldest buildings in Ghent, it started out as a fortress in the 13th century. It has since been used for several things such as a knights' residence, a prison, a school and a place for those with mental disorders. Sadly, it isn't open to the public but it is a beautiful castle to see from the outside.
Getting To Ghent
If you are flying into Belgium, then most likely you are flying into Brussels Airport (BRU) which is the largest international airport. If you are coming directly from the airport to Ghent, it is about a 45-minute drive or about 45 mins – 1 hour by train.
If you are spending time in Brussels before heading to Ghent, explore my post How To Spend The Best Weekend In Brussels.
Another option might be to fly into Antwerp at the Antwerp Airport (ANR) which is about 45 minutes by car or 1.25 hours by train.
In planning your trip to Belgium, start exploring the best flight deals today!
You can take the train from Brussels from one of three main train stations that are Brussels North, Brussels Central and Brussels South.
At first, knowing which train station to go to can be confusing as there are often 2-3 different names for each station. Catching a train is the simplest way to head to Ghent though for sure.
For example, Brussels South (English) is Bruxelles-Midi (French) and Brussels-Zuidi (Flemish).
They are all the same location, just a different name depending on the language. Having said that, I hope I haven't scared you off to using the metro and trains as they are nice and simple to use.
When purchasing your train ticket, book it to Gent Sint Pieters station to get yourself to Ghent. Once you exit the train station, there are taxis to take you to your hotel. The drive to the historic area of Ghent is about a 15-minute ride.
CityCard Gent
If you know that you will be in Ghent for a few days and plan to see most of these sights, consider getting a CityCard Gent. For a fee, it is a card that gets you into many museums, monuments, tram, and boat ride for a discount. That is, it is cheaper than if you paid for each separately.
I found out about the CityCard Gent as I was leaving but wish I had gotten it the day I arrived. There are two options, purchase a 48 hour (36 Euros) or 72 hours (42 Euros) card. You can purchase it ahead of time from their website or buy at the Ghent tourist office or any museum that is included.
To give you an idea of some major points of interest you get access to with the card are the Gravensteen Castle, St. Bavo's Cathedral, Ghent Belfry, and Canal Boat Ride. And of course, several museums, trams, buses, and bike rental!
Got Travel Insurance?
Don't leave home without travel insurance as you never know what might happen on a trip! It is always when you least expect it that something can go wrong like getting sick, in an accident or cancellation of some sort. Get a no-obligation quote from two trusted travel insurance companies for peace of mind on your next trip!
Looking For More Travel Inspiration?
How To Spend The Best Weekend In Brussels
The Best Way To Spend 3 Days In Bruges
How To Tour The Best Chocolates In Brussels
Guide To The Best Christmas Markets In Belgium
12 Best Things To Do In Bucharest
15 Ultimate Things To Do In Dubrovnik
7 Best Filtered Water Bottles For Travel And Hiking

Disclaimer: My post contains affiliate links including being an Amazon Associate. I may receive a small commission if you click a link and purchase through that link. It won't cost anything to you to use these links but is very much appreciated. Thank you!