Disclaimer: Traveling Ness contains affiliate links and is a member of the Amazon Services LLC Associates Program. If you make a purchase using one of these links, I may receive compensation at no extra cost to you. See my privacy policy for more information.
5 Special Ways To Experience Dubrovnik
If you have already read my post 15 Ultimate Things To Do In Dubrovnik then you are set on knowing what to do and see during your visit to Dubrovnik. The best way to experience Dubrovnik and take your trip to the next level is to add these activities to my previous post.
The following adventures will make an impression on your stay that will leave you wanting more…
Dubrovnik, Croatia has so many options as far as things to do beyond this list but these are experiences, I felt essential to being a guest in this beloved city.
We have all zipped in and out of cities trying to see as much as we can but there are those moments that allow you to connect to a place on a deeper level. They are experiences that will enhance your stay and make it an unforgettable trip!
1. Experience Dubrovnik Eat With Locals
There is no better way to get the feel of a city than to spend time with locals. The Dubrovnik Eat with Locals experience was the highlight of my trip and truly made Dubrovnik so memorable.
Getting to dine with Marija and her family was such a pleasure from the moment she and her husband Zlatko greeted us at their home.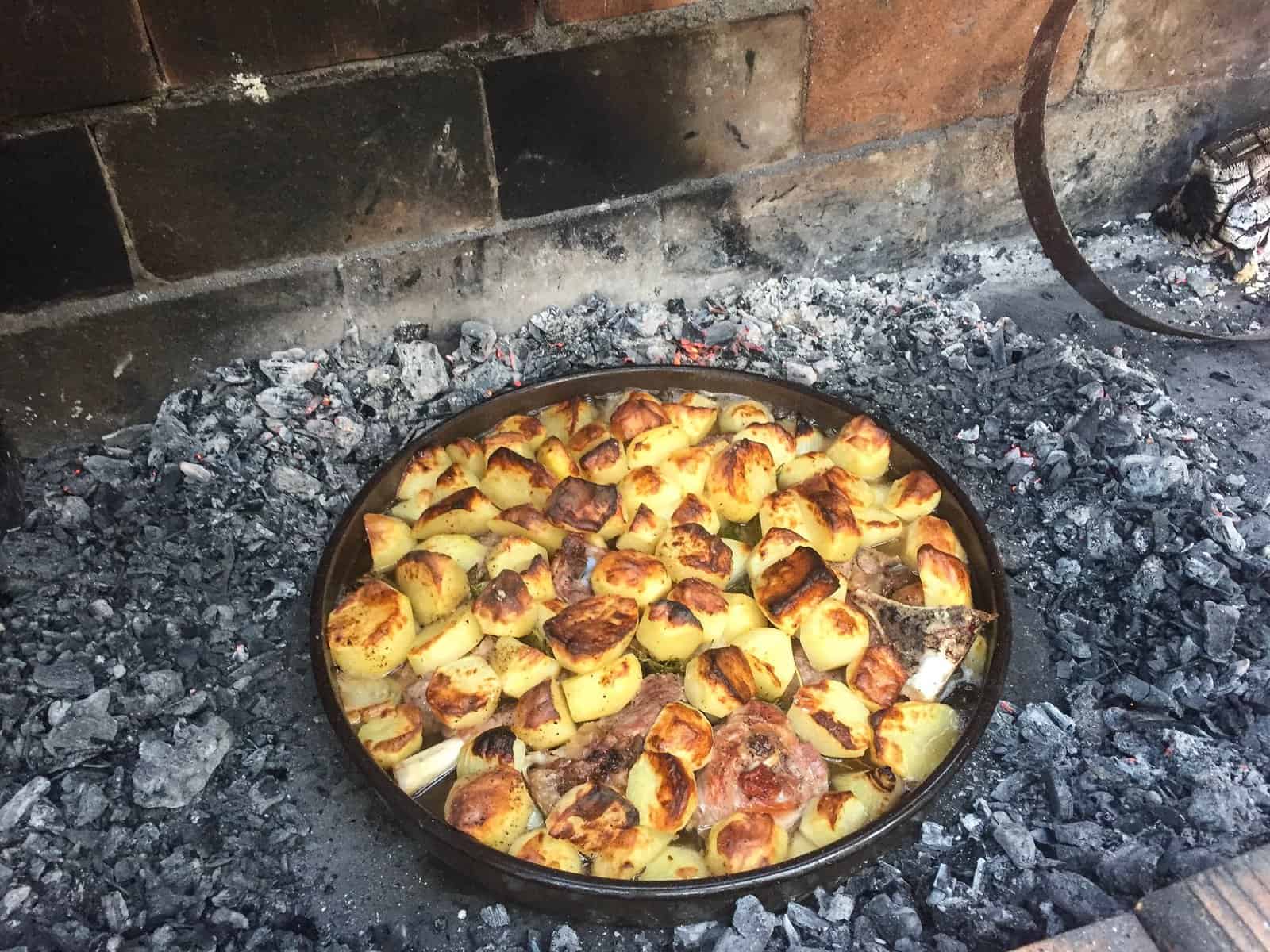 Traditional Croatian peka is veal, lamb and vegetables slow-cooked for 4 hours in coals
The home-cooked Croatian food by Marija and Zlatko was the best meal I had in all of Croatia and one of the best in my life. I only wish I could have brought some home with me!
Definitely come with a big appetite as there are so many delicious foods to try and don't forget to leave room for dessert.
Prepare to have your taste buds explode in delight after tasting everything served. The lovely meal starts out with the yummiest cherry liquor, Croatian red wine from Konavie (south of Dubrovnik) and a spread of charcuterie, cheeses, olives, tomatoes and the best bread ever.
The main meal centered around "peka" and watching Zlatko give great care in its preparation was so interesting. Peka is a mixture of vegetables such as potatoes, onions, and garlic with veal and lamb that is to die for!
It is slow-cooked for 4 hours over hot coals resulting in the most tender meat and flavors that will bring you instant joy.
Beyond the incredible meal, sharing in the company of Marija, Zlatko, their children, and two other couples were filled with laughter and heartwarming conversation. Isn't that what traveling is about?
Bringing people together from all walks of life and finding a commonality over a delicious meal. I can't say enough good things about the Dubrovnik Eat with Locals experience and hope you enjoy it too!
Note: All the food and drink served is homemade at their home or supplied from local farmers. It was very evident in the freshness and flavors of everything. If you have limited time visiting Dubrovnik, book ahead of time to make sure you get a seat at their table.
Oh, and if you happen to subscribe to National Geographic Traveler (U.S.), you can read all about Marija and her family in the February 2018 issue!
2. Kayak Tour Around Lokrum Island
Booking a kayaking tour is one of the best ways to experience Dubrovnik, see its coastline and get in a workout! Tours take off from the small Pile Bay just steps from Pile Gate. The waters in this bay are super calm and make taking off in a kayak very easy.
I researched and looked at many tour companies and went with this sea kayaking tour as it seemed to have the best reviews. And I am so glad that I did as the entire tour and guides made the experience wonderful.
After getting some instruction on how to maneuver the kayak with your partner, you will exit Pile Bay and head out towards Lokrum Island.
Once you get close to the island, the guides will give you two options. To either go around the backside of Lokrum Island or go straight to Betina Cave beach meeting point for lunch.
I recommend opting to go the longer path. That way you will get to see some stunning sea caves and pass by Lokrum's naked beach!
After that, you will continue on to meet up with the rest of the group at Betina Cave. Here you can bask in the sun at the most gorgeous beach cove for lunch.
After swimming and relaxing for awhile, you then continue on as a group back towards Pile Bay. If you choose the longer route, you will have kayaked 8 km!
But because you may find yourself fighting the current going out, it feels like double the distance. Lol. That just leaves room for some gelato afterward!
There are several times a day the tour takes off at for added convenience but expect to spend about 3 hours. I really liked that the guide provided a lot of information about Croatia's history and various aspects of Dubrovnik's coast.
Note: A sandwich and bottle of water are provided for lunch and is perfect after working up an appetite. Of course, it doesn't hurt to bring snacks too!
Dry containers are provided so that you can make sure your phone, camera and anything else doesn't get wet which is really nice. And don't worry about needing previous experience, the guides will teach you everything you need to know.
3. Take An Old Town Walking Tour
I'm usually not a fan of taking huge group tours and prefer to wander a city on my own. But I do enjoy exploring with a local, someone that can give me insight and a backstory of a city.
I happen to be a fan of the show Game of Thrones and thought it would be fun to see all the spots that the show filmed scenes in. After searching for Game of Thrones (GOT) tours, I stumbled across Tour The Game of Thrones run by Tom Matana.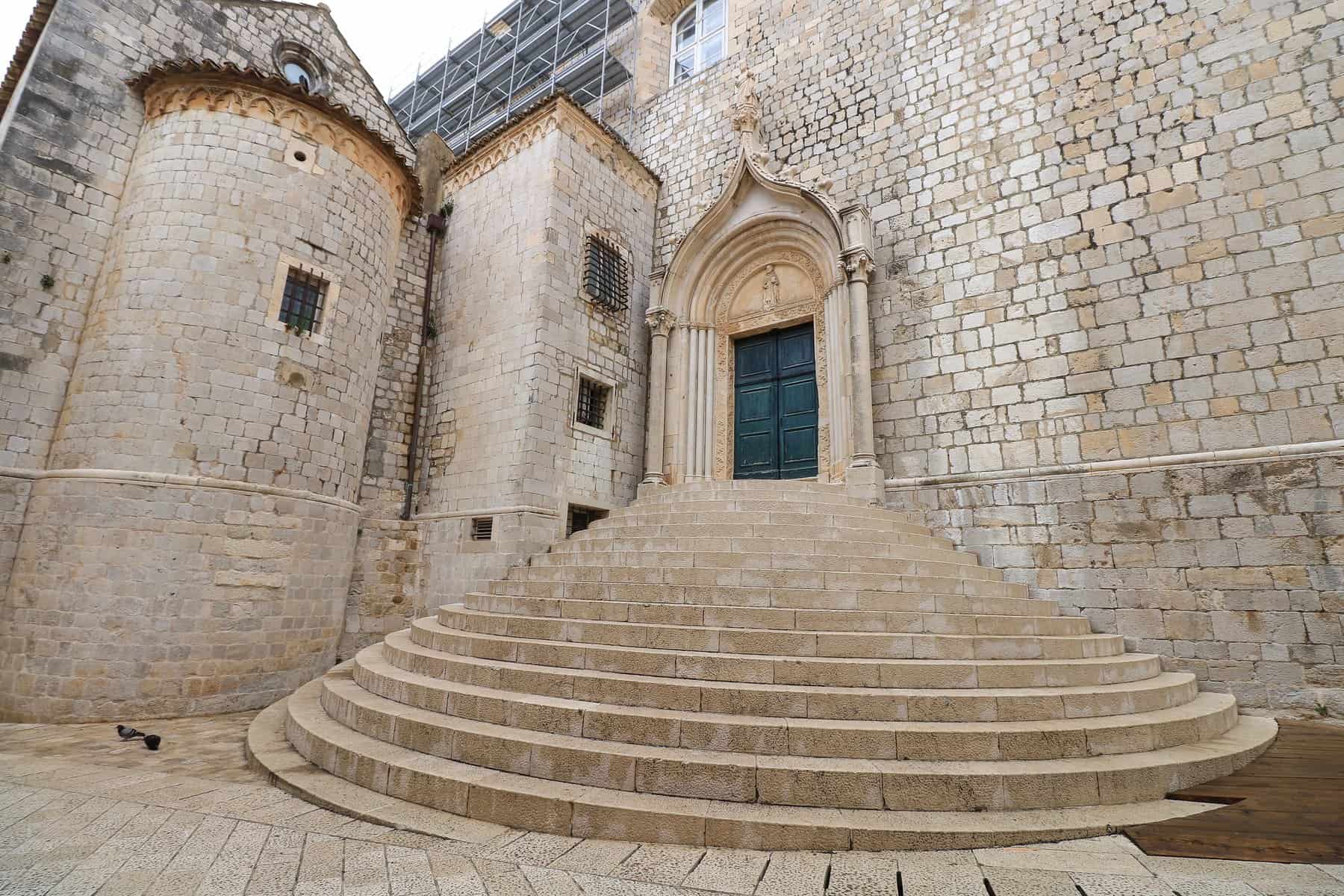 What I love about this tour, is that it is private and customizable. Forget those huge group tours that have set times! With Tour The Game of Thrones, I got to choose the start time and length of the tour.
Tom was very helpful in setting up a time on my first day in Dubrovnik. He made a point to ask what I was most interested in so that the tour could be customized to my liking. I chose to focus on Game of Thrones and the history of Dubrovnik.
My guide for the tour Karmen was extremely nice and provided so much amazing information that I would never have learned elsewhere. I won't give away details here so that you find out for yourself on the tour. You will get to see so many places GOT was filmed and tidbits of behind the scenes info!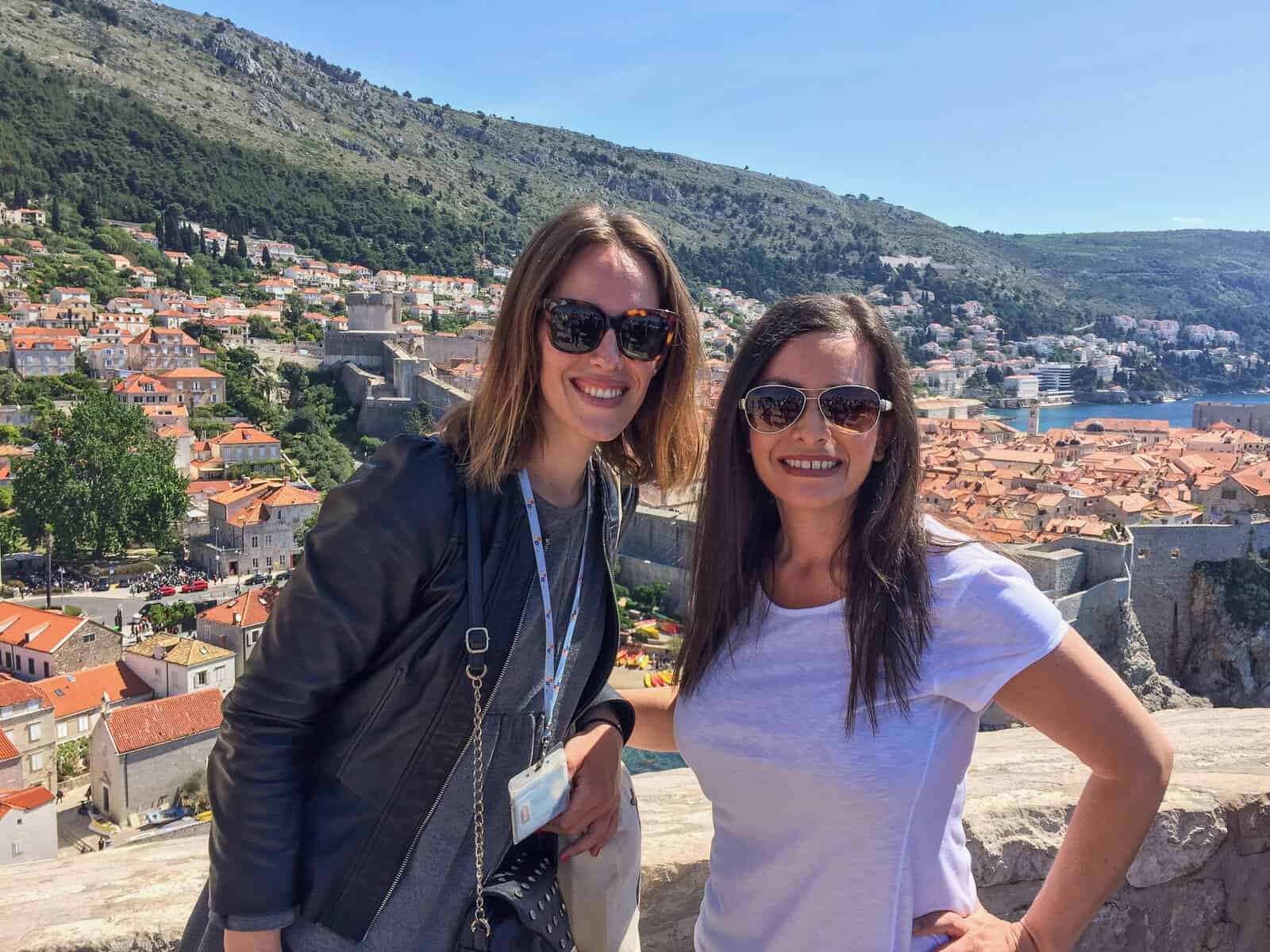 Note: I truly felt like I was spending the day with a friend on this tour and can't recommend it enough. I loved it so much that now I want to watch GOT again after visiting Dubrovnik!
Tip: If you are not a fan of Game of Thrones, then consider this Old Town Walking Tour that is not centered around the show and includes walking the City Walls! No matter what you will want to spend a lot of time in Old Town and the walls surrounding it.
4. Sip Local Croatian Wine
If you are a wine lover then trying Croatian wines is a must experience. Croatia is quickly getting recognition as having excellent wines, especially since they have been making wine for over 2,000 years!
I was super excited to try Croatian wine and quickly learned that most wines in Croatia are white. I pretty much only like red wines, so I was on the hunt to try some delicious red wines.
The most popular grape varietals for white are Malvazija, Bogdanusa, and Posip. And the most sought-after red wines are Plavac Mali, Babic, and Dingac.
Wines come from 4 regions in Croatia and are Dalmatia, Istria, Uplands, and Slavonia. My favorite was the Plavac Mali as it is a bold red wine with similar traits to a Zinfandel (it is actually an offspring of the Zin!).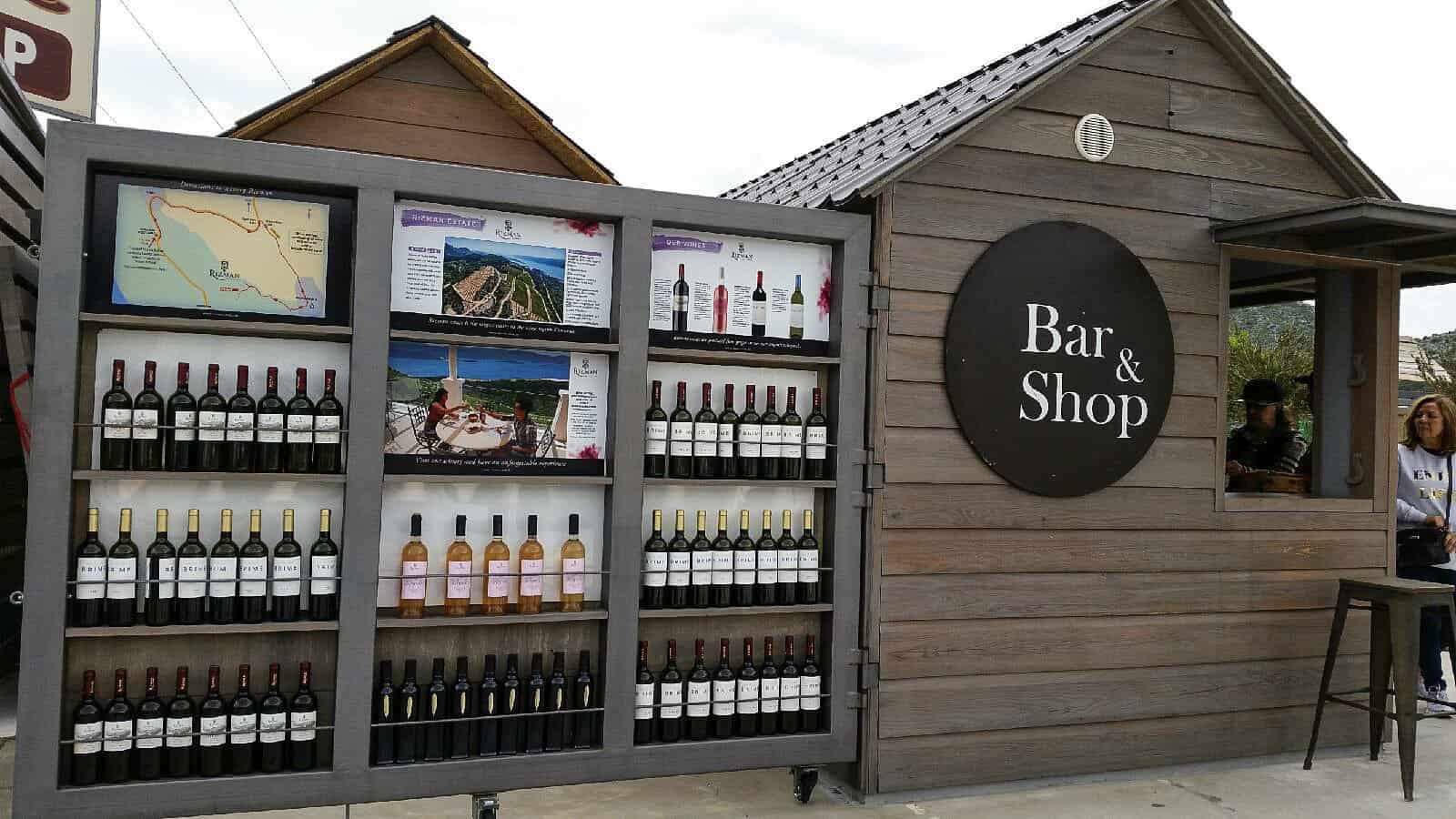 If you are short on time and can't make it to a winery, there a number of wine bars where you can taste a variety of Croatian wines in Dubrovnik. This is a great way to find out the wines your palate prefers.
In Old Town, wander over to D'Vino Wine Bar to sample a variety of local Croatian wines. D'Vino has a cozy atmosphere on a small street right off the Prijeko walkway.
It is also just a short walk from a yummy restaurant Lucin Kantun that I recommend. But if you don't feel like leaving to get dinner, you are in luck as D'Vino offers delicious platters of meats, cheeses, dried fruits, and fresh bread.
Two other wine bars that are popular for tasting Croatian wine are the Malvasija Wine Bar and Matusko Wine Bar. The Matusko Wine Bar is actually a family-owned winery about 60 km from Dubrovnik on the Peljesac Peninsula.
The bar location in Old Town Dubrovnik is convenient if you can't make it to the winery itself.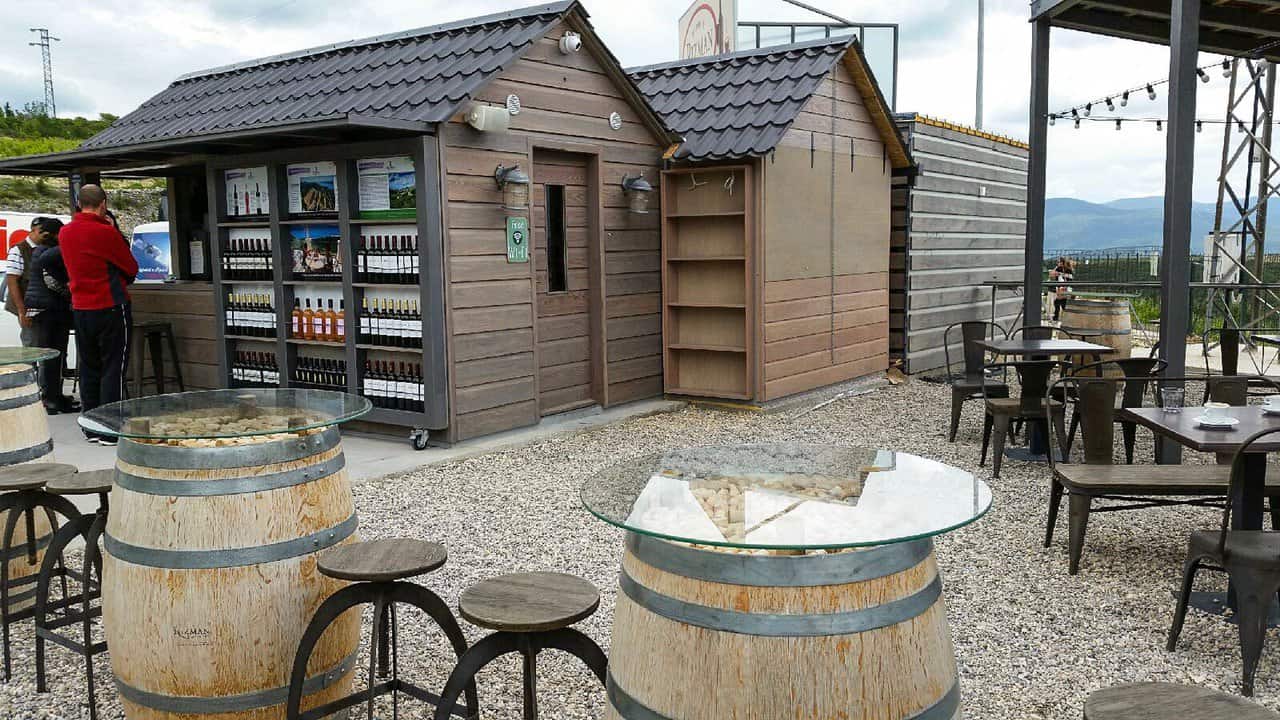 If you have a car and driving to Split or beyond, make sure to stop at the Rizman Winery rest stop. It is about 1.5 hrs north of Dubrovnik right off the side of the road (off the D8) and probably the coolest rest stop serving wine and coffee with a stellar view. You can also do a tour and tasting at the winery across from the rest stop.
Taking a full day wine tasting tour from Dubrovnik is a great way to sip some local wines and you don't need to worry about driving! This tour takes you to the Peljesac peninsula and some time in the city of Ston.
Note: If you want to experience a working winery, call ahead to make an appointment. Most if not all wineries do not have a walk-in tasting room.
5. Venture Out To The Islands
There are a number of islands scattering the Adriatic Sea off the coast of Dubrovnik to visit. Who doesn't want to take a trip to see an idyllic island surrounded by crystal clear water of the bluest blues?
Although there are many islands to visit, I am focusing on two of the more popular ones to experience.
If you don't have time to head out to the islands for the day, a sunset dinner cruise along Dubrovnik's coast is a great option. It includes dinner, drinks, and of course a stunning sunset!
Korcula
Korcula is home to olive groves, vineyards, quaint villages, and a stunning Old Town known as Korcula Town. After Lokrum Island, Korcula Island is one of the most visited islands off of Dubrovnik's Dalmatian Coast.
It happens to be the greenest of the bunch with a deep green color that is almost black from a distance. That might be why its nickname was Black Korcula. Korcula Town is a walled medieval town that many refer to as a smaller version of Dubrovnik.
White wine fans can celebrate as Korcula is well-known for its Posip white wine! The Posip grapes are only grown on Korcula as well as the white wine, Grk. For beachgoers, the southern part of the island offers gorgeous sandy beaches such as Vela Przina.
It is an easy 15-minute bus ride from Korcula Old Town. In contrast, there is a popular pebble beach in the central coastal area of Korcula called Pupnatska Luka. Pupnatska Luka is a little further out and is about a 25-minute drive from Korcula Old Town.
Mljet
Mljet Island is closer to Dubrovnik than Korcula and is very lush with dense forests covering it. Experience a sense of tranquility wherever you spend your time on Mljet. On the northwestern part of the island is Mljet's National Park that covers 5400 hectares of pure wilderness.
The popular attraction in this national park is the saltwater lakes, Malo Jezero (Little Lake) and Veliko Jezero (Big Lake). Not many places that you can take a dip in a saltwater lake!
Like on Korcula, you will find yourself enjoying plenty of wine, olives and goat cheese. Another treasure to find on Mljet is hiking to see "Odysseus Cave". You might ask yourself, "Homer's Odyssey"?
The answer would be yes or so the legend says, as Odysseus found shelter in this cave after a shipwreck. He apparently loved Mljet so much that he stayed for 7 years!
Note: You can get to both Korcula and Mljet Islands by ferry service from Dubrovnik or a various number of cities on the mainland. Although you could plan a day trip, spend a night or two to take in the beauty of the islands.
For more information on ferry service among the islands, check either Croatia Ferries or Jadrolinija for ferry schedules.
Where To Stay In Dubrovnik
The best location to stay in Dubrovnik is in Old Town or a short distance from the medieval city. Everything inside of the City Walls is considered to be Old Town. That way you are a short walking distance from all the attractions Dubrovnik has to offer. Explore hotel options in Dubrovnik here!
I hope you get the chance to experience Dubrovnik with all of these memorable activities during your trip. Happy Travels!
Got Travel Insurance?
Don't leave home without travel insurance as you never know what might happen on a trip! It is always when you least expect it that something can go wrong like getting sick, in an accident or cancellation of some sort. Get a no-obligation quote from two trusted travel insurance companies for peace of mind on your next trip!
Looking For More Travel Inspiration?
15 Ultimate Things To Do In Dubrovnik
15 Top Things To Do In Split, Croatia
10 Best Ways To Experience Trogir
12 Top Things To See In Zadar, Croatia
What To See On A Dubrovnik Day Trip To Kotor
How To Spend 48 Hours In Mostar
12 Best Things To Do In Bucharest
10 Fantastic Places To Visit In Transylvania
How To Spend The Best Weekend In Brussels
Disclaimer: My post may contain affiliate links, which means I may receive a small commission if you click a link and purchase through that link. It won't cost anything to you to use these links but is very much appreciated. Thank you!