Disclaimer: Traveling Ness contains affiliate links and is a member of the Amazon Services LLC Associates Program. If you make a purchase using one of these links, I may receive compensation at no extra cost to you. See my privacy policy for more information.
15 Top Things To Do In Split, Croatia
Sitting on the coast of the Adriatic Sea, Split is an ancient city nestled in pure paradise. The most beautiful water in shades of blues and greens surround Split and its nearby islands. Whether you visit for a few days or a week, there are numerous Split attractions to see that won't disappoint. Keep reading to find out the top things to do in Split during your trip!
Upon first arriving in Split you might be slightly dismayed at first as it is a large busy city that is quite modern and not like the medieval fairytale of Dubrovnik.
But don't worry, once you get to Split's Old Town you will be delighted. It's in Split Old Town where you will likely spend the bulk of your time.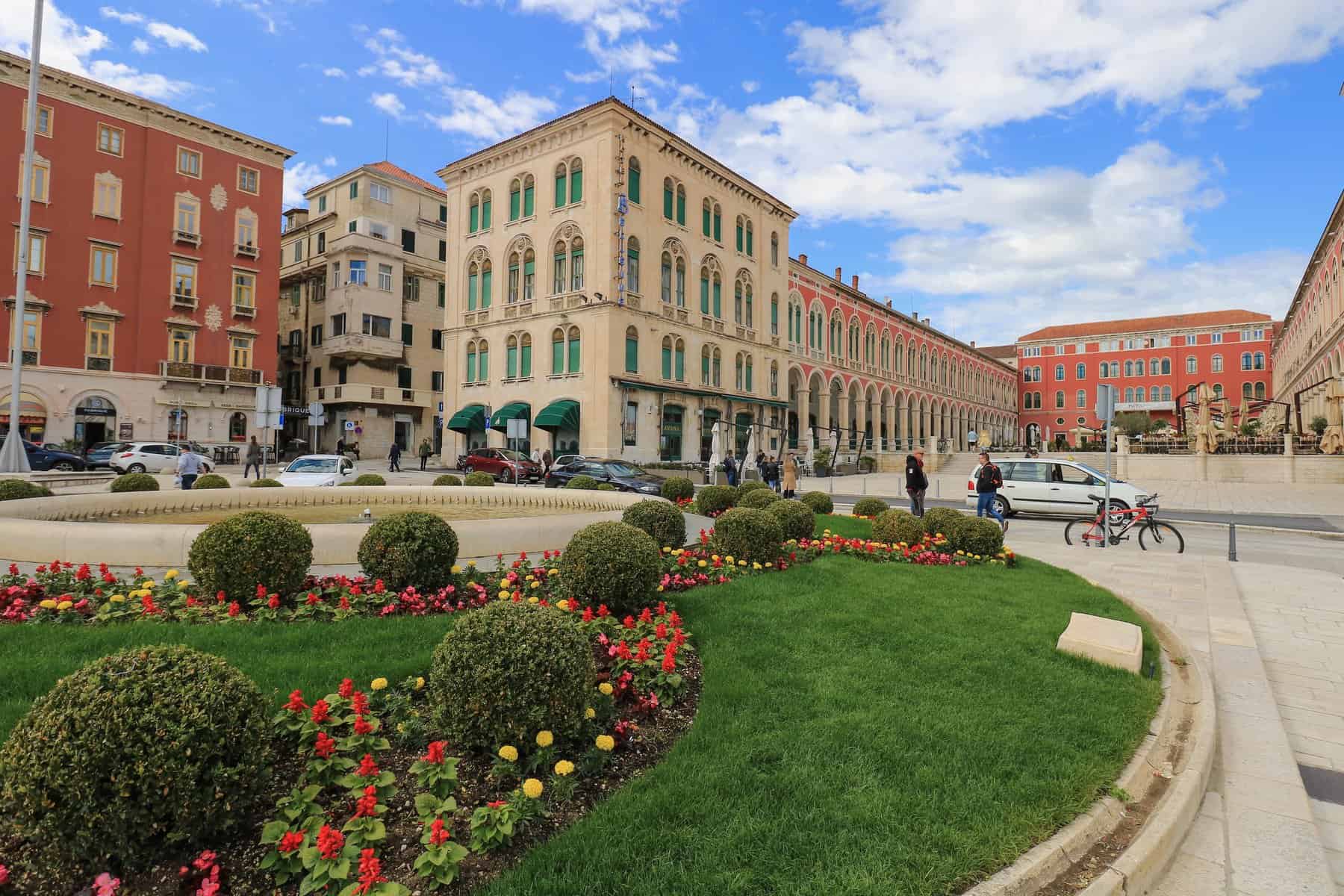 Split's Old Town is steeped in a ton of history from the Roman Empire. It feels like an outdoor museum that you are fortunate to explore.
Many of the buildings and sights originate from the 3rd and 4th century with a surprisingly good amount intact and preserved.
Where Is Split?
Split is the 2nd largest city in Croatia and most likely on your agenda when visiting Croatia. Centrally located on the Dalmatian Coast, Split is about 4 hours north of Dubrovnik and 2 hours south of Zadar.
Because of its central location, there are several day trip opportunities to discover. I recommend spending 2 days to enjoy Split but you could stay up to a week if you are planning to use Split as a base to do day trips from.
I stayed 4 days and used 2 of the days for day trips nearby. It is the perfect spot for sailing from island to island with sailboats and yachts in abundance.
One town that I don't mention in this post but shouldn't be missed is Trogir about 30 minutes from Split.
Read my post, 10 Best Ways To Experience Trogir to learn about this remarkable city. So, follow along with me and find out what to do in Split!
Where To Stay In Split
Wondering where to stay in Split? The best location to stay is in the Old Town section of Split, steps from all the sights to see!
Although there might be more options at bigger hotels and resorts outside of Old Town, I think being close to Diocletian's Palace and the Promenade is ideal.
It is definitely the most charming section and near all the Split attractions. Here are some excellent places to stay in Split:
Tips For Visiting Split
Although Croatia is part of the European Union, the currency used throughout is the Kuna. Use the XE currency app to assist in currency conversion.
I was pleasantly surprised to find that almost everyone speaks English or at least enough to converse with.
From the airport or within the city, Uber is the easiest way to get around and cheaper than taxis.
Croatia does not have a train network like the rest of Europe, so I suggest renting a car. Driving is super easy throughout the country and more convenient than a bus.
Split, its islands and nearby waterfalls are a photographers dream, so don't forget to bring a good camera to capture it all!
For taking photos and video on the beaches of the islands, a GoPro comes in handy for underwater or above.
Wear comfortable shoes as you will do a lot of walking.
Although you should be cautious in any city, I felt incredibly safe in Split. This is a city I would recommend for solo travel for this reason.
Try to travel during the shoulder season to avoid crowds and high prices.
To keep valuables safe, wear a concealed travel pouch.
Split Tours
Split Walking Tour of Diocletian's Palace – This tour will take you through the historic city center of Diocletian's Palace to see incredible Roman ruins and architecture. Tour is 1.5 hours.
Split Game Of Thrones Tour – If you are a fan of the show Game Of Thrones then this is the perfect tour that walks you through locations used in the show including Diocletian's Palace and the Riva (promenade). This tour is 3 hours and includes breakfast and a drink.
Blue Cave & Hvar Full-Day Tour – Spend the day exploring some of the best islands off of Split's coast that will leave you speechless! This is a full day, about 10 hours and a tour not to be missed!
Krka Falls Full-Day Tour – Krka Falls might not be as famous as Plitvice Lakes but both are worth visiting! Krka National Park has gorgeous waterfalls and boardwalks to wander and admire the lush landscape.
Split Sunset Cruise – Enjoy sailing along Split's coast for a spectacular sunset over the Adriatic Sea with live music and an open bar.
Top Things To Do In Split
1. Split Old Town
When you arrive in Split, you will likely spend all of your time in Old Town as that is the center of life and has the most sights to see.
It is without a doubt the most beautiful and charming section of Split. Outside of Old Town, Split will look like many modern cities and doesn't have the appeal of Old Town.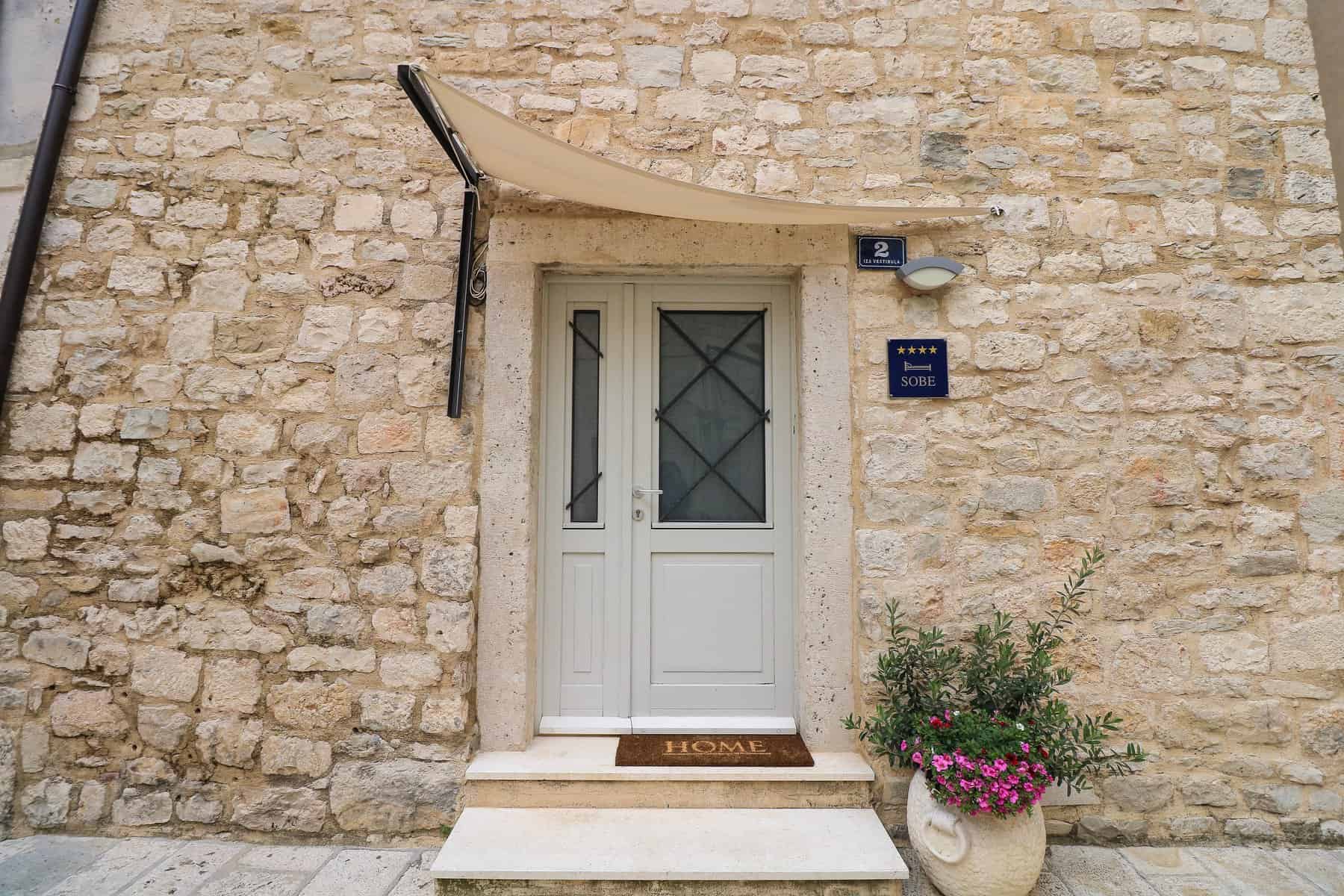 Outside the walls of Diocletian's Palace (I'll mention below), the main town square is Narodni Trg or the "People's Square".
The Iron Gate entrance into Diocletian's Palace is right off of the People's Square.
Branching off from the People's Square, wander the many small streets to find café's and shops in every direction.
You will also come upon smaller town squares like Vochi Trg that is near the waterfront.
A popular street to find restaurants and high-end shopping is Marmontova. It is a wide pedestrian-only street that will take you straight down to the promenade (waterfront).
2. Gregorius of Nin
Before entering the gate into the walled Diocletian's Palace, you will notice a huge statue looking as if he is greeting you to Split.
The 28-foot statue is Gregorius of Nin a Croatian bishop during medieval times and was created by the Croatian Ivan Mestrovic. Gregorius opposed the pope and replaced Latin with the local Croatian language into religious services.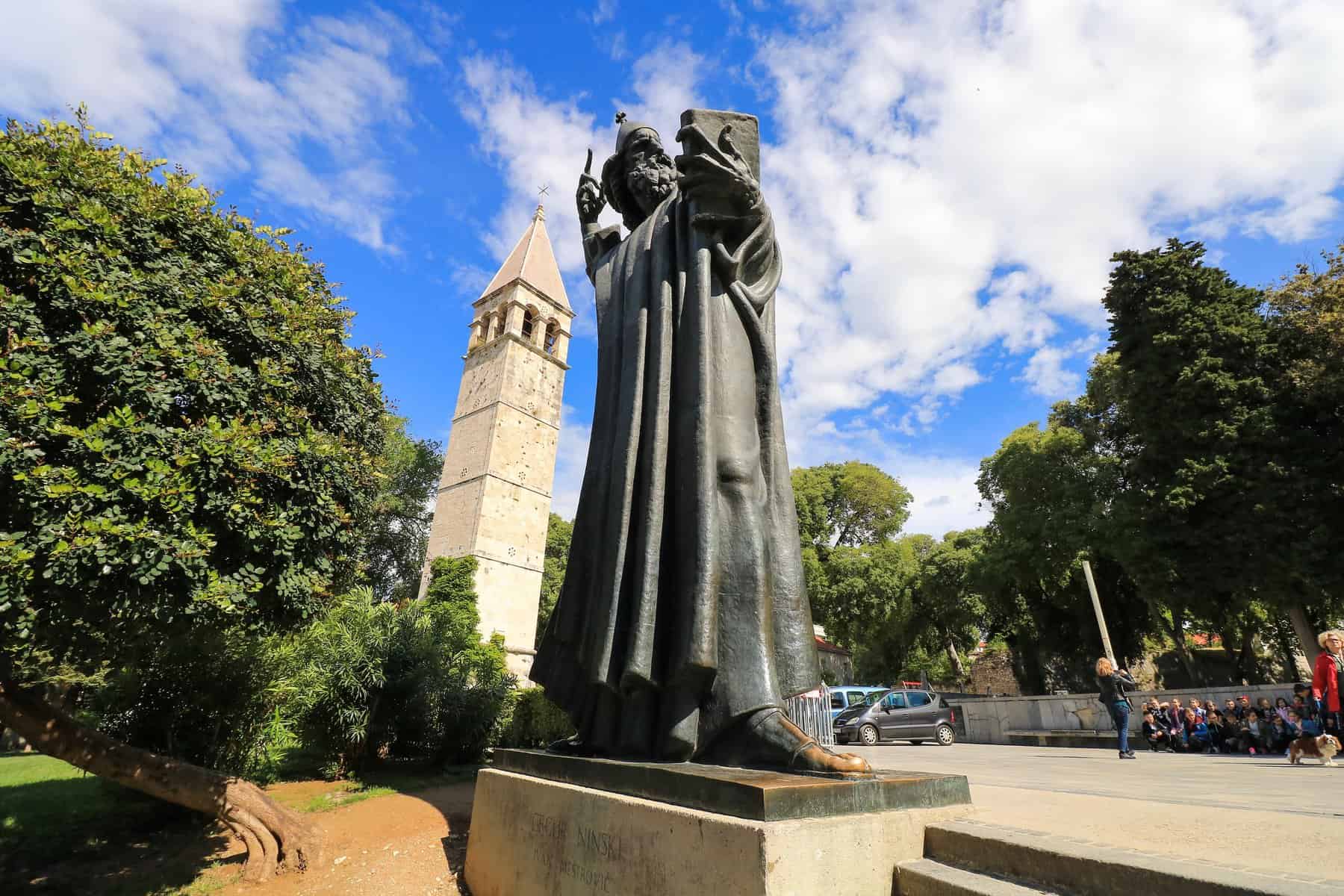 You might notice that his one big toe is shiny as it has been rubbed many times. It is said that if you rub his big toe it will bring you good luck and you will return to Split one day.
Did I rub it? Of course! Gregorius of Nin is located in the park directly in front of the Golden Gate.
3. Golden Gate
There are four gates into Diocletian's Palace, one in the center of each wall. The gates are all named after a different metal and the one nearest the Gregorius of Nin statue is the Golden Gate (northern).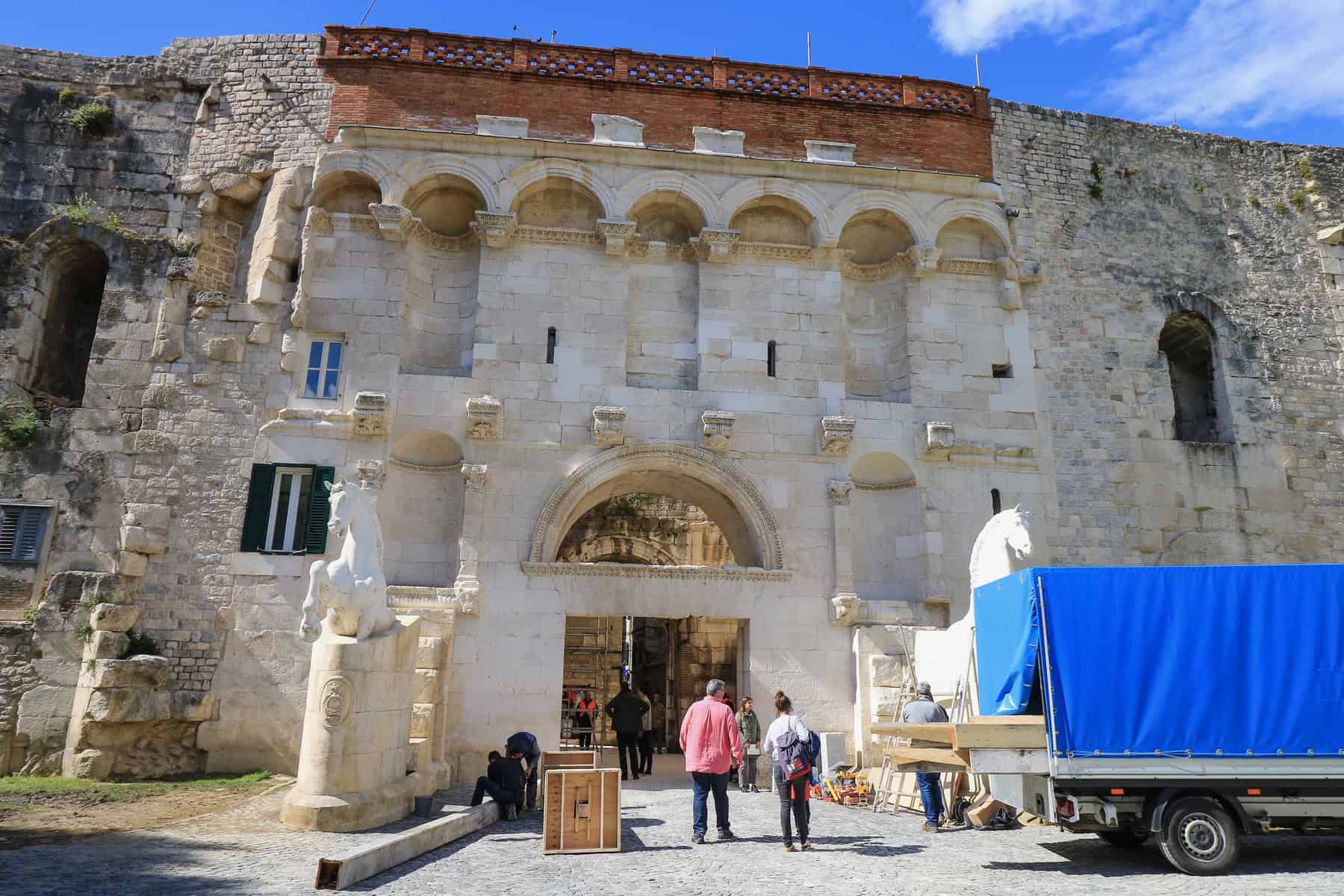 The other gates are the Silver Gate, Bronze Gate, and the Lead Gate. Of the four gates, the Golden Gate is the grandest and the main entrance into the palace.
I was particularly in awe of the carvings as you enter. I felt like I was back in Roman times… All four gates lead and meet up in the same square (Peristil) sectioning the palace into four areas.
Hours: Entry through the gate is open 24 hours a day
4. Diocletian's Palace
Once you enter Diocletian's Palace via the Golden Gate, expect to spend about 3 hours wandering the ruins and sights within it.
Wandering the historic ruins of Diocletian's Palace is one of the best Split attractions to see. Sights #4 through #10 in this guide will all be within the Diocletian Palace walls.
Diocletian's Palace was built in the 4th century for the Roman emperor Diocletian just steps from Split's idyllic waterfront.
Diocletian's Palace is in the heart of Split's Old Town and most likely where you will spend most of your time in Split.
Did you know what the name Split means? Split is derived from the Latin word of spalatum with origins meaning palace. Seems fitting as the main sight to see in Split is Diocletian's Palace!
Diocletian's Palace is one of ten UNESCO World Heritage Sites in Croatia that is a must to visit.
The limestone and white marble throughout make the palace eye-catching and impressive to see. No question, walking among the ancient ruins is one of the greatest things to do in Split!
I felt quite lucky to be able to walk freely in and around so much ancient history. I find it so fascinating to imagine what life would have been like all that time ago…
There are still around 3,000 people living within the walls of Diocletian's Palace today. Talk about a prime location!
Tip: Entry into Diocletian's Palace is free and open 24 hours a day so visit at your leisure. That includes all areas except the City Museum, Cathedral, Temple of Jupiter and the Cellar.
5. City Museum
As you walk from the Golden Gate, make a left turn at Papaliceva (street) to see the Papalic Palace. The Papalic Palace in its Gothic architecture was built in the 15th century and home to noblemen.
Today the palace is used as the City Museum. The City Museum has a lot of wonderful information, photos, and artifacts on the history of Diocletian's Palace and the city of Split.
Hours & Admission: The City Museum is open from 8:30am to 9pm daily. Admission for adults is 25 Kuna.
6. Peristil
The Peristil is one of the most visited and photographed areas of Diocletian's Palace, right in the center of it.
A Peristil or sometimes seen as Peristyle is an ancient Roman courtyard that is lined with columns and steps around it.
There is nothing like it anywhere that I have seen. You truly feel like you are walking among magnificent and palatial Roman ruins, following in the footsteps of the past.
It is a favorite spot to come together and socialize with others, especially while enjoying a cocktail on the steps. Where else can you have a coffee or a glass of wine in a setting like the Peristil?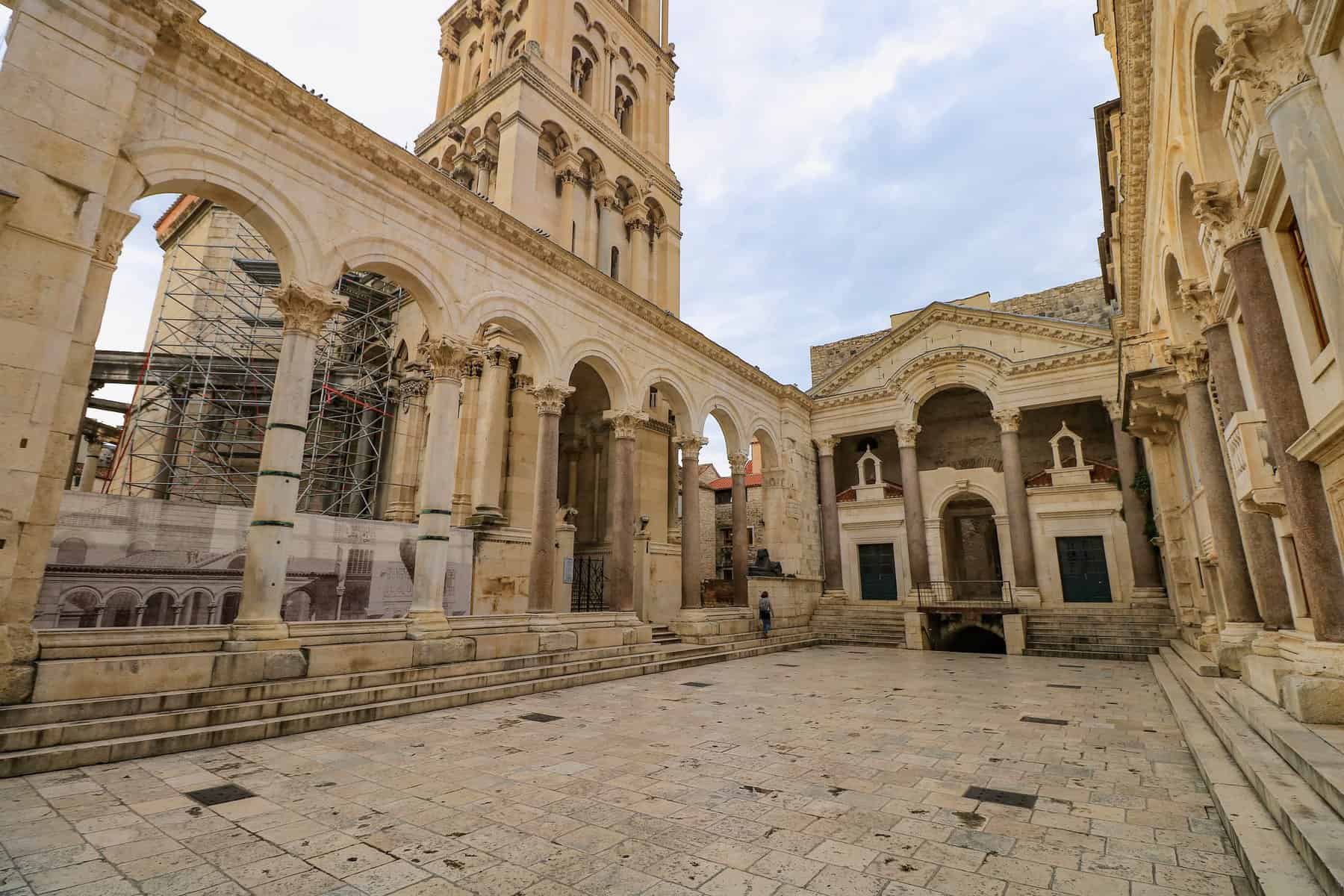 When you realize that your surroundings are over 2,000 years old, it is mind-blowing to think!
If you want to capture the Peristil without a lot of people, go super early or later in the evening to have the place to yourself (or mostly)…
Tip: Make sure to get a glimpse of the sphinx statue from Egypt that is one of many still surviving. As you exit the Cathedral of St. Domnius and walk towards the Vestibule, you won't miss it! You can see it in the middle corner of the photo above.
Hours: Open 24 hours a day and free entry.
7. Temple of Jupiter
From the Peristil, head west (turn right) down the tiny street of Sveti Ivana. At the end of this, you will see the Temple of Jupiter which was built in the 3rd century. As its name implies, it is a temple to honor the Roman God of Jupiter.
During Roman times, Jupiter was the highest-ranking god and the father of Diocletian so to speak.
Diocletian believed that he was a reincarnation of Jupiter and the reason behind his desire to build a temple dedicated to him. Could he have been one of the first narcissists possibly?
Later, the temple served as the baptistry and is one of the best-preserved temples of its time period. The high vaulted ceiling with numerous stone panels has incredible details in the carvings. It is quite a sight to see!
Tip: Right next to the Temple of Jupiter is what is said to be the narrowest street. I'm not sure about that, but it is pretty slim! It is called "Pusti me proc" or "let me through".
Hours: Temple of Jupiter is open from 8am to 7pm. Your entry fee is included in your ticket to the Cathedral of St. Domnius on the other side of the Peristil. See #8 below.
8. Cathedral of St. Domnius
Directly across from the Peristil and opposite the Temple of Jupiter is the Cathedral of St. Domnius.
Locally it is also known as St. Duje's Cathedral and built as Diocletian's mausoleum in the 4th century. Over the years additional sections were added to the ancient Roman structure.
The cathedral has an interesting history, as in the 5th century Christians destroyed Diocletian's sarcophagus and transformed the tomb into a catholic church.
The church was then dedicated to Saint Domnius who had been a victim of Diocletian's persecution. I guess the Christian's got the last laugh…
The most remarkable thing about St. Domnius, is that it is the oldest church in Europe that is still used and in its original form. I am amazed at the preservation of the cathedral, tower, and crypt.
If the bell tower is open, definitely make the climb up to the top for spectacular views of Split and its waterfront. Sadly, the bell tower is closed for renovation (as of June 2019) but photos of the view are quite amazing.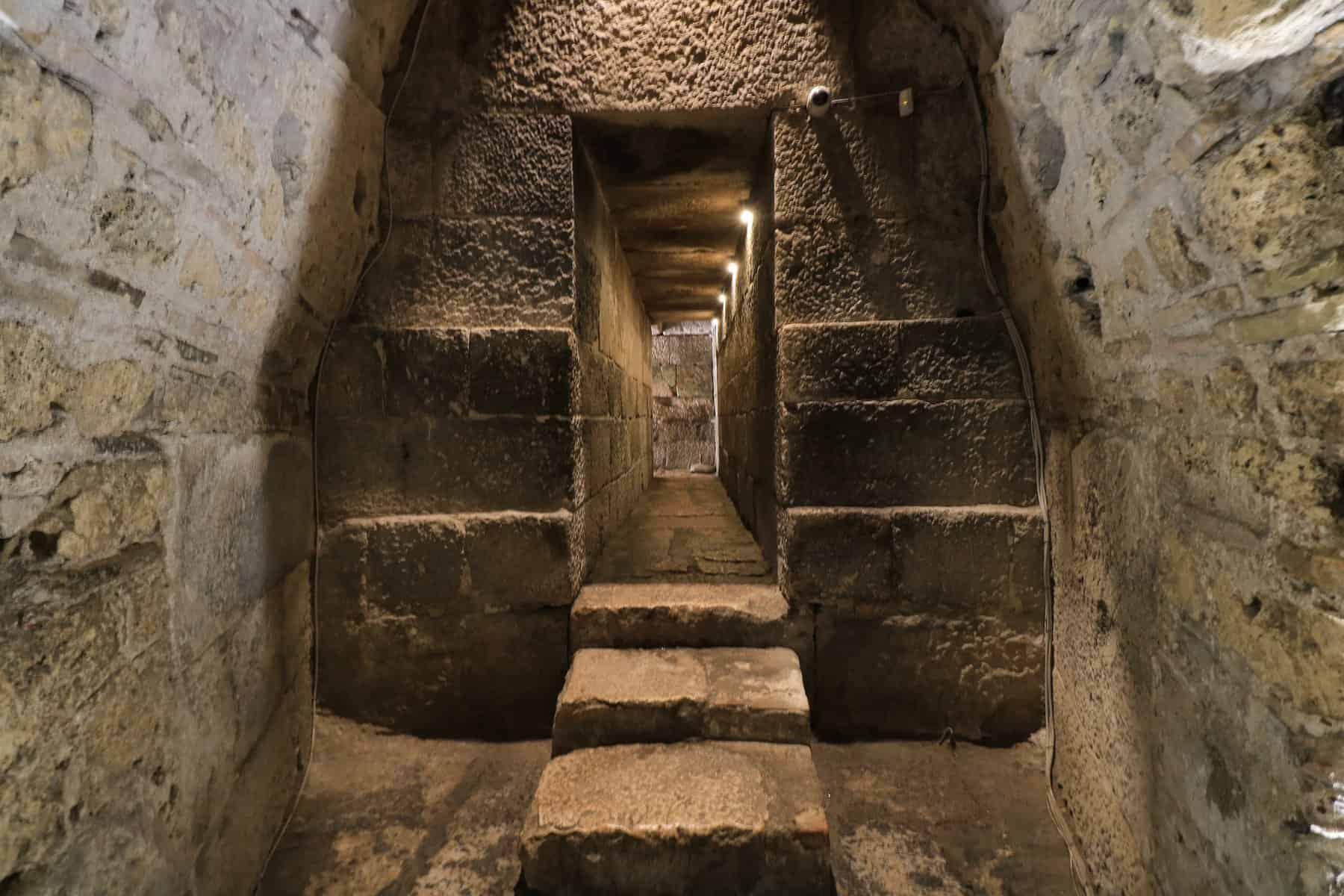 Tip: Your entrance fee is good for entry into the cathedral, the treasury, crypt and the Temple of Jupiter.
Hours & Admission: The Cathedral is open from 7am to 9pm Monday to Saturday (12:20pm to 6:30pm Sundays). Admission is 35 Kuna for adults that includes the Cathedral, Treasury, Crypt, and Temple of Jupiter. To climb the bell tower (if open), it is an additional 20 Kuna.
9. Vestibule
After leaving St. Domnius Cathedral, head south (turn left) and walk up the steps to the jaw-dropping Vestibule.
The Vestibule is an enormous round-shaped room that is open to the sky through the top. It is a rather grand and over-the-top entrance to the living quarters of Diocletian's Palace.
Standing at 55 feet tall, the Vestibule was built in the 4th century and was the official greeting area before entering the inner part of Diocletian's Palace. Kind of like the lobby of a hotel!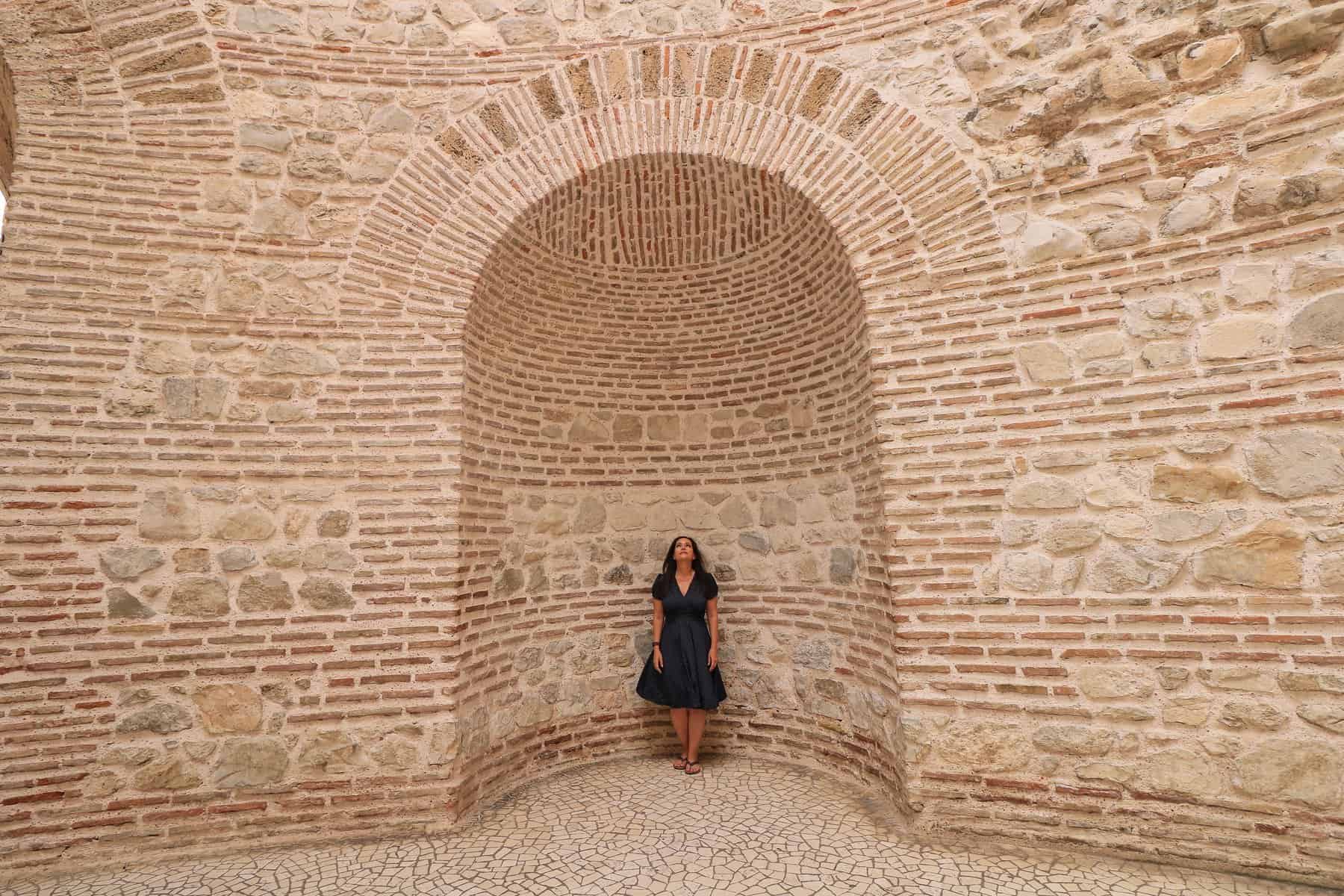 Spend some time walking around the dome-shaped room (minus the dome) to get different perspectives of the architecture and its pristine condition.
If you stand against the walls of the Vestibule, you can get a photo of the bell tower and blue skies peeking through the ceiling. There was a complete roof, but at some point, the top of the dome collapsed.
Tip: From the outside of the Vestibule, it looks rectangular yet on the inside, it is circular! Entry is free and open 24 hours a day.
10. The Cellar (Palace Basement)
Go back the way you came in and go down the steps to the Peristil and take the next set of steps down to the basement or the cellar.
As you get down to the cellar, you will see a long corridor that is now lined with various vendors selling items local to Croatia. All the chambers of the cellar mirror the floorplan of the above living quarters.
As you make your way towards the end of the basement corridor, you have the option to go left or right. Don't miss out on seeing this section of the cellar.
You truly feel the history walking through the many rooms in the cellar and can imagine what it was like at one time. There are areas that are quite damp adding to the old and mysterious feel.
During the time of the emperor Diocletian, the cellar was primarily used to store food and wine. Today you are able to roam the sections of the cellar and possibly even attend an exhibition or party here.
For Game of Thrones fans, one room in the cellar was used as the scene where Daenerys kept her dragons chained (in the land of Meereen). As you finish up wandering the cellar ruins, exit south out the Bronze Gate to Split's promenade or riva.
Hours & Admission: Open 8:30am to 9pm Monday to Saturday (to 5pm Sunday). Admission for adults is 42 Kuna.
11. Stroll The Riva
The Promenade or "Riva" is Split's seaside waterfront that is a broad and long path to walk along.
The Riva runs the length of about 2-3 football fields with many cruise ships, fishing, and tour boats docked here. You can see and feel the life of Split as you stroll on the Riva.
It really is the perfect place to stretch your legs and stroll along the palm tree-lined seafront at your leisure.
There are tons of bars, cafes, and restaurants scattered along the promenade. It makes for an ideal spot to take a break from site seeing and have a coffee, drink or a meal.
Don't be surprised if you are drawn to the Riva to have a drink to watch the sunset every evening.
Sunsets on the Adriatic Sea are quite breathtaking to see. There is no better spot to people watch and see the pulsing city in motion.
Tip: If you happen to take any kind of boat tour, you will meet up and take off from the marina right off of the Riva.
12. Marjan Hill
Other than the view from the Bell Tower, Marjan Hill is a wonderful place to see the city of Split in full view. It is also a great location to take a walk and enjoy nature on one of many trails up the hill.
Up the hill, there is a café called Vidilica to relax and marvel at the views with a coffee or some wine. Continue on from Café Vidilica to the summit where you will get even a better view at the peninsula's highest point.
Make sure to bring plenty of water with you especially if it is a hot day. If your feet feel like wandering more, there are two churches to visit. The first is St. Nicholas Church (13th century) and St. Jerome Church (15th century) both located up on the hill.
Tip: A great viewing platform to photograph the city of Split is from Prva Vidilica Na Marjanu. If you enter that into Google Maps, you will get there no problem!
13. Island Hopping
Split is one of the best locations to island-hop off the Dalmatian coast. The beauty of the turquoise clear waters and pristine beaches will win you over before you even step foot on an island.
Sailing the islands is one of the best things to do in Split and something that I hope to come back one day to do more of. How amazing would it be to sail from island to island for a week or two?
On this trip, I booked a tour and spent a long day (10 + hours) exploring some of the top islands in Split's Adriatic Sea. There are many island-hopping tours that you can take seeing anywhere from 3-5 islands.
I wouldn't recommend seeing any more than that because you won't get enough time at each place.
After researching several companies, I chose Blue Cave Trip, as they had excellent reviews and I liked the itinerary.
We visited 4 islands with 6 stops on the islands of Bisevo (Blue Cave), Vis, Paklinski, and Hvar. Bisevo Island is the farthest island from Split and quite small! Only a handful of people inhabit Bisevo mainly because of the famous Blue Grotto.
The Blue Grotto is a sea cave that you enter via a tiny boat and make sure to watch your head as you go!
Gaze at the amazing blue light illuminated from light passing through an opening underwater. It really does look like lights on in a pool and is spectacular to see.
After visiting the Blue Grotto, you might get to see the Green Grotto which is a bigger cave and a treat to see as it is less crowded than its Blue neighbor.
Next stop is to Komiza on the island of Vis which is a quaint little fishing village. There are only about 1500 people that live here and definitely a place where everyone knows your name!
A short boat ride from Komiza on Vis Island is the most breathtaking beach called Stiniva Cove. It used to be a cave but its roof collapsed at some point creating this enchanting cove.
Unless you have your own small boat, tours don't let you get off for a swim or wander the beach. If you are staying on Vis, you can hike to this tranquil beach on your own.
From Vis Island, the stunning blues and greens of the Pakliniski Islands beaches will welcome you with delight in seconds. Time seems to stand still while basking in the sun on Paklinski.
Take a moment to enjoy an incredible meal involving some form of seafood and sit back in bliss with the view in front of you.
Visiting the island of Hvar you will notice its high-end luxury that celebrities frequent on holiday. Expect to see elegant hotels, restaurants and quite the party scene in the peak summer months.
Tip: Another popular island to visit is Brac Island which I hope to visit next time! Brac Island is the closest island to Croatia's mainland so it is pretty easy to get a ferry or boat ride over to it. Brac is the largest of the Dalmatian islands and offers several beaches and sights to see.
14. Klis Fortress
About 20 minutes from the Old Town of Split is Klis Fortress sitting high up on the mountain overlooking the valley and city of Split. It really is the perfect location to have a fortress as there is nothing at a higher elevation.
They would have been able to see any invaders coming from a distance to their advantage. It offers a panoramic view of Split and the Dalmatian Coast.
Klis Fortress is quite impressive with its formidable structure that was first established in the 2nd century BC. The views from the top of the medieval fortress are spectacular and you will likely have the viewpoint to yourself.
Klis Fortress does not see the volume of visitors like many other sights in Croatia which is a nice break from the crowds! I'm not really sure why this is as it is an incredible place for the view, the history, and beauty of the ruins.
For those of you that are Game of Thrones (GOT) fans, you might recognize Klis Fortress from Season 4 as the City of Meereen.
It is where Daenarys comes into her power freeing the slaves of Meereen. To punish the masters who had enslaved the people of Meereen, Daenarys has the masters crucified along the walls.
Walking around the ruins, the scene looks very close to what you see on the show except for some minor changes with CGI and one major change. On the show, you see a giant pyramid on top of the fortress but in reality, this is all CGI.
Tip: Expect to spend 1-2 hours walking the tiers of the fortress.
Hours & Admission: Klis Fortress is open from 9am to 7pm, daily. Adult admission is 60 Kuna.
15. Krka National Park
Visiting Krka National Park might not be as big and famous as Plitvice National Park, but that doesn't mean it should be overlooked. The waterfalls in Krka are so beautiful and different from Plitvice.
Krka National Park is about a 1-hour drive from Split and is perfect to do as a day trip. You could easily spend the whole day but spend at least 3 hours so that you get to walk the different paths and enjoy the park.
I went in the middle of May and had brought my bathing suit and towel ready to swim in the falls. I was super excited because I had seen photos of people swimming in them. It is such a bummer to see signs saying "no swimming" and no one in the water.
I found out that they don't allow swimming until June 1st (through September 30th). The dates could vary a bit depending on the weather that year. Because of heavier than normal rainfall this year (2019), the river was running high and why I couldn't swim in the falls.
There are two main entrances to Krka National Park, the Skradin and the Lozovac entrances. I parked (free) at the Lozovac entrance and after buying tickets, walked down through a pretty forest to the waterfalls.
Or you can take a free bus down that is included in your ticket price. If you park at the Skradin entrance, then you will hop onto a boat to the waterfalls (also included in your ticket price).
The Krka River runs through the national park creating seven stunning waterfalls. Begin your walk following the boardwalks over and around the small pools created by the Krka River.
Take your time and spend an hour wandering down to the big Skradinski Buk Waterfall. It is very peaceful listening to the emerald green water flowing and watching brown trout swim in all the little pools.
The Skradinski Buk is the highlight of your visit to the park as it is the biggest waterfall you will see. It is also where you can take a dip in the water during the summer months.
There are many viewing spots around Skradinski Buk and plenty of vendors selling food, snacks, and drinks. There is a big grassy area to picnic in too.
You can take a boat excursion to see another waterfall, Roski Slap and the island of Visovac.
To see these two sights, give yourself an additional 3.5 hours. If you include this into your visit to Krka National Park then expect to spend a full day here.
Tip: If you don't have a rental car and want to visit Krka Falls, take the Krka Falls Full-Day Tour From Split.
Hours & Admission: Hours vary from month to month but you can find current hours, here. Admission is 100 Kuna (April, May, October) and 200 Kuna (June, July, August, September).
Croatian Food
Croatian food is very Mediterranean with a mix of Italian and Greek cuisine, adding their own variation to it.
Because of Croatia's location along the Adriatic Sea, you will encounter a lot of seafood especially in towns on the coast. I also had a few pizzas that were just as good as in Italy (don't tell my Italian friends)!
Most of the traditional Croatian meals I had were all centered around meat usually beef, lamb or chicken and cooked deliciously. Below are some great places in Split to find an awesome Croatian meal that will leave you happy and satisfied.
And don't forget to sample the tasty Croatian wine with your meal. Here are a few yummy restaurants to get you started during your stay in Split.
Konoba Nikola
Chops Grill Steak & Seafood
Zinfandel Food & Wine Bar
Villa Spiza
Bokeria Kitchen & Wine Bar
When To Visit Split
Situated on the Adriatic Sea, Croatia experiences a Mediterranean climate much like Italy and Greece. Visiting Split is pleasant any time of the year with the best months from April to October.
The winter months bring mild temperatures and a lot of rain whereas the summer months are pretty hot and humid. To get the best weather and avoid the crowds, the shoulder seasons are ideal, May/June and September/October.
Travel To Split
The closest airport to Split is the Split International Airport (SPU), or the Resnik Airport. The airport is actually closer to Trogir than Split, with about a 30-minute drive to Old Town of Split.
If you are coming from the town of Dubrovnik, it is about a 3.5-hour drive and you can get there by bus or car. Or if you are coming from Mostar, Bosnia it is about a 2-hour drive to Split.
Packing Tips for Split
Traveling anywhere along Croatia's Adriatic Sea, you will encounter plenty of intense sunshine. And that is even more so if you are island hopping off of Split's coast. The number one thing to pack is a good organic reef-friendly sunscreen.
Other essentials to include in your bag are good sunglasses, a cute travel hat (collapses) and a travel towel for taking a dip into the turquoise waters of the Adriatic Sea.
Now that you are fully covered and protected from the sun, make sure to drink plenty of water to stay hydrated in the heat. An easy and convenient way to do this is to carry your own reusable water bottle.
On days when you will spend a lot of time on your feet, having a comfortable pair of walking shoes is key! Not fun having feet that are hurting by the end of the day…
My favorite water bottle to travel with is the Yeti Rambler as it keeps liquids either super cold or hot. Plus it is spill-proof which is needed when on the go.
If you are not sure about the quality of the water, always be safe and travel with a filtered water bottle. Not only are you helping the environment but necessary as airports are beginning to ban plastic water bottles.
Got Travel Insurance?
Don't leave home without travel insurance as you never know what might happen on a trip! It is always when you least expect it that something can go wrong like getting sick, in an accident or cancellation of some sort. Get a no-obligation quote from two trusted travel insurance companies for peace of mind on your next trip!
Have fun and enjoy experiencing the best things to do in Split!
Looking For More Related Travel Inspiration?
15 Ultimate Things To Do In Dubrovnik
Visiting Plitvice Lakes: How To Have The Best Experience
12 Top Things To See In Zadar, Croatia
10 Best Ways To Experience Trogir
5 Special Ways To Experience Dubrovnik
How To Spend 48 Hours In Mostar
Road Trip From Dubrovnik To Kotor, Montenegro
12 Best Things To Do In Bucharest
10 Fantastic Places To Visit In Transylvania
Disclaimer: My post may contain affiliate links, which means I may receive a small commission if you click a link and purchase through that link. It won't cost anything to you to use these links but is very much appreciated. Thank you!