Disclaimer: Traveling Ness contains affiliate links and is a member of the Amazon Services LLC Associates Program. If you make a purchase using one of these links, I may receive compensation at no extra cost to you. See my privacy policy for more information.
The Best Way To Spend 3 Days In Bruges, Belgium
Bruges is often referred to as the "Venice of the North" for its many canals, bridges, and idyllic setting that is romantic and like stepping back in time. It has the appearance that time has stood still for hundreds of years looking quite good for its age! Plan to stay no less than 3 days in Bruges as it is a city that you don't want to hurry through.
There are some cities that will just warm your heart and make you fall in love with them for their incredible charm and beauty. Bruges is definitely in this group!
One of the best things to do in Bruges is to simply wander the cobblestoned streets over adorable bridges and along serene canals.
Although most people visiting Bruges plow their way through in a day or less, please don't.
Spend at least 3 days in Bruges to allow yourself time to explore and enjoy the many reasons it is so popular. Whether by day or night, capturing Bruges is any photo lover's dream.
I had never heard of Bruges until another travel blogger mentioned visiting Bruges after watching the movie In Bruges starring Colin Farrell and Brendon Gleeson. So of course, I was curious and had to watch it!
It is a very dark, disturbing, and yet funny movie about hitmen in the enchanting medieval city of Bruges. After watching it, I knew I had to go and booked my flight to Belgium within months.
I couldn't believe a city could be so gorgeous and straight out of a book of fairytales. Although the random act of watching a movie piqued my interest to visit Belgium, I'm so glad it did! This trip to Bruges will definitely not be my last to this magical city.
Tip: Planning to visit in December? Read my complete guide on Guide To The Best Christmas Markets In Belgium.
Where Is Bruges?
Bruges is in the northern part of Belgium fairly close to the coast of the North Sea and the border of the Netherlands.
In terms of time, Bruges is about 20-minutes from the coast and about 3 hours from Amsterdam.
It is also very close to other cities within Belgium such as Ghent, Antwerp, and Brussels all within 1.5 hrs away by car.
Bruges sits in the province of West Flanders section of Belgium and referred to as the Flemish region. It also happens to be the capital of West Flanders and the 8th largest city in all of Belgium.
If you are flying into Belgium, you will likely arrive at the Brussels Airport (BRU) in Brussels or in Antwerp at the Antwerp International Airport (ANR).
From either of these cities, you can easily take the train to Bruges.
Why not explore the best flight deals to Belgium and book your flight today!
Best Hotels In Bruges
I personally like to stay as close as I can to the main central region of a city or the main town square and Bruges is no different.
It makes it so much easier as you are steps from many of the sights and Bruges attractions. Plus, I enjoy being close to a good place to get coffee in the morning to start my day!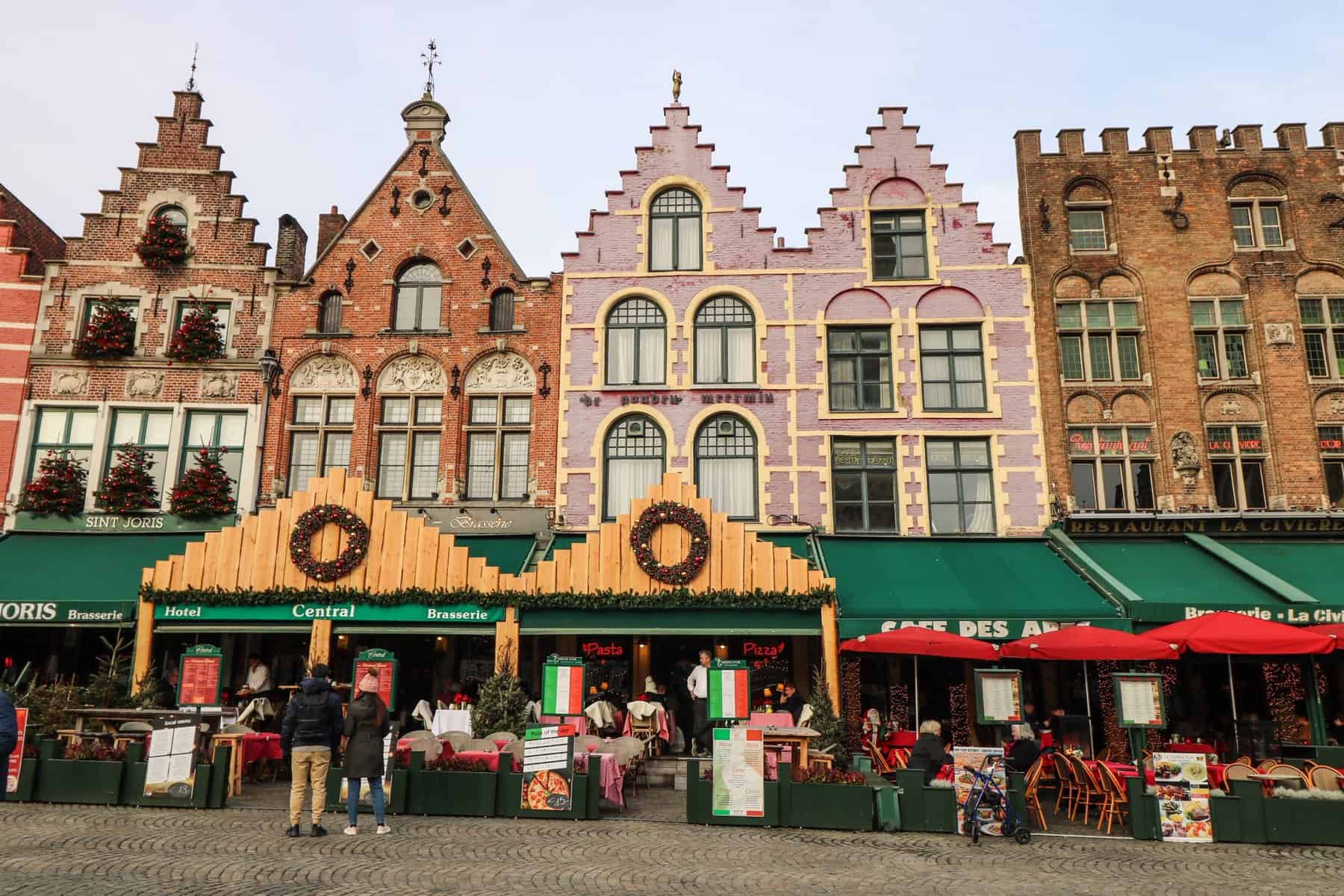 Staying in a prime location does mean you might pay a little more than a place further out but again you need to weigh those odds for yourself.
I recommend staying near the Markt (main square and heart of everything) close to all the attractions in Bruges.
Martin's Brugge – I planned my trip last minute but was lucky to get a room at Martin's and couldn't be happier. The location was perfect (next to the Belfry and one block to Markt). The rooms were comfortable, clean and pleasant during my stay.
The following are all within a few blocks to the main Markt square and beautiful. I popped in to take a look as I had considered staying based on recommendations.
The Hotel Dukes' Palace Brugge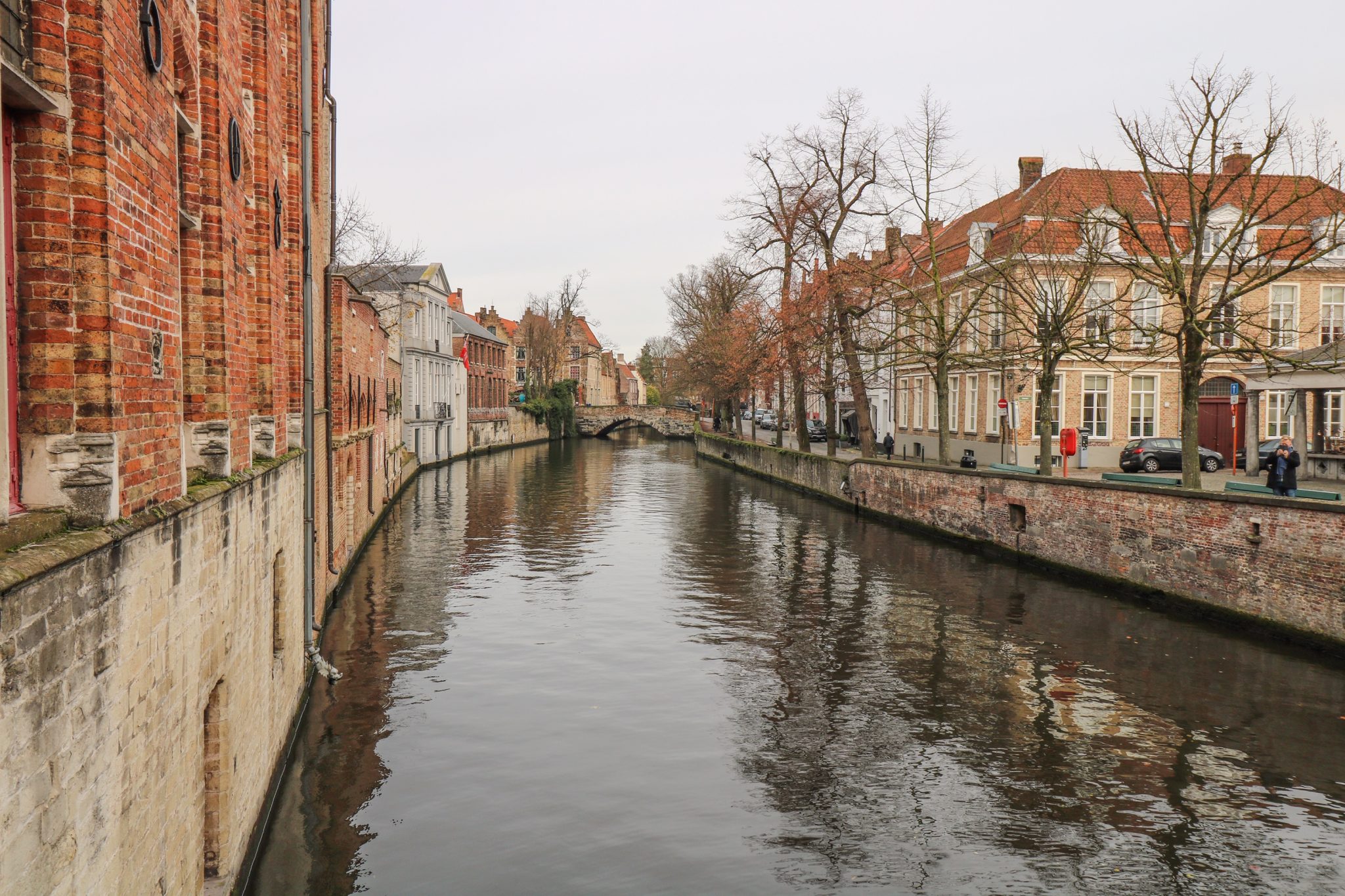 Tips On Visiting Bruges
To kick off your weekend in Bruges and learn about its history I recommend that you taking a walking tour with Legends Tours. It is a free walking tour that you need to sign up online to make a reservation. The tour guide I had was Debby and she was awesome. I loved her energy and knowledge of Bruges as her passion for her hometown shown through. Although it is free, do consider giving a tip as it is well worth it!
If you would rather have a private tour with a local guide then consider taking this tour.
Hordes of tour buses come in for the day on the weekends or peak times. For the busiest attractions, save those for the morning and afternoons when the crowds will dissipate. Leave mid-day to grab a delicious lunch and wander in a museum.
As this is an excellent city to walk around in, wear comfy shoes without a heel as it will be easier to move about the cobblestoned streets. Plus, who wants to sprain an ankle, not me!
I recommend taking the train into Bruges and avoid having to park a car. I didn't see anywhere that you could park and walking is the easiest way to get around the city. There is no Uber but taxis are available.
Do you love both beer and chocolate? Then you will be delighted to taste your way through this Bruges beer and chocolate tour!
If you are looking for a day trip from Bruges and love history, the War Flanders Fields Tour from Bruges takes you to the battlefields of WWI in Ypres!
Things To Know
The only real negative about Bruges is that it is expensive. From what I saw traveling throughout Belgium, Bruges is by far the most expensive city. With that said avoid restaurants right along main squares as they tend to be very pricey. A drink or coffee isn't too bad but just be aware of it.
The Euro is the currency used in Bruges and all over Belgium. I recommend exchanging currency at the airport before arriving in Bruges as I didn't see any exchanges in town. You can also pull out Euros via ATMs that are everywhere.
When paying with a credit card, always accept the charge in Euros and not your home currency. Coming from the United States it saved doing it this way.
Although almost everyone speaks English, there are three official languages of Belgium. They are Dutch, German and French so don't be surprised to hear a mix of languages. In Bruges, the languages used are primarily Dutch and English.
Map Of Things To Do In Bruges
Use this map to make planning and navigating the top attractions in Bruges easier for your trip!

This map was made with
Wanderlog
, a trip planner
Weekend In Bruges Day 1
Markt
To kick off your 3 days in Bruges, go to the Markt that is the main "market square" or social hub in the Old Town.
It also happens to be surrounded by the prettiest buildings that are medieval guild houses, the Belfort, shops, restaurants, and the Provincial Palace.
During the month of December, it is the main area for the Christmas market stalls. It is also the site for other festivals throughout the year.
You can easily spend some time just taking photos and admiring the amazing architecture seen along the Markt.
The Markt is a great place to meet up with someone and happens to be the meeting place if you are taking the Legends walking tour I mentioned above.
Visiting the Markt is a perfect way to start your time in Bruges as you can get your bearings of the city before heading out to see more.
In the center of the square, you might notice two statues that are of Jan Breydel and Pieter de Coninck. These two men are celebrated as heroes against the French in the 14th-century struggles that occurred.
Belfort of Bruges
If you have seen images or saw the movie "In Bruges", then you will immediately recognize the Belfort (or belfry) of Bruges.
Built in the 13th century, this 83-meter tower clearly has a dominating presence and will cause you to have an "oh wow" moment.
Looking up at the imposing Belfort will leave in you in awe. And hopefully, enough excitement to climb the 366 steps to the top!
And no, there is no elevator. You need to be able to climb up all the steps and come back down the same way.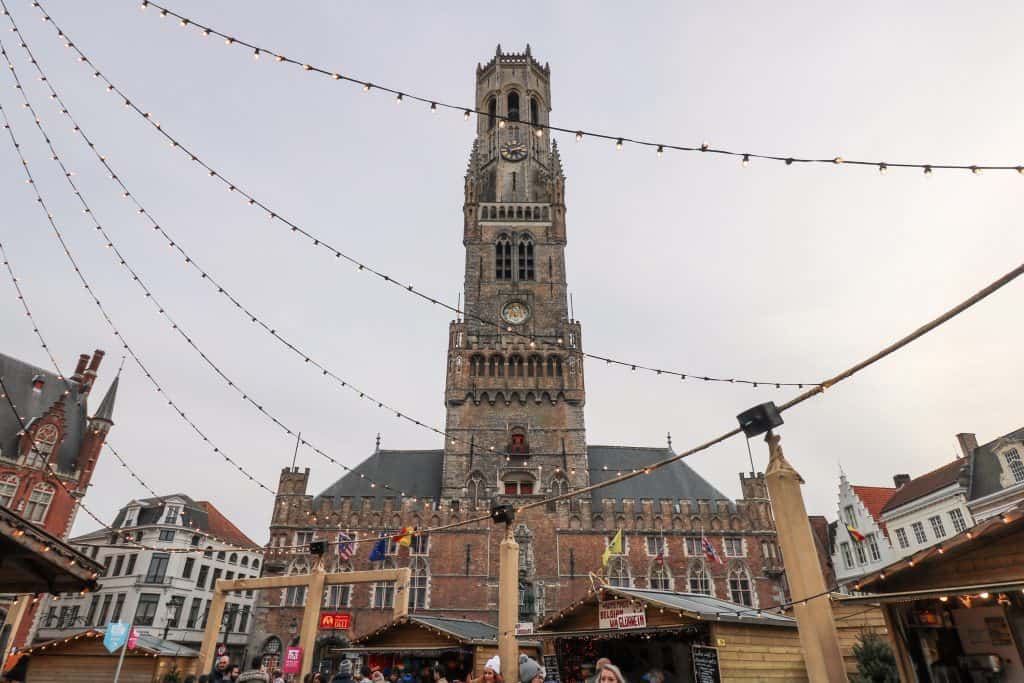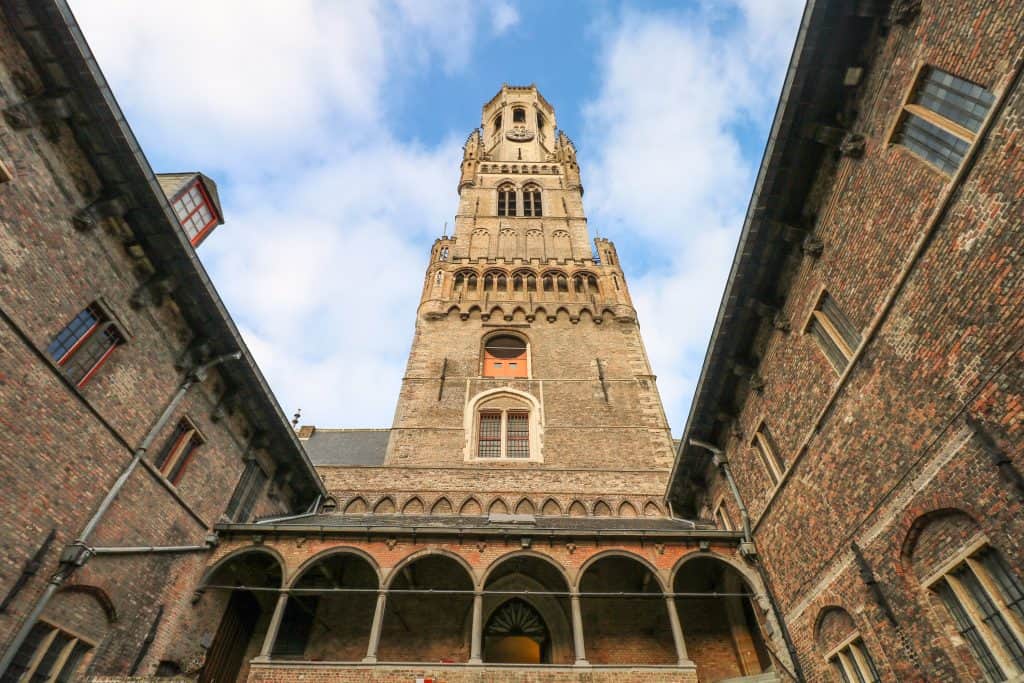 For those that are claustrophobic or scared of heights, it might not be for you. But if you can make it to the top then be ready for stunning views of the Markt and city below.
They limit the number of people that can go up at a time so avoid going midday when the day-trippers are likely to want to go up. That way you won't have to wait in line.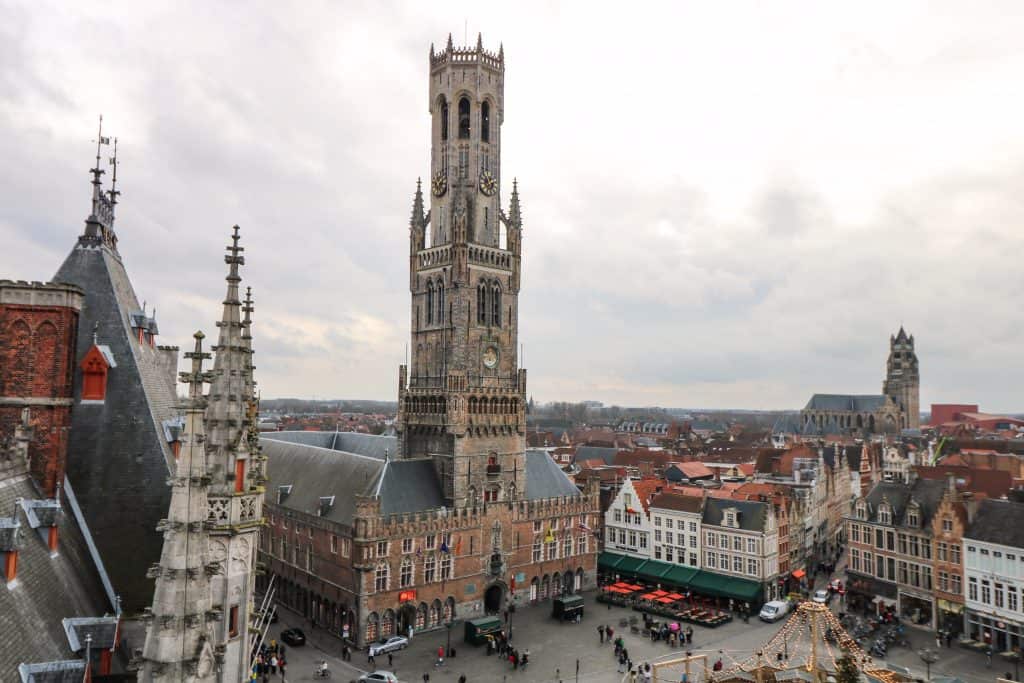 It is a treat to listen to the 47-bell carillon (set of bells) chime as they have such a beautiful sound.
A carillon is like a musical instrument that can be played and common during the 16th and 17th centuries.
Today the Belfry's carillon is still played manually on the weekends and on other occasions. If you listen hard enough, you might recognize modern songs being played!
Note: If you happen to be a fan of the artist Salvador Dali, visit the museum which is located at the bottom of the Belfry.
Hours: Open daily from 9:30 am to 6 pm. Adult admission is 12 Euros to climb the tower.
Provincial Palace
You can't miss the Provincial Palace as it sits majestically along the Markt and to the left of the tower (if you are facing the square).
Also known as the Provinciaal Hof, the building is in neo-Gothic architecture and has a history going back to 1294. Well, not the actual building you see today (that was built in 1887) but the site it sits on.
In the 13th century, it was the site of the Waterhalle that was built as the central point where all the boats would come and go into the center of Bruges to unload cargo.
Yes, there were canals of water that went underneath the level you see today until the late 1700s!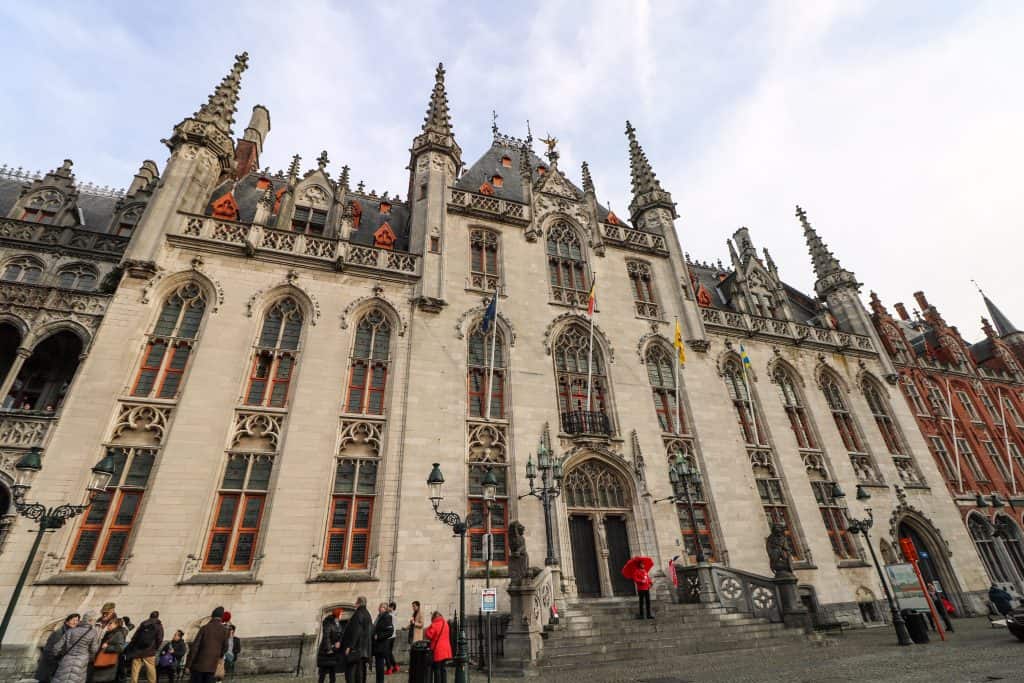 Years later, the canals couldn't be accessed any longer and a series of uses ranging from government meeting places to a post office formed at this spot.
Until 1999, the Provincial Palace was used as a government meeting hall. Currently, the building is used for special events and exhibits.
Sint-Janshospitaal
After getting to see and feel the vibrant life in the Markt, make your way over to the Sint-Janshospitaal after lunch.
During the 12th century, the Sint-Janshospitaal was as you might have guessed a chapel and hospital (one of the oldest in Europe).
Now it is a museum and a fascinating one at that providing information, art and a peek into what hospital life was like back then.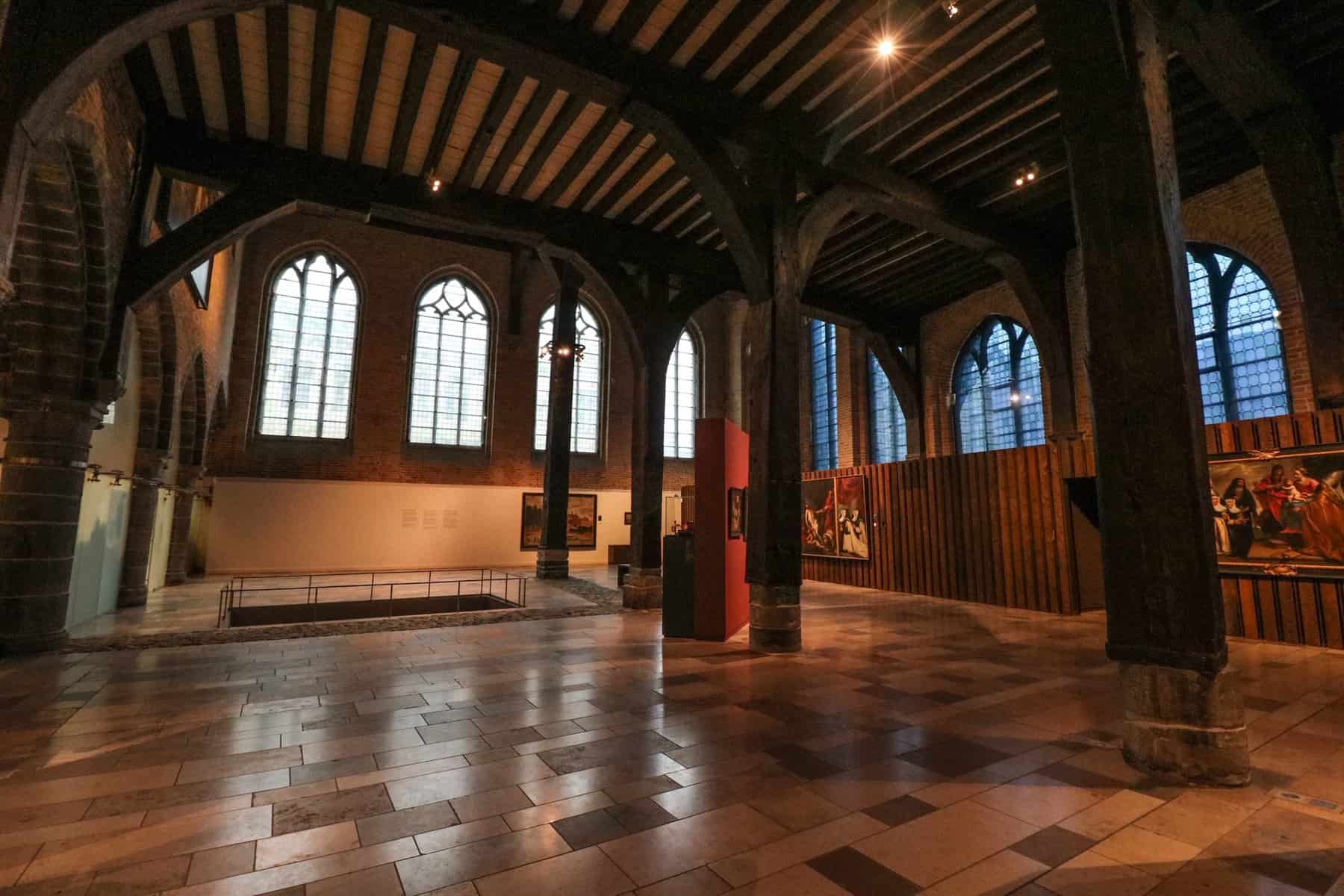 In those days, a hospital was a place where someone could get a bed to sleep, a meal, a beer, and some form of socializing.
Pilgrims passing through would be welcomed and anyone else that needed some hospitality. It is where the term "hospitality" came from!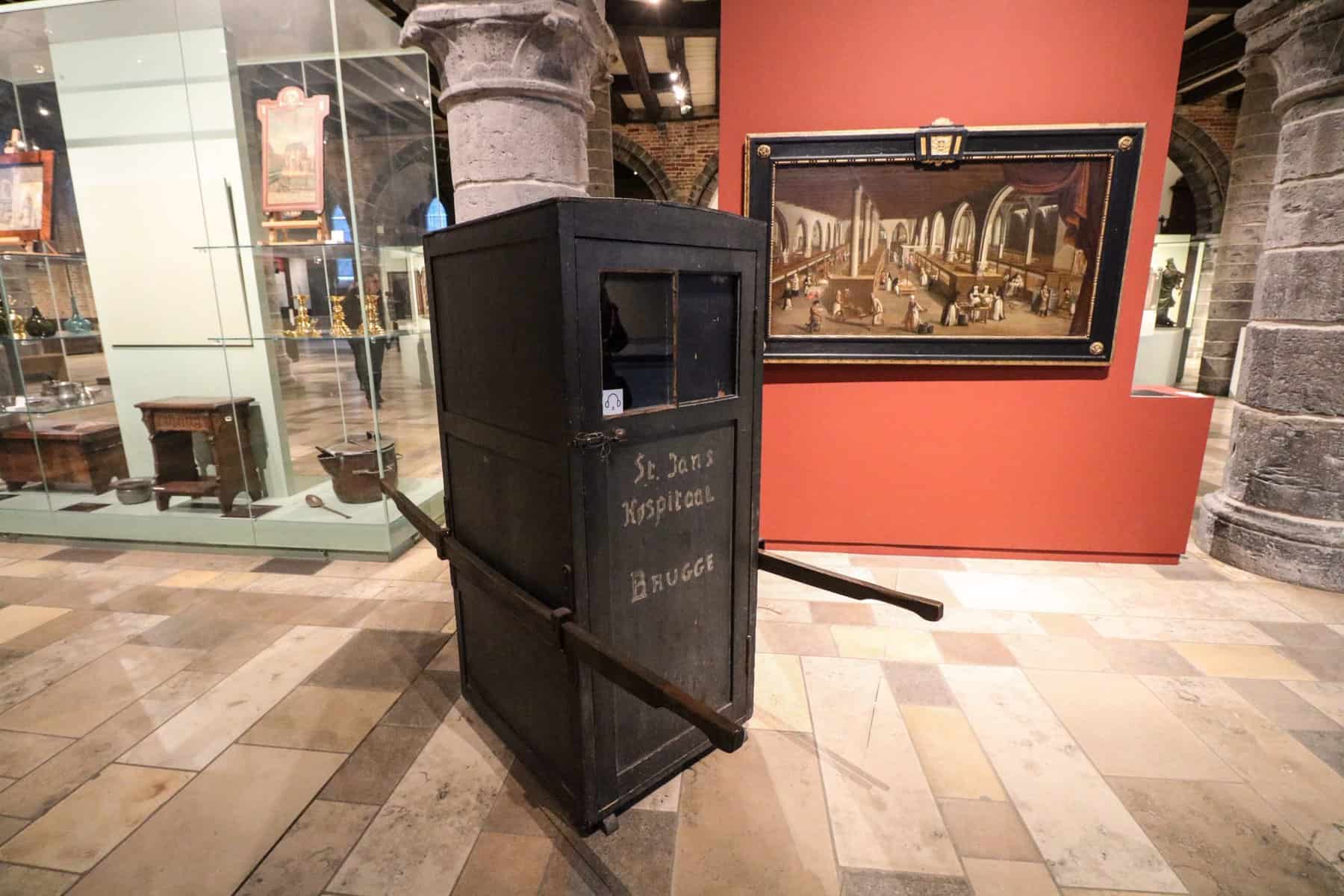 Not the traditional vision of a hospital and sick people that we think of today. Later it moved into a more traditional version of the hospital we know of and people actually had to apply before being admitted.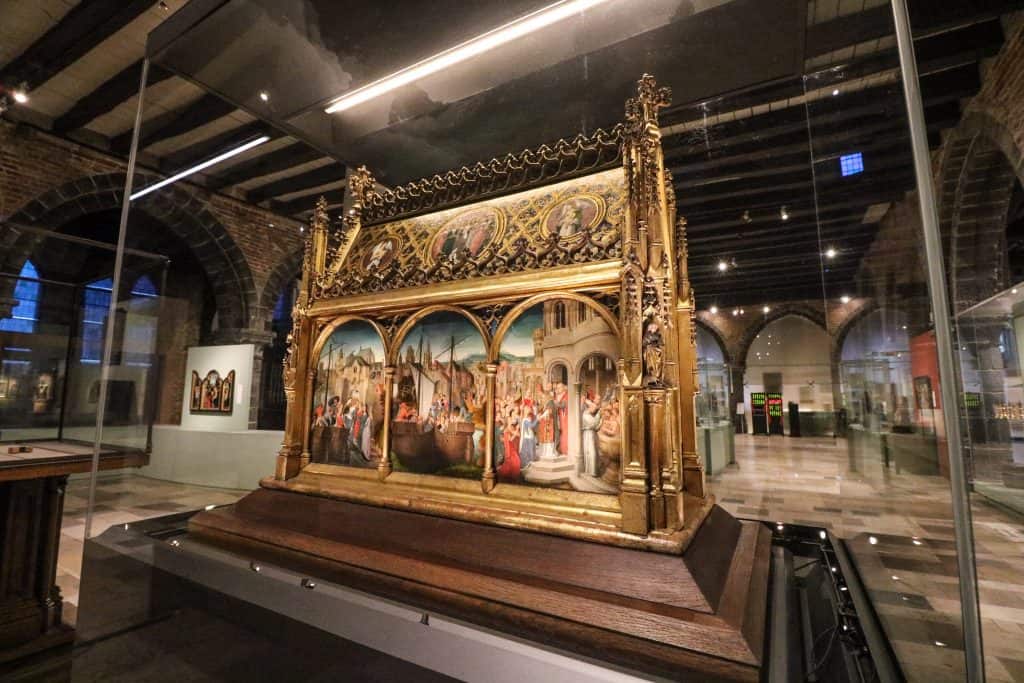 Besides learning about the ways of treating various ailments back in history, there are a number of talented pieces of art to see.
Don't miss out on seeing the masterpiece shrine to St. Ursula by 15th-century artist Hans Memling.
The building itself is beautiful and take note of when walking around. After leaving the main museum, hold on to your ticket and exit left and turn down a cobblestoned path on your left. You can enter and see an old pharmacy and other pieces of hospital history (off the courtyard).
Note: It served as a hospital until 1977! After visiting it is hard to imagine that, as it lacks the modern amenities of a hospital.
Hours: Open from 9:30 am to 5 pm (Tuesday thru Sunday), closed on Monday. Adult admission is 12 Euros.
Canal Boat Ride
No visit is complete to Bruges without taking a canal boat ride. It is one thing to walk along the canals but a completely different experience to see the canals by water.
Sure it is a very touristy thing to do but I didn't care. I wanted to float along the canals myself!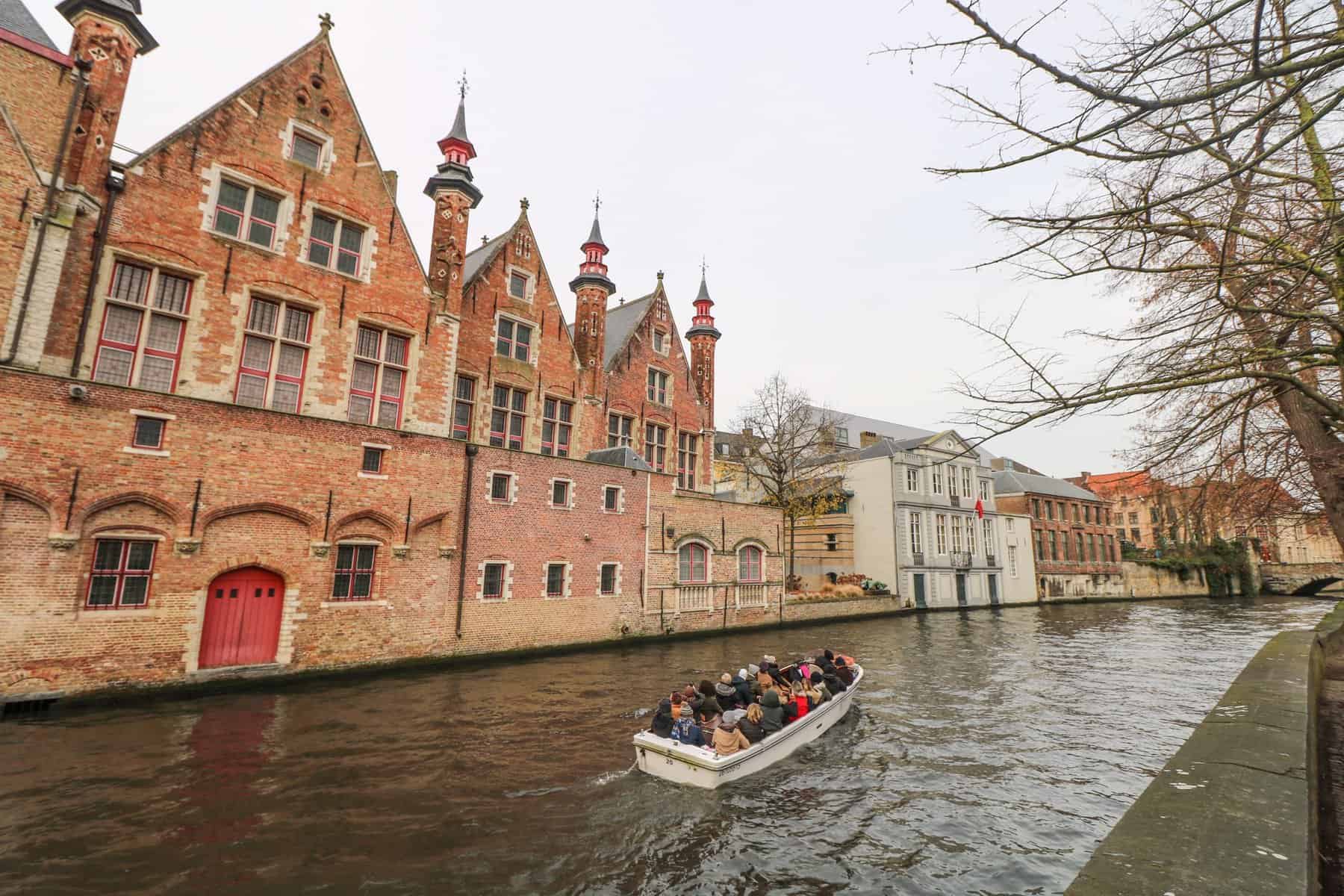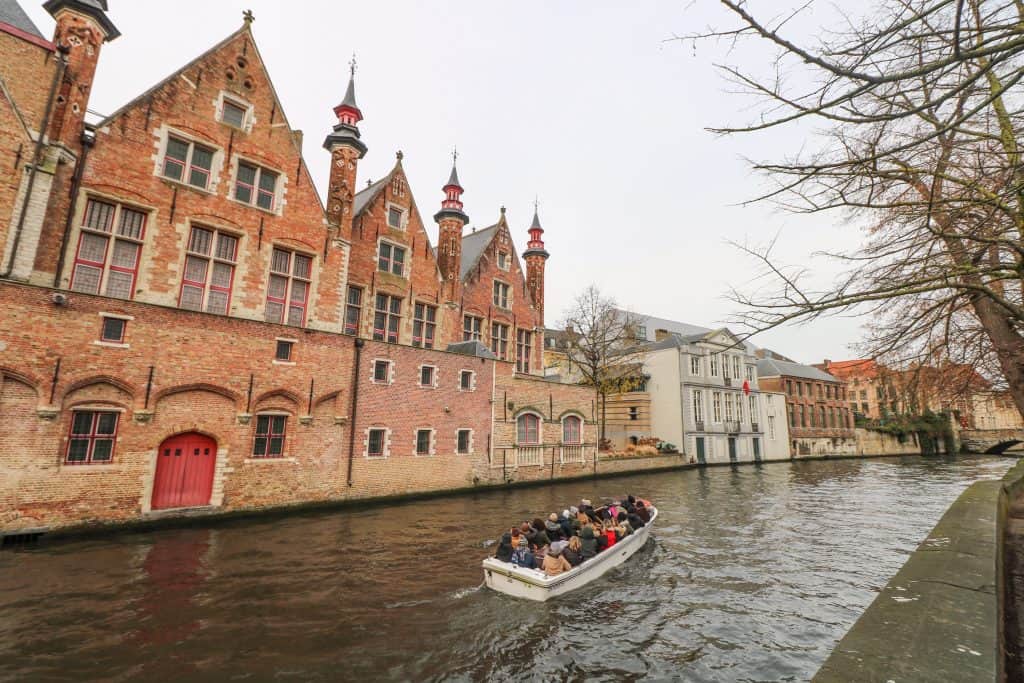 I enjoyed going on the 35-minute long boat ride, but I was disappointed as it was hard to hear anything the driver was saying. He was talking so fast and the speaker wasn't top-notch.
The canal boat rides take off frequently so you shouldn't have to wait long to hop on a boat.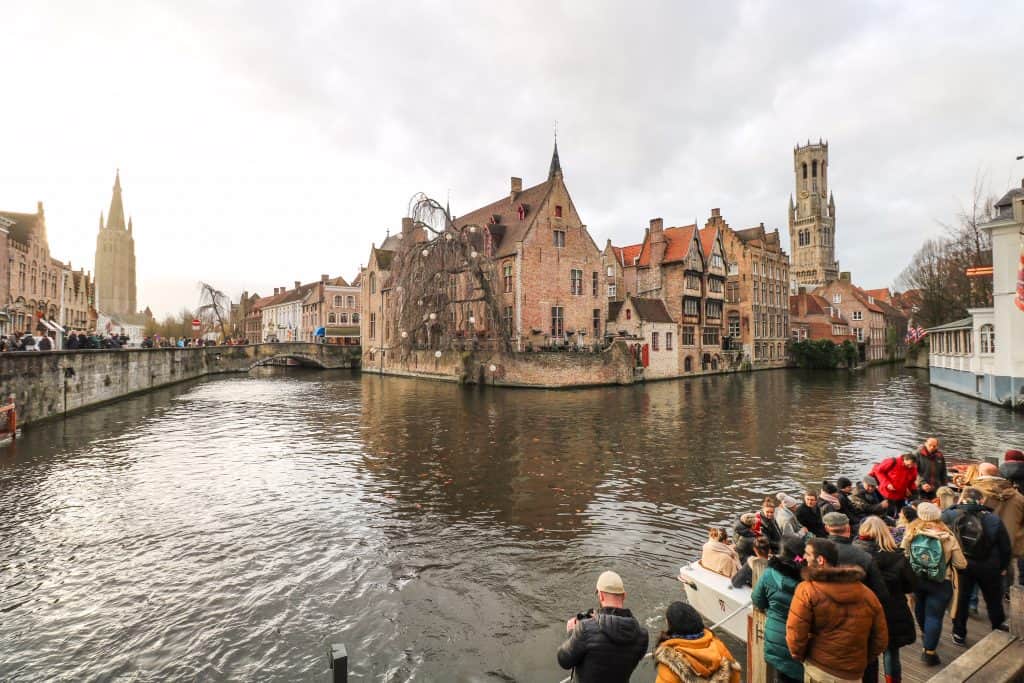 They do pack the people in like sardines but I found it somewhat funny and didn't mind as I welcomed the body heat being that it was December! I simply enjoyed the scenic ride and the break from walking all day.
To take a canal boat ride, head over to Rozenhoedkaai or the "Quay of Rosary".
A quay is just a concrete landing area along a canal if you were curious… This is one of the most photographed sites in Bruges and you can see why!
It resembles a beautiful scene from a storybook that involves princesses and romance! Such a magical and dreamy spot you must capture with your camera.
It is fitting for postcards and calendars where idyllic buildings, enchanting trees, bridges, and canals all come together in one perfect place.
Tip: Feeling a bit thirsty? Grab a seat at the Café t'Klein Venetie (Little Venice Café) for a beer and people watch.
Hours of Boat Ride: Boat rides are from March to December but dependent on the weather of course. Boats take off about every 15-20 minutes from 10 am to 6 pm daily. It is10 Euros for Adults.
Beer Museum
The Beer Museum or The Bruges Beer Experience is a lot of fun for those that like beer or just curious as to its role in Belgian history.
If you are not aware, Belgium has a long and fascinating history with beer and is one of the biggest producers of it in the world.
Located right on the corner next to the Provincial Palace you saw earlier (right off of the Markt), is the Beer Museum.
Head up the stairs and pay for either just your entry into the museum or the museum entry with 3 beers at the end. This was a no-brainer for me, 3 beers it was!
You could easily rush through the museum but I encourage you to take some time to read about the making of beer in Belgium where you get to see, touch and smell the different stages of the beer process.
It is an interactive museum where you scan the small iPad mini that they give you as part of the audio guide to read and listen to as you go.
You can learn about the proper way to pour a Belgian beer (was not what I was expecting) and the best food pairings dependent on the type of beer.
Once you make your way to the end, hand over one of the 3 tokens you received at the bar and have yourself a tasty Belgian beer!
Make sure to ask about the Trappist beer if you hadn't yet and make a point to try one!
Hours: Open from 10 am to 6:30 pm every day except Saturdays. On Saturdays, the museum is open until 9 pm. I would spend between 2-3 hours including time to finish your beers at the end.
Take An Evening Stroll
Bruges is one of those cities that needs to be seen by foot wandering the several cobblestoned streets. In every direction, you will be greeted with the most serene settings that truly seem like you stumbled onto the set of a movie.
If you enjoy taking photos, then take a stroll along the many canals, cross over bridges and maybe pop into a cafe for a beer.
Bruges is a place to walk at night, for when the sky goes dark the lights illuminate the buildings and canals beautifully.
Some popular areas to venture over to are Rozenhoedkaai, Vismarkt, Minnewater Park and well pretty much anywhere you desire!
Although it was cold and sometimes rainy, I loved walking in the evening. Many of the streets are tranquil without the chaos of the day.
Weekend In Bruges Day 2
Burg Square
Located about a block from the main Markt square is Burg Square. It might be a little smaller but don't overlook this gem of a spot for all the magnificent buildings that surround it! Burg Square is much quieter with fewer crowds that is a nice escape on a busy day.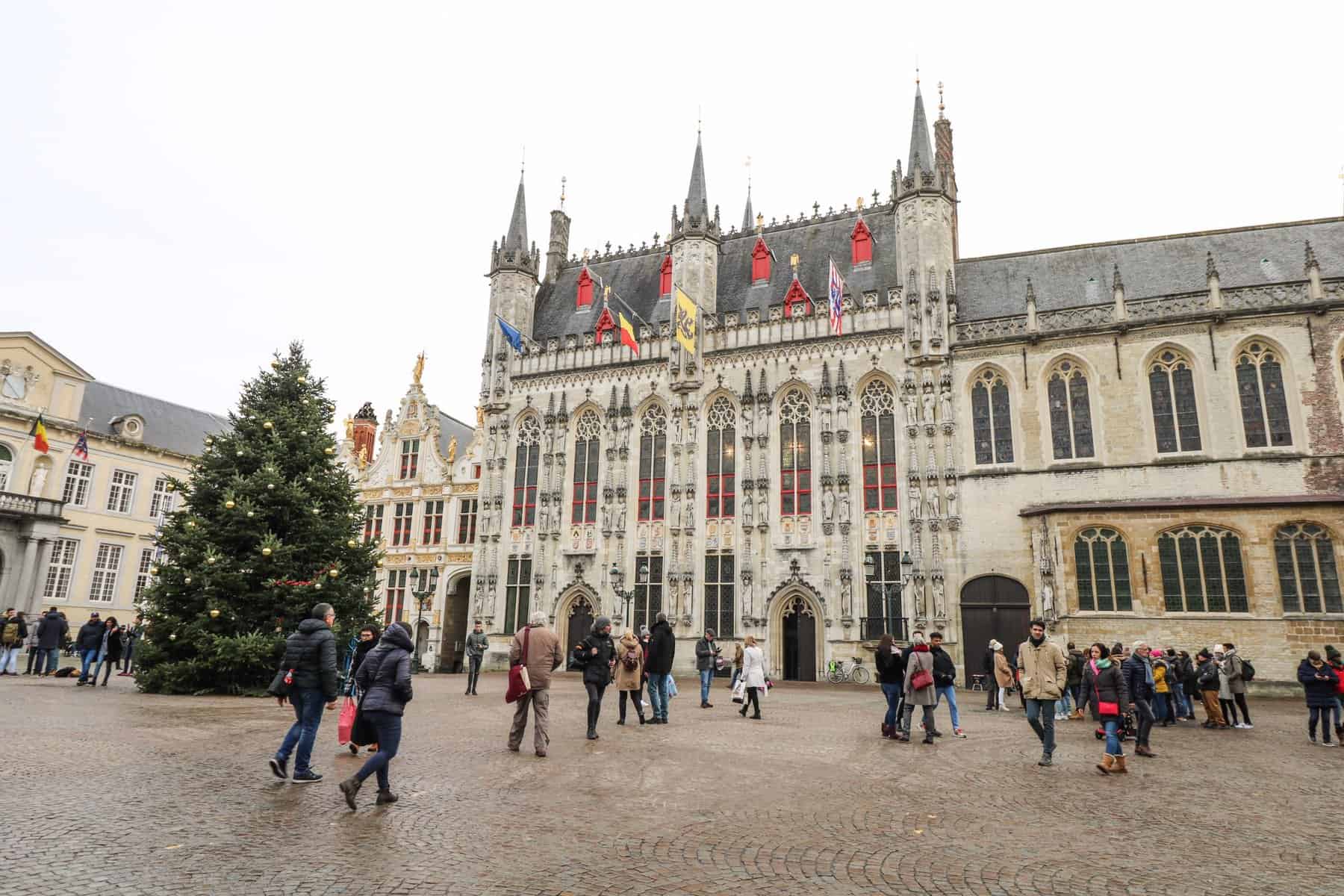 On three sides, the square is surrounded by some of the most gorgeous buildings in Bruges that date back to the 14th century. Along the fourth side sits a peaceful park that is directly across from the City Hall and the Basilica of the Holy Blood.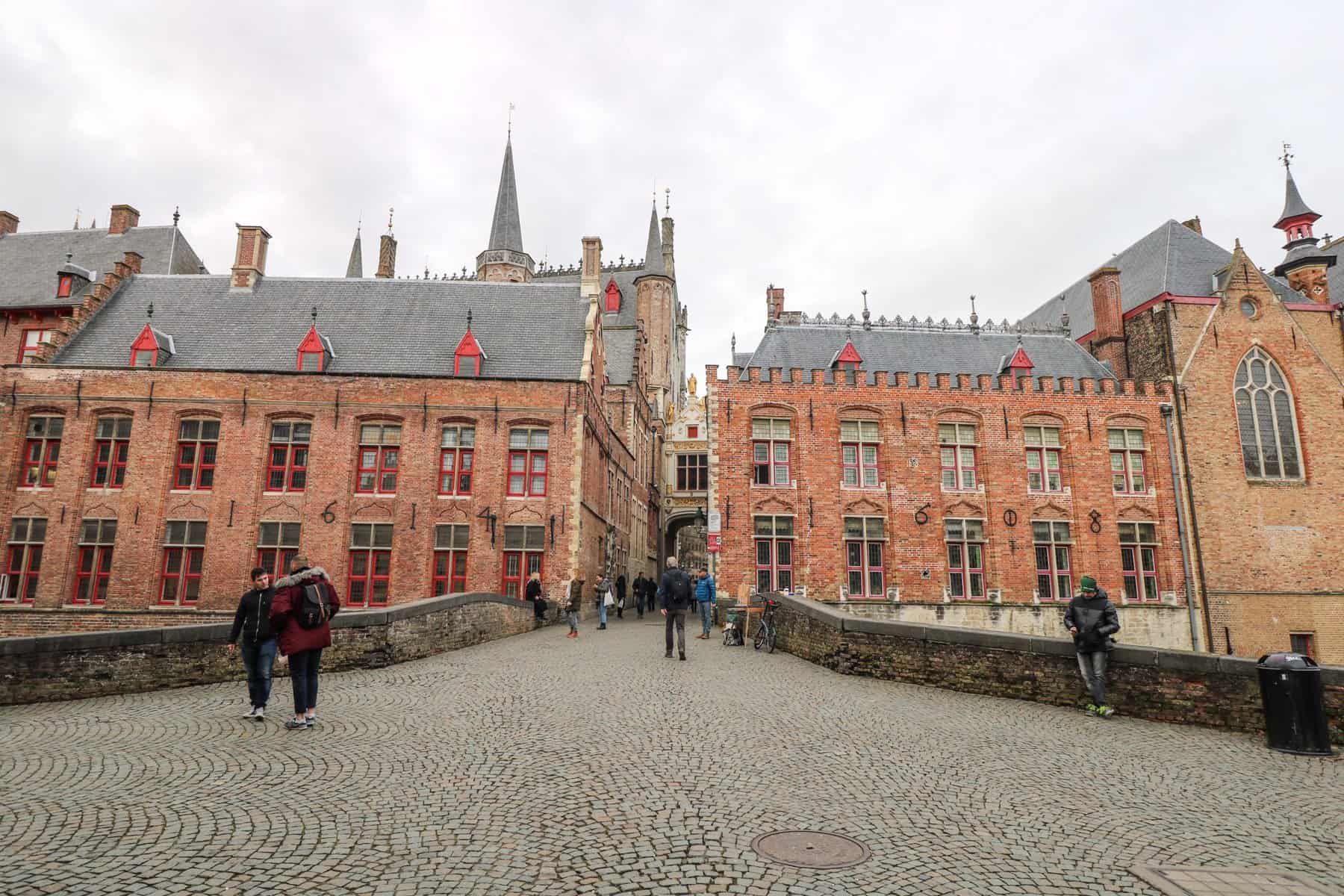 You will notice a thin passageway between the City Hall and the Old Court House that leads over the canal and to the Vismarkt (old fish market).
This pedestrian walkway is Blinde Ezelstraat or "Blind Donkey Alley" and goes back to medieval days.
The story goes that people from the town of Ghent stole a dragon weathervane from Bruges and used a donkey to carry it back.
It supposedly left to go back to Ghent through this passageway but because the donkey didn't want to leave, they had to trick it. After blindfolding it, the donkey complied and was led back to Ghent!
Tip: If you like waffles then keep an eye out for a small food truck that sells one of the best Liege style waffles in all of Bruges!
City Hall
The City Hall or "Stadhuis" has such a beautiful and fancy look to it. I would have guessed this was a palace and not a city hall for its grandeur and elegance.
The city halls where I live are nothing like this but plain and boring! The Stadhuis was completed in 1420 and designed in Gothic architecture that is impressive to see.
Make your way inside and take in the lobby and grand staircase leading up to the Gothic Hall. With your entrance fee, an audio guide is included so make sure to grab one.
Start out viewing paintings on the bottom floor and then make your way up the stairs to the Gothic and Historic Halls.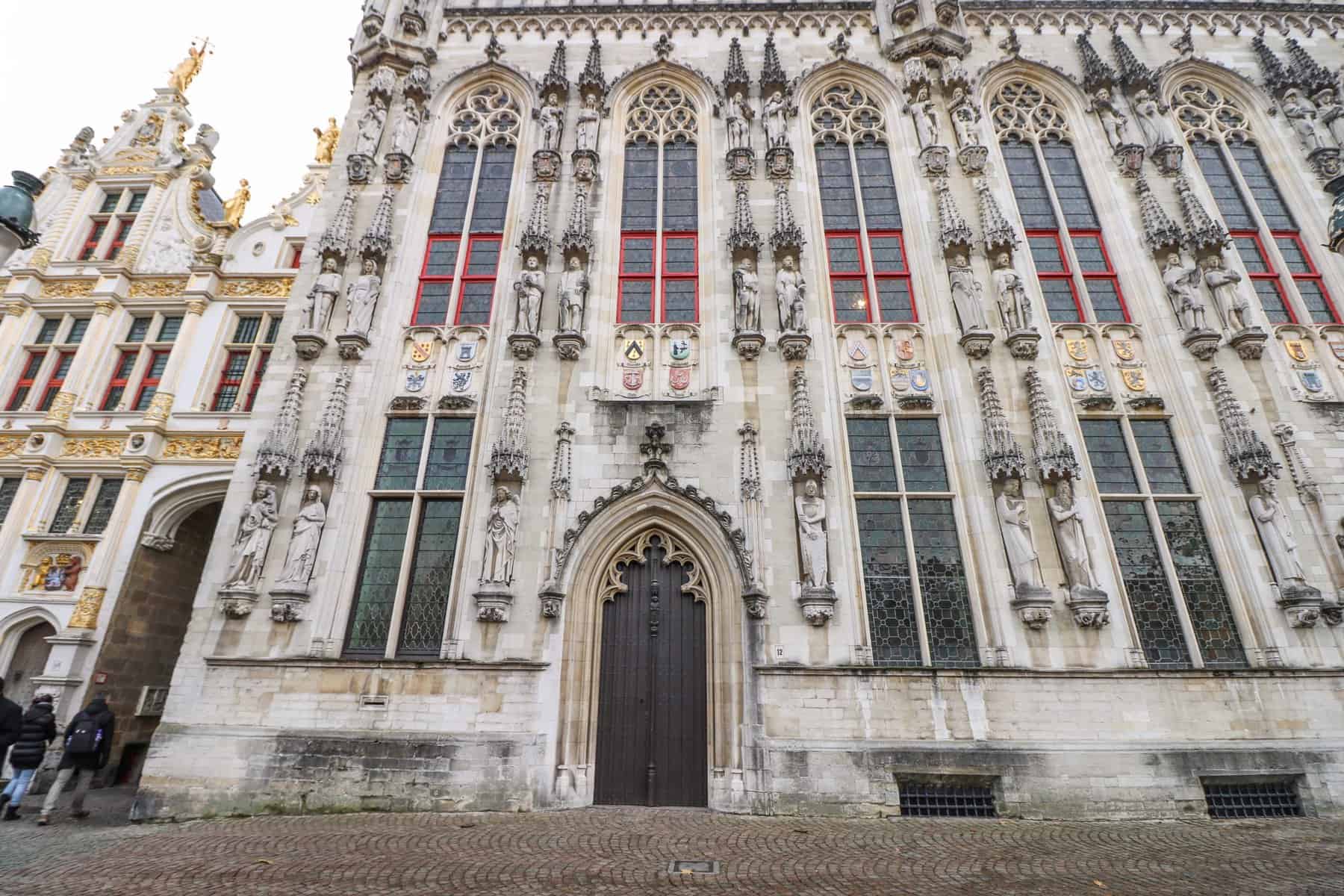 After you complete your tour of the Stadhuis, keep your ticket and go next door on the opposite side of the "Blind Donkey Alley".
Tucked in the corner is the Old Court House where you can visit the old alderman's room.
I believe an alderman was somethings similar to a mayor. In this room, you can view a black marble fireplace with an incredibly carved chimney. This room is also adorned with paintings of Emperor Charles V and his grandparents.
Hours: The City Hall is open daily from 9:30 am to 5 pm and the Old Court House is open daily from 9:30 am to noon & 1:30 pm to 5 pm. Your ticket into the City Hall also gets you admission into the Old Court House.
Basilica of the Holy Blood
The doors of the Basilica of the Holy Blood will likely catch your attention once you step into Burg Square.
They are bright red and seem a little unusual for doors to a church yet very striking to look at.
The architecture for the lower chapel is Romanesque and the upper chapel is in Gothic style connected by a brick staircase. Originally built in the 12th century, the Basilica was rebuilt in the 19th century.
The interesting part is how the Basilica of the Holy Blood got its name! After the Crusades in the 12th century, a vial containing what is supposedly drops of Christ's blood on a piece of cloth was brought to Bruges. It is said that it was obtained when Joseph of Arimathea washed the dead body of Christ.
I have to admit that I was intrigued to see this relic myself… Even with only seconds to view it, it did look impressive in its glass and gold container.
I was actually a little uncomfortable as you only get a moment to see it under the very close eye of a watching nun.
You can see the relic of Christ's blood but only at 2 pm each day except for Wednesday afternoons in the winter months.
If you plan to visit the Basilica, I recommend you do so at 2 pm when the relic is brought out.
Hours: Open daily from 9:30 am to noon & from 2 pm to 5 pm. It is closed on Wednesday afternoons during the winter months.
Historium
Located along the Markt square and next to the Provincial Palace is the Historium. It has a very distinct neo-Gothic architectural design and is ornately decorated.
Today the Historium is a somewhat interactive museum that takes you back in time to the Golden Age of Bruges.
The golden age refers to the 1400s when medieval Bruges flourished in its cloth trade, art, and really all things culture and fine living. The Historium is like no old dusty and boring museum but very modern in using virtual reality for a movie experience.
I didn't opt for the virtual reality ticket but chose to climb the 145 steps up the tower for amazing views of the Markt square below.
This was the highlight of visiting the Historium and one of the best places in Bruges for a view! It is also a wonderful vantage point to admire the Belfort across the way from high up.
Once at the top you can walk around and get a 360-degree panorama of Bruges 26 meters below.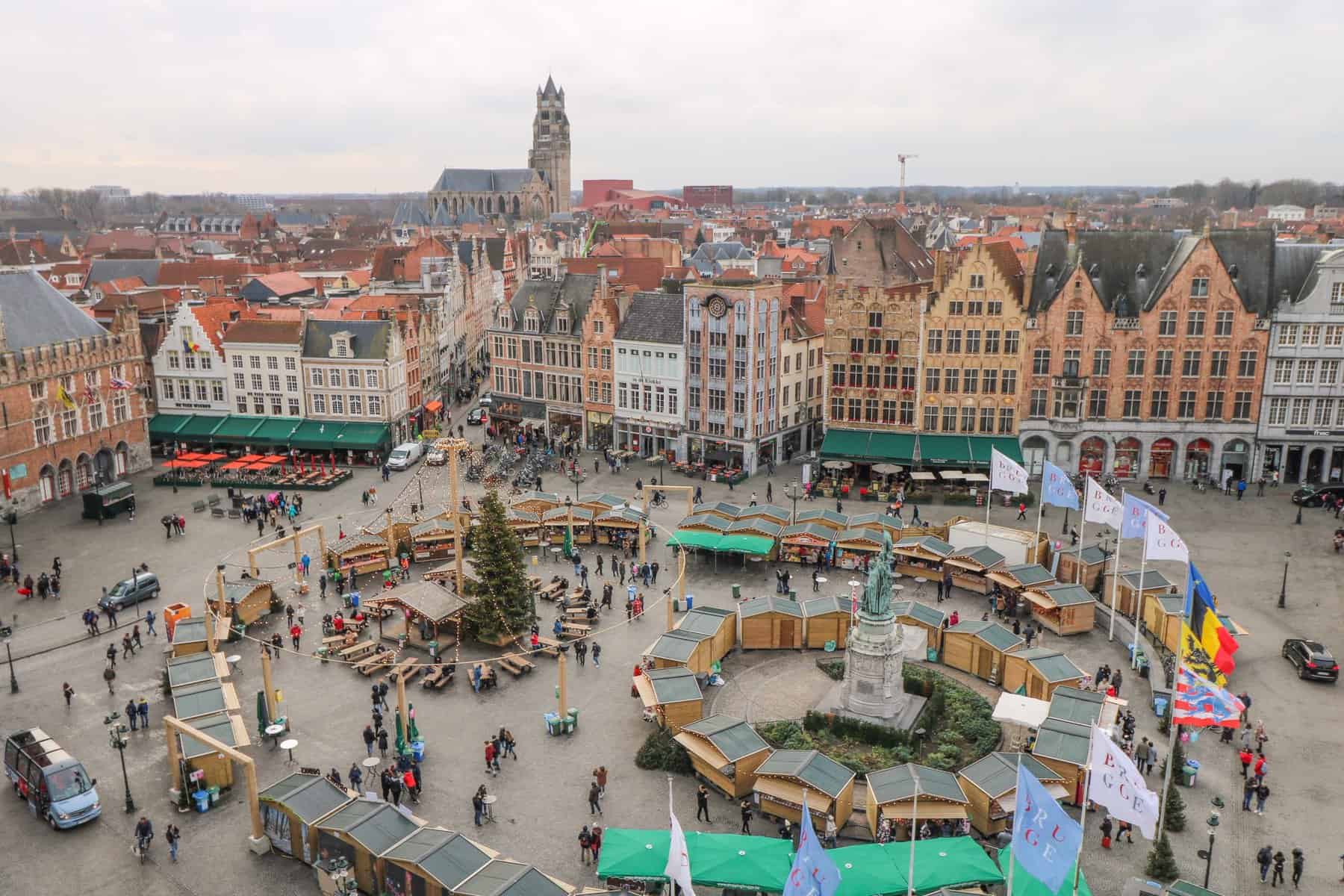 On the first floor is the Duvelorium which is the beer café where you can take a seat, enjoy a Duvel beer while watching people passing by in the Markt.
There are different tickets you can purchase depending on what you want to see and do. I can't attest to the VR experience but highly recommend going up the tower and stopping by the Duvelorium!
Historium & Tower Hours: Open daily from 10 am to 6 pm
Duvelorium Hours: Open daily from 11 am to 6 pm
Minnewater Park
After spending most of the day inside, stretch your legs and make your way over to Minnewater Park.
Although you could take a 10-minute taxi, I recommend taking about 15 minutes to walk through the most charming cobblestoned streets over to Minnewater park.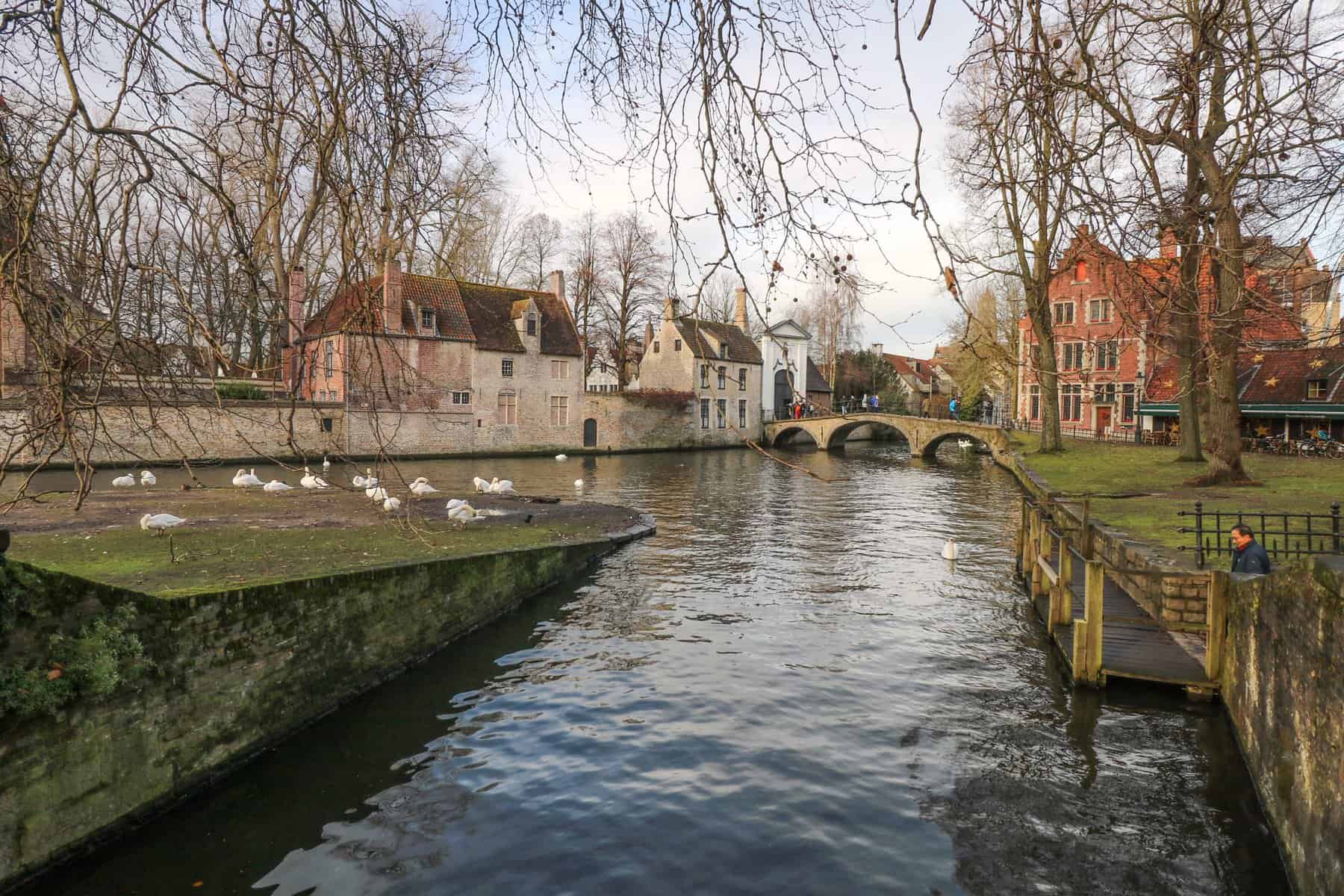 You might have taken the canal boat ride over to this park if it seems familiar. The park is a popular area of grassy banks along the canal and populated with several swans! Minnewater Lake is also known as the "Lake of Love" and no it isn't because of the swans.
The story goes that a girl named Minna fell in love with a warrior from another area who her father didn't approve of.
In defiance, she ran away in search of him and in doing so died of pure exhaustion looking for her love.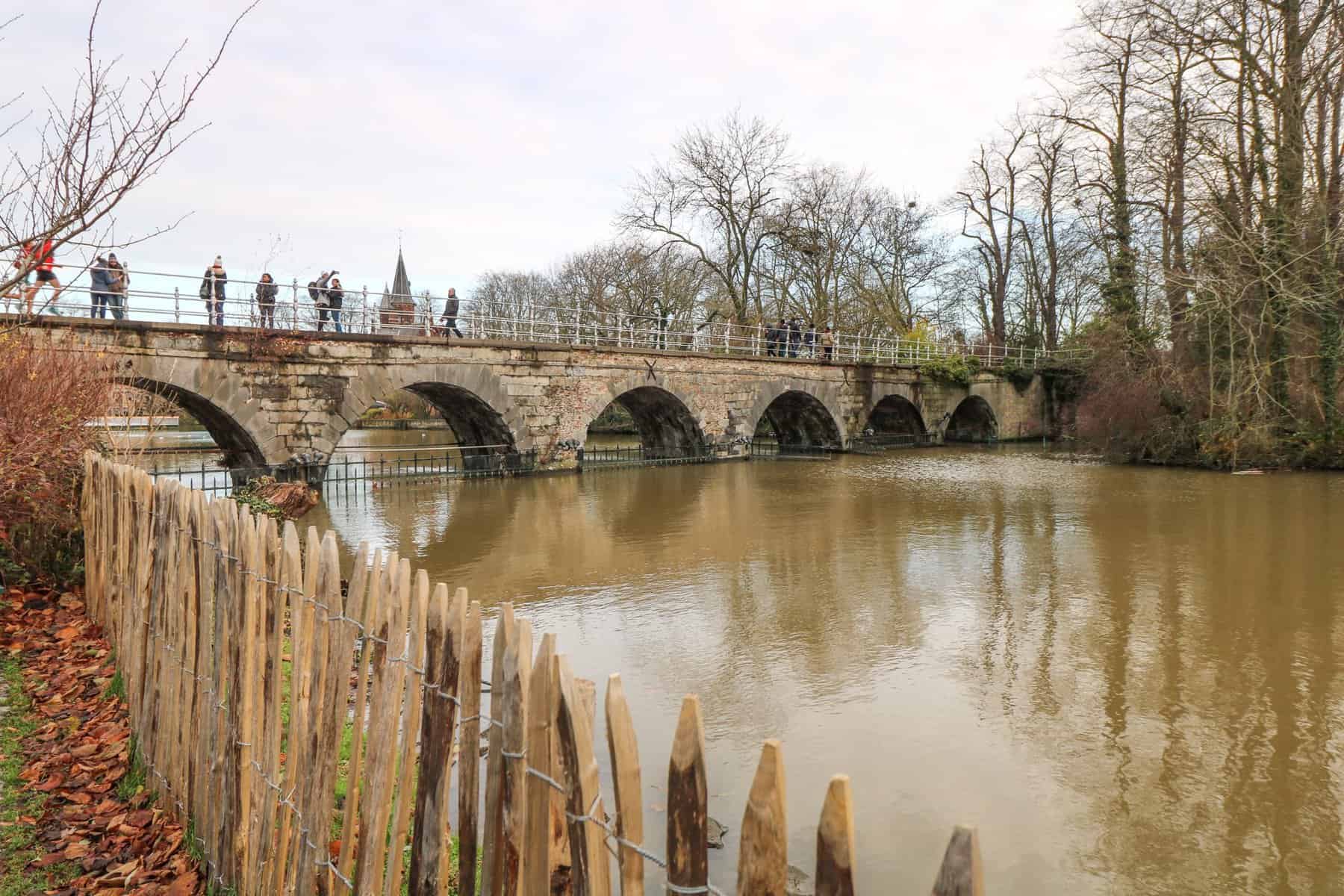 He was heartbroken and in her memory, named the lake and park after her. There is also a bridge there that is referred to as the bridge of love.
Supposedly if you kiss your loved one on it, your love will last forever…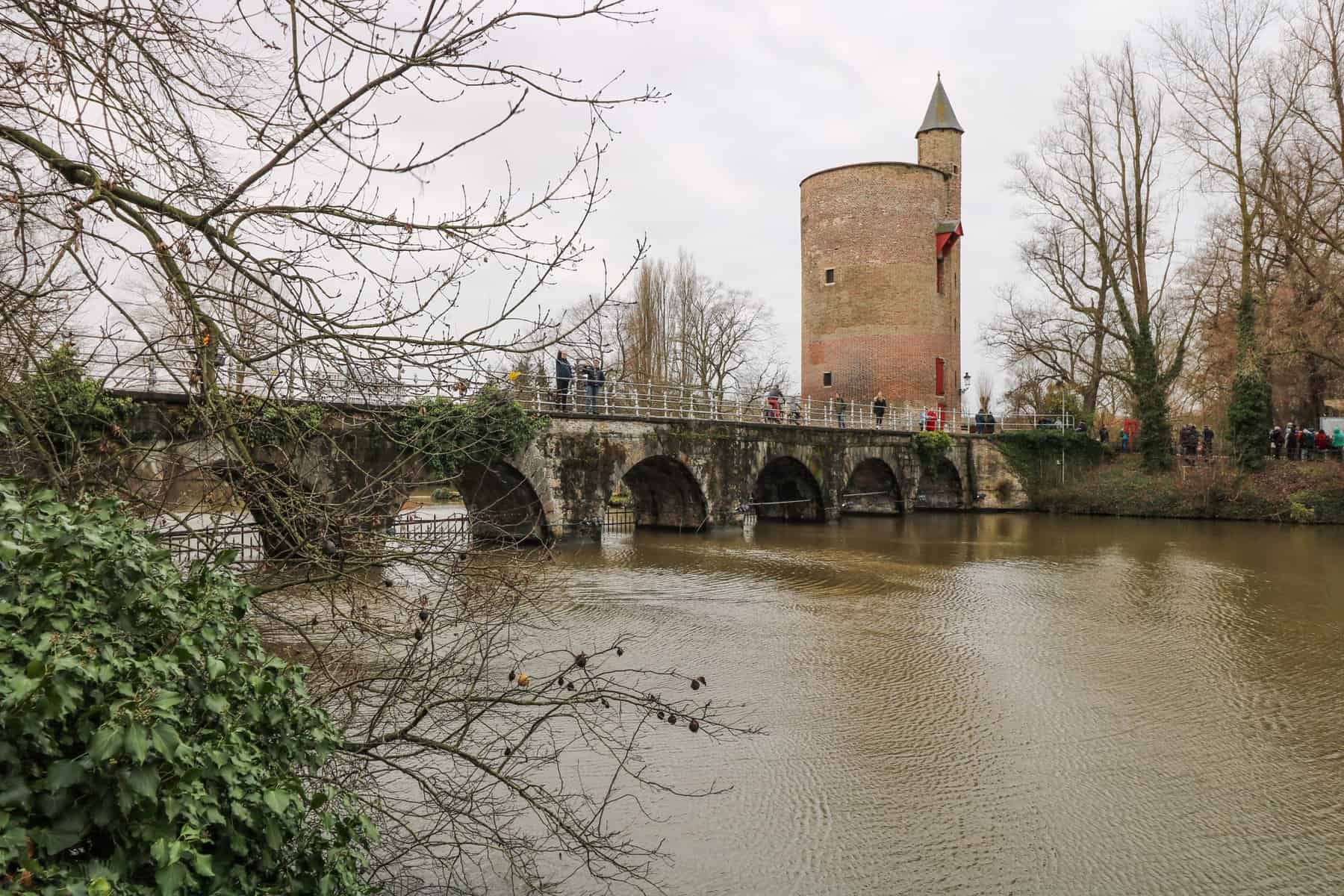 Take your time and walk along both sides of the lake and also note Poertoren Tower that was an old watchtower at one end of the bridge.
There are benches you can take a seat to enjoy the peacefulness of the park. If you have seen the movie In Bruges then you might recognize the park as it was featured in it.
Note: I would avoid the park between 8 am and 10 am when hordes of tour buses come into Bruges on the weekends. The parking area for the buses is near Minnewater Park so tourists will enter Bruges through the park.
Brouwerij De Halve Maan
A weekend in Bruges isn't complete without having a Belgian beer at Brouwerij De Halve Maan.
Although there has been a brewery at this site since 1564, the Brouwerij De Halve Maan has been here since 1856. The Maes family is the last family brewhouse or brouwerij to remain in the central part of Bruges.
If you are interested in learning about the brewing process and the behind the scenes info, take the 45-minute tour that ends with a beer tasting.
But if you are short on time or just want to sit and relax, go straight to the bar and grab a beer.
If you are both a beer and chocolate lover then take this beer and chocolate tasting tour that visits De Halve Maan brewery. It also includes a 3-course lunch!
There are plenty of yummy beers on tap to try but I love the Brugse Zot or "Bruges Fool".  If you are nearby at lunchtime, you can grab a bite to eat inside or out on the terrace overlooking the canal.
One of the coolest things about Brouwerij De Halve Maan is they have a pipeline that carries the beer 3.2 km's across the town of Bruges to their bottling plant!
I have never seen or heard of anything like this and found it quite fascinating. Because they have grown in size and needed more room to produce and bottle the beer, they built a bottling plant further out.
They didn't want to give up their original site in Bruges and found the perfect solution to pump the beer over to the bottling plant starting in 2016.
Hours: Open daily from 10:30 am to 6 pm. Tours are available from 11 am to 4 pm and lunch hours are between noon and 3 pm. You can make a reservation here if you like.
Weekend In Bruges Day 3
Bonifacius Bridge
Starting out the last of 3 days in Bruges, begin your morning with an early walk to a peaceful spot, that is before the crowds hit!
Bonifacius Bridge is one of the most photographed spots in Bruges for its romantic and charming atmosphere.
You can easily imagine yourself back in medieval times or in a fairytale as you make your way over the canal.
The Bonifacius Bridge crosses over the canal connecting the Arentshof courtyard over to the Church of Our Lady.
In the Arentshof courtyard, you might notice some stone columns that were once part of the Waterhalle underneath the Provincial Palace and Historium.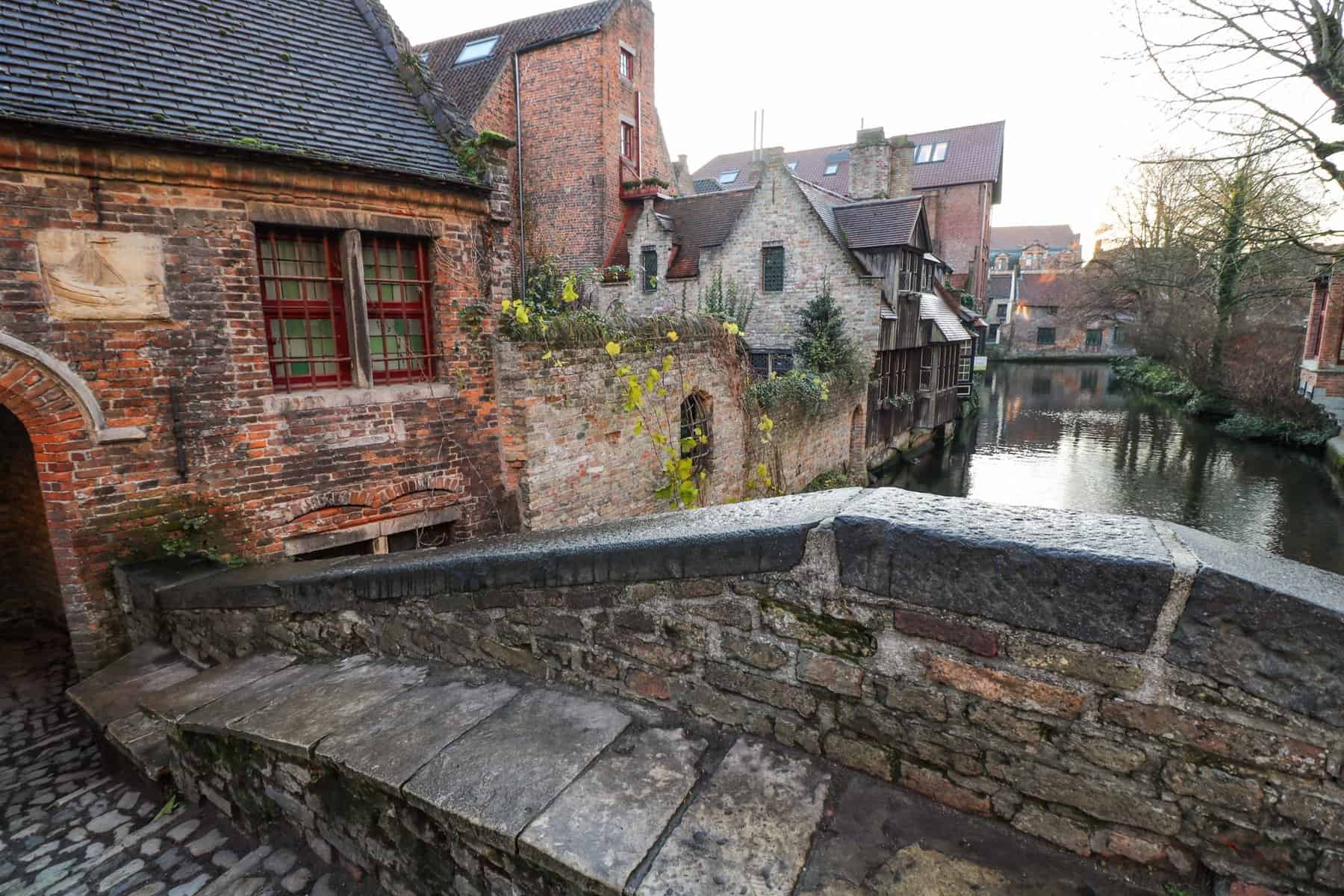 If you go early or later in the day, you can enjoy this serene spot mostly to yourself. Not to disappoint you, but the bridge isn't as old as many of the other ones you will see. In fact, for Bruges, it is considered a young bridge as it was built in the 20th century.
Church of Our Lady Bruges
After spending some time at the Bonifacius Bridge, make your way through the courtyard towards the front of the Church of Our Lady (Catholic). It is a beautiful church with its red brick and 115-meter steeple.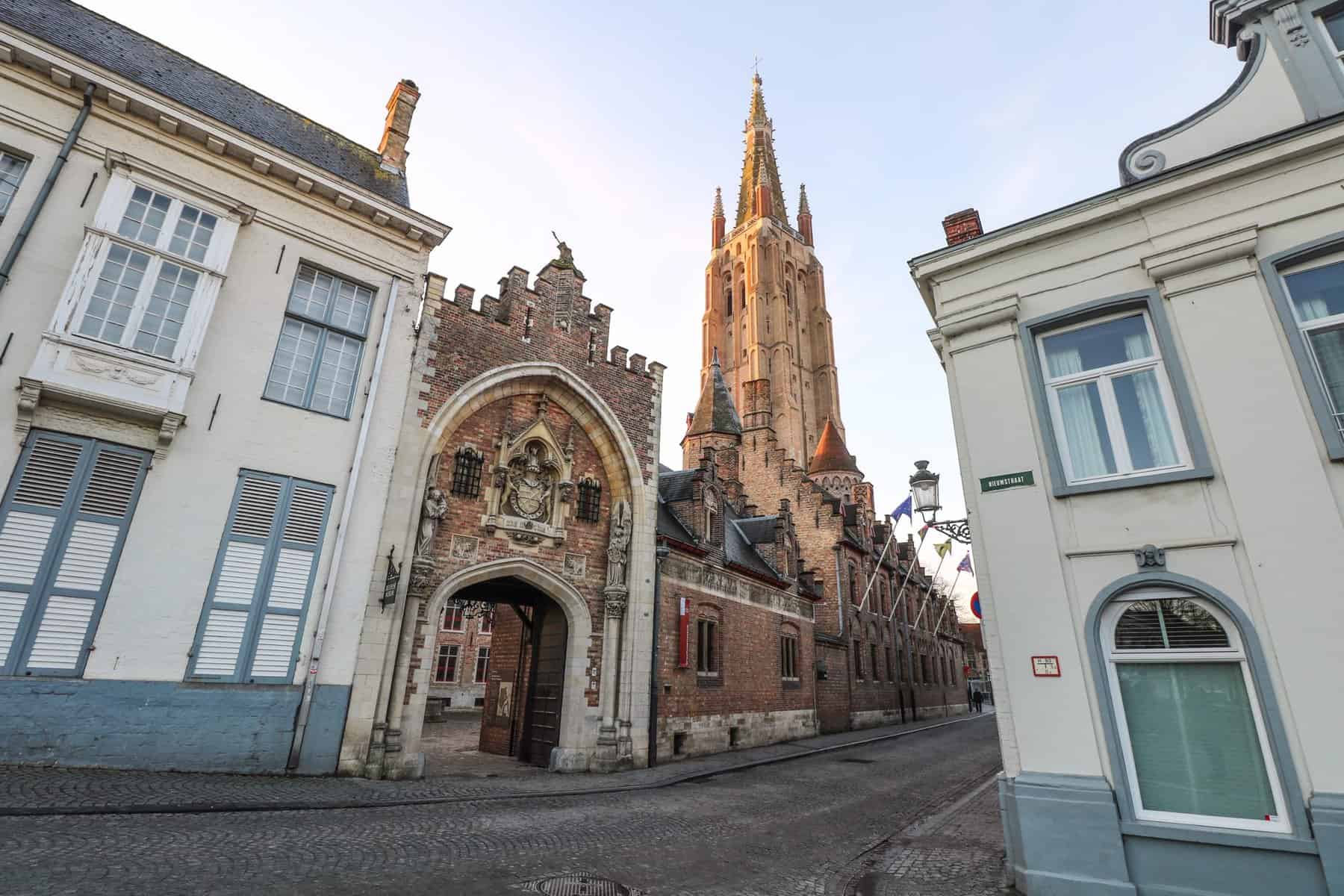 It is free to enter the main part of the church but if you wish to visit the museum section there is a fee of 6 Euros.
The main attraction in the museum section is the 1504 Madonna and Child statue by Michelangelo.
Oddly, you can't purchase the ticket into the museum of the church there. Exit and go right out of the church to the large ticket booth that is for both the Church of Our Lady and the Gruuthusemuseum.
You can get tickets for both so that you already have your tickets to the Gruuthusemuseum too.
Michelangelo's Madonna and Child has an interesting history as it is the only piece by Michelangelo to leave Italy! Once it was completed and revealed to the church and people of Bruges in 1504, most were in horror and did not want it.
Why the scandal around a masterpiece? Well, many thought at that time that it was not appropriate for the baby Jesus to be nude and showing his "private parts".
In this day and age, I wouldn't have even noticed but back in the 1500s that was a big deal I guess!
Note: A few tombs of the church that are notable are Charles the Bold and his daughter Mary of Burgundy.
Hours: Open daily from 9:30 am to 5:00 pm except on Sundays you can visit from 1:30 pm to 5:00 pm.
Gruuthusemuseum
Today the Gruuthusemuseum is a museum but it was the home to the family that sold gruut. Gruut is a flower and herb mixture that was used in the making of beer.
Let's just say the family was extremely rich from selling gruut as they were pretty much the only ones in the 1400s and 1500s that sold it.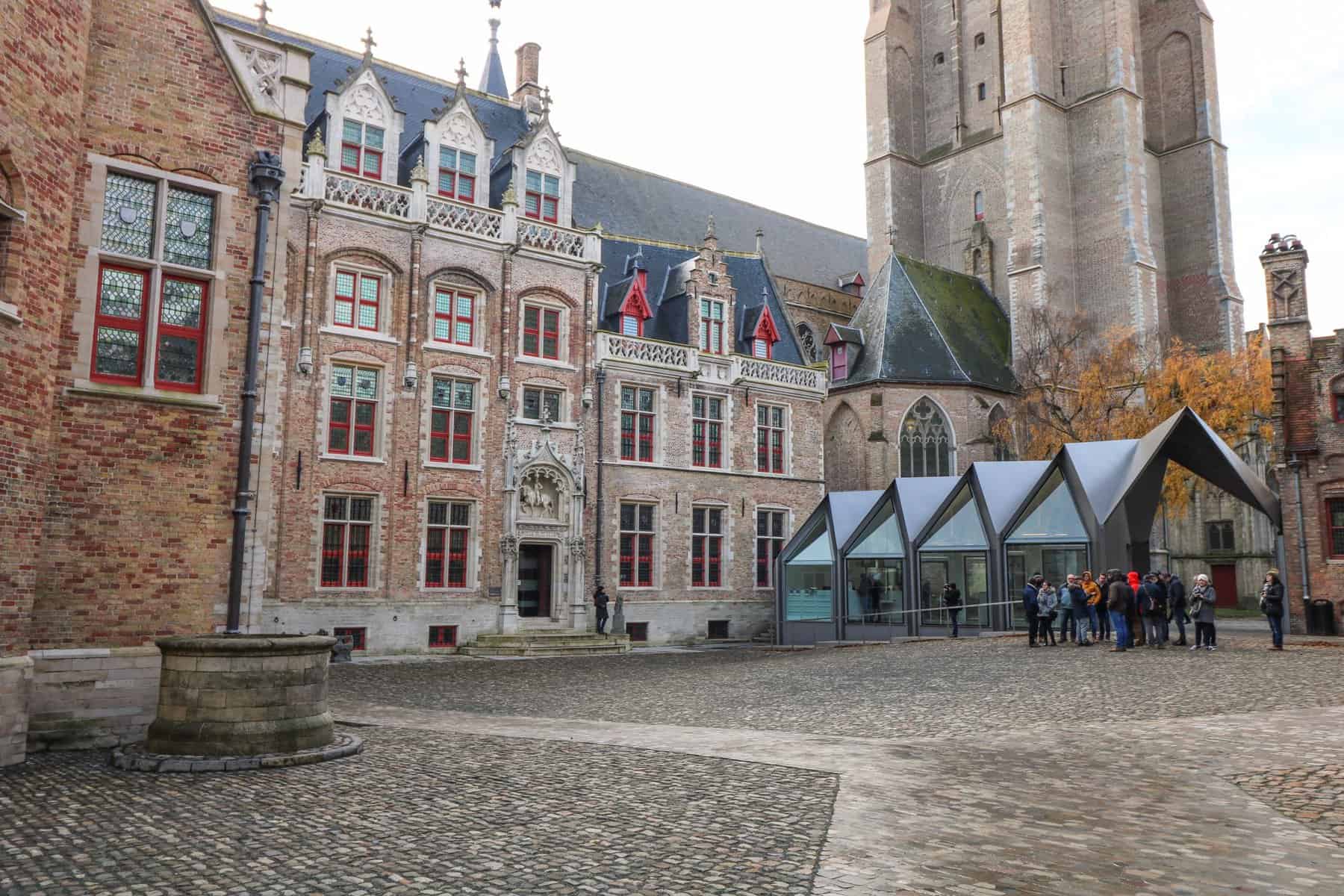 It was pretty much a monopoly of its time period by taxing the gruut. Gruut was used in the beer-making process to add flavor and bitterness before the use of hops came into play years later. Hops ended up being a better alternative as it aided in preserving the beer.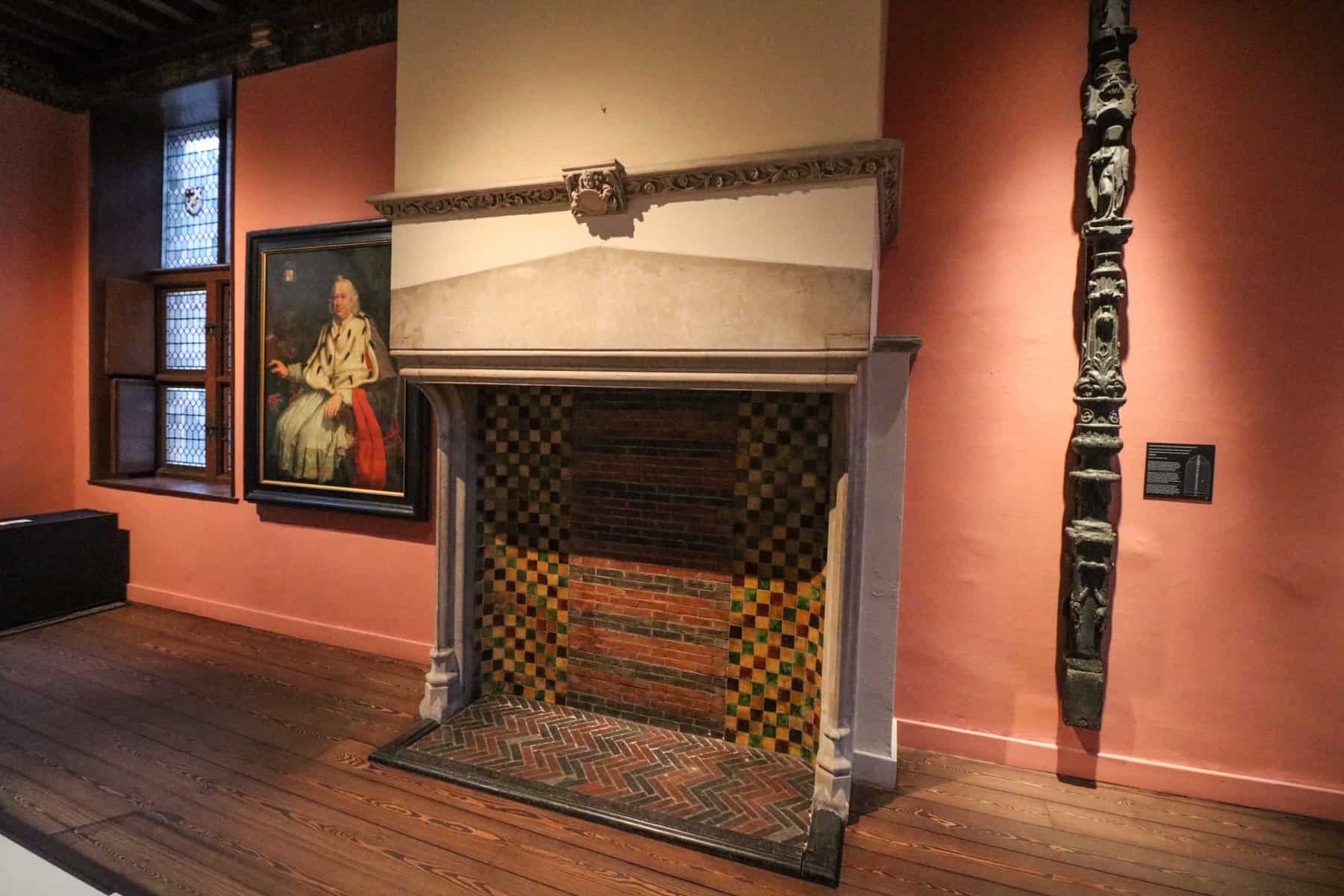 You are able to explore the old mansion or "gruut house" and travel through time learning about Bruges' history.
The information and items you will see are mainly focused around three time periods in a 500-year span. These periods are the 1500s (Burgundian heyday), the 17th and 18th centuries followed by the 19th century.
It is a beautiful museum and you are able to learn a tremendous amount of Bruges' history.
You can also walk into what was the private chapel with a balcony that connects to the Church of Our Lady. The family didn't even have to leave their home to attend church service!
Hours: Open daily from 9:30 am to 5 pm except Mondays (closed).
Groeningemuseum
I usually enjoy seeing a few museums in a city and the Groeningemuseum is a great one to see. Visiting the Groeningemuseum is recommended if you enjoy art and specifically the most celebrated Flemish artists of Belgium.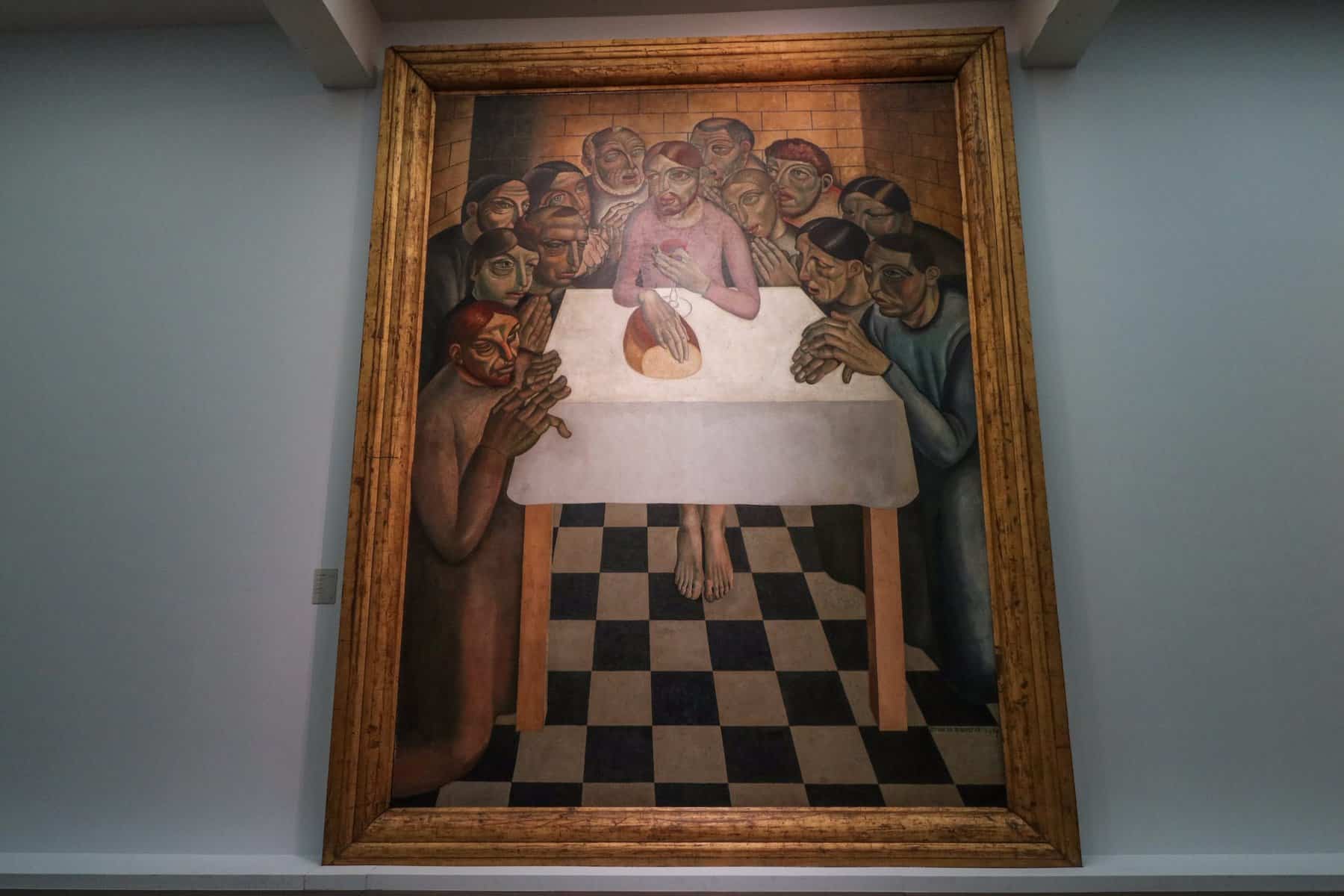 A few well-known paintings by the Flemish artist Jan Van Eyck are considered masterpieces. He also happened to paint the famous Ghent altarpiece (Adoration of the Mystic Lamb), which is located in Ghent's St. Bavo's Cathedral.
Another Flemish painting that I found both fascinating and disturbing is The Last Judgement by Hieronymus Bosch (1486).
There is so much going on in the painting that is very dark yet beautiful all at once. As I was gazing at it, I tried to imagine what entered Bosch's mind to paint such a scene…
Hours: Open daily from 9:30 am to 5 pm except for Mondays (closed). Admission is 12 Euros for adults.
Windmills of Bruges
After leaving the Groeningemuseum, walk over to Vismarkt. The Vismarkt is the old fish market on your way to see the windmills.
The Vismarkt is right along the canal and a beautiful area of Bruges to see. If you have the time and are up for it, the walk to the windmills is about 20 minutes. Or you can jump into a taxi and be there in a quick 5-10 minutes.
This is the perfect time to explore the many adorable neighborhoods in Bruges on your path to the windmills.
Several years ago, there were many windmills that were part of Bruges' city wall. Today there are only four windmills left that you can see.
Of the four windmills remaining, the only one you can go inside and visit is Sint-Janshuis. It was built in 1770 with the museum open to the public daily from 9:30 am to 12:30 pm and then again from 1:30 pm to 5:00 pm except for Mondays (closed).
Tip: Another fun option to visit the windmills is to rent a bike and ride over at your leisure! For more information on bike rentals, look at Bruges Bike Rental.
Where To Eat
As with any city in Belgium, I say forgo the strict diet restrictions and truly enjoy the most delicious comfort foods! Since eating in Bruges can be expensive, try to avoid eating right along any of the main squares.
To find out about and experience two Bruges favorites then take this beer and chocolate tasting tour!
I got a bowl of soup right along a square and it was 24 Euros! I couldn't believe it and was expecting specks of gold in it. Don't get me wrong, it was delicious but not worth 24 Euros. No soup is in my opinion. Here are some great restaurants to try on your visit:
The Olive Tree – Mediterranean food
Brugge Burger – Has incredible pizza!
Gruuthuse Hof – For traditional Flemish Beef Stew
't Nieuw Walnutje – Delicious Belgian food in a cozy restaurant
Pomperlut – Bistro serving traditional Belgian food
Ganzespel – A little further out from the city center serving up Belgian food that won't drain your wallet.
T' Brugs Beertje – Has over 300 beers offered here
That's Toast! – Various toast dishes that are great for breakfast or lunch
House of Waffles – Yep, you guessed it waffles!
The Old Chocolate House – For the best hot chocolate in Bruges!
Dumon Chocolatier – the yummiest chocolate in Bruges hands down!
When To Visit Bruges
Bruges is a spectacular city to travel to any time of the year even in the winter months. If you want great weather and fewer crowds then spring and fall is the best time to visit.
The summer months will of course have great weather but the number of people visiting can potentially make you dislike your time there.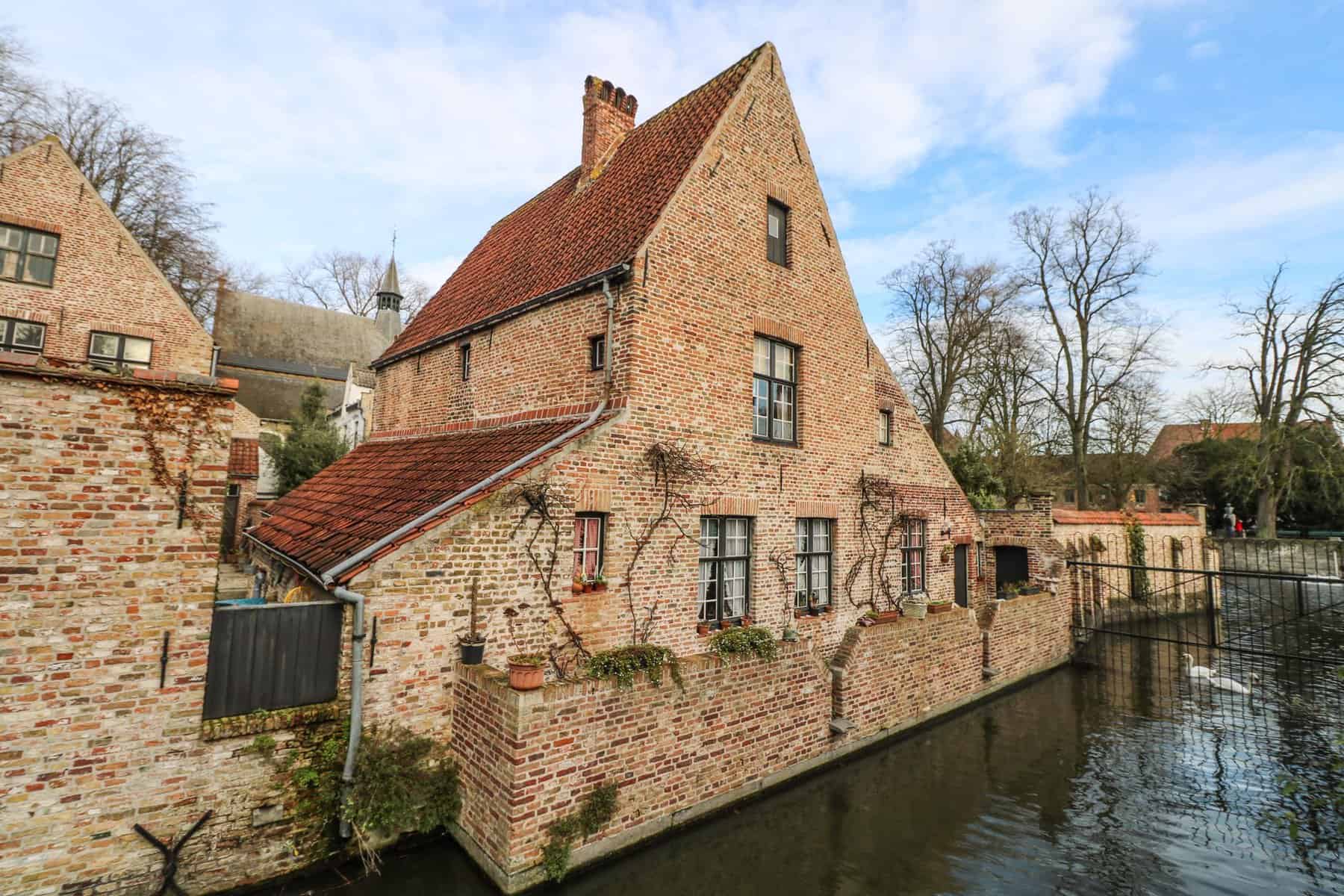 Bruges can get extremely overloaded with people coming for the day or on tour buses. That is especially true in the summer months or on the weekends.
During the spring through fall stick to visiting during the week to have a more pleasant visit.
Although you will need to bundle up in the winter, you won't have crowds and can move about freely.
Visiting in December is a wonderful time to see Bruges all decorated for the holidays and its Christmas Market celebrations.
Start planning for your trip to Belgium and explore the best flight deals today!
Got Travel Insurance?
Don't leave home without travel insurance as you never know what might happen on a trip! It is always when you least expect it that something can go wrong like getting sick, in an accident or cancellation of some sort. Get a no-obligation quote from two trusted travel insurance companies for peace of mind on your next trip!
I had high expectations of Bruges prior to visiting but I was not disappointed. The town is even more wonderful than I had imagined. Enjoy your 3 days in Bruges!
Looking For More Travel Inspiration?
19 Amazing Things To Do In Ghent
How To Spend The Best Weekend In Brussels
Guide To The Best Christmas Markets In Belgium
7 Best Filtered Water Bottles For Travel And Hiking
12 Best Things To Do In Bucharest
10 Fantastic Places To Visit In Transylvania
15 Ultimate Things To Do In Dubrovnik
Disclaimer: My post may contain affiliate links, which means I may receive a small commission if you click a link and purchase through that link. It won't cost anything to you to use these links but is very much appreciated. Thank you!