Guide To The Best Christmas Markets In Belgium
Have you always wanted to experience the Christmas markets in Belgium? Starting as early as late November, Belgium transforms each city with twinkling lights, garland, Christmas trees, and a festive spirit. Find out the best Belgian Christmas markets to travel to and kick off the holiday season!
If you know that you will be traveling to Belgium in December, attending a Christmas market is a must.
Be ready to be wowed with over the top decorations and awe-inspiring architecture that will leave you speechless.
In the larger cities, the Christmas markets stalls line the main squares and a magical feeling arises as you find yourself with the biggest smile on your face.
The weather is crisp outside but that doesn't deter you as the scent of hot mulled wine fills the air and warms you up with each sip.
And the Christmas markets are the perfect place to get in all your holiday shopping. In between shopping, squeeze in some time for indulging in mouthwatering Belgian food. Let's be totally honest, the food and drink is the main driver to visit the markets!
Each Christmas market in Belgium has its own unique appeal but overall, they all have one thing in common, the feel of stepping into a medieval fairytale…
Get ready to be spoiled with the scent of fresh-cut pine, warm waffles, and spiced gluhwein not to mention the dazzling lights and decorated chalets that say the holidays have arrived!
Belgian Christmas Tradition
Did you know that in Belgium there are two Christmas figures? I was a bit confused when I heard this but it is a fascinating tradition.
This makes for a busy gift-giving and festive December which would be awesome to experience as a child.
There is Sinterklaas also known as St. Nicholas who brings the children of Belgium presents on December 6th or St. Nicholas Day.
They leave their shoes out on the 5th and Sinterklaas fills them up with goodies the kids will love.
St. Nicholas Day is where the kids receive gifts and is more synonymous with Santa Claus coming on the 25th in the United States.
In Belgium, there is less gift-giving on the 25th but more of a time to spend with family around a meal.
Although Santa Claus (Pere Noel) does appear around December 25th, he isn't as popular as in other countries and his presence doesn't revolve around gift-giving as on the 6th. This Christmas tradition is also seen in the Netherlands.
The anticipation and excitement for the arrival of St. Nicholas begins in November leading up to December 6th. I imagine that is why many of the Christmas markets open up in late November which is earlier than the rest of Europe.
Where Is Belgium?
If this is your first time visiting Belgium, you might be wondering where exactly in Europe it is.
Belgium is part of the European Union and bordered by the Netherlands to the north, Germany to the east, France to the southwest, and Luxembourg to the southeast.
The North Sea borders Belgium in the north and the main reason Belgium has so much fresh and delicious seafood available. Being centrally located to neighboring European countries makes it very easy to travel to Belgium by train or plane.
2021 Update
Currently the Belgium Christmas markets are scheduled to be open in 2021 although that may change as we get closer to the holidays. Keep checking back for current date info on attending these wonderful Christmas markets in Belgium.
How To Get To Belgium
If you are flying in from abroad, the largest airport to fly into would be in Brussels at the Brussels Airport (BRU).
From there you can travel to various cities within the country. A second option would be to fly into Antwerp at the Antwerp International Airport (ANR).
I would check flights to both to see where you can get the better fare but likely Brussels will be the best option as it is the largest airport in Belgium. Start your search on the best flight deals now!
If you are traveling in Belgium or coming from neighboring countries, taking the train is the easiest option.
Under each city below, I will list the best train stations to travel in and out of.
Tip: For checking train schedules to each town listed, visit Belgium's official train site.
Tips For Visiting Christmas Markets In Belgium
The majority of vendors accept card cards but not all. So, always carry some cash.
Prevent being cold with wearing a base layer of thermal top and leggings! They make the world of difference as they are thin under clothes and wick away moisture.
Bundle up! Wear plenty of layers, a warm jacket, scarf, hat, and gloves as it does get very cold in December.
Even after wearing good winter clothes, I can't recommend enough having hand and toe warmers handy. You will likely spend the majority of your day wandering the market stalls and want to keep toasty warm!
The weekends will be very busy but that comes with a very merry and festive appeal. If you want to avoid the crowds, go during the weekdays.
The Euro is the currency used in Belgium so make sure you change money at the airport or when you take out from an ATM machine.
Don't be surprised when they ask you for a deposit (~1 Euro) for your cup when you get a beer or drink. Once you finish, take the cup back and you get the Euro in return.
Although pretty much everyone in central and northern Belgium speaks English, Belgium has three official languages that are Dutch, French, and German.
Make sure you have an umbrella or rain jacket in case it rains. I preferred a rain jacket with a hood so my hands were free to eat and drink!
Just as with any big festival or crowded event, always keep an eye on your belongings. Keep your most valuables in a concealed travel pouch.
Carry a power bank so that you can keep your phone charged all day no matter where you are.
Wear comfy shoes as you will be on your feet a lot.
Have plenty of hand sanitizer and Kleenex with you for after you eat or use the restroom.
Foods To Eat At Belgian Christmas Markets
If I'm being completely forthcoming, one of my main drivers for wanting to experience a Christmas Market in Belgium was for the food and beverages! There are so many delicious options to choose from that it can be overwhelming at first.
You will find foods from around the world such as pasta, burgers, and great Asian noodles but make sure to leave room for a few Belgian favorites!
By no means is this all the food but a small selection to highlight so that you don't miss out…
Festive Adult Beverages
Gluhwein
Having a cup of gluhwein is known as mulled wine and is enjoyed partly for its flavor and a lot to do with keeping you warm in the crisp outdoors.
For those that have never tasted it, gluhwein is hot mulled wine that is infused with spices such as cloves and cinnamon.
If smells much like the holidays and after drinking a few cups you will be feeling the holiday joy! Mulled wine is one thing that can be found at practically every Christmas market in Europe. You might also see it referred to as Vin Chaud.
Genever
If you enjoy gin, then you will be happy to sip some juniper-flavored Genever as it is comparable to a gin spirit.
It can be found in both the Netherlands and Belgium as a popular type of alcohol to be found at the Christmas markets. You will see it in a variety of flavors such as vanilla and apple.
Beer
This one should be pretty obvious as Belgium is famously known for making incredible beer. Sipping on a cold beer might not sound super appealing while standing out in freezing temps, but thankfully there are beer bars that are covered to make mini beer halls.
You can sample Belgian beer any time of the year but going into the beer bars at various Christmas markets has its own merry holiday atmosphere you don't want to miss. Every city has some good breweries to visit too.
Tip: If you visit Leuven, take a tour of the Stella Artois beer factory. At the end, you get plenty of beer tastings and some to take home!
Savory Bites
Raclette Baguette
Raclette is an amazingly tasty cheese that oozes deliciousness. It is a mild and creamy hard cheese that comes in the format of a wheel. A chunk of raclette cheese is cut and melted onto a grill.
Once fully melted, the cheese is scraped off the grill and topped onto a baguette that can have meat, possibly potatoes or pickled onions.
Really it doesn't matter what else is in it as long as the melted raclette is on top! Imagine the most delicious gooey cheese melted on a crisp baguette that is absolute perfection for any cheese lover…
Grilled Wurst
Especially common at Christmas markets, the smell of a grilled wurst is one of the first foods I think of when visiting a Belgian Christmas market.
Served on a baguette, a wurst sandwich is quite yummy, super easy to eat as you walk around and it is served hot which is a plus on a cold day!
Mussels & Frites
Having a meal of mussels & frites (fries) isn't super common to find at a Christmas market stall but sampling this Belgian staple is necessary.
Most restaurants that serve traditional Belgian food will have mussels & frites on the menu.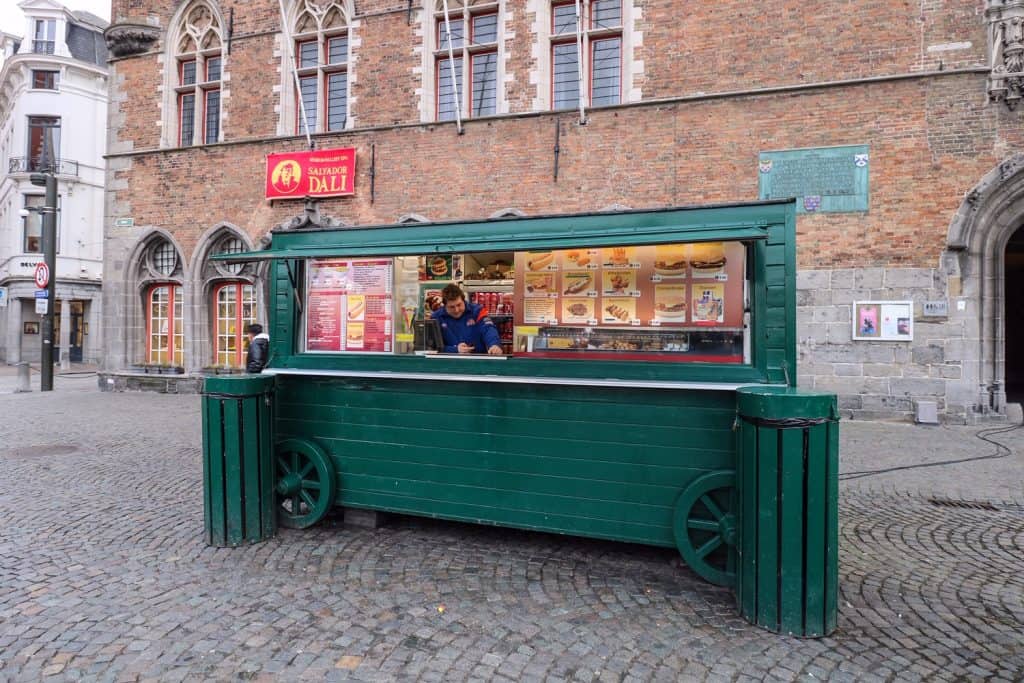 Usually, you don't have to go too far away from the market areas to find tasty mussels that are commonly cooked in white wine and garlic.
But sometimes you might see it served in a tomato base too. Oh and with mussels or not, hand-cut Belgian frites are amazing on their own!
Tartiflette
Tartiflette is one of those cozy and hearty meals that completely fills you up with warmth and satisfaction. The dish is seen at every Christmas market in Belgium and easy to spot as it is cooked in a huge pan. It almost looks like the large skillets they cook paella in.
Tartiflette is comprised of white wine, cheese, potatoes, onions, and bacon. It is without question the perfect comfort food on a cold winter day.
Mustard
An East Flemish specialty in Belgium is the yummiest mustard. Although you can find throughout the country, Ghent has one particular shop that stands out for having exceptional mustard. The tiny shop of Tierenteyn-Verlent looks like an old apothecary and has specialized in mustards since 1883.
I personally don't like mustard in general but I love the mustard from Tierenteyn-Verlent as it has incredible flavor and is spicy! Buying a jar makes for a great gift or a souvenir for yourself.
Delightful Sweets
Belgian Waffles
Coming from the United States, I wasn't very big on waffles but how I love Belgian waffles! Waffles are very popular and can be found on practically every street.
There are two types of waffles, the style that comes from Brussels or Liege style waffles that are common in the Ghent and Bruges regions.
The Brussels style waffle is light and airy with various toppings such as powdered sugar, chocolate or strawberries and usually eaten with a fork.
In contrast, the Liege style waffle is warm with no toppings other than the insanely delightful caramelized sugar within it.
This kind of waffle you can carry in your hand and eat as a snack! Waffles are not considered a breakfast food in Belgium but more of a snack or dessert. If you don't have at least one waffle during your visit, it's as if you never went…
Sneeuwballen
Only available in the winter months is my new favorite sweet treat, Sneeuwballen also known as Snowballs!
They are so incredibly good that I wish I could've transported cases of these home with me. Since I couldn't, I may have had several a day so I wouldn't forget the flavorful dessert…
Snowballs (Sneeuwballen) are between a cookie and a candy but I think officially considered a candy. Made in the shape of a cookie ball, it is vanilla coated with dark chocolate and sprinkled with icing sugar. They are most commonly seen in Ghent so don't miss out on trying them!
Speculoos Biscuits
Speculoos biscuits are a very popular treat you will see at the Christmas markets and in shops throughout Belgium.
They are crisp and light biscuits (cookies) that are made with speculoos which is a combination of spices such as cinnamon, nutmeg, cloves, ginger, cardamom, and possibly anise.
Speculoos biscuits have a similar taste to a gingerbread cookie and are so delicious! During the holidays you will see speculoos biscuits of all sizes and shapes too.
Chocolate
Belgian chocolate is beyond incredible and some of the best chocolate in the world. I knew that Belgians were known for their chocolate making but I was pleasantly amazed at how delicious and decadent it really is.
There are a number of top Belgian chocolatier's that require a visit to their shops. There is a chocolate shop on every corner so you won't have a hard time finding chocolate! The chocolate that Belgium is famous for is the praline, so make sure to taste one of these delights.
Tip: If visiting Brussels, read my post How To Tour The Best Chocolates In Brussels for detailed info on finding the best chocolates!
Note: Under each city below I will mention the best places to stay so you can be closest to all the Christmas Market fun!
The Best Christmas Markets In Belgium
1. Brussels Christmas Market
Most likely visiting the Christmas market in Brussels is on your list as it is the biggest with over 200 stalls or chalets lining squares for the holidays.
The three main areas of the Brussels Christmas market is located at the Grand Place, Place de la Bourse, and St. Catherine's which are all in the heart of Brussels' old town.
The Grand Place is the main square in Brussels and during any time of the year, this square is magnificent with the ornately decorated guildhalls and stunning architecture.
But during the holidays the Grand Place is over the top (in a good way) with lights and a huge Christmas tree in the center.
Oddly, there are no market stalls in the square but they make up for that will a spectacular light show choreographed with music in the entire square. You can enjoy the light show every hour from 5:00 pm to 10:00 pm.
If there is one thing you see while attending the Brussels Christmas market it is this! I felt like a giddy kid so excited for the holidays watching it as the whole square was illuminated with colors… I seriously lost track of how many times I said "wow"!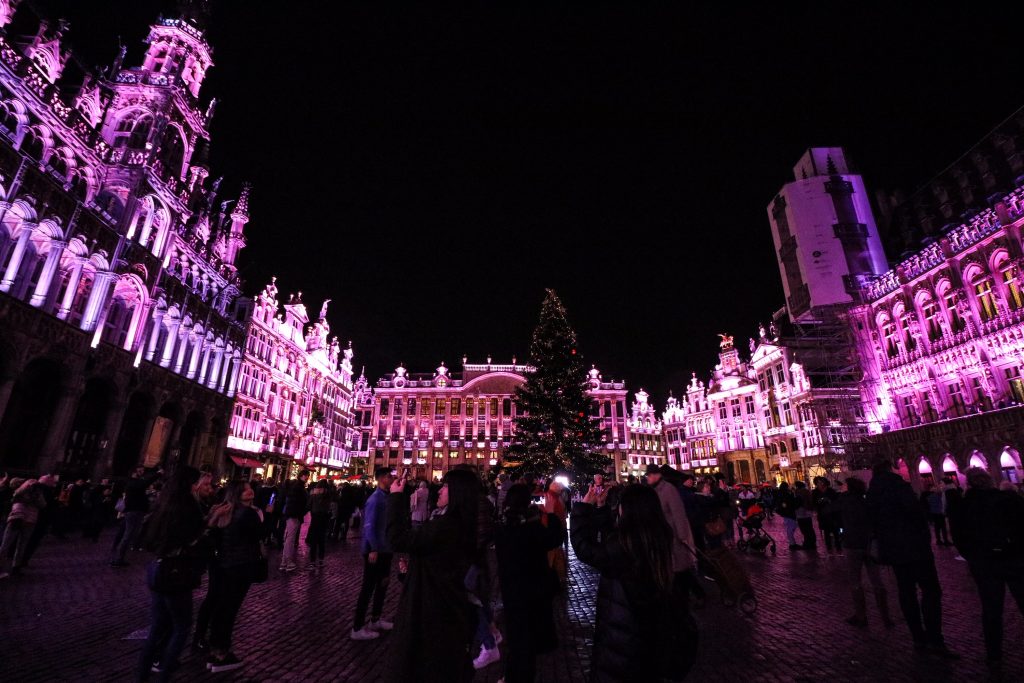 Just a short walk (about a block away) from Grand Place is the Bourse building where Christmas market stalls surround this area. And lastly, about an 8-10 minute walk over near St. Catherine's church is where the most Christmas chalets can be found.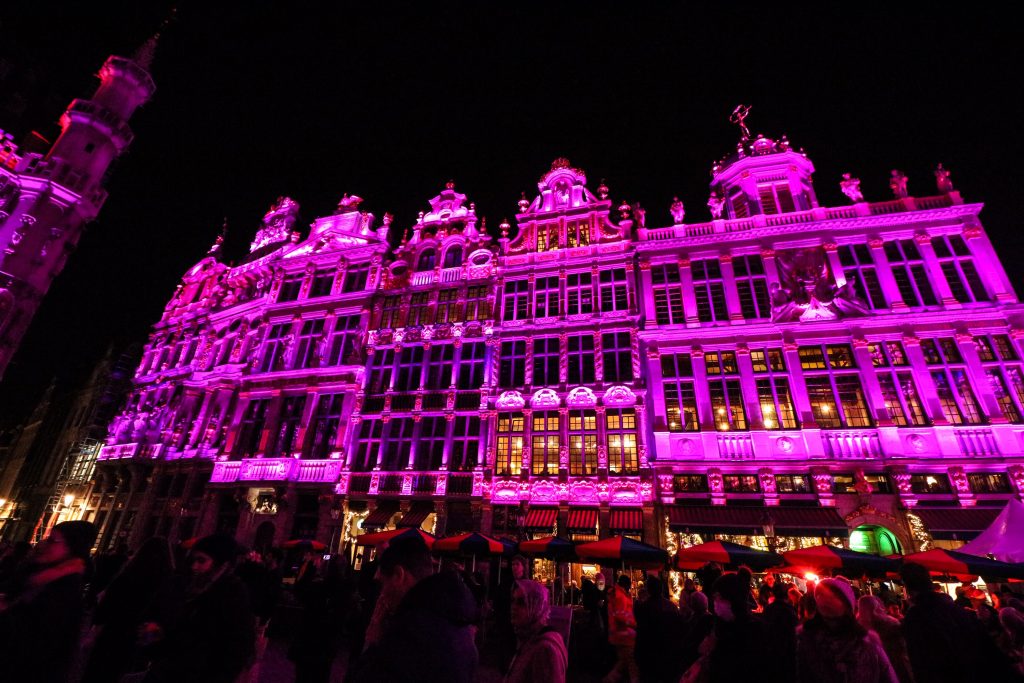 In front of the church, stalls, an ice rink, a Ferris wheel and more can be found along the mall from St. Catherine's. The market area of St. Catherine's is where you will see the most Christmas market stalls, food, and fun!
Tip: For more details on what to see and do in Brussels, read my post How To Spend The Best Weekend In Brussels.
Dates & Hours
Usually, the Christmas markets in Brussels opens up the third week of November and goes through the first weekend of January.
The markets are open Monday – Sunday from 12:00 pm to 10:00 pm. The only exception to this is on Dec. 24th and 31st when the festivities close at 6:00 pm.
For 2020, the Brussels Christmas market begins on Friday, November 27th, 2020 and ends on Sunday, January 3rd, 2021.
Where To Stay In Brussels
For the best location and close access to the Christmas markets and sights in Brussels, I would recommend staying near the Grand Place (Grote Markt). That way you can rely on walking to almost everything and near all the market stalls, cafes, shops, and chocolatier's.
As another option, I stayed in the European Union (EU) district at the Courtyard Marriott Brussels EU that is about a 20-minute walk or quick metro ride to the Grand Place. A few hotels that are close proximity to the Grand Place, are:
Hilton Brussels Grand Place – if you are coming into Brussels by train, this Hilton property is next to the Brussels Central Train Station.
Train Stations In Brussels
There are three main train stations in Brussels, which are Brussels North, Brussels Central, and Brussels South. At first, knowing which train station to go to can be confusing as there are often a few different names for each station.
For example, Brussels South (English) is Bruxelles-Midi (French) and Brussels-Zuidi (Flemish). They are all the same location, just a different name depending on the language. The train station closest to the Christmas market areas is Brussels Central.
Tip: I highly recommend taking the metro if you choose not to walk. Very easy to navigate and gives your feet a rest.
2. Ghent Christmas Market
I loved every city I visited in Belgium, but Ghent captured my heart. It has the perfect combination of having a smaller city feel, medieval architecture, fascinating history, lovely canals, and a castle. It doesn't get much better than that, right?
Then you throw in a Christmas market and fun holiday activities and wow! Every city has a uniqueness to its Christmas market but overall, I found the Ghent Christmas market to be my favorite. If you only have time to visit one Christmas market, then this is it.
Officially, the Christmas market in Ghent is referred to as Gentse Winterfeesten or Ghent Winter Festival.
The Ghent Winter Festival has that magical winter wonderland vibe with over 150 market stalls all located in the center of the historic old town.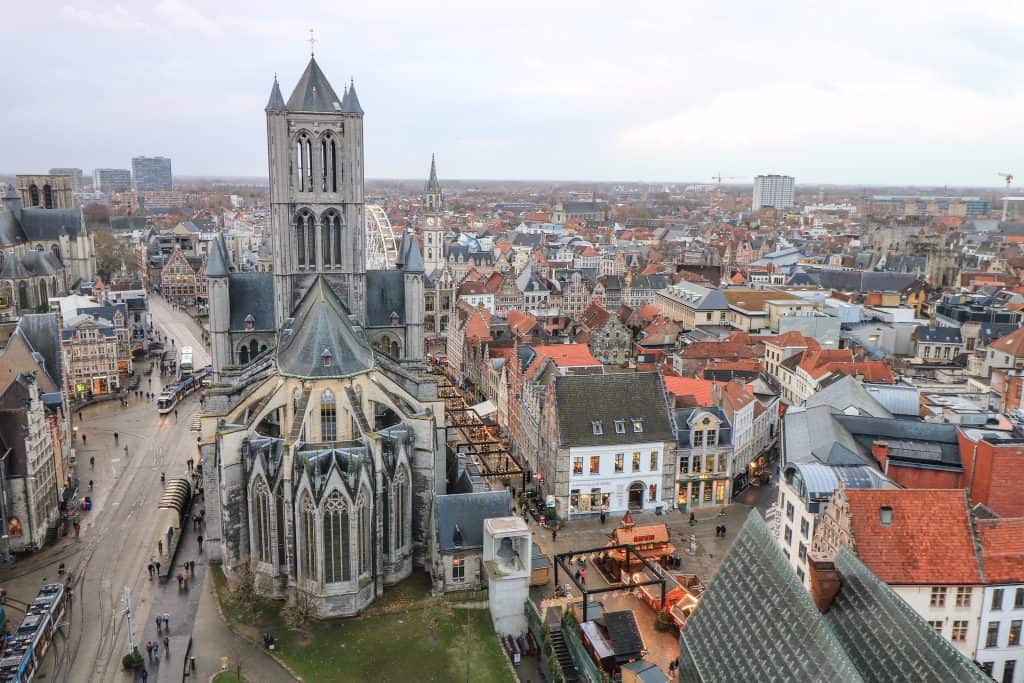 In this area, you will find most of the Ghent attractions to see during your visit. Within Ghent's Christmas market there is a Ferris wheel, an ice skating rink, a Moose bar, and numerous delicious food options. Oh and don't miss trying some spicy South American hot chocolate too.
Most of the festivities can be found from St. Bavo's Cathedral to St. Michael's bridge near Korenmarkt. This includes the area around St. Nicholas Church and the Bell Tower. If you want to get an aerial view of the Ghent Christmas market, then climb the steps up to the top of the Bell Tower!
Tip: For more information on what to do in Ghent, read 19 Amazing Things To Do In Ghent.
Dates & Hours
Ghent's Christmas market starts a little later than Brussels, kicking off on Thursday, December 10th, 2020 and running until Dec. 31st, 2020.
Weekdays the markets are open from 12:00 pm to 9:00 pm. On Saturday and Sunday, the hours are from 11:00 am to 10:00 pm.
The exception to the hours above are on Dec. 24th and 31st which are open from 12:00 pm to 5:00 pm. And on Dec. 25th you can attend the markets from 2:00 pm to 7:00 pm.
Where To Stay In Ghent
Staying near the Graslei section of historic Ghent is the best location to stay as you are literally steps from everything to see. I stayed at the Ghent Marriott Hotel and loved it especially for its perfect location on the Korenlei and along the canal across from the Graslei.
Other excellent hotels are:
Train Station in Ghent
When purchasing your train ticket to Ghent, book it to Gent Sint Pieters station. Once you exit the train station, there are taxis to take you to your hotel. The drive to the historic area of Ghent where the markets are is about a 15-minute ride.
3. Bruges Christmas Market
Bruges is commonly referenced as a medieval fairytale-like city with its endless canals, bridges, and romantic charm that makes it a popular place to visit.
The Bruges Christmas market is much smaller than Brussels and Ghent yet it has a very cozy and quaint ambiance.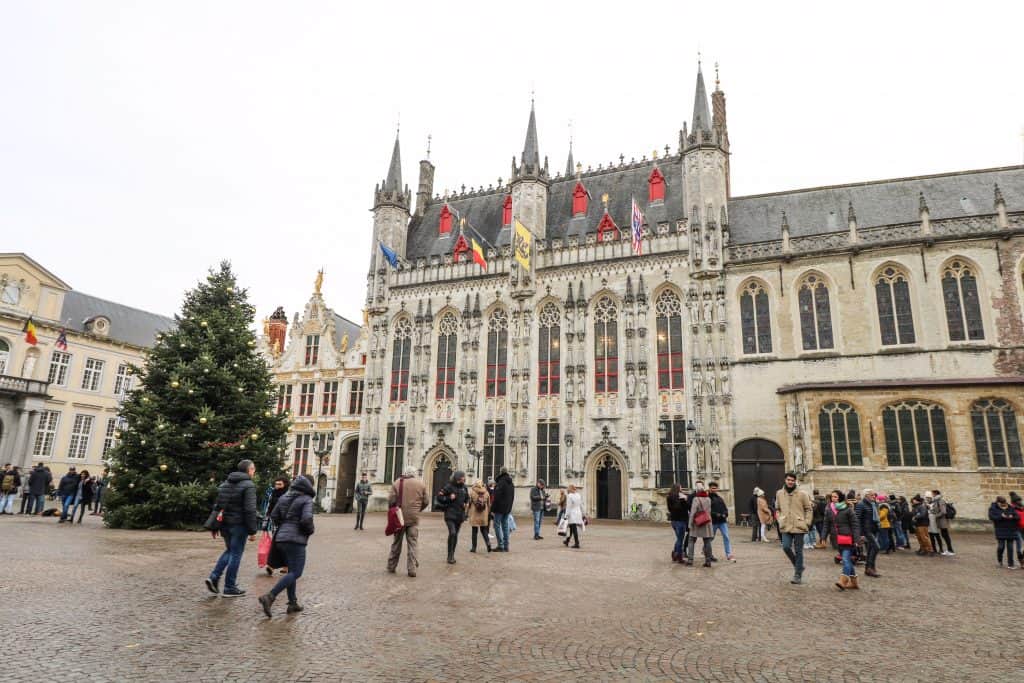 The majority of people only visit Bruges for the day but there is so much to see and do in Bruges that I recommend staying a few days at least.
There are two main areas where the holiday festivities take place, in the Markt in front of the Belfort and in Simon Stevinplein just a few blocks from the Markt.
Both of these sections of the market have artisanal items, food, and gluhwein of course! Be alert as you walk around the Markt as horse-drawn carriages are everywhere. Hop in for a ride around the idyllic cobblestoned streets and bridges as you enjoy the abundant beauty of Bruges.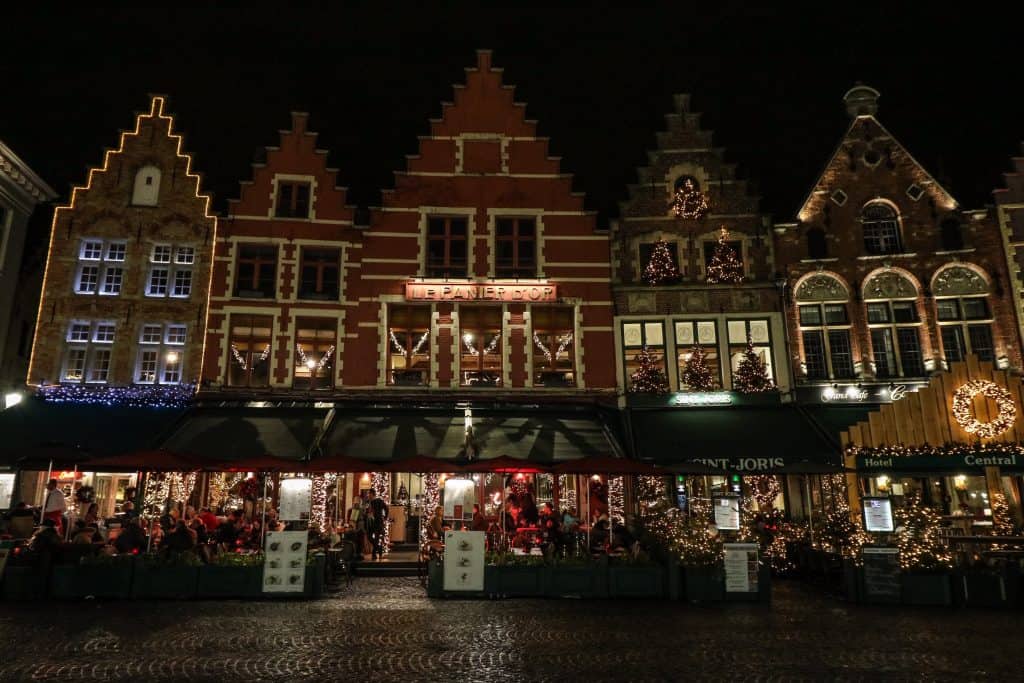 For those that love taking to the ice, you can find an ice skating rink over at Minnewater Park that is a beautiful area to see swans galore.
Of all the cities I visited, Bruges is the most crowded as everyone is in search of that fairytale! For that reason, try to visit during the week if you can, to have a little more of Bruges to yourself.
Tip: For a complete guide on what to do in Bruges, explore my post The Best Way To Spend 3 Days In Bruges.
Dates & Hours
The Christmas markets in Bruges open on Friday, November 20th, 2020 and runs through Sunday, January 3rd, 2021.
It is the first Christmas market to open up for the season on this list in case you want to get a head start of the holiday festivities.
The market is open Monday through Thursday from 11:00 am to 8:00 pm. On Friday, Saturday, and Sunday the hours are from 11:00 am to 10:00 pm. The only exception is on Dec. 24th with hours from 11:00 am to 5:00 pm and on Dec. 25th when it is only open a few hours in the afternoon.
Where To Stay In Bruges
Staying close to the main town square (Markt) where the Christmas markets in Bruges are located is an ideal place to get a room. It is super convenient as you are steps from many of the sights and attractions in Bruges.
Martin's Brugge – I planned my trip last minute but was lucky to get a room at Martin's and couldn't be happier. The location was perfect (next to the Belfry and one block to the Markt). The rooms were comfortable, clean, and pleasant during my stay.
The following are all within a few blocks of the main Markt square and beautiful. I popped in to take a look as I had considered staying based on recommendations.
Train Station In Bruges
When traveling by train from a nearby city such as Ghent or Brussels, book your train ticket for Brugge Station.
Bruges is one city that you don't want to drive to as I did not see much parking and the train is very easy. It is about a 5-10 minute taxi ride to the main square or Markt area.
4. Antwerp Christmas Market
With over 100 market stalls, the Antwerp Christmas market is another favorite that is fun for everyone. The Christmas market stalls can be found at Groenplaats, Grote Markt, Handschoenmarkt, and Steenplein all in the central area of the old town.
Twinkling in lights, Antwerp's decorations light up the night from the Central Station over to the Schelde River oozing with holiday energy! For a higher up perspective, take a spin on the Ferris wheel overlooking the Schelde River and the bustling market below.
For those wanting to give skating a try, the ice skating rink can be found at Groenplaats including several food stalls to choose from. As with other Belgian Christmas markets, waffles, chocolate, and gluhwein flow in abundance at every turn.
Make sure to visit and kiss under the giant mistletoe, cuddle up by a fire at the Winter Bar, and indulge in plenty of irresistible Belgian treats…
Dates & Hours
The Antwerp Christmas market opens on Saturday, December 5th, 2020 and runs through Sunday, January 3rd, 2021. Hours to visit are from 12:00 pm to 10:00 pm Sunday through Thursday.
On Friday and Saturday, the markets will be open from 12:00 pm to midnight. The only exceptions are Dec. 24th, Dec. 31st and Jan. 3rd where hours will be shorter from 12:00 pm to 6:00 pm.
Where To Stay In Antwerp
When staying overnight, the best place to stay is near the Antwerp Christmas market so that you have easy access to all the holiday fun.
Train Station In Antwerp
When booking your train ticket to Antwerp, select Antwerp Central Station which is the main train station in the city. This train station is known for its architecture and beauty so take a few minutes to enjoy it!
From Antwerp Central Station, it is about a 10-minute drive by taxi to the old town area where the Christmas markets will be held.
5. Leuven Christmas Market
The Leuven Christmas market is much smaller than the markets already listed with about 150 stalls. Its small size packs a punch as it has an incredible amount of charm with a warm and homey feeling to it.
Leuven's Christmas market is also one of the oldest in Belgium which makes it a little more special. This is one Belgian Christmas market that you can easily visit on a day trip from Brussels.
But if you want to enjoy seeing other attractions in Leuven and maybe go on a beer tour at Stella Artois, give yourself one night and 2 days.
Leuven is a university town that is a wonderful place to slow down and explore. It has hidden gems, fewer crowds and you can enjoy a pint at the longest bar in Europe (50 bars in one area of Oude Markt).
The star of the Leuven Christmas market is the colorful lighting of its Town Hall. I have never seen a more beautiful and ornately crafted town hall that is an amazing piece of art to see on any day. But once the holiday lights come on at night, it is a breathtaking sight to see.
All the Christmas festivities will be in the surrounding area of the Town Hall and St. Peters Church.
Between the gothic Town Hall and St. Peter's Church is where kids can visit Santa's cottage, sit on his lap, and whisper what they want for Christmas! Oh, and lined up against the church is a live manger where you can see animals too.
Dates & Hours
The Leuven Christmas Market runs shorter than the markets mentioned above from Wednesday, December 9th, 2020 to Sunday, December 20th, 2020.
The hours for the market are below with the exception of Dec. 22nd and Dec. 25th where the market closes at 8:00 pm.
Monday – Wednesday from 12:00 pm to 10:00 pm
Thursday and Friday from 12:00 pm to 11:00 pm
Saturday from  11:00 am to 11:00 pm
Sunday from 11:00 am to 10:00 pm
Where To Stay In Leuven
I visited Leuven from Brussels on a day trip but next time I would like to spend a night and two full days. If you want to spend a few days then the hotels with the best location and near both the train station and Christmas market area are:
Train Station In Leuven
When booking a train ticket, select arrival at Leuven Station. The train station is very close to the city center and Leuven Christmas market with about a 10-minute walk. But if you have a lot of luggage then you can hop in a taxi.
6. Namur/Dinant Christmas Market
Both the towns of Namur and Dinant are south and slightly east of Brussels or about 1.5 hrs by train. These towns might not see as much tourism as the other cities above but don't let that stop you from visiting the quaintest towns and the Christmas festivities they offer.
Both towns are located along the Meuse River with Dinant further south of Namur by about 40-minutes. Dinant is very close to the French border so locals predominately only speak French. In each town, there is a citadel overlooking the river, a casino, and idyllic streets to wander.
For those reasons alone you want to visit and even more so for their cozy and whimsical holiday merriment. As you explore the markets you will be greeted with many artisan gifts and food items, concerts, musical animations, and more!
And of course, warm up with some hot spiced mulled wine, buy some unique items to take home, and bask in the glow of holiday lights.
Tip: For more information on what to do in the picturesque town of Dinant, read my post 11 Fun Things To Do In Dinant.
Dates & Hours
The Namur Christmas market usually opens up for the season on the last weekend in November and runs through the end of December.
Hours are:
Sunday thru Thursday, open from 11:00 am to 8:00 pm.
Friday from 11:00 am to 9:00 pm
Saturday from 10:00 am to 9:00 pm
The only exception is for Dec. 24th and Dec. 31st the market will close at 6:00 pm and on Dec. 25th the market will open up later at 3:00 pm.
In Dinant, there is a tiny stretch of Christmas market stalls lining the Meuse River. As it is a small town it's only open on Friday, Saturday, and Sunday during December.
Where To Stay
Although you can stay in Namur, I would recommend staying in Dinant at least one night. It is a fascinating city and full of charm.
Train Station Info
The train station in Namur is the Namur Railway Station and the station in Dinant is the Dinant Train Station. Both are a reasonable walk from most attractions (~ 10-min) or a short drive.
Taking the train is the easiest and most relaxing way to travel to Namur and Dinant. The exception would be if you want to see nearby castles, wineries, and the countryside. In that case, then renting a car is a better option.
Belgium In December Weather
If you are visiting Belgium in December then expect it to be cold! Depending on where you are coming from, being cold is relative. But coming from California it was very chilly ranging in the temperatures of 30 F to 50 F.
I didn't find it that cold at the higher temps but around 30 F it was a bit challenging at times. Since you will be spending most of the day outside the key is having warm clothes, layering, a good jacket, gloves, boots, and a scarf. If you have these things then it isn't bad at all.
On many days, the sun will come out but do expect some overcast days, some rain, and wind.
Wear the proper clothes and you won't really notice the freezing temps. Don't let the weather deter you as it is part of feeling the winter wonderland of the Christmas markets!
Note: Although not common in the past few years, it can snow in Belgium during December. But more likely you will experience rain instead.
What are you waiting for? Book your flight to visit the magical Christmas Markets in Belgium this year!
Got Travel Insurance?
Don't leave home without travel insurance as you never know what might happen on a trip! It is always when you least expect it that something can go wrong like getting sick, in an accident or cancellation of some sort. Get a no-obligation World Nomads travel insurance quote today for peace of mind!
Looking For More Travel Inspiration?
How To Spend The Best Weekend In Brussels
19 Amazing Things To Do In Ghent
The Best Way To Spend 3 Days In Bruges
How To Tour The Best Chocolates In Brussels
7 Best Filtered Water Bottles For Travel And Hiking
12 Best Things To Do In Bucharest
15 Ultimate Things To Do In Dubrovnik
Disclaimer: As an Amazon Associate and a participant of other affiliate programs, I may earn from qualifying purchases in this post. This means that if you make a purchase through one of these links, I might receive a commission at no extra cost to you. Thank you and it is greatly appreciated!