Disclaimer: Traveling Ness contains affiliate links and is a member of the Amazon Services LLC Associates Program. If you make a purchase using one of these links, I may receive compensation at no extra cost to you. See my privacy policy for more information.
23 Top Things To Do In Mendocino County For A Weekend Getaway
Mendocino is a dreamy community sitting along a gorgeous section of California's coastline and minutes away from the majestic Coastal Redwoods. Dive in and discover the best things to do in Mendocino County!
Imagine a picturesque town, breathtaking coastal bluffs, sea arches, and miles of front row viewing of the Pacific Ocean.
If you love the outdoors and nature, there are numerous spots in the region where you can appreciate the peaceful solitude of the coast and forests.
Where Is Mendocino County?
Mendocino is a small town along the Pacific Coast of Northern California north of San Francisco.
If you are short on time, taking the 101 Highway is the fastest route from San Francisco, taking about 3.5 hours.
Or if you go the more scenic route the drive along the Coast Highway 1 takes about 5 hours. If you take the coastal route which I highly recommend, you will likely want to take time to stop along the way.
The coastline between San Francisco to Mendocino is gorgeous and makes for an incredible road trip.
In the opposite direction, Mendocino is approximately 5 hours south of the California and Oregon border.
The entire coastline in Northern California is spectacular but Mendocino is one of my favorite places to stay.
Note: If you have always dreamed of seeing the giant California redwoods, explore 7 Amazing Places To See Giant Redwoods In Northern California!
How To Get To Mendocino
Mendocino is fairly remote and further away from any big city which will add a little more time to get there.
But once you see its beauty, you will realize the extra time to get there is completely rewarding!
The closest airports to fly into that will have the most flight options are:
Oakland International Airport (OAK)
San Francisco International Airport (SFO)
If you take the 101 Highway, expect drive time to be around 3 – 3.5 hours. But if you choose the scenic Pacific Coast Highway 1 then drive time will be about 5 hours.
Another option if you are flying into Northern California and want to drive south to Mendocino look at Arcata. It is a smaller airport but it is the biggest airport in Humboldt County.
Arcata-Eureka Airport (ACV)
No matter where you choose to fly into, you will need to rent a car and drive to Mendocino. But that is a good thing as the drive is gorgeous…
Lodging In Mendocino
When looking to explore Mendocino County, the best places to stay are in either Mendocino or nearby Little River.
Don't come expecting big hotel chains on the Mendocino coast but do expect several charming inns and B&B's!
I stayed at the Andiron Seaside Inn & Cabins and loved it! It is just minutes away from Mendocino located in Little River and each cabin has an adorable theme. I stayed in the World Traveler cabin!
Andiron Seaside Inn & Cabins – located a few minutes south of Mendocino in Little River.
Headlands Inn Bed & Breakfast – located in downtown Mendocino.
MacCallum House – located in downtown Mendocino and a historic house.
Brewery Gulch Inn – A 2-minute drive south of Mendocino.
Little River Inn – located a few minutes south of Mendocino in Little River and has a wonderful restaurant on site.
Tips For Visiting Mendocino
As you are driving in and around Mendocino County, take time to stop as there are many scenic viewpoints.
The coast of California can get more rain and fog than Southern California, so bring a warm jacket and raincoat.
Gas prices in Mendocino are extremely high, $1-2 higher per gallon. Gas up prior to visiting or in nearby Fort Bragg for cheaper options.
Stay hydrated and carry a reusable water bottle so that you are never without water!
Although the beaches in Mendocino County are stunning, the water is very cold. Known more for viewing than jumping into the icy water!
Bring a comfortable pair of walking shoes or hiking boots if you plan to tackle the many trails.
For any hikes, I recommend using the AllTrails app for detailed maps.
To time visiting some of the beaches at low tide, check the tide calendar ahead of time!
Map Of Mendocino Attractions
Best Things To Do In Mendocino County
1. Mendocino Headlands State Park
The land between the idyllic downtown Mendocino and the Pacific Ocean is referred to as the Mendocino Headlands State Park.
It is great to see that so much land right along the ocean is not developed and protected for all to enjoy.
Often referred to as the Headlands, the park is a mix of tall, rugged bluffs, beaches, and fields of wildflowers.
The park hugs the cliffs with breathtaking rock formations, arches, and sea caves that look straight out of a painting. Looking both north and south you are met with picture-perfect landscapes.
Going for a walk any time of the day is great but watching the sunset here is quite spectacular!
On the Headlands Trail, there are miles for you to explore as you meander along the top of the bluffs.
It's hard not to stop every five seconds to take a photo! And that is because the coastline is ever-changing providing you with a new view as you wander further…
Note: During the winter months you might even spot whales migrating south!
2. Take A Walking Tour of Mendocino
Taking a walking tour of Mendocino was the highlight of my stay! The town is rather small making it an ideal place to walk and learn about its fascinating history.
Based on reviews I chose to take the Mendocino Historic Walking Tour with the lovely Juliet as my guide.
As a long-time local, Juliet is full of knowledge on Mendocino's history and has a fun way of sharing interesting facts and stories!
The tour starts off meeting at the Kelley House Museum which is a historic house that once belonged to William Kelly. Kelly was one of the first families to settle in Mendocino.
He and his family began living in the home in 1852 with a panoramic view of the Pacific Ocean and Mendocino's alluring coast.
You can tour the various rooms that show what each of the bedrooms, living room, kitchen, and dining room would look like from the 1800s.
There are various exhibits to learn more about the history of the house whether you take the historic walking tour or not.
Once the walking tour leaves the Kelley House, your guide will take you on a stroll to see unique and historic sites that you don't want to miss!
Tip: The tour takes about 2 hours and is a highlight to visiting Mendocino.
Note: An "e" was added to change the name of the house from Kelly to Kelley in the mid-1900s.
3. Shop In Downtown Mendocino
Mendocino is one of those towns that is so charming where making your way up and down each street is a must.
There are shops, cafes, and restaurants to visit that give you the feeling that you might be walking on a movie set.
Mendocino is as idyllic as it gets with photo-worthy storefronts that take you back to another era with a New England vibe.
You won't find any big chain stores here but instead charming boutique shops where you can find unique souvenirs and gifts.
A few notable businesses to visit are:
Mendocino Chocolate Company
Astoria Home Store
Mendocino Jams & Preserves
Out of This World (toys and games)
Gallery Bookshop
4. Ford House Visitor Center
I would make a point to stop in to visit the Ford House which is a historic house in Mendocino that now serves as the visitor center and a museum.
The house was built in 1854 by Jerome B. Ford and his wife when he moved to Mendocino to be the superintendent of the first sawmill in town.
Many would consider Ford to be one of Mendocino's founding fathers.
As you wander from room to room, learn about Mendocino's history, and how the abundance of redwoods spurred a boom in logging.
There are exhibits, a mini replica of Mendocino, and photographs that give you a glimpse into the life of the early settlers here.
You can find information about the town, pamphlets, maps, and books in the front gift shop.
Don't pass up seeing the artwork of Emmy Lou Packard tucked in a corner of the house. Packard was a friend to both Diego Rivera and Frieda Kahlo.
Her artwork from the 1950s revitalized Mendocino as a destination for artists. In all of her artwork, you will recognize scenes from around town that are captivating.
Packard's lasting gift to Mendocino is that she was instrumental in making sure the Mendocino Headlands would be preserved and protected from development.
I bought a small card with her artwork on it that I love as a memento from my stay here.
Note: There is no entrance fee but donations are encouraged however small.
Hours: Open daily from 11:00 am to 4:00 pm.
5. MacCallum House
The MacCallum House is one of the prettiest Victorian homes in downtown Mendocino. And it also happens to be a boutique hotel and restaurant!
Even if you don't stay at the MacCallum House, make a point to have dinner and/or drinks at this elegant venue.
If the weather is nice sit out on the porch or on chairs in the garden and enjoy this historic landmark.
Do you remember from #2 above I mentioned the Kelley House?
Well one of the daughters, Daisy Kelley was the one to add the "e" to the original Kelly name. She married Alexander MacCallum who was her father's bookkeeper.
As a wedding gift, her parents gave her what is now known as the MacCallum House.
For many years, Daisy entertained and welcomed many friends and guests at the MacCallum House. It only seems fitting that the hospitality continues on today!
Note: The MacCallum restaurant and bar are open Thursday – Monday from 4:30 pm to 8:00 pm. Reservations required.
6. Temple Of Kwan Tai
Temple of Kwan Tai is a pint-sized Chinese Taoist temple in the heart of downtown Mendocino.
The quaint and vibrant colored temple is one of the oldest Chinese temples in California, with its opening in 1882.
Construction began much earlier but the use of the temple began in late 1882 and was owned by the Hee Family.
The temple stayed within the Hee Family until 1995 when they formed a non-profit organization to preserve the Chinese immigrant history of Mendocino.
By the 1880s, there was a large Chinese population that formed a Chinatown where the temple is today. They came to Mendocino to work in the booming lumber industry.
Two days a week, you can visit the temple yourself and view the interior that is adorned with a small alter, shrine, several bowls, chopsticks, and a bamboo mat used for prayers.
Note: In 1979, the Temple of Kwan Tai became a California Historical Landmark.
Hours: Open Saturday from 12:00 pm to 3:00 pm and Sunday from 11:00 am to 2:00 pm. If it is closed, you can still go up the steps and peek through the window.
7. Mendocino Presbyterian Church
Not only is the Mendocino Presbyterian Church beautiful with its stark white exterior and bright blue doors but it is the first church built in Mendocino!
The church was built in 1867 using local redwoods as material and is still in use today.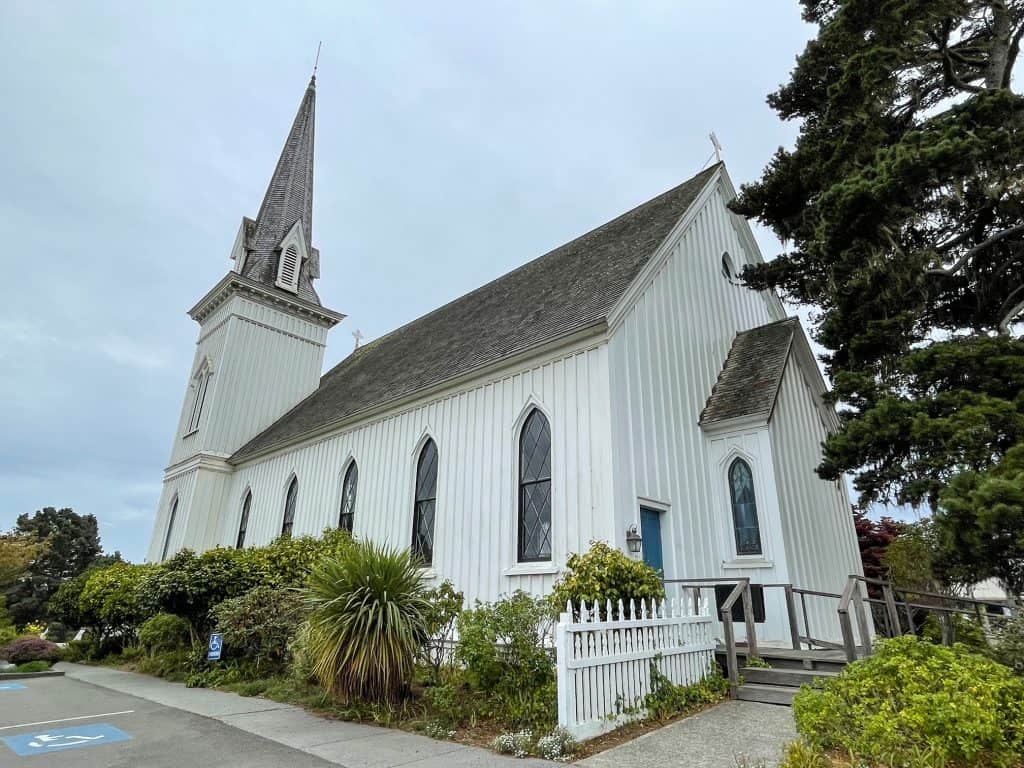 When looking at the church from Main Street, you might think it odd that you are viewing the backside of it.
At the time it was built, the front entrance was facing an old road that was used to bring in any traffic from Big River into Mendocino.
That road is no longer and why your first glimpse of the church is from behind. No matter the angle, the church is a lovely building and a California Historic Landmark.
Hours: Open on Sunday only from 8:30 am to 12:00 pm.
8. Point Cabrillo Light Station
Located just 8 minutes north of Mendocino is the lone-standing and white-washed Point Cabrillo Light Station that is a beauty to see.
With its bold red roof, the lighthouse that is sometimes referred to as the Mendocino Lighthouse sits out on a point along a dramatic coastline.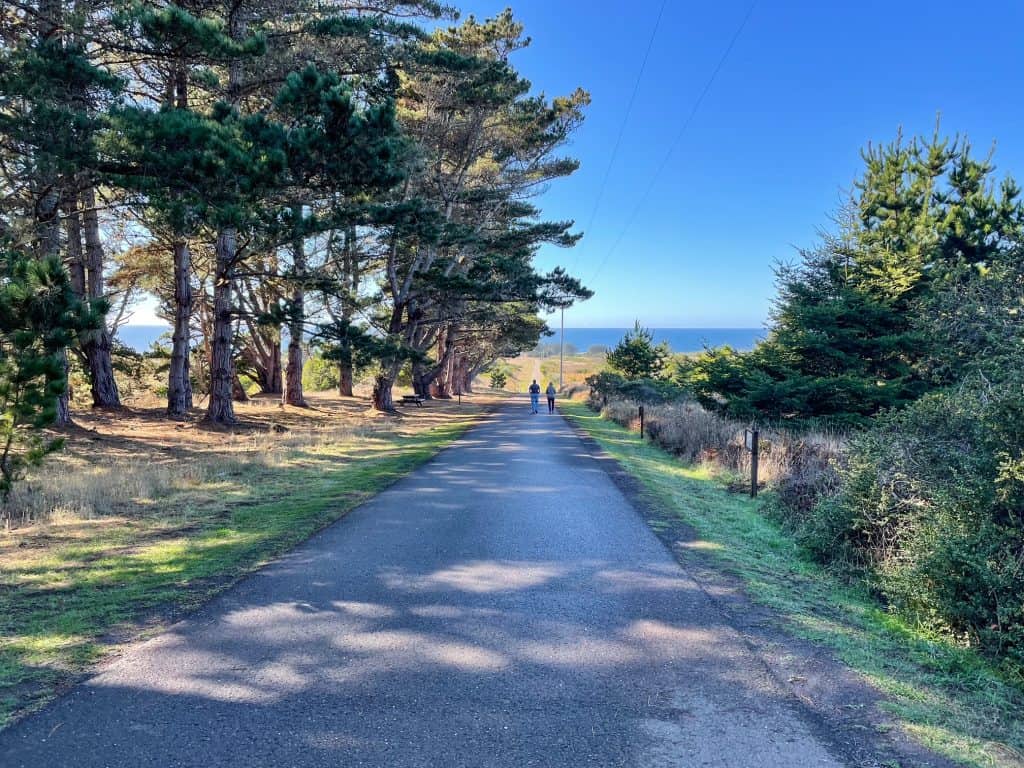 Once ships began coming to Mendocino's coast in the 1850s, many shipwrecks led to the building of the Point Cabrillo Light Station.
The lighthouse was completed in 1909 illuminating numerous ships away from its dangerous coastline.
The restored lighthouse is currently still in use with a flash of light that can be seen every 10 seconds!
If the Point Cabrillo Light Station looks a bit familiar, you might have seen it while watching the 2001 movie "Majestic".
Once you park, there is a ½ mile walk down a slight slope to see the lighthouse up close and visit the museum at the base.
The path leading to the lighthouse is paved and easy to walk except that there is a decent gradual incline on the way back!
Make time to visit the Point Cabrillo Light Station as it is one of the top things to do in Mendocino County.
For those that want to experience staying in one of the light keeper's houses, you can! For more information on how to book an overnight stay, visit here.
Hours: The museum is open daily from 11:00 am to 4:00 pm.
Notes: At the moment, tours are on hold, but you can check their website for current updates.
For those that have a handicap placard, you can drive all the way down to the lighthouse.
9. Jug Handle State Natural Reserve
Located a few minutes north of the Point Cabrillo Light Station is Jug Handle State Natural Reserve.
Jug Handle State Natural Reserve covers 776 acres of land both east and west of Highway 1 with gorgeous terrain.
What makes Jug Handle unique is the Ecological Staircase comprised of five marine terraces.
These terraces were formed over 100,000 years ago as the tectonic plates shifted as the waves cut "steps" into the hillside.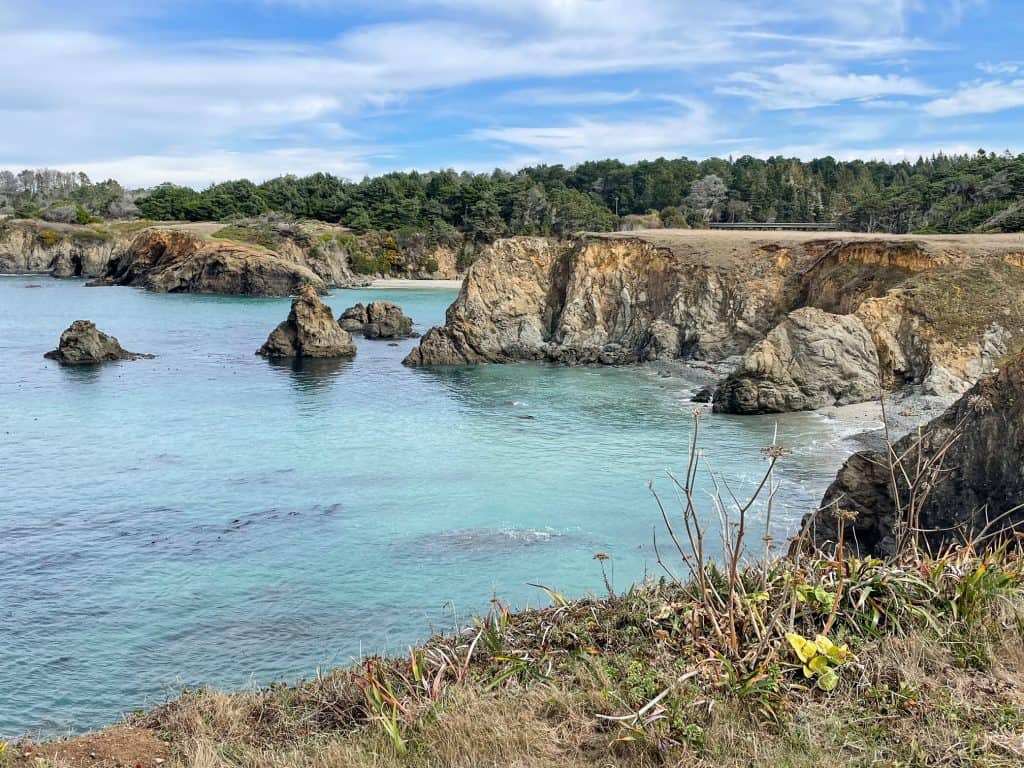 On each terrace, you will notice different plants growing ranging from redwood trees, a pygmy forest, ferns, rhododendrons, and more!
As you make your way down to the crescent-shaped Jug Handle Beach it might feel like you have it all to yourself…
Walk back up and follow the trail along the bluffs for epic views of the rocky coastline.
If you follow the Ecological Staircase Trail, the full trail distance is an easy 5.0 miles out and back. But you can do just the coastal section if you are short on time.
Tip: I recommend visiting the Point Cabrillo Light Station and Jug Handle back to back as they are minutes apart in Caspar (between Mendocino and Fort Bragg).
Note: Dogs are only allowed on a leash in the section west of Highway 1.
10. Mendocino Coast Botanical Gardens
There seems to be an endless amount of Mendocino attractions to see and do and visiting the Mendocino Botanical Gardens is one of the best!
The various gardens are perfectly manicured with so many plants and flora with paths leading in every direction.
Although the gardens are spectacular, the real treat in my opinion is taking the path out to the ocean or coastal bluffs.
The views of the coastline standing along the bluffs gazing at the Pacific Ocean in each direction are mesmerizing…
But before you make your way to the furthest point in the botanical gardens, grab a map at the entrance and begin to wander.
Pass through the Perennial Garden, the Woodlands and North Forest, and through the Deer Gates to the Dahlia Garden.
In total there are 47 acres of gardens tucked between Highway 1 and the Pacific Ocean. With such diverse plants, there is always something blooming year-round!
As you make your way along the trail out to the Coastal Bluffs, stop by the Cliff House. It is a one-room house with huge windows that makes for a cozy spot to view the pristine coastline.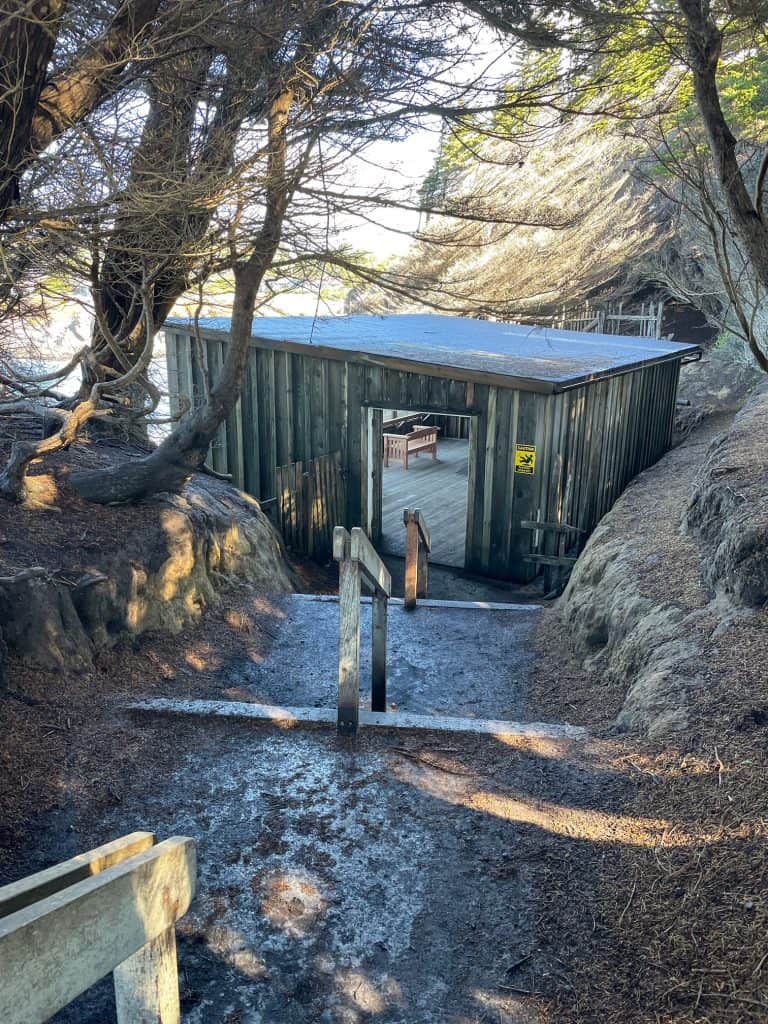 If there is one flower that is the star of the gardens, it is the Rhododendron which blooms from December thru June.
If you happen to visit on a weekend in December, the Festival of Lights makes for a fun holiday attraction.
Tips: Advanced tickets are required and can be purchased on their website. Unless there is a special event, well-behaved dogs are allowed on a leash.
Hours: Open daily from 10:00 am to 4:00 pm.
11. Ride The Skunk Train
When I first heard of the Skunk Train, I may have wrinkled my nose in remembering the last time I smelled a skunk.
But when I quickly learned that there were no actual skunks on or associated with the train, I relaxed a little!
As previously mentioned, the lumber industry grew at a rapid rate in the 1880s. There was a need to get milled redwood lumber from the mill to ships on the coast.
Building a railroad and train to transport both lumber and passengers was a necessity for continued growth.
So, in 1885, the Fort Bragg Railroad was created and later known to be the California Western Railroad.
But as soon as 1925, the train got the fascinating nickname of "The Skunk".
That is because locals living along the rail line could smell the train before they saw it!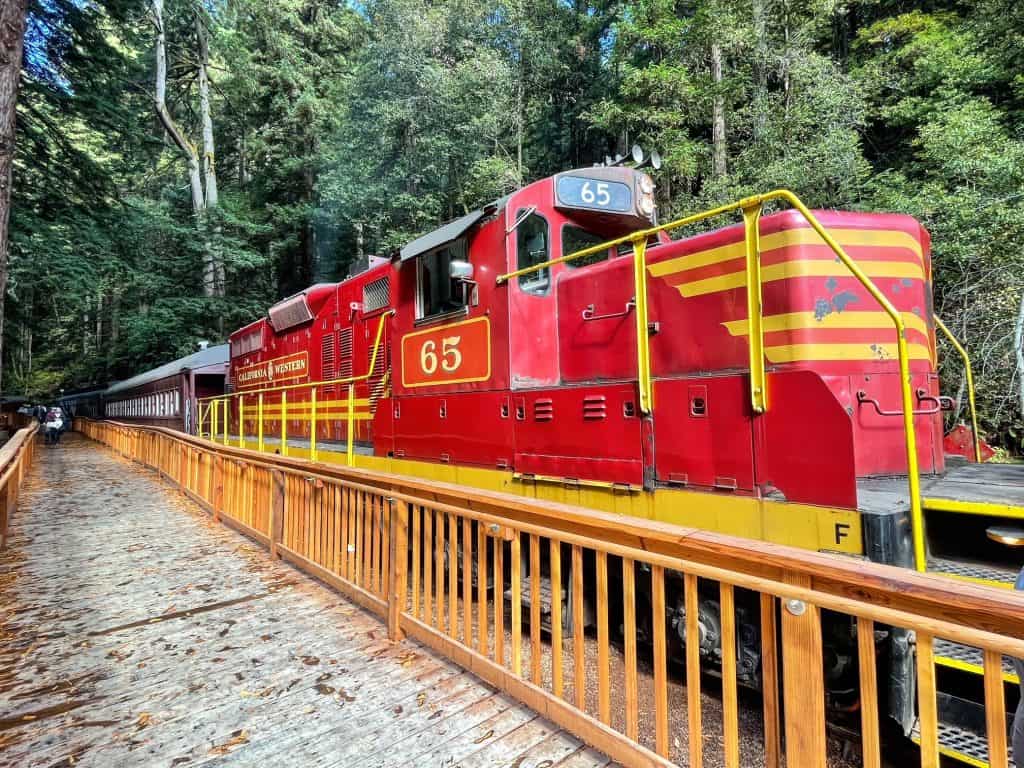 The stink associated with the train was from gasoline-powered engines and pot-bellied stoves onboard which had a skunk-like scent. That is no longer the case!
The train depot to catch the train is right off Highway 1 on the southern end of Fort Bragg. From here you board the 75-minute train ride through the Pudding Creek Estuary stopping at a beautiful section of a redwood forest.
There is about a 10-minute break where you can hop off the train and walk around admiring the trees. Once back on board the train heads back to where you got on.
You may notice that at times the railroad seems a bit crooked and in fact, it is! It has more twists and turns than any other train ride in the country.
There is indoor seating in a car or you can stand outside and enjoy the breeze of fresh air…
Get Your Skunk Train Tickets Today!
Rail Bikes
If you are more adventurous, you can bike on the railway too! Grab a partner and take off on an electric-powered rail bike along a route of redwoods.
The rail bike has two seats, side by side that allow you to relax and enjoy the natural beauty of the surrounding landscape.
Reserve a spot for a fun day on Rail Bikes!
Notes: Well-behaved dogs on a leash are allowed on the train for a fee/ticket.
It is strongly recommended to book a ticket in advance especially during peak times such as summer.
12. Stroll Glass Beach
When I first heard of Glass Beach and saw photos of it, I couldn't wait to see this unique beach in person!
But once I arrived, the fog put a damper on my excitement as I looked up and down the beach in confusion.
"Where are all the colorful pieces of glass" I wondered?
Then upon a closer look, there are tons of pieces of glass but all the bright colored pieces have been pilfered by visitors over the years.
To my dismay, the photos seen online are not what it looks like anymore but I still thought it was kind of neat to see regardless.
So how did thousands of pieces of glass get onto a beach?
It's hard to imagine today, but from 1949 to 1967 the beach was used as a dump for city trash.
Mind-boggling I know… It was by no means a tourist attraction in those days.
Years of the ocean pounding the trash with an endless amount of glass bottles, the glass was broken up into small pieces of sea glass.
Although the beach was later cleaned up, the beach was already full of tiny and smooth pieces of sea glass.
It wasn't until around 2000 that tourists began to appear.
Note: If you do visit, please do not take any sea glass you see and make sure your kids don't either!  Leave something for others to see in the future.
13. Point Arena Lighthouse
On the southern coastline in Mendocino County is the tallest lighthouse on the West Coast of the United States at 115-feet tall!
Located on Point Arena, the Point Arena Lighthouse stands tall and majestic. It is still in use today running strong since 1870.
There are tours that take you to the top of the lighthouse but are currently on hold. Check the Point Arena Lighthouse site for current updates.
For those that have always dreamed of staying in a lighthouse, you can! I stayed in one of the Keeper's rooms and loved falling asleep to waves crashing below.
For more info on my stay here, read my Northern California Coastal Road Trip post!
Hours: The museum and gift shop are open daily from 10:00 am to 3:30 pm.
14. Elk
Halfway between Point Arena and Mendocino on Highway 1 is a small coastal community of Elk.
If you aren't paying attention, you can easily pass it. Although small, I recommend stopping at the Elk Visitor Center across the street from the Post Office.
The visitor center has a small museum that is super informative with exhibits explaining the history of Elk and the surrounding Mendocino County.
You can pick up brochures, maps and ask questions you might have!
If you want to see a stunning beach and coastline, visit Greenwood State Beach. Standing above and looking down will take your breath away.
Back in the day, there used to be a pier and wharf where ships came in to load and unload cargo for the lumber company.
If you are looking to stretch your legs, hop on the 1.2-mile loop trail that takes you along the top and leads down to the beach.
Visitor Center Address: 5980 Shoreline Hwy, Elk, CA 95432.
Tip: Hungry? Stop into Queenie's Roadhouse Café across from the Visitor Center for great food.
15. Van Damme State Park
A few miles south of Mendocino is Van Damme State Park. It is another exceptional state park that has a variety of activities including hiking through a lush fern forest, an enchanting beach, and camping.
For those not looking to do a lot of hiking, there is a 0.25-mile boardwalk so that all can view the lovely pygmy forest. You can access this at the Airport Drive parking area.
Hiking enthusiasts will enjoy walking further through the pygmy forest to a fern canyon for a total of a 4-mile loop.
For those that prefer beach activities, you can relax on the beach, go kayaking, and explore tide pools and sea caves during low tide.
Tip: If you are looking for a more challenging hike, consider taking the 9-mile Fern Canyon Scenic Trail.
Note: Dogs are only allowed on leash at the campground and the beach, but not on the trails.
16. Explore Tide Pools
There is no shortage of sections along Mendocino's coastline to find tide pools filled with starfish, anemones, crabs, sea urchins, and more.
The key to exploring the tide pools is to go during low tide! The top spots to find tide pools are:
MacKerricher State Park – this is probably the best spot in the county for tide pools.
Glass Beach
Van Damme State Park
Russian Gulch State Park
Tips: Make sure to wear water shoes or shoes that don't have a slippery sole.
Remember to admire all the sea creatures you see from afar. Touching or picking them up can do a lot of harm.
17. Russian Gulch State Park
Russian Gulch State Park covers 3-miles of a lush canyon that starts inland and ends at the oceans shoreline.
There is such diversity in this state park where you can hike inland through a fern canyon and a pygmy forest to a 36-foot tall waterfall.
Or wander underneath a stunning bridge (Frederick W. Panhorst Bridge) as you dip your toes into the cold Pacific Ocean.
The rugged coastline here happens to have the remarkable Devil's Punchbowl, a blowhole where you can hear a loud echo when the waves crash into it.
This resulted from a sinkhole years ago leaving a hole 100-feet wide and 60-feet deep. It is fascinating to watch the ocean surge through the punchbowl!
At one point there was a lumber mill here much like several other locations along the Mendocino coast.
If you are looking for an awesome place to camp in Mendocino County, Russian Gulch has 27 campsites to choose from!
Tip: If you want to see the waterfall at its fullest, visit in winter or spring. It still flows in the other months but not as strong.
18. Go Wine Tasting
If you are looking for great quality wines but without the crowds and high prices of Napa, then venture to wineries southeast of Mendocino!
There are a number of great wineries to sip your way through in the towns of Navarro, Philo, Boonville, and Ukiah.
Navarro is the closest town to Mendocino (~40 mins away) along Highway 128 in a beautiful area of farms and vineyards.
Further past Navarro you have Philo followed by Booneville, all part of what is known as the Anderson Valley wine region.
Think of Anderson Valley as a cozy and laid-back place to try excellent wines in a rustic landscape.
You can taste an assortment of wines but the varietals that Anderson Valley is known for are Pinot Noir and Chardonnay.
With a cool climate, these grow best followed by Cabernet Sauvignon, Zinfandel, Riesling, and Sauvignon Blanc.
There are many wineries to choose from but some top ones to start off with are:
Navarro Vineyards – Navarro
Goldeneye Winery – Philo
The Madrones – Philo
Lula Cellars – Philo
Roederer Estate – Philo
Pennyroyal Farm – Booneville
Nelson Family Vineyards – Ukiah
Tip: If you are in Philo, stop off at the Philo Apple Farm, especially in the fall months to get apples, jams, ciders, and more!
19. Leggett Drive-Thru Tree
You don't see many opportunities to drive-thru a tree! Hands down, driving through a tree is one of the coolest things to do in Mendocino County.
In a small community at the northernmost region of Mendocino County is Leggett. Leggett is in the middle of a Coastal Redwood forest.
There are several areas of Northern California where you can find Redwood trees and Leggett is one of the first areas to see them!
The Leggett Drive-Thru Tree is a California Coastal Redwood tree estimated to be around 2,400 years old and still alive.
This famous drive-thru tree is named the Chandelier Tree reaching 315-feet tall and 21-feet wide. Its many limbs resembled a chandelier and inspired the name.
No one can imagine carving a hole in such a tree today but in the late 1880s and early 1900s, this was done to allow people and eventually cars to pass through.
This particular tree was carved out in 1937 with a 6-foot wide opening. It is a VERY TIGHT fit!
I have an Audi SUV and there was maybe a quarter of an inch on each side. Don't make the mistake I did and fold up your side mirrors!
If I had done that, I would have had more room to spare. But I slowly managed to pass (sweating profusely) and not tear off a mirror thankfully!
If you have a sunroof, open it up and take notice of the marvel and beauty of the tree as you pass.
Driving through is worth the stop and a check off your California bucket list…
Before you leave the park, notice several incredible wooden sculptures of animals and Bigfoot!
Hours: Open daily from 8:30 am to 5:00 pm. $10 to pass through the tree, bikes, and walk-ins are $5.
20. Go Stargazing
If you live in a city, you probably can't remember the last time you saw a star in the sky. Let alone tons of them lighting up the sky above.
Stargazing is an excellent activity to do in Mendocino as there are plenty of remote outdoor spaces far from any city lights.
On a clear night, you can make your best attempt at naming stars and constellations!
Grab a blanket, a jacket, travel binoculars, and make your way to one of many areas to stargaze…
Some hotels will offer a stargazing kit for you to use such as Little River Inn. A few popular locations to give chasing stars a try are at:
Mendocino Headlands
Point Arena
Russian Gulch State Park
Van Damme State Park
Tip: In general, the best months to stargaze are during the colder months.
21. Bowling Ball Beach
In case you are wondering, there is no actual bowling happening at Bowling Ball Beach.
But there do appear to be several round-shaped rock formations that resemble bowling balls!
Bowling Ball Beach is part of Schooner Gulch State Beach and is something you can only witness at VERY low tide.
If it isn't low tide then in my opinion there is no reason to stop as the balls will be covered by water.
These large boulders are officially known as concretions or hard bodies of sediment that formed due to erosion.
It can be a little challenging to find Bowling Ball Beach as there are no obvious signs. There is a parking area on the west side of Highway 1 where Schooner Gulch Road meets.
From there take the 1.5-mile trail heading north that will lead down to Bowling Ball Beach.
Address: 28200 Shoreline Hwy, Point Arena, CA 95468 or Mile Marker 11.41.
22. Horseback Riding On Beach
Have you ever imagined horseback riding along a beach? And no, horseback riding isn't just for those romance novels or movies!
Sign up for a horseback ride along creeks, trails, the Pacific Ocean's surf, and along endless sandy beaches. Two companies that can provide guided tours are:
23. Take To The Ocean
If you feel the sea calling your name, there are multiple activities along Mendocino County's coastline that are worth doing!
There are several places along Mendocino's coast where you can go kayaking to explore the rugged coastline and sea caves.
If you are not an experienced kayaker, I would recommend taking a guided tour. That way you won't wind up kayaking in a dangerous area.
A few great kayak tour companies to choose from are Kayak Mendocino and Liquid Fusion Kayaking.
Another great ocean activity is whale watching! Whales can be seen year-round along Mendocino's coast but depending on the season will determine what kind you see.
From November to April, you can spot California Gray Whales migrating south to the warm waters of Baja, Mexico.
California Gray Whales are the most common to see in this area but you can also spot Humpback Whales from April to November.
Whereas Blue Whales may be seen from June through October and randomly throughout the year there is a chance to see Orcas (Killer Whales).
Whales can be spotted from Mendocino Headlands State Park or you can take a whale-watching boat tour!
Consider booking a whale watching tour from December through April with either All Aboard Adventures or Telstar Charters.
Best Restaurants In Mendocino
When dining in Mendocino think fresh local ingredients and exceptional tasting food! Here are some top favorite places to grab your next meal.
Trillium Café
Little River Inn Restaurant
Wild Fish
MacCallum House
Luna Trattoria
Patterson's Pub
Good Life Café
Items To Pack
FAQ About Mendocino
How Long Should I Spend In Mendocino?
Spending a long weekend in Mendocino (3 days) is a good amount of time to explore the cute downtown Mendocino and coastline attractions.
If you enjoy being out in nature and going for walks or hikes then you can easily add on an extra day or two.
Plus, you have some wineries and additional sights within 1.5 hours away that are worth checking out!
When Is The Best Time To Visit Mendocino?
Any time of the year is a great time to visit Mendocino County!
During the summer and fall months, you will have optimal weather with sunny days, less fog, and rain.
But don't overlook the winter and spring months. You can experience a number of sunny days but do expect more rain and slightly lower temperatures.
In the winter months you can bundle up and enjoy the moody vibes the coast has to offer. In fact, the Northern California coast is known for attracting people in the winter for the fog and misty beauty.
What Is Mendocino Known For?
Mendocino is known for its gorgeous and rugged coastline, a quaint town, giant redwood trees, hiking, and wine tasting. It also happens to be the largest town north of San Francisco along Highway 1.
Best Romantic Things To Do In Mendocino?
Staying in Mendocino oozes romance where almost any activity will ignite feelings of love.
Relax at a charming B&B or inn along the ocean, sip excellent wines, go horseback riding on the beach, take a stroll on a beach, or work up a sweat on a hike.
Is Mendocino Worth Visiting?
Yes! I have been to Mendocino a few times but I wish I had ventured to this idyllic town and breathtaking coastline much sooner.
Mendocino makes for the perfect weekend escape where life slows down, you indulge in nature's abundance, and eat outstanding food!
Enjoy exploring the best things to do in Mendocino County!
Got Travel Insurance?
Don't leave home without travel insurance as you never know what might happen on a trip! It is always when you least expect it that something can go wrong like getting sick, in an accident or cancellation of some sort. Get a no-obligation quote from two trusted travel insurance companies for peace of mind on your next trip!
Looking For More Travel Inspiration?
The Best Northern California Coastal Road Trip
7 Amazing Places To See Giant Redwoods In Northern California
17 Mile Drive By Bike: The Best Places To Stop
The Epic California Big Sur Road Trip
10 Awesome Things To Do On Catalina Island
7 Best Filtered Water Bottles For Travel And Hiking
Disclaimer: As an Amazon Associate and a participant of other affiliate programs, I may earn from qualifying purchases in this post. This means that if you make a purchase through one of these links, I might receive a commission at no extra cost to you. Thank you and it is greatly appreciated!