Disclaimer: Traveling Ness contains affiliate links and is a member of the Amazon Services LLC Associates Program. If you make a purchase using one of these links, I may receive compensation at no extra cost to you. See my privacy policy for more information.
A Fun Pismo Beach Weekend Getaway: Where To Eat, Play, And Stay
There are plenty of fun things to do in Pismo Beach, a classic Californian coastal beach town. Its beachy vibes, breathtaking coastal views, and famous clam chowder make a Pismo Beach weekend getaway the perfect escape!
Known as the clam capital of the world, Pismo Beach is the spot for excellent food specifically seafood and clams of course.
For those that love outdoor adventures, get ready to explore land and sea with coastal hikes, kayaking sea caves, surfing, soaking in hot springs, and hanging at the beach.
In this guide, I'll share everything you need to know for the best weekend in Pismo Beach including where to eat, stay, and play!
Note: I have a special love for Pismo Beach and the entire Central Coast area as I went to college at Cal Poly SLO in San Luis Obispo years ago.
Where Is Pismo Beach Located?
As its name implies, Pismo Beach is located on a beautiful stretch of coastline of the Pacific Ocean in California's Central Coast.
The Central Coast of California is the perfect spot to visit as you also have Morro Bay, San Luis Obispo, and Paso Robles all within minutes away!
If you are coming from the south, Pismo Beach is the last town before heading inland to San Luis Obispo.
Pismo Beach is the perfect weekend getaway from either Los Angeles or San Francisco.
The drive from LA takes about 3 hours (more with bad traffic). Or from San Francisco, expect the drive to take about 4 hours.
How To Get To Pismo Beach
Pismo Beach is located in San Luis Obispo county and pretty much in the middle between Los Angeles and San Francisco.
You could drive from either city by taking an epic road trip or fly. Flying into LA or SF will offer the best deals and number of options but look into flying into San Luis Obispo too.
The best airports to fly into are:
San Luis Obispo County Regional Airport (SBP)
Los Angeles International Airport (LAX)
Mineta San Jose International Airport (SJC)
San Francisco International Airport (SFO)
Once you land, get your rental car and be on your way! You do need a rental car if you don't have your own to get to Pismo Beach and see the surrounding area.
Check The Best Rates And Book Your Car Rental Car Today!
Best Pismo Beach Hotels
The beauty of staying in Pismo Beach is that you are likely right on the beach, the cliffs overlooking the Pacific Ocean, or very close by.
The top hotels in Pismo Beach to stay at for a gorgeous view and location are:
Inn At The Pier – steps from the pier and beach
Vespera Resort on Pismo Beach – steps from the pier and the beach.
Sandcastle Hotel on the Beach – right on the beach, south of Vespera Resort.
The Cliffs Resort – up on the cliffs overlooking the ocean, about 8 mins north of the pier and beach.
Dolphin Bay Resort & Spa – up on the cliffs overlooking the ocean, about 8 mins north of the pier and beach.
Camping In Pismo Beach
The best campgrounds in Pismo Beach to choose from are:
Pismo State Beach North Beach Campground
Pismo State Beach – Oceano Campground
Map Of Pismo Beach, California
Best Things To Do On A Pismo Beach Weekend Getaway
1. Walk Out On Pismo Beach Pier
The first stop on your trip to Pismo Beach? Head to the Pismo Beach Pier and Pier Plaza, the heart of Pismo, and lots of fun.
In 2020, this area got a complete makeover and it looks so much better than when I used to live in San Luis Obispo.
At Pier Plaza, there is a large space before walking out onto the pier that you can't miss with huge letters spelling "PISMO BEACH".
The bright colored seven feet tall letters definitely welcome you to venture out onto the pier. At night they even light up in bright colors!
After taking some photos with the Pismo Beach sign, move on to explore the 1,370-foot pier that provides one of the best views of Pismo Beach and the coastline.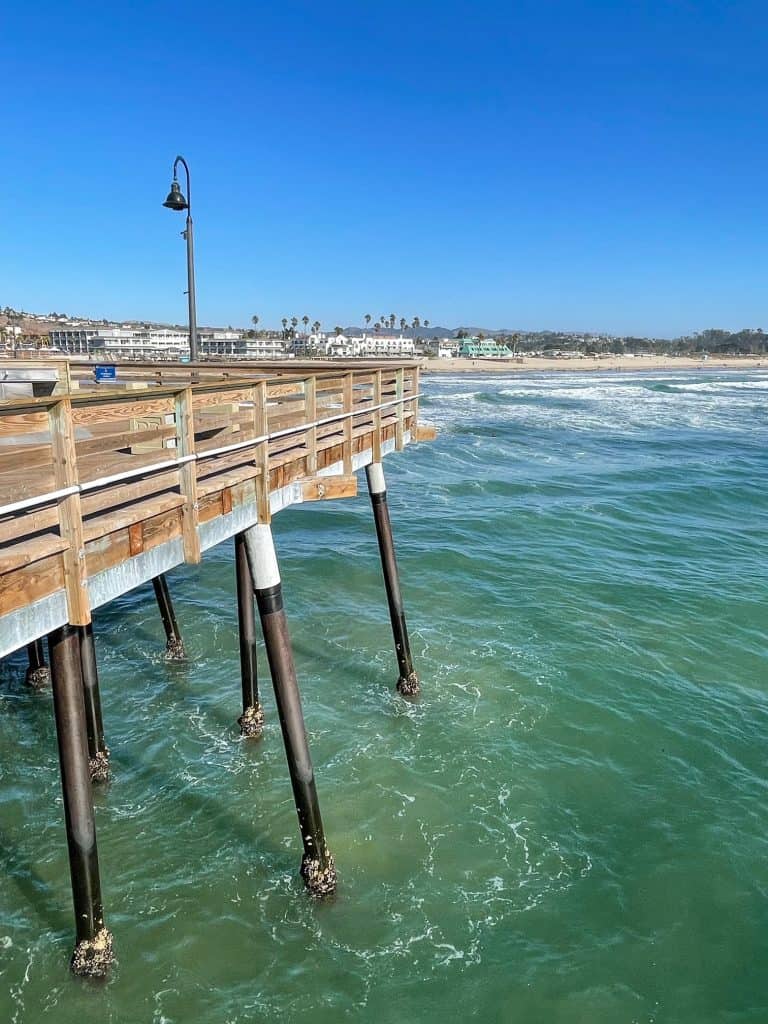 Unlike some piers, the Pismo Beach Pier is wide and very open for taking a stroll with diamond-shaped areas that you can fish off of or just admire the aqua-green hues of the Pacific Ocean.
As you walk out notice the vintage airstream trailers that serve as the Pismo Beach Visitor Information booth, Sheldon's Bait Shack, and a place to grab a bite to eat!
And yes, you can fish off of the Pismo Beach Pier! If you are fishing off of the pier, then you do not need a fishing license. But from a boat or the shoreline, you do need one.
Closer to shore you will likely catch surf perch but farther out on the pier, you can find starry flounder, sand sole, and halibut.
Fun Fact: Take a closer look at the side of the letter "P" to see a measuring stick. If you visit every year, your kids can see how much they have grown!
2. Hang At Pismo Beach
One of the best things to do in Pismo Beach is to hang out at the wide-open sandy beach! Pismo Beach is one of the most visited beaches on the Central Coast making it a prime destination to cool off from the heat.
There are 6-miles of pristine beaches in Pismo, so pick a spot on either side of the pier and relax in the sun.
Or head to the shoreline and play in the water. Just be aware that the water will be cold and not as warm as further south in California.
The months of July, August, and September will see the highest temps and the water ranging from 55 F to 79 F.
For those that want to catch a wave, Pismo Beach is a great place to surf. The most frequented surf spots tend to be directly north of the pier or south of the pier for great breaks at high tide.
As I previously mentioned, Pismo Beach became famous for its clams! There are not nearly as many clams as there used to be but you can still go digging for clams along the shore of Pismo Beach.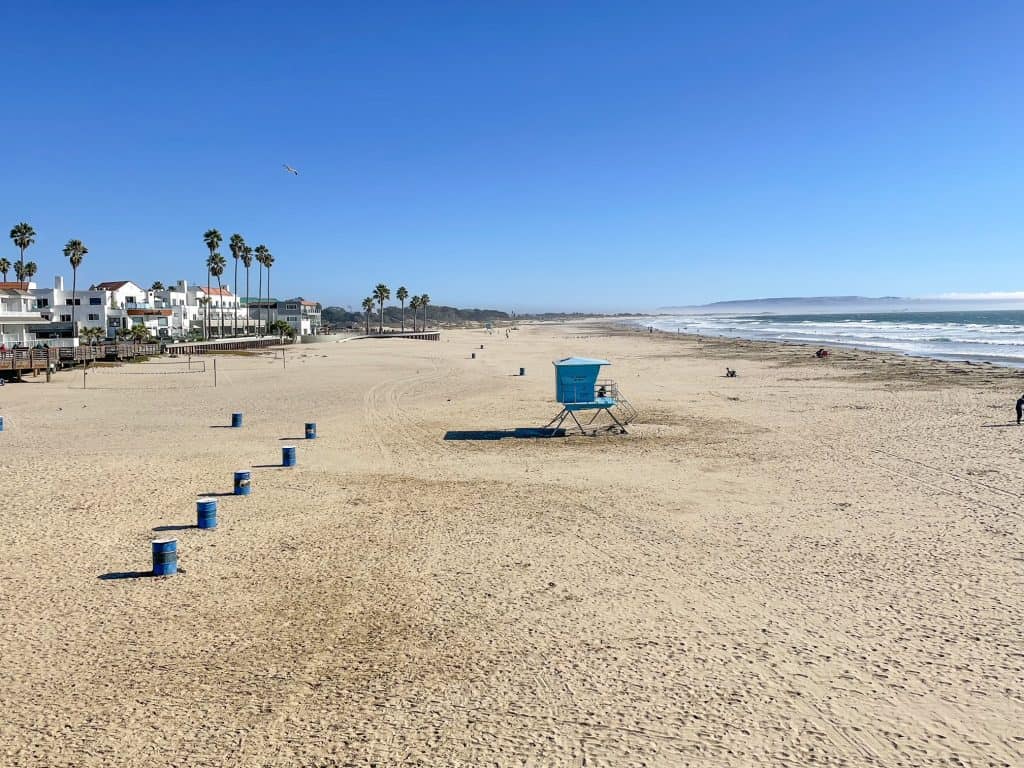 If you decide you want to give clamming a try, you do need to get a saltwater fishing license and some basic gear.
To find a Pismo Clam, you will need a clam fork, a bucket, and a caliper to measure the clams. Just because you find a clam doesn't mean you can keep them!
Clams must be 4.5 inches in diameter and there is a limit to 10 clams per day per person.
3. Grab Chowder In A Bread Bowl
Speaking of clams, you can't come to Pismo Beach and not have a bowl of clam chowder! The best place to enjoy a bowl of clam chowder is none other than The Splash Café.
The Splash Café is an iconic spot in Pismo Beach and where I have been getting clam chowder for years going back to my college days at Cal Poly SLO.
It has a very beachy and fun vibe with a surfer and happy clam characters painted on the outside.
My favorite way to eat clam chowder at Splash Café is to get it in a bread bowl. They cut out the middle, toast, and butter it to perfection!
This isn't a meal where you are looking to watch calories but that is why it is so good! You can dine in at the café or take it to go and eat at the pier.
Although they offer other items to eat like fish & chips, fish tacos, chicken strips, or burgers, I have never tried anything but the clam chowder. I love it so much I apparently can't deviate from my choice…
Tip: If you are visiting nearby San Luis Obispo, there is now a Splash Café location in SLO. I only wish they had had this when I lived there!
Hours: Open Monday – Thursday from 9:00 am to 7:00 pm and Friday – Sunday from 9:00 am to 8:00 pm.
4. Dinosaur Caves Park
Dinosaur Caves Park is an 11-acre park on the cliffs overlooking the Pacific Ocean with the best views of Pismo's coastline.
There is a large grassy area if you want to have a picnic and a playground to keep your kids entertained.
But the real highlight of visiting Dinosaur Caves Park is standing on top of the bluffs to gaze at the Pacific Ocean and the jaw-dropping views in each direction.
I visited during the day and then went back near sunset to take in a spectacular sunset as the warm hues of pinks and orange blanketed the cliffs.
So why is it called Dinosaur Caves? At one time years ago, there was a large concrete dinosaur that people could enter and go down a tunnel that led to a sea cavern.
Unfortunately, over the years, the tunnel and the dinosaur collapsed but the name stuck! Today the only way to access the sea caves or shoreline below is by kayak.
At the northern part of Dinosaur Caves Park, is an area called Margo Dodd Park. It has a gazebo, a few picnic tables, and places to sit overlooking the ocean.
To access a beautiful beach below, there is a staircase a few blocks north of the gazebo to reach it.
And if you want to dine with an incredible view, get some take-out and eat at any location within the park!
5. Play At Eldwayen Ocean Park
Eldwayen Ocean Park is another lovely park on the beach with a grassy area and picnic tables overlooking the ocean.
Known as a great place for exploring the tide pools at low tide and searching for crabs, sea urchins, sea stars, and more.
If you are looking for a quieter beach than near the pier to relax at, then Eldwayen Ocean Park is it!
There are a few sets of stairs to get down but last time I was there, only one was open.
Tips: If you have your own or rent a kayak, this is a great beach to launch from and hunt for nearby sea caves. To check for low tides, visit the tides table.
6. Shell Beach Bluff Trail
For a short and easy hike with tons of rewarding views, head out onto Shell Beach Bluff Trail. It is a 0.9-mile out and back paved trail that anyone can access including wheelchairs and strollers.
The hike leads you to overlook the gorgeous Pirate's Cove before turning around and going back the way you came.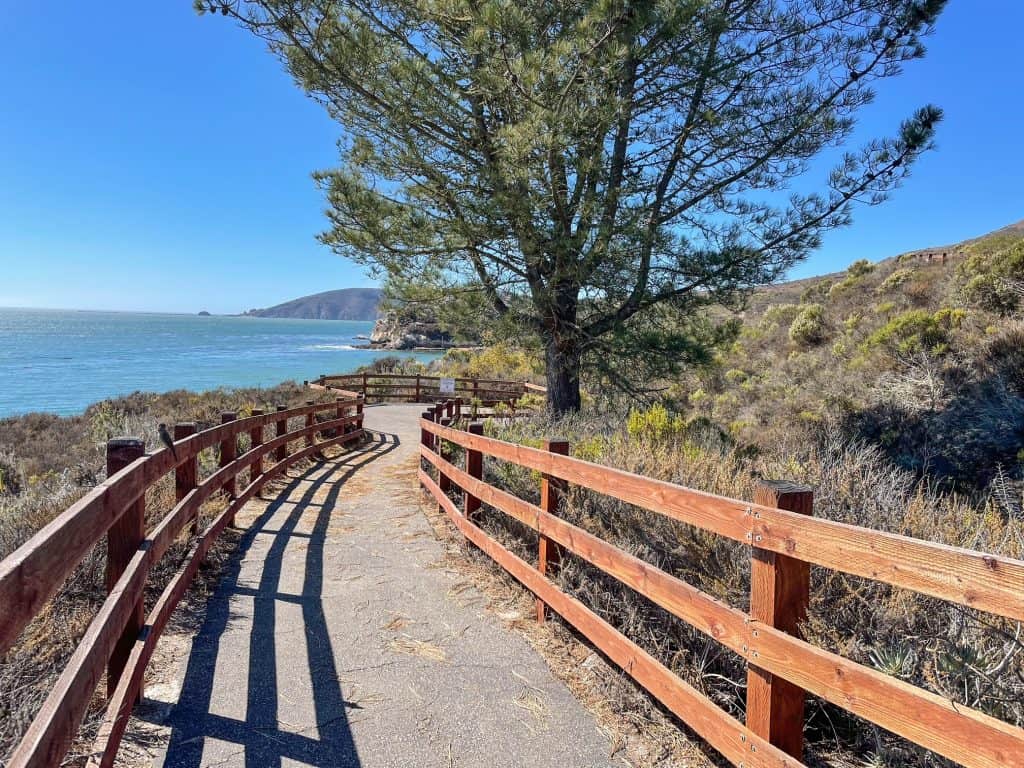 There is a tiny parking lot (Cave Landing Trail Parking) where you can park at the start of the trail. From Shell Beach Rd, turn west onto El Portal Dr then veer right onto Indio Dr. Immediately turn left and you will see the parking lot.
It is in a residential area, so stay on the trail and avoid walking along the private street for residents.
If you want to get in a longer and more challenging hike, you can add on the Ontario Ridge Trail for a total of 3.0-miles.
You can start in either direction combining the two hikes to form a loop. The Ontario Ridge Trail will be along the ridge up above and run parallel to Shell Beach Bluff Trail.
Once you reach the other side of Pirate's Cove, then head up to join Ontario Ridge Trail.
Tips: To view a map of the trail and where it starts, search for the Shell Beach Bluff Trail and Ontario Ridge Trail in the AllTrails app.
Dogs are allowed but they must stay on a leash at all times.
7. Monarch Butterfly Grove
Monarch butterflies are beautiful butterflies in orange and black colors that migrate thousands of miles each year to escape the cold winters of Canada and the northern US.
In the fall, the monarch butterflies make their way south to the warmer climate of the Central and Southern California coast.
One area of the Central Coast that the Monarch butterflies love to visit each year, is the eucalyptus-filled Monarch Butterfly Grove.
Here the butterflies fly around happily from the months of late October through February. If you visit outside of these months, you will likely not see any.
Currently, you can expect to see 10,000 to 15,000 butterflies migrate to Pismo Beach but it does vary.
There is not nearly the volume of butterflies you may have seen 5, 10, or more years ago. Mainly due to loss of winter habitat, loss of milkweed (food), and climate changes.
But regardless, it is one of the best places to see Monarch butterflies in the country and in their natural habitat.
There are daily educational talks led by a volunteer that can answer questions and provide insight into the migration and life cycle of these beauties.
The trail in this grove is short and easy to wander through as you look up and see the butterflies flying all over. There were many but I wasn't fast enough to get any in my photos…
Fun Fact: Did you know the Monarch butterfly is an insect and only lives for 6 months?
Hours: Docent Trailer (volunteer) is open from 10:00 am to 4:00 pm daily with talks at 11:00 am and 2:00 pm. The grove is open 24 hours a day.
Tip: Another great place to see Monarch butterflies is in 19 Fun Things To Do In Encinitas, California.
8. Wander The Sand Dunes
The sand dunes of Pismo Beach known as the Oceano Dunes are one of the prettiest places in California for sand dunes!
If you are visiting the Monarch Butterfly Grove previously mentioned, walk through the grove, and follow the trail towards the beach.
Once you reach the beach, you can see sand dunes in every direction gazing at perfect ripples in the sand.
It is quite amazing to see the rolling hills of sand and the patterns the wind creates with the ocean just steps away.
You can keep walking south along the beach to see more untouched sand dunes or you can get back into your car and drive onto the beach!
If you plan to camp, an awesome campground is the Pismo Beach North Beach Campground right next to the Monarch Butterfly Grove and the Oceano Sand Dunes.
Tip: If you are looking for other cool sand dunes to explore, visit 5 Ways To See California's Imperial County.
9. Drive Out Onto The Beach
Yes, you can drive your car out onto the sand and shoreline for 5 miles at Pismo State Beach!
Cars have been driving out onto Pismo State Beach since 1906 and as you can imagine, it is a one-of-a-kind experience you don't want to miss.
To access the beach with your car, enter via the north entrance at the end of West Grand Avenue in Grover Beach. You can use the address 25 W Grand Ave, Grover Beach to get you very close.
Once you drive out onto the beach, you can spend all day or however long you want. It is a pretty place to park and enjoy the sunset too.
Any car can drive out onto the beach but use common sense and don't get too close to the water or leave your car unattended.
The last thing you want is needing to get towed and likely water damage if the tide comes in! Eventually, keep driving 5 miles south to exit at the south entrance on Pier Avenue.
Driving out on the beach is by far one of the coolest things to do in Pismo Beach and an activity to add to your bucket list!
If you would rather explore the sand dunes with a surge of adrenaline, consider going on an ATV tour in a dune buggy.
Note: You can also stop in at the Oceano Dunes District Visitor Center at 555 Pier Ave, from noon to 4:00 pm.
Hours & Cost: Open daily from 7:00 am to 1 hour after sunset. There is a $5.00 fee that gives you access all day.
10. Drinks On A Rooftop Bar
Whenever I visit a city, I am always in search of a great place to sit back with a cocktail that has an incredible view.
In Pismo Beach, head up to the rooftop bar at Inn at the Pier and enjoy a drink with views for days. The Inn at the Pier is a hotel right across from the beach and the pier.
Whether you are looking to take a break from sightseeing, grabbing lunch, or looking for a picturesque spot for happy hour, The Rooftop at the Inn at the Pier is the perfect setting!
And if you choose to stay at the Inn at the Pier, you can lounge poolside and get a dose of Vitamin D…
Hours: Open daily from 11:30 am to 9:00 pm.
11. Explore Avila Beach & Pier
Avila Beach is not in Pismo Beach but borders it to the north and is a lovely addition to any Pismo Beach weekend getaway!
The idyllic Avila Beach is too cute to pass up if you are visiting Pismo Beach. It is only an 8 – 10 minute drive by car and why I included it in this post.
Avila Beach has always been a lot quieter than Pismo and has some of the nicest sections of beach real estate on the Central Coast.
Originally Avila Beach was a shipping and fishing port but today the main attraction is leisure.
From laying out at the beach, taking a stroll, and playing in the ocean, Avila is an ideal location to slow down and relax.
In more recent years, the tiny downtown has been revitalized with super cute shops, restaurants, and places to stay mere feet away from the beach.
Like with Pismo, there is a pier at Avila that you can walk out on and gaze out at the stunning coastline.
If staying in a more tranquil locale is your preference, the Avila Lighthouse Suites is a good choice across from the beach.
Although quite small, the Central Coast Aquarium in Avila is an activity that kids would enjoy visiting. You can see fish and learn all about the sea life and critters that call this area of California home.
The town is only 5 blocks long so it is a wonderful place for a day trip or to spend some time in the afternoon!
12. Sycamore Mineral Springs
One of the most relaxing things to do on a weekend in Pismo Beach is to soak in a natural mineral spring hot tub!
Sycamore Mineral Springs is in between Pismo Beach and Avila Beach making it a great place to unwind after a day of exploring.
You can book to stay here overnight and enjoy all the amenities of the Sycamore Mineral Springs Resort & Spa or just book a hot tub for an hour!
Sycamore Mineral Springs is unique in that each hut tub is nestled throughout the hillside among a fairly dense forest.
There are some hot tubs at the bottom but I recommend booking one higher up to take advantage of the scenery.
Each hot tub is naturally heated between 101 – 104 degrees. So, make sure to bring water to stay hydrated, a towel, and any snacks you might want to enjoy.
Surrounding the hot tub on 3 sides is a lattice fence with the rest open to take in the pretty trees and a very peaceful space.
Soaking in these mineral springs is not only very relaxing but has therapeutic benefits. The body takes in the various minerals in the water and in turn, reduces stress and aches you might have.
Each time I have visited, I have slept like a baby afterward feeling soothed and content…
Hours: Hot tubs are open Monday – Friday from 8:00 am to 9:15 pm and Saturday & Sunday from 8:00 am to 10:45 pm. Reservations must be made online.
Tip: As you leave, make sure to stop at the Avila Valley Barn! I have been coming here for years for the best pies, produce, and cheeses.
If you have never been to the Central Coast, buy an Olallieberry Pie. It is absolutely delicious…
13. Kayaking Along The Coast
There are several great areas to kayak along the Central Coast and Pismo Beach is one of them.
Exploring sea caves is the number one thing to do when kayaking the sections of Pismo Beach at the base of the bluffs.
Unless you are an experienced kayaker, I wouldn't recommend going on your own. The currents and tide can be tricky to navigate for newbies.
Luckily there are kayaking tours you can take that guide you to find the coolest sea caves and arches.
If you haven't kayaked before, don't worry as your guide will go over the basics and make sure you have a great time.
To either rent gear or book a tour, visit Central Coast Kayaks for an adventure!
14. Pismo Beach Clam Festival
If you enjoy eating clams and everything about them, then time your visit to Pismo Beach so you can attend the annual Pismo Beach Clam Festival!
The festival is held in October celebrating the town's history related to clams and the pure love of eating clams in different ways.
Pismo Beach is known as the "clam capital of the world". So, it's only fitting that there is a festival centered around clams.
One of the best parts of attending the clam festival is sampling the best clam chowders. There is a contest among local establishments to see who makes it the best.
In addition to eating clams, there is a surf contest, clam digging, a clam bake, music, and loads of fun!
Activities To Do Near Pismo Beach 
There are so many beautiful towns and fun activities to do near Pismo Beach. Add on a few more days to your trip and explore:
Morro Bay: 15 Fun Things To Do In Morro Bay, California's Hidden Gem
Paso Robles: 9 Best Wineries In Paso Robles, California To Try On A Weekend Getaway
Big Sur Road Trip: The Epic California Big Sur Road Trip
Wine Tasting In San Luis Obispo: 5 Best San Luis Obispo Wineries To Visit In California's Edna Valley
San Luis Obispo (coming soon)
Best Places To Eat In Pismo Beach
Splash Café – Clam chowder, fish tacos, fish & chips, and burgers.
Ventana Grill – A delicious mix of Latin-inspired cuisine and seafood.
Oyster Loft – Oysters of course but they offer an assortment of seafood options.
McLintocks Saloon & Dining House – Step into this restaurant and saloon for a ranch-style meal of steak, ribs, seafood, and burgers.
Surfside Donuts – Awesome donuts in downtown Pismo.
Huckleberry's – For an excellent breakfast spot with Southern-inspired food.
Penny's All-American Cafe – Known for a great breakfast that won't disappoint.
Pismo Beach Weekend Getaway Essentials
FAQ For Visiting Pismo Beach
Is Pismo Beach Worth Visiting?
Yes! Pismo Beach is a classic Californian beach town where surfing, kayaking, hiking, gorgeous beaches, and clam chowder are the draw to visit.
Whether you are looking for a day trip or a long weekend getaway in Pismo Beach, you can find more than enough activities to keep you busy.
What Is Pismo Beach Known For?
Pismo Beach is known for its beautiful beaches, pier, and the clam capital in the world!
If you love clam chowder then you are in for a treat. Plus, each October there is the Pismo Beach Clam Festival.
What Is The Best Time To Go To Pismo Beach?
Pismo Beach is great to visit any time of the year as the weather is pretty temperate between months.
The fall from September through November are my favorite months to visit as the temperature is still warm, with less fog, and rain than the rest of the year.
And if you visit Pismo in October, you can attend the Pismo Beach Clam Festival. The fall is a great time for the nearby wine regions too.
Next would be the summer months as there is great weather, especially for the beach, kayaking, and hiking. But this will be the busiest time to go too.
During the winter and spring months, the temperatures are still pleasant ranging from 45 F to 70 F with the average in the low 60s.
As far as rain and fog, you will see both most frequently in the winter and spring but don't let that stop you. There are still many fabulous sunny days in between!
How Long Should I Spend In Pismo Beach?
To really experience the best things to do in Pismo Beach, I would recommend spending 2 – 3 days.
If you want to venture to nearby San Luis Obispo, Morro Bay, or Paso Robles then add a few more days at a minimum.
Can I Fish Off The Pismo Pier?
Yes! And you do not need a fishing license to fish off of the Pismo Beach Pier.
Can I Dig For Clams on Pismo Beach?
Yes! But you do need to get a saltwater fishing license to do so. And measure each clam to make sure it is 4.5 inches in diameter or more to keep it. A total of 10 clams per day per person is allowed.
Which Is Better Avila Beach or Pismo Beach?
It depends on what you want. Both are awesome beaches but Pismo Beach will have a lot more things to do, restaurants, and be busier.
If you want a low-key and relaxing beach day away from the crowds then Avila Beach is the better choice.
Can You Drink Alcohol On Pismo Beach?
No, unfortunately not. But you can visit a restaurant or bar along the beach to enjoy the ocean view.
Have a great Pismo Beach weekend getaway for fun in the sun!
Got Travel Insurance?
Don't leave home without travel insurance as you never know what might happen on a trip! It is always when you least expect it that something can go wrong like getting sick, in an accident or cancellation of some sort. Get a no-obligation quote from two trusted travel insurance companies for peace of mind on your next trip!
Looking For More Travel Inspiration?
15 Fun Things To Do In Morro Bay, California's Hidden Gem
9 Best Wineries In Paso Robles, California To Try On A Weekend Getaway
5 Best San Luis Obispo Wineries To Visit In California's Edna Valley
The Epic California Big Sur Road Trip
23 Top Things To Do In Mendocino County For A Weekend Getaway
The Best Northern California Coastal Road Trip
7 Amazing Places To See Giant Redwoods In Northern California
Disclaimer: As an Amazon Associate and a participant of other affiliate programs, I may earn from qualifying purchases in this post. This means that if you make a purchase through one of these links, I might receive a commission at no extra cost to you. Thank you and it is greatly appreciated!