Disclaimer: Traveling Ness contains affiliate links and is a member of the Amazon Services LLC Associates Program. If you make a purchase using one of these links, I may receive compensation at no extra cost to you. See my privacy policy for more information.
15 Fun Things To Do In Morro Bay, California's Hidden Gem
Morro Bay is a charming seaside town along the coast of California with the most distinctive Morro Rock. Come relax and play in an abundance of outdoor activities as you discover fun things to do in Morro Bay!
You might commonly hear Morro Bay referred to as "3 stacks and a rock". The rock in reference is the enormous Morro Rock that sits at the entrance to Morro Bay.
In fact, you can't go anywhere in Morro Bay without seeing the rock! The three stacks are the 3 stacks of the power plant (no longer in use) along the waterfront in Morro Bay.
Downtown Morro Bay has a quiet peacefulness no matter what season you visit making it the perfect weekend escape.
Morro Bay attractions involve unwinding, kayaking, hiking, surfing, and indulging in mouthwatering seafood…
Where Is Morro Bay?
Morro Bay is located on a beautiful patch of coastline on the Central Coast of California. Right off of California's iconic Pacific Coast Highway 1 and slightly north of San Luis Obispo is Morro Rock greeting you!
The Central Coast is indeed in the middle of California's coastline comprised of Pismo Beach, San Luis Obispo, Morro Bay, Paso Robles, Cayucos, Cambria, and San Simeon.
Morro Bay is tucked in an idyllic spot nestled between Pismo Beach, San Luis Obispo, and Cayucos.
Drive times from:
San Luis Obispo – 15 minutes or 13 miles
Paso Robles – 35 to 40 minutes or 28 miles
San Diego – 5.5 hours or 325 miles (5 hrs if coming from North County SD).
Los Angeles – 3.5 to 4 hours or 205 miles
San Jose – 3 to 3.5 hours or 188 miles
San Francisco – 3.5 to 4 hours or 230 miles
Interested in going wine tasting? Discover two incredible wine regions minutes away!
5 Best San Luis Obispo Wineries To Visit In California's Edna Valley
9 Best Wineries In Paso Robles, California To Try On A Weekend Getaway
How To Get To Morro Bay
If you live in California or a neighboring state, then taking a road trip is a great way to get to Morro Bay.
But if you live further out or coming from another country, the best bet is to fly into one of the airports below. You will get more options and flight deals flying into these.
Los Angeles International Airport (LAX)
Mineta San Jose International Airport (SJC)
San Francisco International Airport (SFO)
Start searching for the best flight deals today!
Once you land, you will need to rent a car and then drive to Morro Bay with drive times above. The drive from any of these cities is very scenic and makes for an excellent road trip.
If you are driving south from the Bay Area (San Francisco), I recommend taking Highway 1 through Big Sur. Take your time getting to Morro Bay and see the sights on The Epic California Big Sur Road Trip…
Start prepping for your trip and begin shopping for the best car rental rates!
How Much Time Should I Spend In Morro Bay?
When I lived in San Luis Obispo, I usually just went to Morro Bay for the day or just a meal as I was a local.
But if you have never had the opportunity to visit before, I would recommend a weekend to really get a feel of the place and explore things to do in Morro Bay and nearby. At the minimum spend a day here!
If you are looking to explore other areas of the Central Coast such as San Luis Obispo, Paso Robles, and Pismo Beach, you could easily spend a week.
For ideas on what to do in other nearby areas of the Central Coast, explore:
A Fun Pismo Beach Weekend Getaway: Where To Eat, Play, And Stay
9 Best Wineries In Paso Robles, California To Try On A Weekend Getaway
Best Hotels In Morro Bay
Many visitors to the area come to Morro Bay for a day visit usually while they are staying in San Luis Obispo or Paso Robles.
But staying right on the ocean in Morro Bay is such a relaxing place where time seems to slow down. So, spend a night or two and explore this quaint town!
Each of these inns is right on the water in downtown Morro Bay or 1 block away.
Camping At Morro Bay
A few times when I was in college at nearby Cal Poly SLO, family would come camp at Morro Bay when visiting. Although I haven't done it myself, I have been told that these spots are pretty awesome!
Morro Dunes RV Park
Morro Bay State Park Campground
Best Time To Visit Morro Bay
In the past, it seemed you could predict like clockwork what the weather would be like in any given month.
But these days mother nature seems to appear when you least expect it. That said, the weather in Morro Bay is pretty great and temperate all year.
The temperatures don't seem to vary drastically from month to month ranging between 45 F and 75 F. I would say most of the year the temps are in the 60s and 70s.
On my most recent visit, it was 85 F on the second week of November. Hotter than usual for the late fall but nice anyway!
The biggest change in weather you will notice is the fog being right on the water. During the winter and spring months, you will encounter more fog and possibly rain.
The warmest months will be August, September, and October. But in my opinion, any month is a great time to visit Morro Bay!
Morro Bay Tours
Electric Bike Rental – Rent a bike and explore the gorgeous coastline of Morro Bay!
Electric Bike Tour – Take a guided tour of Morro Bay, Morro Rock, beaches, and a state park!
Morro Bay Surf Lesson – Always wanted to try surfing? Book a lesson and catch some waves!
Tips For Visiting Morro Bay
Being near the coast, always carry a warm jacket and/or rain jacket any time of the year.
Carry a reusable water bottle to stay hydrated especially if you go on a hike!
Book a room on or within a few blocks of downtown Morro Bay for convenience.
Whether you are hitting the trails or strolling down the Embarcadero, wear comfy shoes.
If you like flying kites, then Morro Rock Beach is a great place to do it!
Carry a lightweight travel towel that is perfect for the beach or boating.
To prevent a sunburn, have a packable hat, sunglasses, and reef-safe sunscreen with you.
Make sure snacks and drinks stay cold in a collapsible travel cooler or in this awesome cooler.
Keep your clothes and electronics dry when kayaking or anywhere near water with this dry bag!
If you are looking for the perfect beach bag, this bag comes in a number of patterns.
Throw some baby powder in your bag to rub on feet and remove sand easily!
Want to catch up on reading a book? A Kindle is small and fits perfectly in your bag.
A portable waterproof bluetooth speaker is the perfect companion at the beach.
Always keep your phone charged with a portable power bank.
Activities In Morro Bay Map
Best Things To Do In Morro Bay
1. Wander Downtown Morro Bay
Walking along the Embarcadero or waterfront is one of the top activities in Morro Bay. It isn't a huge town so that makes it very walkable and fun to explore.
To walk the entire length of downtown Morro Bay is a little less than a mile and takes about 15 – 20 minutes to stroll.
But you can easily make a half-day of it as there are so many incredible viewpoints along the way. And if you like to shop, there are lots of cute local shops to keep you busy.
If you have a sweet tooth, hop into Carousel Taffy for every flavor of taffy or The Dough Connection for edible cookie dough! Or maybe chocolate, candy, and ice cream at Kelli's Candies!
You may also see a few art galleries with local art, a shop for shells, and the typical gift shop with a nautical theme.
If a game is in session, you might join in on a chess game! There is a huge board and pieces in the heart of the Embarcadero next to Sun N' Buns Bakery.
2. Visit Morro Rock
Besides the beautiful coastline and great weather, Morro Rock is truly the star of the Central Coast! And it is definitely the most well-known Morro Bay attraction.
There isn't a spot in Morro Bay where you don't see it… Its large size makes it easy to spot and it's fun to photograph it from different vantage points.
Even though it is hard to miss, Morro Rock is located on the northern part of town at the mouth of Morro Bay. North of Morro Rock is Morro Rock Beach. Morro Rock reaches 576 feet tall which is an eye-catcher!
Between San Luis Obispo and Morro Bay, there are nine hills/peaks that are known as the "Nine Sisters" or "Morros".
If looking from an aerial view, each peak forms a line with the westernmost peak that of Morro Rock. These peaks are ancient volcanoes that erupted millions of years ago.
The rock itself is basically an island but is tied to the mainland by a small strip of land that you can either walk, bike, or drive out to.
One of the best things to do after walking along the waterfront is to continue along the Embarcadero until you see a paved path that takes you out to Morro Rock.
You really don't need a map, but the trail would be the Morro Bay Harbor and Estuary Trail if using the AllTrails app. To walk out to the rock and back is between 2.5 and 3 miles (flat).
Over the years Morro Rock has served to aid fishermen at sea to guide them safely into the bay. Today it is a historical landmark and a preserve for several species of animals to live.
Note: I have not been to Spain yet, but many refer to Morro Rock as the "Gibraltar of the Pacific".
3. Grab A Coffee With A View
One of the first things I like to do when visiting a town is to find the best coffee shop. Having a great cup of coffee sets in motion the start of a new day of exploring.
Being that Morro Bay is a fairly small town, the hunt for good coffee didn't take long!
I found two coffee shops that have excellent coffee, Skipper's Brew Coffee House, and Rock Espresso Bar.
Both are great but I like Skipper's location right on the water where you can sip your coffee taking in Morro Bay and its iconic rock in the background.
It's a small coffee shop where there isn't much room other than to place your order. So, no camping out with a laptop here.
But that's no problem as you would rather enjoy the view and salty air outside anyways! They even put a tiny chocolate chip cookie on top!
4. Hang Out At The Beach
The main beach in Morro Bay is Morro Rock Beach which begins where it meets Morro Rock on the south end and up to Morro Strand State Beach to the north.
Morro Rock Beach is a wide and sandy beach that beckons you to its shoreline. As it is long and wide open, it makes for an ideal spot for a leisurely walk.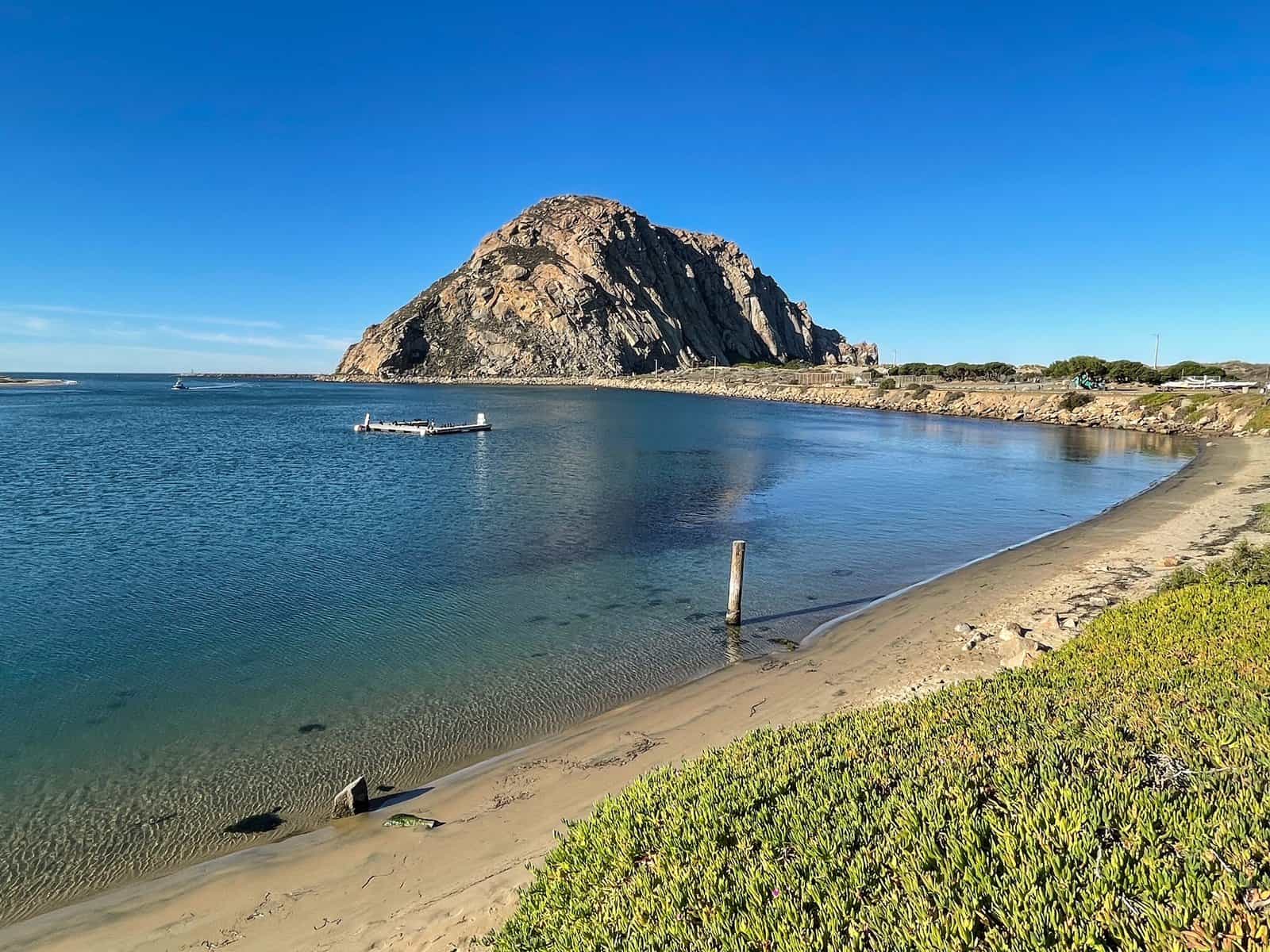 No matter the time of year, keep in mind the water is quite cold! Surfers will brave the chilly temps but they also have wetsuits on too.
It is a great beach to relax at, make a sandcastle and fly a kite if on a windy day. In fact, in late April there is the Morro Bay Kite Festival!
And if you have a dog, dogs are welcome on the beach between Morro Rock and Morro Creek. Just make sure you keep them on a leash and clean up after them!
Notes: Lifeguards are only on duty during the summer months. If you aren't a good swimmer, be cautious as the ocean can get rough here.
5. Watch Otters & Seal Lions Play
You can't come to Morro Bay and not be captivated by the local animals that call the bay home. You might even hear them before you see them!
As you walk along the waterfront of downtown Morro Bay, there will be pockets in between buildings where you can overlook the water.
If you look out, you may spot a sea lion playing in the bay or sleeping on a dock.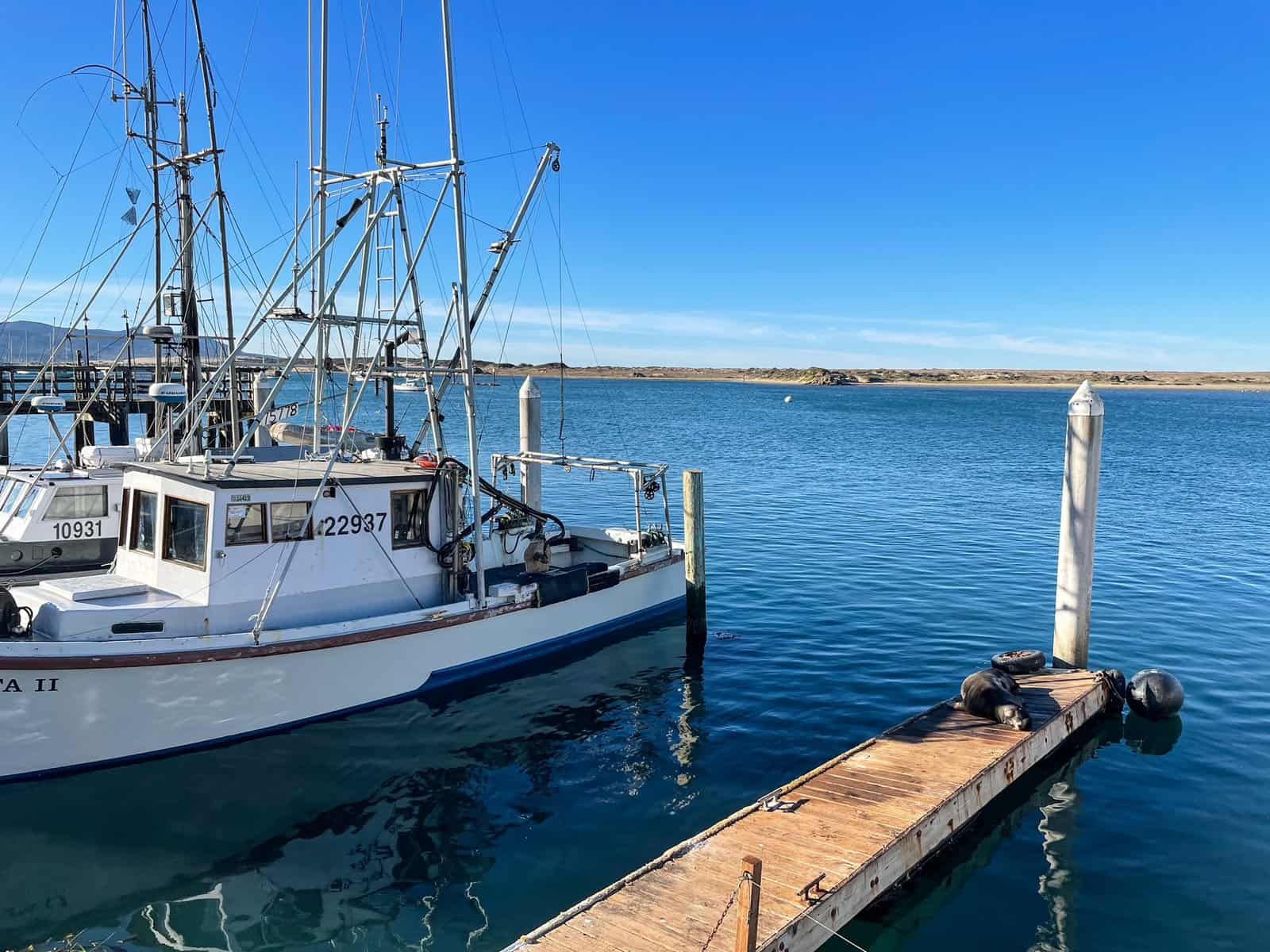 In fact, the town has designated certain docks where these fun-loving animals can nap and won't be a danger to humans. Basking in the sun and getting in a nap looks like a great day to me!
Another cute critter in Morro Bay is otters! I can watch them play and swim for hours… Watching them might be one of the best activities in Morro Bay.
You can't help but feel entertained watching these adorable residents of the bay. One of the best spots to see them is between STAX Wine Bar and the Great American Fish Company.
Each day I went by there were at least 20 – 30 otters right by Morro Bay T Pier. You might even catch a glimpse of them as you walk out to Morro Rock.
Notice that some of the otters appear to be holding arms and forming an otter raft? They do this so that none of them drift too far apart or out to sea.
Fun Fact: Did you know that an otter's fur coat is thicker than any other animal on earth? Makes sense as they tend to live in cold waters!
Tip: If you are interested in seeing huge elephant seals, head to nearby San Simeon for some viewing.
Note: It should go without saying but keep a good distance from any animal you may see and do not make contact.
6. Eat Some Seafood!
It likely comes as no surprise that there are a lot of delicious seafood options in Morro Bay. No question that eating some seafood is one of the top things to do in Morro Bay!
Morro Bay used to be a prominent commercial fishing industry and although it might not be as big, there is excellent fish to catch and eat.
Local fishermen provide restaurants in Morro Bay with daily fresh catch so that you are getting excellent quality. And fishermen here practice sustainable fishing practices when catching your next meal.
Some fish that you can expect to see on a local menu will be Rockfish, Halibut, Tuna, and Salmon.
Plus, tasty Pacific Gold and Grassy Bar oysters are sourced locally. If you are craving a platter of oysters, the top place to get them would be the Morro Bay Oyster Company.
Most restaurants will serve oysters but the Oyster Company is known for the best.
For a top selection of seafood options including clam chowder, I recommend these as good spots to eat:
Tognazzini's Dockside Restaurant
Dutchman's Seafood House
Galley Seafood Bar & Grill
Giovanni's Fish Market And Galley
All of these restaurants are right on the water but I love eating outside at the super casual Tognazzini's Dockside. Great views of the bay, rock, and boating activities.
Note: If you like to fish, there are charters that will take you out for a fishing excursion yourself! Check out Morro Bay Landing for fish charters.
7. Montana de Oro
Just a few minutes south of Morro Bay is the breathtaking coastline of Montana de Oro. Montana de Oro is a state park that covers 8,000 acres and the 1,347 foot Valencia Peak.
The name Montana de Oro means "mountain of gold" for the bright orange and yellow poppies and wildflowers that covered the area.
Within Montana de Oro you will see wide sandy beaches, sheer cliffs, trails, eucalyptus forest, and views for days.
It's rugged beauty at its best. And if it is a clear day, you can see Morro Rock to the north!
The most popular place to visit in the park is Spooner's Cove. It is a cove with a gorgeous beach and is bordered on each side by rock formations, tide pools, and sea caves.
On the northern side of the beach, you will find it filled with pebbles. Whereas on the southern part a very sandy beach the color of gold. If the tide is low, you can explore sea caves, arches, and tide pools.
From Spooner's Cove, you have access to a few trails. There are several trails for hikers, runners, mountain bikers, or even equestrians.
To get access to a map of each, use the AllTrails app. The top favorite trails are:
Bluff Trail: 4.1 miles out and back trail, easy. This one should be a must!
Islay Creek Trail: 6.0 miles out and back, moderate.
Hazard Peak Trail: 8.0 miles out and back, moderate.
Tip: If you want to time your visit for low tide to be able to view sea caves and tide pools, check the tide level before you go.
Note: Dogs are not allowed anywhere in Montana de Oro State Park including trails.
8. Go Kayaking On Morro Bay
If you are looking for an awesome and safe place to go kayaking, Morro Bay is it! The bay is protected by a long skinny peninsula that blocks the ocean currents.
This allows for very calm water conditions in the bay making it welcoming for both newbies and experienced kayakers.
There is an inlet into the bay from the Pacific Ocean near Morro Rock. So paddling anywhere in the bay away from this spot then you are good.
If there are no boats coming or going, the water in the bay looks like glass making it easy to cut through on a kayak or Stand Up Paddle Board (SUP).
Don't be surprised if you see harbor seals, otters, and several birds while out on the bay. But remember no matter how tempting it is, to keep a safe distance.
You can rent your own kayak or board but I recommend taking a guided tour so that you also learn about the bay's habitat and wildlife.
If you are looking to get in a little cardio, kayaking is one of the best activities in Morro Bay for that!
For both rentals and/or guided tours, look at Central Coast Outdoors.
9. Take A Boat Cruise
It's one thing to view the bay from land but taking a boat cruise gives a completely different perspective.
There are different types of boat tours you can take from educational learning about the habitat and history of Morro Bay, a sunset cruise, or even a booze cruise.
And you can go on a whale-watching excursion! You can see whales migrating all year with views of Gray Whales, Humpback Whales, Blue Whales, and even Orcas off the coast.
Each whale has its prime season for viewing with Southbound migration ranging from December through February.
Whereas Northbound migration tends to be from February through April. Spotting a few dolphins on one of these tours is quite possible too!
Most boat cruise tours will stay within the perimeter of Morro Bay and its calm waters. But other tours like whale watching will head outside the bay to find migrating whales along the coast.
Morro Bay Boat Tour Operators:
10. Go Wine Tasting
If you enjoy wine and wine tasting, then you will be spoiled by a few hundred wineries in nearby Paso Robles.
Paso Robles is just 30 minutes inland from Morro Bay and should be added to any visit as you can sip award-winning wines.
It is my favorite wine country in California and is fast becoming a top wine country destination.
Due to its unique location and climate, the wines produced in Paso Robles are ones you might not find elsewhere in California.
Bordeaux and Rhone-style wines are the most popular followed by red blends, Viognier, Chardonnay, and Rosé.
To eliminate the stress of trying to figure out which wineries you should visit, read 9 Best Wineries In Paso Robles, California!
And if you are looking for more wine tasting options, San Luis Obispo's Edna Valley has a handful of wineries too.
For details on visiting Edna Valley's wineries, explore 5 Best San Luis Obispo Wineries To Visit In California's Edna Valley.
But if you don't want to travel more than a few blocks, grab a glass of wine and a bite to eat at STAX Wine Bar & Bistro.
Tip: Currently almost all wineries require a reservation, so check ahead and book a tasting time.
11. Rent A Bike
If you feel like ditching the car behind to explore the coastline and get in a workout, rent a bike!
When riding a bike, you can go at a leisurely pace stopping with ease to take photos or find a stunning picnic spot for lunch.
There are miles of gorgeous coastline along the central coast that can be viewed while you cycle. No better motivator to hop on a bike than captivating ocean views!
One route you can take is to bike from downtown Morro Bay north up to Cayucos Pier Beach. This path is about 7.0 miles one way.
Another route I recommend is heading south biking from downtown Morro Bay to Back Bay (Baywood Park). Biking to the Back Bay is about 5 – 6 miles one way.
Electric Bike Rental – Rent an electronic bike and head out on your own!
Electric Bike Guided Tour – No worries about getting tired on this tour as the Electric Bike does most of the work! This guided tour will take you along Morro Bay, Morro Rock, and the beach!
12. Hearst Castle
The United States might have a slim selection of castles, but one of the most famous happens to be on the Central Coast of California!
Technically Heart Castle isn't in Morro Bay but it's close enough and by many considered a must-see when in the area.
Located 45 minutes north of Morro Bay along the Pacific Coast Highway 1 is the larger-than-life Hearst Castle.
Heart Castle was created and owned by William Randolph Hearst. He inherited thousands of acres around San Simeon and eventually purchased more land.
Hearst hired one of the first and top woman architects of the early 1900s by the name of Julia Morgan. He had her build "La Cuesta Encantada" or "Enchanted Hill".
And indeed, it is a castle, up on an enchanted hill!
Hearst is also known as a successful businessman who was a newspaper publisher which to this day is known as Hearst Communications. It is the largest media, newspaper, and magazine company in the nation.
Can you imagine living in a house or castle with 165 rooms, and 123 acres of gardens, pools, and walkways?
The rooms in the house include over 30 bedrooms, around 40 bathrooms, a theater, beauty salon, dining room, library, study, and billiard room. I would dread cleaning that many bathrooms!
Not to mention guest houses for all the guests that were entertained here over the years.
Hearst was known for throwing quite elaborate parties for fellow wealthy friends, politicians, actors, and singers of his time. It was the roaring 1920s after all and going strong into the 1930s.
There are four different main tours viewing separate areas of the castle and grounds with some overlap.
Note: Tours of the castle are currently on pause but are expected to open back up in 2022.
Address: 750 Hearst Castle Rd, San Simeon, CA 93452.
13. Wander Morro Bay State Park
If you want to get outdoors and go for a nature walk, Morro Bay State Park offers that escape! It happens to be a great place for bird watching too.
Within Morro Bay State Park, there is Morro Bay, a saltwater marsh, marina, a lagoon, and several trails to explore.
With such a diverse landscape you can go kayaking, sailing, biking, or bird watching all in one park!
Or you can hit a few balls while golfing at the Morro Bay Golf Course south of downtown Morro Bay. If camping is more your style, there is even a campground at Morro Bay State Park.
The most popular trail in Morro Bay State Park is the Marina Peninsula Loop Trail that is a 0.7-mile boardwalk. It takes you through an estuary, sandspit, mud flats, and a salty marsh.
To get to the starting point for the boardwalk, enter into your GPS Bayside Café or Morro Bay Museum of Natural History. The start of the trail is just before both of these on your left at the start of the marina.
Tips: If you want to grab a bite to eat or drink, stop by the Bayside Café. In the AllTrails app, the walk is "Marina Point".
14. Watch The Sunset
In any seaside town, watching the sunset can be mesmerizing and the same can be said about sunsets in Morro Bay.
You can choose to take a stroll along the waterfront stopping to sit on one of the empty benches. That way your full attention is focused on the warm glow surrounding Morro Rock.
Or maybe keep walking to get different views of the rock as the sun sets behind it.
If you want to enjoy a drink, find a spot with a spectacular view of the bay, and Morro Rock. To me, there is no better way to end a day than with a drink and watching a gorgeous sunset.
Each evening vibrant colors in multiple shades appear as the sun says goodbye to yet another day!
My favorite places to grab a drink with a front row seat of the sunset are:
Dorn's Breaker Café – outdoor patio
Tognazzini's Dockside
The Libertine Pub
Hofbrau der Albatross
Rose's Bar & Grill
15. Go Surfing
The beaches of Morro Bay are known to have some great surf breaks and are good for beginners and intermediate surfers.
If you are already an experienced surfer, you can rent a board and head out to Morro Rock State Beach. The view of Morro Rock as you are catching a wave is pretty cool and memorable!
But if you have never hopped on a board before, no worries! Morro Bay is a great place to learn and take a surf lesson.
Even though it is California, don't come expecting warm ocean temperatures. No matter the time of year, you will need a full wet suit.
If you are looking to learn how to surf with excellent instruction, consider booking this surf lesson!
Best Places To Eat In Morro Bay
See the map above for each restaurant location.
Dutchman's Seafood House – Seafood
Galley Seafood Bar & Grill – Seafood
Giovanni's Fish Market And Galley – Seafood
Tognazzini's Dockside – Seafood
Dorn's Breaker Café – American/ Seafood/ Breakfast
STAX Wine Bar & Bistro – Wine Bar/ American
Pizza Port – Pizza & Beer
Taco Temple – Mexican
Thai Elephant – Thai Food
Frankie & Lola's Front Street Café – Breakfast
Other Morro Bay FAQ's
Why Is Morro Bay Popular?
Morro Bay is known for its gorgeous coastline, enormous Morro Rock, beautiful beach, and lack of crowds.
Can You Swim In Morro Bay?
Yes, you can kayak, paddleboard (SUP), and swim in Morro Bay. It is recommended that you swim in the most northern part of the bay that has a small beach. And you can swim at Morro Rock Beach on the other side of the rock.
Is Morro Bay Safe?
Yes, it is very safe. I have traveled here alone and felt completely safe. But as with anywhere always keep track of your valuables and avoid being out late at night.
Which Is better Pismo Beach or Morro Bay?
Neither is better than the other one as they are very different. And it depends on what you are looking for. They are both awesome places to visit but Pismo Beach will be a lot more crowded.
So if you are looking for a more low-key and quiet coastal getaway, then I would choose Morro Bay.
Have a great time exploring all the fun things to do in Morro Bay!
Got Travel Insurance?
Don't leave home without travel insurance as you never know what might happen on a trip! It is always when you least expect it that something can go wrong like getting sick, in an accident or cancellation of some sort. Get a no-obligation quote from two trusted travel insurance companies for peace of mind on your next trip!
Looking For More Travel Inspiration?
A Fun Pismo Beach Weekend Getaway: Where To Eat, Play, And Stay
9 Best Wineries In Paso Robles, California To Try On A Weekend Getaway
5 Best San Luis Obispo Wineries To Visit In California's Edna Valley
The Epic California Big Sur Road Trip Guide
10 Awesome Things To Do On Catalina Island
The Best Northern California Coastal Road Trip
23 Top Things To Do In Mendocino County For A Weekend Getaway
15 Best Things To Do In San Diego, California
Disclaimer: As an Amazon Associate and a participant of other affiliate programs, I may earn from qualifying purchases in this post. This means that if you make a purchase through one of these links, I might receive a commission at no extra cost to you. Thank you and it is greatly appreciated!