Disclaimer: Traveling Ness contains affiliate links and is a member of the Amazon Services LLC Associates Program. If you make a purchase using one of these links, I may receive compensation at no extra cost to you. See my privacy policy for more information.
12 Ultimate Things To Do In Brasov, Romania
Brasov has a beauty that captivates you from the moment you arrive in the largest city of Romania's Transylvania. It's a place that feels much like a land of fairytales with its Old Town, fortresses, churches, castles and mountains. There is a reason that Brasov is one of the most visited places in Romania. There are numerous things to do in Brasov that can easily keep you busy for days no matter when you visit.
I would recommend taking some time to spend in Brasov and its nearby attractions as it might be the most stunning area of Romania.
Spend at least 2-3 days in Brasov and even more if you plan to use it as your base to see other areas of Transylvania. Get ready for your trip to Brasov and search for hotel availability!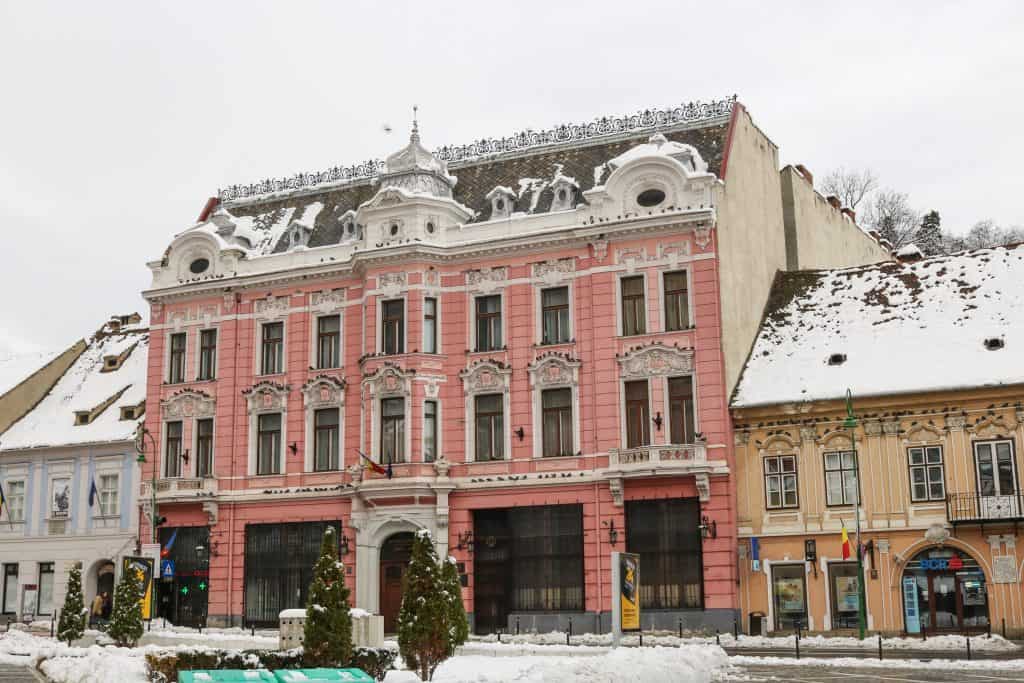 Where Is Brasov Located?
Brasov is located practically in the center of Romania in the region of Transylvania. You might not have heard of Brasov but I bet you are quite familiar with Transylvania!
About 2.5 hours north from Bucharest, Brasov makes for a wonderful destination to visit from Romania's capital.
It is also just a 4-hour drive from the coast of the Black Sea (2 hours further than Bucharest). And within a short drive of Brasov are the Bucegi Mountains that has excellent hiking or further north the Carpathian Mountains.
Brasov really is a wonderful central location as a base to stay and venture out to the rest of Transylvania.
If you are interested in more places to see in and around Transylvania, then read my post 10 Fantastic Places To Visit In Transylvania!
History of Brasov
When you think of Transylvania, it most likely conjures up images of Bram Stoker's Dracula, garlic, and a lot of spookiness.
I admit that is about all that I knew of this region until visiting and am a little embarrassed as there is so much more to this spectacular area of Romania.
Dracula is a mythical character, so don't get your hopes up on bumping into him…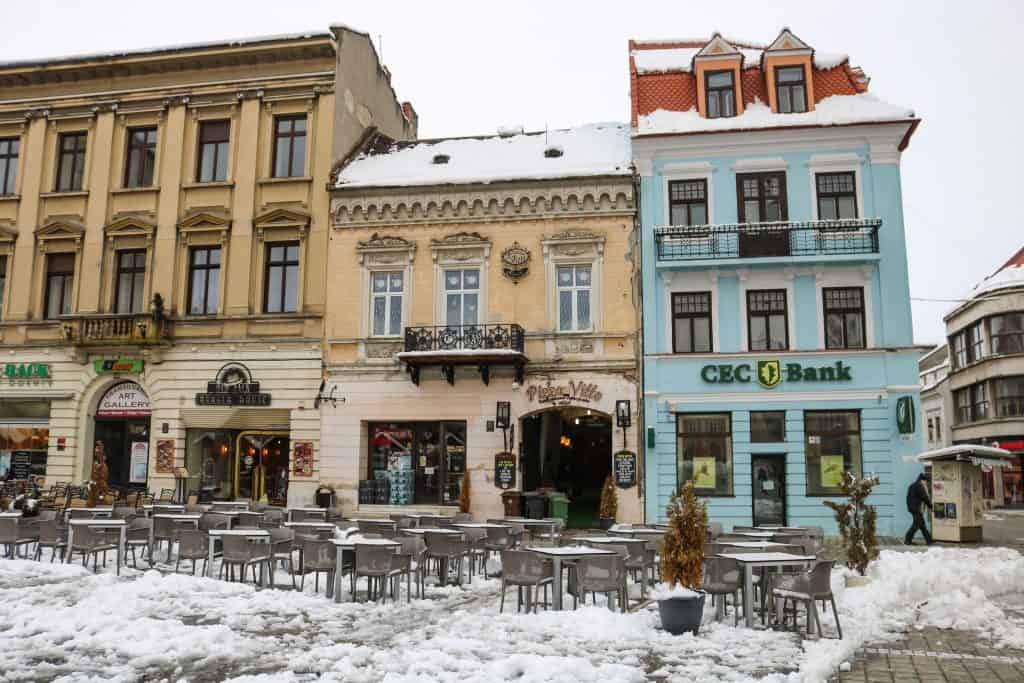 Brasov's history is rich going back as far as the days of the Romans but well known for being settled by the Hungarians.
Saxon colonists followed suit by settling in Brasov during the 13th century and later the Romanians in the early 1900s. The architecture you see in Brasov has a strong Saxon influence seen in the buildings, cobblestoned streets, and fortress.
Since the fall of communism in 1989, many of Brasov's factories closed leading to a decrease in the population.
But around the same time, tourism was introduced into Romania and has continued to boom in popularity. It is still not considered a very touristy area but over time I'm sure that will change.
Other than in nearby Bran, I never saw any kind of touristy shop which was a pleasant surprise.
Where To Stay In Brasov
I recommend staying along Piata Stafului (main town square) or as close to it as possible. I am so happy that I chose to stay Casa Wagner that sits right on Piata Stafului which is the center of everything to see and do in Brasov's Old Town.
Casa Wagner was very clean, comfortable and a charming 25 room hotel that looks out onto the square. The hotel has been around since 1477 and is one of the first buildings along the square.
Staying here, you are just steps from all the sights to see. To prepare for your stay, check Casa Wagner's availability here.
A few other excellent places to stay in Brasov that are located on or near the main square are:
Bella Muzica
Vila Katharina
Drachenhaus
Things To Do In Brasov
1. Piata Stafului (Council Square)
Piata Stafului is the main town square in the center of Brasov's baroque style Old Town. It is a large and wide square at the heart of town life making it a great spot to sit and people watch. The square is rather beautiful with its arc-shaped design and colorful buildings surrounding it.
The square is lined with the most charming shops, restaurants, and cafes that entice you to step in within minutes of arriving in Brasov.
In the center of Piata Stafului, is the Casa Stafului or the Council House which was built in 1420 and currently houses the Brasov Tourist Office and the History Museum. And if you hear the chimes of the clock tower, just glance up to see the clock face.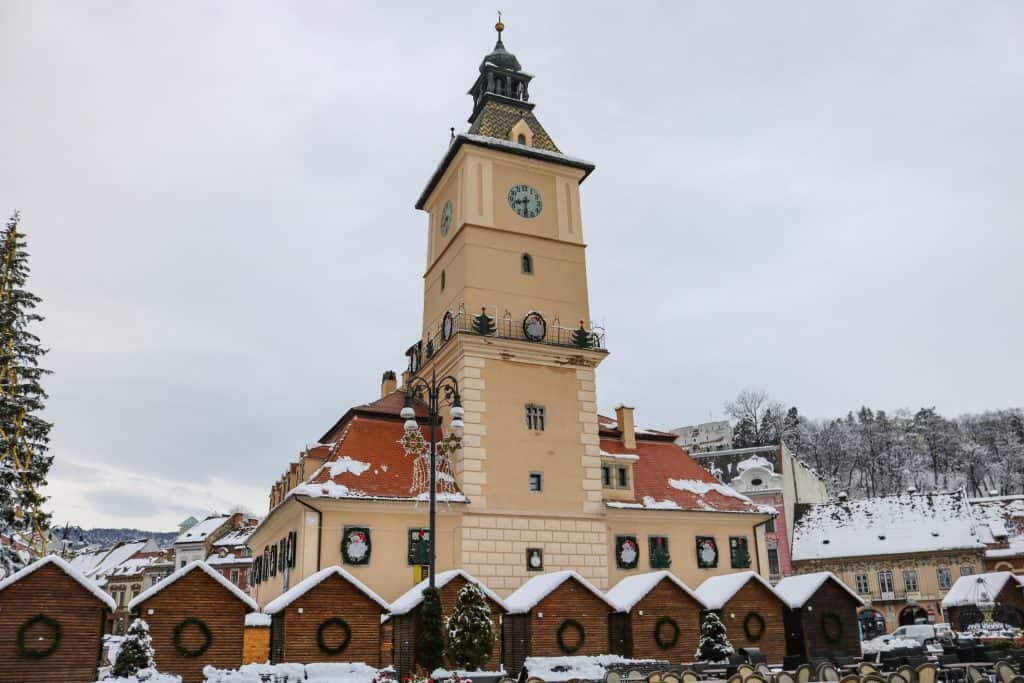 Like with most medieval town squares, it is pedestrian-only and a popular spot for holiday or festival celebrations. As you can see in the photo, it is also where the Christmas tree sits for the December holidays.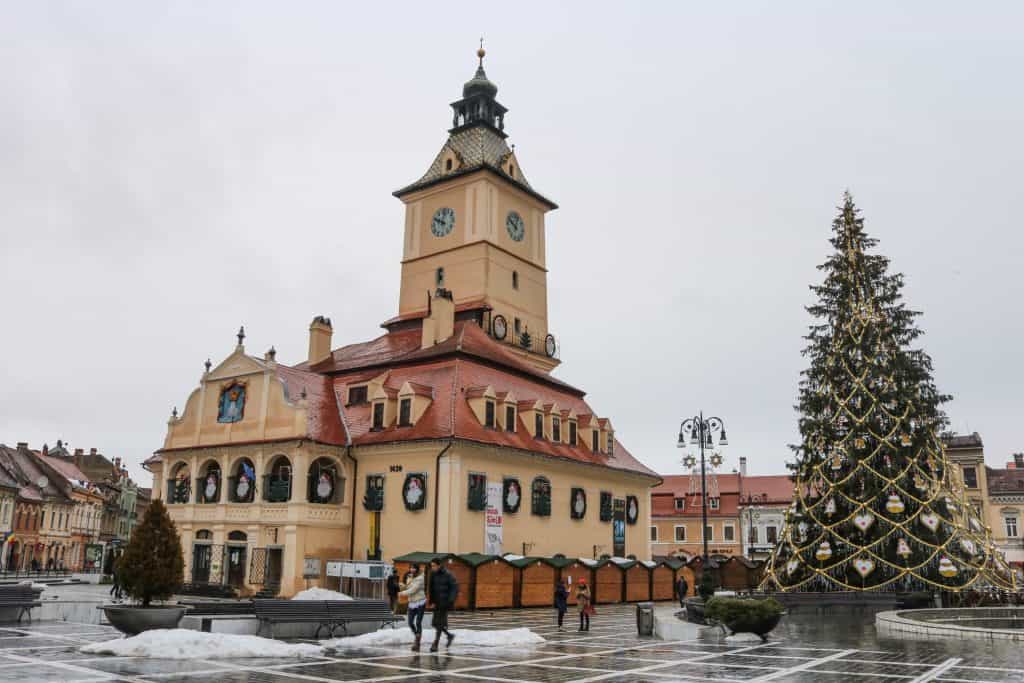 As with many cities that have a long history like Brasov, there are unfortunately darker periods scattered throughout. During the middle ages, the square was all too familiar to public executions. The individuals persecuted were those who broke the law and those who were thought to be witches.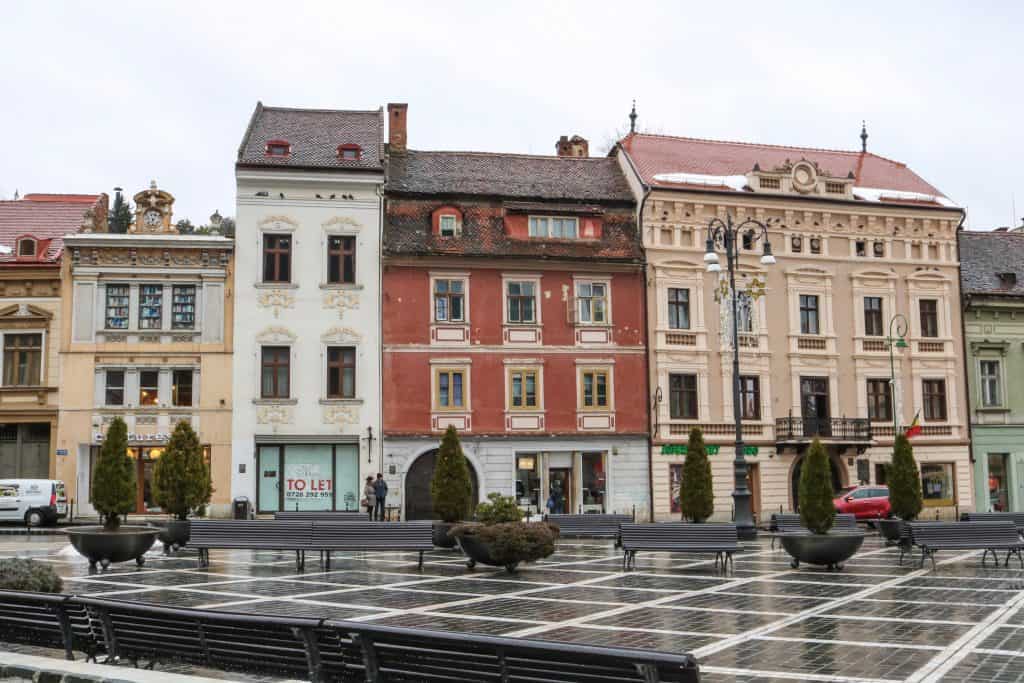 Another interesting tidbit about Brasov is the well-known character, the Pied Piper of Hamlin (Germany). He was the "rat catcher" for the town of Hamlin but when people didn't pay their bill, he would punish them by leading their children away (like the rats).
It is said that the children were sent underground and reappeared at Piata Stafului in Brasov! I'm not sure how the two towns are connected but I find it so fascinating.
2. Black Church (Biserica Neagra)
Just steps from Piata Stafului is the Black Church or Biserica Neagra that is ironically not black in color. Built in the 1400's, the church got its name from the "Great Fire" of 1689 and practically destroyed the town. The fire, blackened (soot) the outside walls of the church only destroying the interior and the roof.
The restoration of the Black Church took approximately 100 years and from that point on, the name "Black Church" stuck. Originally the church was in a Gothic architecture but after the restoration, the style became more Baroque in style. It's claim to fame is that it is the largest Gothic church between Istanbul and Vienna.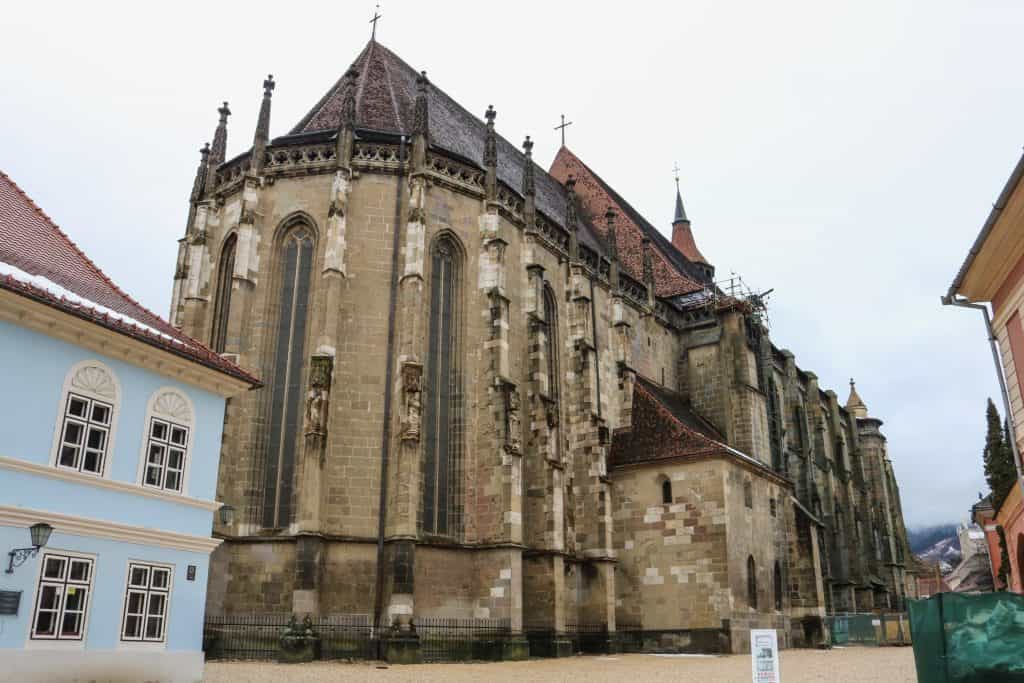 The church stands out as a powerful presence and can be seen from most areas of Old Town. Take a moment to look up and appreciate the beauty of the clock tower's face.
I particularly love the colors and details that decorate the church's front. Make sure that you step inside the Black Church to take in its grace and lovely architecture.
Don't miss out on seeing and possibly hearing the 4,000-pipe organ from 1839 that is still in use today. It is quite impressive and if you are lucky, try to catch an organ recital every Tuesday at 6 pm. During the months of July and August, there are additional recital times on Thursday and Saturday.
Hours:
April – September: The church is open to visitors from 10 am to 7 pm (Tuesday thru Saturday) and 12 pm to 3 pm (Sunday and Monday).
October – March: The church is open from 10 am to 3 pm (Tuesday thru Saturday) and 12 pm to 3 pm (Sundays). Closed on Mondays. Be aware that there are days of closure for religious holidays.
Admission: The cost to visit the Black Church is 20 lei (~ $4.40 U.S.)
3. Tour With Walkabout Free Tours
One of the best ways to see a city is to take a walk and explore on foot to see the sights the town offers. I highly advise on taking a walking tour of Brasov's Old Town with Walkabout Free Tours. As in their name, they offer free walking tours of Brasov's main attractions spanning 800 years.
Although the tours are free, they do kindly accept tips to show your appreciation. The tours last between 2 and 2.5 hours providing plenty of great info on Brasov's history. It is also a great way to get a local's advice and perspective on the town with insider tips.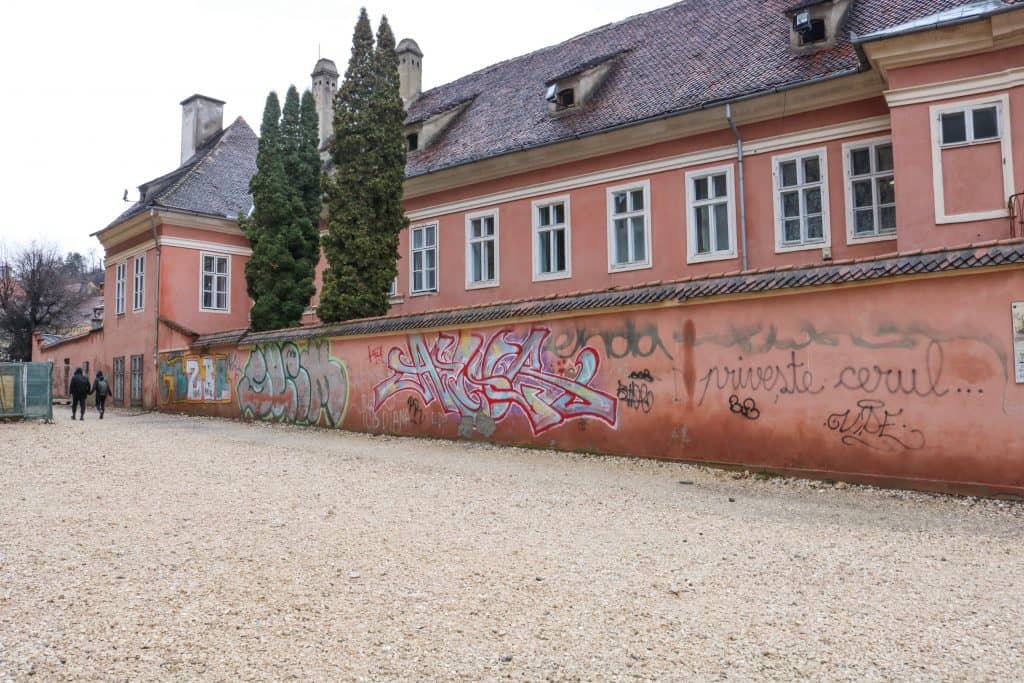 There is no better way to kick off your visit than to get to know the town and share in the company of a local. Depending on the time of year, Walkabout offers 1-2 tours per day. To find the most up to date schedule, visit their website here.
4. White and Black Towers
The White and Black Towers are forts on the fortified walls of Brasov where you can get a beautiful view of the town.
The forts are directly across from Mount Tampa and give you a much different perspective of Brasov than from up on top of Mount Tampa. Both of the towers offer panoramic views that won't disappoint.
The towers are from the 15th century, with the White Tower being larger than the Black Tower. The towers are separated by a short walk between the two, making it easy to visit both. The path runs parallel to a stream of running water and plenty of foliage that is a tranquil area to take a stroll.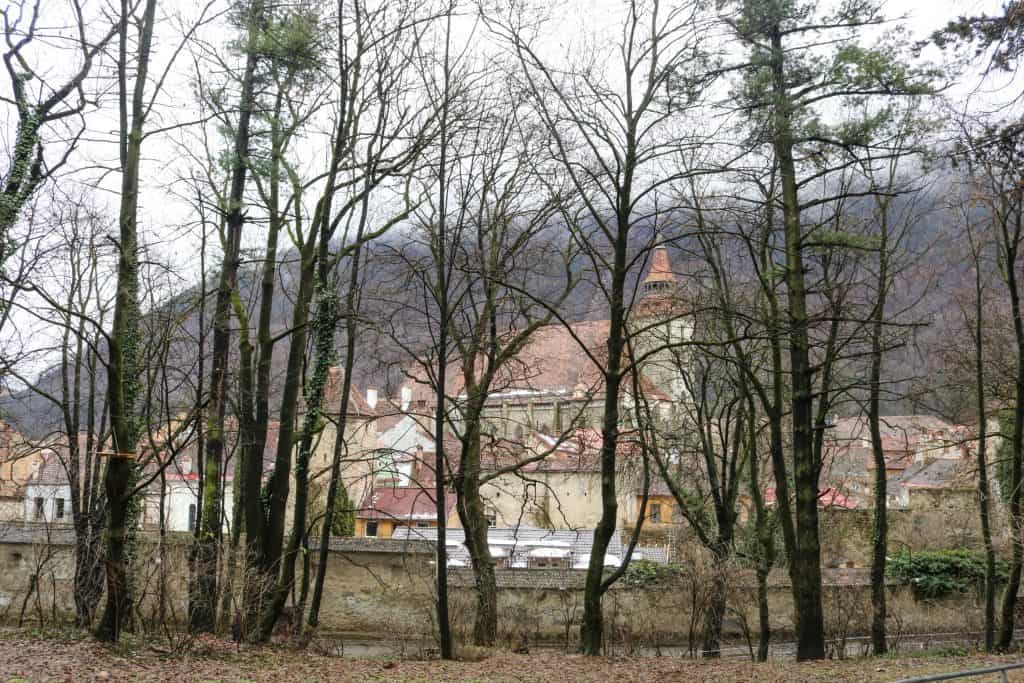 The White Tower (Turnul Alb) sits above the Bastionul Graft and requires you to be somewhat fit as it is a steep climb up to the tower. But if you are capable, it is worth it for the excellent view.
A little further down the path, you will come to the walkway up to the Black Tower (Turnul Negru). But much like the Black Church, the tower is not in fact black, but white. As with the church, it got its name from the blackened soot of a fire in 1599.
Tip: Make sure you visit the towers before going to the top of Mount Tampa (#5 below). The views might seem a little bit of a let down if you go in reverse. That is because Mount Tampa is much higher up. Both are worth seeing though!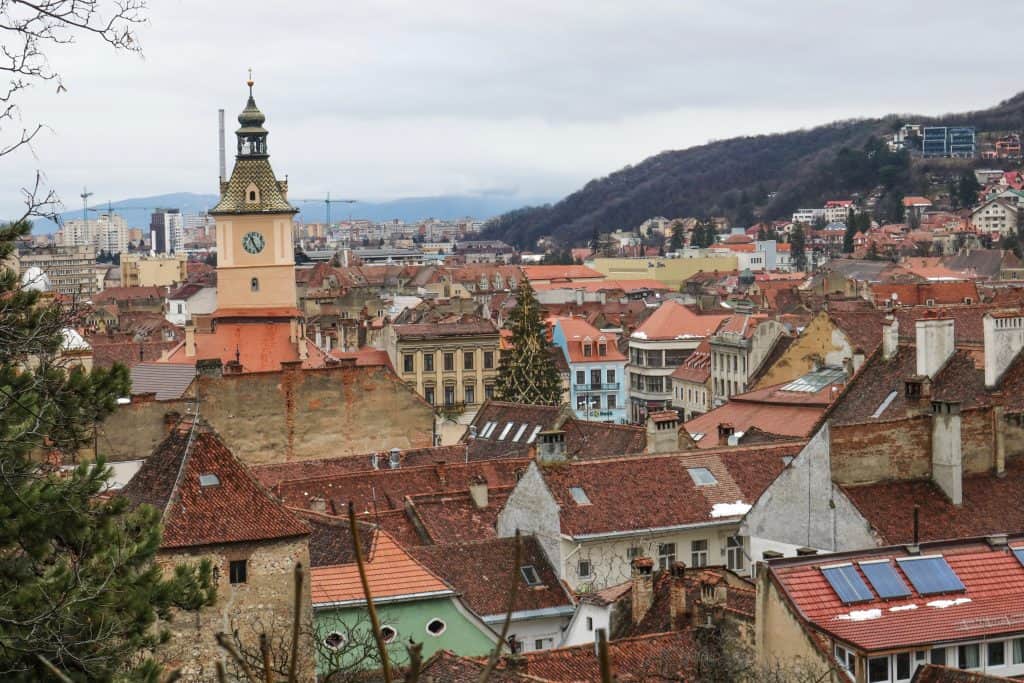 Note: Getting to the towers is just a few minute's walk from the main town square or Piata Stafului. From Piata Stafului, walk west to the street Strada Gheorghe Baritiu (runs along square) and turn left walking until you see Strada Dupa Ziduri on your right. That will lead you to the towers.
The Black Tower is open from 10 am every day except Mondays and closes at either 5 pm or 6 pm depending on the month. The White Tower is open from 9 am to 5 pm except for Mondays.
5. Hike Up Mount Tampa To "BRASOV" Sign
As you meander about Piata Stafului and look up to the east side, you will see the striking Mount Tampa looming over the town of Brasov. It is directly across and on the opposite side of town from the White and Black Towers.
Amongst the dense forest covering Mount Tampa, a sign with the letters spelling out "BRASOV" will catch your eye with its dominant presence.
For those of you who have been to California in the United States, it might remind you of the "HOLLYWOOD" sign. In fact, the Brasov sign is many times referred to as the Hollywood of Transylvania for this reason. The sign is relatively new as it was placed on Mount Tampa in 2004.
So how do you get up there you might ask? There are two ways, hike up or take the cable car up. It all depends if you want a little exercise or not.
Or if you want to mix it up, hike up and take the cable car down. Expect to spend 1-2 hours hiking up the 2-3 km to the top of Mount Tampa.
The hike itself starts just a few minutes from the town square and there are two trails that you can choose from. Both trails are fairly easy yet they will get your heart rate up a little! The first trail is the Serpentine Trail that starts near the cable car station at the base of Mount Tampa.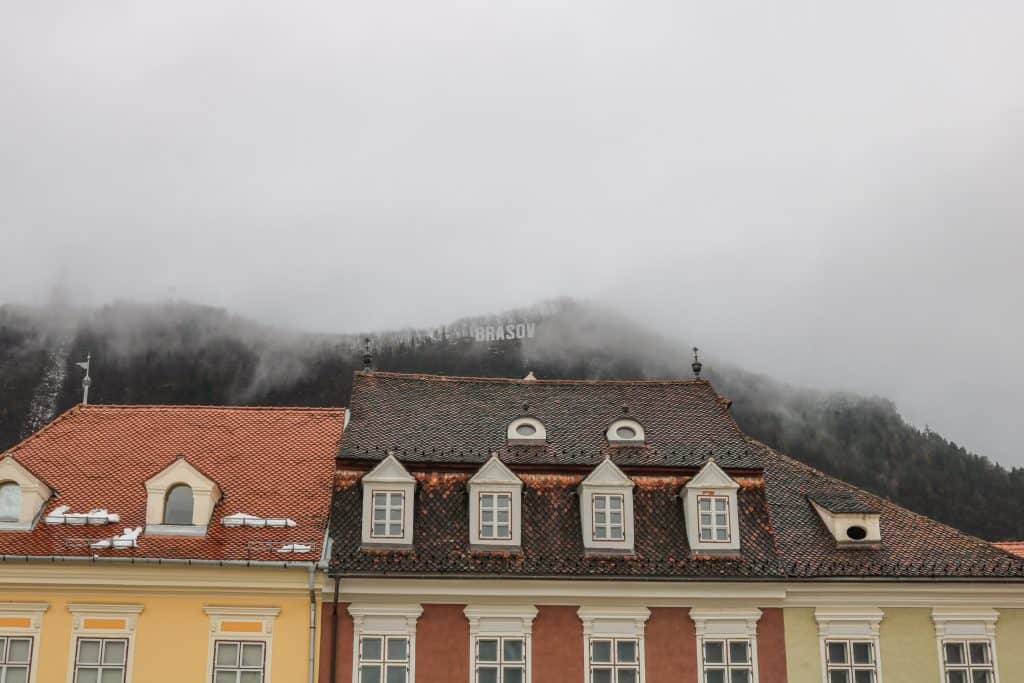 The Serpentine Trail follows the red triangle markers up along a winding path to the top. The other trail is the Steps of Gabony (follow yellow triangle markers) which as its name says, are a bunch of steps to the top, about 200. Once at the top, enjoy the breathtaking views and head back down either by foot or cable car.
Cable Car Info: The Cable Car is open from 9:30 am to 5 pm daily except Monday (closed). The cost is 15 lei (~$3.30 U.S.) each way for adults.
Note: At the time of my visit the cable car was shut down due to weather so I didn't get the chance to use it. Although I do plan on it next time!
6. Strada Sforii (Rope Street)
Have you ever heard of the narrowest street? Well if you were curious as to whether there is such a thing, Brasov has it. It is believed that the Strada Sforii or "Rope Street" is the skinniest street in all of Europe.
And by the looks of it, I think this might be possible. I'm not positive but I would venture to guess that it might be one of the narrowest streets in the world.
Located near the Schei Gate, Rope Street is in between the Strada Poarta Schei and Strada Cerului. If looking on a map, it is a short walk from the Black Church.
The tiny street was thought to have been used by firemen that would use it to cross from one street to the next.
Strada Sforii is 80 meters (260 feet) in length and 134 cm (53 inches) at its widest point and 111 cm (44 inches) wide at the narrowest point.
At the narrowest point, you can easily reach your arms out and touch both sides. Besides its famous size, it is a very charming street to walk. And if you go early enough you might have it all to yourself!
7. The Schei Quarter
The Schei Quarter is an old Romanian neighborhood. You might be wondering the significance as all of Brasov is part of Romania.
Well way back during the days of Saxon reign (13th to 17th century), people who spoke the Romanian language were banned to live outside the city walls. They were designated to live in the area near the Schei Gate.
During that time, Romanians were only allowed to enter the city during specified times and had to pay an entry toll. That was so that they could sell their fruits and vegetables to the people within the walls.
In more recent times (1940's), when the communist era in Romania began, the people of the Schei Quarter said no to communism. They dug up the roads leading to town and placed a sign saying, "Up To Here, Communism, From Here On, The Schei".
The communists left them alone as they feared what would happen to them by crossing over into the Schei.
I admire their courage and bravery and think its an important part of history to take note of and honor. Today the neighborhood is full of quaint homes and churches along cobblestoned streets that are quite peaceful. St. Nicholas's Church is a pretty church to visit that is the first Orthodox church in Transylvania (1493 – 1564).
8. Catherine's Gate (medieval gate)
Included as part of the Schei neighborhood, Catherine's Gate is very prominent and looking much like a castle with its turrets. Or a section of one that is…
This architectural style will become recognizable as it can be seen throughout Transylvania. You will notice that Catherine's Gate is right next to the Schei Gate with Catherine's Gate being built first in 1559 by the Tailors' Guild.
On the front of the gate, Brasov's coat of arms is clearly displayed above the arched walkway. The gate got its name from St. Catherine's Monastery that used to be in the same spot many years prior.
The significance of the Catherine Gate is that it was the only city gate that the inhabitants of the Schei Quarter could access the city by.
9. Take a Coffee Break
Don't fear about finding a great cup of coffee in Brasov. Throughout my travels in Romania, I was pleasantly surprised to find excellent coffee in so many places.
Whether it is hot or cold out, a good coffee just seems to hit the spot during a long day of sightseeing.
I love finding the best coffee shops when visiting a new city and found three excellent ones. The first is Cafeteca that is located a few blocks off of the Piata Stafului (main town square) on Strada Apollonia Hirscher.
Their coffee is excellent and with a very cozy and great place to relax or get some work done (for those digital nomads).
The second coffee shop that I fell in love with is Dr. Jekelius, Pharmacy Café that is just a short walk from Piata Stafului.
Located on Strada Michael Weiss and is one of the most unique coffee shops that I have been to. Imagine a science laboratory meets a vintage café.
It is eclectic with the pharmacy feel hence its name. You can savor a cup of coffee, a cocktail or tea and in a quirky test tube or science beaker which is so fun!
L'etage is a comfy café and restaurant that is the perfect spot for book lovers. The décor is everything books and you might get to hear a live piano playing too. I only had coffee so I can't recommend the food although I have heard both negative and positive experiences.
10. Nibble on a Kurtos Kalacs
A visit to Brasov is not complete without indulging in a kurtos kalacs! A kurtos kalacs is a cylinder-shaped sweet cake that is roasted over a spit and is undeniably so yummy especially if you eat it warm. I am salivating at the memory of eating this sweet delight.
Originally a treat from Hungary, the kurtos kalacs was eaten during festivals. Today you can find this mouthwatering snack any day in countries such as Hungary, Slovakia, Czech Republic and of course Romania.
Once the rolled bread has cooked over the spit, it is rolled in sugar, butter and then spices like cinnamon. The way it is wrapped, it is easy to tear off strips to eat.
The kurtos kalacs in Brasov are quite large and can be shared, but you might want your own once you take your first bite!
You can find your very own kurtos kalacs at street carts located in the main town square of Piata Stafului. There are a few more carts to be found on the cobblestoned streets branching off of Piata Stafului so don't worry about missing out.
11. Wander the Streets of Brasov
If you have ever been to an Old Town, you know how easy it is to starting walking and wander aimlessly through the charming cobblestone streets. Brasov is a city that is quaint and brimming with enchantment pulled straight from a fairytale.
Brasov is a very safe city and I had no issues wandering Old Town by myself. Of course, do you use basic judgment when traveling anywhere…
It is also fun to venture out and about in the evenings especially during the holidays when the lights are shining sparkly and bright.
The best part of walking without a plan through Brasov is gazing upon the striking buildings and architecture. Many times you will be surprised at what you might find if you walk just a few blocks from the main square.
If you want to capture photos without all the crowds, go early to have the cobblestoned streets all to yourself. Well, almost that is!
12. Indulge in Local Romanian Food
I had no idea what to expect about Romanian food prior to my visit but I can say that I more than enjoyed every bite I had! Romanian food is excellent and has traits from Hungarian, German, Russian, Polish and Turkish cuisines blended to their own specialties.
Many Romanian dishes will likely have sauerkraut, sour cream, polenta and/or garlic. I was in heaven with all the garlic…
The one local tradition that you must try is Sarmale that is cabbage leaves filled with minced meat (usually pork), rice, and spices.
Sarmale is served with sauerkraut and fresh sour cream. I am not a fan of sour cream in the U.S., but in Romania, the sour cream is incredibly good!
Another popular dish is Mici that are grilled minced meat that looks much like sausage links from home.
If it is cold out, Ciorba de Burta (beef tripe soup) will warm you up with its tasty flavors with the addition of sour cream, vinegar and garlic paste.
There are so many more amazing dishes, but those are a few that are essential to try when visiting Brasov.
If you have a sweet tooth, the ultimate dessert to try is Papanasi. I was blown away with the incredible taste and have decided this might be my favorite dessert that I have ever had.
Papanasi is somewhat similar to a donut and a beignet but much better as it has fresh sour cream and luscious fruit preserve poured on top of the fried dough.
The dough is also filled with soft cheese. The combination of these ingredients is mind-blowing! Below is a few wonderful places to eat in Brasov that you don't want to miss.
Sergiana: Romanian and European food. A great place to get traditional Romanian food.
Le Ceaun: Serves local Romanian and European food that serves excellent food and is the only place you should be getting Papanasi! I tried Papanasi at a few places and it was the best here.
Ceasu' Rau: Located a little way out of town, this restaurant also has traditional Romanian and European food.
Luka: This is a walk up and take-out that offers fresh bread and pastries that are perfect for that breakfast or snack on the go. It is great to grab one as you walk around wandering the beautiful streets of Brasov. My two favorite are haiducesc and covigel. Haiducesc is fresh bread with melted cheese, onions and warmed ham. Covigel is a pretzel filled with melted chocolate. Pure heaven…
How To Get To Brasov
Brasov is pretty easy to get to from most cities in Romania by car, train or bus as Brasov is the most visited city in Romania after Bucharest.
Brasov is 170 miles (~ 106 miles) from Bucharest that takes about 3 to 4 hours depending on traffic. As I visited in December I didn't want to drive in the snow, so I took the train from Bucharest to Brasov.
After arriving at the train station in Brasov, it is just 10-15 minutes by Uber to Old Town. Both buses and trains arrive at the Brasov Railway Station.
I found it quite difficult to book a train ticket online so I went to the train station a few days before I wanted to leave and bought my ticket.
To check the train schedule from Bucharest's Gara de Nord railway station, click here. The train ride will take 2.5 to 3 hours.
Tip: If you are visiting during peak summer months or on a holiday, I recommend getting your ticket ahead of time as trains do sell out.
When To Visit Brasov
Brasov is a beautiful town in Transylvania to visit during any season but keep in mind that they get fours seasons. If you are looking for warmer weather, Spring through Fall will be ideal.
The summer will have the warmest temperature ranging from 19 C to 22 C (66 F to 70 F). Since Brasov is at a higher elevation, it will be a little cooler than say Bucharest and the areas along the Black Sea.
The winters can be pretty cold and brutal, yet gorgeous covered in snow. Just be prepared and dress in warm clothes as it is not unheard of to get as cold as – 15 C.
I visited Brasov the first week of December and loved it. Brasov was completely white with snow, making it a lovely winter wonderland.
I would recommend going in the fall or early part of winter as I think it is such a pretty time to go. In the fall you will see the changing of the leaves.
And in early winter it isn't too cold yet you get to experience the snow and the holiday season decorations. I also think this time of the year adds a little bit to the spookiness and allure of Transylvania's tales!
Currency
Although Romania is part of the European Union (EU), the currency used is the Romania Lei (RON) throughout the country.
If you book things online ahead of time or at certain hotel chains, you might be able to pay in Euros. Just don't count on it!
Once you arrive in Romania, you can exchange money at the airport or at exchanges in most cities. I do know that Brasov has small exchanges that can be found in Old Town.
Have an incredible time exploring the best things to do in Brasov!
Looking For More Travel Inspiration?
10 Fantastic Places To Visit In Transylvania
12 Best Things To Do In Bucharest
Exploring The Best Coffee Shops In Bucharest
19 Amazing Things To Do In Ghent
15 Ultimate Things To Do In Dubrovnik
How To Spend 48 Hours In Mostar
11 Fun Things To Do In Dinant, Belgium
Guide To The Best Christmas Markets In Belgium
Got Travel Insurance?
Don't leave home without travel insurance as you never know what might happen on a trip! It is always when you least expect it that something can go wrong like getting sick, in an accident or cancellation of some sort. Get a no-obligation quote from two trusted travel insurance companies for peace of mind on your next trip!
SafetyWing Travel Insurance

Disclaimer: My post contains affiliate links which I may receive a small commission if you click a link and purchase through that link. It won't cost anything to you to use these links but it is very much appreciated. Thank you!