Disclaimer: Traveling Ness contains affiliate links and is a member of the Amazon Services LLC Associates Program. If you make a purchase using one of these links, I may receive compensation at no extra cost to you. See my privacy policy for more information.
Venice Beach to Santa Monica: A Fun One Day Itinerary
Venice Beach and Santa Monica are two super beautiful beaches to visit when in Los Angeles that you don't want to miss. Get ready to have a fun-filled day visiting the best from Venice Beach to Santa Monica using this itinerary!
Combined, there are 5 miles of pristine beaches to explore that is definitely touristy but locations you need to visit at least once. Sights include an amusement park, canals, art murals, piers, and delicious food, making these two cities an exciting eclectic mix!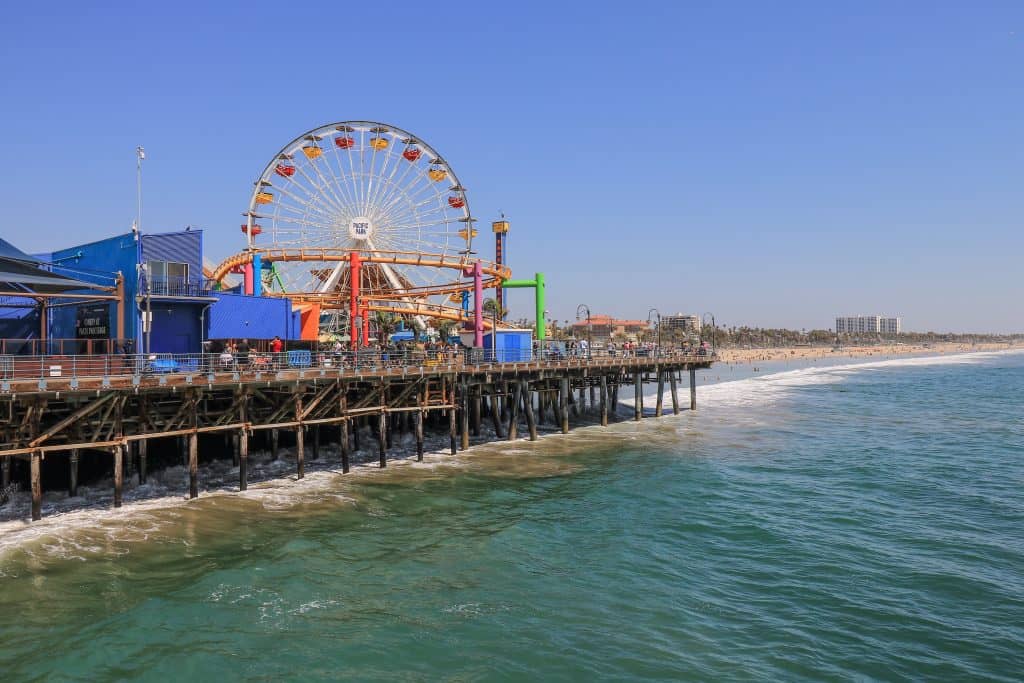 Venice Beach got its start in the early 1900s by the tobacco millionaire Abbot Kinney and why you see his name a lot. He took a swampy marsh area and developed it to become the "Venice of America" and a destination many would want to see.
Santa Monica got its start a little earlier in the late 1880s when the Southern Pacific Railroad arrived in Los Angeles and needed a port. It was short-lived but Santa Monica was the main LA port until it changed to San Pedro Bay.
It ended up working out as Santa Monica became known for amusement parks and drew many to enjoy. From there the rest is history as both Venice Beach and Santa Monica expanded to become a huge tourist hub!
Fun Facts: The Santa Monica Pier was the first pier on the West Coast to be made of concrete. And, the original lifeguards at Santa Monica were all men who were quite the attraction, and many of whom were stuntmen for Hollywood!
Where Is Venice Beach and Santa Monica?
Venice Beach and Santa Monica are two popular Los Angeles beaches located along the Pacific Coast of Southern California.
Venice Beach is located south of Santa Monica Beach and north of Playa Del Rey and Manhattan Beach.
Santa Monica Pier and Beach can be found where the 10 Freeway ends literally at the beach. It also happens to be where the famous Route 66 ends!
From Venice Beach to Santa Monica, you have 5 miles of stunning coastline to explore…
How To Get There
If you are flying into Los Angeles, then you will likely be coming from Los Angeles International Airport (LAX) which is south of Venice Beach and Santa Monica. From LAX, expect it to take about 20 mins to reach them.
There are multiple airports throughout Los Angeles County so a few other options to fly into are Long Beach Airport (LGB) and Hollywood Burbank Airport (BUR).
From downtown Los Angeles, the drive to both beaches is about 35 – 40 minutes. If you are coming from San Diego International Airport (SAN), the drive is about 2 – 2.5 hours.
Explore the best flight deals for your upcoming trip here!
How To Get Around
If you only plan to spend your time on the beaches of Los Angeles, then I would probably not rent a car. Finding a parking spot can be challenging and not worth it.
But if you will be seeing several areas of Los Angeles then yes, I highly recommend renting a car to get around. If you are staying at a hotel in Venice Beach or Santa Monica, they will likely have parking available for you. But for a fee of about $40 to $48 per day.
And unless you find street parking (check signs) then you will likely be paying $40 per day for overnight.
If you are just coming in for the day there are 3 main public parking lots for Venice Beach that are open from 6:00 am to 12:00 am (midnight). The cost will be around $15 for the entire day.
South City Parking Lot – Near Venice Canals (2100 Ocean Front Walk, Venice, CA 90291)
North City Parking Lot – End of Rose Ave (300 Ocean Front Walk, Venice, CA 90291)
Washington Blvd Lot – Near Venice Pier (3100 Washington Blvd, Venice, CA 90291)
For detailed parking options for Santa Monica, visit this site here. Once parked the easiest way to get around is by foot or bike!
And if you want to avoid driving and parking altogether then jump on the LA Hop-On-Hop-Off Bus Tour and save some headaches! If you take the Beach Loop (Blue route), there are drop points in both Venice Beach and Santa Monica!
If you do decide to rent a car, find the best rates here!
Note: No matter where you park, do not leave any valuables or anything visible in your car!
Best Time To Visit Venice Beach And Santa Monica
You really can't go wrong visiting Southern California any time of the year as the weather is pretty amazing.
But if you want optimal sunny and warm beach days then April through October is your overall best bet.
With that said, June will likely be the least desirable during that time as the coast of California tends to get very foggy in the mornings and which we locals call "June gloom".
Does it happen every day? Not necessarily but likely the sun won't show its face until about noon or 1:00 pm.
You can catch some wonderful beach days in March too but the warmest days will be in late July through October.
If you are looking for a winter getaway then there are plenty of sunny but cooler days in November through March. The ocean just might be a little too cold to take a dip in.
The temperatures don't vary too much throughout the year ranging from about 58 F to 80 F with of course a few heat waves in late summer that may get hotter. If there is any rain, it will likely be in January, February, and possibly May.
Where To Stay In Venice Beach or Santa Monica
When on vacation, what better location than staying at the beach! Each of these hotels is right on the beach or steps from it. You can't go wrong with any of these…
Venice Beach:
Hotel Erwin – great location on Venice Beach and has a rooftop bar.
Santa Monica:
Fun Tours To Take
If you are only spending a day, then you might not have time or taking a tour might not be a priority. But if you want to learn more about the cool and funky aspects of Venice Beach or Santa Monica, these tours are great!
LA Hop-On-Hop-Off Bus Tour – An excellent way to get around LA and with drop-off stops in both Venice Beach and Santa Monica!
Venice Beach & Santa Monica Bike Tour – Explore the best of both Venice Beach and Santa Monica on an electric bike tour!
Kayak & Paddleboard Tour – Get in a little exercise and see sea lions and other marine life next to Venice Beach.
Private Surf Lesson – Learn how to surf on the famous Venice Beach with a private lesson!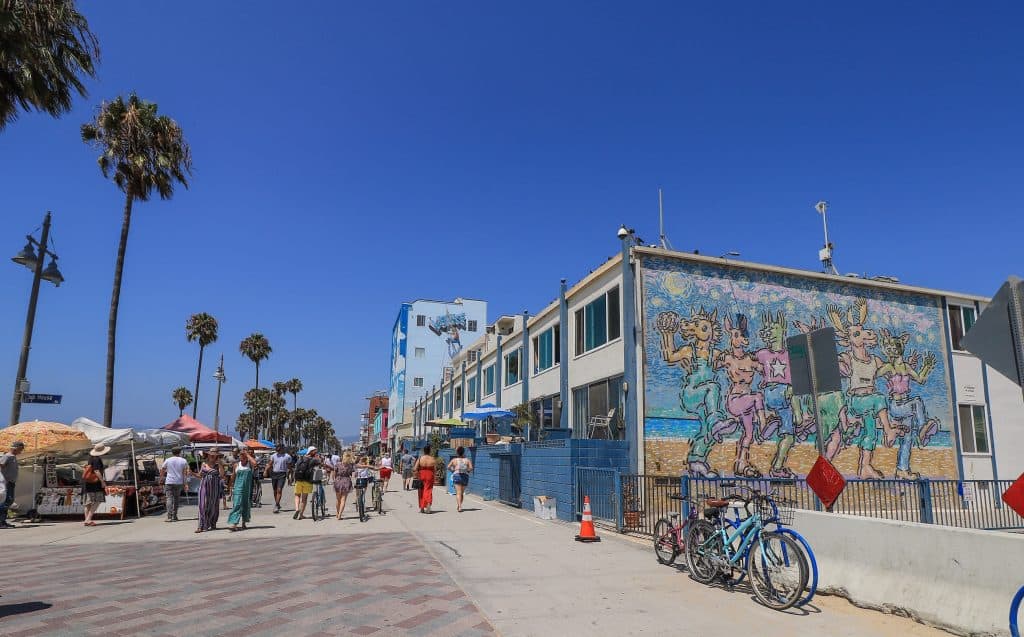 Beach Trip Essentials
Venice Beach to Santa Monica 1 Day Itinerary
1. Grab A Cup Of Coffee
What better way to get your morning started than with an excellent cup of coffee and possibly a donut or two….
There are a handful of fantastic places to get a cup of coffee along the beautiful 2 mile stretch of Venice Beach. Any of these spots are the perfect way to kick off your day touring Venice Beach to Santa Monica!
Intelligentsia (1331 Abbot Kinney Blvd, Venice, CA 90291)
Menotti's (56 Windward Ave, Venice, CA 90291)
Blue Bottle Coffee (1103 Abbot Kinney Blvd, Venice, CA 90291)
If are a donut lover, then head over to Blue Star Donuts and enjoy the yummiest donuts and great coffee!
Blue Star Donuts (1142 Abbot Kinney Blvd, Venice, CA 90291)
Or if you would rather start out with a breakfast that is dynamite then head over to Eggslut! Omg, their gourmet egg sandwiches are phenomenal! I promise you won't be disappointed…
Eggslut (1611 Pacific Ave, Venice, CA 90291)
2. Venice Canals
If you haven't already seen the lovely Venice Canals in a movie or show then you may be confused as to how are their Venice Canals in California?
Although it might not be Italy, the Venice Canals have a ton of charm and is such an idyllic setting!
Just a few blocks off of Venice Beach the Venice Canals run between 28th Avenue and S. Venice Blvd. In 1905, Abbot Kinney built and developed the man-made canals as he wanted a "Venice of America".
I don't blame him as who wouldn't want a bit of Venice, Italy here? His goal was to create the look and feel of the canals in Italy but with a Californian palm tree flair. In the beginning, there were even gondoliers on these Southern California canals!
Once cars became more popular in the 1920s and 1930s, the canals were no longer a hit. By the 1930s several of the canals were filled in to make room for roads. From that point, the canals were sadly in disrepair until the 1990s!
Today, the Venice Canals are a Historical Landmark and one of the top Venice Beach attractions! There are still 6 canals that have the cutest to incredibly luxurious houses lining this now sought-after neighborhood.
It is the perfect place to go for a walk, wander over beautiful bridges, and dream about owning one of the very pricey homes! There are plenty of excellent photography spots to keep you busy too.
Tips: Want to get a peek of the canals that were featured in a well-known movie? Watch Valentine's Day as it is not only a cute movie but has some great shots of the canals.
Note: Expect to spend about 45 minutes to an hour here. Free to visit but remember people live here so be respectful and don't attempt to go in yards or bother the residents.
3. Venice Beach
Venice Beach spans 3 miles on California's coastline and is a very wide beach. From the boardwalk, it is a good trek to the water or at least more so than many beaches. Don't worry it is only a few minutes walk.
If you have ever heard of Venice Beach, it is likely to conjure up images of men pumping iron with enormous muscles since 1951.
This section of Venice Beach is referred to as Muscle Beach as there are a lot of people sweating it out on workout equipment right there on the beach!
The most famous names to have worked out here are Arnold Schwarzenegger, Frank Zane, and Lou Ferrigno. And yes, you do need to pay to be able to work out at Muscle Beach. There are options for a daily pass, monthly or yearly.
After you have had your fill of watching bodybuilders show off their physiques, make your way onto the beach.
Either relax sunbathing on the sand or take a dip into the ocean! Unless it is a holiday weekend there is more than enough space to call your own.
Lifeguard towers are iconic to the beaches of Southern California but there is one that stands out! You can't miss the vibrantly colored rainbow Lifeguard Tower known as the Pride Lifeguard Tower.
It was painted in 2017 and dedicated to the first openly gay city councilman, Bill Rosendahl.
The tower was supposed to be painted temporarily but people fought to keep it and I'm glad they did. It is eye-catching, so I doubt you will miss it (north of the skatepark and outdoor gym)!
4. Stroll The Venice Boardwalk
In contrast to the quaint and serene Venice Canals or Venice Beach, The Venice Boardwalk is much livelier, a little chaotic, and filled with interesting characters! It is an awesome place to hang out if you love to people watch.
For years it had the reputation of having a lot of homeless, hippies, and street performers. And it still is quirky! But it is a lot more cleaned up with tons of shops, tattoo parlors, places to eat, and more.
Don't be deterred, as the unusual individuals you will encounter are part of the Venice Beach vibe!
The best way to see the boardwalk is by foot but there are plenty of people on bikes and skateboards too.
You can explore the 2-mile boardwalk that runs along Venice Beach at your leisure and see as much as you want!
5. Lunch At Charlie's Deli
Previously I had recommended incredible sandwiches at Zelda's Corner but sadly they closed (photos are from there)! But another fantastic sandwich shop in Venice Beach that is along the boardwalk is Charlie's Deli and it's top notch.
Order your sandwich and enjoy at one of the outdoor tables or take it to go to and enjoy on the beach. The sandwiches are made of the highest quality ingredients and with the freshest bread and baguettes that are so delicious!
This local sandwich shop takes pride in making artisan sandwiches. So, so good… The best sandwiches around.
Address: 1301 Ocean Front Walk, Venice, CA 90291
Discover The Best Tours In Venice Beach And Santa Monica!
6. Colorful Art Murals
Next, explore the fun and colorful art murals that are scattered on buildings in Venice Beach. Most of these cool murals can be seen walking along Abbot Kinney Blvd or the Venice Beach Boardwalk. And of course, a few here and there on streets in between.
Although not an art mural per se, make your way over the rainbow crosswalk!  It is located on Abbot Kinney Blvd in honor and remembrance of the 50th anniversary of the Stonewall Uprising.
Stonewall Uprising took place in 1969 in NYC and consisted of riots where gays protested against unfair treatment and oppression by the police.
If you didn't already see the Graffiti Art Walls on Venice Beach, make sure you check out these colorful displays of art! They are located a little south of the skatepark.
If you are hot and need a little cooling off, grab an ice cream cone at Salt & Straw! Originating in Portland this ice cream is handmade ice cream filled with goodness…
I used to live in Portland and when it first opened up the lines were forever. Now they luckily have several stores in California.
Although you can't miss it, the "Venice" hanging sign is a fun attraction as it hangs over the intersection of Windward and Pacific Avenue. A "Venice" sign has been hanging out here since 1905 but the one you see today is a newer version.
Salt & Straw Address: 1357 Abbot Kinney Blvd, Venice, CA 90291
7. Santa Monica Beach
The easiest way to get from Venice Beach to Santa Monica Pier area, is by walking, bike or taking an Uber/Lyft. If you are already parked, you don't want to deal with having to find and pay for yet another parking spot.
Santa Monica Beach is 3-miles long and a beautiful wide sandy beach that runs both north and south of the Santa Monica Pier. The best things to do on Santa Monica Beach?
Layout and get a suntan or have some fun playing in the waves. It really is a gorgeous beach and is perfect for a chill and relaxing afternoon.
Note: If you want to walk from Venice Beach, it is about a 2-mile stretch and will likely take you around 45 minutes.
8. Santa Monica Pier
The Santa Monica Pier is one of the top attractions in Los Angeles and has been featured in countless, TV shows, movies, and commercials. The first time I visited the Santa Monica Pier, I was amazed at how many activities there are on one pier!
There is Pacific Park which is a modern-day amusement park with a Ferris Wheel, games, cotton candy, funnel cake, and plenty more. If you aren't scared of heights then give flying through the sky on a trapeze a try! Yes, there is a trapeze school where you can learn.
At the very beginning of the pier, you can take a peek at life under the sea by visiting Heal The Bay Aquarium.
And one of the things that make the Santa Monic Pier so famous is that Route 66 ends here!
Yep, the 2,448 miles of Route 66 begins in Chicago, Illinois, and runs through Illinois, Missouri, Kansas, Oklahoma, Texas, New Mexico, Arizona, and California! You can take a picture with the sign that marks the official end of Route 66.
And if you aren't into games or hopping on a Ferris Wheel, one of my favorite activities is to just walk the entire length of the pier and get outstanding views of the coastline and the Pacific Ocean…
9. Santa Monica Camera Obscura
I would only include visiting the Santa Monica Camera Obscura if you have the time and it interests you. But it is by no means the top thing to see in Santa Monica!
The Camera Obscura is one of many that can be found throughout the world and are very fascinating if you have a love for photography and how images were captured back in the day. I have only been to the one in Scotland, Edinburgh and I loved it!
Built in 1898, this old-school camera documented life at Santa Monica Beach and was a way to draw visitors to the area. It was the earliest version known to project images that evolved into photography that we know today.
Address: 1450 Ocean Ave, Santa Monica, CA 90401 (near the entrance to the Pier). Closed on Sundays. Open 9:00 am to 3:00 pm all other days.
10. Drinks With A View
By now you have had a very long and fun day exploring Venice Beach and Santa Monica, so wind down the day with cocktails with a beach view! If you want to be able to see the entire beach, pier, and the Pacific Ocean, get yourself a drink at the ONYX Rooftop Bar.
The ONYX Rooftop Bar provides excellent views to take in the sunset over the Pacific all while sipping cocktails and reminiscing about your day! The rooftop bar sits atop the Hotel Shangri-La and is the perfect spot to unwind.
Address: 1301 Ocean View Ave, #1019, Santa Monica, CA 90401 (about 3 blocks north of the pier).
Book A Fun Tour In Venice Beach And Santa Monica!
11. Dinner On The Beach
They are numerous places to get dinner but why not dine on the beach to enjoy the ocean air and stunning views? Everyone's taste buds will crave something different, so here are a few great choices for a dinner on the beach!
The Lobster (1602 Ocean Ave, Santa Monica, CA 90401): Serving up lobster of course, and other yummy seafood entrees!
Blue Streak (1700 Ocean Ave, Santa Monica, CA 90401): Traditional American dishes with upscale burgers, salads, and flatbread.
Shutters On The Beach (1 Pico Blvd, Santa Monica, CA 90405): Has 2 restaurants to choose from, 1 Pico and Coast. 1 Pico serves California Coastal Cuisine and Coast is the more casual dining option.
BOA Steakhouse (101 Santa Monica Blvd, Santa Monica, CA 90401): An awesome steakhouse that also offers a few seafood dishes too.
Note: In case you stay another day and want to enjoy lunch on the beach, go to:
Back On The Beach Café (445 Pacific Coast Highway, Santa Monica, CA 90402): Great for burgers, salads, and fish tacos.
Have a fabulous time exploring Venice Beach to Santa Monica!
Got Travel Insurance?
Don't leave home without travel insurance as you never know what might happen on a trip! It is always when you least expect it that something can go wrong like getting sick, in an accident or cancellation of some sort. Get a no-obligation quote from two trusted travel insurance companies for peace of mind on your next trip!
Looking For More Travel Inspiration?
A Guide To The 5 Most Beautiful Beaches Of Malibu, California
The Best Ways To View The Hollywood Sign
10 Top Attractions in Downtown Los Angeles
10 Awesome Things To Do On Catalina Island
15 Best Things To Do In San Diego
17 Fun Things To Do In Orange Beach, Alabama On Your First Visit
Allbirds Review: The World's Most Comfortable Shoes?
The Epic California Big Sur Road Trip
Disclaimer: As an Amazon Associate and a participant of other affiliate programs, I may earn from qualifying purchases in this post. This means that if you make a purchase through one of these links, I might receive a commission at no extra cost to you. Thank you and it is greatly appreciated!