Disclaimer: Traveling Ness contains affiliate links and is a member of the Amazon Services LLC Associates Program. If you make a purchase using one of these links, I may receive compensation at no extra cost to you. See my privacy policy for more information.
15 Best Things To Do In San Diego, California For First Time Visitors
Known as America's Finest City, San Diego is one of the most popular travel destinations in the United States for good reason. This guide shares the best things to do in San Diego, home to the most beautiful beaches, great weather year-round, and a laid-back vibe that will win you over!
There are a number of top attractions in San Diego such as museums, great restaurants, and outdoor activities to keep you from never wanting to leave. Other than surfing and great fish tacos, San Diego has become well known as the home of Comic-Con and one of the top cities for craft beer.
Where Is San Diego?
San Diego is located at the southernmost tip of California only miles from the border of Mexico. Do get out of downtown San Diego and take a drive up the coast on Highway 101 and take in over 60 miles of pristine beaches (from the Mexico border to Orange County).
The expected drive time depending on traffic is 1.5 to 2 hours from Orange County and 2.5 to 3 hours from Los Angeles.
And if you are interested in heading south to Mexico, the border is a few minutes away. Make sure you bring your passport to get back across the United States border!
Tip: If you want to spend most of your time at the beach when visiting San Diego, then head over to my post 15 Most Popular Beaches In San Diego for a complete guide!
How To Get To San Diego?
The easiest option to get to San Diego is to fly into the San Diego International Airport (SAN) which is in the heart of downtown San Diego.
When the plane is about to land, it will appear that the plane is going to land on the rooftop of a building or take one out in the process. But don't worry, the plane has plenty of clearance!
Another option is to fly into John Wayne Airport (SNA) that is in Orange County. From John Wayne Airport, it is 86-miles to reach downtown San Diego.
Start planning for your trip to San Diego and explore the best flight deals today!
I usually look for the best deals and choose based on that. If you plan to spend time in the North County part of San Diego then flying into Orange County could be a better choice.
Note: Notice that the airport codes for these two airports are very similar and double-check you booked the one you want! I have booked the wrong one and it wasn't a big deal but still…
Do I Need A Rental Car?
If you only plan to stay in downtown San Diego, then you could pass on getting one and use Uber or Lyft for close distances. But I would highly recommend you leave downtown to see the many beaches, hikes, and sites along the coast up into North County.
For this reason then yes, you would need a rental car. To find the best rates on a car rental, search here to get ready for your trip!
When To Visit San Diego
Overall, San Diego has the best weather year-round in the United States by far. San Diego doesn't have the typical seasons that you see in the East Coast and Midwest (aka snow, fall foliage, and humidity). But it makes up for having warm and sunny weather most of the year.
The weather doesn't change too much from each season with the average temperature in winter to be 50 F and 68 F, 68 F to 72 F in spring, 72 F to 82 F in summer, and 70 F to 77 F in fall.
That being said, if I had to pick the months to avoid it would be the spring and early summer months that tend to be the rainiest, overcast and foggy.
The best months to visit all the San Diego attractions are in July through November for the awesome weather. In general, there is less fog along the coast with warm and sunny days galore! Even the winter months are really great.
Yes, we can get some light rainy days but some days in the winter are perfect beach days with slightly cooler temps.
Where To Stay In San Diego
There are several areas to stay in but staying in downtown San Diego offers a great location. That way you are super close to the San Diego Bay, Little Italy, Gaslamp District, Balboa Park, and Coronado.
A few of my favorite hotels to stay at are:
Hilton San Diego Bayfront
Pendry San Diego
Hotel Republic San Diego
Note: Both the Pendry and Hotel Republic have rooftop bars that are great to visit on a warm day!
Best San Diego Tours
If you plan to be spending a few days or more, there are plenty of fun tours to take to see many top things in San Diego with a guide. Here are the best ones that will make for a memorable trip!
Go San Diego Pass – If you are interested in seeing many sights in San Diego, then the Go San Diego Pass is a great deal saving you up to 55% on museums, tours, and attractions in San Diego.
San Diego Balboa Park Tour – Spend 2 hours on a guided tour of Balboa Park, the best urban park in the U.S.!
USS Midway Museum – Skip the line and tour the USS Midway Museum, the longest-serving aircraft carrier in America.
San Diego Harbor Cruise – See the skyline of San Diego from the water as you cruise in the San Diego Bay, downtown San Diego, the Coronado Bridge, and USS Midway.
La Jolla Sea Cave Kayaking Tour – Explore the coolest sea caves in a kayaking guided tour!
La Jolla Surf Lesson – Always wanted to learn to surf? San Diego is one of the best places to learn!
Old Town San Diego Hop-On Hop-Off Bus – Tour the best attractions in San Diego, Old Town, and Coronado via this bus tour where you can hop-on and hop-off at your leisure.
Map Of Things To Do In San Diego
Use this map to make planning and navigating the best things to do in San Diego easier for your trip!

San Diego Attractions
1. La Jolla
Located just 13 miles north of San Diego, La Jolla is a gem of a beach community. It is often referred to as the "Jewel of the Sea" for its exquisite beauty. For many visitors coming to La Jolla, its beaches are the first place to flock to when spending time in San Diego.
La Jolla boasts incredible views of the California coastline offering several activities ranging from sunbathing, snorkeling, scuba diving, hiking, and paragliding just to name a few. There are plenty of upscale restaurants and shopping to keep you busy if you have had enough of the beach!
For more details on what to do in La Jolla, check out my post, Exploring the Best La Jolla Attractions.
Best La Jolla Tours:
La Jolla Sea Cave Kayaking Tour – Explore the coolest sea caves in a kayaking guided tour!
La Jolla Surf Lesson – Always wanted to learn to surf? San Diego is one of the best places to learn!
2. Coronado Island
The beaches on Coronado Island might be some of the nicest you will find in San Diego. Despite what you might think, Coronado is not an island but a peninsula that juts into the San Diego Bay. Right across from Coronado, is downtown San Diego with close access and stunning views.
Coronado means "the Crowned City" and it's not hard to see why as it has luxury restaurants, shopping, and the famous Hotel del Coronado. The Hotel del Coronado is more commonly referred to as "The Del" and has been a local favorite since 1888.
Its iconic architecture and red roofs against its white wooden exterior are what Coronado is visually most famous for.
Among hosting a long list of celebrities over its 130-year reign, the hotel is also said to be haunted! Stay overnight and see for yourself…
Whether you are staying at The Del or not, take a stroll through the beautiful lobby and grounds to take in its historic beauty. And why not have a meal or a cocktail to take in all the old era elegance?
To reach Coronado, drive across the beautifully curved bridge which you might notice is considerably high. The bridge was built so high up, to allow for clearance of Navy Ships to pass in and out of the bay. It's a stunning bridge and even better if you decide to sail underneath it!
For another travel option to Coronado, you can take the 15-minute ferry ($5 one-way) that leaves from two ports, the Broadway Pier and San Diego Convention Center. You can even bring your bike onto the ferry with you.
Tips: To experience a decadent and upscale brunch, make a reservation for the "Crown Room Brunch". For $98, it includes a seafood bar, carving stations, Bloody Mary and mimosa bar.
Come prepared to eat! On Sunday's from 9:30 am to 1 pm. The Hotel Del Coronado is now a Hilton property, so you can earn points during your stay which is a bonus.
3. Balboa Park
Celebrated as the largest urban cultural park in the United States, Balboa Park is host to 17 museums, parks, gardens, restaurants, incredible architecture, and the world-famous San Diego Zoo. One can easily spend a few days here exploring, making Balboa Park a must to see when visiting San Diego.
A few of the attractions that you shouldn't miss is the San Diego Museum of Man, San Diego Air & Space Museum, Fleet Science Center, and the Cabrillo Bridge.
If you are looking to wander beautiful gardens, make sure to leave time to visit the Japanese Friendship Garden and the Botanical Garden & Lily Pond (seen below).
Although the park got its start in the late 1800's, Balboa Park was put on the map when it hosted the Panama-California Exposition in 1915-1916.
The Panama-California Exposition was to celebrate the opening of the Panama Canal the year before in 1914. This marked San Diego to become the first U.S. port to receive ships coming up from the Panama Canal.
Tip: Don't miss out on seeing the California Tower, a tower up on top of the Museum of Man. Tours of the tower are now available, offering a bird's eye view of Balboa Park and San Diego.
Want to take a guided tour of Balboa Park? Take this San Diego Balboa Park Tour to see the best things to see in the best urban park in the U.S.!
4. Little Italy
Little Italy may be one of San Diego's hippest neighborhoods with its notable restaurants, shopping, and downtown living space. Although Little Italy may be known for great Italian food, this community has some of my favorite restaurants and bars in San Diego!
Little Italy got its start back in the early 1900's with thousands of Italian families settling to develop the tuna fishing industry in San Diego. The tuna canning industry is long gone, but Little Italy still remains a popular spot in downtown San Diego to live, dine and hang out in.
A great spot to rest your feet, and enjoy a cocktail or coffee at is Piazza Basilone. It is centrally located in Little Italy with views of the Pacific Ocean. Piazza Basilone is a memorial to John Basilone and the "Boys That Never Came Home" from the wars of the 20th century.
There are too many excellent eateries to mention them all here, but a few that jump out are Juniper & Ivy, Crack Shack, Buon Appetito and Herb & Wood.
A new addition to Little Italy in 2018 is the Little Italy Food Hall that has six food stations and bar. Food options range from Italian, tacos, seafood and more. The Little Italy Food Hall provides a great spot to meet up with friends or for that next date night.
5. Hike Potato Chip Rock
Located about 30 minutes to an hour northeast of San Diego, is an intense but great hike to Potato Chip Rock in Poway, CA. The rock got its name because of a thin section of rock that juts out giving the appearance of a "potato chip".
Starting out at Lake Poway, look for the sign "Mt. Woodson trail" that leads to a 7.5 miles roundtrip hike and is considered difficult. This is a very popular hike so I recommend getting there early especially during the spring through fall months, as it can get busy and crazy hot.
Once you have reached Potato Chip Rock, there can be a very long line to get your photo up on the chip. Try and go during the week to avoid the crowds or come with a lot of patience!
Don't make the mistake that I made by not bringing enough water… Take plenty as it is dry and hot on this trek. After you get back down to Lake Poway, grab a cold drink (or beer) from the Lake Poway Concession Stand and enjoy the lake views.
Tip: Lake Poway has plenty of parking, bathrooms and picnic areas (parking is free during the weekdays) for you to use. To reach the Mt. Woodson Trailhead, use the following address: 14644 Lake Poway Rd, Poway CA 92064.
6. Cabrillo National Monument
Out on the farthest portion of Point Loma is the Cabrillo National Monument that offers up stunning views of the San Diego Bay and the Pacific Ocean.
The main attractions to see are the Old Point Loma Lighthouse, Visitor Learning Center, and the Tide Pools when you are visiting.
While exploring the lighthouse and museum, visitors can learn all about the area's history of when Juan Rodriguez Cabrillo landed in San Diego in 1542. The significance is it was the first time a European had discovered the west coast of the United States.
Climbing to the top of the Old Point Loma Lighthouse is closed to the public except for three days a year. On March 22nd, August 25th and November 15th visitors can climb up the steps of the old lighthouse from 10am to 3:30pm. For more info click here.
If you plan to visit the tide pools, come at low tide to make the most of your visit. Unfortunately, the low tide might be outside of park hours especially in the summer months. So make sure to check the tide charts ahead of time!
Tips: Looking for a bite to eat nearby that has awesome food? Venture over to Liberty Station that has many great eateries to choose from (use 2820 Historic Decatur Rd, San Diego CA for the general area of Liberty Station).
Entrance Fee & Pass Info
Admission is $15 per car or you can purchase the Cabrillo Pass for $30 good for 1 year. This makes for a great deal if you plan to come more than twice. And note that the one-day admission ticket is good to enter the park for 7 days.
If you plan to visit several of the U.S. National Parks during the year, consider purchasing the America Is Beautiful Pass. It gives you access to 2,000 National Parks and Monuments including Cabrillo National Monument!
The America Is Beautiful Pass is good for one year from purchase and also includes 3 other adults that are in your car. If you just visit 3 or more national parks or monuments it is worth buying and pure savings after that!
7. Sunset Cliffs
A short distance north of Cabrillo National Monument is Sunset Cliffs, a section of the beautiful Pacific Ocean coastline. Sunset Cliffs is home to such incredible sunsets, hence its name. Although sunsets are pretty spectacular here, Sunset Cliffs is also a great place to visit any time of the day.
Sunset Cliffs is a great area to run, ride a bike, surf or explore the sea caves. During low tides, discover the secluded beach spots and tide pools. Take extra care when getting close to the edge of the cliffs as there have been many accidents here.
Tip: Craving a burger? Head over to Hodad's in Ocean Beach that has been voted the best burger in San Diego and in the world! The original in OB is at 5010 Newport Ave, San Diego CA.
8. Old Town
As the name implies, Old Town was the first area of San Diego that was settled by Europeans (Spanish) back in 1769. It was San Diego's center until the late 1800's, before migrating to the current downtown San Diego waterfront area of the Gaslamp District.
Today, Old Town focuses on the Mexican culture and history in the development of southern California. If one is looking for some yummy traditional Mexican food and a margarita, then wander through all of Old Town's many restaurants and bars!
The Whaley House Museum and Junipero Sierra Museum are a few notable sites to see in Old Town. The Whaley House Museum is a historic landmark that is officially designated as a haunted house due to the suicide of Violet Whaley and other hangings that took place there.
Yes, I said haunted… And supposedly the most haunted house in the United States. Take a tour and decide for yourself whether it is haunted!
Tip: Take the Old Town San Diego Hop-On Hop-Off Bus Tour to see not only Old Town but also several places to visit in the San Diego area.
9. Torrey Pines State Reserve
The best way to get in some exercise while on vacation is to go on a hike and see the local landscape. If you are looking for a hike with views, search no further than Torrey Pines State Natural Reserve.
The park is home to the Torrey Pine tree (rarest pine in the U.S.), trails, bluffs and breathtaking views of the Pacific Ocean.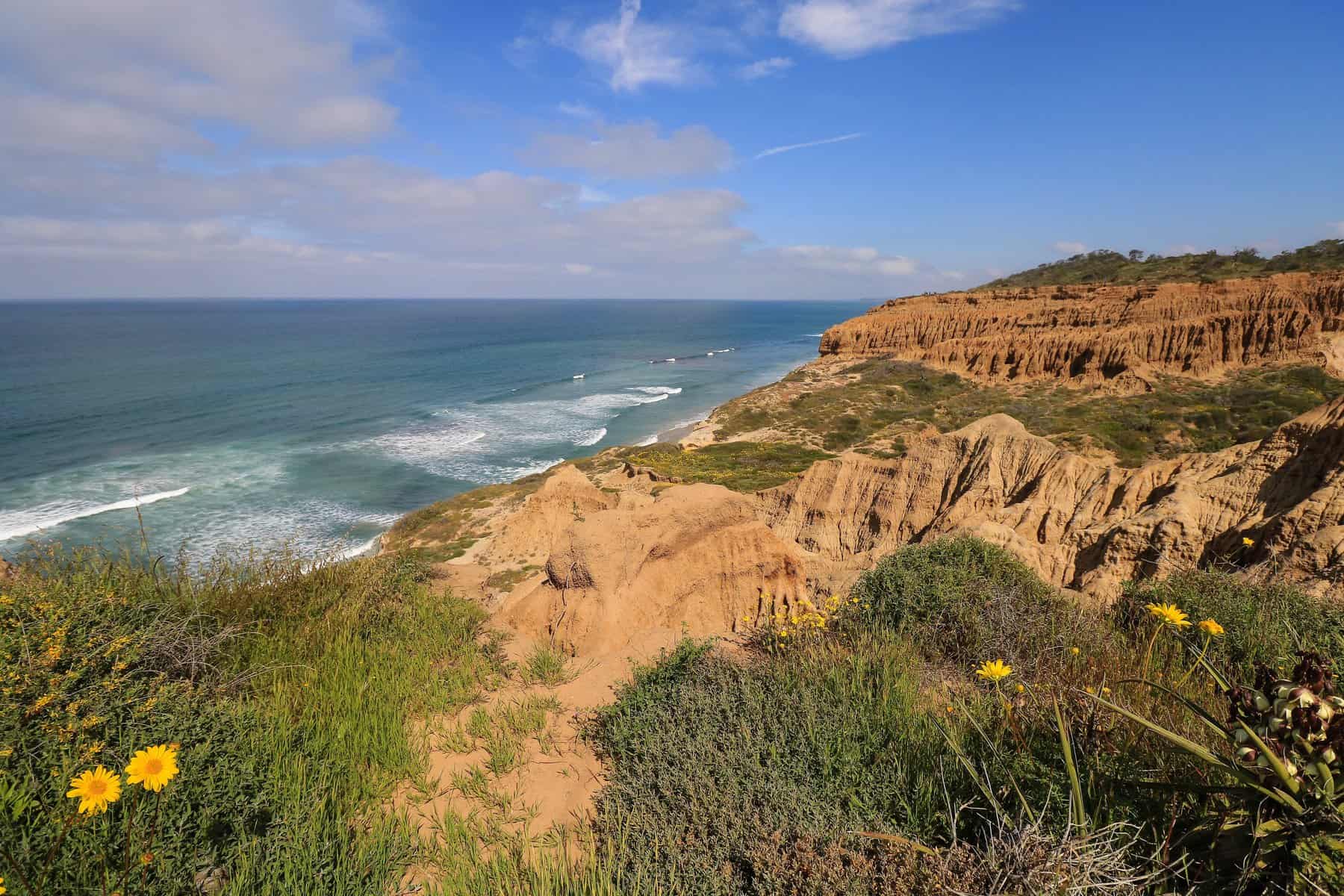 There are various smaller trails if you are looking for a quick hike, but I enjoy combining a number of the trails for a 5.6 mile hike. Starting at the parking lot, take the Torrey Pines Park Rd to the Parry Grove Trail, then Razor Point Trail.
Continue on to Beach Trail, followed by Broken Hill Trail. Next, make your way to N Fork Trail until you get back onto Torrey Pines Park Rd.
Tips: Bring plenty of water especially on a hot day. Get there early to get a parking spot as parking lots fill up quick on the weekends.
If you want to avoid hiking up the big hill, there is parking at the top by the Visitor Center. To learn more about the area, the visitor center offers guided nature walks on weekends at 10am and 2pm.
Location:  12600 N. Torrey Pines Rd, La Jolla, CA 92037
10. Shelter Island
Shelter Island is a section of Point Loma that has stunning views of San Diego's downtown skyline. Although it isn't really an island, it's connected to the rest of Point Loma by a small strip of land and is all things nautical!
In a previous life, my ex and I had a sailboat docked on Shelter Island and it still holds some of my best memories. There is nothing like being on the water and taking in the salty air. It was our local getaway that felt like a mini-vacation.
Whether or not you are into sailing, there are several water sports to appreciate here. Activities range from kayaking, paddle boarding, jet ski's and of course sailing.
If you are into live music, check out the concert schedule (spring through fall) for Humphrey's Concert on the Bay. Concerts here are pretty awesome as it is a small and intimate venue. My two favorite concerts I saw here was Chris Isaak and Sara McLachlan.
If you have a dinghy (small inflatable boat), you can motor over to the waterfront in front of Humphrey's to listen to concerts for free.
It's fun to do but if you have too many drinks, there is nowhere to pee! If you are wanting to do this, head over early to nab a spot with the other small boats.
Tip: There are many great restaurants in and around Shelter Island. If you are craving good Mexican food, don't miss Miguel's!
11. Embarcadero
Along the San Diego Bay waterfront in downtown San Diego is the Embarcadero meaning "landing place". It is home to cruise ship terminals and rich maritime history to explore. There is a lot to see and it is one of the best places to enjoy a leisurely walk along the promenade.
Walking north from the address below, the main sights to see are the USS Midway Aircraft Carrier, the Maritime Museum and the Tuna Harbor Park. The USS Midway is the longest serving aircraft carrier in the United States and offers a tour to explore.
Head over to Tuna Harbor Park next door to the Midway to see the famous and rather large (25ft!) "A National Salute to Bob Hope & the Military". The statue depicts the well-known New York photo of the sailor and nurse kissing in celebration of WWII ending.
Continue walking south of Tuna Harbor Park and wander the quaint Sea Port Village that has a lot of fun shopping, restaurants, and places to take in the San Diego Bay's beauty.
Tip: If you are in town and at the San Diego Convention Center, head over to the waterfront to stretch your legs and take in the San Diego Bay. You will be thankful you did!
Location:  400 Kettner Blvd, San Diego, CA 92101. But wherever you find parking along the waterfront is a great place to start!
12. San Diego Zoo
The San Diego Zoo has been in Balboa Park since 1916 and is voted as the world's best zoo. Growing up in San Diego, my family always had season passes to the zoo, which was pretty cool. The zoo is a great way to see animals in a habitat as close as possible to their origin and learn about the importance of protecting all of these species.
You get the chance to cover acres of land that is home to over 4,000 animals and 800 species from all over the world. To learn more about the animals and get a glimpse behind the scenes, there are various tours to take.
The Zoo's sister park, the San Diego Safari Park is located 35 miles north of San Diego in Escondido, CA. Here, the animals are able to roam freely in huge areas that mimic their natural habitat. Whereas at the Zoo, the animals are in smaller living spaces and closer up.
When riding the tram at the San Diego Safari Park, you get the feeling of being on an African safari. There are several activities to choose from ranging from the cheetah run, safari tours, zip line, and a camping experience.
Tip: If you plan to see both the San Diego Zoo and the Safari Park then save 20% off a 2-day pass to both!
13. Encinitas Meditation Gardens
Residing along the cliffs of the Pacific Ocean in Encinitas is the Self-Realization Fellowship and meditation gardens. The Self-Realization Center offers lectures, meditations and teachings to find one's spiritual practices.
The Meditation Gardens are open to the public and are a peaceful oasis with gorgeous ocean views. There are several sitting areas throughout the lush gardens to sit down and unplug from the chaos of daily life.
So no matter whether you are looking to practice your meditation or commune with nature, the Encinitas Mediation Gardens is a must. To access the gardens, enter on 215 W. K Street (between 2nd and 3rd Streets). Please note that the gardens are closed on Mondays.
Note: If you are interested in finding out what to do in Encinitas, take a look at my post 19 Fun Things To Do In Encinitas, California.
14. Carlsbad Flower Fields
Each spring the fields of Carlsbad look like a vibrant watercolor painting with flowers of various colors. The window to see and walk the flower fields is from the beginning of March to the beginning of May.
For more details on visiting the Flower Fields, read my post The Flower Fields In Carlsbad: The Ultimate Guide for all the info you need!
I originally thought there were several types of flowers here at the Flower Fields. But after visiting, I learned there is only one type of flower, the Giant Ranunculus. They are also referred to as the Persian Buttercup and are some of the prettiest blooms I have seen.
Over 50 acres are graced with Ranunculus flowers and the peak time to get a glimpse of the blooms is generally from mid-March to mid-April. If you have a green hand, you can even take bulbs home to plant your own Ranunculus flowers!
For more information on the hours and events, go to the Carlsbad Flower Fields, for the most up to date information. The flower fields are situated in the beautiful coastal city of Carlsbad (North County) and about 40 mins from downtown San Diego.
Location:  5704 Paseo Del Norte, Carlsbad CA 92008
15. Temecula Wine Country
Ok you might be thinking Temecula isn't in San Diego and you are right!  Temecula is so close and shouldn't be missed especially if you are a wine lover. An hour north from downtown San Diego, Temecula is Southern California's wine country home to over 40 wineries.
There is so much to do in Temecula, ranging from restaurants, spas, outdoor activities and of course lots of wine. There are many wineries I have yet to venture out to but some of my favorites that I can't get enough of are:
Wiens Family Cellars: If you like red wine, then this is the spot! All their wines are excellent but I have a thing for reds and Weins really nails it. They also have beautiful grounds and outdoor seating where you can bring lunch and enjoy with your tastings.
Ponte Winery: Right next door to Weins is Ponte and their wines are so good! If you are wanting to spend more than a day, Ponte has onsite a hotel (Ponte Inn) which offers a new pool that is a plus! Ponte has my favorite restaurants at both the winery and at the hotel, never disappointing. Post wine tasting and dinner, head downstairs to the cozy Cellar Lounge for some cocktails and some live music. It is the only bar in wine country open late in case you were wondering…
South Coast Winery: Next door to Ponte is South Coast (opposite side from Weins) which has a hotel, excellent restaurant and pool/spa. I really love the hotel, spa, and restaurant but I'm not a big fan of the wine. Some are good but overall, I go there for all the amenities rather than the wine.
Wilson Creek Winery: Wilson is just a short drive down the street from the above three wineries. It is famous for its Almond Champagne which is so delicious and not too sweet. There are several areas to picnic and play outdoor games while enjoying the usually sunny and warm weather.
Picnic Tip: Want to take some awesome sandwiches to enjoy at one of the wineries? On the way to wine country, stop at Havana Kitchen in Old Town Temecula and pickup to go, a Cubano Sandwich that is beyond yummy!
Enjoy touring the best things to do in San Diego!
Got Travel Insurance?
Don't leave home without travel insurance as you never know what might happen on a trip! It is always when you least expect it that something can go wrong like getting sick, in an accident or cancellation of some sort. Get a no-obligation quote from two trusted travel insurance companies for peace of mind on your next trip!
Looking For More Travel Inspiration?
Exploring the Best La Jolla Attractions
15 Most Popular Beaches In San Diego
5 Ways To See California's Imperial County
10 Ways To Explore Catalina Island
How To Spend The Best Day Apple Picking In Julian
The Flower Fields In Carlsbad: The Ultimate Guide
Ultimate Guide To The Best Tacos In San Diego
55 Top Tips For Traveling To Mexico And What To Know Before You Go
Guide To The Best Pumpkin Patches In San Diego
7 Best Filtered Water Bottles For Travel And Hiking
Allbirds Review: The World's Most Comfortable Shoes?
Disclaimer: My post may contain affiliate links, which means I may receive a small commission if you click a link and purchase through that link. It won't cost anything to you to use these links but is very much appreciated. Thank you!