Disclaimer: Traveling Ness contains affiliate links and is a member of the Amazon Services LLC Associates Program. If you make a purchase using one of these links, I may receive compensation at no extra cost to you. See my privacy policy for more information.
The Best Places To See In Jaipur The Pink City
Traveling to India isn't complete without a visit to Jaipur the Pink City as it stands out with its romantic pink hues. There are many fascinating places to see in Jaipur such as palaces, vibrant colors, and jaw-dropping architecture intertwined with an intriguing history.
As with most cities in India, Jaipur is a combination of chaos, excitement, and color that is captivating to wander through. Get ready to be warmly greeted by this alluring city and explore the numerous things to do in Jaipur…
Where Is Jaipur?
Jaipur the Pink City is the capital of Rajasthan and is the gateway to exploring this magical region of India.
Jaipur is the closest city in Rajasthan from Delhi but it is still 4 hours by train, 5 hours by car or 1 hour by plane.
Jaipur is visited the most of any other area in Rajasthan as it has relatively close proximity to Delhi. For most visitors to India, a majority only focus on visiting the Golden Triangle.
The Golden Triangle ties an invisible connection between the cities of Delhi, Agra, and Jaipur. If looking at a map, the route forms the shape of a triangle with Delhi at the top.
Agra is famous for being the home of the Taj Mahal so as you can imagine, it is a hot spot to visit. From Jaipur, Agra is about 4 hours by train or car. The Golden Triangle is so popular as some of the most iconic sights can be seen on this route.
If you will be including Delhi on your trip to India then refer to my post, A First Timer's Guide To 3 Days In Delhi Itinerary!
Why Is Jaipur Called The Pink City?
By this point, you are probably curious as to why Jaipur is called the pink city and how it became to be pink! The first time I laid eyes on Jaipur I smiled in delight and a sense of happiness came over me.
The inspiration to paint the city of Jaipur pink was prompted by the announcement that the Prince of Wales and Queen Victoria would be visiting in 1876.
The King of Jaipur at that time decided that the city to be painted pink in preparation for the visit as "pink" is a symbol of hospitality. He wanted the Prince of Wales and Queen Victoria to feel welcomed and at home.
From that day forward, a law went into effect that stated all buildings within the old city section of Jaipur must be painted pink. And I am so glad they did!
Travel To Jaipur
The three main ways to reach Jaipur is by car, train or airplane. Unless you are a local, I highly recommend to NOT drive yourself! Driving anywhere in India is a bit crazy and not for the faint of heart.
I have been to Jaipur a few times and feel the best option is to take the train. It is the easiest, economical and you don't have to worry about having tense nerves while traveling by car.
If you do go by car then hire a driver which I did on one of my trips. Just make sure you request a car with an air conditioner (AC), have water and snacks, and trust that your driver knows how to drive in the chaos on the road.
On one of my visits, there were huge trucks coming at us head-on while on our side of the road!
Somehow it all works out but it might give your heart a jump once in a while. For this reason, do not go by car at night or at times with intense fog as it can be dangerous.
The train station in Jaipur is Jaipur Junction Railway Station (JP). To buy train tickets, visit 12go.asia which makes booking a train much easier than before. The train station is a 10-minute drive to the heart of Jaipur.
If you choose to fly into Jaipur, the airport to book into is the Jaipur International Airpot (JAI).
Another option is to fly into Delhi at the Indira Gandhi International Airport (DEL) and then take a train to Jaipur.
Domestic airlines that fly into Jaipur from other cities in India are SpiceJet, IndiGo, and Air India.
I have flown on all three airlines and had a good experience on each of them. From the airport, expect 15 to 20 minutes to arrive in Jaipur.
Start exploring the best deals on flights to Jaipur today!
Where To Stay In Jaipur
My favorite place to stay in Jaipur is Jas Vilas and I have stayed here on two different trips. Jas Vilas is a tranquil and idyllic hotel that is a treat after spending the day in the hectic markets and attractions of Jaipur!
The hotel has beautifully painted floral patterns, decorated with hanging bougainvillea and an inviting pool in the courtyard. You are welcomed each morning with a delicious Indian breakfast that is a perfect start to your day.
A few other options to stay at that I can recommend are the three below. All of the options listed including Jas Vilas are within 15 – 20 mins from most attractions in Jaipur's old city.
Tips For Visiting Jaipur
Always make sure to have cash on you with small denominations as the smaller markets and stores might not take credit cards.
The currency is the Indian rupee (INR). Use the handy app XE Currency to help assist with determining the exchange rate.
I would avoid using ATM machines located on the streets as they are likely not as well maintained or potential to be a victim of theft. Exchange money at the airport, your hotel or a bank when possible.
Keep your passport and money tucked away and close to your body with this money belt or this scarf with a hidden pocket.
Arrange for a taxi from your hotel and agree upon a price before taking off.
Only drink bottled water or water you have purified yourself. Carry this water purifier bottle.
If you do buy bottled water, make sure the seal of the cap has not been broken! A local told me that sometimes bottles are filled with tap water and sold as new…
I would recommend staying 3 days to allow enough time to visit the best places to see in Jaipur.
At each Jaipur attraction, you will notice that there are two prices, one for locals and one for foreigners. If you don't live in India then you pay the foreigner price.
Don't lose your sweater or jacket with this handy travel clip to attach to a purse or backpack.
Carry a portable power bank so that your phone always has a charge!
Hindi is the main language spoken but most will speak English as well.
Speak to your health professional to make sure all vaccinations that might be needed are up to date such as tetanus, hepatitis A and consider taking malaria chemoprophylaxis (pills).
Bonus Tip: If you are looking for a filtered water bottle for your trip then read my post, 7 Best Filtered Water Bottles For Travel And Hiking!
Top Jaipur Tours
Street Food Tour – This tour will take you to the best street food spots including some history on the food and describe how foods are prepared all while trying several local delicacies and tea!
Half-Day Old City Private Tour – Spend a half-day touring the top Jaipur attractions in the old city.
Full-Day Customized Private Tour –  Spend a full-day on a guided tour of all the sights you want to see that includes a driver.
Ranthambore Tiger Safari Tour – If you are looking for the adventure of finding Bengal Tigers then Ranthambore National Park is one of the best places to see them. It is not only home to the majestic Bengal Tigers but leopards, sloth bears, crocodiles, birds, and more!
An Organized Trip by Intrepid Travels – If traveling to India on your own sounds a little daunting, then taking one of these completely guided tours of India is a great option. They will handle the logistics, modes of transportation, and lodging so you don't need to worry about a thing!
Traveling in a group is great especially if you are solo. I wouldn't recommend going to India alone as a female, as I would have felt uncomfortable at times. I either took my parents or my ex-husband and felt safe on each trip to India.
Map Of Top Jaipur Attractions
This map was made with
Wanderlog
, a road trip planner
Best Things To Do In Jaipur
1. Hawa Mahal
One of the first things to do in Jaipur is to visit Hawa Mahal also known as Palace of the Winds!
Admire its gorgeous and intricate architecture that resembles that of a honeycomb. Except for this one is bathed in a romantic pink color from the red sandstone used.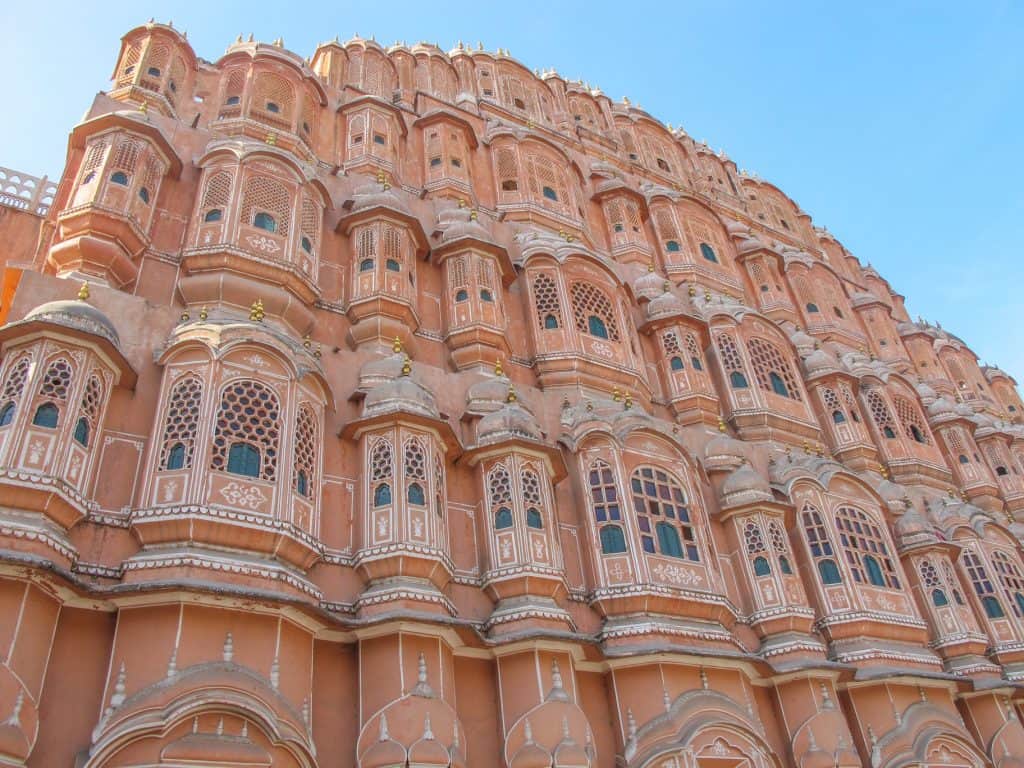 Hawa Mahal is likely one of the most recognized and photographed attractions in Jaipur for its exquisitely detailed five stories. Built in 1799 so that the ladies of the royal household could look out onto the energetic streets below.
The many small windows overlooking the main marketplace of the old city was so that the royal ladies could look out and see daily life without being observed by those outside the palace.
At that time, the women could not be seen in public without a face covering on. Today it houses the Hawa Mahal Museum where you can see and learn about the life of the Rajasthan Royals.
Tip: To get a stellar view of Hawa Mahal, head across the street and go up to Wind View Café terrace for a coffee and snack!
Hours & Admission: Open daily from 9:00 am to 5:00 pm. Admission is INR 200 (rupees) for foreigners. For example, 200 rupees is around $2.75 (US dollars). Expect to spend about 1 hour here.
2. City Palace
Located next to Hawa Mahal is the City Palace which is one of the top attractions in Jaipur. Within the walls of the City Palace is a complex of gardens, courtyards, and buildings with striking architecture.
The City Palace built in 1727 by the Maharaja Sawai Jai Singh II is at the center of Jaipur's old city and has been the home of the royal family since.
Today you can wander the palace grounds, admire the stunning and intricate doors, arches and imagine what life was like to live here.
The main areas to visit are the Sarvato Bhadra (Diwan-e-Khas), City Palace Museum, Chandra Mahal, and Sabha Niwas (Diwan-e-Aam). And don't leave before you see the gorgeous Peacock Gate on the northeast side!
Tip: Purchase the full City Palace ticket to gain entrance to the private blue room section known as Chhavi Newas.
Hours & Admission: Open daily from 9:30 am to 5:00 pm. Admission is INR 700 (rupees) for foreigners. You could easily spend 2 – 3 hours here.
3. Jantar Mantar
Jantar Mantar is an astronomical observatory that Maharaja Sawai Jai Singh II developed steps away from both the City Palace and Hawa Mahal.
There are other Jantar Mantars in India but this one in Jaipur is the biggest and most impressive.
Built in the 18th century, Jantar Mantar is a site filled with several instruments designed to observe various astronomical positions. This was a huge feat for its time as there were no fancy telescopes or technology to accomplish the same thing.
As you walk around, you will see how to find the stars and planets with your naked eye using these primitive yet effective tools. Of the instruments, you will see a sundial and several geometric stone shapes that can pick out a star and determine the month based on the sun's movement.
Tip: To understand how to use and read the various instruments, visit at midday when the sun is directly over your head. It is the best time of the day to read the many instruments.
Hours & Admission: Open daily 9:00 am to 4:30 pm. Admission for foreigners is INR 200 (rupees). You can expect to spend 45 minutes to 1 hour exploring.
4. Amber Fort
Located about 7.0 miles (11.0 km) from the heart of Jaipur the Pink City is the spectacular Amber Fort.
The golden-colored walls of Amber Fort sit high up on a hill looking quite regal even today. It's no surprise that it is a designated UNESCO World Heritage Site.
The Amber Fort also referred to as Amer Fort was the original capital of Rajasthan and home to the Maharaja Jai Singh II and the royal family. As you approach the fort, you will see a line of elephants carrying visitors to the top entrance.
On my first visit, I rode an elephant up and it is wasn't comfortable at all. It was also before I became aware of how animals are treated for this reason chose not to do so again. On my next visit, I got dropped off by my driver for the day. You can also walk up too!
Once you are at the top, take in the gorgeous views and notice the fortress walls that line the surrounding hillsides. At first glance, it reminded me a little bit of the Great Wall in China. Makes for a lovely photo!
The architecture is a marvel to see with elaborate walls, courtyards, hallways, arched doorways, and temples that will dazzle you. In total, you will make your way through 4 courtyards and areas of the fort. No question that this is one of the most magical places to see in Jaipur!
Tip: Grab a coffee at the coffee shop in Amber Fort and enjoy the views on the outdoor terrace.
Hours & Admission: Open daily 8:00 am to 5:30 pm and then again from 6:30 pm to 9:15 pm. Admission for foreigners is INR 550 (rupees). Expect to spend about 3 hours.
5. Panna Meena Ka Kund
Don't miss out on seeing Panna Meena Ka Kund after you leave Amber Fort. Just 5 minutes and less than a mile away from Amber Fort lies an amazing series of stairs or stepwell.
The distinct symmetrical steps are eye-catching for any photographer lover but it has served an important purpose. Starting in the 16th century, the stepwell was a place for both locals and travelers to come gather water, cool off, and rest.
Who knew a series of zig-zagging stairs could be so breathtakingly beautiful! It definitely is a serene place to just sit and reflect on your journey like travelers have for hundreds of years…
Hours & Admission: Open daily from 7:00 am to 6:00 pm or sunrise to sunset. There is no fee to visit.
6. Jaigarh Fort
If you are at Amber Fort and look further up the hillside you will see Jaigarh Fort which was the real fort to Amber. If the Amber Fort or palace was attacked, the royal family would escape through a tunnel to Jaigarh Fort.
The main reasons to come up to Jaigarh Fort are for the fantastic views of Jaipur, Amber Fort and Sagar Lake. The thick red sandstone walls that protect the fort have lovely carved patterns that are similar to Amber Fort below.
Other than the stellar views, one of the coolest things to see is the world's largest cannon! The Jaivana Cannon is the biggest cannon on wheels and was created in 1720. Luckily, the cannon never had to fire as there was no threat requiring it.
It is said that it was only fired once to test with the cannonball covering a distance of 35 km! You can also see other weapons used in the armory. The drive up to Jaigarh Fort is about 15-minutes from Amber Fort and well worth visiting.
Hours & Admission: Open daily from 9:00 am to 4:30 pm. Admission for foreigners is INR 200 (rupees). Spend about 1 hour touring the fort.
7. Nahargarh Fort
If you want to know where the best place to take in the sunset with a view then Nahargarh Fort is the place to be. Located up high you get a stunning vantage point of Jaipur while admiring the very distinctively carved walls.
Built in 1734, Nahargarh Fort served as a defense and a place of protection for Jaipur even though it was never attacked.
Today it still has an impressive architecture of strength and beauty. Nahargarh Fort gets its name as it means "abode of tigers" as tigers once prowled this area.
Hours & Admission: Open daily from 10:00 am to 5:30 pm. If you go up later, you can enjoy the views only from the outside. Admission for foreigners is INR 200 (rupees). Expect to spend 2-3 hours here.
8. Monkey Temple
When I heard that Monkey Temple was home to hundreds of monkeys I couldn't wait to go! It really does live up to its name.
Monkey Temple is officially called Galta Ji temple but it is no surprise that it got its nickname from the high volume of monkeys that roam here.
Located 6.2-miles (10.0 km) from Jaipur, the Hindu temple complex is nestled between the Aravalli Hills and a large pool in front. The water is considered sacred and it is known for pilgrims to bathe in the holy water.
You will likely see more monkeys than humans splashing and bathing in the water which is pure entertainment. The two types of monkeys that you will see are the larger gray langur and the smaller rhesus macaque.
The smaller monkeys are quite friendly with one jumping on my pant leg and another on my shoulder. They are adorable but be cautious as they are wild animals.
I would recommend visiting in the early morning or late in the day when the monkeys will be out wandering around more.
Hours & Admission: Open daily from 5:00 am to 9:00 pm. Admission is free to enter but you can donate a small fee if desire. If you are like me, you could spend hours taking photos of the cute monkeys but expect to spend at least 1 hour.
9. Go On A Food Tour
Want to find out the best foods to try while visiting Jaipur? One of the best things to do in Jaipur is to taste the best street food. Nervous to try food from street vendors?
Completely understandable but one way to avoid any stomach issues is to go where a local recommends, there is a long line, and when you can see the food being cooked hot in front of you.
One great way to make sure you eat at the best spots is to go on a street food tour with a local guide! This tour will provide food history, describe how foods are prepared all while trying several local delicacies and tea!
Tip: Before the end of the tour, ask your local guide for the best places to eat. Locals always have a few excellent places to recommend.
10. Albert Hall Museum
If you are a fan of history, make your way over to the Albert Hall Museum that houses several pieces of artwork, crafts, and artifacts from Rajasthan including Jaipur.
The outside alone is reason enough to visit as the architecture of the building is quite breathtaking to see.
Hours & Admission: Open daily from 9:00 am to 5:00 pm. Admission is INR 300 (rupees) for foreigners. Expect to spend about 1-hour here.
11. Iswari Minar Swarga Sal
If you want to find the best place to view Jaipur the Pink City from above, then climb up to the top of Iswari Minar which is a minaret or tower. Get a 360-degree sweeping view of sights such as the City Palace and Hawa Mahal.
The Iswari Minar is fairly easy to spot out in the old city section of Jaipur and located behind the Tripolia Bazaar. It was built by Jai Singh II's son, maharaja Ishwari Singh in the 1740s and stands a regal 115 feet (35 meters).
Unlike many towers you may have climbed, the steps are at an incline and easier to go up which is a plus!
Hours & Admission: Open daily from 9:00 am to 4:30 pm. Admission for foreigners is INR 200 (rupees) and expect to spend 3- 45 minutes visiting the minaret.
12. Jawahar Circle
Jawahar Circle is a large circular park and it just happens to be pink on the outside and full of vibrant colors inside. The main attraction to Jawahar Circle is the entrance that is known as Patrika Gate.
Throughout the arched corridor of Patrika Gate are gorgeous paintings depicting the history of Jaipur. There is also a rose garden, spaces to go for a walk, a fountain, and possibly musical entertainment.
13. Ranthambore Tiger Safari
One of the best places in the world to see a tiger in the wild is in Ranthambore National Park. It is not only home to the majestic Bengal Tigers but leopards, sloth bears, crocodiles, birds, and more!
If you have a few extra days that you can add to your time in Jaipur, I recommend going on this 2-day tiger safari tour. On this tour, you will get to go on 2 different safaris, one in the afternoon and one the next morning including overnight lodging.
Although there are some tours that are one day, I wouldn't consider them as it is too much to do in one day. The drive is 4 hours each way meaning you won't have a lot of time to see anything…
14. Shopping At Johari Bazaar
If you are in the mood to shop, Johari Bazaar is the best place to visit in Jaipur if you are wanting a keepsake. As you walk there are vendors and artisans at every turn offering you to come closer and see their wares.
The specialty that Jaipur is known for is its gems, jewelry, and handicrafts. The name Johari means "jeweler" hinting at the many years that this area has been known for beautiful items to wear. You can also find an assortment of souvenirs including saris, spices, and bangles (bracelet)!
15. Restaurants In Jaipur
Chokhi Dhani – This is more of an experience than just a meal as it is a village of Chokhi Dhani where you can see the customs, artwork, and traditions of the local Rajasthani people. In this tour, you get to enjoy a dinner with entertainment and more! The dinner alone is quite delicious…
Lassiwala – If you are interested in trying the traditional fermented drink known as Lassi then Lassiwala has the best! It is similar to yogurt that has spices and possibly fruit added. It comes in a small clay cup to enjoy.
Handi – Voted best Northern Indian food restaurant that will be a delight to taste!
Lakshmi Misthan Bhandar – Is known for its savory snacks and desserts. It has been is business for 300 years so they are doing something right!
Samode Palace – If you want to have dinner and feel like you are Rajasthani royalty then dine at Samode Palace. In a luxury setting, enjoy the stunning architecture and detailed décor while eating a meal fit for a king… It is a heritage hotel if you want to spend even more time here, about 1-hour from Jaipur!
Suvarna Mahal – Located in the Rambagh Palace, is an elegant restaurant to feast on Indian cuisine. Located about 15 – 20 minutes from the City Palace area.
How To Get Around Jaipur
If you are focusing on touring the old city area of the City Palace, Hawa Mahal, Jantar Mantar, and the bazaar you can see all of this on foot.
For short distances or if you need a ride to your hotel then hopping into an autorickshaw is the cheapest and a fun experience.
If you are not taking a tour that includes a driver to attractions that are further away then I recommend hiring a driver for the day. It is very economical and worth it! You can ask your hotel to arrange a driver and see Jaipur the Pink City at your leisure.
Climate In Jaipur
The climate in Jaipur can get quite hot depending on when you visit. Regardless of the time of year, Jaipur is always a warm city to visit. The temperatures range from warm to hot to scorching hot…
The best time of year to visit Jaipur is during the winter months of December to March.
You can expect the daytime temps to range from 72 F to 80 F (22 C to 27 C). After that, I would recommend October and November.
The months of late March through June are incredibly hot with temperatures from 90 F to 104 F (32 C to 40 C). The summer months of July through August is the monsoon season with both hot temperatures and tons of rain making it the worst time to visit.
I have been in both October and January and had fantastic weather during both visits. It was hot but not sweltering and no rain. In January you may likely see fog in the mornings though.
Popular Festivals
Kite Festival – In celebration of new beginnings, the kite festival is held for 3 days in mid-January. It is a sight to see an assortment of kites flying high above you.
Diwali – Is a festival of lights and lasts 5 days held anywhere between mid-October and mid-November. It is the biggest festival in India celebrating light over darkness marking the spiritual awakening of Lord Mahavira.
Do I Need A VISA?
Yes! Definitely look into your country requirements but for the U.S., a passport is required that has 6 months validity from the time you travel to India. The passport must have 2 blank pages.
Applicants need to apply for a Tourist VISA in addition to having a passport that is if you are traveling as a tourist. If you are traveling for business or other reasons then look into those VISA requirements. The tourist VISA is good for 180 days and allows for multiple entries.
Note: You CANNOT get a VISA upon arrival so make sure you apply in advance of your trip.
Have a magical time touring the best places to see in Jaipur the Pink City!
Got Travel Insurance?
Don't leave home without travel insurance as you never know what might happen on a trip! It is always when you least expect it that something can go wrong like getting sick, in an accident or cancellation of some sort. Get a no-obligation quote from two trusted travel insurance companies for peace of mind on your next trip!
Looking For More Travel Inspiration?
A First Timer's Guide To 3 Days In Delhi Itinerary
11 Fascinating Places To See In Agra, India
Best Guide To The Backwaters Of Kerala – On An Alleppey Houseboat
7 Best Filtered Water Bottles For Travel And Hiking
10 Ultimate Things To Do In Panama City
The Best Guide To Maui Whale Watching
15 Top Things To Do In Split, Croatia
Disclaimer: As an Amazon Associate and a participant of other affiliate programs, I may earn from qualifying purchases in this post. This means that if you make a purchase through one of these links, I might receive a commission at no extra cost to you. Thank you so much!