Disclaimer: Traveling Ness contains affiliate links and is a member of the Amazon Services LLC Associates Program. If you make a purchase using one of these links, I may receive compensation at no extra cost to you. See my privacy policy for more information.
Food From Oaxaca: 21 Traditional Dishes You Must Try
Food from Oaxaca is heavily intertwined with culture and tradition that is so unique, creating a food lovers paradise. It's no surprise that Oaxaca is not only the gastronomic capital of Mexico but the entire world. Dig into this guide if you are curious as to what Oaxaca food is all about, what to try, and not to miss!
One thing is for sure, you will be blown away at how good the food in Oaxaca is. You'll encounter profound flavors, intoxicating aromas, and a vast diversity of foods which dominate this region. The food here, is pure magic in every bite…
From the markets in Oaxaca to street food and top restaurants get ready to explore Oaxacan cuisine at its finest. And, if you see something you want to try, don't pass it up as it will likely be the only place in Mexico to try it (or at least Oaxaca's version).
Tip: If you are looking for other activities in Oaxaca besides food, explore 25 Best Things To Do In Oaxaca City, Mexico For First Time Visitors!
More Mexico Destinations:
19 Awesome Things To Do In Puebla, Mexico You Don't Want To Miss
Oaxaca Pronunciation
Before we dive into all the spectacular marvels of Oaxacan cuisine, you might be curious as to how to correctly pronounce Oaxaca.
When you read it, it isn't obvious and sounds very different than most of us might guess. And if you have never visited Oaxaca before that makes sense.
The correct way to pronounce Oaxaca is saying it like "wah-haa-kah"!
Where Is Oaxaca?
Oaxaca is one of 32 states in Mexico and located in the southern portion of Mexico. Oaxaca City (Oaxaca de Juarez) is in the heart of Oaxaca and the largest city in the state. When people refer to Oaxaca, they are usually referring to Oaxaca City.
Oaxaca City is about 7 hours to the Pacific Ocean (Puerto Escondido) and 6 hours from the Gulf of Mexico (Veracruz) making it a great spot to branch off and explore the rest of the state.
Mexico City, the capital of Mexico is approximately 6 – 7 hours to the north of Oaxaca City.
How To Get To Oaxaca
If you are traveling from out of the country or in a city within Mexico more than five hours away, flying into Oaxaca is the best option.
Aeropuerto International Xoxocotlan (OAX) is the airport for Oaxaca and is 25-minutes from downtown Oaxaca City.
Get started and search the best flight deals today!
Once you arrive in Oaxaca City, you will make your way through customs and be given an FMM form also referred to as a tourist card.
HOLD ON TO IT! You will need to hand it over when you leave Mexico, whether it be a week, a month, or more. If you lose it, expect to pay a $30 fine.
After passing through customs and collecting your luggage, you might want to get pesos to have on you. Getting pesos from an ATM is the best option rather than the exchange booth.
You will get a better exchange rate at an ATM. More info on using ATMs and having cash on you in Mexico, in my post 55 Top Tips For Traveling To Mexico!
Before exiting the airport, order a taxi at the booth near the exit doors. Make sure you clarify whether you want your own taxi. If you don't, you will be placed in a taxi colectivo.
A taxi colectivo is a small shuttle bus that fits about 8 – 10 passengers. I assumed that when I paid, I had paid for a private taxi.
But I wasn't! I had purchased a ticket for a taxi colectivo where they wait until it is filled up to leave and drop off at each person's hotel. It is cheaper and usually not too much longer than a solo taxi.
Where To Stay In Oaxaca
Staying in the historic part of Oaxaca City or within walking distance of it is the best location to stay in Oaxaca City. It makes it more convenient to be steps away from attractions, restaurants, cafes, and bars.
Hotel Oaxaca Real – an economical hotel in a prime location
Hotel Marques Del Valle – an economical hotel on the edge of the Zocalo (square)
Note: If you are planning to visit for Day of the Dead or Independence Day, book your hotel way in advance especially if you want to stay in the central part of town. For Day of the Dead book a year out.
Tip: If you are staying in or within a block of the Zocalo (main square) it can be very loud if you are a light sleeper.
Food Tours In Oaxaca
Any trip to Oaxaca isn't complete without diving into the food culture and sampling a variety of foods! Explore one or more of these delightful food tours and/ or classes!
Downtown Restaurant Food Tour – Ready to try some of the best food in downtown Oaxaca City? Oaxaca Eats takes you to several restaurants to sample the most delicious food!
Oaxacan Street Food Tour – Indulge in the best street food at two markets in Oaxaca with a local guide tasting mouthwatering food!
Tasting The Roots Of Oaxacan Cuisine Tour – Learn all about the history of Oaxacan cuisine and eat the best street food in the markets and at a family-owned restaurant.
Mezcal Tasting Experience – Are you a fan of mezcal or wondering what it tastes like? The best way to learn about mezcal is to try different ones! On this tour, visit palenques (mezcal farms) with the fun duo, Rambling Spirits!
Centro Abasto Market Tour – Wander the largest market in Oaxaca with Mario come Oaxaca as he introduces you to the magic of this enormous market with food, drinks, and more!
Cooking Classes in Oaxaca
Oaxacan Cooking Class – Do you enjoy learning how to cook new cuisines? Accompany a chef to a local market shopping for the freshest ingredients followed by making a traditional Oaxacan meal!
Oaxaca Food Origins
If you have never had Oaxacan food, you will likely assume that it tastes like all the other Mexican dishes you have tried. And for good reason as Oaxaca is in Mexico!
But of any region in Mexico, the food in Oaxaca is unique and tastes distinctly different than food in the rest of the country.
You'll experience several flavors for the first time making you question why it has taken so long to try these incredible dishes! As far as food goes, Oaxaca is like a country unto itself.
Oaxaca is paradise for fresh grown fruits, vegetables, herbs, and spices. Three items that are from Oaxaca and which appear in many dishes are corn, beans, and squash. In fact, domesticated corn (the version you are familiar with) was first found in Oaxaca.
So much of daily life in Oaxaca is tied to food whether it is something you eat any time of the week or for a special occasion. Oaxacan's take great pride in their food and culture which shows through in all the delightful flavors you'll encounter.
Recipes and traditional ways of cooking have been passed down through the generations of the indigenous people of the Zapotec and Mixtec tribes. Thank goodness they did as the strong ties to the past are much appreciated in every dish you try.
Best Foods From Oaxaca That Are A Must To Try
1. Mole
Did you know that there are 7 types of mole? Oaxaca is often referred to as the "Land of the Seven Moles" as they really know how to make mole to perfection. Many would say there are more than seven, more like hundreds as each family puts their own spin on a mole recipe.
When tasting various mole sauces, you immediately notice the complexity of flavors that have come together to create the tastiest mouthful you're not likely to forget…
And if you are traveling to other regions of Mexico, you will notice that the mole in Oaxaca is very different and distinct to the area.
So, what exactly is mole? It is a sauce that can vary from savory to sweet using local ingredients.
No matter what type of mole sauce you try, there will be a combination of chili peppers, nuts, dried fruit, pepper, cumin, toasted seeds, and more. Some even have chocolate in them!
The most recognizable mole in Oaxaca is mole negro (black sauce) which has chocolate, chili peppers, tomatillos, nuts, raisins, plantains, onions, spices, seeds, and tortillas for the most part.
Mole is usually served over turkey, chicken, enchiladas, or a poblano pepper but of course you might see it in other ways too.
7 Moles of Oaxaca
Mole negro (black)
Mole rojo (red)
Mole Amarillo (yellow)
Mole verde (green)
Mole coloradito (reddish)
Mole manchamanteles
Mole chichilo
My favorite mole sauces were the mole rojo and mole verde but I also like mole negro. Sometimes the mole negro was too sweet or strong for me and varied at restaurants.
2. Tacos
Growing up in San Diego, tacos have been one of my favorite foods since as far back as I can remember!
Although the style of tacos is a little different in Oaxaca, they are ridiculously addictive to eat… And you might notice that sometimes when you order tacos from a street vendor, they are rolled and like more like a large taquito.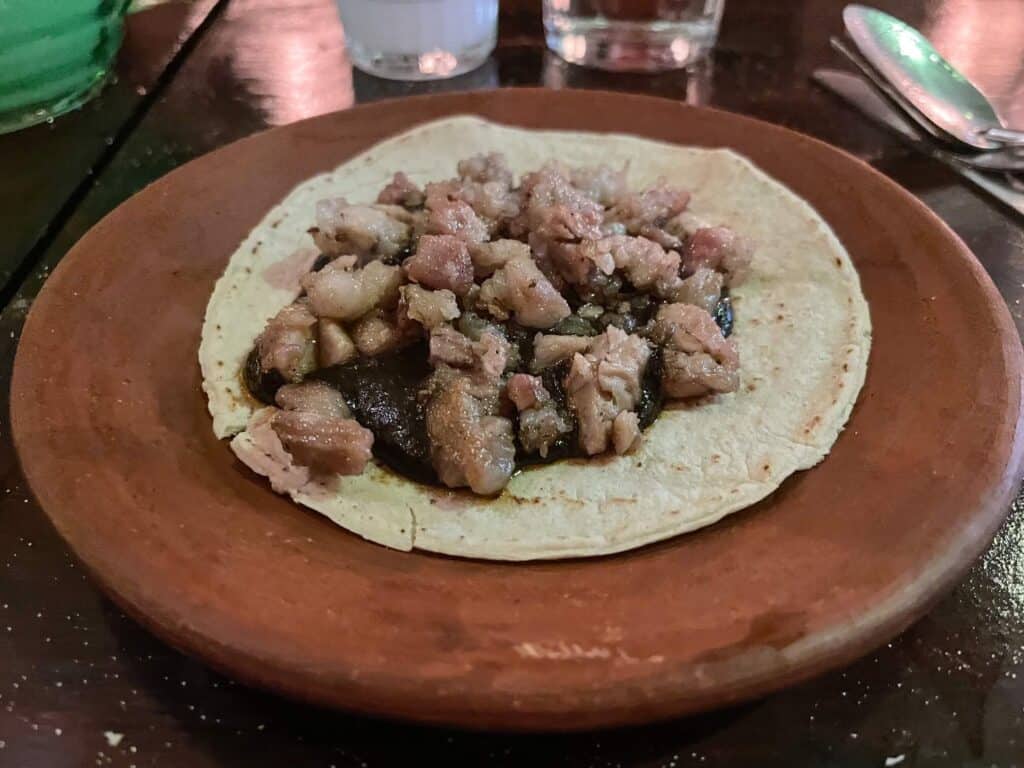 Street food in Oaxaca isn't complete without stopping to enjoy a delicious taco on the go paired with freshly made tortillas. Whether for a snack or a meal, you can't go wrong with a few taco…
Some of my favorite tacos to eat in Oaxaca are al pastor (marinated pork), carnitas (slow-roasted pork), and beef!
3. Tlayuda
Tlayuda's are a must to try when visiting Oaxaca as they are a simple yet tasty dish to eat. It might be the most well-known street food item in Oaxaca City!
Many refer to it as a Mexican pizza, but the main similarity is the round shape with various toppings. Taste wise, it is completely different!
A Tlayuda is made up of a large thin tortilla that is toasted over coals with the addition of Oaxacan cheese, black bean paste, lettuce, and grilled meat on it. The meat can vary from chorizo, pork, and steak. And don't forget, topped with some flavorful salsa…
In restaurants you will see them open faced like a pizza but on the streets, they usually come folded over resembling a thick multi-layered quesadilla.
And after a late night out, a Tlayuda straight off the grill hits the spot…
Tip: This awesome dish is pronounced "clay-oo-da".
4. Chapulines
One food item that might shock many coming from other countries are the eating of Chapulines aka grasshoppers.
Yep, you read that right! Chapulines are an everyday staple in Oaxaca enjoyed by Oaxacans of all ages.
The grasshoppers are light and crispy and many times coated in spices. They are an excellent salty snack and a great source of protein. They go great paired with a beer much like salty chips or nuts might.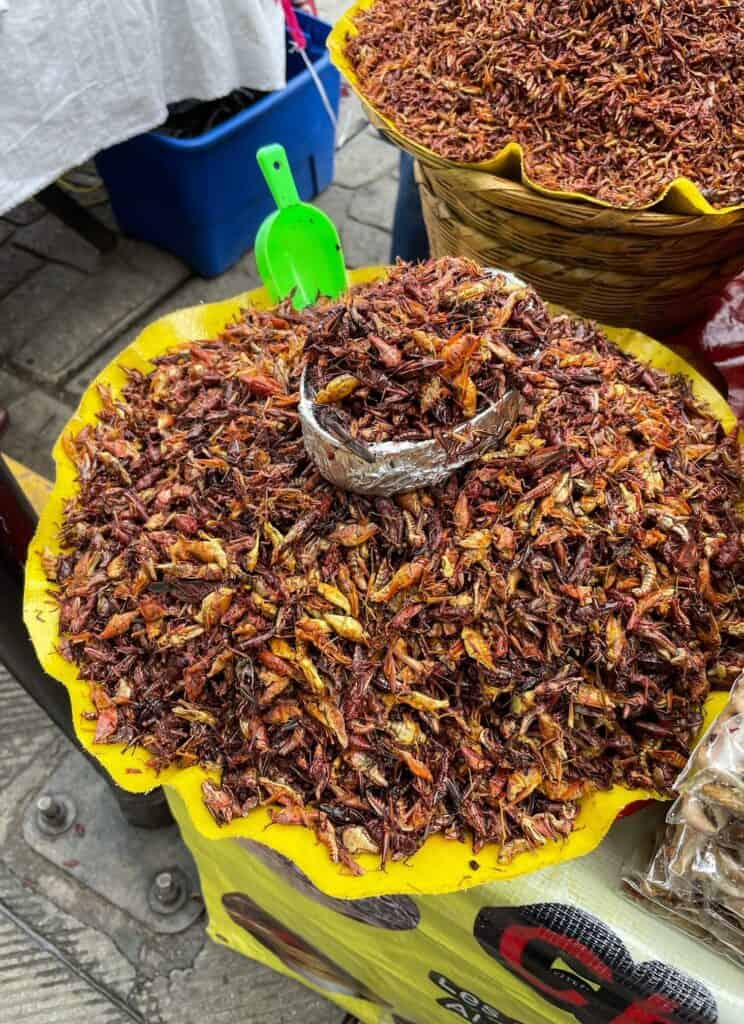 In fact, before the Spaniards introduced common proteins such as pork and beef to the region, chapulines were one of the main sources of protein that the local indigenous people survived on.
I was a little hesitant to try them but figured I couldn't leave without giving them a shot. And surprisingly I liked them!
Whether in the markets, from street vendors, or in restaurants, there are various sizes of chapulines. I preferred the smaller ones as they were easier to chew and seemed less like grasshoppers to me!
You can purchase them in a bag, order them on top of your guacamole, in a taco, or in an omelet to name a few ways of eating them.
5. Chiles en Nogada
Chiles en Nogada is a treat to eat depending on when you visit Oaxaca. If you are traveling to Oaxaca in August, September, and sometimes in early October you will have plenty of opportunities to try the seasonal dish, Chiles en Nogada.
The dish originated in Puebla, Mexico and will vary a little between regions. I tried in a few different areas and I preferred the style in Oaxaca the most.
You will find both savory and sweet versions of Chiles en Nogada but essentially it will have a poblano chile stuffed with shredded meat, dried fruits such as raisins, spices, and topped with a white walnut-based cream sauce, pomegranate seeds, and parsley. I also had a vegetarian one that was quite delicious too…
The three vibrant colors of red, green, and white are the colors of Mexico's flag and why it is served around Mexico's Independence Day (Sept. 16th)!
So, why can you only order this dish during the late summer and early fall? Mainly because the ingredients (walnuts and pomegranates) are in season then. Overall, the meal tastes as good as it looks!
6. Tamales Oaxaquenos
Growing up in my family it is tradition to eat tamales around Christmas. In fact it might be one of my favorite things to look forward to come holiday season. But for the most part I rarely eat them the rest of the year.
In Mexico, you can find tamales in abundance any time and in every region! As with most meals, there is variation between areas of the country.
In Oaxaca, Tamales Oaxaquenos is a specific style you likely won't see anywhere else. The tamale is made of corn masa filled with a mole sauce, chiles, meat (most of the time), and wrapped in a corn husk.
The most common types of meats in a tamal are usually pork or chicken. You might even try a sweet one that can have raisins and pineapple in it for example.
Tamales Oaxaquenos is easy to spot visually as they are individually wrapped in banana leaves instead of corn husks. Mainly because banana leaves are in more abundance in Oaxaca. They remind me of a wrapped present!
You might also notice that the corn masa (mashed corn mixture) is made of blue corn instead of yellow corn. Once each tamal is assembled, they are steamed to perfection before serving.
Eating a freshly made tamal is one of my favorite dishes to eat and I highly recommend giving the Oaxacan version a try!
Tips: Although in the U.S. we tend to use the word "tamale", in Oaxaca they say "tamal" or "tamales" for plural.
Sometimes you might see the tamales referred to as "Tamales Hoja" and it is the same thing!
7. Memela
Prior to visiting Oaxaca I had never tried or even heard of a memela. They are absolutely delicious and one of the most quintessential street foods in Oaxaca.
A memela is a round thick blue corn tortilla toasted on a comal (large round hot pan) and the standard is to top with beans, Oaxacan cheese (quesiilo), spices, and a salsa (with a savory kick).
If you want to add some protein and enhance the taste, order one with pork and an egg on it!
Once served, the easiest way to eat it is to fold it up like a taco and dive in… The best memelas can be found in the markets or at street food stalls.
I tried several memelas and I think the best ones are made by Dona Vale. You can find her working up a storm serving up memelas hot off the comal. She has a food stall with a handful of seats in the Central de Abasto market in Oaxaca City.
Every day except for Sundays, you can grab a seat, enjoy blissful mouthfuls of memelas and watch her in her element. She usually closes by noon, so it is the perfect spot for breakfast or an early lunch.
Note: If you want to learn more about how Dona Vale got her start and passion for memelas, check out the Netflix show Street Food Latin America, episode Oaxaca!
Tip: The Central de Abasto market is one of the biggest in Latin America and it is very easy to get lost and overwhelmed.
I highly recommend going with a local such as Mario Come Oaxaca (see tours above) as he can guide you through the markets and take you to the best spots!
8. Pozole
Pozole is an excellent Mexican soup that hits the spot whether it is warm or cold out. And if you are sick, this soup is so soothing being a true comfort food.
A broth soup with the addition of hominy (derived from corn kernels), meat (pork or chicken usually), radishes, chiles, cabbage, cilantro, lime, avocado, crema, and a little mole paste.
There is just something about all those flavors coming together that tastes magical!
Depending on where you are traveling in Mexico, you will find three types of pozole, pozole rojo (red), pozole verde (green), and pozole blanco (white). The most common one you will find on a menu is pozole rojo (red).
Tip: There are many great places to get pozole but one that stands out is getting a bowl at Don Juanito in the central historic area of Oaxaca City.
9. Chorizo Oaxaqueno
Chorizo Oaxaqueno is a chorizo (pork) sausage with spices that is grilled and served to accompany a meal or in various dishes such as tlayudas, tacos, quesadillas, or memelas.
I really liked it in every dish I tried, whether it was stand alone with my eggs or topped on a tlayuda. It has a rich and spicy flavor that is tamed when mixed with other ingredients.
10. Quesillo (Oaxacan cheese)
Pretty much any time you encounter cheese in Oaxaca, it is most likely quesillo also referred to as Oaxacan cheese.
It reminds me a lot of string cheese from home but ten times better! You'll see it in ribbons of white deliciousness with a saltier and more savory flavor than say mozzarella cheese.
The white stringy cheese you see on a tlayuda or in a quesadilla for example is quesillo. It really is so tasty and the perfect addition to any dish.
11. Empanada
At first, I was a little confused as to what is referred to as an empanada in Oaxaca. I usually imagine a small slightly crispy dough filled with meats, and spices from South America.
But in Oaxaca, empanadas are what I consider quesadillas made with tortillas. Or really stuffed quesadillas with meat, cheese, and maybe some mole chile sauce. Sometimes you might even see some grilled veggies added.
If you are walking in the markets or come across a street vendor, you see these tasty bites being cooked on a large comal served hot.
12. Chilaquiles
One of the most common meals to start out your day is with a plate of chilaquiles! Chilaquiles are a breakfast favorite comprised of light and airy tortillas chips (sometimes strips) covered in either a red (tomato based) or green (tomatillo based) salsa.
Then topped with meat (chicken, pork, or chorizo), some quesillo, and maybe radishes, onions, and crema. And possibly an egg too! Chilaquiles remind me of a plate of nachos but for breakfast!
I had this most mornings all with different variations and although I liked both the green and red versions, I preferred the red a little more on average.
One of my favorite chilaquiles that has more elevated gourmet flavors can be found at the restaurant Mixtu in the Casa de Arte boutique hotel.
13. Squash Blossoms
Trying squash blossoms is something not to miss as it isn't a common item on menus elsewhere.
A squash blossom is the flower or bloom from a squash plant (veggie) that is edible and can be found prepared in several ways.
The flower is yellow with a green stem and has a very mild taste. It tastes more like a vegetable than a flower and takes on the flavors of what you cook it with.
In the markets you might come across fried squash blossoms, ones filled with cheese, or inside an empanada, taco, or in a soup!
Note: Squash blossoms in Spanish are flor de calabazas.
Authentic Oaxaca Drinks To Sip
14. Mezcal
When you think of Oaxaca, Mezcal is one of the first things to come to mind! Surrounding Oaxaca City are several mezcal farms (palenques) growing fields of agave plants in preparation to make the distilled alcohol, mezcal.
First question people ask is whether it is the same or like tequila. They are different! Tequila is a type of mezcal but not all mezcal are considered tequila. Personally I'm not a fan of tequila but I do enjoy mezcal.
Mezcal is an alcohol spirit made from the agave plant. Once the plant reaches certain growth, it is harvested, roasted, mashed, and then allowed to ferment in barrels of copper or clay pots.
Usually mezcal is distilled twice and will reach between 40% to 80% proof when finished. Unlike tequila, mezcal is not mass produced with a few exceptions.
The majority of mezcal is produced at small family-owned palenques where they make small batches of mezcal. It is a major reason why you will see a ton of mezcal in mezcalerias (mezcal bars) and restaurants in Oaxaca City but not as prevalent in the United States.
Some great mezcalerias to check out in Oaxaca City are:
Tres Hermanas
La Mezcalerita
Mezcalogia
Mezcaleria Los Amantes
15. Oaxacan Hot Chocolate
I had heard the hot chocolate in Oaxaca was incredible so of course, I had to try it! The region of Oaxaca is known for their chocolate (cacao) and the liquid version of it which is a rich, sweet, and a delight to drink anytime of the day.
On several occasions I began my day with a steaming mug of Oaxacan hot chocolate where they bring a pitcher of hot chocolate to your table, mix it and then pour the frothy liquid chocolate with a touch of cinnamon into a small clay bowl.
When ordering your hot chocolate, you usually have two options with milk or with water. I sampled both versions and thought they were great but if I had to choose, I'd go with the hot chocolate with milk.
It just has that creamy and decadent taste that will leave you in a satiated bliss… And accompanied with some bread (pan), you won't be disappointed to the start of your day.
You can find hot chocolate served all over Oaxaca but a few great spots to try it are in the markets, chocolate shops, and at any Chocolate Mayordomo shop.
Tip: If you want your hot chocolate with milk, order chocolate con leche or if you want with water get a chocolate con agua.
16. Pulque
Pulque along with the next two items on my list are some of the most unusual drinks I've tried and are best found in Oaxaca.
You can find pulque in other regions of Mexico but after trying it in Puebla and in Mexico City, let's just say I prefer the one from Oaxaca way more!
So, what is pulque? Pulque is a slightly tart drink that is made from the agave plant sap and is best fresh! You want to sample pulque that has been made within a day for the best taste.
With an abundance of palenques (mezcal farms) growing agave in the Oaxaca region, there are many places to try it. Any of the markets you visit will have vendors selling fresh pulque for you to taste!
Pulque is often referred to as the "drink of the gods" as it was a popular fermented drink in the Aztec era up to present day.
The agave juice is fermented and has a low alcohol content similar to a light beer. Even though it has alcohol, it seemed to have less alcohol than a light beer based on taste. Either way, make a point to sip some of this ancient-style drink when in Oaxaca!
Note: The agave sap is called aguamiel or "honey water".
17. Tepache
Another unique fermented drink to try and common in the markets is Tepache! I love it and could seriously drink this daily if it was available at home.
I'd sum it up as refreshing, tasty and the right amount of sweetness! Made from the rind of pineapples, a little bit of sugar, and cinnamon, the mixture ferments over several days before it is ready.
It has a small amount of alcohol around 2% or less, so something to be aware of if you don't want any alcohol.
Along with street vendors you can find tepache in many restaurants. Sometimes you might even see it served mixed with a beer.
From a street vendor, expect to drink tepache in a clay mug or in a plastic bag for on the go.
18. Tejate
As you walk along the streets of Oaxaca exploring, you will see street vendors and shops advertising Tejate for sale.
Unlike the two previous drinks mentioned above, tejate doesn't have any alcohol in it and is sweet.
Tejate is made from toasted maize (corn) and fermented cacao beans that have been grinded down to a paste. Water is added to the paste, stirred with some sugar and a frothy top layer floats on the top of the huge bowl it's mixed in.
The cold drink tastes similar to a watery chocolate milk that I found myself enjoying more with each sip. Watching the women mixing up fresh batches of tejate, you can see the pride of keeping long traditions alive.
An ancient drink beloved by the Zapotecs and Mixtecs, locals and visitors in Oaxaca can enjoy tejate today as it has been made for hundreds of years.
19. Agua Fresca
At first I didn't really have a desire to drink agua fresca as I don't regularly drink flavored water or juices. But wow! In Mexico, agua fresca (fresh water) is incredible!
Whenever you come across agua fresca (water with fresh fruits) I highly recommend grabbing a cup as it is so refreshing with fresh hunks of fruit mixed in a large jug of water with a little bit of sugar.
You can find many different flavors such as lime, mango, strawberry, pineapple, and more! Agua fresca is commonly found in the markets or from street vendors and are easy to spot for the array of rainbow colors.
20. Agua de Horchata con Tuna
Agua de Horchata con Tuna is a unique version of the traditional agua fresca and I know you are probably curling your lip thinking it sounds disgusting! I thought the same thing. I couldn't fathom who would want to drink tuna…
But tuna is not referring to the fish here! The fruit of the red prickly pear known as "tuna" in Spanish is what is in this yummy drink.
The bright pale pink (think cotton candy pink) is a sweet rice drink with cinnamon, sugar, water, and prickly pear known as agua de horchata con tuna.
You might even see chopped nuts sprinkled on the top. Either way this is a drink I could enjoy daily each afternoon especially when the heat is at its peak.
21. Oaxacan Coffee
As you've likely gathered by now, Oaxaca has an abundance of fresh produce, herbs, spices, and drinks. This fertile land offers up the tastiest flavors that make it a top destination among foodies and chefs.
So, it should come to no surprise Oaxaca is also known for its coffee! Oaxaca is one of the top regions in Mexico for coffee and there are plenty of cafes where you can sample the intoxicating aromas of Oaxacan coffee as it hits your palate.
Top quality coffee here is grown at higher altitudes (up to 2,000 meters high) and usually on small farms.
There is literally a few cafes on every block in Oaxaca but a few cafes that I really enjoyed and stand out are:
Muss Café (enjoy coffee on the rooftop)
Boulenc
A.M. Siempre Café
Cafebre
Cafe Brujula
Top Markets In Oaxaca To Visit
If you want to eat like a local and really dive into food from Oaxaca, head to one of the markets. And no, I am not referring to a grocery store but the large markets that are comprised of hundreds of vendors who have a stall selling everything from food to produce, meats, clothes, and electronics.
This is where some of the top eats in Oaxaca can be found. For many travelers, visiting the markets can be intimidating and why I recommend going with a local guide. If you have time to visit a few, these markets in Oaxaca are a must!
Mercado 20 de Noviembre – this is the easiest to explore as it is near the Zocalo in the heart of Oaxaca City
Central de Abastos Market – this market was my favorite and the biggest. In fact, it is the biggest market in all of Mexico! There is around 20,000 vendors here…
Benito Juarez Market – next door to Mercado 20 de Noviembre
Tlacolula Sunday Market – outside of Oaxaca City, the top item to try here?
Tip: Carry cash (small bills) to pay vendors and always keep your belongings in front of you. Pickpocketing is common so be aware of your surroundings and don't take valuables.
Best Restaurants in Oaxaca City
Oaxaca is one of those cities where practically every restaurant is incredible. It is a mecca for food lovers and a city where you want to bring an appetite! There are SO many fantastic places to eat in Oaxaca City but here are a few to choose from to get you started.
Casa Oaxaca El Restaurante
Mixtu
Criollo Oaxaca
El Destilado Oaxaca
Boulenc
Expendio Tradicion
La Biznaga
Origen
Restaurante Catedral
Don Juanito
La Popular
Enjoy sampling the best food from Oaxaca!
Got Travel Insurance?
Don't leave home without travel insurance as you never know what might happen on a trip! It is always when you least expect it that something can go wrong like getting sick, in an accident or cancellation of some sort.
Get a no-obligation quote from two trusted travel insurance companies for peace of mind on your next trip! I have used both companies on numerous occasions and trust them for myself and my family.
Looking For More Travel Inspiration?
25 Best Things To Do In Oaxaca City, Mexico For First Time Visitors
19 Awesome Things To Do In Puebla, Mexico You Don't Want To Miss
55 Top Tips For Traveling To Mexico And What To Know Before You Go
33 Best Things To Do In San Miguel de Allende, Central Mexico
7 Best Filtered Water Bottles For Travel And Hiking
Ultimate New Orleans Bucket List: 35 Fun Things To Do In NOLA
Ultimate Guide To The Best Tacos In San Diego
Perfect 3 Day Weekend In San Antonio Itinerary For First Timer's
Disclaimer: As an Amazon Associate and a participant of other affiliate programs, I may earn from qualifying purchases in this post. This means that if you make a purchase through one of these links, I might receive a commission at no extra cost to you. Thank you and it is greatly appreciated!