Disclaimer: Traveling Ness contains affiliate links and is a member of the Amazon Services LLC Associates Program. If you make a purchase using one of these links, I may receive compensation at no extra cost to you. See my privacy policy for more information.
The Flower Fields In Carlsbad: The Ultimate Guide For 2023
One of the best things about spring beside the longer days and warmer temperatures are flowers! In spring, flowers of all sorts are blooming all over the world and that is no different in Southern California. The Flower Fields in Carlsbad have the most spectacular flower fields and are a delight to see each spring.
You will notice the colorful hillside of flowers in the distance well before you approach the famous fields.
Locals look forward to when spring arrives as the hillside of the Flower Fields come alive when they turn from plain not so pretty fields to what looks like a vibrantly colored painting.
The Flower Fields are one of a kind and something that you will not see elsewhere like this. It is magical being surrounded by thousands of bright flowers, to see the Pacific Ocean and enjoy the salty beach air all at once!
Tip: If you are looking to spend some time on the beach, learn where the best beaches are in my post 15 Most Popular Beaches In San Diego.
And if you are craving some epic tacos that San Diego is known for, visit Ultimate Guide To The Best Tacos In San Diego!
Where Is Carlsbad?
Carlsbad is in sunny Southern California right along the beach and a dreamy town to visit. Located in the north county portion of San Diego (SD), Carlsbad is about 45 minutes north of downtown SD.
If you would rather take your time getting to Carlsbad, I highly recommend taking the scenic Coast Highway 101.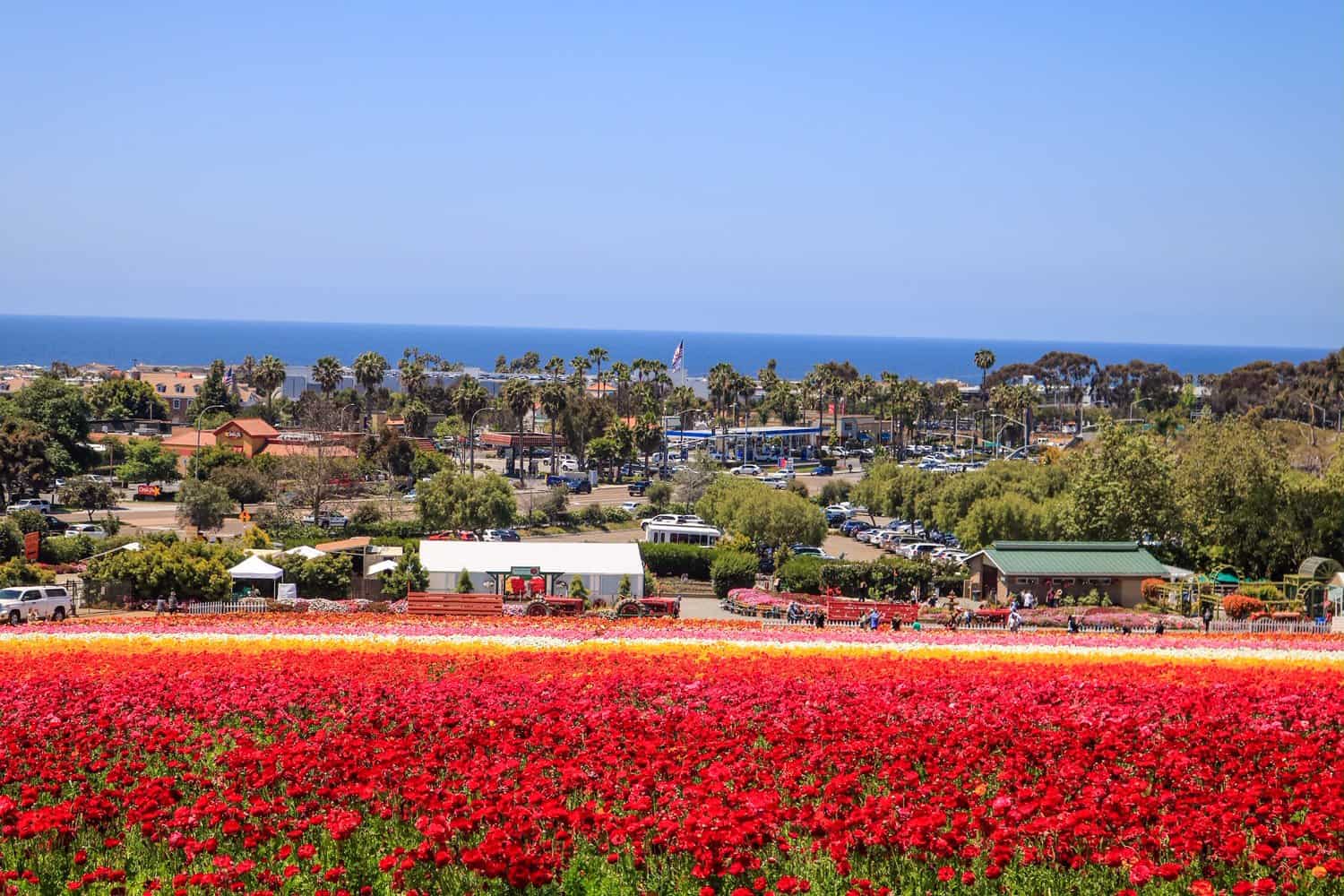 Hwy 101 is the coastal route that will take you through plenty of adorable beachy towns that ooze a California vibe.
In true California fashion, the route north is lined with what seems like an endless amount of palm trees.
Don't be surprised if you see a surfer or two grabbing their board and racing to catch a wave!
The Flower Fields in Carlsbad that are often just referred to as the "Flower Fields" are off of Palomar Airport Road.
This is an exit off of the 5 Freeway and off of the Coast Hwy 101 (they run parallel). From the freeway, drive east on Palomar Airport Road and turn left at the first light to enter the Flower Fields.
The two closest airports to fly into when planning your trip to Carlsbad are:
San Diego International Airport (SAN)
John Wayne Airport – Orange Country (SNA)
They have very similar airport codes so make sure you are booking the right one! Start exploring the best flight deals for your upcoming trip to Carlsbad today!
And if you do need to rent a car, why not get the lowest rate by searching now and securing your booking?
Address: 5704 Paseo Del Norte, Carlsbad CA 92008
When To Visit The Flower Fields
As I already mentioned, springtime is the prime time to visit the flower fields but it does vary from year to year a bit. That's mother nature for you!
Although the exact timing of the flowering can't be predicted, generally the season is from March to the beginning of May.
For the 2023 season, the Flower Fields will open up on March 1st, 2023 and run through May 14th, 2023. In previous years you could purchase your tickets onsite.
But for 2023, you NEED TO PURCHASE YOUR TICKET ONLINE IN ADVANCE! Visit the Carlsbad Flower Fields site to purchase.
But if you are looking for the prime time to visit and see the most flowers in bloom, then mid-March to mid-April is the best. During this window, you are likely to see the most flowers blooming with more variety of colors too.
This year the flower fields will open on March 1st, 2023 but to get live updates, you can go to their website here.
Tip: Wondering what else there is to do in Carlsbad? Visit my post 25 Fun Things To Do In Carlsbad, California to find out!
What Kind Of Flowers Will I See?
In many places in the world like the Netherlands, you are primarily flower hunting for tulips in the spring. Not here!
No tulips to be found here but no worries as you won't care once you get a glimpse of the 1,000's of flowers in numerous shades of the rainbow.
Now that I have built up the suspense, the flower to be seen at the Flower Fields in Carlsbad are the Giant Ranunculus!
Ya I had to check the spelling on that one a few times… Officially they are called the Tecolote Giant Ranunculus and are native to Asia Minor (Turkey & Armenia).
The Giant Ranunculus is also known as the Persian Buttercup which likes being in full sun and prefers mild winters.
This makes Carlsbad a perfect spot as the temperatures never get too hot and has a constant ocean breeze. They also need very well-drained soil and are planted on a slope below the Grand Pacific Palisades Hotel.
When you get up close to the Ranunculus flowers, they almost look fake as they appear too perfect.
Resembling a crepe-paper flower, the Giant Ranunculus might look like a rose flower at first. But don't be tricked, there are no rose flowers present!
Get A PDF Of This Guide For Your Trip
For your convenience, you can download a copy of this Carlsbad Flower Fields guide or print it to take with you. It includes pictures and links within the article. It's ad-free and handy for on the go.

History Of The Flower Fields
If I didn't live nearby, I would probably think this was a small patch of flowers. But it is not, in fact the Flower Fields cover 50 acres!
A few acres are actually used for other types of flowers but almost all the flowers are the Giant Ranunculus aka "Persian Buttercups".
The hillside covered in gorgeous Ranunculus flowers has been a favorite of North County San Diego. These exquisite blooms have drawn people from all over the world to come visit for over 60 years.
You might also hear the fields referred to as The Flower Fields at Carlsbad Ranch which is the same location.
Although the Ranunculus flower got its start about 100 years ago in Southern California, it was Edwin Frazee who created the wonder you see today back in 1965. His love for cultivating clearly shows today with the bright shades of the flowers.
In the beginning, there was only red and yellow but after carefully selecting seeds that created different colors, he would replant those the next year.
Eventually, his work and passion evolved to the 13 shades you see scattered on the hillside at the Flower Fields.
The land at the Flower Fields has always been owned by the Ecke family but in recent years they teamed up with Armstrong Garden Center (entrance to fields).
There are various events and weddings that also take place here that makes for not only a lovely but memorable time.
Can I Take Home Any Flowers?
Yes! You can definitely take home some Ranunculus flowers with you. In the Armstrong Garden Center, you can purchase freshly cut Ranunculus flowers to take with you.
But if you have a green thumb and live in a location that doesn't have harsh winters, then you can buy Ranunculus bulbs instead.
Tip: Looking to keep your cut Ranunculus flowers a bit longer? Try adding a small amount of sugar (teaspoon) to the vase's water to help prolong the life of the cut flower.
Hours & Admission
The Flower Fields in Carlsbad are open daily from 9 am to 6 pm, from March 1st to May 14th, 2023. Admission for Adults is $23, Seniors are $21 and Children $12.
For those that live local and want to visit multiple times, you can even purchase a season pass. The flower fields are open rain or shine. The good news is that it doesn't rain a lot this time of year (most of the time) but it can get cold and a little misty being so close to the ocean.
Tips For Visiting the Carlsbad Flower Fields
It might be tempting but no picking the flowers!
Don't sit, lay down on or trample the flowers in any way please. There are designated spots you can sit or stand that make it appear you are in the middle of a bunch of flowers. Stay on the designated areas and you are good!
Bring your camera! But leave your drone at home…
No pets allowed unless it is a service animal
Wear comfortable shoes and no high heels please… You are walking along dirt paths that have uneven places at times. Remember it is a working ranch, so…
Bring your lunch and have a picnic with this travel cooler. There are food vendors but only on the weekends.
Bring water to stay hydrated especially if it is a hot day with this reusable water bottle.
Parking is free at Armstrong Garden Center but if full, you can park at the Carlsbad Outlet Mall next door.
Tractor Ride
For those that don't want to do a lot of walking through the rows of fields, you can take a Tractor Wagon Ride for an additional small fee ($8 for adults and $4 for children ages 3 – 10). You even get some info on the Flower Fields' history too.
The open-air wagon is pulled by a very cool antique-looking tractor that adds to the feel of a "working ranch".
If you are just tired of walking or not very fit (just kidding!), it is a great way to see a large area of the fields. Since the large wagon is open, there are plenty of opportunities to take photos.
Wander In The Flower Fields
Ok this is probably a given but walking the ranunculus flower fields is the main thing to do here! Have fun wandering among the different colored rows of blooms that seem to go on for miles…
Well not miles but there is a lot of space to roam and enjoy these beauties.
As you are walking through the fields it is pretty obvious where you can and can't walk so don't be that jerk and trample flowers to get "that shot".
If you want to be holding flowers in your photos, you can buy some at the garden center for that. There are also some benches and photo setups to make it fun.
American Flag
On the right side of the flower fields (facing Palomar Airport Rd), take notice of the American Flag! No, not flying in the air but on the ground made out of Petunias. This is one area that you won't spot Ranunculus flowers.
The American Flag is 300 by 170 feet and made up of red, white and blue Petunias. It really is a cool sight to see, although I'm sure the view from above would be even better. Too bad drones aren't allowed…
Sweet Pea Flower Maze
The Sweet Pea Maze is a maze made out of you guessed it, sweet pea flowers! This is something probably more suited for kids but hey it might be right up your alley.
The Artist Gardens
Wander around and take a look at live paintings made with flowers. The flowers make known paintings come to life as the chosen medium instead of paint! What a pretty way to express an artistic message.
Events & Activities
I love how the Flower Fields in Carlsbad hold various events and activities to showcase and celebrate the gorgeous flowers even more!
They have a calendar of events that you can look ahead to see what might be happening the day you go. Some require advanced ticket purchases and some are free.
A few that stand out as unique and fun are "Flower Flow Yoga", "Sunset Wine Tasting", "Arts & Crafts" and "Tea in The Garden". One that I plan to do this year is the "Canon Photography Workshop".
Carlsbad Hotels
There are two places in Carlsbad that I recommend staying and it really depends on what you are interested in doing. If you are looking to stay at a larger resort with a lot of amenities and that is super close to the Flower Fields in Carlsbad then I recommend staying at the following.
The Sheraton Carlsbad Resort & Spa– Less than a 5-minute drive to the Flower Fields. It is located up on the hill above the flowers across from Legoland.
Grand Pacific Palisades Resort – Located directly above the flower fields so it is the closest you are going to get!
If you would rather stay next to the beach and have access to more restaurants and shopping then I recommend staying in Carlsbad Village or what locals refer to just as the "Village". Carlsbad Village is about a 10-minute drive from the Flower Fields.
In this area, you have more beach vacation rentals, condos and smaller hotels in general. Here are a few hotels that have a prime location right near the beach and to the Village.
Ocean Palms Beach Resort – located just a short walk into the Village and steps from the beach.
Best Western Plus Beach View Lodge – located directly across the street from the beach and steps to Carlsbad Village.
What Else Is There To Do In Carlsbad?
After visiting the flower fields in Carlsbad, get ready to explore more activities! Of course, the beach is a main draw to the Village by the Sea but find out 25 Fun Things To Do In Carlsbad, California you don't want to miss!
Where To Eat In Carlsbad
I could probably list 100 amazing places to eat but here are a few favorites that should leave you happy and satisfied.
If you want the complete guide on the best places to eat in Carlsbad then sign up to get a FREE checklist of all the spots you don't want to miss!

Las Olas Mexican Restaurant – San Diego is known for insanely good Mexican food and this place has been around for years and is a local favorite. (2939 Carlsbad Blvd, Carlsbad CA)
Harbor Fish Café – The best fish & chips outside of the UK! And no its not on a harbor, but up above the beach. Not sure why it has "harbor" in the name… (3179 Carlsbad Blvd, Carlsbad CA)
Twenty 20 – Great food and an awesome place to have a drink to watch the sunset. Inside the Westin Carlsbad Resort & Spa at 5480 Grand Pacific Drive, Carlsbad CA.
Windmill Food Hall – This is across the street from the Carlsbad Flower Fields but one I have yet to eat at. It is fairly new but have heard great things about. I will update on what I think after I try it.
Have fun wandering the flower fields in Carlsbad!
Get A PDF Of This Guide For Your Trip
For your convenience, you can download a copy of this Carlsbad Flower Fields guide or print it to take with you. It includes pictures and links within the article. It's ad-free and handy for on the go.

Got Travel Insurance?
Don't leave home without travel insurance as you never know what might happen on a trip! It is always when you least expect it that something can go wrong like getting sick, in an accident or cancellation of some sort. Get a no-obligation quote from two trusted travel insurance companies for peace of mind on your next trip!
Looking For More Things To Do In San Diego?
15 Best Things To Do In San Diego
25 Fun Things To Do In Carlsbad, California
15 Most Popular Beaches In San Diego
Exploring the Best La Jolla Attractions
Guide To The Best Pumpkin Patches In San Diego
19 Fun Things To Do In Encinitas, California
5 Ways To See California's Imperial County
How To Spend The Best Day Apple Picking In Julian

Disclaimer: My post contains affiliate links including being an Amazon Associate. I may receive a small commission if you click a link and purchase through that link. It won't cost anything to you to use these links but is very much appreciated. Thank you!