Disclaimer: Traveling Ness contains affiliate links and is a member of the Amazon Services LLC Associates Program. If you make a purchase using one of these links, I may receive compensation at no extra cost to you. See my privacy policy for more information.
15 Most Popular Beaches In San Diego, California
If you asked someone what San Diego was best known for, one of the top three answers would undoubtedly be the beaches! And likely followed by awesome Mexican food and ideal weather. This guide will provide you with everything you need to know when visiting the most popular beaches in San Diego!
All of California has incredible beaches and coastline but the 70-miles of coastline along San Diego County has the most accessible beaches in the state.
Whether you enjoying walking on the beach, basking in the sun, playing volleyball, or surf, there is a beach for you.
The most popular beaches that I mention below will start out in the most northern beach in San Diego County and go in order heading south to San Diego.
And as an added bonus, I have listed my favorite restaurants for each beach community in case you get hungry!
And yes as a local I have eaten at all of these places several times and yum is an understatement…
For ideas on what to do in the San Diego area beside the beach, check out my posts:
15 Best Things To Do In San Diego
Exploring The Best La Jolla Attractions
When To Visit
The weather in Southern California and in San Diego, in particular, is wonderful year-round with a temperate climate that seems to hover around 68 F or 70 F.
Unlike other areas of the United States, San Diego does not get harsh cold winters or insanely hot and humid summers.
For the most part, San Diego is the perfect temp and sunny the majority of the year. But being situated along the ocean does bring fog and overcast days especially during the spring and early summer months.
It isn't uncommon for the fog to burn off around noon or early afternoon during that period.
Rain is somewhat rare but is most prevalent from February to June if we do in fact get any.
For these reasons, I recommend visiting in July through November for the best overall weather.
Having said that there are numerous great days in the winter that are spectacular, so don't count out the winter months.
How To Get There
There are a few options when visiting the best beaches in San Diego. You can either fly into the San Diego International Airport (SAN) which is in the heart of downtown San Diego or John Wayne Airport (SNA) which is in Orange County.
In planning for your trip, explore the best flight deals today!
No matter which one you choose, be aware that their airport codes are very similar! John Wayne Airport is 86-miles north of downtown San Diego but only 49-miles to Oceanside. So, you can't go wrong with what airport you choose to fly into.
I usually look for the best deals and choose based on that. If you plan to spend more time in the North County part of San Diego then flying into Orange County could be a better choice.
To explore the beautiful beaches along San Diego's coastline, book a car rental here for the best deals!
Note: When the plane is about to land in San Diego, it will appear that the plane is going to land on the rooftop of a building or take one out in the process. But don't worry, the plane has plenty of clearance!
Where To Stay
There are so many great locations to stay at when visiting San Diego. But overall the locations I would recommend staying at are in Carlsbad, Del Mar, La Jolla, downtown San Diego and/or Coronado Island. I have listed some of my favorite hotels in each area.
Carlsbad
Del Mar
La Jolla
San Diego (downtown)
Coronado
Notes & Tips
All of these beaches are public and free to visit. You will need to pay at some of the beach parking lots. Check signs and if you want to avoid paying, look for street parking nearby.
From Oceanside down to La Jolla, you can access any beaches mentioned off of the 101 or Coast Highway 101. It is a great stretch of road to cruise along.
Even though the weather always seems to be around 70 F and sunny, the ocean temperature is still a bit cold. The warmest the ocean water will get in the summer is between 64 F and 68 F.  Although rare, the ocean has gotten up between 72 F and 78 F during an August heatwave.
During some parts of the year, you might see brown clumps of seaweed on the beach shore. Don't fret, it is just washed up seaweed or kelp. There are incredibly tall kelp forests off the coast that are awesome to scuba dive in!
Unless a beach is designated a "dog beach", dogs are not allowed on the beach. In the winter months, some beaches allow dogs but best to check ahead.
As a local, I had the leisure to photograph these beaches in the summer, fall, and winter months. I mainly visited during the week so beaches may look much more crowded on a summer weekend.
If you are interested in finding out when beaches will be at high versus low tide, you can check the tides here.
Unfortunately due to people going overboard, you can no longer drink alcohol at any beach in San Diego.
Beach Essentials
Most Popular Beaches In San Diego
Oceanside
1. Oceanside Beach/ Pier
Oceanside and its beaches are the furthest north in San Diego County bordering Orange County.
Growing up a town over from Oceanside, the city was predominately a military town with not a lot to do other than visiting the beach and harbor.
Fast forward to today, there has been a revitalization in Oceanside adding in a number of incredible restaurants and shops making it awesome to visit. The main beach is Oceanside Beach located where the Oceanside Pier sits.
You can walk out onto the pier or try your hand at fishing off of it. There is a Ruby's Diner at the end of the pier where you can enjoy a front-row seat to the ocean.
As a favorite spot for surfers, it is fun to watch them catch waves from the pier.
The road along the waterfront is referred to as The Strand and is a great stretch for a walk, run or bike ride.
On both sides of the pier you can see some very old vintage-style beach bungalows but on the north side are some adorably colorful ones that I love.
A few miles north of Oceanside Beach is the Oceanside Harbor where you can get some seafood and ice cream as you wander the small harbor.
If you want to enjoy smores around the fire pit, there are fire pits you can use at both Oceanside Beach and the harbor beach.
Tip: Every Thursday from 9:00 am to 1:00 pm you can attend the Oceanside Farmer's Market for some fresh produce, baked goods, and more! Located on Main Street up from the pier.
Address: Pier View Way and The Strand, Oceanside, CA 92054. Unless you are able to find a free parking spot in a nearby street, expect to pay at any nearby lots.
Favorite Oceanside Restaurants:
333 Pacific (333 North Pacific Street, Oceanside, CA 92054) – seafood and drinks
Local Tap House & Kitchen (308 South Coast Hwy, Oceanside, CA 92054) – pub-style food and beer
Flying Pig & Kitchen (626 South Tremont Street, Oceanside, CA 92054) – modern american
Hello Betty Fish House (211 Mission Ave, Oceanside, CA 92054) – seafood and rooftop bar
Petite Madeline Bakery & Bistro (223 North Coast Hwy, Oceanside, CA 92054) – bakery
Carlsbad
2. Carlsbad State Beach
Of all the beaches listed here, Carlsbad State Beach might be my favorite. I grew up a few miles from here and this was the beach where I have some of the best memories so of course, I'm a little biased.
Even with that said, Carlsbad State Beach is beautiful with a long flat pathway up top with several staircases down to the beach level.
At beach level, there is a path running parallel along the sea wall that is the perfect place to get in a workout.
You can do a few loops and incorporate some stairs to get that heartbeat up. Up on top, the views looking down on the beach are spectacular.
A huge draw to Carlsbad is its adorable Carlsbad Village that is the heart of Carlsbad with an endless number of restaurants, cafes, bars, and shopping that is ideal as the majority of it is all within walking distance.
At Lifeguard Tower 36 on the south end of Carlsbad State Beach is known as Tamarack Beach and is a very popular spot with surfers.
There are restrooms at Tamarack and on the north end of Carlsbad State Beach near the ramp.
Tip: Every Wednesday from 3:00 pm to 7:00 pm you can catch the Carlsbad Farmers Market on State Street (to 6:00 pm in the Winter). Oh, you must try the insanely delicious yogurt from Frenchy Yogurt!
And if you are curious about what other awesome things there is to see and do in Carlsbad, explore my post 25 Fun Things To Do In Carlsbad, California!
Address: 3150 Ocean Street, Carlsbad, CA 92008. There is plenty of free street parking in and around the nearby neighborhood. You do need to pay for parking at the Tamarack Beach parking lot.
3. South Carlsbad State Beach
Continuing south from Tamarack Beach, you will reach South Carlsbad State Beach. The majority of this beach is along the South Carlsbad State Beach Campground.
Every summer growing up, my family along with about 5 other families would camp here or further south at San Elijo Campgrounds.
If one campground was filled up then we would book at the other. If you know you want to camp a specific week, book months ahead of time to guarantee a spot in summer.
Tip: If you are visiting Carlsbad in March through May, pay a visit to the Carlsbad Flower Fields. I wrote a complete guide on visiting, The Flower Fields in Carlsbad: The Ultimate Guide.
Favorite Carlsbad Restaurants:
Campfire (2725 State Street, Carlsbad, CA 92008) – modern american
Harbor Fish Café (3179 Carlsbad Blvd, Carlsbad, CA 92008) – best fish and chips in the county!
Paon Restaurant (2975 Roosevelt Street, Carlsbad, CA 92008) – french, seafood and wine bar
Las Olas Mexican Restaurant (2939 Carlsbad Blvd, Carlsbad, CA 92008) – mexican
Vigilucci's Seafood & Steakhouse (3878 Carlsbad Blvd, Carlsbad, CA 92008) – pasta, steak & seafood
Board & Brew (201 Oak Ave, Carlsbad, CA 92008) – best sandwiches
Leucadia
4. Grandview Beach
Officially Leucadia is part of the city of Encinitas but any local still refers to this area as Leucadia.
Leucadia is the next town and beach after South Carlsbad State Beach and is known for its very chill atmosphere and surfer vibe.
Grandview Beach gets its name because as you stand at the top of the bluff and look out it is indeed a grand view!
Gazing from north to south you will see a much thinner section of a beach compared to Carlsbad or Encinitas.
From the top of the wooden staircase, make your way down the steps to the beach for a walk, to sunbathe or surf some waves.
You will likely notice several surfers trekking up and down the staircase with their surfboards in tow as this is a favorite surf spot among locals.
The houses along Grandview Beach must have a stunning view year-round! Located in a residential neighborhood, turn right onto Grandview Street off of Coast Highway 101. Then turn right onto Neptune and park where you find an available spot.
Note: There are no restrooms at Grandview Beach (1700 Neptune Ave, Encinitas, CA 92024). If the tide is high, there won't be much of a beach and primarily only ideal for surfers.
5. Leucadia State Beach
Heading south of Grandview Beach is Leucadia State Beach or what most refer to as Beacon's Beach.
You might see both names used interchangeably. Park in the small parking lot (free) or find a spot nearby in the neighborhood.
Like with Grandview, you are high above the beach looking down over the bluff. Take the stairs and follow the dirt path down a series of switchbacks to the beach. Beacon's Beach has a much wider sandy beach compared to Grandview.
Although there are no restrooms, there is a lifeguard on duty during the summer months.
Bring a cooler and some snacks so you can spend the day without losing your parking spot! Beacon's Beach is great for taking a walk, sunbathing or surfing.
Address: 948 Neptune Avenue, Encinitas, CA 92024 and parking is free.
Favorite Leucadia Restaurants:
Fish 101 Leucadia (1468 North Coast Hwy 101, Encinitas, CA 92024) – seafood, fish tacos
Le Papagayo (1002 North Coast Hwy 101, Encinitas, CA 92024) – latin american
Solterra Winery & Kitchen (934 North Coast Hwy 101, Encinitas, CA 92024)- american, wine bar
Encinitas
6. Moonlight State Beach
Moonlight Beach is another one of my favorite beaches in San Diego as it has it all with a wide-open sandy beach, restrooms, a lifeguard tower, and a concession stand.
There is also a playground for kids and picnic tables here.
Located in the heart of Encinitas and a short walk from many restaurants and shops at the end of B Street is Moonlight. Because Moonlight Beach has facilities, a park, fire pits, volleyball courts, and a good beach it tends to get crowded.
I still enjoy going but usually walk to the left further away from the crowds. The beach between Moonlight and D Street is great.
And if you just want to visit the ocean without going down to the beach, there are a number of benches on top where you can sit and enjoy the view of the Pacific Ocean.
Address: 386 B Street, Encinitas, CA 92024. You can park in the parking lot off of C Street that sometimes charges for parking or on a nearby residential street for free.
7. Swami's State Beach
Driving south from Moonlight Beach, continue along the Coast Highway 101 and turn into the parking lot at Swami's State Beach.
This is a popular spot for surfers and has a small park surrounding the parking area.
Swamis is distinct along the coast as you can find tiki poles that have been carved into old palm tree stumps as you enter.
Swami's got its name from Swami Paramahansa Yogananda of the Self-Realization Fellowship next door and shares the same beach.
Before you head down the stairs to the beach take in the spectacular views of a wide sandy beach below. The sweeping views of the Pacific Ocean can display blue and turquoise colors on a sunny day.
Swami's is an excellent beach if you want to take a walk, run or sunbathe. If the tide is low then you can explore the tide pools in hopes of seeing different sea animals such as sea stars, crabs, octopus, mussels, and sea anemones.
Note: There are restrooms and picnic tables next to the parking lot. Parking here is free and there is a lifeguard on duty during the summer months.
Tip: Visit this post to find out other fun things to do in Encinitas!
Address: 1298 South Coast Highway 101, Encinitas, CA 92024
Favorite Encinitas Restaurants:
Union Kitchen & Tap (1108 South Coast Hwy 101, Encinitas, CA 92024) – modern american
Blue Ribbon Artisan Pizzeria (897 South Coast Hwy 101, Encinitas, CA 92024) – pizza & salads
3rd Corner Wine Shop & Bistro (897 South Coast Hwy 101, Encinitas, CA 92024) – wine, pasta, seafood
Trattoria I Trulli (830 South Coast Hwy 101, Encinitas, CA 92024) – italian
The Crack Shack (407 Encinitas Blvd, Encinitas, CA 92024) – american highlighting fried chicken
Better Buzz Coffee (578 South Coast Hwy 101, Encinitas, CA 92024) – coffee and light breakfast
Pannikin Coffee & Tea (510 North Coast Hwy 101, Encinitas, CA 92024) – coffee & tea
Cardiff-by-the-Sea
8. San Elijo State Beach
San Ejio State Beach is most known for the San Elijo State Campgrounds and is the best place to beach camp in San Diego.
Over the years I have camped here countless times and enjoyed access to the beach from my campsite via a staircase.
A little further south of the campgrounds is still San Elijo Beach but it flattens out where you can just walk out onto the beach.
Along this section of the beach has incredible places to eat on both sides of Coast Highway 101 such as those listed below.
A well-known resident of Cardiff and along the campgrounds is the Cardiff Kook. It is a bronze statue of a surfer officially known as the Magic Carpet Ride that has caught a lot of attention over the years.
Depending on when you visit, don't be surprised if he is decorated for various holidays or occasions.
Tip: If you are staying somewhere with a kitchen and BBQ, then pick up some seasoned tri-tip meat at Cardiff Seaside Market (2087 San Elijo Ave, Cardiff, CA 92007). It is also known as "Cardiff Crack" and is truly mouthwatering…
Address: 2050 South Coast Highway 101, Cardiff, CA 92007. Restrooms and picnic tables are available but you do need to pay for parking.
Favorite Cardiff Restaurants:
VG's Donuts (106 Aberdeen Drive, Cardiff, CA 92007) – donuts
Zumbar Coffee & Tea (111 Chesterfield Drive, Cardiff, CA 92007) – my favorite coffee shop!
Pacific Coast Grill (2526 South Coast Hwy 101, Cardiff, CA 92007)- seafood with beach view
Chart House (2588 South Coast Hwy 101, Cardiff, CA 92007) – seafood with beach view
Las Olas Mexican Restaurant (2655 South Coast Hwy 101, Cardiff, CA 92007) – mexican
Solana Beach
9. Fletcher Cove Beach Park
I have countless wonderful memories at Fletcher Cove and is one I like to frequent. It also happens to have an exceptional beach that is awesome for walking or running when the tide is low. There is plenty of room to sunbathe or just enjoy the beauty.
There is a small park, picnic tables, basketball courts, and a lifeguard on duty year-round that makes it one of the most popular beaches in San Diego.
If you can grab a parking spot in the small lot, as it is free or look to park on a nearby street.
There is a gradual ramp to walk down to this beautiful sandy beach. There is even a lookout point where you can look in stationary binoculars to possibly spot a dolphin or migrating gray whale!
Fletcher Cove is also known as Pillbox because a WWII gunnery installation was located here.
Address: 111 South Sierra, Solana Beach, CA 92075
Favorite Solana Beach Restaurants:
Pizza Port (135 North Coast Hwy 101, Solana Beach, CA 92075)- awesome pizza and beer
Naked Café (106 South Sierra Ave, Solana Beach, CA 92075) – breakfast & brunch
Crush Solana Beach (437 South Coast Hwy 101, Solana Beach, CA 92075) – italian & wine
Del Mar
10. Del Mar Dog Beach
If you have a dog who loves the water, then head to the Dog Beach in Del Mar. During the summer months dogs are to be on a leash but the rest of the year they can roam free.
Having said that, I have been on a weekday in the summer and dogs seemed to run free.
I would keep to the leash rule during the summer weekends though. On a busy day, it is quite fun to see dogs of all ages and sizes splashing in the waves and enjoying a beach day.
The dog I had previously used to love charging the waves but we had to keep her from wanting to drink the ocean water. That isn't good due to the high salt content. For this reason, bring a bowl, freshwater, and a towel to dry your pup off after.
There is an outlet of water that forms a small lagoon that has calm water and nice for dogs that are intimidated by the waves along the shore.
There are shower stations to rinse off your dog (and maybe yourself) near the street parking.
If you happen to enjoy beach volleyball, there are usually volleyball nets up for players. For an even better view of Dog Beach, you can walk up the trail to the bluff on the north end of the beach for a breathtaking overlook.
Address: 3200 Camino del Mar, Del Mar, CA 92014. There is both metered parking and free parking on nearby streets.
11. Del Mar City Beach
The Del Mar City Beach is a pristine sandy beach that has easy access to it. Del Mar City Beach runs from Powerhouse Park up to Dog Beach north of it.
This is an excellent beach to swim, surf, walk or sunbathe at as there is a lifeguard on duty.
During a summer weekend, it can be hard to find parking here as it is one of the best beaches in San Diego.
As the beach is nestled in a residential neighborhood, there isn't enough parking in my opinion. If you don't want to deal with parking, you can always get an Uber or Lyft here.
Powerhouse Park is a lovely park to visit on the beach that has restrooms, rinse-off showers, and picnic tables. The lifeguard tower is located on the beach at 17th Street.
For those of you that would rather sit back with an incredibly delicious meal and a cocktail, Jake's and Poseidon's is the spot.
I love coming to either of these for brunch for some Bloody Mary's or near sunset to enjoy the beachfront view. There are not a lot of places in San Diego to dine literally on the beach so these two spots are special!
Address: 1660 Coast Blvd, Del Mar, CA 92014. There is a fee to park in parking lots or metered parking on the street.
Favorite Del Mar Restaurants:
Jake's Del Mar (1660 Coast Blvd, Del Mar, CA 92014) – seafood on the beach
Poseidon on the Beach (1670 Coast Blvd, Del Mar, CA 92014) – seafood on the beach
The Brigantine (3263 Camino Del Mar, CA 92014) – seafood and taco tuesdays
Board & Brew (1212 Camino Del Mar, Del Mar, CA 92014) – the best sandwiches to take to the beach!
Il Fornaio (1555 Camino del Mar, Del Mar, CA 92014) – great spot for sunset
En Fuego Cantina & Grill (1342 Camino del Mar, Del Mar, CA 92014) – they have excellent taco tuesday!
La Jolla
12. Black's Beach
When I was younger, my friends and I couldn't wait to see what Black's Beach was like!
Why? Well, it has always been "the nude beach" in San Diego, and since it isn't the easiest beach to access it makes it perfect for seclusion…
Every time I have been to Black's Beach, the only people that are nude tend to be older men that I really don't want to see.
Don't go expecting to see young hot bodies scattered along the beach! One time I saw a nude man doing yoga in quite interesting poses that I couldn't help but laugh at.
I must say Black's Beach is a breathtaking sandy beach that is wonderful for a walk or sunbathing but it is a trek to get down from the sheer bluff above.
There are three ways to get to Black's Beach, either walk 2-miles from Torrey Pines State Beach if the tide is low, hike down from the Torrey Pines Nature Reserve or the Torrey Pines Glider Port.
Personally, I would choose hiking down from the Glider Port or from Torrey Pines Nature Reserve as the views from the top of the bluff are breathtaking.
Expect to hike about 2-miles roundtrip. I prefer taking the Beach Trail from Torrey Pines Reserve as I think it is much easier than from the Glider Port.
The best way to get to Black's Beach is to park at Torrey Pines State Nature Reserve. Turn off onto North Torrey Pines Road (at Torrey Pines State Beach) off of Coast Highway 101.
There is parking on top, but on a weekend, it might fill up quickly. If it's full, you can park in the lot at the base of the hill and walk up.
Address: 12600 North Torrey Pines Rd, San Diego, CA 92037
13. La Jolla Shores
La Jolla Shores is an exceptional palm tree-lined beach that is south of Black's Beach and the Scripps Pier.
It is both a long and wide beach making it so popular among locals to swim, kayak, snorkel, scuba dive, SUP, and surfing.
The water out in front of La Jolla Shores and over to the Cove is a marine protected area that makes it great for snorkeling and scuba diving.
I have scuba dived here on a number of occasions and although it is fun, you can't compare it to the warm tropics.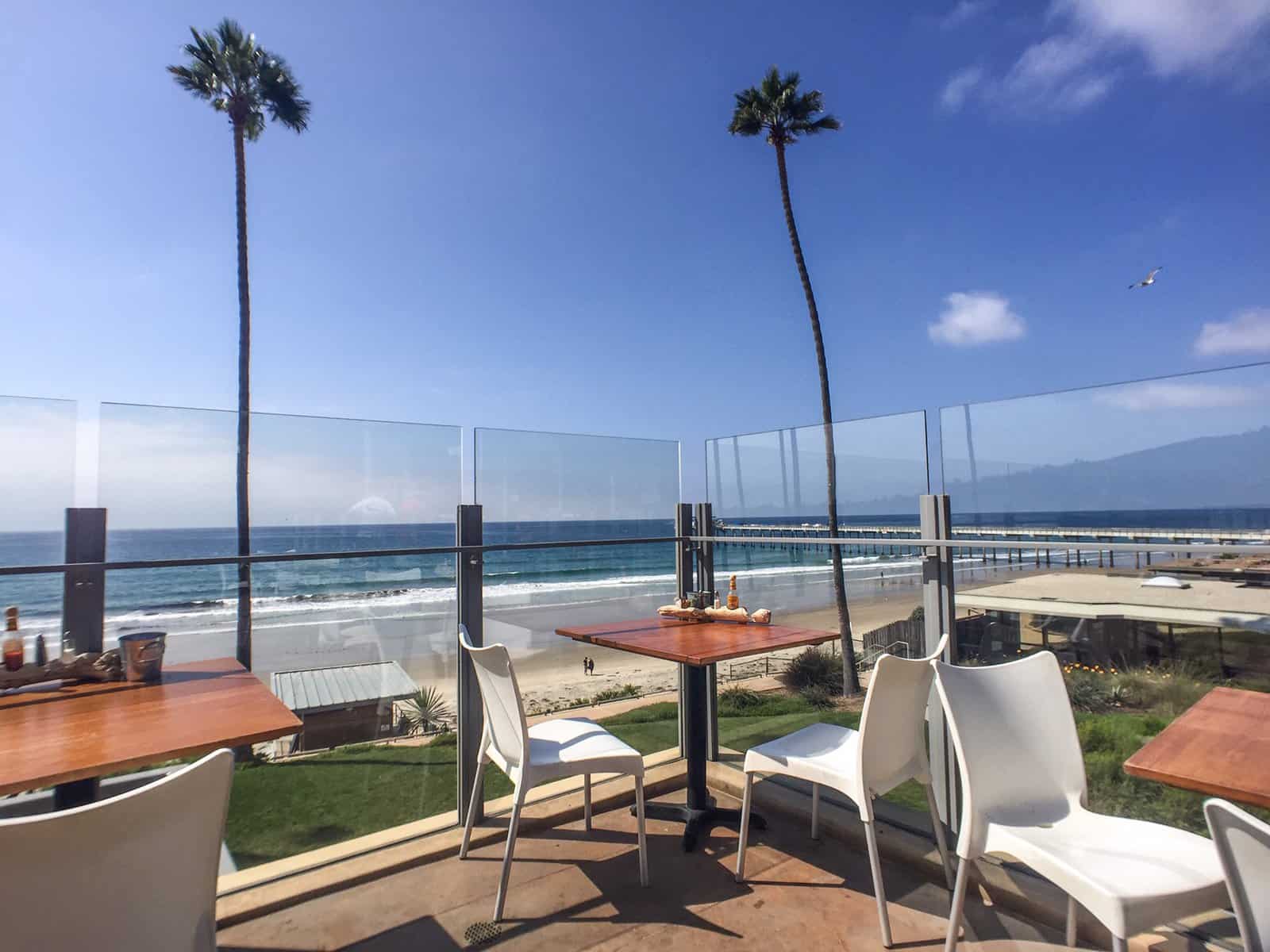 You might see lobsters, Garibaldi fish, octopus, large kelp forests, leopard sharks, and hundreds of sand dollars.
Diving at La Jolla Shores is definitely the best dive site in San Diego followed by La Jolla Cove close by. And of course, a number of sea lions that bask on the rocks near the Cove.
Although you can't walk out onto it, take a stroll on the beach to the Scripps Pier on the north end of La Jolla Shores Beach. It is usually a hotspot for photographers and photo shoots especially near sunset.
There is a good size parking lot at Kellogg Park along La Jolla Shores Beach but if it is full, you are left with looking for a spot in the streets nearby.
Tip: To find out more about what to see and do in La Jolla, explore my post Exploring The Best La Jolla Attractions!
Address: 8200 Camino del Oro, La Jolla, CA 92037
14. Windansea Beach
A little south of La Jolla Cove is Windansea Beach which is usually a lot less crowded than the Cove. It is frequented by surfers looking to catch that next great wave.
It isn't a large beach but a nice spot to sunbathe and enjoy the rather picturesque beach.
You will notice some unique and beautiful rock formations that are scattered along the beach that are great for photography lovers. If the tide is low then you can see tide pools and look for various sea critters.
The most recognizable feature on Windansea Beach is a palm-covered surf shack that you can sit under to escape the sun. I don't have a photo as each time I have gone there are people under it that I'm sure they don't want their photo in my post!
There are a few parking spots but likely you will need to find street parking or walk the 1.8-miles from La Jolla Cove. There is a lifeguard on duty but no other facilities at this beach.
Address: 6800 Neptune Place, La Jolla, CA 92039
Tip: Click here if you want to explore more things to do in La Jolla!
Favorite La Jolla Restaurants:
Caroline's Seaside Café (8610 Charles F. Kennel Way, La Jolla, CA 92037) – sandwiches, salads, coffee
Duke's La Jolla (1216 Prospect Street, La Jolla, CA 92037) – hawaiian and excellent ocean view
George's at the Cove (1250 Prospect Street, La Jolla, CA 92037) – modern american on the cove
The Cottage (7702 Fay Ave, La Jolla, CA 92037) – modern american
Puesto (1026 Wall Street, La Jolla, CA 92037) – modern mexican
Coronado
15. Coronado Central Beach
Coronado Island has two beaches that I love, the Coronado Central Beach and Coronado Dog Beach.
Even though Coronado is referred to as an island, it is actually a peninsula that extends out into the San Diego Bay.
It is linked to downtown San Diego via the Coronado Bridge and is a stunning curved bridge that is high enough for Navy Ships to pass under. I used to sail underneath it which was quite the sight and viewpoint!
Coronado Central Beach is the main wide and beautiful section of white sand beach out in front of Hotel Del Coronado usually referred to as "The Del".
The Del has a fascinating history and has been famous for its luxury dining, iconic architecture, and supposedly haunted past.
Many celebrities have stayed here over the years since 1888 and it is a beautiful hotel that is now a Hilton property. They definitely picked the most pristine beachfront location to enjoy a top San Diego beach.
Coronado Dog Beach is just north of Coronado Central and is a beach where dogs can roam free off of leashes year-round!
Another option for traveling to Coronado is a 15-minute ferry ($5 one-way) that leaves from two ports, the Broadway Pier and San Diego Convention Center. You can even bring your bike onto the ferry with you.
Address: Ocean Blvd, Coronado, CA 92118
Favorite Coronado Restaurants:
Tartine (1106 1st Street, Coronado, CA 92118) – european bistro
Clayton's Coffee Shop (979 Orange Ave, Coronado, CA 92118) – diner & coffee shop
Peohe's (1201 1st Street, Coronado, CA 92118) – seafood with a view of downtown San Diego
Miguel's Cocina (1351 Orange Ave, Coronado, CA 92118) – mexican
Brigantine Seafood (1333 Orange Ave, Coronado, CA 92118) – seafood
Crown Room Brunch (1500 Orange Ave, Coronado, CA 92118) – a luxury brunch at Hotel Del
How To Get Around
Do you need a rental car? Having a rental car gives you more flexibility and freedom to get around but you can do without if you are mainly visiting places along the coast.
These beaches are along the entire coast of San Diego's County and are a distance from downtown.
Depending on where you are staying, you get around easily using an Uber or Lyft service. If you are staying in the downtown San Diego area and want to go to the beaches further north, there are a few options.
You can take an Uber/ Lyft the whole way or take the Coaster and then using an Uber or Lyft from the train station stop to get to the beach if necessary.
Enjoy many fabulous beach days in San Diego!
Got Travel Insurance?
Don't leave home without travel insurance as you never know what might happen on a trip! It is always when you least expect it that something can go wrong like getting sick, in an accident or cancellation of some sort. Get a no-obligation quote from two trusted travel insurance companies for peace of mind on your next trip!
Looking For More Travel Inspiration?
15 Best Things To Do In San Diego
10 Ways To Explore Catalina Island
Exploring The Best La Jolla Attractions
25 Fun Things To Do In Carlsbad, California
Ultimate Guide To The Best Tacos In San Diego
17 Fun Things To Do In Orange Beach, Alabama On Your First Visit
15 Best Things To Do On Dauphin Island, Alabama
The Best Guide To Maui Whale Watching
How To Have The Perfect Weekend In Big Bear
Disclaimer: As an Amazon Associate and a participant of other affiliate programs, I may earn from qualifying purchases in this post. This means that if you make a purchase through one of these links, I might receive a commission at no extra cost to you. Thank you and it is greatly appreciated!